Oskar Schindler, an enamelware factory owner who saved over 1,200 Jews during WWII, is most well known thanks to the Academy Award winning film, Schindler's List. Today, the infamous Schindler's Factory is the site of a impactful Holocaust museum that is an important addition to any Krakow itinerary.
Keep reading to discover what to expect during your visit to Oskar Schindler's Factory Museum in Krakow, including tips for visiting, how to get there, ticket information and more.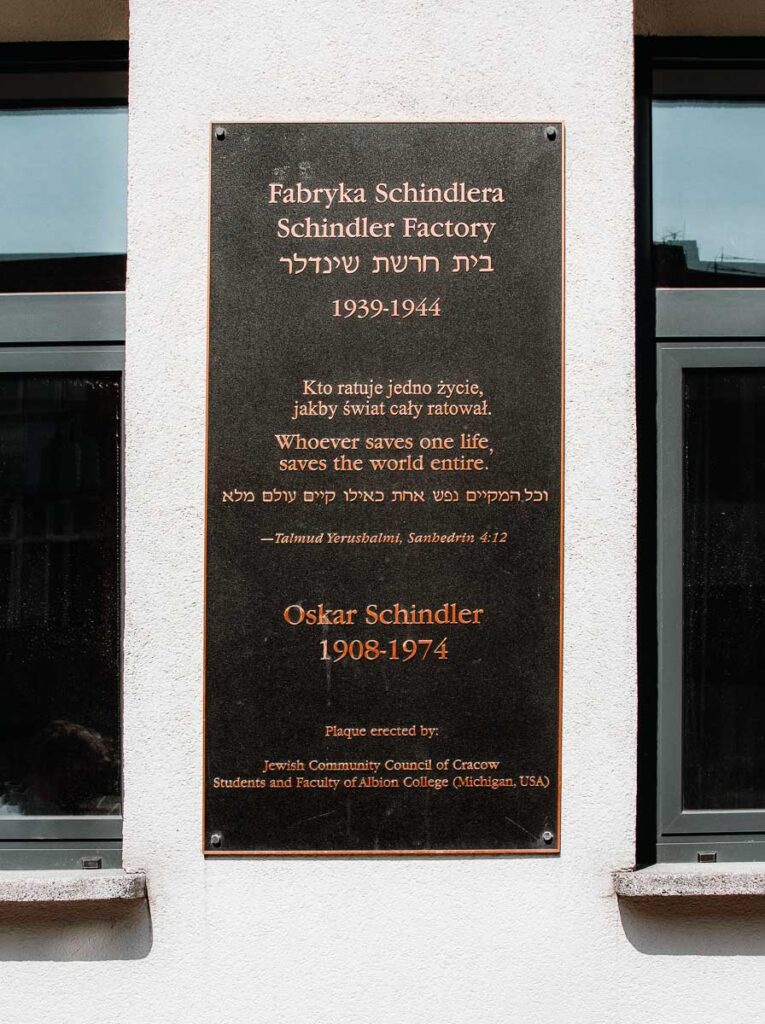 OSKAR SCHINDLER'S FACTORY : A BIT OF HISTORY
65,000 Jewish people lived in Krakow before World War II, but most of the Jewish population were relocated during the Nazi occupation. Krakow's remaining 16,000 Jews were forcibly moved into the Jewish Ghetto, a 20 hectare area of the city which was enclosed by barded wire and a stone wall. Living conditions in the Ghetto were horrific, with 4 families assigned to each apartment.
The Jewish Ghetto was essentially a holding area, and most of the people living within its walls were eventually moved to nearby concentration camps. The Jews living in the Ghetto were not allowed to leave unless they were employed by nearby establishments, such as Schindler's Factory.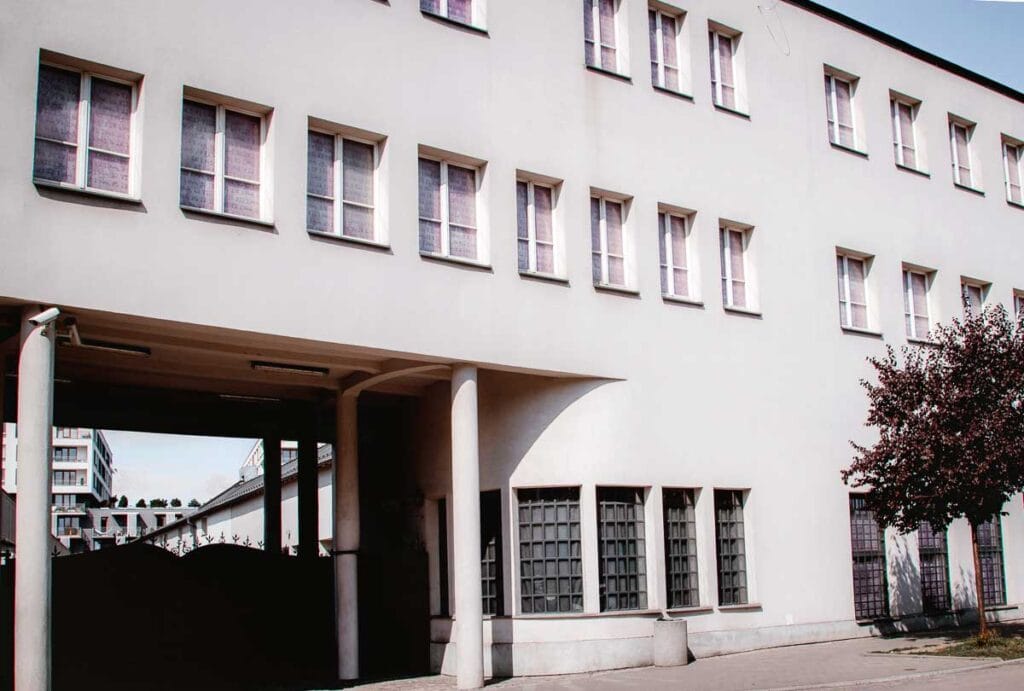 Oskar Schindler was a German entrepreneur who ran an enamelware factory in Krakow. He was a business opportunist and former member of the Nazi party who initially employed Jewish workers because of the cheap cost of labor.
As the Holocaust progressed, something within Schindler changed and he began looking for ways to protect his workers. He found any reason he could to employ more Jewish people, deeming them "essential" to his business, and in turn keeping them out of the death camps. Schindler was even known to bribe the Nazis in order to keep his workers safe and to ensure they would not be deported. Oskar Schindler is credited with saving the lives of over 1,200 Jews.
---
RELATED POST: TOURING AUSCHWITZ & BIRKENAU – WHAT TO EXPECT
SCHINDLER'S FACTORY TOUR : WHAT TO EXPECT
Many visitors leave feeling disappointed with their visit to Schindler's Factory Museum as it is not a tour of the actual enamelware factory. Today, Schindler's Factory has been turned into a museum which tells the story of Krakow under Nazi occupation.
REMNANTS OF OSKAR SCHINDLER
I too wanted to dive deeper into the true story of Oskar Schindler, but there are unfortunately only two small rooms in the entire museum dedicated to him.
You will walk through his former office and view personal items such as his typewriter, furniture and desk. In the same room, there is massive glass wall displaying hundreds of enameled pots made by the 'Schindler Jews' during their time at the factory. In the final room of the museum, there is a very poignant memorial with the names of all the people who were able to live because of this one man.
---
RELATED POST: TOPOGRAPHY OF TERROR // A WWII MUSEUM LOCATED ON SITE OF THE FORMER GESTAPO HEADQUARTERS IN BERLIN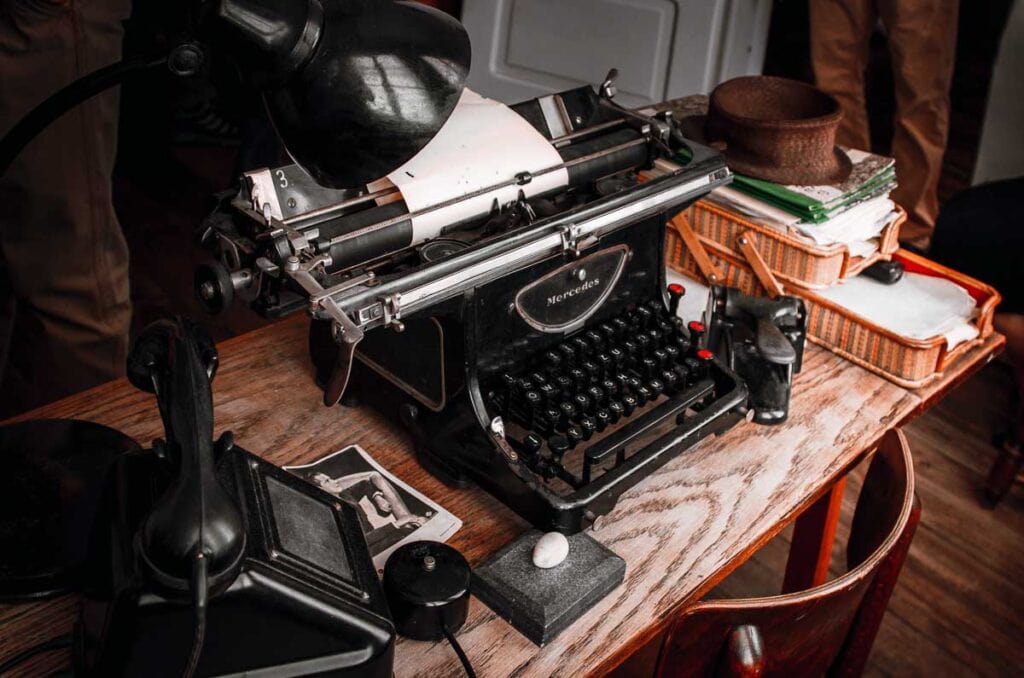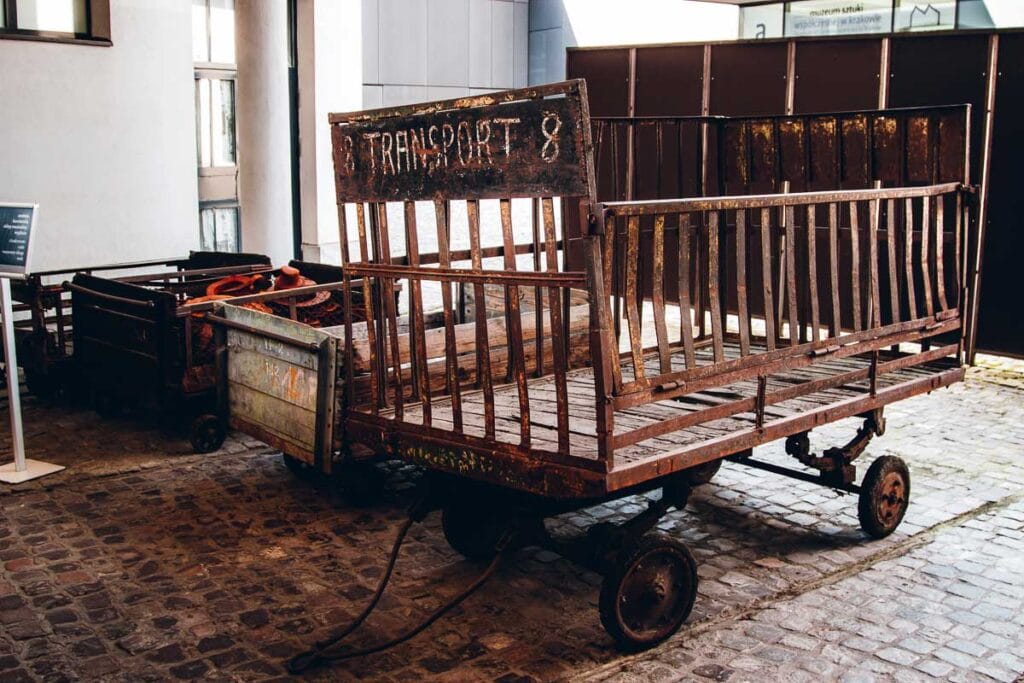 THE MUSEUM
While I was a little disappointed in the lack of depth regarding Oskar Schindler's story, I still loved the rest of the museum. It was very well done and painted a vivid picture of Jewish life under Nazi rule in Krakow. There are endless videos, photos, archival documents and original artifacts from the time.
Each room is artistically designed to place you into the time period. You will walk along cobblestone "streets,"and visit a recreation of a Jewish Ghetto apartment to see how tight the living spaces were.
The museum is extremely informative and I learned so much that I never knew before. I was enthralled throughout the entire visit and highly recommend adding this museum to your list of things to do in Krakow.
RELATED POST: HOFBRAUHAUS MUNICH – GERMANY'S MOST FAMOUS BEER HALL HAS A DARK PAST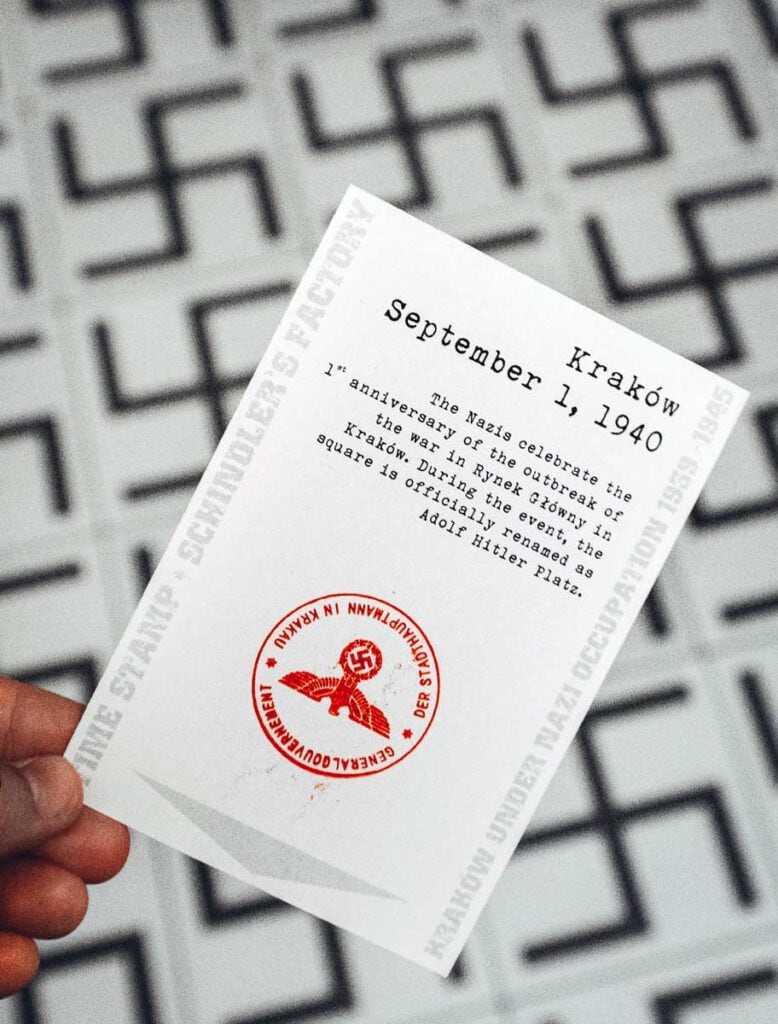 TIPS FOR VISITING SCHINDLER'S FACTORY MUSEUM
YOU WILL NOT SEE SCHINDLER'S "LIST" OR THE ACTUAL FACTORY
Schindler's actual "list" is not on display in this museum. There are only four known copies of the list and 3 are held within the Holocaust Museum of Washington D.C and the Holocaust Remembrance Center in Jerusalem. The fourth copy was most recently up for auction in 2017 for 2.3 million dollars.
As mentioned above, you will also not tour the original factory. They have turned the space into a Holocaust Museum dedicated to telling the story of Krakow during the Nazi occupation.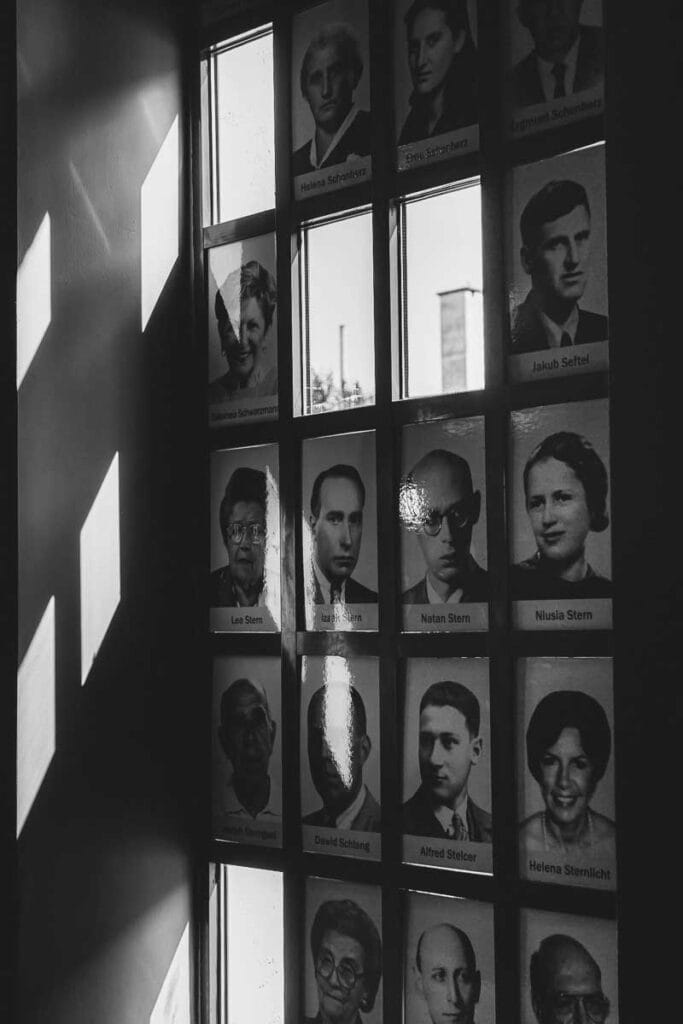 BUY YOUR TICKETS ONLINE
The line to get into Schindler's Factory Museum is infamously long and during peak hours, it has been known to wrap around the building. There is also no shade or awning and it gets hot (or cold) depending on the time of year you are visiting.
The museum only allows 1,200 people to visit each day, so buying your ticket online will not only allow you to skip the line but it also ensures your visit.
VISITS ARE FREE ON MONDAYS
On Monday, the museum is free to visit but you still need a ticket. Make sure to book in advance, or get there early in the morning as tickets are first come, first serve.
HOW MUCH TIME SHOULD YOU SPEND?
If you are visiting without a tour group, I recommend blocking off 1.5 to 2.5 hours in order to fully cover the museum. There is a lot of reading and many videos available to watch.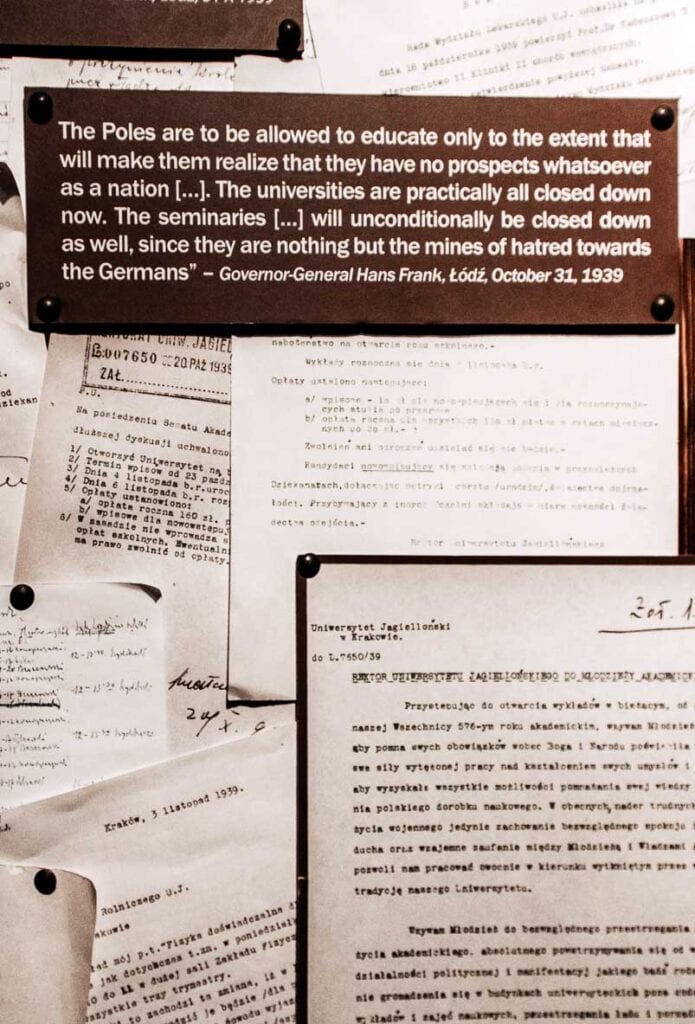 WITH OR WITHOUT A GUIDE?
We opted to tour the museum without a guide and were very happy with that decision. Each room has a lot of information to take in and the tours seemed to be moving rather quickly.
The tour groups were also full and every time we were in the same room as one, it was very hard to view the exhibits. We preferred to go at our own pace and have enough time to spend in each of the rooms, without fighting to see over dozens of other people. The information presented throughout the museum is extremely in-depth and you do not need a guide to know what you are looking at
With that said, I am very interested in WWII history and I wanted to look at everything. If you're not as interested in this time period but still want to view the museum, a guided tour might be a better option for you.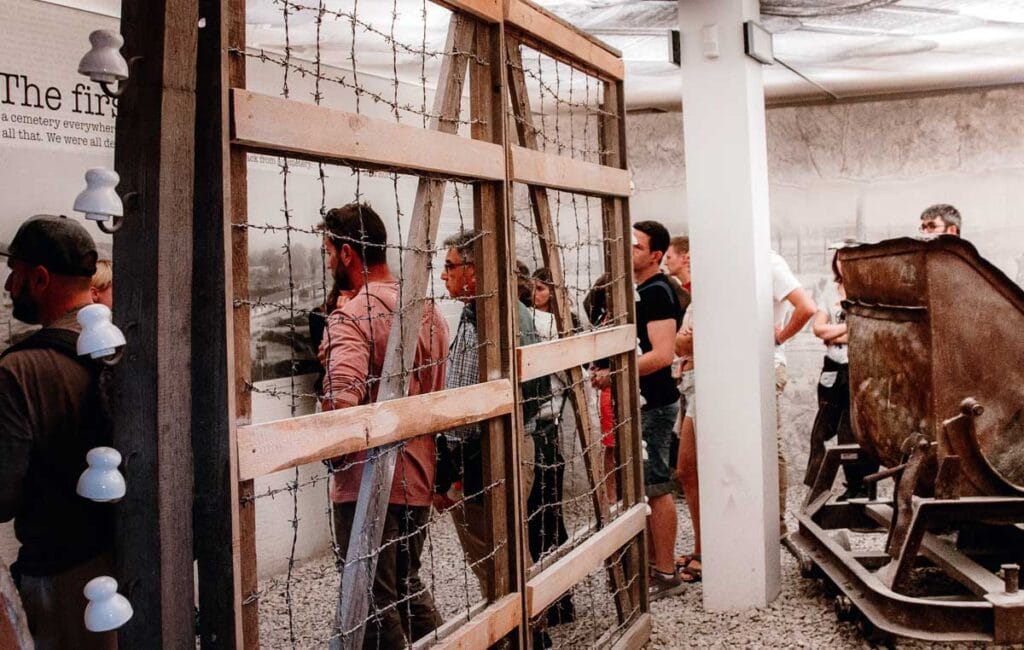 WALK AROUND THE OLD KRAKOW GHETTO WHEN YOU'RE DONE
When exiting Schindler's Factory, you will have a completely different outlook on the ground you're standing on. Less than a mile from the museum, lies the perimeter of the former Krakow Ghetto. If you enjoyed the museum, I highly recommend walking around this area of Podgorze. It doesn't seem like many tourists make it to this section of town but I found it very impactful. There is not much there, but its history still speaks through the old abandoned buildings and crumbling architecture.
While you're in the area, check out Ghetto Heroes Square, where you will find a memorial dedicated to the victims of the Holocaust. During the war, this square was where executions and deportations to concentration camps took place. Today, an art exhibition of 70 metal chairs sit spaced out throughout the square – alluding to a darker time when it was filled with clothing, luggage and furniture of the Ghetto's victims.
Within the same square you will also find Eagle Pharmacy, a business that was permitted to remain open when the Nazis turned the area into the Jewish Ghetto. The pharmacy owner and his staff were the only Poles allowed to live and work in the Ghetto, and it became a safe place for the Jews to hold conspiratorial meetings. The pharmacy has been recreated to look how it did during the war, and you can also take a tour.
---
RELATED POST: A VISITOR'S GUIDE TO THE LATVIAN HOLOCAUST MUSEUM IN RIGA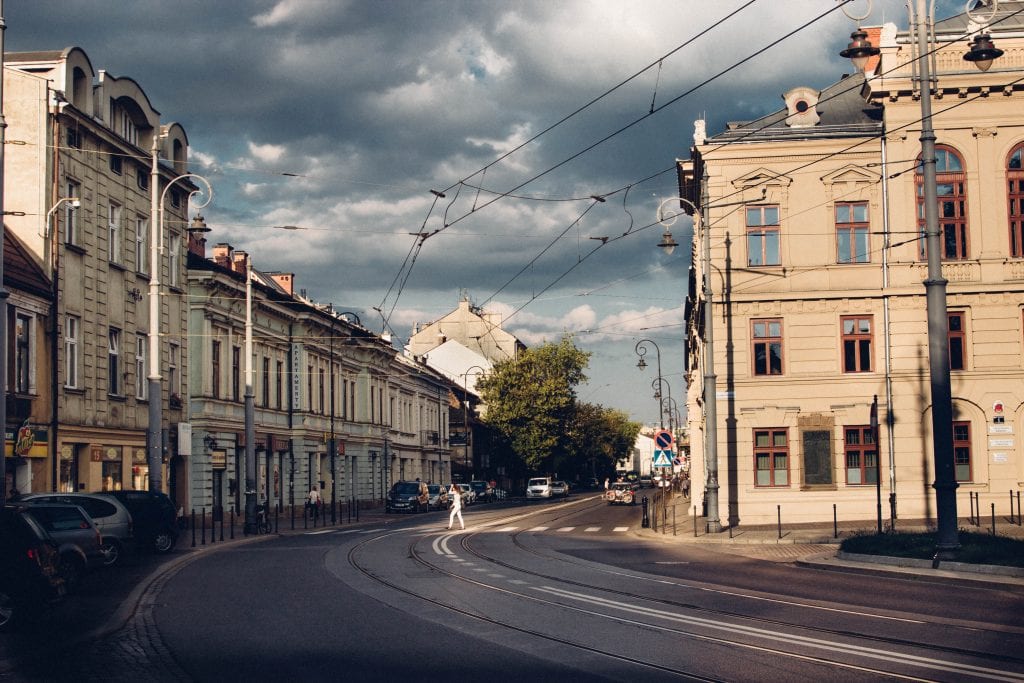 HOW TO GET TO SCHINDLER'S FACTORY MUSEUM IN KRAKOW
Schindler's Factory is located in Podgorze, a district in Krakow, South of the city center and across the Vistula River.
TRAM
To get there, take the tram to the stop Pl. Bohaterów Getta (lines 3, 9, 19, 24 and 50). Walk for 5-10 minute down ul. Kącik, under the train overpass. This turns into ul. Lipowa. The address is 4 Lipowa Street.
You can also take the tram to stops Limanowskiego (lines 6, 13, 23) or Zablocie (lines 11 and 20).
UBER
Uber is available in Krakow and should cost between 8-15 zloty ($2.65-$3.97) if you are traveling from Old Town.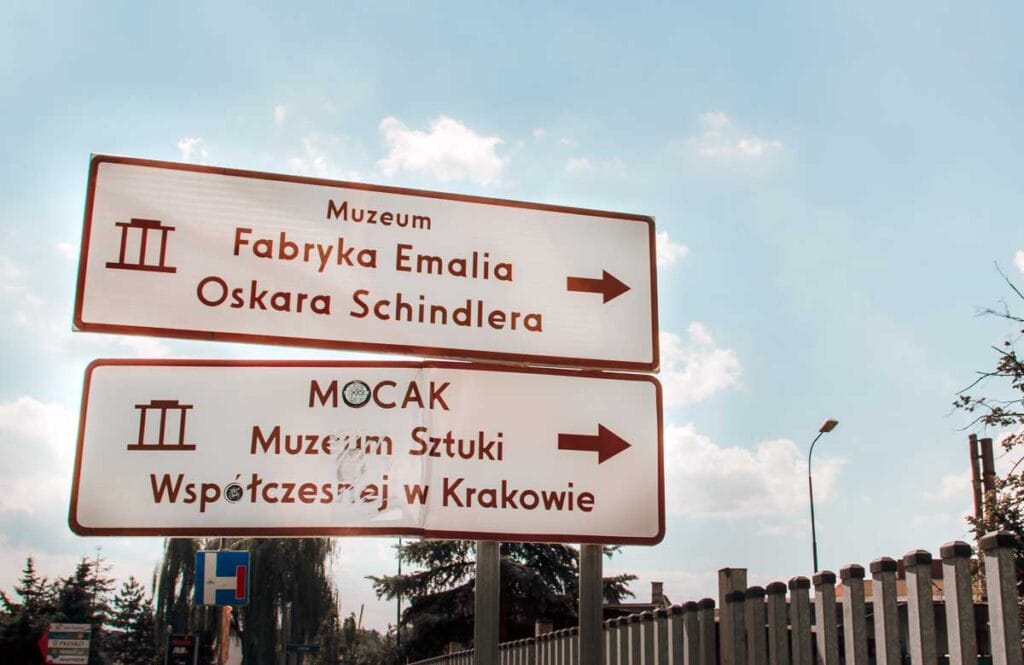 SCHINDLER'S FACTORY MUSEUM TICKETS
Lines to get into the museum can be very long, so it is highly recommended that you purchase your tickets online in advance to skip the line.
TICKET PRICES
Regular Admission: 28 PLN ($7.39 USD)
Reduced Ticket (students, seniors 65+, people with disabilities, teachers ): 24 PLN ($6.33 USD)
Family Ticket (2 adults and 2 children under the age of 16, or 1 adult and 3 children under the age of 16): 56 PLN ($14.78 USD)
You can purchase tickets on Krakow's official museum page here, or you'd like to utilize cash back through Rakuten Rewards, purchase them through Viator here.
GUIDED TOURS
The museum offers guided tours of the permanent exhibition for 160 PLN ($42.24). You can also purchase a guided tour via Viator, with a low price guarantee here. Tours are available in 7 languages (Polish, English, French, German, Italian, Spanish and Russian)
OPENING HOURS
WINTER (November – March)
Monday 10AM – 2PM
Tuesday – Sunday 10AM – 6PM
SUMMER (April – October)
Monday 9AM – 4PM
Tuesday-Sunday 9AM- 8PM
The last admission to the exhibition is 90 minutes before the closing time.
The museum is closed the first Tuesday of every month.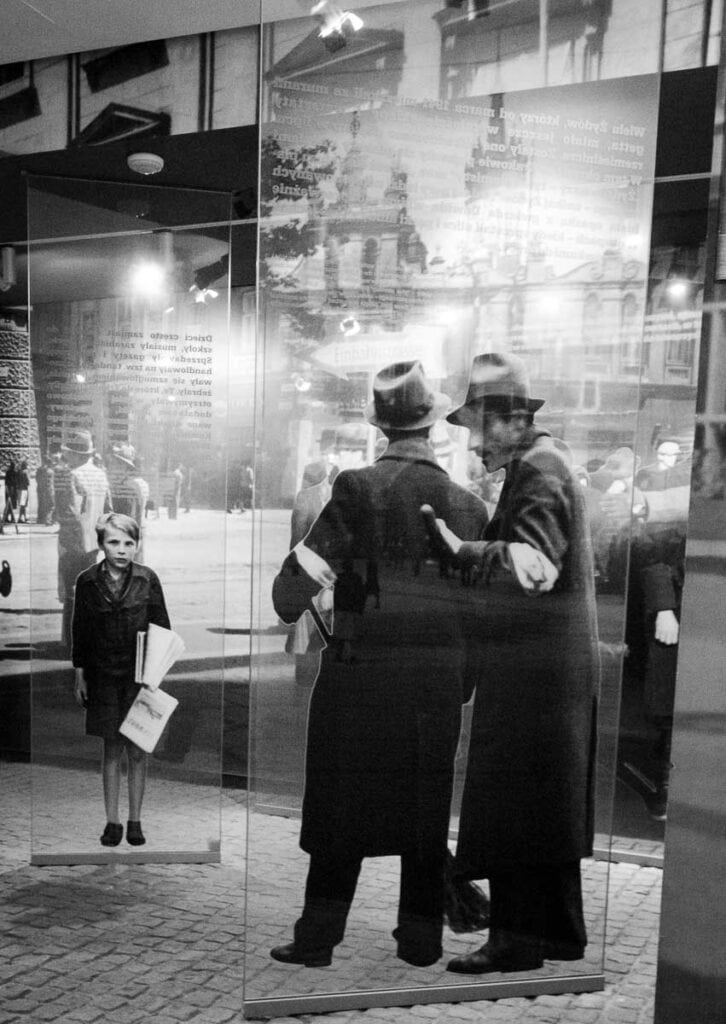 PEOPLE WITH DISABILITIES AND/OR LIMITED MOBILITY
The museum's exhibitions are wheelchair accessible and elevators are available to reach the different floors. There is one part of the tour that has a floor made of pebbles, and that might be difficult for wheelchair users to navigate. The museum was very crowded and some of the rooms and hallways are small, so I recommend that wheelchair users try and plan for a visit during less busy times (early morning or as the last group in before the museum closes). There are also not many places to sit down throughout the tour.
For those who are blind or visually impaired, the museum offers MP3 downloads with descriptions of the exhibition as well as the rooms. To download the audio files, click here. For those with hearing loss, the videos within the exhibit have English subtitles.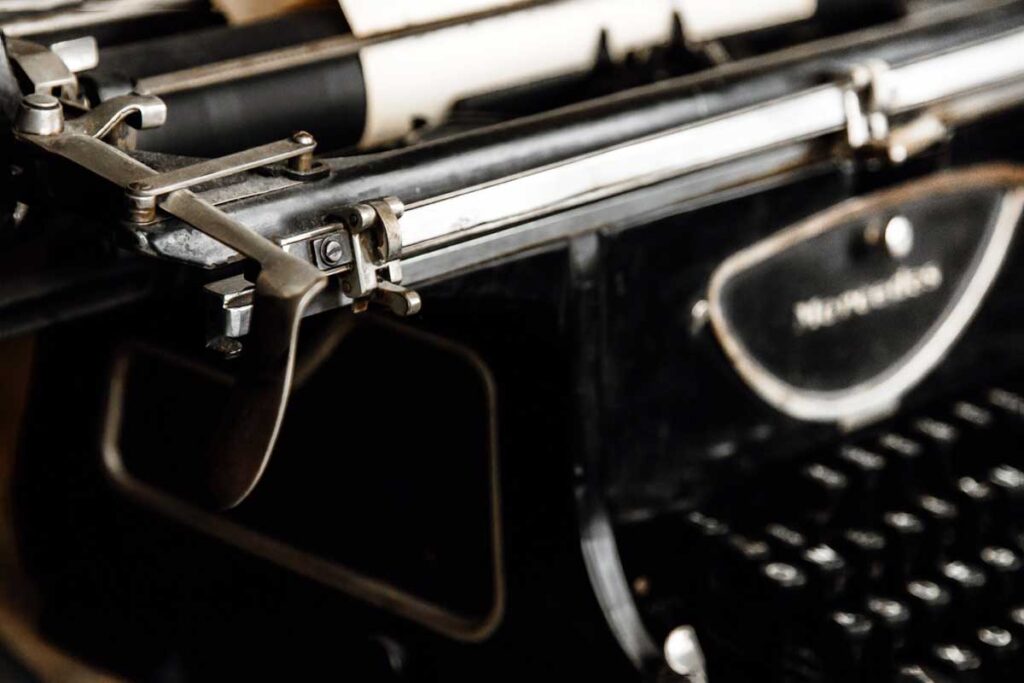 LOOKING FOR MORE POLAND INSPIRATION? CHECK OUT THESE RELATED POSTS
KRAKOW: KAZIMIERZ AND THE JEWISH GHETTO
WIELICZKA SALT MINE (POLAND) : EVERYTHING YOU NEED TO KNOW
POLISH VODKA TASTING AT WODKA IN KRAKOW
VISITING A TRADITIONAL POLISH MILK BAR
10 THINGS TO DO IN GDANSK, POLAND
SOPOT: AN EASY DAY TRIP TO POLAND'S SEASIDE RESORT TOWN
PIN IT: SCHINDLER'S FACTORY MUSEUM (KRAKOW, POLAND) – A VISITOR'S GUIDE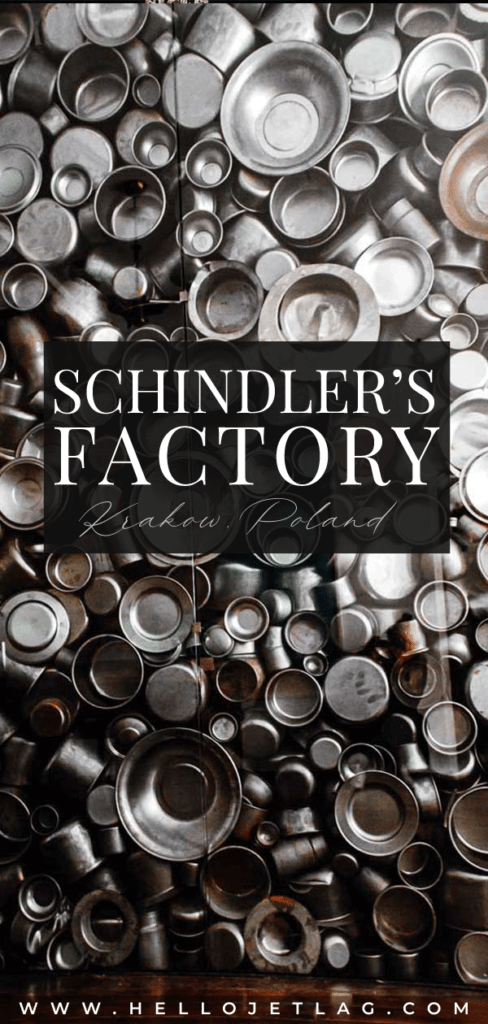 Disclaimer: this post contains affiliate links.