This site receives a small commission for purchases made via affiliate links.
On our last day in Krakow, we visited the Wieliczka Salt Mine in the morning and had the rest of the day to check out the city. We've spent quite a lot of time in Old Town already, so this afternoon we decided to head to Podgorze to see Schindler's Factory as well as take a walk through the old Jewish Ghetto.
Before the war, 65,000 Jewish people lived in Krakow. During the Nazi occupation, most of the Jewish population was relocated. The remaining 16,000 were eventually moved into the Jewish Ghetto, a 20 hectare area enclosed by barded wire and a stone wall. Living conditions were horrific and 4 families were assigned to each apartment. People weren't allowed to leave the ghetto unless they were employed by nearby establishments, like Schindler's Factory. The Jewish Ghetto was essentially a holding area for Jews and most of the people living within the walls were eventually moved to concentration camps nearby.
Buy Your Tickets Online
We read that the line to get into Schindler's Factory can take hours but at around 2pm, we only waited 20 minutes. The line wraps around the building outside with no shade or awning. During the Summer, it gets hot standing there in direct sunlight and I can imagine it wouldn't be fun in Winter either. They can only let a certain number of people into the museum each day so buying your ticket online will not only ensure you get in, but also that you don't have to wait in line.
Buy Your Tickets Here
Schindler's Factory Tour
Most people are familiar with Oskar Schindler because of  the 1994 Academy Award winning film, Schindler's List. During the war, Oskar Schindler saved 1,200 Jews by employing them to work within his factories. On TripAdvisor, many reviewers were disappointed that the tour didn't have more to do with Oskar Schindler himself. While there are a few rooms dedicated to Schindler, the original factory has been turned into a museum which gives visitors an in-depth look at Krakow during World War II.
The museum is fantastically done and it really paints a picture of Jewish life under Nazi rule. There are videos, photos, archival documents and original artifacts from the time. Each room is artistically designed to really place you in the time period. You walk along cobblestone "streets,"and visit a rendition of a Jewish apartment to see how tight the living spaces were. I learned so much and was enthralled throughout the entire visit.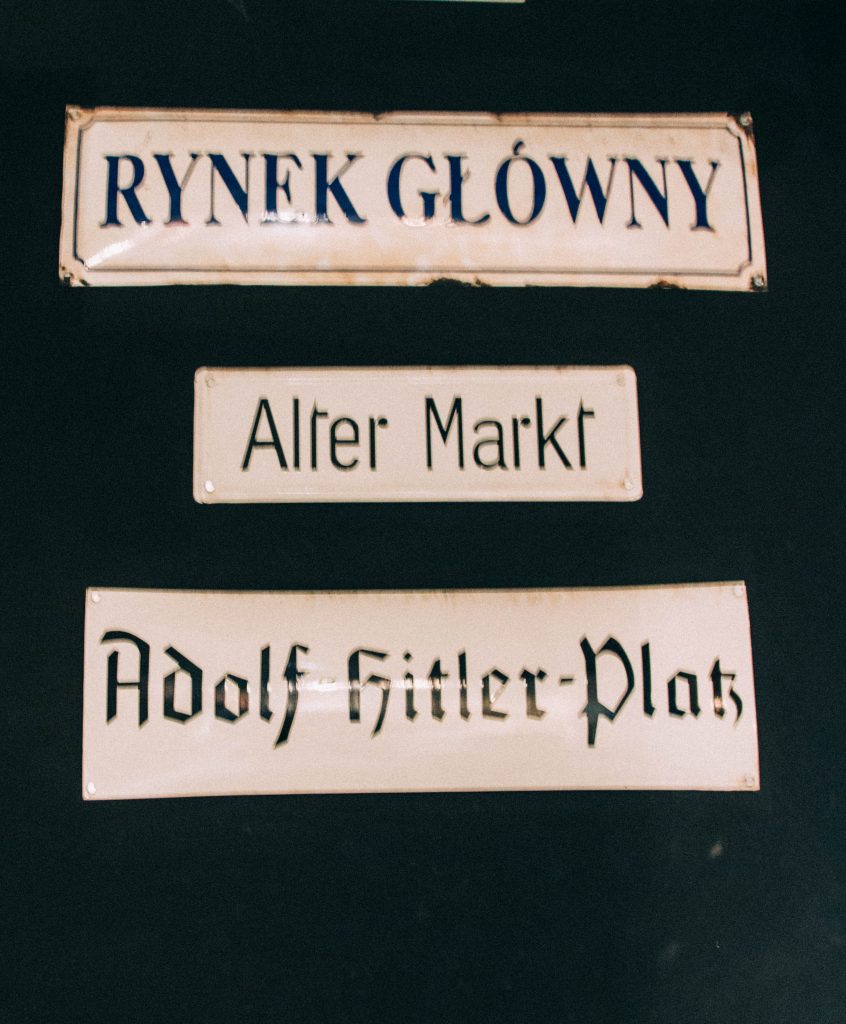 In each room, there are extremely in-depth descriptions and informational plaques. All in English as well as Polish. We saw several tour groups but I would recommend going without one and taking your time. The museum took us about 2 hours to walk through..
Oskar Schindler
In the museum, there are two rooms dedicated to Oskar Schindler. You can read his story and how he went from an business opportunist and member of the Nazi party, to a hero that saved over a thousand people. Walk through his former office and view some of his personal items. There's a huge display of enameled pots made by the 'Schindler Jews' during their time at the factory. The display opens up into a memorial with all the people's names who got to live because of this one man.
Schindler's actual "list" is not in the museum, as it was never found.

.
The Krakow Ghetto
When exiting Schindler's Factory, you will have a completely different outlook on the ground you're standing on. Less than a mile from the museum, lies the perimeter of the Krakow Ghetto. If you enjoyed the museum, I highly recommend visiting this area of Podgorze.
I was unable to find much info online prior to our visit, so I will be publishing a walking tour of the Ghetto based on things we came across.
Related Post: Kazimierz and the Krakow Ghetto

Schindler's Factory Museum Important Information (2016)
Admission Times
The last admission to the exhibition is 90 minutes before the closing time.
Winter: November – March
Monday 10 am – 2 pm (no charge)
Tuesday-Sunday 10 am – 6 pm
Summer: April – October
Monday 10 am – 4 pm (no charge, every first Monday of the month – open to 2 pm)
Tuesday-Sunday 9 am – 8 pm
Price of Admission
Regular Admission: 21 PLN ($5.37)
Concessionary (students): 16 PLN ($4.09)
Groups With a Guide: 20 PLN ($5.11)
Groups Without a Guide: 18 PLN ($4.60)
Family (2 adults and 2 children up to 16, or 1 adult and 3 children up to 16):  50 PLN ($12.79)
Guide for individual tourists: 130 PLN ($33)
To Buy Tickets Online Visit Here
Guides
Guides are available in 7 languages (in Polish, English, French, German, Italian, Spanish and Russian)
If you are visiting as an individual I recommend allowing 1.5-2 hours to cover the museum.
How to Get to Schindler's Factory Museum
Take the tram to the stop Pl. Bohaterów Getta.  Walk for 5-10 minute down ul. Kącik, under the train overpass. This turns into ul. Lipowa. The address is 4 Lipowa Street.
[huge_it_maps id="2″]