On Nick's last European tour we snuck away to Poland for a few days to check out Gdansk, a pretty little city located along the Baltic Sea in the Pomerania region of the country. Gdansk is a highly underrated gem as far as European cities go, and we fell in love with it's charming streets and laid back vibes. Keep reading to discover my top 10 things to do in Gdansk, from a picture perfect Old Town, where to find the best views, plus a street aptly named after beer (that we, of course, found ourselves on many times).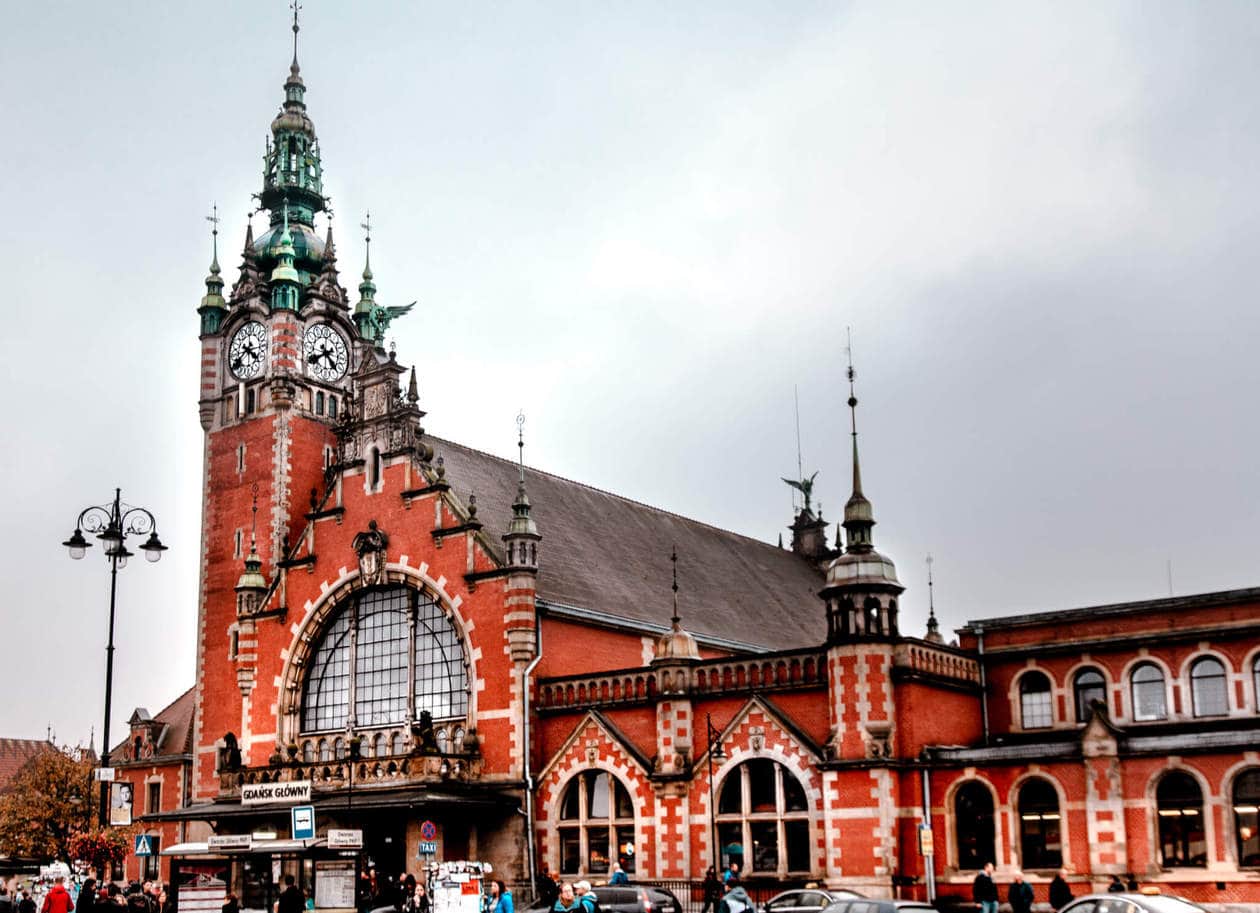 THE TOP 10 THINGS TO DO IN GDANSK
.
GET LOST IN OLD TOWN
A visit to Old Town is one of the top things to do in Gdnask, and for good reason. It's not only the city center, but one of the most beautiful Old Towns I've ever been to. I wish I had another week to spend, simply wandering around and taking photos. You feel as if you're in a fairy tale.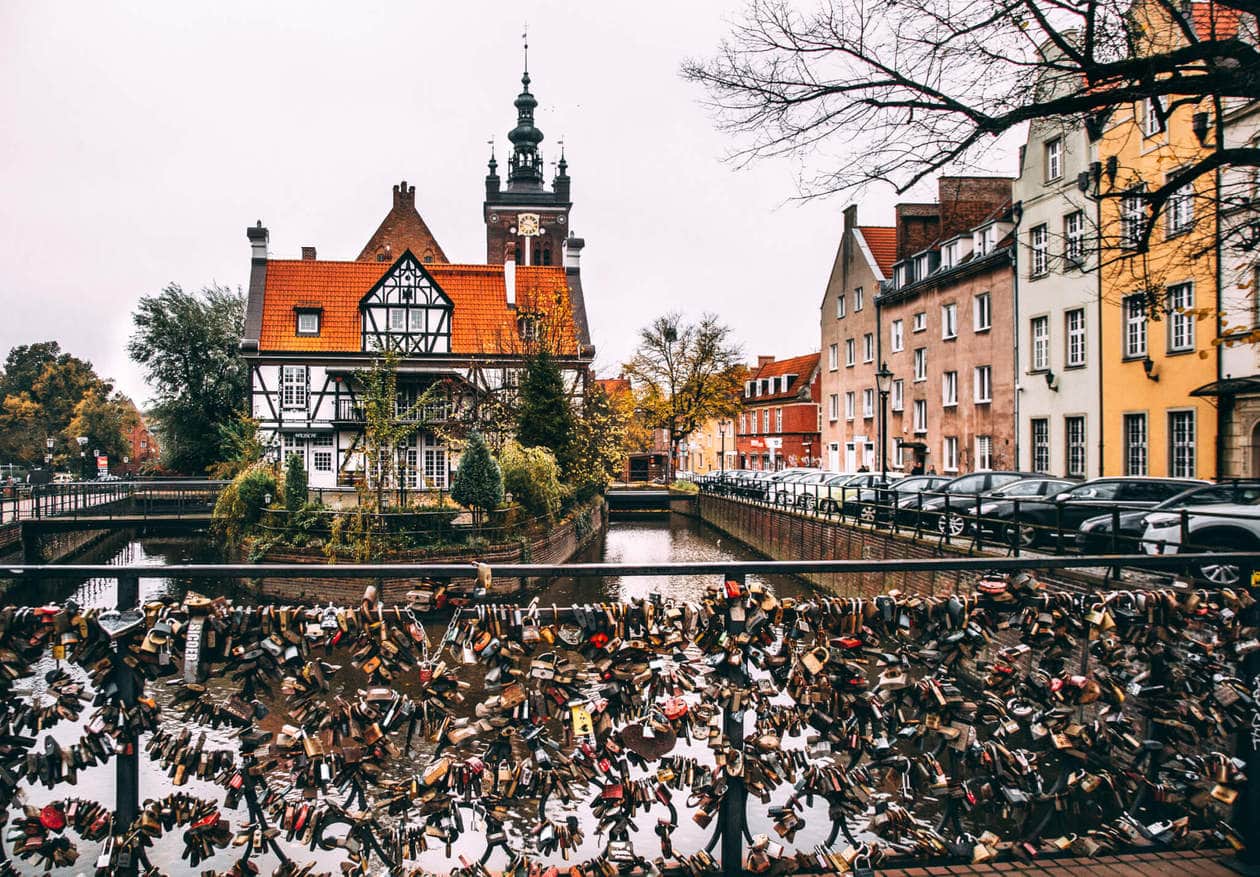 Gdansk's Old Town is unique for a Polish city as there is no real main square. Instead, it's made up of long streets – the most popular being Ulica Dluga, Ulica Piwna, and Ulica Mariacka. During WWII, the city was 90% destroyed so just about everything you see has been renovated and restored, which does give it a bit of a Disneyland-ish feel. But still perfect nonetheless.
In the Old Town you'll find tons of restaurants, quirky bars, local shops and bustling promenades. Block out one or two days on your itinerary to fully explore.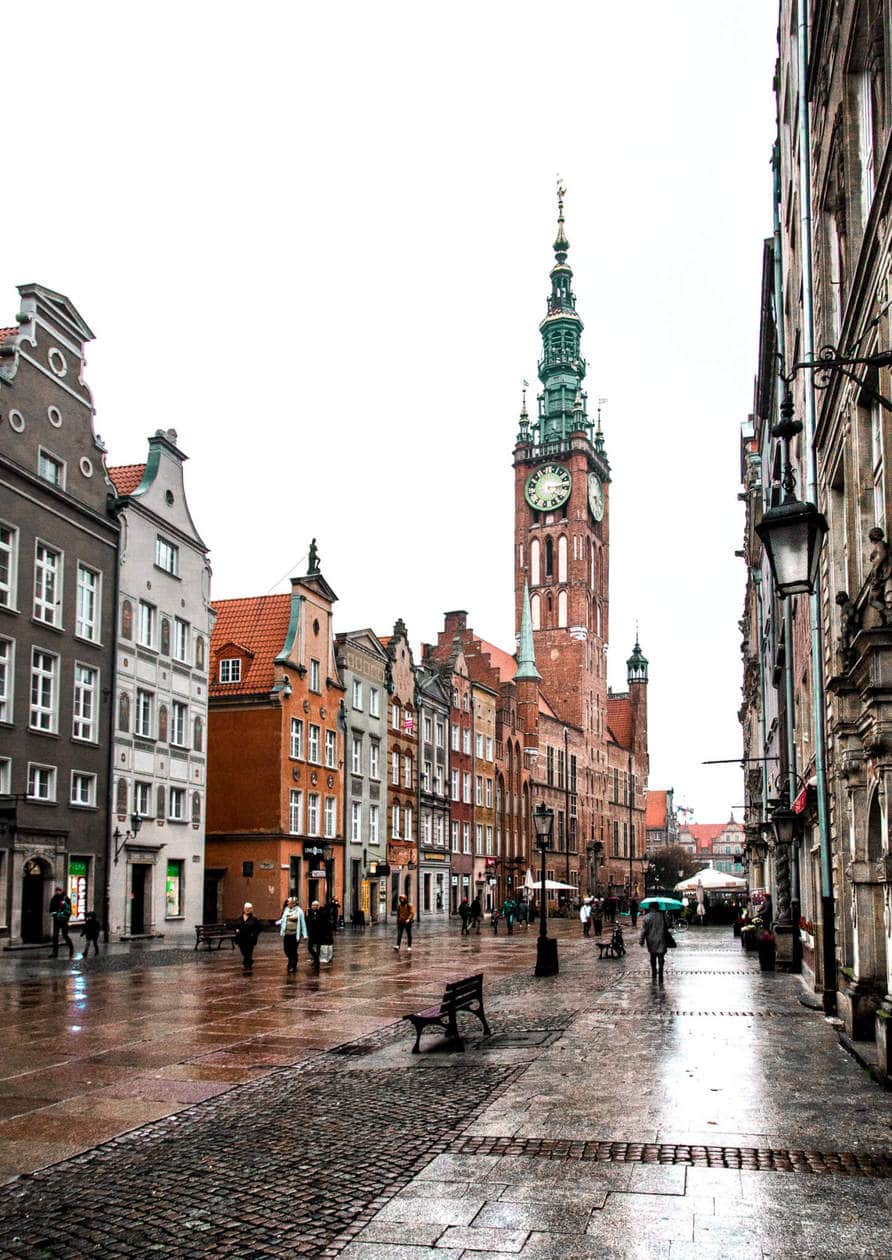 CLIMB ST. MARY'S CHURCH FOR THE BEST BIRD'S EYE VIEW
St. Mary's Church is the largest brick church in the world, located in the heart of Old Town. The inside of the church contains over 300 tombstones, 31 chapels and a 15th century astronomical clock, but it's within the bell tower where my favorite treasure lies.
After a rather intense climb up 405 steps, you'll be met with an unparalleled, 360 degree view of the city.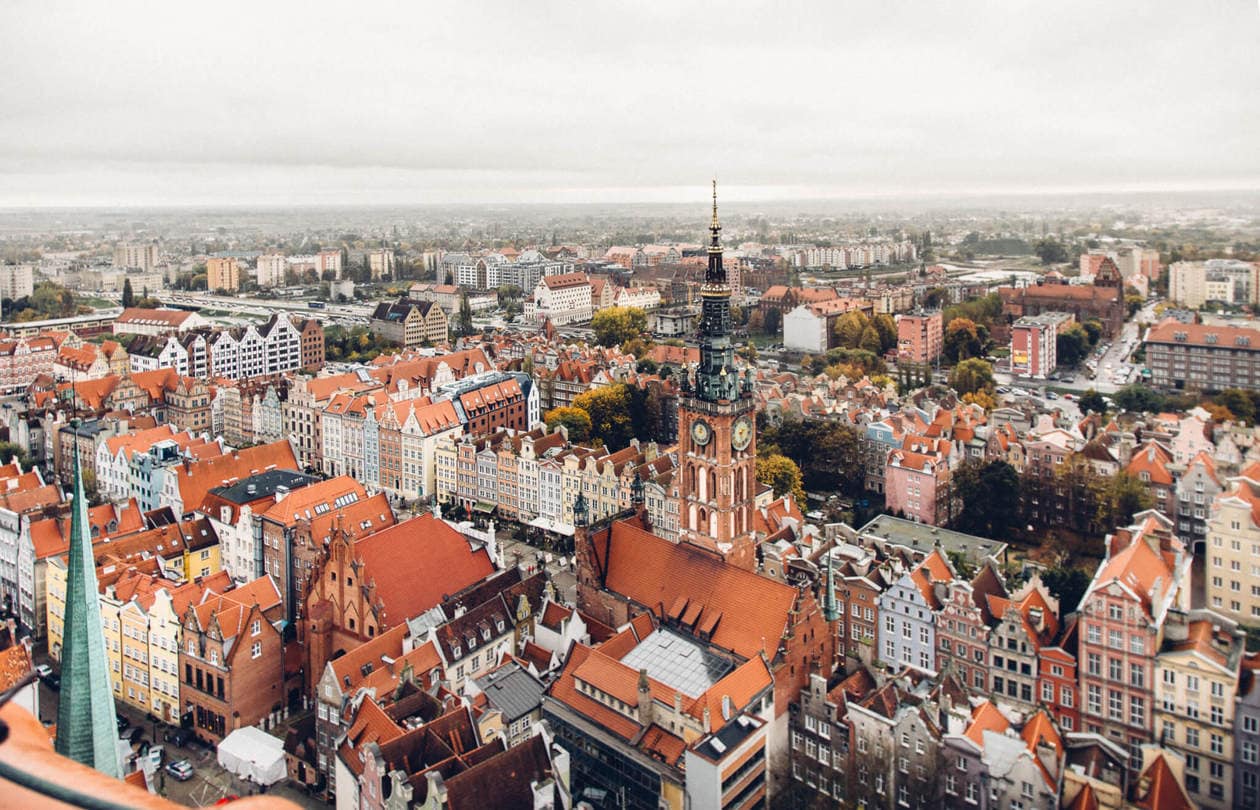 For more information, photos and tips for visiting St. Mary's Church check out my related post below.
---
RELATED POST: ST. MARY'S CHURCH // THE BEST VIEWS OF GDANSK OLD TOWN
---

DRINK A BEER ON BEER STREET ..
Ulica Piwna is one of the main tourist streets in Old Town Gdansk. It's name translates to Beer Street, and how can you not drink a beer on beer street? Don't worry, there are a handful of pubs and bars to pop into for a mid-day pint.
Check out Browar Piwna, a local craft microbrewery serving up an array of light, dark and wheat beers. They offer a sampler tray, if you want to do your own mini tasting. Jozeph K is another popular bar on Piwna Street. During the day, it's quirky cafe serving coffee, teas and cakes and at night it transforms into a cool, local pub.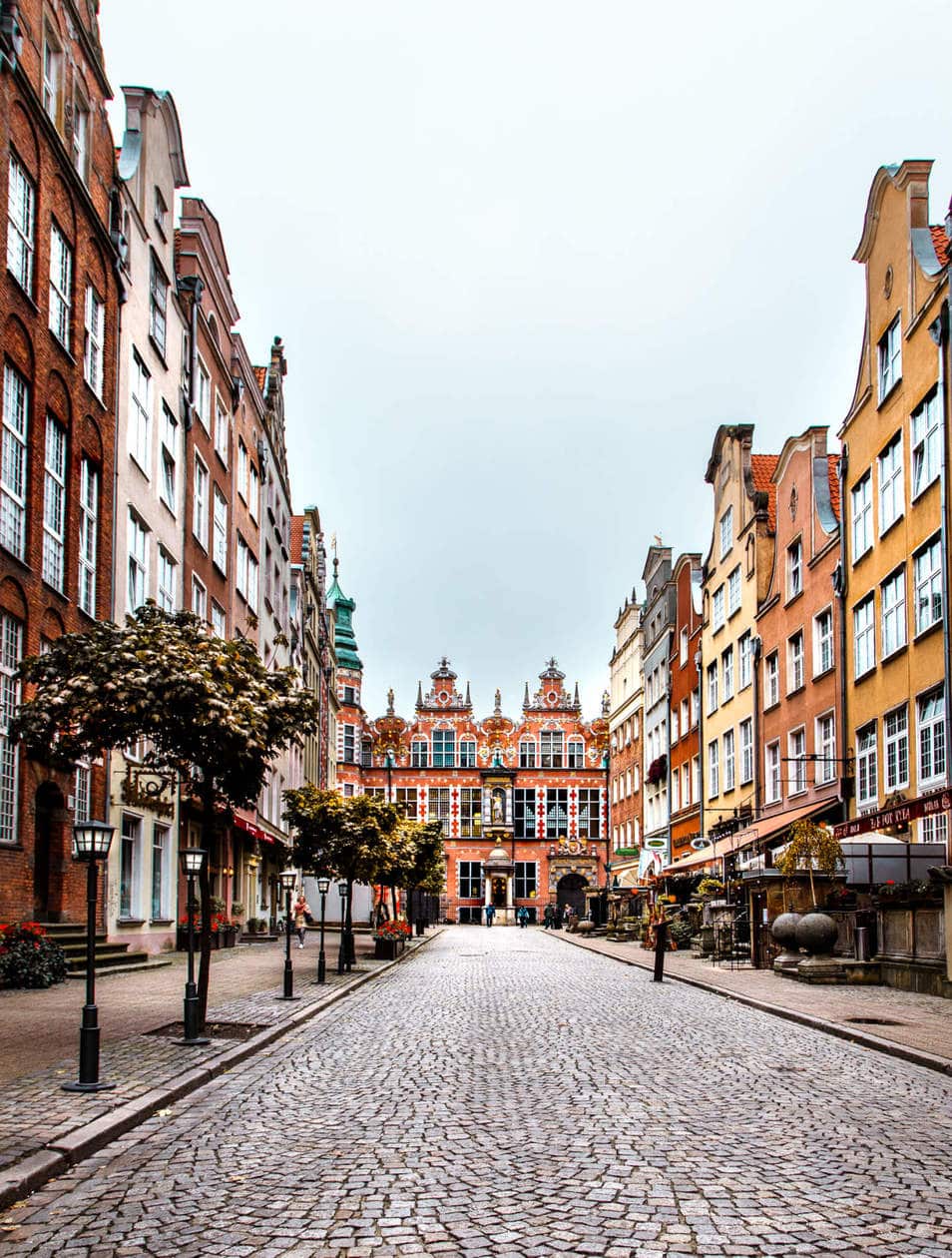 HOP ON A TRAIN TO SOPOT
Along with Gydnia and Sopot, Gdansk makes up a larger tri-city metropolitan area known better known as Trojmiasto.
Located just 15 minutes from Gdansk is Sopot, Poland's popular Summer capital. Sopot is most well known for it's luxury resort spas and buzzing nightlife, and it's a super easy destination if you feel like relaxing at the beach or partying the night away in one of the many clubs. As the saying goes "live in Gydnia, work in Gdansk and party in Sopot.".
---
RELATED POST: SOPOT// A DAY TRIP TO POLAND'S SEASIDE RESORT TOWN
---
OTHER DAY TRIPS FROM GDANSK
MALBORK CASTLE Just an hour outside of Gdansk, you'll find largest castle in the world. This 13th century medieval brick castle was built as a fortress by Teutonic Knights, and is now a UNESCO World Heritage Site. The easiest way to reach Malbork Castle is by train leaving from Gdansk Glowny Station.
STUTOFF CONCENTRATION CAMP Stutthof was the first Nazi concentration camp built outside of Germany, and it was the last camp to be liberated by the Allies. I tried to visit but I couldn't find the right bus and there are only a few connections leaving each day. To reach the camp, catch the bus to Sztutowo from the Gdansk bus station. The journey takes around 80 minutes.
---
RELATED POST: AUSCHWITZ // WHAT TO EXPECT ON THE 6 HOUR TOUR
---

.
TAKE THE AMBER SKY FOR A SPIN
It's not often that you'll find us atop a ferris wheel, but Gdansk is so beautiful and I was desperate to see it from as many different angles as I could. The Amber Sky is located beside the Motwala River and it takes you 50m (164 ft) above the city for a fantastic view of the Old Town.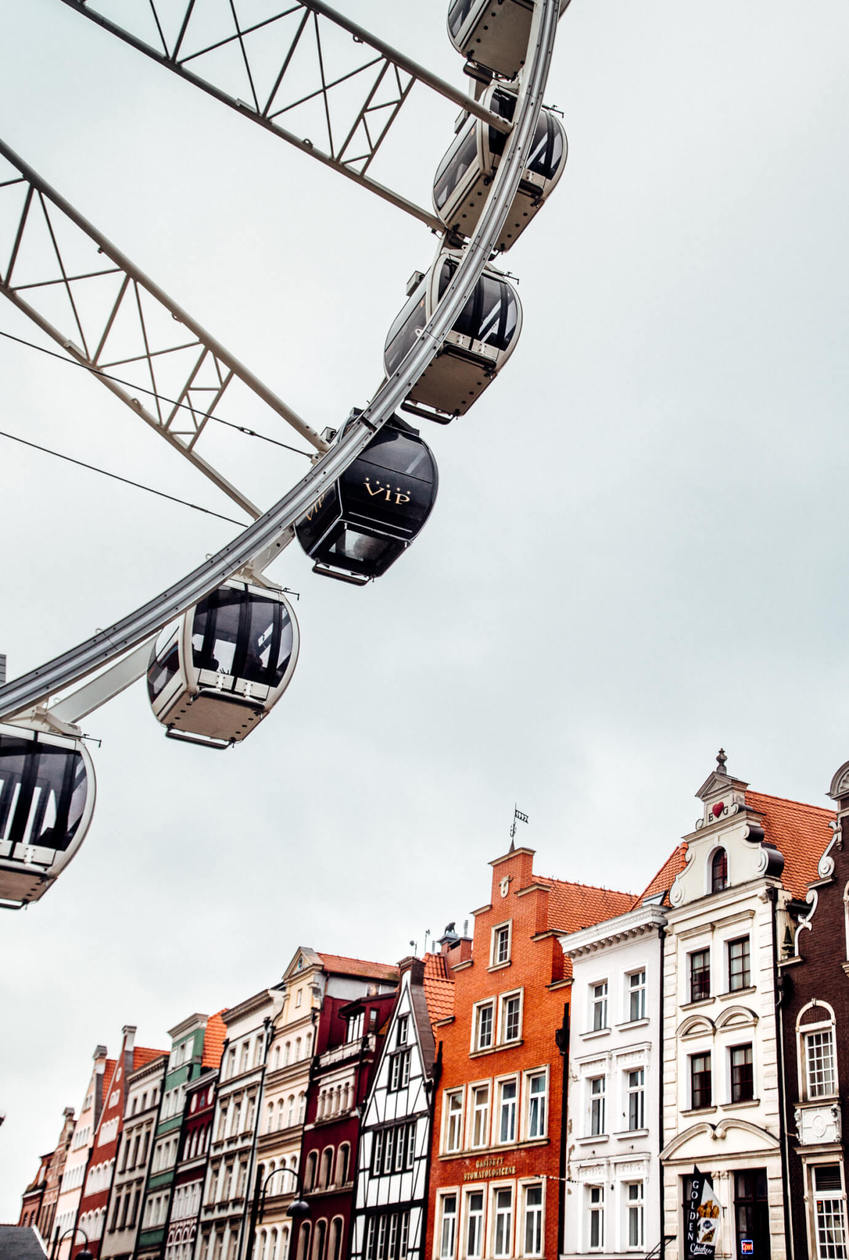 Adult admission is 28PLN ($7USD) which gives you three rotations around the wheel in an air conditioned cabin. If you're extra fancy, you can rent a blacked out VIP cabin with a glass floor and champagne for 250PLN ($67).
Unfortunately, the cabin glass is not conducive for taking photos as it's pretty scratched up and also tinted blue. Boo.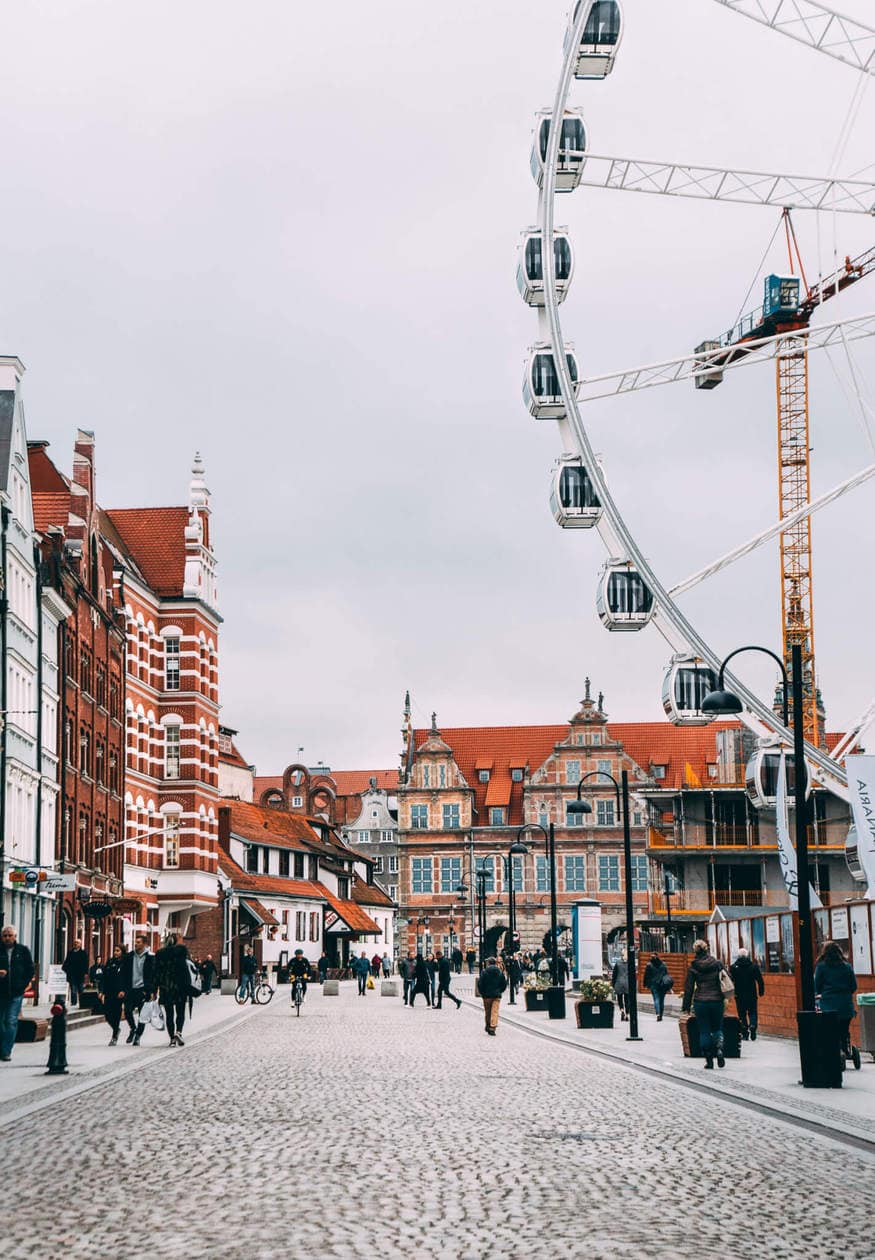 SAMPLE PIEROGI AT THE BEST PIEROGARNIA IN TOWN
Pierogi is one of Poland's national dishes, and what better place to try it than in a restaurant dedicated to it's existence? Pierogarnias are pierogi restaurants and Pierogarnia Mandu has been rated the best in Gdansk.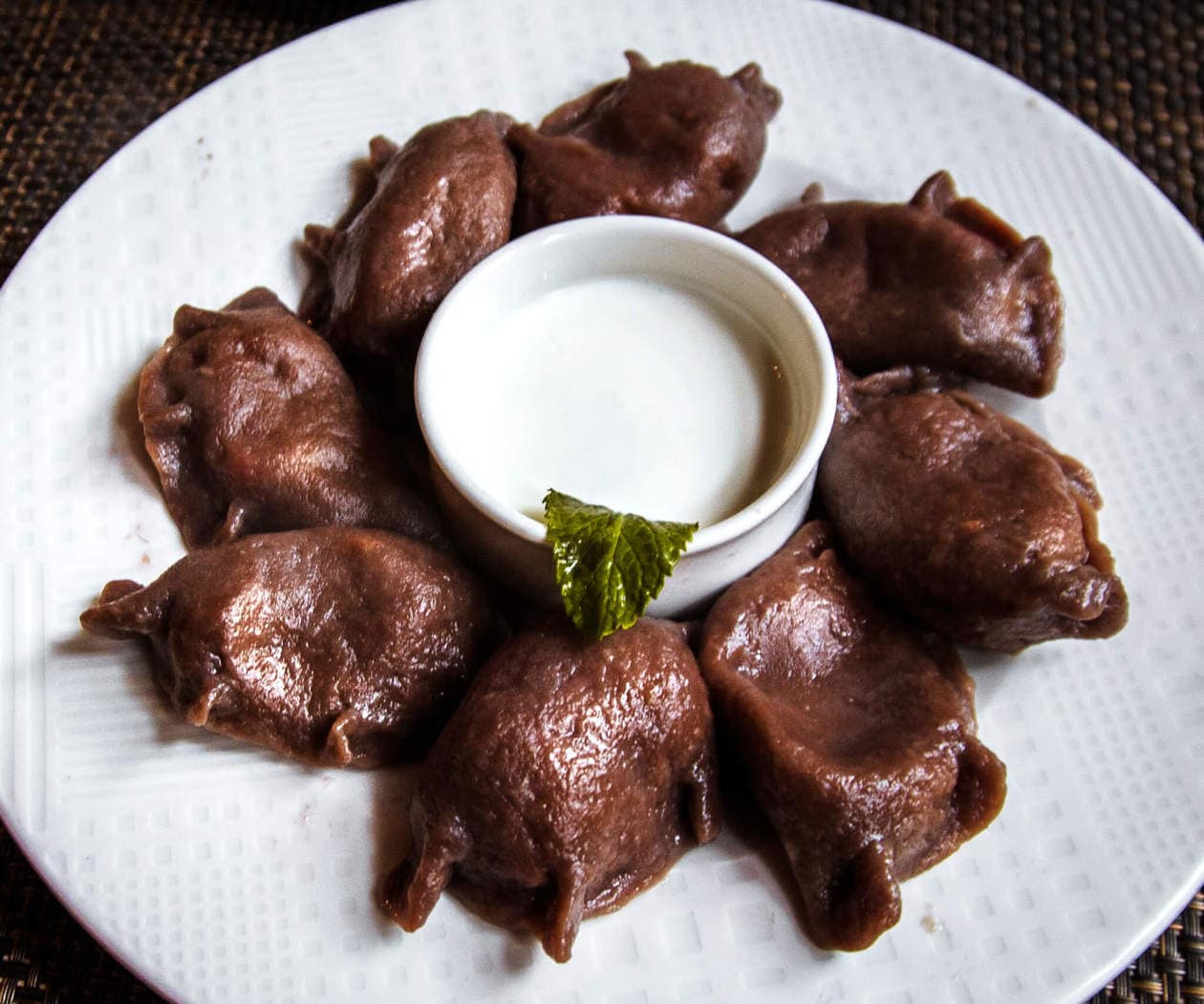 Order from a long list of classic Polish flavors, or sample their internationally inspired menu. I do recommend saving room for dessert though because the chocolate pierogi with raspberry filling and white chocolate sauce was to die for.
Pierogarnia Mandu has two locations in Gdansk, one near the train station and the other in Oliwa. Click the related post below for more information.
---
RELATED POST: PIEROGARNIA MANDU // THE BEST PIEROGI IN GDANSK
---
SHOP FOR AMBER ON MARIACKA STREET
Aside from being one of the prettiest streets I've ever been on, Ulica Mariacka is where you'll find the largest concentration of amber dealers in the Old Town. Make your way up the cobblestone streets and peer into the glass display cases carrying Baltic Gold.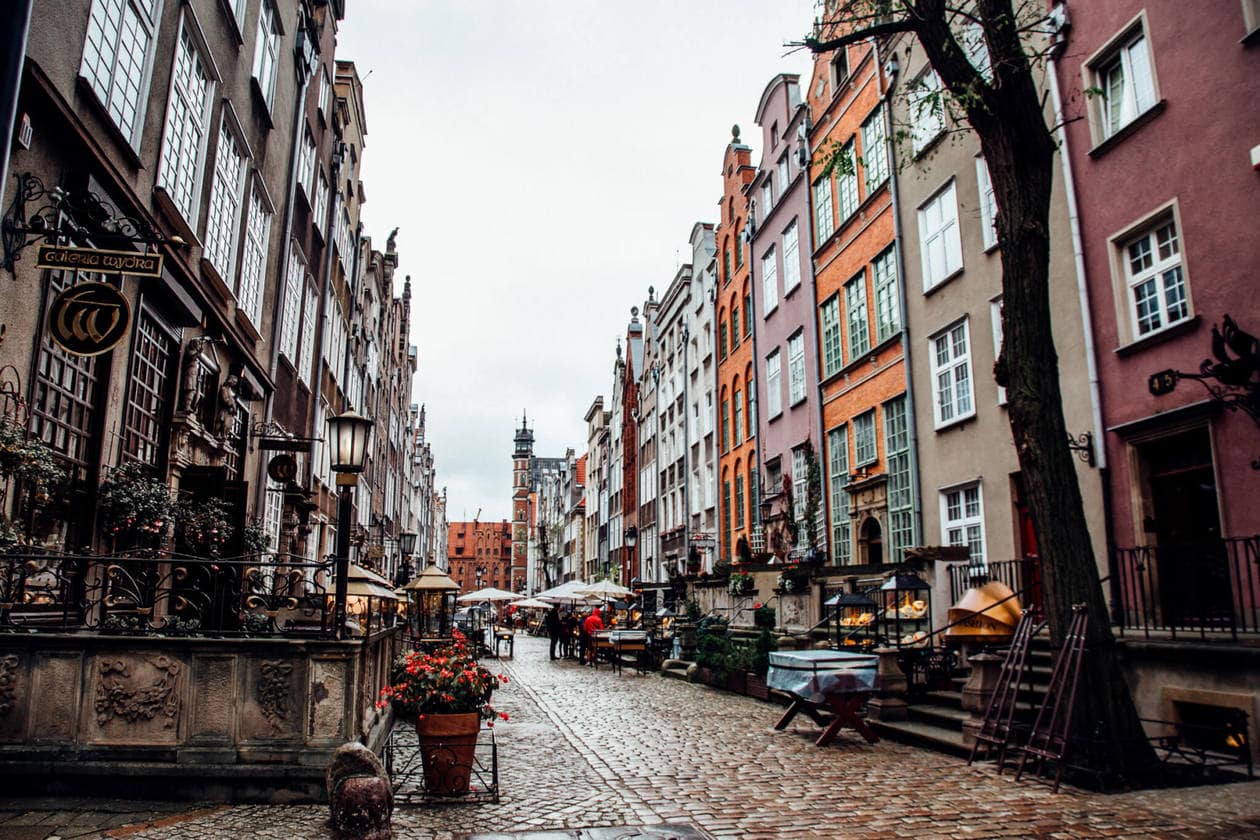 Gdansk is considered the amber capital of the world and to be honest, I totally wrote it off while I was there.
After reading a little bit about the stone when I got home, I wish that I had added buying amber to my list of things to do in Gdansk. Amber is made out of fossilized resin from extinct trees. Which is crazy, but what's even crazier is that most of the amber excavated today is between 30-95 million years old.
If you're ever going to buy amber, Gdansk is the place to do it.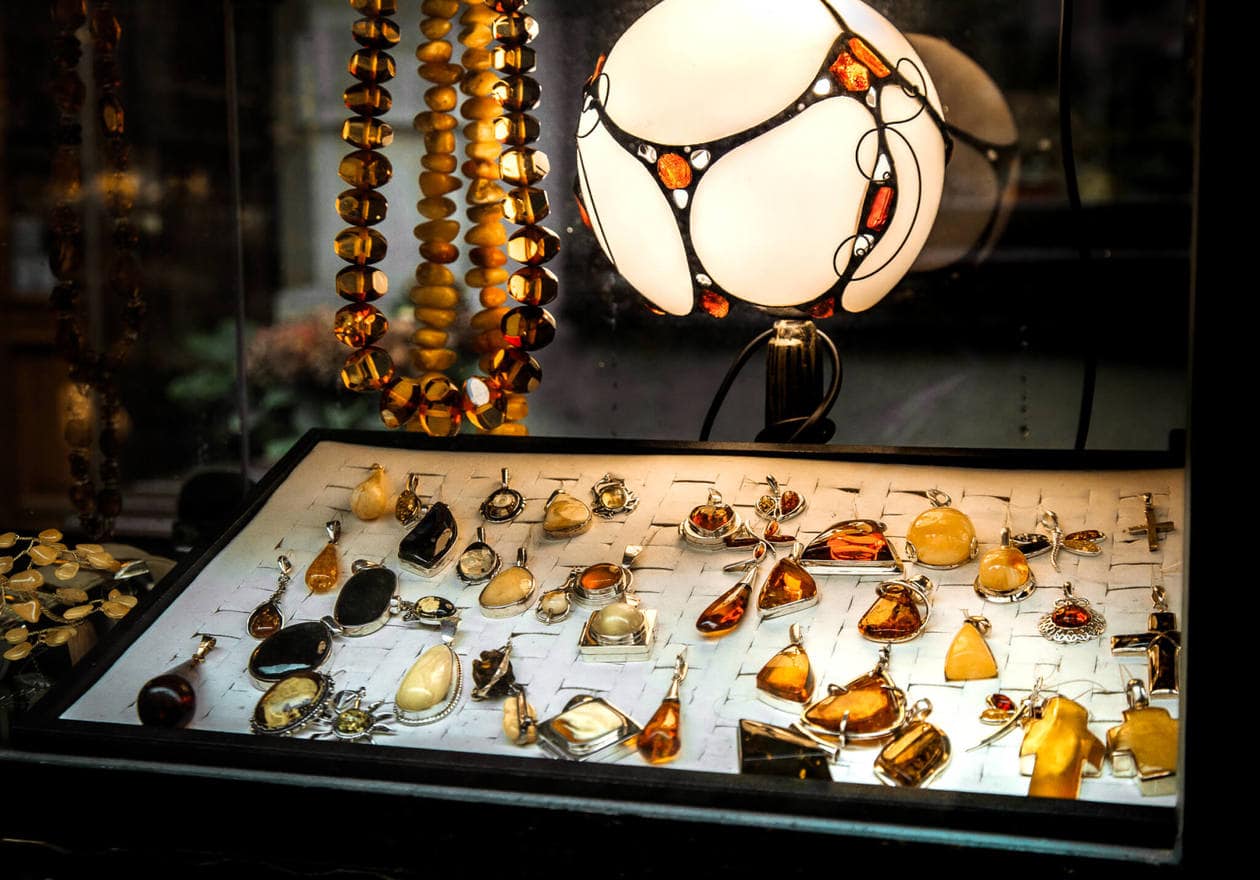 STROLL ALONG THE MOTWALA RIVER
I love cities that have a water element to them, and Gdansk checks off that box. Across the bridge from the Green Gate in Old Town, you'll find a large promenade situated along the Motwala River.
As you walk around you'll find tons of restaurants and pubs, and of course, Gdansk's famous medieval crane.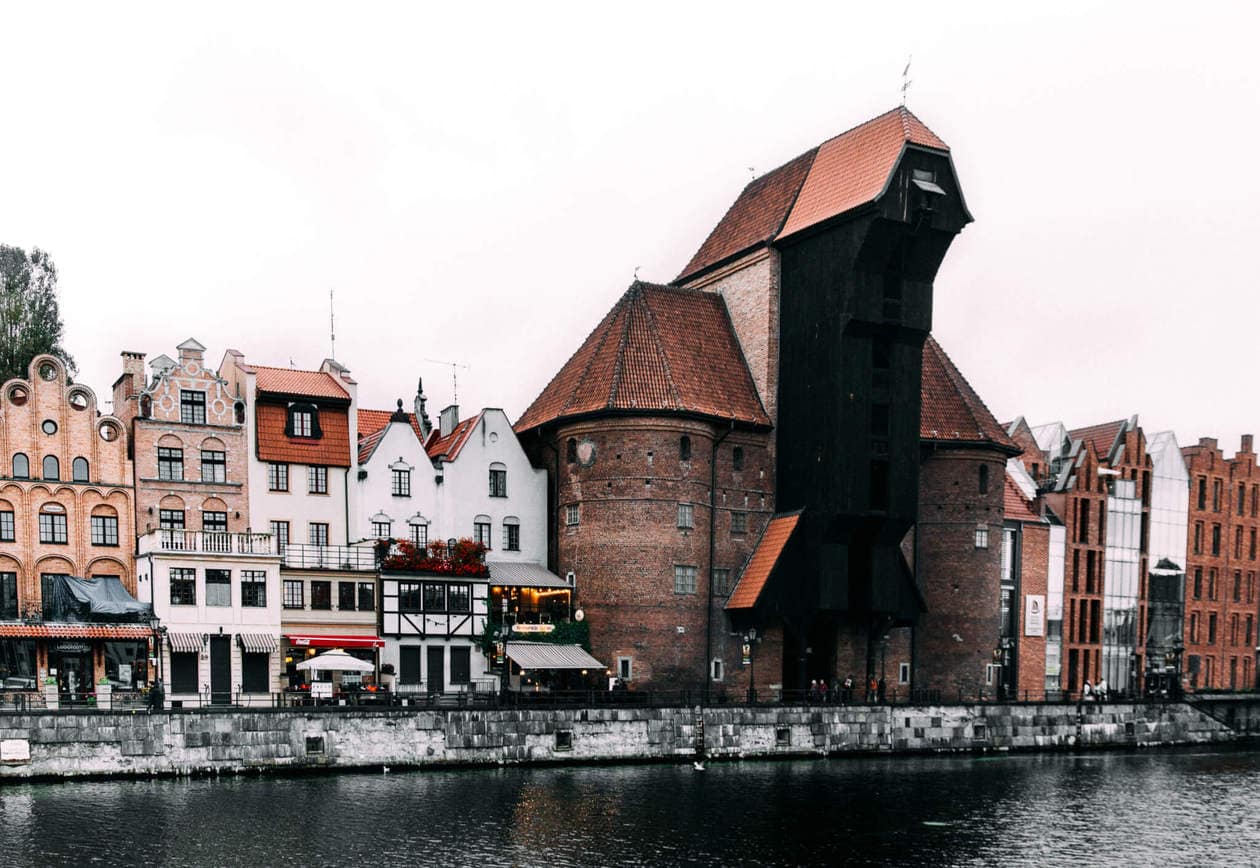 BRUSH UP ON SOME HISTORY
As the setting for the first battle in Germany's invasion of Poland, as well as the birthplace of the Solidarity movement, Gdansk has a rich and colorful history worth exploring, and its museums consistently rank amongst the top things to do in Gdansk.
MUSEUM OF THE SECOND WORLD WAR
WWII started with the Battle of Westerplatte (a peninsula in Gdansk), so it seems fitting that the The Museum of the Second World War would live here. The museum aims to give a global perspective of the events, portraying a broader scope of the war, and it has been called "the most comprehensive public exhibition in Europe" about World War II .
HOURS 
Monday:closed
Tuesday 10am – 7pm
Wednesday – Sunday 10am 7 8pm
ADMISSION
Normal: 23 PLN ($6 USD)
Reduced: 16 PLN ($4 USD)
ADDRESS 
W. Bartoszewskiego Square 1 , 80-862 Gdańsk
WEBSITE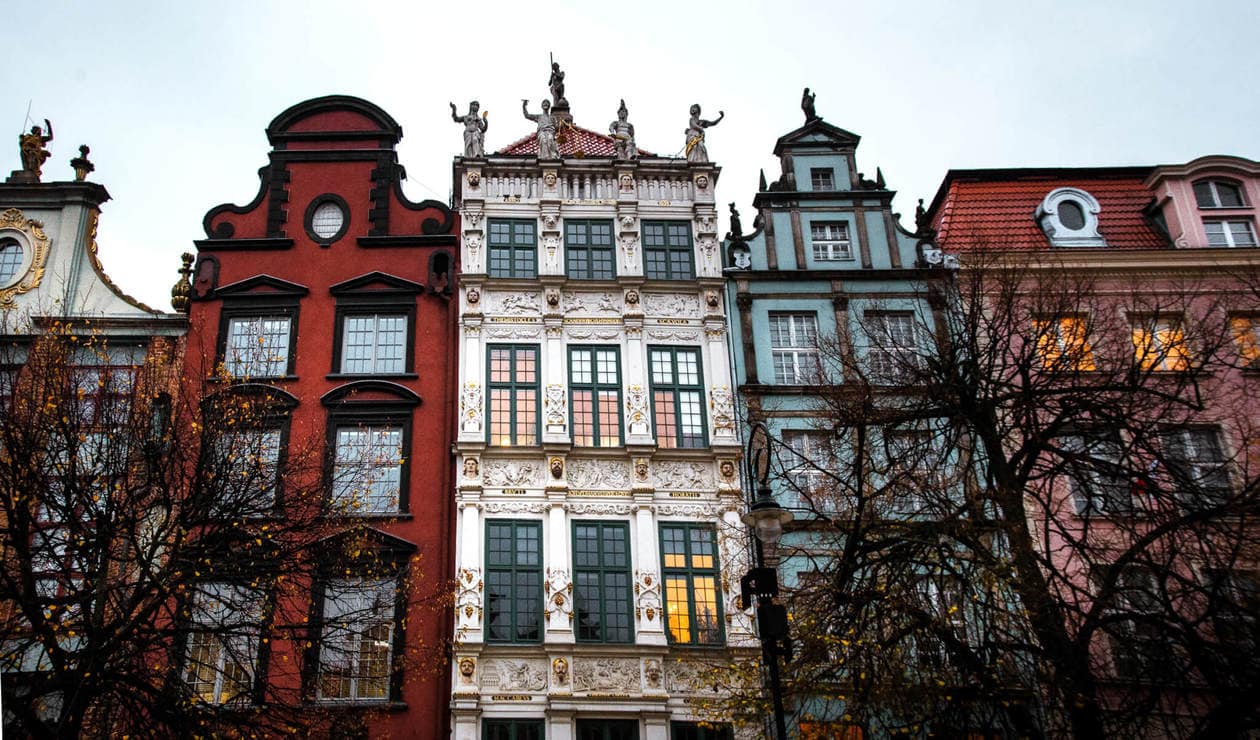 EUROPEAN SOLIDARITY CENTER
The European Solidarity Center is a museum and library dedicated to history of Solidarity – a non-violent, anti-communist movement in Poland which is considered to have had a big role in contributing to the fall of communism.
HOURS 
Monday:closed
Tuesday 10am – 7pm
Wednesday – Sunday 10am 7 8pm
ADMISSION
Normal: 23 PLN ($6 USD)
Reduced: 16 PLN ($4 USD)
ADDRESS 
W. Bartoszewskiego Square 1 , 80-862 Gdańsk
WEBSITE 
Did I miss anything? What are your top things to do in Gdansk?
---
PIN IT // THE TOP 10 THINGS TO DO IN GDANSK