A large portion of our trip so far has been dedicated to visiting WWII historical sites. We've been to Auschwitz, The Krakow Ghetto, and Schindler's Factory. It's been emotionally heavy so on our first day in Munich we decided to lighten things up and head to Hofbrauhaus, one of the most famous beer halls in the world.
Little did we know Hofbrauhaus also has some dark roots of its own, as this is the site where Hilter gave his first speech to the Nazi party. Keep reading to learn more about Hofbrauhaus' history, plus what to expect during your visit.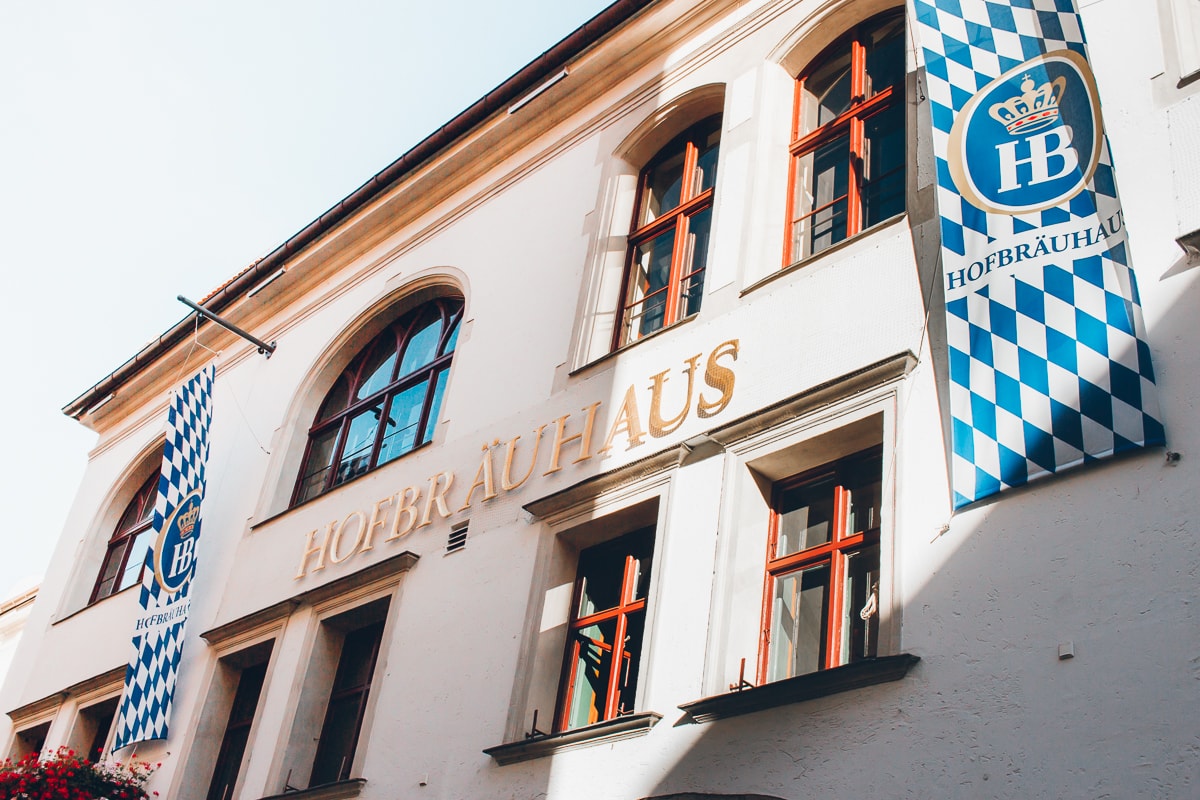 HOFBRAUHAUS DURING WWII // HITLER AND THE NAZI PARTY
As soon as you step inside Hofbräuhaus, it feels like a party. Waiters dressed in Lederhosen serve liters of beer to drunk tourists, while the oompah band plays classic drinking songs.
On the outside, you'd never suspect that this beer hall would have such a dark past, but most tourists are unaware that they are sipping their beers within a significant location in Nazi history. It's understandable why this fact is not widely advertised. It definitely makes you feel a little uneasy once you become aware.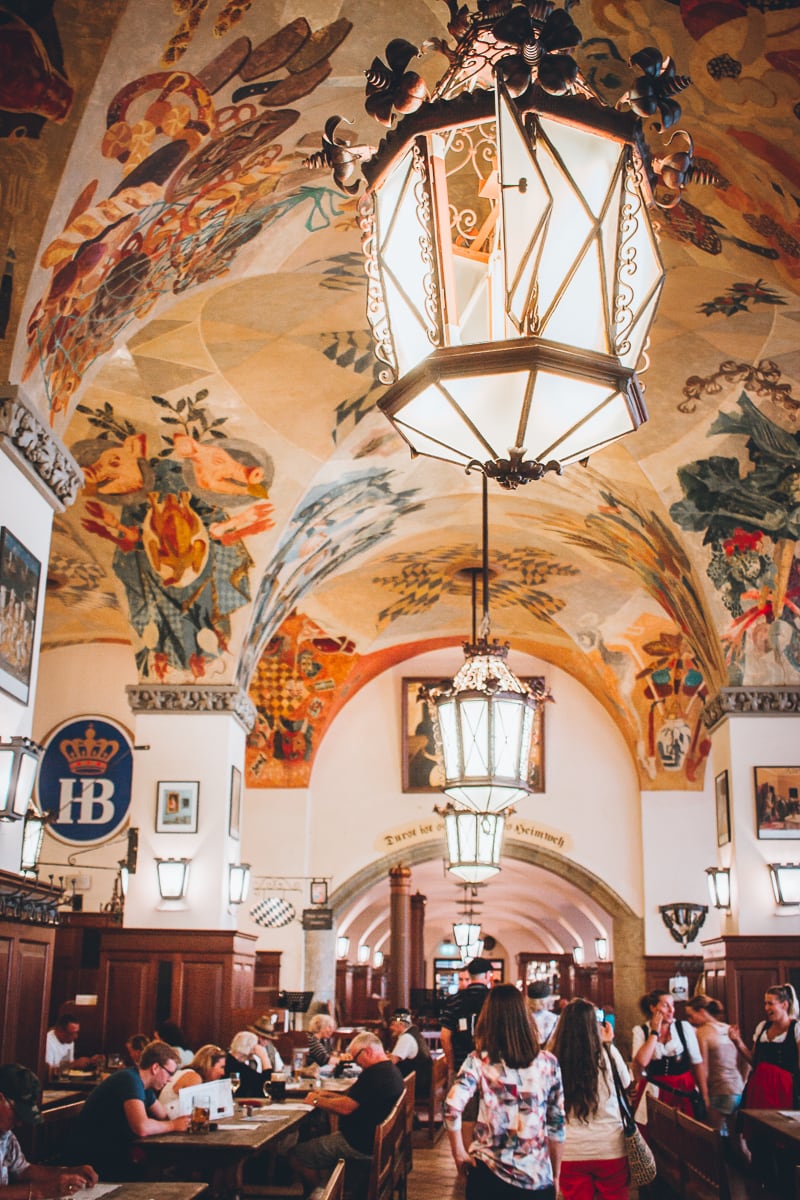 FESTSAAL: NAZI HISTORY IN THE FESTIVAL ROOM
While everyone is downstairs partying, the upstairs Festsaal (Festival Hall) remains eerily quiet. I'm not sure how many tourists actually visit Hofbrauhaus as a historical site, but I'm certain most of them miss this room.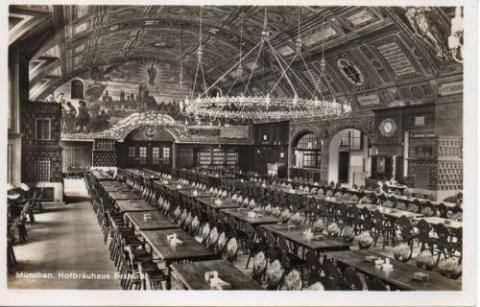 In February 1920, Hitler and the National Socialists held their very first meeting at Hofbrauhaus in Munich. During this gathering, Hitler presented the Nazi Party 'Twenty Five Point Program' (a political manifesto outlining the party's "philosophy" and destructive mission) in the Festival Room.
Hofbrauhaus is also where Hiltler publicly denounced the Jewish people and gave the infamous "Why We Are Antisemites" speech.
Hofbrauhaus played a such central role in Hilter's rise to power that they would celebrate the founding of the Nazi party here every year on its anniversary.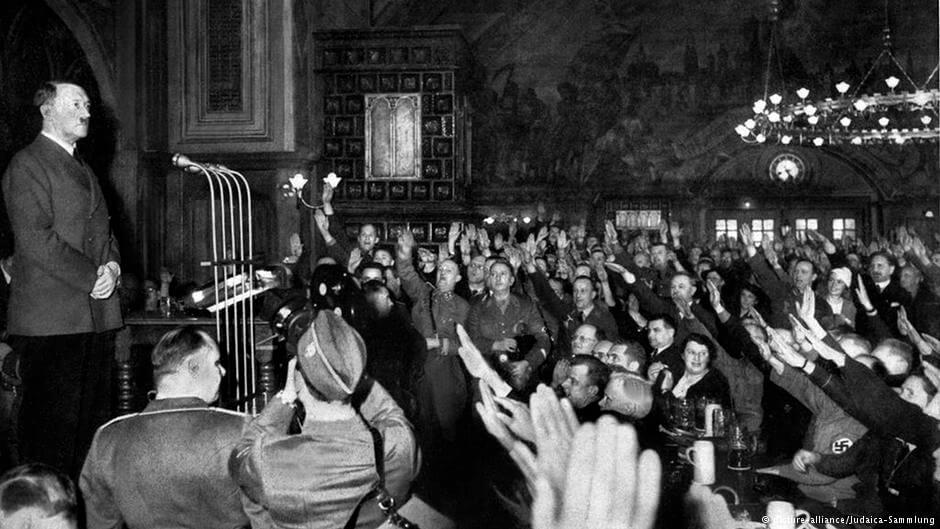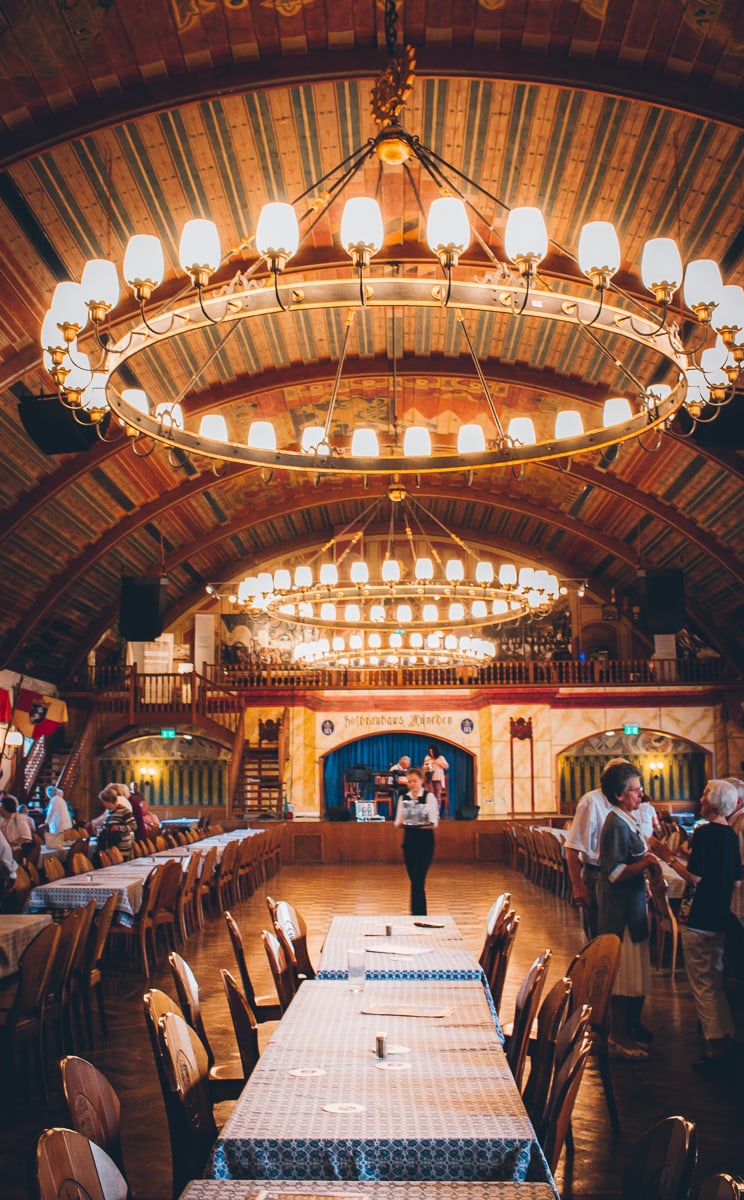 If you would like to visit the Festival Hall (or consciously avoid it) it is located on the third floor.
CEILING FLAGS
Even though much of Hofbrauhaus was destroyed during WWII, many believe that a few swastikas remain in the beer hall.
The ceiling's red flags have been carefully re-painted with the Bavarian flag pattern but I personally could see how they resemble the shape.
VISITING HOFBRAUHAUS // WHAT TO EXPECT
Today, Hofbrauhaus is the largest and most crowded beer hall in Munich and it has somewhat negative reputation due to its immense popularity and tourist trap short comings.
Many will tell you to skip Hofbrauhaus, but I recommend at least stopping in for a beer even if you are not a history buff. It plays a major role in Munich's beer culture and is worth a stop inside to look around.
---
RELATED POST: CHINESISCHER TURM: MY FAVORITE BEER GARDEN IN MUNICH
---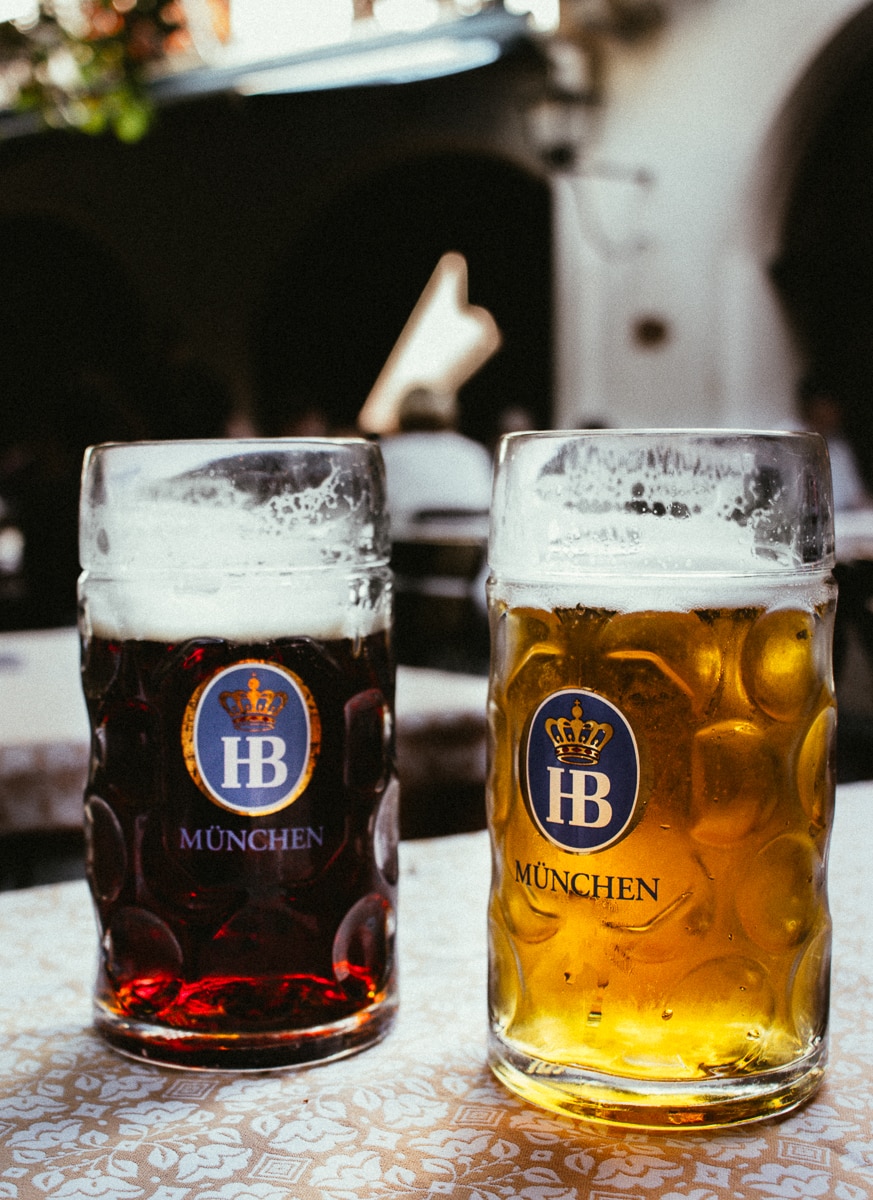 THE BEER
While have never experienced Oktoberfest in Germany, Nick and I go to Big Bear Oktoberfest every year in California. I am 100% certain Big Bear Oktoberfest is absolutely nothing like the real Oktoberfest, they do serve Hofbrau beer.  Since we were already fans of the brewery, it would've been criminal not to drink a liter in Hofbrau's hometown.
At Hobrauhaus, they serve 3 different types of Hofbrau beer (not including seasonal specialties). You can order the Original, the Dunkel (dark) or the Munchner Weisse. They also serve a non-alcoholic wheat beer.
If you're looking for a lighter option, try a Radler, a popular Summer time concoction that is a mixture of beer and lemonade. 
Hofbrauhaus' beer is brewed in accordance with the Bavarian Purity Law. In April 1516, the Bavarian Duke Wilhelm IV issued the Beer Purity Law which stated that only water, barley and hops were allowed to be used as key ingredients for beer production. It was the world's first food law and is still in effect today.
1 liter steins cost €9.20.
THE FOOD
In addition to beer, Hofbräuhaus also serves a full food menu which includes Bavarian favorites like pork knuckle, schnitzel, sausages and roasted chicken.
There are also several vegetarian options such as vegetable pie, Käsespätzle (an egg noodle dish with butter and cheese), mushrooms in cream sauce, cheese plates and salads.
Prices range from €10 to €18. Click here to view the full menu including current prices.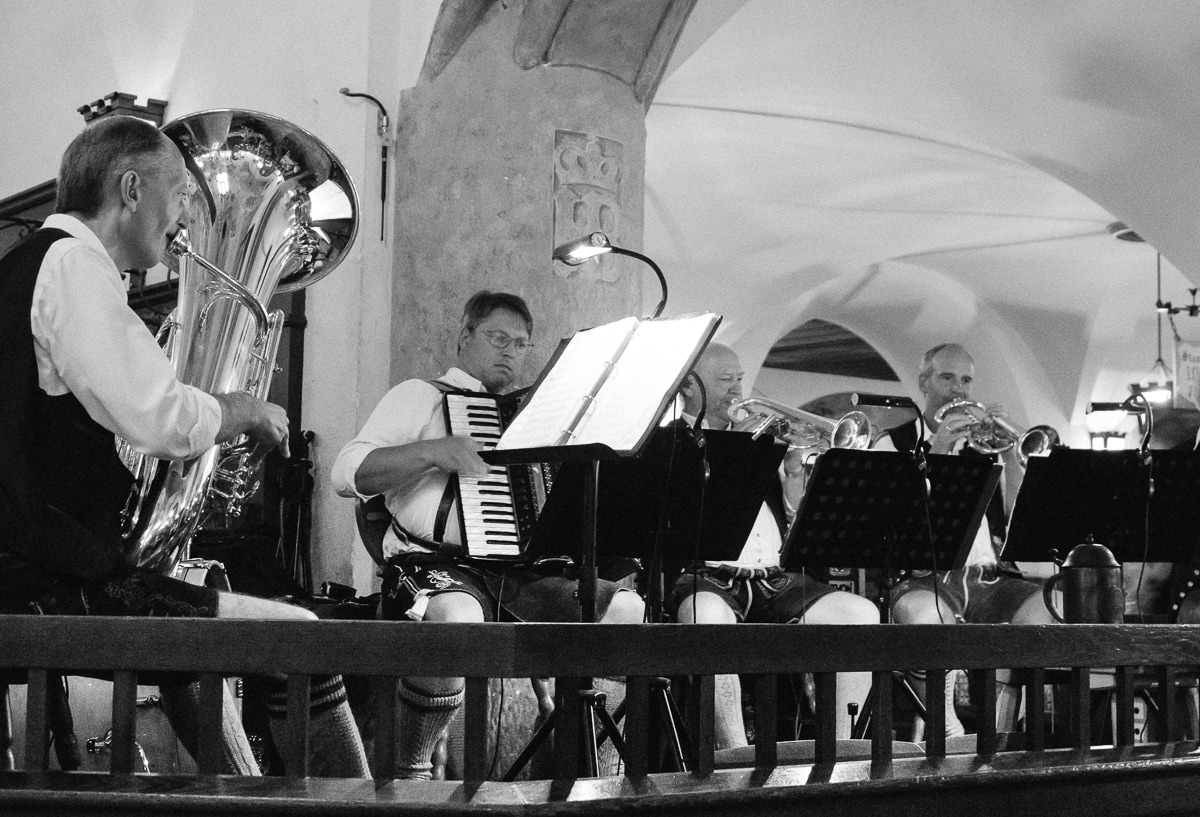 LIVE MUSIC
Hofbrauhaus has over 500 musical events a year and live music every day (except Good Friday and All Hallows Day [1/11]).
The traditional Oompah Band plays in the main hall from 12pm-4pm and 6pm-11:30pm. Upstairs in the Festival Hall the music starts at 6pm and includes dancing.
The music adds an essential touch to the overall atmosphere so I highly recommend stopping in during a time that the band will be playing.
6 TIPS FOR VISITING HOFBRÄUHAUS
TIPPING YOUR SERVER
The beer hall's waitstaff have a reputation for soliciting tips and there are countless stories of people being instructed to tip, or told how much to tip by pushy waiters.  
Tipping in Germany is much more casual than in North America and it is customary to tip between 5-10% in sit down restaurants.
I assume because Hofbrauhaus caters mostly to tourists, the waiters here do expect more. Do not feel pressured to tip above your comfort level, especially if the service is lackluster. 
There are a lot of stories about waiters dictating how much they should be tipped, or not giving change. A good way to eliminate awkwardness is to pay in cash and give your server exact change + the tip that you see fit.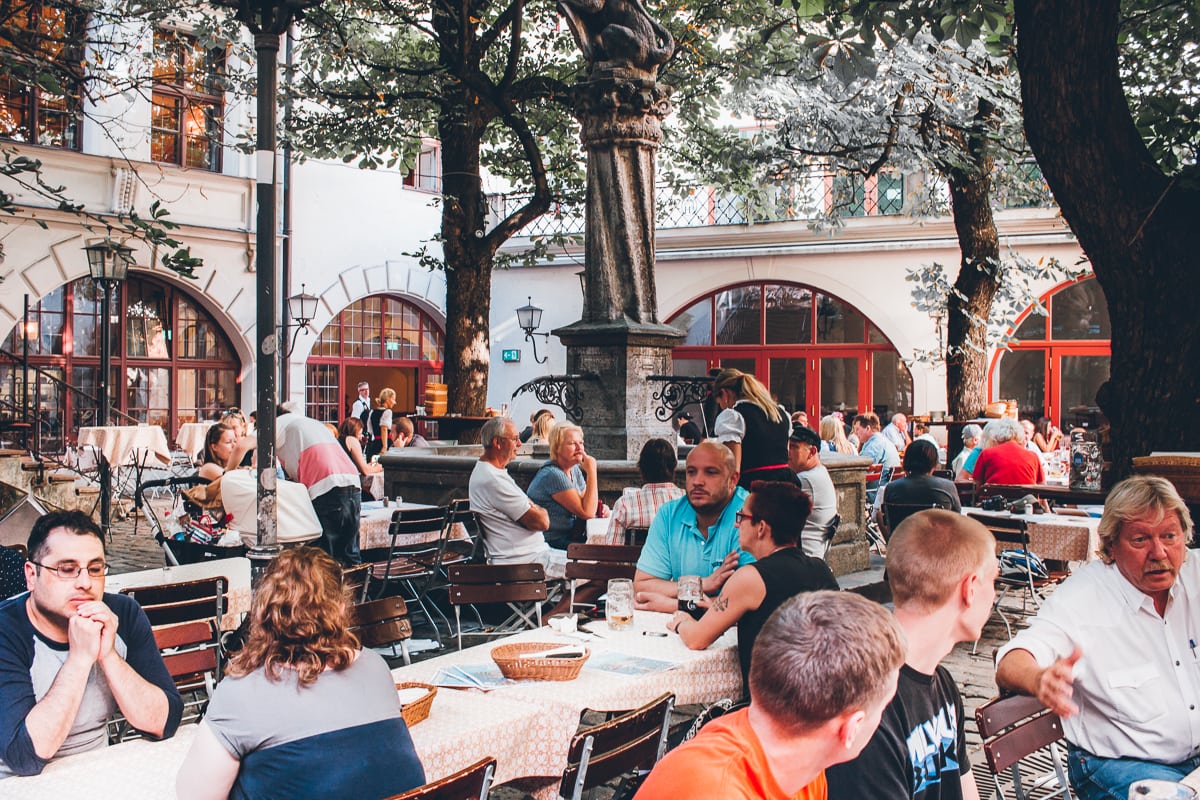 BRING CASH
If you want to order a large Bavarian pretzel (of course you want to order a large Bavarian pretzel), they are cash only.
You have the option to order a smaller pretzel off the menu, but it's better to wait for the pretzel people to come around as theirs are larger and fresher.
You will pay the pretzel people directly (around €4) and they will also expect a tip. It's expensive compared to just about everywhere else in the city, but it's to be expected considering that you're in the most popular beer hall in Munich.
SEAT YOURSELF
In the US, we are used to being seated so I never know what to do when I travel abroad as each country is different. At Hofbrauhaus, you seat yourself.
Also most of the tables are family style seating. So don't be shy, chances are you're going to have to share with strangers.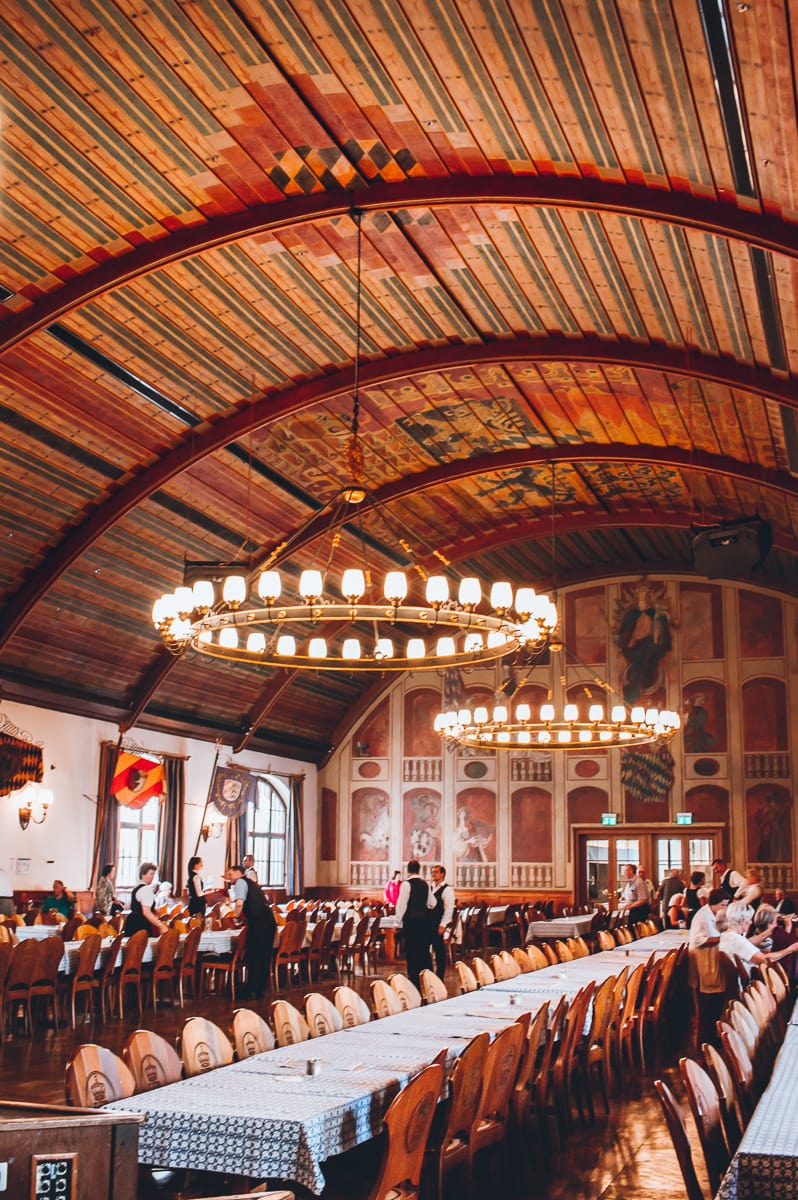 THE REGULARS TABLES
In Bavaria, regular's tables are a tradition and Hofbrauhaus has more than 100 active groups of regulars. In fact, their oldest regular's table has been held for over 70 years.
You are welcome to sit anywhere except the regular's tables which will be marked with reserved sign that reads "Stammtischen"
FUN FACT Regulars have access to stein lockets where they lock up their steins for safe keeping and easy access.
GO EARLY
The beer hall gets extremely busy in the afternoon, especially during peak season.
I recommend stopping in for a beer earlier in the day to beat the crowds. Before 5-6PM should be early enough where you can find seating and not have to scream to hear each other.

1 LITER STEINS ONLY
Hofbrauhaus only sells 1 liter steins after 6PM.
Unless you order the Munchner Weisse, which is always offered in a smaller portion size.
---
RELATED POST: AUGUSTINER BRAU // THE LARGEST BEER TAVERN IN AUSTRIA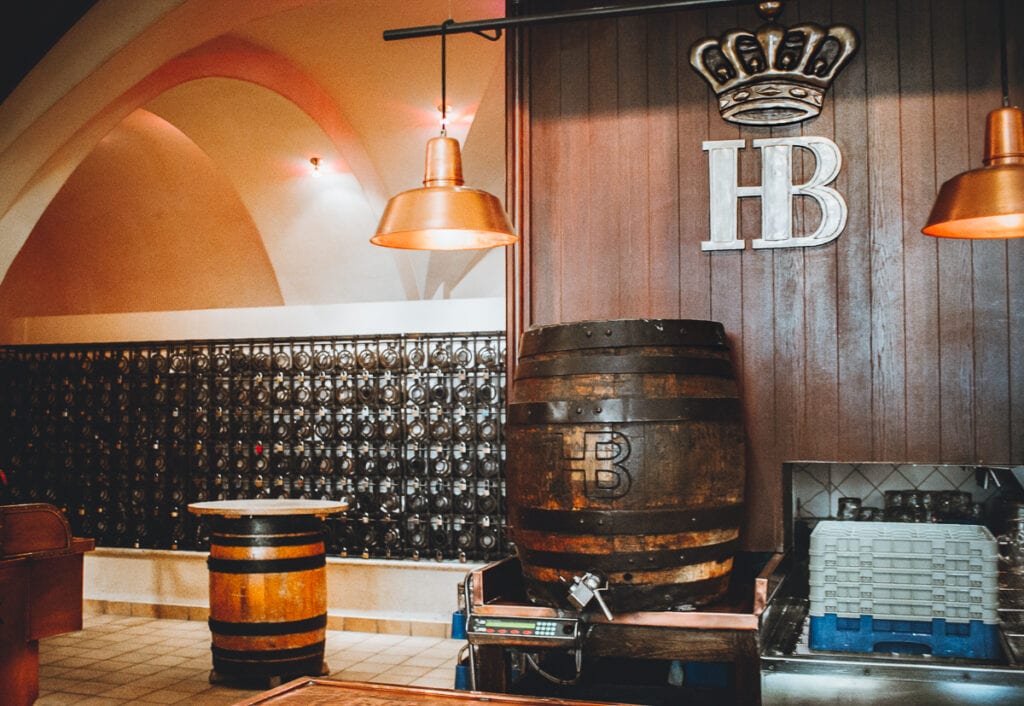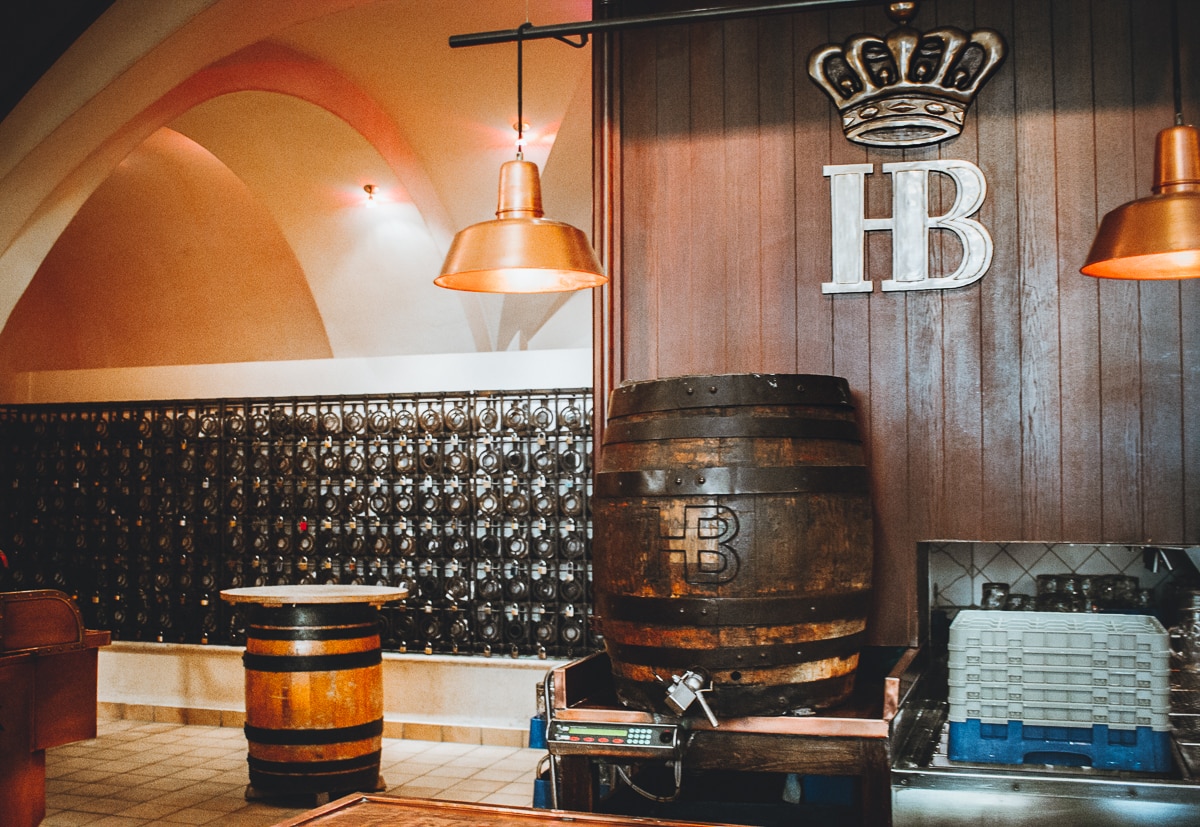 ---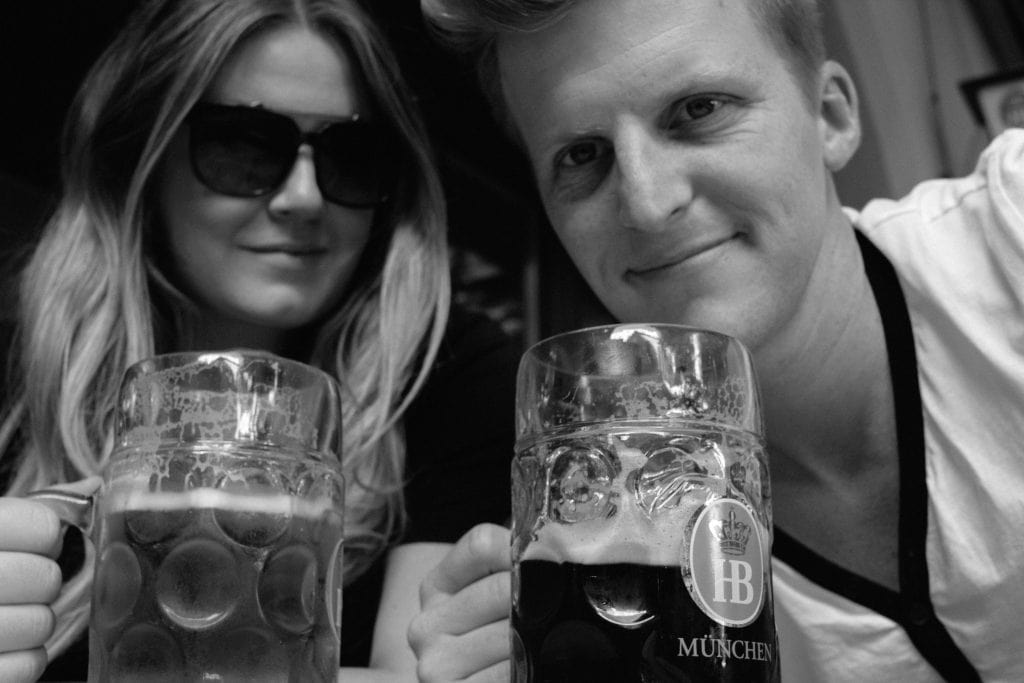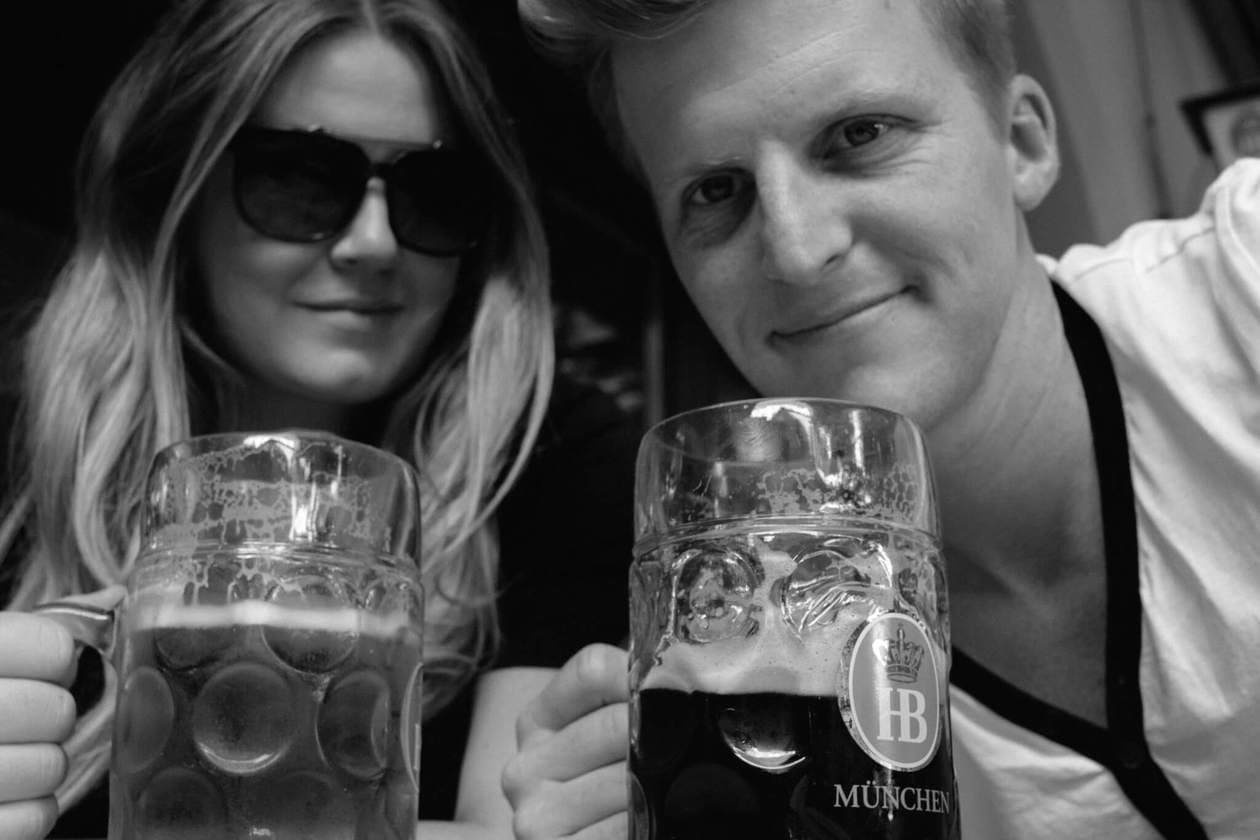 HOW TO GET TO HOFBRAUHAUS MUNICH
Hofbrauhaus is located in the center of Munich and easily accessible by public transportation. To get there take either the U-Bahn or the S-Bahn to the Marienplatz stop.
From Marienplatz, it is an easy 4 minute walk.
HOFBRAUHAUS VISITOR INFORMATION
BEER HALL HOURS The beer hall is open 365 days a year from 9am-midnight.
KITCHEN HOURS The kitchen is open from 9am-11:30pm (only a restricted snack menu is available later in the afternoon).
ADDRESS Platzl 9, 80331 München, Germany
DRINKING AGE The minimum drinking age in Gemany is 18 years old.
RESERVATIONS are not accepted in the main beer hall or the beer garden. Reservations are only accepted in Bräustüberl, the dining room.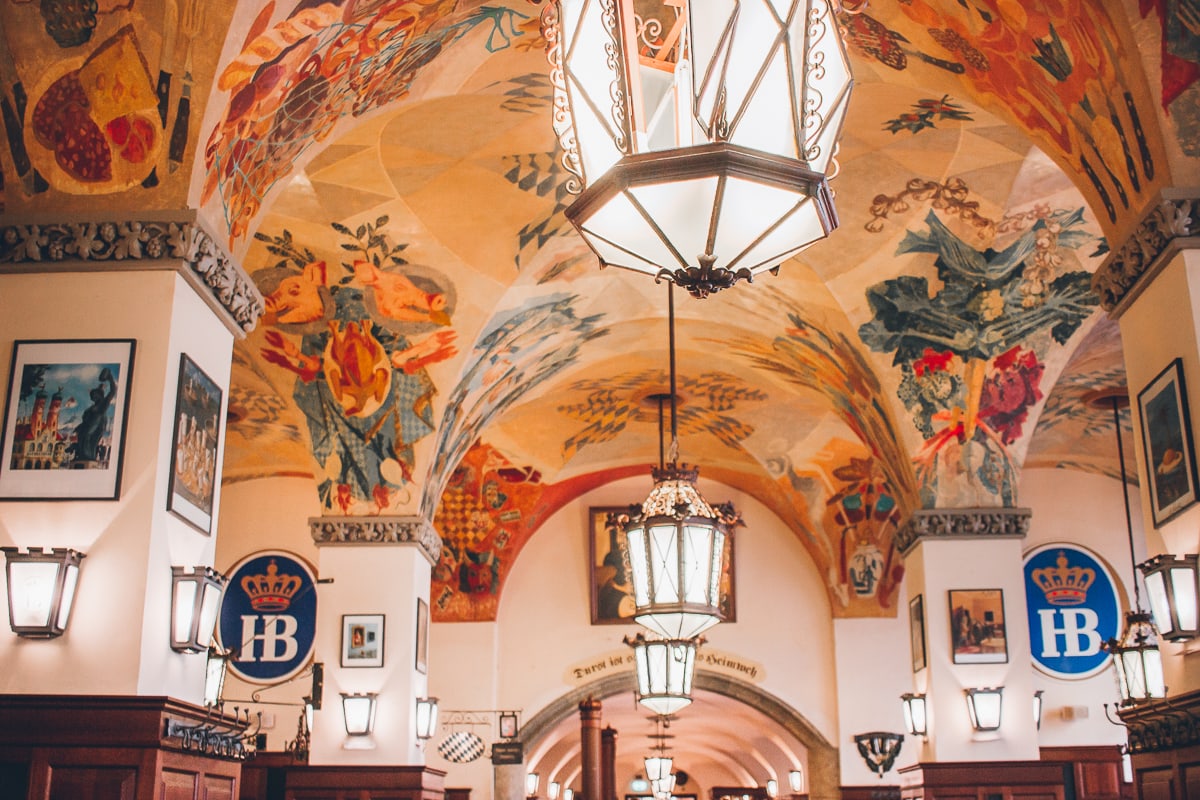 Have you been to Hofbrauhaus in Munich? Were you aware of its historical connection to Hitler and the Third Reich? Leave a comment below!
---
PIN IT: HOFBRAUHAUS // MUNICH'S MOST FAMOUS BEER HALL HAS A DARK HISTORY