Visiting a milk bar in Krakow is not only the best place for a cheap meal in the city, but these cafeteria style restaurants offer a unique glimpse into a completely different era of Poland's past. Keep reading to discover the history of Polish milk bars, what to expect when you go, and which ones to visit while you are in Krakow.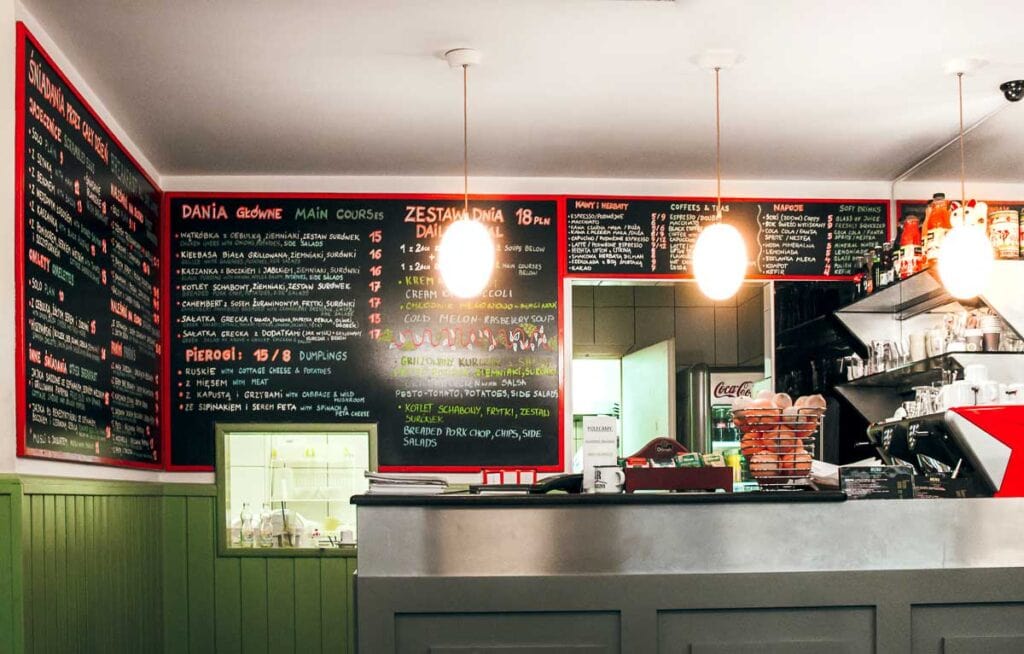 WHAT ARE POLISH MILK BARS? 
Bar Mlecznys, or Polish Milk Bars, are government subsidized cafeterias from Poland's communist past. While the first milk bar was created in 1896, the popularity of these eateries grew exponentially after WWI.
After the war, people were poor and milk bars were an inexpensive way to get a cheap and hearty meal. Polish milk bars were also especially popular amongst workers whose employers didn't offer a canteen. Milk bar meals were often included in the worker's wages.
Milk bars serve traditional Polish dishes such as pierogi, potato pancakes, soups and bigos. In the past, most of the food on the menu was dairy based (hence the name) because meat was rationed after the war.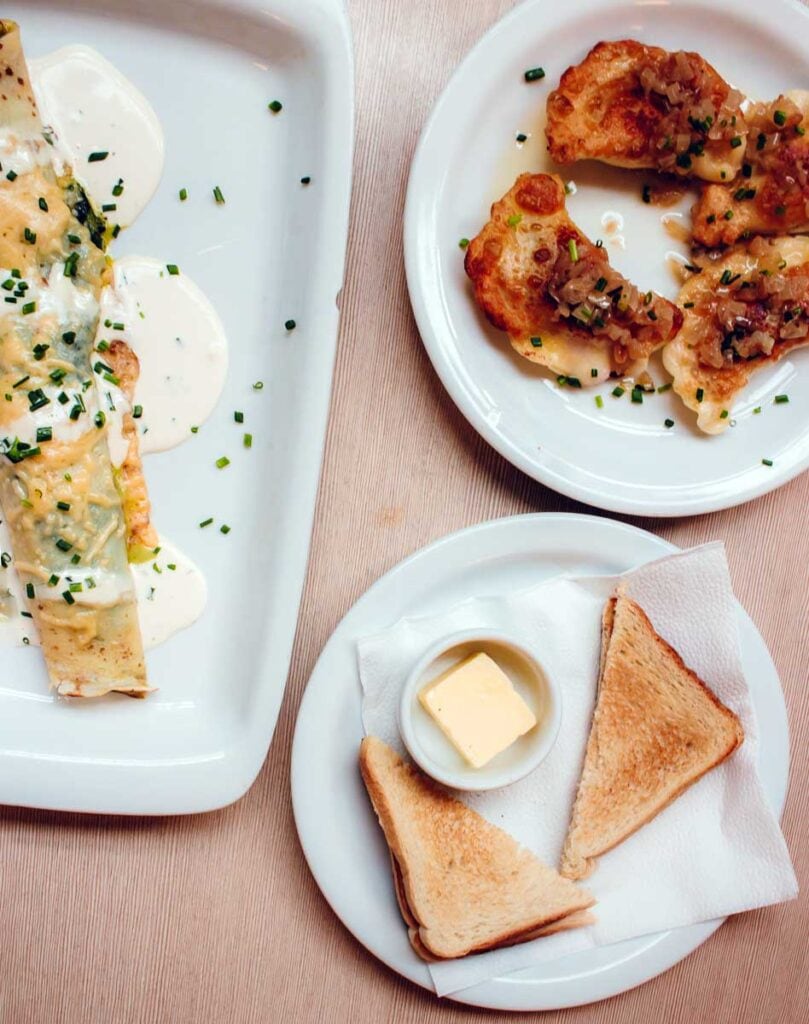 While there were once 40,000 milk bars throughout Poland, less than 150 remain today. Not much has changed since the post war days, and the restaurants are still subsidized by the government (meaning the government helps fund them so that they can keep prices low).
Whether you're a budget seeker or a luxury traveler, Polish milk bars in Krakow take you a step back into the country's history, and a visit is more about the experience than the food.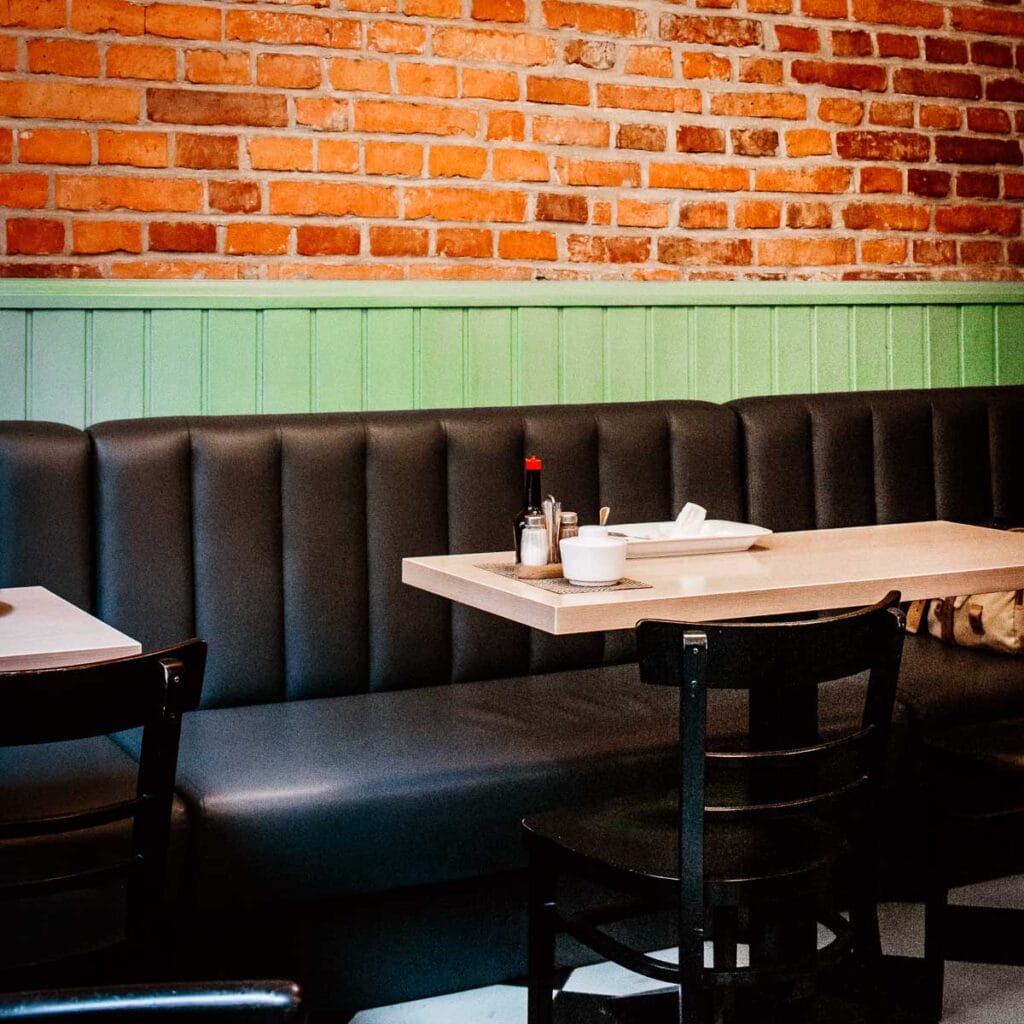 MILKBAR TOMASZA : A TRADITIONAL POLISH MILK BAR IN KRAKOW
Visiting a milk bar in Poland was at the top of our list of things to do in Krakow, and we decided to stop by one of the most popular milk bars in the city, Milk Bar Tomasza. The restaurant was small, quaint and very simple. It reminded me more of an American diner than a cafeteria, with its black and white checkered floor and round pendant lighting.
THE MENU
To keep costs low, there are no waiters or waitresses. The menu is located on the wall behind the counter, and you order from the front when you are ready. The menu is written in Polish with English translations underneath and it was much more extensive than I expected. Since meat is no longer a rarity these days, there are many dishes that included it such as chicken liver, black pudding and grilled sausages.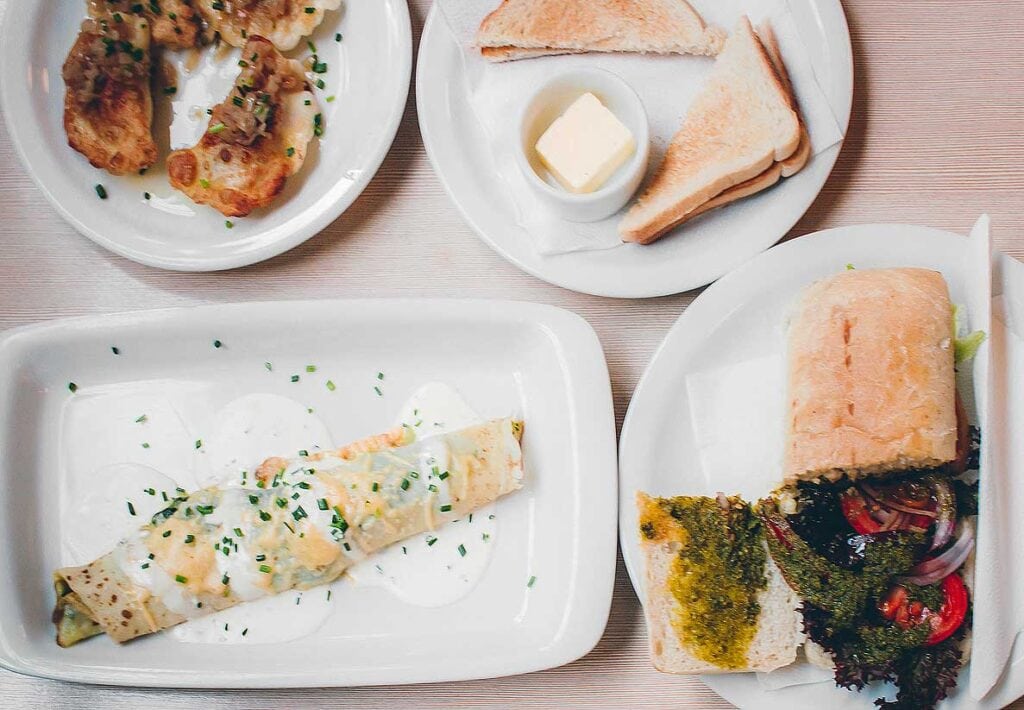 Milk Bar Tomasza offers a mix of traditional Polish specialties as well as Westernized options. They are said to have one of the best breakfasts in Krakow, with the Spanish omelette and Irish breakfast being very popular menu items. We ordered pierogi, one of Poland's most popular dishes, along with a potato pancake, a pesto sandwich and two fresh glasses of grapefruit juice.
RELATED POST: PIEROGARNIA MANDU // WHERE TO FIND THE BEST PIEROGI IN GDANSK
CHEAP EATS IN KRAKOW
Due to its popularity amongst tourists, Milk Bar Tomasza is a little pricier than other milk bars in the city. Still, it was still ridiculously affordable with almost everything we ordered coming in under $4 USD. The grand total of our dinner came out to 49 PLN ($12 USD).
There are definitely more authentic milk bars to visit in Krakow (keep scrolling for a list). We didn't realize this at the time, but Milk Bar Tomasza is a more of contemporary interpretation of a traditional Polish milk bar.
If you decide to visit Milk Bar Tomasza, be prepared for a wait. It is one of the most popular milk bars in the city and there are only about 10 tables inside, so it's common for the line to extend out the door and down the street.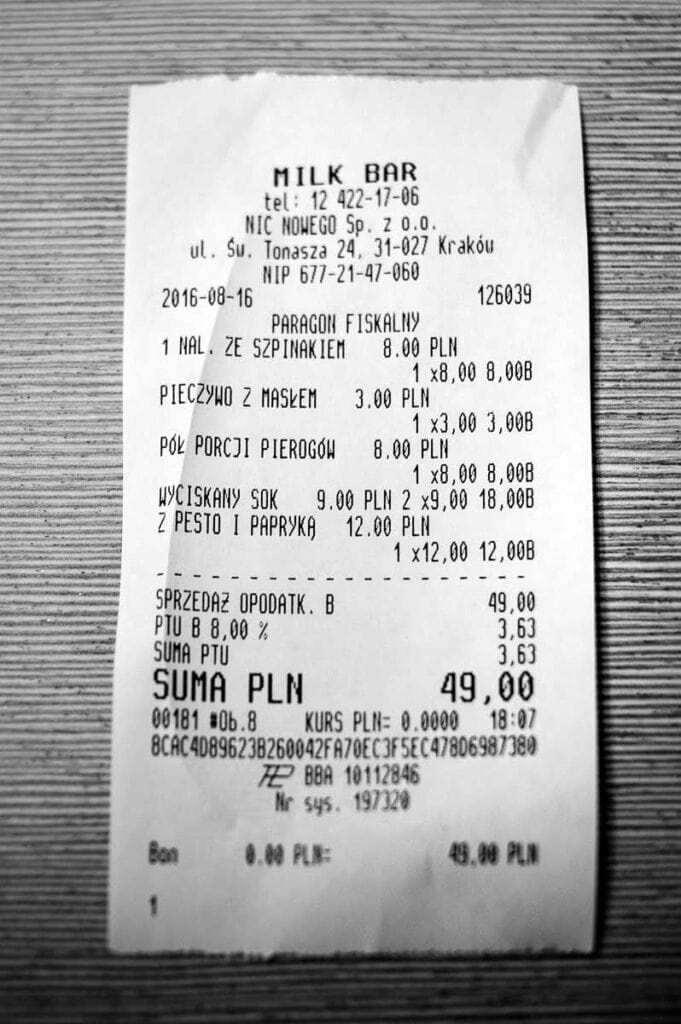 HOW TO GET TO MILKBAR TOMASZA
Milk Bar Tomasza is located in Krakow's Old Town, located just around the corner and less than a 5 minute walk from Rynek Glowny (the main square). If you are near St. Mary's Basilica, take Rynek Glowny and turn left on Floriańska. Then turn right  onto Świętego Tomasza.
---
MILKBAR TOMASZA VISITOR INFORMATION
ADDRESS Świętego Tomasza 24, 33-332 Kraków, Poland
OPENING HOURS
Tuesday – Saturday: 8AM – 8PM
Sunday: 9AM – 8PM
Closed Mondays

Click here to visit their Facebook page for updated hours
OTHER MILK BARS TO CHECK OUT IN KRAKOW
KRAKUS is said to be one of the most authentic Polish milk bars in Krakow. Located in Podgórze, it is much less touristy than Milkbar Tomasza and cheaper too.
Address: 16 Limanowskiego St.
BAR MLECZNY POD TEMIDA is a no frills milk bar serving traditional Polish food. If want a more authentic experience than Milkbar Tomasza, but don't want to venture too far from Old Town, this is a great option.
Address: Grodska 43
BAR MLECZNY TARGOWY Located a 10 minute walk from Old Town, this milk bar is popular amongst locals. Bring a translator app because there is no English, but the prices are low and the pierogi is said to be fantastic.
Address: 19 Daszyńskiego
BAR MLECZNY FLISAK is a traditional, old school milk bar located a 10 minute walk from Wawel Castle. They are best known for their pierogi.
Address: Tadeusza Kościuszki 1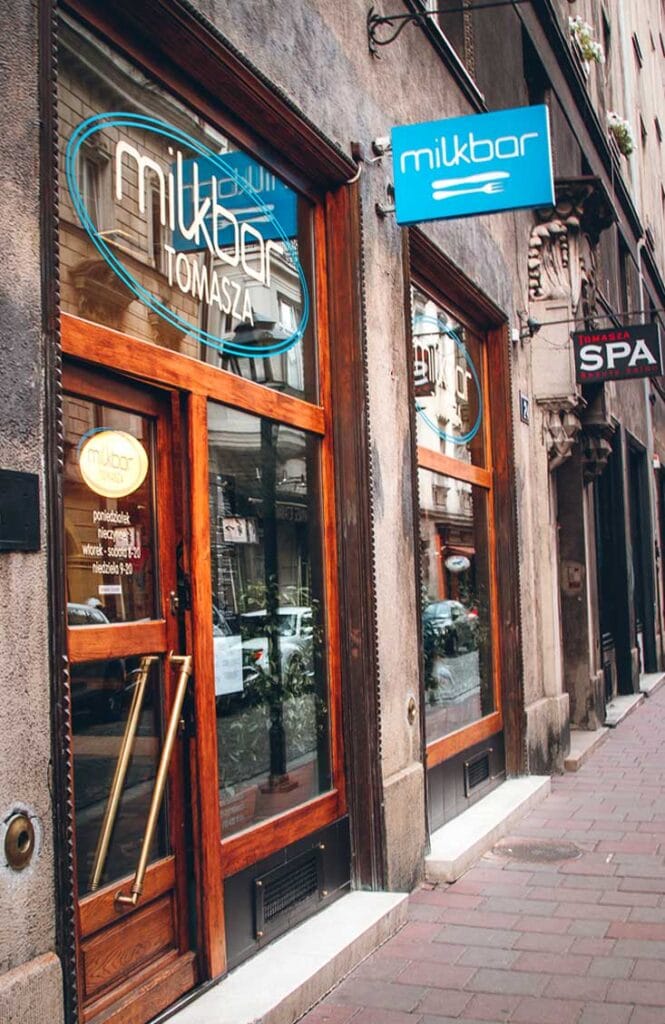 LOOKING FOR MORE POLAND INSPIRATION? CHECK OUT THESE RELATED POSTS
SCHINDLER'S FACTORY MUSEUM : A VISITOR'S GUIDE
KRAKOW: KAZIMIERZ AND THE JEWISH GHETTO
WIELICZKA SALT MINE (POLAND) : EVERYTHING YOU NEED TO KNOW
POLISH VODKA TASTING AT WODKA IN KRAKOW
10 THINGS TO DO IN GDANSK, POLAND
SOPOT: AN EASY DAY TRIP TO POLAND'S SEASIDE RESORT TOWN
---
PIN IT: VISITING A TRADITIONAL POLISH MILK BAR IN KRAKOW