This post has recently been updated to include up to date information.
My friend Erica and I threw together our Machu Picchu adventure extremely last minute .. and by last minute I mean we drank too much wine and booked our plane tickets at 10pm the night before. We had zero clue as far as what to expect when we landed, and it turns out Peru's Andean Highlands are a particularly difficult destination for winging it. If we had the time to do any research on the area, we would've definitely been cautioned about the major elevation changes and learned about just how common altitude sickness can be in Cusco and The Sacred Valley.
Unfortunately I learned my lesson the hard way.. laying flat on my back gasping for air at a smoothie shop in Cusco.
Keep reading to discover everything there is to know about altitude sickness in Peru including how to avoid it, ways to manage symptoms and the major difference between Cusco and Machu Picchu's elevation.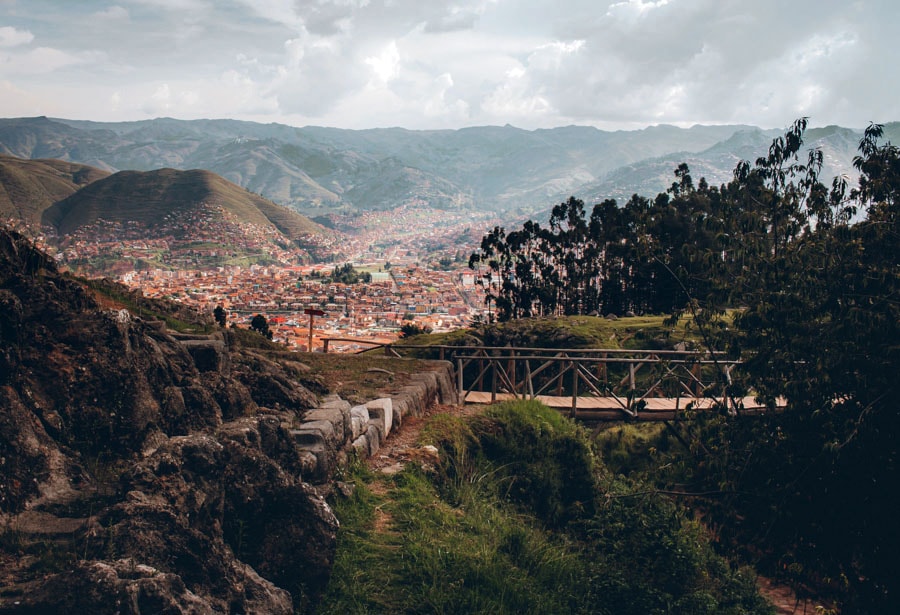 ---
Disclaimer: I am not a health professional and the information in this post is not intended nor implied to be a substitute for professional medical advice. Please contact your doctor or other qualified health providers with any questions you may have regarding medical conditions and symptoms.
---
HOW DOES HIGH ALTITUDE IN CUSCO AND THE SACRED VALLEY MAKE YOU SICK?
Air pressure decreases at higher altitudes, making the oxygen molecules in the air further apart. As a result, this reduces the amount of oxygen you wind up breathing in with each inhale.
If you are not used to high altitudes, this type of change in the air's oxygen levels can reduce the oxygen levels in your blood and brain which cause physical altitude sickness symptoms, also known as Acute Mountain Sickness (AMS) or soroche, as it is known locally.
Altitude sickness most commonly starts affecting people at around 8,000 feet / 2,438 meters. Cusco is located at 11,152 feet (3,399 meters) which explains why so many travelers experience symptoms.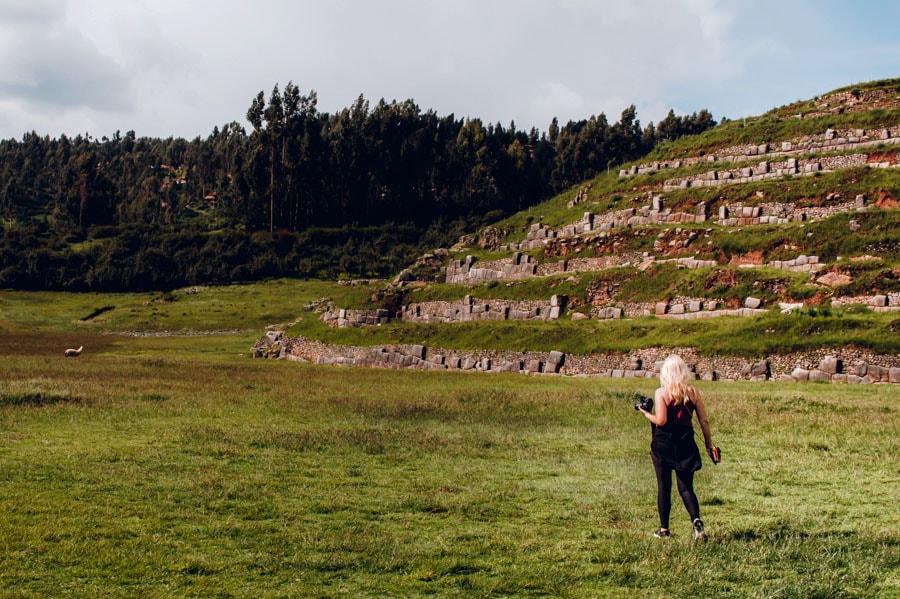 ELEVATION LEVELS OF CUSCO AND THE SACRED VALLEY (LOWEST TO HIGHEST)
Some may be surprised to discover that Aguas Calientes and Machu Picchu elevation levels are surprisingly much lower than the other site in The Sacred Valley.
AGUAS CALIENTES ALTITUDE
6,693 feet / 2,040 meters
MACCHU PICCHU ALTITUDE
7,972ft / 2,430 meters
OLLANTAYTAMBO ALTITUDE
9,160 feet / 2,792 meters
URUBAMBA ALTITUDE
9,420ft / 2871 meters
PISAC ALTITUDE
9,751 feet / 2972 meters
CUSCO ALTITUDE
11,152 feet / 3,399 meters
EXPERIENCING CUSCO ALTITUDE SICKNESS FIRST HAND
When we landed in Cusco (11,152 feet / 3,399 meters) we were completely oblivious to the fact that we had just undergone an extreme elevation change, and we immediately jumped onto a full-day walking tour (definitely do recommended).
While we did not experience any symptoms of altitude sickness the first day (aside from being a little more out of breath than usual), the next morning I woke up feeling like a stack of bricks was piled on my chest. Erica and I were both nauseous and light headed but with only a few days to explore the city, we headed out for more sightseeing.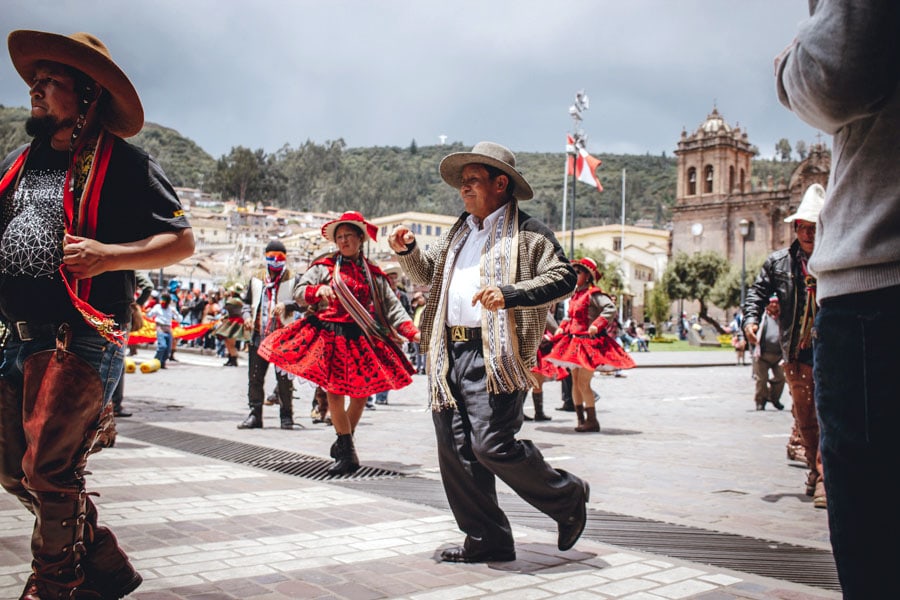 It was a Saturday morning and the town felt alive. The sun was shining, the markets were busy and people were dancing in the streets. A sharp contrast to how it felt inside of my body.
The more I walked around, the worse I began to feel. My body had the kind of aches you get when you have the flu, and even the shortest steps were causing me to gasp for air. It seemed like everything around me was moving in slow motion and I thought I was going to fall over from dizziness.
We popped into a smoothie shop in the main square to take a break and a few minutes later I was horizontal. Luckily I was close enough to our hotel to be able to drag my body back there and hook up to their oxygen tank.
It was a terrifying experience, and one that could have been easily avoided.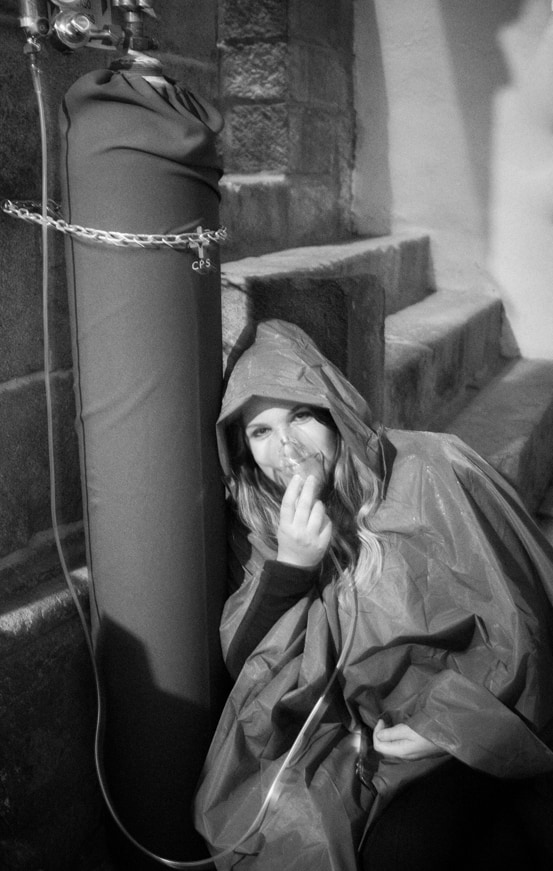 SYMPTOMS OF ALTITUDE SICKNESS
The symptoms and severity of AMS can vary from person to person regardless of physical fitness level or age. The most common symptoms include:
headaches
dizziness
nausea / vomiting
exhaustion
increased heart rate
loss of appetite
difficulty sleeping
According to the NHS, it is most common for symptoms to start showing within 6 to 24 hours.
9 TIPS FOR MANAGING ALTITUDE SICKNESS IN CUSCO, MACHU PICCHU AND THE SACRED VALLEY
ACCLIMATIZE GRADUALLY
If there was one piece of advice I wish I had read prior to arriving in the Peruvian Andes, it would be to acclimatize gradually.
Starting at a lower altitude and slowly making your way up to higher elevations is a gentle way of allowing your body to naturally adjust to the lower oxygen levels.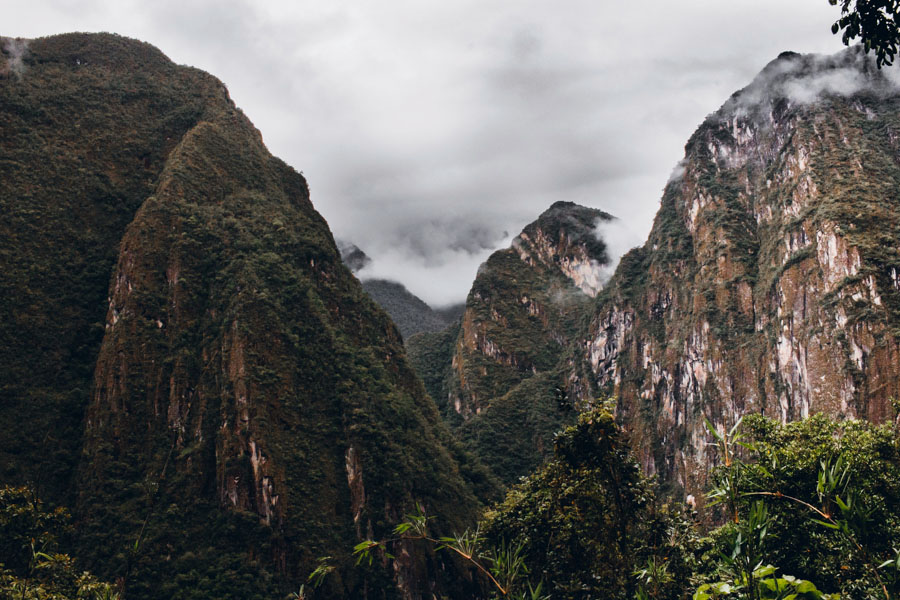 CUSCO ELEVATION VS MACHU PICCHU ELEVATION
For some reason I assumed that Machu Picchu would be located at a much higher altitude than Cusco, but this is not the case and it makes acclimatizing gradually a little bit tricky.
Most travelers who visit Machu Picchu will fly into Cusco from Lima and then take a train to Aguas Calientes (the town at the base of Machu Picchu). Lima is located at an altitude of 879 feet (268 meters), so going from that to Cusco's 11,152 feet (3,3099 meters) with no acclimatization in between is why so many travelers experience altitude sickness.
HOW TO ACCLIMATIZE GRADUALLY IF YOU ARE FLYING INTO CUSCO
If you decide acclimatizing gradually is the best option for you, there are several ways to do it.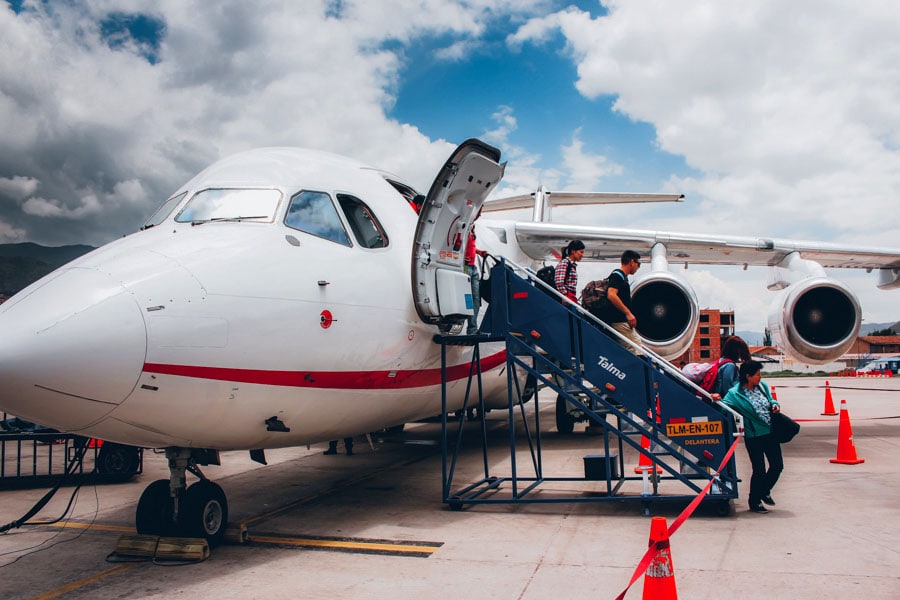 Colectivos are shared passenger vans which provide an inexpensive and easy way to travel throughout the city and The Sacred Valley. If I were to do this trip again, I would fly to Cusco in the morning and take a colectivo (you can also take a taxi) straight to Ollantaytambo that day. Colectivos do not operate on a schedule, they leave when they are full and the ride takes 90 minutes.
Ollantaytambo is located at 9,160 feet (2,792 meters) which is still high, but not as high as Cusco. I would spend that afternoon resting in Ollantaytambo and then take the train to Aguas Calientes the next morning. The altitude of Aguas Calientes is 6,693 feet (2,040 meters) so the risk of feeling sick here is much lower.
Spend time in Aguas Calientes and visit Macchu Picchu, then gradually head back through the Sacred Valley stops you wish to visit (Ollantaytambo, Urubamba, Pisac) acclimatizing to the altitude as you go. Finally I would explore Cusco as the last stop before flying back out.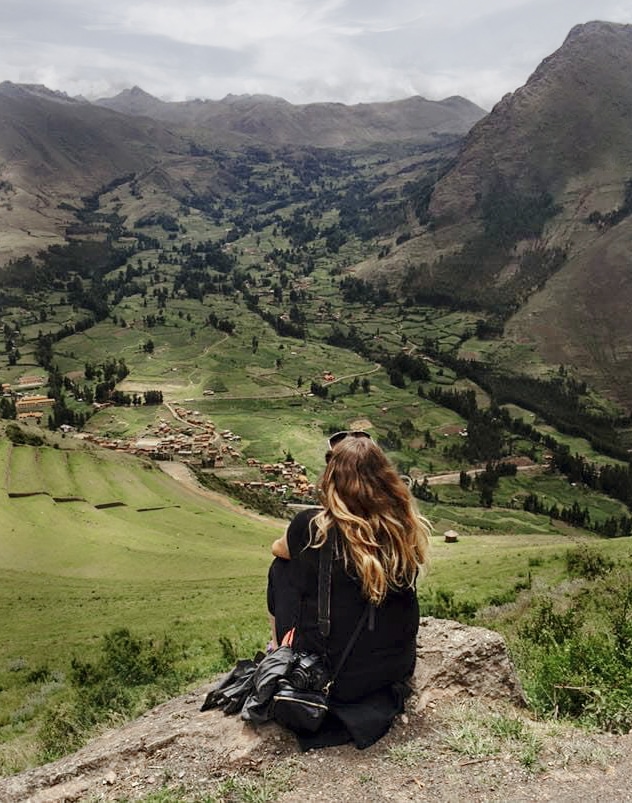 ADD EXTRA TIME TO YOUR ITINERARY FOR REST
While acclimatizing gradually is one of the best ways to combat altitude sickness, some travelers may not have the ability to set their itinerary up to do it this way. If you fly into Cusco and decide to stay the night, take the altitude change seriously and rest
It is estimated that roughly 40-50% of people will experience symptoms of altitude sickness when sleeping at an altitude above 10,000 feet (3,000 meters).
Make it a priority to take it easy and give your body the chance to adjust to functioning on less oxygen. I highly recommend adding a few days to your itinerary to allow yourself to go at a slower pace and make adjustments if necessary.
I ended up missing out on a large part of sightseeing in Cusco because I got sick and my itinerary did not allow for changes.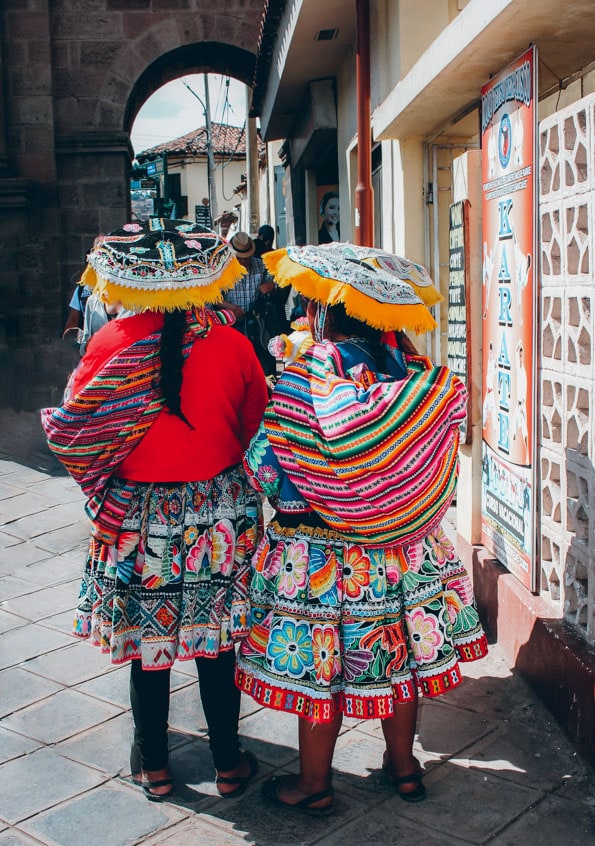 COCA: THE LOCAL REMEDY FOR CUSCO ALTITUDE SICKNESS
If you are traveling throughout the Andes you will, without a doubt, come across coca leaves and coca tea. Native people have incorporated coca leaves in their cultural and medicinal practices for thousands of years and it is advertised as one the most popular local remedies for Cusco altitude sickness.
Coca is an indigenous plant that contains numerous alkaloid components, most famously the alkaloid cocaine. Ingesting the plant in natural form is not going to produce any drug related effects as the presence of the coca alkaloid is very small. However there are some studies that show it might result in a positive drug test, so keep that in mind if you do decide have some.
The verdict is still out on whether or not coca is very effective at combating altitude sickness symptoms. Many swear by it, but scientific studies are still lacking evidence.
We had some tea at our hotel and noticed that it made us feel a bit less sluggish, but other than that we did not see much of a difference. But try it for yourself and see!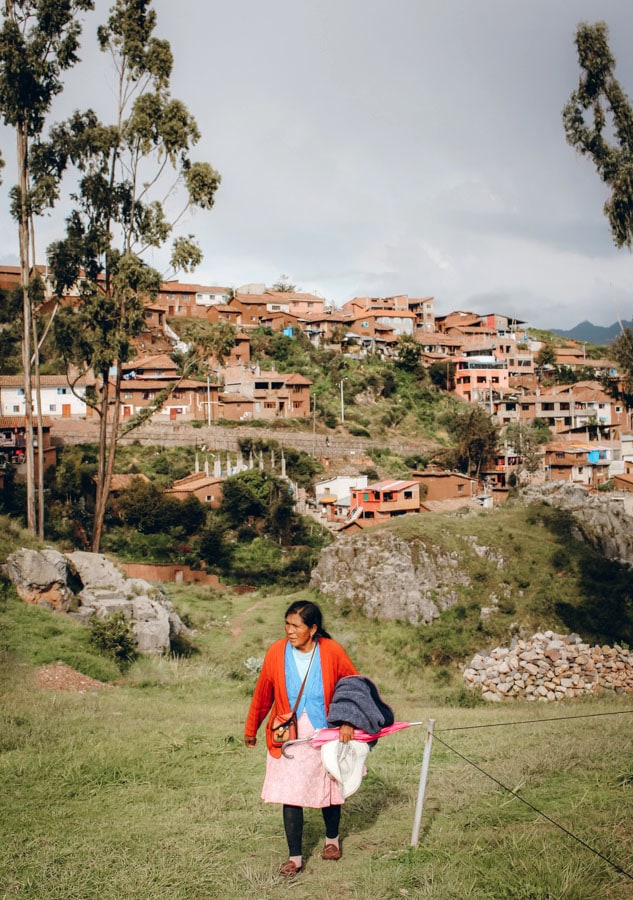 HOLD OFF ON ALCOHOL & STAY HYDRATED
It is commonly believed that drinking alcohol at higher altitudes makes you drunk quicker, but studies show there is no evidence of altitude actually affecting blood alcohol content.
However, drinking at higher elevations can make you feel more drunk since the symptoms of altitude sickness closely mimic those of intoxication (dizziness, lightheadedness, nausea etc). Alcohol also slows down your breathing which is not ideal in low oxygen level environments.
According to The Wilderness Medical Society, your body loses water through respiration at high altitudes twice as fast as it does at sea level so the body dehydrates more quickly. Staying hydrated and avoiding alcohol for the first few days will prevent your body from further dehydration.
BOOK AN OXYGENATED HOTEL ROOM
While most of the hotels and some hostels in Cusco provide oxygen tanks for their guests by request, a few accommodations in the city have taken it one step further by pumping extra oxygen into their rooms.
If you decide to book an oxygen enriched room, it's important to note that this does delay your body from becoming full acclimatized. If Cusco is your highest elevation stop, it shouldn't be a problem but if you plan to travel on to higher altitude locations such as Lake Titicaca (12,507 feet / 3,812 meters) an oxygen enriched room may not be ideal.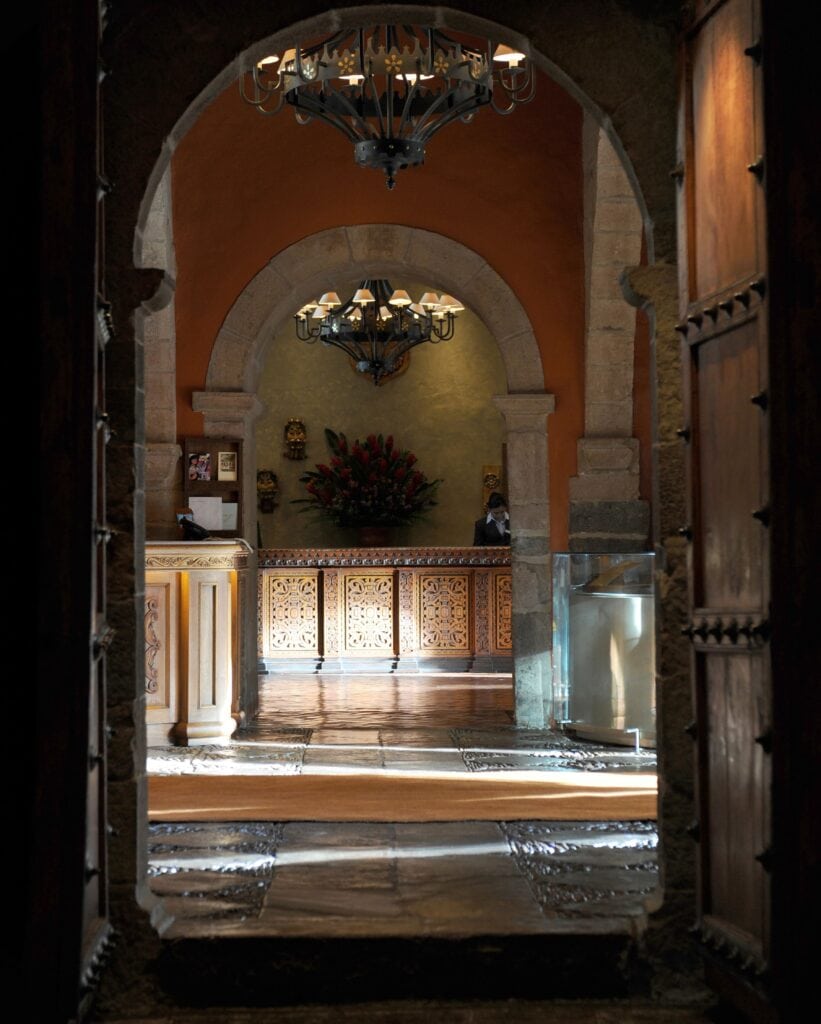 CASA CARTAGENA HOTEL
Casa Cartagena is a 4.5 star boutique hotel located 2 blocks from Plaza De Armas in Cusco. They offer their guests the option of oxygen enriched rooms (at an additional cost) as well as oxygen masks near the bed if you need a heavier dose.
For more information or to book Casa Cartagena, click here.
ARANWA CUSCO BOUTIQUE HOTEL
Aranwa Cusco Hotel is a 5-star boutique hotel located in a 16th century colonial mansion. They also house over 300 pieces of art including paintings, sculptures and antique furniture. Aranwa Hotel offers rooms and suites equipped with an intelligent oxygen system, which they say provides 30% extra oxygen.
One of the TripAdvisor reviewers states: "I am a British physician and we brought a pulse oximeter to measure our oxygen levels and there was a significant difference in these inside the room v. in the street."
For more information or to book Aranwa Cusco Boutique Hotel, click here.
HOTEL MONASTERIO
Hotel Monasterio is a 5 star hotel and national historical landmark. Located in a former monastery from 1592, the hotel offers luxury accommodations just 2 blocks away from Plaza de Armas Square. They offer the option of oxygen enriched rooms to help guests get a better sleep.
For more information or to book Hotel Monasterio click here.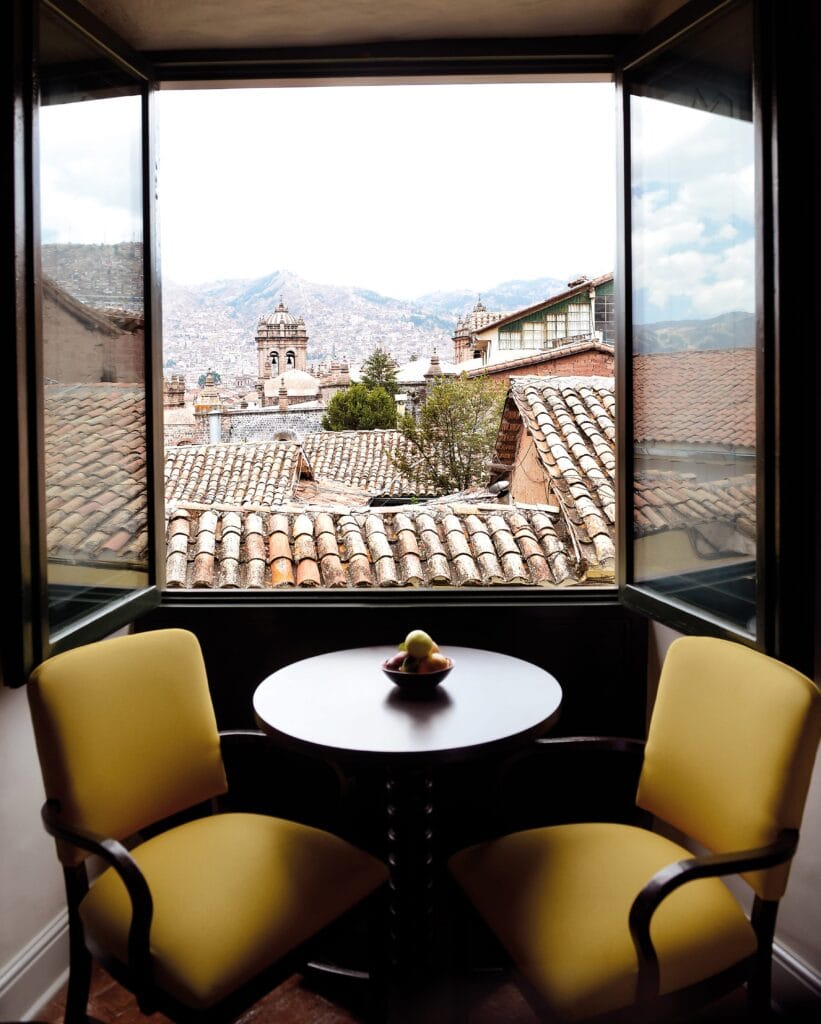 INCREASE YOUR CARB INTAKE
I have been waiting my whole life for this.
Research shows that carbohydrates are the body's preferred energy source at high altitudes, and it is recommend that at least 60% of your food intake come from carbs.
When you getting used to higher altitudes, your body starts using more blood sugar as fuel because carbs requires 8-10% less oxygen for metabolism, compared to fat and protein
Opt for lighter, easy to digest meals with a solid portion of complex carbs.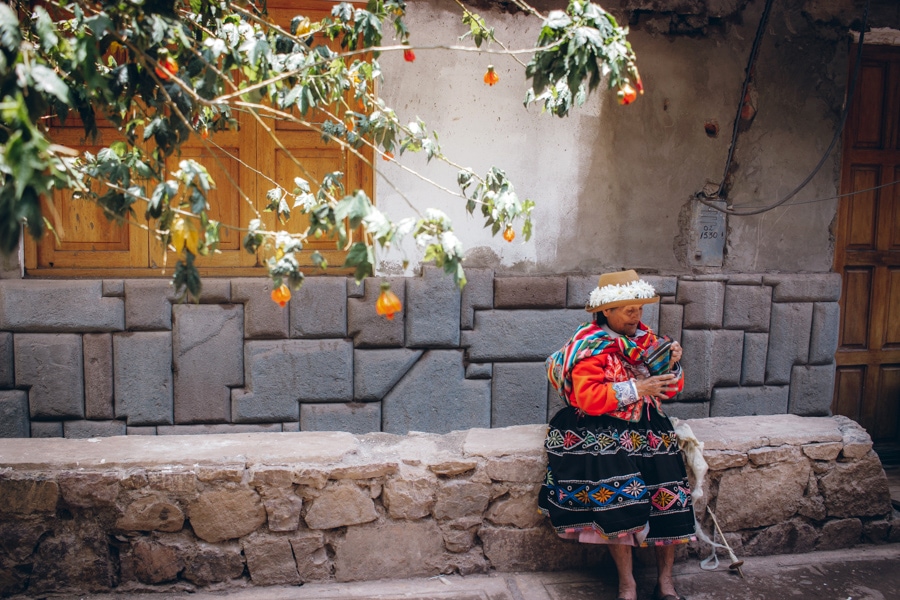 CONSIDER ALTITUDE TRAINING PRIOR TO YOUR TRIP
This tip is by no means necessary but it could be beneficial for travelers who are planning for a lot of physically activity (hiking, trekking etc) while in Cusco and The Sacred Valley.
HYPOXIC TRAINING
There is less oxygen in the air at high altitudes so it is common to feel out of breath quicker in these environments.
Your heart pumps more blood to increase the supply of oxygen to your brain and your body starts breathing faster because it needs to maximize the amount of oxygen that gets transferred to the blood from the lungs.
You can simulate the feeling of high altitude environments by starting to implement hypoxic training into your workouts before your trip.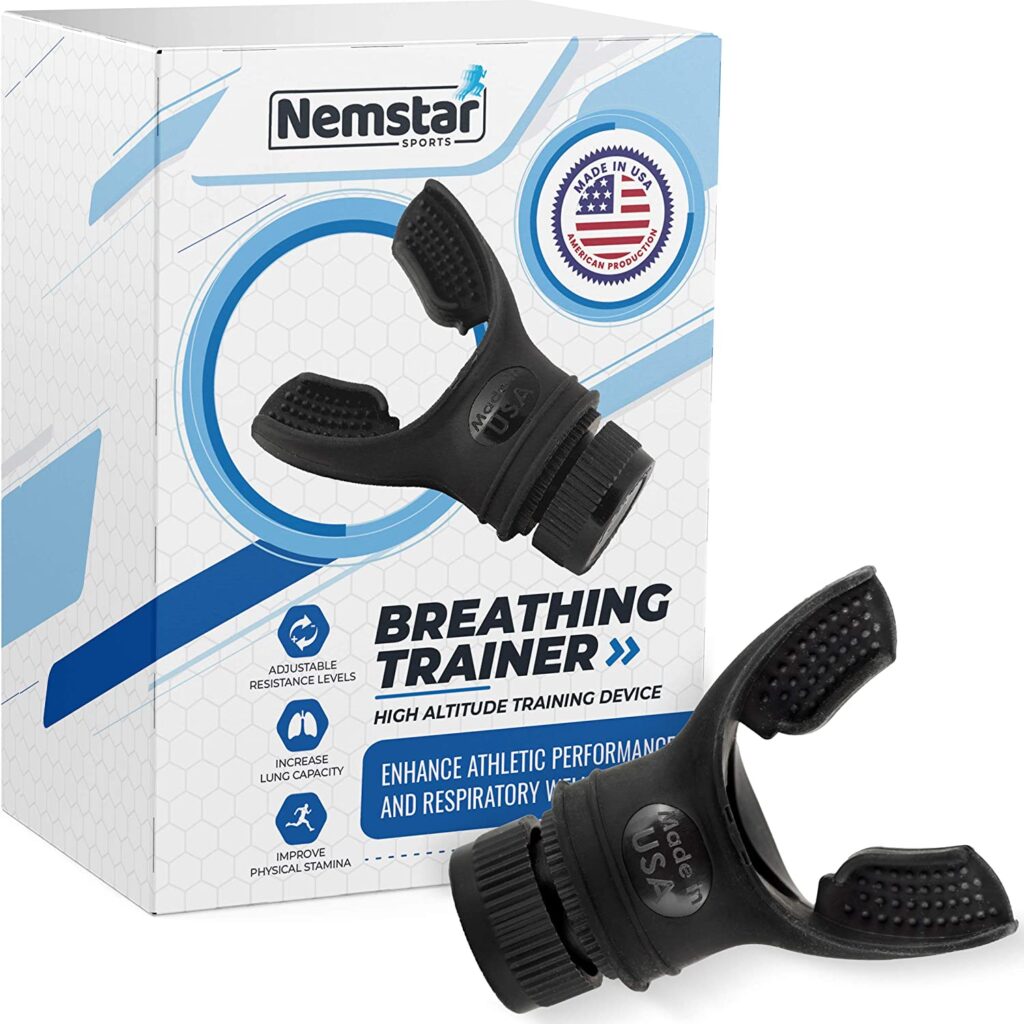 Research published in the Journal of Sports Science and Medicine shows that hypoxic training can effectively increase the amount of time it takes before you feel short of breath. Hypoxic training does not simulate changes in hemoglobin or red blood cell levels (which naturally increase at high altitudes) but it can help improve your endurance and get you used to how exerting yourself might feel during your trip.
The most common method of hypoxic training is using a mask. If those are visually too intense (because I mean..), check out this more subtle mouthpiece version.
BREATH TRAINING
The easiest way to "train" for a lower oxygen level environment is by implementing a breath training method known as Inspiratory Muscle Training. IMT is essentially strength training for your respiratory muscles.
Research has found that IMT can reduce the amount of oxygen that your respiration muscles need, which makes oxygen more readily available to your other muscles. Another study shows that IMT can also slow down the loss of oxygen saturation when exercising at high altitudes.
Practicing this type of breath training strengthens and trains your respiration muscles, making them more efficient while functioning with less oxygen.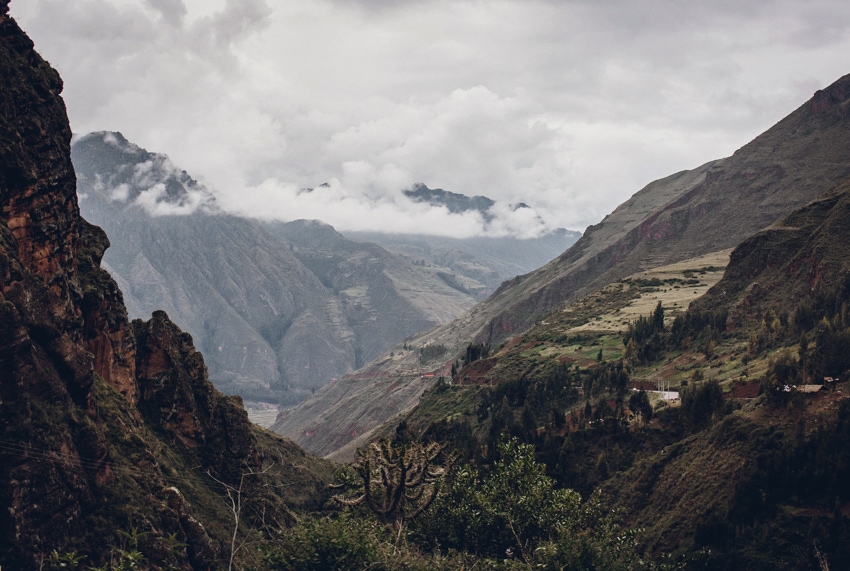 USE A STRAW
Implementing IMT is easy and takes just several minutes a day. They sell breath training devices such as this one, but you can also keep it cheap and simple by using a straw.
Take 30 deep breaths through the straw twice a day for 4-6 weeks before your trip for the best results.
DEEP BREATHING // THE WIM HOF METHOD
A few years ago Nick introduced me to an extreme athlete named Wim Hof, also known as "The Iceman." Wim holds 26 world records and is consciously pushing the limits of what science believes the human body is capable of. He climbed Mount Everest in shorts, ran a barefoot half-marathon in the snow, and he has swam 66 meters (72 yards) under ice.
Wim Hof is most famously known for his popular deep breathing technique which has been shown to reduce symptoms of altitude sickness (AMS). The Wim Hof Method is a style of controlled hyperventilation type breathing where you take 30 deep breaths in through the mouth, followed by a long breath hold at the end.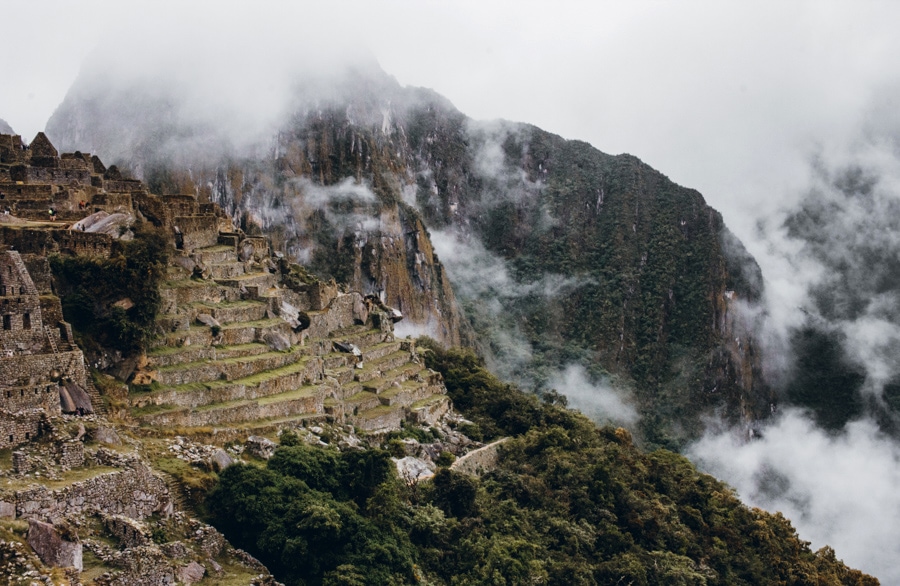 WIM HOF ACCLIMATIZATION STUDY
In a 2014 study, Wim Hof taught 26 people his breathing techniques and then took them to trek one of the tallest mountains in the world, Mt. Kilimanjaro. The trekkers were comprised of non-athletes who lived in low altitudes, and had little to no climbing experience. Some of the trekkers also had pre-existing conditions such as multiple sclerosis, rheumatoid arthritis, and metastasized cancer.
Wim coached the group prior to the ascent as well as during the trek, where the group would regularly stop for 30 minute breathing sessions.
On average, 61% of trekkers complete this ascent and it takes them between 4 and 7 days to do so. 92% of Wim Hof's group completed the ascent in only 48 hours.
Based on previous data, it was expected that the majority of the group would experience severe AMS, but none did (although several experienced mild/moderate symptoms) which is remarkable considering their rapid ascent.
HOW TO DO WIM HOF BREATHING
To practice the Wim Hof Method yourself, take 30 deep breaths through your mouth at a steady, rapid pace and on the last breath, exhale and hold for as long as you can. Then repeat 3 times. Click here to watch a guided YouTube video that will walk you through the process.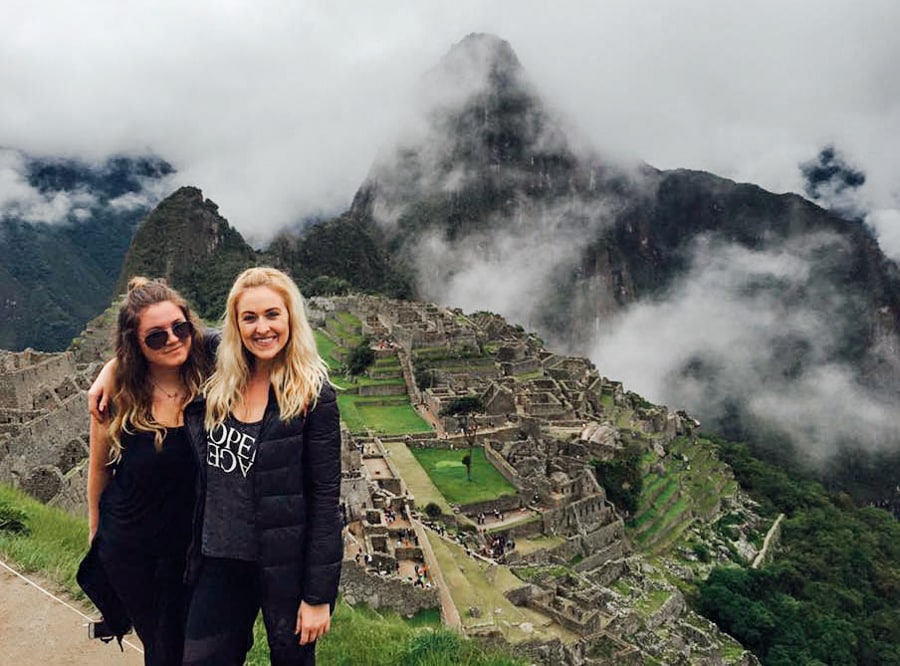 TALK TO YOUR DOCTOR BEFORE TRAVELING
Altitude sickness can affect people regardless of physical fitness levels or age. Be sure to discuss your options and risks with your doctor to come up with the best plan for yourself and your health.
Medications such as Diamox are a popular amongst high elevation travelers and may be available to you via prescription.
PIN IT: CUSCO ALTITUDE SICKNESS // HOW TO DEAL WITH THE HIGH ELEVATIONS OF MACHU PICCHU AND THE SACRED VALLEY