Having just spent a few weeks traveling throughout Germany and the Czech Republic, we were starting to get a little burnt out on beer. What better time to switch it up than with some Polish vodka tasting in Krakow?
Coming in second, just under Russsia, Poland has the highest vodka intake per capita, with Polish vodka drinkers consuming an average of 13.71 shots per month, per person. Poles take their vodka seriously so we were excited when we stumbled upon Wodka in Old Town.
POLISH VODKA TASTING AT WODKA BAR IN KRAKOW
Wodka is a vodka bar in Old Town Krakow offering over 100 different flavors of vodka, ranging from fruity, to spicy and even a little bizarre.
They sell single shots in 25ml and 50ml glasses, or you can grab a taster flight with six 25ml shots so that you can try out the different flavors (they also have beer if someone in your party doesn't drink hard alcohol).
OVER 100 FLAVORS
We decided to do one flight with standard flavors and another with some of the more off the wall options. Hazelnut is Wodka's most popular flavor but it was one of our least favorites from the bunch. We also ordered plum, raspberry, caramel, mint and grapefruit. The mint vodka tasted like mouthwash. Grapefruit was hands down both of our favorite from the night.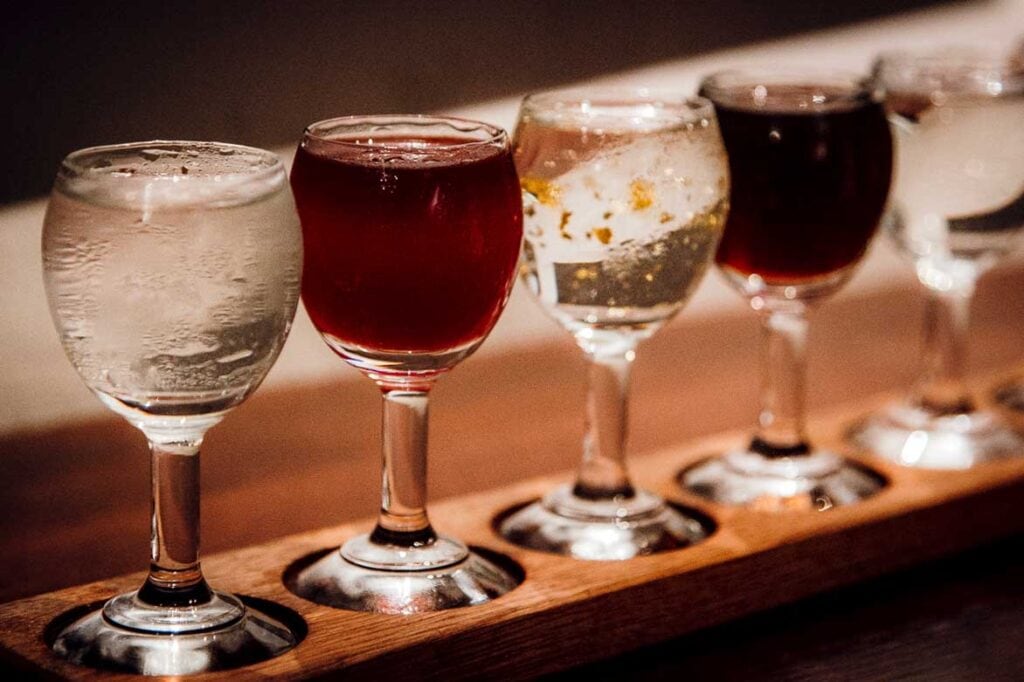 After solidifying a nice buzz, we moved onto some more interesting flavors. We asked the bartender to pour us the stuff most people don't want and he seemed excited about this. He pulled out a horseradish flavored vodka, as well as chocolate chili, 24k gold, and porter which tasted like wine. To balance out the more intense flavors, he recommended fresh citrus, blackberry and Bison Grass.
Horseradish was atrocious and was the only full shot glass left on the tasting tray when we stumbled out. We were surprised at how much we liked chocolate chili, and Bison Grass was also super interesting. It tasted like fresh cut grass, but still managed to be somewhat pleasant.
The price of the tasting flight varies depending on which type of vodka you order. Typically they range from 30-40PLN ($8-11 USD).
GET THERE EARLY
If you're thinking about doing some Polish vodka tasting at Wodka, I recommend stopping by early in the night. We visited around 7PM and were able to grab a seat with no problem. By the time we left though it was standing room only and people were squeezed tightly together.
Wodka is a really fun bar and a great place to taste a large range of Polish vodka. Its location in Old Town does influence the crowd to lean less local. Expect to be drinking with mostly expats and tourists.
It's also a great place to go if you are traveling alone as people seemed very friendly and eager to socialize.
HOW TO GET TO WODKA VODKA BAR
Wodka is located just a 4 minute walk from Rynek Glowny, Krakow's main square. From Rynek Glowny, head down Sienna and tun left onto Mały Rynek. Then turn right onto Mikołajska.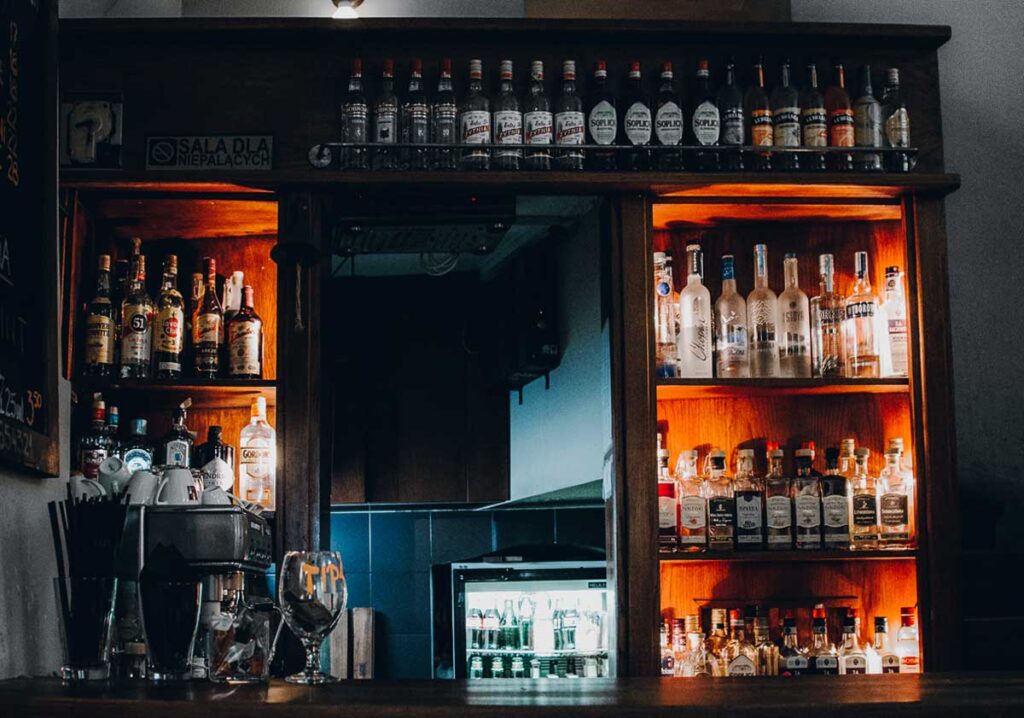 WODKA VISITOR INFORMATION
ADDRESS: Mikołajska 5, 31-027 Kraków, Poland
OPENING HOURS
Monday – Thursday: 3PM – 2AM
Friday – Saturday: 1PM – 3AM
Sunday: 1PM – 2AM
---
LOOKING FOR MORE POLAND INSPIRATION? CHECK OUT THESE RELATED POSTS
SCHINDLER'S FACTORY MUSEUM : A VISITOR'S GUIDE
VISITING A TRADITIONAL POLISH MILK BAR IN KRAKOW
KRAKOW: KAZIMIERZ AND THE JEWISH GHETTO
WIELICZKA SALT MINE (POLAND) : EVERYTHING YOU NEED TO KNOW
10 THINGS TO DO IN GDANSK, POLAND
SOPOT: AN EASY DAY TRIP TO POLAND'S SEASIDE RESORT TOWN
---
PIN IT: POLISH VODKA TASTING AT WODKA BAR IN KRAKOW