If you travel just 25 minutes outside of Krakow, you will discover the world's most visited underground tourist attraction. I know… on the surface a visit to a salt mine might not seem like the most exciting thing to do in Poland, but Wieliczka Salt Mine is different. Comprised of over 186 miles (300 km) of tunnels, underground lakes and even a cathedral made entirely from salt, this place is impressive on every level.
Keep reading to discover everything you need to know before you visit Wieliczka Salt Mine, including how to get there from Krakow, what to expect, tips for visiting and more.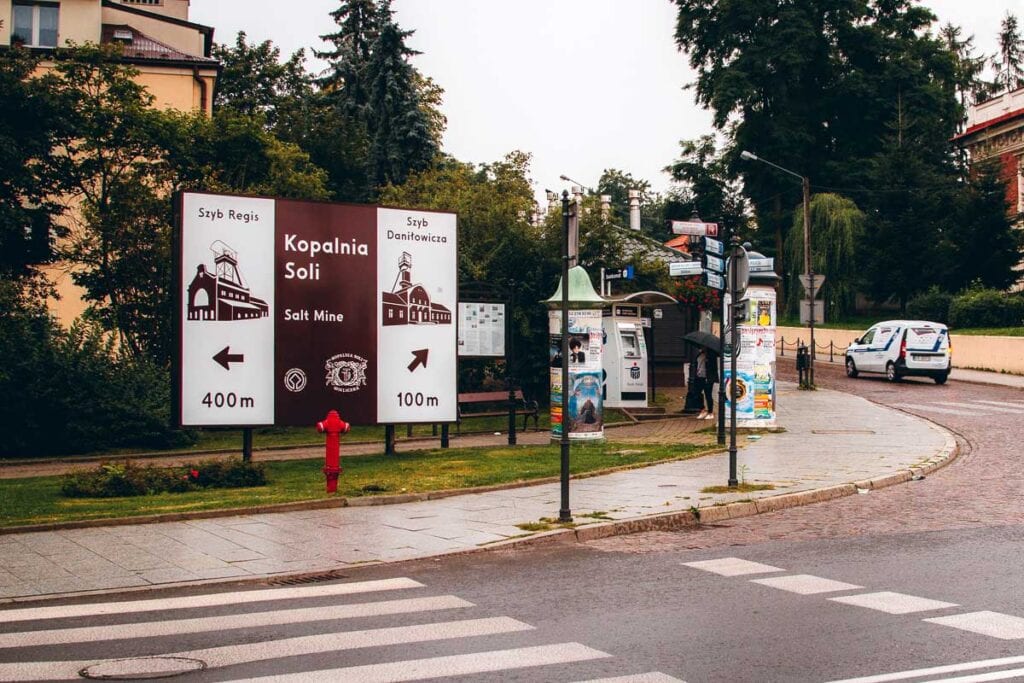 WHAT IS WIELICZKA SALT MINE? A BIT OF HISTORY
In early times, salt was considered a precious commodity. It was expensive and difficult to mine, but extremely necessary due to its ability to preserve food and meat. This made the mineral highly valuable, and Poland happened to be sitting on some especially rich salt deposits.
History shows that people have been extracting salt from the briney pools found around Krakow since the Neolithic era (3900-1700BC). But wasn't until the 13th century when the salt water pools had been depleted, that underground rock salt was discovered. This lead to revolutionary underground excavation and mining, and Wieliczka Salt Mine became a huge center of commerce in Poland, as well as one of the largest business ventures in Europe.
Wieliczka Salt Mine is one of the oldest salt mines in the world and today it is a Polish Historic Monument and UNESCO World Heritage site that sees over 1 million visitors each year.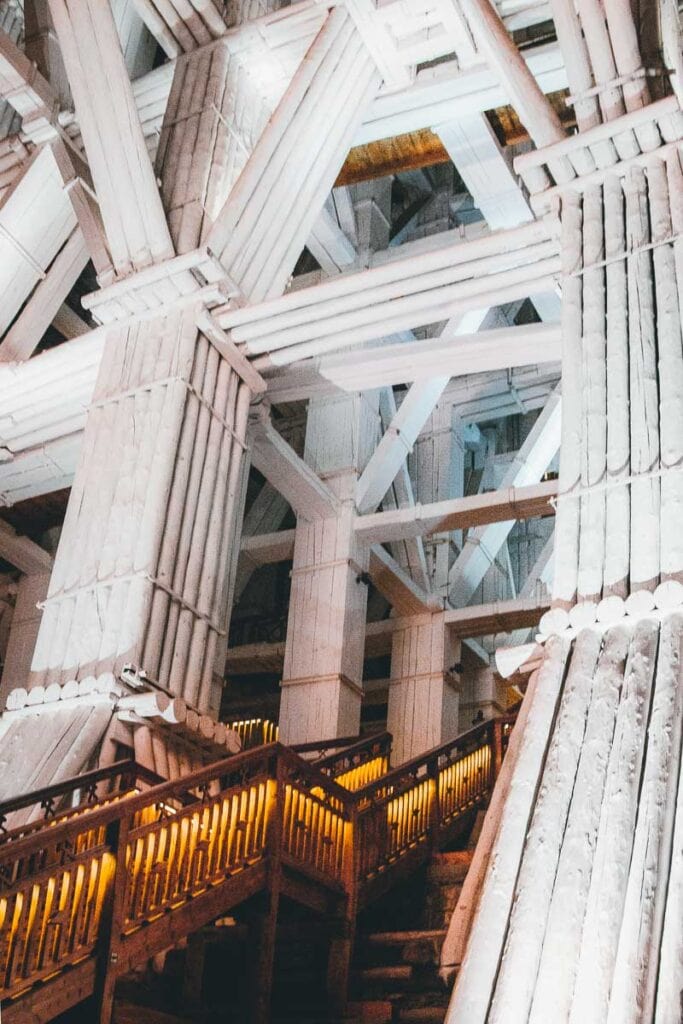 WIELICZKA SALT MINE TOUR : THE TOURIST ROUTE OR THE MINER'S ROUTE?
THE TOURIST ROUTE
The Tourist Route is the tour most people take when visiting Wieliczka Salt Mine. You will wind your way through a designated portion of the mine, discovering underground lakes, chambers and chapels. The Tourist Route is given via guided tour and takes around 2 hours.
THE MINER'S ROUTE
The Miner's Route is for the more adventurous traveler. This tour gives visitors an interactive look at what it was like to actually work in the salt mine. You will be equipped with a worker's jumpsuit, a hard hat and a lamp, and as you tour the mine your guide will have you complete tasks such as digging salt, weaving ropes and measuring methane. The Miner's Route is given via guided tour and also takes around 2 hours.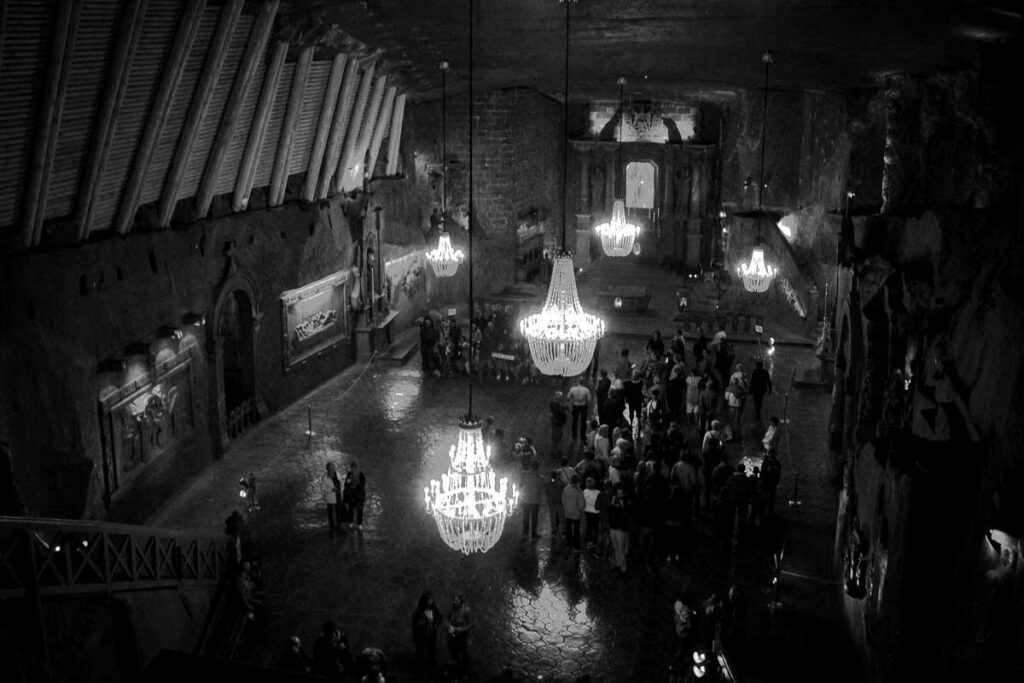 WHAT TO EXPECT : THE TOURIST ROUTE
You will begin your journey into the Wieliczka Salt Mine by traveling down 380 spiraling wooden steps, 209 ft (64 meters) into the mine. It feels like you are never going to reach the bottom.
While that is the longest stretch of stairs, prepare to climb over 800 steps during the duration of the tour, reaching a maximum depth of 443 feet (135meters). Don't worry though, the steps are mostly down and at the end of the tour you can take an elevator back to the surface.
As you descend deeper and deeper into the mine, the temperature begins to drop and everything surrounding you turns to salt, from the walls to the floors. Throughout the tour, your guide will take you through 20 chambers of the mine, delving deep into its rich history.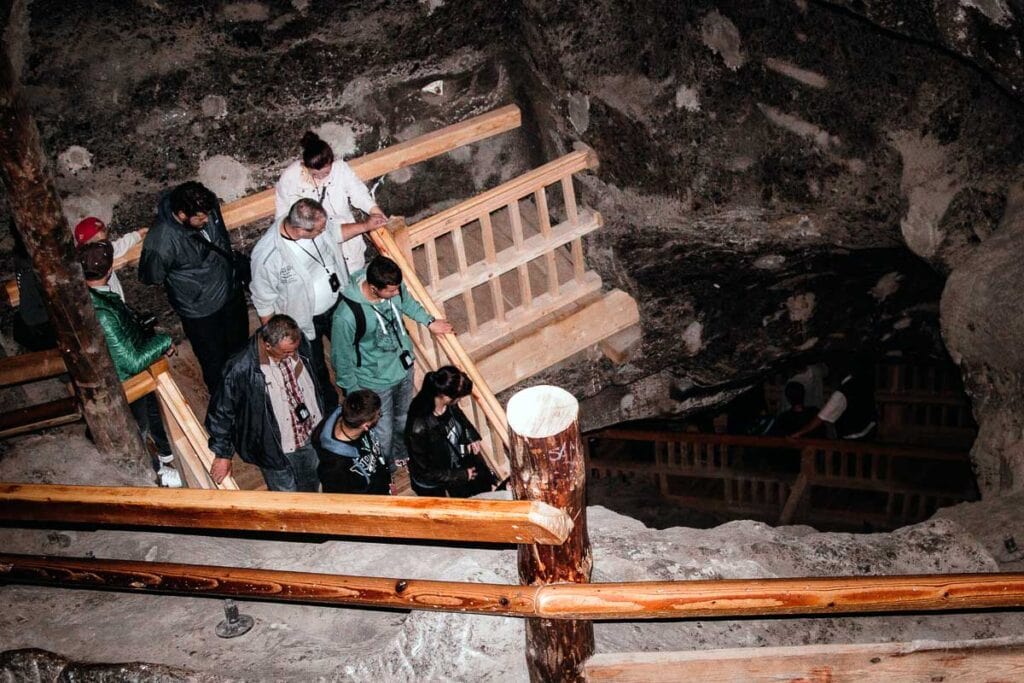 Wieliczka Salt Mine has been in operation since the 13th century and it was truly incredible to see what the miners have created. The Tourist Route only takes you through a very small portion of the mine, but it helps you grasp just how huge this underground world is. You will get to see the mining machines and equipment up close, as well as massive sculptures made of salt, multiple saline lakes, and of course, the popular St Kinga's Chapel.
ST KINGA'S CHAPEL
St. Kinga's Chapel is gorgeous. Made entirely from rock salt and illuminated by chandeliers (also made of salt!), this cathedral is dedicated to St. Kinga, the patron of salt mine workers. Located 331 feet (101 meters) below ground, it is the largest underground place of worship in Europe, and the highlight of the tour for most visitors. While many parts of the tour seem rushed, I was happy our guide let us spend solid amount of time exploring the chapel.
Photography is allowed on the tour but if you wish to take photos of St. Kinga's Chapel, you have to pay an extra 10 zloty ($2.66 USD).. which feels a little scammy. I paid for the photo pass but nobody was checking .. and everyone was taking photos. To purchase a photo permit, you can do so when purchase your tickets or before you enter the cathedral.
The entire tour lasts around 2 hours, and during this time you will have winded your way through over 2 miles (3.5 km) of tunnels and chambers. At the end of the tour, your guide will leave you in a large chamber where you will find a gift shop selling salt souvenirs, a restaurant, and a play area for kids.
SKIP THE VIEWING PLATFORM
In the final chamber, you can ride a glass elevator to a special viewing platform, but I do not recommend it. They charge you 5zloty ($1.33 USD) for the experience but from the platform, you are just looking down onto the gift shop and the tourists. You can't even take a picture if you wanted to because there's a huge black net in the way to keep objects from falling onto the people below.
On the viewing platform level they also advertise an "amazing glowing mineral exhibit." The incredible glowing minerals were located in a very small, glass case in the corner under a black light. They were beautiful but definitely not what I was expecting. Overall, we spent a minute and a half on the platform before heading back down the elevator. Super disappointing, don't waste your money.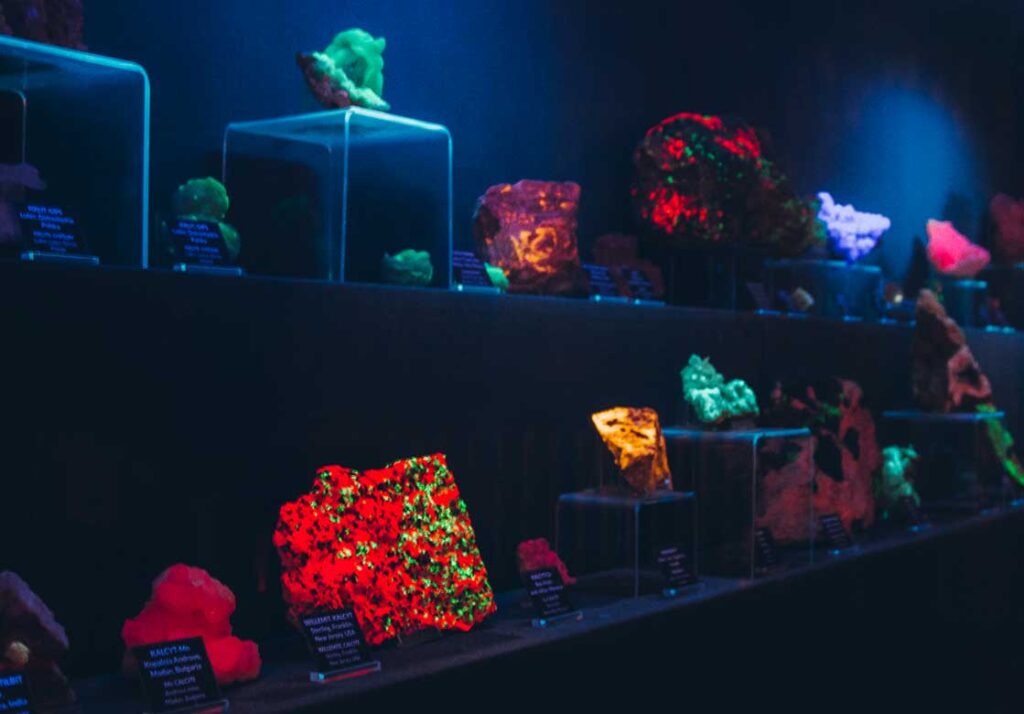 FINAL THOUGHTS
Trying to grasp how the miners have created such an incredible underground world is mind blowing. The mine itself is impressive on every level and I fully appreciate the centuries of work that have gone into building Wieliczka Salt Mine. With that said, I did not love the visit as much as I thought I would.
While there are thousands of people who feel differently than me (check out their 13,000 reviews on TripAdvisor), I felt there were definite improvements that could have be made which would've greatly enhanced the overall visitor experience.
A standard adult ticket is 93 PLN ($25 USD) which is high by Poland's standards, yet you still are asked to pay extra around every turn. If you want to take pictures of the most impressive room on the tour, it's an extra 10zloty. If you want to take an elevator to the the viewing platform, that's 5 zloty. The guides rush through the chambers but take multiple breaks along the way to encourage you to walk through gift shops. It makes the experience feel a bit like a tourist trap.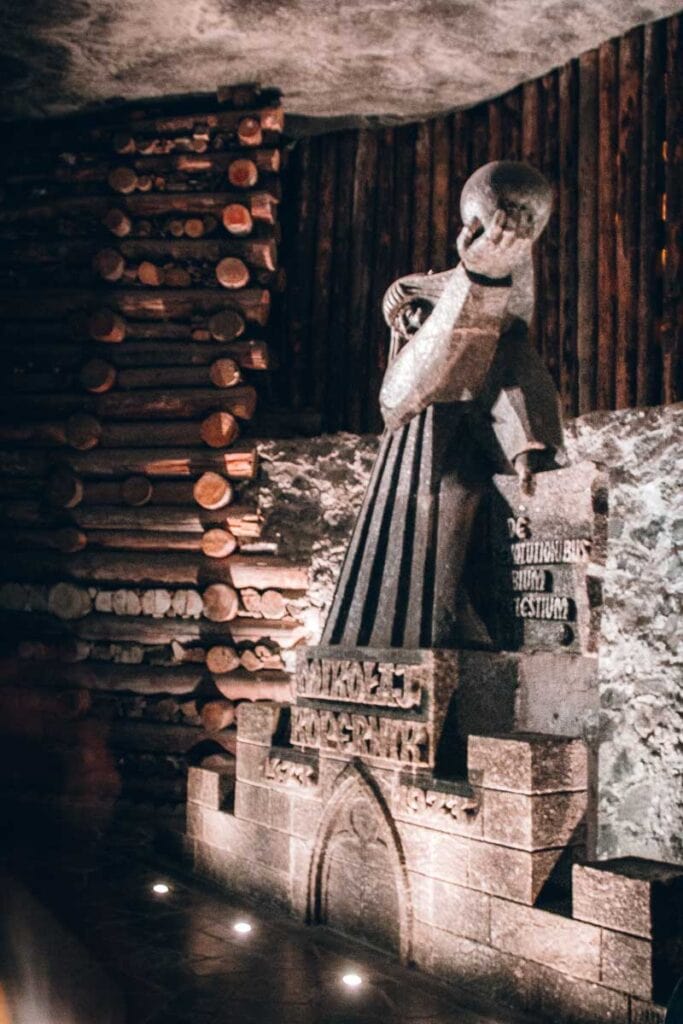 We also had the unfortunate experience of getting stuck with a terrible tour guide. She seemed bored and it felt like she was reading from a script, in the most unanimated and monotone way possible. I had to take my headset off a few times because her boredom was influencing my impressions of what I was viewing.
Lastly, while the mine itself is fascinating, many of the rooms feel very similar. They break it up by including things like a fake salt mine explosion and a music show which came off a little cheesy and took away from the grandeur and historical significance of the mine itself.
Overall, while there were definitely things that could've been better, Wieliczka Salt Mine is an interesting attraction and it is very easy to do as a day trip from Krakow. If you have enough time to add it to your itinerary and you enjoy historical sites, I recommend a visit.
TIPS FOR VISITING WIELICZKA SALT MINE
BUY YOUR TICKETS IN ADVANCE
Buying your tickets in advance is highly recommended, as the lines can get extremely long. If you have a ticket, you can skip the line and walk right in.
If you prefer to purchase your tickets in person, get there early. We opted for one of the first tours of the day and there were very few people around when the mine opened. By the time we were walking back to the train station, the lines looked to be about 150 people deep.
BRING A JACKET
The Wieliczka Salt Mine is located 443 feet (135meters) below the surface, and the deeper you descend the cooler it gets. The temperature in the mine remains a constant 52-60 degrees Fahrenheit (14-16 Celsius), so even on a hot day, a light jacket or sweater is advisable.
PHOTOGRAPHY
Wieliczka Salt Mine is not the easiest place to photograph. It is very dark and there are people everywhere. If you're a photographer, pack your lens with the widest aperture. I saw people using tripods, but the tour moves quickly so there is not a ton of time to use it.
If you want to photograph the most popular chamber on the tour (St. Kinga's Chapel), you need a photo permit which costs 10PLN ($2.62). If you decide not to purchase the permit but change your mind during the tour, you can also pay while you're inside.
BE PREPARE TO WALK
You will begin the tour climbing down 380 steps into the mine and throughout the duration of the your visit, you will walk over 2 miles (3.5km) and 800 steps total (mostly down). It's a good way to get in your steps for the day! Just make sure to wear comfortable shoes.
If you have limited mobility or a disability, keep scrolling to read more about the accessibility of the mine.
TOILETS
There are toilets in the mine and your guide will give you two stops along the way to use them if you need to.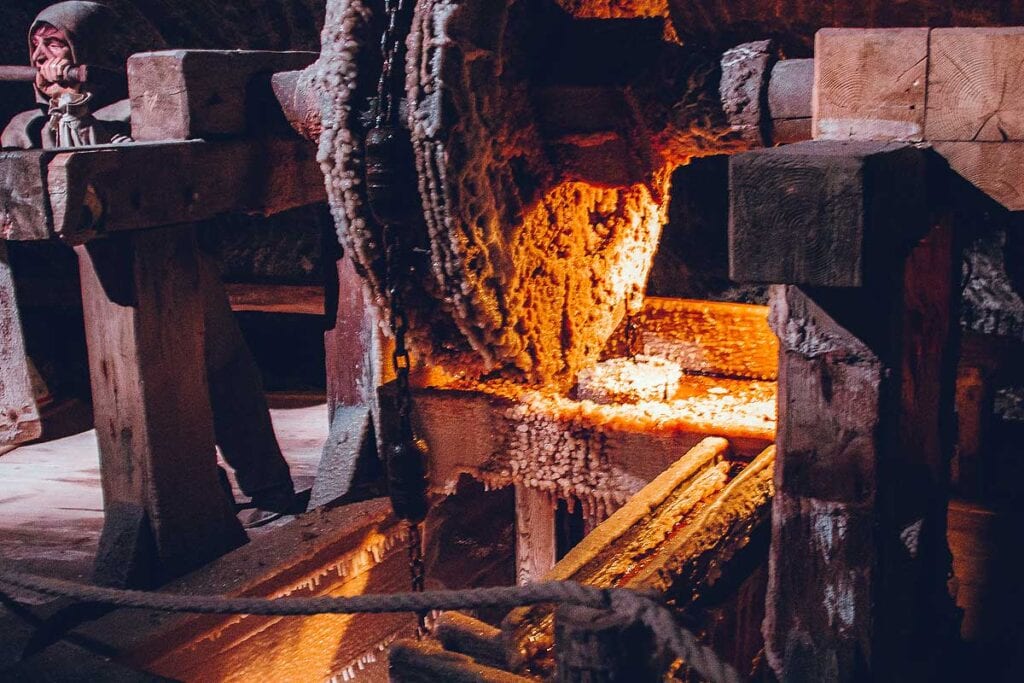 .

GIVE YOURSELF AT LEAST 45 MINUTES TO EXIT

If you have to catch the bus or train at a specific time, it's important that you give yourself more than enough time to exit the mine. Getting to the surface is not an easy feat and we were surprised at how long it took.

When the tour is over, your guide leaves you in the final chamber of the mine to explore the restaurant, gift shop and interactive area. But you're still at the bottom of the mine. You can stay in the last chamber for as long as you'd like but when you're ready to head back to the surface, a guide must take you. You will stand in line for an available tour guide and depending on how many people are also waiting, it might be a minute.

The elevator to the surface is about a 15-20 minute walk. When you finally reach the surface, you will find yourself on a completely different side of town. From there, you will need to walk another 10 minutes back toward the entrance.
BREATHE DEEPLY
According to their website, The Wieliczka Salt Mine has a unique micro-climate and the "air is free of pollution and allergens, rich in micronutrients, with constant temperature, high humidity, and free from harmful radiation."
In short, the air quality in the mine is fantastic. They even have an underground health resort which utilizes subterraneo therapy and is good for rehabilitation of the respiratory system. Spending time in the spa is said to greatly improve asthma, respiratory infections and allergies.
Even if you don't visit the spa, make the most of your time in the mine by taking some deep breaths while you're down there. For more information on the health resort keep scrolling!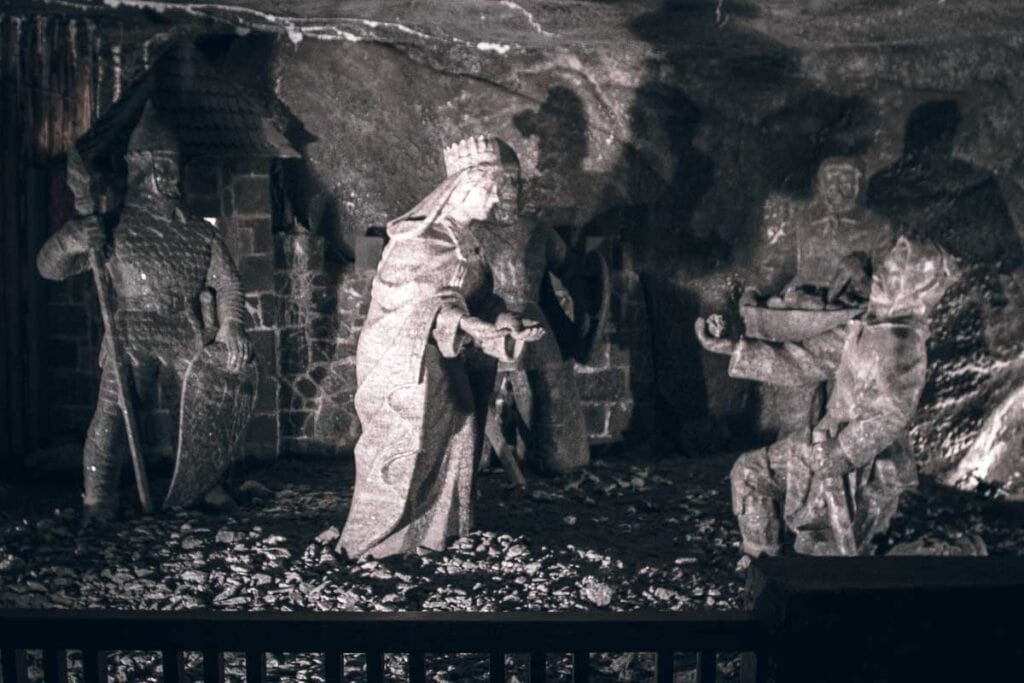 IF YOU'RE CLAUSTROPHOBIC
The first staircase that leads you into the mine is narrow, and it takes you down over 209 ft (64 meters). The mine itself is huge and the chambers are spacious. However, it does feels a little strange to be that far beneath the surface. At the end of the tour, the miner's elevator that takes you to the surface only fits 9 people and it is a tight squeeze. It could be uncomfortable for those who struggle with claustrophobia.
VISIT THE GRADUATION TOWER
Graduation Towers can be found throughout spas in Germany, Poland and Austria and they are used for therapeutic inhalation. Located just a 5 minute walk down the road from the mine, you'll find Wieliczka Salt Mine's Graduation Tower where you can stop in and de-stress.
The Graduation Tower is made from a wooden frame that is stuffed with blackthorn branches. Salt water from the mine is pumped to the top of the tower, where it slowly drips down the walls and eventually evaporates, creating an aerosol-like spray in the air. The air within the Graduation Tower has the ability to penetrate the mucous membrane of the respiratory system and skin, providing many health benefits for your lungs and sinuses.
A standard ticket to gain entry into The Graduation Tower is 9PLN ($2.38USD) or 6PLN ($1.59USD) for children, students and seniors over 65 years old. If you show your Salt Mine tour ticket, you can take advantage of a discount rate.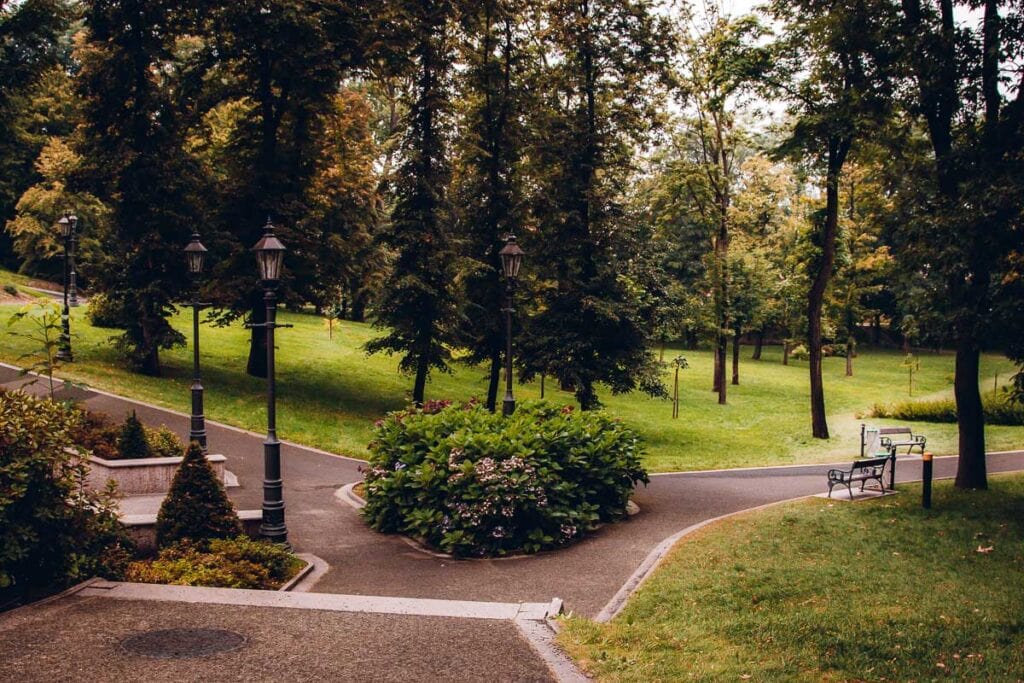 CAN YOU DO AUSCHWITZ AND WIELICZKA SALT MINE IN THE SAME DAY?
For some reason, many people try to fit Auschwitz and Wieliczka Salt Mine into a single day excursion. I high recommend not doing this as you would be spreading yourself very thin. Both sites deserve separate days.
It not only takes an hour to drive between the two destinations, but both sites are massive and you would find yourself walking miles upon miles. During our visit to Auschwitz, we took the 6 Hour Study Tour and I even felt that was a little rushed. I cannot imagine hurrying through such an important site. Auschwitz is also emotionally impactful, which takes time to process.
If you are pressed for time and must see both sites in one day, I would recommend joining a tour to take the guesswork out this endeavor. If you are deciding on one tour or the other, I would without a doubt choose Auschwitz over Wieliczka Salt Mine. For a list of tour options click here.
RELATED POST: A VISITOR'S GUIDE TO AUSCHWITZ – THE 6 HOUR STUDY TOUR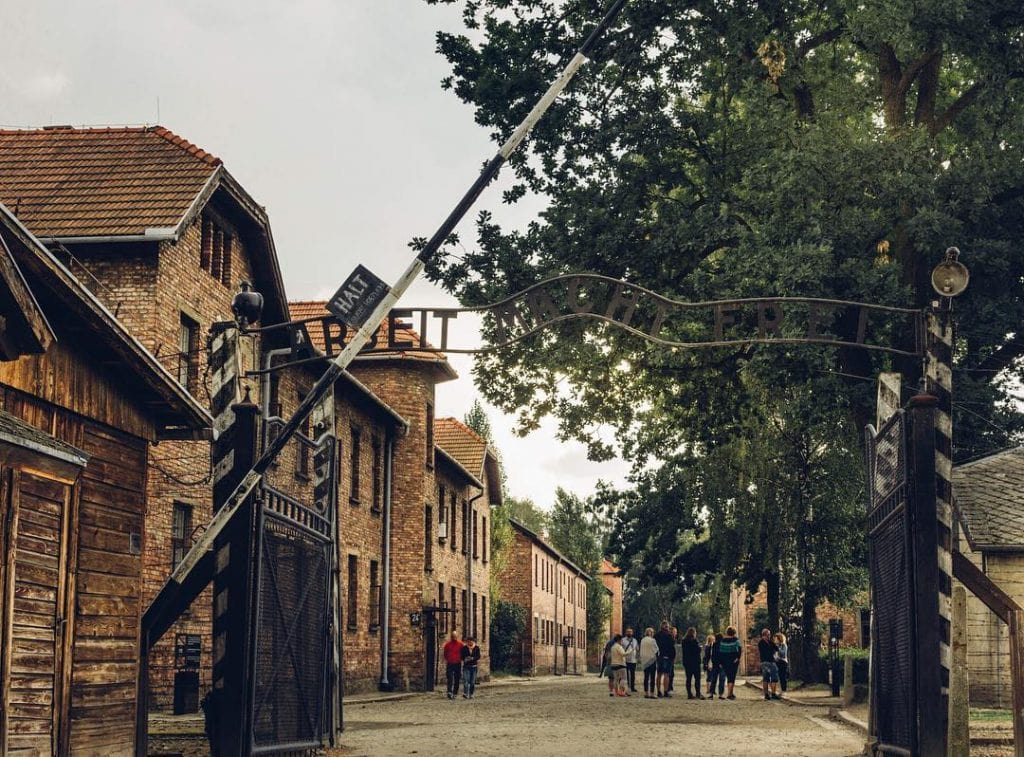 ACCESSIBILITY / PEOPLE WITH DISABILITIES
The Tourist Route at Wieliczka Salt Mine is accessible for wheel chair users and those with limited mobility. You will just need to contact the reservation's department prior to visiting in order to sign up for a special tour. This tour grants access to the elevators and will take you to the main attractions within the mine, including St. Kinga's Chapel. If you show proof of your disability, discounted tickets are available.
Guide dogs are allowed in the mine for people who are blind. There are no sign language interpreters for people with hearing loss.
The Miner's Tour is not accessible and unfortunately cannot be taken if you have a disability. For more information about the site's accessibility, click here.
WIELICZKA SALT MINE HEALTH RESORT
In 1839, a Polish doctor named Dr. Feliks Boczkowski noticed that there were less cases of lung disease and respiratory issues in salt miners compared to other types of miners, and he began studying the effects of salt inhalation.
His findings eventually led him to open a Health Resort within Wieliczka Salt mine, and today guests can book a visit for the day, night or even a few weeks. The resort is located at a depth of 443 feet (135 meters), where the microclimate is bacteria and allergen free. A longer term stay is said to have soothing effects on respiratory diseases and allergies To read about studies click here and here.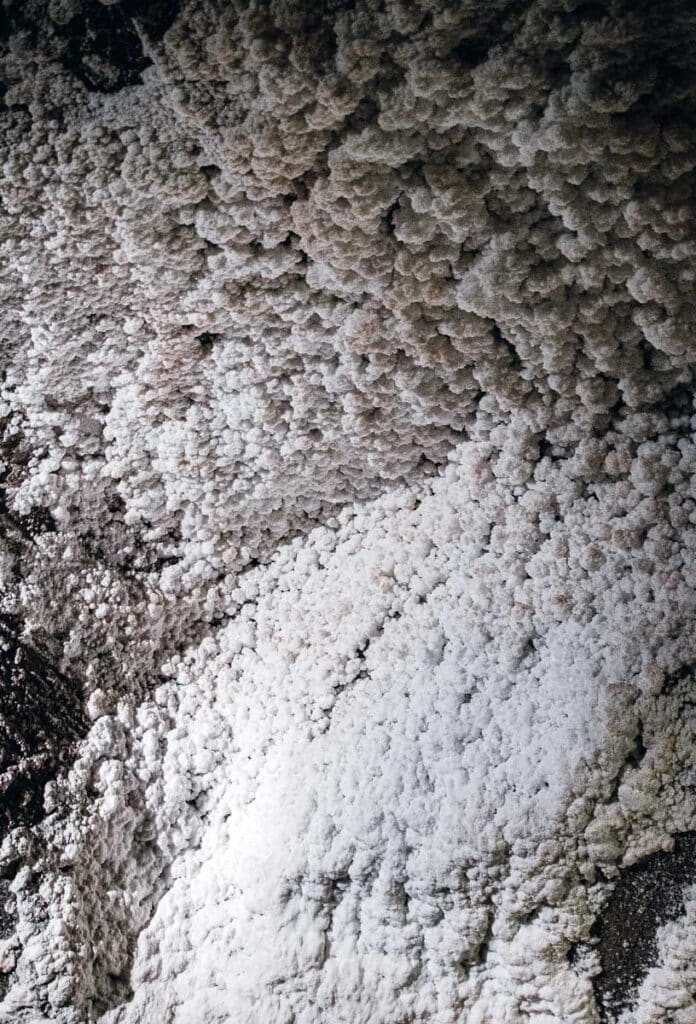 If a visit to Wieliczka's Health Resort sounds like something up your alley, you can choose to do a "Health Day" for 140 PLN ($37 USD) which includes:
A 2.5-hour underground Health Resort visit
Participation in breathing exercises.
Participation in improvement exercises with elements of aerobics.
Access to rehabilitation equipment such as bicycles, elliptical trainers, stepper, fitness station and treadmill.
Medical personnel care: doctor, nurse, physiotherapist
You can also choose to simply stay the night where you will spend 12 hours underground, breathing in the pure air. Overnight stays are 120 PLN ($32 USD) a night.
The health resort features a kinesiotherapy room with physiotherapy equipment, a modern inhalation room and access to doctors specializing allergology, laryngology, ophthalmology and traumatology.
HOW TO GET TO WIELCIKZA SALT MINE FROM KRAKOW
Wieliczka Salt Mine is only 10 miles (16km) from Krakow, making it an extremely easy day trip if you are staying in the city.
TRAIN
Board the Koleje Małopolskie (KML) train at Krakow Glowny station and get off at Wieliczka Rynek-Kopalnia station. Trains leave roughly every hour and the journey takes 25 minutes. A train ticket costs 4PLN ($1.06USD) each way.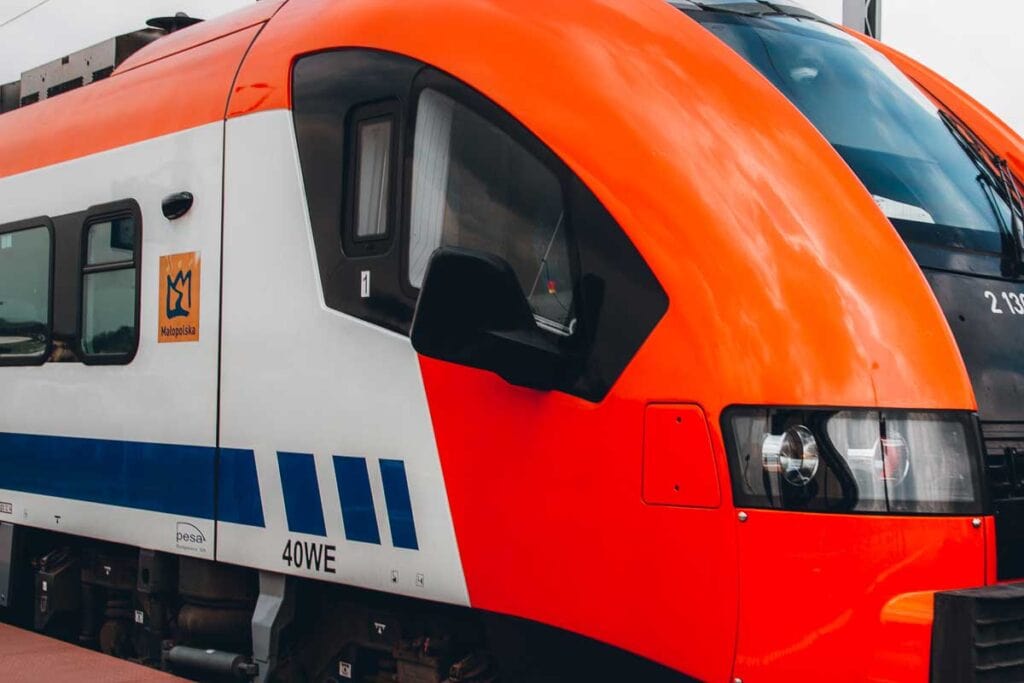 The train is usually my travel method of choice and this particular one was fantastic. It was spotless, comfortable and there was strong wifi onboard. The train's last stop on this route is Wieliczka, so you can't miss it. When you exit the station, continue straight for about 3 minutes until you see a big sign for the Salt Mine. This sends you slightly right, and up a small hill. The entire walk is 5-8 minutes and the mine is extremely easy to find.
BUS
Board the 304 bus at the Dworzec Główny Zachód bus stop in front of the Galeria Krakowska Shopping Mall. Get off at stop is Wieliczka Kopalnia Soli and walk 3 minutes to the Salt Mine. The bus ride takes around 30 minutes and costs 4PLN ($1.06USD) each way.
UBER
Uber is available in Krakow and the journey should cost around 30-40PLN ($8-10USD) each way. The drive only takes 20 minutes.
GUIDED TOUR
Getting to Wieliczka Salt Mine from Krakow is very easy to do on your own, but if you prefer to take a tour to simplify the journey even further, check out this list of options.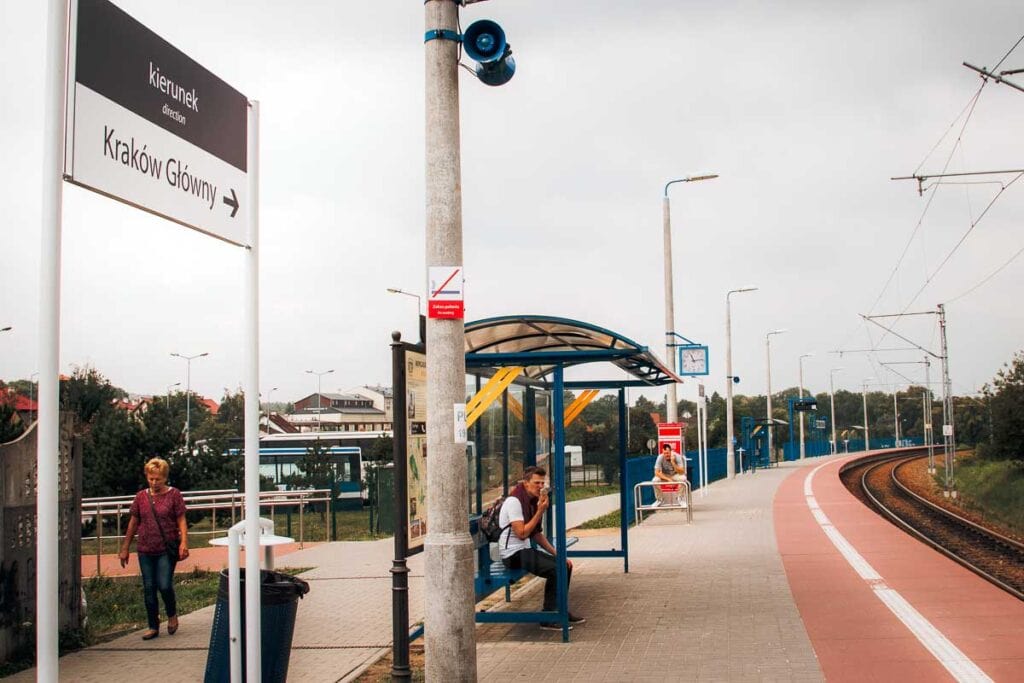 WIELICZKA SALT MINE TICKETS
Wieliczka Salt Mine is comprised of 186 miles (300 km) of tunnels. It's huge and would be very easy to get lost so they require every visitor to tour the mine with a guide. Tours are given in 7 different languages, each of which has its own set tour times throughout the day.
It is highly recommended that you purchase your tickets in advance. Lines can get very long and tours are first come first serve. When they are full (20-25 people) you will have to wait for the next one, which could be an hour or more. Having a mobile ticket allows you to skip the line.
WHERE TO BUY TICKETS
You can purchase tickets through Wieliczka Salt Mine's official website here. The website can be a little confusing so if you find yourself struggling, you can also get them from Get Your Guide here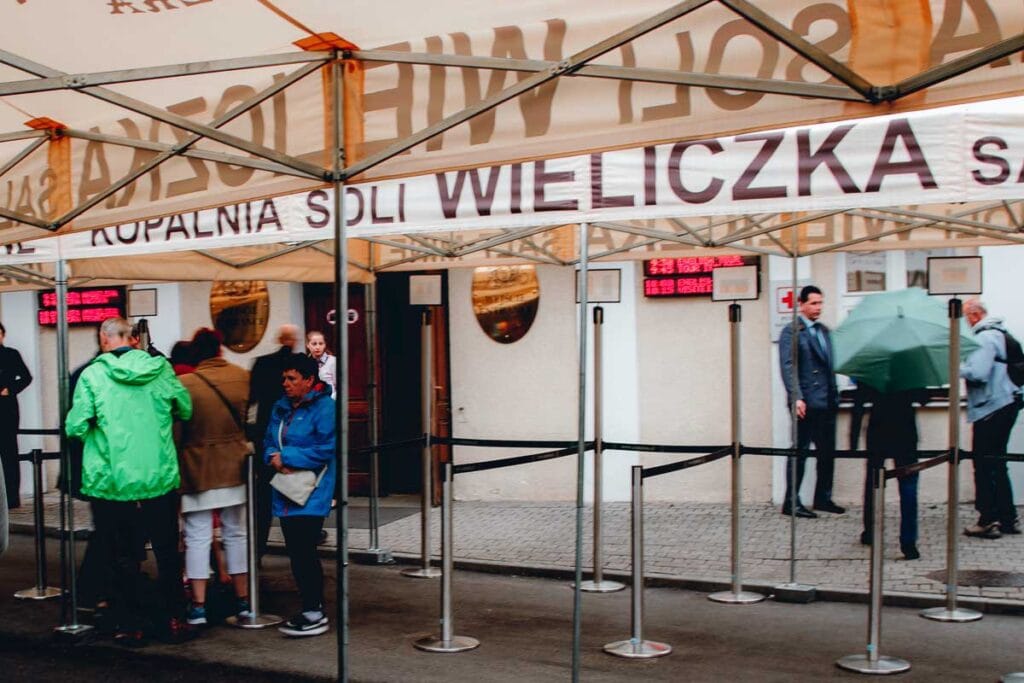 TICKET PRICES
FOREIGNERS
Standard Adult: 93 PLN / $24.70 USD
Children & Youth (5-17 years old): 73 PLN / $19.39USD
Students (up to 26 years old, with a school ID): 84 PLN / $22.31
Seniors (65+): 84PLN / $22.31
4 Years and Under: Free
Family Ticket Price (2 adults + 2 children ages 4-16): 259PLN / $68.80
POLISH NATIONALS
Standard Adult: 66 PLN
Children & Youth (5-17 years old): 48 PLN
Students (up to 26 years old, with a school ID): 57 PLN
Seniors (65+): 57 PLN
4 Years and Under: Free
Family Ticket Price (2 adults + 2 children ages 4-16): 180PLN
TOUR TIMES
Due to the pandemic, there are currently less tours being offered each day. For a list of the most up to date tour times, visit their official website here.
POLISH: There are no set times for Polish speakers. They can be taken at any time throughout the day.
ENGLISH: 11:00 am, 12:00 pm, 01:00 pm, 03:00 pm
FRENCH: 12:15 pm
GERMAN: 2:15 pm
SPANISH: 1:40 pm
ITALIAN: 1:45 pm
RUSSIAN: 2:10 pm
OPENING HOURS
The mine is open from 9am-5pm. It is closed on January 1st, Easter Sunday, November 1st and December 24th and 25th.
---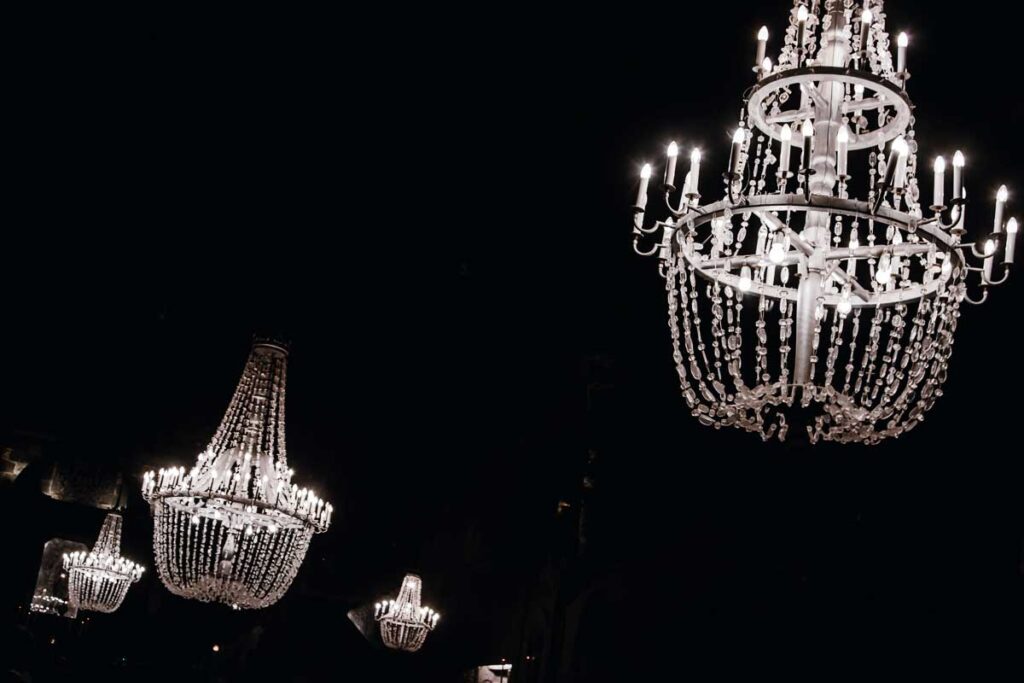 LOOKING FOR MORE POLAND INSPIRATION? CHECK OUT THESE RELATED POSTS
KRAKOW: KAZIMIERZ AND THE JEWISH GHETTO
A VISITOR'S GUIDE TO SCHINDLER'S FACTORY MUSEUM
POLISH VODKA TASTING AT WODKA IN KRAKOW
VISITING A TRADITIONAL POLISH MILK BAR
10 THINGS TO DO IN GDANSK, POLAND
SOPOT: AN EASY DAY TRIP TO POLAND'S SEASIDE RESORT TOWN

Have you been to Wieliczka Salt Mine? Leave a comment below!
---
PIN IT: WIELICZKA SALT MINE – EVERYTHING YOU NEED TO KNOW
Disclaimer: this post contains affiliate links