FC Barcelona is one of the best futbol (soccer) teams in the world, and seeing them play at their home stadium, Camp Nou, was at the top of our list of things to do while visiting Barcelona. Camp Nou stadium is the largest stadium in Europe with a capacity of 99,354 people, making a Barca match more like a city-wide holiday as opposed to a game. Our tour guide in Monserrat told us "Barcelona's biggest sport is basketball and our religion is futbol." She wasn't lying.
Keep reading to discover what to expect when you attend an FC Barcelona game at Camp Nou Stadium. How to get there, tips for visiting, where to buy tickets and more.
A few years ago, I was visiting my sister in Buenos Aires during a time when one of the local futbol teams lost, causing them to drop to a lower division. The city was in outrage. There were riots in the street, grown men were literally bawling their eyes out on live TV. At one point the rioters attempted to lock the opposing team's fans in the stadium.. and then burn it to the ground.
I have an affinity for passionate people and even though I'm not a huge soccer fan, I have been dying to attend attend a proper futbol game.
VISIT CAMP NOU STADIUM : HOW TO GET TICKETS TO AN FC BARCELONA MATCH
All the seats in Camp Nou Stadium are held by season ticket holders. For every home game, ticket holders decide whether to attend the match or allow their seat to be sold to the general public. As an incentive to free their seats, they are given 50% of the ticket sale price.
Season ticket holders generally start releasing their seats 10-14 days before the match. It is highly recommend that you purchase your tickets in advance, as they are in high demand. We didn't know this and we were looking for tickets 2 days before the match. By this time there were very few seats together, the best ones were gone and the cheapest ticket options were also sold out.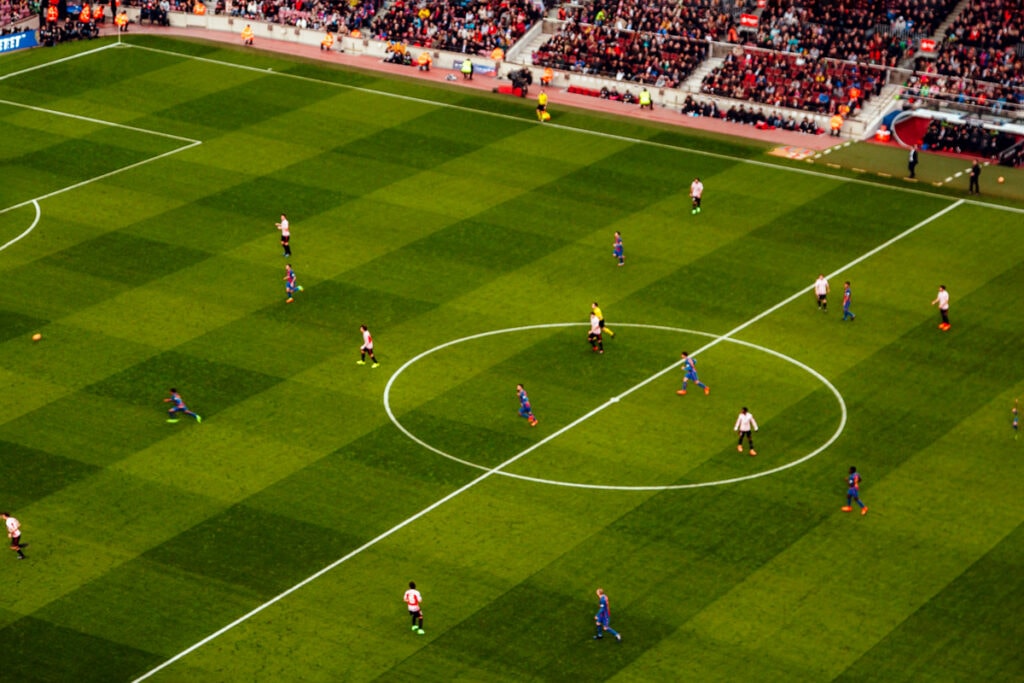 DATES & TIMES OF THE GAMES
La Liga is Spain's the top division futbol league. These games are played between 20 different teams from all over Spain. The exact date and times for La Liga games are announced around 10-15 days before the match.
The UCL is the UEFA Champions League and these games are played by teams and leagues from across Europe. The exact dates and times for these games are announced the same day as the draw. If the game is being held at Camp Nou, it should start around 8:45PM.
WHERE TO BUY TICKETS
Ticket prices vary greatly, depending on the type of game, the opponent, and where you would like to sit within the stadium. Prices range from €35-€200.
The best option for purchasing FC Barcelona tickets is online, through the official website. The stadium accepts mobile tickets, so you don't even a printer. You can also buy tickets via Ticketmaster.
BUY TICKETS ON THE FC BARCELONA WEBSITE CLICK HERE
Purchasing tickets in person can be more expensive but if you'd prefer to do it this way make sure it is through an official vendor. You can purchase tickets in person at the following locations:
-The Box Office at Camp Nou Stadium
-The Tourist Information Office at Plaza Catalunya
-Official FC Barcelona stores throughout Barcelona.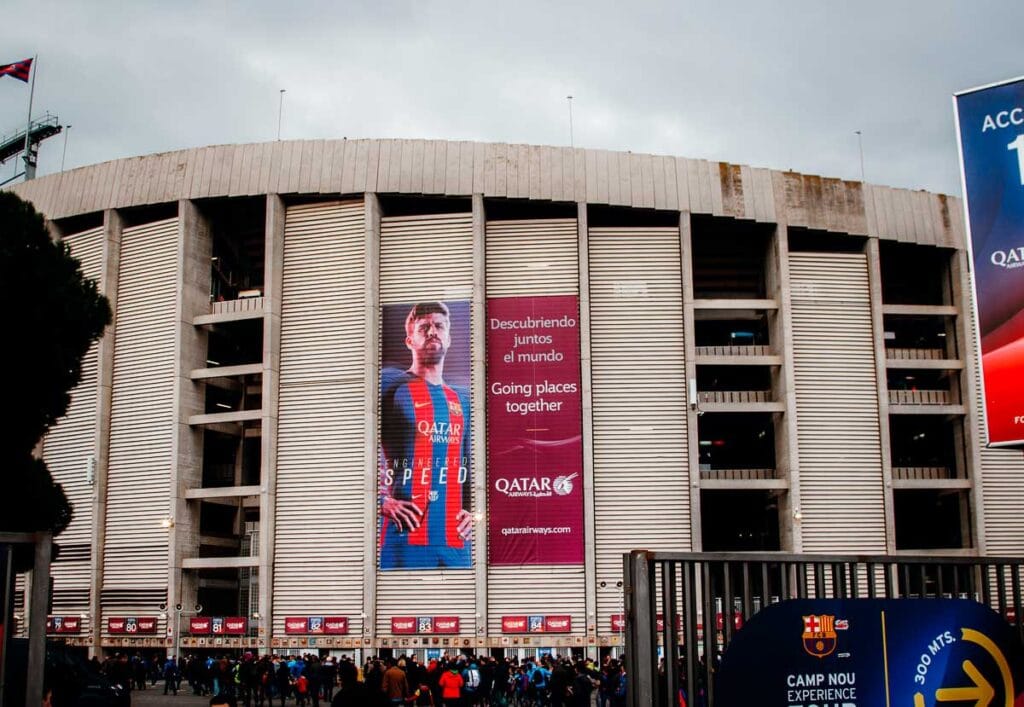 WHAT TO EXPECT AN A FC BARCELONA GAME
As you make your way to the stadium, it feels as if the whole city is traveling with you. People are excited and the crowd is lively. When you exit the metro (instructions on how to get to Camp Nou at the bottom of this post) you'll be shuffled toward the stadium with a crowd of thousands of people. Once you scan your ticket at the entrance, you will walk up what feels like a million concrete stairs to your seat. It's pretty self explanatory and there are employees around to guide you if you need assistance.
During the game, I was surprised at how quiet the crowd was but maybe we didn't pick the most exciting game? There was a cheering section near the field that chanted, stomped and sang throughout the entire game. It kept the crowd's energy up and made the atmosphere fun for everybody. Even though the crowd spent most of their time intently watching the game, every so often the announcer would say something in Spanish about Messi and every would go wild, jumping to their feet, bowing and singing to the star player.
We were about as high up as you can get at Camp Nou so it was hard to see the faces of the players, but the birds eye view actually really cool. From that high above the game, you can see just how in sync the players are with each other. It was incredible to watch.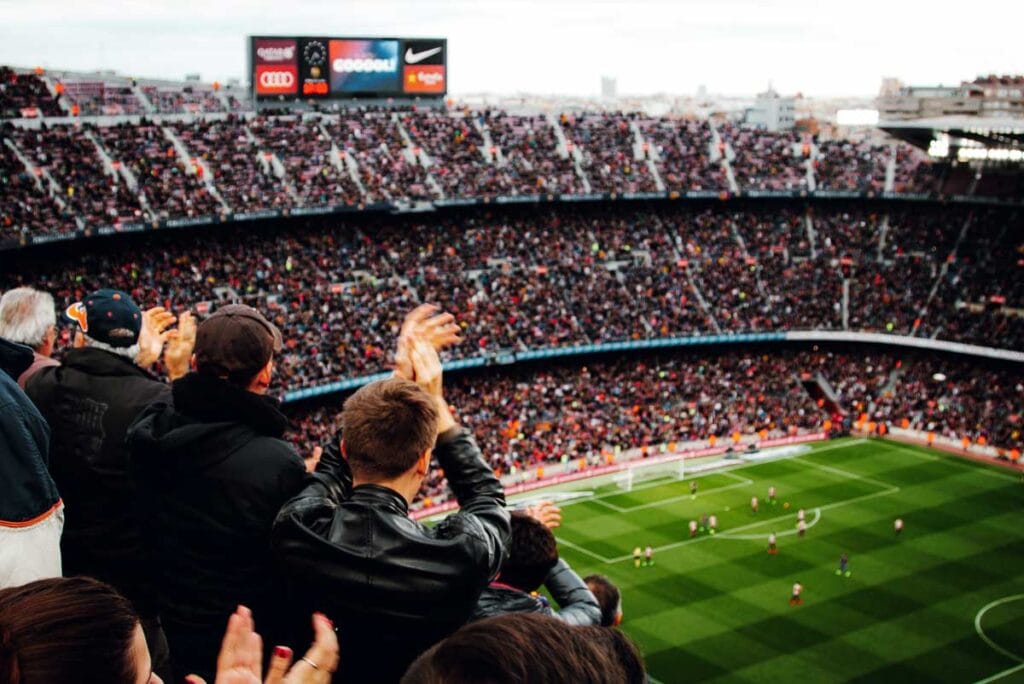 THE BEER IS NOT REAL
As we were watching the game, we noticed very few people drinking beer which seemed unusual to us, as alcohol and sports seem to go hand in hand at home. Maybe FC Barcelona fans are so passionate they want to watch the match sober so they don't miss anything?
We decided to be the odd ones out and Nick ran down to get two beers. It took him a minute to find a single concession stand, with no line, selling beers for 3.50 euro. Something didn't seem right.
Later, we discovered that Camp Nou does not sell alcohol on match days and our pints were non-alcoholic. They don't tell you either, but somehow every person in stadium knew but us. So embarrassing haha.
AFTER THE GAME | A TIP FOR GETTING HOME
When the match is over, 100,000 people will be exiting the stadium at the same time and hopefully FC Barcelona won so everyone will be in a good mood! It is pure madness. We waited awhile for the stadium to clear out so that we didn't have to push our way down the stairs. Unfortunately, this meant we were at the back of the line to get on the metro going home. The line stretched out of the underground entrance and all the way down the street!
Les Corts is the metro stop most people will walk to, resulting in the longest lines. We made our way to Maria Cristina (the metro stop before Les Corts) and found ourselves walking straight onto a near-empty metro car.
Alternatively, you can find a bar or restaurant nearby and wait for the crowds to thin out.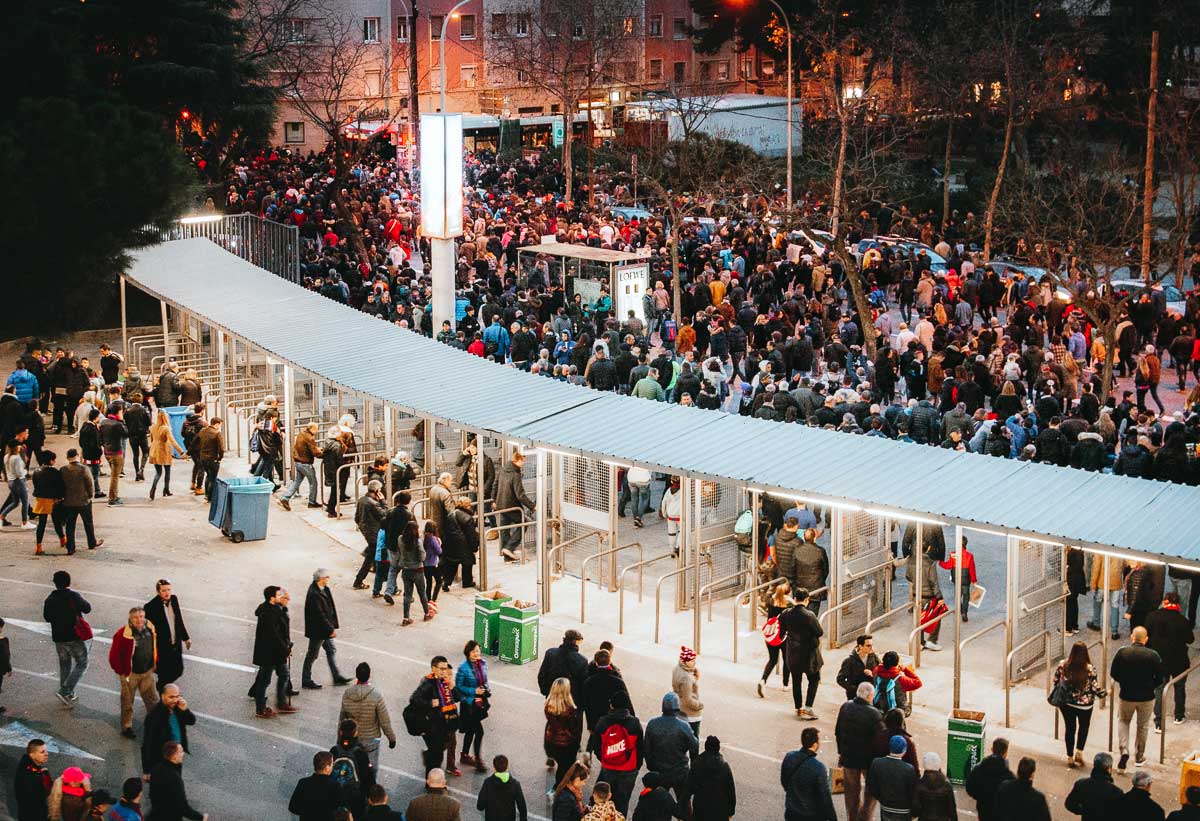 TIPS FOR ATTENDING AN FC BARCELONA MATCH AT CAMP NOU STADIUM
DOUBLE CHECK THE STATUS OF THE MATCH It is not totally uncommon for a match to be postponed and you might not be alerted when it happens. It's your responsibility to check the game status so that you don't show up to an empty stadium.
BOOK TICKETS FOR THE START OF YOUR TRIP If a match does get postponed, your ticket is still good for the rescheduled time and date. Refunds are not issued, even if you cannot attend the rescheduled match. I recommend booking your tickets for a game happening toward the beginning of your trip. This way you can ensure that you will still be in town should the match get postponed.
PACK A SWEATER The stadium is open air, with many of the matches taking place later in the afternoon. Bring a jacket, especially if your seats are higher up. Speaking from experience, the breeze is strong in the nosebleed section.
BUY YOUR TICKETS IN ADVANCE Season ticket holders start putting their seats up for sale 10-14 days in advance so it's best buy your tickers around this time. Certain games sell out much faster than others, so it's even more important to buy tickets for bigger matches when the game is confirmed. Barcelona vs. Real Madrid is the most popular game of the season.
IF YOU HAVE CHILDREN Young children will need their own ticket, even if they will be sitting on your lap. We watched a woman and an infant get denied entry because the baby didn't have his own ticket.
THERE ARE A LOT OF STAIRS Be prepared for a ton of stairs, as the stadium does not offer public elevators on game days. Depending on where your seats are located, you might be climbing for a while. Our seats were pretty much at the top of the stadium and my legs were jello by the time we sat down. If you are a wheel chair user, scroll down for more information about Camp Nou's special seating area.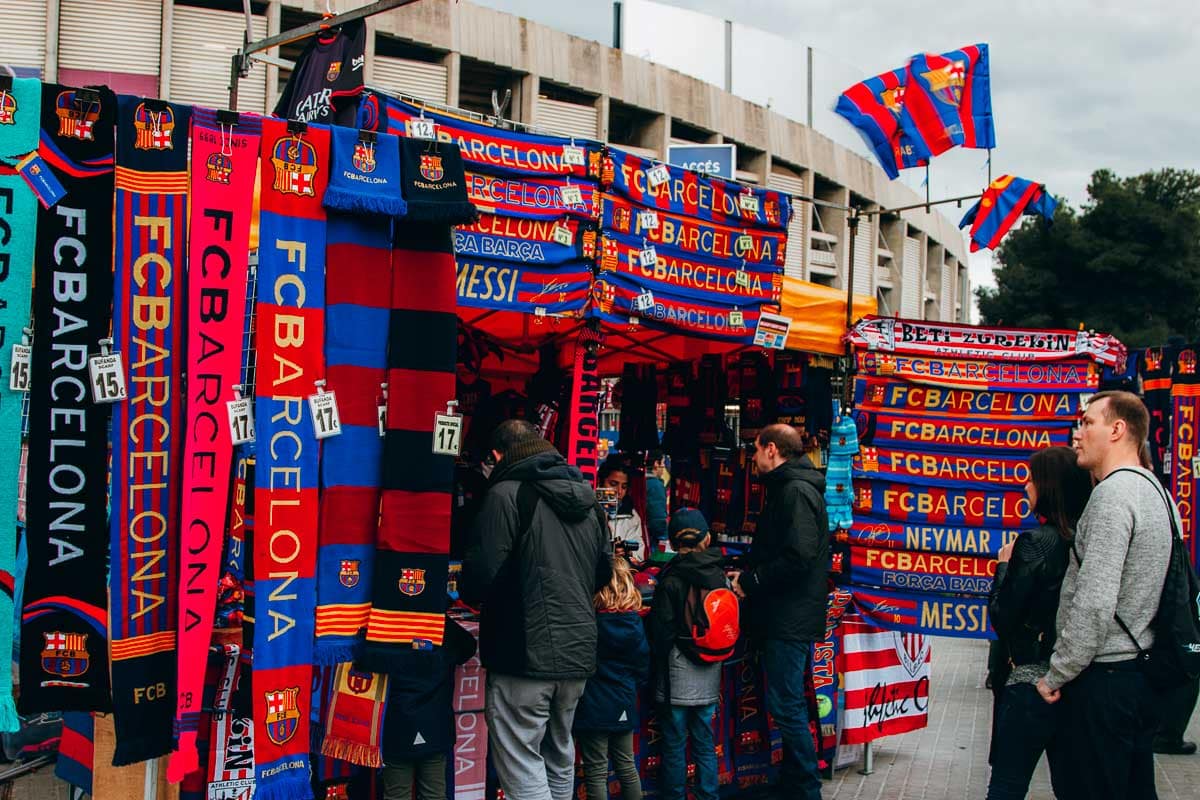 GRAB SOME MERCH There are booths outside of the stadium selling FC Barcelona merch. Pick up something festive to show allegiance to the home team.
GIVE YOURSELF ENOUGH TIME TO GET THERE Give yourself enough time to get to Camp Nou. The crowds are intense and it takes longer than you'd think to make it to your seats. Once you are inside the stadium,  there are employees walking around that can help you find your seat if you get lost. Aim to arrive about an hour before kickoff.
CAMP NOU EXPERIENCE TOUR You do not have to attend an FC Barcelona game in order to experience Camp Nou. The stadium offers behind the scenes tours on non-match days. Get an up and close look at the opposing team's locker rooms, the first team's bench, the press room, and the museum among other VIP areas. For more information about the tour click here.
ACCESSIBILITY / PEOPLE WITH DISABILITIES
Camp Nou has a special seating section for wheelchair users, on the ground floor near each of the goals. Tickets to the wheelchair adapted area also include a free pass for your +1. To fill out the form to use the wheelchair adapted area click here.
Wheelchair access anywhere else in the stadium is not really possible. If you have a disability or limited mobility but are not a wheelchair user, know that there are a lot of stairs which may prove difficult and/or impossible depending on your circumstances.
If you are visiting Camp Nou as part of a tour, the accessibility is also not ideal. The museum is fully accessible as well as a panoramic viewing area. If you cannot do stairs however, you will unfortunately miss a large portion of the tour.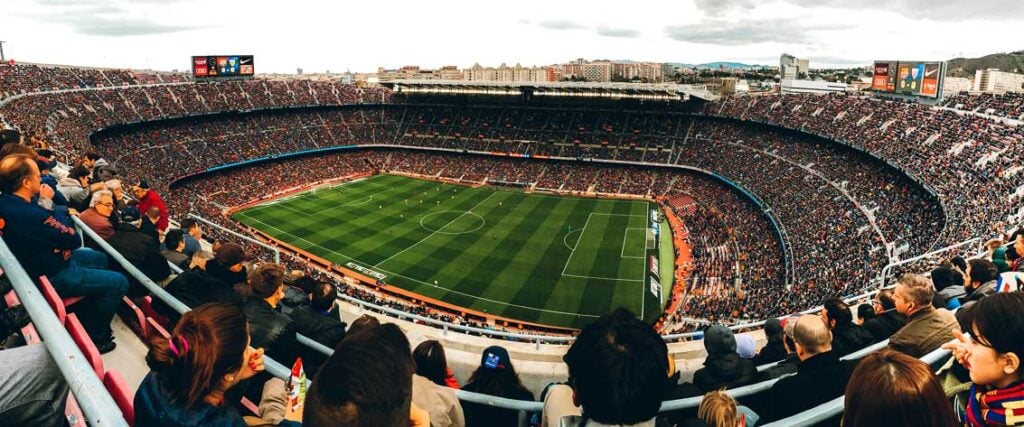 HOW TO GET TO CAMP NOU STADIUM
Camp Nou Stadium is located about 3 miles (5km) from the city center and it is most easily accessible by metro.
METRO
Take the L3 Green Line going toward Zona Universitària. You can get off at either of these three stations: Les Corts (easiest access to gates 14-21), Maria Cristina  (easiest access gates to gates 1-9) or Palau Reial: (easiest access to gates 4-15). The trip takes about 25 minutes.
Take the L5 Blue Line going toward Cornellà Centre and get off at either of these two stops: Badal (easiest access to gates 16-21) or Collblanc (easiest access to gates 1-15).
There will be thousands of fans riding along with you so when you get off at the metro stop of your choice, simply follow the massive crowds and they will lead you straight to the stadium.
TRAM
If you will be arriving by tram, you can get off at stops at Pius XII, Palau Reial, Maria Cristina or Avinguda Xile
BUS
If you are arriving by bus, there are several lines stop near to the Stadium including 7, 15, 43, 67, 8, 74, 75, L12, L50, L60, and L62.
LOOKING FOR MORE BARCELONA INSPIRATION? CHECK OUT THESE RELATED POSTS
INSIDE LA SAGRADA FAMILIA : EVERYTHING YOU NEED TO KNOW
CASA MILA (LA PEDRERA) – A VISITOR'S GUIDE
BARRI GOTIC : EXPLORING BARCELONA'S GOTHIC QUARTER
PARK GUELL : VISITING GAUDI'S BARCELONA PARK
THE OLDEST COCKTAIL BAR IN BARCELONA : BOADAS COCKTAILS
MONTSERRAT, SPAIN: AN EASY DAY TRIP FROM BARCELONA
---
PIN IT : WHAT TO EXPECT AT AN FC BARCELONA GAME AT CAMP NOU STADIUM
Have you been to a game? Leave your tips in the comments!
Disclaimer: This post contains affiliate links.