If there's one type of food you have to try in Poland, it's gotta be pierogi. Considered one of the country's national dishes, these stuffed dumplings are a classic comfort food that have been gracing Polish dinner plates since the 13th century. On our most recent trip, we set out on a mission to find the best pierogi in Gdansk and were led (by just about everyone) to Pierogarnia Mandu.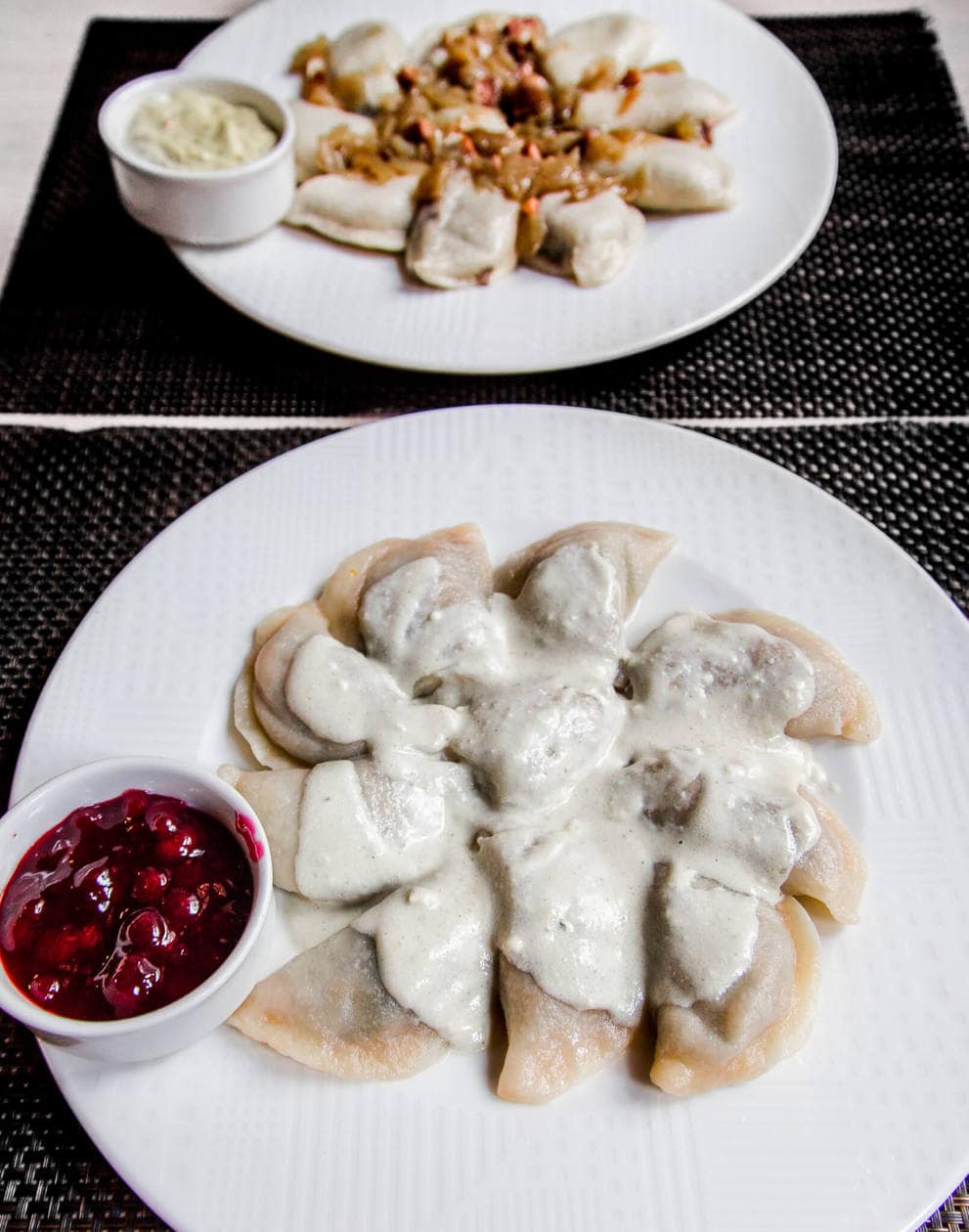 It's definitely not hard to find pierogi in Poland, but for first time visitors Pierogarnias are the best place to start your tasting journey. A Pierogarnia is simply a pierogi restaurant, and they offer an extensive list of different flavors to try.
PIEROGARNIA MANDU
Pierogarnia Mandu has two locations in Gdansk, one near the Gdansk Glowny train station and the other in Oliwa.
We visited early as we heard that the restaurant fills up quickly. The menu at Pierogarnia Mandu is made fresh to order, so it's not uncommon to for wait times to get pretty long. Reservations are highly advised!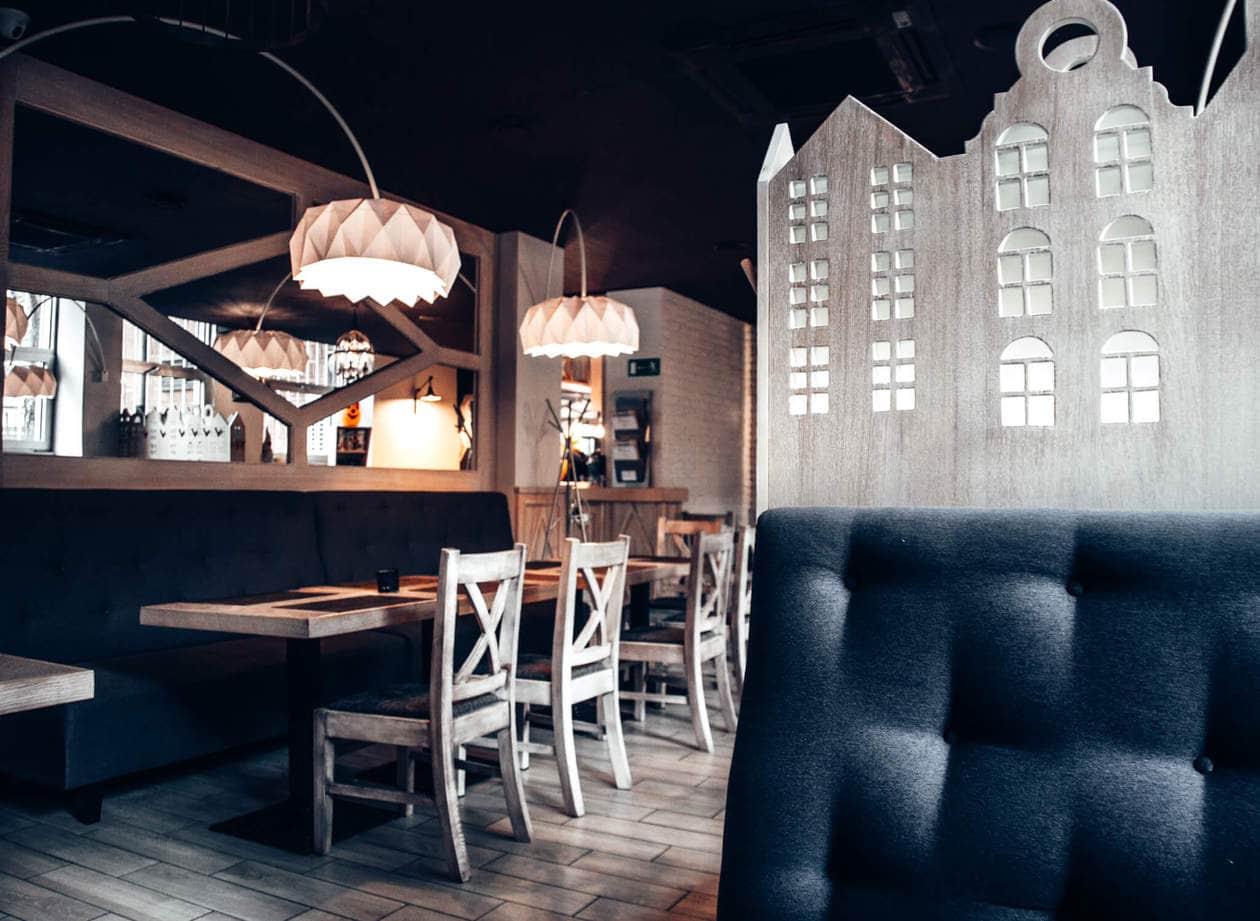 The menu was filled with pages and pages of stuffed dumplings. You can choose from traditional Polish flavors, or from their list of international options inspired by Korea, Georgia, Russia and China.
VEGETARIAN AND VEGAN FRIENDLY
While the plant based options are not as robust compared to the rest of the menu, Pierogarnia Mandu does have a few pierogi flavors for vegetarians and vegans. The spinach, sun dried tomato and tofu dumpling looks delish. Or if you're vegan, they offer a fried option made from tofu, paprika paste, garlic, parsley and vegan mayonnaise.
---
RELATED POST: VISITING A TRADITIONAL POLISH MILK BAR (AKA THE CHEAPEST MEAL IN POLAND).
---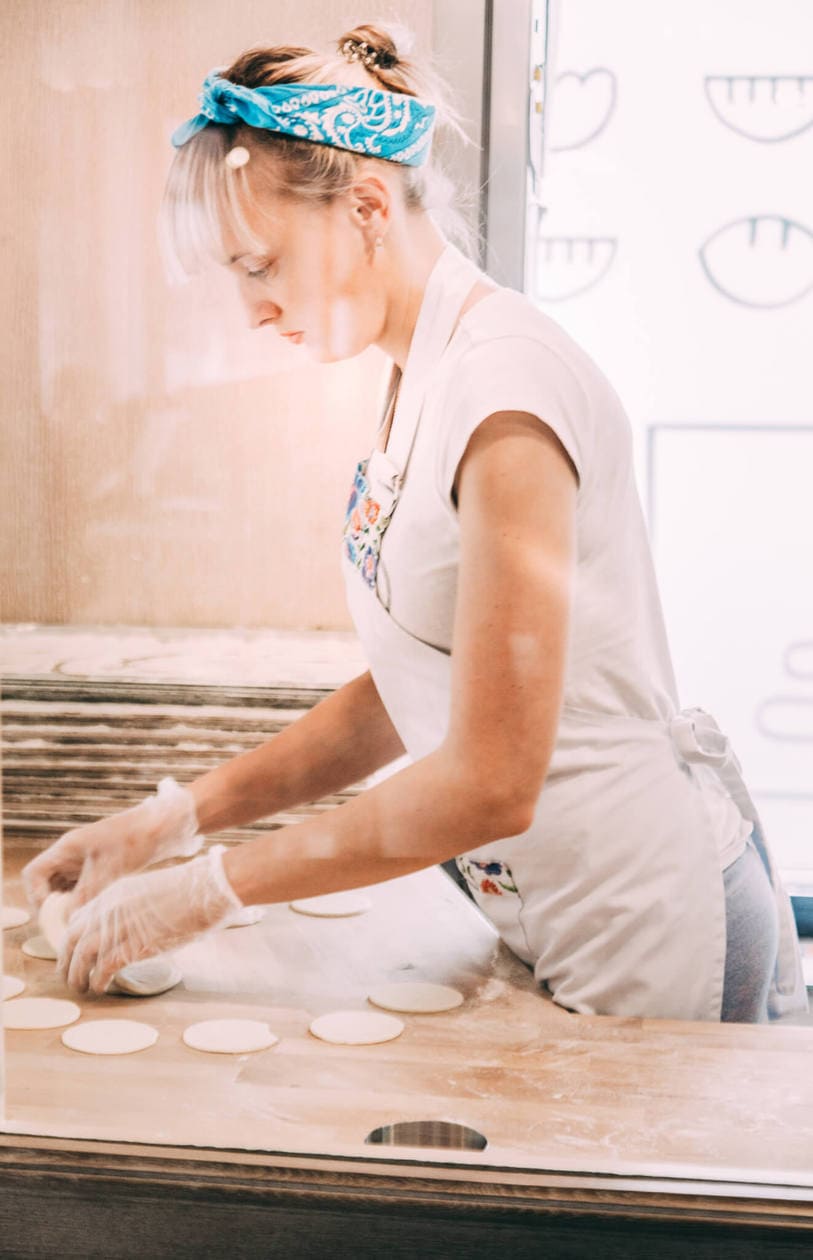 We stuck with the traditional vibe and chose 2 different pierogis. One was filled with spinach, sun dried tomatoes and topped with a white cheese sauce. Our waitress suggested we add a side of cranberry sauce, and she hit the nail on the head with that recommendation.
We also ordered the the mushroom, cheese, onion and parsley pierogi, topped with white onion and bacon. For that, she recommended the honey-mustard sauce on the side, which once again made the meal.
---
RELATED POST: POLISH VODKA TASTING IN KRAKOW
---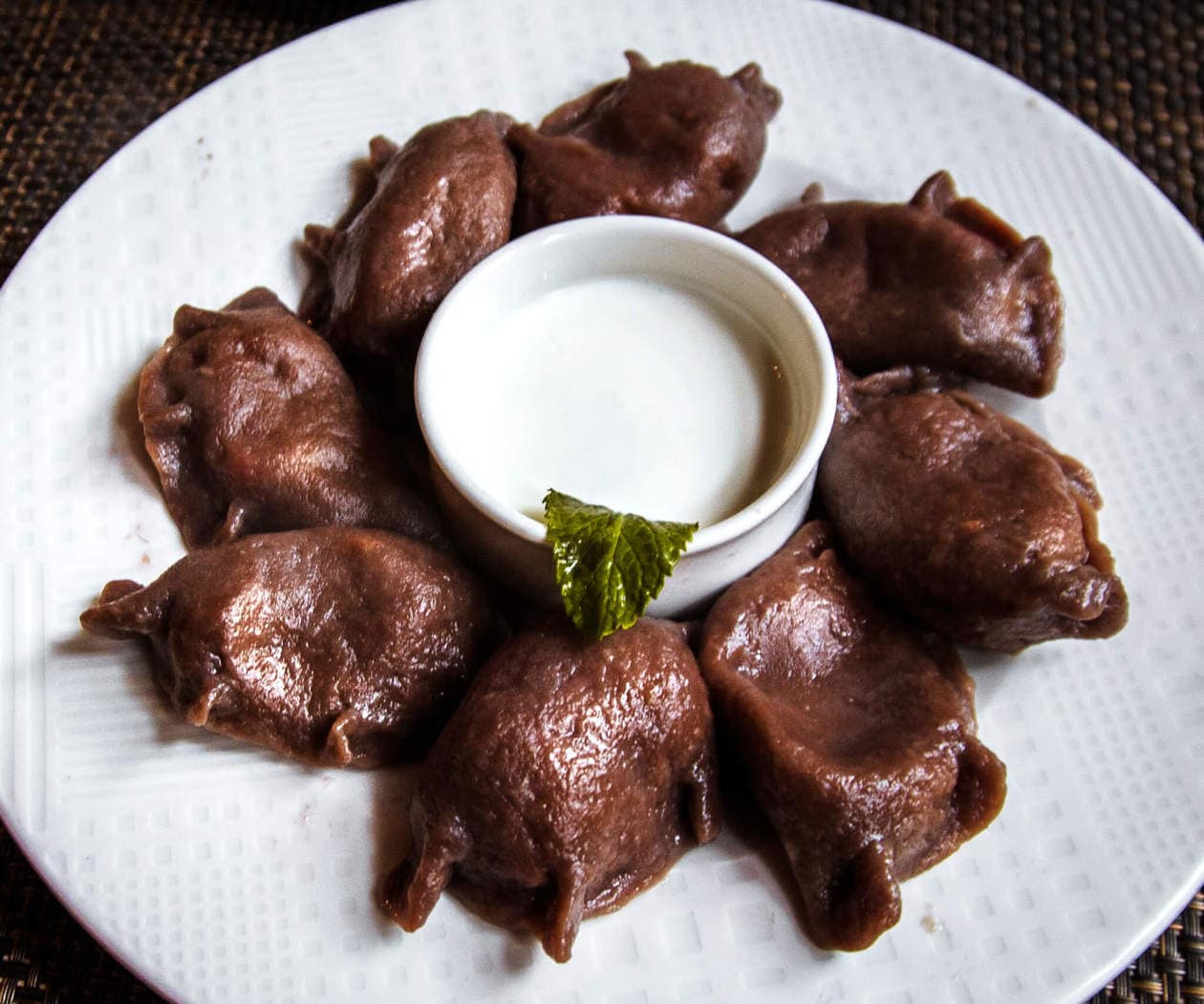 Despite being too full for comfort, we proceeded to make the best and worst decision of that day and order dessert (which you might've guessed.. was more pierogi). After the first bite of this insane chocolate dumpling filled with raspberry puree and dipped in white chocolate, I immediately regretted wasting so much stomach space on the savory portion of our meal.
I don't know why we were surprised that 3 plates of boiled dough could make us so full, but we definitely overdid it on the pierogi and barely ate anything else for the rest of the day.
Nevertheless, Pierogarnia Mandu should definitely be on your list of restaurants to check out in Gdansk. The food was delicious, the service was great and the meal was cheap (under $20USD!).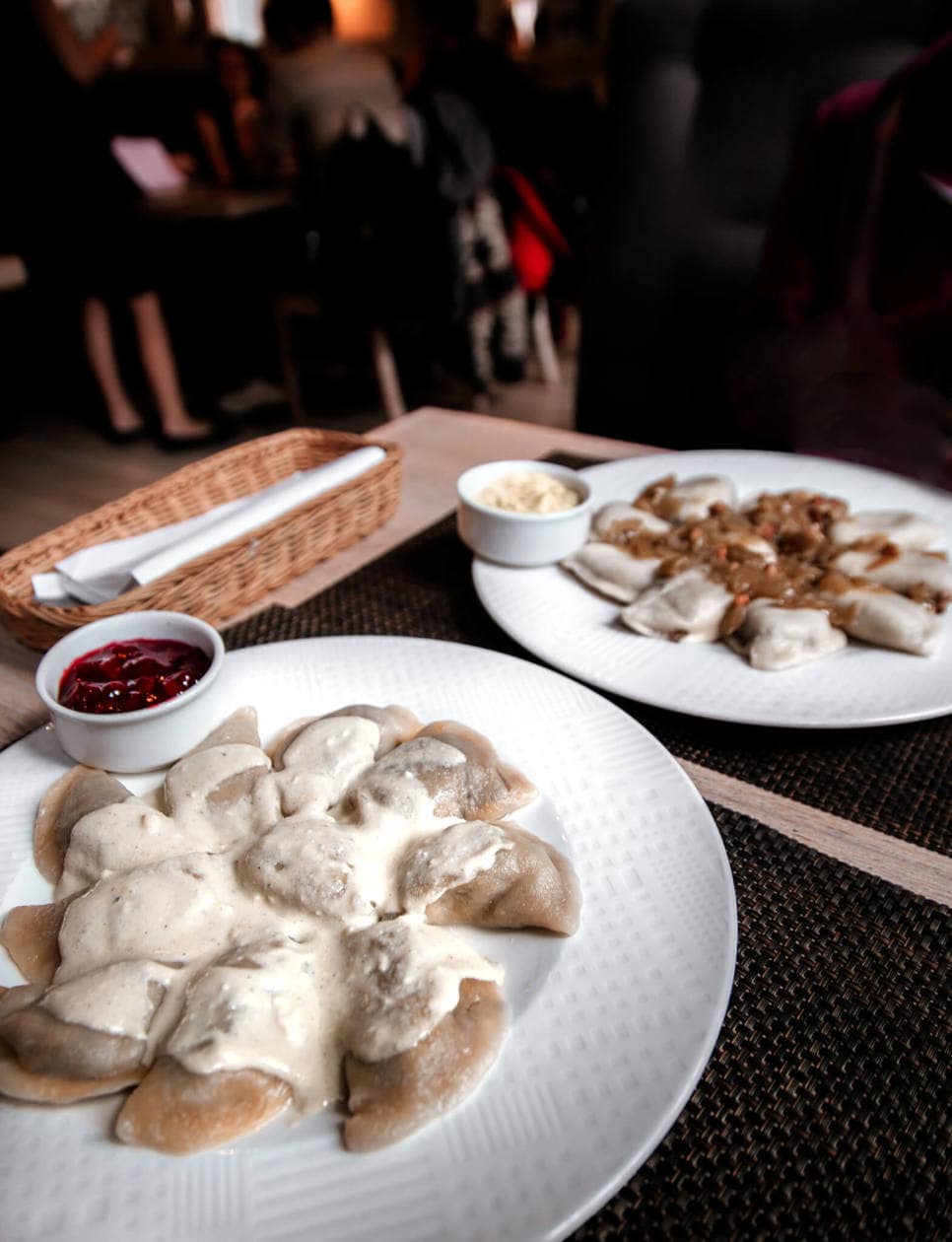 PIEROGARNIA MANDU LOCATIONS
Pierogarnia Mandu Gdansk Głowny
ul. Elżbietańska 4/8
80-894 Gdansk
HOURS
Sunday -Thursday: 12pm-9pm
Friday- Saturday: 12pm-10pm
FOR RESERVATIONS: +48 58 300 00 00
Pierogarnia Mandu Gdansk Oliwa
ul. Kaprów 19D (entrace from Obrońców Westerplatte Street)
80-316 Gdansk
HOURS
Monday-Sunday 11am-9pm
FOR RESERVATIONS: +48 58 340 55 44
For more information you can visit Pierogarnia Mandu's website here. 
If you decide to try Pierogarnia Mandu, let me know! Or, drop your favorite spots for Polish pierogi in the comments.
---
PIN IT // PIEROGARNIA MANDU: THE BEST PIEROGI IN GDANSK