On our way to Spain, Nick and I threw out an Instagram question asking for people's top Barcelona recommendations .. and literally everyone replied back with "visit La Sagrada Familia."
Is that not a given?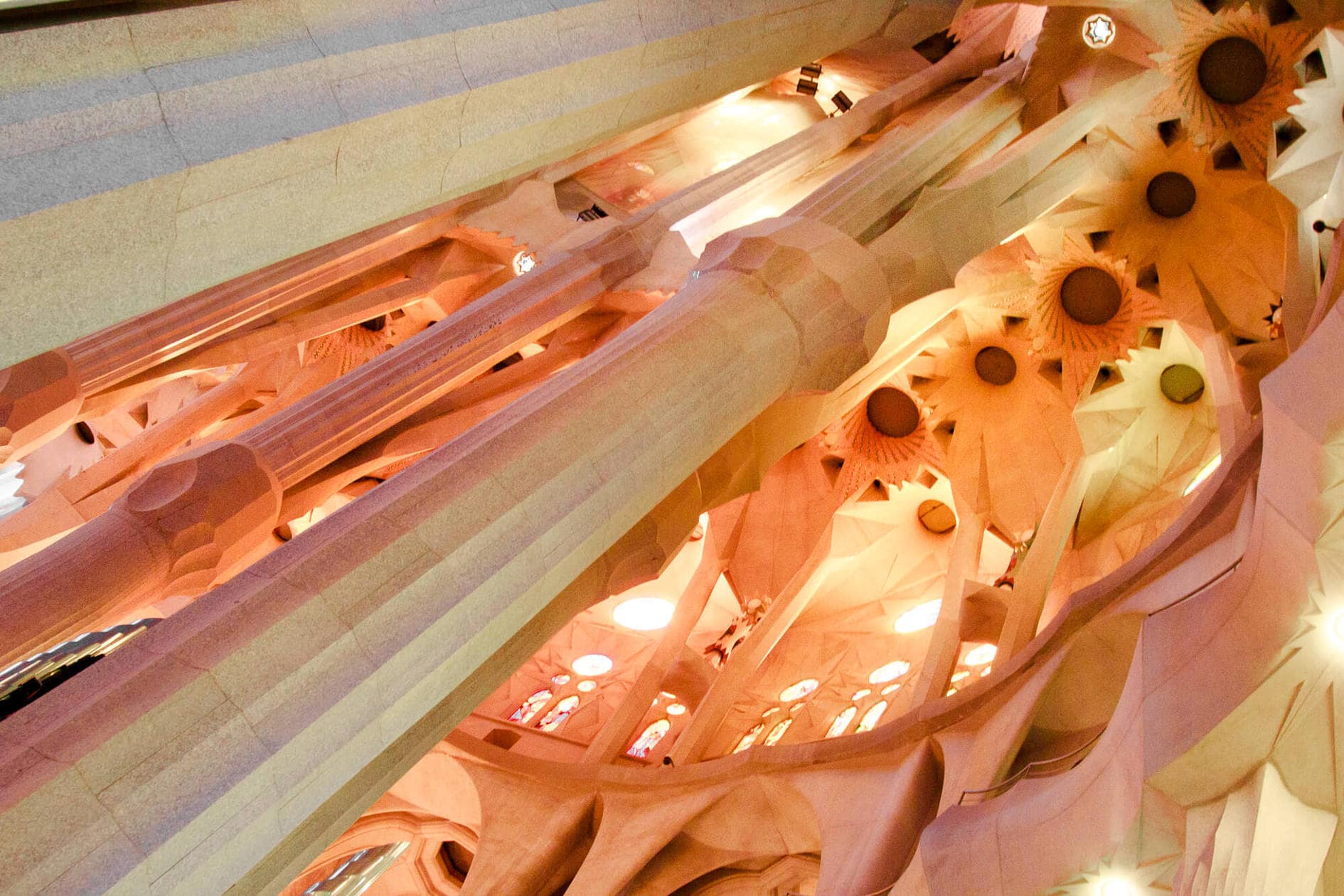 With over 150,000 reviews on TripAdvisor at a near 5 star average, it's not only the top attraction in the city but also the #1 reviewed attraction on Trip Advisor, period. And to put it into perspective, Machu Picchu only has 19,000 reviews..
So how does a church have over 130,000 more reviews than some of the most popular landmarks in the world?? Experiencing La Sagrada Familia in person does something to you… and then for some reason you want to go out and tell everyone about it.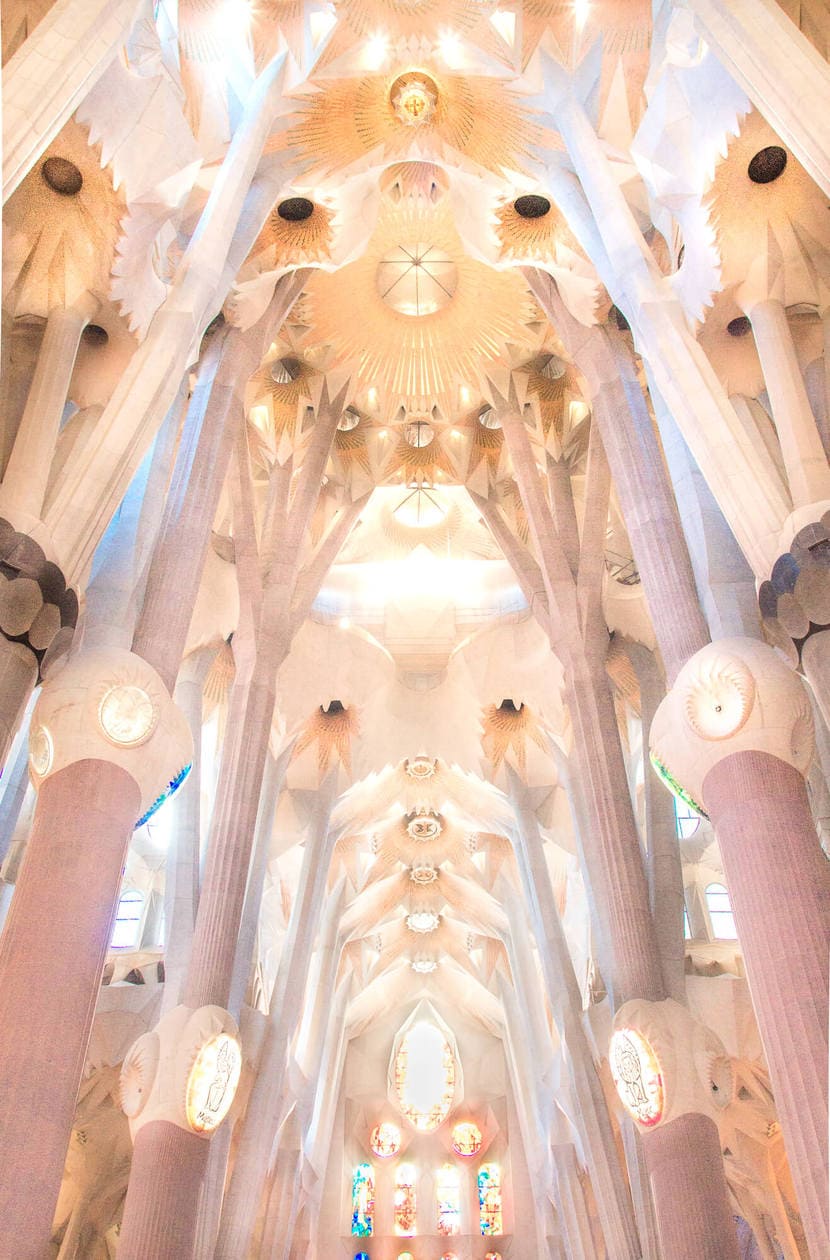 If you're reading this, you're probably planning a trip to Barcelona, and I'm officially going to jump on the bandwagon (along with every single other guide on the internet) and be that annoyingly cliche person to tell you that you must visit La Sagrada Familia while you're in town.
Keep reading for visitor tips and information, along with interior / exterior photos of Gaudi's masterpiece.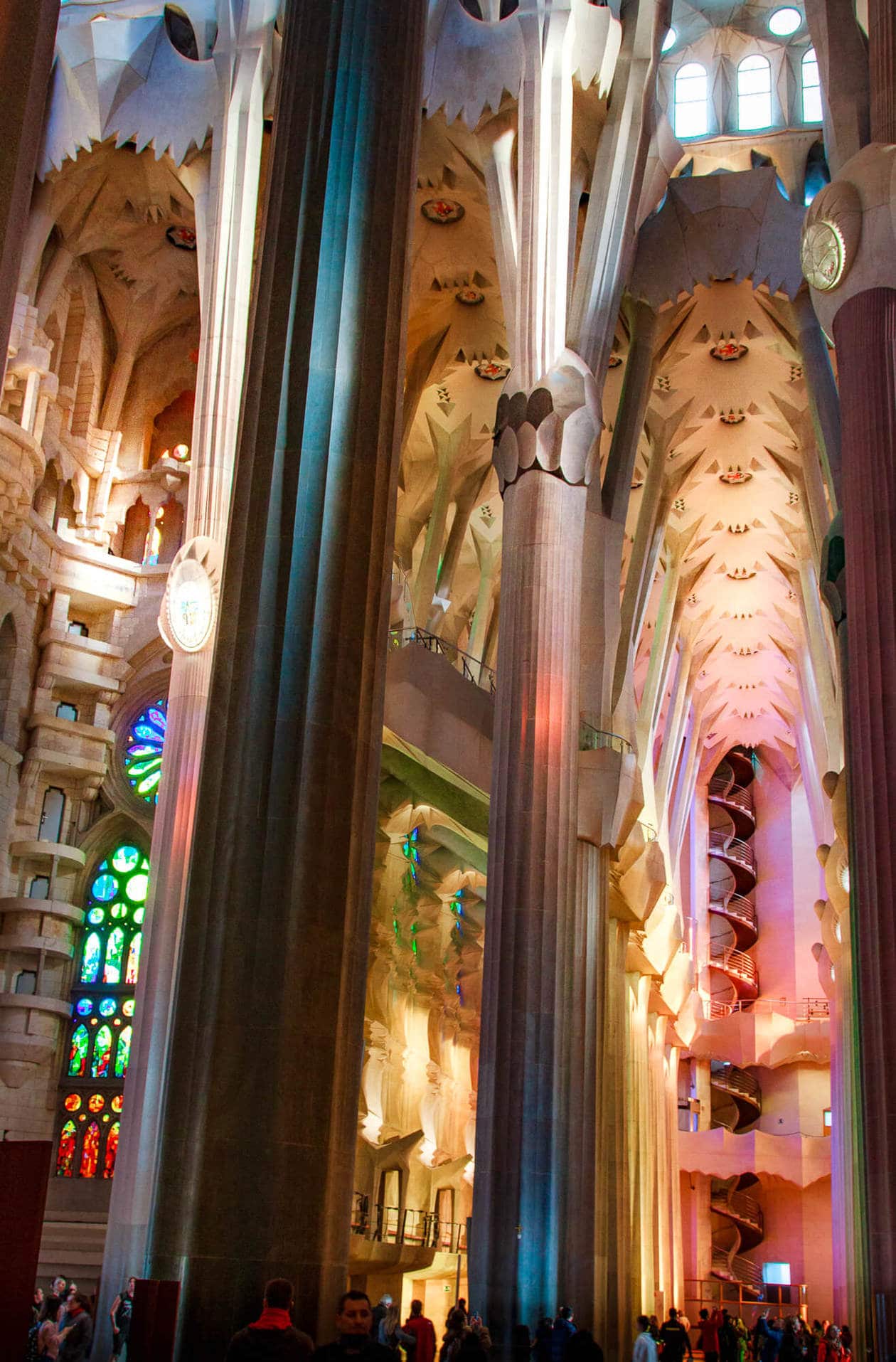 LA SAGRADA FAMILIA // ANTONI GAUDI'S UNFINISHED MASTERPIECE
Antoni Gaudi is a revered Catalan architect whose work inspires millions of visitors each year at some of the most popular tourist attractions in Barcelona.
Park Guell, La Pedrera and Casa Batllo are amongst his most famous projects in the city, but nothing compares to La Sagrada Familia. Construction began on the church in 1882 but Gaudi didn't take over until a year later in 1883.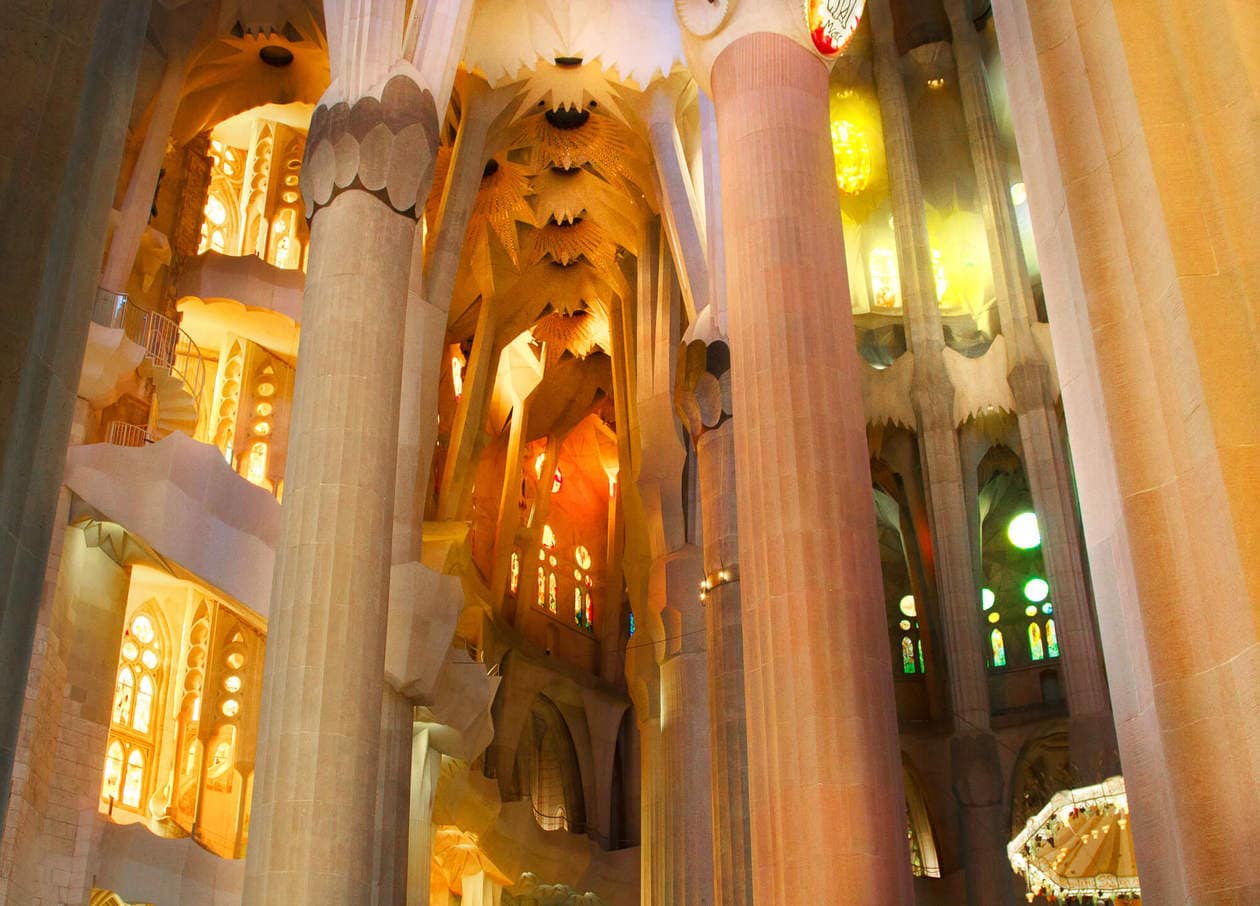 He devoted the rest of his life to the project and is even buried here. When Gaudi died in an accident in 1926, he had spent 43 years of his life working on his masterpiece .. and only 1/4 of the church had been finished.
137 years later, La Sagrada Familia is still under construction with a projected completion date of 2026.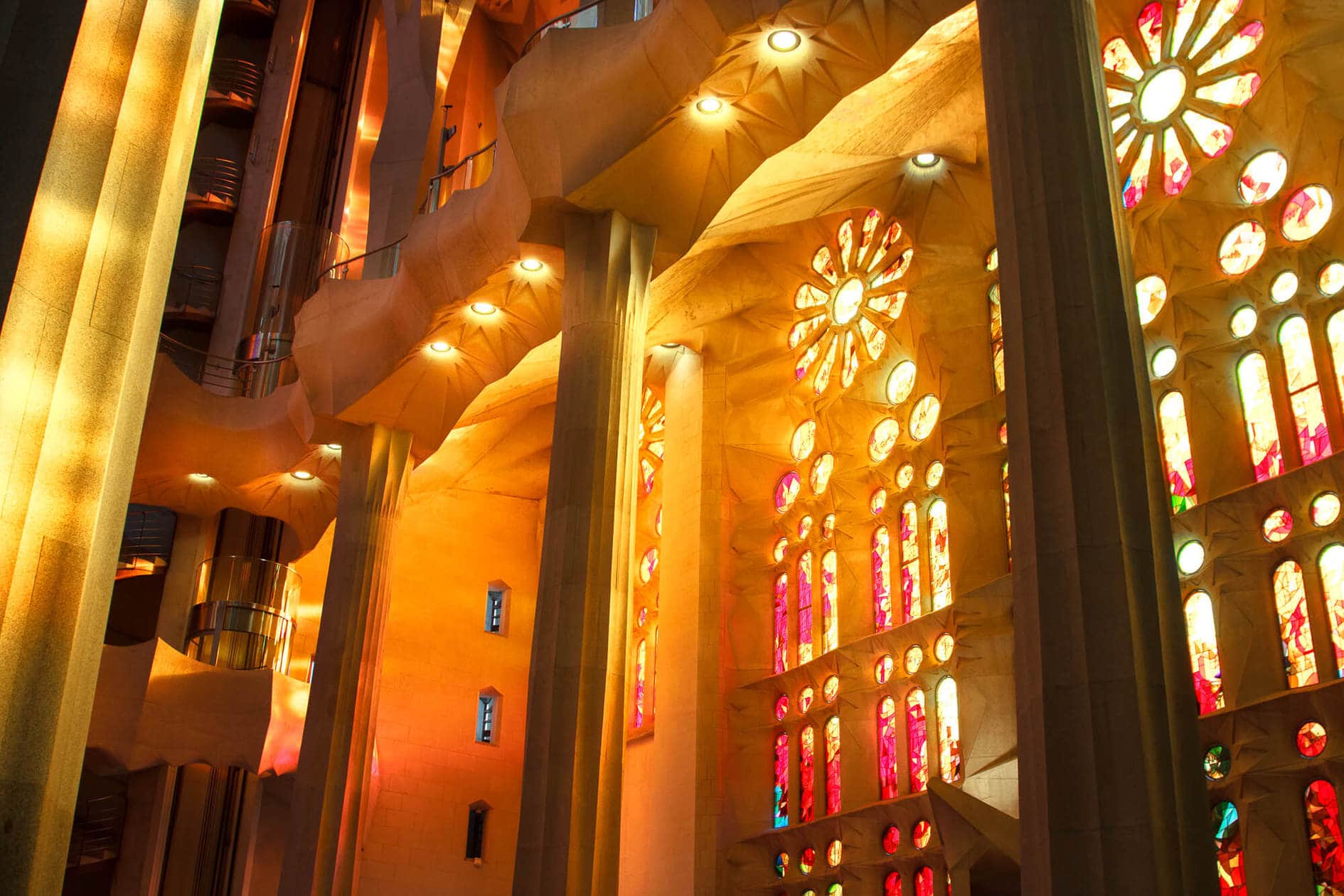 THE EXTERIOR
The exterior of La Sagrada Familia is a lot to take in, as each side looks like a completely different structure.
There are three different facades; the Nativity facade to the East, the Passion facade to the West, and the Glory facade facing South.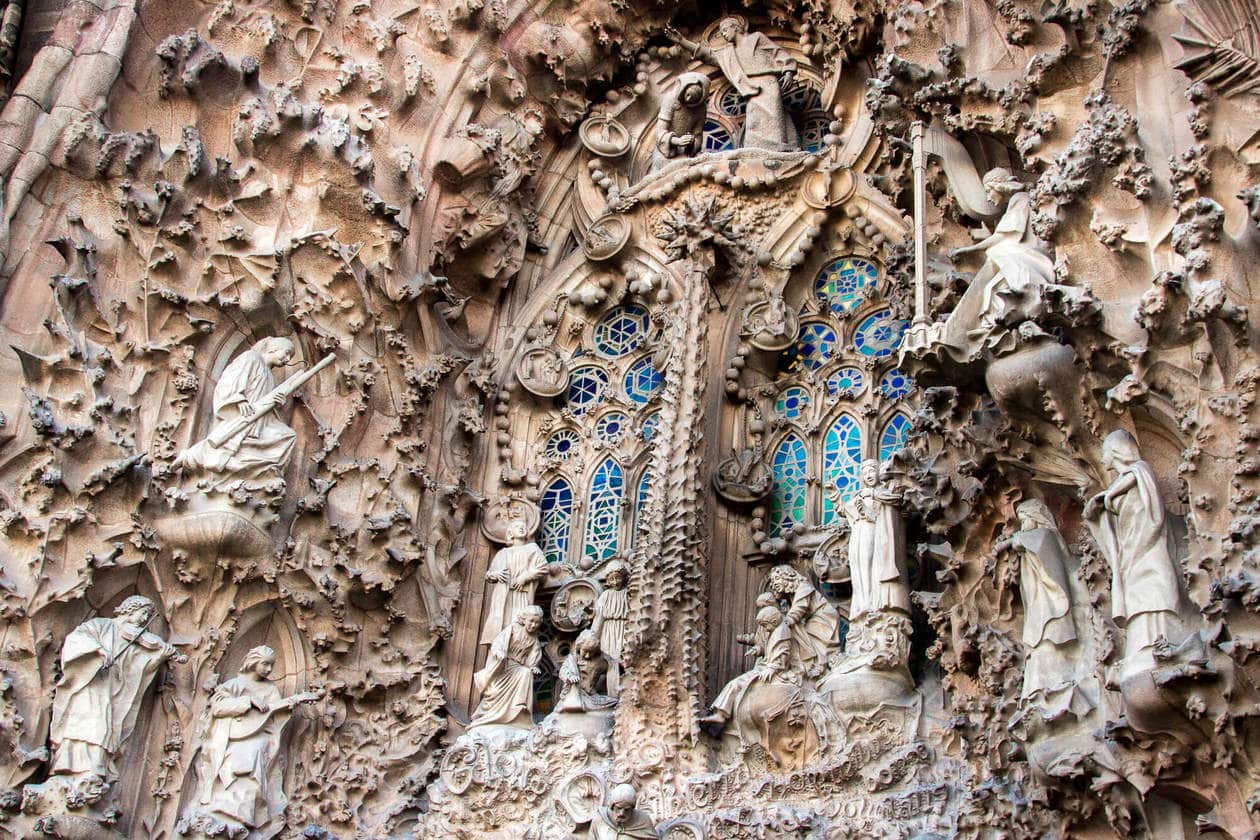 THE NATIVITY FACADE has the most direct Gaudi influence and was the first to be completed. This extremely complex and intricate facade is dedicated to the birth of Jesus. It has four towers which represent the Apostles, Matthew, Barnabas, Jude, and Simon. The Nativity Facade has been declared a UNESCO World Heritage Site.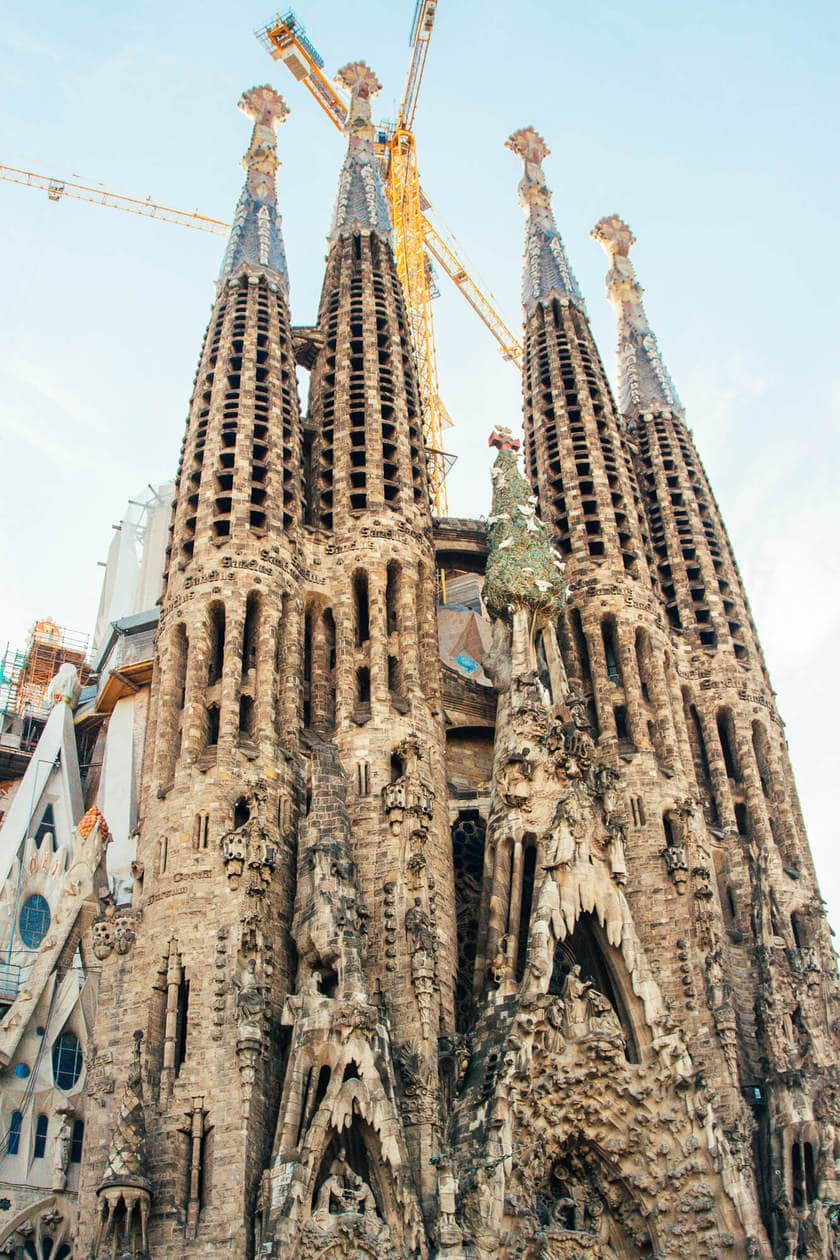 THE PASSION FACADE is noticeably more stark and simple compared to the Nativity Facade. This facade represents the suffering of Christ during his crucifixion. The four towers on this side are dedicated to the Apostles James, Thomas, Philip, and Bartholomew.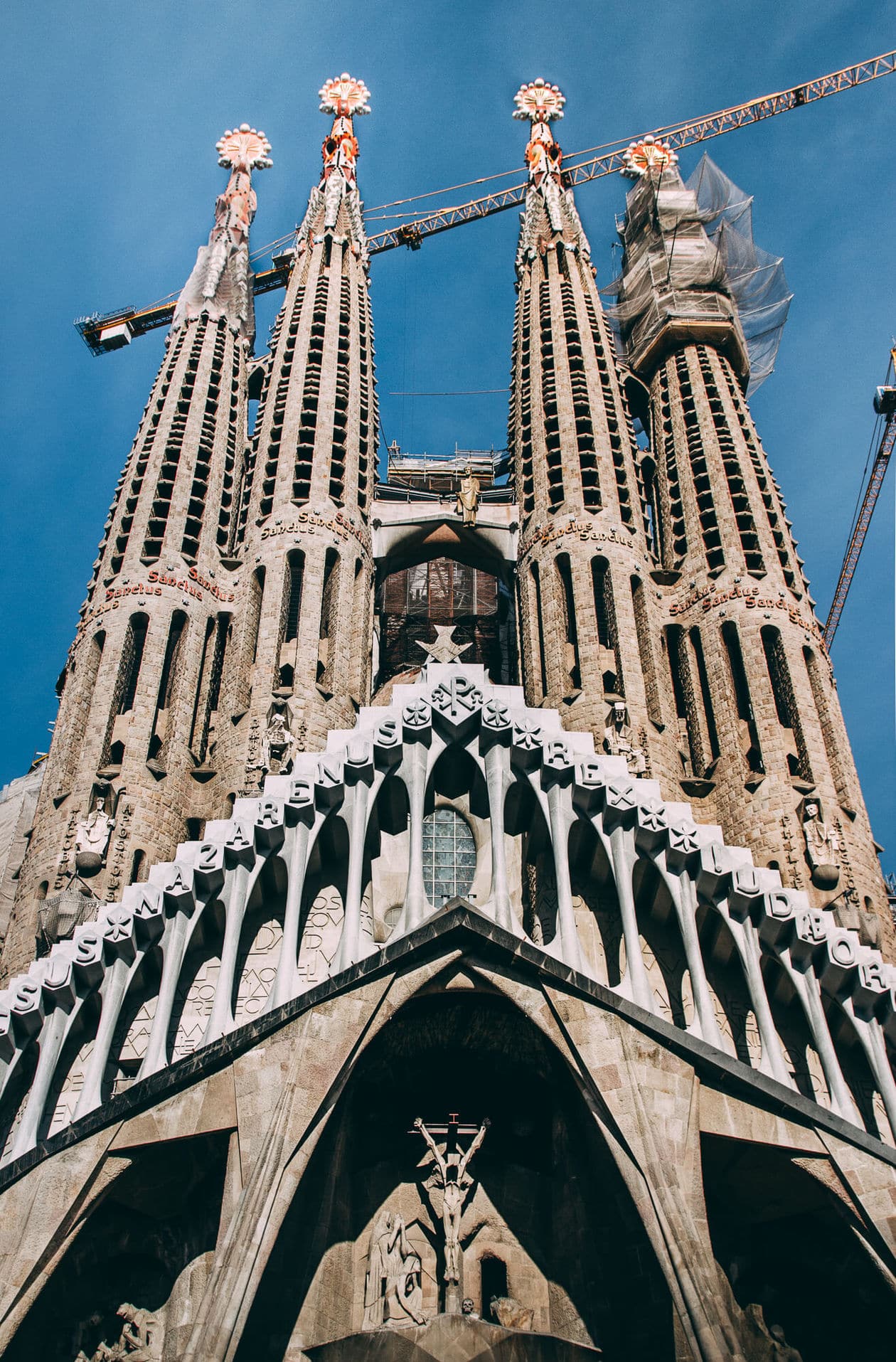 THE GLORY FACADE is the final facade which has been under construction since 2002. Once completed, it will be the largest facade of La Sagrada Familia and it is dedicated to the Glory of Jesus. This facade represents the road to God: Death, Final Judgment, and Glory as well as Hell.
THE INTERIOR
I read a few suggestions on Trip Advisor that said it's not necessary to go inside La Sagrada Familia .. and this is worst advice ever. You absolutely need to go inside.
While walking around the interior of the church, I stood at the entrance for a few minutes watching people enter because I wanted to witness their first impressions.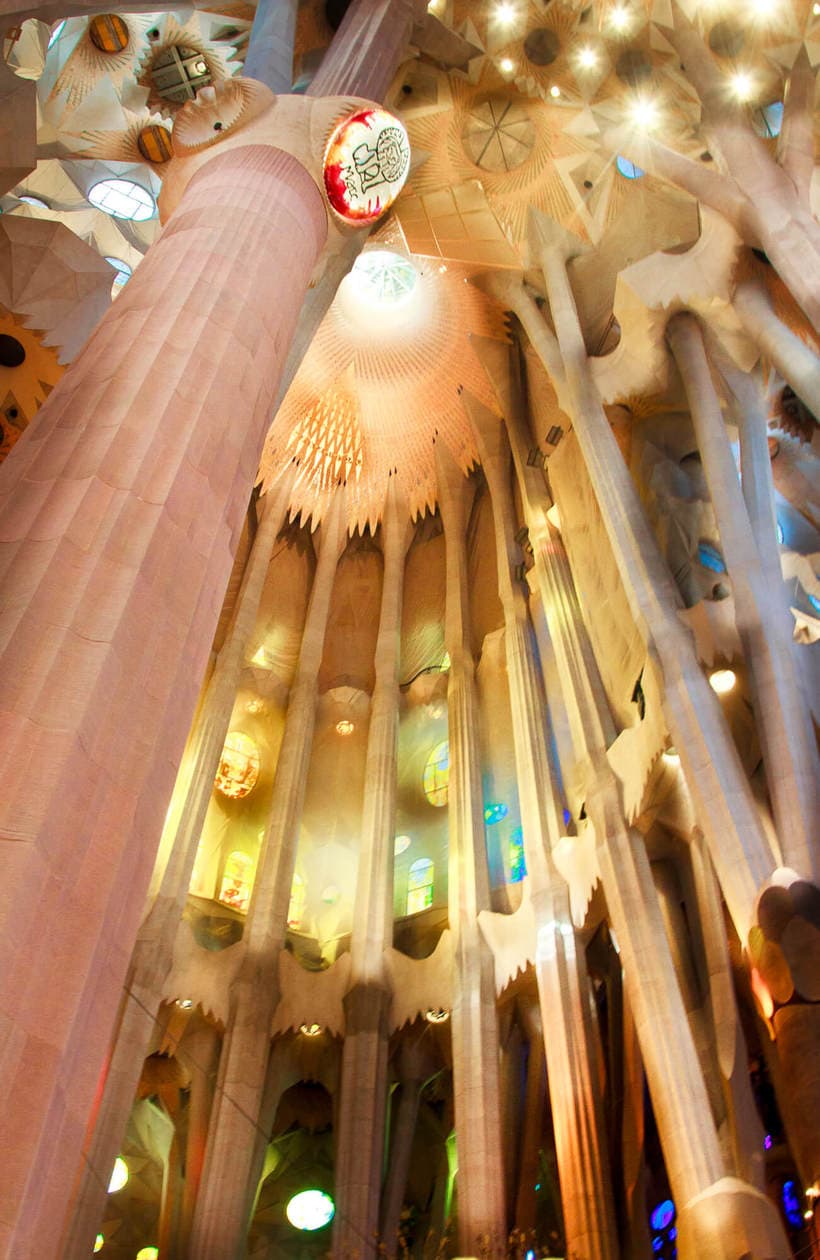 Almost every single person gasped. One girl literally screamed. It's breathtaking in the most literal sense of the word.
If you're standing inside La Sagrada Familia, it feel almost instinctual to immediately look up. The design naturally pulls your eyes upward to some of the most beautiful ceilings you've ever seen. The central nave rises up 148 feet (48 metres) and the central vault reaches 200 feet (60 metres).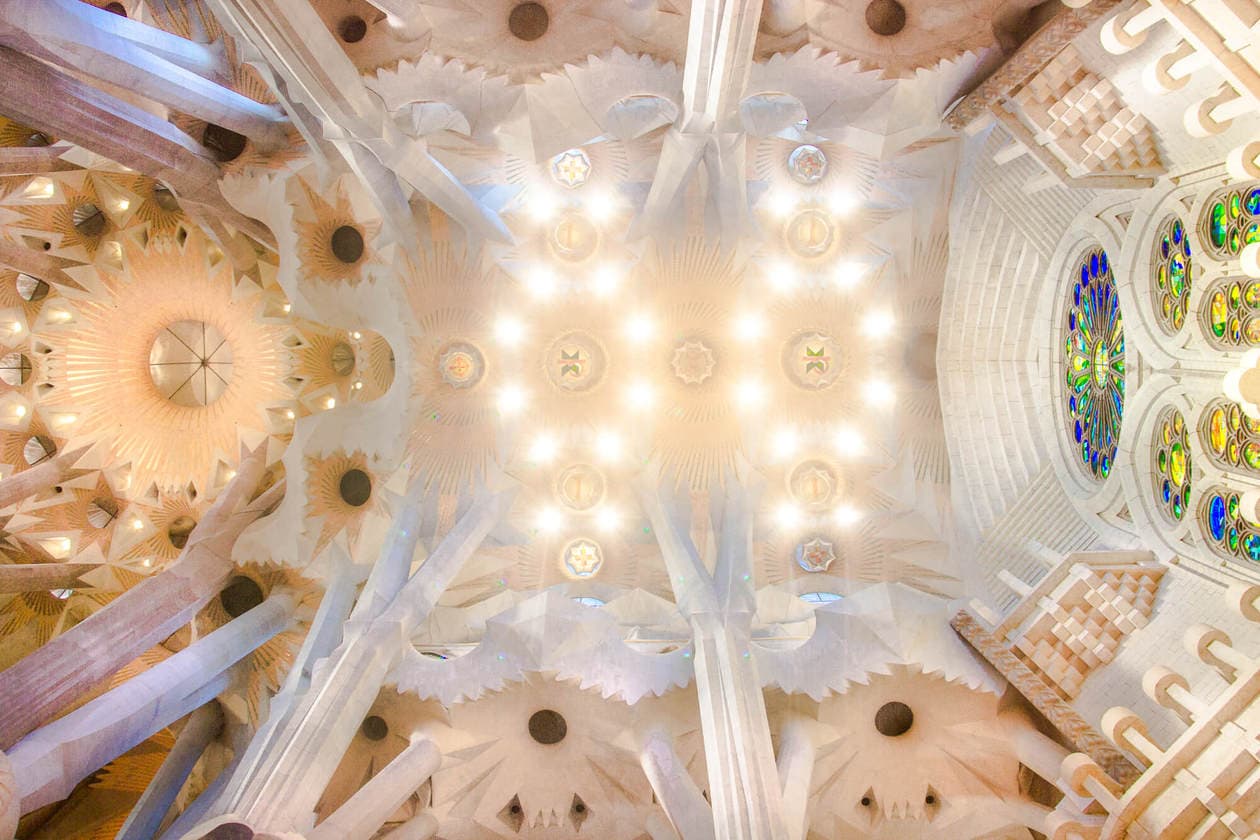 While the ceilings are incredible, the light inside La Sagrada Familia is even more breathtaking. The West side of the church (the Passion) is decorated with yellow, orange and red stained glass, and the side facing East (the Nativity) is adorned with blue and green stained glass.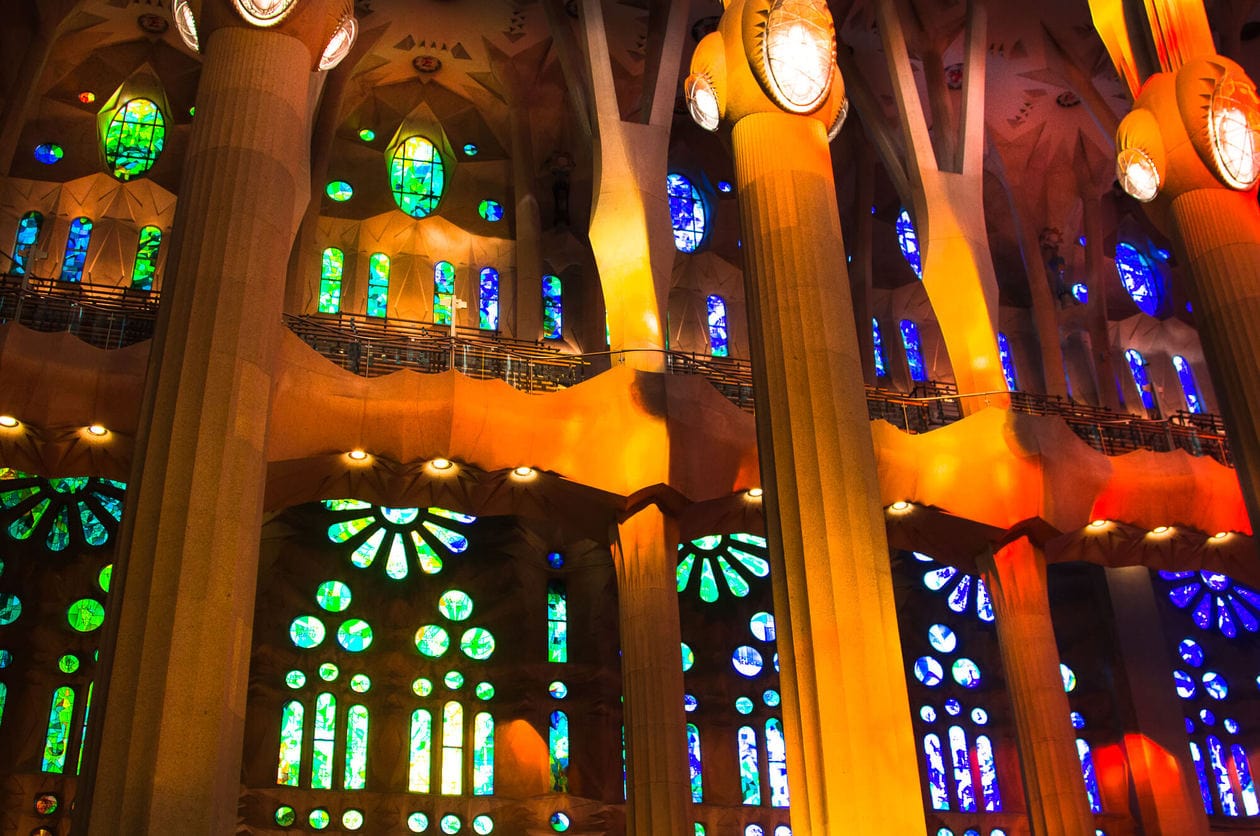 When the sun spills in through the colored windows, the interior of the church is bathed in a vibrant rainbow light. It is truly a magical sight to behold and I've never seen anything like it.
7 TIPS FOR VISITING LA SAGRADA FAMILIA
WHEN TO VISIT FOR THE BEST PHOTOS
It is of popular opinion to visit La Sagrada Familia early in the morning to try and avoid the crowds as much as possible.
However, I recommend visiting 2-3 hours before sunset, when the sun is shining directly through the stained glass on the West side of the church. This is when the lighting looks the most beautiful. You can also arrive early in the morning as the light spills through the blue/green glass but it doesn't look as powerful. One of the employees inside the church confirmed this when we talked to her.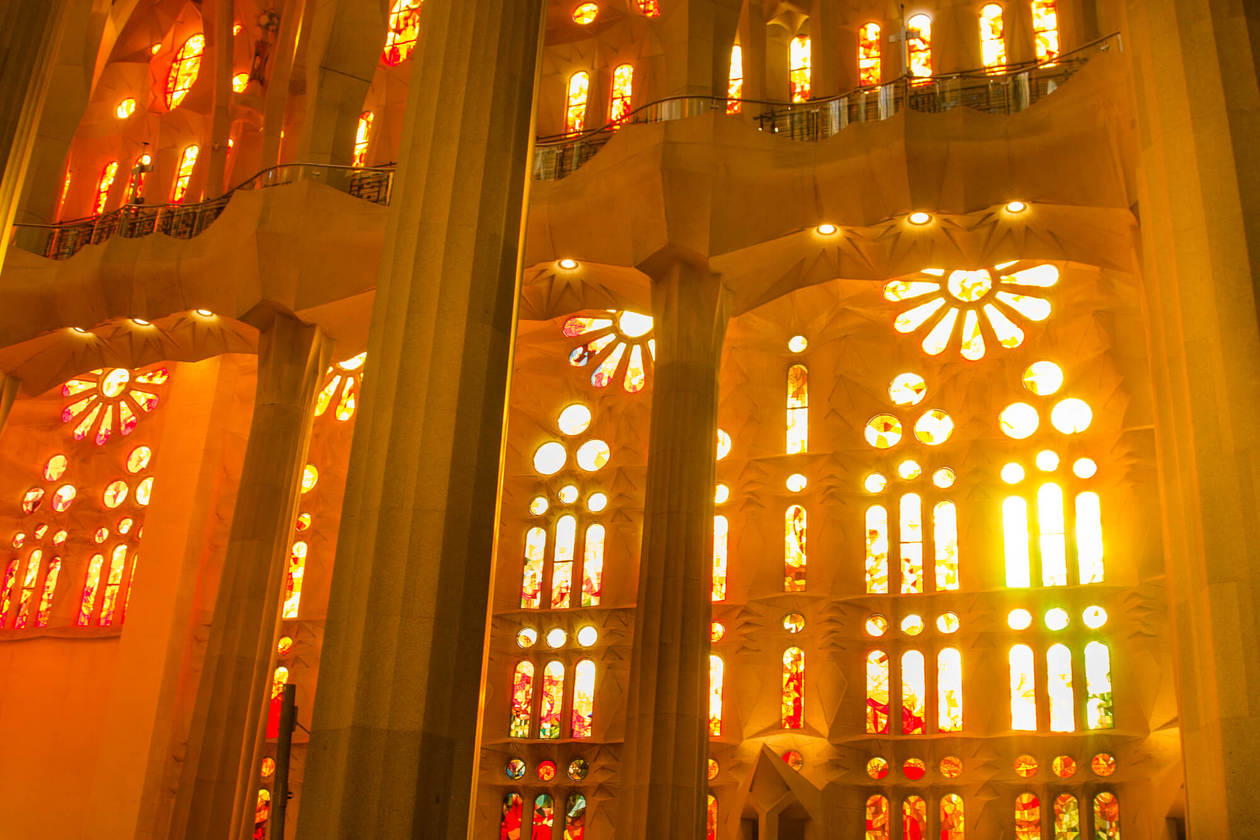 The lighting inside the church was the most awe-inspiring part of our visit and I can't imagine not getting to experience it like this.
BUY YOUR TICKET ONLINE TO AVOID LONG LINES
As Barcelona's #1 tourist attraction, La Sagrada Familia is known for its long lines which can take up to 2 hours, especially during peak season.
By purchasing your ticket online you not only get to skip the line, but it's cheaper and you're guaranteed entrance into the basilica.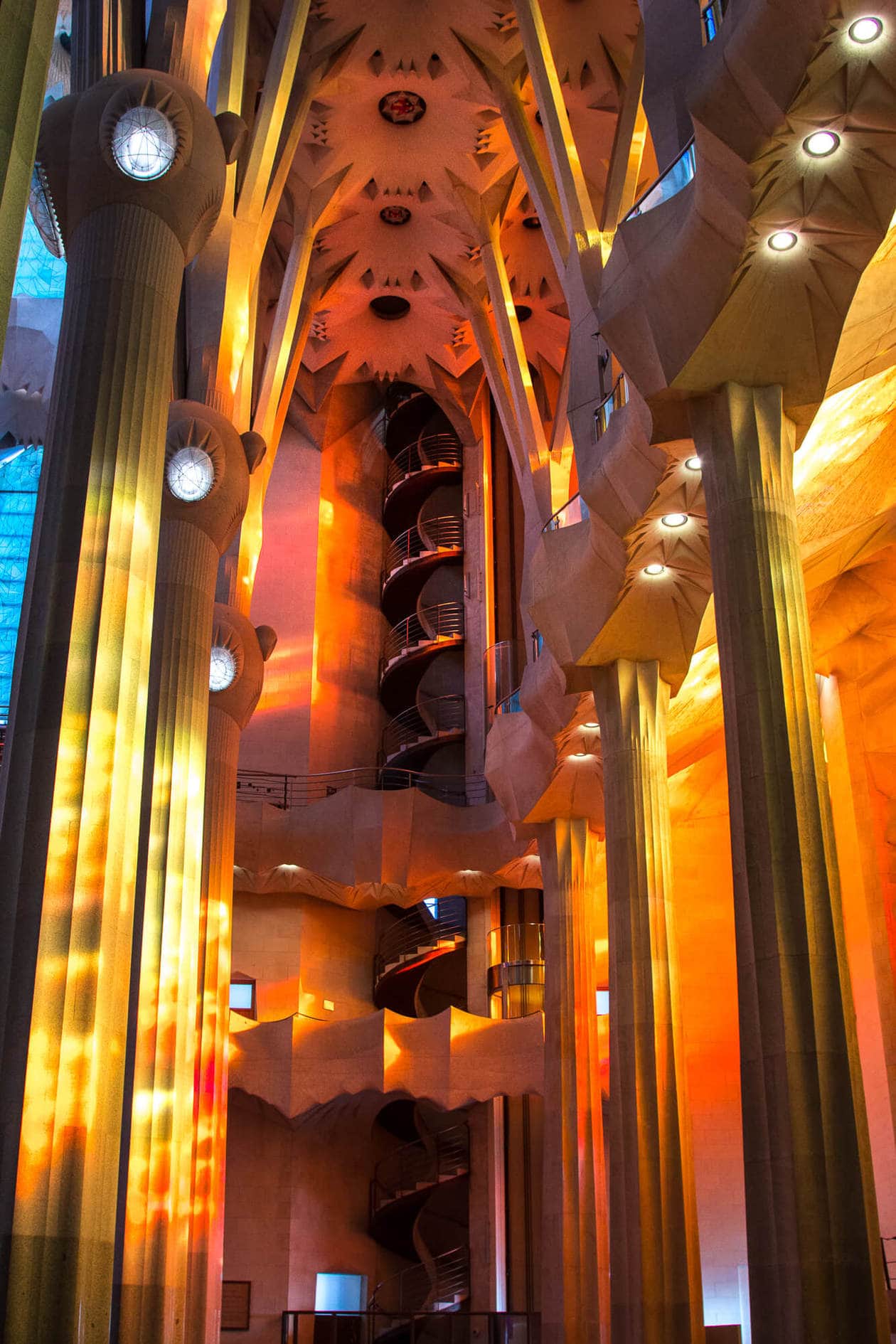 If you decide to purchase a same day ticket at the ticket counter, they are subject to availability (there are capacity limits as to how many visitors can enter each day). You will also have to pay an added surcharge.
They accept printed and mobile tickets at the entrance and your admission fees go directly toward the construction of the church.
BUY YOUR TICKETS FROM THE OFFICIAL WEBSITE HERE
GET THERE BEFORE YOUR SCHEDULED TIME SLOT
When you purchase your tickets online, you will have to pick an entrance time at checkout.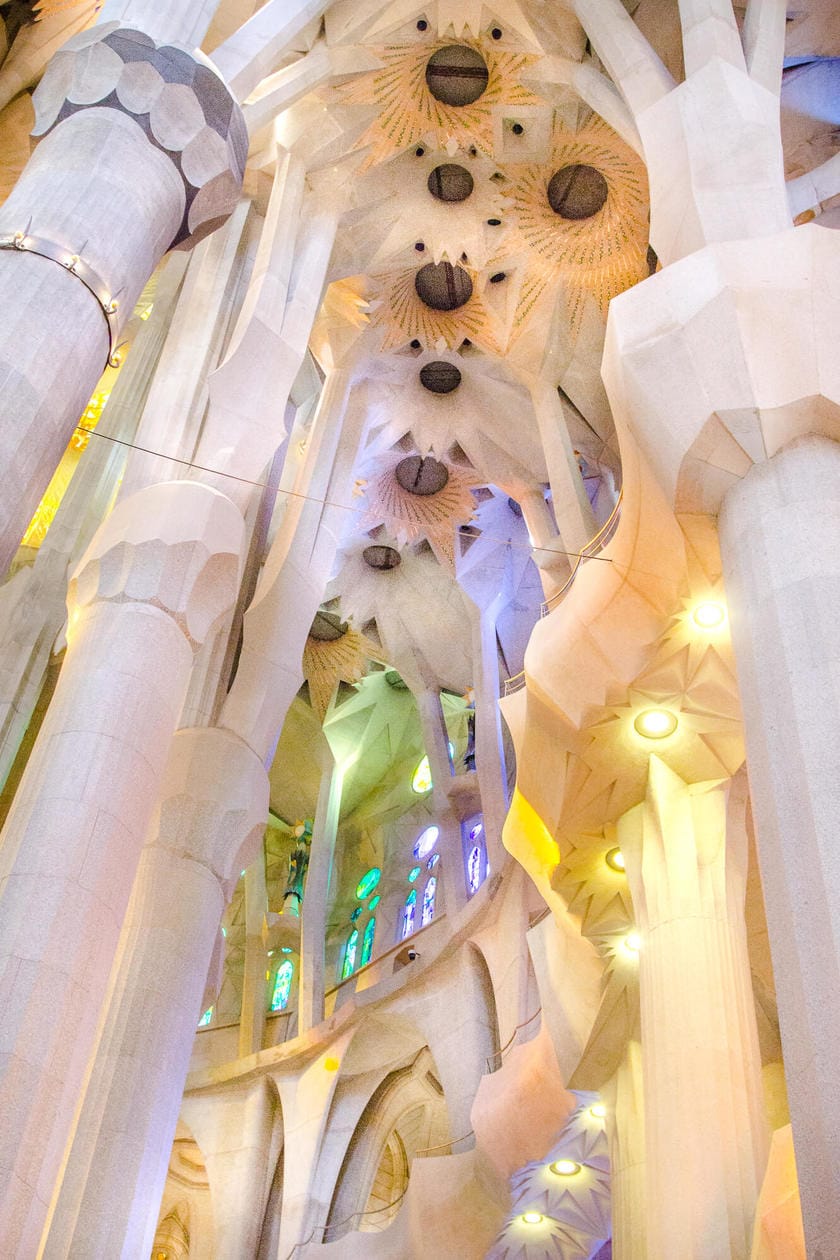 While planning your itinerary for the day, make sure to give yourself enough time to not only get to the basilica, but to also find the correct entrance. We got a little lost and almost missed our time slot.
If you're late, you will not be allowed to enter.
WATCH OUT FOR PICKPOCKETS
As with any major attraction, there are bound to be pickpockets taking advantage of distracted tourists. Keep your valuable belongings close to you and just be aware of your surroundings.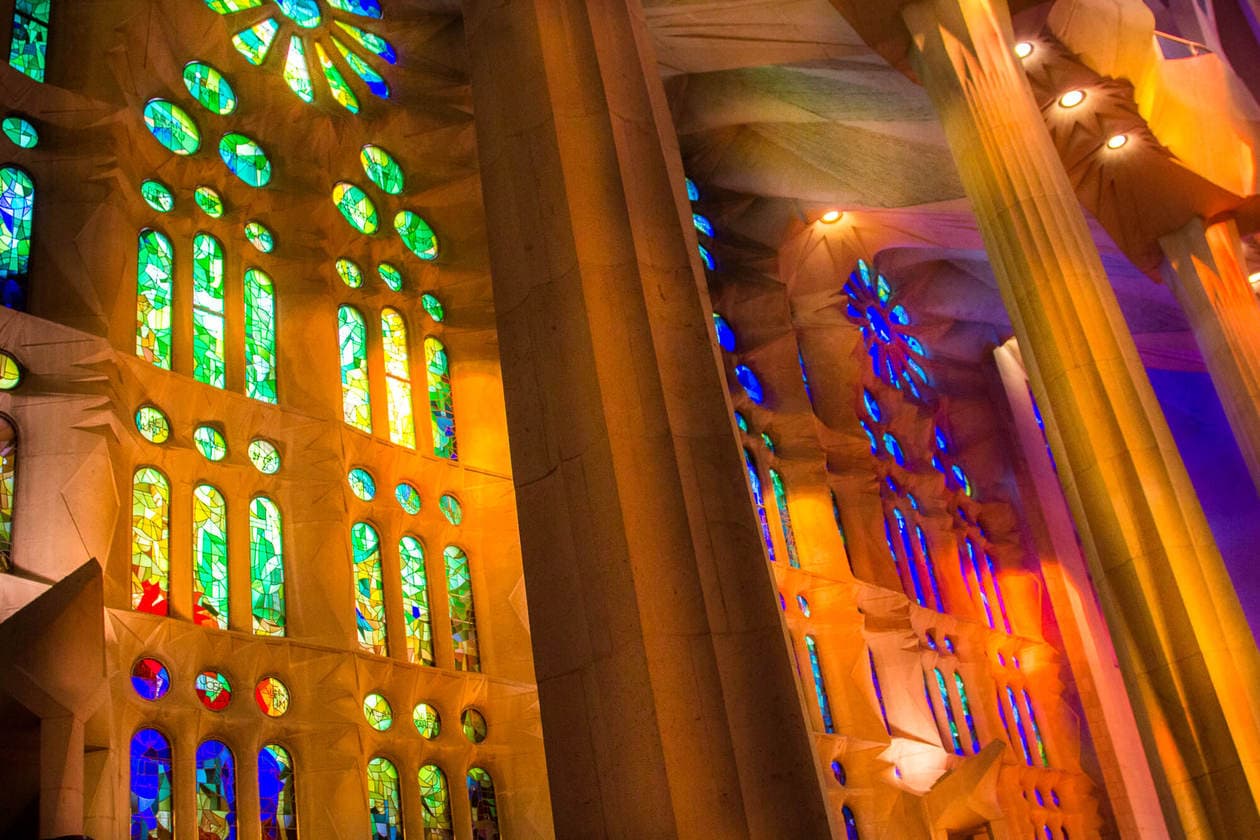 GIVE YOURSELF ENOUGH TIME INSIDE
Usually when we visit churches abroad, we're in and out in about 10 minutes. Not this one. We spent so much longer inside of La Sagrada Familia than we anticipated and if we had other reservations or another tour booked elsewhere, there's no way we would have made it.
Make sure to block out enough time for your visit in order to properly experience everything there is to offer. If you're taking a tour, you will probably need even more time afterwards to walk around on your own.
The interior is so complex and purposefully designed, there's a lot to appreciate.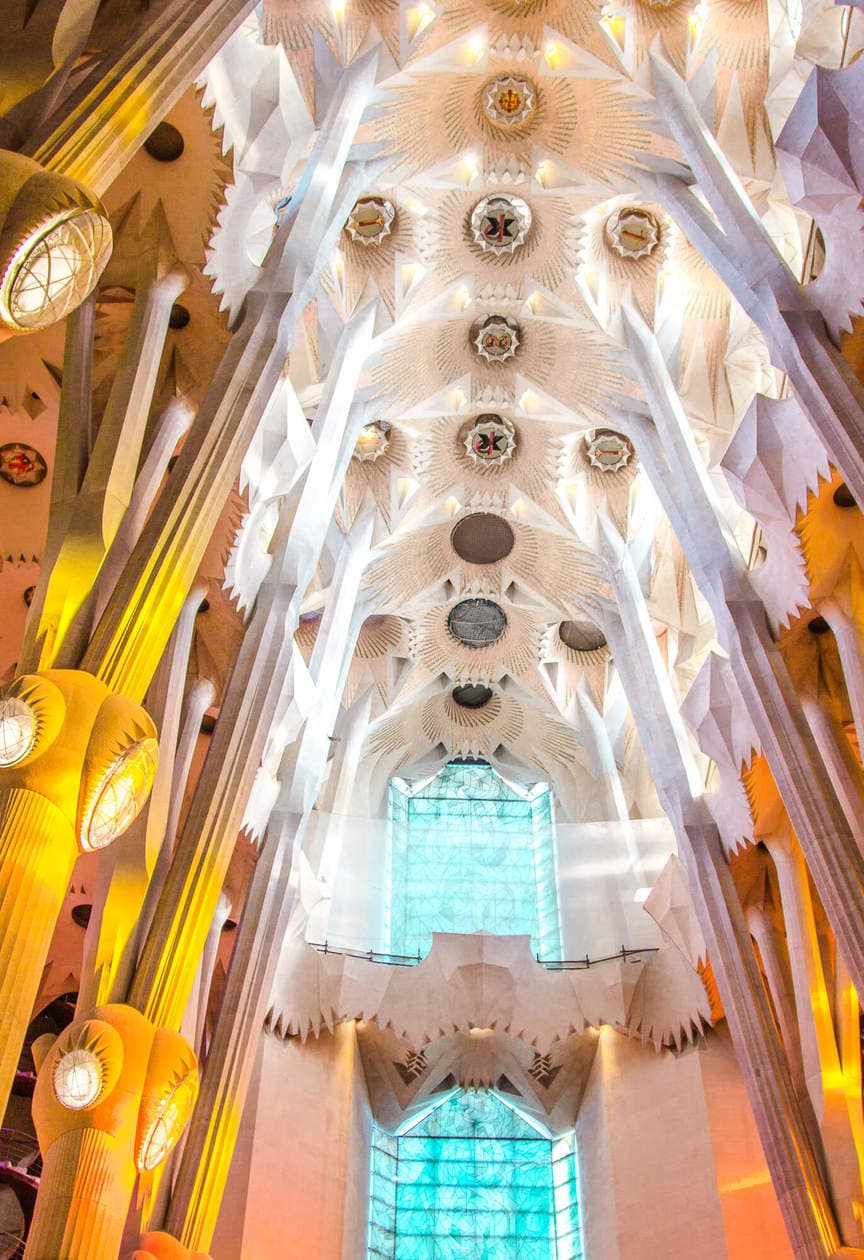 YOUNG ADULTS GET HALF OFF WEDNESDAY, THURSDAY & FRIDAY
If you're between the ages of 11 and 30 years old, take advantage of half priced admission on Wednesday, Thursday and Friday, up two hours before closing time.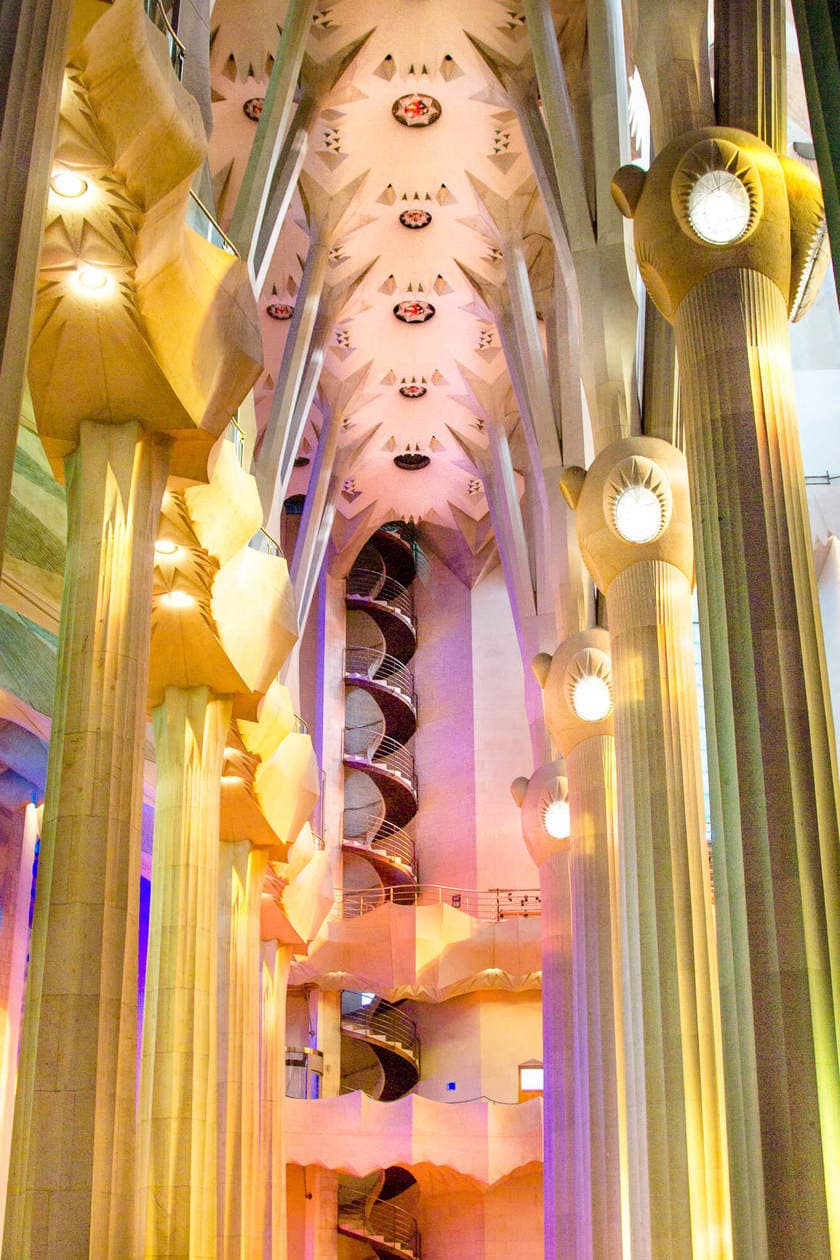 NO TRIPODS
Photography is permitted but the use of tripods and flash is not.
Speaking of photography.. if you're a pro or just a photo enthusiast, I recommend packing a wide angle lens. I didn't own one before my visit and now that I have one, I'm dying to go back and re-photograph everything.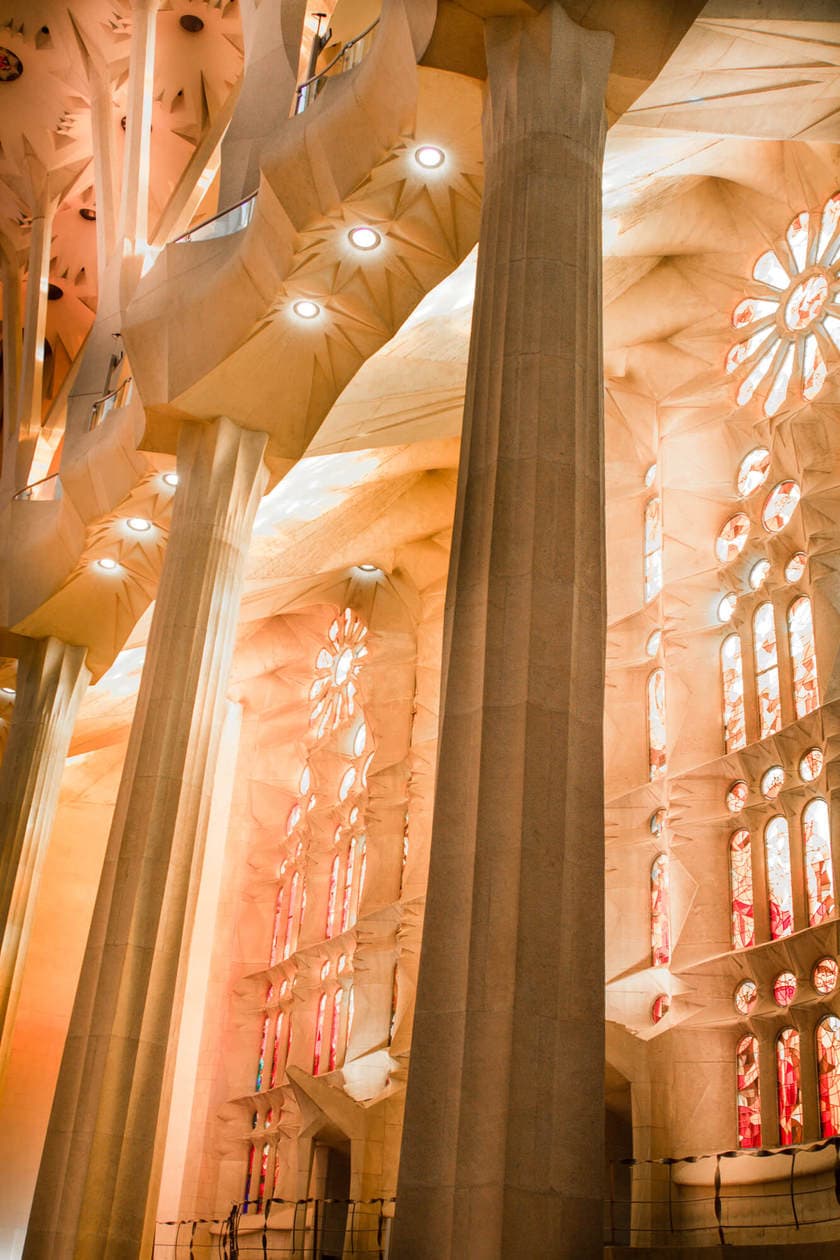 HOW TO GET TO LA SAGRADA FAMILIA
ADDRESS Mallorca Street 401, 08013
PUBLIC TRANSPORTATION
METRO Take Line 2 (purple line) or 5 (blue line) and get off at the Sagrada Familia Station
BUS Most of the busses will drop you off at the church. If you're coming from Plaza Catalunya, take the 50 bus and get off at the València – Lepant bus stop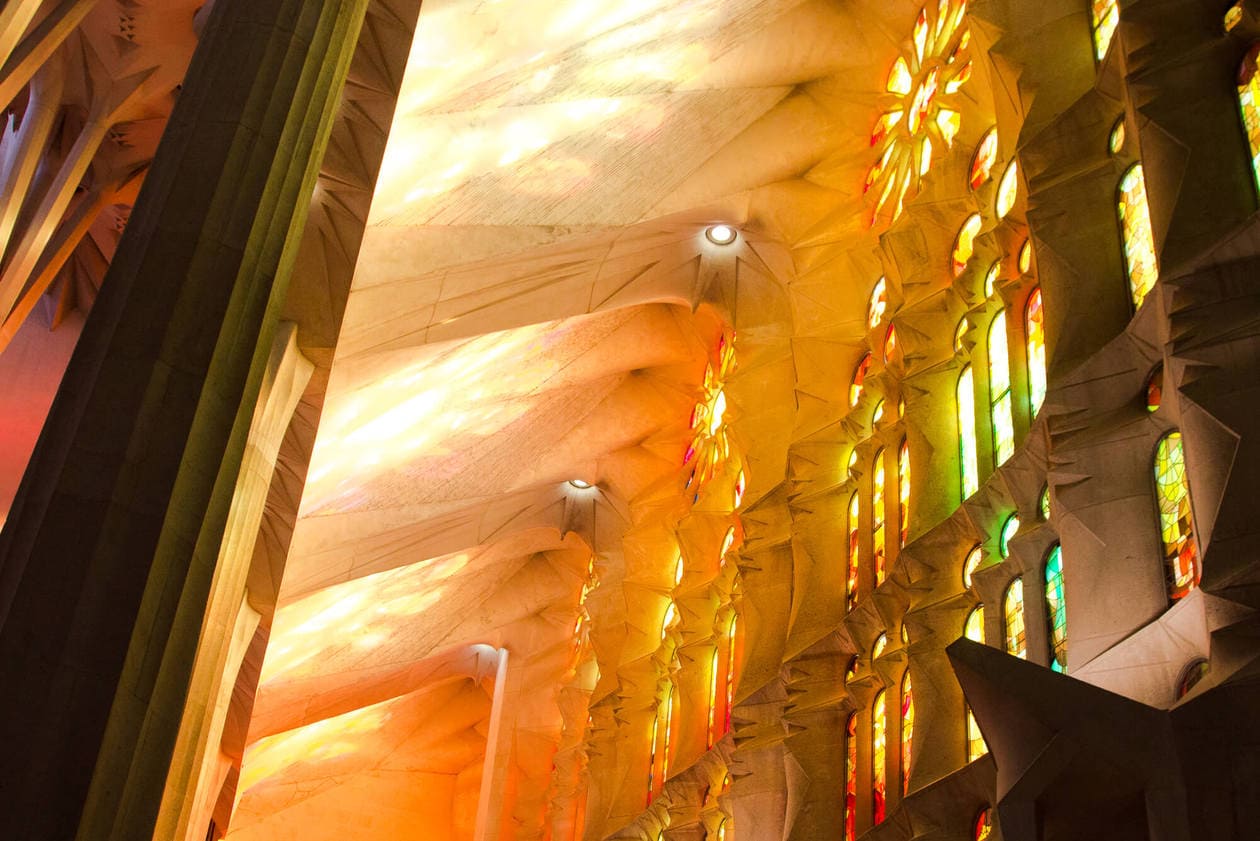 HOURS
November – February 9 am to 6 pm.
March & October 9 am to 7 pm.
April – September 9 am to 8 pm.
25 and 26 December, 1 and 6 January 9 am to 2 pm.
The last tickets are sold thirty minutes before closing time.
ADMISSION
BASIC ADMISSION PRICES
Basic General Admission // 17 Euro ($19 USD)
Admission + Audio Guide // 25 Euro ($28 USD)
Admission + Live Guided Tour // 26 Euro ($29 USD)
Admission + Audio Guide + Towers // 32 Euro ($36 USD)
FREE ADMISSION Children 11 and under are free. If you are disabled , you also get free admission along with 1 companion.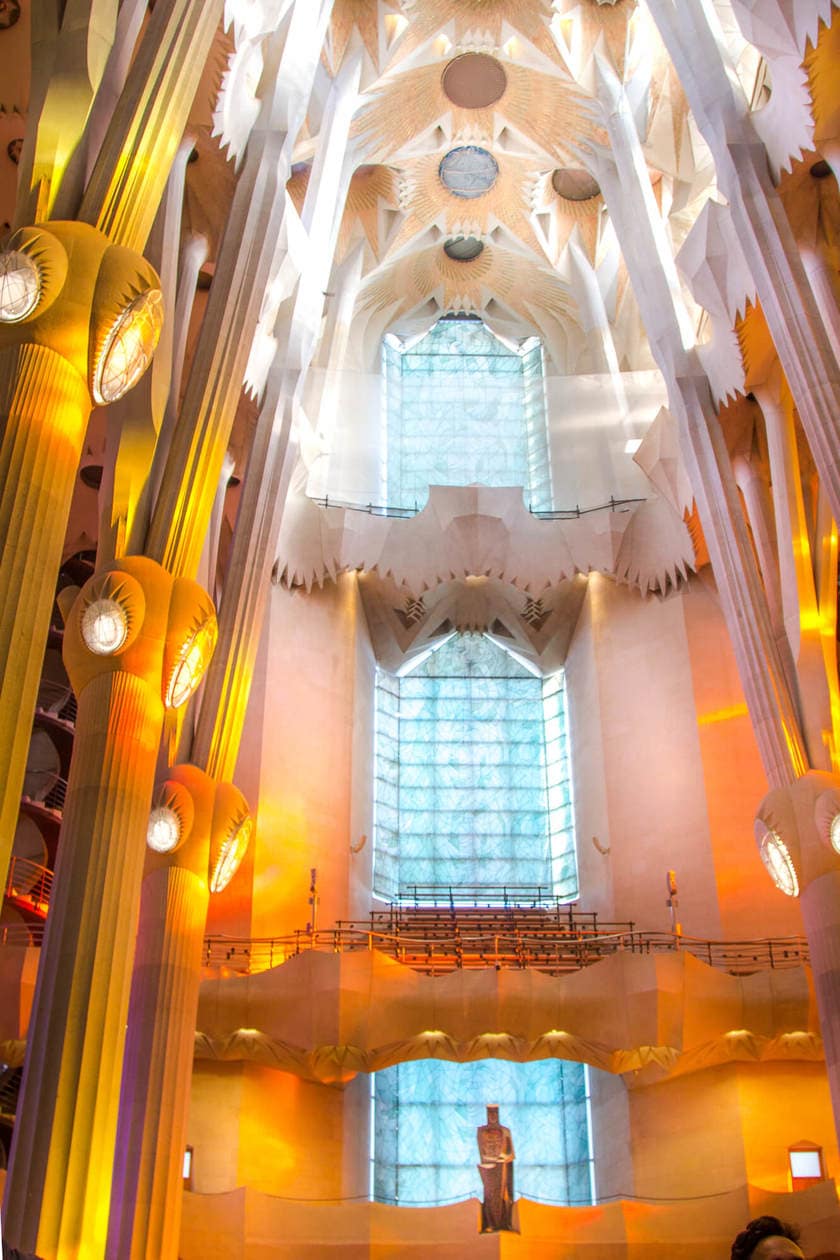 DISCOUNTED ADMISSION If you are a student, or under 30 years old you are eligible for a 2 Euro discount on your ticket. Tickets are also half priced on Wed, Thurs, Fri afternoon, up to two hours before closing.
SENIOR ADMISSION
Basic General Admission // 14 Euro ($16 USD)
Admission + Audio Guide // 20 Euro ($22.50 USD)
Admission + Live Guided Tour // 21 Euro ($24 USD)
Admission + Audio Guide + Towers // 26 Euro ($29 USD)
PURCHASE YOUR TICKETS ON THE OFFICIAL LA SAGRADA FAMILIA WEBSITE HERE.
PURCHASE SKIP THE LINE TICKETS HERE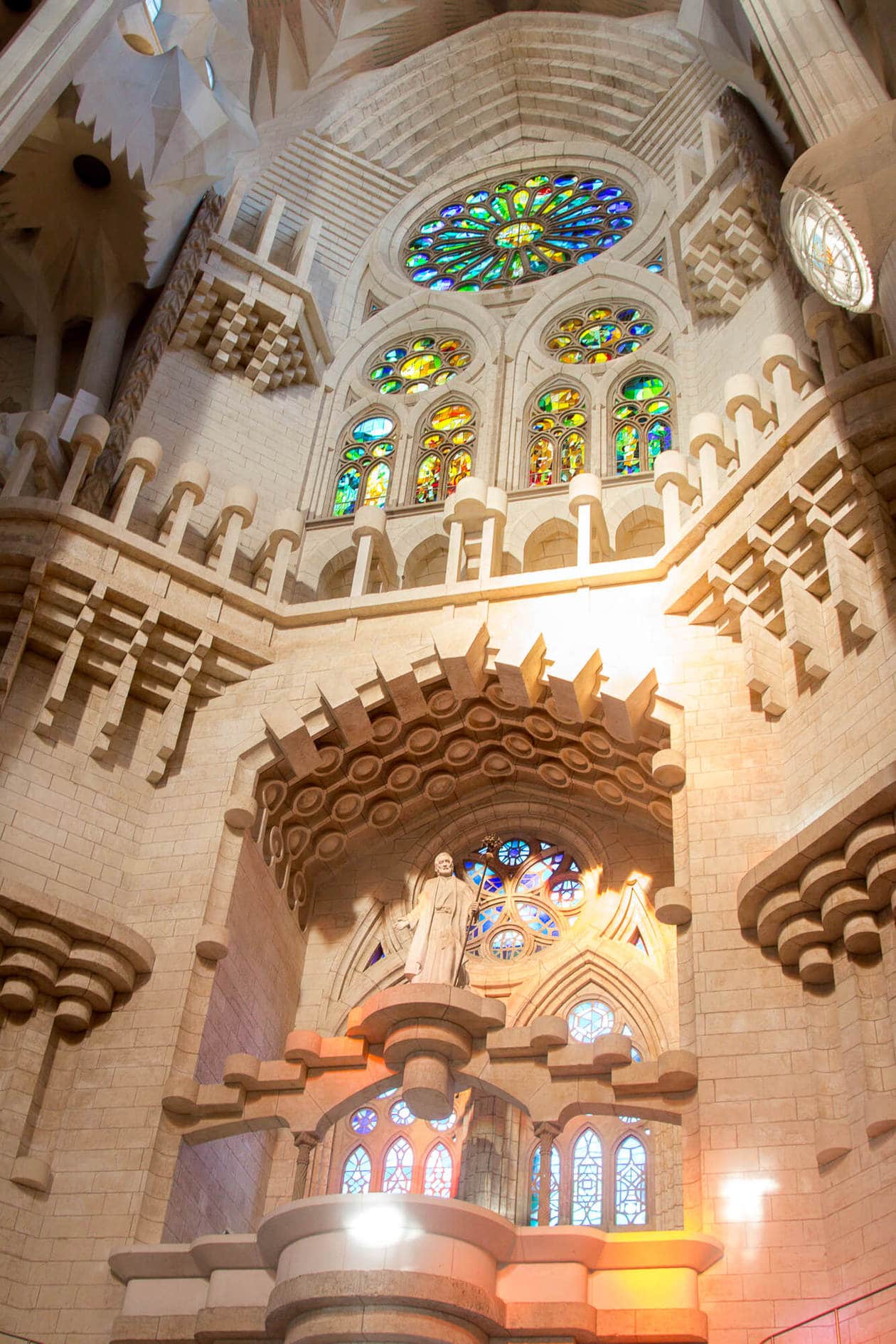 FOR MORE GAUDI IN BARCELONA CHECK OUT THESE RELATED POSTS
A PHOTO WALKTHROUGH OF GAUDI'S PARK GUELL
GAUDI IN BARCELONA // CASA MILA & LA PEDRERA
HAVE YOU BEEN TO LA SAGRADA FAMILIA? DO YOU HAVE ANYTHING TO ADD? LEAVE A COMMENT BELOW!
---
PIN IT: INSIDE LA SAGRADA FAMILIA // A VISTIOR'S GUIDE TO GAUDI'S MASTERPIECE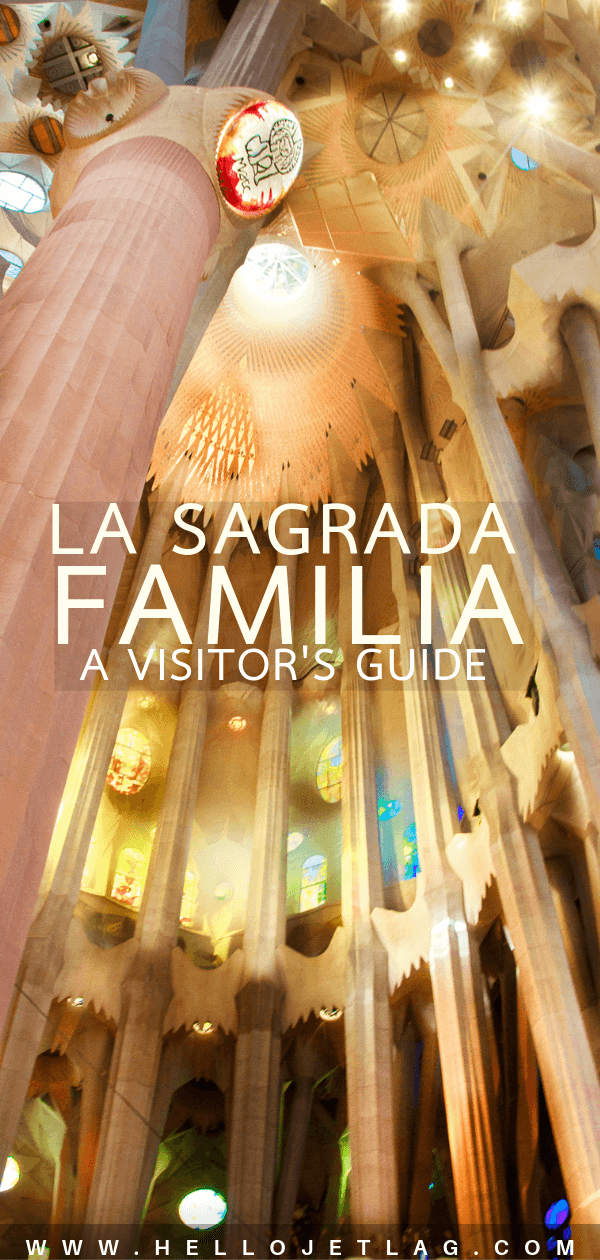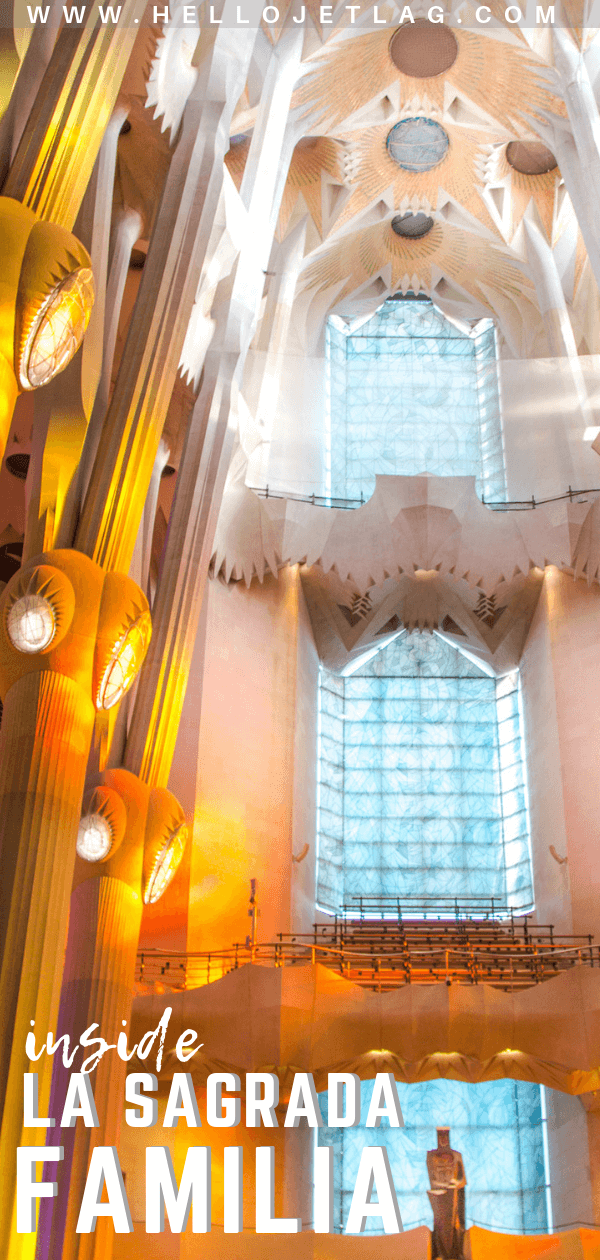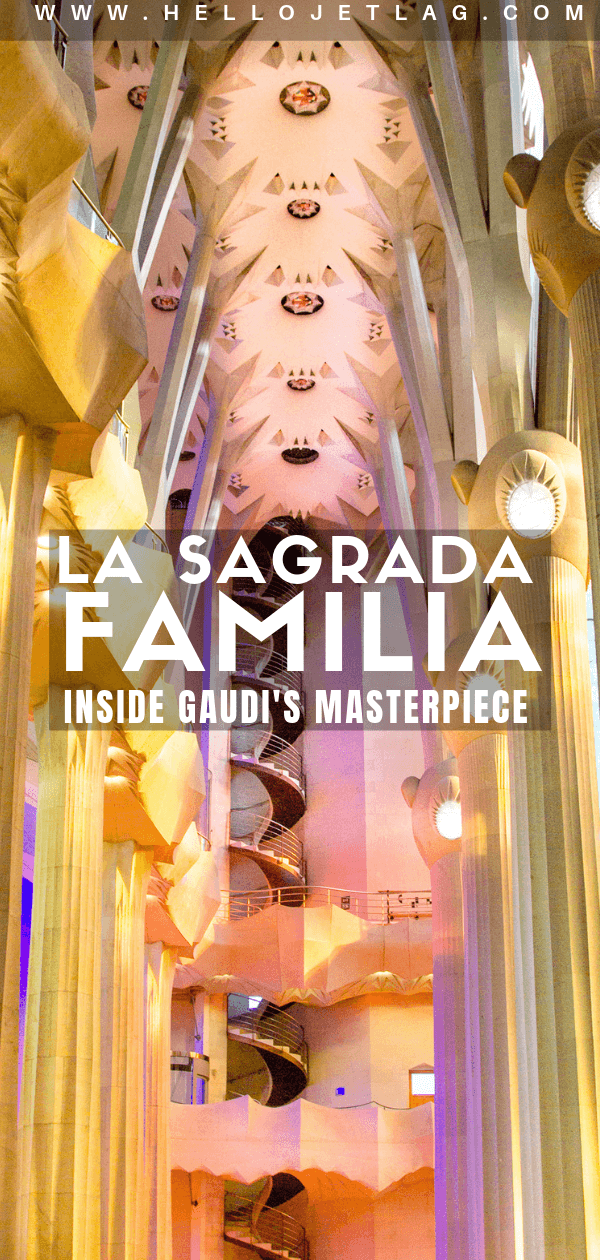 DISCLAIMER: This post contains affiliate links. Which means if you click them and buy something I receive a small commission.