Tucked slightly off one of the most popular streets in the city, you'll find what is said to be the oldest cocktail bar in Barcelona. Boadas Cocktails occupies a tiny corner on Las Ramblas and if you're not paying attention, you'll walk right by it.
The small red door with simple lettering on the outside is very unassuming, however when you venture inside, you feel as though you've taken a step back in time. Keep reading to discover Boadas Cocktails including what to expect when visiting, how to get there and more.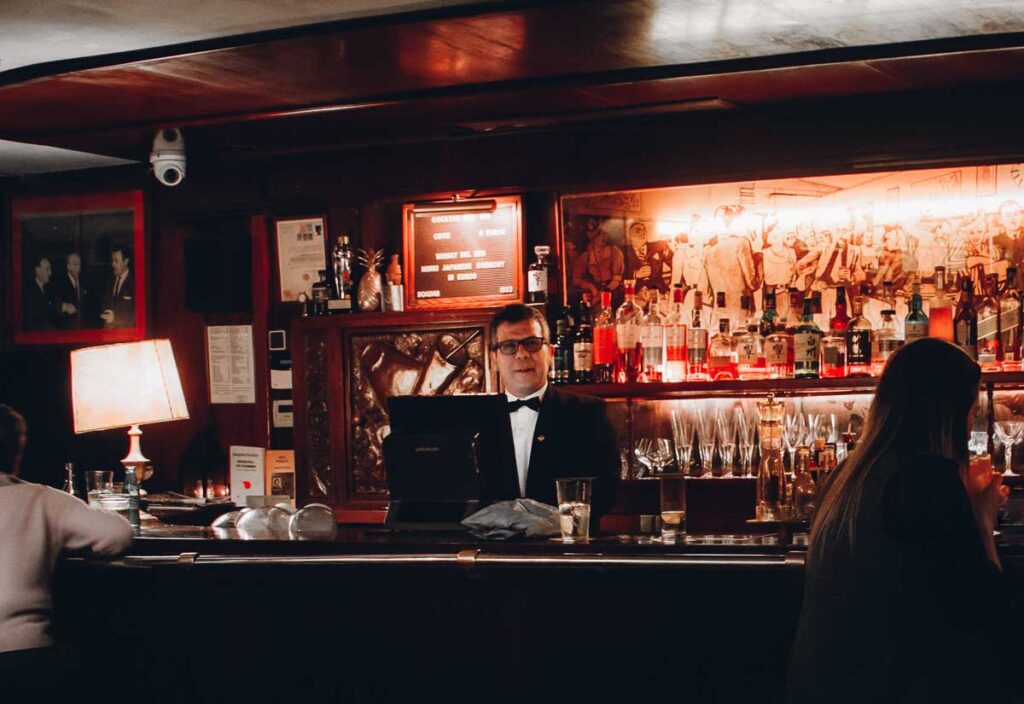 THE HISTORY OF THE OLDEST COCKTAIL BAR IN BARCELONA
Miguel Boadas, a Cuban born Catalan, learned to make drinks at Hemmingway's favorite bar in Havana, El Floridita. He brought his passion for mixology to Barcelona and opened Boadas Cocktails in 1933.
When Miguel passed away in 1967, his daughter Maria took over for her father. Maria became the first female bartender in Spain, at a time when women weren't even allowed in bars.
Maria passed away a just a week after our visit.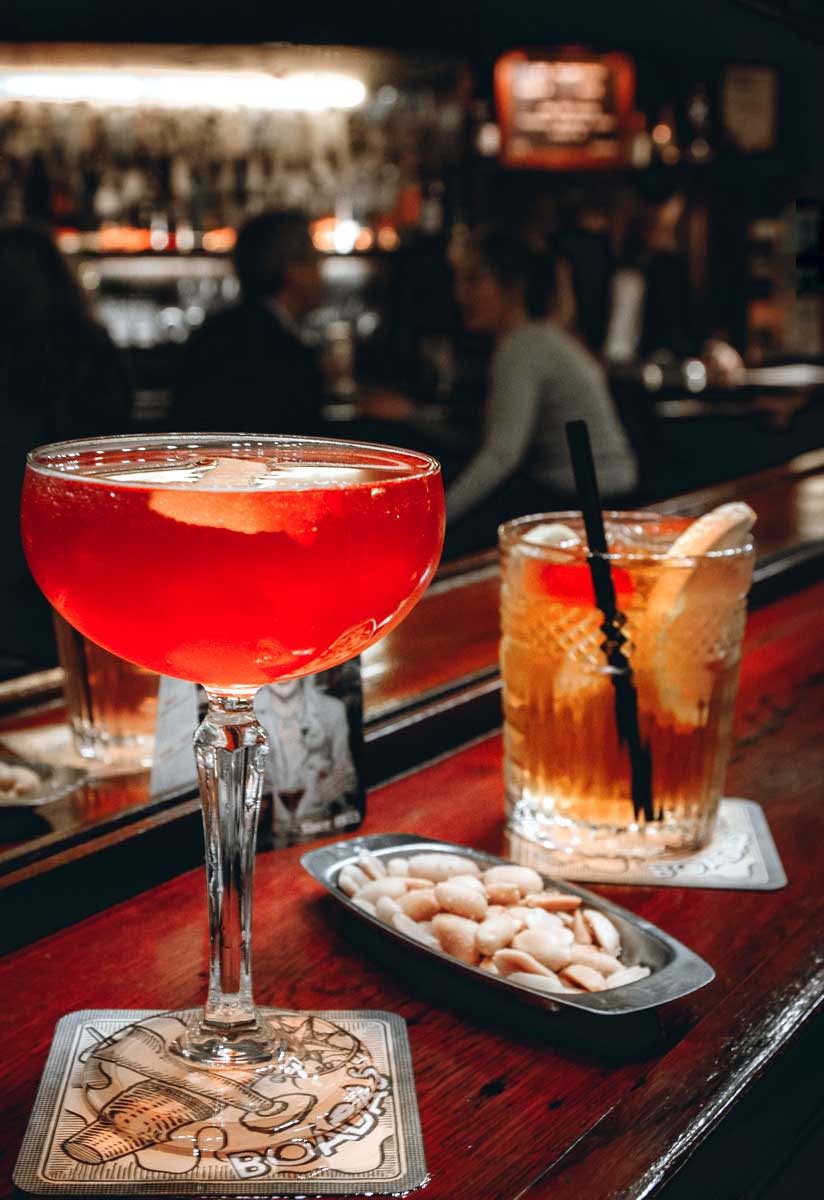 BOADAS COCKTAIL BAR
When you step inside Boadas today, it doesn't appear is if much has changed since the 1930's. Bartenders in bow-tie tuxedos expertly mix classic cocktails behind the small bar. Old photos, memorabilia and pictures of their celebrity clientele from throughout the years line the walls, giving you a glimpse into its rich history. Apparently Las Boadas is also a popular hangout for local politicians.
For being located on one of the most tourist heavy streets in the city, Boadas was surprisingly filled with mostly locals. A group of girlfriends in their 80's wearing fur coats and jewels laughed in the corner, while businessmen sipped their cocktails at the bar.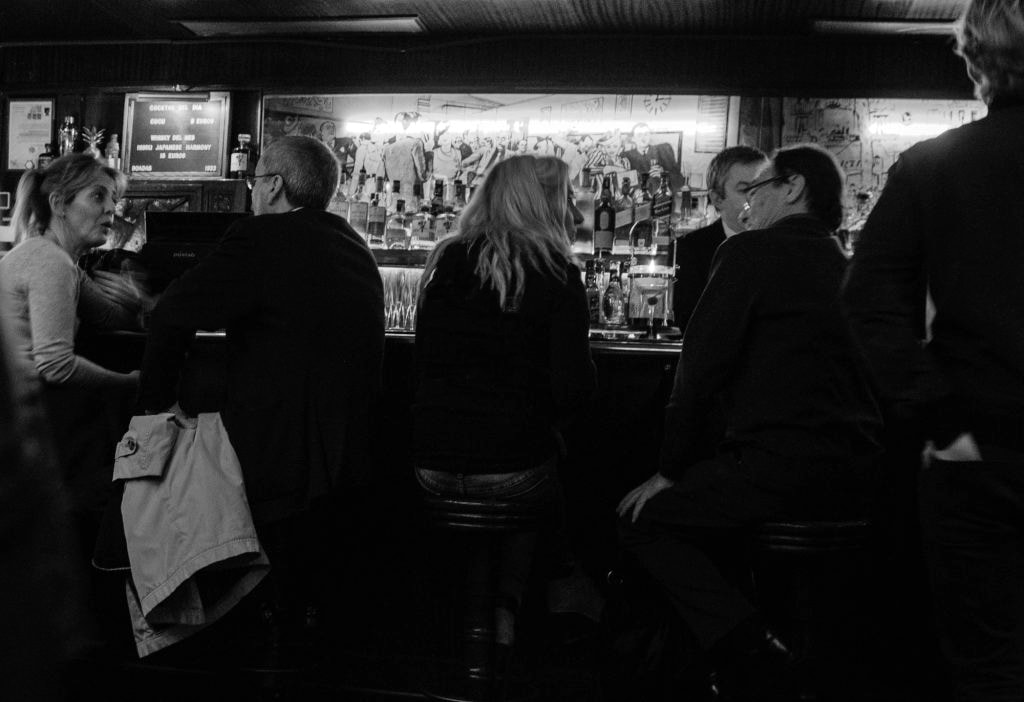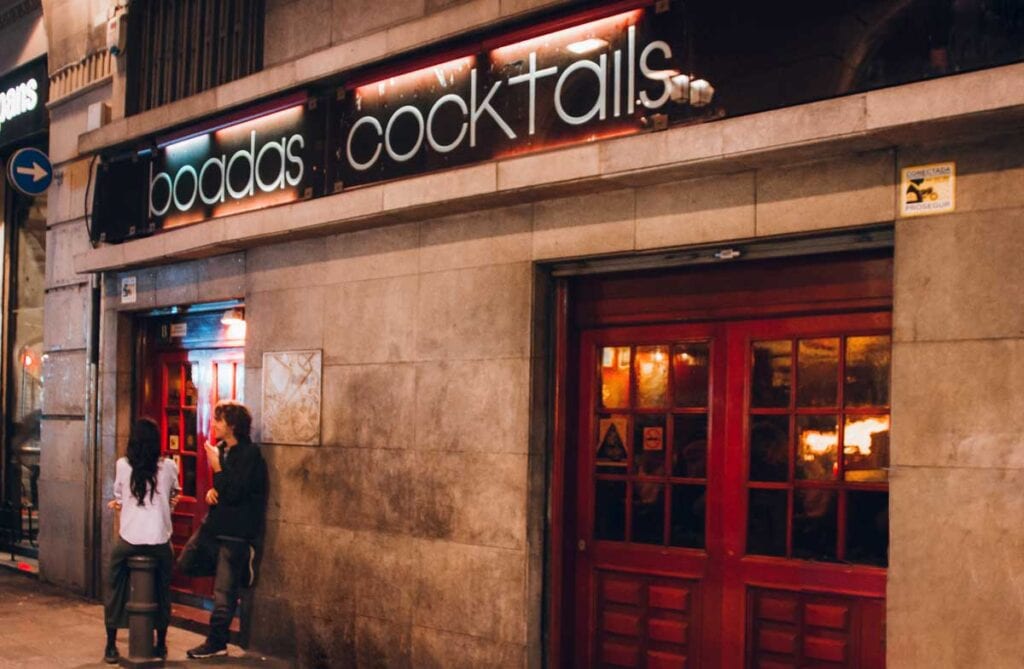 THE DRINKS
We didn't see any menus, you just tell the bartender what you want. If you're feeling stuck, you can tell them what type of drink you normally like and they will mix you up something that aligns with your preferences.
The vintage feel of the environment inspired Nick to go with Old Fashioned and I asked for the bartenders recommendation, to which he suggested a cosmopolitan. The drinks aren't the cheapest in the area (€9-12) but they were strong and tasted great.
GO EARLY
Las Boadas is very small so I'd recommend stopping by earlier in the night if you want to relax and grab a seat. I can imagine that it gets pretty packed later in the evening, so this this would be the perfect place to start your evening.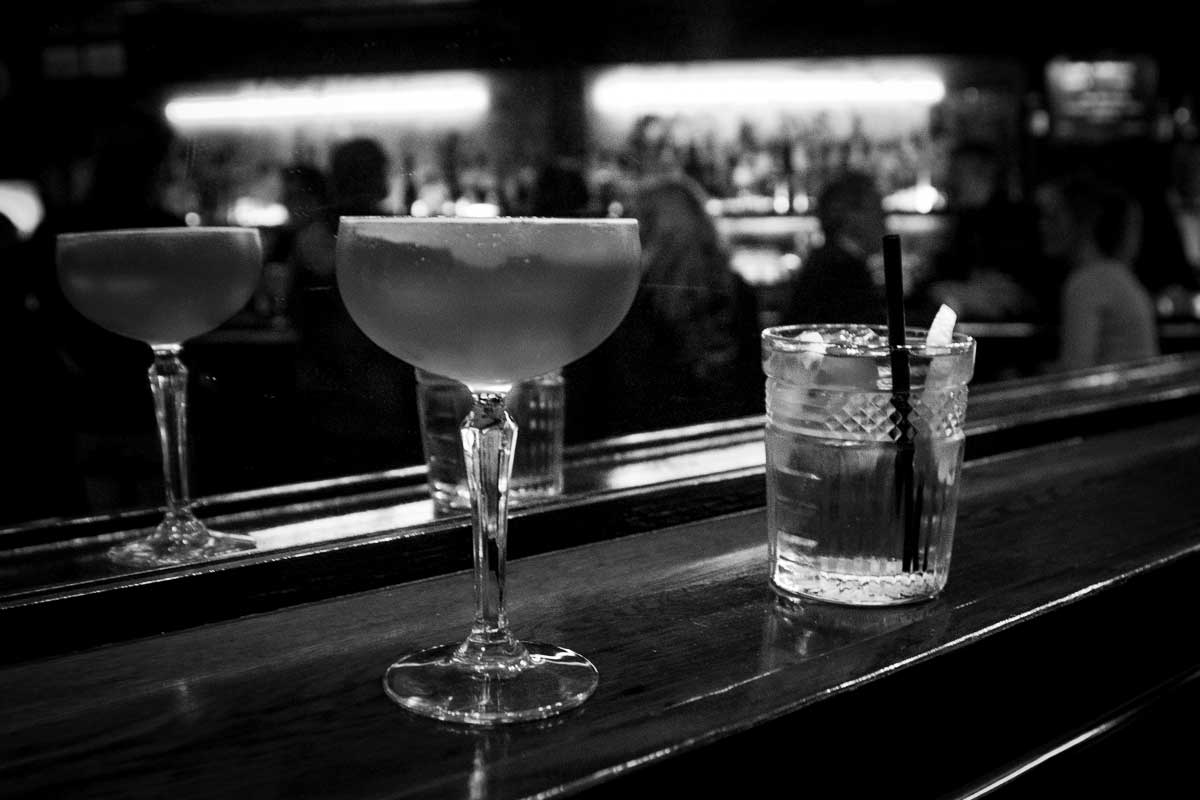 VISITOR INFORMATION
HOURS
Friday – Saturday: 12PM – 3AM
Monday – Thursday: 12PM – 2AM
ADDRESS
Carrer dels Tallers, 1, 08001 Barcelona, Spain
DRESS CODE There is no written dress code but some have reported getting turned away for wearing shorts. We visited after walking around the city all day and definitely were not at our best. I felt slightly underdressed but not uncomfortable. I recommend going for smart casual or business causal attire.
Visit their official WEBSITE here.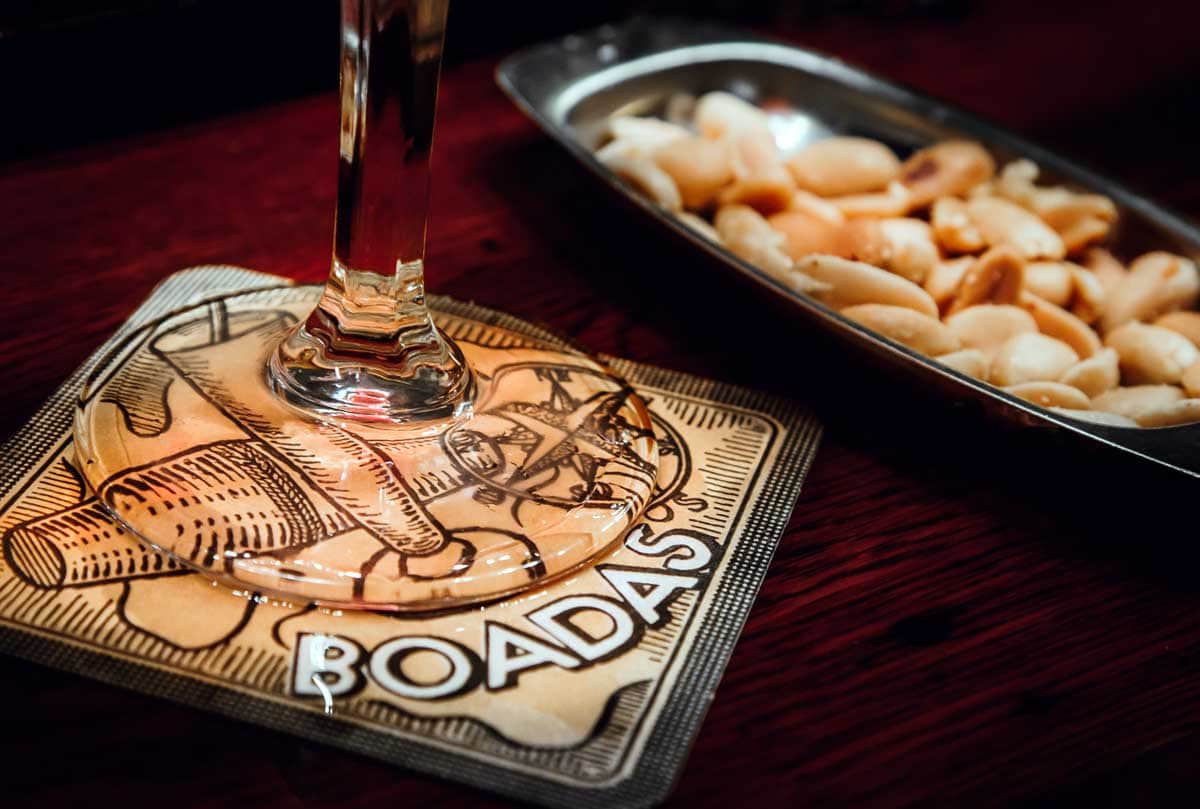 HOW TO GET TO BOADAS COCKTAILS
Boadas Cocktails is located right of La Rambla on Carrer dels Tallers. If you're walking on La Rambla, Carrer dels Tallers is between Royal Ramblas Hotel and H&M.
METRO
Take the Red Line (L1) or Green Line (L3) to metro stop Catalunya. Turn left on La Rambla, and right on Carrer dels Tallers. The walk is about 2 minutes.
Take the Green Line (L3) to the Liceu Stop. Walk up La Rambla toward Plaza de Catalunya and turn left on Carrer dels Tallers. The walk is about 5 minutes.
---
LOOKING FOR MORE BARCELONA INSPIRATION? CHECK OUT THESE RELATED POSTS
INSIDE LA SAGRADA FAMILIA : EVERYTHING YOU NEED TO KNOW
CASA MILA (LA PEDRERA) VISITOR'S GUIDE
BARRI GOTIC : EXPLORING BARCELONA'S GOTHIC QUARTER
PARK GUELL : VISITING GAUDI'S BARCELONA PARK
CAMP NOU STADIUM : WHAT TO EXPECT AT AN FC BARCELONA GAME
---
PIN IT: BOADAS COCKTAILS – BARCELONA'S OLDEST COCKTAIL BAR
Have you been to Boadas Cocktails? What is your favorite Barcelona cocktail bar? Leave a comment below.