If you've been following along, you know we've seen a lot of Gaudi while in Barcelona…naturally. We've been to La Sagrada Familia, La Pedrera and now Park Guell completes the trifecta.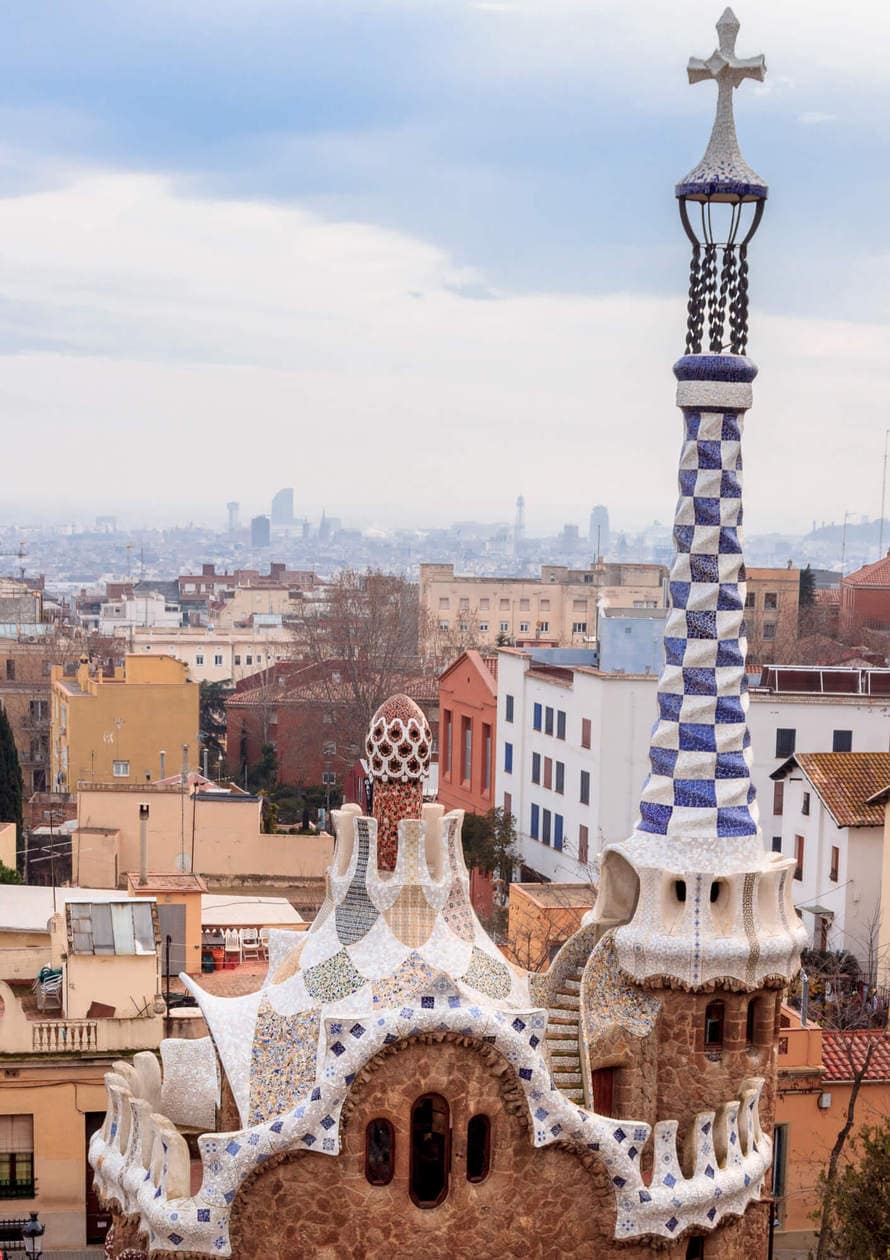 A Bit of History
Catalan entrepreneur, Eusebi Guell, commissioned Antoni Gaudi to create the park. At the time it was also intended to be a housing site, but that dream was unsuccessful. Two homes were built in the park, one of which Gaudi purchased and ended up living in for 20 years. Park Guell was built between 1900-1914 and it was never finished. Today it belongs to the city of Barcelona, and it's a colorful escape from the city. Typical of Gaudi's style, the park is filled with natural forms, careful details and imaginative design.
Park Guell
Dragon Stairway
At the entrance of Park Guell, you're met with a twin staircase that takes you up to the Hypostyle Room, Nature Square and the Laundry Room Portico.
Hypostyle Room
The Hypostyle Room was originally designed to be the market area for the residents. Tiled ceiling mosaics look down on the 86 columns within the room. This was my favorite section of the park.

The Laundry Room Portico
This slanted walkway was designed to take on the shape of ocean wave. The columns also act as a retaining wall for the road above.
Viaducts
Gaudi designed Park Guell with the intention to connect all areas of the park easily. There are three viaducts throughout the park which connect lower and higher ground, and were wide enough to fit horse drawn carriages.
Park Guell was without a doubt one of the most unique parks I've ever been to. If you plan on visiting, aim for early in the morning to beat the crowds. Even though they monitor how many people are allowed into the park at one time, the mass groups of people tainted the experience for me. I wanted a photo of the Nature Square bench but there were so many people sitting on it, it was impossible.
Tickets
95% of the park is free to visit except for the Monumental Zone. The Monumental Zone (which covers everything above) is limited to 400 visitors an hour and you are given a set time to enter. You can take however long you'd like once you are inside.
Buy Online
During peak season, the lines are long and you might not be able to buy your ticket at the box office, as times fill up quickly. It's highly recommended to book your time online in advance.
Tickets are also cheaper if you buy them online.
Purchase online tickets here
Prices
| | |
| --- | --- |
| General Admission | €7 |
| Children 7-12 | €4.90 |
| Children 0-6 | Free |
| Over 65 | €4.90 |
How to Get to Park Guell
Metro
The best way to get to Park Guell by metro is to take line 3 (green) and exit at the Vallcarca stop. From here it's a 15 minute walk to the escalators on Baixada de la Glòria which take you up the hill.
You can also take line 3 (green) and exit at the Lesseps stop. If you take this route you'll have a long, steep walk uphill for 20-30 minutes to the Park.
Bus
Take bus line 24 from Plaza Catalunya. Get off at Ctra. de Carmel – Park Güell, one of one of the main entrances to the Park. It's a 40 minute ride.
Take bus line 92 (in the direction of Av. Tibidabo). Get off at Carretera del Carmel-Park Güell, in front of one of the Park's main entrance.
---
PIN IT
If You're a Gaudi Fan, You Might Like These Posts Too:
Inside La Sagrada Familia: It Lives Up to the Hype