Filled with natural forms, careful details and imaginative design, a walk through Antoni Gaudi's Park Guell is one of the most popular things to do in Barcelona. With architectural elements heavily inspired by nature, this attraction is a unique and colorful escape from the busy city. Keep reading to discover everything you need to know about visiting Park Güell, including how to get there, tips for visiting, ticket information and more.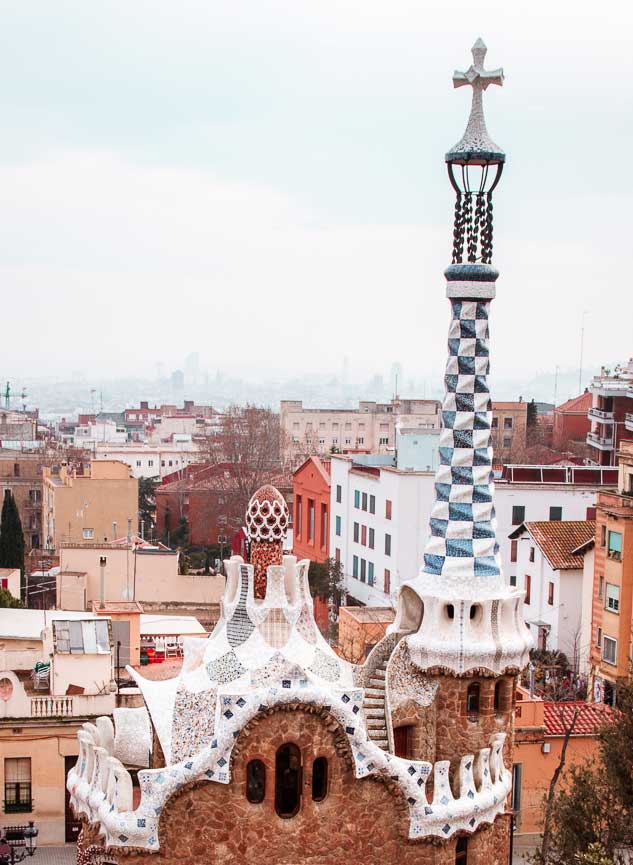 WHAT IS PARK GUELL? A BIT OF HISTORY
If you've spent any amount of time researching your trip to Barcelona, chances are you have become very familiar with Catalan's most famous architect, Antoni Gaudi. Gaudi's work has become some of the city's most popular tourist attractions which include La Sagrada Familia, Casa Mila and Park Guell.
---
RELATED POST: INSIDE LA SAGRADA FAMILIA – EVERYTHING YOU NEED TO KNOW ABOUT VISITING GAUDI'S MASTERPIECE
---
In the late 1800's, there was an industrial entrepreneur named Eusebi Güell who wanted to create a housing development site for wealthy families. The estate was located on a hill with amazing views, completely surrounded by nature.
Güell commissioned Gaudi to develop the estate but the project was a failure as there was no buyer interest. Only two of the 60 villas ended up being built within the park (one of which Gaudi purchased and ended up living in for 20 years).
Construction lasted between 1900-1914, but it was never finished. Today, Park Guell belongs to the city of Barcelona and was opened as a public park in 1926. It is also a UNESCO World Heritage Site.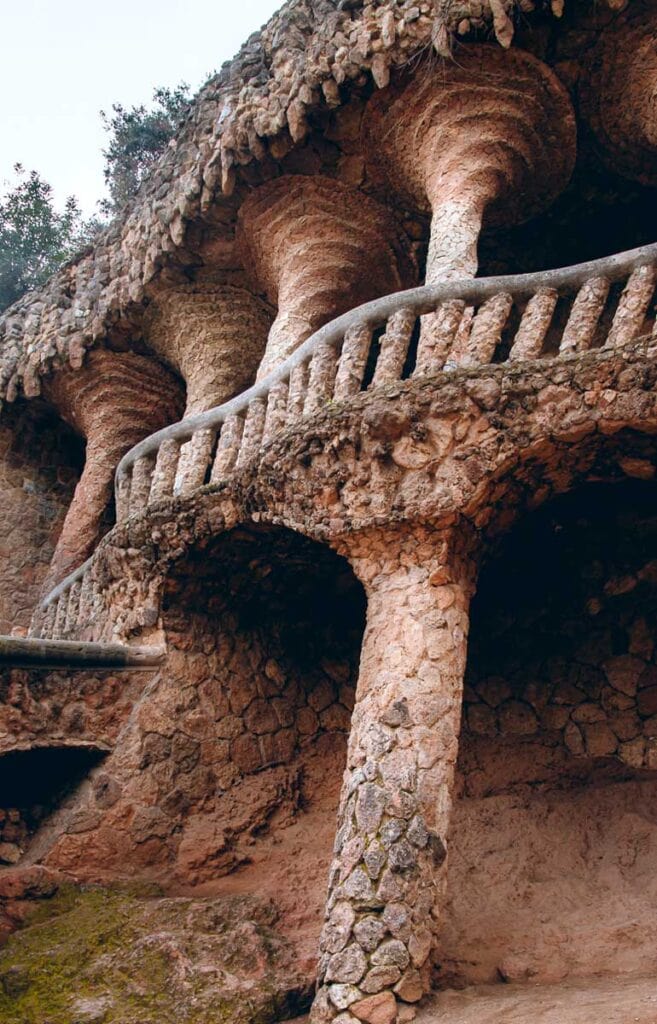 VISITING PARK GUELL : WHAT TO EXPECT
Park Guell spans over 17.5 hectares (43 acres), and a large portion of the park is free to visit. However if you want to see Gaudi's contributions, you will need to purchase a ticket to enter The Monumental Zone. Within The Monumental Zone you can explore popular attractions such as The Dragon Staircase, the Hypostyle Room, the Viaducts and more.
THE DRAGON STAIRCASE
At the entrance of Park Guell, you're met with a twin staircase that takes you up to the Hypostyle Room, Nature Square and the Laundry Room Portico.
On the third platform of the staircase you will find the most famous symbol in the park, the mosaic, tiled dragon (which actually looks more like lizard).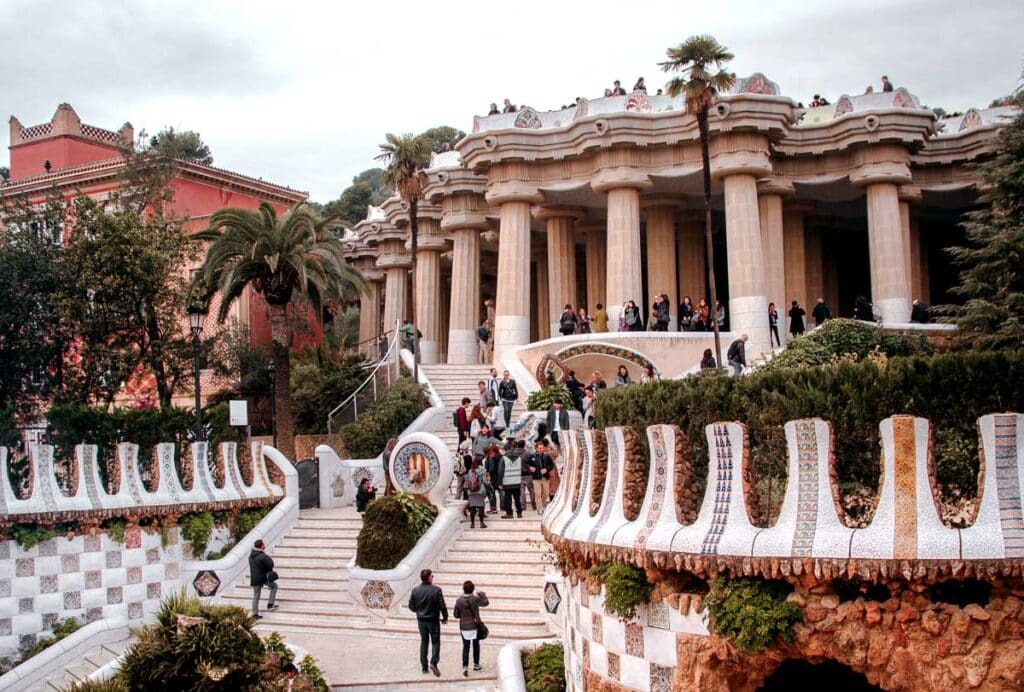 HYPOSTYLE ROOM
The Hypostyle Room was originally designed to be the market area for the residents. Tiled ceiling mosaics look down on the 86 fluted columns. The columns were designed as water collectors and were intended to gather rainwater to supply the residents with.
---
RELATED POST: CASA MILA (LA PEDRERA) VISITOR'S GUIDE
---
THE VIADUCTS
Gaudi designed Park Guell with the intention to connect all areas of the park easily. There are three viaducts throughout the park which connect lower and higher ground, and were wide enough to fit horse drawn carriages.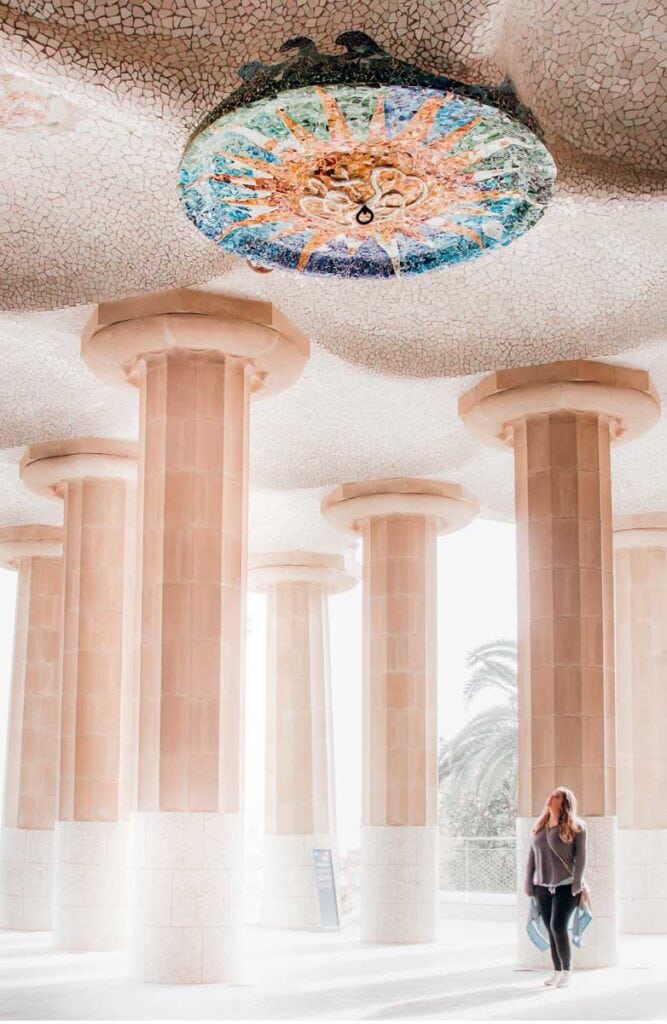 THE GREEK THEATER (NATURE SQUARE)
On top of the Hypostyle Hall there is a large platform that was intended to be used a recreational area for the residents, where they could put on plays and concerts, and hold religious ceremonies. Nature Square offers some of the best views in the park.
THE LAUNDRY ROOM PORTICO
This slanted walkway was designed to take on the shape of an ocean wave. The columns also act as a retaining wall for the road above.
---
RELATED POST: GORGEOUS MONTSERRAT, SPAIN – AN EASY DAY TRIP FROM BARCELONA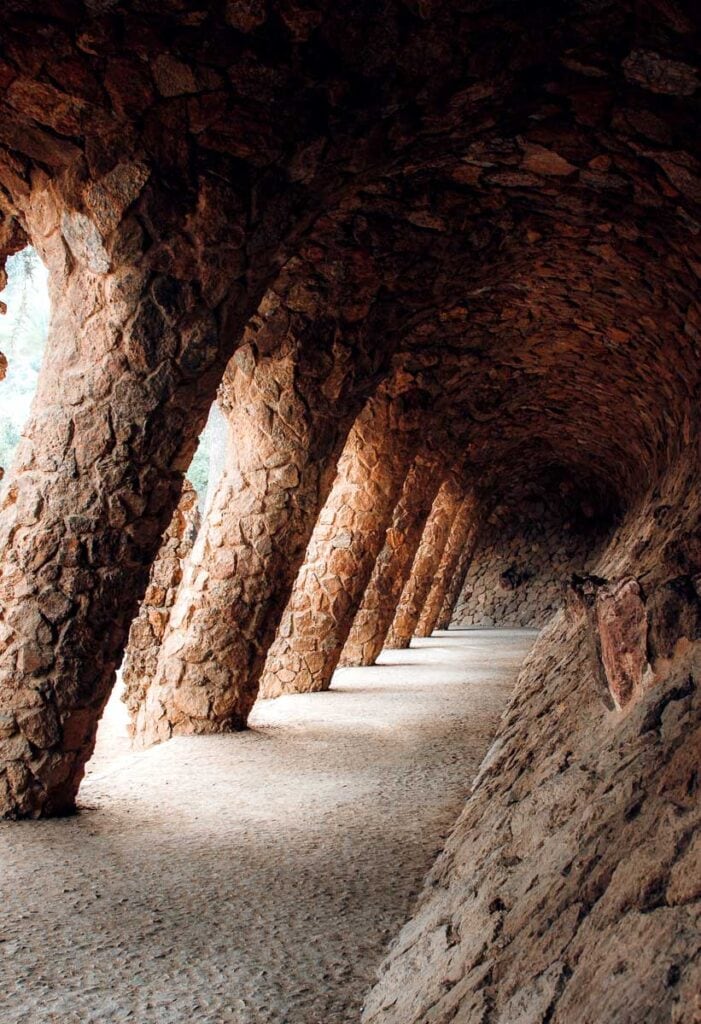 TIPS FOR VISITING PARK GUELL
BUY YOUR TICKETS ONLINE
Park Guell has a capacity limit of 1,400 visitors an hour and ticketed time slots can fill up quickly, especially during peak season. Book your tickets in advance to skip the long lines and ensure your entrance into the park.
METRO BUS FOR TICKET HOLDERS
If you will be arriving at Park Guell by Metro, there is a free bus that will take you from the Alfons X (L4) stop to the park entrance. To use the bus, you must already have a ticket, so make sure to purchase them online before arriving.
The bus runs round trip, and will take you back to the metro stop when you're ready to leave. Keep scrolling for full instructions on how to get to Park Guell below.
*Due to the pandemic, the bus has stopped its service. Be sure to check the official website for the most up to date information.
WHAT TO BRING
The Monumental Zone is 12 hectares (39 acres) so prepare to get your steps in. Comfortable shoes are a must. Also make sure to bring sunscreen and some water. There are vendors selling small bottles of water for €1, but you'll save money by packing your own.
There is a cafe inside the Monumental Zone but it is expensive and super crowded. There are a few designated picnic areas, so grab some food on the way over to enjoy at the park.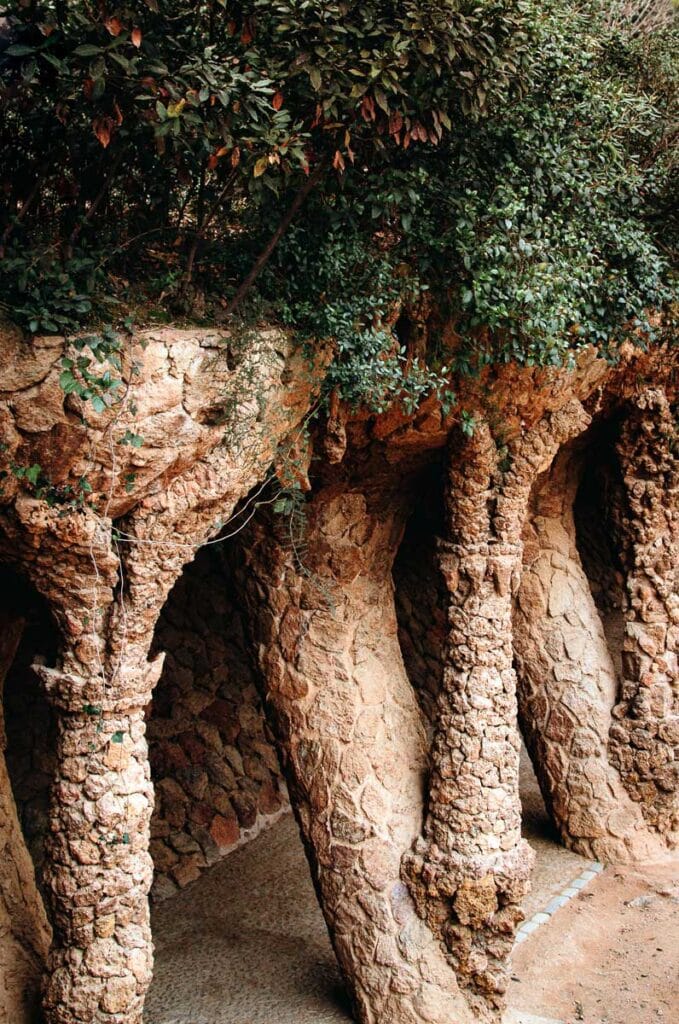 WATCH OUT FOR PICKPOCKETS
Wherever large groups of tourists gather, there are usually pickpockets lurking about. Keep an eye on your belongings and tuck your wallets in a safe place that's not easily accessible.
THE BEST TIME TO VISIT
As one of the most popular tourist attractions in Barcelona, it's to be expected that Park Guell is extremely busy. If you're looking to beat some of the crowds, visit first thing in the morning, right when they open. The weather will also be much cooler during this time.
GIVE YOURSELF EXTRA TIME TO GET THERE
Park Guell is huge and the entrance can be confusing to find, depending on which mode of transportation you take to get there. If you've booked your tickets online, you only have 30 minutes after your ticketed time slot to enter the park. Once the 30 minute grace period is up, your ticket becomes invalid (once you're inside you can stay as long as you'd like). Give yourself a little extra time to get there, just in case you run into any problems.
TICKETS DO NOT INCLUDE ENTRY TO GAUDI'S HOUSE
Antoni Gaudi lived at Park Guell from 1906-1925 in one of the sample homes from the never completed housing project he was hired to design. Today, Gaudi's old residence is a museum where you can learn about the life and work of the famed architect.
Your ticket into Park Guell's Monumental Zone does not include entrance into the Gaudi Museum. You will need to purchase that separately (€5) and I also recommend buying this ticket online too in order to skip the long lines.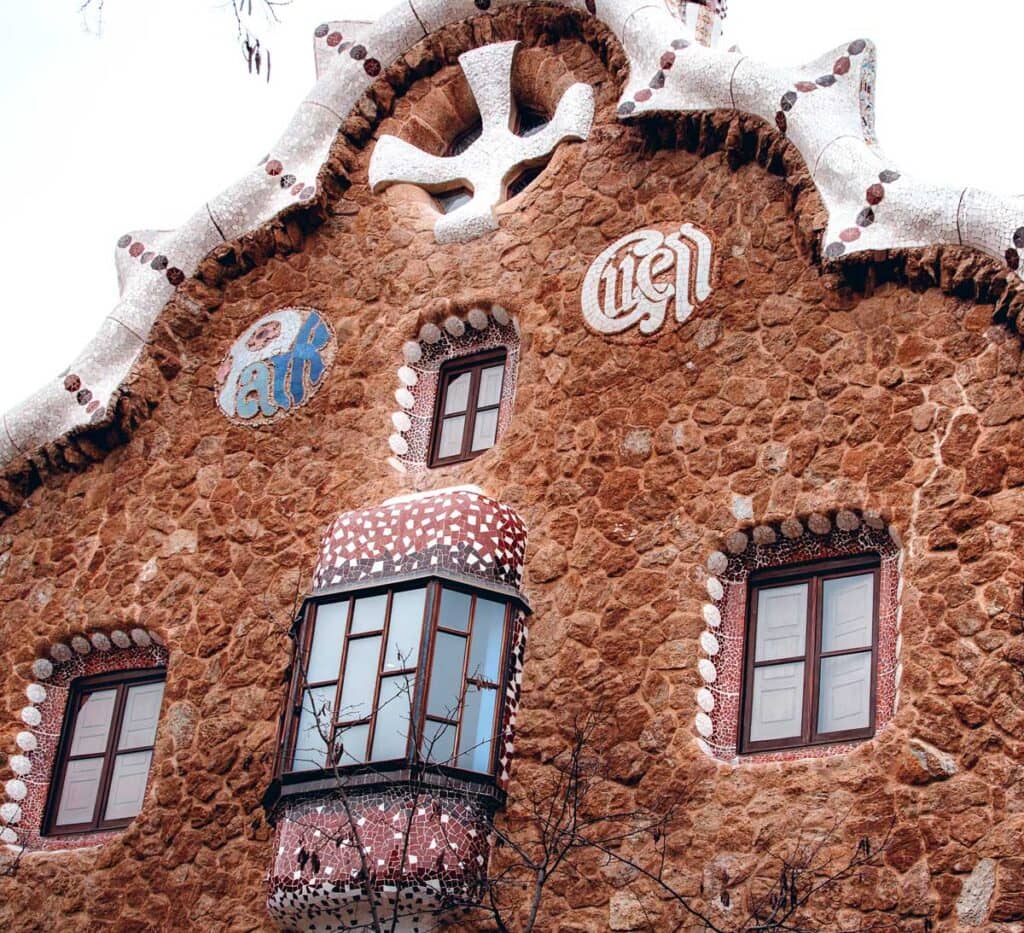 THERE IS NO RE-ENTRY ONCE YOU LEAVE THE TICKETED AREA
Once you are within the ticketed Monumental Zone, you can not leave and re-enter.
PEOPLE WITH DISABILITIES / ACCESSIBILITY
Due to the uneven terrain, steep ramps and the amount of steps Gaudi incorporated in his design, Park Guell is not the easiest attraction for people with limited mobility or disabilities. The park is also located on a steep hill, so arriving by taxi is advisable.
The park has outlined a specific itinerary adapted for people with limited mobility, but BarcelonaEnabled.com, says it might still be a challenge for wheelchair users. Check out Barcelona Enabled or Sage Traveling for accessibility information while in Barcelona.
---
RELATED POST: BARRI GOTIC – A GUIDE TO EXPLORING BARCELONA'S GOTHIC QUARTER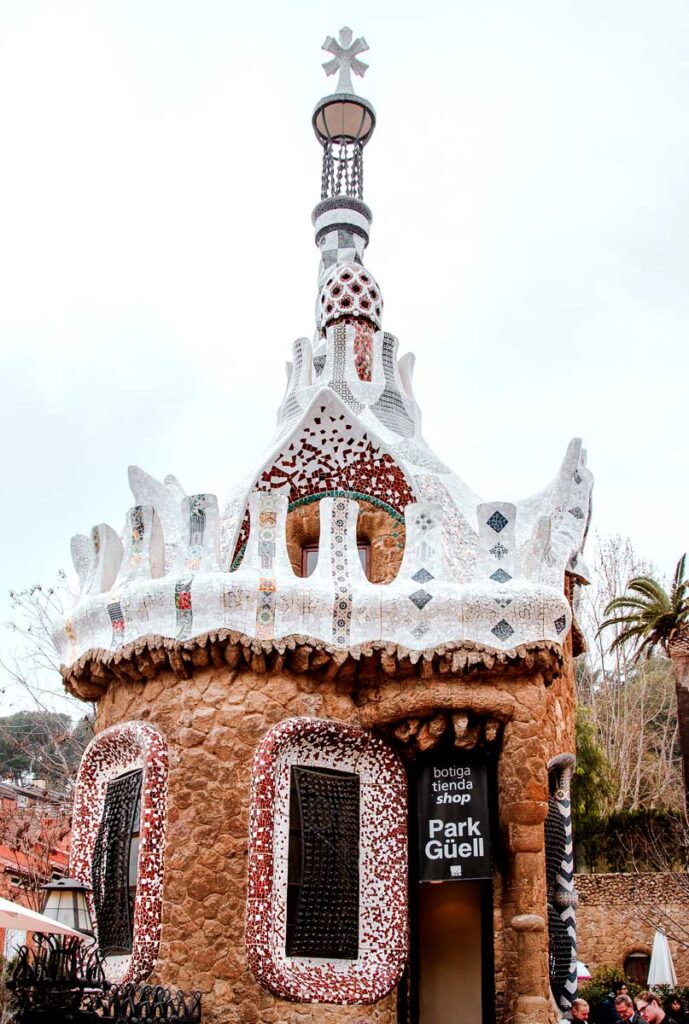 HOW TO GET TO PARK GUELL
Due to its location on the top of a steep hill, getting to Park Guell can prove to be a little tricky.
ESCALATORS There are two sets of escalators that will bring you to the park entrance from the middle-bottom of the hill. The first escalator is located at 36 Baixada de la Glòria and the other escalator is located at 20 Carrer de Sant Cugat del Vallès.
METRO
There are several metro routes you can take to reach Park Guell.
Take metro line 3 (green) and exit at the Vallcarca stop. From here it's a 15 minute walk to the escalators on Baixada de la Glòria which will take you up the hill.
Take metro line 3 (green) and exit at the Lesseps stop. If you take this route you'll have a long, steep walk uphill for 20-30 minutes until you get to the park.
Take metro line 4 (yellow) to Alfons X stop. From there you can catch the free shuttle to the park entrance. The shuttle takes 15 minutes and you will need to show a ticket, so make sure to book online in advance if you choose to go this route.
BUS
Take bus line 24 . They recently cancelled the bus stop outside of the park, so get off at Ctra del Carmel – Albert Llanas and from there it is only a short walk (.12 miles / 200 meters) down to the entrance. The bus line begins at Plaza Catalunya and takes 40 minutes.
TOURIST BUS
The Barcelona Tourist Bus is a hop-on hop-off style bus with stops at all of the popular tourist attractions in the city. If you're taking the Blue Line or the Green Line, get off at the "Park Guell" stop.
For information and tickets for the Barcelona Tourist Bus click here.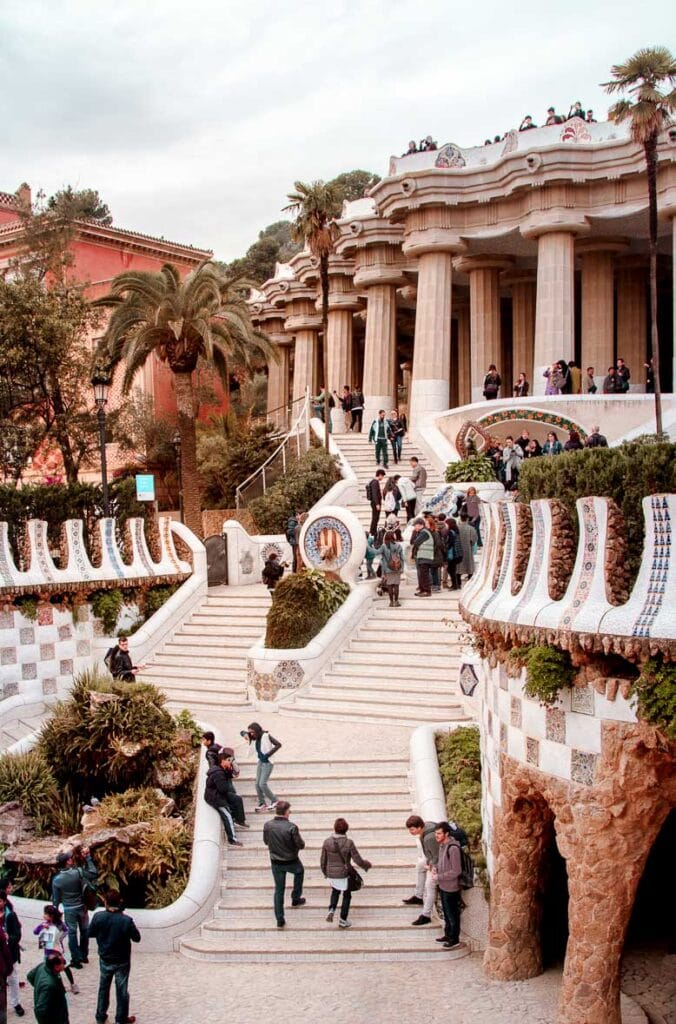 PARK GUELL TICKETS
In order to access the most popular areas of the park where Gaudi's work is located, you will need to purchase tickets into the Monumental Zone.
The park has limited capacity and tickets are reserved by time. You only have 30 minutes after your official entrance time to enter the park or your ticket becomes invalid and you will not be allowed to enter. For example if you book a ticket for a 10am entrance, you must enter before 10:30am.
It's best to purchase your tickets online in advance so you can skip the line and ensure your visit.
You can purchase tickets on Park Guell's website here.
GENERAL ADMISSION TICKET PRICES
Adult: €10
Children (7-12): €7
Children (0-6): Free
Senior (65+): €4.90
People with Disabilities + Accompanying Person: €7
Residents: Free
TOURS
Guided tours are offered by the park for an additional charge. You can purchase tour tickets here, or through Viator here.
---
RELATED POST: CAMP NOU STADIUM : WHAT TO EXPECT AT AN FC BARCELONA GAME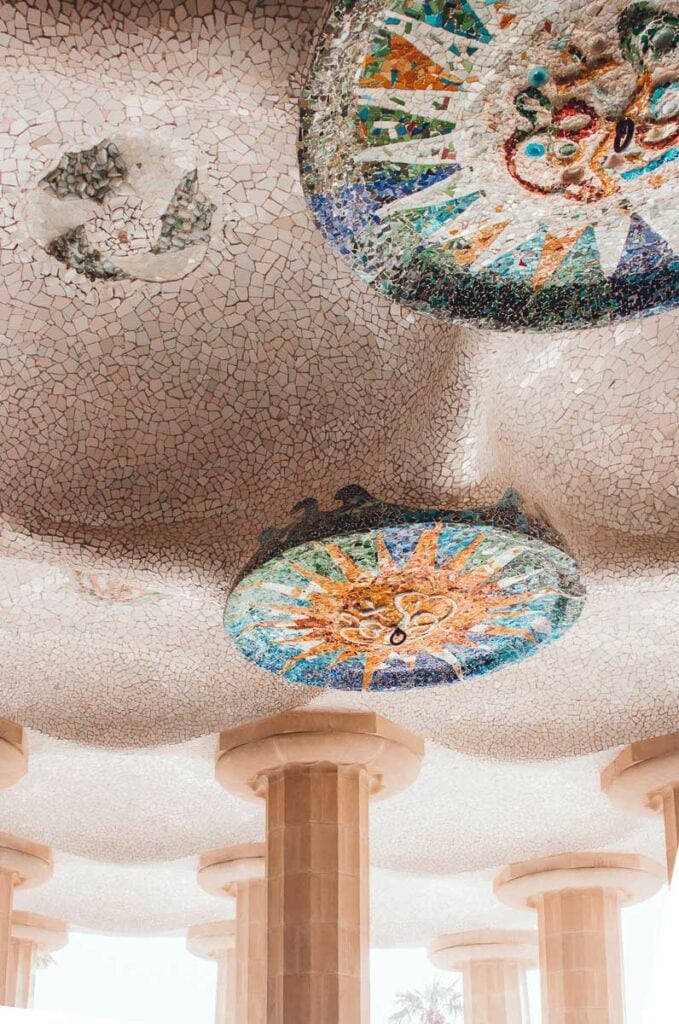 VISITOR INFORMATION
HOURS
The park is open 365 days a year. Due to COVID-19 the park hours have changed. Please check the official website to stay up to date on the most recent opening times and safety regulations.
NORMAL HOURS: 7am-11pm
CURRENT HOURS: 9:30am to 7:30pm
CONTACT
Carrer d'Olot
08024 Barcelona, España
Official Website
---
PIN IT : A VISITOR'S GUIDE TO GAUDI'S PARK GUELL
Disclaimer: This post contains affiliate links