Casa Mila, also known as La Pedrera, is often overshadowed by her more famous siblings, La Sagrada Familia and Park Guell.. but a visit to this iconic building is a must for Gaudi fans and architecture buffs alike. Keep reading to discover what to expect including tips for visiting, ticket information and photos of the famous Casa Mila roof.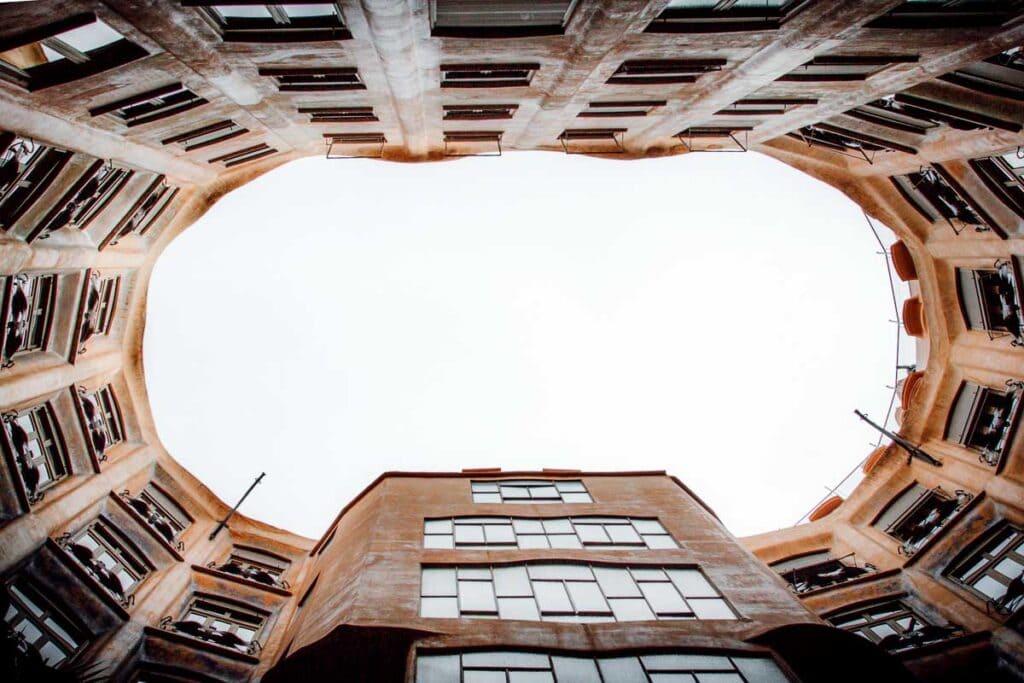 WHAT IS CASA MILA : A BIT OF HISTORY
Casa Mila was the last civic work of Antoni Gaudi (Catalan's most famous architect) before he dedicated the rest of his life to his masterpiece, La Sagrada Familia.
The building was commissioned in 1906 by Pere Milà and his wife Roser Segimon. The couple purchased a plot of land on Passeig de Gràcia, one of the most prestigious avenues in Barcelona, and commissioned Gaudi to build them a home. They intended to use the main floor of the building as their residence, and then they would rent out the rest of the apartments.
---
RELATED POST: INSIDE LA SAGRADA FAMILIA // EVERYTHING YOU NEED TO KNOW
---
CONTROVERSY
Casa Mila is one of Gaui's most controversial works of art. He not only went over budget and failed to observe city building codes during its construction, but the uniqueness of his design made the building a target of mockery and ridicule. The curved, stone facade did not fit in with the style at the time, and Casa Mila was nicknamed La Pedrera, or "stone quarry."
Today Casa Mila is a UNESCO World Heritage Site, and one of the most visited attractions in Barcelona.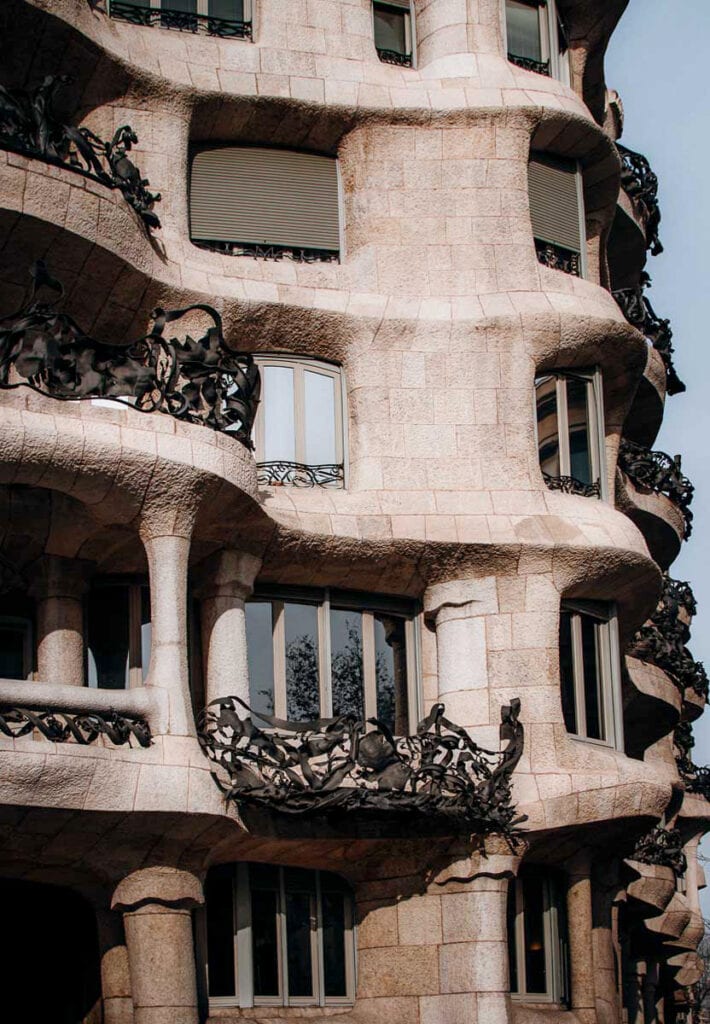 THE FACADE
Casa Mila's self supporting facade is comprised of over 6,000 blocks of stone from 3 different local locations: limestone from the Garraf, stone from Vilafranca del Penedès and limestone from Ulldecona.
Gaudi was heavily influenced by nature and has even been quoted to say "there are no straight lines or sharp corners in nature. Therefore, buildings must have no straight lines or sharp corners." He designed Casa Mila to have a constant curve, reminiscent of a wave, and you will find no straight lines or right angles anywhere.
On the facade, there are 32 unique balconies with wrought iron railings made from scrap metal, iron plates, bars and chains.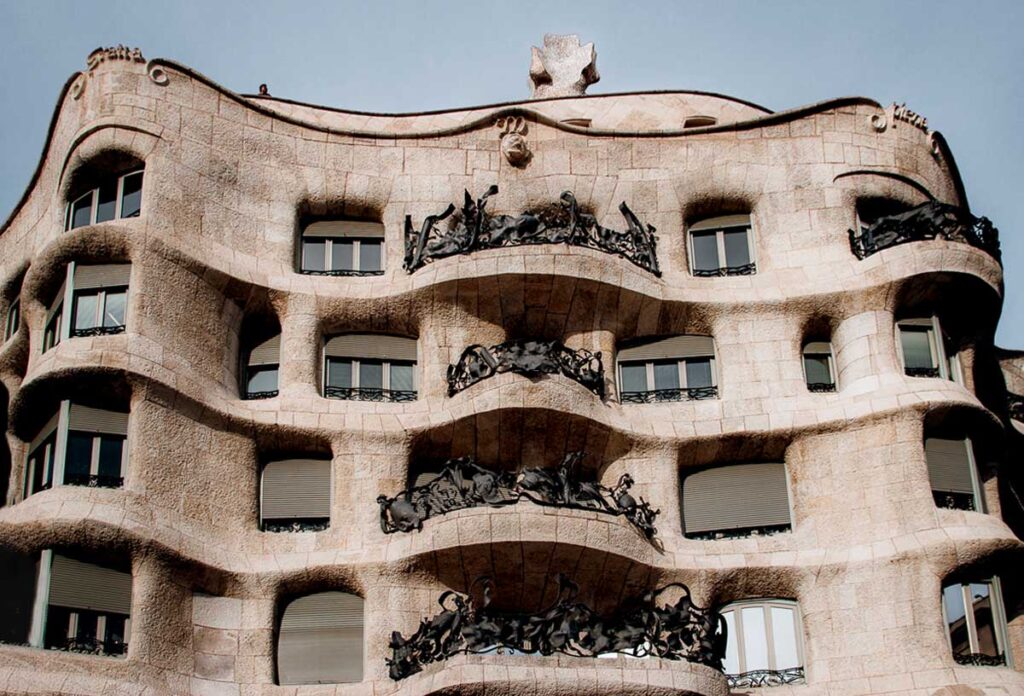 THE ROOF
The Warrior Rooftop is the highlight of the tour.
Gaudi wanted to disguise the necessary roof structures such as chimneys, ventilation ducts and stairwells with art. Water tanks are hidden under swirled, tile covered sculptures. The 38 chimneys were made into soldier-like statues, which are said to be protecting the roof.
Gaudi designed two arches on the roof which were built to perfectly frame two very specific views. One of Mt. Tibidabo and the other, of his masterpiece La Sagrada Familia.
In addition to the incredible sculptures, you also get an amazing view of Barcelona from the terrace.
---
RELATED POST: PARK GUELL – A VISITOR'S GUIDE TO GAUDI'S BARCELONA PARK
INTERIOR
After spending some time on the roof, the tour leads you downstairs to the loft where you walk through an exhibition about Gaudi and his methods of creating.
THE WHALE ATTIC
The attic is located on the top floor and was created using 270 catenary arches, built to support the structure for the roof without adding too much weight to the building. The arches are reminiscent of a whale's ribcage, hence the nickname The Whale Attic.
The attic was once home to the building's laundry room, but today you will find an exhibition dedicated to Gaudi which contains information about his life and work, and includes 3D models, plans and photos.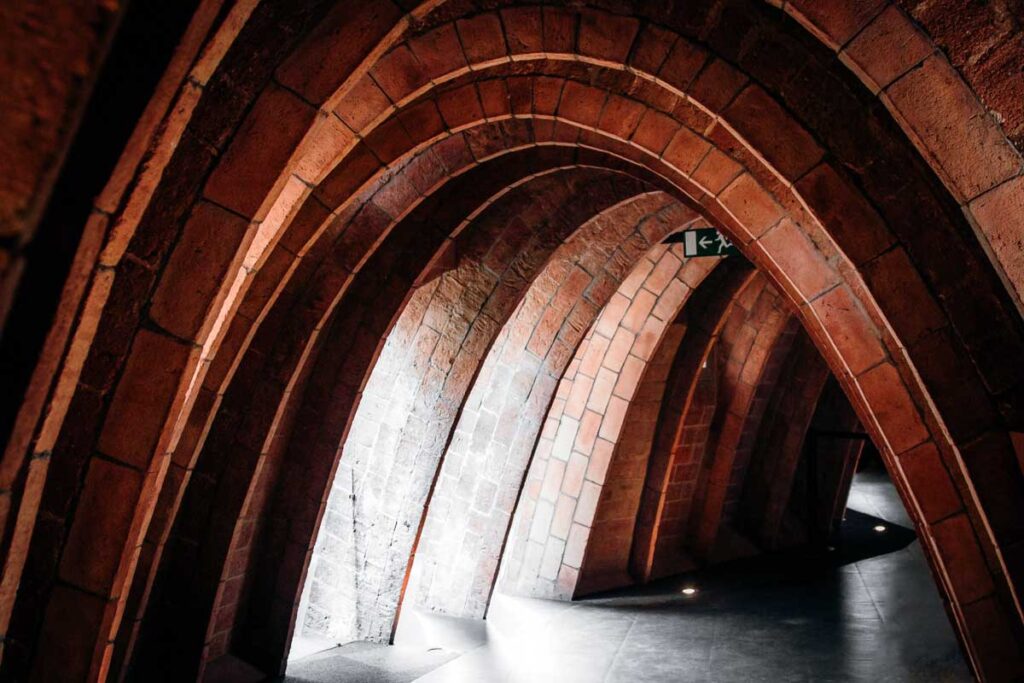 THE TENANT'S APARTMENTS
Next, the tour guides you through an old La Pedrera apartment (recreated) to show you what it was like to live here as a wealthy family in the beginning of the 20th century. The apartment features original doors, floors, door knobs and mouldings.
FUN FACT There are three families that still call La Pedrera home, and they have for over 70 years.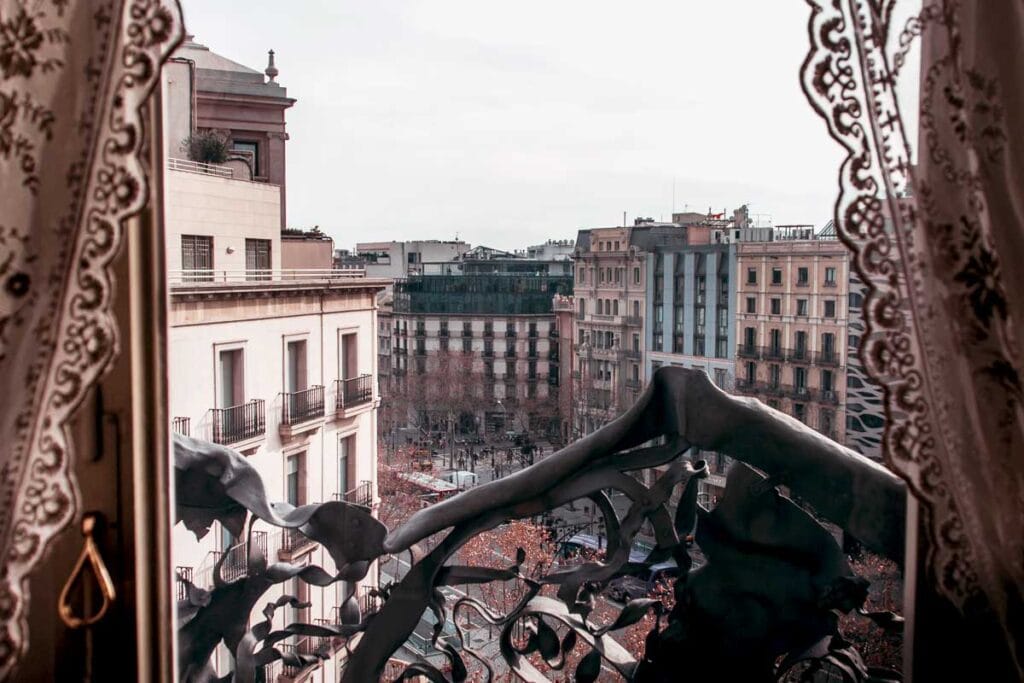 TOURING CASA MILA
There are a few tour options to choose from when visiting Casa Mila.
LA PEDRERA ESSENTIAL is the most popular option for most visitors. Under this ticket, you will be given an audio guide and set free into the building to explore at your own pace ( 4,500 m2 / 48,000 square feet – spread amongst five floors). During your self guided tour, you can visit the rooftop, the whale attic, the tenant's apartments, the flower courtyard and the Milà Family apartment.
Before our visit, I knew very little about Casa Mila (or Gaudi, honestly) and following the tour helped me to appreciate everything a lot more. It also gave me a great foundation of knowledge before visiting Gaudi's other sites in Barcelona. The tour is well done but the admission still seems high. We spent almost €50 for two people.
LA PEDRERA PREMIUM offers freedom to book and visit whenever you want vs committing to a specific date and time. It is the same audio guided tour as the Essential ticket but you are also given a visual guide as a souvenir.
RELATED POST: BARRI GOTIC BARCELONA – EXPLORING BARCELONA'S GOTHIC QUARTER
LA PEDRERA NIGHT is a special guided tour that you take of the building at night. It ends with a projected light show on the roof followed by a glass of wine and snacks.
If you're torn between viewing the building during the day, and seeing the light show at night, Casa Mila also offers a combined ticket so you can do both, while saving some money.
LA PEDRERA OCULTA offers a more behind the scenes look at the building, giving you a look into some more exclusive spaces that are normally closed to the public. This is a small group guided tour, but it is currently only given in Catalan.
CASA MILA TICKETS
To book admission tickets online, you can do so on the official La Pedrera Website . If you have problems on the official site, or if you want to get cash back via Rakuten, you can also buy them on Viator here.
LA PEDRERA ESSENTIAL (GENERAL ADMISSION TICKET)
Adult: €24 online / €27 at the door
Student: €18.50 online / €21.50 at the door
People with Disabilities: €18.50 online / €21.50 at the door
Senior (Over 65): €18.50 online / €21.50 at the door
Children (7-12): €12 / €15 at the door
Children (0-6): Free
LA PEDRERA NIGHT EXPERIENCE
Adult: €34 online
Children (7-12): €17
Children (0-6): Free
LA PEDRERA PREMIUM
Online: €31 online / €34 at the door
Children (7-12): €17 online / €20 at the door
Children (0-6): Free
LA PEDRERA ESSENTIAL + NIGHT EXPERIENCE
Adult: €43 online / €46 at the door
Children (7-12): €21.50 online / €24.50 at the door
Children (0-6): Free
---
RELATED POST: CAMP NOU STADIUM : WHAT TO EXPECT AT AN FC BARCELONA GAME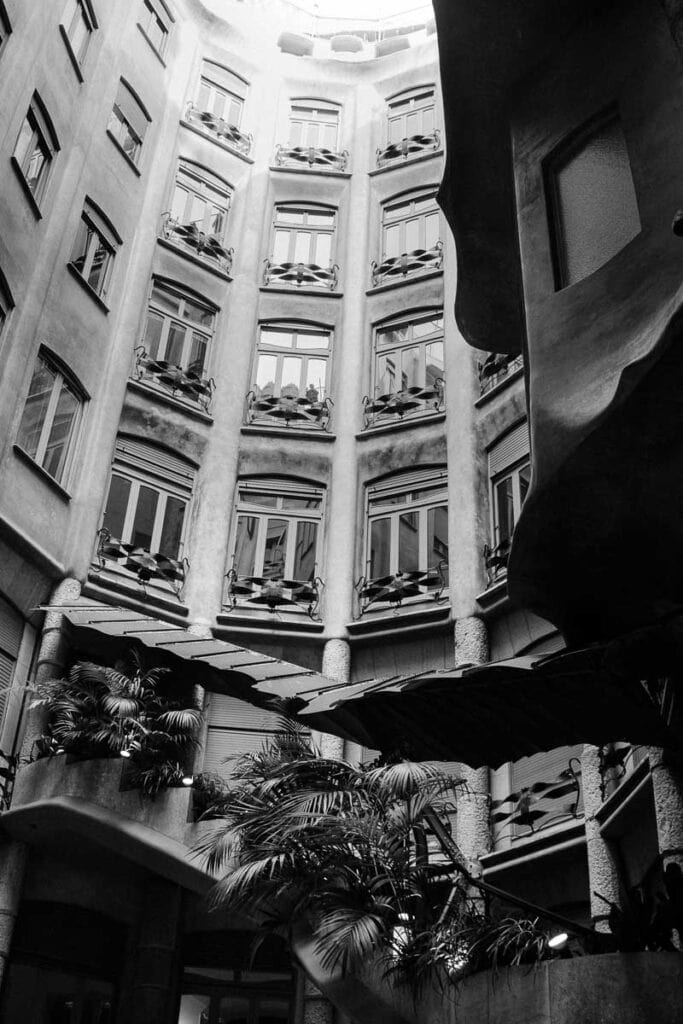 TIPS FOR VISITING CASA MILA
BUY YOUR TICKETS ONLINE TO SAVE MONEY
A visit to Casa Mila is kind of expensive, so save a few Euro by purchasing your tickets before you go. Most of the ticket options are €3 cheaper if you buy them online vs at the door, and purchasing them ahead of time also allows you to skip the line.
If you're interested in the Night Experience ticket, it is highly recommended that to buy your tickets in advance as there is limited availability and they sell out fast.
GO BEFORE VISITING PARK GUELL OR LA SAGRADA FAMILIA
We visited CasaMila after touring Park Guell and La Sagrada Familia.. and it gave the building some big shoes to fill. I recommend visiting Casa Mila before Gaudi's two most famous masterpieces. Also, La Pedrera is the only Gaudi interpretation center in Barcelona so you will gain valuable context and background into Gaudi's style, methods and inspiration before viewing the other sites.
CHECK THE WEATHER IF YOU WANT TO SEE CASA MILA'S ROOF
For safety reasons, Casa Mila does not allow access to the rooftop when it rains. The roof is one of the most popular sights within the building, so if not seeing it is a deal breaker (it would've been for me), be sure to check the weather before purchasing your tickets. They do not offer full or partial refunds in the event of rain.
COMBINE YOUR TRIP WITH A VISIT TO CASA BATLLO
Casa Batllo is another one of Gaudi's famous works of art in Barcelona and it is located less than half a mile (804 meters) from Casa Mila. Structure your itinerary to include both sites and kill two birds with one stone. For the sake of time, we opted not to tour the interior of Casa Batllo this time around, but we did stop by to take photos of the beautiful facade.
NO TRIPODS OR FLASH PHOTOGRAPHY
Flash photography is never allowed, even during night tours. Tripods and professional photoshoots are also prohibited without special permission.
WHEN TO VISIT
Casa Mila can get extremely busy, especially during peak season and especially on the roof. If you're looking to beat some crowds, aim for getting there when they first open, or 1-2 hours before they close. Visiting closer to the end of the day also allows you to capitalize on the great lighting (perfect for photos).
LOCKERS ARE AVAILABLE
Backpacks and strollers can be stored in in luggage lockers on site. Lockers are coin operated so be sure to bring change with you.
SKIP ELEVATOR LINES
The line for the elevator to the roof can get pretty long, so if you are physically able, opt for the stairs (8 flights) to save some time.
ACCESSIBILITY / PEOPLE WITH DISABILITIES
Casa Mila seems very conscious of their visitors with disabilities and limited mobility and they have a range of services available so that the site can be accessible to all.
In addition to ramps and elevators which make the building accessible, Casa Mila also offers resources for people with impaired vision or hearing, as well as for those with learning disabilities.
Wheelchair users can access all parts of the tour, except for the rooftop portion. They do have a platform on the roof near the elevator so that it can be viewed.
To read more about the full list of programs and services offered for people with disabilities, click here.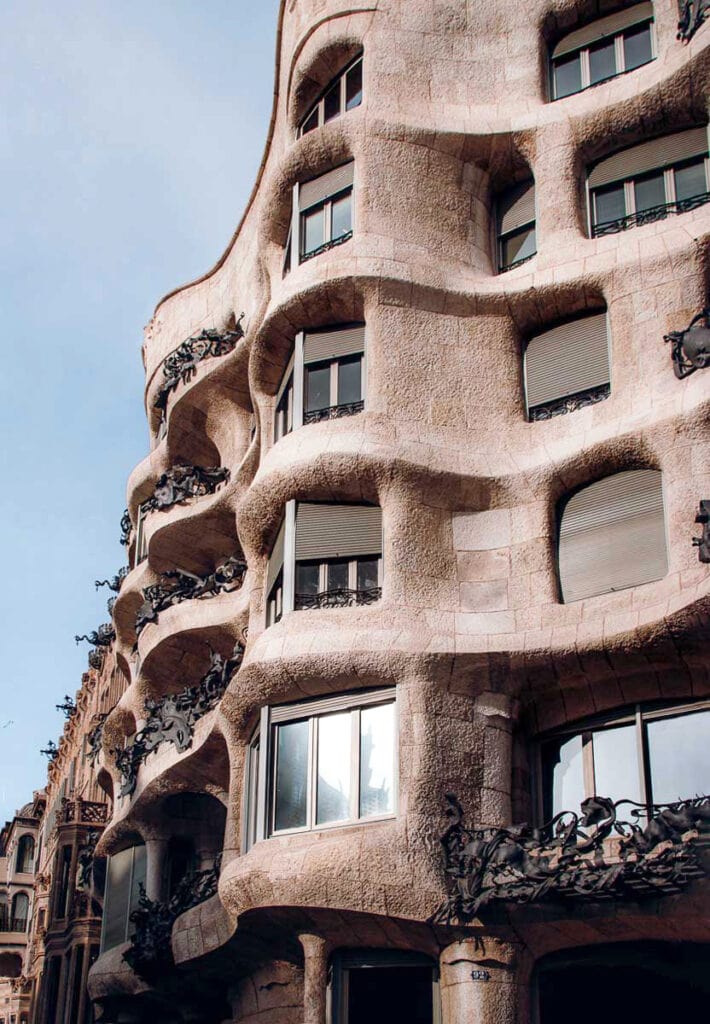 CASA MILA VISITOR INFORMATION
HOW TO GET TO CASA MILA
Bus V15, V17, H10, H8, 7, 22, 24, 6, 33, 34
Subway Line 3 and 5. Get off at station Diagonal
Renfe Get off at station Passeig de Gràcia
FGC Get off at station Provença – La Pedrera
HOURS
Due to COVID-19, opening hours have changed. The building is currently open for visits Friday-Sunday. Please visit the official website for the most up to date information.
March 3 to November 2: Daily from 9am-8:30pm
November 3 to December 24: Daily from 9am-6:30pm
December 26 to January 3: Daily from 09am-8:30pm
Closed: 25 December
Last admission is 30 minutes before closing time
CONTACT
Passeig de Gràcia, 92
Phone: +34 902 202 138
Website: www.lapedrera.com
---
PIN IT: CASA MILA (LA PEDRERA) VISITOR'S GUIDE / GAUDI IN BARCELONA
Disclaimer: This post contains affiliate links.