After 5 full days in Barcelona, we decided to take a day trip and head out of the city to explore some of Spain's countryside. The mountains of Montserrat are not only a sacred place for Spanish locals, but for thousands of people making their pilgrimage here each year. The Montserrat Monastery is the most popular reason to visit, with people vying for their chance to be in the presence of the Black Madonna.
Keep reading to discover everything you need to know to take a day trip from Barcelona to Montserrat, including how to get there, things to do, tips for visiting and more.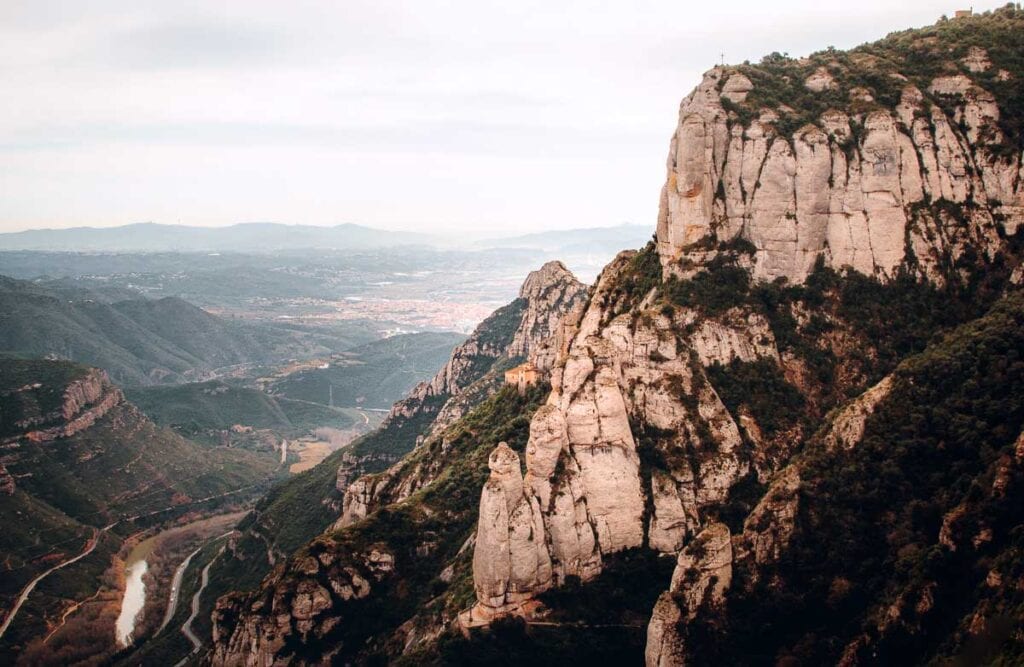 MONTSERRAT, SPAIN : A BIT OF HISTORY
Montserrat is considered to be one of the most sacred places in the world and it is one of the most popular pilgrimage destinations in Spain. Millions of people visit Montserrat each year to lay their eyes upon the famous Black Madonna that resides in the Montserrat Monastery.
According to Catholic tradition, The Black Madonna was carved in Jerusalem by St. Luke around 50 AD. It was brought to Spain and later hidden in a cave to protect it from Moorish invaders. The Black Madonna was discovered many years later in 880 AD by shepherd's children who spotted a bright light coming from the cave where the Madonna was hidden.
Today, it is one of the most famous Black Madonna statues in the world and is said to bring miracles and healing to those who visit her.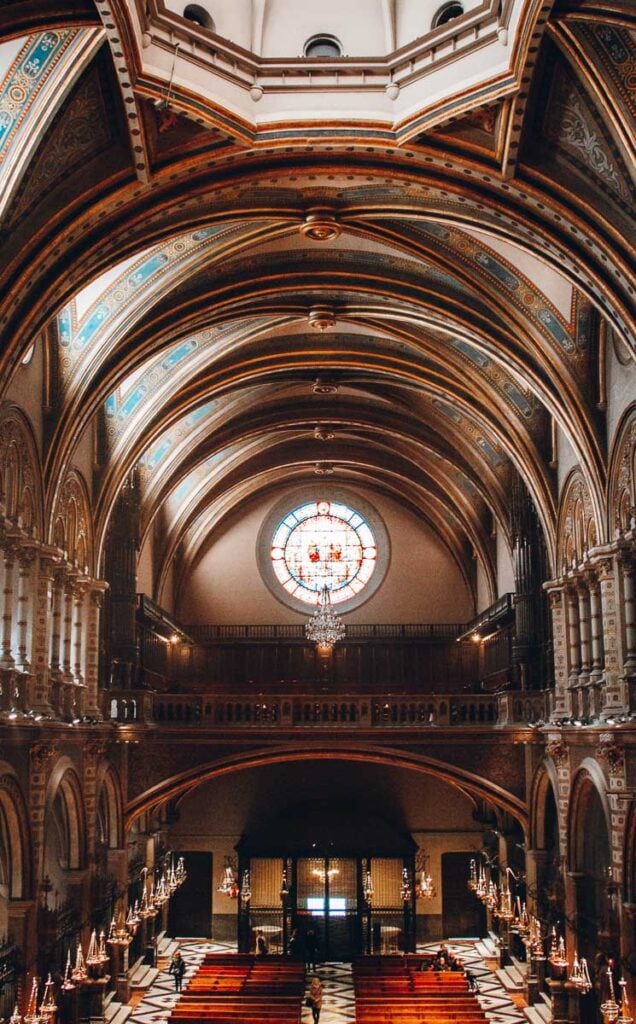 THINGS TO DO IN MONTSERRAT SPAIN
VISIT MONTSERRAT MONASTERY
Most people who visit Montserrat are coming to see the monastery, Santa Maria de Montserrat . This 11th century Benedictine Abbey houses the Black Madonna, and wait times to view her can take up to an hour or more.
We arrived early in the morning and walked right in, but by 11am the line was out the door. Know that if you decide to wait in line, you will be shuffled through pretty quickly, only getting a chance to view the shrine for a few moments. Just enough time to touch or kiss her hand (as I saw most people doing).
There are signs that say photos of the Black Madonna are not allowed, but I saw just about everyone ignoring this rule.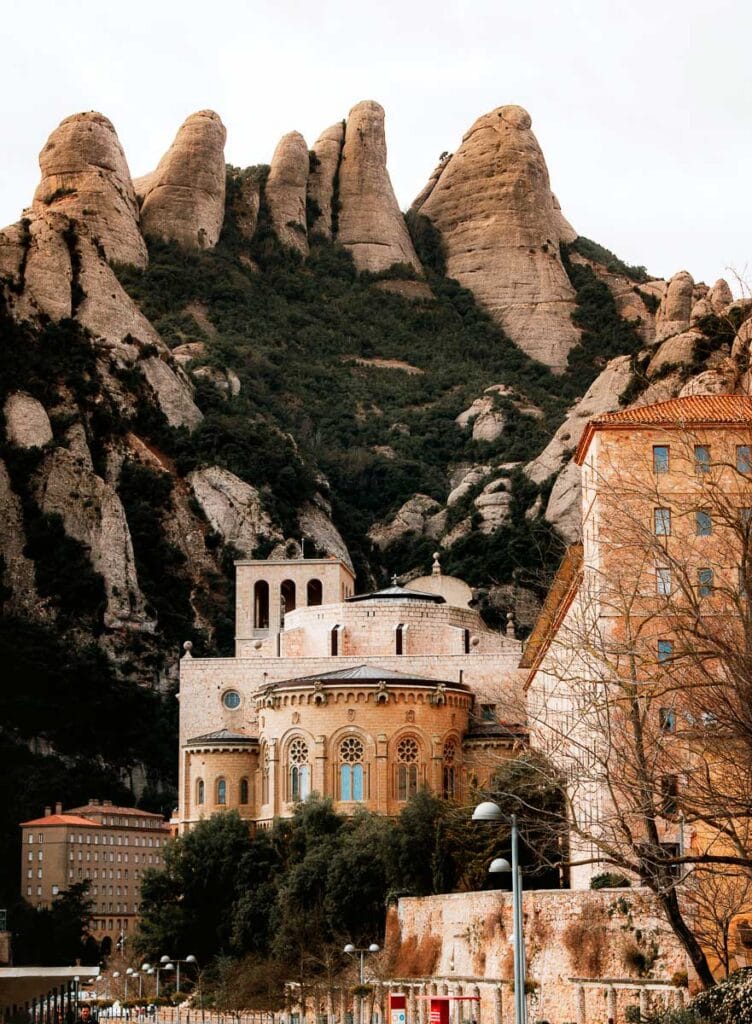 LISTEN TO THE CHOIR BOYS SING
The Escolania de Montserrat (boy's choir) is one of the oldest in Europe, dating back to 1223. The choir usually performs twice a day from the Basilica and the performances are free to watch.
CHOIR SCHEDULE
Monday-Thursday: 1PM & 6:45PM
Friday: 1PM
Sunday: 12 PM & 6:45PM
The choir does not sing on Saturday.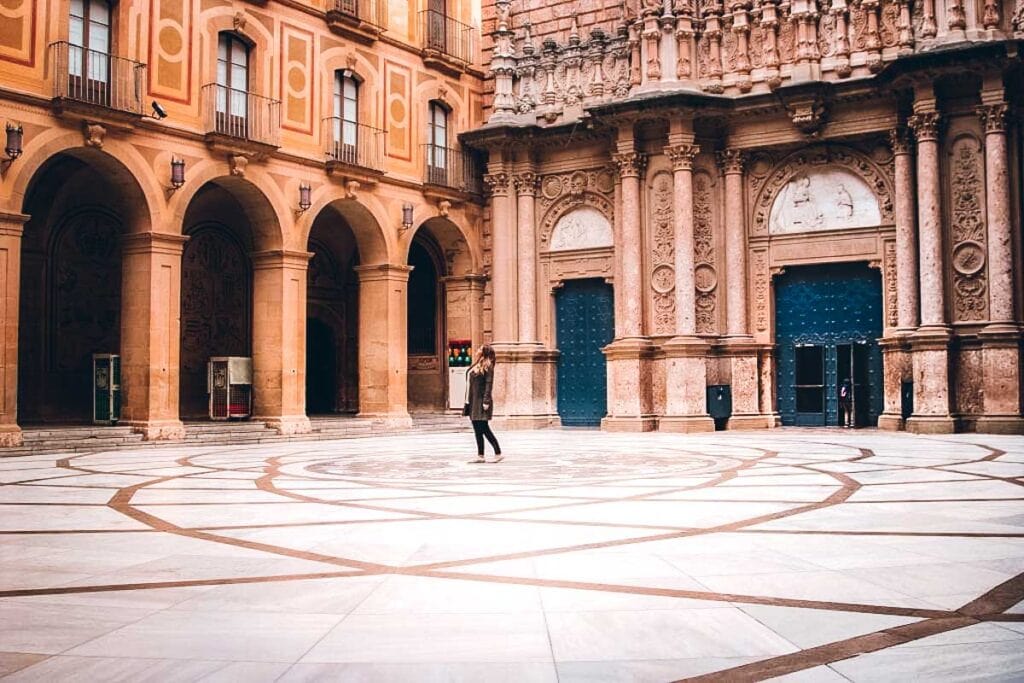 RIDE THE FUNICULARS
There are two funiculars at Montserrat which offer incredible views, as well as access to the hiking trails and other significant sites.
SANTA COVA
Funicular Santa Cova will take you down the mountain a little ways to Santa Cova cave, the religious site where the Black Madonna was found in 880AD. There is a chapel here which houses the original grotto.
If you prefer to skip the funicular but still want to visit the cave, it is about a 20 minute walk from from the monastery.
| | | |
| --- | --- | --- |
| ADULT | €3.50 one way | €5.50 round trip |
| CHILDREN (ages 4-13) | €1.90 one way | €3.00 roundtrip |
| SENIOR | € 3.20 one way | €4.90 round trip |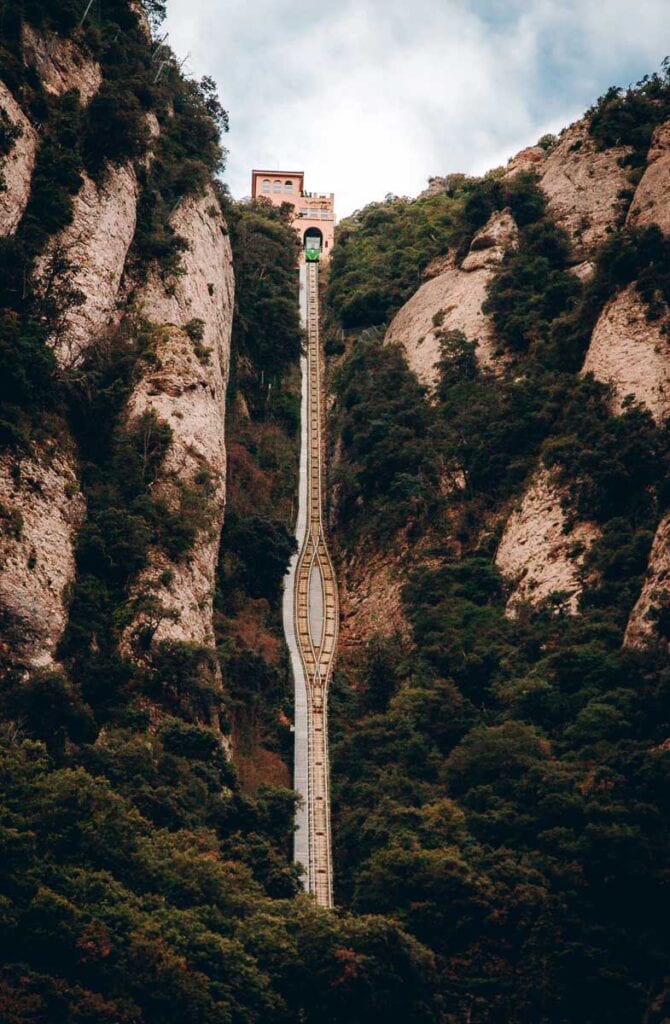 SANT JOAN
The Sant Joan Funicular looks terrifying. With a maximum grade of 65%, the funicular travels straight up the mountain and offers a birds-eye view of Montserrat Monastery as well as the surrounding landscapes.
I wanted to do this one so bad because you know I love a great view, but we unfortunately ran out of time.
| | | |
| --- | --- | --- |
| ADULT | €9.10 one way | €14 round trip |
| CHILDREN (ages 4-13) | €5 one way | €7.70 roundtrip |
| SENIOR | €8.20 one way | € 12.60 round trip |
If you want to take a ride on both of the funiculars, you can save money by purchasing a combined ticket which grants roundtrip access to both. The combined ticket is €15.60 for adults, €8.60 for children and €14 for seniors.
If you have the TOT or Trans Montserrat ticket, the funiculars are free (information about the these ticket types below).
TAKE IN THE VIEWS
The breathtaking views from Montserrat seem endless and on a clear day you can even see the Mediterranean Sea.
Taking in the views from the mountain were the highlight of our visit and they were worth the day trip alone. With a different vantage point everywhere you turn, it makes finding the best one an enjoyable challenge.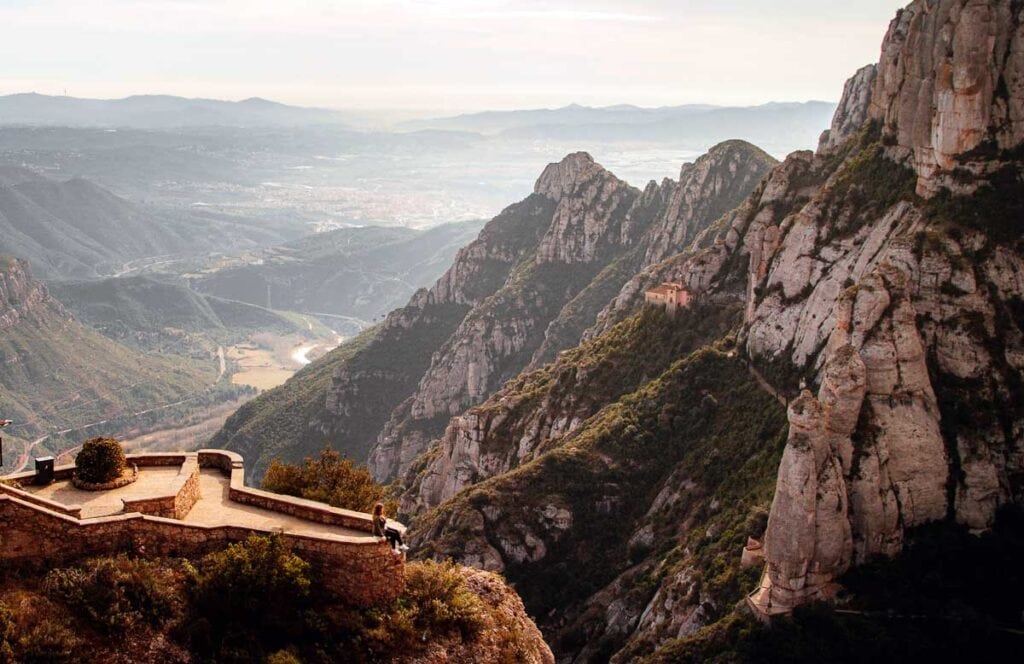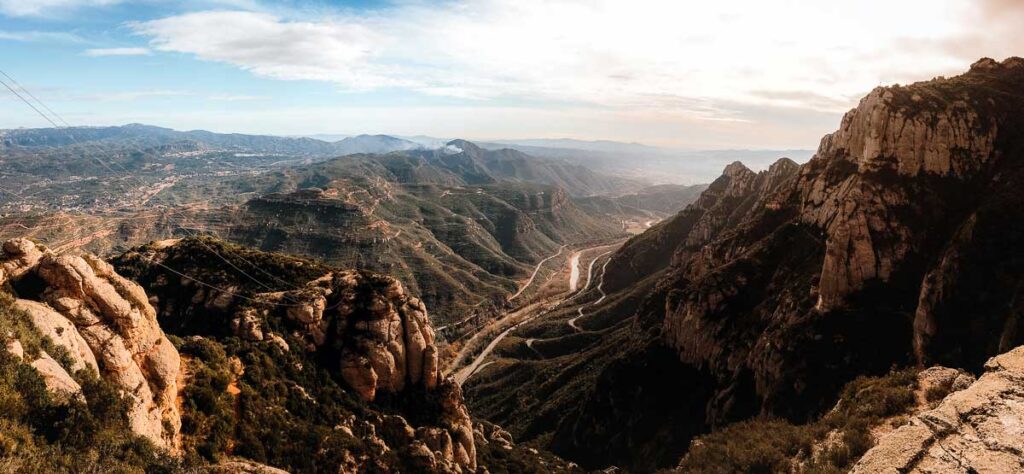 EXPLORE MONTSERRAT MUSEUM
The Montserrat Museum is located near the Basilica and it looks pretty unassuming from the outside. Many visitors are surprised to find work from Picasso, Monet, Salvador Dali, Degas and Caravaggio here. The museum hosts 6 permanent exhibits with over 1,300 pieces of art.
TAKE A HIKE
There are dozens of hiking trails all throughout Montserrat. Some trails are easily walkable and perfectly suitable for day trippers, while others are a little more intense.
One of the most popular hikes is Cami dels Degotalls which gives you excellent views of Pla del Bages and the Pyrenees. You can also walk to Santa Cova cave, where the Black Madonna was said to have been found. For more walks and hikes around Montserrat, this site has a great list of options.
More adventurous travelers might want to partake in some rock climbing. Montserrat offers thousands of routes and is popular destination for climbers. Check out this website for more information.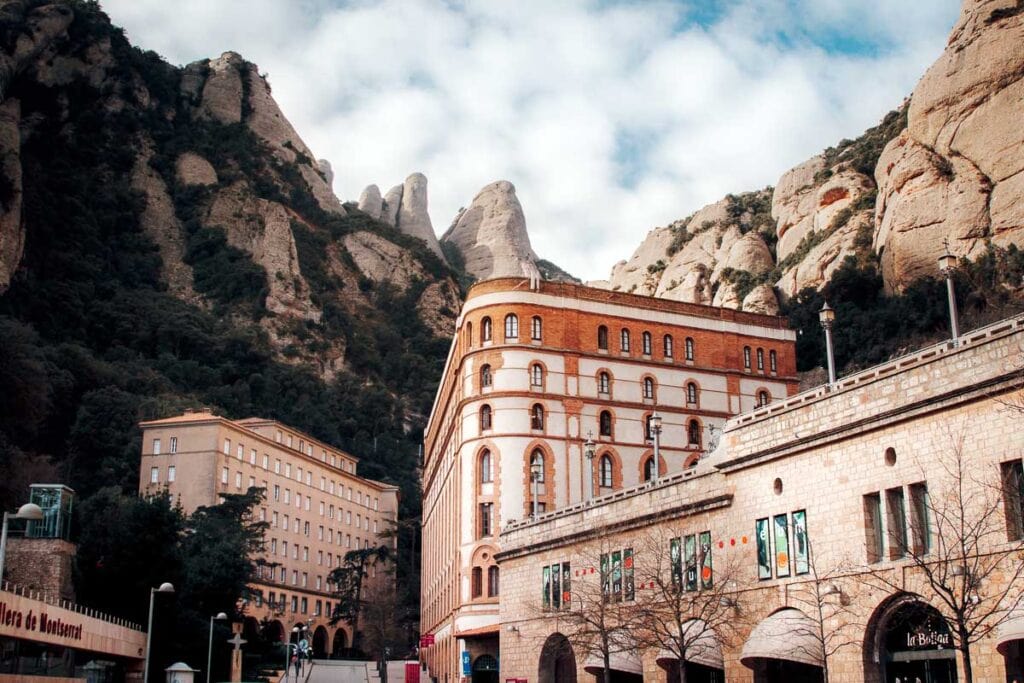 PHOTOGRAPH THE STAIRWAY TO HEAVEN SCULPTURE
The stairway to heaven is a sculpture that's gained a lot of popularity on Instagram and Pinterest. Pictures of influencers climbing the staircase has inspired tons of other visitors to do the same.
There is now a big gate around around sculpture to prevent people from climbing it, and it is prohibited to do so. The Stairway to Heaven looks a lot more impressive in photos than it does in real life, so definitely don't base your trip around seeing it. However, it still makes for a good photo if you can strategically crop the gate out.
To find the Stairway to Heaven sculpture, head toward the car park.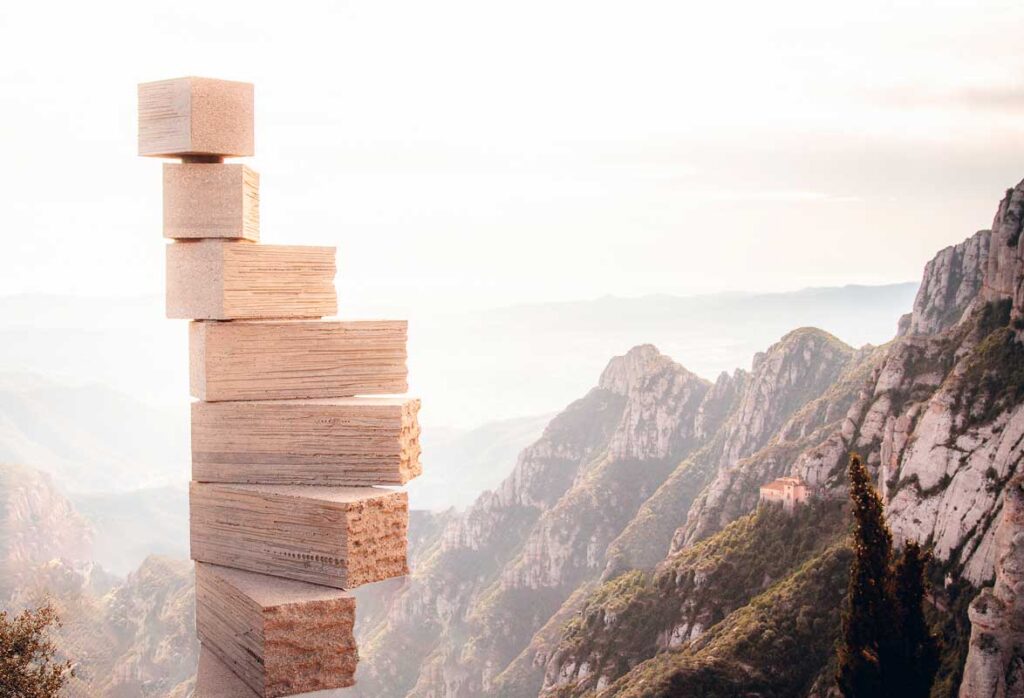 TIPS FOR VISITING MONTSERRAT
GET THERE EARLY
Millions of people visit Montserrat each year and it can get crowded. Aim to get there first thing in the morning to avoid long lines, especially if you want to see the Black Madonna. Alternatively, a later afternoon visit could also work as most tours busses leave after lunch.
SECURE A TRAIN SEAT ON THE WAY BACK
Trains on the way back to Barcelona can fill up quickly, so if you don't want to stand for an hour on the way home, take the Cremellera (Rack Railway) vs the Cable Car when you're heading down the mountain.
The Rack Railway drops you off at the Monistrol de Montserrat train station, which is one stop ahead of the train station where the Cable Car will drop you off. You'll have a much better chance of getting a seat if you do it this way.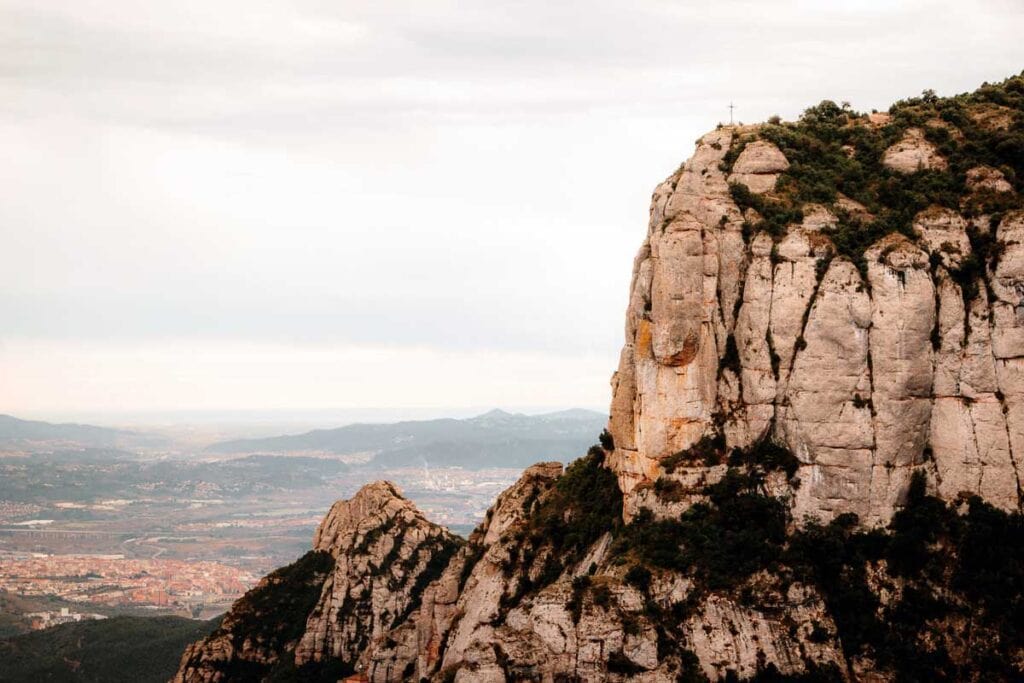 PACK A SWEATER
Due to the high elevation, the weather is significantly cooler at the top of Montserrat mountain than it is at the bottom. Pack an extra sweater to stay comfortable, especially if you'll be visiting during Fall or Winter months.
WHERE TO EAT
There are several food options at the top of the mountain including an upscale restaurant called Restaurant Hostal Abat Cisneros, which is located in a stone dining room and serves traditional Catalan cuisine. There is a mid range restaurant called Montserrat Restaurant which offers great views and a Mediterranean menu.
For more casual food options, check out the Buffet , the Cafeteria or the Plaza Bar which serves more grab and go type options such as sandwiches, pastries etc.
If you choose to eat at one of the restaurants keep in mind that they are designed to cater to tourists, so expect high prices. If I were to visit again, I would probably pack my own lunch to enjoy while taking at the views.
STAY THE NIGHT
Most people visiting Montserrat do so as a day trip, but there are several hotels at the top of the mountain if you would like to spend more time hiking or even rock climbing around the area. Hotel Abat Cisneros is a 3 star hotel and Abet Marcet Cells offers apartment style lodging, both located very close to the Monastery.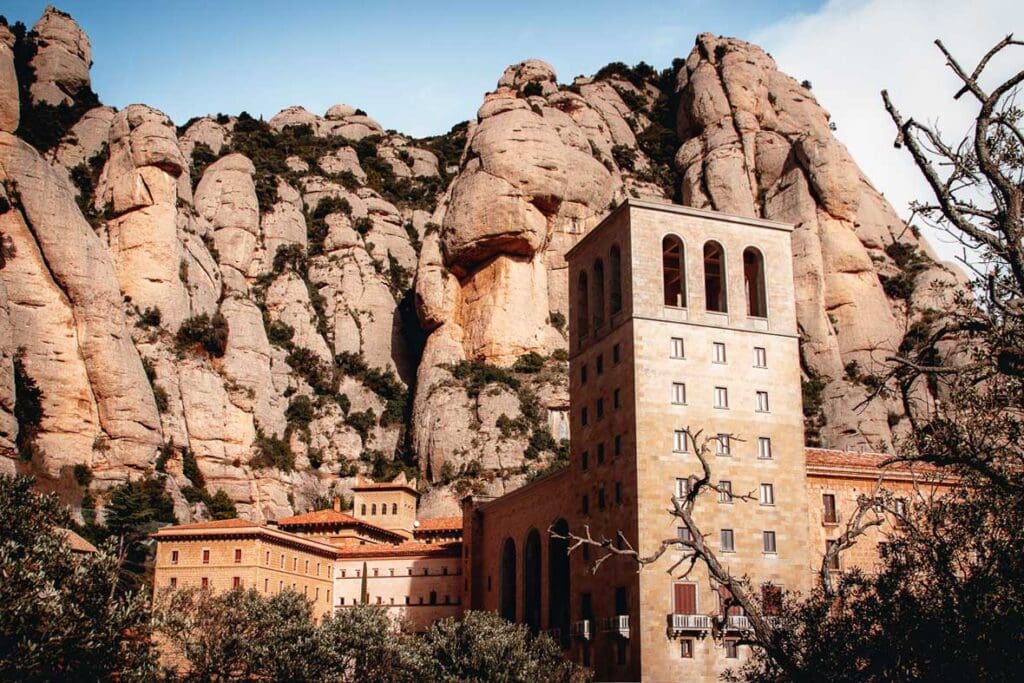 SAVE MONEY WITH AN ALL IN ONE PASS
If you are taking the train to Montserrat from Barcelona, there are several all in one passes worth looking into.
The TRANS MONTSERRAT TICKET includes:
round trip metro tickets to/from Pl. Espanya train station.
a roundtrip train ticket from Pl. Espanya station to Monistrol de Montserrat.
a roundtrip tickets on the cable car or rack railway
unlimited rides on the Sant Joan funicular
entrance to the audiovisual exhibit "Montserrat Behind Closed Doors".
The ticket costs €33.45
The TOT Montserrat Ticket offers everything the Trans ticket does, plus complimentary admission into the museum, and a meal at the self-service restaurant. This ticket costs €52.90.
You can pick up tickets in Barcelona at any of these three locations:
Plaza Catalunya (daily between 8.30am to 8.30pm)
Tourist information point in Barcelona Airport. Terminals T1, T2 and metro L9 lobby (daily from 8.30am to 8.30pm)
Train station Pl. Espanya (daily from 8am to 2pm)
Or purchase them online here (Trans Montserrat) or here (TOT Montserrat).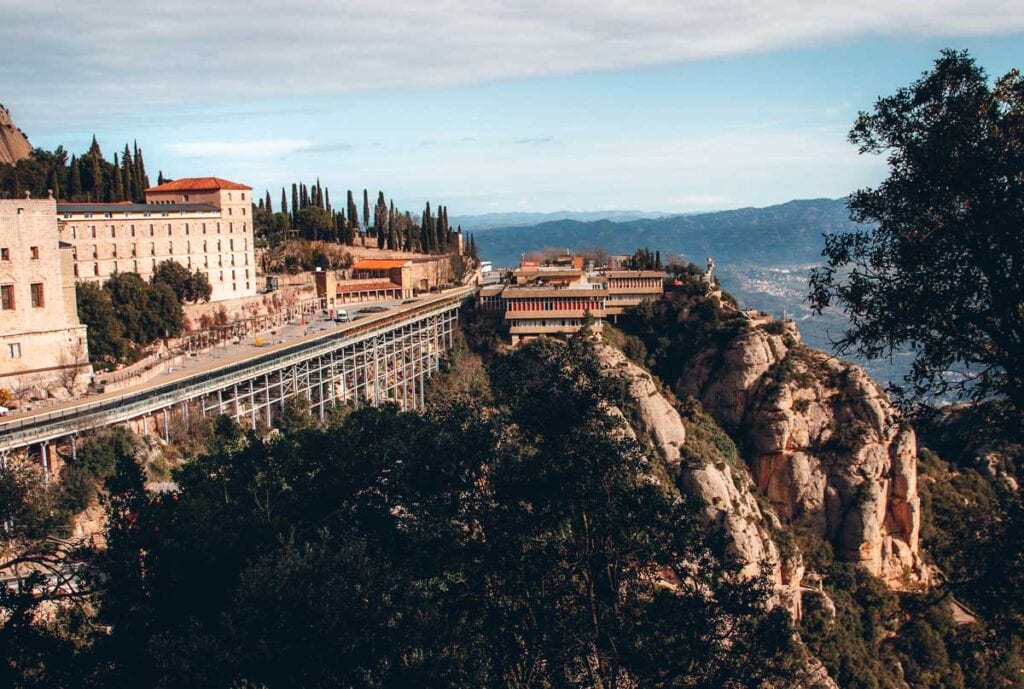 PEOPLE WITH DISABILITIES AND/OR LIMITED MOBILITY
Montserrat is accessible for people with disabilities and/or limited mobility.. with a few exceptions. The Cable Car and the Funiculars are not equipped for wheel chairs or scooters. However, the Rack Railway is fully wheelchair accessible as are the restaurants and museum. There is also a complimentary tram available to assist those with limited mobility.
A BARCELONA TO MONTSERRAT DAY TRIP
Montserrat is only 1-2 hours from Barcelona (depending on your mode of transportation), making a day trip to the famous monastery easily accessible for those wanting a break from the city. It can be reached by a train, bus, guided tour or even via hiking trail.
HOW TO GET FROM BARCELONA TO MONTSERRAT
TRAIN
The most popular way to travel from Barcelona to Montserrat is by train. The train departs daily from The Plaça d'Espanya station (aka Espanya). You will take the R5 train toward Manresa-Baixador and get off at either Monistrol de Montserrat or Aeri de Montserrat.
Trains leave roughly ever hour and the journey to the bottom of the Montserrat is 1hr 15 min. From the final train stops, there are two ways up the mountain: Cremallera (Rack Railway) or Cable Car.
For information on all-in-one transportation ticket packages, see the"Tips for Visiting Montserrat" section above.
GETTING UP THE MOUNTAIN
CABLE CAR
The Montserrat Cable Car will take you from the bottom of the mountain near the train station, to the top of Montserrat, near the Monastery. The Cable Car travels an impressive 16ft per second (5meters per second) at a 45% incline over Llobregat Valley. The journey takes only 5 minutes.
To take the Cable Car, get off the train at the stop Aeri de Montserrat.
| | | |
| --- | --- | --- |
| ADULT | €7.50 one way | €11.50 round trip |
| CHILDREN (ages 4-13) | €4 one way | €6 roundtrip |
| SENIOR (65+) | €6 one way | €9 round trip |
For up to date times and ticket information click here
CREMELLERA (RACK RAILWAY)
If you will be taking the train from Barcelona to Montserrat, the Cremellera (also known as the Rack Railway) is your 2nd option for getting up the mountain. The journey to the top of the mountain takes 15 minutes. You can buy your tickets online, or at the Cremellera station.
To catch the Cremallera, get off the train at the stop Monistrol de Montserrat.

| | | |
| --- | --- | --- |
| ADULT | €6.90 one way | €11.50 round trip |
| CHILDREN (ages 4-13) | €3.80 one way | €6.30 roundtrip |
| SENIOR | €6.20 one way | €10.30 round trip |
For up to date times and ticket information click here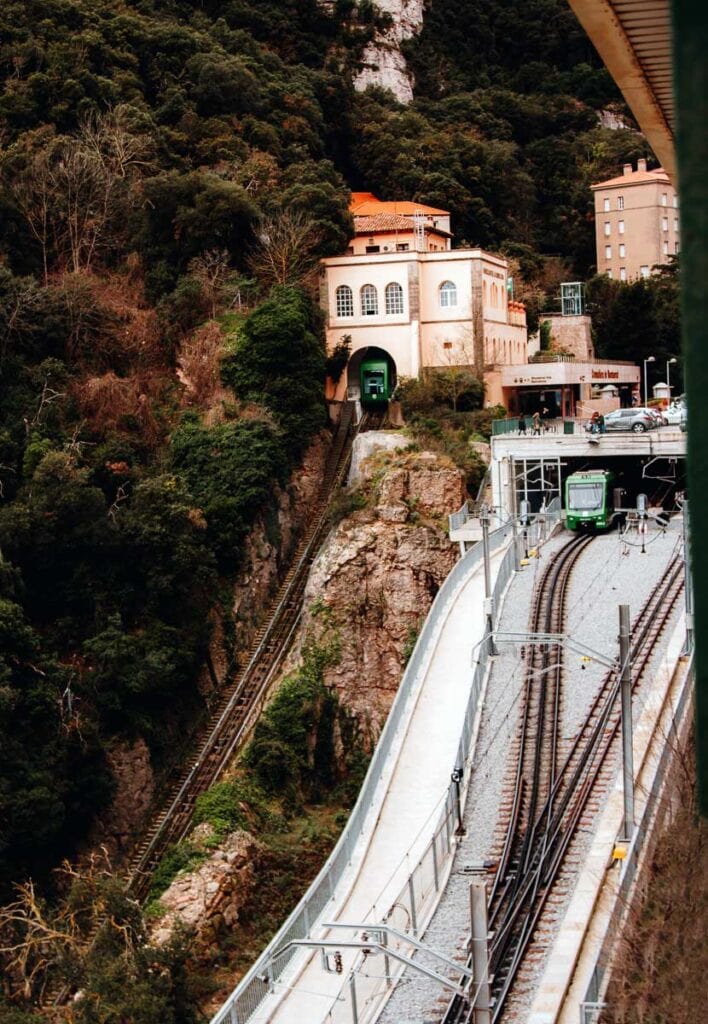 CAR
If you have your own car and are traveling from Barcelona to Monserrat, take the A2 motorway and exit Martorell. Next, take the National Road N II to the junction Montserrat. You can park at Montserrat Monastery for €6.50 (up to 24 hours) or at the Rack Railway station for free.
BUS
If you decide to take the bus, make sure to note that there is only 1 bus departure per day in each direction. The bus departs from the Sants bus station in Barcelona. The journey time is 1hr 25min and costs €5.10 each way.
Barcelona to Montserrat: 9:15AM
Montserrat to Barcelona: 5:00PM (October – May) or 6:00PM (June-September).
Check up to date departure times HERE
GUIDED TOUR
If you'd rather relax and take your day trip to Montserrat while on autopilot, there are several companies offering daily tours.
Personally, I recommend Castle Experience (my review here). Their tour leaves from Plaza de Catalunya in Barcelona and includes a visit to Montserrat, a 3 course traditional Catalan meal and Spanish wine tasting in a castle, plus transportation to and from Barcelona.
FOR MORE INFORMATION OR TO BOOK WITH CASTLE EXPERIENCE, CLICK HERE
For a list of other tour options leaving from Barcelona to Montserrat, click here.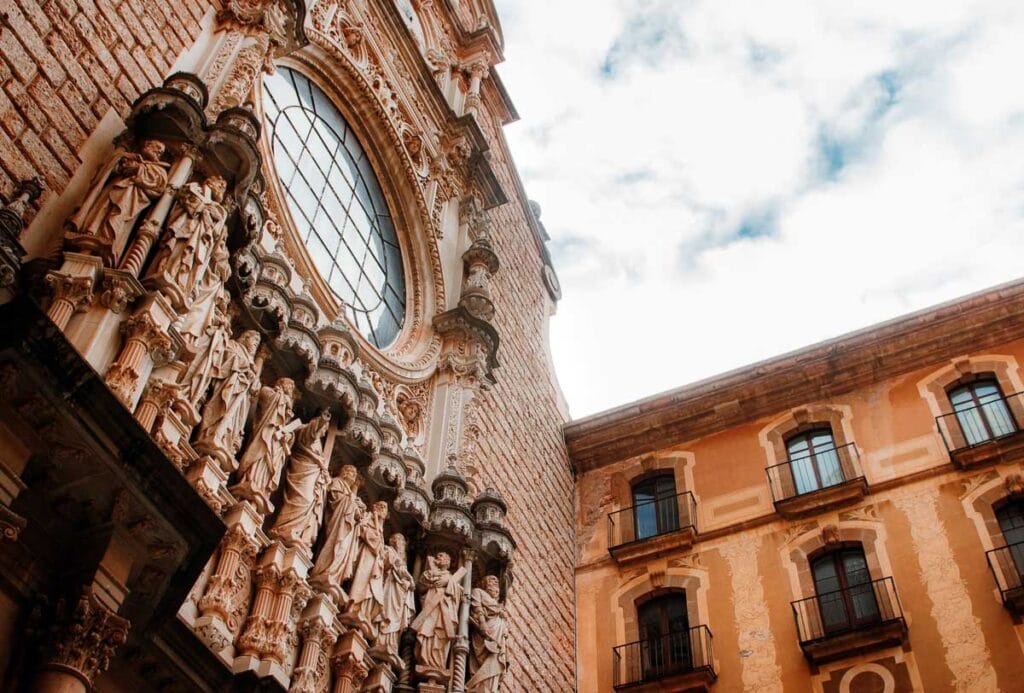 MONTSERRAT VISITOR INFORMATION
HOURS
Montserrat Monastery: 7:00AM – 7:00PM
Information Center: 9:00AM – 1:30PM
Information Center: Monday to Friday: From 9:00AM to 7:00PM / Weekends and Public Holidays: From 9:00AM to 8PM
Montserrat: Monday – Friday: From 10:00AM to 5:45PM / Weekends and Public Holidays: 10:00AM to 6:45PM
Cafeteria: 8:45AM to 6:45PM
La Botiga from 9:00AM to 8:00PM
Buffet from 12:15PM to 4:00PM
Due to Covid-19, hours may fluctuate. Make sure to check the official website for updated times and safety regulations
LOOKING FOR SOME MORE SPAIN INSPIRATION? CHECK OUT THESE RELATED POSTS
INSIDE LA SAGRADA FAMILIA : EVERYTHING YOU NEED TO KNOW
CASA MILA (LA PEDRERA) VISITOR'S GUIDE
BARRI GOTIC : EXPLORING BARCELONA'S GOTHIC QUARTER
PARK GUELL : VISITING GAUDI'S BARCELONA PARK
THE OLDEST COCKTAIL BAR IN BARCELONA : BOADAS COCKTAILS
CAMP NOU STADIUM : WHAT TO EXPECT AT AN FC BARCELONA GAME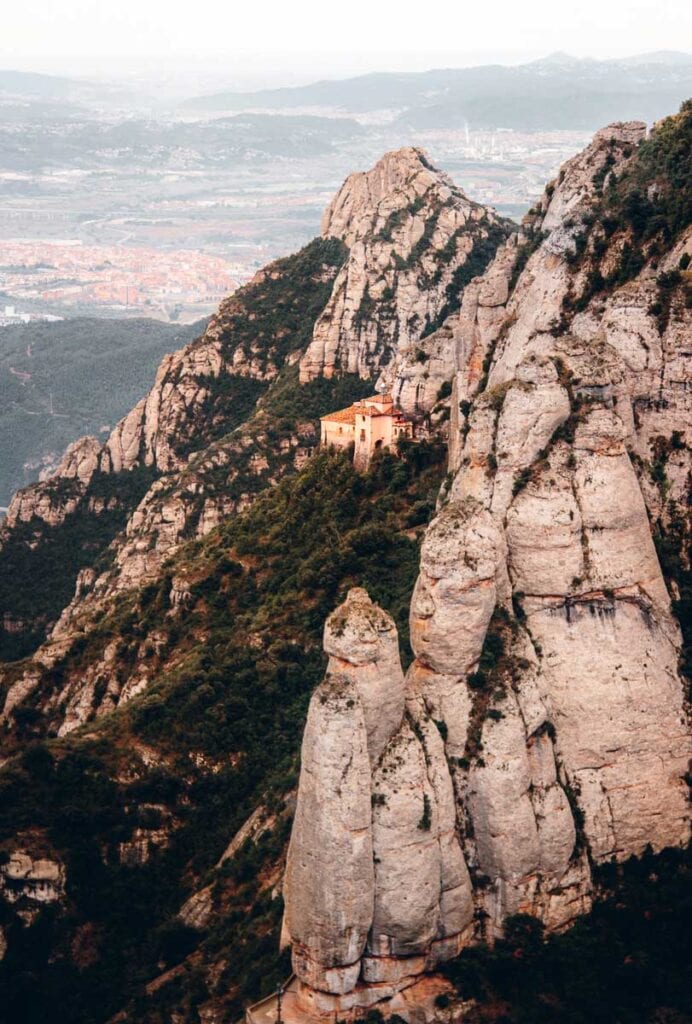 Have you visited Montserrat Monastery in Spain? Leave a comment below!
---
PIN IT : BARCELONA TO MONTSERRAT MONASTERY (SPAIN) – AN EASY DAY TRIP
Disclaimer: The post contains affiliate links .