Vancouver BC is considered to be one of the best whale watching locations in the entire world.
We lucked out and happened to be visiting the city during the tail end of whale watching season, so of course this was at the top of our sightseeing priority list. The very thought of encountering Orcas in the wild makes me want to cry.
We took two different whale watching tours during our time in Vancouver. On our first trip we saw multiple humpbacks but no Orcas so we decided to pick a different company, servicing a different area of the water the next day.
I think the Orcas could sense my desperation because I never got my sighting, but we saw dozens of Humpbacks which made it more than worth it. Keep reading to discover everything you need to know about whale watching in Vancouver, plus an in-depth review and comparison of two top companies, Prince of Whales and Vancouver Whale Watch.
---
RELATED POST: 10 THINGS TO DO IN VANCOUVER BC FOR FIRST TIMERS
---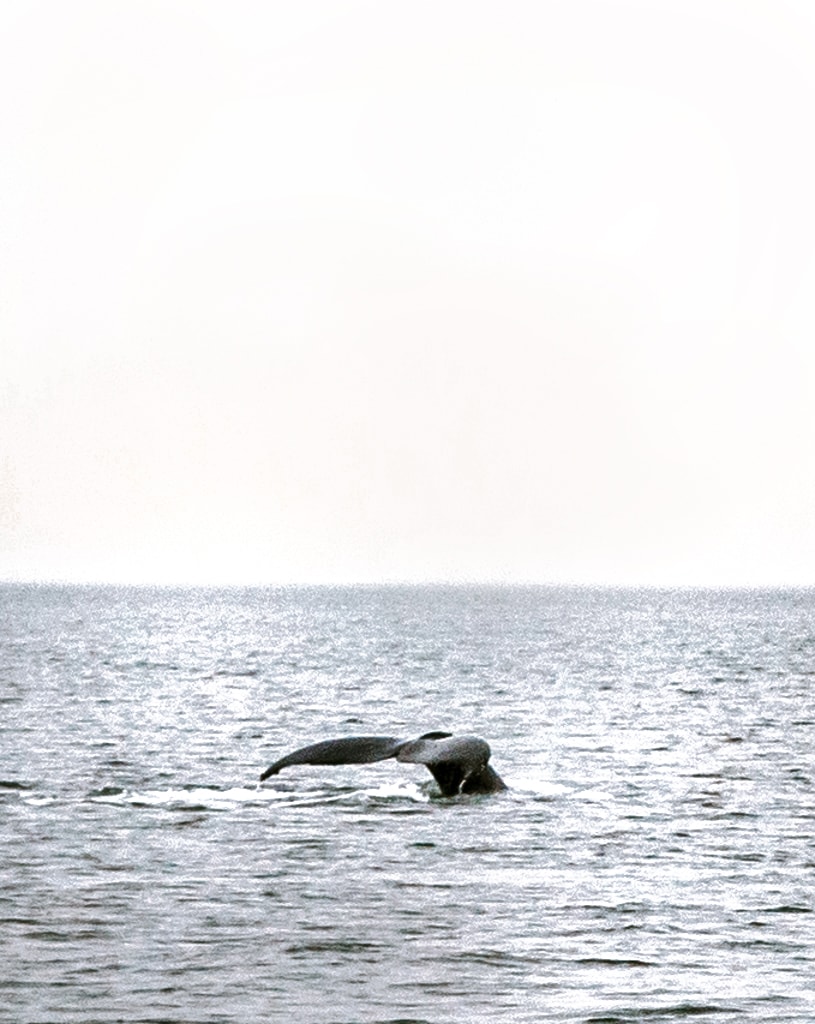 WHEN IS VANCOUVER WHALE WATCHING SEASON?
Vancouver whale watching season begins in March and lasts until October. It's important to note that some companies do not start operating tours until April.
WHAT KIND OF WHALES WILL YOU SEE?
British Columbia is one of the most famous destinations in the world for whale watching. The types of whales passing through these waters include Humpbacks, Grey whales, Minke whales and Orcas (although they are technically not whales as they are members of the dolphin family).
ORCAS (KILLER WHALES)
Orcas aka Killer Whales are the most popular draw for tourists taking a whale watching tour in Vancouver BC.
Two types of orcas exist in these waters: resident Orcas and transient Orcas. Resident Orcas stay year round and do not migrate, while the transient Orcas are just passing through. They make their way from Baja, swimming up the coast to Alaska, stopping in the waters off Vancouver along the way.
Vancouver has two central residents of Orcas, the southern and northern. The best time to spot southern residents is between May and October and the northern residents are more often found around July and August.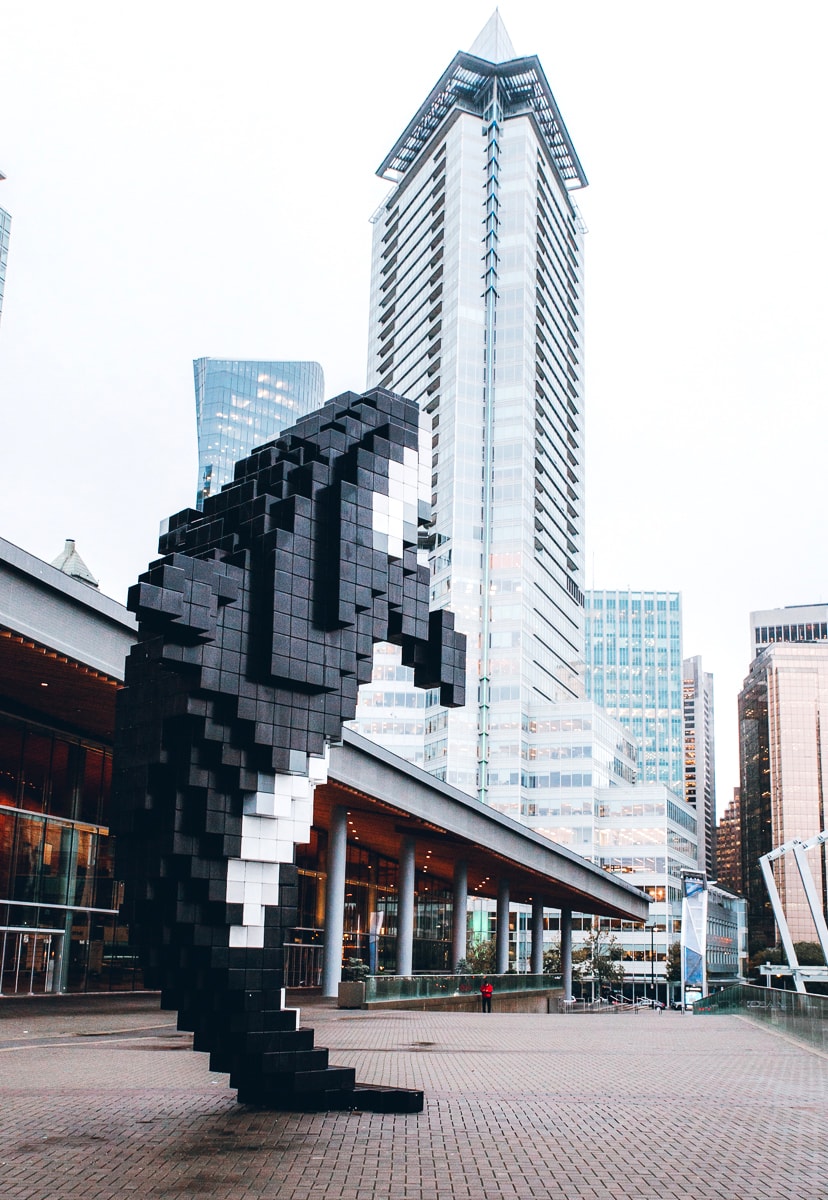 HUMPBACK WHALES
Humpback whales spend their Spring/Summer months feeding in the colder waters of British Columbia, Alaska and Eastern Russia (cold waters produce an abundance of krill and plankton).
After they've built up their fat reserves during the Summer, Humpbacks migrate 3,000 miles to the warmer waters of Hawaii and Mexico to breed and have their babies.
Over the span of 2 different whale watching tours, we saw dozens of Humpback whales feeding off the coast of Vancouver. It was interesting to see how slow and docile they are in colder waters. My sister lives in Oahu and always sends me videos of them during the Winter, jumping around and being playful.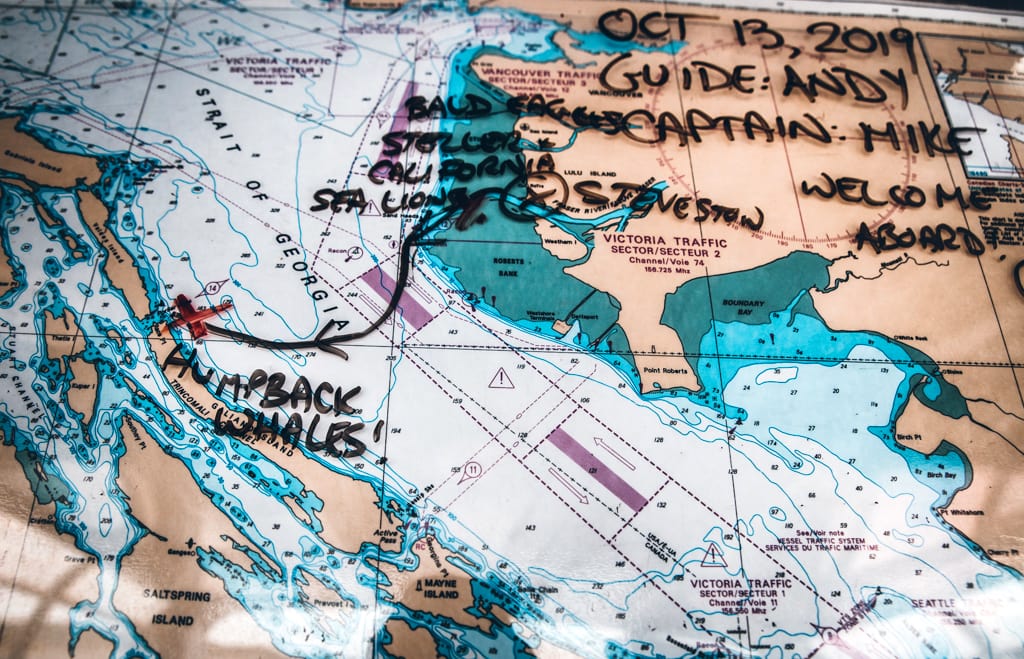 GREY WHALES
Grey whales undertake the longest migration out of any other mammal in the world. Each year, they travel 12,000 miles round-trip from Arctic waters to the warm lagoons of Baja.
Each spring, around 20,000 Gray Whales travel pass through British Columbia on their way to their main feeding grounds in the Bering Sea and Chukchi Sea.
MINKE
Minke whales can be found in Vancouver's waters between May and October. They are the smallest species of baleen whale and there is not a ton of information known about them.
Like the Humpbacks and Grey whales, Minke whales also migrate to colder waters in the Spring/Summer, but the specifics of their migration are not very well documented.
Minke whales do not spend a lot of time on the surface, so a sighting is slightly more rare than the other whales you may see in this area.
---
RELATED POST: 20 VANCOUVER PICTURES TO INSPIRE YOUR NEXT VISIT TO CANADA'S WEST COAST
---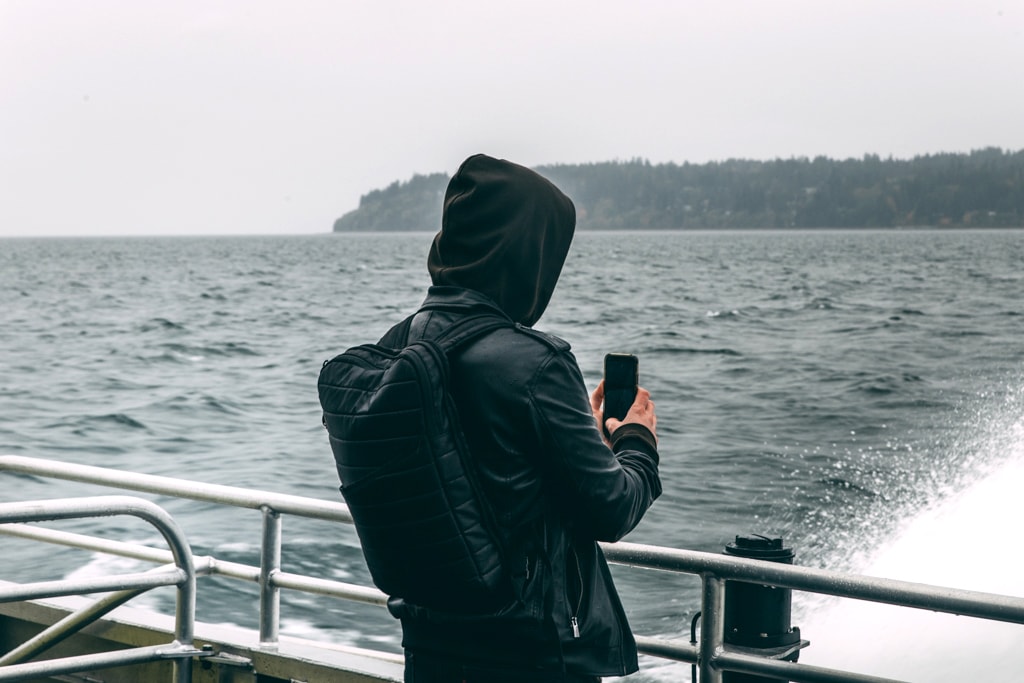 WHAT TO WEAR/BRING ON YOUR VANCOUVER WHALE WATCHING TOUR
Dressing in layers is going to be the best strategy when choosing what to wear on your whale watching tour. Even if the weather is warm on land, it can get really cold and windy out on the water. As usual, I was underprepared and wished I had packed a few more layers.
If it's a warm and sunny day, I recommend a light jacket or sweater to throw on top of your outfit. If it's rainy or cloudy, add a windbreaker or some type of water resistant jacket (preferably with a hood) as your outer layer. It started pouring rain on our second tour and we got pretty wet but we didn't want to go inside because we were in the middle of a pod of humpbacks.
Be sure to wear comfortable, flat shoes as it is bumpy on the water and you'll need solid footing. If you're the type of person to get cold easily, I also recommend packing gloves and/or a scarf to stay warm.
TIP: Check with your tour operator as some of them offer complimentary jacket rentals. At Vancouver Whale Watch, they had jackets, overalls, gloves and hats available for use. It's helpful if you'll be sightseeing all day and don't want to carry around all your warm layers after your tour.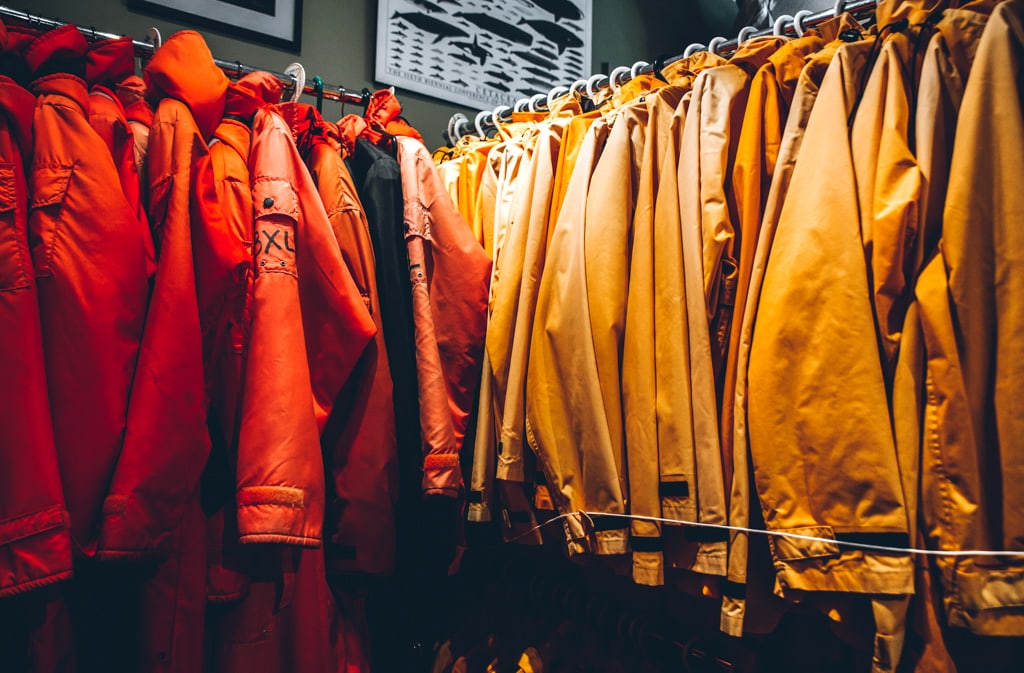 WHAT TO BRING
CAMERA If you're a photographer, I also recommend packing a zoom or telephoto lens. Due to whale watching regulations, boats must keep a certain distance from the whales at all times. I really wished I owned a telephoto lens because there were so many opportunities to get some great shots.
SUNSCREEN Even on a cloudy day, sunscreen is a must if you're going to be out on the water for hours at a time.
SUNGLASSES If the sun is out, the glare on the water can be super bright.
CASH To tip your guides and/or the shuttle driver.
DRY BAG OR CAMERA BAG Many tour companies will operate rain or shine, so be sure to check the weather before you go. When traveling to rainy destinations, I always pack a dry bag to protect my camera, phone and personal belongings. I also use these plastic bags to cover my camera, and they came in very handy when taking photos of the whales during a particularly rainy hour.
SNACKS OR A PICNIC LUNCH Some tours offer snacks and drinks, but the selections are limited. You will most likely be on the water for 3-5 hours, so it's nice to have something in case you get hungry.
BINOCULARS Due to whale watching regulations, boats must keep a certain distance from the whales at all times. While you can still get an excellent view without binoculars, I found myself wishing I had packed some so that I could see even better.
MOTION SICKNESS MEDICATION If you're prone to sea sickness, it's better to be safe than sorry. Getting sick while out on the water could ruin your whole tour.
VANCOUVER WHALE WATCHING // A REVIEW OF TWO TOP COMPANIES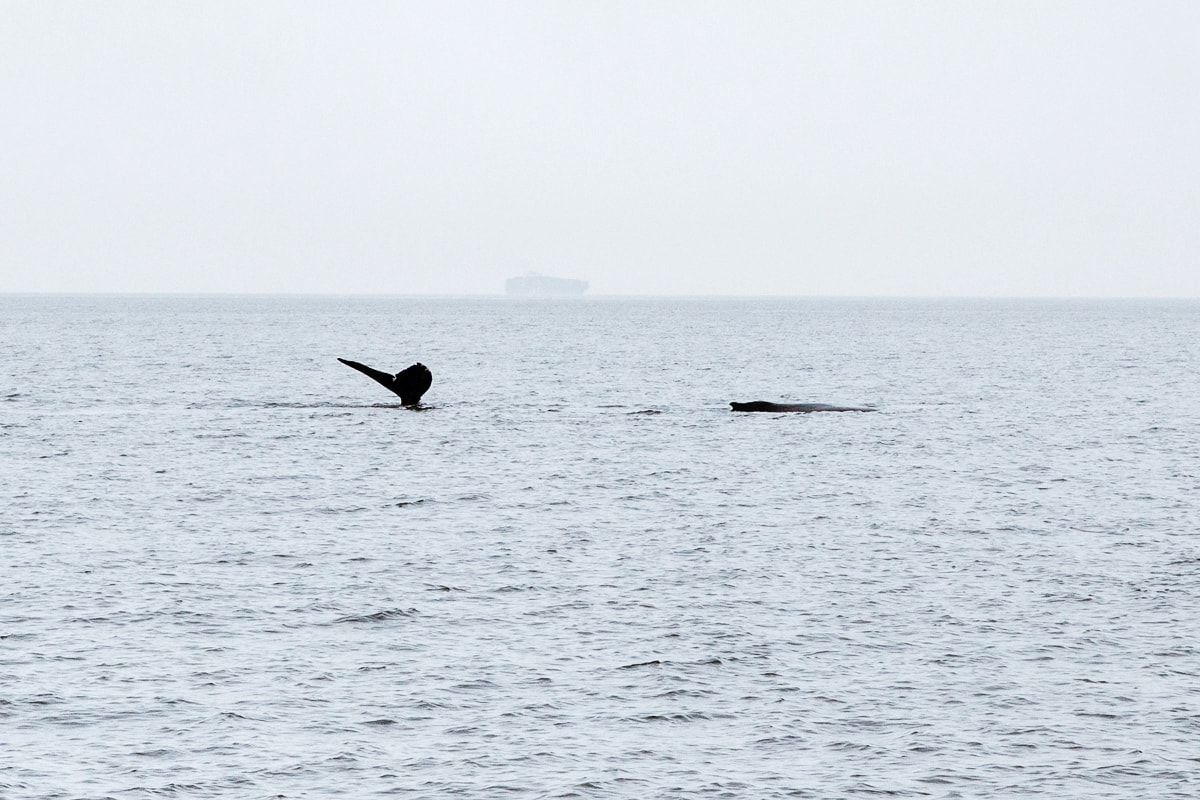 PRINCE OF WHALES
THE LOCATION
Prince of Whales has 3 different departure locations in British Columbia: Vancouver, Victoria and Telegraph Cove on Vancouver Island.
The Vancouver departure location leaves from Granville Island which makes it super convenient for visitors who are staying in the popular downtown area.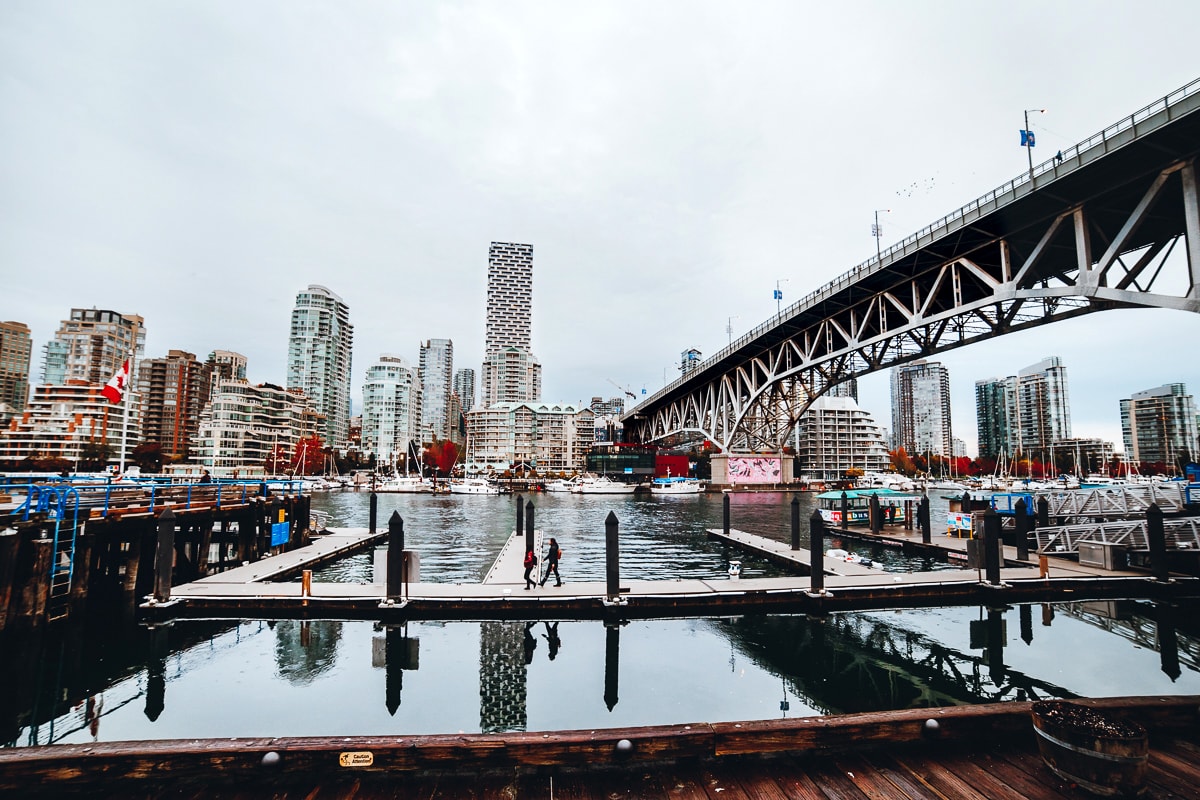 THE BOATS
Prince of Whales has several different types of boats depending on which whale watching adventure you sign up for.
One of their most popular tours is the half-day trip from Vancouver's Granville Island, which utilizes their Cruiser boat. The Cruiser accommodates up to 74 people, is 2 stories tall and includes an indoor seating area, on-board restrooms and a small snack bar.
Compared to the smaller zodiac style boats at Vancouver Whale Watch, I preferred the Cruiser for this particular type of trip. Since it was rainy and cold during our stay, having a larger boat made for a more comfortable, less bumpy ride on the water. It was also nice to have the option to go inside and warm up in between whale sightings.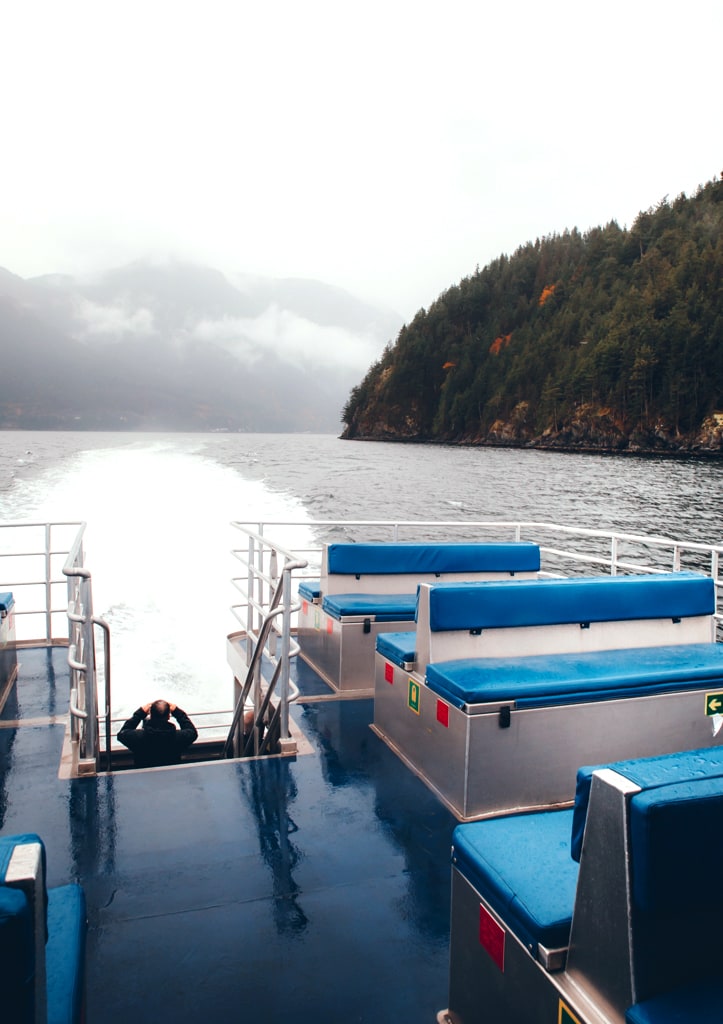 Complimentary tea, coffee and hot cocoa is available, as well as a small selection of snacks (for purchase).
In addition to the Cruiser boats, Prince of Whales also has Catamaran boats, which are larger than the Cruiser and are meant for longer day tours. The Catamaran fits up to 95 guests and has 3 stories of viewing platforms.
Last but not least, you can also choose to sign up for a whale watching tour on their smaller zodiac boats. The zodiacs fit up to 12 people and put you almost at sea level viewing distance.
THE GUIDES
On the half-day whale watching adventure, 3-4 marine certified naturalists will be on board with you to guide the tour and answer questions.
I have been on a lot of whale watching trips and the guides at Prince of Whales are the best I've ever come across. They were not only extremely well educated about the wildlife in the area but they genuinely seemed just as excited as the guests (and in some cases even more excited).
It was obvious that the naturalists are passionate about what they do which made it even more fun to listen to them. We learned a ton of unique facts and they kept everyone engaged and informed throughout the whole trip.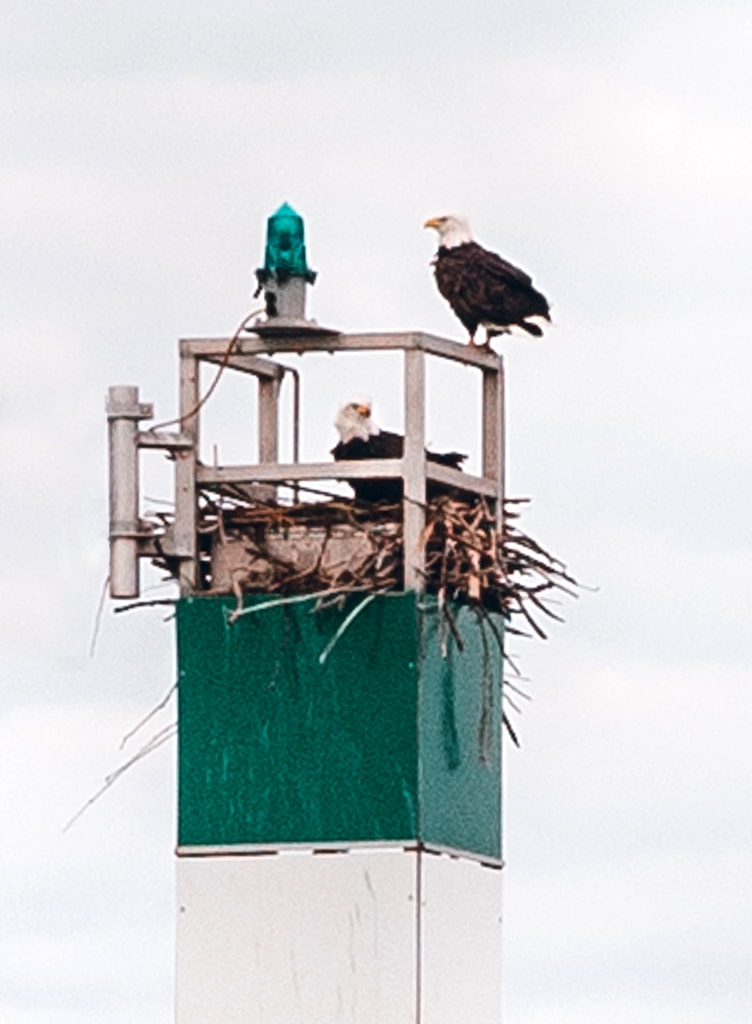 THE TOUR
When you start your half-day Vancouver whale watching tour with Prince of Whales, you'll leave from False Creek and make your way into the Burrard Inlet. The guides, captain and marine biologist on-board started looking for the whales immediately and within 15-20 minutes, we had our first sighting.
The first group of whales that we saw were Humpbacks, and there were 6-7 of them surrounding the boat in all different directions. The captain stopped the motor and we floated alongside the whales for about 20-30 minutes. It was incredible to have that amount of time to just witness and watch them peacefully swim and feed.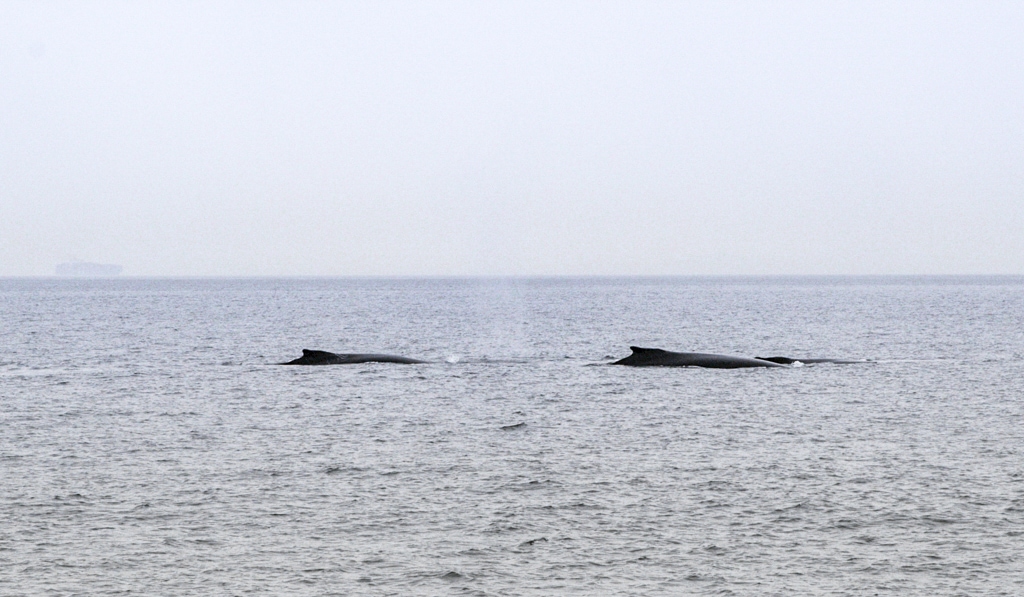 The naturalist on board pointed out that one of the whales was sleeping on the surface of the water while another one swam slowly next to her. She said this was very unusual but seemed super excited that we were able to witness that type of behavior.
After spending a long time with this group of whales, the captain started the motor back up and continued along the route. Eventually we found a few more humpbacks that we spent some time with, but not nearly as long as the first group.
After the whale sightings were over, we took a long but beautiful ride back to Granville Island. On the way back we spotted some Dall's Porpoises swimming alongside the boat, as well as sea lions and 2 bald eagles.
---
RELATED POST: CAPILANO SUSPENSION BRIDGE PARK VANCOUVER // A FIRST TIMER'S GUIDE
---
CONSERVATION
Anytime I participate in wildlife tourism I make sure to do my research and ensure that no animals will be harmed or exploited as a part of the activity. I was happy to find that Price of Whales is committed to safe, environmentally conscious whale watching.
They are a founding member of the Pacific Whale Watch Association and adhere to all "Whale Wise" viewing guidelines for respecting orcas and humpback whales in the wild. They also do not use any form of sonar to track them.
In addition to respecting the whales in the wild, the company also donates 1% of their annual sales to local conservation initiatives.
---
RELATED POST: THE LISTEL HOTEL // AN ECO FRIENDLY BOUTIQUE HOTEL IN DOWNTOWN VANCOUVER
---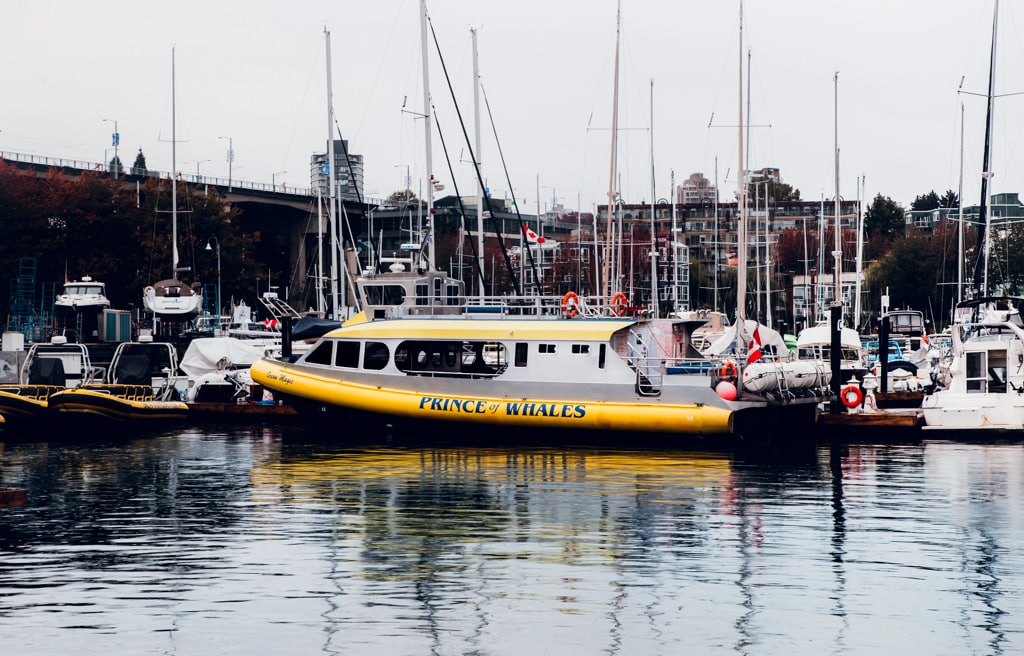 PROS
Easy to get to the departure location on Granville Island.
Larger, more comfortable boats.
Restrooms on board (Catamaran & Cruiser boats).
Complimentary coffee, tea and hot coca.
Multiple guides/naturalists on board (Catamaran & Cruiser boats).
Ethical and adhere to all "Whale Wise" viewing guidelines.
The Year-Round Whale Sighting Guarantee states that if you do not see whales, you can join another whale watching tour. This guarantee is valid for a lifetime.
CONS
Bigger boats = more people. When we saw our first group of whales, everyone was so excited that they all crowded onto the front of the boat making it hard to see. After people settled down, they spread out a little more but we didn't have that issue on the zodiac boats at Vancouver Whale Watch.
During our visit it was cold and rainy but it was hard to see the water from the heated inside seating area due to the windows being foggy and scratched.
PRICE
The Prince of Whales half-day tour starts at $170 CAD ($121USD) per person. They offer discounts for children.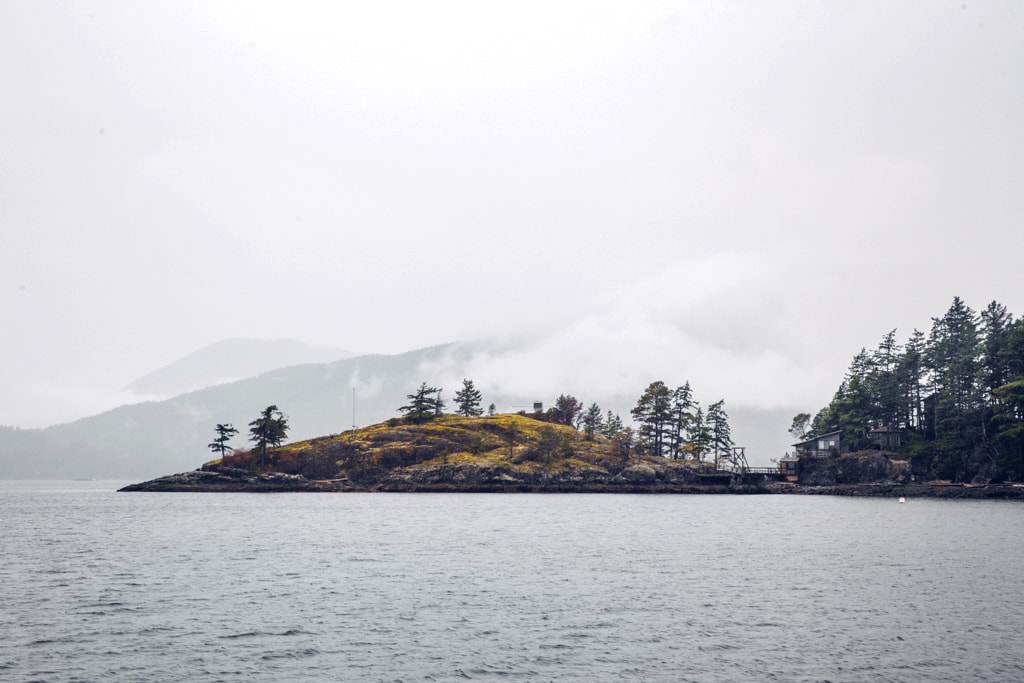 VANCOUVER WHALE WATCH
THE LOCATION
Vancouver Whale Watch is located in Richmond, which is a 40 minute drive from Downtown Vancouver. This location is not the most convenient if you are staying in the city center but they do offer a shuttle service ($15CAD per person) which can take you to and from downtown.
FUN FACT: Vancouver Whale Watch is located in a fishing village in Richmond called Steveson which is the filming location for the TV series Once Upon a Time. If you watch the show you'll recognize it as Storybrooke.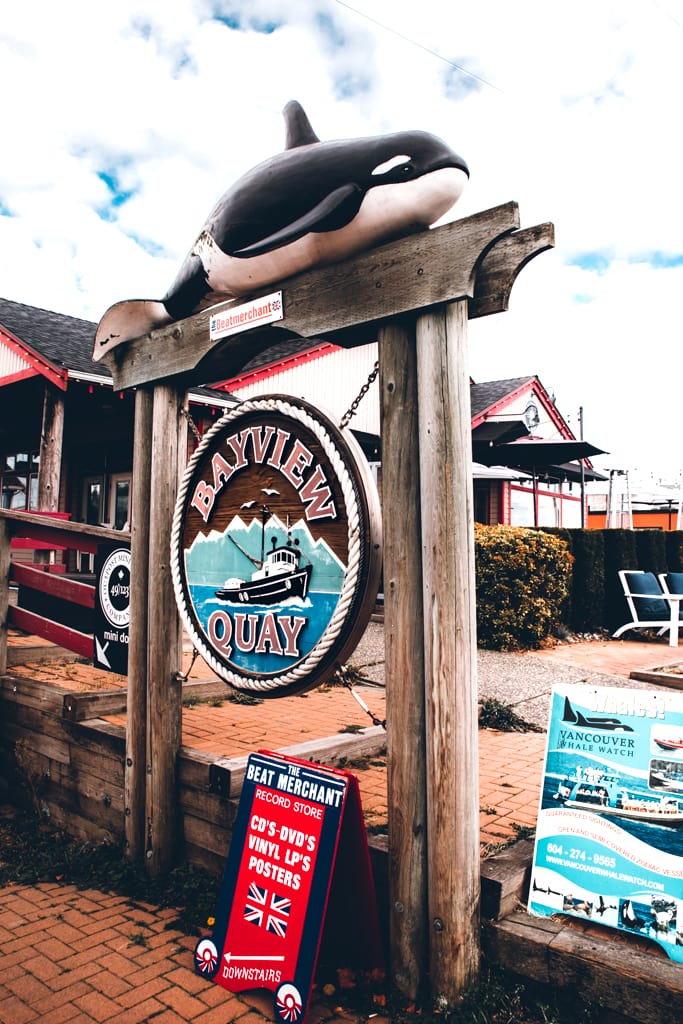 THE BOATS
The boats at Vancouver Whale Watch are semi-covered and open air zodiac style vessels which were a lot smaller and closer to the water than Prince of Whales' Cruiser boat. Because of the rainy weather during our trip, the waters were rough and it was a very bumpy ride leaving and coming back to the harbor.
The smaller boats did allow for us to have a more up and close view. At one point, one of the humpbacks blew air through their blowhole and we were so close to the water that we could smell the whale's "breath" (disgusting btw).
All of the zodiacs have a basic toilet on board.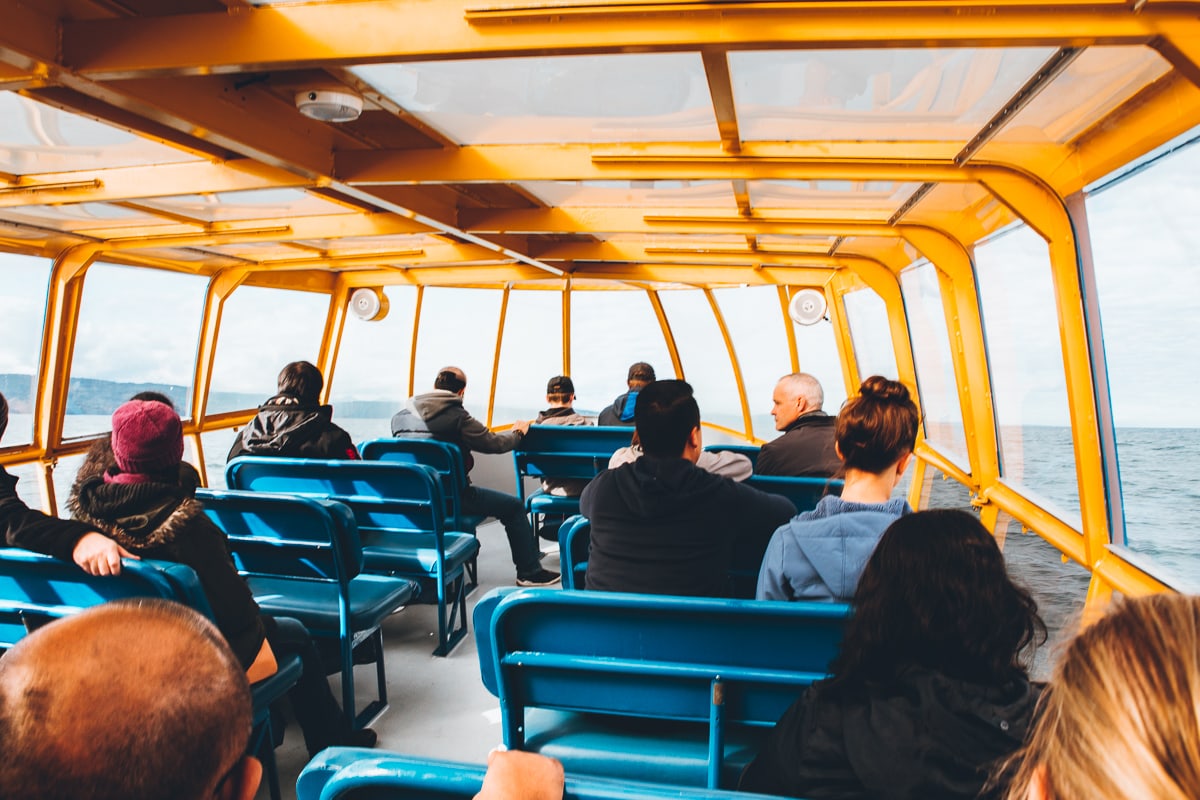 THE GUIDE
We had 1 guide/naturalist on board during our tour and she did a great job. She was very knowledgeable about the wildlife and the whales and taught us a lot during the trip. Since the zodiac boats hold much less people than the large cruiser boat at Prince of Whales, interaction with the guide was a little more personal and laid back.
THE TOUR
We opted to use Vancouver Whale Watch's shuttle in order to get to Richmond so the driver picked us up at Canada Place in Downtown Vancouver and drove us to their offices.
The shuttle driver was not only hilarious but he also gave us a small tour of the city on the way. I learned more interesting facts from him than I did on the Hop-On Hop-Off Tour I took later in our trip.
After arriving at offices, we checked in and they told us we could borrow any type of warm weather gear that we wanted. They had racks of windbreakers, gloves and hats for the guests which was a very nice touch because we were not prepared for how cold it was on the water.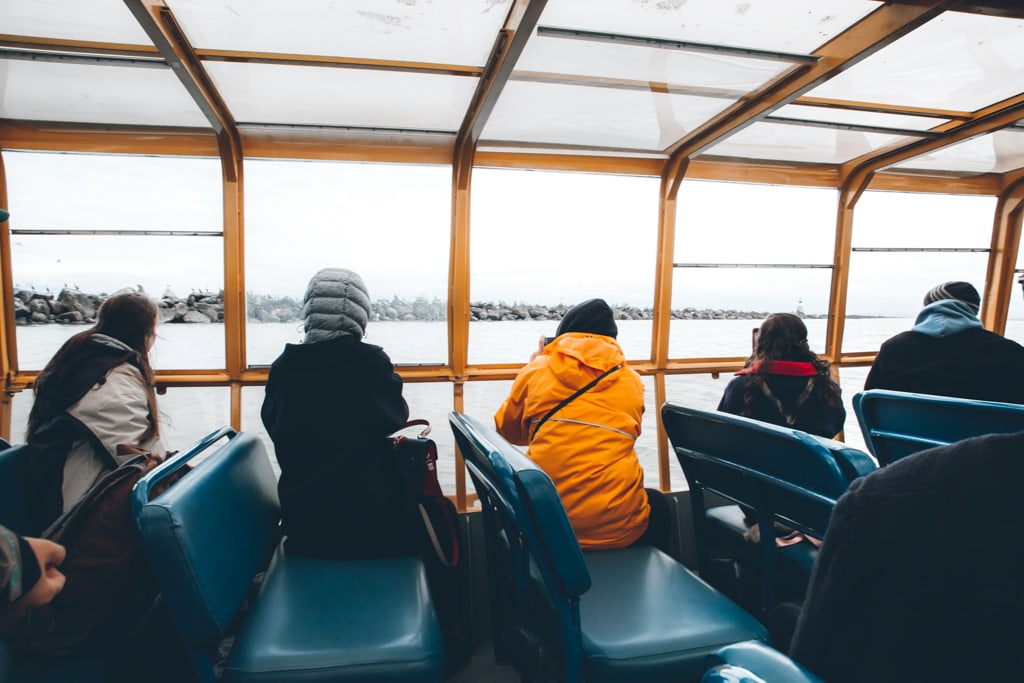 After boarding the zodiac, the captain led us out of the harbor, taking several stops to look at wildlife on the way. We spotted sea lions as well as 2 bald eagles in their nest.
Once we hit the open water it took us about 30 minutes to find our first whale. It was a Humpback and we spent about less than 10 minutes with it before moving on to look for more. Throughout the course of the tour we spotted 4-5 humpbacks, spending 5-10 minutes with each one.
After parting ways with the last Humpback, the captain took us on a different route back to the harbor. It was a long drive but the views and scenery were really pretty.
Once you are back on land, they give you 30 minutes to use the restroom or walk around the fishing village, then the shuttle driver takes you back to Downtown Vancouver.
---
RELATED POST: VANCOUVER FOOD GUIDE // 9 DOWNTOWN RESTAURANTS AND COFFEE SHOPS TO TRY
---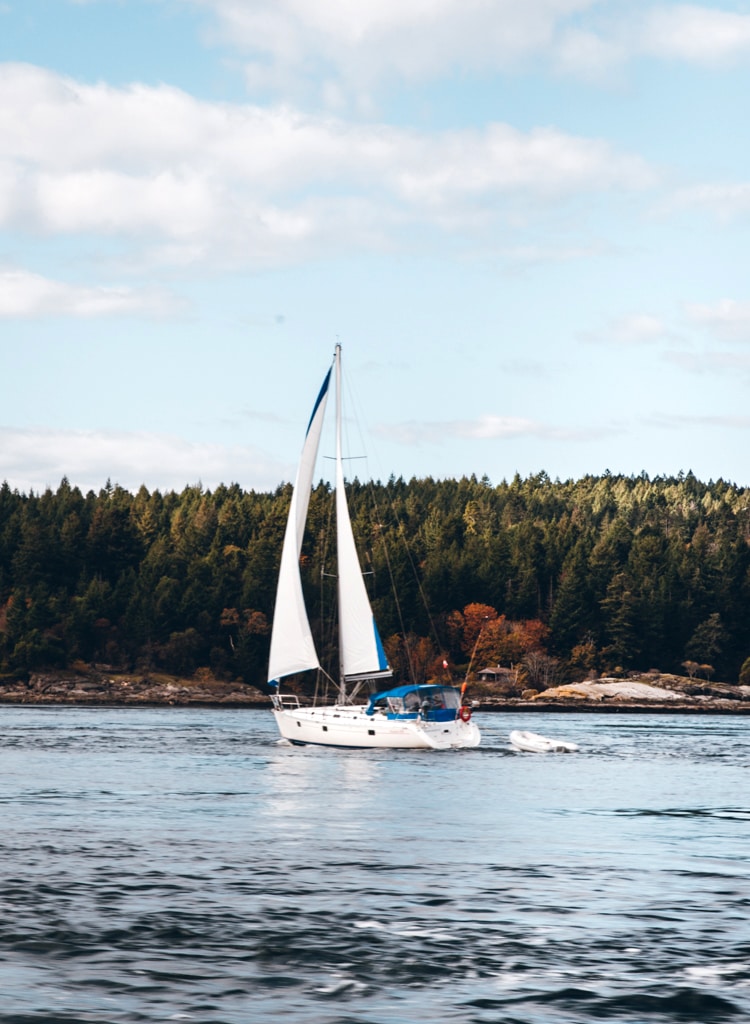 CONSERVATION
Like Prince of Whales, Vancouver Whale Watch takes a conservationist approach to their operation. They have been members of the Pacific Whale Watch Association since 1999. The PWWA supports a grant that funds scientific research on the Southern Resident Orcas and they have developed the strictest guidelines in the world for watching Orcas.
During our tour, our guide and the captain were very conscious of how close we were to the whales as well as how long we were staying in their presence. When several other whale watching boats approached one of the Humpbacks we were watching, they decided to move on and look for a different whale as to not stress it out.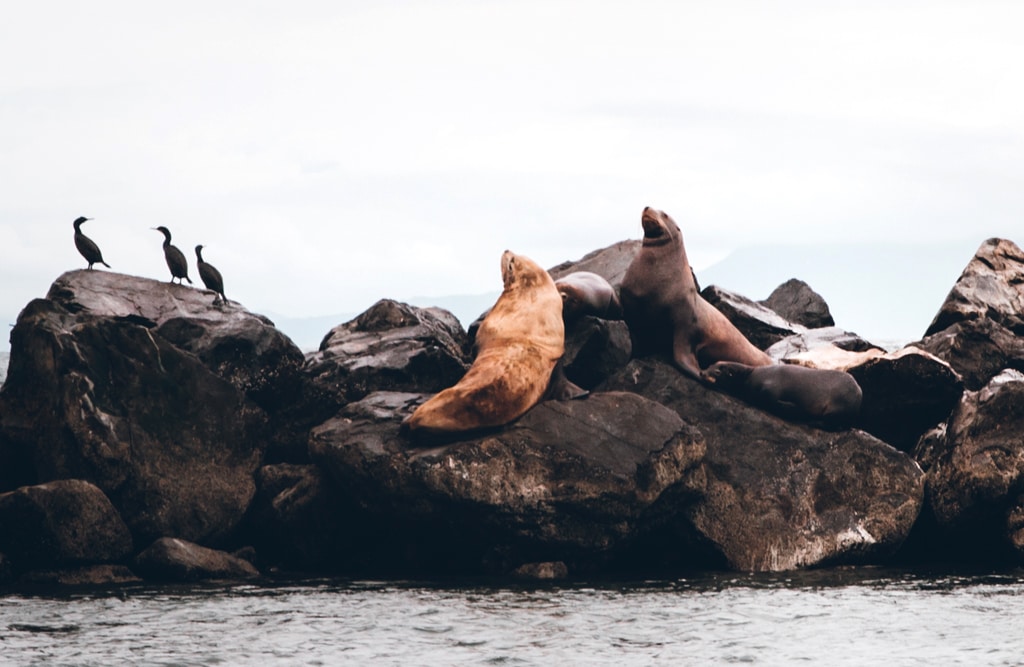 PROS
Smaller, more personal group setting.
They offer complimentary rentals of jackets and gloves
Ethical and adhere to all "Whale Wise" viewing guidelines.
Friendly, knowledgeable guides and crew
If you do not see whales on your tour, you can come back and take another tour for free
CONS
Somewhat far from Downtown Vancouver
The smaller zodiacs can make for an bumpy ride if the weather is bad
PRICE
The Vancouver Whale Watch half-day tour starts at $145 CAD ($103 USD). They also offer discounts for students seniors and children.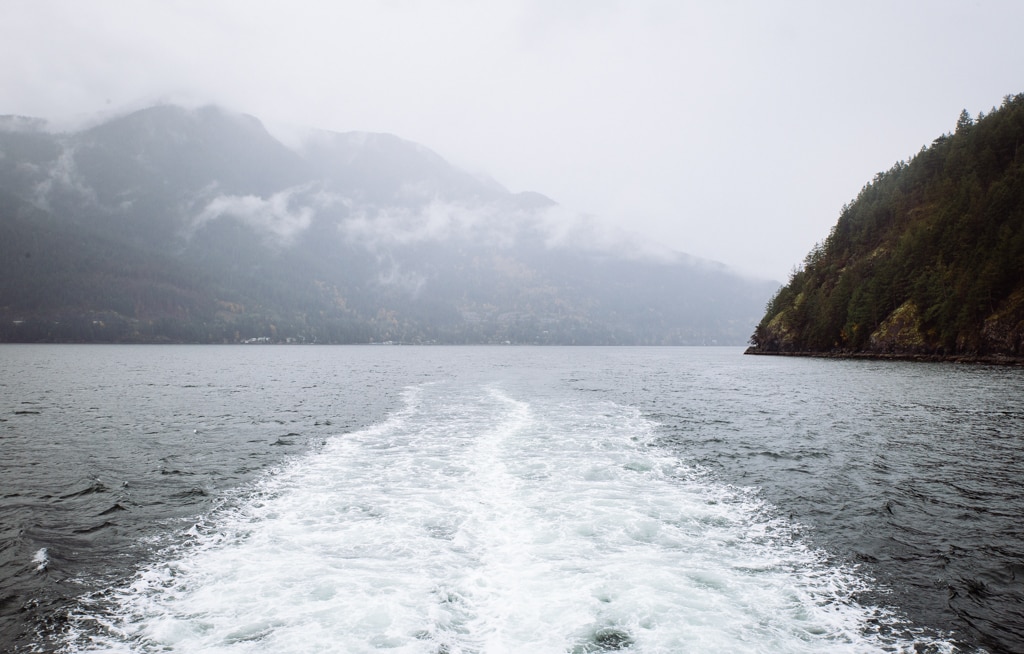 WHICH COMPANY TO CHOOSE?
The tours from Prince of Whales and Vancouver Whale Watch were both fantastic and I would highly recommend either company.
While I liked the smaller group setting that Vancouver Whale Watch offers, if I had to choose a whale watching tour, I would go with Prince of Whales.
The departure location was more convenient and the larger boat made for a smoother ride. Also being elevated from the water allowed for a bit of a better vantage point, especially when viewing whales in the distance.
Both companies take you on an long ride back to their harbors and I thought that the scenery was a little prettier in the area that Prince of Whales operates.
---
RELATED POST: VANCOUVER TIPS FOR FIRST TIMERS // EVERYTHING YOU NEED TO KNOW BEFORE YOU GO
---
---
PIN IT: VANCOUVER WHALE WATCHING // EVERYTHING YOU NEED TO KNOW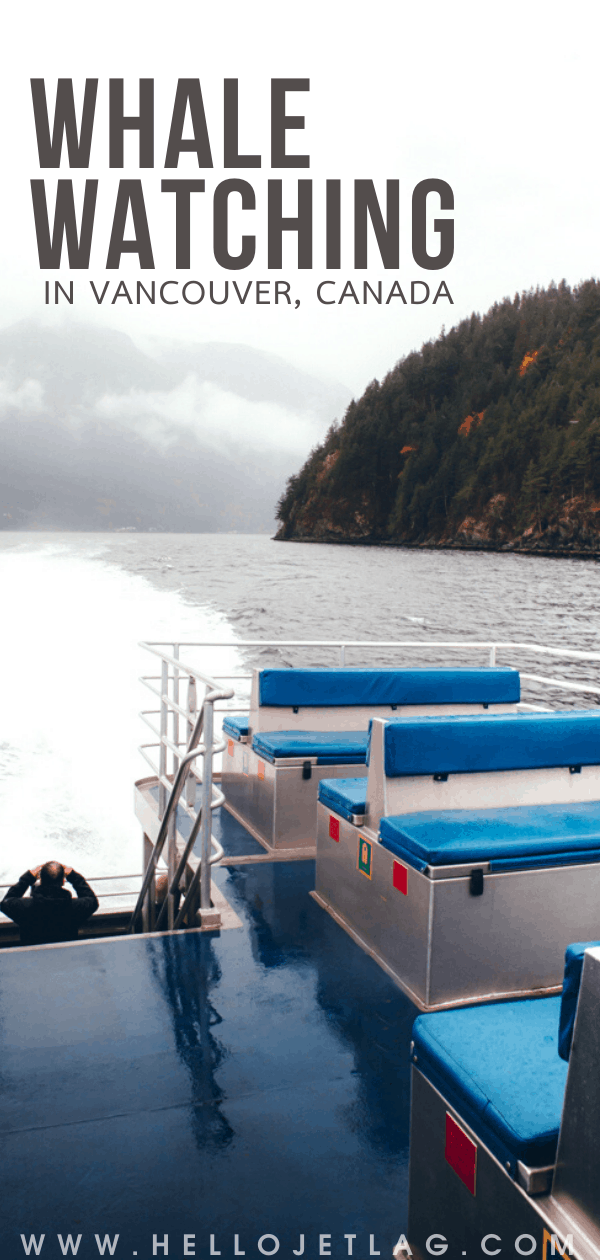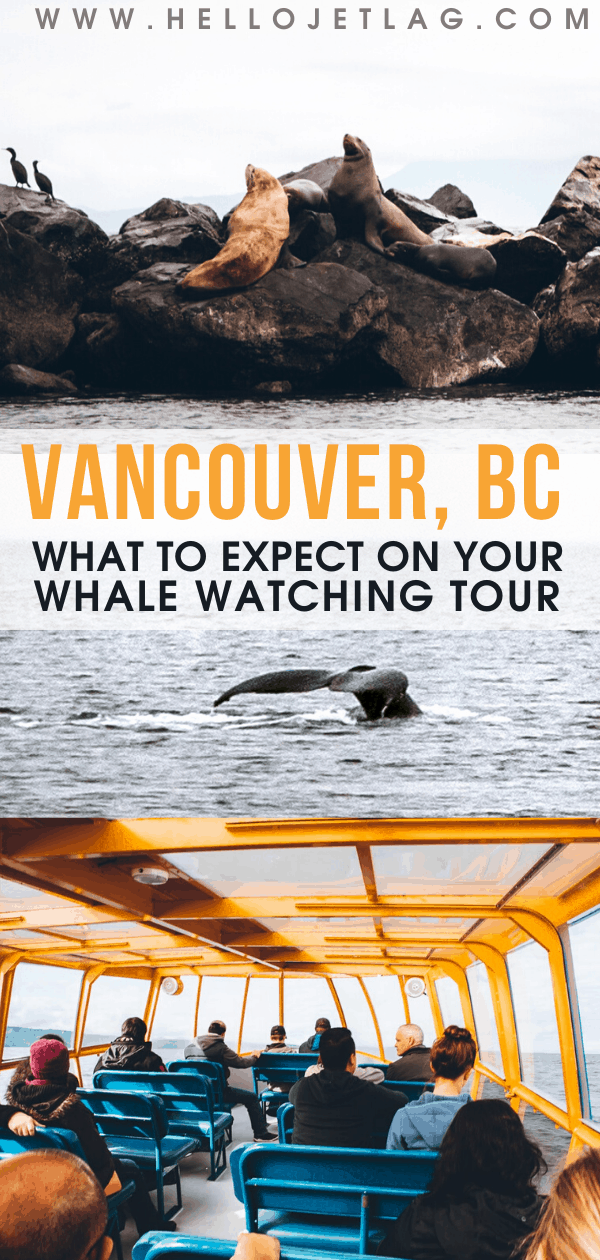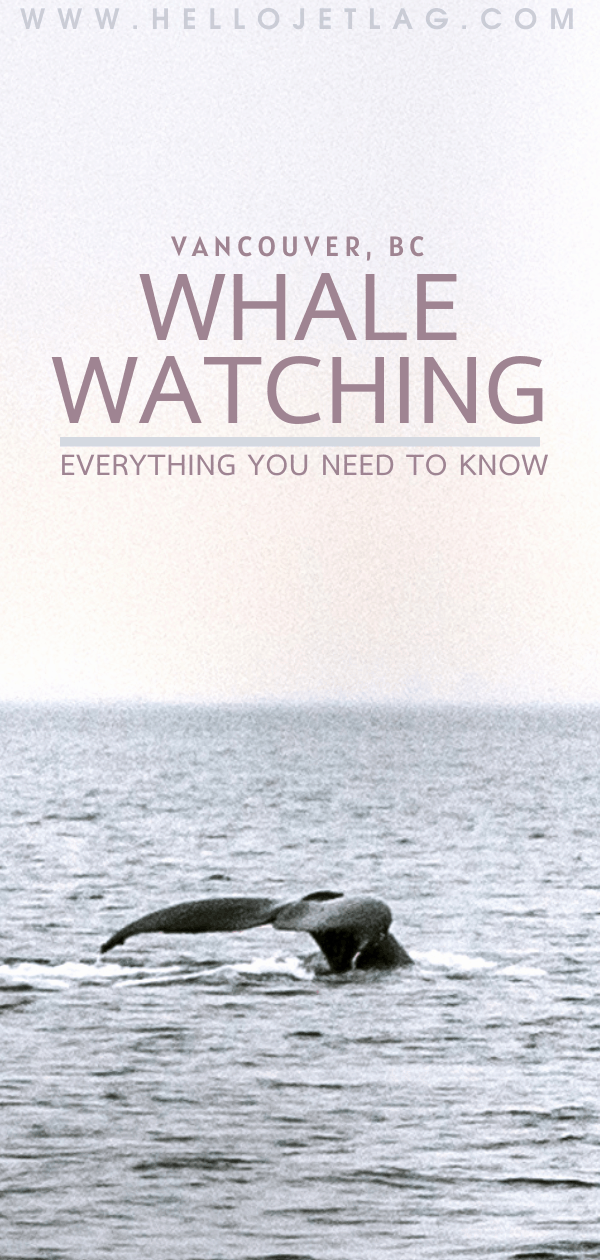 DISCLAIMER: This post is not sponsored. Links in this post are affiliate, which means if you click them and purchase something, I receive a small commission.