One afternoon during a particularly rough month when my anxiety was running high, I thought to myself "I need to get away," and the only place that seemed secluded enough was the middle of the Pacific Ocean. In a beautiful alignment of events, my sister called the next day and asked if I wanted to join her on the Celebrity Eclipse for a transPacific cruise. While a floating city filled with thousands of people was not exactly what I had in mind, it still involved the ocean so I was sold.
Our 10 day adventure started in Oahu, sailed around the Hawaiian Islands and eventually made its way across the Pacific Ocean to Vancouver, Canada. Having only been on 2 cruises in my life, I wasn't entirely sure what to expect, but by the time we docked in British Columbia I was officially a silent disco attending, ABBA sing-a-longing, 10,000 calories a day eating cruiser.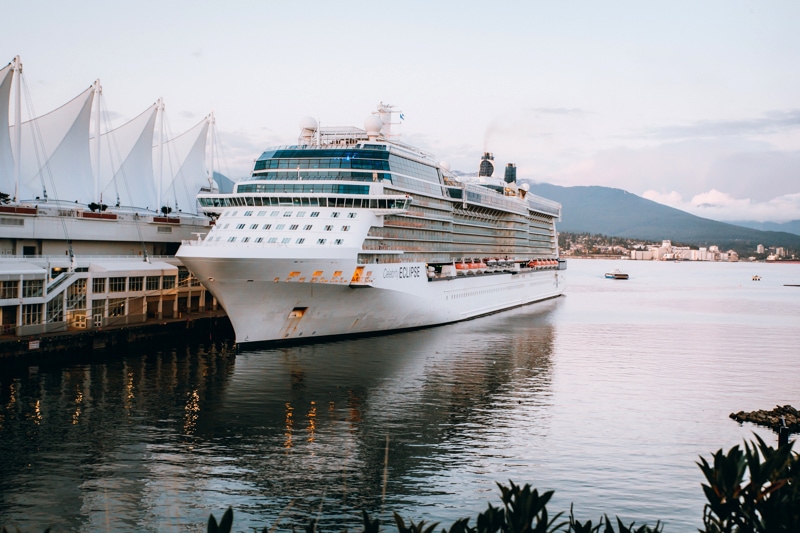 CELEBRITY ECLIPSE OVERVIEW
OCCUPANCY 2850 Guests / 1250 Crew
CRUISING SPEED 24 Knots
INAGURAL DATE April 2010
SHIP CLASS Solstice
The Celebrity Eclipse is a beautiful ship. The interior design feels upscale and sophisticated but not in an intimidating or pompous way.
The classy but laid back atmosphere seems to draw a more mature crowd. On our cruise there were a handful of passengers that looked to be in their early 30's but most of the guests were 50+.
The ship offers a busy daily activity schedule featuring the classics such as trivia and karaoke, while the theater hosts full production shows, guest lecturers, singers, comedians and aerialists. There was always something to do but when you wanted a little R&R, there were tons of options for that too. From the swimming pools to the sunset bar, this ship is excellent for grabbing a lounge chair and a drink, and napping the day away.
Overall, I was impressed with the quality that Celebrity Cruises offers, but the only thing that fell short was the food. While I can't comment on the specialty restaurants, the food in the main dining rooms left a lot to be desired.
Keep reading for a full, in-depth review of the Celebrity Cruise Eclipse. Discover what to expect on board, things to know before you go, what to pack and much more.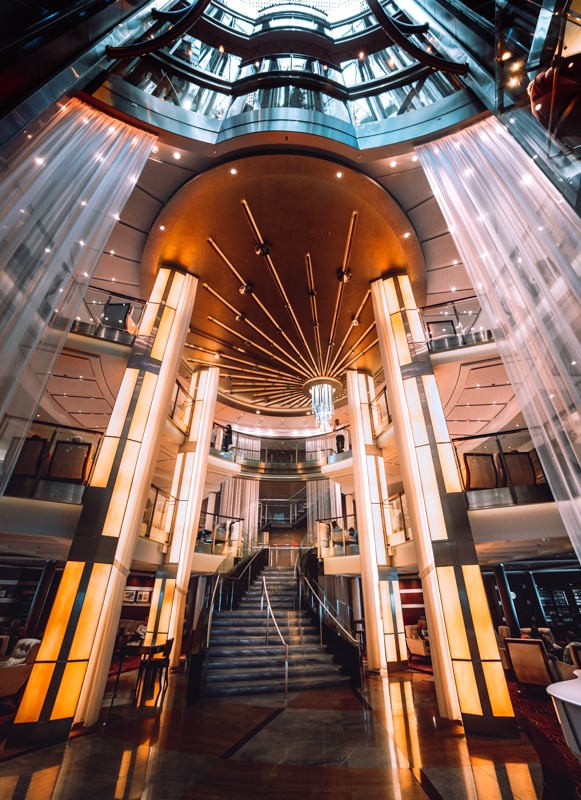 WHAT KNOW TO KNOW BEFORE YOUR CRUISE
WHAT IS INCLUDED/NOT INCLUDED IN THE CRUISE FARE PRICE?
INCLUDED
Meals in the Moonlight Sonata Dining Room, Oceanview Cafe, Spa Cafe and the Mast Grill. If you are Aquaclass or Guests of "The Retreat," you are also allowed complimentary dining at Luminae and Blu restaurants.
Most on-board entertainment including nightly theatre shows
Use of pools, sun decks, jacuzzis and the Lawn Club
Most of the daily on-board activities
Access to the gym plus a selection of complimentary fitness classes
Children's Clubs
Room Service (although charges do apply from 11pm-6am)
NOT INCLUDED
Gratuities ($15.50 per person per day if you book a standard cabin, $16 per person per day for Concierge and AquaClass passengers, and $19 per person per day for guests of The Retreat).
Alcohol and drink packages
Non-alcoholic drinks excluding water, tea, iced tea, milk, coffee and select juices.
Specialty dining options at

5 specific on-board restaura

nts
Spa and beauty treatments
Select on-board activities and entertainment
Shore excursions
Wi-Fi and phone charges
Laundry
Flights, hotels & transfers (unless you have booked separately and directly with the cruise ship)
Laundry charges
Babysitting services
Travel insurance
Persian Garden thermal suite (unless you are an AquaClass passenger).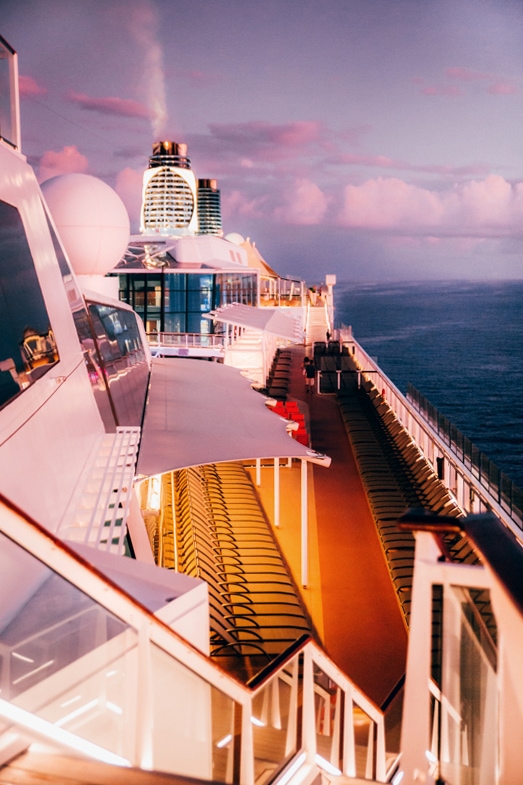 IS THERE WIFI ON BOARD?
There is WiFi on board but it's not free. In fact, it's expensive AF.
You can choose from two different WiFi packages, the Xelerate Internet Package (which includes streaming) or the Surf Internet Package. With the Surf Internet Package you can browse the internet, email, text and use apps such as Instagram, Facebook etc. You cannot stream videos, send & receive photos, or use apps like FaceTime and Skype.
The WiFi prices vary depending on the length of your cruise and how many devices you want to add. My sister and I split a single WiFi package. We could only log into one device at a time but if you work out a schedule, a 1 device package should work for most people.
If you need WiFi to simply communicate with your group on board, consider walkie talkies as a more cost effective option.
XCELERATE UNLIMITED INTERNET PACKAGE
Sailing Length 1 Device 2 Devices 3 Devices 4 Devices
2 to 3 Days $95 $143 $190 $238
4 to 6 Days $175 $263 $350 $438
7 to 9 Days $265 $398 $530 $663
10 to 13 Days $325 $488 $650 $813
14+ Days $335 $503 $670 $838
SURF INTERNET PACKAGE
Sailing Length 1 Device 2 Devices 3 Devices 4 Devices
2 to 3 Days $59 $89 $118 $148
4 to 6 Days $89 $134 $178 $223
7 to 9 Days $129 $194 $258 $323
10 to 13 Days $179 $269 $358 $448
14+ Days $199 $299 $398 $498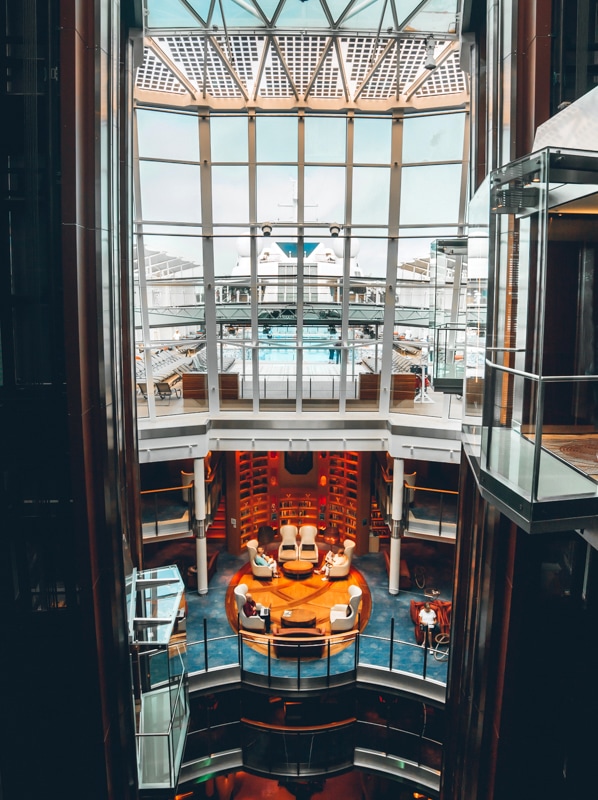 WHAT IS THE DRESS CODE ON BOARD THE CELEBRITY ECLIPSE?
Overall, the Celebrity Eclipse is a pretty causal ship. During the day, you'll find people in bathing suits/coverups, athleisure wear and casual lounging outfits.
During the afternoon, an Evening Chic or Smart Casual dress code goes into effect (you will be notified which one via your daily itinerary that is placed on your bed the night before).
If your cruise is 7+ nights, there will be 2 nights with an Evening Chic dress code. Cruises that are 6 nights or shorter will feature 1 night with an Evening Chic dress code. All other nights of the cruise will feature a Smart Casual dress code.
EVENING CHIC
Evening Chic nights made for the best people watching and it was fun to see everyone dress up and have a fancy night out on the ship. People wore a range of different outfits; we saw cocktail dresses, sundresses and blouses with jeans. There were even a few evening gowns and tuxedos in the mix. Feel free to interpret the dress code to fit your personal style and level of comfort.
The Celebrity Cruises website recommends:
WOMEN A cocktail dress, skirt, pants or designer jeans with an elegant top
MEN Pants or designer jeans with a dress shirt, button-down shirt or sweater with an optional sport coat or blazer on top.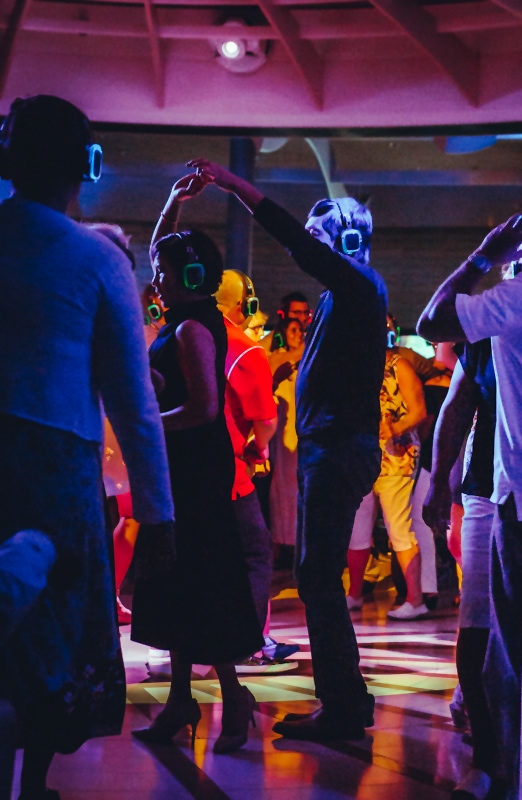 SMART CASUAL
During Smart Casual nights, most women wore causal dresses and skirts or a nice blouse and most men wore slacks and a polo, or a short sleeve button down shirt.
The Celebrity Cruises website recommends:
WOMEN Skirt, pants or jeans with a casual top.
MEN Pants or jeans with a short sleeve sport shirt.
DINING ROOM DRESS CODES
Swimsuits, robes and bare feet are not permitted in the buffet, while t-shirts, swimsuits, robes, bare feet, tank tops, baseball caps and pool wear are not allowed in the main restaurant or specialty restaurants at any time.
If you don't feel like dressing up in either Evening Chic or Smart Causal attire during the afternoon, skip the main dining restaurant and head to the buffet where you are free to wear a more casual outfit at any time.
The website states that shorts and flip-flops are not allowed in the evening hours but we saw a lot of people wearing them, just not in the main restaurants.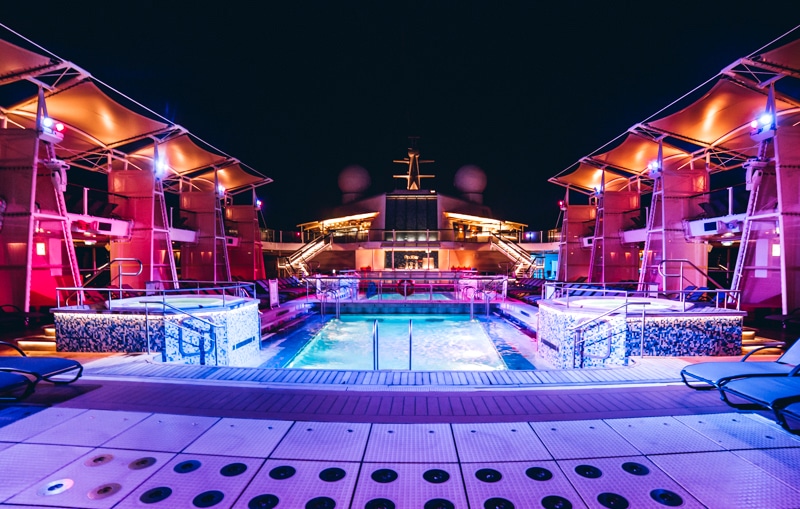 IS ALCOHOL INCLUDED IN THE TICKET PRICE?
Unless you have purchased a drink package, alcohol is not included in the ticket price. You can buy individual glasses on board, or sign up for a drink package.
Drink packages range from $500 per week to $700 per week. This site has updated pricing and information on each of the packages available.
DO I NEED CASH/CREDIT CARDS ON BOARD?
It's smart to pack cash and credit cards to use at the different ports on your cruise, but you will not need them on the ship.
All purchases made on board are done using your SeaPass card. The SeaPass card is basically your ID and your credit card on the Celebrity Eclipse. If you make a purchase, they will simply scan the SeaPass and automatically add the charge to your guest account.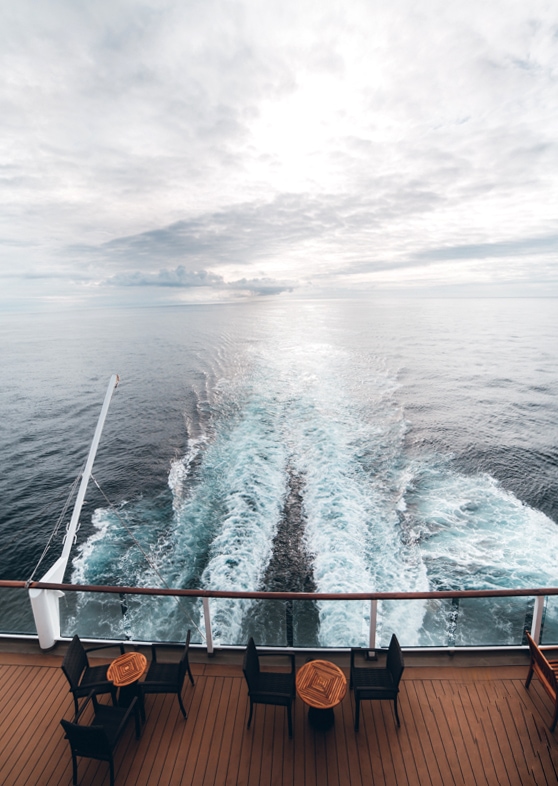 HOW DOES TIPPING WORK AND HOW MUCH ARE GRATUITIES?
Gratuities are automatically added to your guest account each day so you do not need to tip crew members individually.
Standard Cabins: $15.50 per person / per day
Concierge and AquaClass: $16 per person / per day
The Retreat (Suites): $19 per person / per day
On top of the daily gratuities, a 20% tip will also be automatically added to all beverages and mini bar purchases, as well as spa and salon services.
If you want to adjust the gratuity amount, you can speak to guest relations.
WHAT IS THE CURRENCY ON BOARD?
The Celebrity Eclipse uses United States Dollars as currency on board.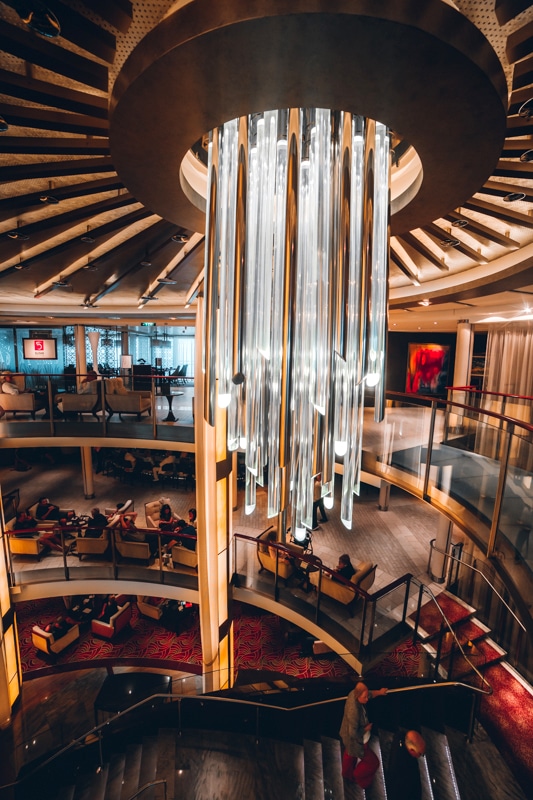 HOW DO TIME CHANGES WORK AT SEA?
Sometimes the ship will cross into different time zones during your cruise. The ship's crew does a great job at reminding you when to move your clocks forward or backward. You will also find this reminder on the daily schedule.
During our cruise from Hawaii to Vancouver, we were told to move our clocks forward by 1 hour every night until we were successfully on Vancouver time.
---
RELATED POST: 6 THINGS TO DO IN OAHU THAT AREN'T WAIKIKI BEACH
---
WILL I HAVE PHONE SERVICE ON BOARD?
No. We had very spotty phone service while in port, and on sea days we lost service almost immediately. WiFi is available at an extra charge (see above).
If your cruise is International, don't forget to switch your cellphone to airplane mode. When the ship crosses international boundaries, you might incur unexpected roaming charges.
WHAT TYPE OF OUTLETS / PLUGS ARE IN THE ROOM?
Staterooms are equipped with 2 North American style outlets (Type A and B will work) and one two-pin 220v socket (Type F .. but C and E will also work).
North American sockets are 110v and the European sockets are 220v.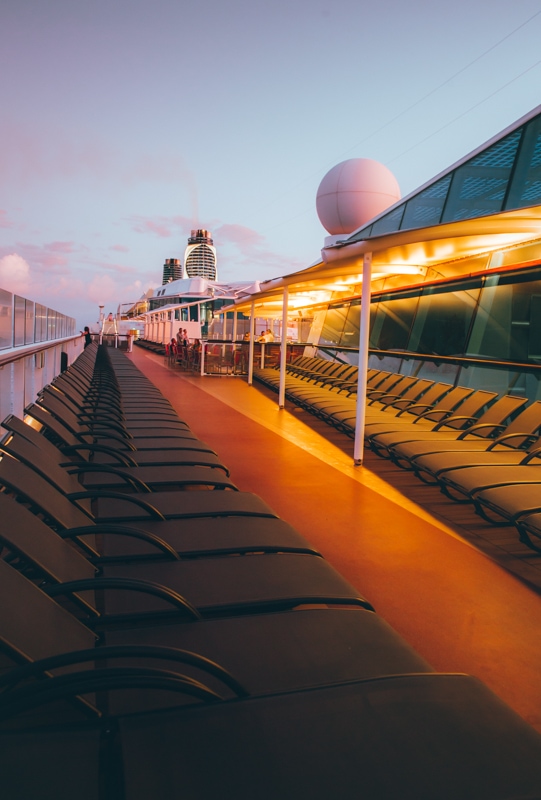 ARE THERE OPTIONS FOR THOSE WITH DIETARY RESTRICTIONS?
Celebrity Cruises uses symbols on their menu to notate which dishes are appropriate for different dietary restrictions. Gluten-free, vegetarian, lactose-free and no sugar added symbols are included on each menu so it's easy to differentiate what you can and cannot have.
There is not a symbol for vegan dishes yet, but they say that if a dish is noted vegetarian and lactose-free, it is most likely vegan. The cruise line suggests that vegan guests talk with your waitstaff, who will help come up with options that work within your diet.
Celebrity Cruises is also Dine Aware committed, which means that their crew has been trained in understanding food allergies.
If have an allergy or a dietary restriction, Celebrity Cruises is more than happy to work with you to provide dishes that you will enjoy. I recommend being pro-active, calling ahead and voicing your restrictions as it will open up a lot more options for you during your cruise.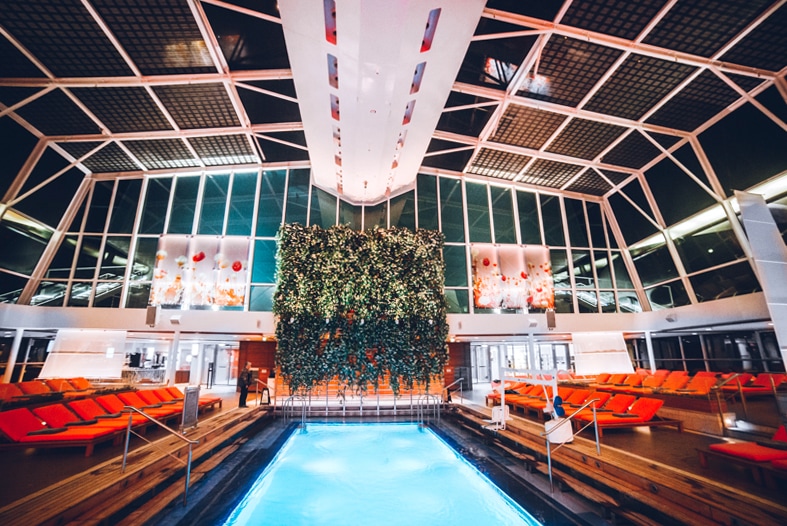 EMBARKATION
I have't taken many cruises so I was pleasantly surprised at how quick and easy the embarkation process was considering how many passengers were boarding the ship that day.
Celebrity Cruises gives you a window of time on embarkation day, and you are allowed to show up an any time within that window to board the ship. We arrived about 2 hours prior to the cutoff and it only took us 45 minutes to board the ship.
As soon as you exit your car/Uber/taxi at the vehicle drop off location, couriers will whisk away your luggage so that you can be hands free. Make sure to pack hand luggage or a day bag with everything you might need for the day (swimsuit, valuables, passport and boarding documents etc) because you won't see your bags again until they are delivered to your stateroom a few hours later.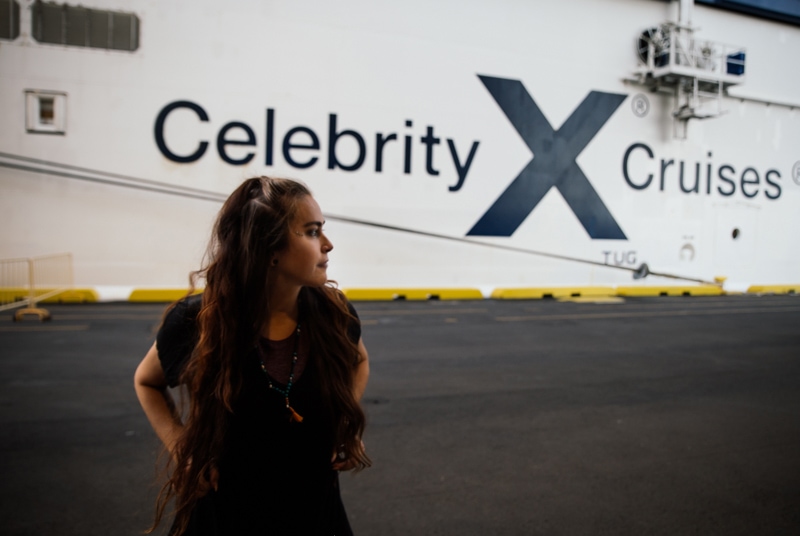 The check in process is easy and consists of a few checkpoints where you will show your passport and boarding documents, go through security and finally walk onto the ship. I recommend checking in online to expedite the process even more.
When you first board, staff will be waiting for you with trays of champagne (for those who have purchased alcohol packages). Find your stateroom, offload your belongings and finally you are free to roam the ship.
Before the ship leaves port on the first day, everyone on-board must attend the introduction welcome and safety briefing in the Eclipse Theater. They will announce it over the intercom so you'll know exactly when it starts.
CELEBRITY ECLIPSE STATEROOMS
There are several types of staterooms on board the Celebrity Eclipse: Inside Staterooms, Oceanview Staterooms, Veranda Staterooms (85% of Celebrity Eclipse rooms include a veranda) and Suites.
INTERIOR STATEROOM REVIEW
We stayed in one of the interior staterooms which was basic, but perfectly comfortable. The room was slightly larger than some of the other cruise lines that I've traveled with, and while I wouldn't exactly call it spacious, we did have room to move around.
There was a standard amount of storage space available. We could've used more but we were able to make do. The room included basic amenities such a mini fridge, blow dryer, interactive TV, direct-dial phone and a security safe.
Our stateroom attendant was very friendly and attentive. He would make up our room in the morning and turn down our sheets at night, leaving a chocolate on our pillow. Room service is also available 24 hours a day, although there is a small charge if you order between 11pm-6am.
The only issue I had was that there were no outlets near the bed. I hurt my back and was stuck in bed for a few days. It was the perfect time to catch up on work but I was only able to do so when my phone and computer were charged.
Eventually I would love to experience a cruise in a Veranda Stateroom but for now, I was satisfied with the comfort of the interior stateroom.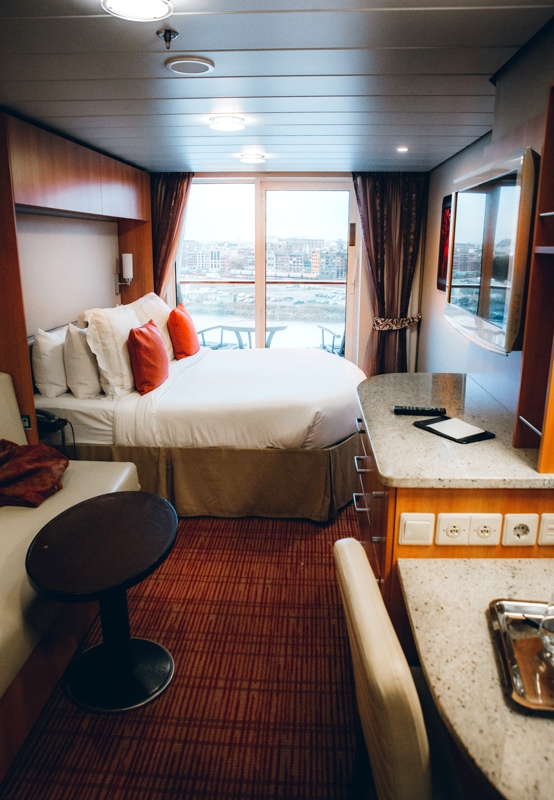 CONCIERGE, AQUA CLASS & SUITES
Like other cruise lines, your comfort increases with the amount of money you're able to spend.
Concierge Class guests receive early embarkation and debarkation, personalized concierge service, welcome sparkling wine and fresh fruit at check-in, an expanded breakfast menu, nightly hors d'oeuvres, and a massaging shower head in their room.
AquaClass guests receive the same extras as Concierge Class plus a pillow menu, in-room aromatherapy diffusers, complimentary bathroom amenities, unlimited access to the Persian Garden and they can dine at Blu Restaurant.
Guests who book suites also have 24-hour butler service, priority check-in, luggage packing/unpacking, shoeshine, full en-suite dining service (expanded room-service menu, afternoon tea, hors-d'oeuvres in the evening, complimentary coffee (espresso, cappuccino), dining reservations and seating preferences, access to Blu and Luminae restaurants and welcome gifts.
---
RELATED POST: REVIEW // A FAIRYTALE FRENCH CHATEAU IN NORMANDIE
---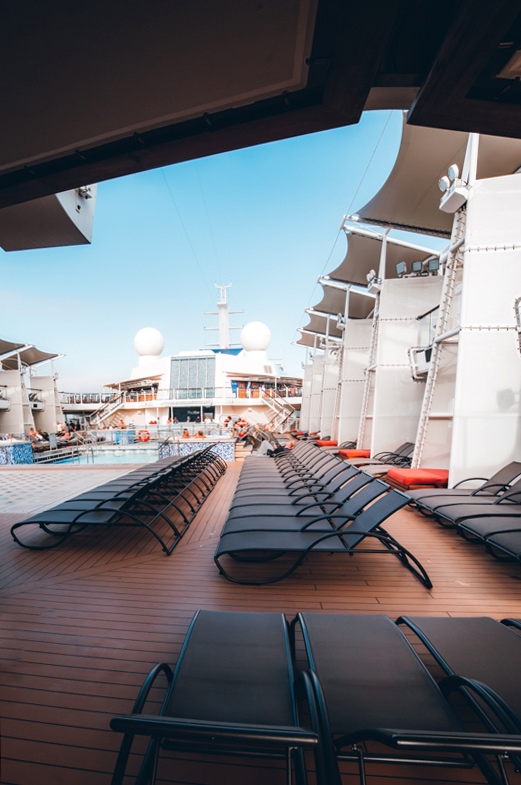 THE STAFF
The staff aboard the Celebrity Eclipse was truly incredible and they made the overall energy of the ship an extremely welcoming and fun place to be.
From the restaurant waitstaff to our cabin steward, everyone we interacted with was pleasant and helpful. They would smile if you passed them in the halls, go out of their way to help if you had a question and do their best to accommodate any and all requests.
The Cruise Director (Lauren) and the Entertainment Director (Charlotte) worked their asses off. I don't know how they were able to be in so many places at once. We'd see them hosting a challenge in one area of the ship and by the time we walked to the other end, they'd already be there leading a fitness class haha. From early mornings to late nights, they made sure everyone had a great time and never broke character or let on how tired they must've been.
The employees work extremely long hours and they do it with a smile on their face. I very much appreciated the high standard of customer service that Celebrity Cruises implements.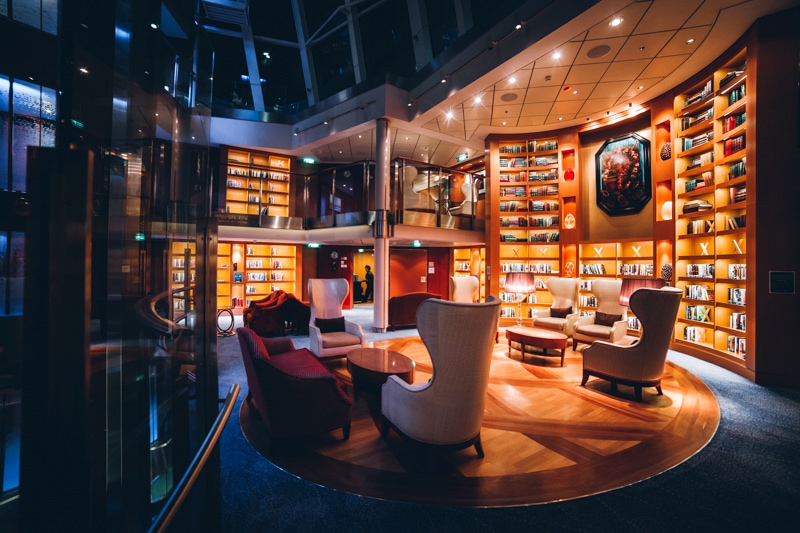 CELEBRITY ECLIPSE RESTAURANTS
From outdoor grills and fine dining restaurants, to the popular international buffet, the Celebrity Eclipse has a vast amount of restaurant and dining options available. Unfortunately we found the food to be the weakest link on an otherwise positive cruising experience.
MAIN DINING RESTAURANTS (FREE)
MOONLIGHT SONATA
Moonlight Sonata is the main dining room option for all guests on-board. This elegant restaurant is situated under a massive chandelier and the dining experience feels very high-end and classy.
During our 10 day cruise, we opted to eat at the Moonlight Sonata 4 times. I really enjoyed the atmosphere and if you can get a table near one of the windows, the view of the ocean is the ultimate mood enhancer.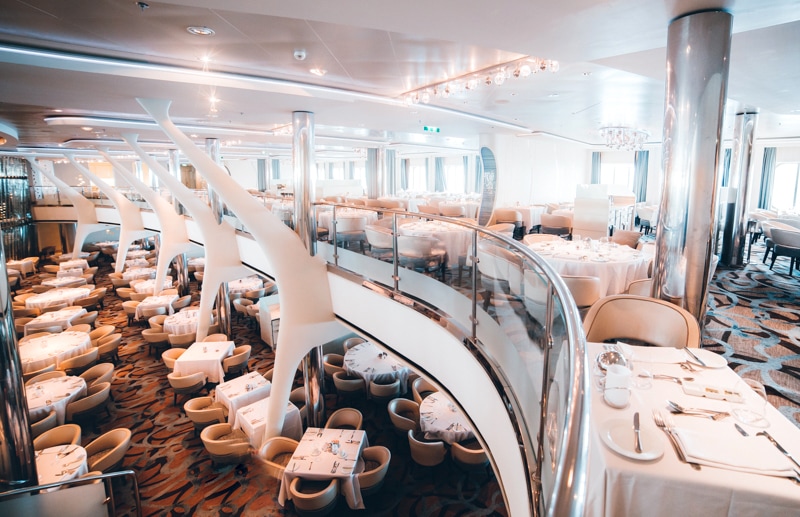 THE FOOD
Moonlight Sonata specializes in contemporary, globally inspired dishes which have been created for the ship by a Michelin-starred chef.
Each day they offer a different menu featuring around 7-10 entrees including classics like steak, chicken, fish and pastas. You will also choose from a selection of starters as well as dessert at the end of your meal. Each table also gets a dedicated sommelier ready to help with wine pairing and personalized suggestions (if you do not have a drink package, wine and cocktails will be charged).
While the atmosphere at Moonlight Sonata is nice and although they do offer a great selection of menu items each night, this restaurant ended up being our least favorite out of the food options on the ship.
At first bite, the dishes taste good, but not once did we find ourselves eager to finish the entrees. The food was overly salty and it usually made us feel bloated and just a little off for the rest of the night. Kind of like we might have explosive diarrhea … but at the same nervous that we might constipated for the next 4 days.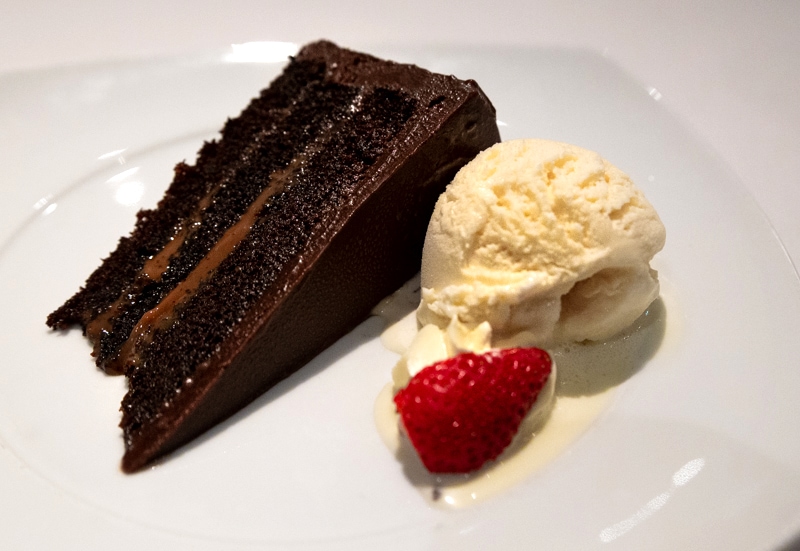 With that said, the desserts in this dining room were the highlight of the meal. In fact, the chocolate cake was best thing I tasted while cruising on the Eclipse. If that cake was available at a local restaurant in my city, I would pay money for it.
VEGETARIAN OPTIONS
My sister is a vegetarian so we struggled a little in finding options that would work within her diet. At Moonlight Sonata they have at least 1 entree each night that is vegetarian friendly. It was usually a pasta, rice or basic vegetable dish.
We didn't know this at the time but my sister took another cruise on the Eclipse and discovered that they actually offer a vegetarian menu, you just have to request it. She said it was smaller than the main menu but she enjoyed having more options each night.
She was also told that if you have dietary restrictions to call ahead and let them know, so that they can properly accommodate you.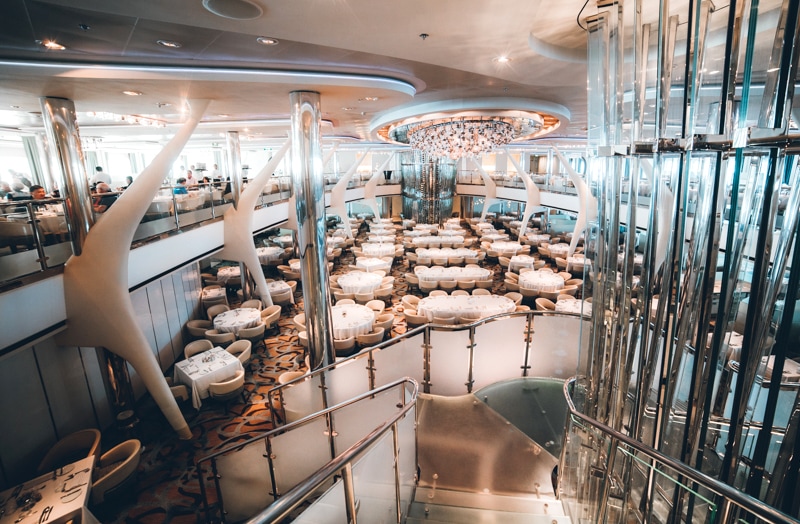 THE SERVICE
Aside from the chocolate cake, the staff at Moonlight Sonata was the highlight of eating in the main dining room. From the maitre'd to the waitstaff, everyone was extremely friendly and professional, and the service was fantastic from beginning to end.
We didn't eat at the same table each night but it appears that many passengers do because we noticed that the waitstaff knew all their regulars by name. They seem to make real connections with their guests and people were very vocal about how much they loved their waiters and waitresses.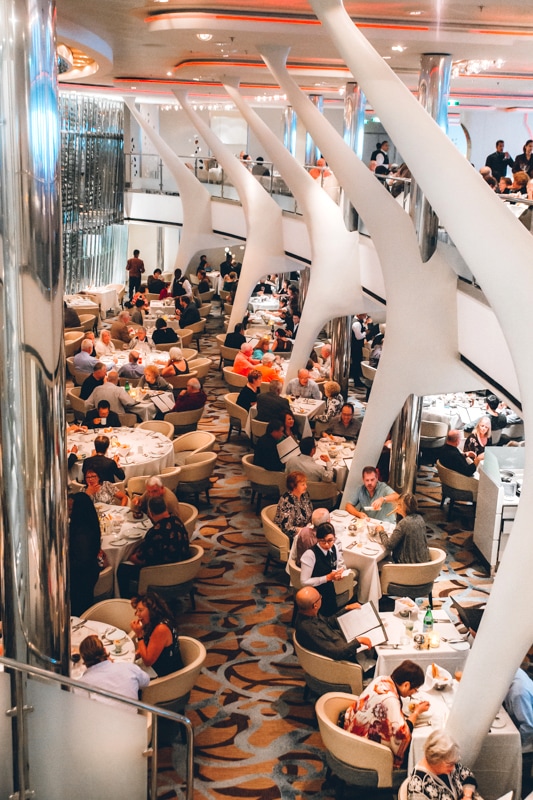 OCEANVIEW CAFE
Oceanview Cafe is the Eclipse's buffet restaurant located on deck 14.
Serving up an array of international dishes for breakfast, lunch and dinner, Oceanview Cafe is the most popular restaurant on the ship. The atmosphere is very laid back; seat yourself, fill your plate, eat and leave. It is perfect for those who want a casual, no frills dining experience.
Although the buffet and the seating area are massive, the cafe still gets very busy during peak times. There were a few instances when we had to circle the restaurant several times until a table opened up.
Oceanview Cafe serves breakfast from 7am-11am, lunch from 12pm-3pm, snacks are available from 3:30pm-5pm, dinner is from 5pm-9pm, and there are even late night snack options from 10pm-1am.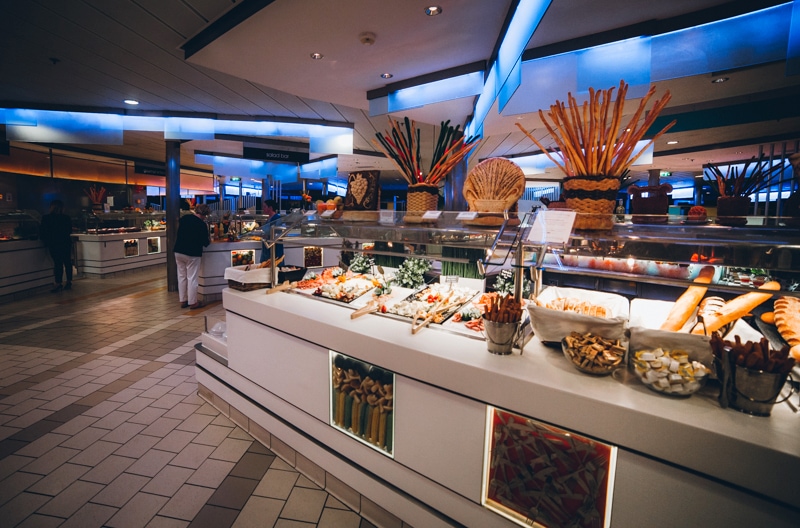 THE FOOD
We ate lunch at the AquaSpa Cafe most days and preferred eating dinner at the Oceanview Cafe over the main dining room most nights.
The buffet offers hundreds of food options to choose from. Each night they have a handful of standard fixed items such as pizza, pasta, salad, carved meats, Indian food and a gourmet station which includes steaks, fajitas, grilled chicken, fish etc.
In addition to the regular nightly selections, they also feature a specialty station each day for lunch and dinner. You'll find anything from sandwich and crepe stations to International themed nights like American, Greek, Jamaican and Chinese (speaking of.. never in my life have I seen people get more hyped over egg rolls).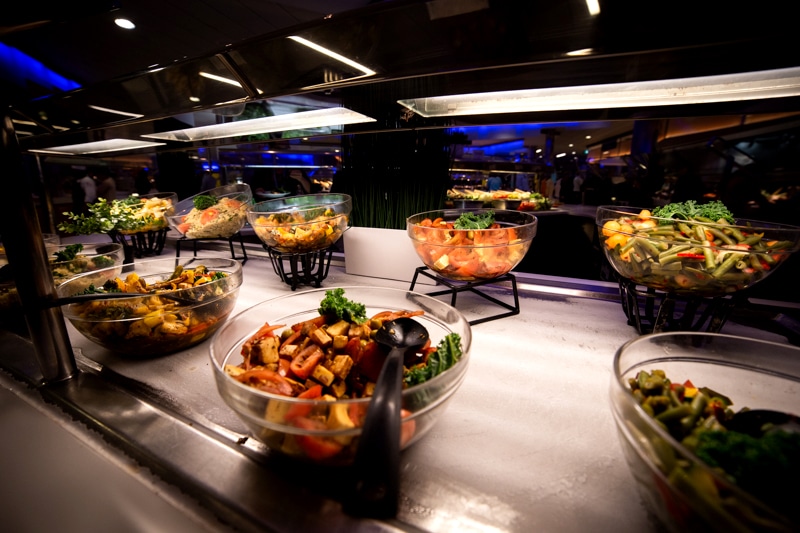 Overall, the pizzeria was our favorite station (can you ever go wrong with pizza?). They served classic pepperoni and cheese pizza, plus one specialty option such as BBQ chicken or veggie. All of the pizza was delicious and it was one of the only things on the ship that I didn't get sick of. In addition to the pizzeria, I also found myself at the Indian food station quite a bit.
The pasta bar had potential, as you were able to create your own from array of toppings and sauces that they cook on the spot. Unfortunately, the flavor just wasn't there. We felt the same about the desert bar. While there are tons of options available each day (including gluten free and sugar free), we learned quickly to skip that station and head to the ice cream bar instead.
The ice cream bar was the best free desert option on the ship. The flavors rotated every night but our favorites were the passion fruit and guava sorbet.
For drinks, you can choose from water, tea, iced tea, milk, coffee and a few select juices. If you want alcohol or soft drinks, the buffet waitstaff are always within arms reach and are happy to serve you at an added charge.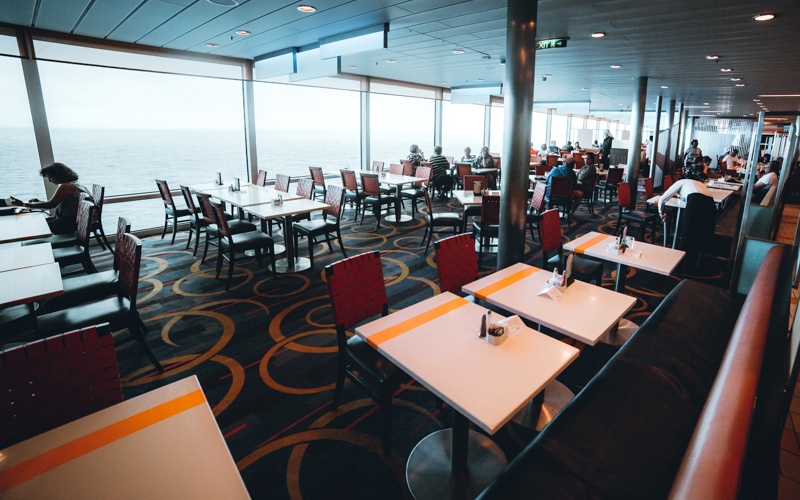 VEGETARIAN OPTIONS
Oceanview Cafe has hundreds of food items to choose from each night with a strong emphasis on meat based entrees. With that said, they do an ok job of including some vegetarian options.
While there is a small area dedicated to meatless entrees, they were somewhat uninspired. I feel like they could be more imaginative in creating dishes beyond steamed vegetables and potatoes. My sister ended up eating a lot of pizza, nachos and Indian food… which as you can imagine, gets old after awhile.
For vegans, there are not a lot of fixed options at the buffet so I would recommend speaking to one of the crew members who can hopefully help you come up with some dishes that you can eat.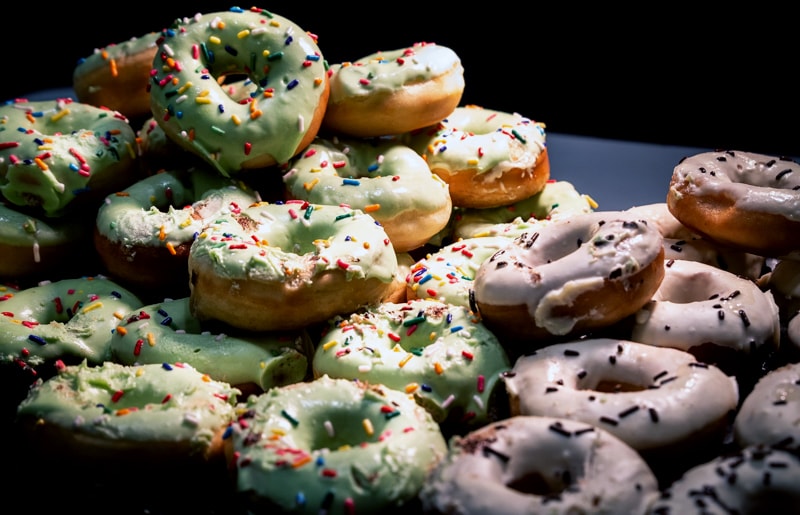 AQUA SPA CAFE
The AquaSpa Cafe is located in the adults only Solarium on deck 12, and it is one of the most underrated dining options on the ship.
THE FOOD
The AquaSpa Cafe serves up small plates of healthier, lighter food options, and it quickly became our go-to place for breakfast and lunch.
Unlike the other restaurants on the ship, the menu didn't rotate but the food was excellent and the dishes felt so much more fresh.
For breakfast, I liked the banana bagel, made with a whole wheat bagel half, topped with peanut butter, apples, bananas, blueberries, and garnished with orchids. The apricot energy bar was also one of my favorite food items on the ship. It was made with apricots, coconut, sunflower seeds, walnuts, and honey.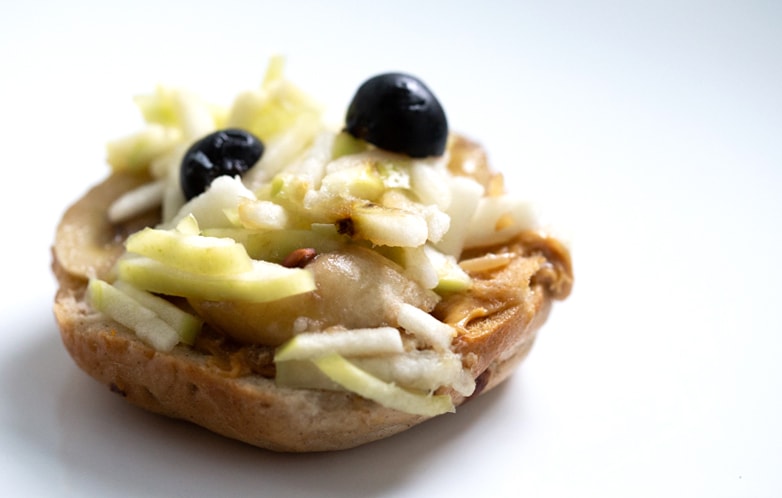 Other breakfast options include gluten free oatmeal, muesli, fruit platters, breads and omelettes. You can also order fresh pressed juices and smoothies for an extra charge.
During lunch you'll find dishes such as chicken salad and salmon salad, as well as vegetable wraps, a whole wheat club sandwich, caprese and pasta salads. My favorite lunches were the sesame udon salad made with udon noodles, red peppers, scallions, sesame seed and lime. I was also a fan of the tuna salad made with celery, green onion, and herbs.
The dishes at AquaSpa Cafe are designed for those wanting to make healthier food choices so they are made with low fat mayo and low fat yogurt. There are also a number of gluten free and vegetarian options available.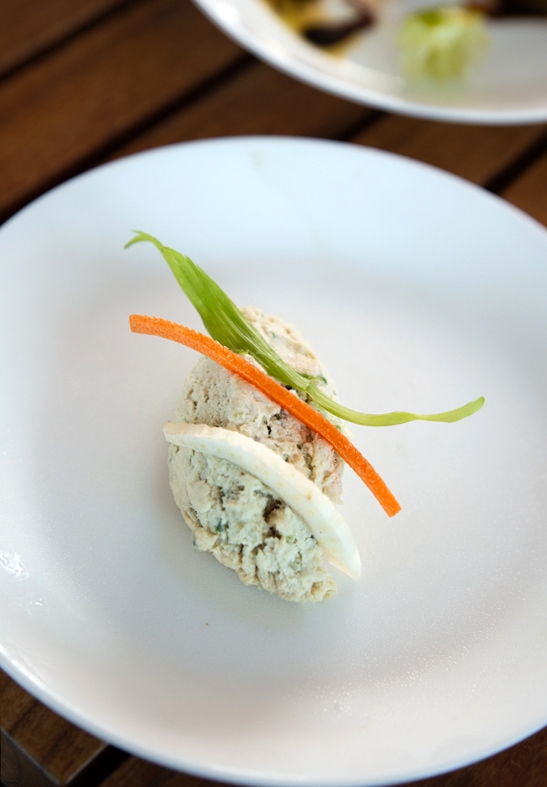 VEGETARIAN OPTIONS
The AquaSpa Cafe has some of the best vegetarian options on the ship. From their cilantro pesto pasta salad to the sweet potato bisque soup made with coconut milk, cinnamon and orange confit, Celebrity Cruises put more creativity into this menu and it is definitely worth checking out.
Vegans will also find a number of choices at the AquaSpa Cafe, but there are more options for vegans during breakfast hours.
MAST GRILL
Mast Grill is open for lunch on deck 14, near the pool area and this was my second favorite dining option on the Eclipse.
THE FOOD
The menu at Mast Grill is short (burgers, hot dogs and fries) but the quality of the food was great.
The hamburger/cheeseburger options included beef of course, but they also offered turkey and veggie patties (made to order). You can choose from classic toppings like pickles and lettuce, or go for sautéed mushrooms, onions and even sauerkraut.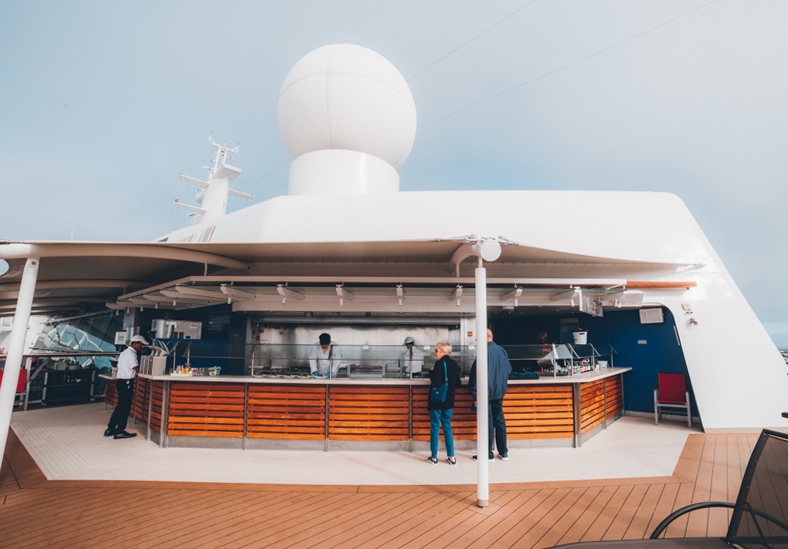 VEGETARIAN OPTIONS
Mast Grill offers veggie patties for those wanting a meatless burger and they were delicious. Highly recommend.
LUMINAE
Luminae is the Eclipse's exclusive dining room available only for guests who are booked in suites.
Located on deck 3, the restaurant is open for breakfast, lunch and dinner. They have a smaller menu than Moonlight Sonata, with only 5 entree options available each night but during your cruise you will never see the same menu items twice. Sample entrees include grilled sirloin, buttered poached lobster, seared tuna and cauliflower steaks.
We were not booked in a suite so we didn't have the opportunity to try or review Luminae.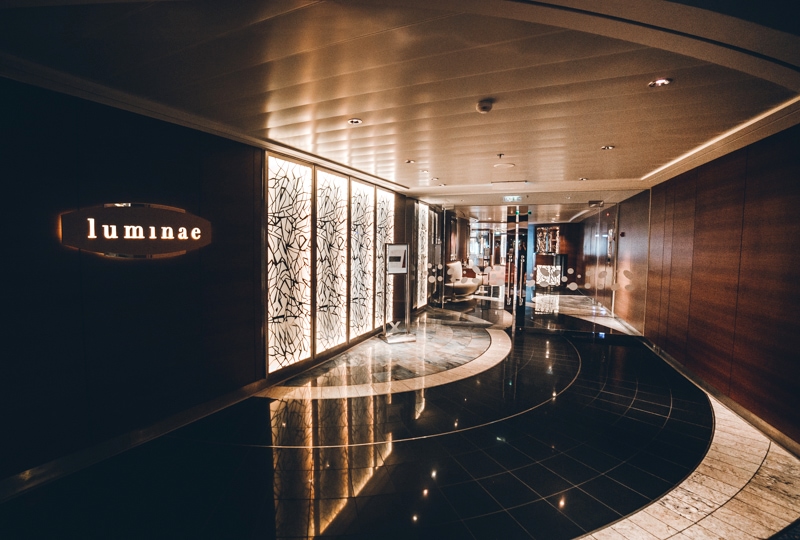 BLU
Blu is a private restaurant created specifically for AquaClass Members, but suite guests are also welcome to eat here too.
The restaurant is open for breakfast and dinner and offers a quieter, more intimate dining experience. The menu is a somewhat healthier take on classic options, meaning you will still be able to find pastas and steaks, but they are prepared in a cleaner way with less heavy creams and more fresh ingredients. Sample entrees include pan seared salmon, turkey breast roulade and oven roasted lobster tail.
There is one vegetarian friendly entree on the menu each night, but they are eager to accommodate dietary restrictions so be sure to speak with the maitre'd to request more options.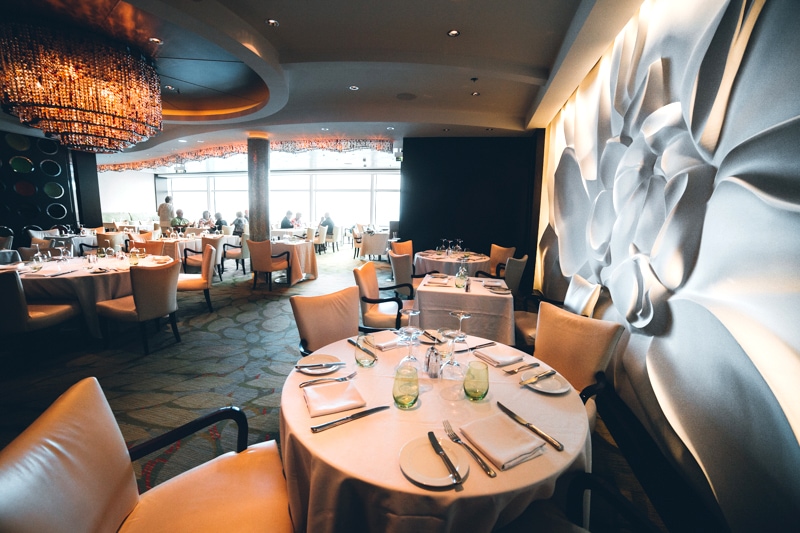 SPECIALTY RESTAURANTS ($$)
There are a handful of specialty restaurants on-board the Celebrity Eclipse, that you can dine in at an added charge. We were happy enough with our complimentary restaurant choices so we didn't pay for food during our cruise. If you wish to do so, these are your options.
MURANO
Murano is an upscale, fine dining restaurant serving classic French dishes with a contemporary twist. The price is fixed at $50 USD for dinner, or you can opt for their popular FiveSenses Menu which is a 6 course meal served with expert wine pairings ($89 per person).
One of Murano's most popular dishes is the lobster, which they flambé table side in cognac.
Out of all the specialty restaurants, this one has the most beautiful interior and would be perfect for celebrating a special occasion on board.
For a review of Murano by Beyond Ships, click here.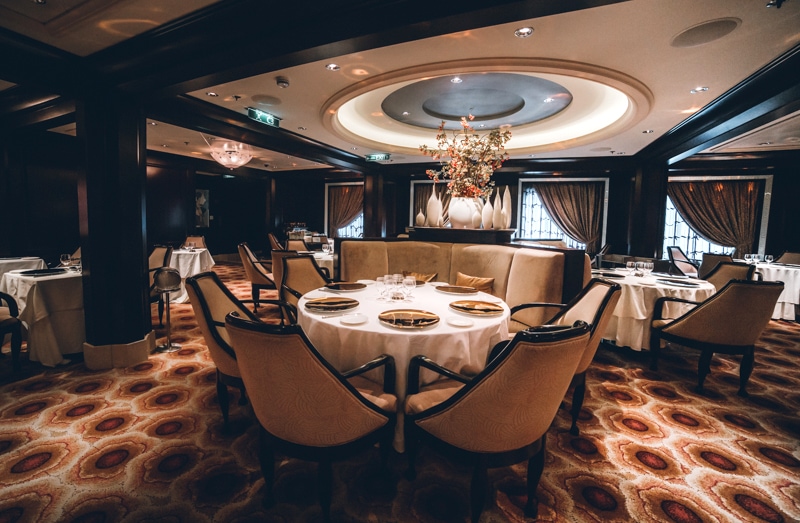 TUSCAN GRILLE
Tuscan Grille is an Italian style steakhouse serving handmade pastas, artisanal salumi, fish, butcher cut meats, and USDA Prime dry aged steak. The price is fixed at $45 per person, which does not include drinks.
Be sure to request a table with a view as this restaurant has floor to ceiling glass windows.
Check out these reviews of Tuscan Grille by EatSleepCruise (here) and Life Well Cruised (here).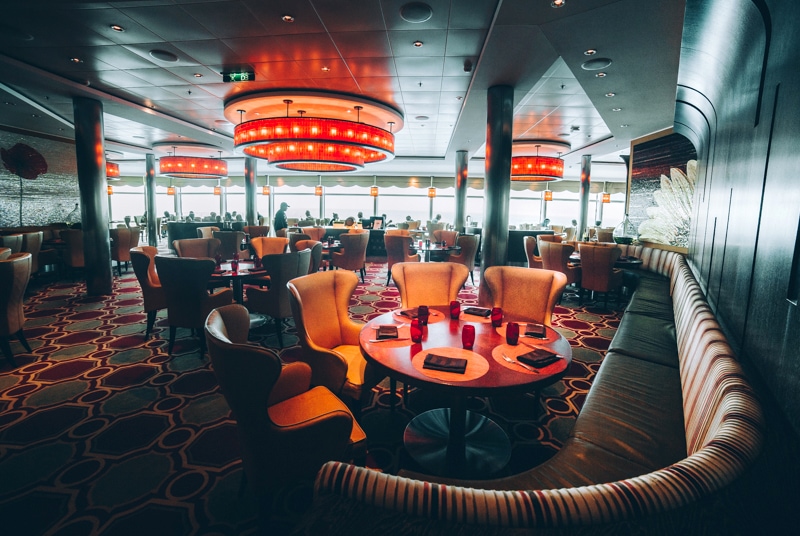 SUSHI ON FIVE
Out of all the specialty restaurants on board, Sushi on 5 was one that we intended to visit. We ultimately decided against it because the crew members who worked there on our particular cruise were so incredibly pushy that it turned us off.
Everyday at the buffet, someone from Sushi on 5 would approach us and ask us if we wanted to make reservations. Which is fine.. but they would not take no for an answer. The back and forth was so uncomfortable that we started hiding from them.
With that said, the menu looked good and the prices were actually reasonable for sushi. Unlike a lot of the specialty restaurants on the ship, prices are a la carte and you can order to go items as well.
In addition to classic rolls and sashimi, they also serve hot dishes like udon and ramen.
For a review of Sushi on 5 from My Virtual Vacations, click here.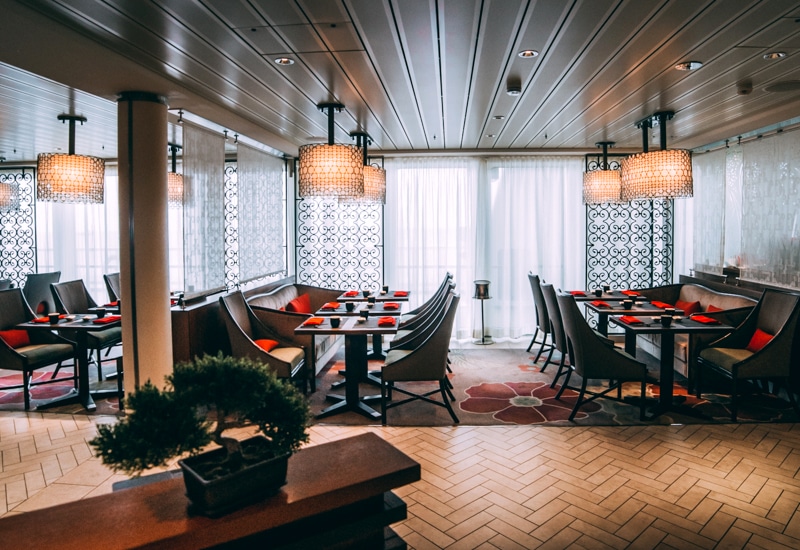 LE PETIT CHEF AT QSINE
Le Petit Chef at Qsine is by far the most unique restaurant on-board the Celebrity Eclipse.
The dining experience is a combination of a show plus dinner, as each course is introduced by an animation that takes place on your plate. Diners will watch the Petit Chef create every course on the menu in front of you via a 3D projected animation, then the waiters will bring out the food.
Because of the animated show, two dinner seating are available: 6pm and 8:30pm. Le Petit Chef at Qsine offers one fixed menu plus an alternate menu with several substitutions. Just know that if you choose a substitution, it won't match the animation on your plate. Everyone watches the same show.
The price is fixed at $55 per person, which does not include drinks.
For a review of Le Petit Chef at Qsine by Forever Karen, click here.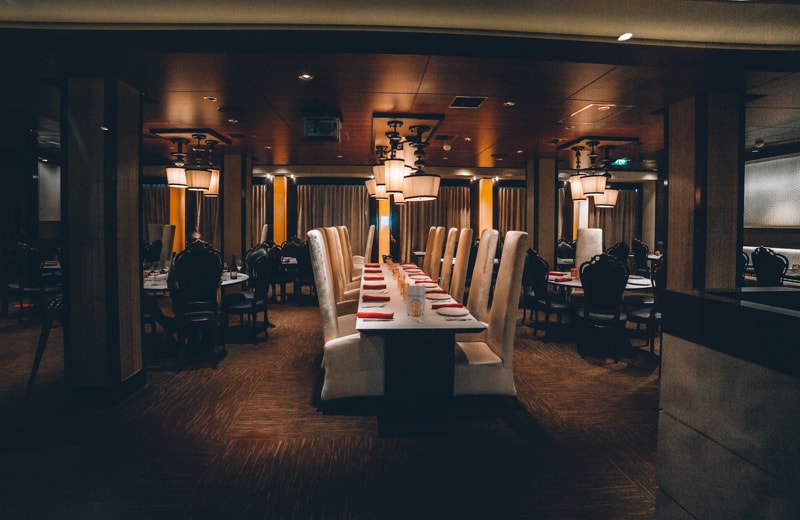 CAFE AL BACIO AND GELATERIA
Coffee and tea is complimentary on the Celebrity Eclipse but if you are a serious coffee drinker, chances are you'll want to check out Cafe Al Bacio for a more gourmet experience.
This cafe serves a multitude of Lavazza espresso drinks (including Irish), or you can choose from their premium hot and cold teas. While the drinks cost money, the desserts and pastries are complimentary.
Across the cafe from Cafe Al Bacio is the Gelateria where you'll find authentic, artisan gelato and sorbetto.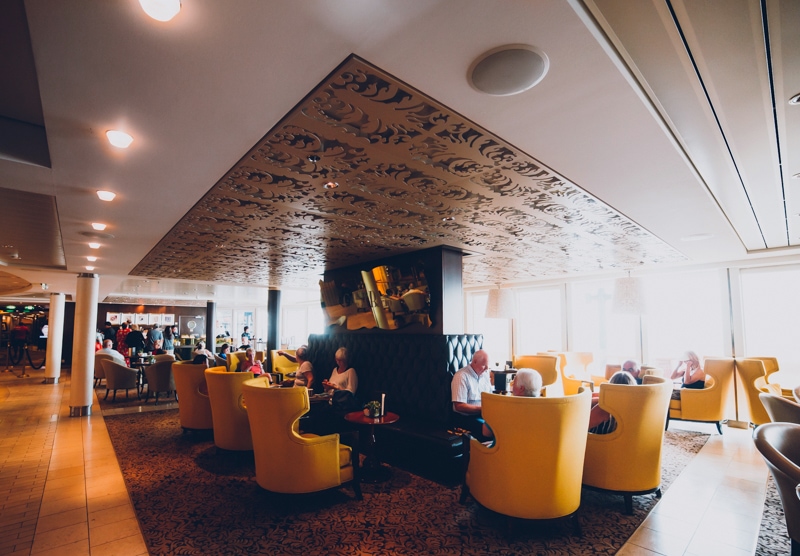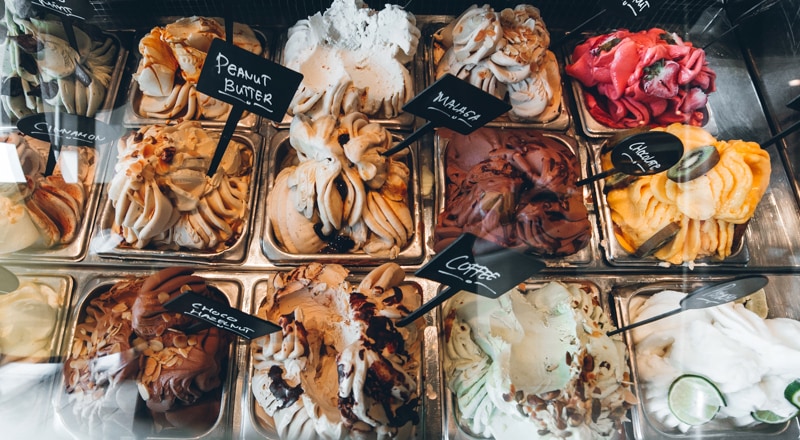 CELEBRITY ECLIPSE BARS & LOUNGES
SKY OBSERVATION LOUNGE
Located on deck 14, the Sky Observation lounge offers an excellent view of the ocean with tons of seating options if you want to read a book, work on your computer or even take a nap. This was my favorite spot on the entire ship.
Many of the daily activities such as trivia and dance classes take place at the Sky Observation Lounge during the day. At night it turns into a chic bar, serving up speciality cocktails based on your zodiac sign.
This lounge was also a popular location for many of the hosted evening activities such as sing-a-longs, silent discos and dance parties.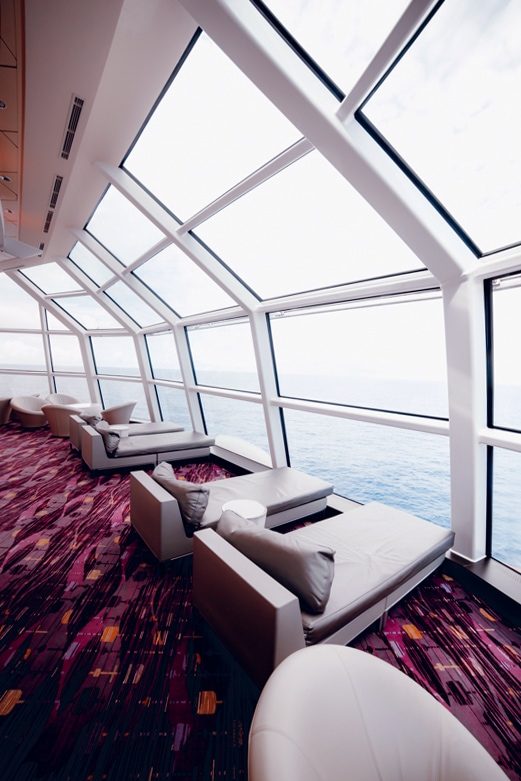 PASSPORT BAR
The Passport Bar is located right off the grand foyer in the center of the ship, and due to its busy location it offers some of the best people watching around.
During the day, the Passport Bar is the setting for cooking classes, dance classes and the popular egg drop challenge. At night, it's perfect for sitting back with a cocktail or a beer and listening to live music.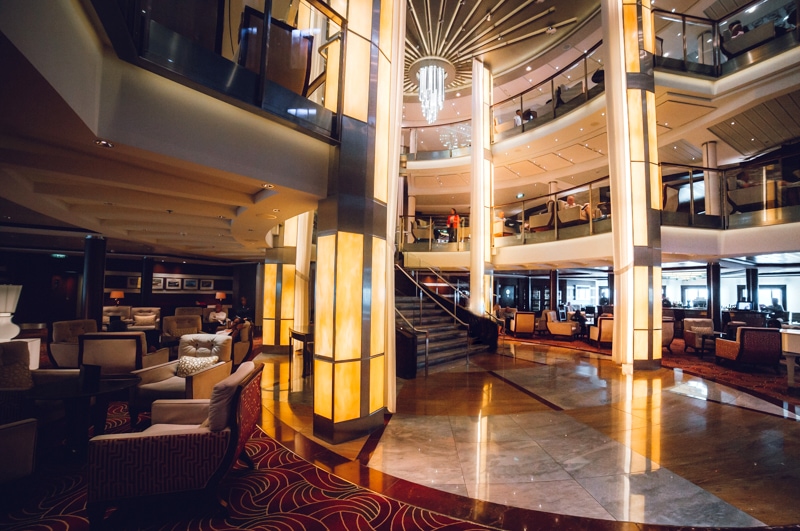 QUASAR
Quasar is the Celebrity Eclipse's futuristic "nightclub" where you will find pub quizzes and Xbox challenges during the day and karaoke at night.
This seemed to be the least used bar/lounge on the ship; I only saw people in it a few different times. We did hear the Cruise Director refer to Quasar as the location for the late night party (after midnight), but we never checked it out.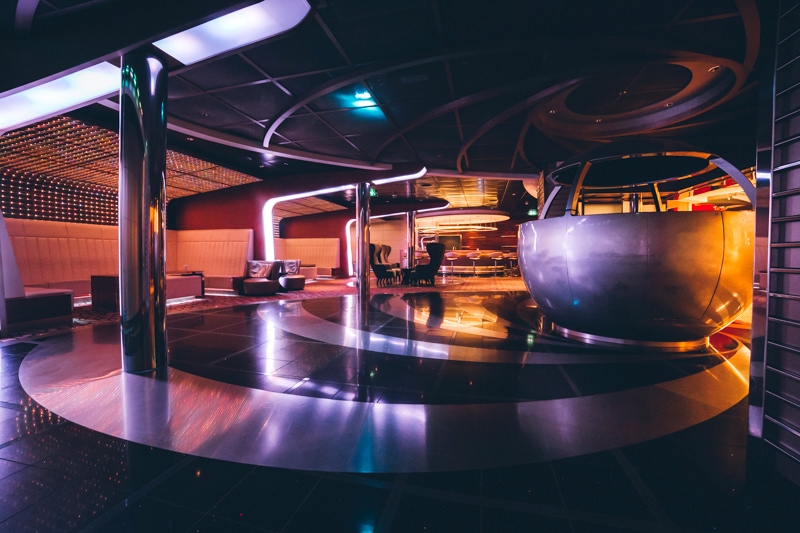 MARTINI BAR
The Martini Bar is located on deck 4 and was one of the more popular afternoon hangouts. The bartenders put on a show as they perfectly craft your martini over a beautiful ice-topped bar.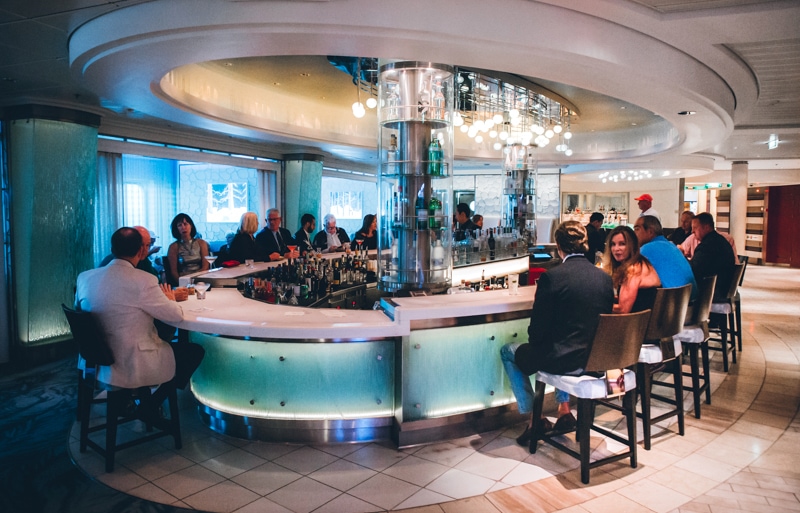 ENSEMBLE LOUNGE
The Ensemble Lounge is a ghost town during the day but be sure to stop by in the afternoon as it really comes alive at night. With a nightly schedule of live music, this lounge acts as an elegant backdrop for pre or post dinner drinks.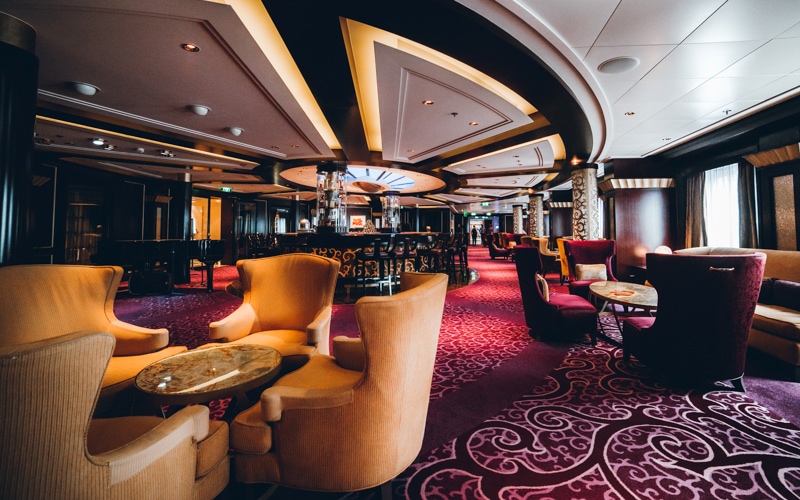 SUNSET BAR
Tucked away toward the back of the ship, we didn't discover the Sunset Bar until our last night and it's a shame because you know how much I love sunsets and drinking..
The Sunset Bar offers an insane view of the horizon and they not only serve bottles of wine but pitchers of crafted cocktails as well. If I ever sail on the Eclipse again, this will be my first stop.
---
RELATED POST: THE PRETTIEST SUNSET BAR EVER // RED VALLEY CAPPADOCIA
---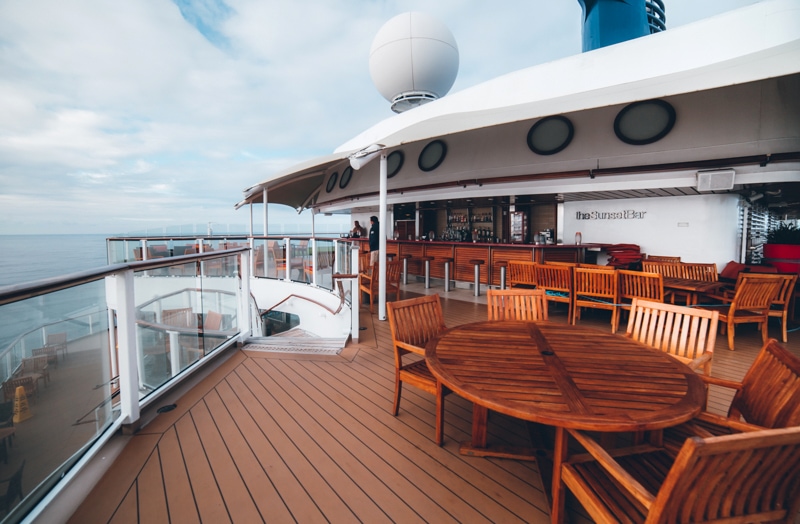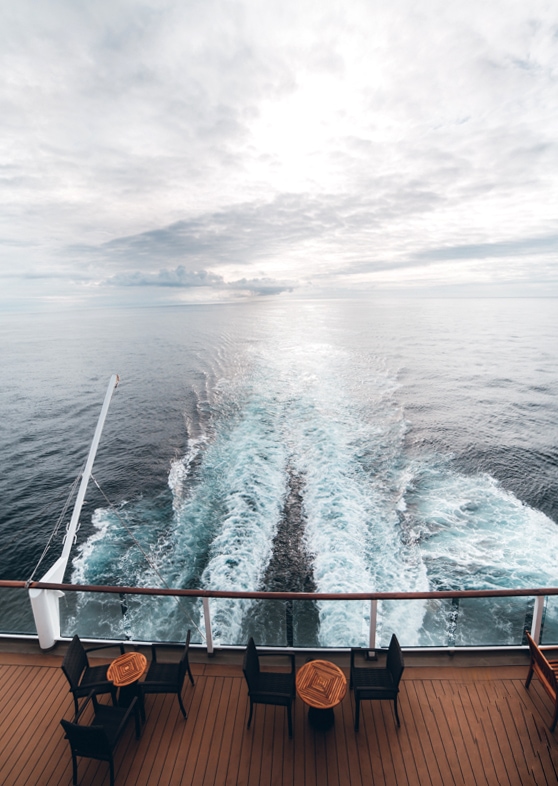 CELLAR MASTERS
Cellar Masters is a quiet wine bar/lounge located on deck 4, across the way from the Martini Bar.
While I never visited in the afternoon, this was one of the only lounges on the ship where I could find an outlet for my computer. It was the perfect, quiet atmosphere to tuck away in a corner and get some work done during the day.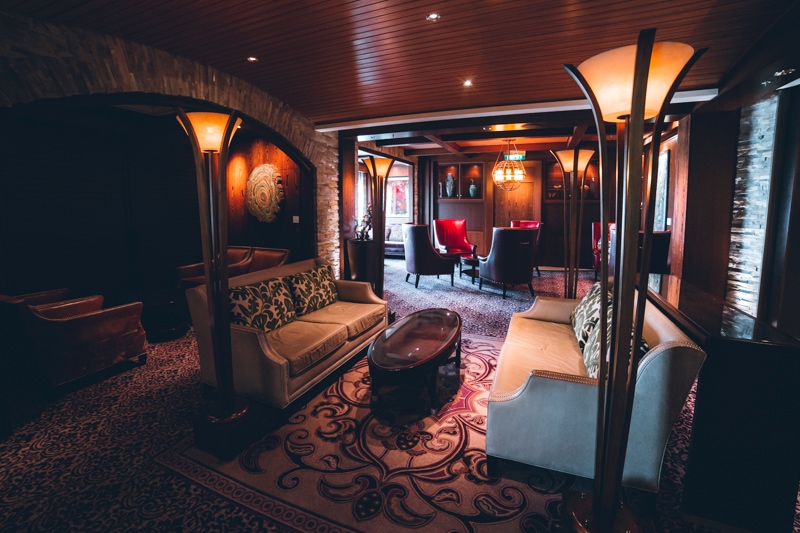 SLUSH
Slush is a small bar located near the main pool on deck 12 and their specialty is frozen cocktails. Choose from frozen margaritas, daiquiris, mojitos and more. All of the menu items are also available without alcohol.
POOL & MAST BARS
The go-to bars to grab a drink while you're out by the pool. The Pool Bar and the Mast Bar are located on deck 14.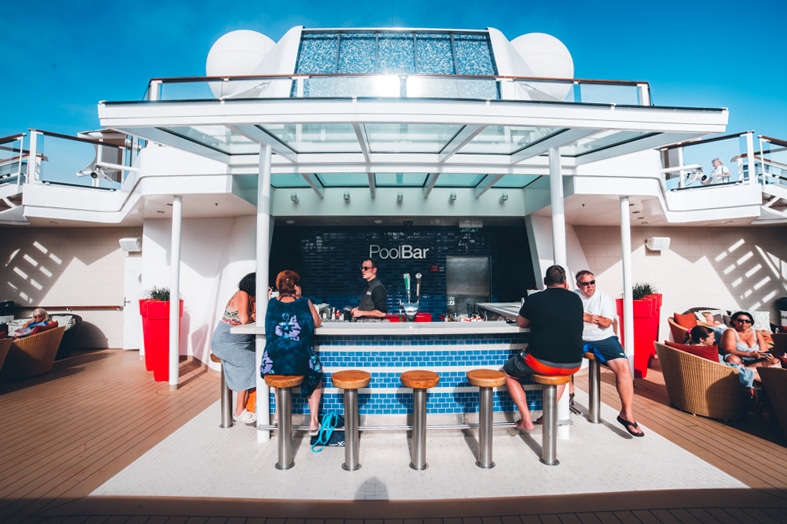 MICHAEL'S CLUB
Michael's Club is an exclusive lounge dedicated to guests who are booked in suites.
The lounge is open 24 hours a day and features a large-screen TV, reading areas with magazines, newspapers, and books, plus a continental breakfast. Complimentary pre-dinner drinks and tapas are served 5:00 PM –8:00 PM daily with complimentary alcoholic and non-alcoholic drinks available throughout the day.
ENTERTAINMENT
From theatre shows to trivia nights, hot glass classes and a silent disco, there is no shortage of entertainment available on the Celebrity Eclipse.
THE ECLIPSE THEATER
EVENING ENTERTAINMENT
The Eclipse Theatre hosts 2 nightly showings featuring an array of live entertainment acts including comedy shows, magicians, guest singers and of course the house entertainment group which is composed of singers, dancers, aerialists and musicians.
During our 10 night cruise, the Celebrity Eclipse put on 4 original full production shows. The aerialists blew us away and were the highlight of the performances each night. While the singers and dancers were all very talented, there was one girl in particular with a phenomenal voice that made us keep coming back.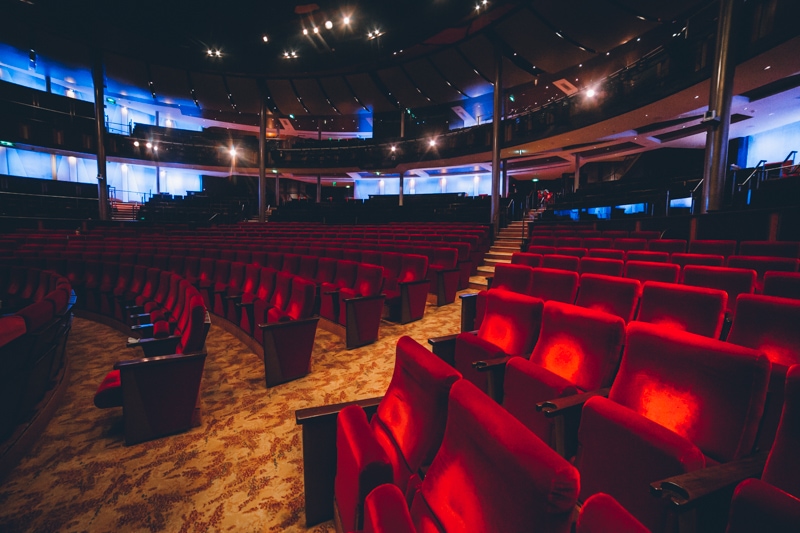 Euphoria was by far my favorite production show on the Eclipse because it featured the most aerialist numbers and Cirque de Soleil inspired acts. It was beautifully done.
Rock City was another fun one because it featured musical hits which spanned across decades. The entertainers sang and danced to songs from Queen, Bon Jovi, The Killers, Marilyn Manson, Journey, and a lot more. People seemed to enjoy this one because it was high energy and everyone could sing a long.
Amade celebrates the evolution of music and features songs from Mozart to Daft Punk, while combining them with unexpected dance styles such as ballet.
Topper was my least favorite show during the cruise. They performed it on our embarkation day and it felt like a fever dream. All I can honestly remember is that they lived in a giant hat and there was a singing dog.
During one of the nightly shows, the entertainment team put on a Broadway Cabaret which is a must see if you like Broadway shows. They sang classics from Les Miserables, Chicago, Phantom of the Opera and more.
As far as guest entertainment, some of the acts were hit or miss. A few of the guest singers were very good, one girl named TeaCake was particularly impressive. The comedian.. not so much.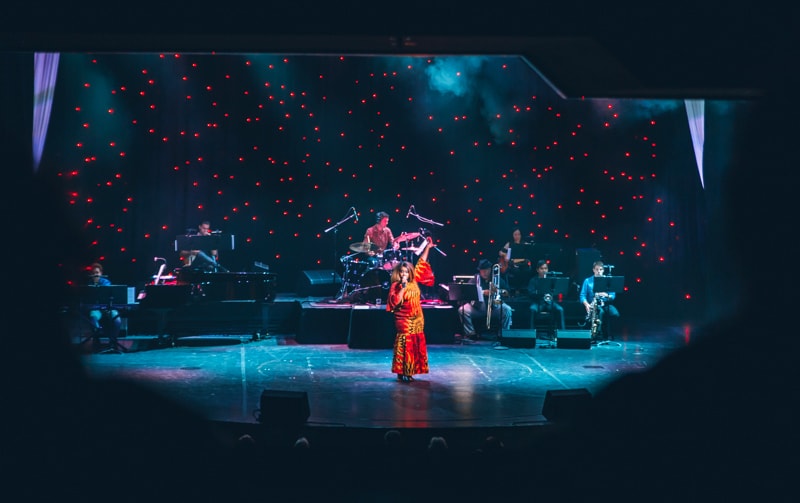 BEYOND THE PODIUM SPEAKERS
During the day, the Eclipse Theater was used as the stage for the "Beyond the Podium" guest speakers and naturalists who presented daily lectures about the ship's destination location, wildlife, astrophysics and more.
One of the lecturers was a scientist who gave talks about Sci-Fi films and Albert Einstein. His talks were usually early, so I unfortunately didn't make it to any.
THE NATURALIST
The ship also had a naturalist on board who gave lectures about Hawaiian plants and wildlife.
She was an excellent speaker and her information about Hawaiian species were fascinating, interactive and thought provoking. She also touched on how we can all be more aware as we travel, and be more conscious tourists which I appreciated (Celebrity Cruises should incorporate more of this into their programming).
The only unfortunate aspect was that her presentation schedule started after we left Hawaii. I wish there was a way to have seen her lectures before we visited because it definitely would've enhanced our time on the islands.
With that said, she was more than happy to answer questions and identify species and plants from photos people took while they were in Hawaii.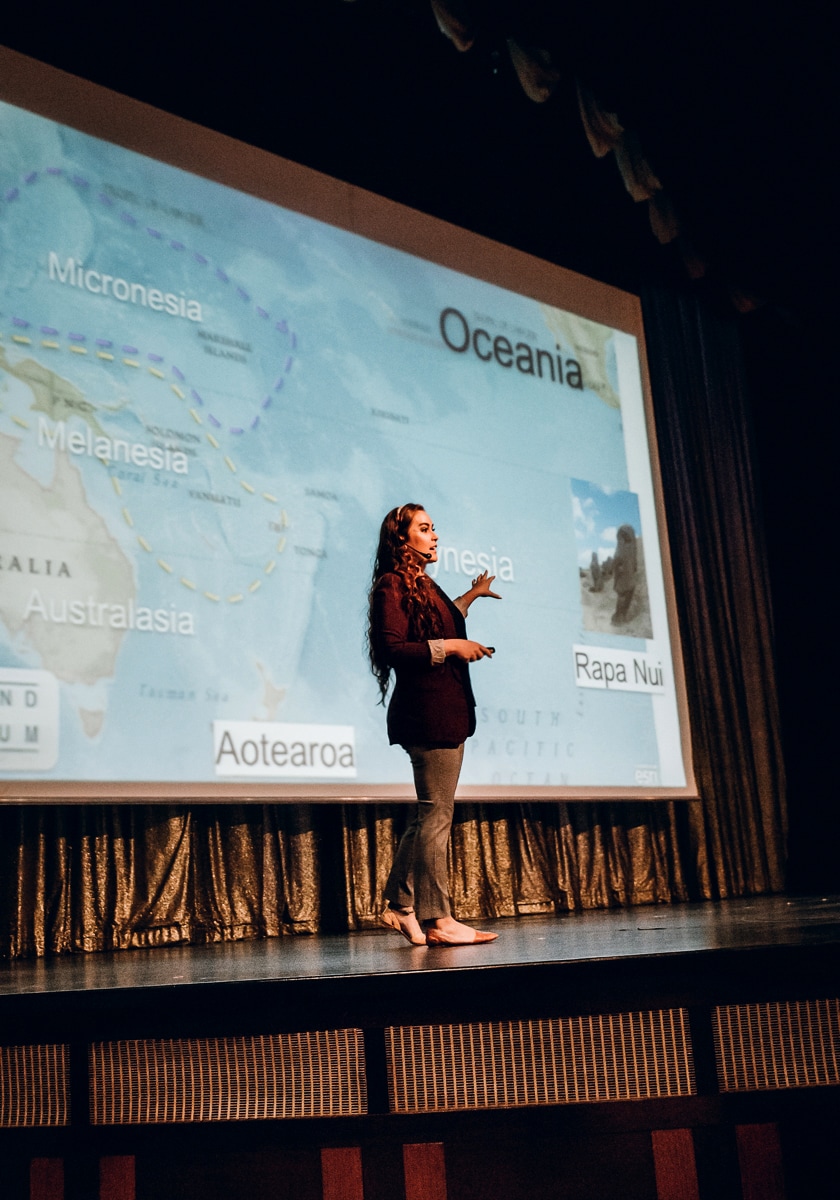 DESINTATION AMBASSADORS
In addition to the naturalist, there were also two native Hawaiian ambassadors on-board who taught classes about Hawaii and its culture. The hula class and a ukulele class seemed to be the most popular but all of their activities were informative and interesting.
Like the naturalist, the ambassadors didn't start their activity schedule until we left Hawaii, so by the time the final hula and ukulele performances happened we were almost to Vancouver and the overall tropical vacation mood was already dying down.
BIG SCREEN MOVIES
Occasionally, the Celebrity Eclipse would transform the theater into a cinema and play movies on their big screen.
---
RELATED POST: THE TOP 10 THINGS TO DO IN VANCOUVER FOR FIRST TIMERS
---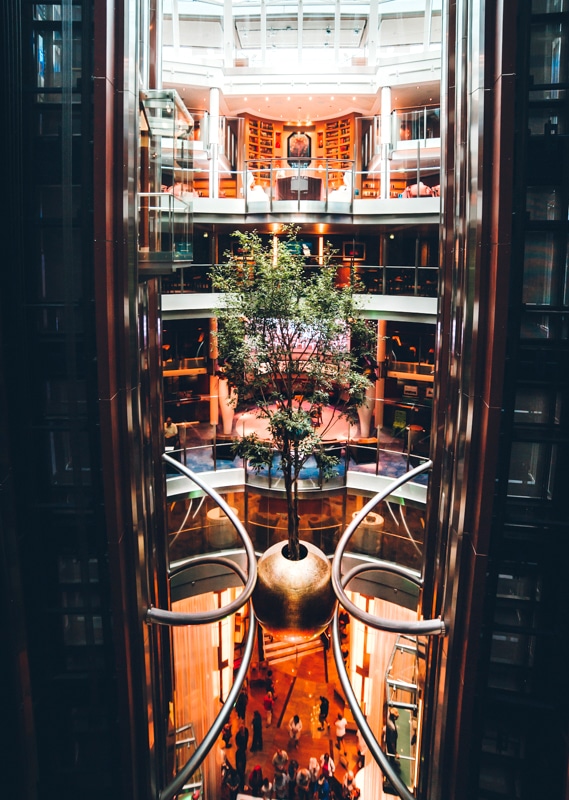 DAILY ACTIVITIES
Each afternoon your cabin steward will leave a full schedule for the next day in your room. On sea days, the schedule is packed from morning to night, so there's rarely a dull moment on-board. While we preferred to go the more relaxed route and not overbook our days, we did make sure to check out some of the most popular activites.
During our cruise some of the activities offered were dance classes (ballroom and hula), trivia, game shows, bingo, cooking demonstrations, scrapbooking classes, fitness classes, pool volleyball tournaments and more.
I'm not a regular cruiser so a lot of the activities were new to me and I was surprised by how much fun I had. My favorites were the music trivia, the Sing a Longs (Queen and ABBA) and of course the silent disco.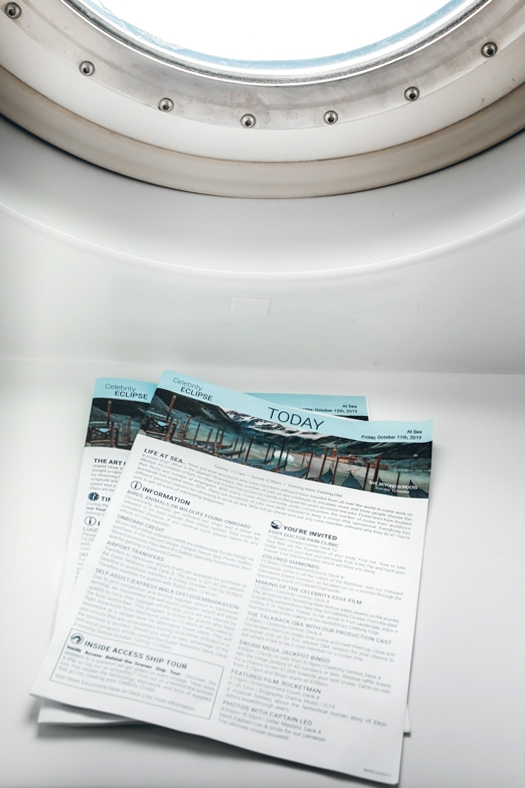 THE SILENT DISCO
Silent Disco nights were by far the most popular and fun activity on the Celebrity Eclipse. You are given wireless headphones with three different channels programmed into them (oldies, disco and modern contemporary). You simply choose your channel and start dancing.
Make sure to take your headphones off at some point and people watch everyone around you. The room is completely silent except for feet shuffling and really loud, bad singing.
If you don't go to dance, go to watch. It's hilarious.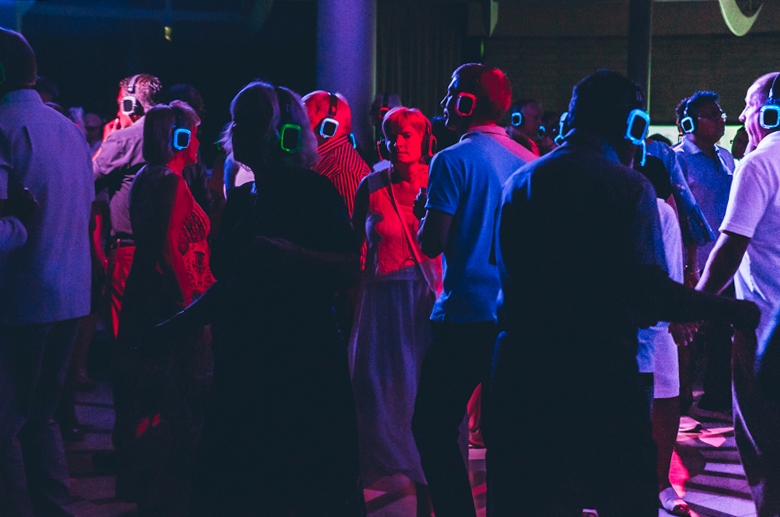 LIVE MUSIC
Live music can be found in almost all of the lounges and bars throughout the ship each night. From solo guitarists to string duos, dance bands, DJs and more, the live music schedule is available on your daily activity planner.
ARCADE
The ship offers a small arcade on deck 15 with video games and air hockey. Prices ranged from $1-1.50 for car games and shooting games, and $2 for the win-a-prize game. I never saw anybody use the arcade.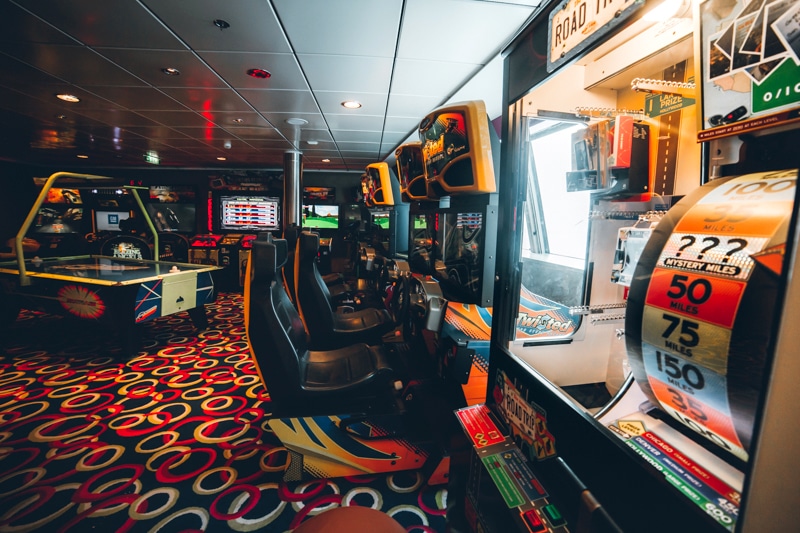 HOT GLASS CLASS
There is a permanent Hot Glass studio on deck 15 which features glass blowing from master glassblowers of The Corning Museum of Glass. You can sit and watch them create or take a class yourself (for a fee) and sculpt your own souvenir.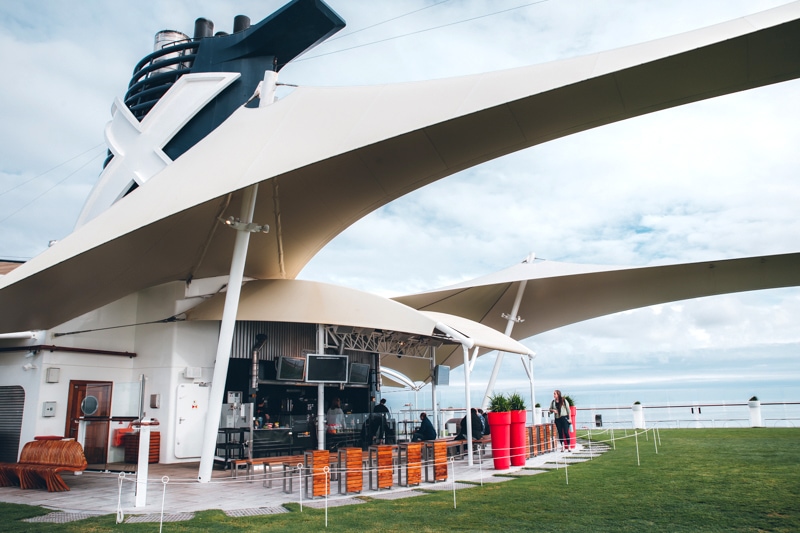 CELEBRITY iLOUNGE
The Celebrity Eclipse iLounge is the ship's internet cafe that also offers tech classes taught by an Apple-certified professional. The classes were beginner level, geared toward teaching non tech savvy passengers how to use Apple products.
If you don't want to carry a laptop on board, you are free to use the computers in the iLounge but you must have a WiFi package ($) to use the internet.
The iLounge also has a small selection of Apple products available for purchase, duty free.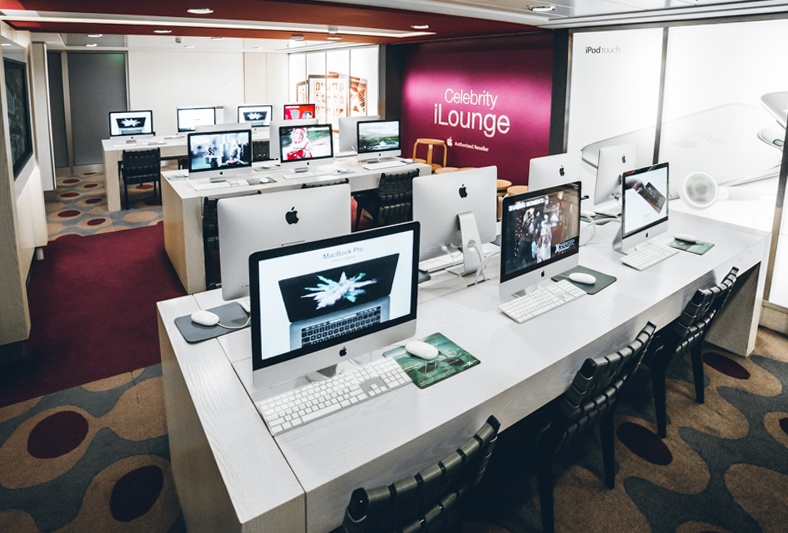 FORTUNE'S CASINO
The Celebrity Eclipse casino is located on deck 4 and features slot machines, blackjack tables, two roulette wheels, two three card poker tables, Ultimate Texas Hold 'Em, a craps table, and electronic lightning poker (Texas Hold 'Em).
The casino would also host activities such as Texas Hold 'Em tournaments, raffles and lotto draws.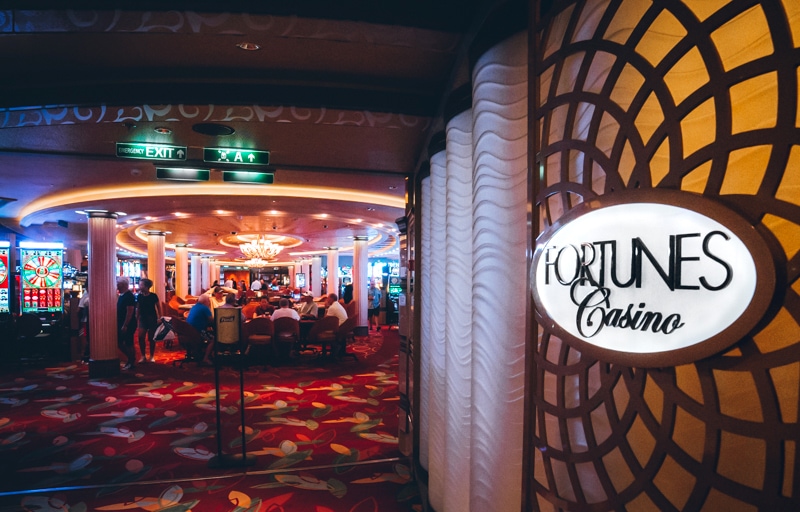 RECREATION & RELAXATION
POOLS AND CANYON RANCH SPA
THE SOLARIUM
The Solarium is an "adults only" (16+) haven on the Celebrity Eclipse, and aside from the Sky Observation Lounge this was my second favorite place to hang out on the ship.
The Solarium is located indoors but the glass ceilings and walls make it feel like you are outside. The light is super bright and inviting, and the fountains, living plants and soothing music make the atmosphere feel very spa like. In the Solarium you'll find a pool and jacuzzis, plus tons of lounge chairs and several daybeds.
If the weather outside is too cold or too hot, I recommend staking out your lounge chair in the Solarium early. It's temperature controlled so people flock there when the outdoor pool is closed or if the weather is not ideal.
The AquaSpa Cafe is also located in the Solarium. Make sure to check it out during breakfast or lunch to find lighter, healthier food options.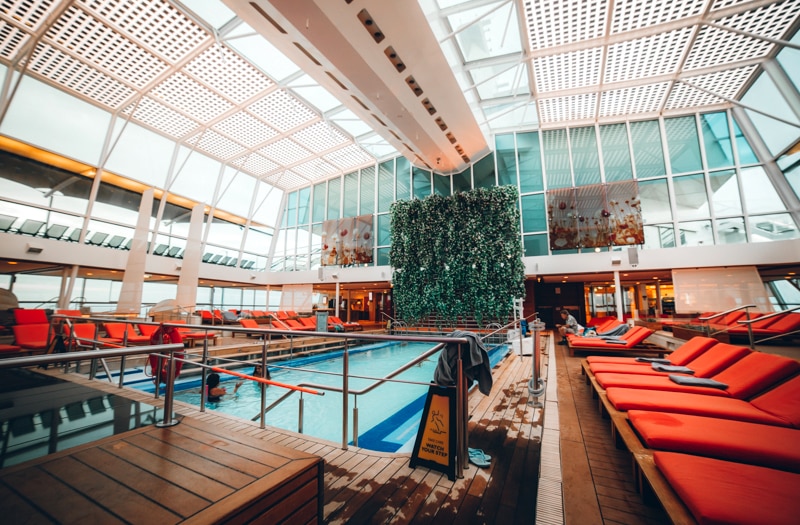 POOL AREA
The outdoor pool deck is one of the most popular hangout locations on the ship, especially if you're cruising in a tropical destination.
Featuring 2 pools, 4 jacuzzis, several walk up bars and tons of loungers, this area fills up very quickly. Unless you claimed a spot early, it was difficult to find an open chair on busy sea days. For this reason, we preferred to do late afternoons in the jacuzzi, as nobody was around during and after dinner.
The pool area was also used at the setting for several dance and aerobic classes, volleyball tournaments, the luau party and the live DJ.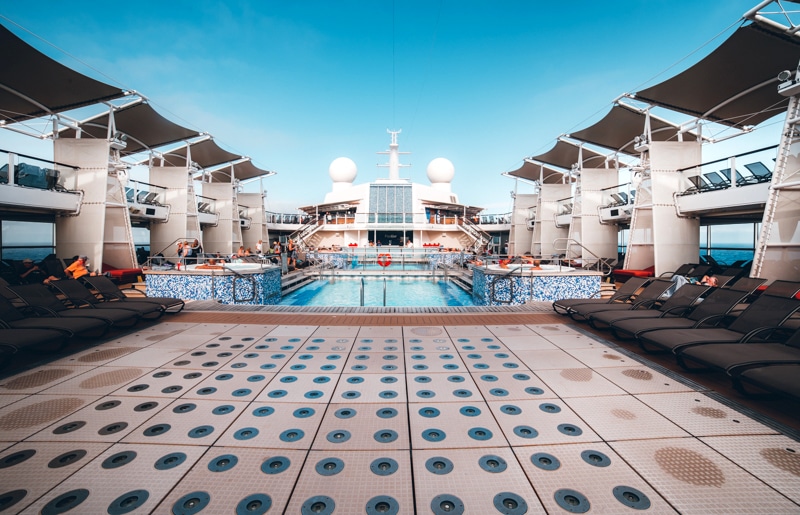 THE SPA
Canyon Ranch Spa a full-service spa offering wellness and fitness classes, beauty treatments and even injectables.
They have a full service salon where you can get your hair cut, colored or styled. There are also makeup artists on-board as well as manicurists, waxing services, acupuncture, facials, massages and personal training sessions in the fitness center. You an also touch up on Botox and Juvederm cosmetic treatments while on-board.
Canyon Ranch offers a daily schedule of classes and presentations but they are mainly focused on getting you to purchase treatments.
Speaking of purchasing treatments.. the prices are high. Expect to pay between $150-$250USD for a massage, $150-$280USD for a facial and $80-$120USD for a pedicure.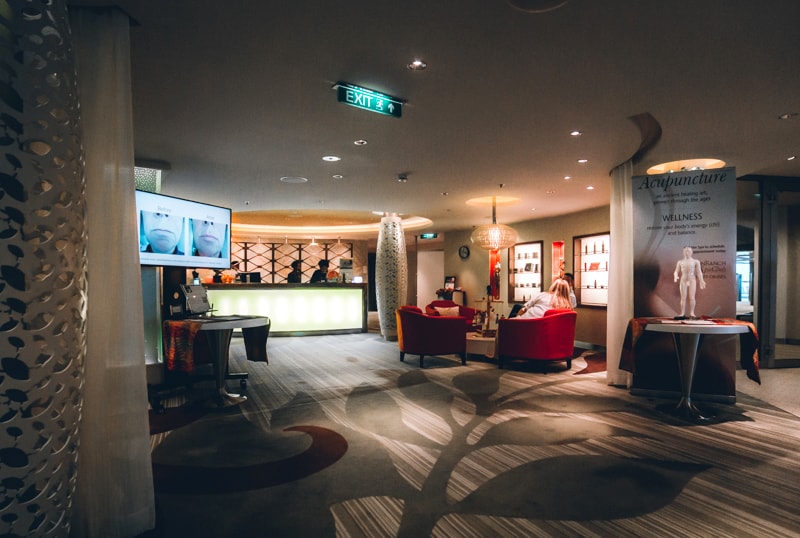 THE PERSIAN GARDEN
Within the Canyon Ranch Spa, you will also find the Persian Garden which features an aromatic steam room, Finnish and herbal saunas, sensory showers and a relaxation lounge with heated tile loungers.
The Persian Garden is available to those in Aqua Class Staterooms or you can purchase a daily pass.
THE CELEBRITY ECLIPSE FITNESS CENTER & GYM
Located on deck 12 within the Canyon Ranch Spa, you'll find the 24 hours fitness center complete with treadmills, stair climbers, bikes and ellipticals. There is also a selection of weight machines as well as numerous free weights available
In addition to the machines and weights, the gym also offers a number of basic free fitness classes like stretching, Zumba and an ab workout class. They also offer paid fitness classes such as pilates, yoga and indoor cycling, which cost $15USD (plus an 18% service fee). Free fitness classes run for 25 minutes and the paid classes go for 45 minutes.
I was really excited about having such a nice fitness center available on the ship but unfortunately when I hurt my back my gym goals went out the window.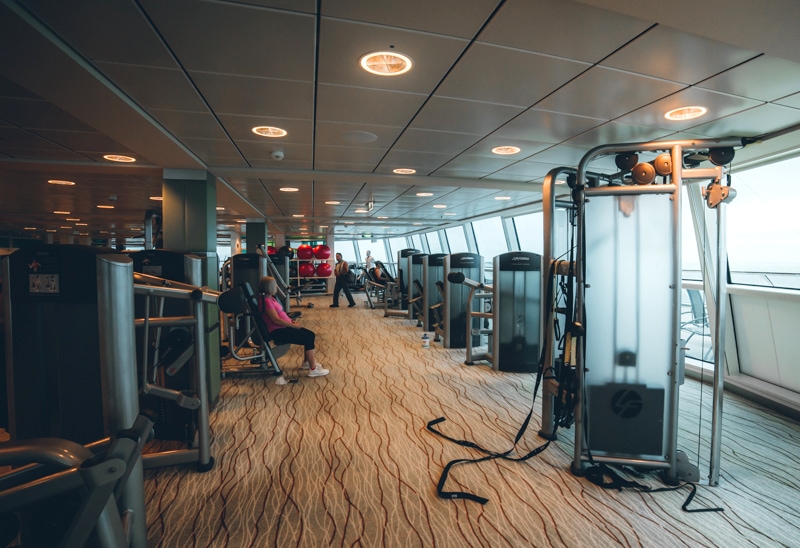 OUTDOOR RECREATION & SPORTS
The Celebrity Eclipse has several outdoor recreational areas including a basketball court, a jogging track, bocce/lawn bowling, a 3-hole putting green, and ping pong tables.
RECREATION AREAS
THE LAWN CLUB
Celebrity Solstice Class Ships offer half an acre of real grass on their top deck where you can have a picnic, play bocce ball or lay out. The Lawn Club was usually pretty quiet which made for a nice escape on the busy ship.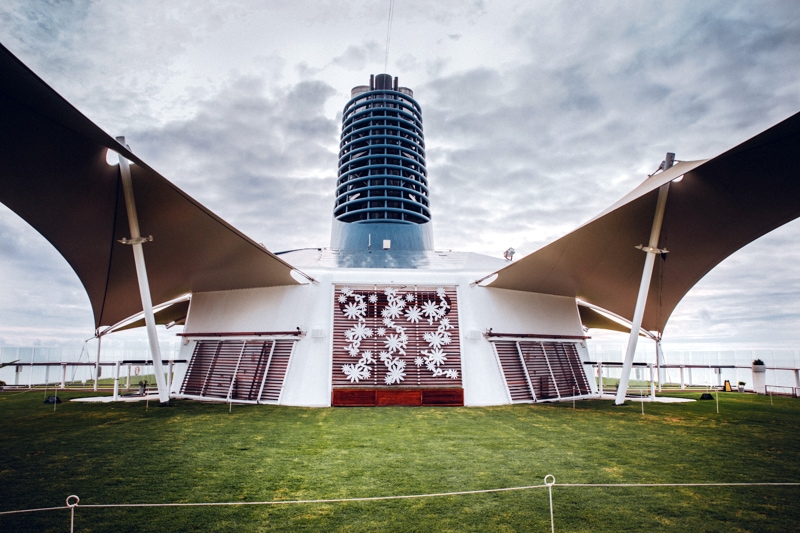 THE CARD ROOM
The Card Room is located on deck 9 and is comprised of several tables for playing cards and board games. It's pretty basic but I noticed quite a few people using it each day.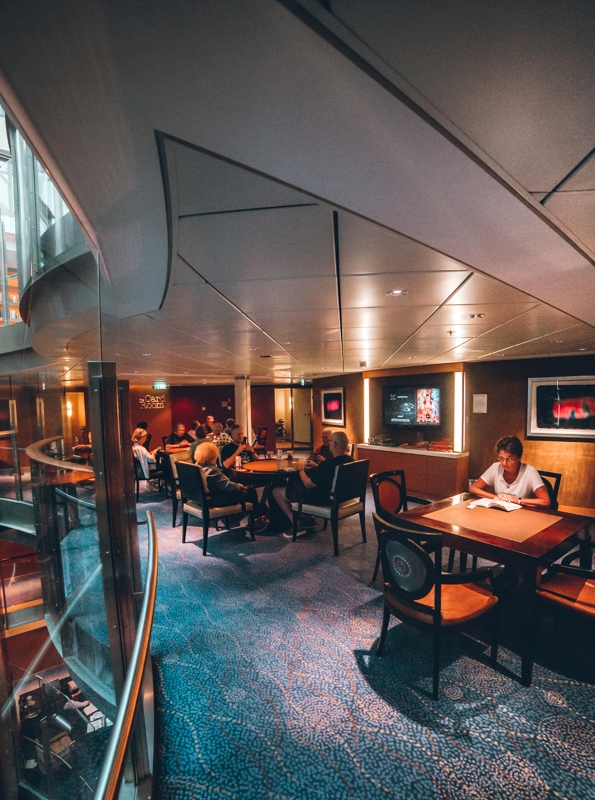 THE LIBRARY
The Celebrity Eclipse has a beautiful 2 story library with a large selection of books available for borrow. It didn't look like there was a book check-out process, it seemed to run on the honor system.
The library also has a few comfortable seating options to sit and read, which is especially nice mid-day when the sun beams down from the skylight.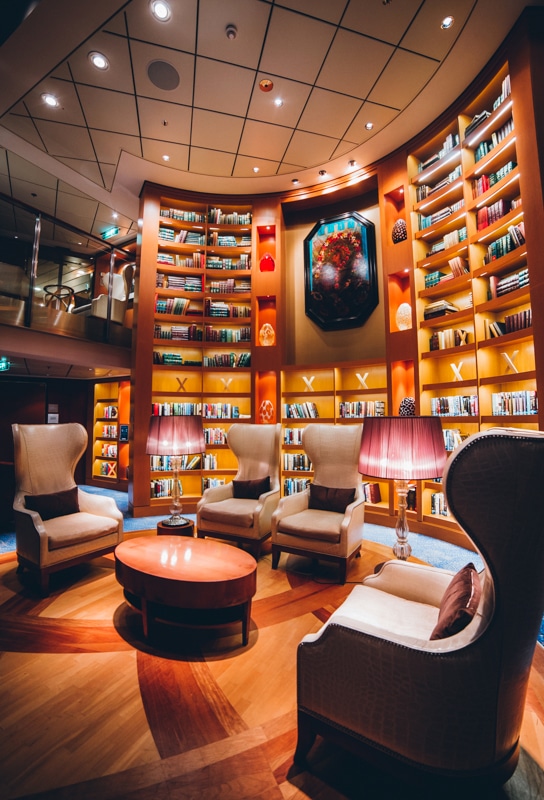 SUN DECKS
If you're looking to catch some Vitamin D, the Eclipse has a ton of options for laying out in the sun. Head to the Resort Deck (12) to lay by the pool, or if that's too busy the Lido Deck (14) is lined with loungers that circle around the outdoor jogging track. Take a towel to the Lawn Club Deck (15) and lay in the grass or visit the Solstice Deck for some (usually) people free sunbathing .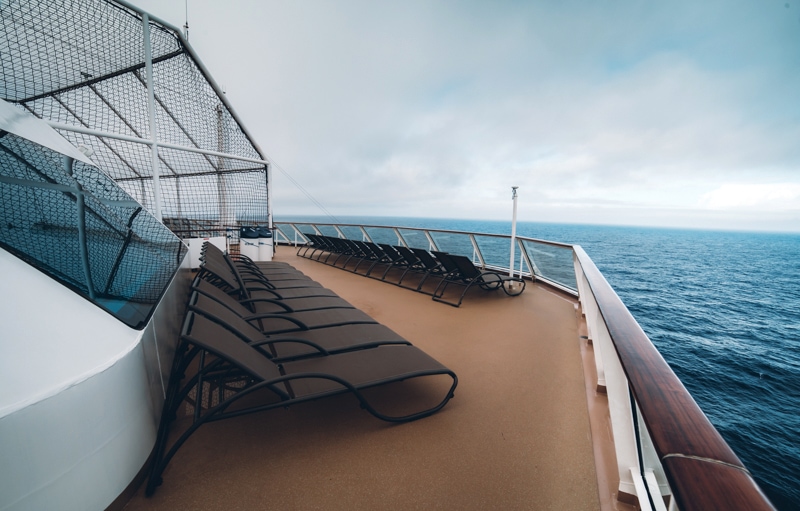 SHOPPING
We didn't do any shopping while on board but if you're looking for some duty-free retail therapy, there are a few options available.
SHOPS ON THE BOULEVARD
Head to deck 4 for the main shopping aisle of the ship. Here you'll find jewelry, clothing, fragrances, souvenirs and more. The Eclipse offers brands like TAG, Michael Kors, Bulgari, Omega, Dior, Lancome and Ray Ban.
In addition to the Shops on the Boulevard, the Eclipse has The Galleria, a photo gallery and an art gallery. They also do trunk shows, auctions and merchandise sales throughout the duration of the cruise.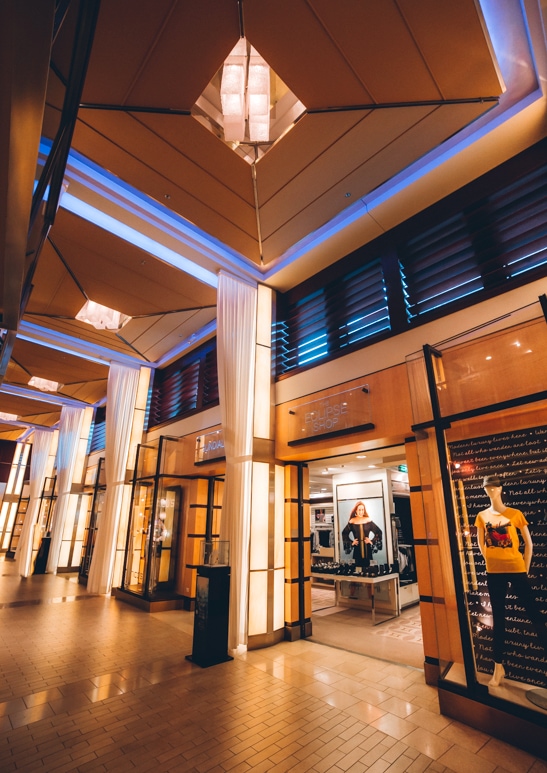 WHAT TO PACK // 15 ITEMS YOU MIGHT BE FORGETTING
CRUISE SAFE POWER STRIP There are only 2 outlets in each stateroom but power strips and extension cords are not allowed on board (and likely to be confiscated by Celebrity Cruises during embarkation).
This no surge power box is designed especially for cruisers and will give you three more outlets and 2 USB chargers for all your charging needs.
WINE Many people don't know this but you are allowed to bring up to two bottles of wine or champagne onboard (per stateroom) on embarkation day.
REUSABLE WATER BOTTLE Water is free in the buffet and in the AquaSpa but the cups are small. We would fill up our reusable water bottle (I like this one because it keeps drinks hot/cold) to keep in our room and carry with us throughout the day.
Someone (a guest) yelled at us for filling up directly from the water tap, so use a fresh cup to transfer the water into your bottle.. for hygiene reasons I think.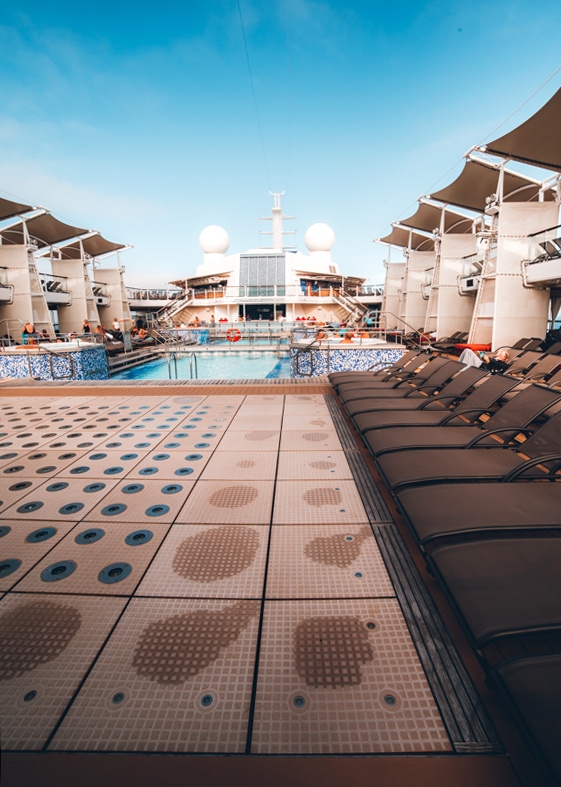 WALKIE TALKIES With no phone service and outrageous WiFi prices, walkie talkies can be helpful if you're traveling with a large party or kids on the ship. These ones have great reviews from cruisers.
SWIMSUIT Even if you're cruising in cold weather destinations, you will regret not packing a swimsuit. The Solarium is indoors, temperature controlled and it has jacuzzis.
BOOK OR IPAD There are so many different areas on the ship to sit and get comfy with a book or a game. The ship does offer complimentary book rentals in their library too.
SANDALS A pair of slides or slip on sandals come in handy if you need to quickly throw on shoes to run out and grab food, or if you're heading to the pool or spa.
CAMERA Capture those memories. Don't forget extra camera batteries and memory cards too.
IMMUNITY BOOSTERS Being sick on vacation sucks. I recommend bringing some type of immunity boosters or supplements such as vitamin C. We brought a bottle of Apple Cider Vinegar to keep in our mini fridge, but you don't have to go that far haha.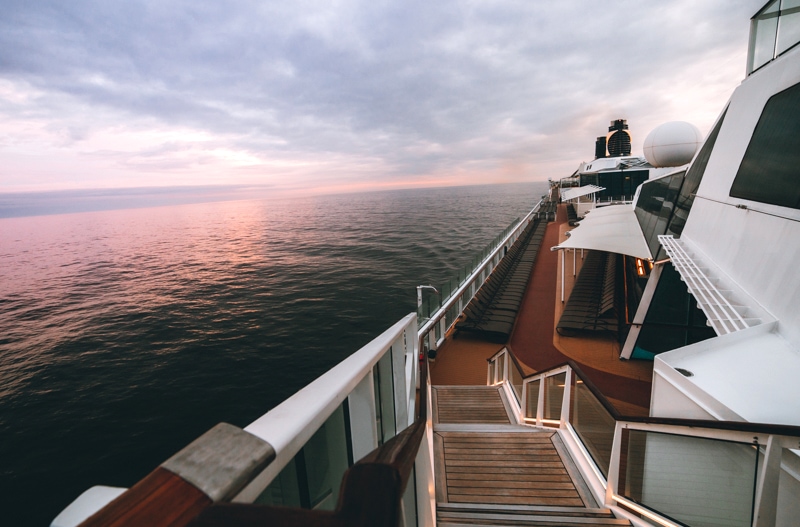 LAUNDRY DETERGENT Laundry services are available on board but it costs $3 to wash 1 pair of underwear and $4 to wash a swimsuit. I like to pack travel laundry detergent and wash these types of items in the sink. They dry within a few hours and it helps me to not overpack.
TUPPERWARE It ain't classy, but hear me out. If you eat too much at lunch but still want to try the chocolate cake, stick it in your Tupperware for later. If someone in your party isn't an early riser, grab them a bagel at the buffet and keep it fresh. On the last day, fill up some breakfast items to go and have a free snack on your flight home.
This one is small and inconspicuous, and doesn't look like your typical clear plastic food storage box.
EARPLUGS Sometimes it can be noisy pulling into port, especially if you're staying on the lower levels of the ship. Also the walls were pretty thin in our stateroom so it's better to be safe than sorry if you happen to wind up with noisy neighbors.
DAYBAG/BACKPACK It's helpful to have a small backpack or day bag to carry with you throughout the day. You can use it to hold your activity schedule, SeaPass card, camera, water bottle etc..
BINOCULARS On our cruise to Vancouver, the ship sailed through some of the best whale watching waters in the world. We stood at the front of the ship and spotted tons of them. It was amazing and I regretted not having binoculars on me.
FIRST AID KIT Just in case. This one is made for cruisers and has 150 items including cold, cough, and pain medicine, hangover, allergy and dehydration relief. As well as aid for cuts, scrapes, burns, insect bites, wounds and more.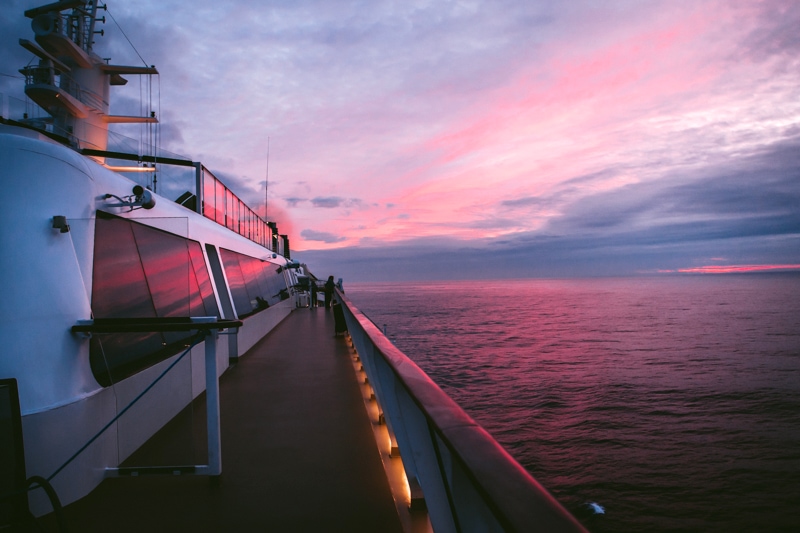 CELEBRITY ECLIPSE ACCESSIBILITY
A few days before I boarded the Celebrity Eclipse, I hurt my back (like… really really hurt it). I was bedridden for the first few days of the cruise and didn't even make it off the ship at 2 of the ports.
This is the first time I experienced a minuscule amount of what travel must be like for those with limited mobility, disabilities or special needs. The experience opened my eyes a lot.
I am extremely grateful that this vacation was on a cruise ship because Celebrity Cruises made it as easy as possible for me to get around. Not only are there an abundance of wheel chairs available, but almost every section of the ship was accessible to me (except for the Solstice Deck where you need to climb stairs).
All the doors are automatic, even in the public restrooms, and they offer wheelchair and disabled seating in the theater and gathering areas.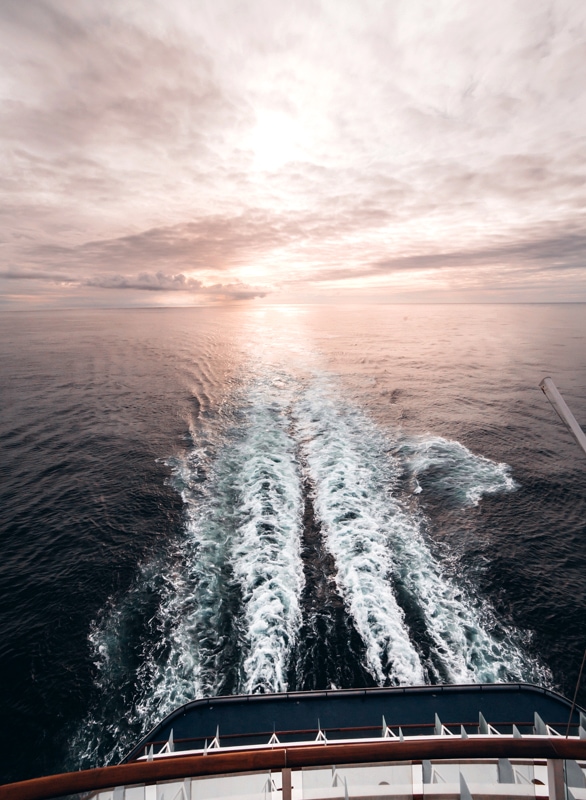 MEDICAL CENTER
While most passengers will not even step foot in the Medical Center, I was one of their regulars. I brought 2 ice packs on the ship with me and they were kind enough to keep them frozen so that I could rotate them throughout the day.
The medical center also offers free sea sickness medication and has a minimum of 1 physician and 2 nurses on board at all times.
DISEMBARKATION
When the Eclipse sailed into our final port on the last day, disembarkation went as smoothly as it could've gone.
The Cruise Director and staff made sure to properly inform everyone of the process the day before and there is also a video that plays in your stateroom, detailing how it all works.
If you want your bags to be taken off the ship for you, you will leave them outside of your room the night before. You'll be given a color coded tag which lets you know your disembarkation order, and they announce each group over the intercom one by one. We chose to carry our own bags off the ship so we were allowed to leave at any time.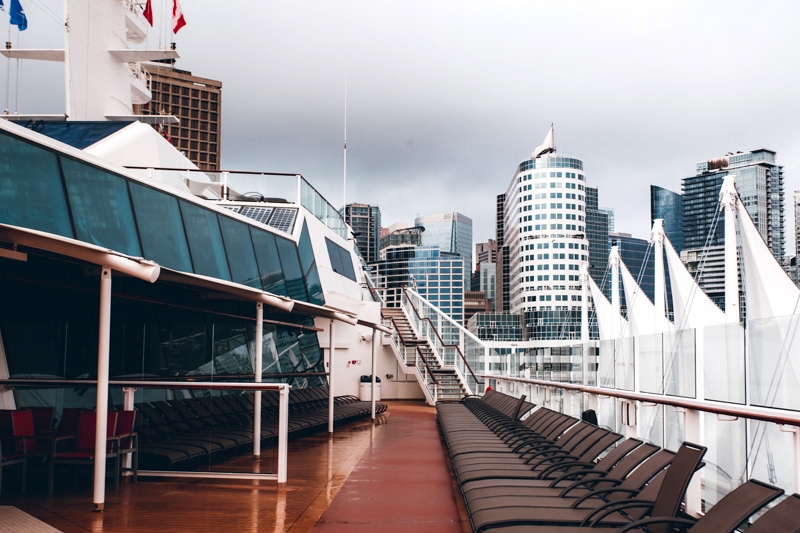 We were staying in Vancouver for a few days so we weren't in a huge rush to get off the ship. We had our last breakfast at the buffet (fresh donuts were set out for the occasion) before eventually deciding to head out.
Once you're off the ship, the country you are in will dictate the immigration procedure. In Vancouver it was very painless, and only took us about 10 minutes to get from the gangway of the ship to the outside of the port.
Have you sailed on the Celebrity Eclipse? Leave your tips in the comments!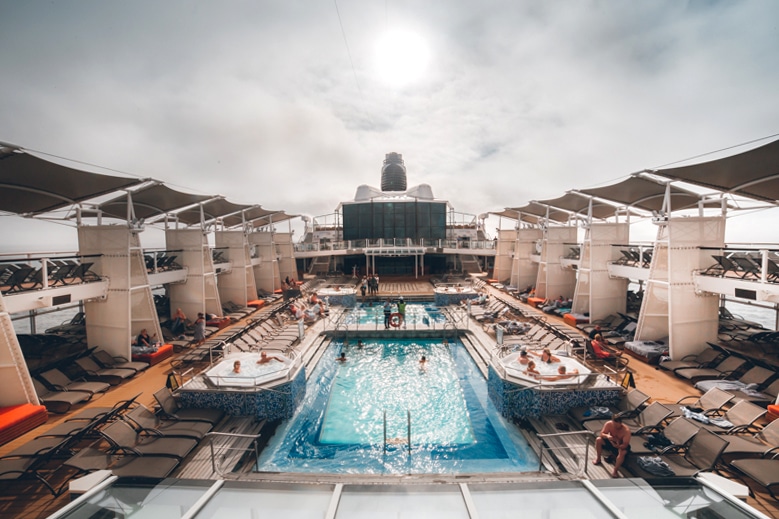 ---
PIN IT: CELEBRITY ECLIPSE REVIEW // WHAT TO EXPECT ON YOUR CRUISE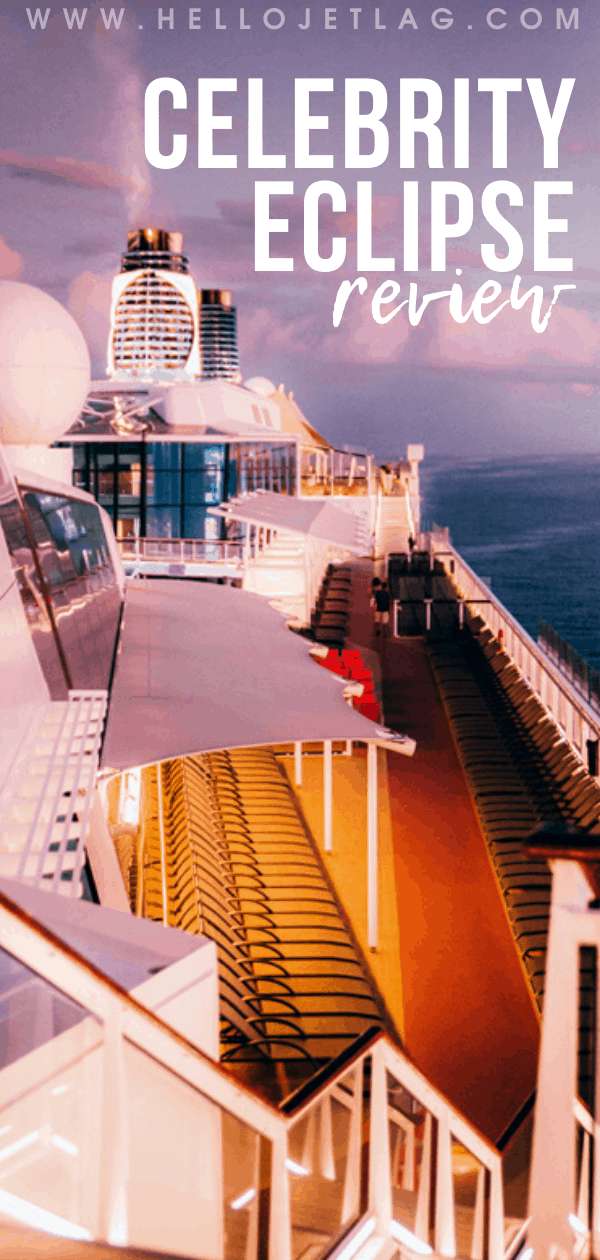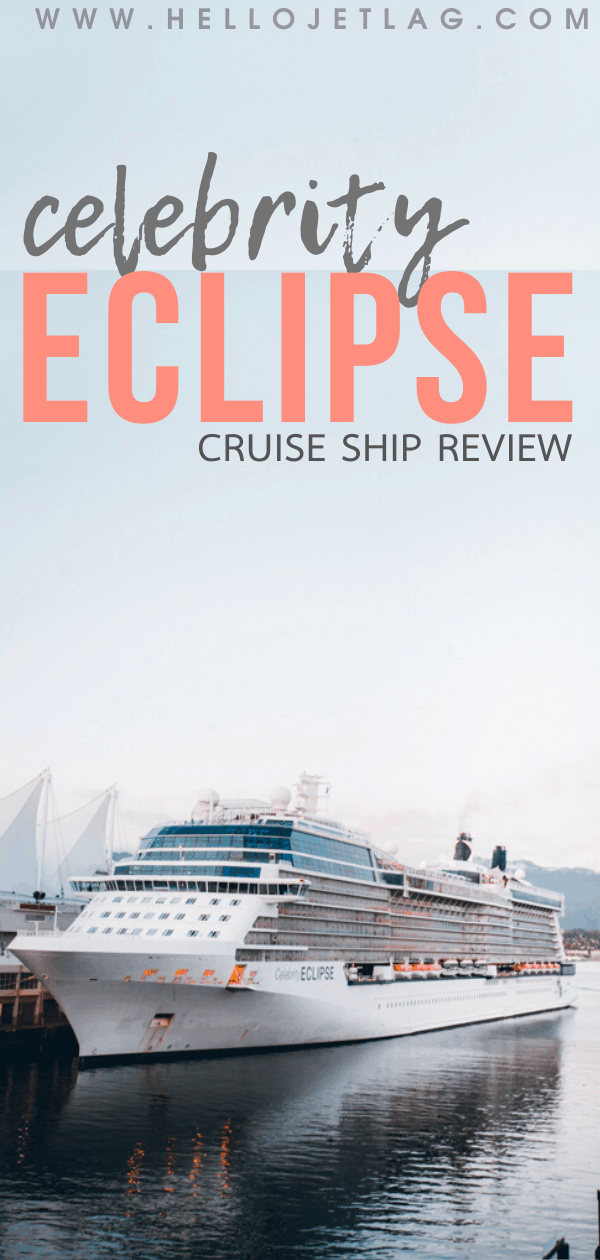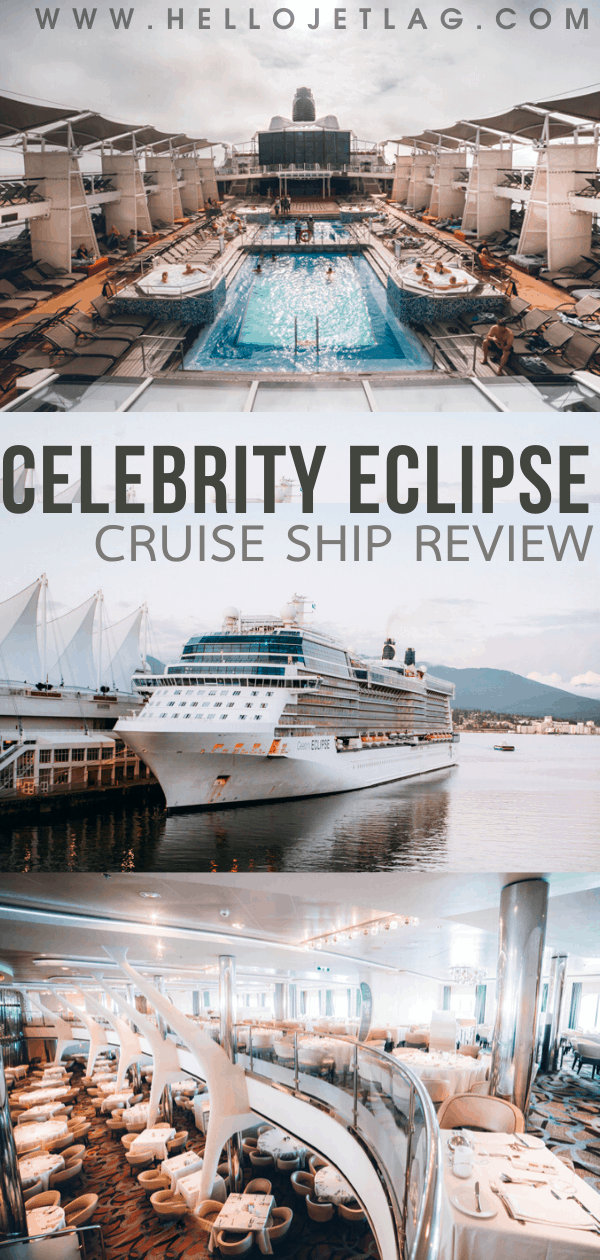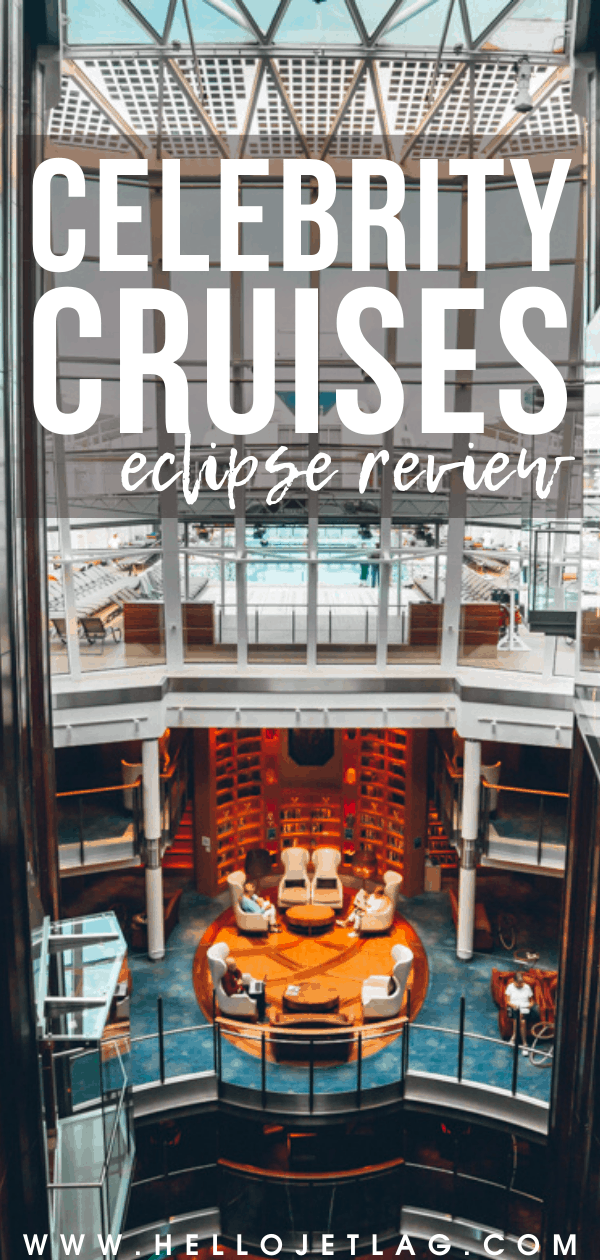 DISCLAIMER: This post contains affiliate links.