Normally I do a ton research to find the best food and drinks in a new city, but this trip to Vancouver was a little different. Nick has traveled here multiple times so he had a few places he wanted to take me. We also know quite a few people who are either from the Vancouver or who have lived here at some point in their lives.
After collecting a massive list of restaurant recommendations, we added them all to our Google Maps and slowly made it to as many as we could during our week here. We also stumbled upon a few new places that were impressive enough to add to the list.
From specialty coffee to Canadian comfort food, a farm to table bistro and the best poutine in the city, keep reading for 9 Vancouver food recommendations in the Downtown area.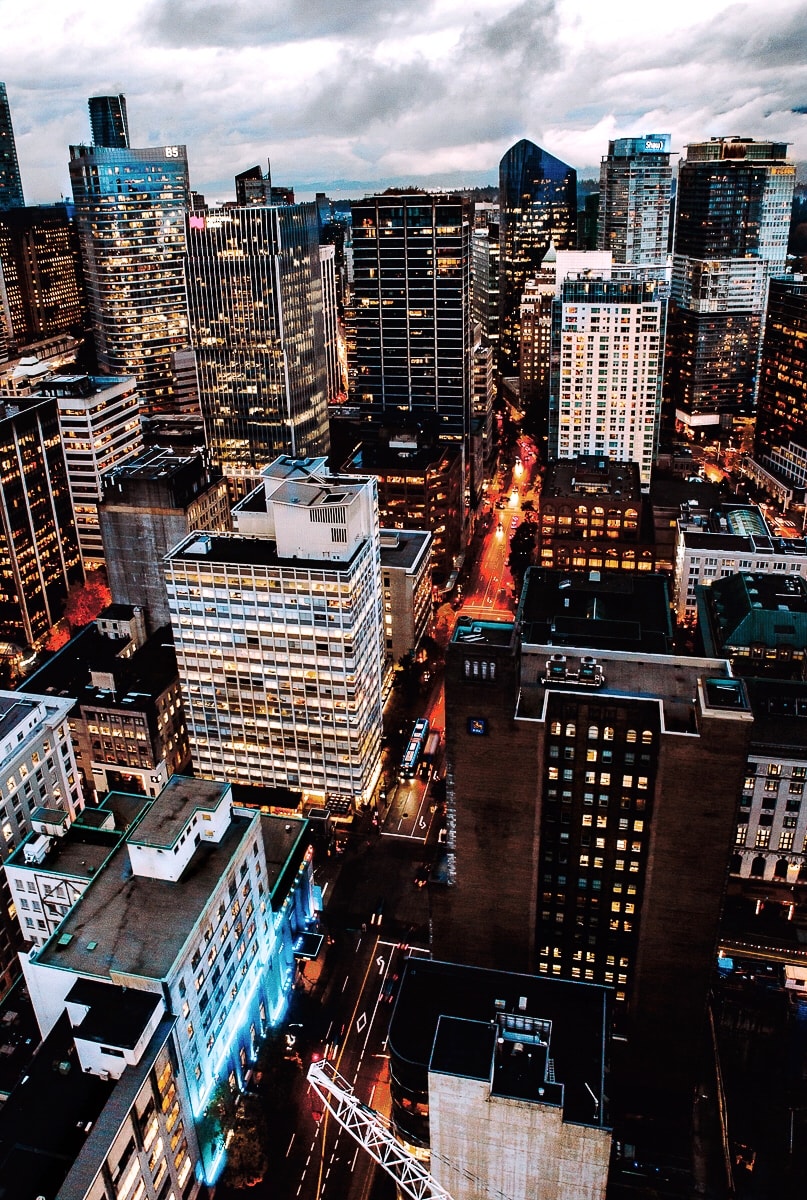 VANCOUVER FOOD GUIDE // WHERE TO EAT IN DOWNTOWN
REVOLVER
Revolver came highly recommended to us as one of the best coffee shops in Vancouver, especially for coffee snobs.
As non coffee-snob, irregular caffeine drinkers, this place felt a little too advanced for us but I know how serious people get about their coffee, so if that's you .. add Revolver to your list.
Revolver features a rotating menu from local and international roasters and they offer the largest variety of brewing methods in the city. We were told that every coffee on the menu is put through a blind taste test to determine if it will make the next week's menu.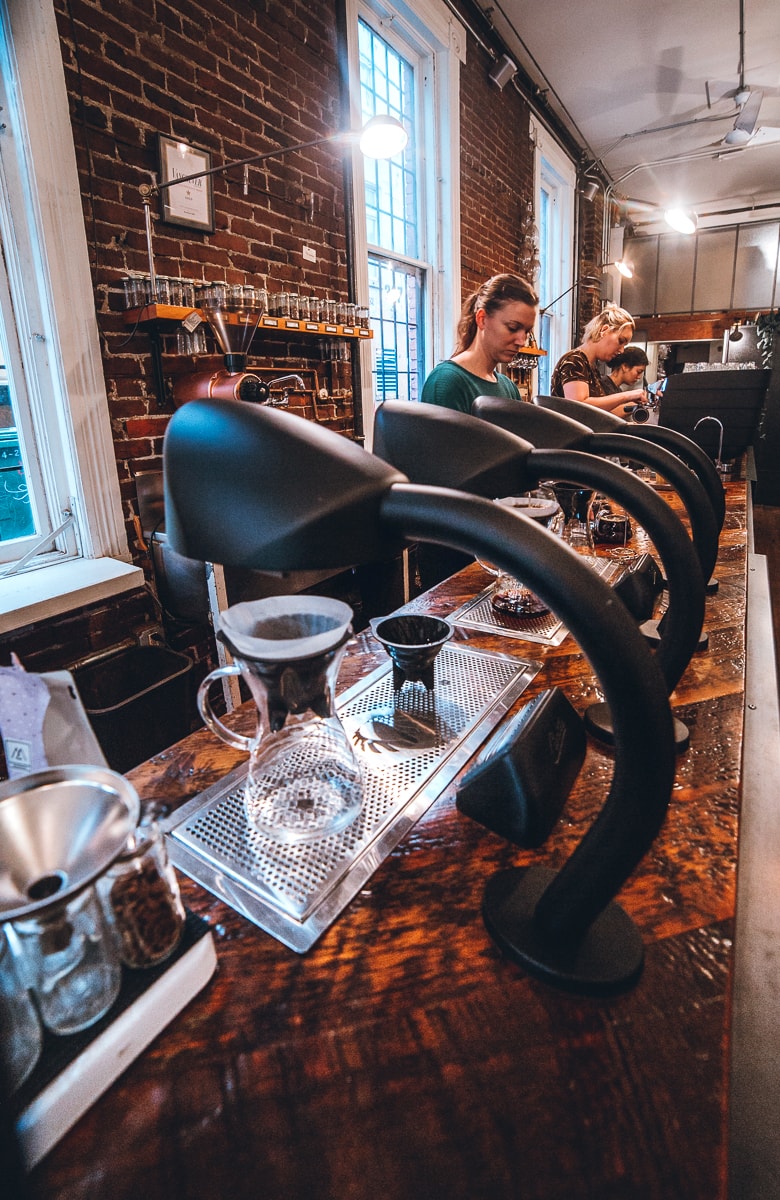 Revolver also offers two different espresso flight options. The Tasting Flight is presented as 3 coffees brewed 1 way, and the Brew Flight offers 1 coffee brewed 3 different ways.
While food is not the main draw, the coffee shop does have a small selection of baked goods available. We ordered the espresso tasting flight, a croissant and a slice of banana bread which was delicious.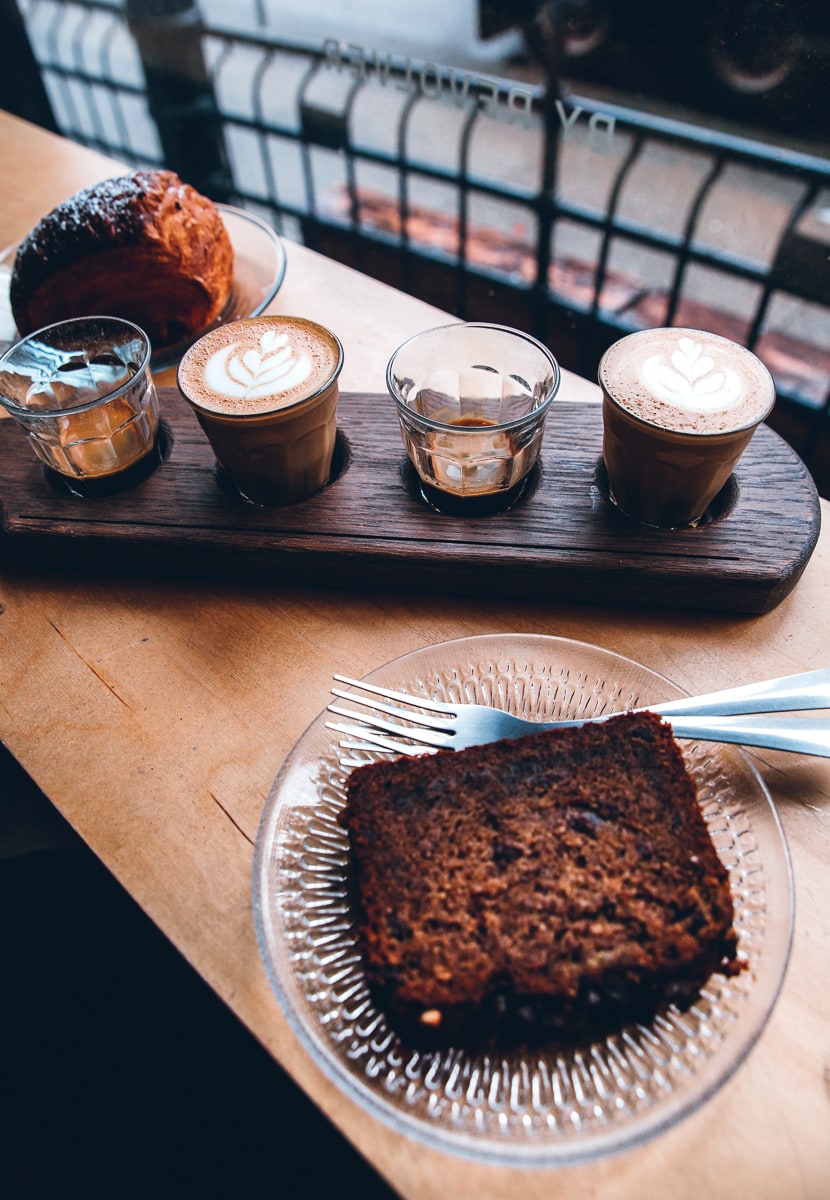 Revolver's masculine, industrial design fits in well with the shop's Gastown location. It gets super busy during the day but they have an adjoining room next door with extra seating and tables.
ADDRESS
325 Cambie St, Vancouver, BC V6B 2N4, Canada
HOURS
Monday-Friday: 7:30AM-6PM
Saturday: 9AM-6PM
Sunday: Closed
RAMEN DANBO
Ramen Danbo was located directly across the street from our hotel (The Listel) and we couldn't help but notice the long line of people outside of the restaurant every night.
Obviously our curiosity was peaked and we ended up having the best ramen we've ever eaten at this tiny shop on Robson. Many of the reviews mention that the only place to find better ramen is in Japan (we've never been, so we can't comment).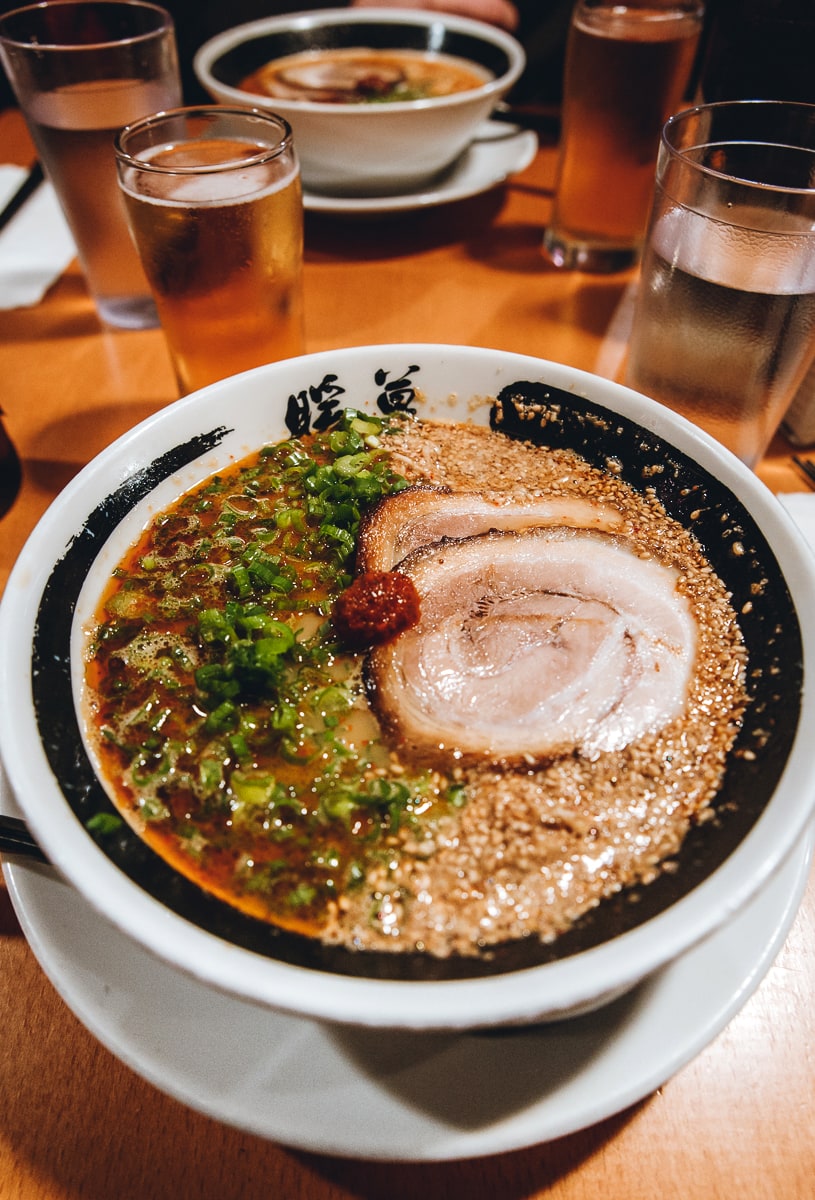 The restaurant is small but the staff is extremely efficient. The food comes out fast so if there happens to be a line outside, don't worry it will move quickly. We noticed that the line starts to form in the afternoon, so consider stopping in for lunch and you'll have a better chance of being seated right away.
When ordering at Ramen Danbo, you can customize the thickness, firmness and richness of your noodles and broth. The make their signature tonkotsu broth in-house daily, and also offer vegan options for every menu item.
We both ordered the Negi-goma Rekka Ramen as well as the gyoza and we were blown away by everything we ate here.
ADDRESS
1333 Robson St, Vancouver, BC V6E 1C6, Canada
833 W 4th Ave, Vancouver, BC V6J 1M4, Canada
HOURS
Monday-Sunday 11AM – 11PM
FORAGE
Forage is a farm to table bistro with a focus on sustainable, local fare. Chef Welbert Choi has created dishes for Forage and their website states that "he chooses his ingredients with respect, considers the environmental impact of what he brings into the kitchen, and approaches food in a way that celebrates the whole ingredient."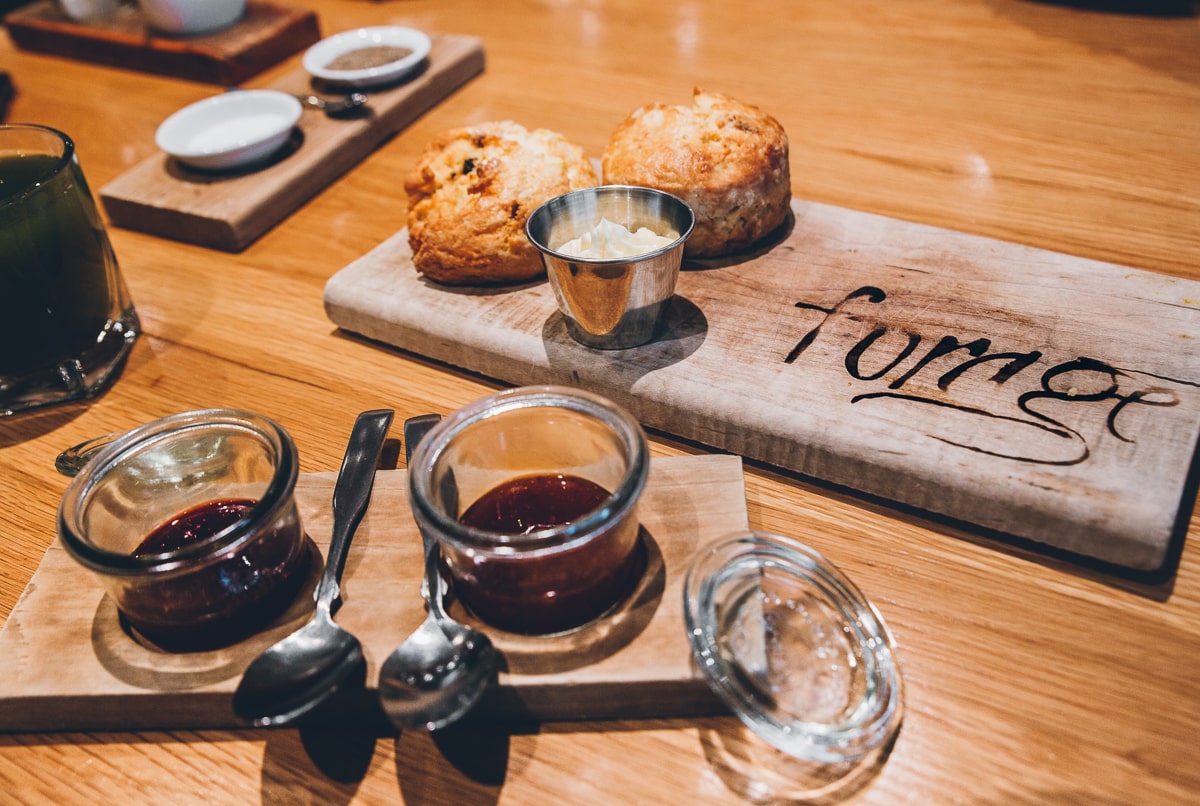 We had the best breakfast of our trip here (and the best Eggs Benedict .. ever). We also tried their artisan scones as well as the brioche French toast with rhubarb purée, candied bacon and compressed blueberries.
Everything was delicious and I highly recommend adding this restaurant to your list of things to do in Vancouver.
Forage is open for breakfast and dinner as well as weekend brunch.
ADDRESS
1300 Robson St, Vancouver, BC V6E 1C5, Canada
HOURS
Monday-Friday: 6:30AM-10AM & 5PM-10PM
Saturday-Sunday: 7AM-2PM & 5PM-10PM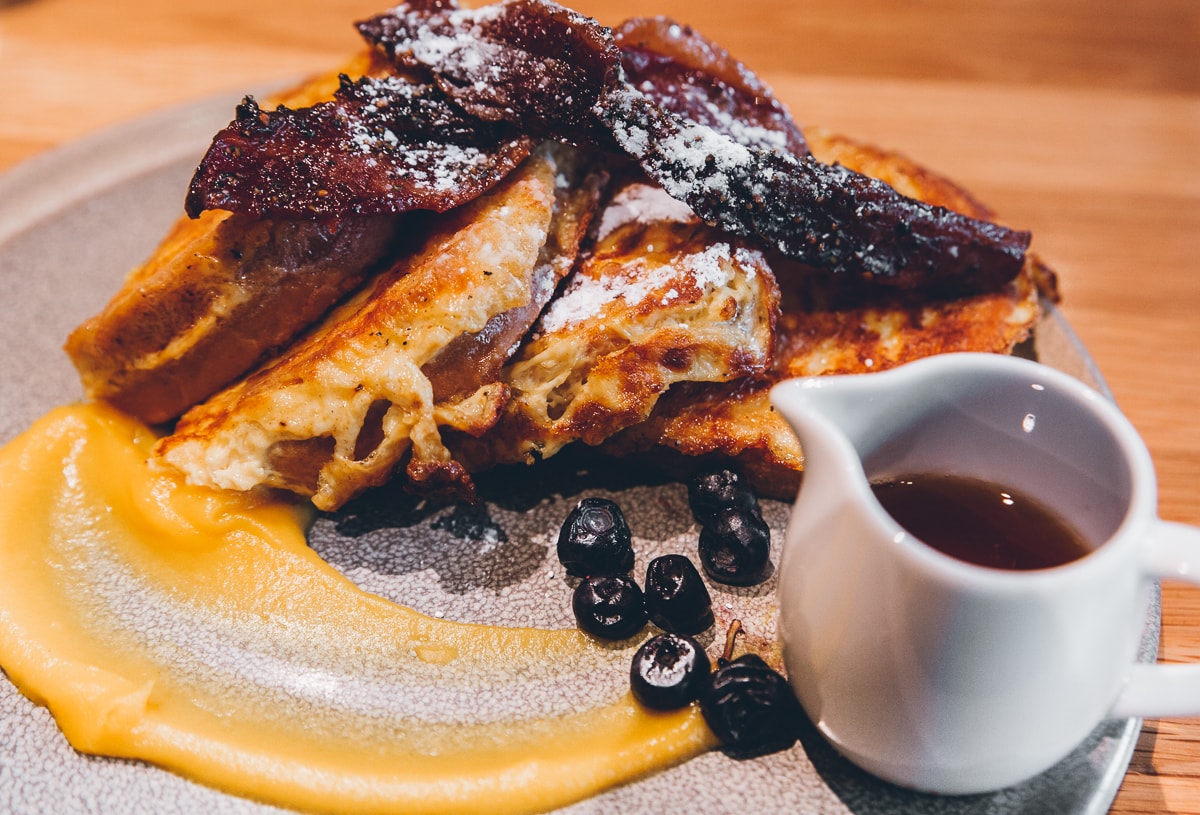 ---
RELATED POST: THE LISTEL // AN ECO FRIENDLY BOUTIQUE HOTEL IN DOWNTOWN VANCOUVER
---
TIMBER
Timber is a Gastropub serving up Canadian comfort food and a large selection of rotating, local craft beers. Timber and Forage (above) belong to the same owner, so sustainability and locally sourced food is a high priority in this restaurant as well.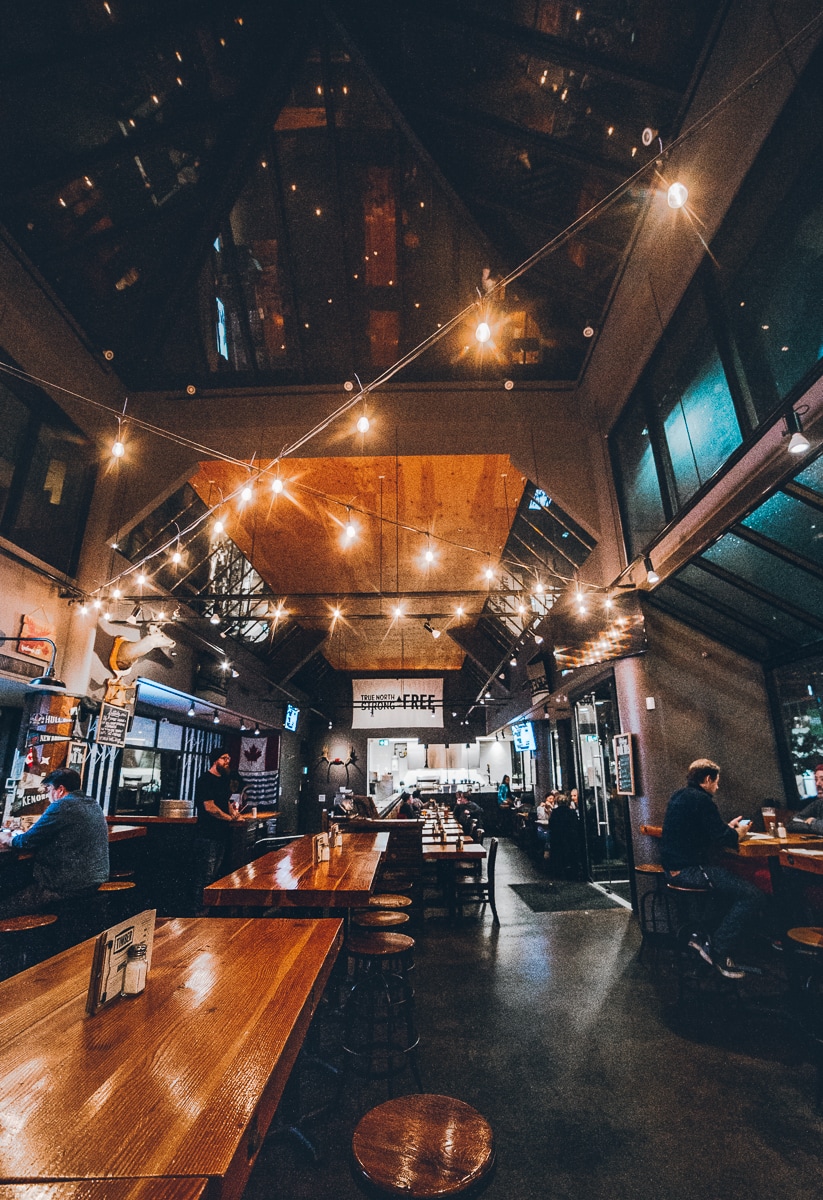 The restaurant is best known for their bison burger but to us, the clear menu winner was the chili garlic fried cheese curds. If you order nothing else, you have to try these.
While the food was very good, we almost loved the cozy cabin style atmosphere more; they even have an outdoor campfire where you can make s'mores. If we lived in the city, this would be the type of place we would stop into often for a beer and casual laid back vibes.
Come by for happy hour which occurs daily from 3pm-6pm and get half off select appetizers and drink specials.
ADDRESS
1300 Robson St, Vancouver, BC V6E 1C5, Canada
HOURS
Monday-Thursday: 3PM-12AM
Friday: 12PM-1AM
Saturday: 11AM-1AM
Sunday: 11AM-12AM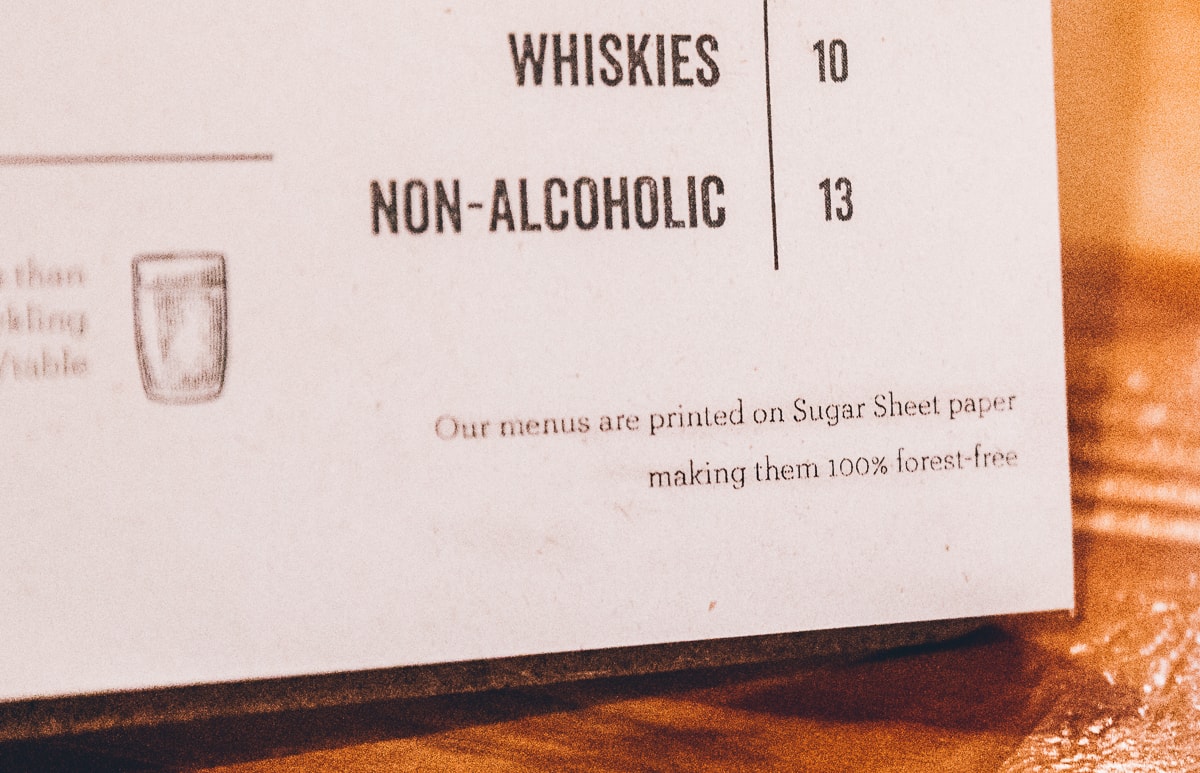 MEET
MeeT is a plant based restaurant with 3 different locations in Vancouver (Gastown, Yaletown and Main St.). Their menu consists of savory burgers, bowls, salads and of course, poutine.
MeeT was the first restaurant we visited in Vancouver and it felt heaven sent after eating cruise ship food for 10 days straight.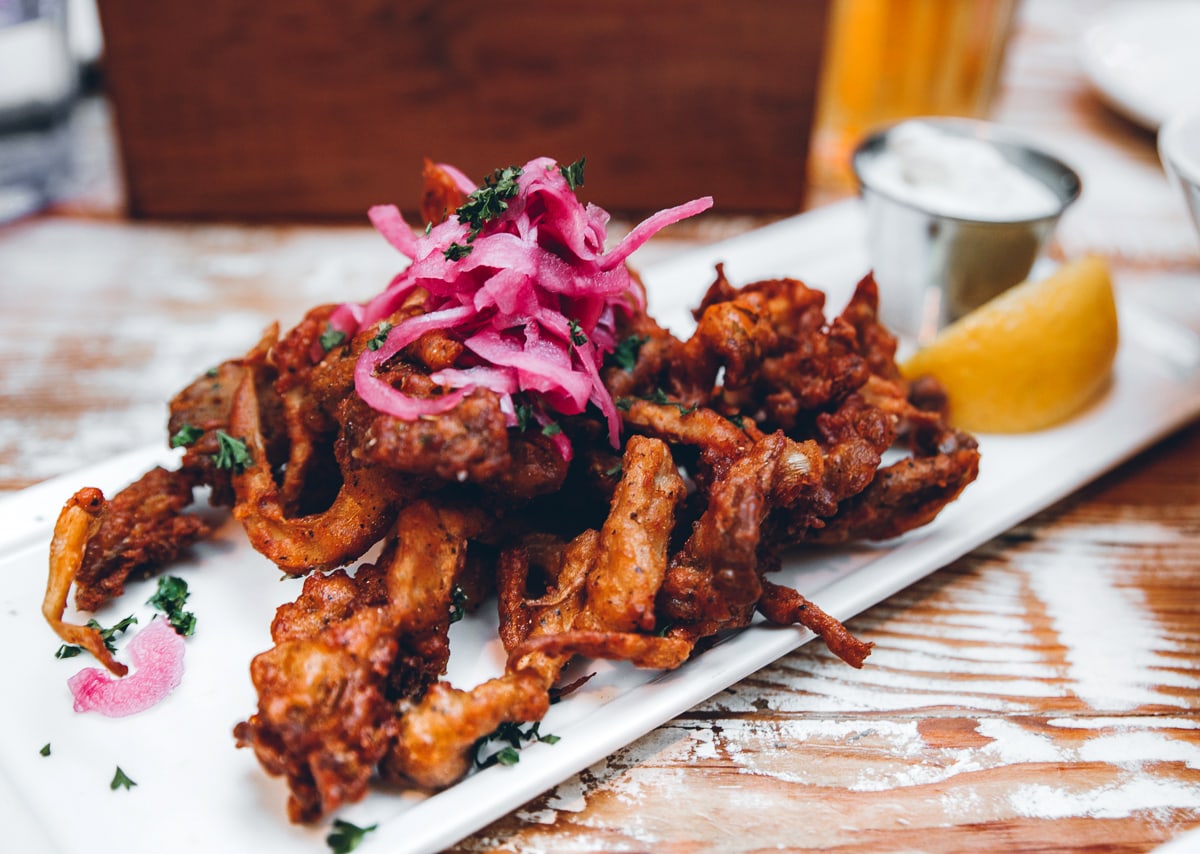 We went a little crazy and ordered the Crispy BBQ Burger, the Butter Chikkin Curry Bowl, Oyster Mushrom Kalamari (pictured above) and the Crispy Chikun Sandwich.
Even if you are not vegan or vegetarian I recommend taking a look at the menu because the food was fantastic. They also have a large drink menu, happy hour specials and reasonable prices.
To check out their menu, locations and hours, visit their official website here.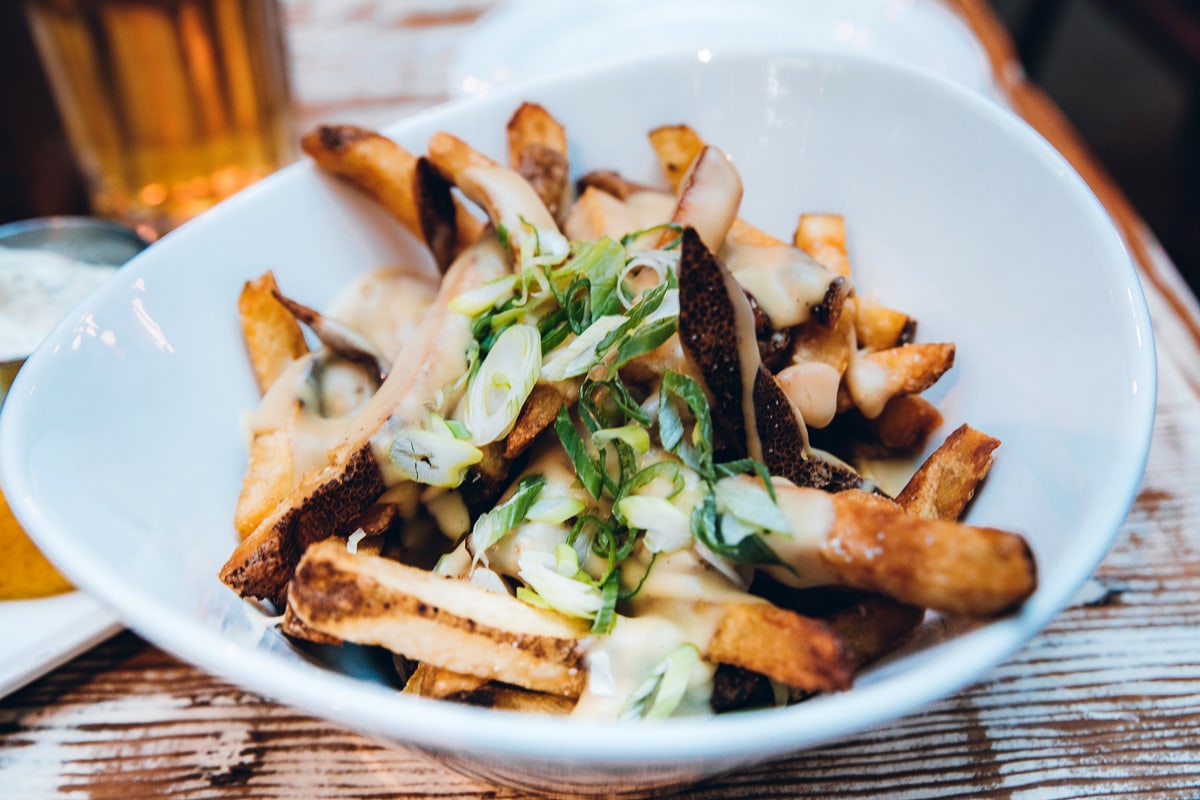 BREKA BAKERY & CAFE
Breka Bakery & Cafe was located down the street from our hotel and we ran in here one morning for a quick bite to eat before catching the shuttle to Capilano Suspension Bridge Park.
While this was more of an impulsive stop (we picked the first coffee shop that was closest to us at the time) we ended up being pleasantly surprised with the quality of everything we ordered from Breka.
The menu is massive as they serve everything from pastries and cakes to sandwiches and artisan bread. Another strong perk for jetlagged travelers is that all of their locations are open 24 hours a day.
---
RELATED POST: CAPILANO SUSPENSION BRIDGE PARK // A COMPLETE VISITOR'S GUIDE
---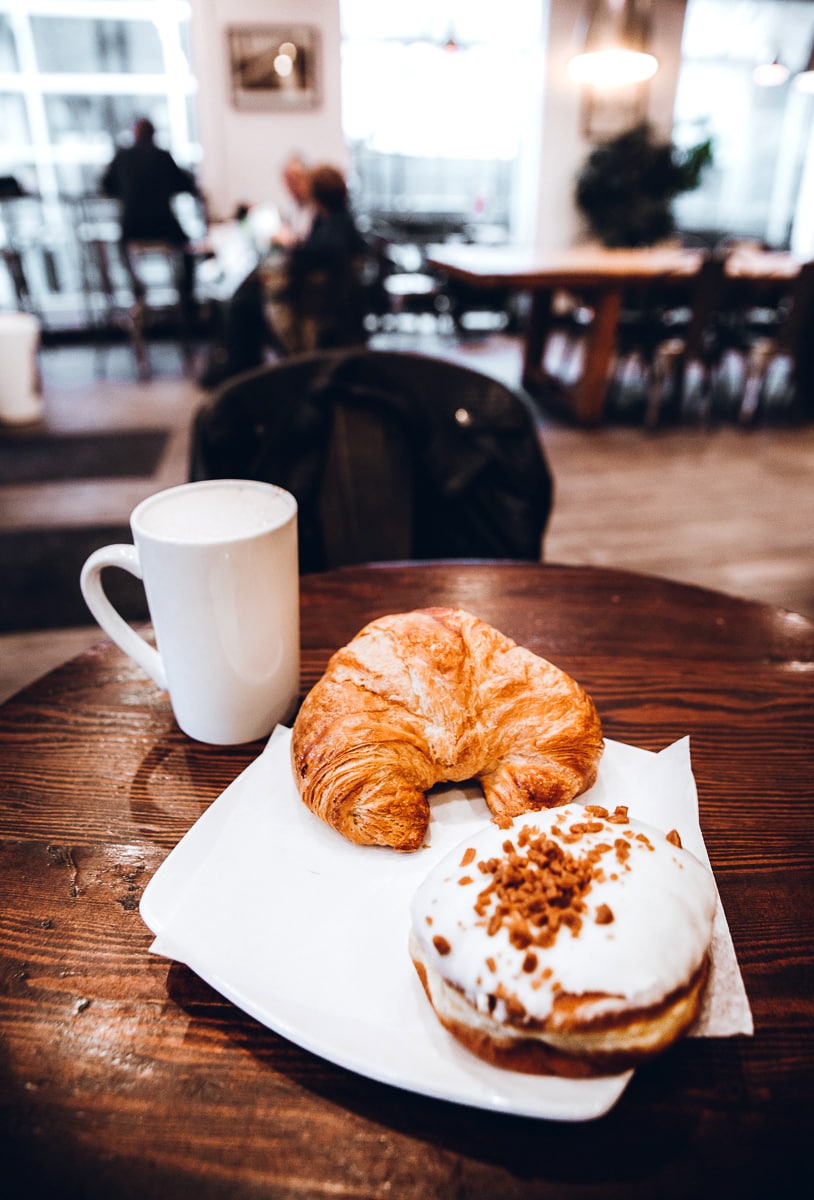 LOCATIONS
DENMAN 821 Denman Street
BUTE 818 Bute Street
DAVIE 855 Davie Street
FRASER 6533 Fraser Street
KITSILANO 3750 W 4th Ave
HOURS All Breka locations are open 24 hours a day, 7 days a week.
FRITZ EUROPEAN FRY HOUSE // FOR THE BEST POUTINE
Since I've never been to Canada, tasting poutine was at the top of my list of things to do in Vancouver. Our friend who lives here recommended Fritz European Fry House for the best poutine in Vancouver and it did not disappoint.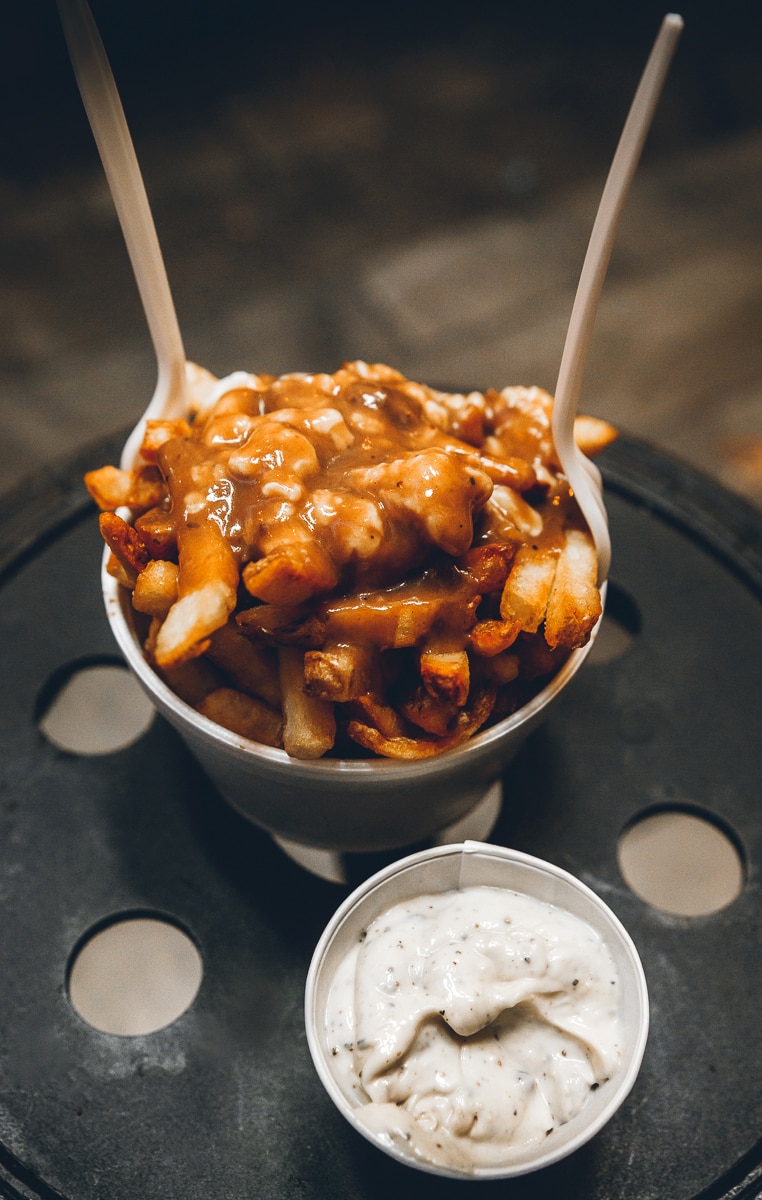 If you are unfamiliar with the popular Canadian dish, poutine is made up of french fries, cheese curds and gravy.
Fritz's has a list of additional toppings that you can add, as well as a huge assortment of sauces for dipping. They also offer vegan cheese and vegan / gluten free gravy options.
Fritz's is a casual, grab and go restaurant. There are a few seats inside but it gets crowded quickly, especially in the afternoon. They are open late (until 2am on weekdays and 4am on Friday/Saturday) making it popular drunk food hang out.
ADDRESS
718 Davie St, Vancouver, BC V6Z 1B6, Canada
HOURS
Sunday-Thursday 11AM – 2AM
Friday- Saturday 11AM – 4AM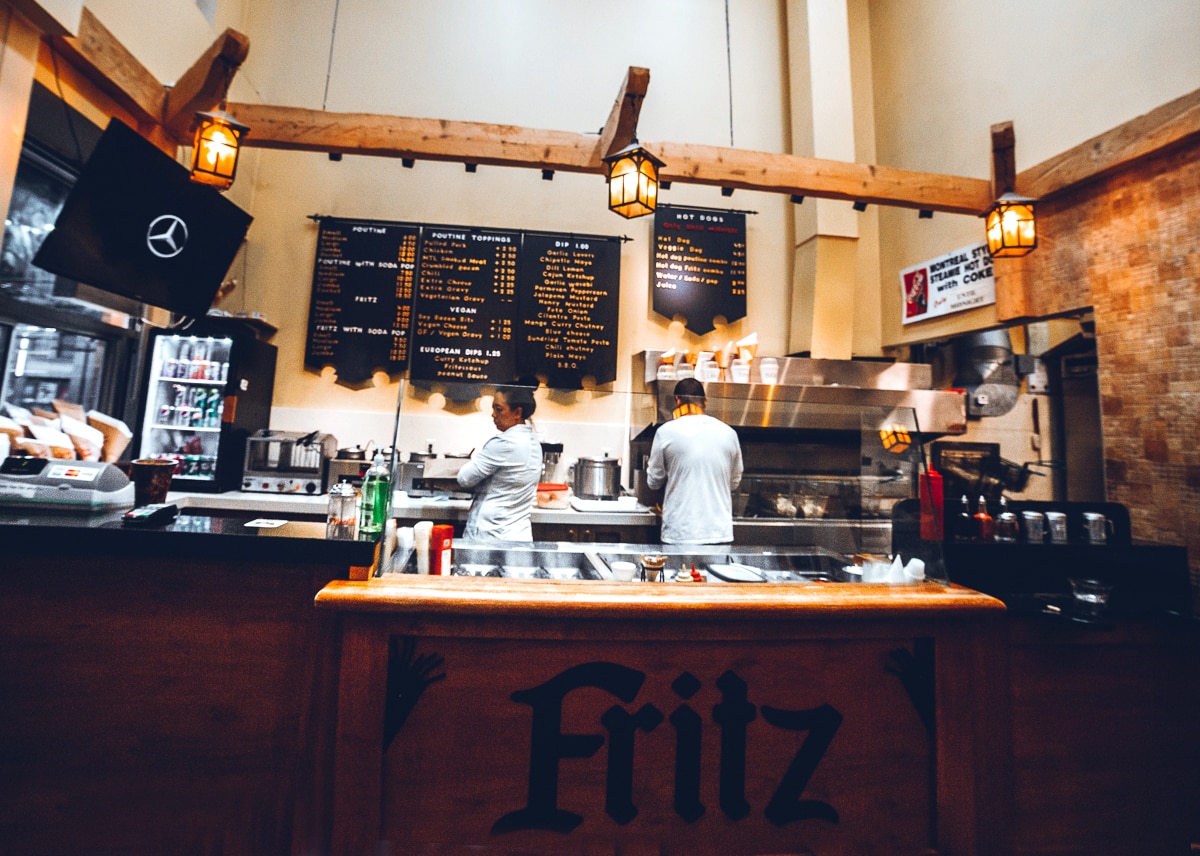 NEMESIS
Nemesis is located just one block away from Revolver in Gastown and has a similar reputation as one of the best coffee shops in Vancouver.
Nemesis is best known for their pour overs. They also have kombucha and an in-house nitro cold brew on tap, as well as a selection of cocktails and local craft beers.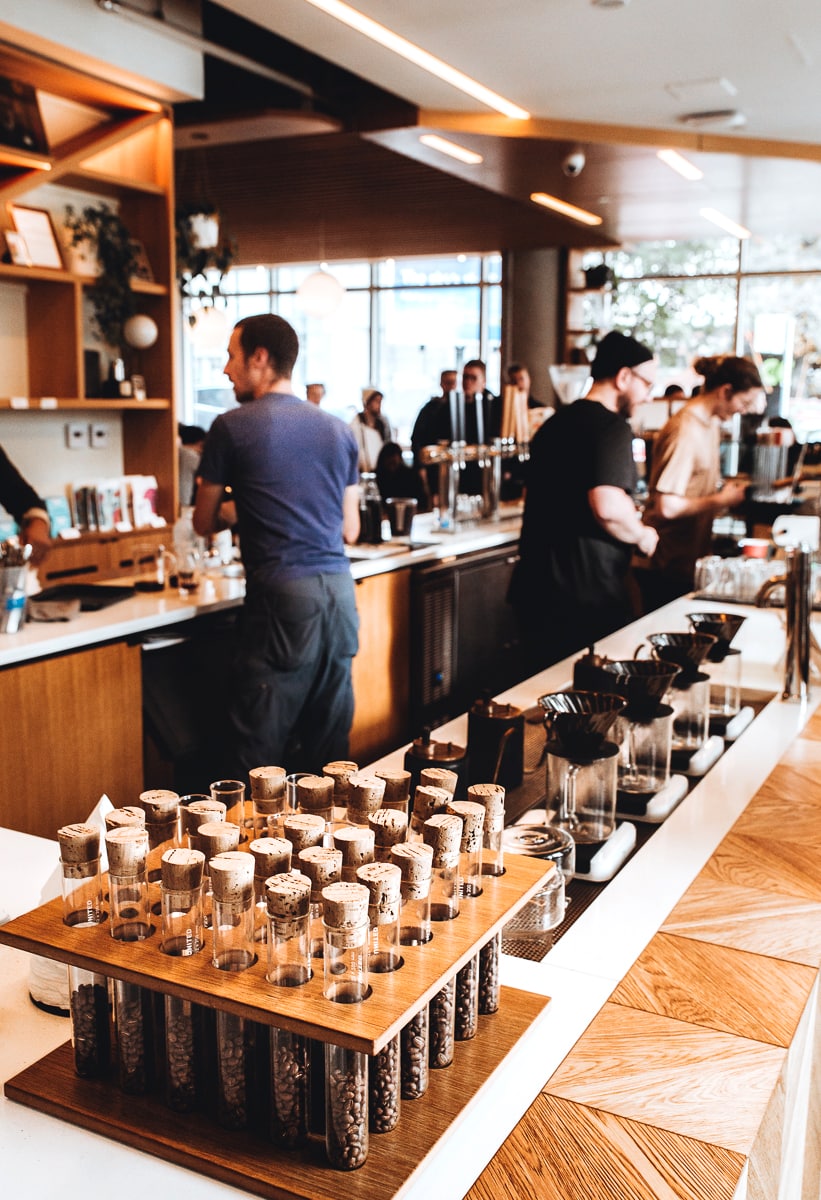 We stopped into the coffee shop for breakfast one morning and ordered chai lattes with the "Breaky Sando" ( made with house milk bread, fennel sausage, a fried egg & fennel slaw) and the "Raddest Cauli Hash" (made with roasted cauliflower, whipped humous, crispy potatoes with dukkah spice, green garlic aioli & a poached egg).
Everything we ate was amazing and I wish we had more time to visit again before flying out.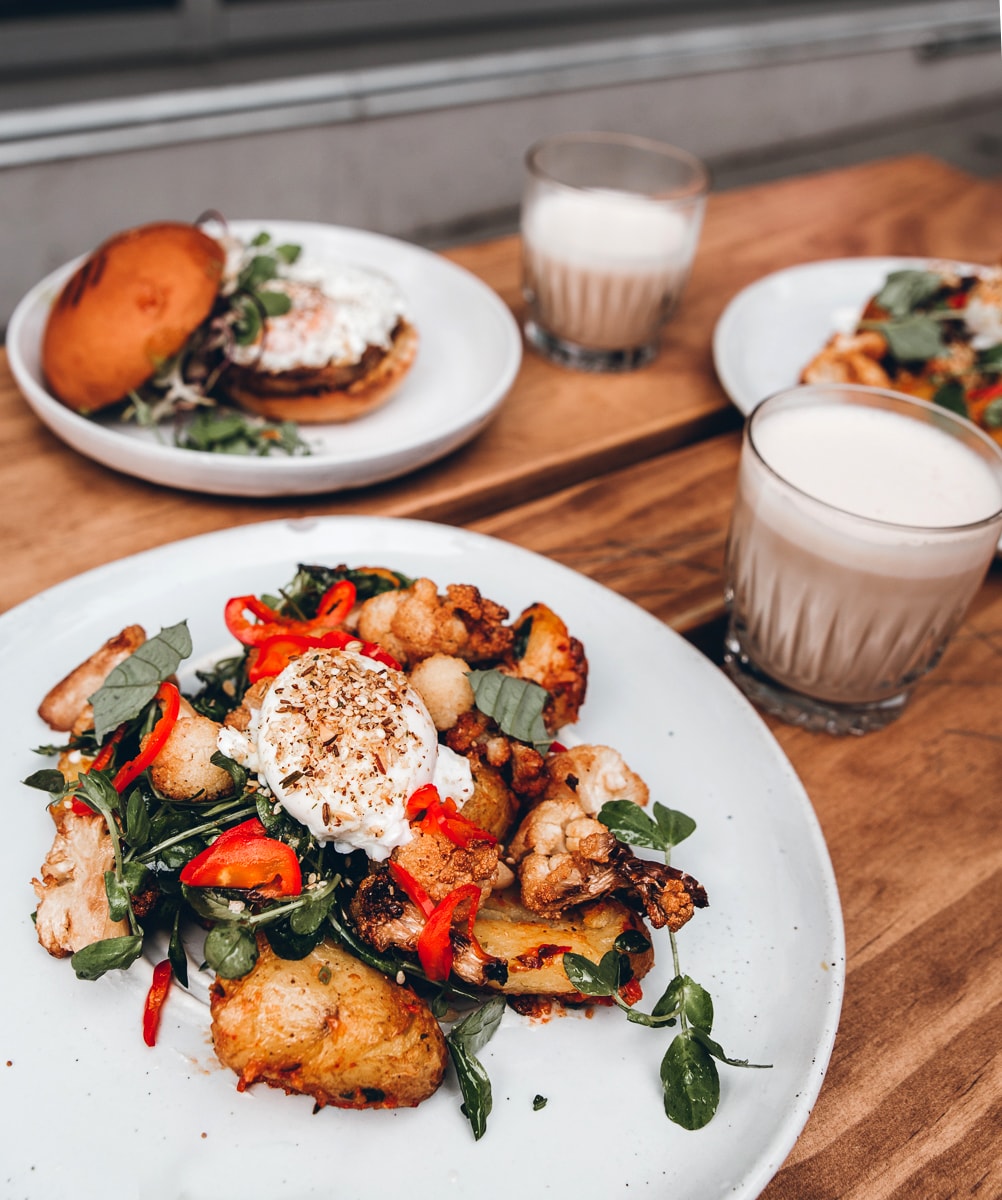 ADDRESS 302 W Hastings Street, Vancouver, BC V6B 2N4, Canada
HOURS
Monday-Friday 8AM-5PM
Saturday-Sunday 9AM-5PM
CACTUS CLUB
Ok. So I contemplated whether or not I should add this to the list.
Cactus Club is a Canadian chain restaurant and I know that recommending it to you is probably the same thing as recommending Olive Garden or California Pizza Kitchen when you're in the US.. but I'm still gonna do it.
A Canadian friend of ours actually told us to check out the Cactus Club as it was one of his go-to's when he lived here. We visited the location near Canada Place in Downtown Vancouver (there are multiple locations in the city) and had an extremely memorable meal.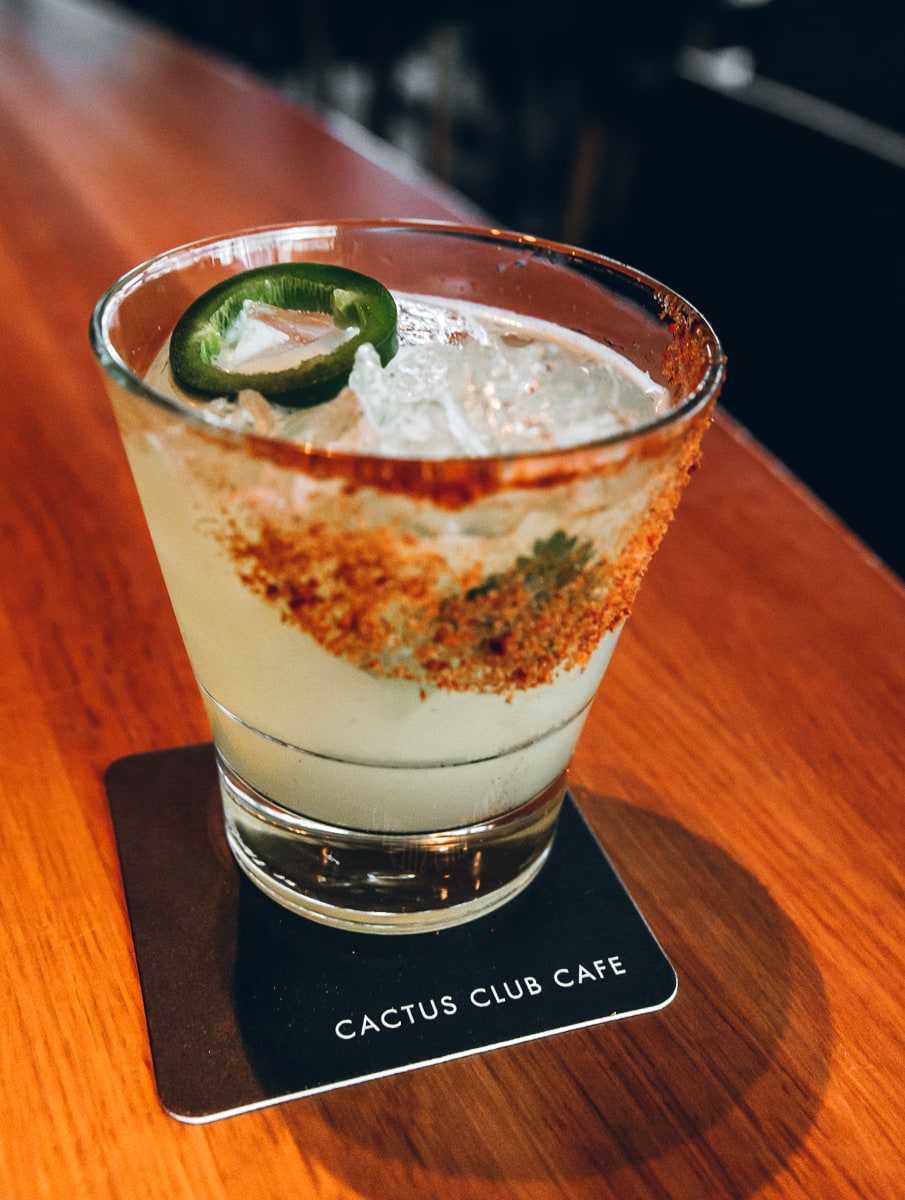 The jalapeno margaritas were on happy hour and they were surprisingly good (coming from a margarita snob). We also really enjoyed the atmosphere, it felt more upscale and trendy than a traditional chain restaurant and it was the perfect place to hide our from the rain.
If you're looking for a solid meal with a good happy hour, check out the Cactus Club. It helps They have a few vegan/vegetarian options as well.
I wish we had locations in California because I would eat here all the time.
To check out their menu, locations and hours, visit their official website here.
---
PIN IT: VANCOUVER FOOD GUIDE // 9 RESTAURANT AND COFFEE SHOPS TO TRY IN DOWNTOWN