Welcoming over 1.2 million visitors per year, Capilano Suspension Bridge Park is one the top things to do in Vancouver.
While the Suspension Bridge receives the most attention, as it is by far the most popular attraction in the park, did you know that there is so much more to see? We didn't, and were blown away by our visit. It exceeded all expectations and was our top favorite things that we did in Vancouver.
Keep reading to discover everything you need to know about Capilano Suspension Bridge Park including tips for visiting, how to get there (there's a free shuttle!), ticket prices, hours and much more.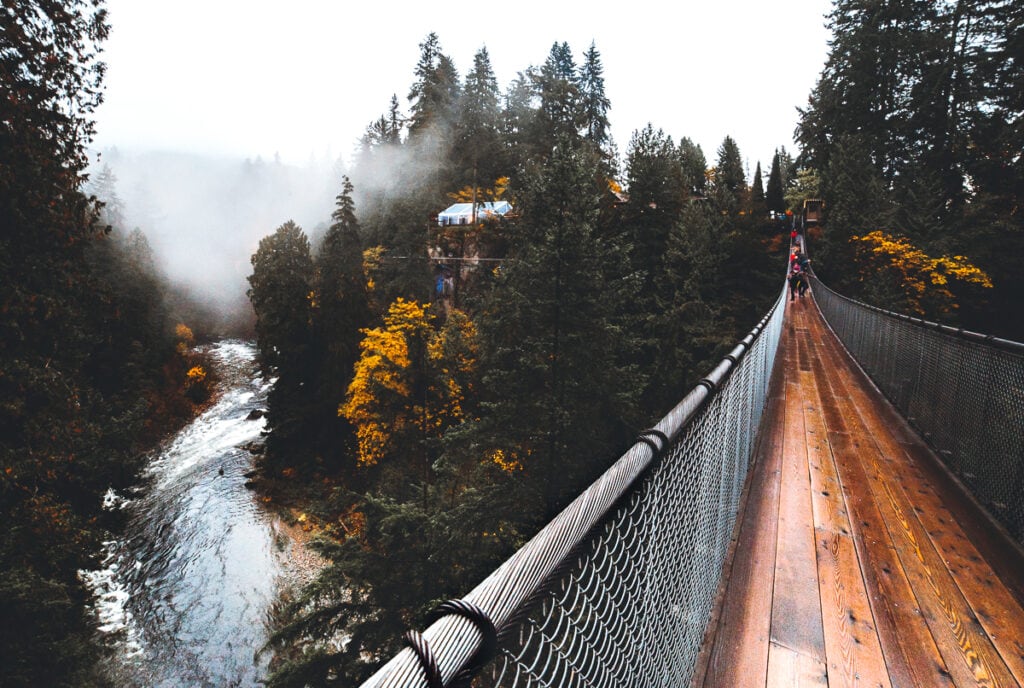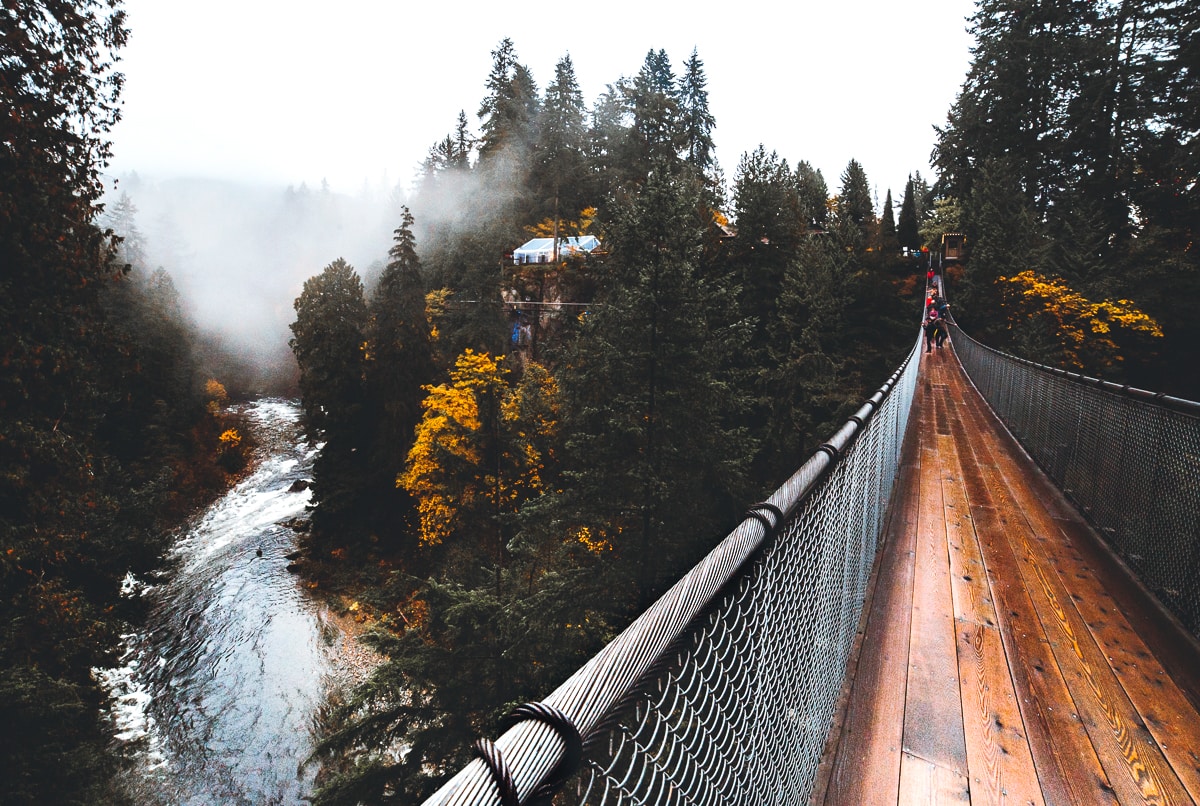 THE CAPILANO SUSPENSION BRIDGE MAP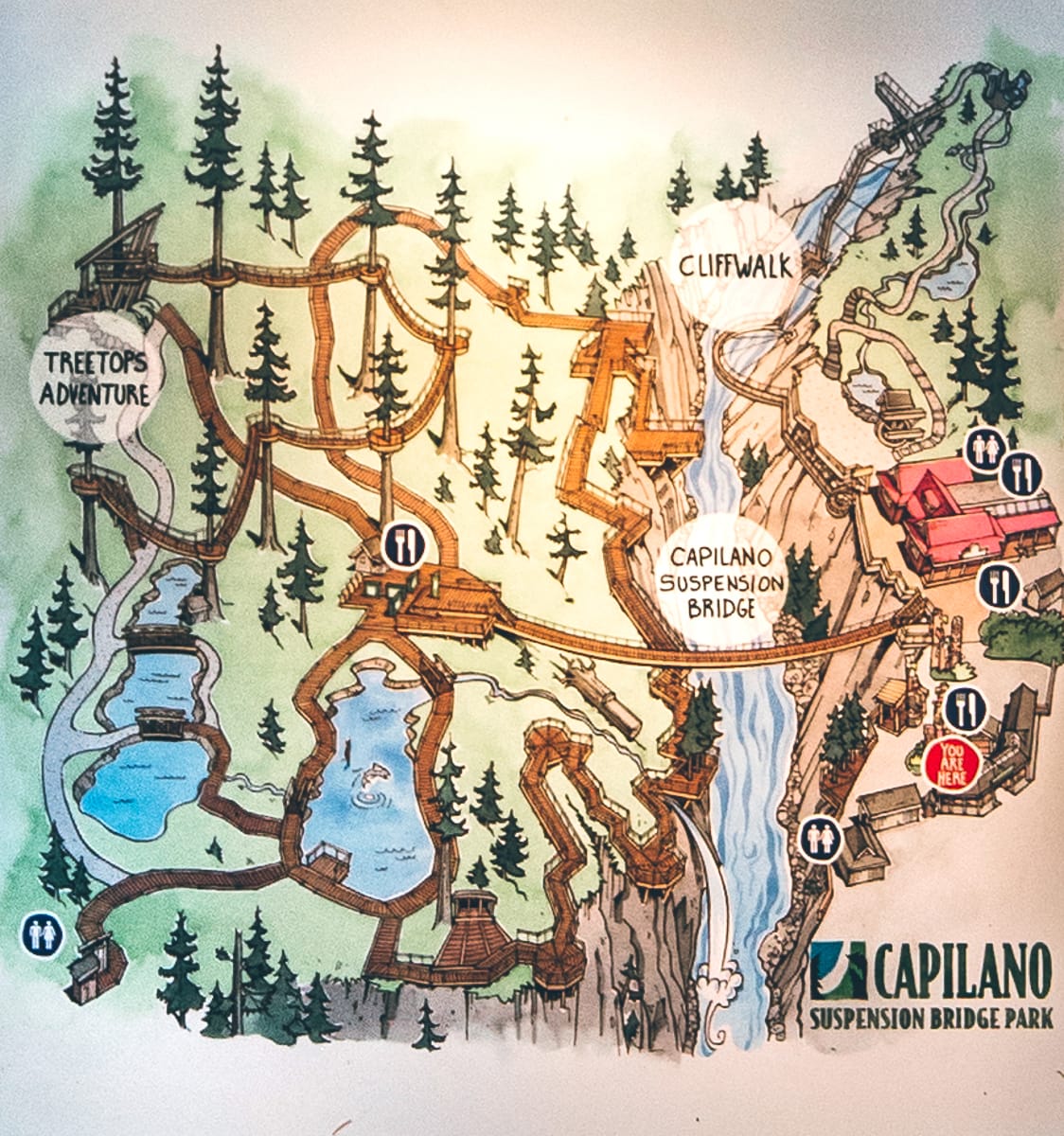 THE SUSPENSION BRIDGE
Located 230 feet (70 meters) above Capilano River, and reaching 450 feet (137m) across the canyon, hovers the notorious Vancouver Suspension Bridge.
There's no doubt about it, the bridge is impressive. Every time I caught a glimpse of it from any vantage point throughout the park, I couldn't help but stare.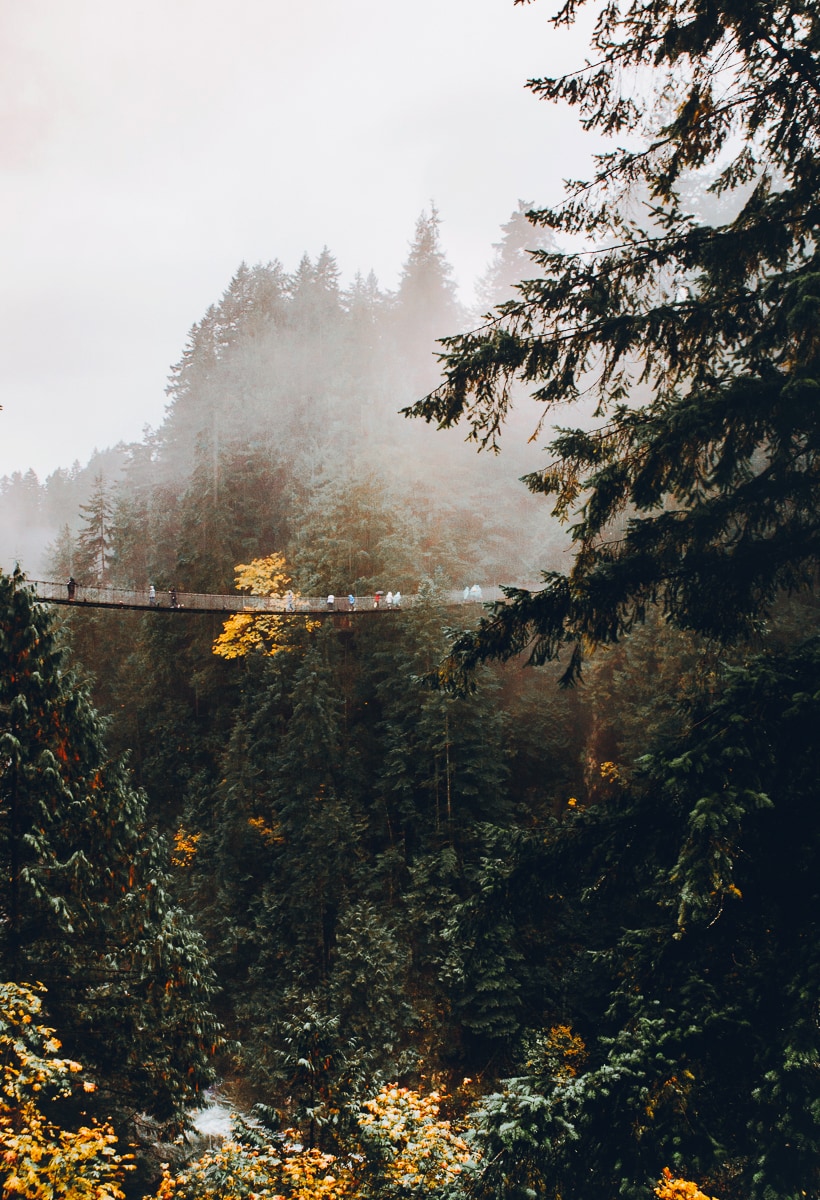 We visited during a rainy day in October so we lucked out as there were less visitors than usual within the park. This gave us the opportunity to walk across the bridge with very few people on it and we were able to stop and take photos with no issue.
On our way back over the bridge later that day, there were a lot more people making the crossing. With so many people walking at once, it began swaying pretty heavily. It was also hard to stop and take photos without holding others up and it felt a little chaotic as everyone was trying to get their picture while simultaneously disregarding the others around them.
Needless to say, while walking across the Suspension Bridge was a unique experience and the views from above are undoubtedly incredible, it was not my favorite thing to do in the park.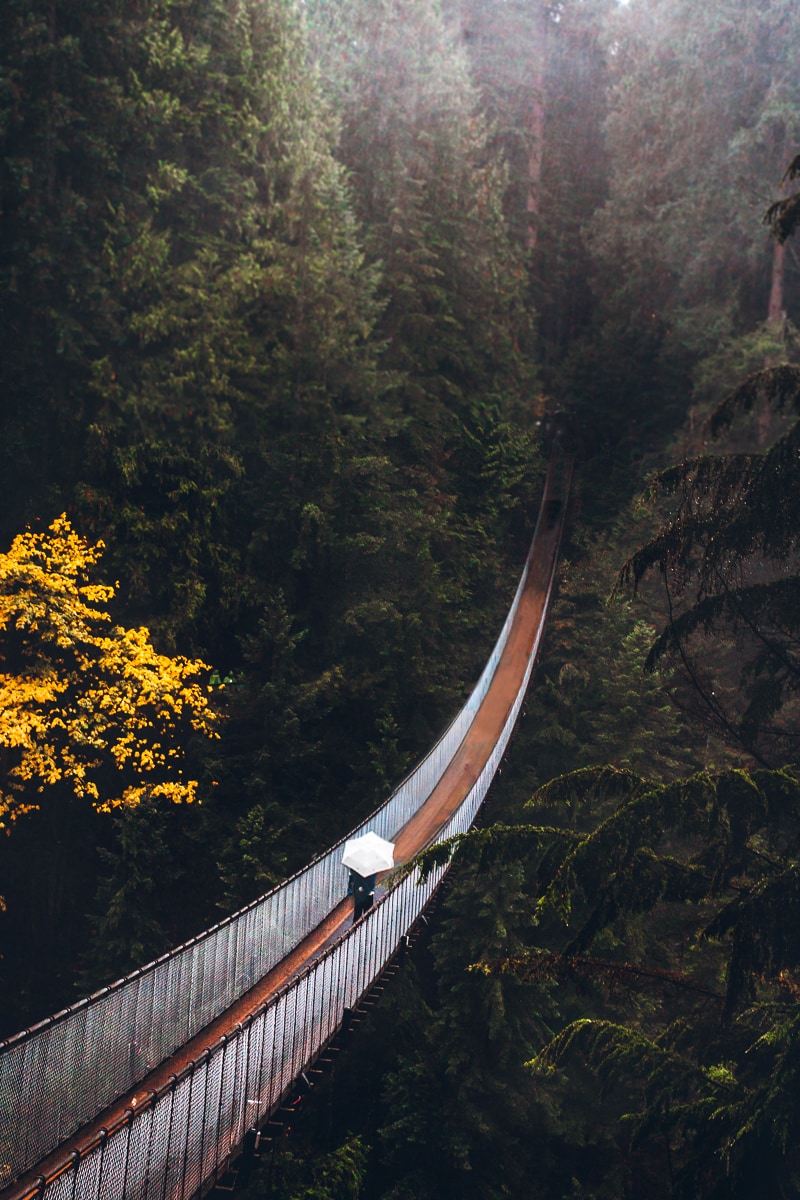 IS THE CAPILANO SUSPENSION BRIDGE SAFE?
They've come along way since the days when the bridge was made out of hemp rope and cedar planks. Today, the suspension bridge is supported by two steel cables and can safely hold over 200,000 lbs (90,000kg) .. which is equivalent to 97 elephants.
According to their website, if the bridge was loaded with people end to end, stacked 7 layers high, they still wouldn't reach max weight capacity.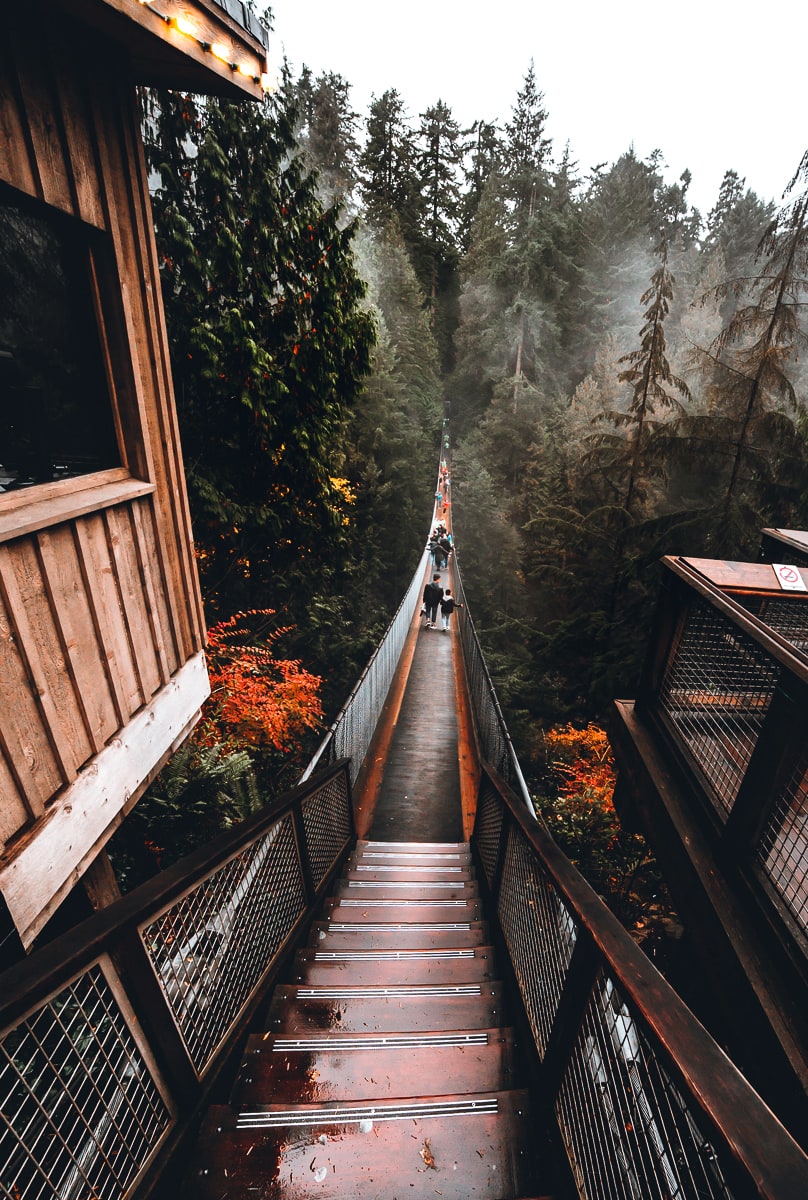 While the bridge can can sustain the weight of 1,300 people, they do limit the the number of visitors allowed on at one time. During busier periods, you will have to wait in line for your opportunity to cross.
Park employees also sit at each end of the bridge and watch people. If anyone does anything unsafe, or if they notice people purposely trying to rock the bridge, they will ask them to stop over the PA speaker.
While there were a few periods that I was somewhat uneasy during the crossing, overall I felt totally safe. Nick has a slight fear of heights and he also was relatively comfortable.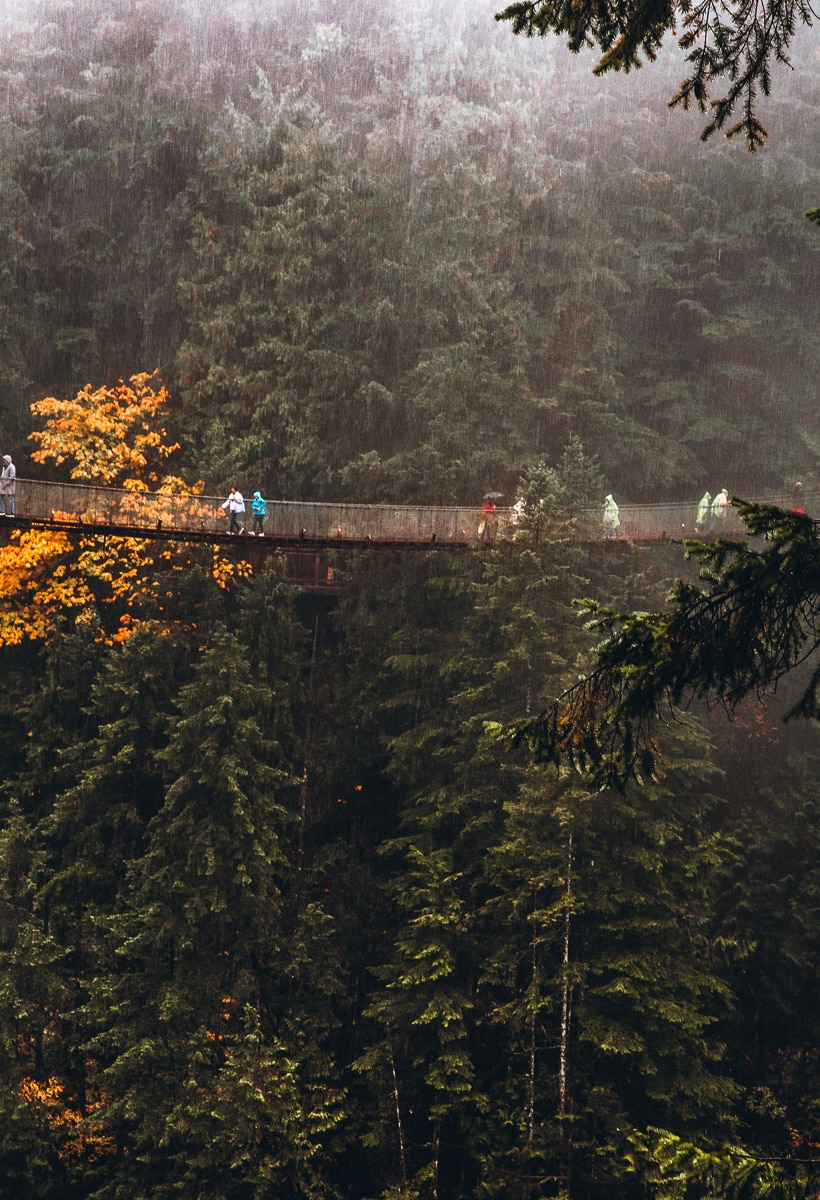 TREETOP ADVENTURE WALKWAY
After you cross the Suspension Bridge, there's a lot more to discover.
One of my favorite attractions in the park was the Treetop Adventure; a series of smaller suspension bridges which form a walkway amongst the trees, 98 feet (30 meters) above ground.
The bridges are attached to eight 250 year old Douglas-fir trees, which gives you an extremely unique viewpoint as you walk through top of the forest. Because we visited just before the Holiday season, the walkways and trees were decorated in golden lights which made the experience even more magical.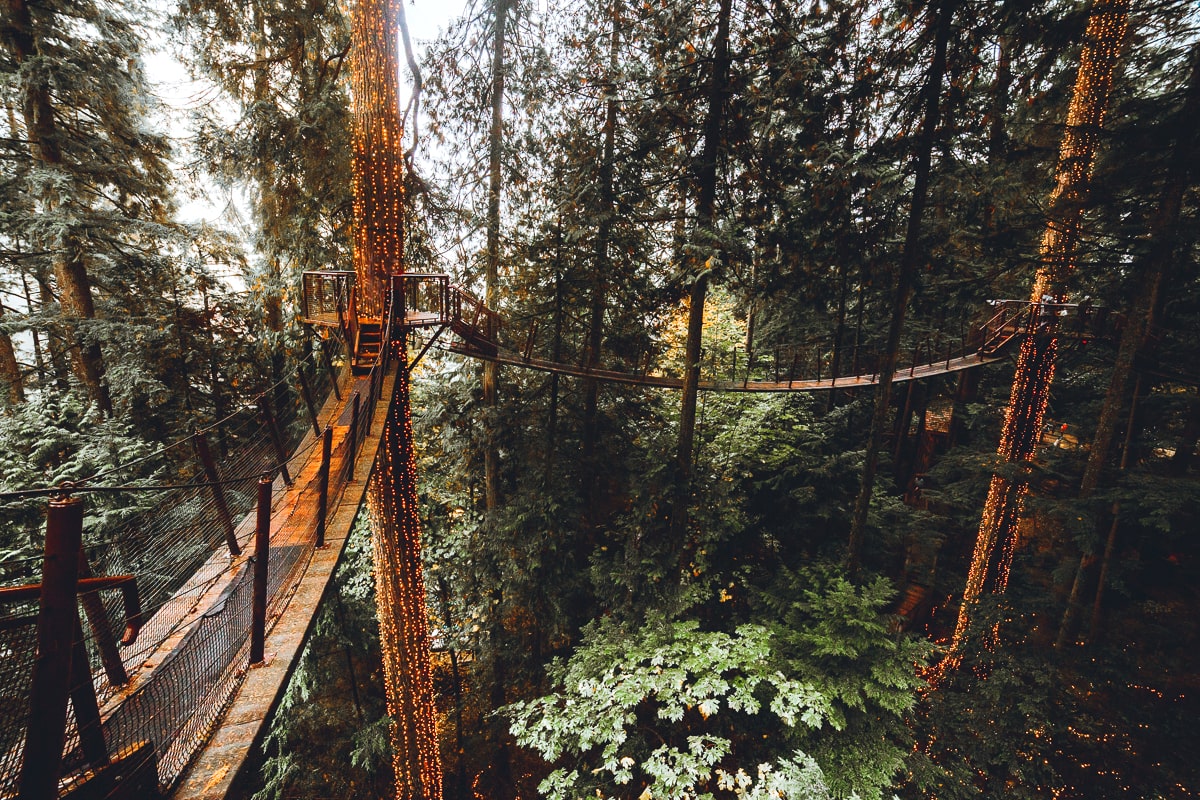 NO TREES ARE HARMED BY THE WALKWAYS
The Treetop Adventure was created without harming the natural ecosystem. No major machinery was used (they used a pulley and rope system) and no nails or bolts have been inserted into the trees.
Instead, a steel collar surrounds them, spreading pressure out equally around the tree (which we learned is actually good for them).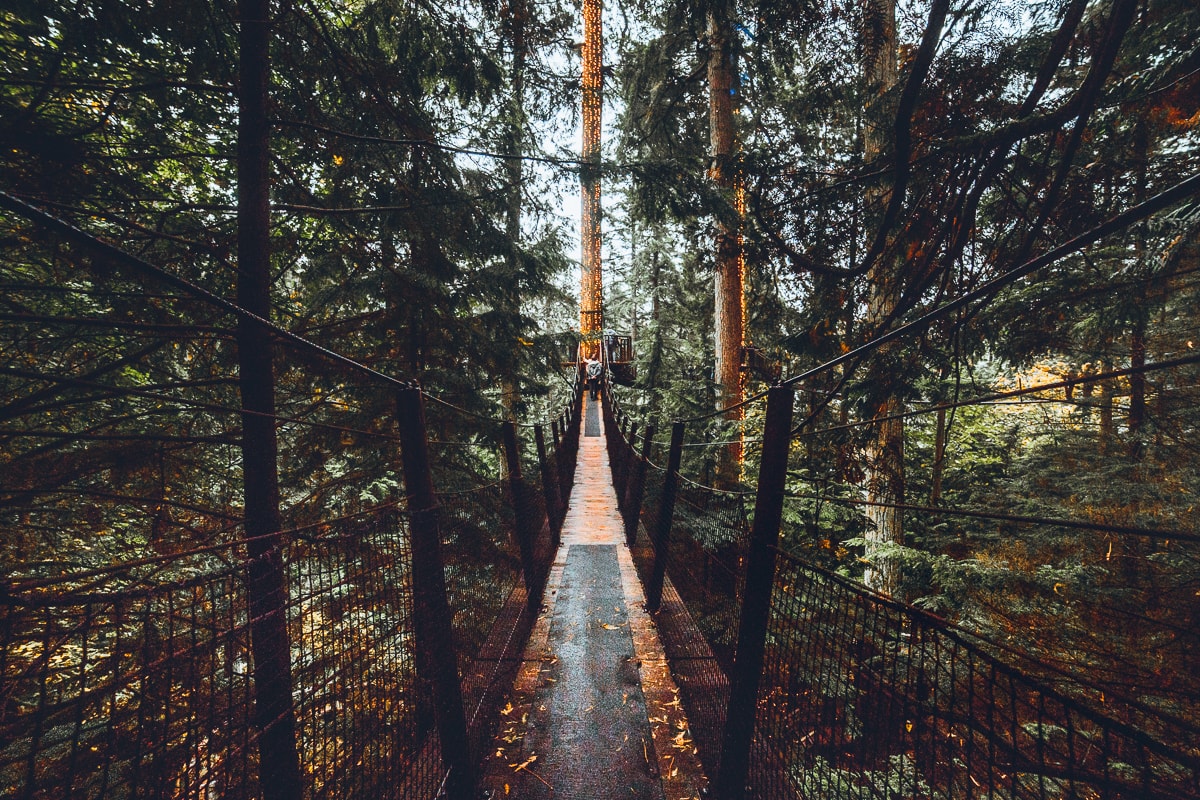 THE CLIFFWALK
The Cliffwalk is easy to miss as it's tucked away to the right of the Suspension Bridge, near the gift shop and The Cliffhouse Restaurant.
Once you make your way down the steps to the start of the Cliffwalk, a series of walkways guides you along the cliff, just above Capilano River. These bridges are not suspension bridges so they feel much more secure, but they are also a lot more narrow.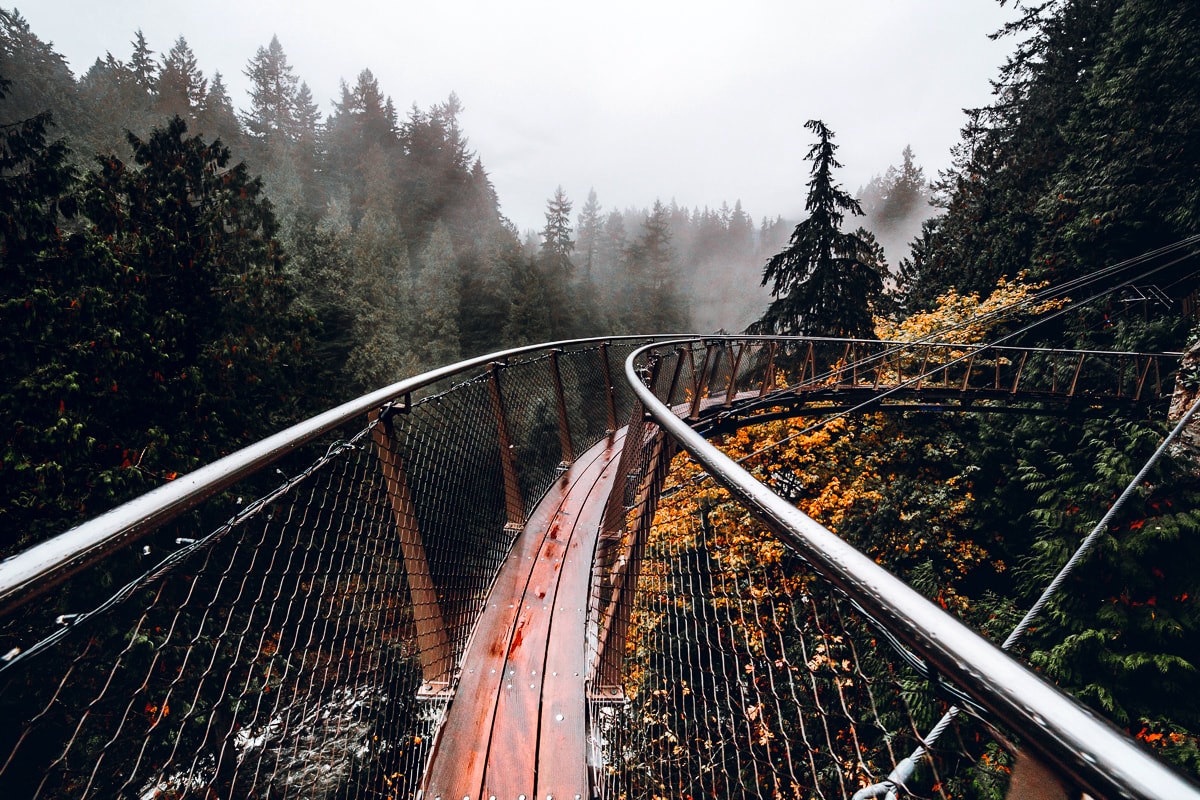 There are plaques along the way with interesting facts and information about the park as well as the construction of the Cliffwalk. For instance, you'll learn that the granite cliffs to your right are 160,000,000 years old, dating back to Mesozoic Age. And that the environmental footprint of the Cliffwalk is only 11 square meters (118 square feet), taking up less space than a parking stall.
The Cliffwalk was the least busy area in the park and one of our favorite attractions so we did it 3 different times.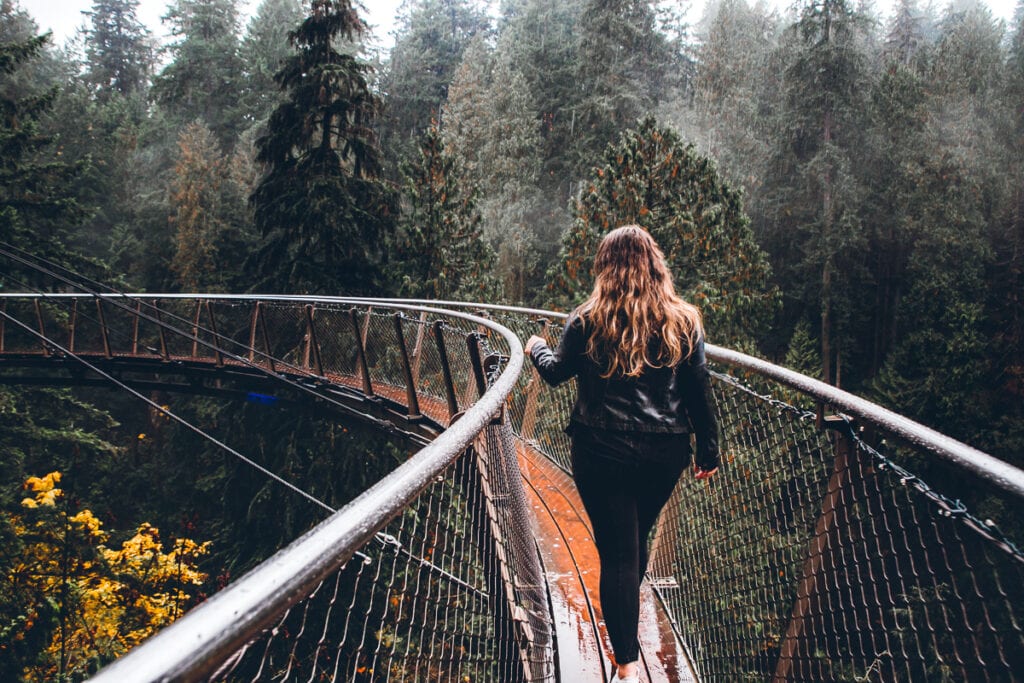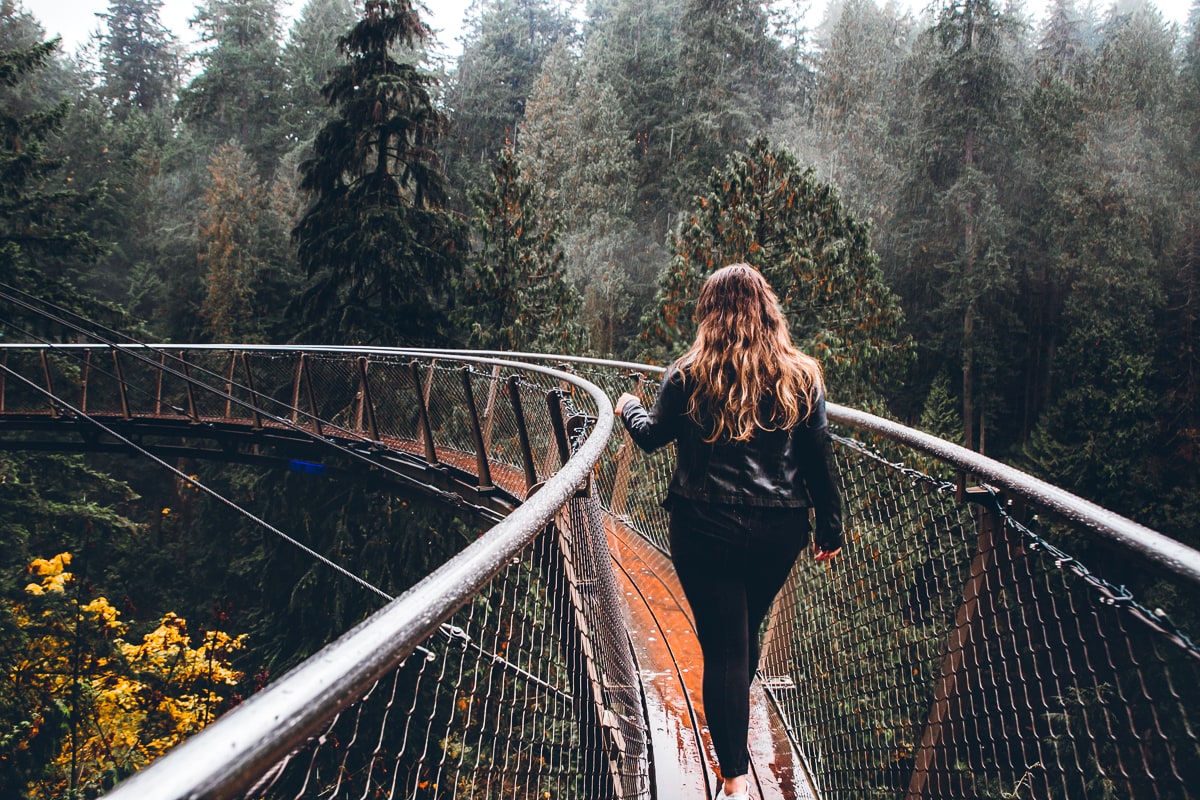 STORY CENTER & KIA'PALANO
In addition to the bridges and walkways, Capilano Suspension Bridge Park gives you several learning posts to dive deeper in to the backstory of the bridge and the history of the area.
When you first enter the park, you'll find the Story Center, with artifacts, photos and large flip books containing information about the history of the bridge as well as the evolution of the city of Vancouver.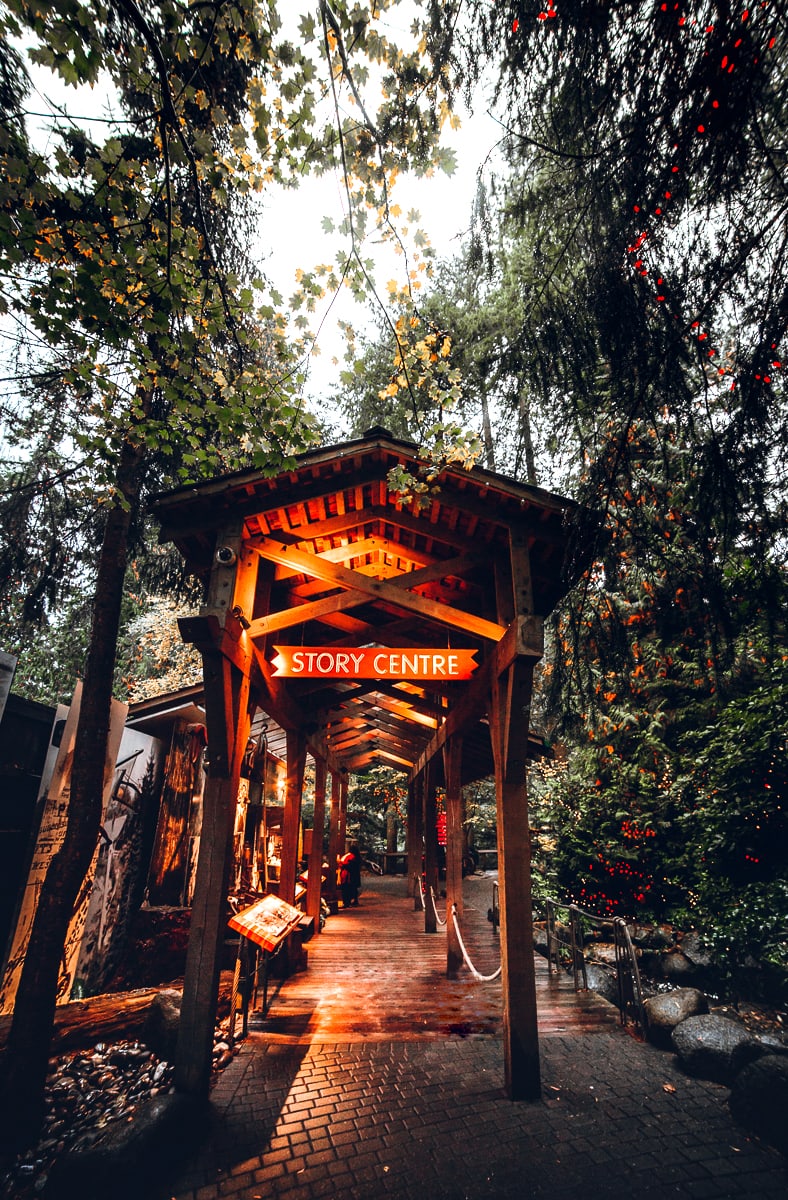 You can also learn more about the heritage of First Nations Peoples and their connection to the area in the Kia'Palano tent. It's here that you will also find North America's largest private collection of First Nations totem poles.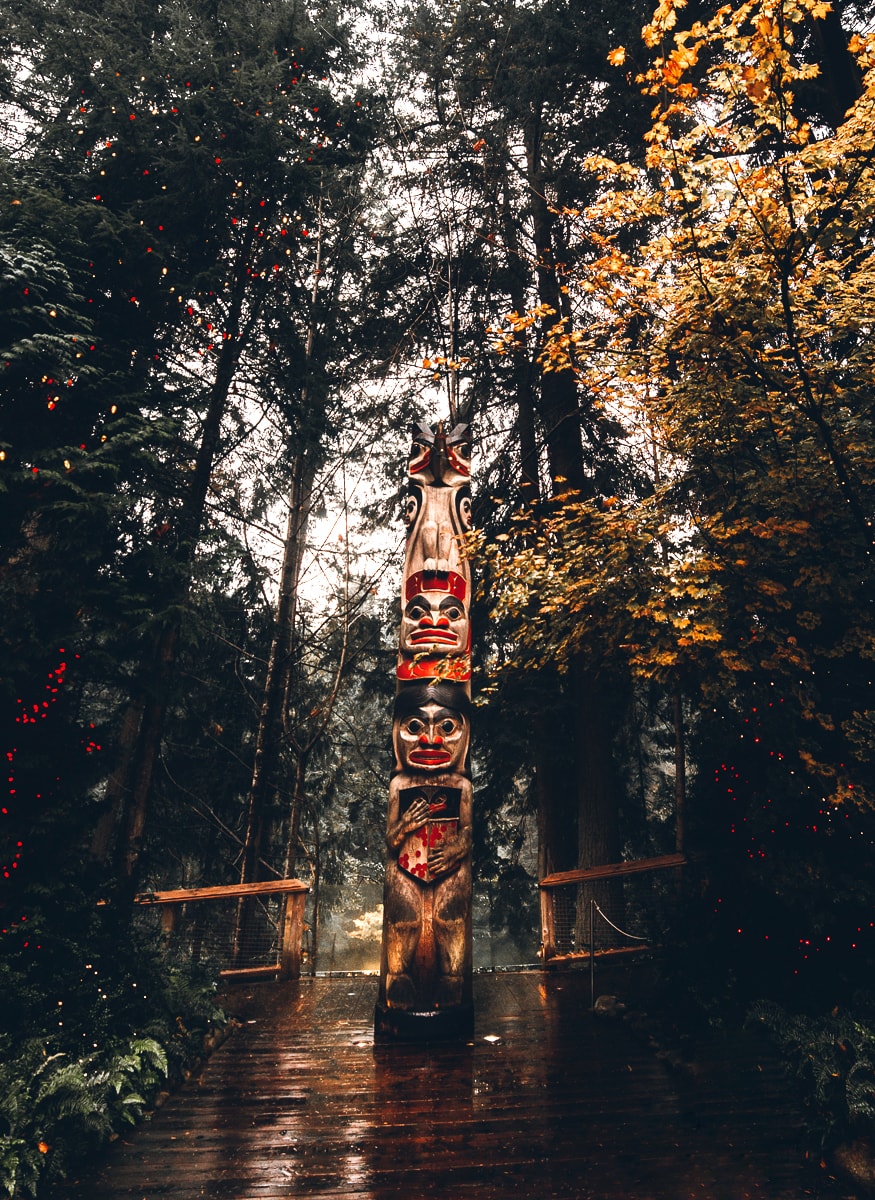 THE LIVING FOREST
Near the Treetop Adventure walkways sits The Living Forest, an informational walk which will teach you all about the forest and its delicate ecosystem.
Within Capilano Suspension Bridge Park, you will find 9 different types of trees including 2014 Douglas fir, 157 Western Red Cedar, and 144 Western Hemlock. The oldest tree in the park is 1,500 years old.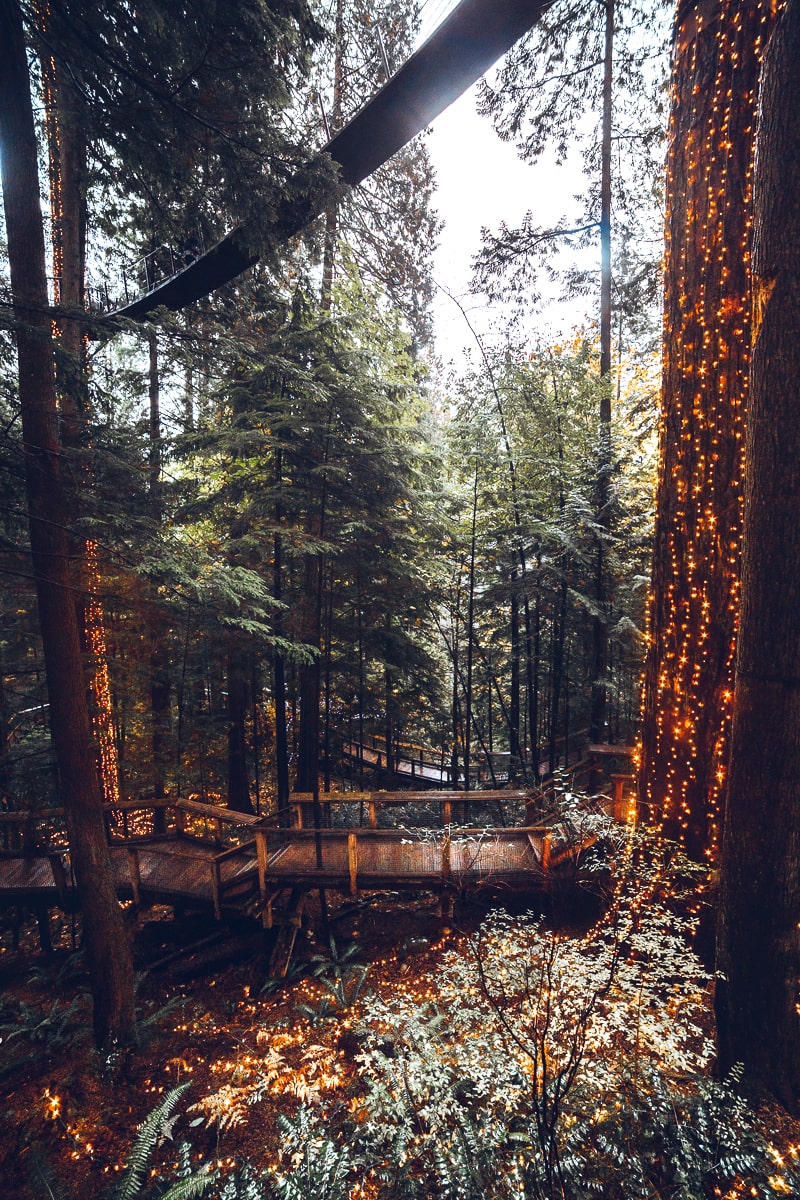 As far as wildlife, the park is home to owls, hawks, squirrels and slugs. There is also a trout pond and we even spotted a bald eagle while we were walking along the Cliffwalk.
On weekends from April 14th to October 9th, and everyday from June 17th to September 4th, you can visit Raptors Ridge where professional handlers will introduce you to a variety of birds of prey such as hawks, falcons and owls.
7 TIPS FOR VISITING CAPILANO SUSPENSION BRIDGE PARK
WHEN TO VISIT Capilano Suspension Bridge Park is one of the top attractions in Vancouver, so it can get extremely busy.
If you're looking to avoid the crowds, the best time to visit is right when they open. I also recommend making a beeline for the bridge (since it's the busiest attraction) to get your photos first, and then you will be free to explore the rest of the park at your leisure.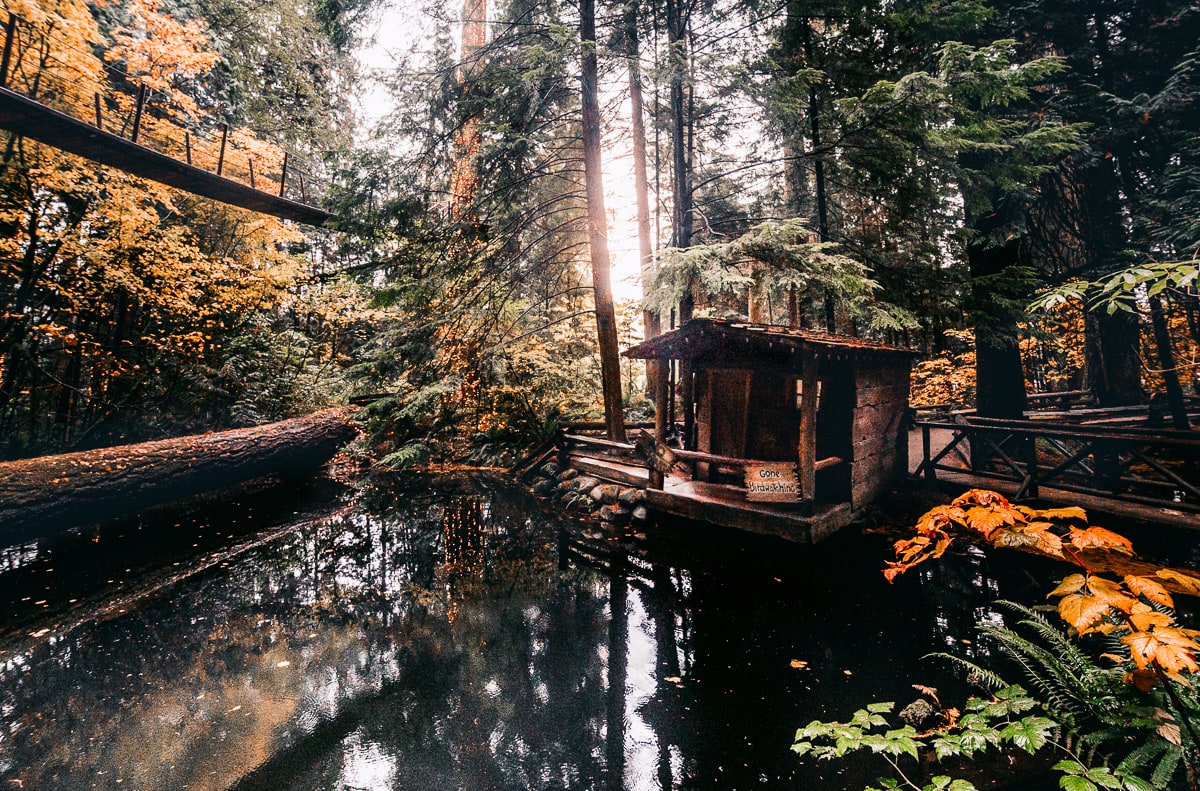 When we arrived at opening, there were very few people walking around but by noon it was crowded, even during the off season.
If you're not a morning person, consider visiting later in the afternoon once the tour groups have gone home. During the Summer you can even get a discounted admission price for visiting after 5pm
If at all possible, try to visit on a weekday, as weekends are always the busiest.
BUY YOUR TICKETS IN ADVANCE If you will be visiting during peak season or peak times, purchase your tickets online in advance. That way you will be able to skip the ticket lines and walk right in.
CLICK HERE TO PURCHASE TICKETS ONLINE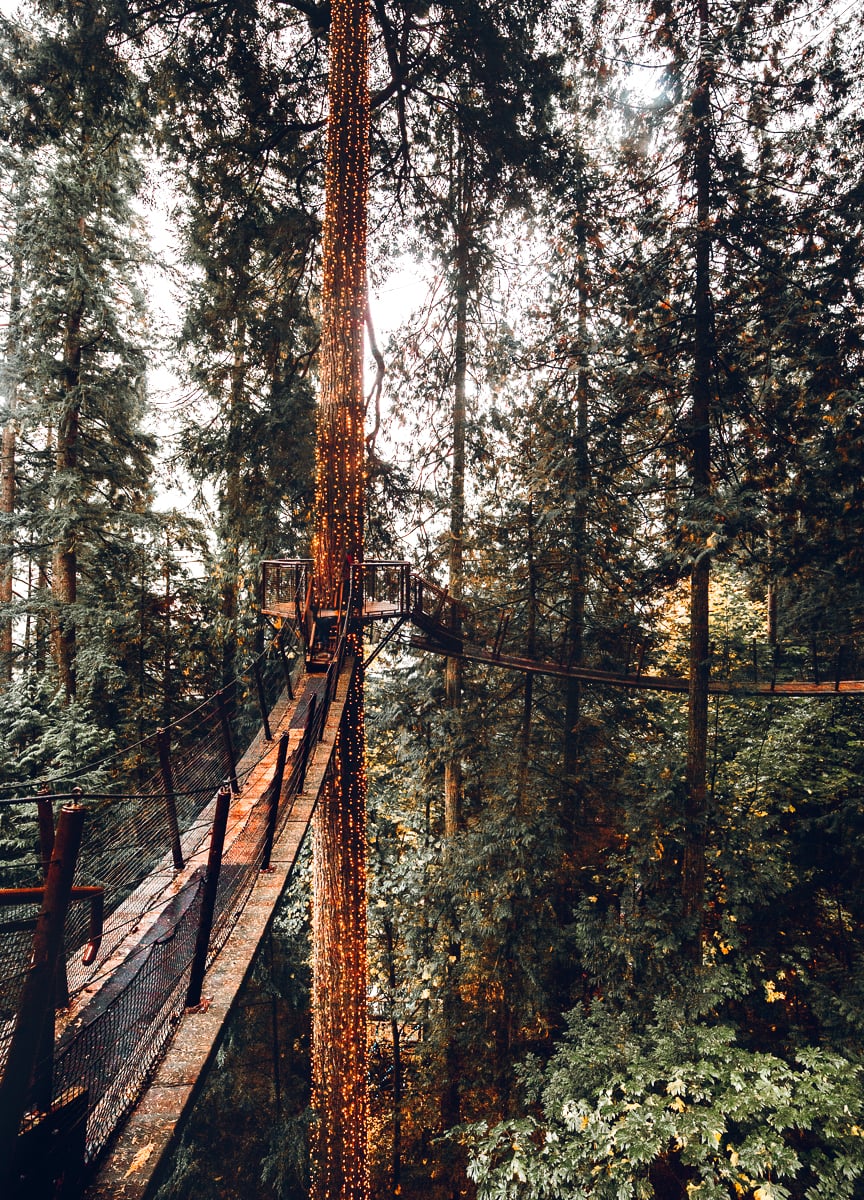 TAKE THE FREE SHUTTLE BUS While there are multiple ways to get to Capilano Suspension Bridge Park, the shuttle bus is the easiest, cheapest (it's free!) and most convenient.
If you choose to drive, you'll have to pay for parking and depending on the time of your visit, spaces can be limited.
For more information about the complimentary shuttle, including pickup times and locations check out the "How to Get to Capilano Suspension Bridge Park" section below.
BE PREPARED FOR A WAIT If you do visit Capilano Suspension Bridge Park during peak season/times, there is a good chance you will have to wait in line to walk across the bridge. Some of the reviews I read prior to our visit said that wait times were upwards of one hour.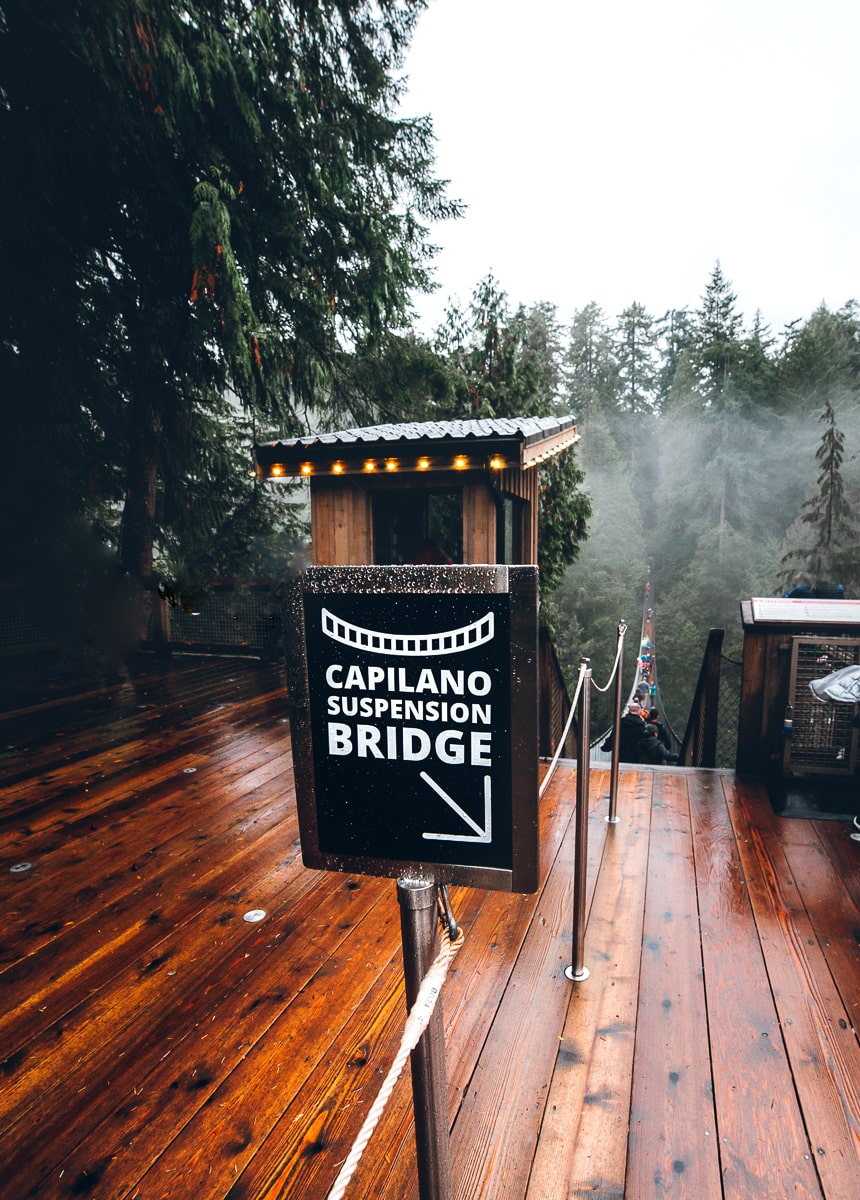 TAKE A FREE TOUR If you're interested in learning more about the park, take advantage of the complimentary tours held every hour.
You can choose from the History Tour which covers the park's interesting past, or the Nature Tour where you can learn about the unique ecology, including information about the plants and animals which call Capilano Park home.
DRONES AND SELFIE STICKS What I wouldn't give to be able to fly my drone within the park. Unfortunately, drones are prohibited so leave them at home.
Selfie sticks are also not allowed on any of the attractions.
AAA DISCOUNT If you are a AAA or CAA member, you are eligible for a 10% discount off of your ticket price.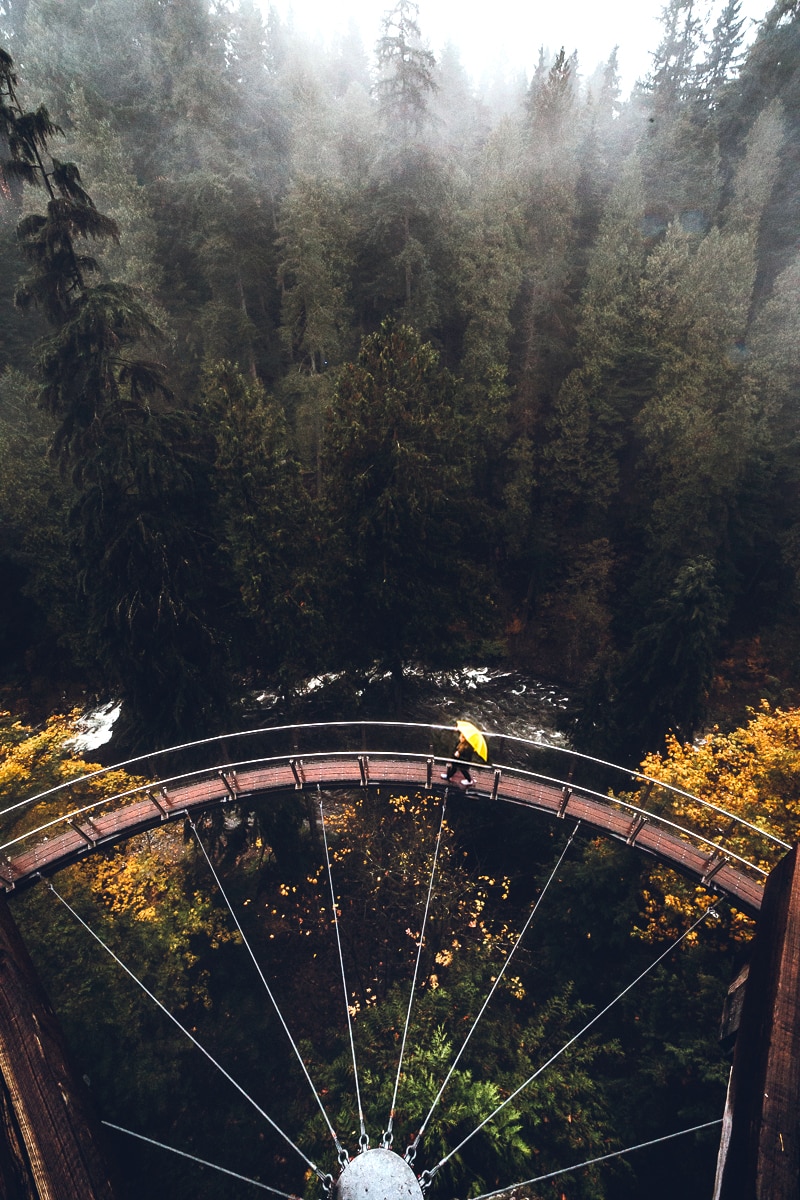 KID FRIENDLY From the Rainforest Explorers Program where children embark on a scavenger hunt, to the Raptor's area where they can interact with birds of prey, the park has a large variety of activities and programs to keep children entertained.
If you will be traveling with kids, just know that strollers are not allowed over the bridge, and it would also be very hard to roll one anywhere else in the park.
CAN YOU STILL VISIT IF IT'S RAINING?
The park stays open year round, rain or shine, and they even provide complimentary biodegradable ponchos for visitors if it happens to be wet during your visit.
We visited during Vancouver's rainy season and it sprinkled over half of the time that we were in the park. While I was initially bummed about the weather, the rain did seem to keep the crowds down. During a particularly heavy period of rain, we were able to walk across the suspension bridge almost completely alone.
If you'll be taking photos, make sure to pack an umbrella to cover your cameras. Or better yet, pack a portable rain cover for your DSLR like this one or this one.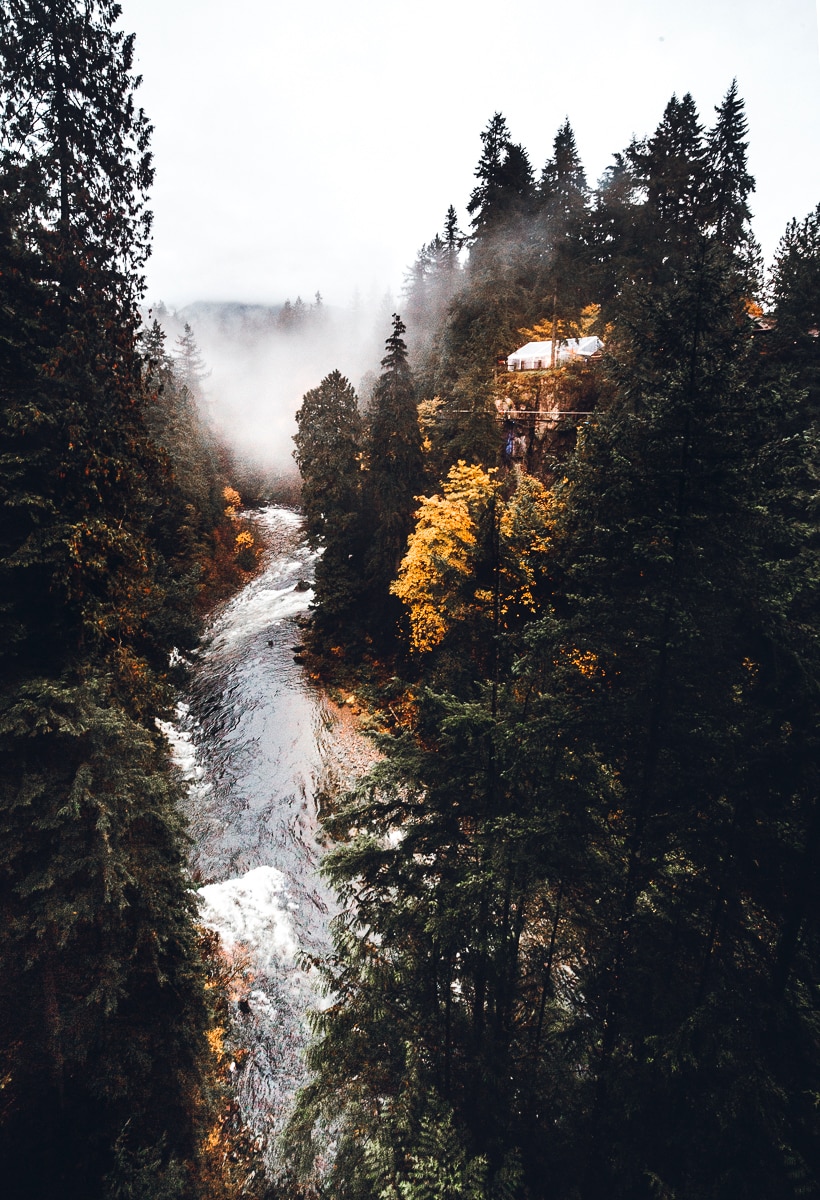 HOW LONG DO YOU SPEND IN THE PARK?
Before we visited Capilano Suspension Bridge, everything I read online suggested budgeting 2.5 to 3 hours within the park, which I think is a reasonable amount of time for an average visit.
We actually ended up spending almost 5 hours inside the park. Granted, we were taking a ton of photos and video which took up a lot of time, but we loved it so much that it was hard to leave.
CANYON LIGHTS // A HOLIDAY MUST SEE IN VANCOUVER
During the Holiday season, the entire park is decorated in lights for the annual Canyon Lights display.
Canyon Lights officially starts at the end of November and lasts until late January (see official website for this year's dates). The park's hours are also extended, allowing you to visit as late as 9PM during this time.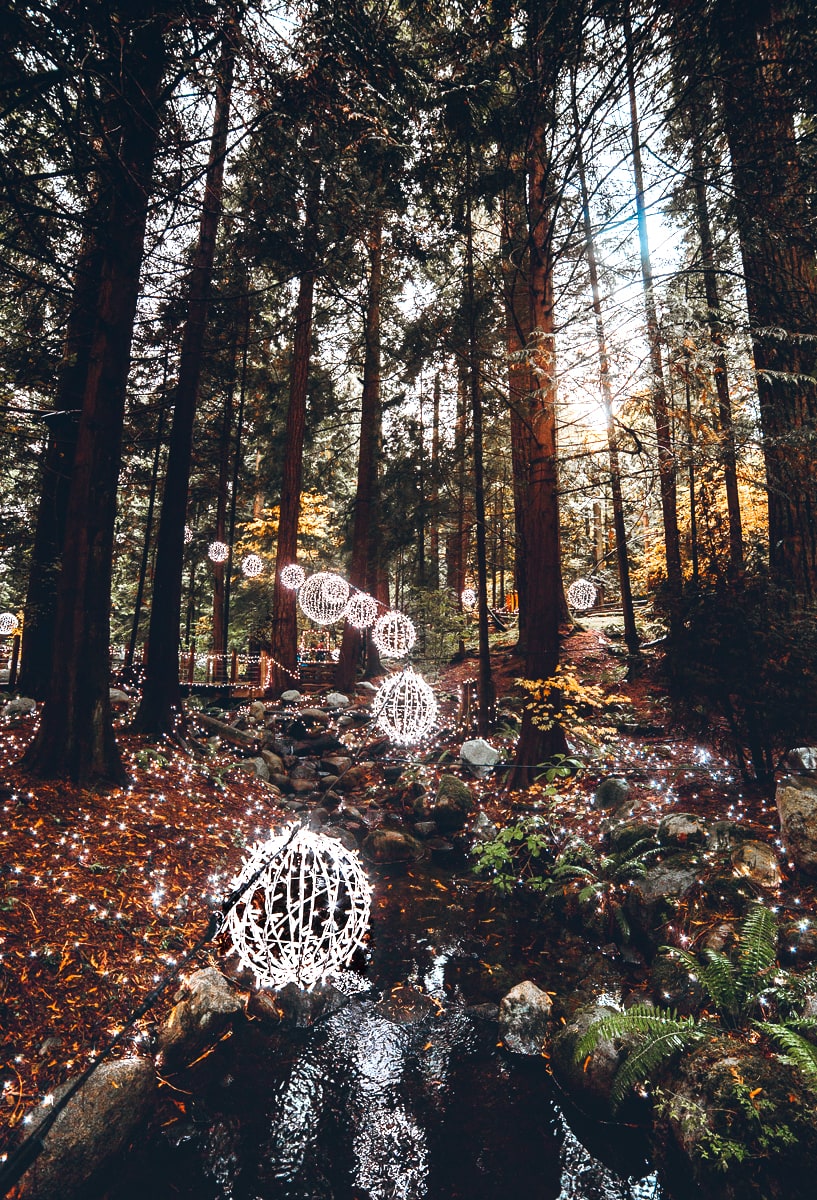 We visited in October and many of the light displays were already up. It made our entire experience magical and you feel as if you're walking through a fairy forest.
It's definitely on my bucket list to come back when all of the lights are up. I'm dying to see the Suspension Bridge and the CliffWalk all lit up.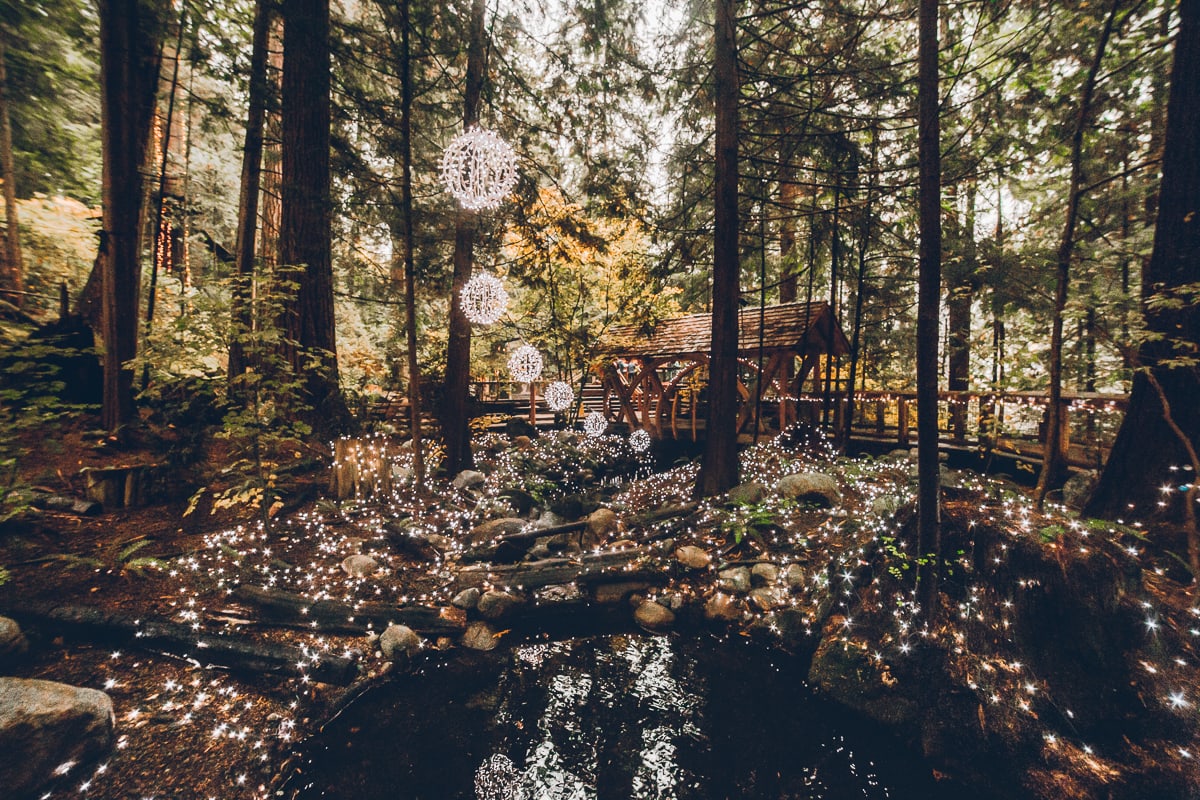 WHAT TO EAT & DRINK WITHIN THE PARK
We tend to avoid eating at tourist attractions as the food is usually overpriced. However grabbing a coffee or hot chocolate is the perfect way to warm up on cool days.
If you're feeling hungry, the park offers multiple restaurants and cafes serving full meals as well as smaller snacks such as bakery goods, ice cream and even local craft beer.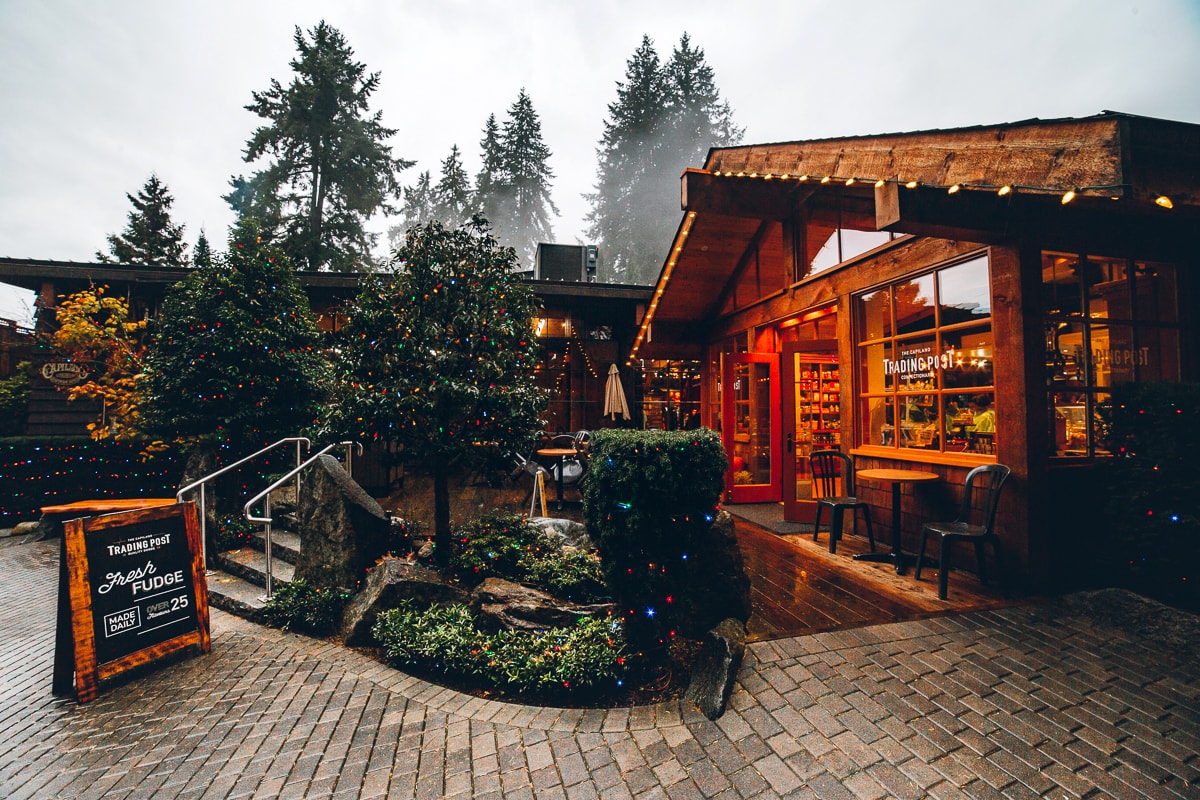 THE CLIFFHOUSE RESTAURANT is a sit down restaurant with an outdoor patio overlooking the canyon and Capilano River. They serve a range of dishes including burgers, salads and salmon as well as a few vegetarian options.
THE SUGAR SHACK is a seasonal dining option serving locally roasted organic coffee, waffles and a selection of sweet treats.
LOGGER'S GRILL offers a small menu which consists mainly of burgers and hot dogs. You can also order poutine as well as locally roasted organic coffee or a rotating local beer.
ICE CREAM CREAMERY is a favorite amongst visitors who come during the warmer months. They serve Rocky Point ice cream which and is made in small batches using locally sourced ingredients.
DR. WOODS CABIN is located across the bridge near the Treetop Walkway. They serve beverages such as hot chocolate and coffee as well a bakery treats.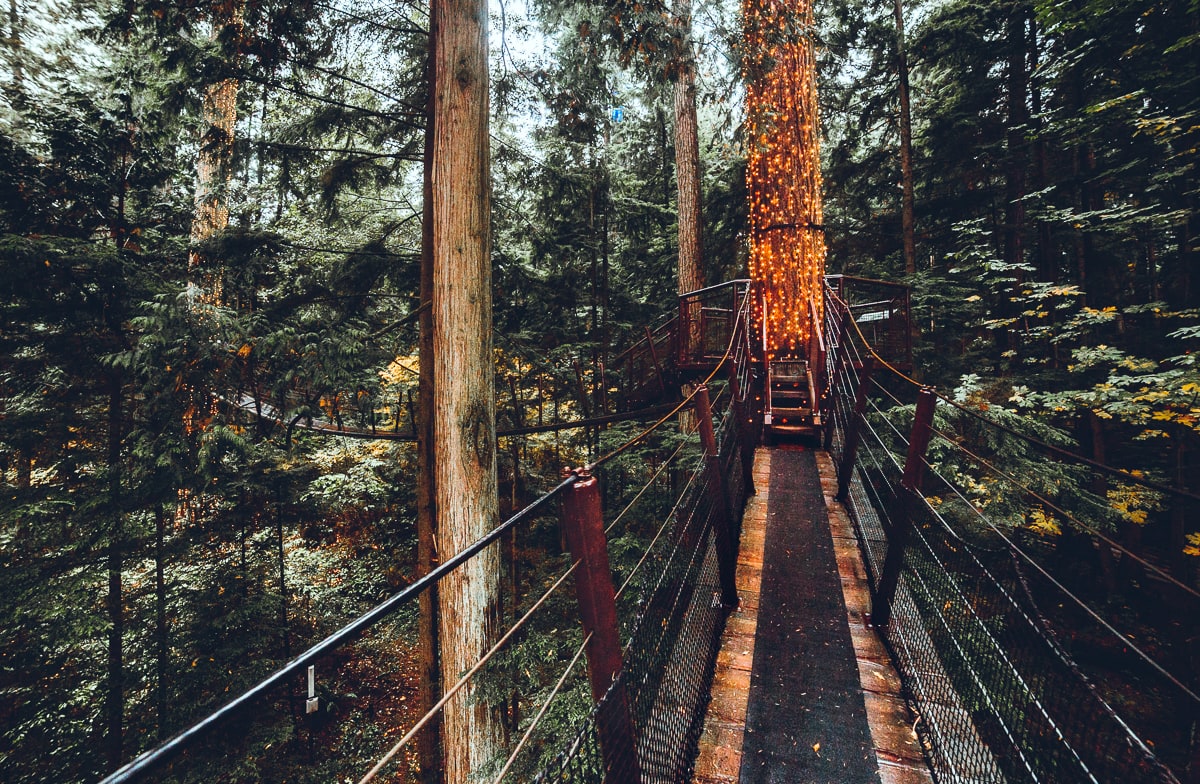 CAPILANO SUSPENSION BRIDGE PARK TICKETS
Capilano Suspension Bridge Park is one of the more expensive attractions in Vancouver. The price for a regular adult admission is $53.95 CAD ($40USD) which seems like a lot for admission into a park.
With that said, this was hands down my favorite experience in Vancouver so if you can afford to go, I cannot recommend it enough. It really is worth it, especially if you're visiting between November-January when the park is decorated in lights.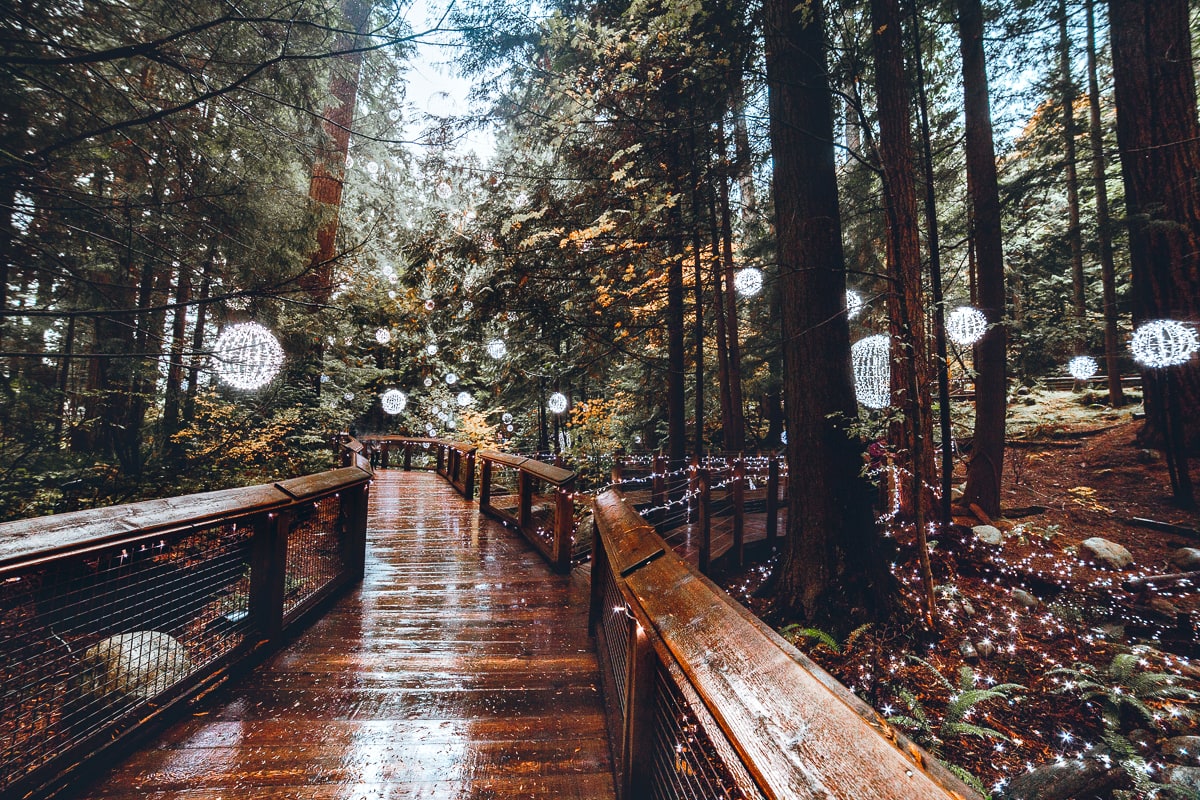 PRICE LIST
ADULT ADMISSION (17 – 64 years old) $54.95 CAD / $41 USD
SENIOR ADMISSION (65+ years old) $48.95 CAD / $37 USD
STUDENT ADMISSION (17+ years old) $39.95 CAD / $30 USD
YOUTH ADMISSION (13-16 years old) $29.95 CAD / $22 USD
CHILDREN'S ADMISSION (6-12 years old) $16.95 CAD / $13 USD
CHILDREN UNDER 6 Free
AAA DISCOUNT: If you are a AAA or CAA member, you can get 10% off admission prices.
CLICK HERE TO PURCHASE TICKETS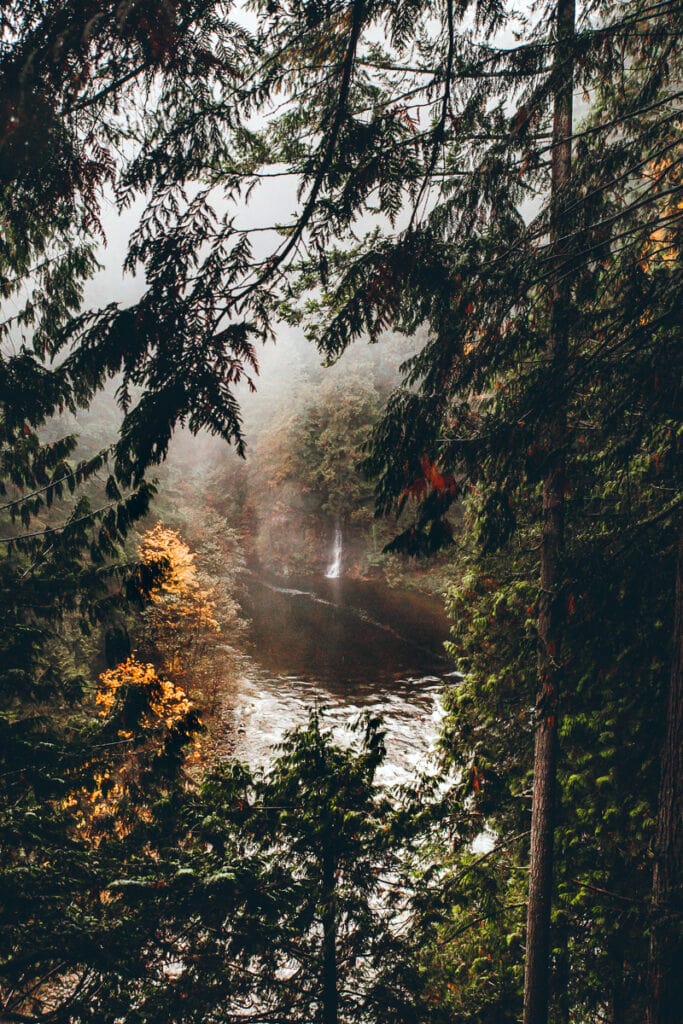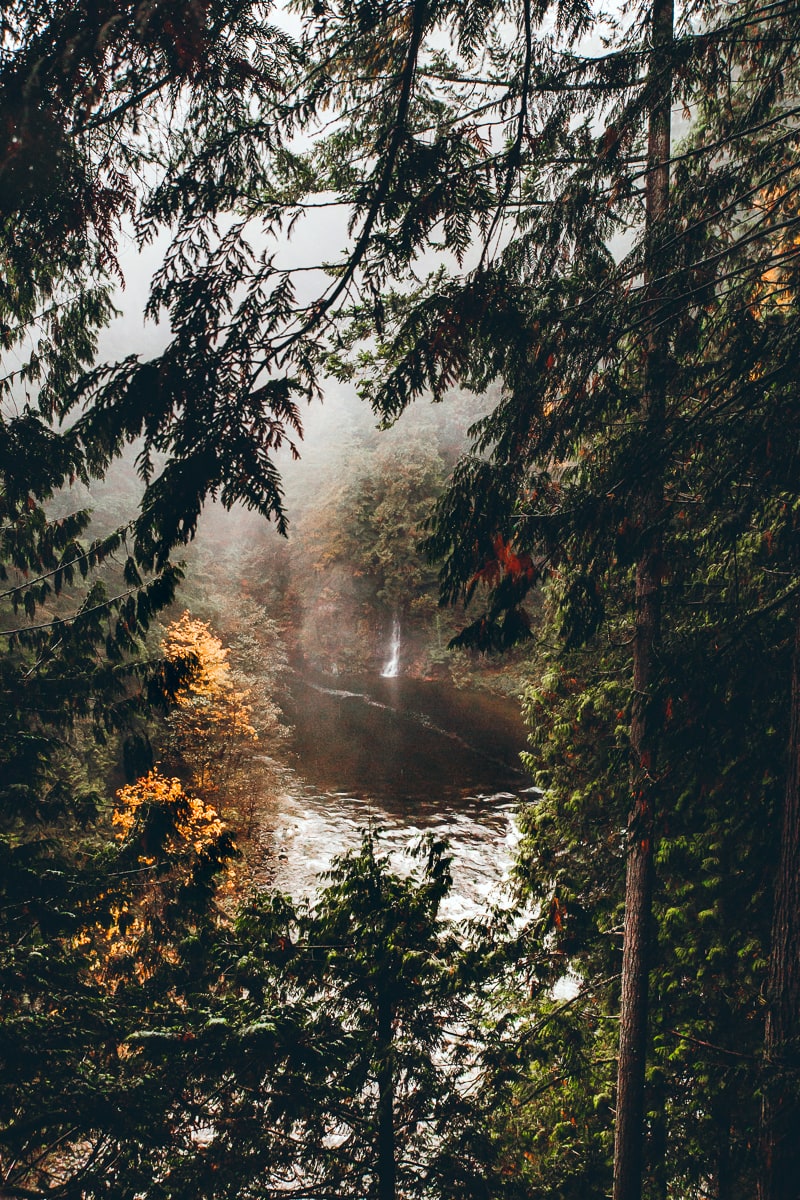 HOW TO GET TO CAPILANO SUSPENSION BRIDGE PARK
Capilano Suspension Bridge Park is a 15 minute drive (8.8 km / 5.5 miles) from downtown Vancouver, making it an extremely easy addition to any itinerary.
FREE SHUTTLE
The park offers a daily free shuttle service for visitors with several pickup locations throughout downtown Vancouver. During peak season, the shuttles come every 10-15 minutes and during the off season, they cycle every 30 minutes.
We were staying at The Listel Hotel and luckily had a pickup location right down the street, making it super convenient to get to the park. On the way back, the shuttle will drop you off at Canada Place.
---
RELATED POST: THE LISTEL HOTEL // AN ECO FRIENDLY BOUTIQUE HOTEL IN VANCOUVER
---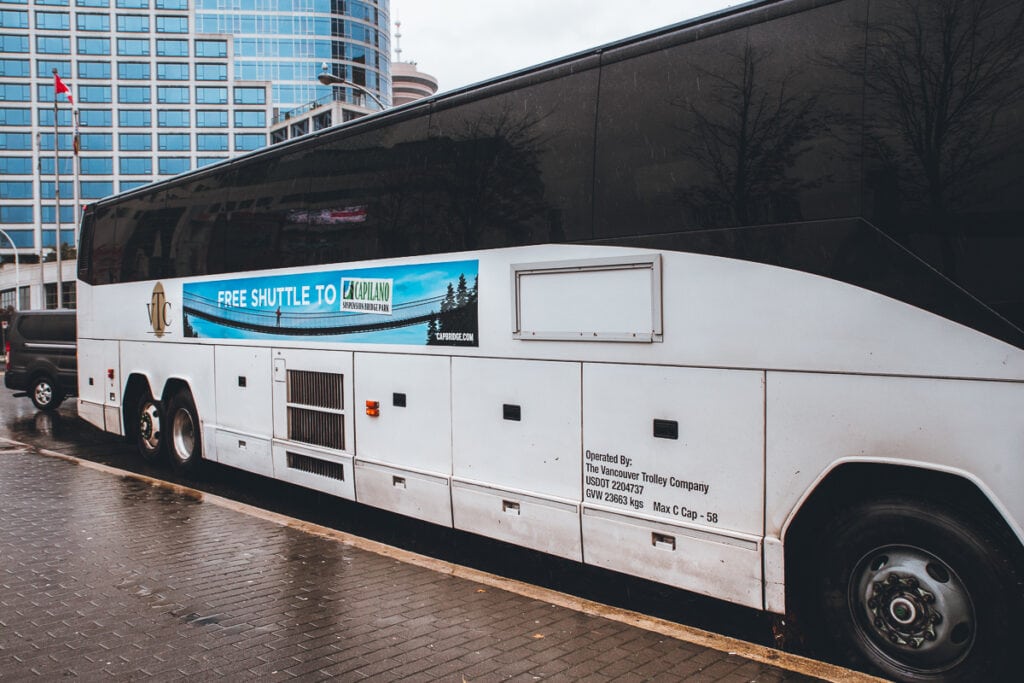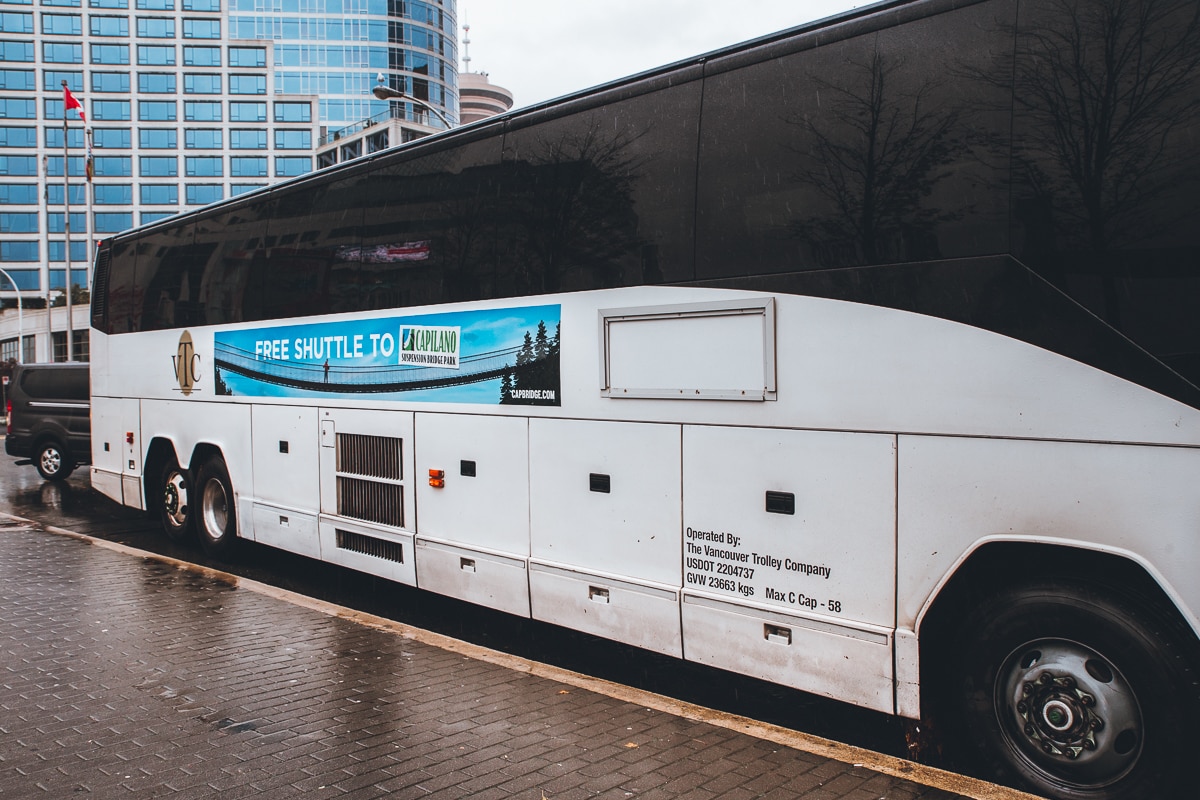 CAPILANO SUSPENSION BRIDGE SHUTTLE PICK UP LOCATIONS
LIBRARY SQUARE Homer St. and Robson St.
CANADA PLACE Canada Place Way near the information kiosk
HYATT HOTEL Melville Street Entrance
BLUE HORIZON HOTEL 1225 Robson Street.
DRIVING DIRECTIONS
If you have your own car and will be driving yourself to the park, follow Georgia Street through Stanley Park and across Lion's Gate Bridge. Take the North Vancouver exit to Marine Drive and go left on Capilano Road for 1.6 km (1 mile).
There is paid parking available for $7.50 CAD per vehicle, for up to 4 hours.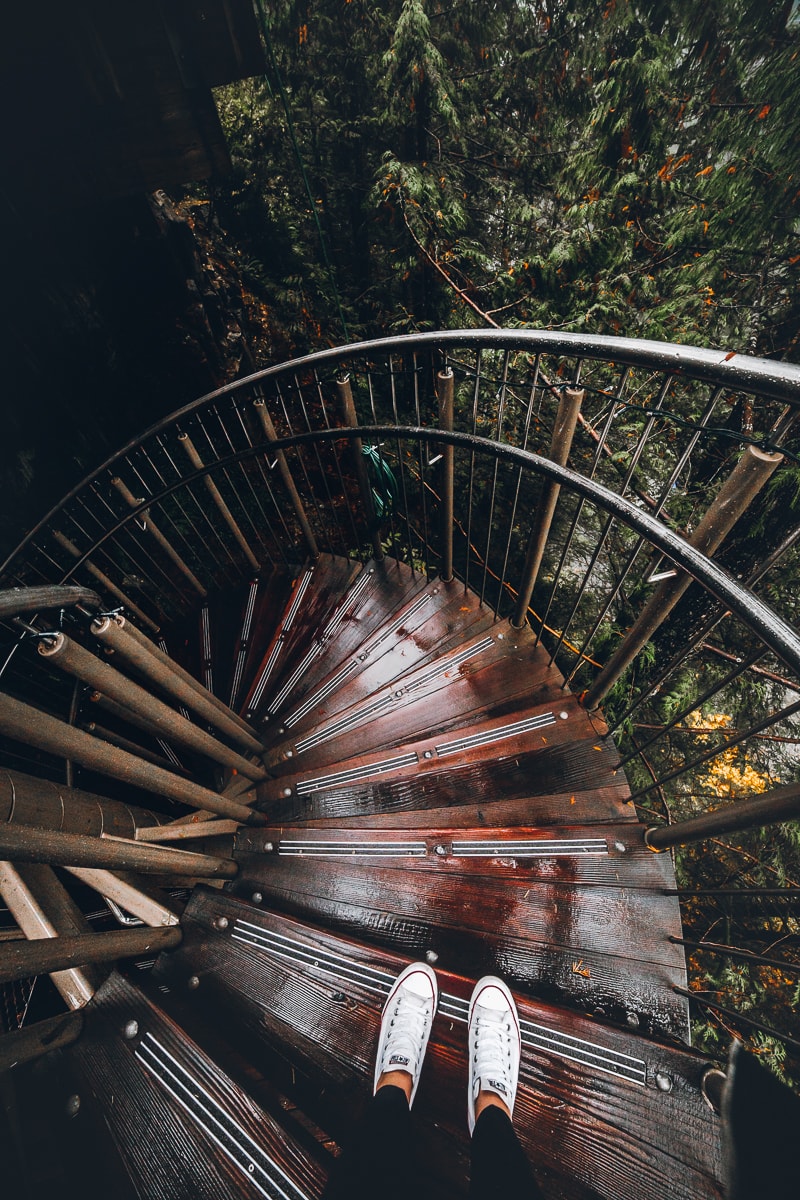 VISITOR INFORMATION
CAPILANO SUSPENSION BRIDGE PARK HOURS
January 27 – March 13: 9:00 AM – 5:00 PM
March 14 – April 10 : 9:00 AM – 6:00 PM
April 11 – May 15: 9:00 AM – 7:00 PM
May 16 – September 7: 8:00 AM – 8:00 PM
September 8 – September 20: 9:00am – 7:00pm
September 21 – October 12 : 9:00 AM – 6:00 PMs
October 12 – November 21 : 9:00 AM – 5:00 PM
November 22 – January 26 : 11:00am – 9:00pm
The park is open 364 days a year and closed on Christmas (December 25th).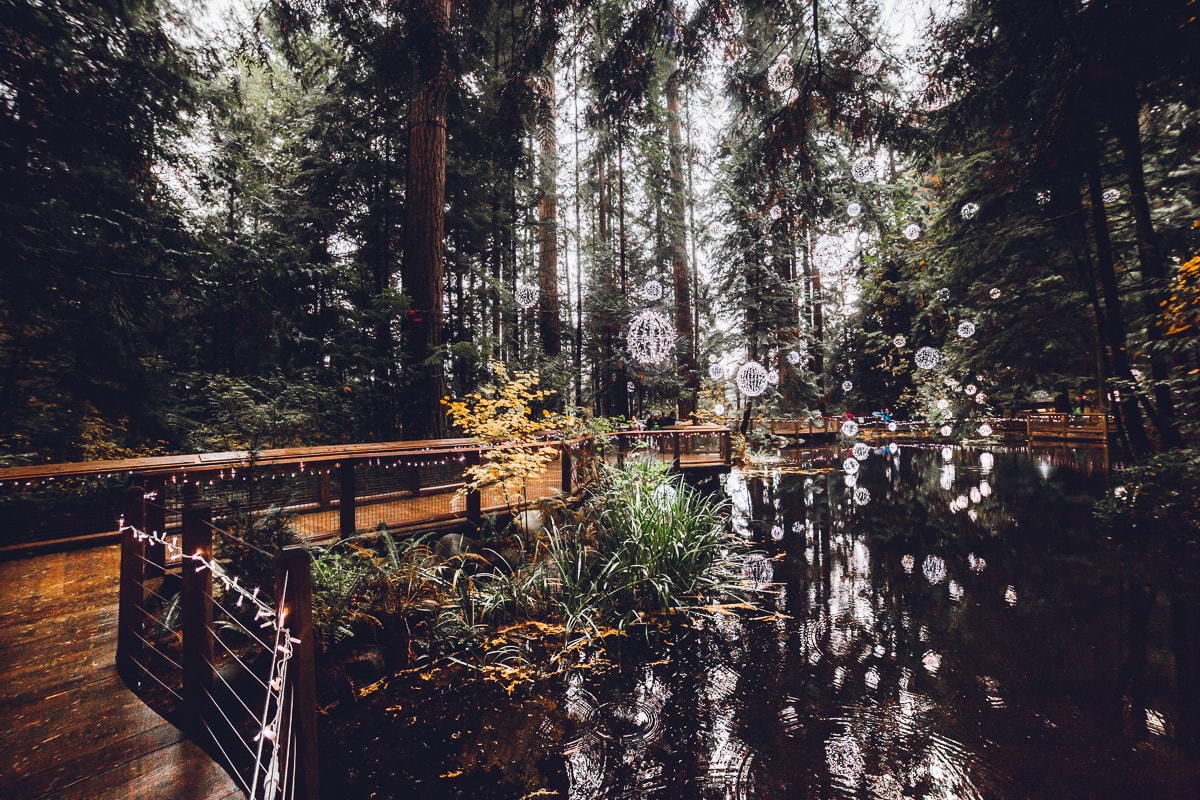 ADDRESS
3735 Capilano Road
North Vancouver, BC
Canada, V7R 4J1
HANDICAP ACCESSIBILITY
The main attractions within the park (Suspension Bridge, Cliffwalk, Treetop Adventure) are not wheelchair accessible and they all contain various sets of stairs.
Wheelchair users are allowed free admission into the park.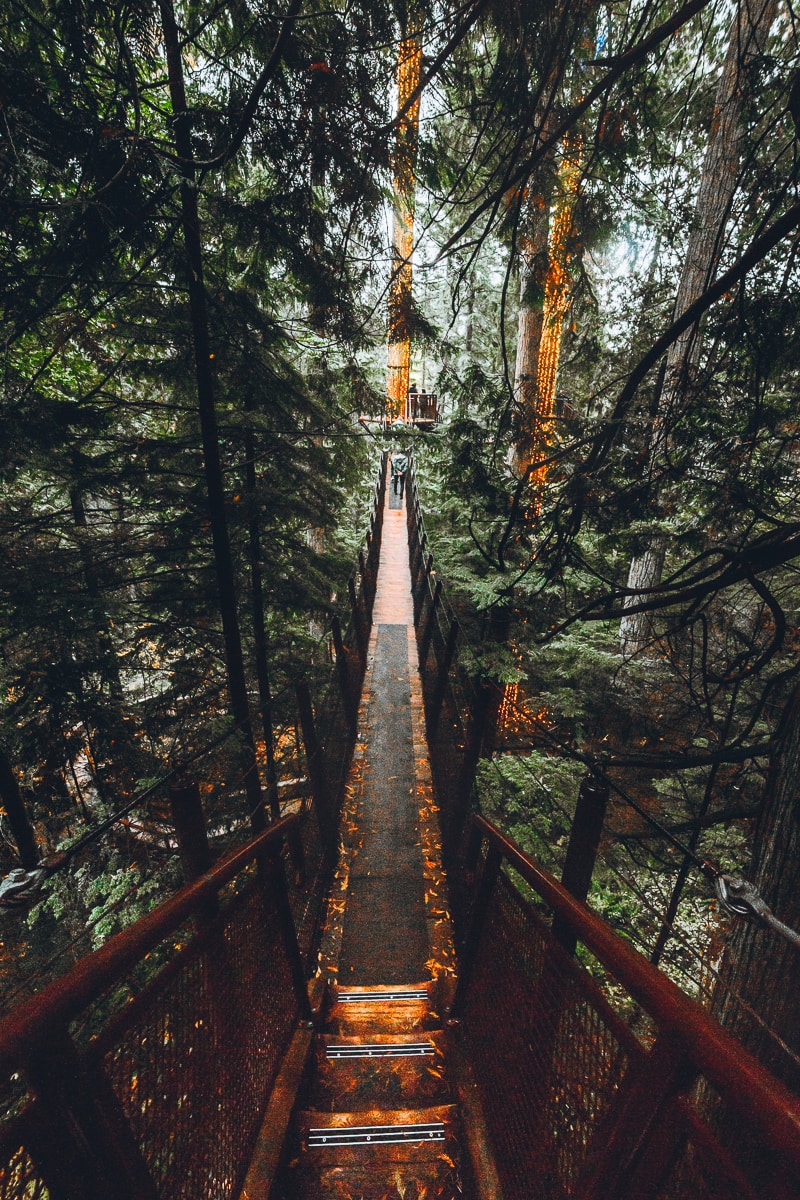 FOR MORE INFORMATION ABOUT CAPILANO SUSPENSION BRIDGE PARK, CLICK HERE TO VISIT THIER WEBSITE 
---
PIN IT: CAPILANO SUSPENSION BRIDGE VANCOUVER // A VISITOR'S GUIDE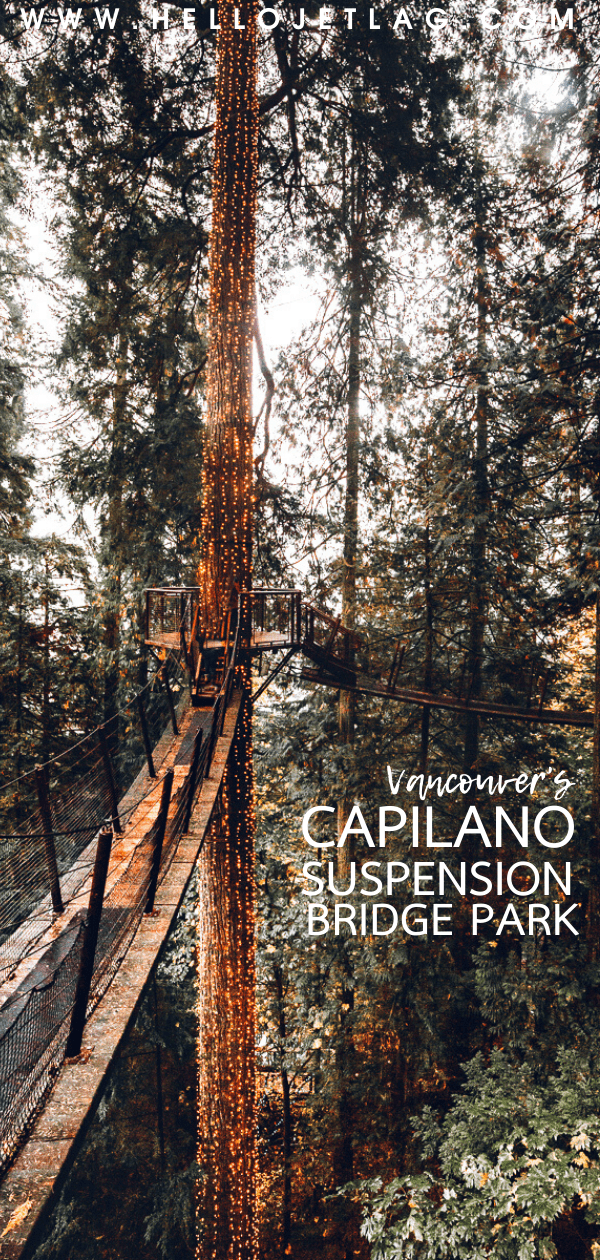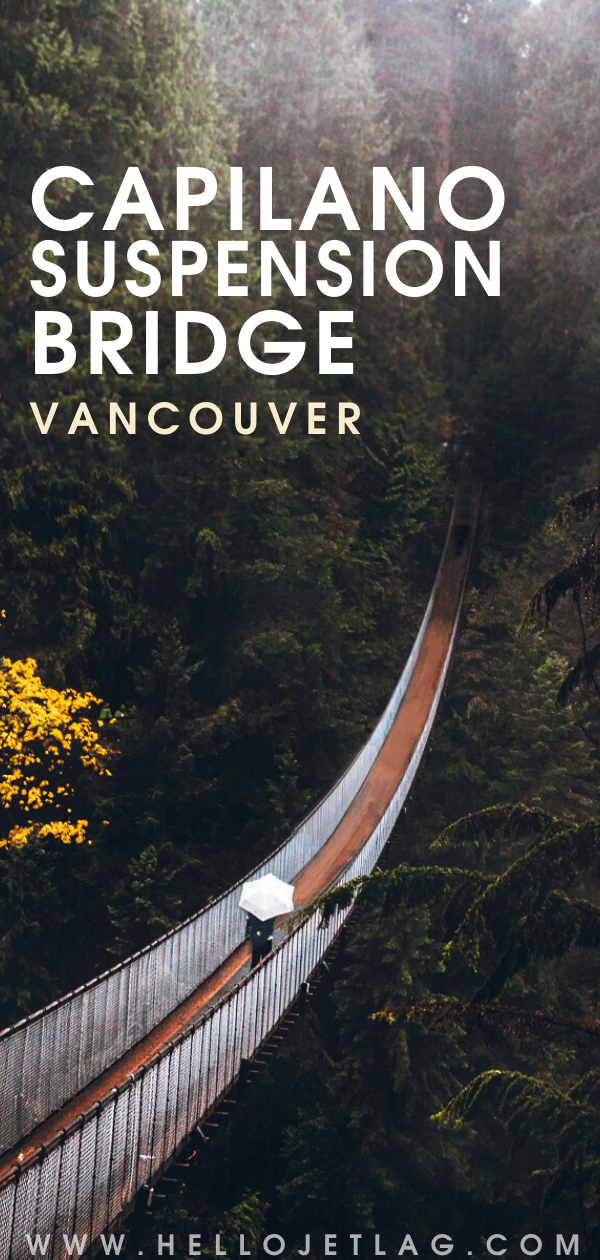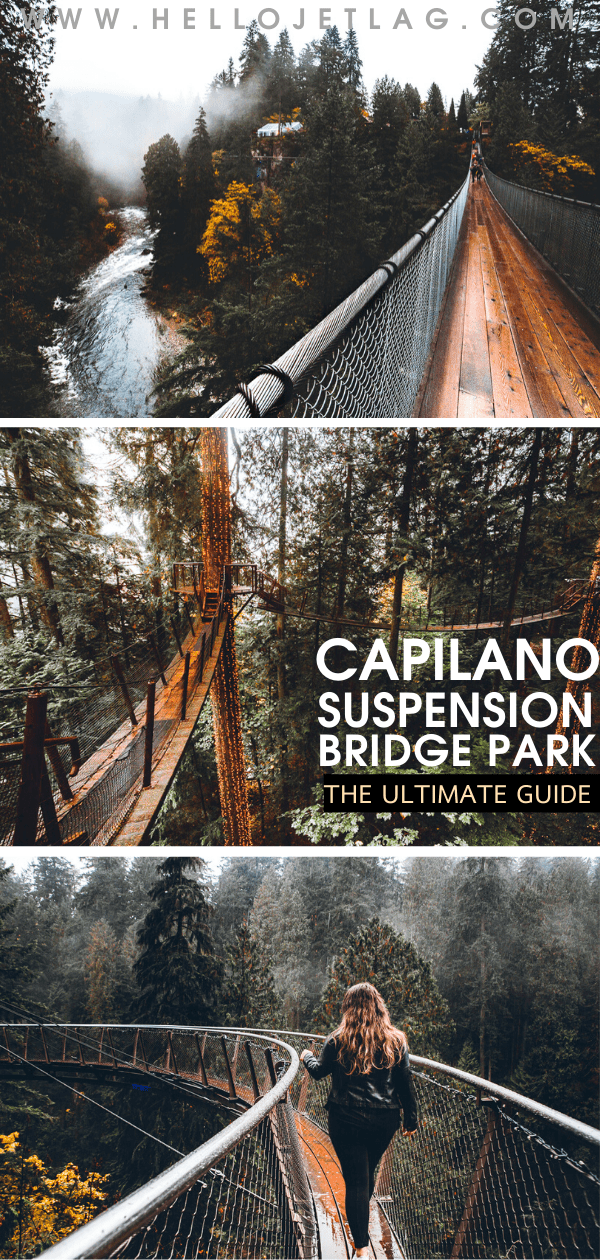 DISCLAIMER: Many thanks to the Vancouver Tourism Board for providing us with a media pass which covered our admission into the park. Some of the links within this post are affiliate which means if you click them and purchase something, we receive a small commission.