Vancouver BC is currently the third greenest city in the world and they have their sights set on the #1 spot, aiming to reach that goal by 2020. While many of Vancouver's hotels support eco-friendly initiatives within their business, The Listel Hotel has been prioritizing sustainability for over 20 years. Not only that, but they have the highest eco-rating out of any boutique hotel in Vancouver.
We wanted to showcase a hotel that supports Vancouver's green agenda and we couldn't have been happier with our stay at The Listel. Their convenient downtown location was exactly where we wanted to be and the special touches that the hotel offers (ie.. free wine tastings in the evenings!) made our stay memorable and special.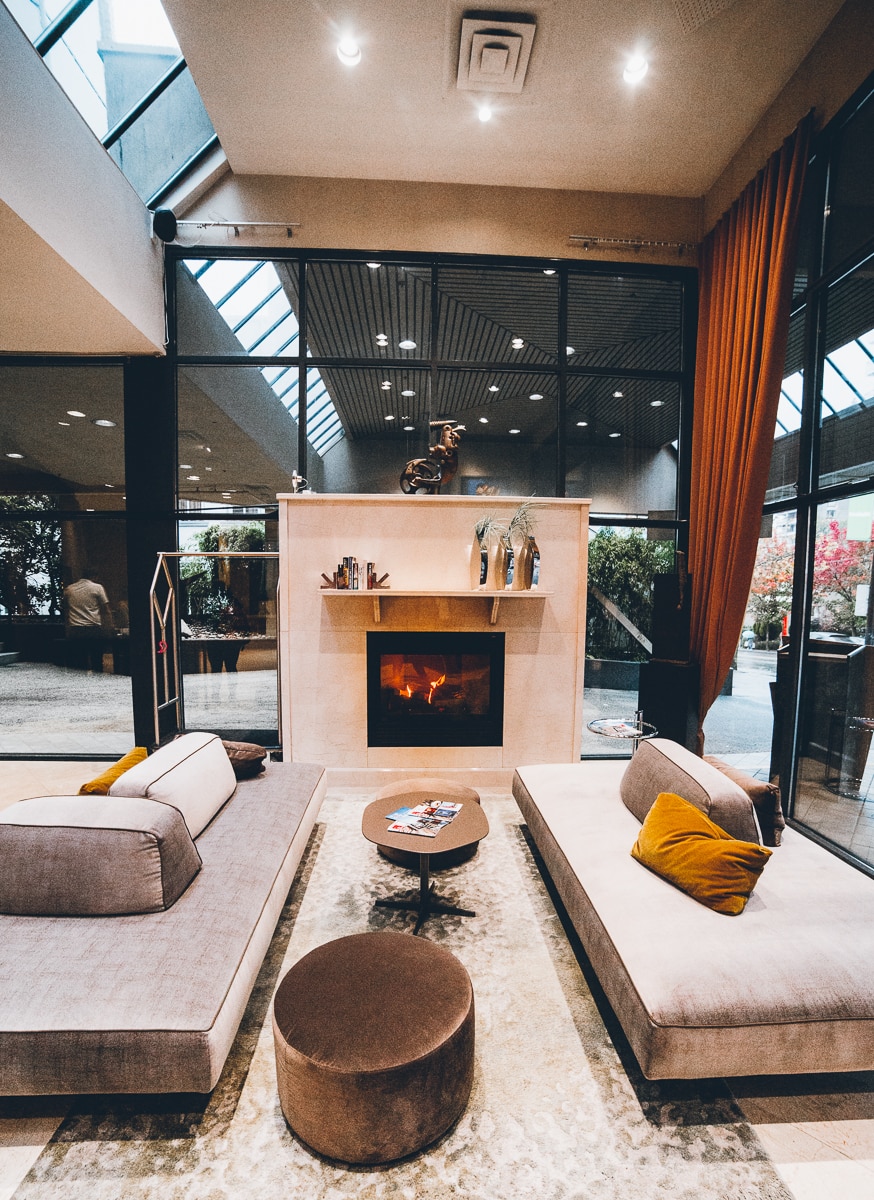 THE LISTEL HOTEL
AN ECO FRIENDLY BOUTIQUE HOTEL IN VANCOUVER'S DOWNTOWN AREA
The Listel Hotel is the recipient of a 5 Green Key eco-rating (the highest rating) by the Hotel Association of Canada.
From the solar panels on their roof, to the 100% recycled fiber toilet paper in the restrooms, The Listel prioritizes sustainability without compromising the comfort or quality you expect from a higher end hotel.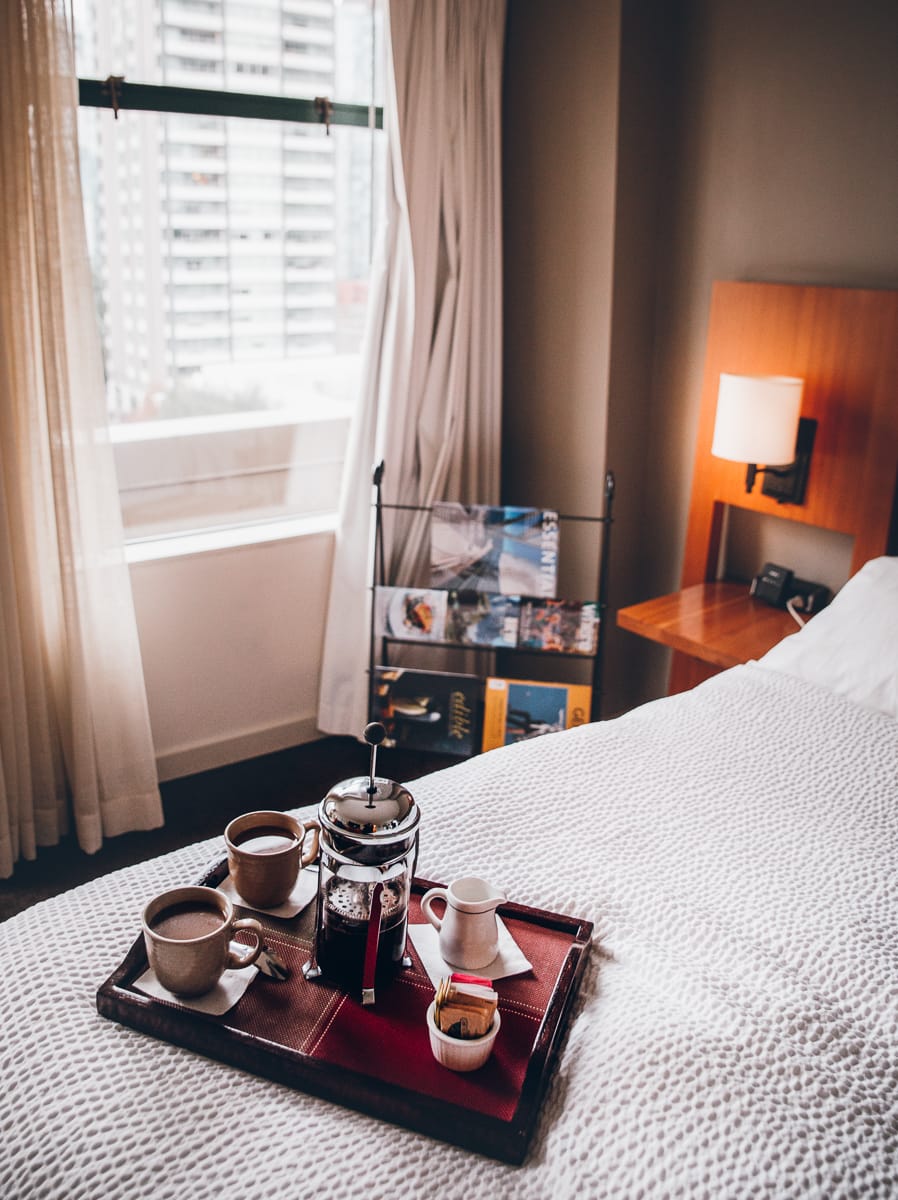 ZERO WASTE
Since 2011, The Listel Hotel has been 100% zero waste. In your room you will find a recycle bin, a compost bin and a regular trash can (with biodegradable and compostable linings of course).
Sorting out your trash simple but if you accidentally throw something in the wrong bin, the housekeepers hand check everything to ensure that nothing is improperly disposed of.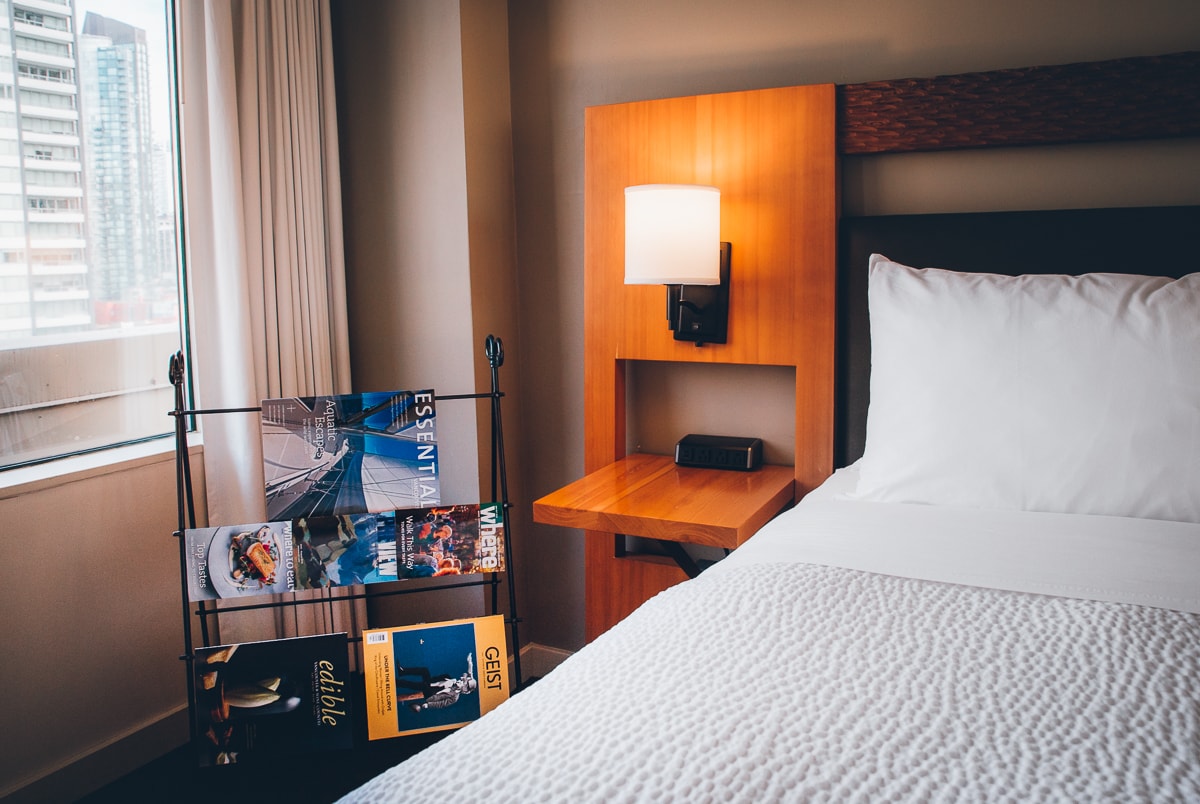 WATER ON TAP
Instead of offering single use plastic bottles in your room, the hotel provides you with 2 carafes that you can fill from taps located on each floor. They even took it to the next level by offering both filtered still or sparkling water.
I've never seen this done before but it's so genius and I can't believe more hotels haven't implemented this option. It was one of my favorite things about our stay (I'm easy to please).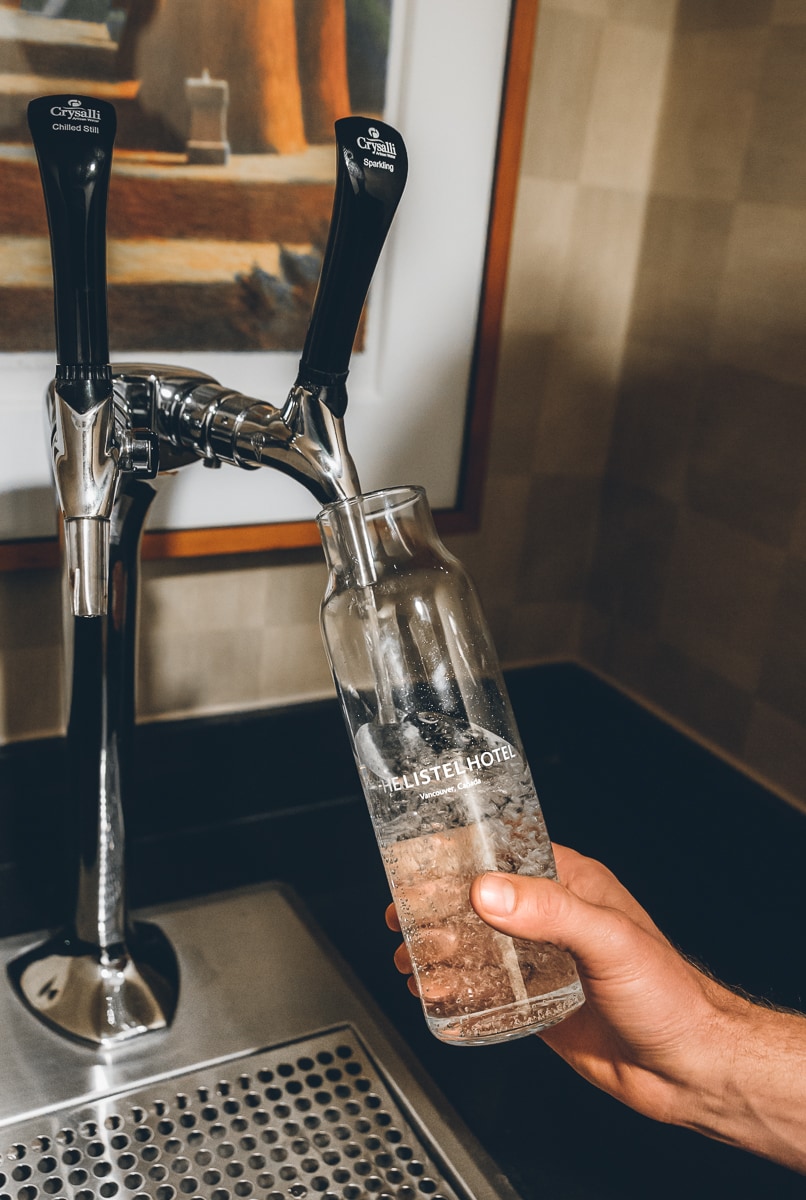 BULK AMENITIES
How many travel shampoo bottles have we opened and used only once during our hotel stays?
Another simple way that The Listel cuts down on unnecessary waste is by offering bulk amenities in their guest rooms. Instead of individual shampoos, soaps and conditioners, they have bulk dispensers in the shower and on the sinks.
If for any reason you prefer bottles, you are free to request them from the front desk.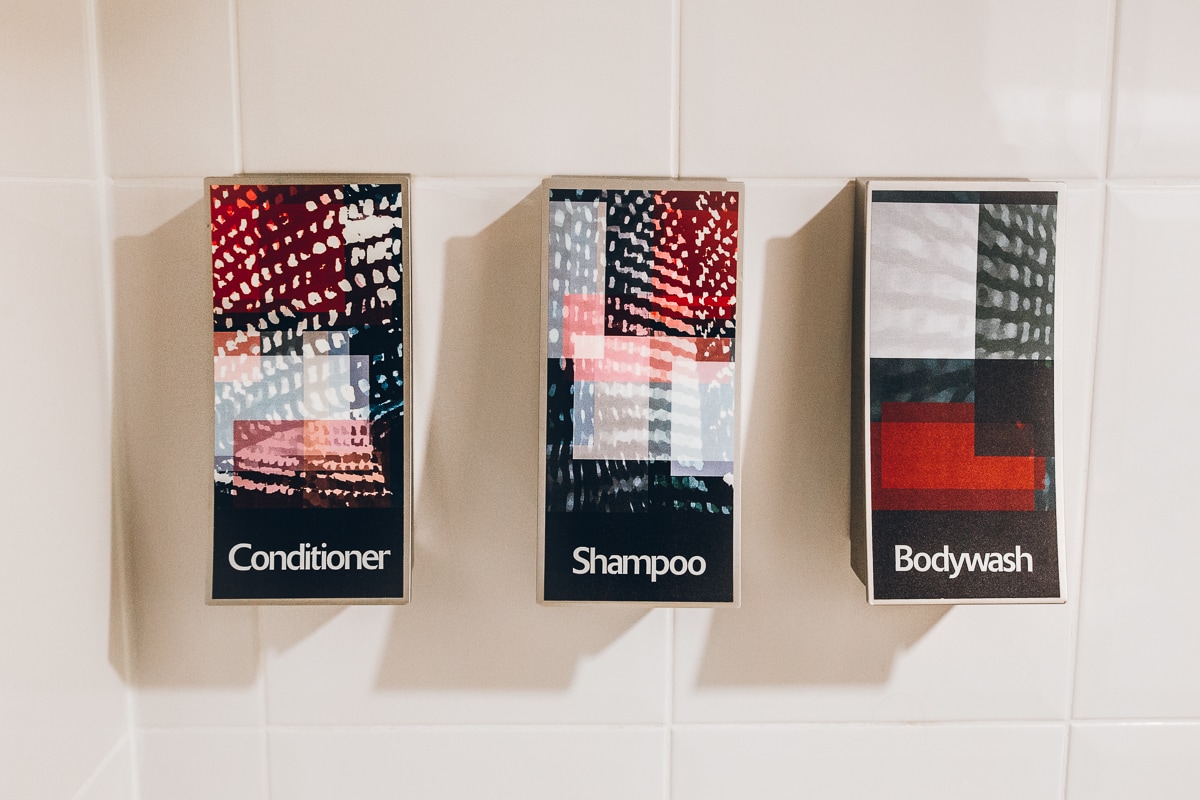 BEES
Bees are crucial to every aspect of our ecosystems, and we rely on them to pollinate crops that provide 90% of most of the world's food.
One of the the things that sold me on The Listel is the fact that they have a beehive on their rooftop! Due to Canada's strict regulations on food, the beehive is actually not for their restaurants but simply to help further support the environment.
Also don't worry, the bees are located far enough away that you won't even know that they're there. We didn't see a single one during our stay.
While I've touched on a few of my favorite initiatives that The Listel offers, the hotel has a long list of things that they're doing to reduce their environmental footprint. They have the highest eco-rating out of any boutique hotel in Vancouver for a reason, so if you want to geek out on the full list, click here.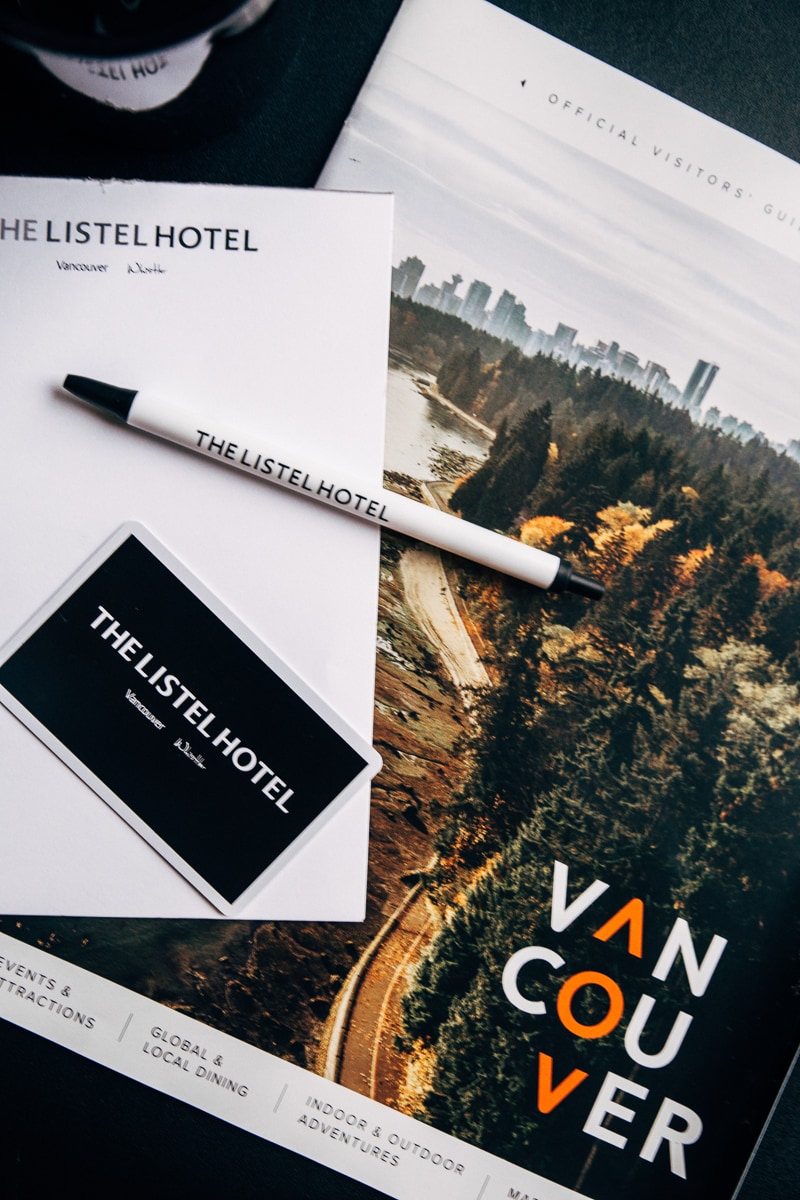 A BOUTIQUE HOTEL + ART GALLERY
As you walk through the halls of The Listel Hotel, you will find over 2 millions dollars worth of original artwork. It feels like half hotel, half art gallery with tons of unique pieces from local and international artists including sculptures, masks and paintings.
Each individual guest room also features original art, and be sure to visit each floor to view the all of the showcased pieces.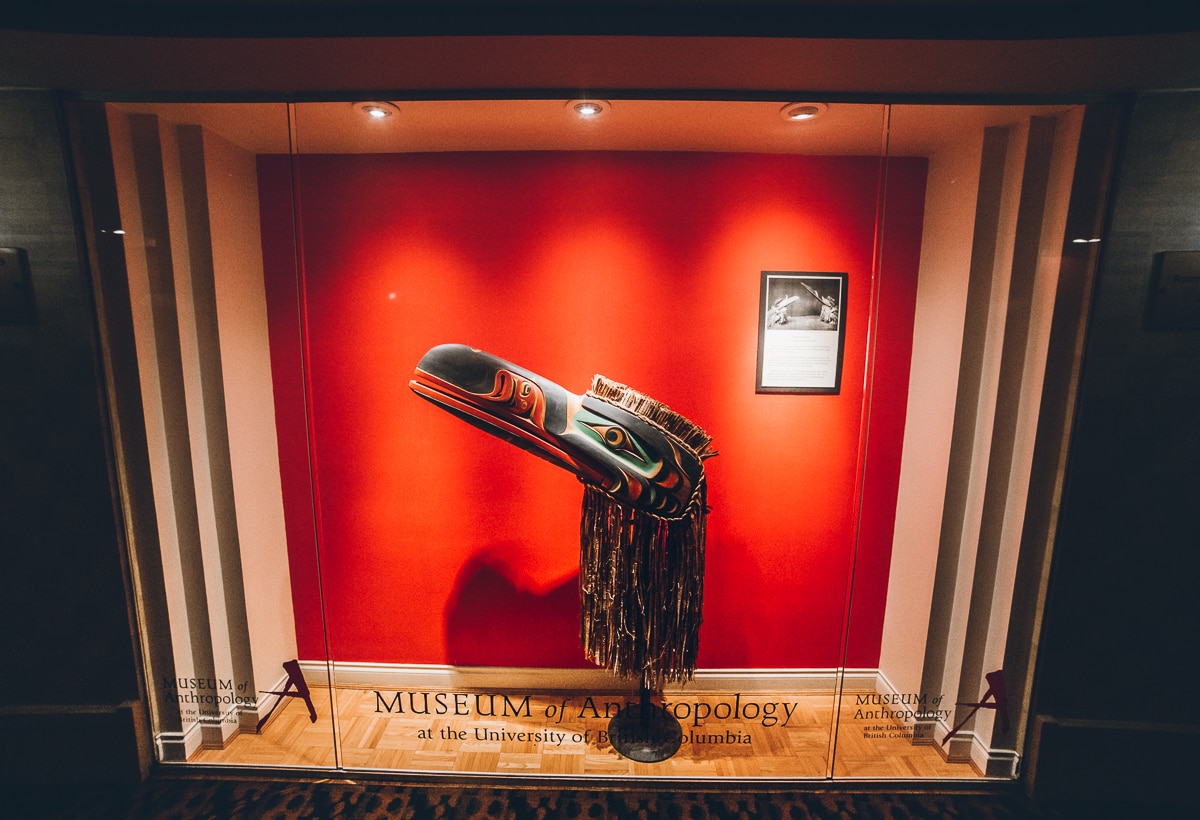 THE MUSEUM FLOOR
Our room was located on The Museum floor where all of the art has been curated by the Museum of Anthropology at the University of British Columbia. The entire floor features work by first nations peoples.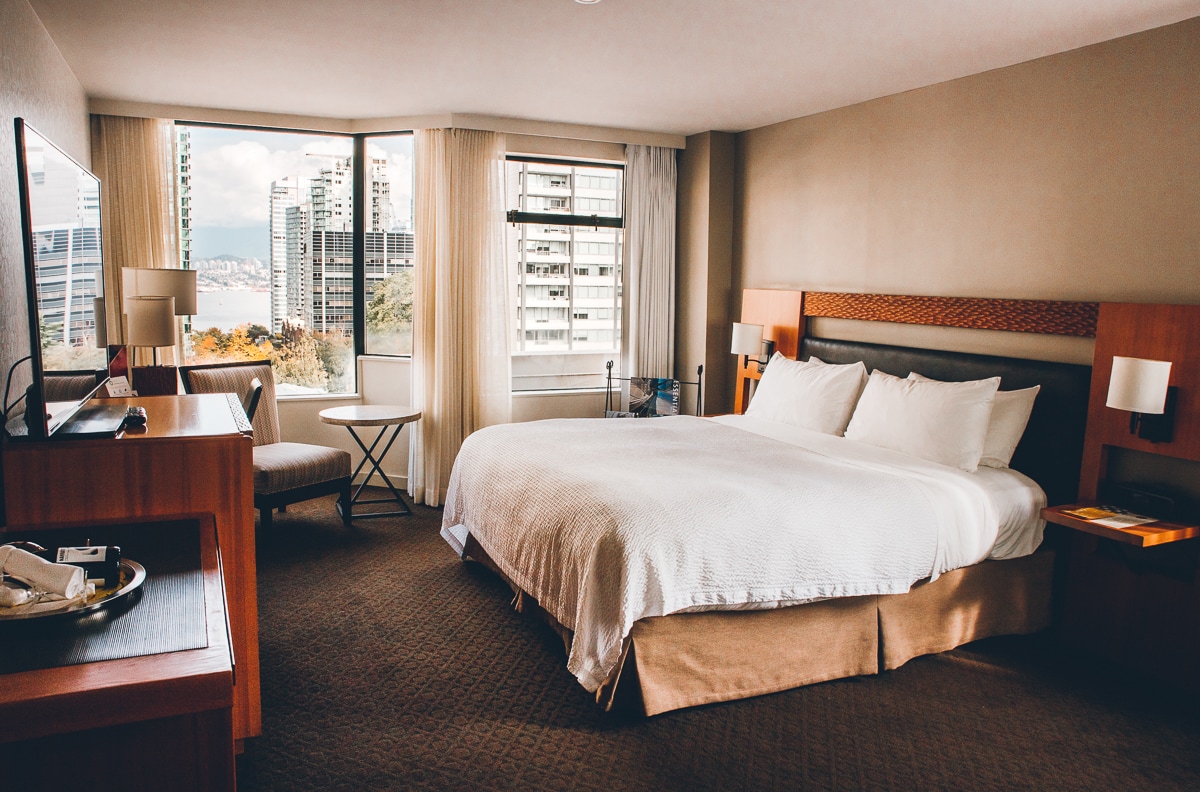 We were given a corner room which was clean, bright and modern. We also had a huge balcony but unfortunately due to the rain, the furniture had to be removed.
While The Listel is not known for their views, we really enjoyed the view from our room and could even watch the seaplanes making their descent into the harbor.
Everything about our room was extremely comfortable and the the bed made it hard to get moving in the morning because we wanted to stay in it all day.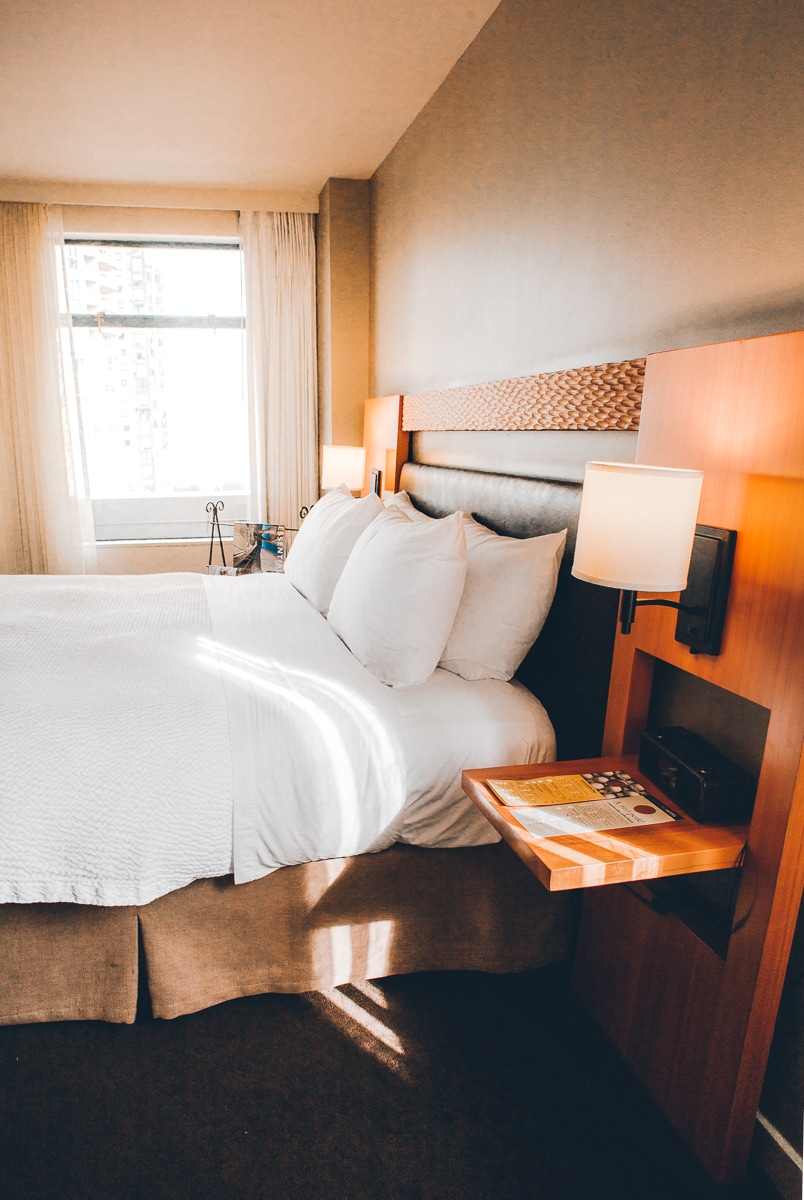 ADDITIONAL FLOORS
Aside from the Museum floor, the hotel also has a Modern Art Floor and a Gallery Floor. The Gallery floor rooms are designed as individual galleries, with each one featuring unique art from different artists.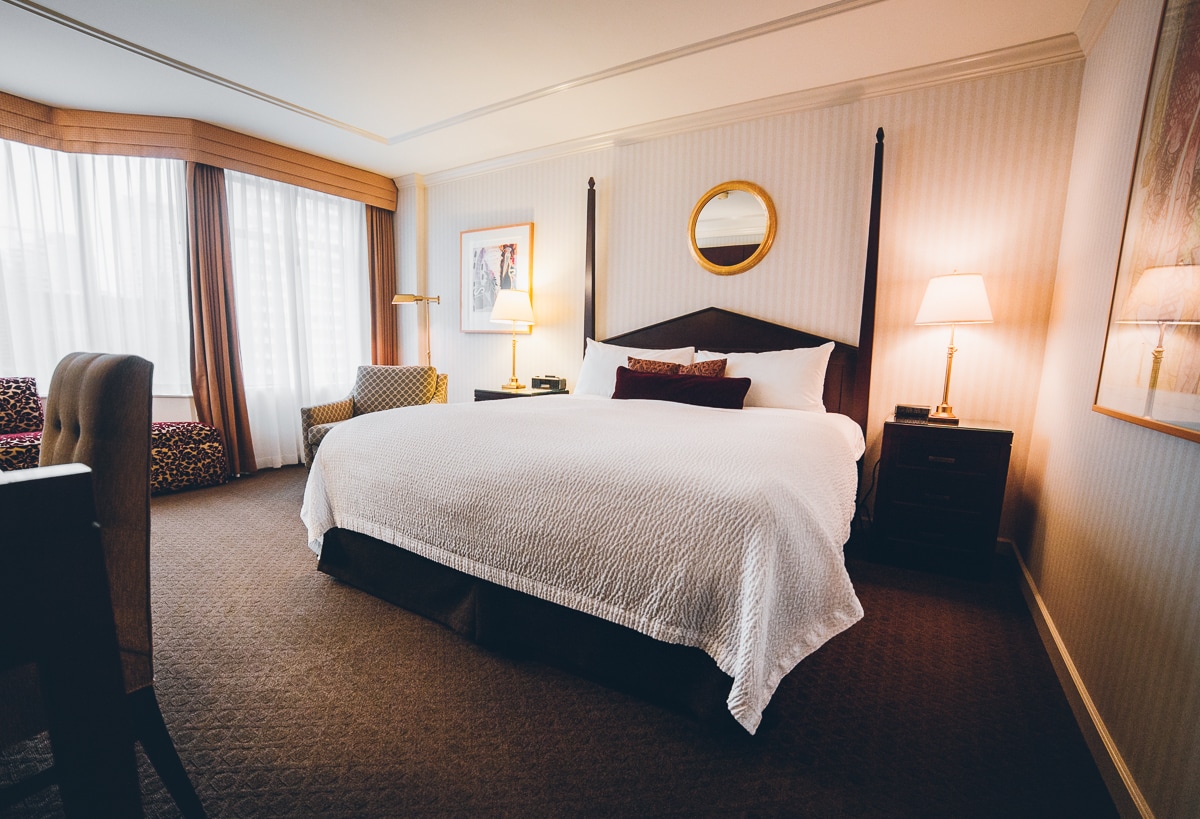 If you prefer something more deluxe, The Listel offers several Artisan Series suites, each emphasizing a different artist and design movement including Art Deco, Italian Modern, French Provincial, and Neoclassical styles
And if you want the best of the best, check out the BC Penthouse on the top floor complete with a patio and the prettiest views.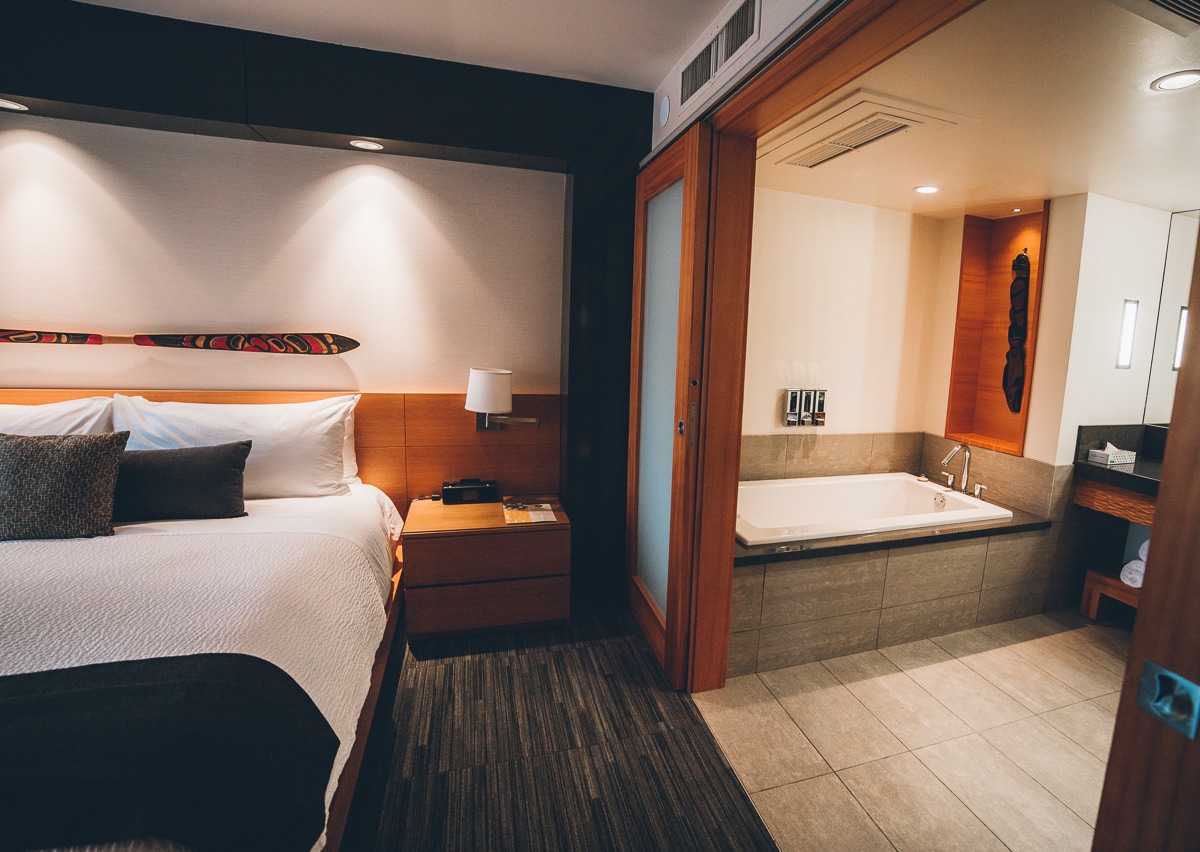 AN EXCELLENT LOCATION IN DOWNTOWN VANCOUVER
When choosing a boutique hotel in Vancouver, we knew we wanted to stay in the Downtown area. The Listel is located on the West End, on Robson St. where there are endless options for food, drinks and shopping. We actually discovered one of our favorite ramen places ever, right across the street.
Many of the top locations in the city were also extremely walkable. It took us about 10 minutes to walk to Stanley Park from the hotel, and 15 minutes to get to Canada Place and Gastown. If you are a business traveler, the Financial District is only 5 minutes away.
On the days that it was raining too hard, we took a Kater (Vancouver's version of Uber or Lyft) and our rides were usually less than $10 CAD.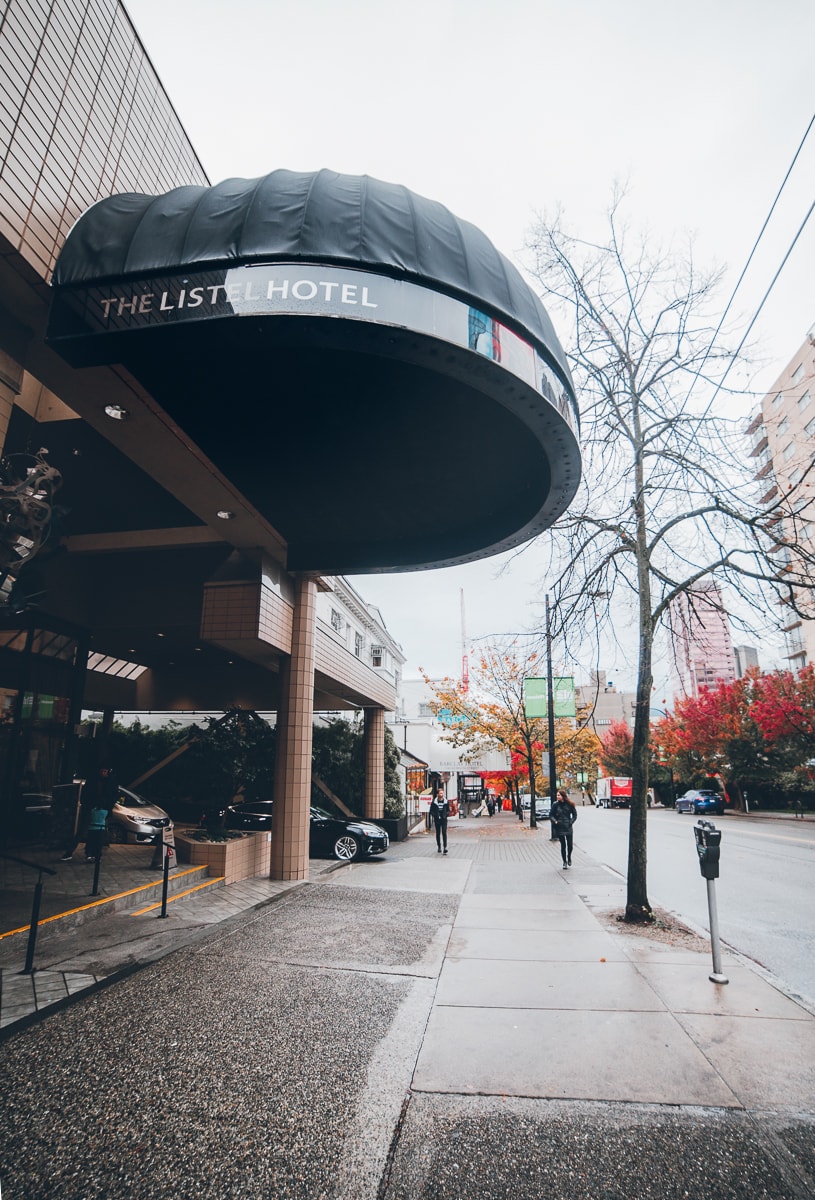 HOTEL AMENITIES
AFTERNOON WINE TASTING
Everyday from 5-6pm, the hotel hosts a wine reception in the lobby where you can do a tasting of several local wines. It's a nice way to meet fellow guests, especially if you're traveling alone.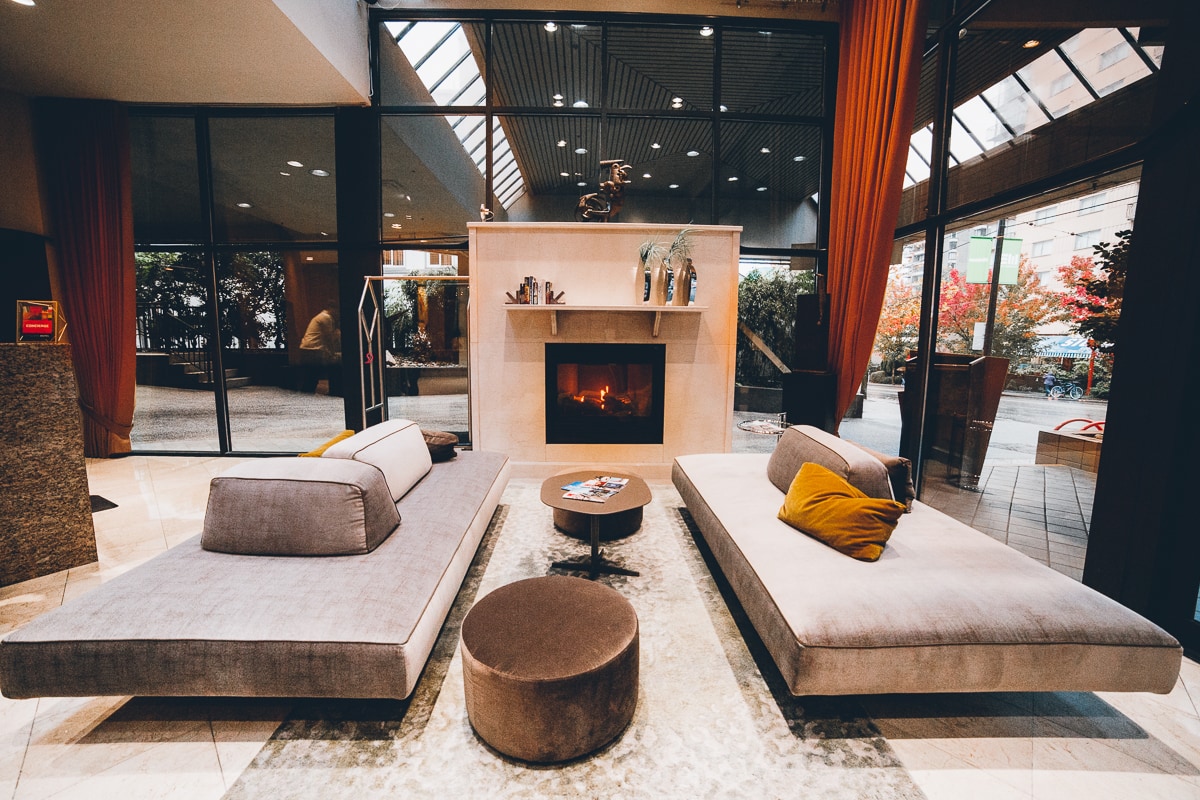 FITNESS CENTER
On the 2nd floor, you'll find a fitness center with treadmills, cycles and a universal weight machine.
If the on-site gym doesn't have what you need, they also offer complimentary passes to the Steve Nash Fitness World Express, which is located 3 blocks from the hotel.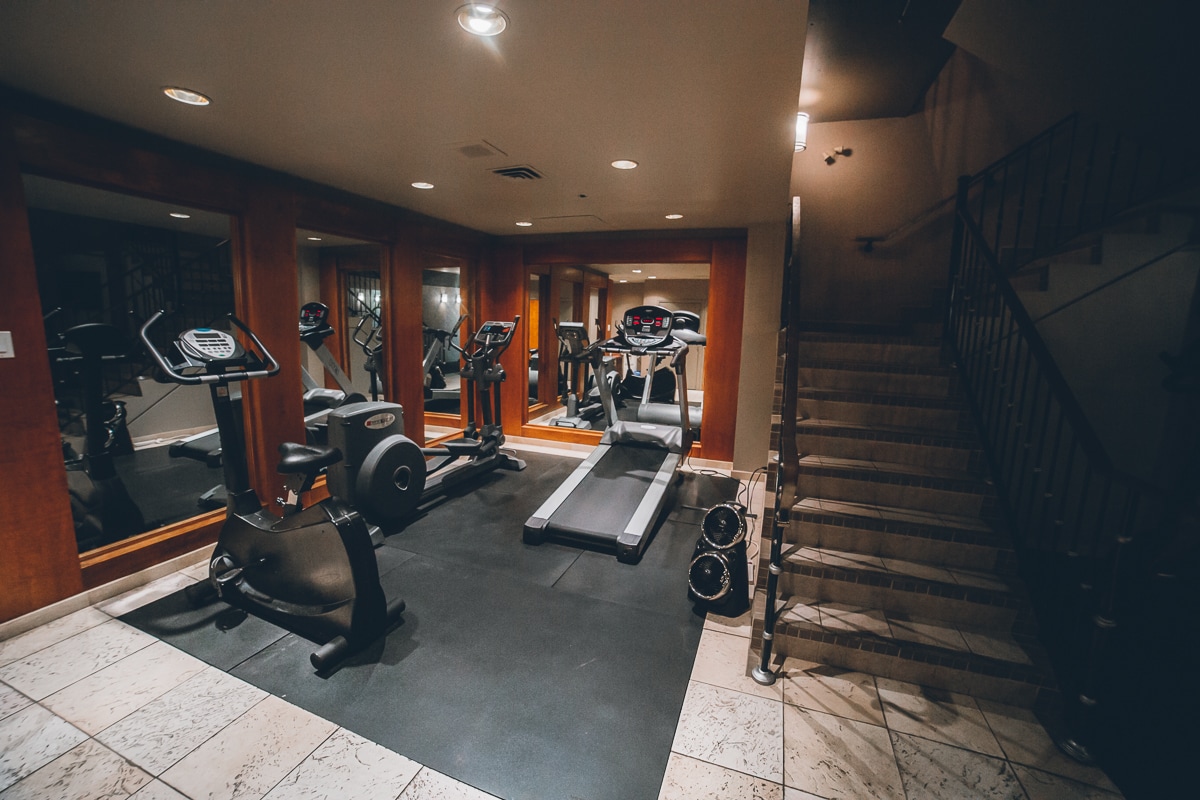 FRENCH PRESS COFFEE
If you are staying on the Gallery Floors or in any of the suites, the hotels offers complimentary French Press coffee or artisan tea in the morning.
Fill out the card in your room and place it on your door the night before and they will deliver it to you in the morning, during the time window that you've chosen.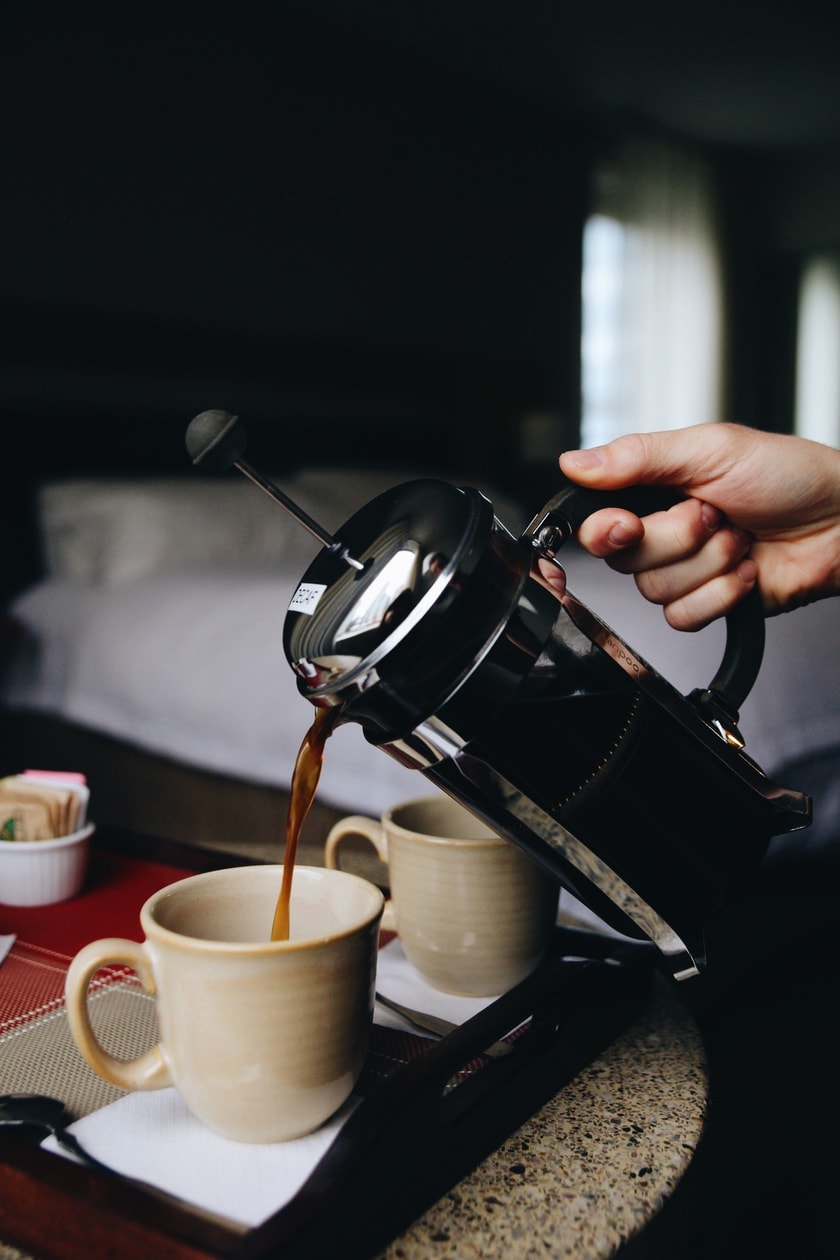 COMPLIMENTARY BIKE RENTALS AND UMBRELLAS
From June to September, The Listel offers complimentary bike rentals for their guests. You can rent a free bike for up to 3 hours.
Our stay was in October so we didn't get to utilize the bike rentals this time around but we did take advantage of their complimentary umbrellas. We are from Southern California, the land of sunshine and droughts, so we actually don't even own an umbrella. Being able to grab one on our way out the door in the morning saved us.
---
RELATED POST: CAPILANO SUSPENSION BRIDGE PARK VANCOUVER // A VISITOR'S GUIDE
---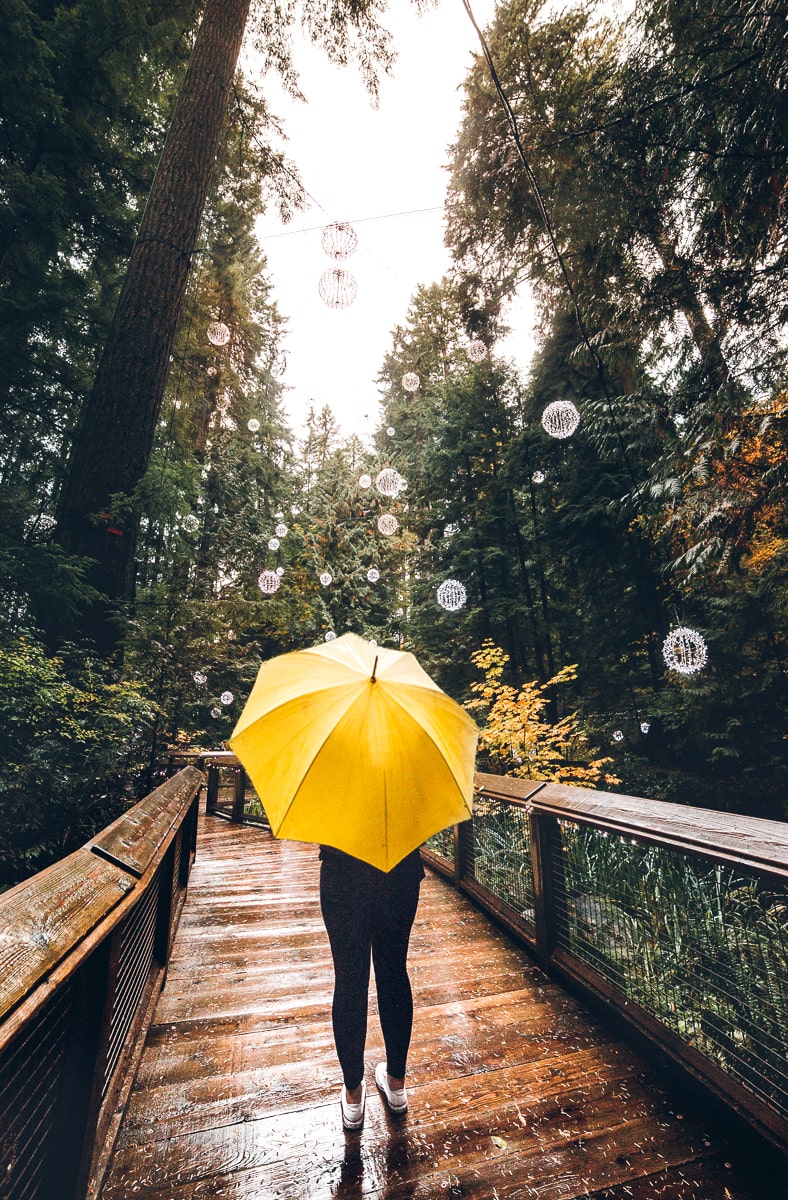 WIFI
WiFi is included in the facilities fee and it was very fast and strong throughout the hotel. It did go down once when I was working early in the morning (around 5am) for about an hour but other than that, we had no issues.
TURNDOWN SERVICE
Turndown service is available by request from 5pm-10pm.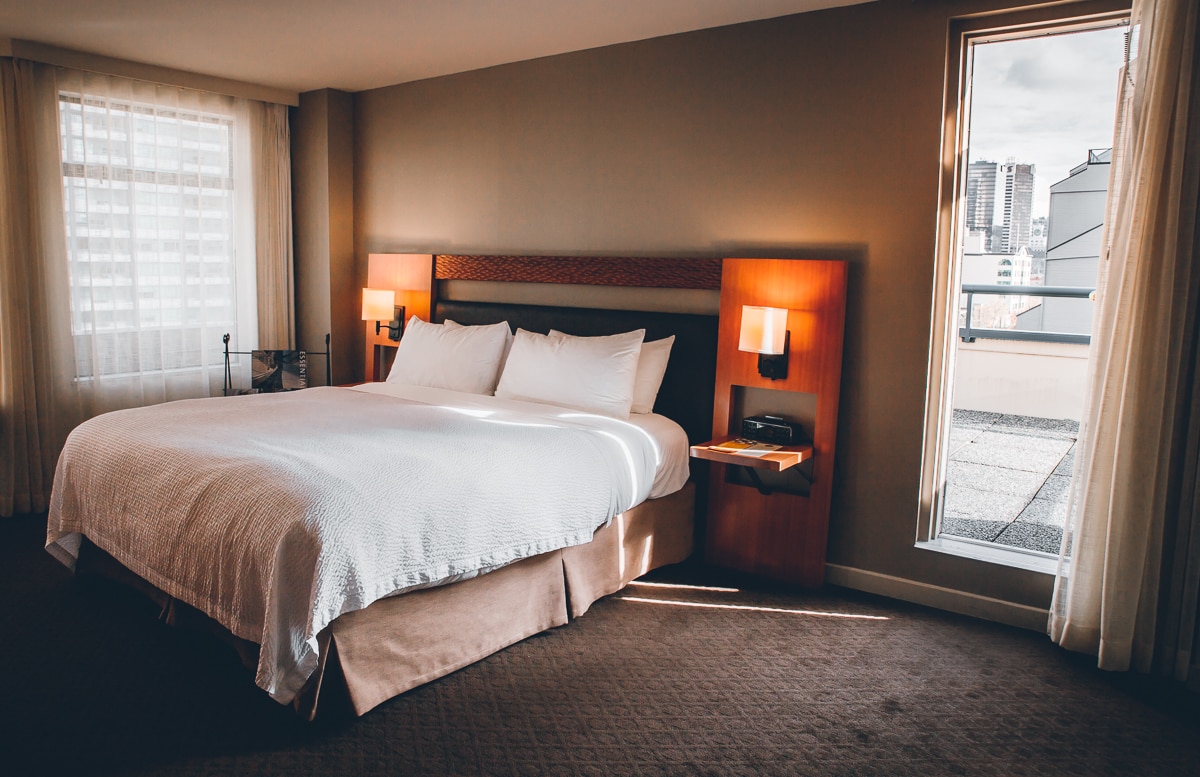 THE LISTEL HOTEL VISITOR INFORMATION
CHECK IN 3PM
CHECK OUT 12PM
PARKING Parking via valet is available for $40 CAD ($30 USD) per night with unlimited in and out privileges. Car charging is available.
ADDRESS 1300 Robson St, Vancouver, BC V6E 1C5, Canada
For more information or to book The Listel Hotel, click here. 
THE LISTEL HOTEL RESTAURANT OPTIONS
The Listel offers two stand alone dining options, each with a completely different vibe and both with incredibly impressive food.
Chef Welbert Choi has created dishes for Forage and Timber with a strong emphasis on local and sustainably sourced ingredients. Their website states that "he chooses his ingredients with respect, considers the environmental impact of what he brings into the kitchen, and approaches food in a way that celebrates the whole ingredient."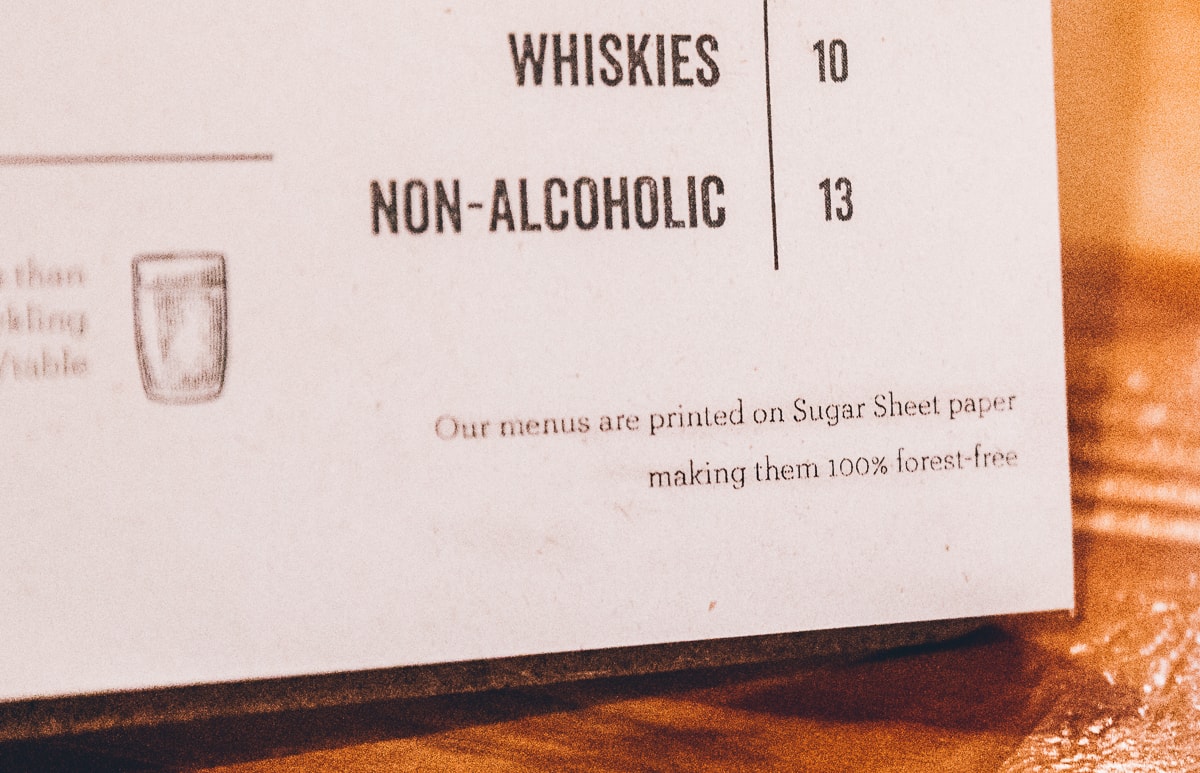 The hotel's environmental initiatives also leak into their restaurants and both Forage and Timber operate on a sustainable, environmentally conscious business model.
We learned that with their meat options, the whole animal is utilized so as not to waste, and their seafood options are recommended by Ocean Wise as ocean friendly. They use all resources wisely and waste nothing.
FORAGE
We had breakfast at Forage on our first morning at The Listel and split two dishes so we could get an accurate taste of both their salty and sweet options.
I ordered the Brioche French Toast which was created with rhubarb puree, candied bacon and compressed blueberries. Nick went with a classic Eggs Benedict.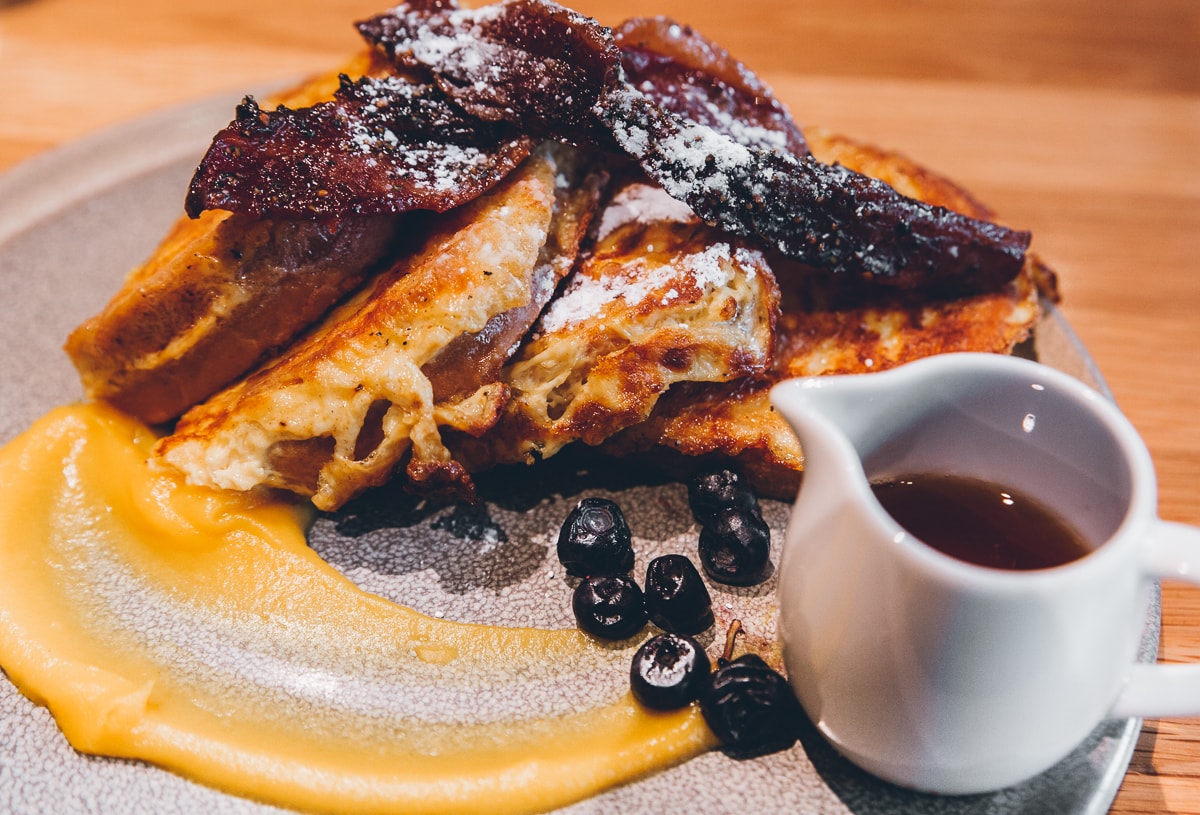 We also tried their scones which were served with honey butter; and to drink, we each ordered green juice.
Everything we ate at Forage was delicious, but Nick's Egg Benedict took the cake – it was actually the best I've ever had. We decided to go back the next morning because we wanted to order it again but we were too late and they had already closed for breakfast.
If you are staying at the hotel you have the option of breakfast in bed, as a selection of Forage's menu options can be delivered to your room in the morning.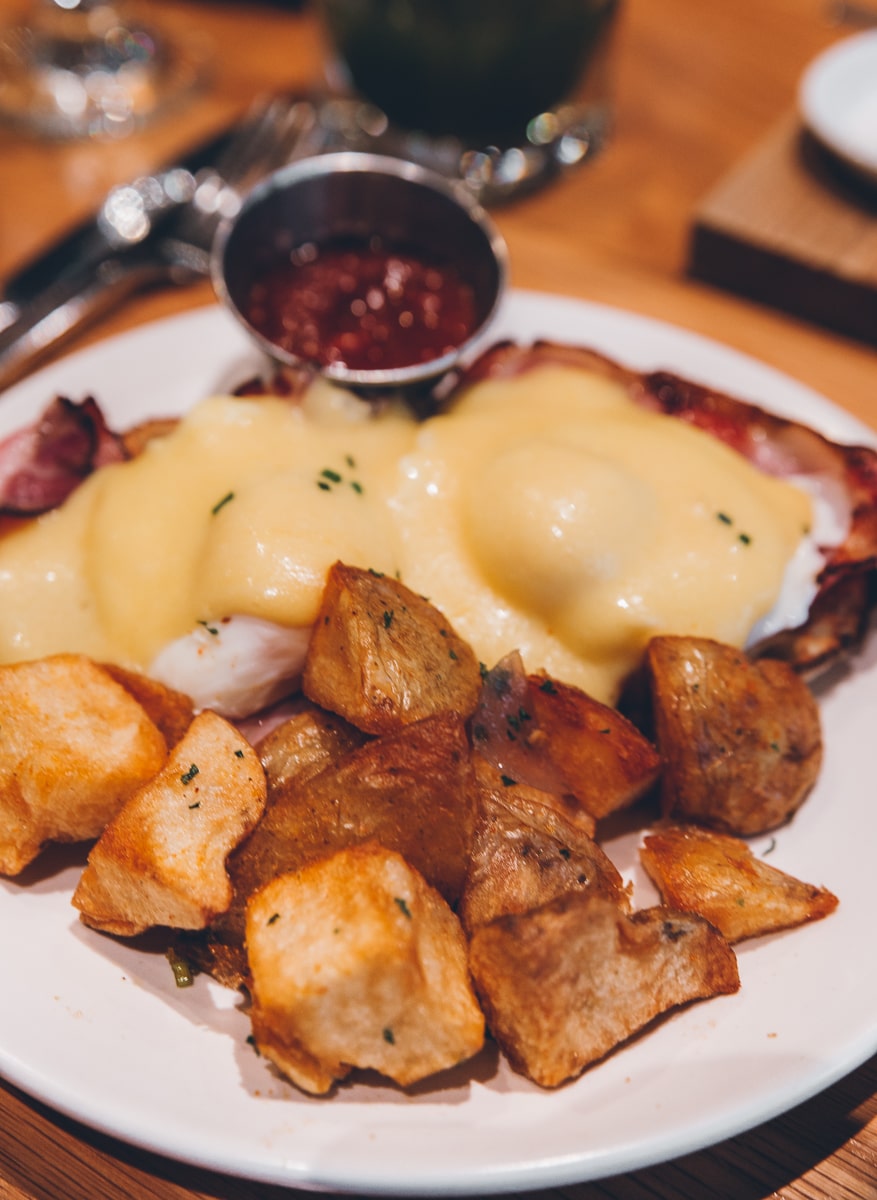 FORAGE RESTAURANT HOURS
BREAKFAST
Mon-Fri 6:30-10am
Sat/Sun 7-10am
BRUNCH:
Sat/Sun 10-2pm
FOR DINNER:
Daily 5pm-close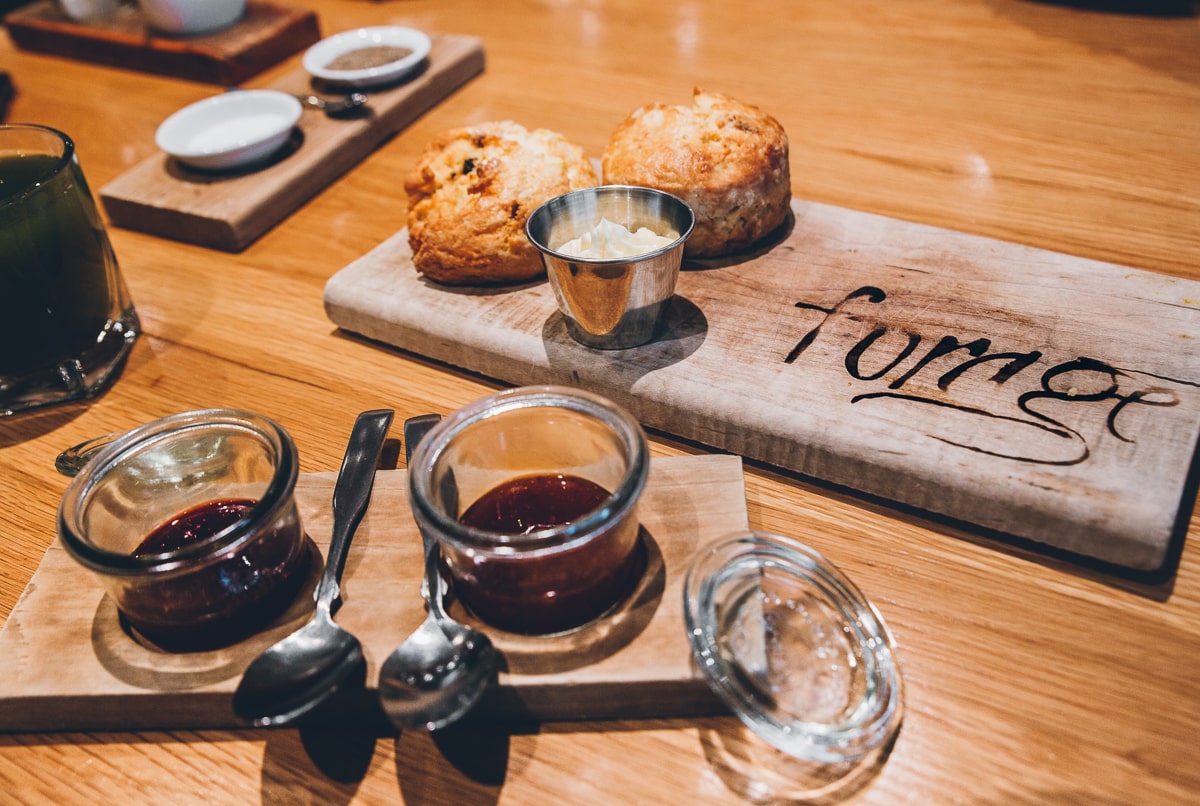 TIMBER
Timber is The Listel's pub-style restaurant serving up Canadian comfort food and an excellent selection of local craft beer. The atmosphere is laid back and casual, with the string lights and camp style decor give off major cabin vibes. They even have an outdoor area with a campfire where you can make s'mores.
I usually aim to try different restaurants when in a new city so that I have a range of options to recommend to you guys, but we enjoyed Timber so much that we ate here two nights in a row.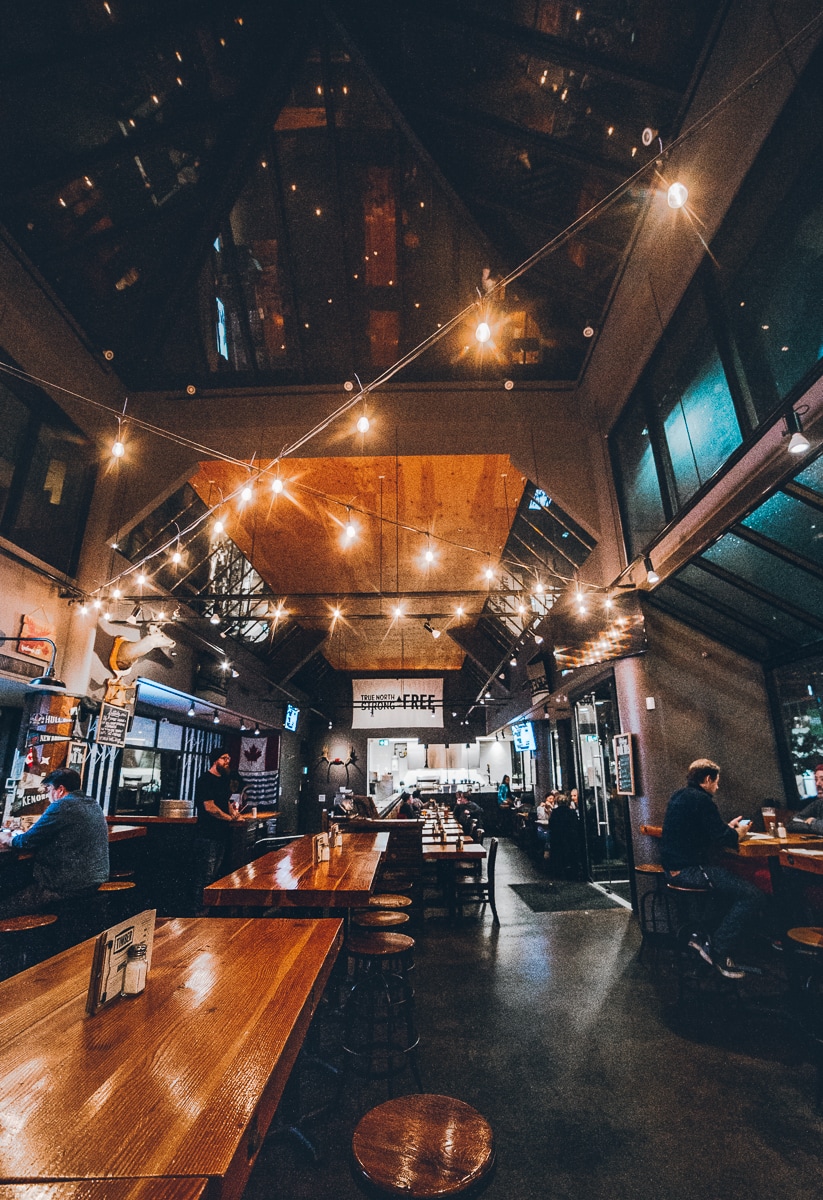 The menu highlight was by far the chili garlic fried cheese curds with jalapeño. If you've ever been to PF Changs and eaten Changs Spicy Chicken, these taste like the sauce from that dish. They were seriously so good.
The other dish that blew us away was the roasted zucchini motoyaki. It was a zucchini stack served with heirloom tomatoes, neufchâtel cheese, basil and a caramelized onion relish that was out of this world.
With menu filled with comfort food, I know zucchini doesn't seem like the most exciting option but I promise, it's worth it.
TIMBER HOURS
Monday – Thursday: 3 pm – 12 midnight
Friday: 12 noon – 1 am
Saturday: 11 am – 1 am
Sunday: 11 am – 12 midnight
HAPPY HOUR 3-6PM daily.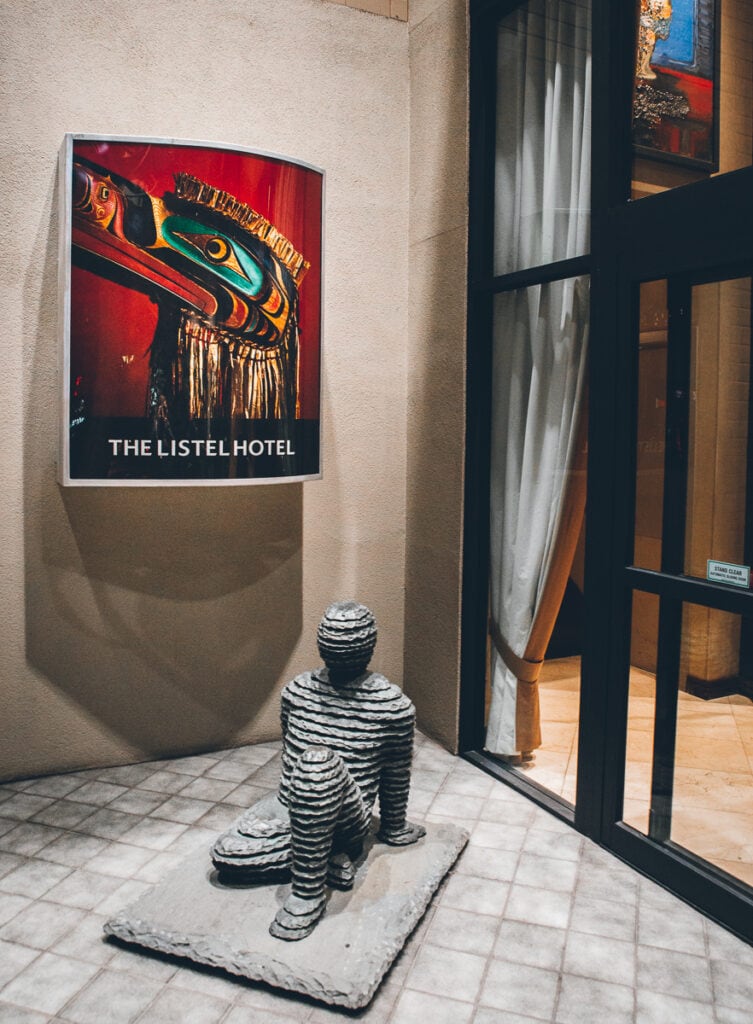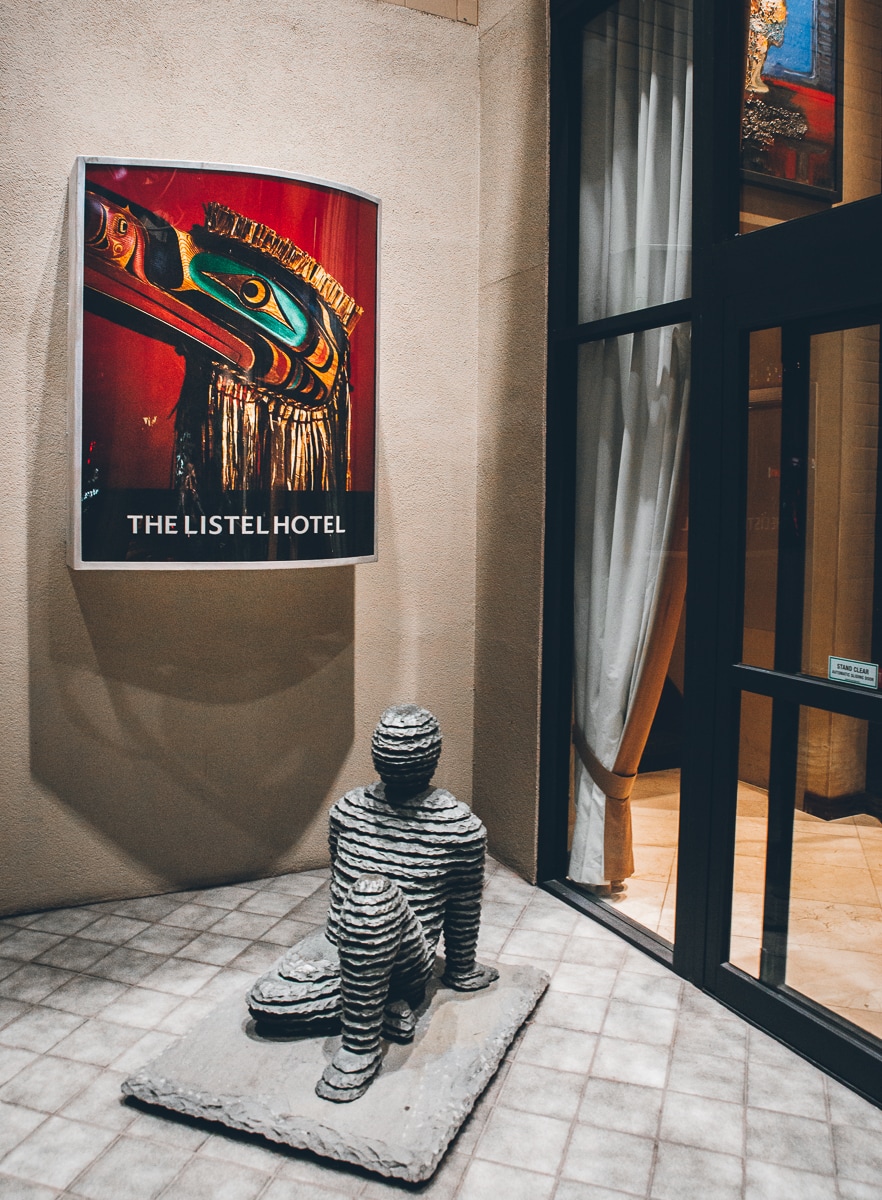 What is your favorite boutique hotel in Vancouver? Leave a comment below!
---
PIN IT: THE LISTEL HOTEL // AN ECO-FRIENDLY BOUTIQUE HOTEL IN VANCOUVER BC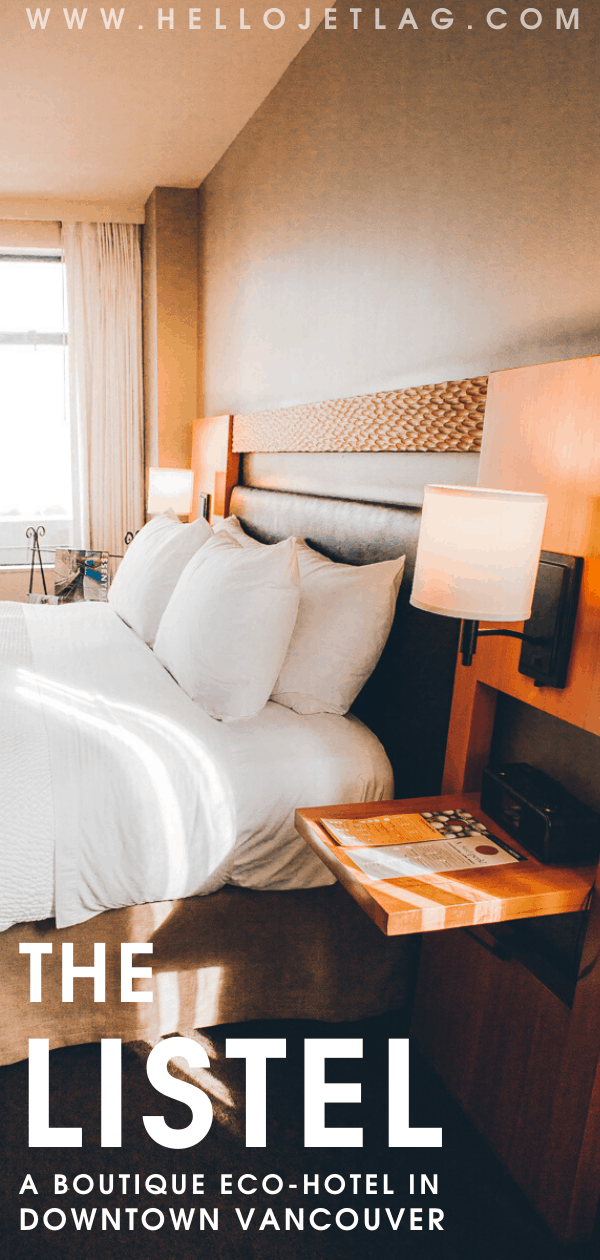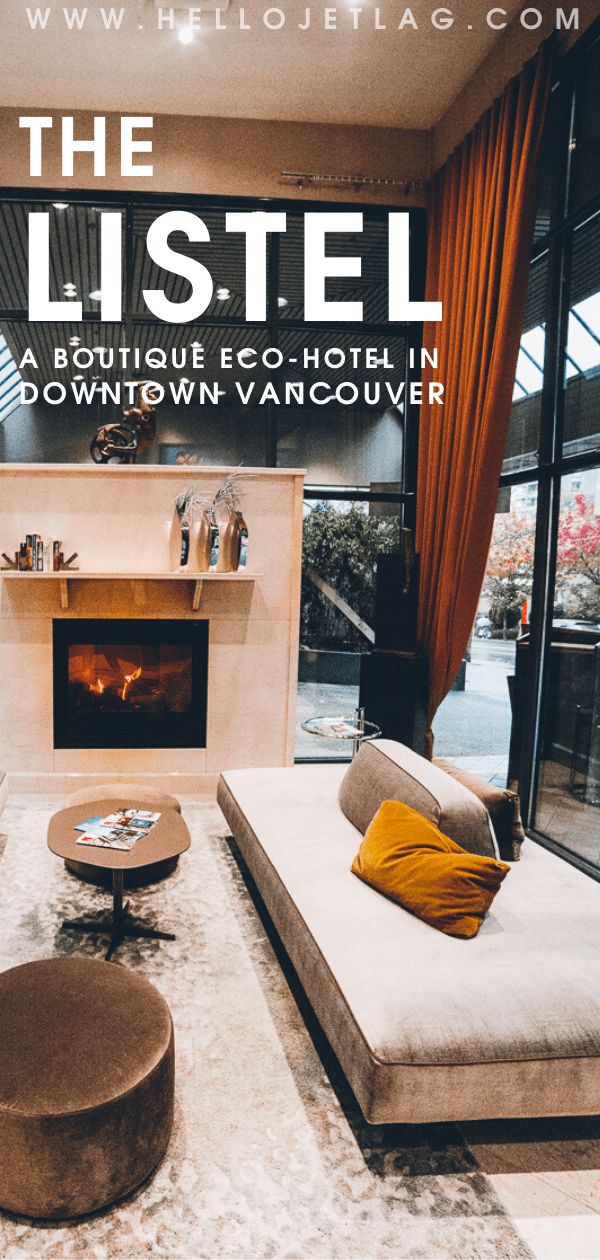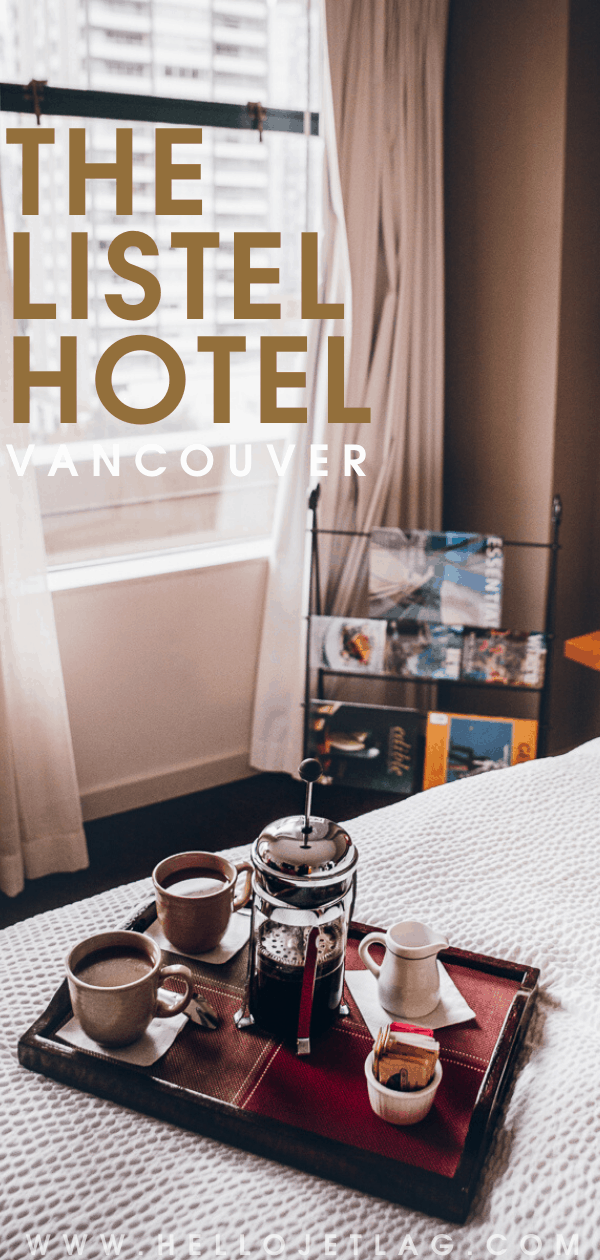 Disclaimer: Many thanks to The Listel Hotel for hosting us! While our stay was complimentary, we specifically contacted this hotel because we wanted to showcase a boutique hotel in Vancouver with strong environmental initiatives. This post contains affiliate links which means if you click on them and purchase something, we receive a small commission.