Canada has been at the top of my list of countries to visit for a long time and given its relatively close proximity to California, there's no excuse that it has taken me this long. Last month, I finally got the opportunity travel here and Nick and I spent a week in Vancouver exploring.
Armed with a ton of research and local recommendations, we hit up the city's top attractions. From whales to suspension bridges, the best views in the city and more, keep reading for a list of the 10 best things to do in Vancouver BC as a first time visitor.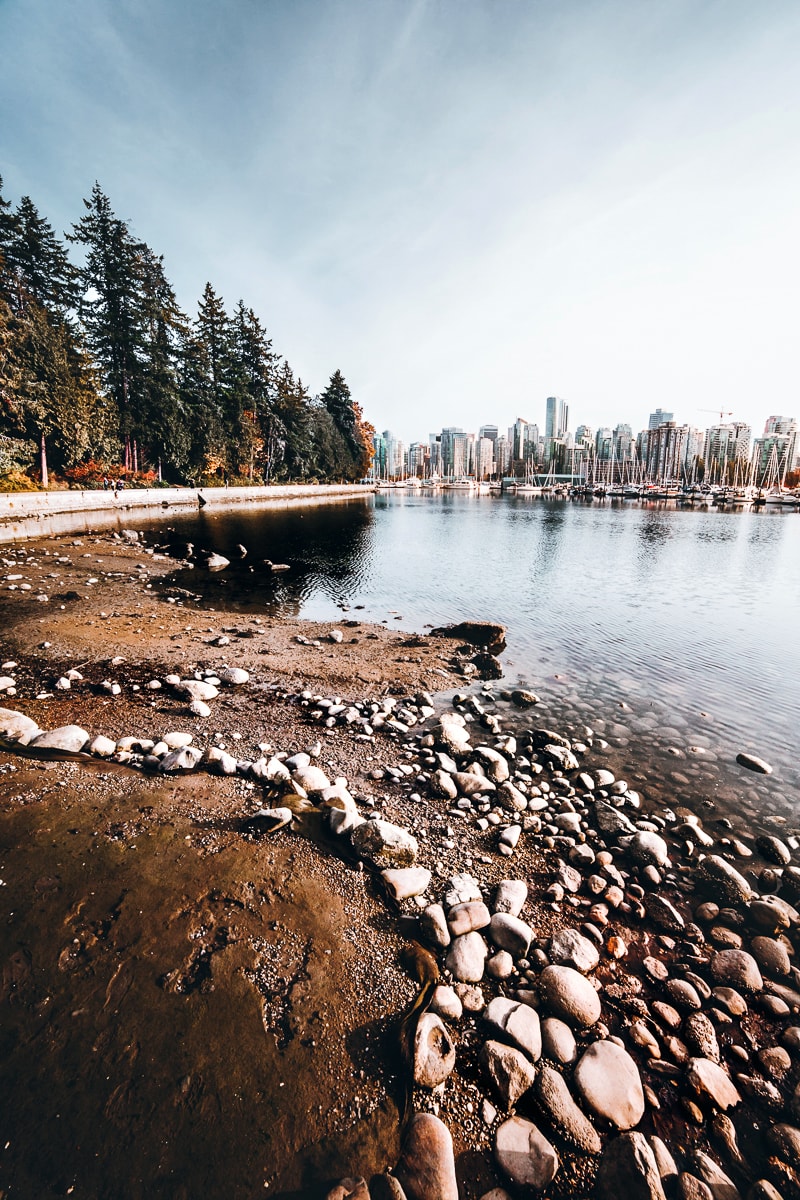 GO WHALE WATCHING 
Vancouver's whale watching season runs from March to October and during this time, thousands of whales migrate here to feed on salmon. It is considered some of the best whale watching in the world.
We were lucky to be in town during the tail end of whale watching season so obviously this was at the top of our list of things to do in Vancouver.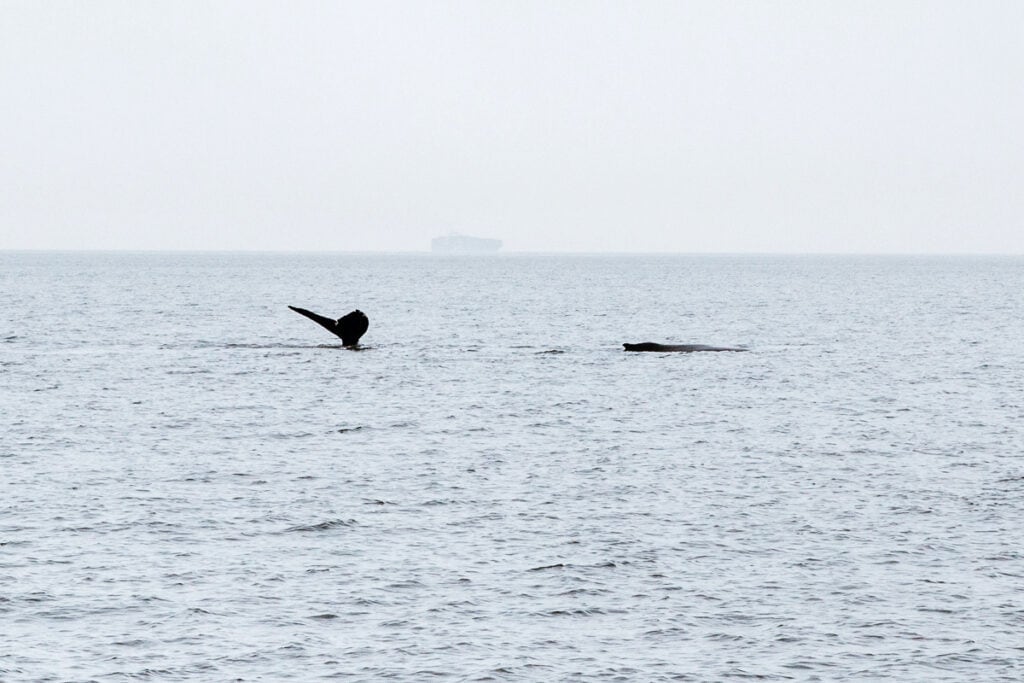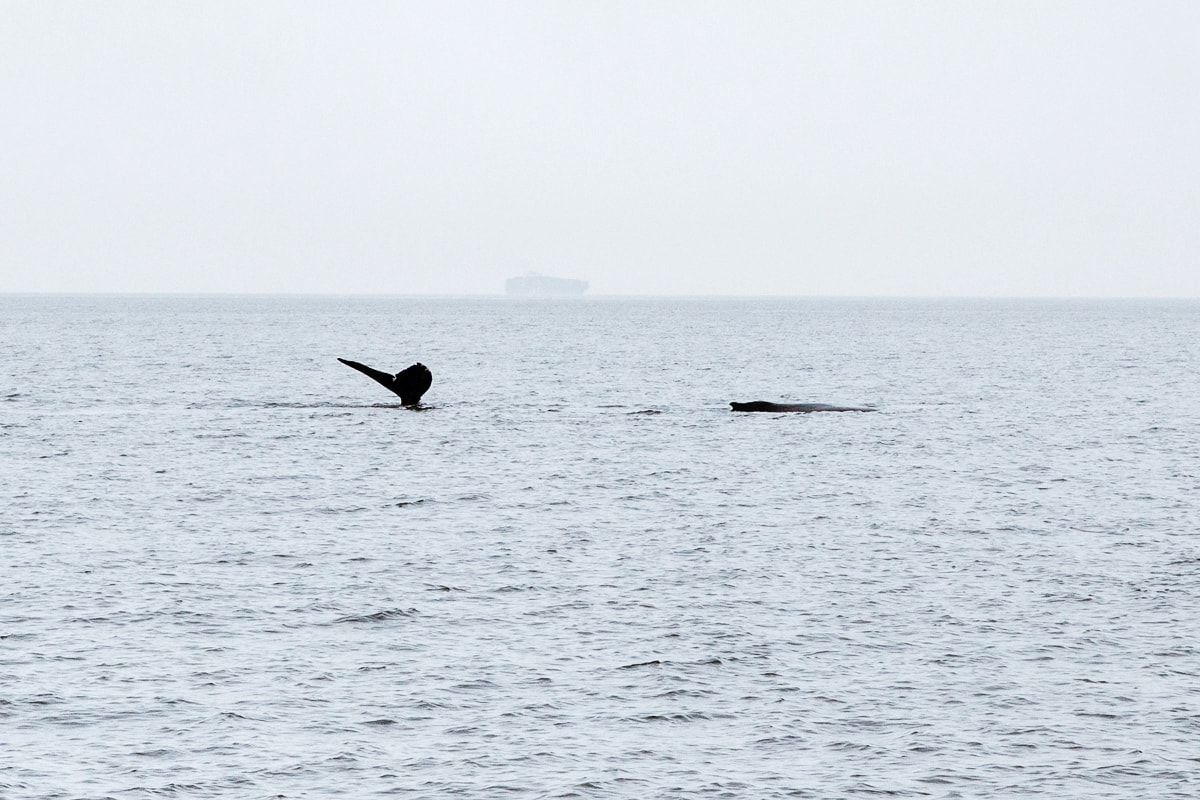 The most common whales found in this region are humpback whales, grey whales, minke whales and orcas (even though technically they're not whales). It is my life dream to see wild orcas so we booked two different Vancouver whale watching tours to increase our chances of seeing some.
Unfortunately we came up empty both times but we did have some incredible humpback sightings. If you're looking for a whale watching company in Vancouver, we were super impressed with Prince of Whales. They not only adhered to environmentally conscious practices but their guides were extremely knowledgable about all the species we saw on the water.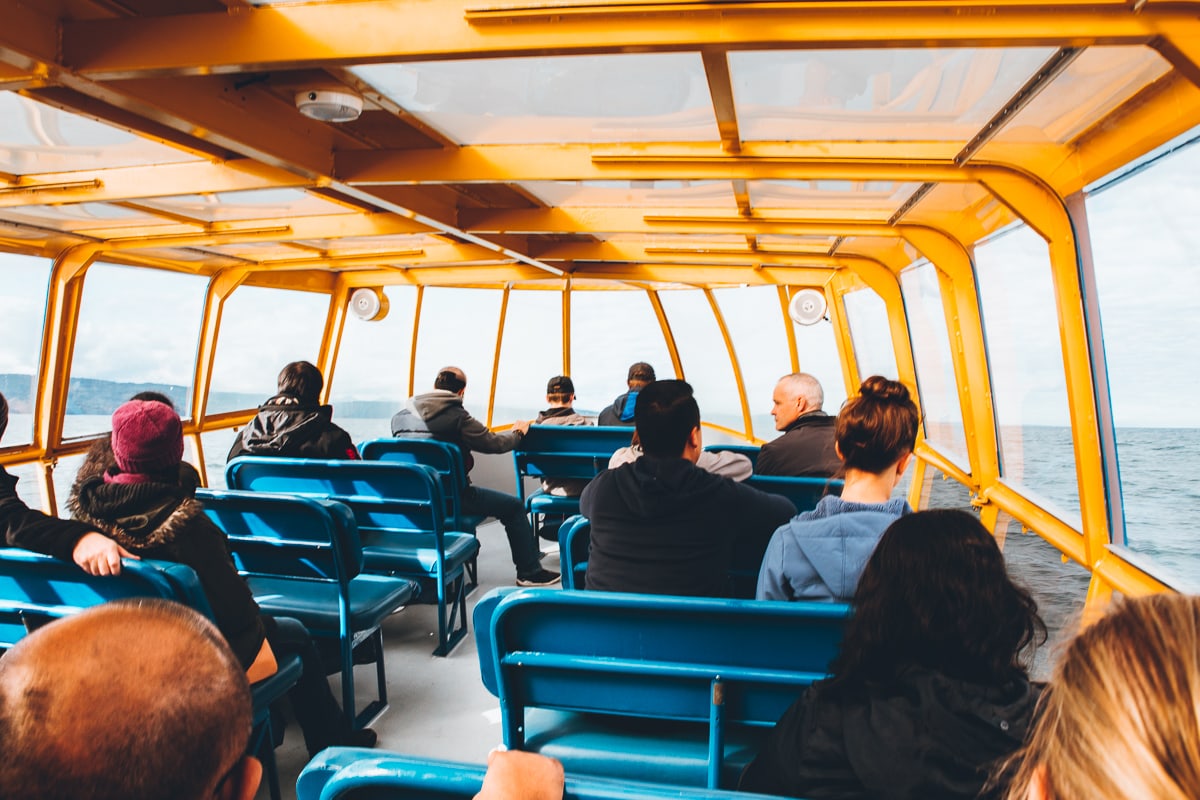 We also took a tour with Vancouver Whale Watch and they were great too but their Richmond location makes it a little less convenient if you're based in Downtown Vancouver. 
For a full comparison of the two Vancouver whale watching companies we booked with, click the related post below.  
---
RELATED POST: VANCOUVER WHALE WATCHING REVIEW // EVERYTHING YOU NEED TO KNOW
---
VISIT CAPILANO SUSPENSION BRIDGE PARK
Capilano Suspension Bridge Park was hands down my favorite thing that we did in Vancouver. If you've done any amount of research on the city, I would bet that you've already added the suspension bridge to your list.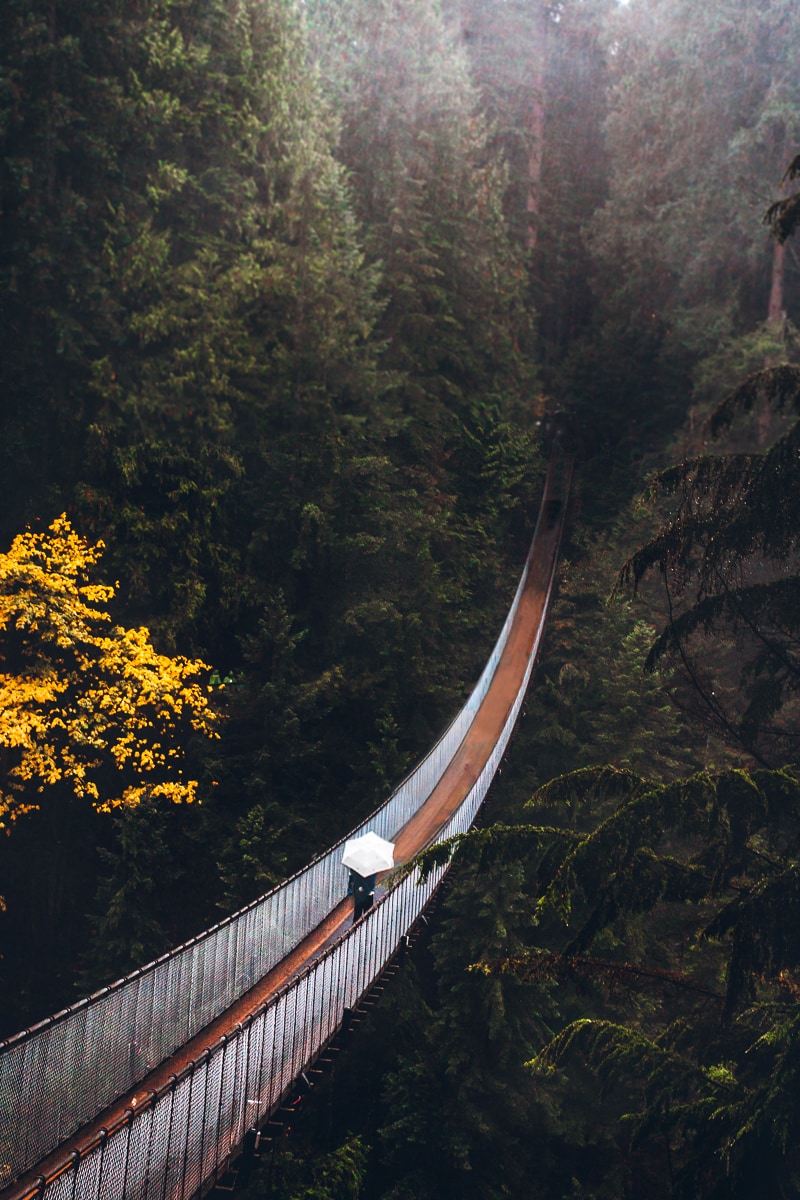 We knew we had to visit but did not expect to be as blown away with this experience as we actually were. The entire park was breathtaking.
We hopped on the free shuttle first thing in the morning on a rainy day in October. The rain not only allowed for us to see the park without the usual crowds, but the misty atmosphere mixed with the festive holiday lights made our experience even more magical.
Unbeknownst to me, Capilano Suspension Bridge Park is much more than the famous bridge that most people flock to see.
The Cliffwalk is a narrow walkway that guides you along a steep cliff above Capilano River. Also be sure to check out the Treetop Adventure, a series of smaller suspension bridges which form a walkway amongst the trees, 98 feet (30 meters) above ground.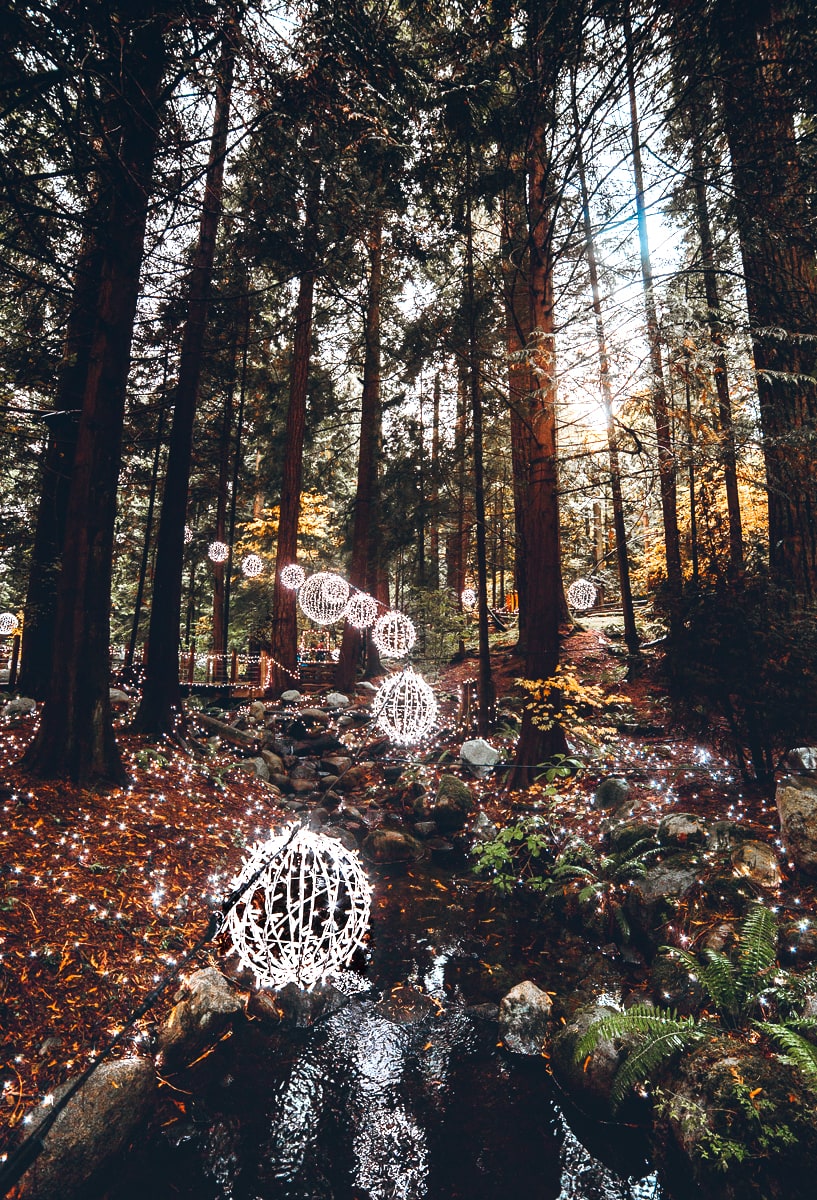 There are also multiple information posts and trails where you can learn about the area, its history and the plants and animals that live here.
We planned to spend 2 hours in Capilano Suspension Bridge park and ended up being captivated for over 5.
For a full visitor's guide of Capilano Suspension Bridge Park, including tips for visiting, how to avoid the crowds, what to expect and more, click my related post below.
---
RELATED POST: CAPILANO SUSPENSION BRIDGE PARK // EVERYTHING YOU NEED TO KNOW ABOUT VISITING
---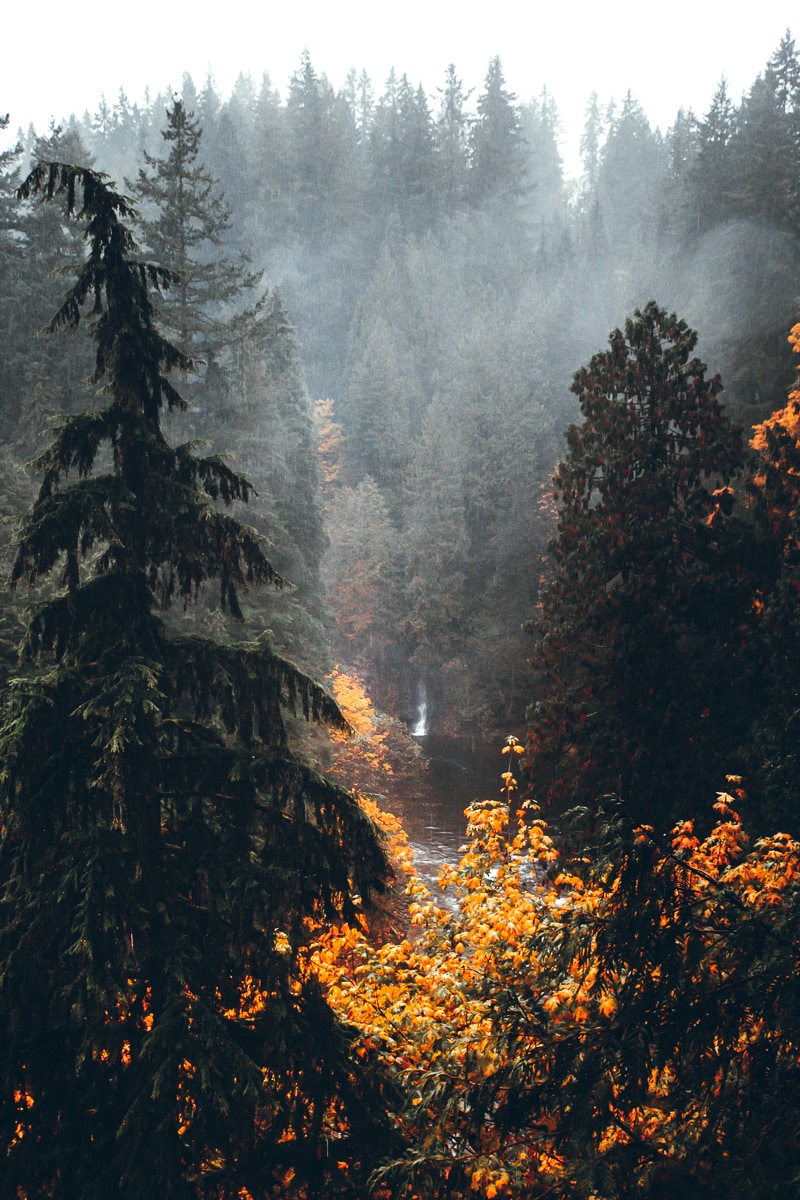 HOW TO GET TO CAPILANO SUSPENSION BRIDGE PARK
Capilano Suspension Bridge Park offers a complimentary shuttle service with several pickup locations throughout downtown Vancouver. During peak season, the shuttles come every 10-15 minutes and during the off season, they cycle every 30 minutes.
You can catch the bus from:
LIBRARY SQUARE Homer St. and Robson St.
CANADA PLACE Canada Place Way near the information kiosk
HYATT HOTEL Melville Street Entrance
BLUE HORIZON HOTEL 1225 Robson Street.
ADDRESS 3735 Capilano Road North Vancouver, BC Canada, V7R 4J1
FLY OVER CANADA
If you've ever been to Disneyland's California Adventure, you're probably familiar with Sorin' Over California, a 4D motion simulated ride that takes you on a journey across California. It's my favorite ride in the park so when we discovered that Vancouver has a similar experience called Fly Over Canada, we couldn't wait to check it out.
Fly Over Canada is located at Canada Place near the cruise ship port. After a brief introduction video, you are guided into the simulation room and locked into a roller coaster-esque seat.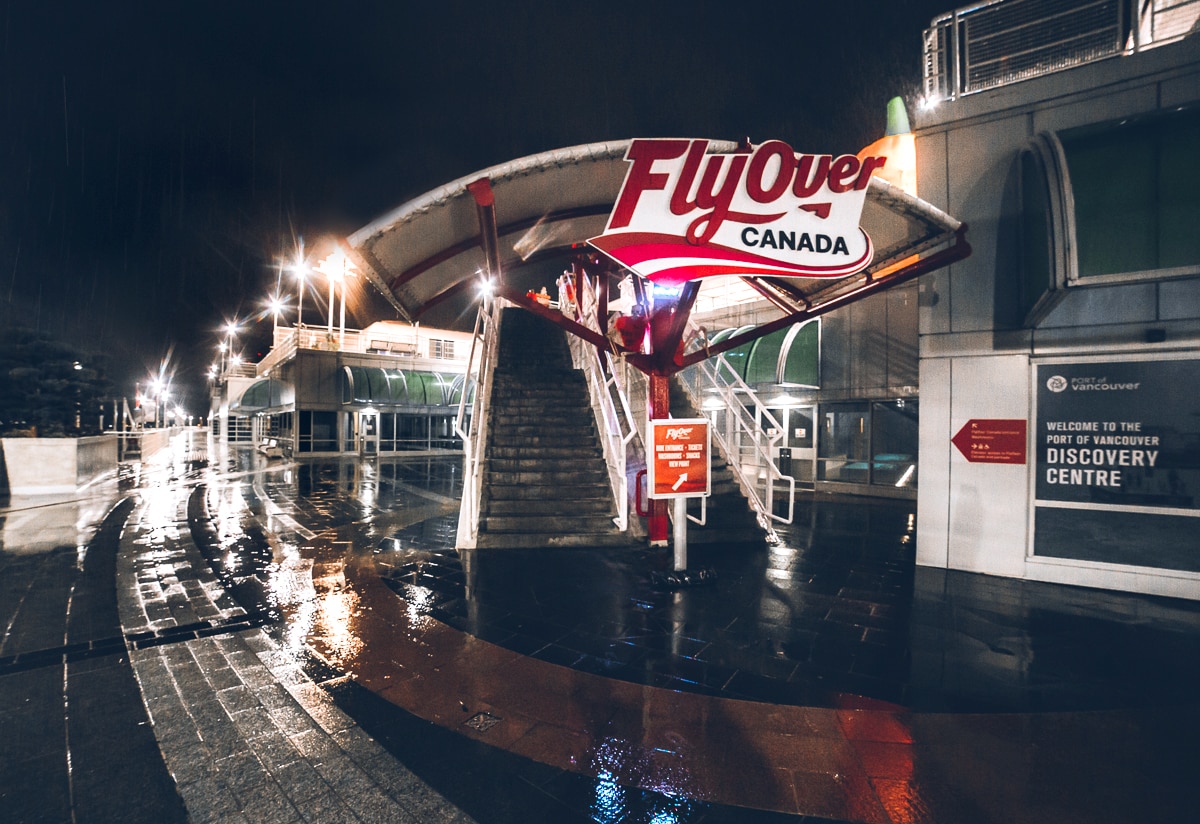 The ground drops out from under your feet and the huge spherical screen in front of you takes you on a breathtaking motion simulated flight across Canada. You feel like you're flying, and the visuals are made even more real by the mist, wind and a variety of smells that hit you all along the journey.
Nick and I actually got choked up during certain parts because the scenes were so incredibly beautiful and powerful. The 2 grown men next to me were screaming and laughing like they were 5 years old. We weren't allowed to take photos inside so you'll just have to experience it to understand.
ADDRESS: 201 – 999 Canada Place, Canada, Vancouver, BC V6C 3E1, Canada
HOURS: 10am-9pm daily. The ride starts every 15-20 minutes.
WATCH THE SEAPLANES TAKE OFF FROM COAL HARBOR
Nick visits Canada often for work and his favorite thing to do in Vancouver is walk over to Coal Harbor and watch the seaplanes take off. I've talked to him on the phone from this location a lot so it was really cool to be able to experience it together for the first time.
As you walk along the waterfront, there are multiple benches to sit on and take in the beautiful views of the North Shore Mountains and Stanley Park. We wandered along until we found a place to sit and then watched the Beaver planes take off and land from the water.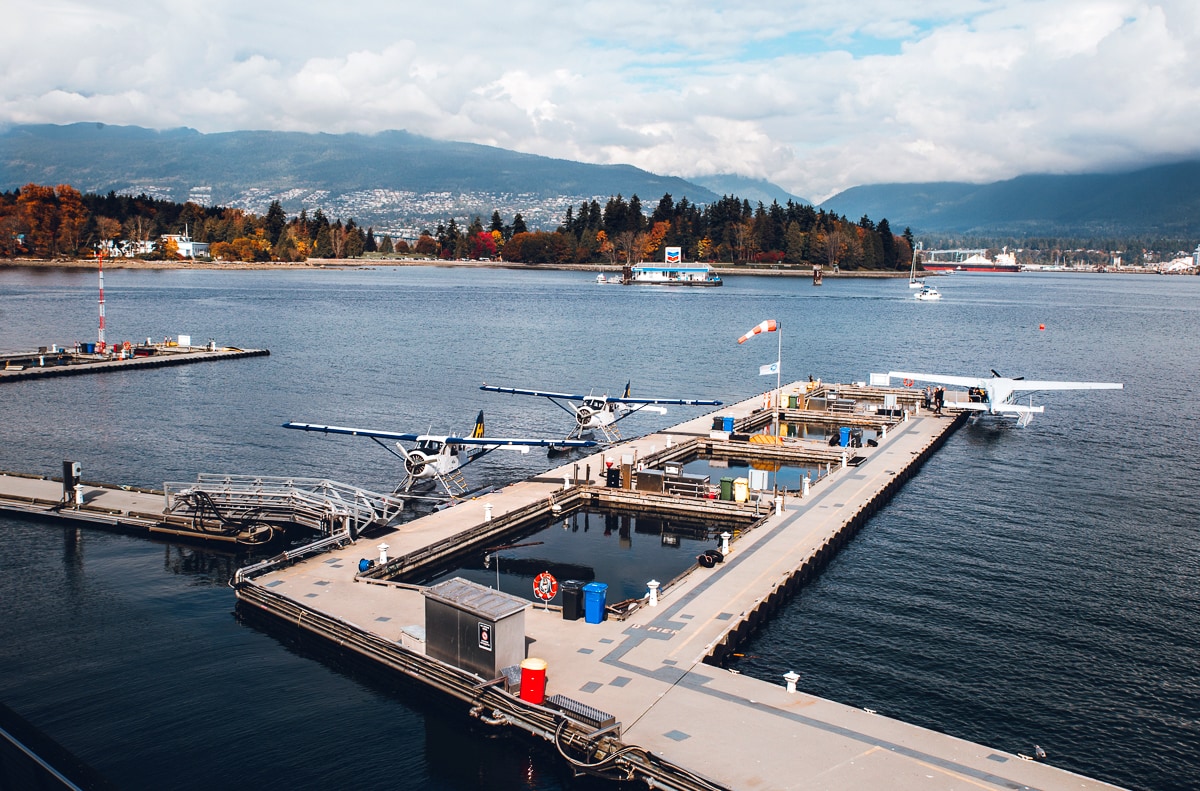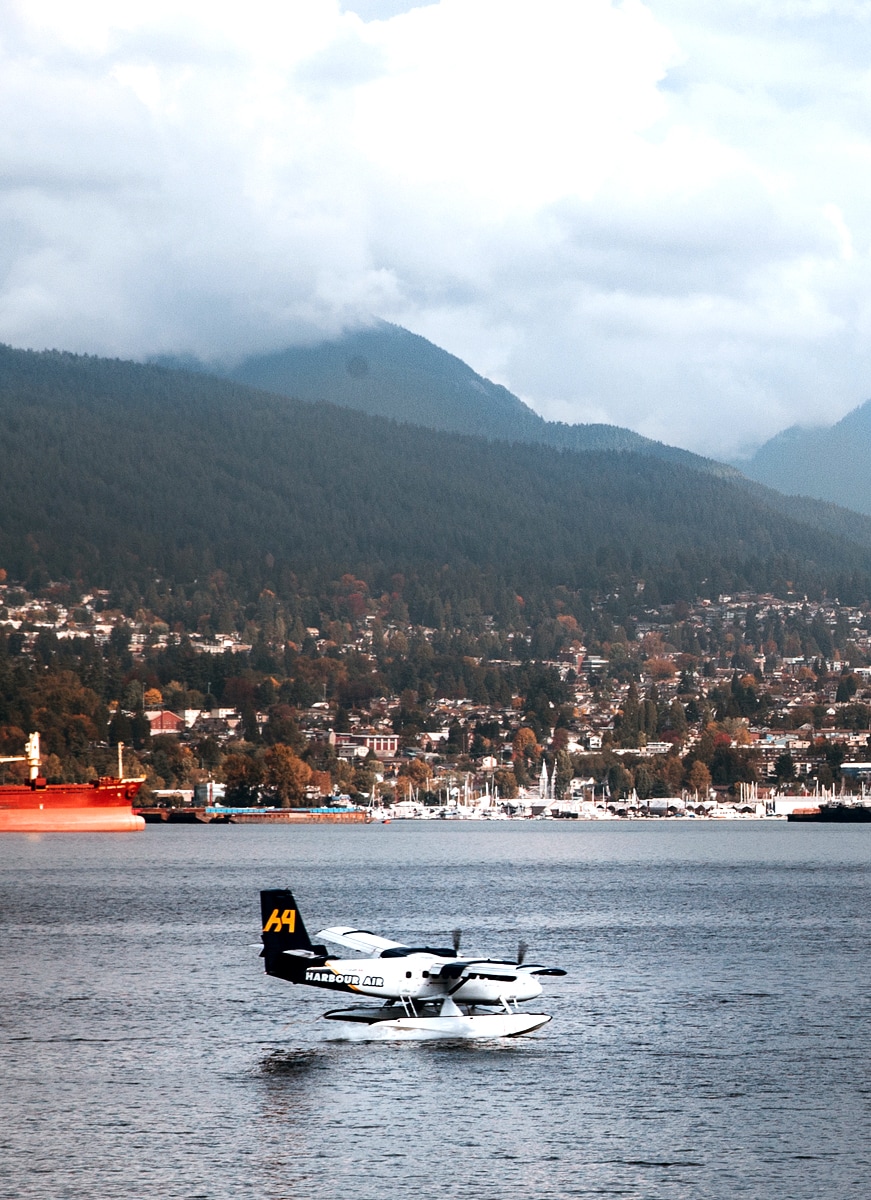 If you feel like taking a flight, you can actually book a sightseeing tour aboard the planes. Choose from short overviews of the city or full day trips to Whistler, Victoria and more.
For more information about taking a seaplane tour in Vancouver, click here to visit a list of options. 
Also along the Coal Harbor waterfront are a handful of restaurants as well popular art such as the Olympic Cauldron and Douglas Coupland's Digital Orca sculpture.
ADDRESS: 1055 Canada Pl, Vancouver, BC V6C 3T4, Canada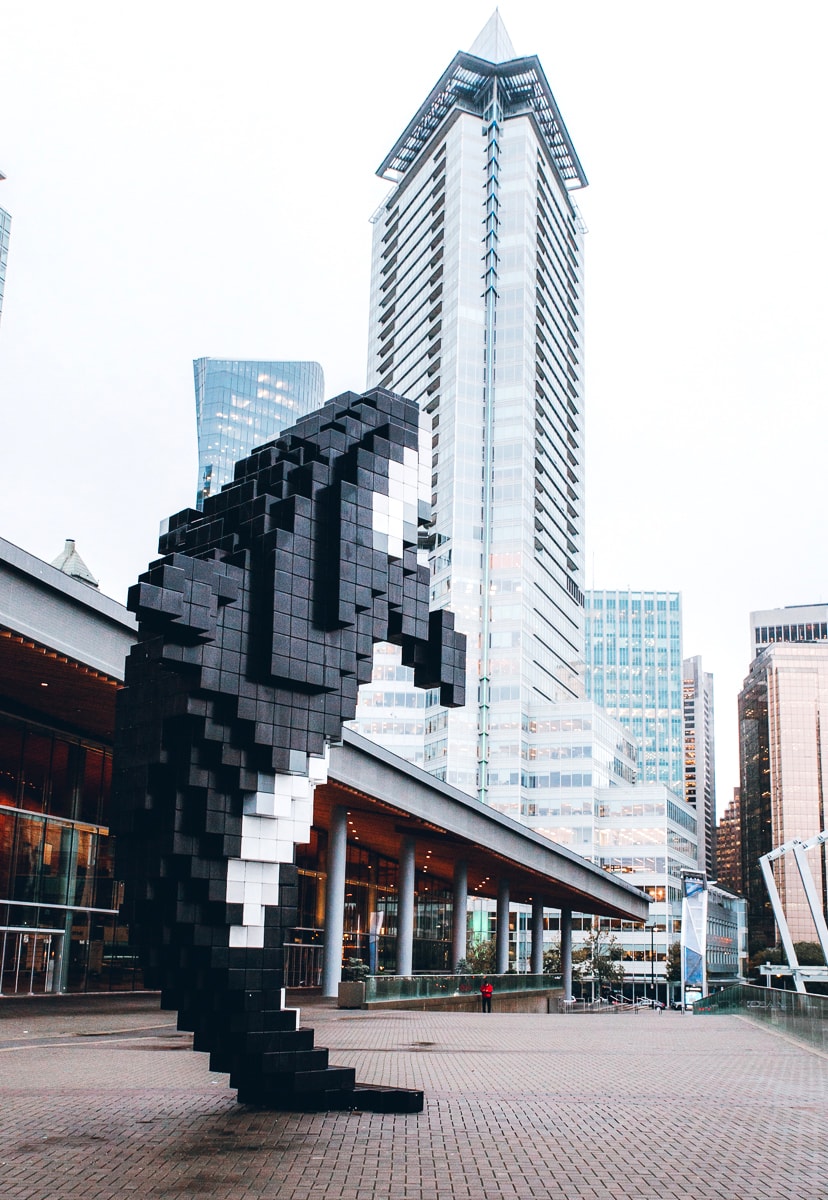 TAKE IN THE BEST VIEWS FROM THE VANCOUVER LOOKOUT
If you've been (virtually) joining us on our travel journeys for a while you will know that we are constantly in search of the best views in every city.
More often than not, the best views come from the top of a church tower (like this one in Budapest, or this one in Brno) but for the first time in along time we didn't have to climb a steeple to see the city from above.
Vancouver Lookout is a 360 degree observation deck located 553 feet (169m) above Downtown Vancouver. It's located indoors so you can visit any time of year and the views are fantastic.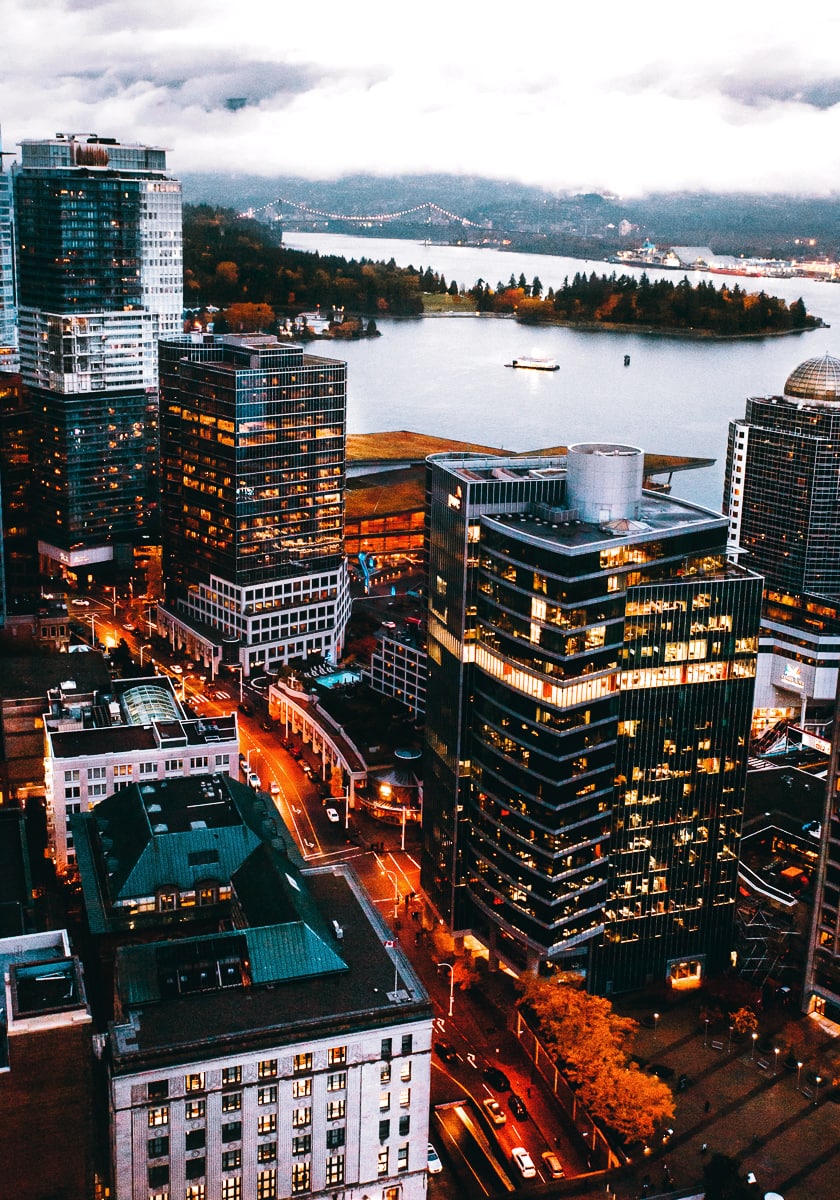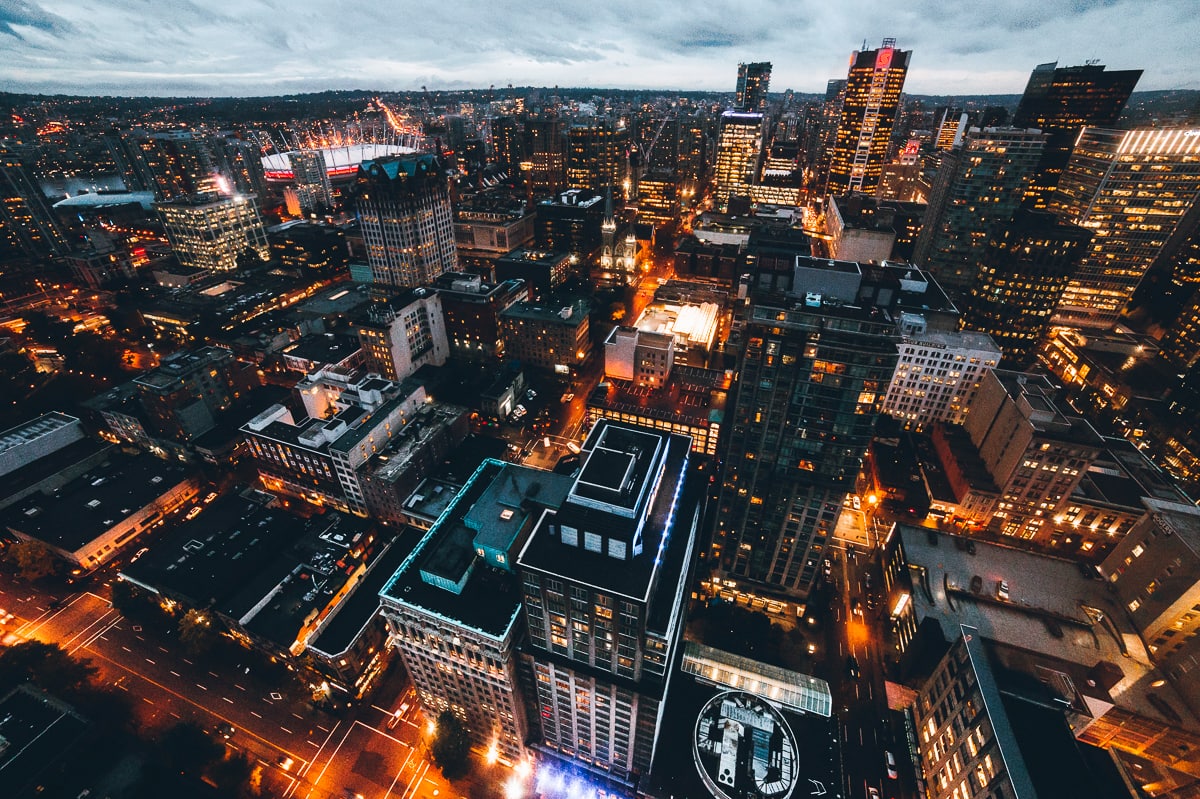 Information plaques circle the entire observation deck letting you know which area of the city you're looking at. If it's your first time in Vancouver, I recommend visiting the Vancouver Lookout early on in your trip to get a lay of the land.
I always find that an initial bird's-eye view helps me to understand the city more as I travel through it.
PHOTO TIP If possible, try and get there at sunset for the best lighting. We arrived shortly before the sun went down so I was able to get photos of the city in daylight as well as at night.
Alternatively, your ticket allows for multiple entrances so if you want photos with different lighting you can visit as many times as you want in that day.
No tripods are allowed on the observation deck.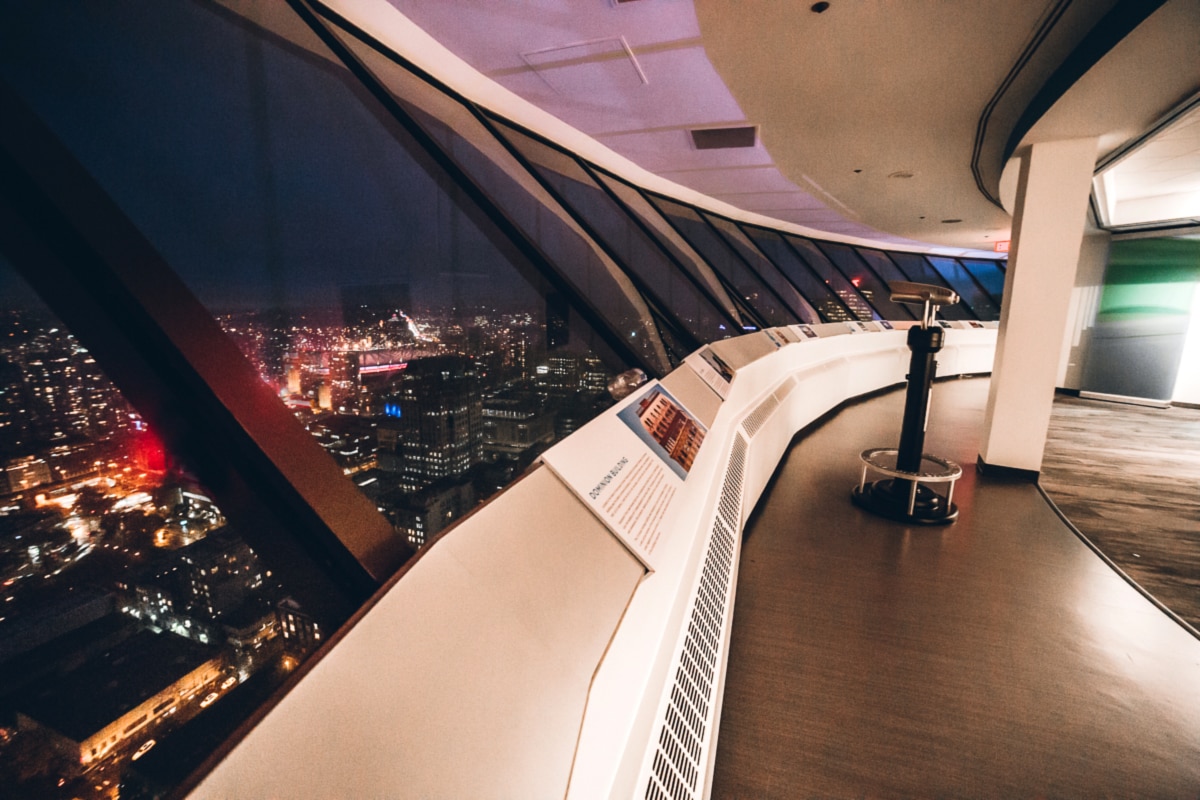 ADMISSION PRICES
ADULTS: $18.25 CAD
SENIORS (60+): $15.25 CAD
STUDENTS (w/ID) $12.25 CAD
YOUTH (13-18): $13.25 CAD
CHILDREN (6-12): $9.50 CAD
ADDRESS 555 W Hastings St, Vancouver, BC V6B 4N6, Canada
WINTER HOURS (STARTING OCTOBER 6TH): 9:00am – 9:00pm
SUMMER HOURS: 8:30am – 10:30pm
*Last admission closes 20 minutes prior to closing
WALK (OR BIKE) THE SEAWALL AT STANLEY PARK
If I had a dollar for every time someone mentioned Stanley Park during this trip..
It's at the top of every list of things to do in the city and according to TripAdvisor, Stanley Park is the "top park in the entire world," beating out Central Park in New York and Luxembourg Gardens in Paris.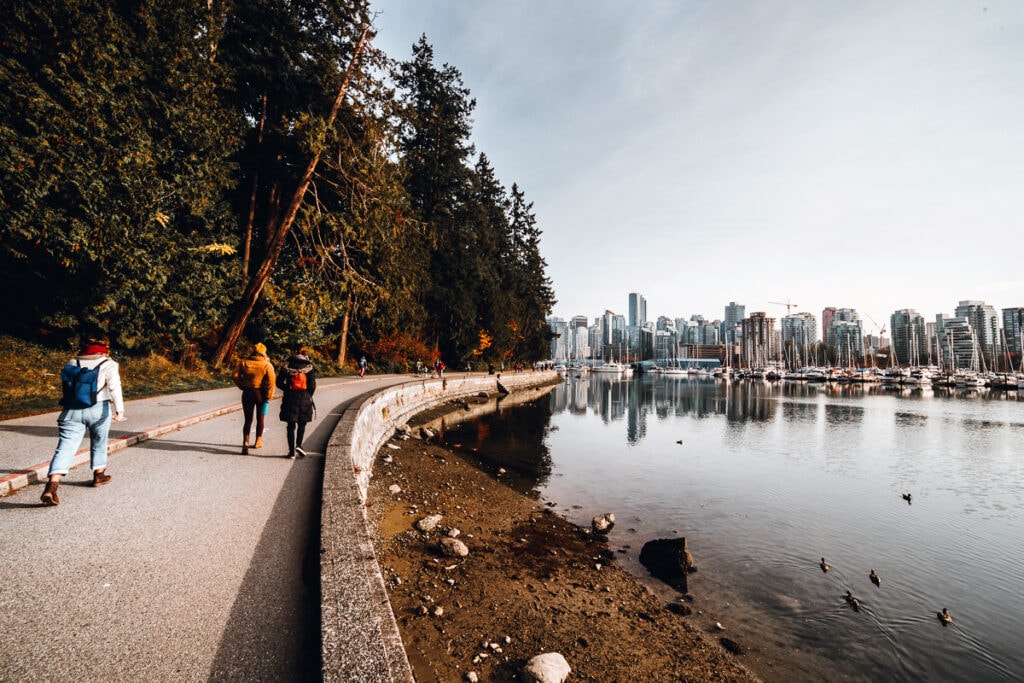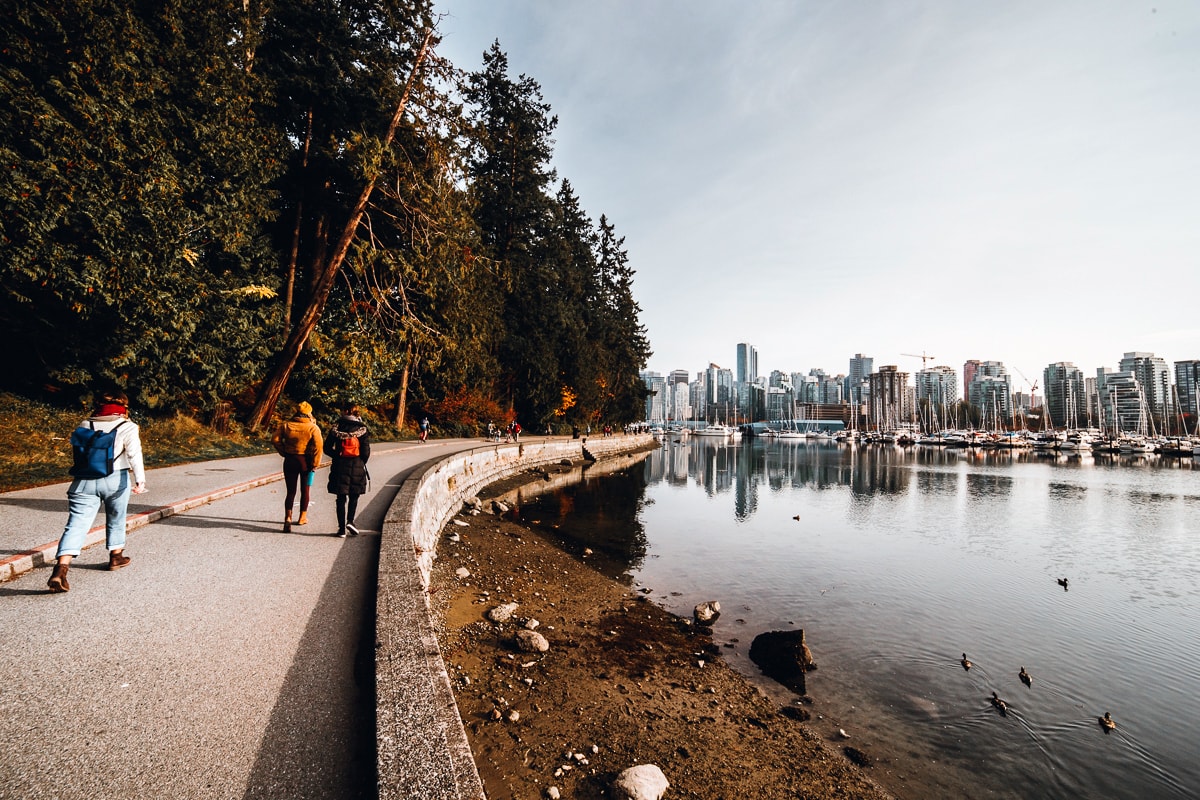 While a lot of comparisons are drawn between Stanley Park and Central Park, most people are surprised to discover that Stanley Park is actually larger than its New York counterpart. Stanley Park is 1,000 acres/405 hectares and Central Park is 843 acres/341 hectares.
Stanley Park had a lot to live up to but I'm happy to report that I finally get the hype.
The park is interesting because it's located within the city but as soon as you enter, nature consumes you. 500 different species live here including eagles, beavers, squirrels and bats. It is also home to half a million trees, some hundreds of years old and standing as tall as 250 feet (76 meters).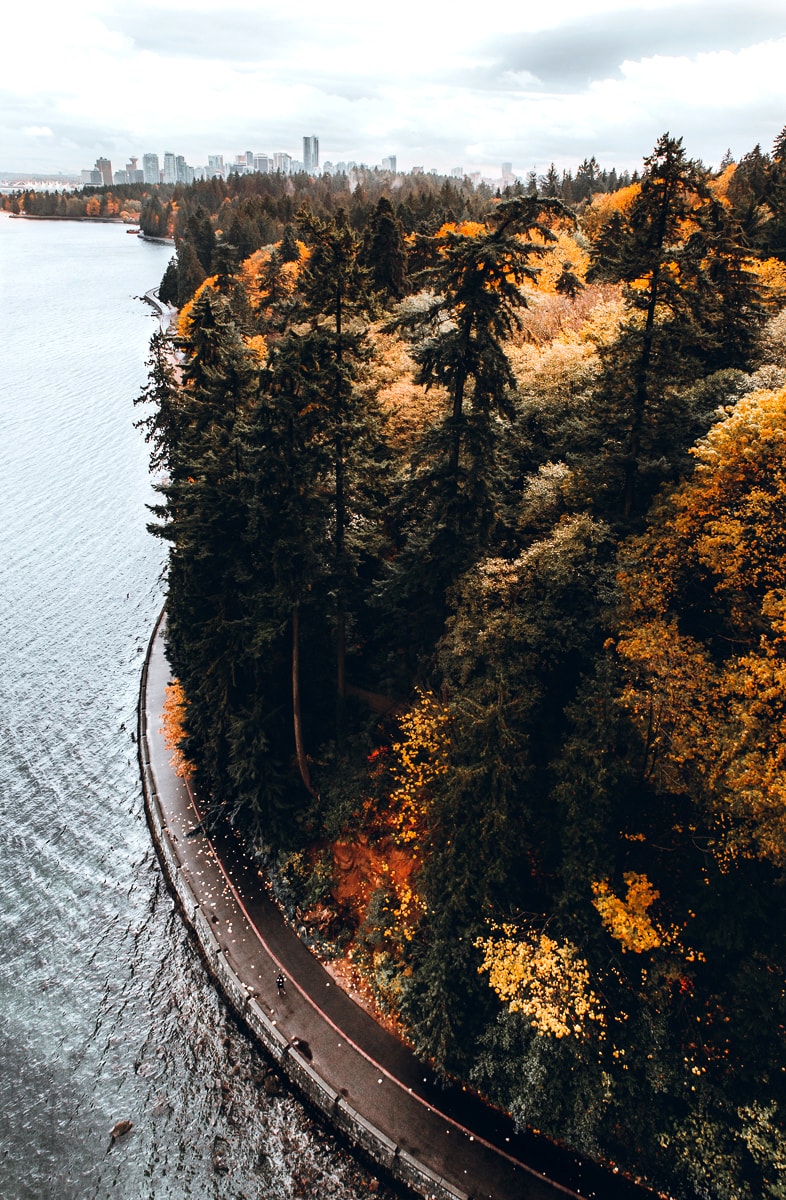 THE SEAWALL
One of the top things to do in Vancouver is to walk or bike the Stanley Park Seawall.
The Seawall loops around the entire perimeter of the park and stretches 5.5 miles (9km) long. It takes roughly 2-3 hours to walk the whole thing, or 1 hour to bike it.
The terrain is flat so it's easy for people of all ages and fitness levels to stroll, and if you feel like walking into the interior of the park, you'll find 40 miles (64 km) of forested trails.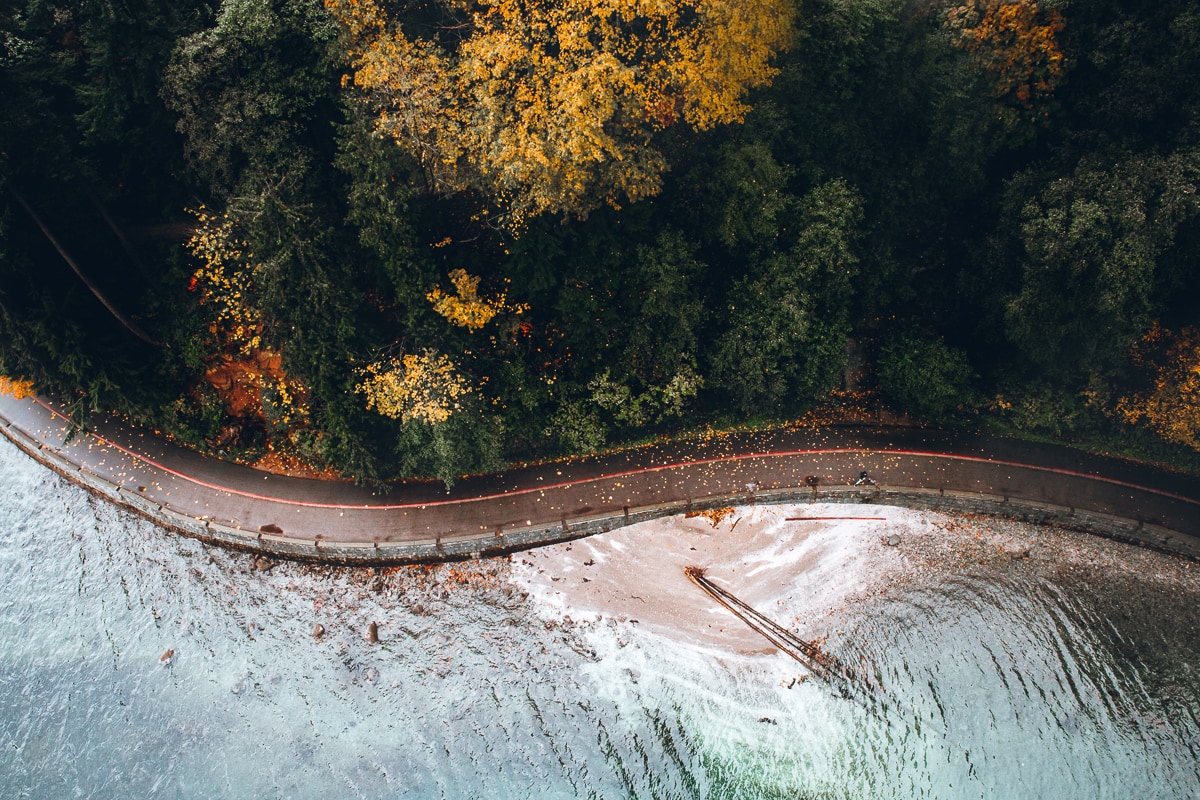 BROCKTON POINT TOTEM POLES
Near the Eastern corner of Stanley Park you will find the most visited tourist attraction in all of British Columbia, The Brockton Point Totem Poles.
The 9 First Nations totem poles have been collected from locations all across BC. Today they stand tall at Brockton Point, telling stories of events from Canada's native people. There are multiple information plaques in the area where you can learn more about the story each totem pole represents.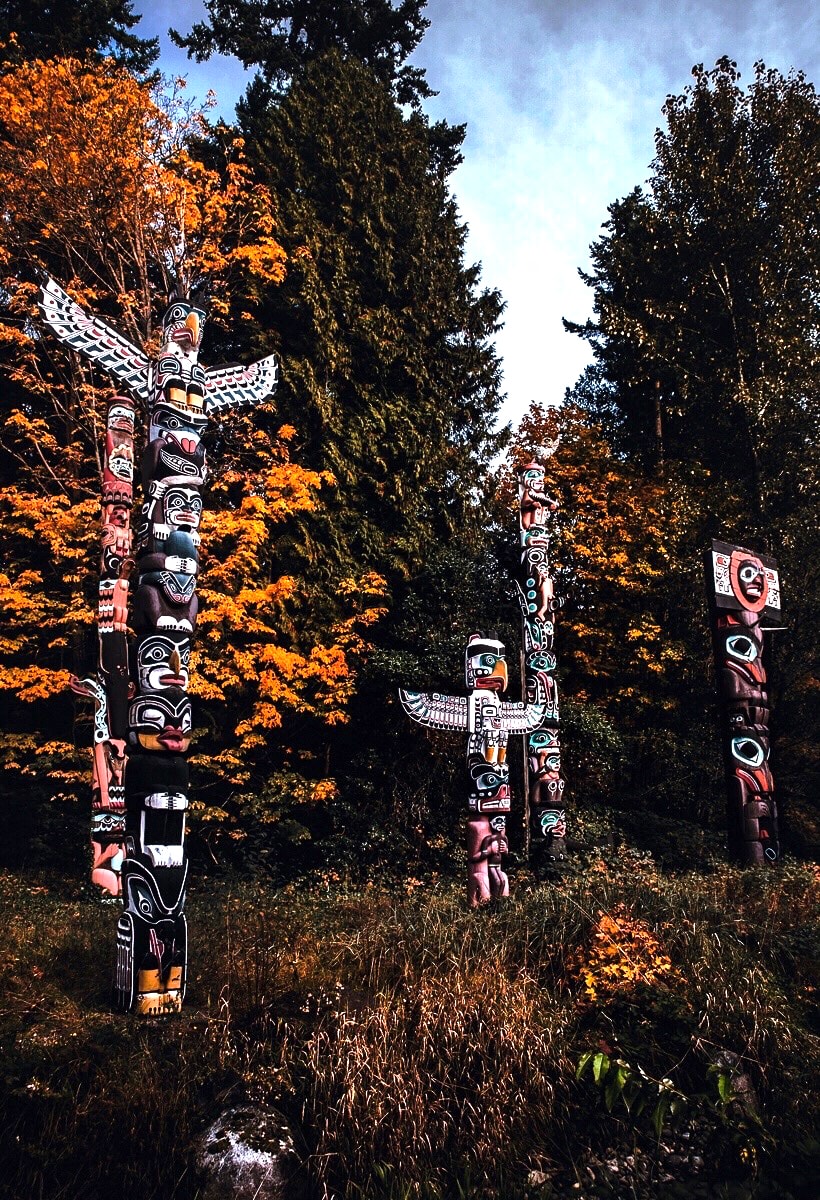 HOW TO GET TO STANLEY PARK
It's easy to walk to Stanley Park from Downtown but if you prefer to go by transit, bus #19 is the only bus that stops in Stanley Park.
You can catch the #19 bus near Burrard Skytrain Station at Burrard Street and Pender, and it will take you to Stanley Park Drive and Pipeline Road near Lost Lagoon or to Stanley Park Loop near the Miniature Train (this is the closest stop if you'll be visiting the Vancouver Aquarium).
---
RELATED POST: THE LISTEL // AN ECO FRIENDLY BOUTIQUE HOTEL IN DOWNTOWN VANCOUVER
---
GO SHOPPING AND GRAB A BEER (OR A COFFEE!) IN GASTOWN
Gastown is Vancouver's oldest district and a popular neighborhood filled with trendy restaurants, boutiques, bars and local businesses.
Complex.com recently named Gastown the 4th most stylish neighborhood in the world. And while personally I wouldn't go that far.. taking a stroll through its charming cobblestone streets is one of the top things to do in Vancouver.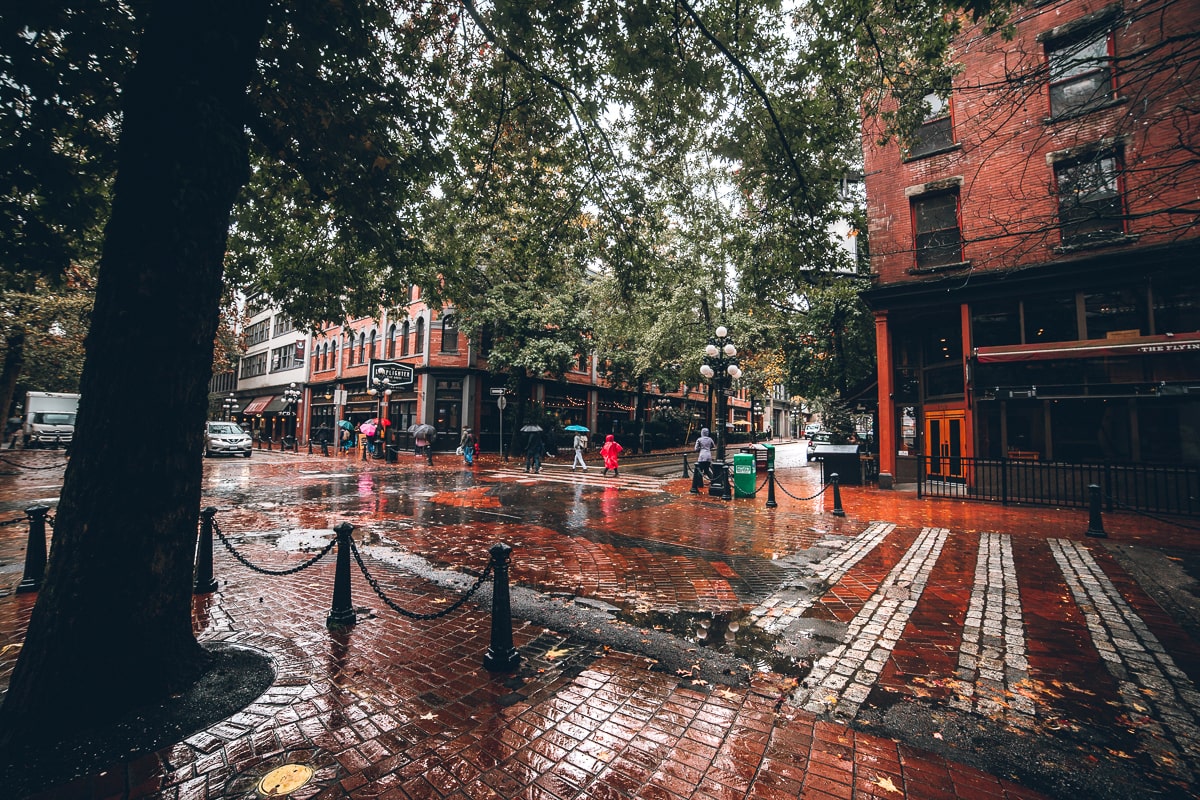 If shopping is your thing, there are tons of independently owned stores where you'll find everything from thrift and vintage shops to high end fashion and furniture.
The neighborhood's nightlife scene is also another popular draw. From pubs, cocktail bars, wine bars or music venues, it's a great place to do some bar hopping after dark.
Given Gastown's trendy reputation, it shouldn't come as a surprise that there is no shortage of coffee shops in the area. Check out Nemesis or Revolver which are both said to have some of the best coffee in Vancouver.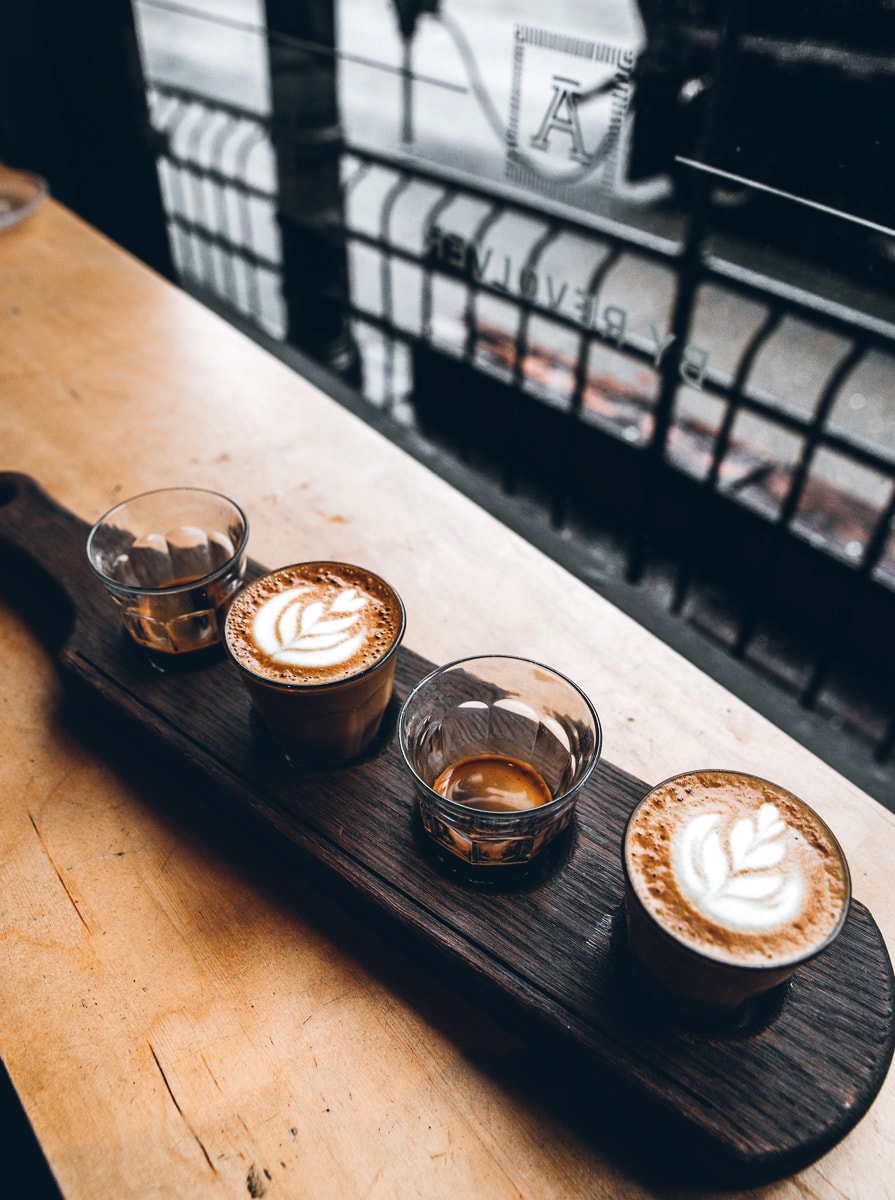 For more information about Nemesis and Revolver, plus a list of 9 Vancouver restaurants I recommend, click the related post below.
---
RELATED POST: VANCOUVER FOOD GUIDE // 9 RESTAURANTS TO CHECK OUT DOWNTOWN
---
HOW TO GET TO GASTOWN
Take the Waterfront Station exit onto Cordova Street. Walk 1 block to your left to Water Street which runs into Gastown.
VISIT THE WORLD'S FIRST STEAM POWERED CLOCK
Apparently, no visit to Gastown is complete without a quick glimpse of Vancouver's famous steam powered clock.
While it seems like it should be much older, the clock was actually built in 1977 with the initial purpose of covering up a steam vent. It was also interesting to discover that it is not even fully steam powered, and runs partially on electricity.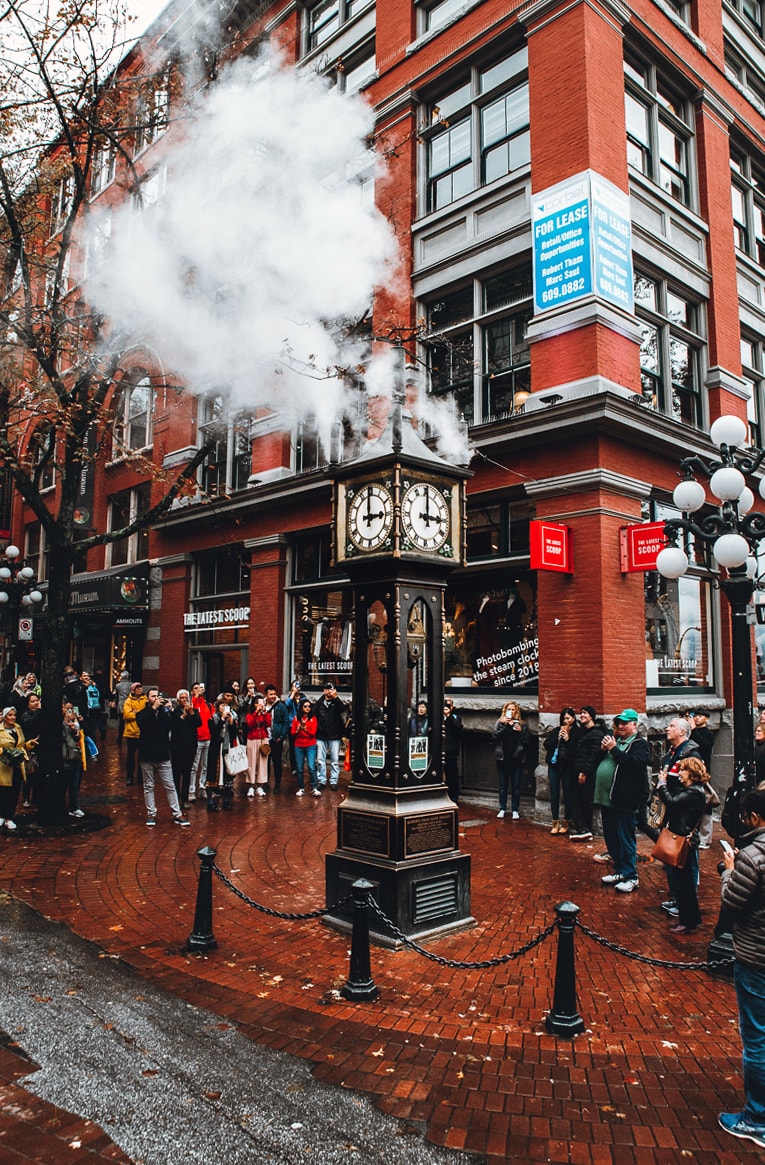 However, that doesn't stop the hordes of crowds from hovering around the clock all day.
Of course, we too made a quick stop to see the steam clock. Was it the most interesting thing to do in Vancouver? No. Should you go out of your way to visit it? Also no.
But if you're in the area, I recommend walking by. The clock makes a very short whistle every 15 minutes and at the top of the hour it plays a song.
ADDRESS On the corner of Cambie and Water streets in Gastown.
EXPLORE GRANVILLE ISLAND
Granville Island is a small peninsula located on False Creek and home to over 300 businesses including the Granville Island Public Market.
This district is one of Vancouver's most prominent tourist attractions and since our Prince of Whales whale watching tour left from Granville Island, it gave us a good opportunity to explore.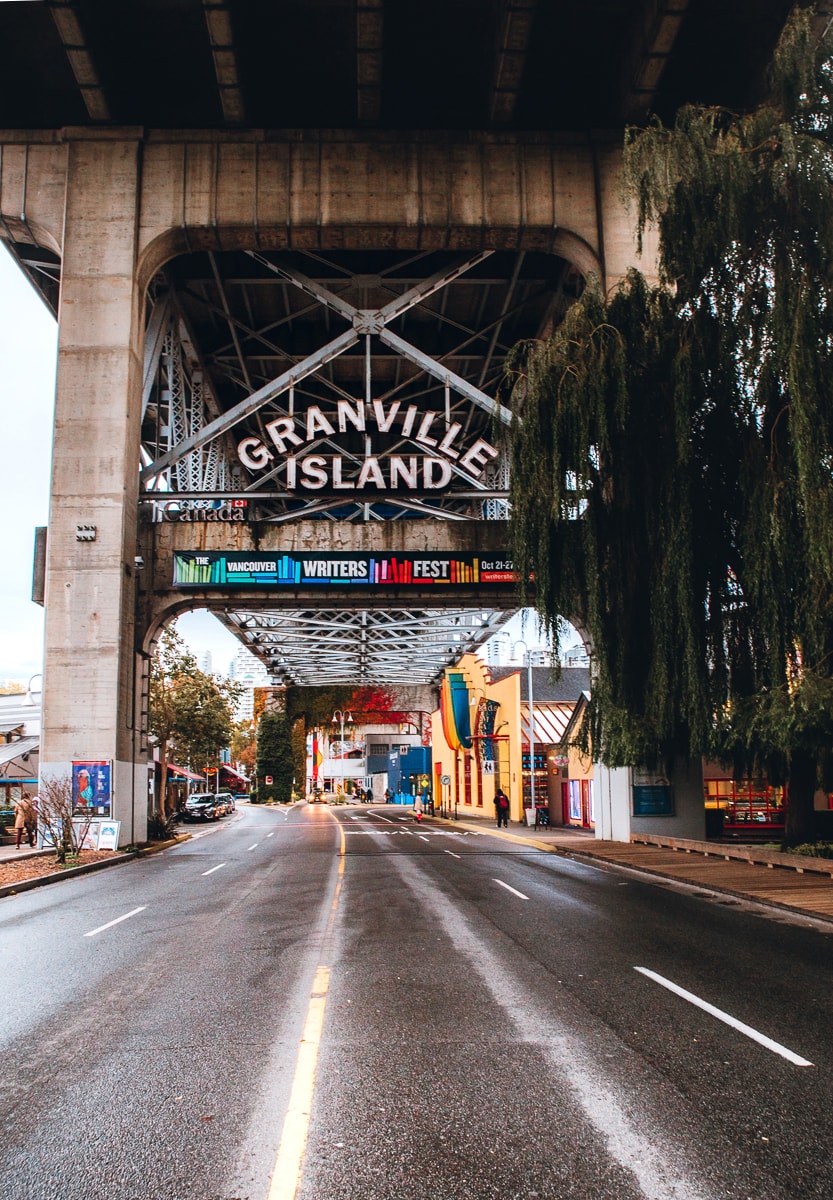 On the island, you'll find a ton of shops selling everything from local and indigenous art to clothing, textiles and jewelry. The district is also a major artistic and cultural hub. Multiple festivals take place here throughout the year and you'll find a handful of theaters and galleries as you walk around.
GRANVILLE ISLAND MARKET
One of the most popular things to do on Granville Island is visit the public market, which hosts over 50 independent food stalls.
Make sure to go hungry and you can sample from an array of culinary options. We saw espresso bars, bakeries, meat and cheese stands, seafood restaurants and even an artisan pickle stand.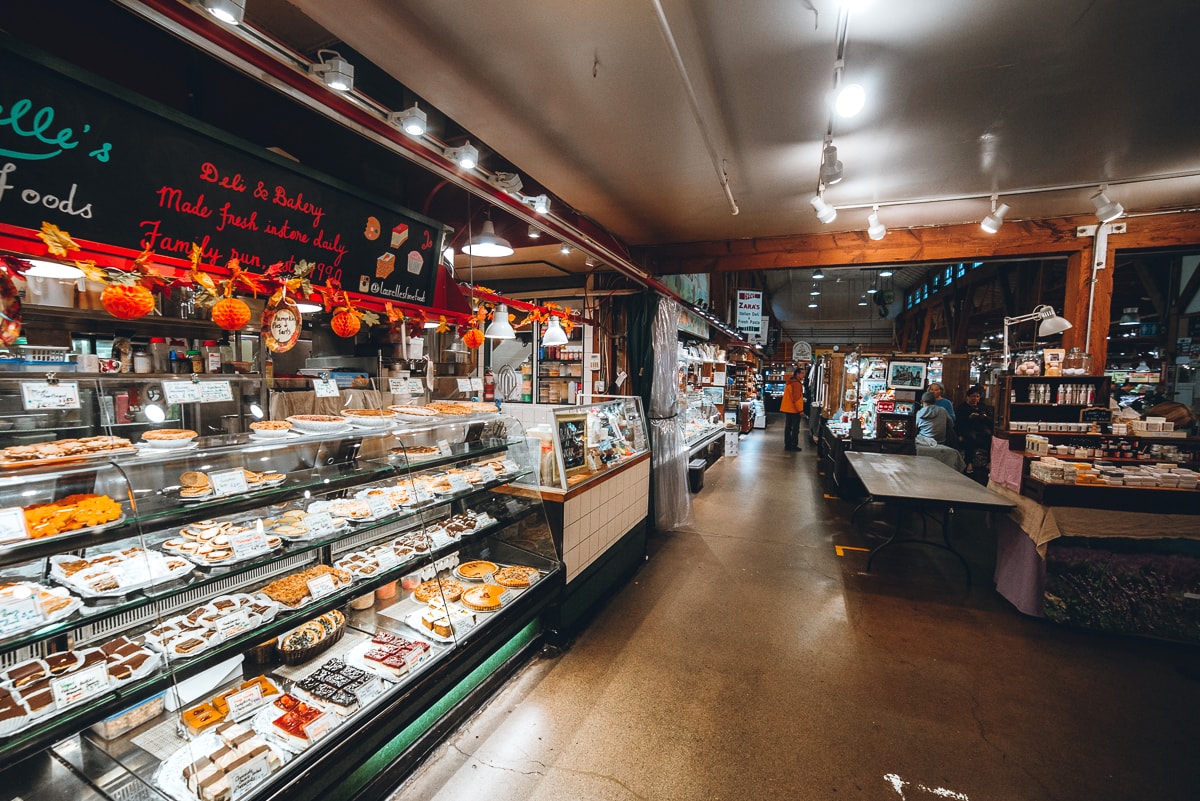 GRANVILLE ISLAND MARKET HOURS
7 days a week: 9am – 7pm
December 24: 9am – 5pm
December 25 – 26 & January 1: Closed
HOW TO GET TO GRANVILLE ISLAND
There are multiple ways to reach Granville Island, with the False Creek ferries being the most popular method amongst tourists. Aquabus and Granville Island Ferries will take you across False Creek on a tugboat and drop you off next to the public market.
If you prefer to take the bus, the #50 False Creek bus travels from Gastown and stops right outside the entrance to Granville Island.
If you're coming by bike, Granville Island has a multitude of bike racks in the area. You can even pick up a free bike lock to use while on the island. Visit Granville Island Brewing, Off the Tracks Café, A Bread Affair, the False Creek Community Centre or The Keg to borrow a lock.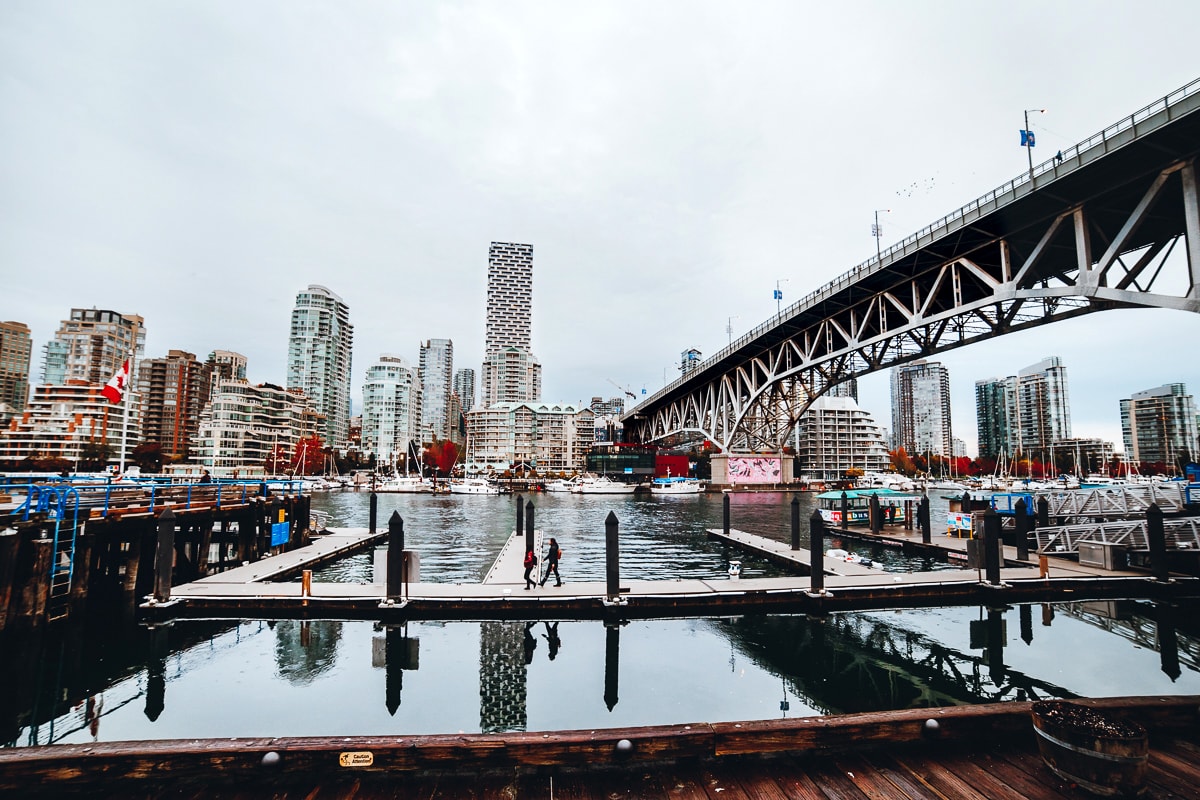 PARTAKE IN THE CRAFT BEER SCENE
Vancouver is home to over 40 breweries with craft beer making up over 20% of the beer market.
We had the full intention of deep diving into Vancouver's craft beer scene but we ended up running out of time. We visited Granville Island Brewing, the city's first microbrewery located on Granville Island. The beers were good but we wished we would've gone with a smaller operation like 33 Acres, Brassneck Brewery or Storm Brewing.
If you're a fan of craft beer,visit this website for a full list of breweries and ale trails to check out in Vancouver. 
If you'll be traveling during late May, be sure to check out Craft Beer Week where you can sample 400 different types of beer from over 100 BC breweries.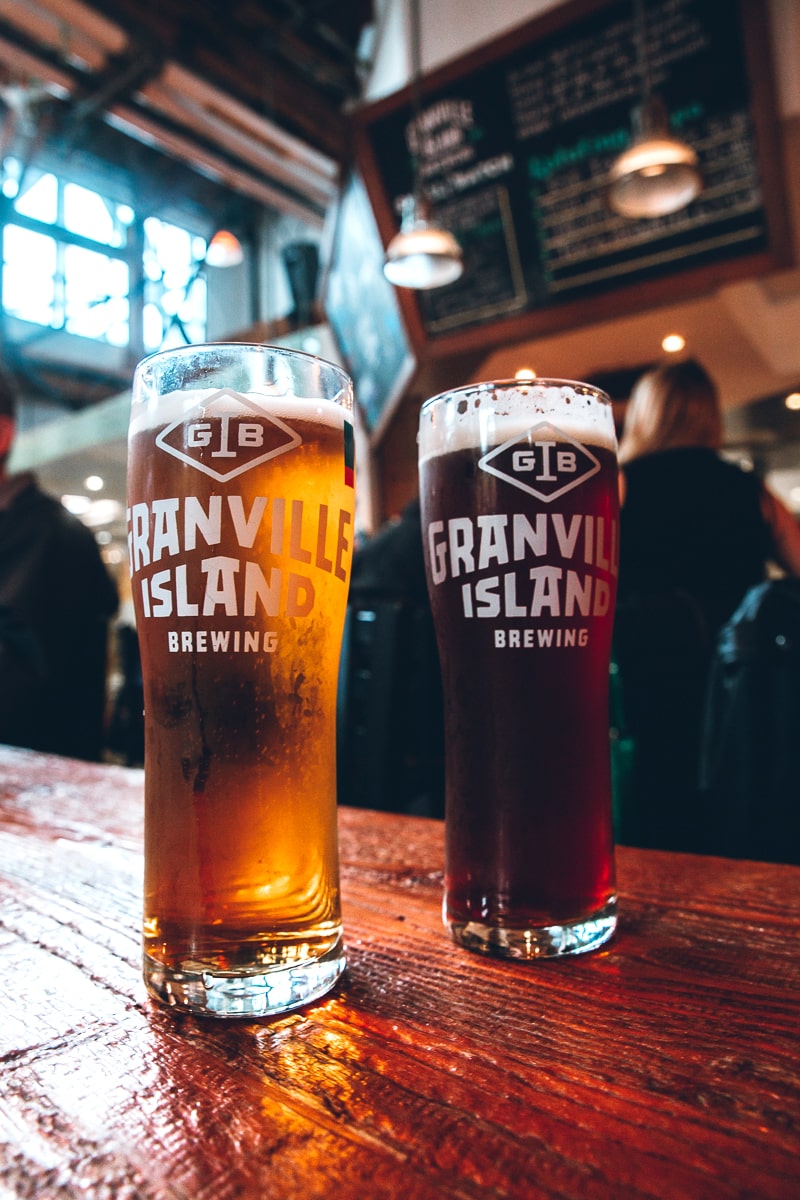 WHERE TO EAT IN DOWNTOWN VANCOUVER
From the best ramen I've ever eaten in my life to a locally sourced, farm to table bistro and a delicious plant based restaurant, click here to discover 9 restaurants & coffee shops in Downtown Vancouver.
WHERE TO STAY IN DOWNTOWN VANCOUVER
For a complete first timer's guide to Vancouver, including travel tips and where to stay click here.
Am I missing anything? What are your favorite things to do in Vancouver BC?
---
PIN IT: 10 THINGS TO DO IN VANCOUVER BC

Disclaimer: Many thanks to the Vancouver Tourism Board for providing us with a media pass during our stay. While some of our activity admission fees were waived, this post is not sponsored and all recommendations are our own. This post contains affiliate links.