Hungary's thermal bath culture has been alive for over 2,000 years and if it is your first time in Budapest, a visit to the spa is a must add stop on your itinerary. With 100+ thermal springs beneath the city that filter over 70 million liters (18.5 million gallons) of water each day, Budapest has earned itself the nickname, City of Spas.
There are 9 thermal spas in Budapest to choose from with Szechenyi Baths being one of the most popular. It is not only the largest of the thermal baths in Budapest, but also all of Europe. Keep reading to learn what to expect during your visit, plus photos, tips for visiting and how to get there.
---
RELATED POST: 10 THINGS TO DO IN BUDAPEST
---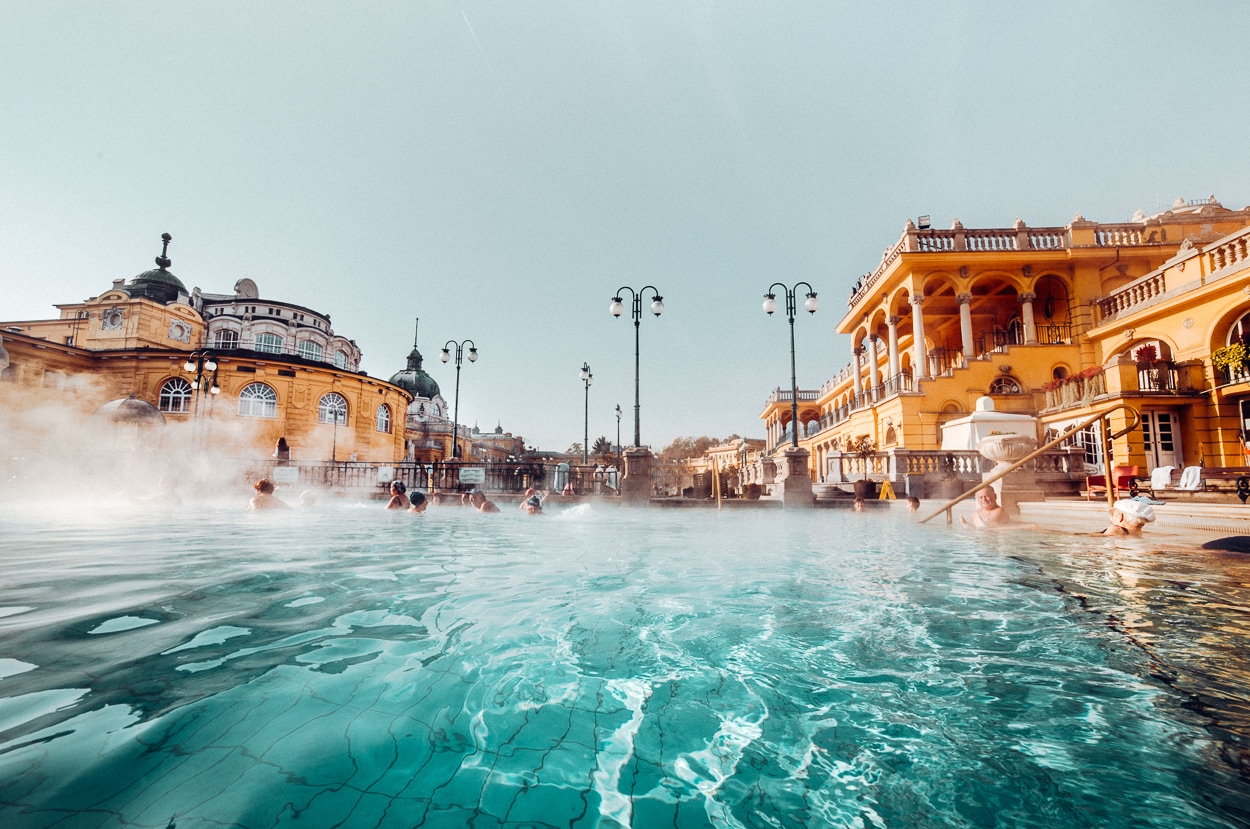 WHAT ARE BUDAPEST THERMAL BATHS?
Hungary is situated on the Carpathian Basin where the earth's crust is very thin. Because of this, the water is able to rise easier and closer to the surface and a result, there are over 1,000 hot springs beneath Hungary spanning across 80% of the country.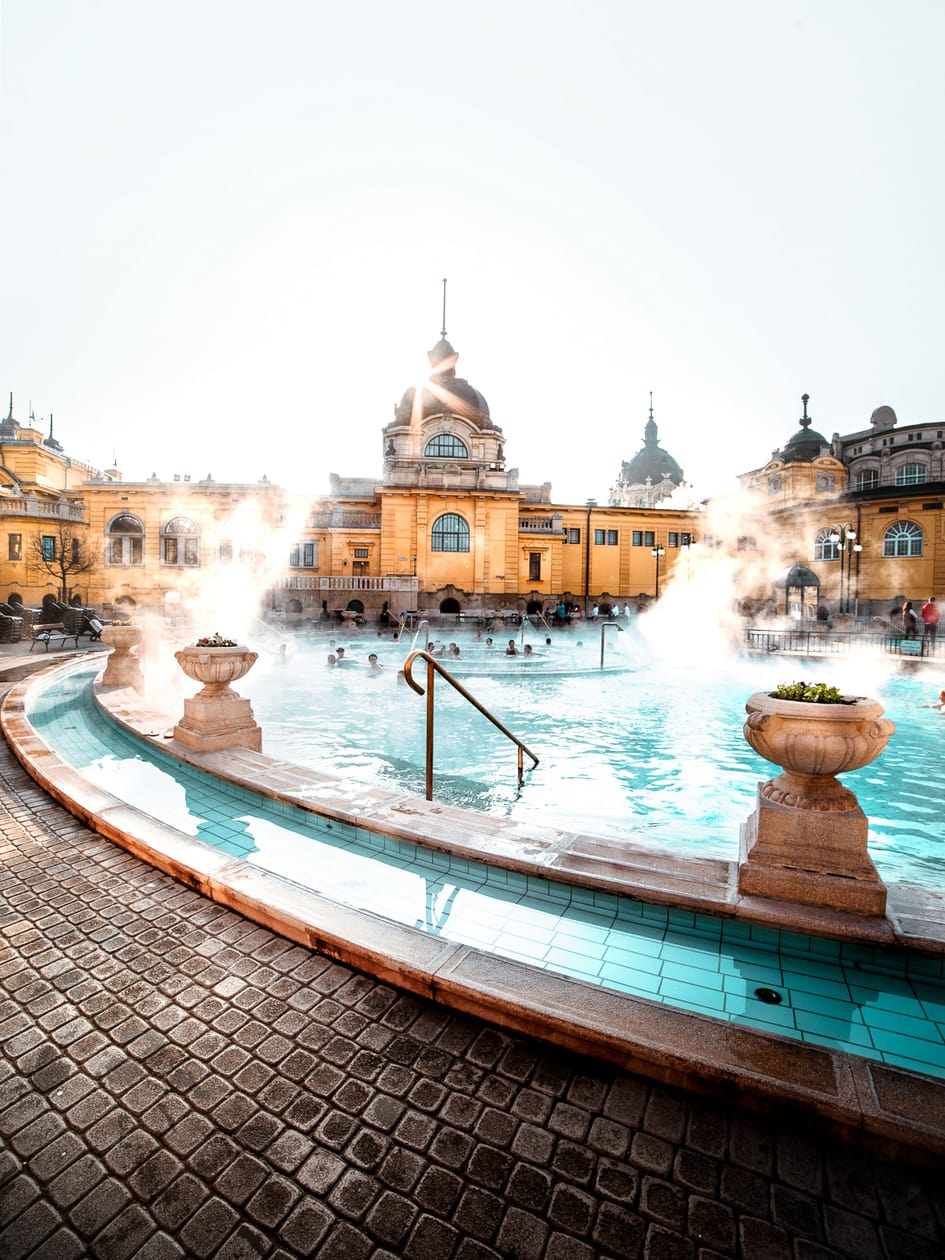 The thermal waters contain minerals such as sulphite, sodium, calcium, magnesium, hydro-carbonate, fluoride and metaboric acid, and have natural temperatures ranging between 21 and 78 Celsius (70 and 172 Fahrenheit). The water is said to be very healing and is often sought after to provide relief from a range of aliments including degenerative diseases of the joints, arthritis and respiratory issues.
The thermal baths are also great for soothing sore muscles, improving circulation and fighting inflammation.
VISITING THE SZECHENYI BATHS
Budapest's thermal baths are an important part of the city's culture and to be honest, we were a little nervous on our first visit because we didn't know what to expect. I was also kind of grossed out by the thought of marinating in warm water with hundreds of other people, but it actually ended up being one of our favorite things that we did in the city.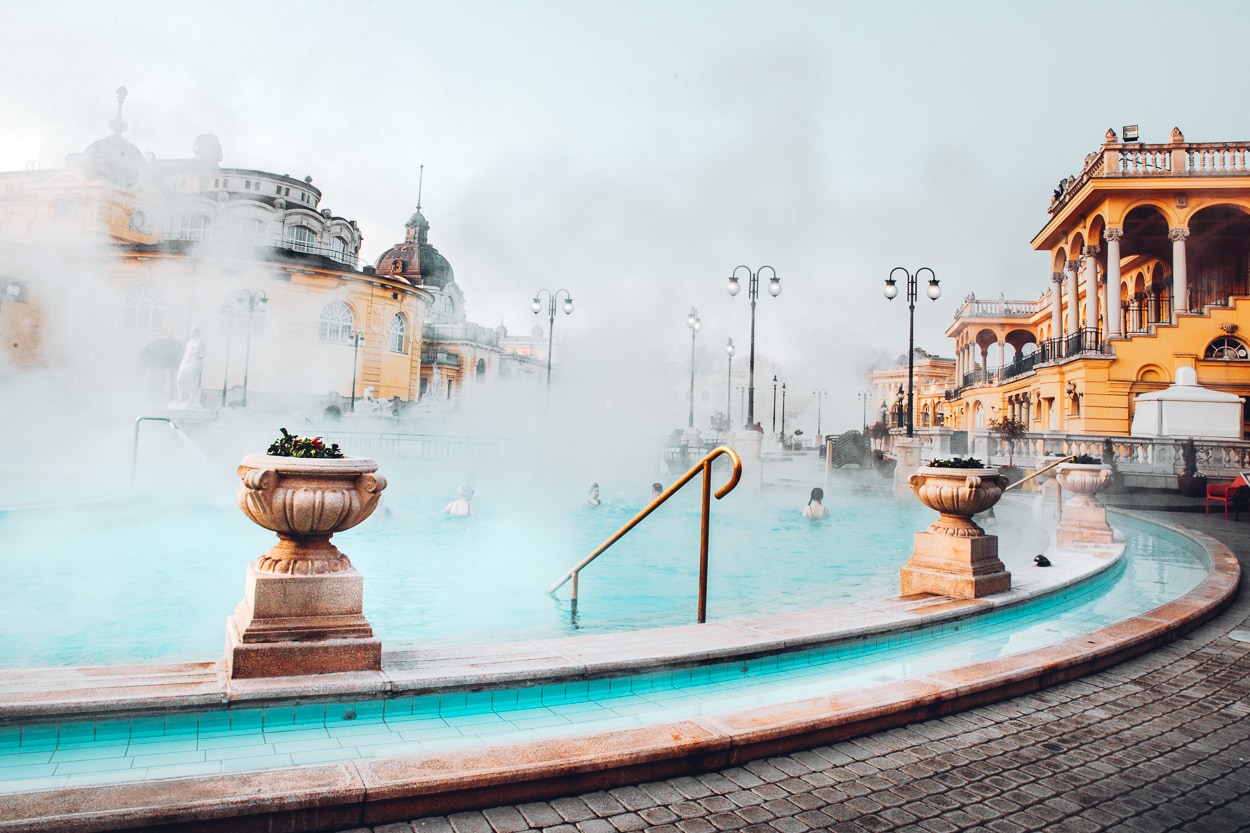 When you first enter Szechenyi Baths you'll either purchase your tickets at the ticket counter, or head to the fast track line if you've prepaid online. They'll give you a waterproof silicone wristband which grants your entry into the pool area and also opens your locker or cabin. Your ticket is good for the entire day, but there are no in and out privileges.
There are 18 pools on site including a 3 large outdoor pools and 15 smaller pools scattered throughout the many indoor rooms. It's a never ending maze of geothermic magic.
In addition to the pools, your day ticket also includes access to the saunas, steam rooms and aqua fitness classes (which start every half an hour, from 8 am to 5:30 pm). You also have the option to add extras such as massages, pedicures and facials for an added charge.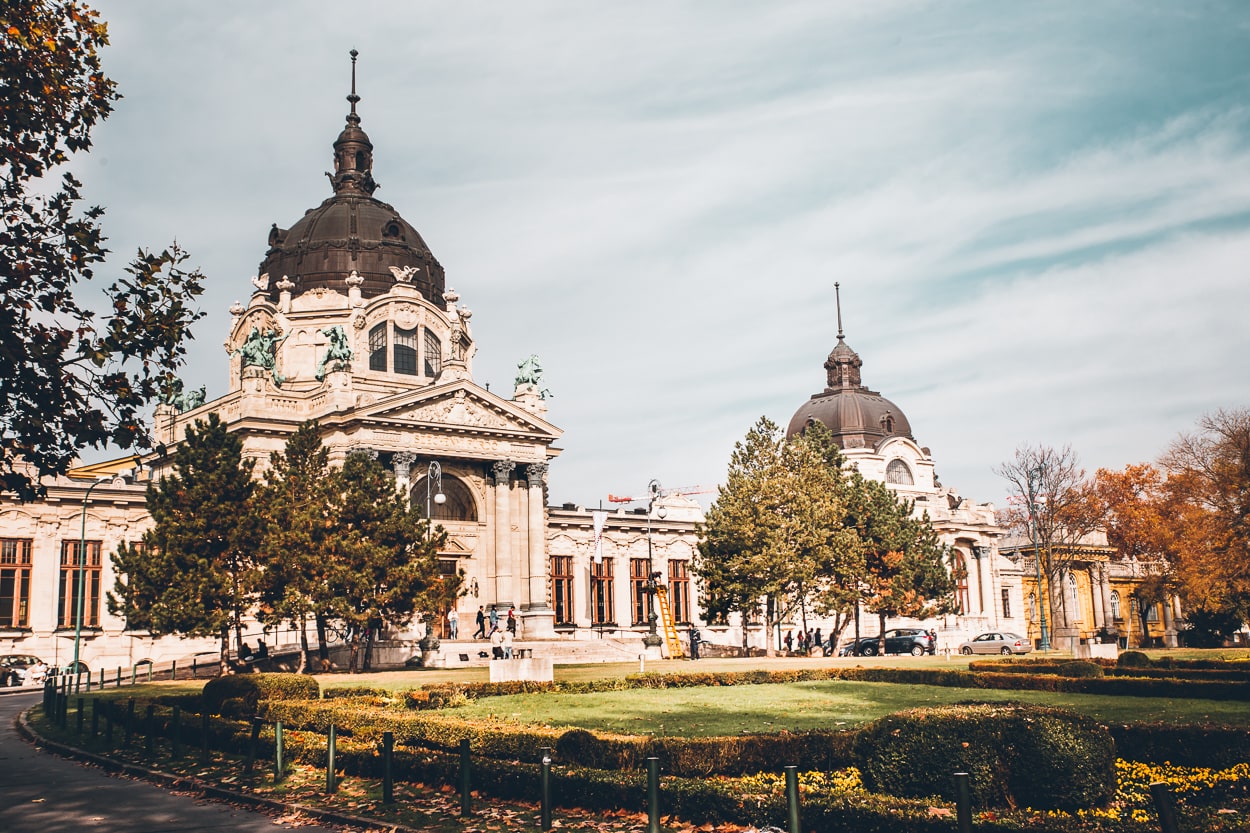 THE OUTDOOR POOLS
The outdoor pools are the most popular at Szechenyi Baths and if you can find them (it's surprisingly difficult) you'll understand why.
The neo-baroque architecture makes for a gorgeous setting to relax in, and if you squint hard enough to look past the crowds of people taking fire Instagram pictures, it almost feels as if you've transported into another time period.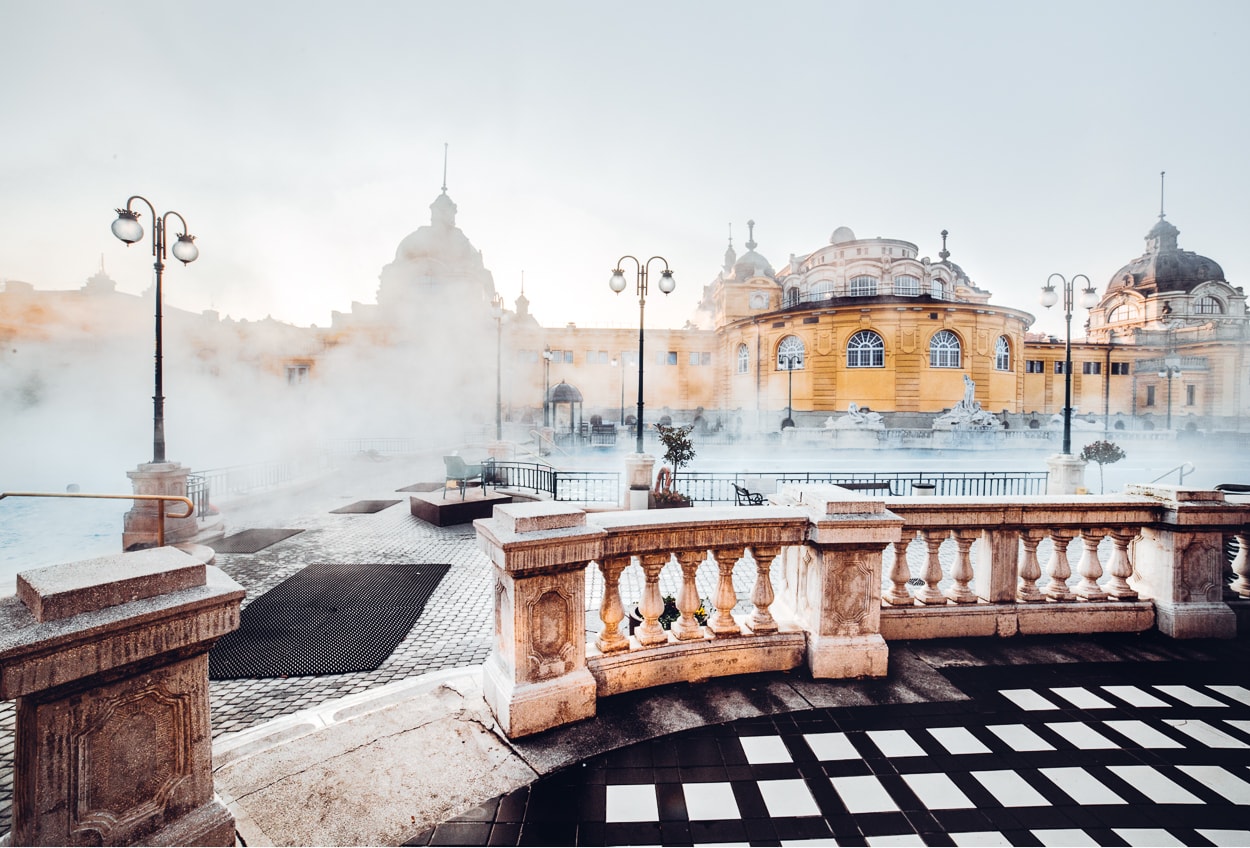 We visited on an early November morning and the steam was rising up off the water, engulfing the pools in a hazy blanket. The outside air was freezing but the water was perfect and we ended up sitting for hours longer than we initially planned for.
THE INDOOR POOLS
We spent most of our time outside because the architecture inside was not nearly as stunning as the exterior, and also some of the interior pools looked a little cloudy. If you're specifically looking for indoor pool vibes, I would recommend checking out Gellert Thermal Baths and Rudas Baths.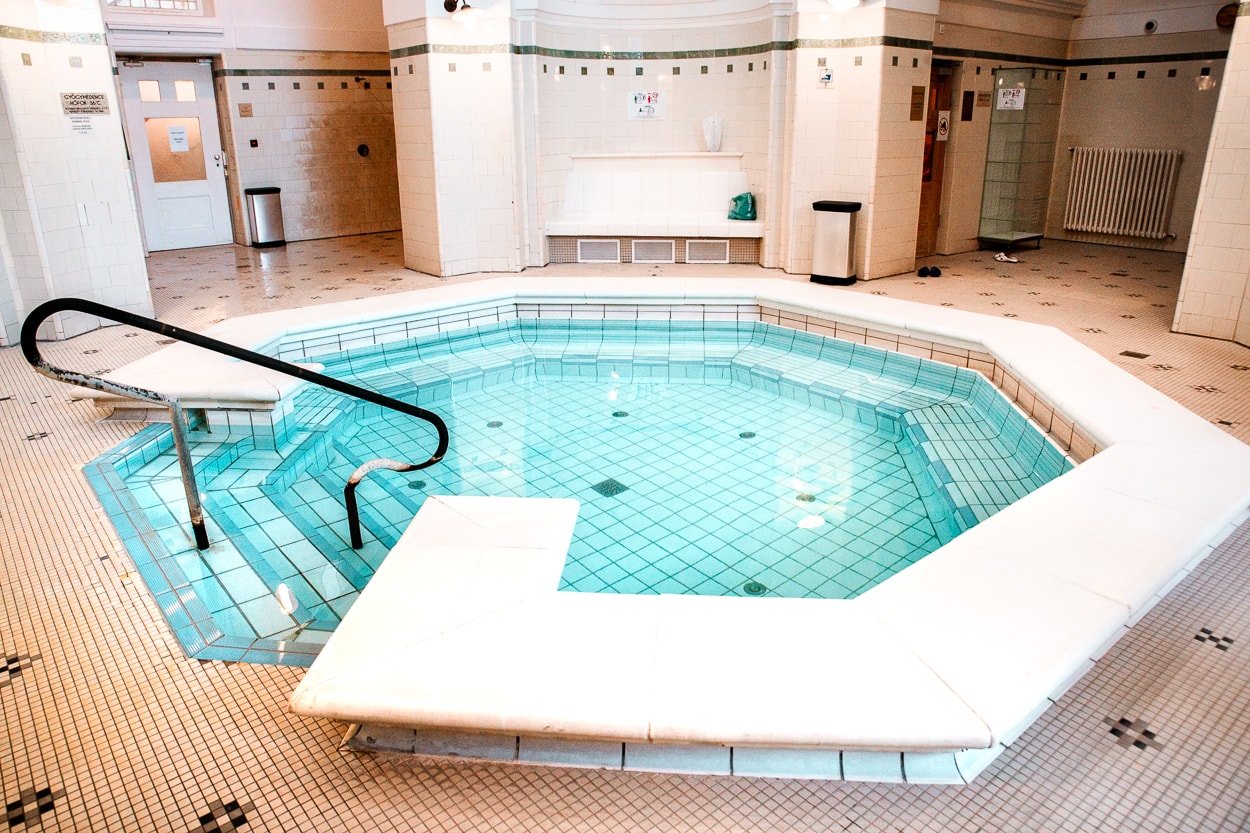 15 TIPS FOR VISITING SZECHENYI BATHS
THE BEST TIME TO VISIT
I know it's not fun to wake up early when you're on vacation but if you can, I highly recommend visiting Szechenyi Baths early in the morning. The baths open at 6AM and you'll pretty much have the entire place to to yourselves (aside from a few locals here and there). It was so peaceful and a completely different atmosphere compared to mid-day, which was a zoo.
Tourists started slowly trickling in around 8:30AM and by 9:30-9:45AM it was busy. By 11:30AM it was so crowded that we could barely find a place to stand without bumping into people so we decided to leave.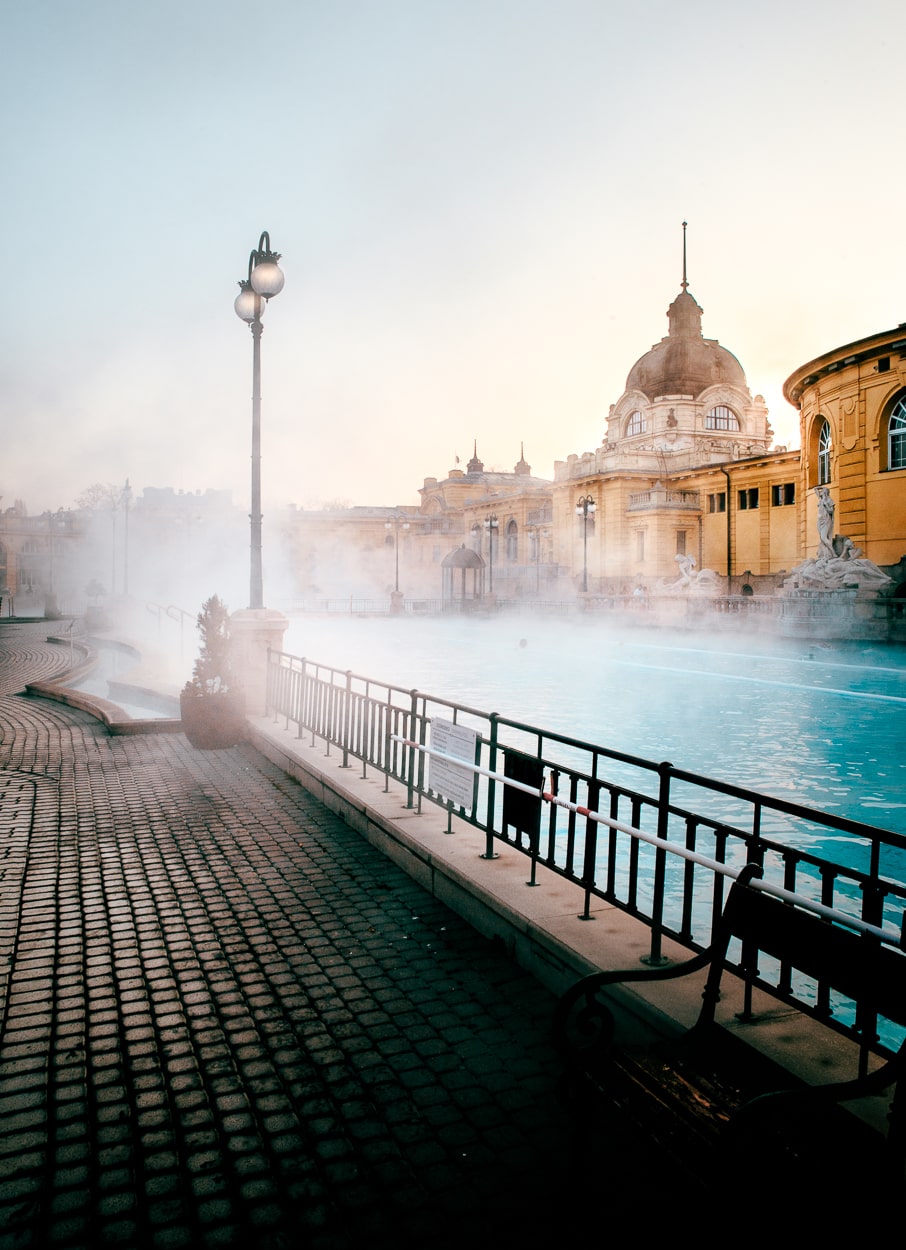 Early morning is best, especially for photos. I've also heard that it starts to slow down later into the evening and that they even give a small discount for entry after 7PM.
If possible, try and visit on weekday vs the weekend because even though the thermal baths are huge, during peak season/times it's possible for them to hit capacity. Once they do, they will limit entry and you'll have to wait in line for people to leave.
HOW TO DRY YOUR SWIMSUIT
Since we visited so early in the morning, we had a full schedule planned after we left the baths. I was dreading having to carrying around wet swimsuits all day and was fully prepared with plastic bags etc to protect the rest of our stuff.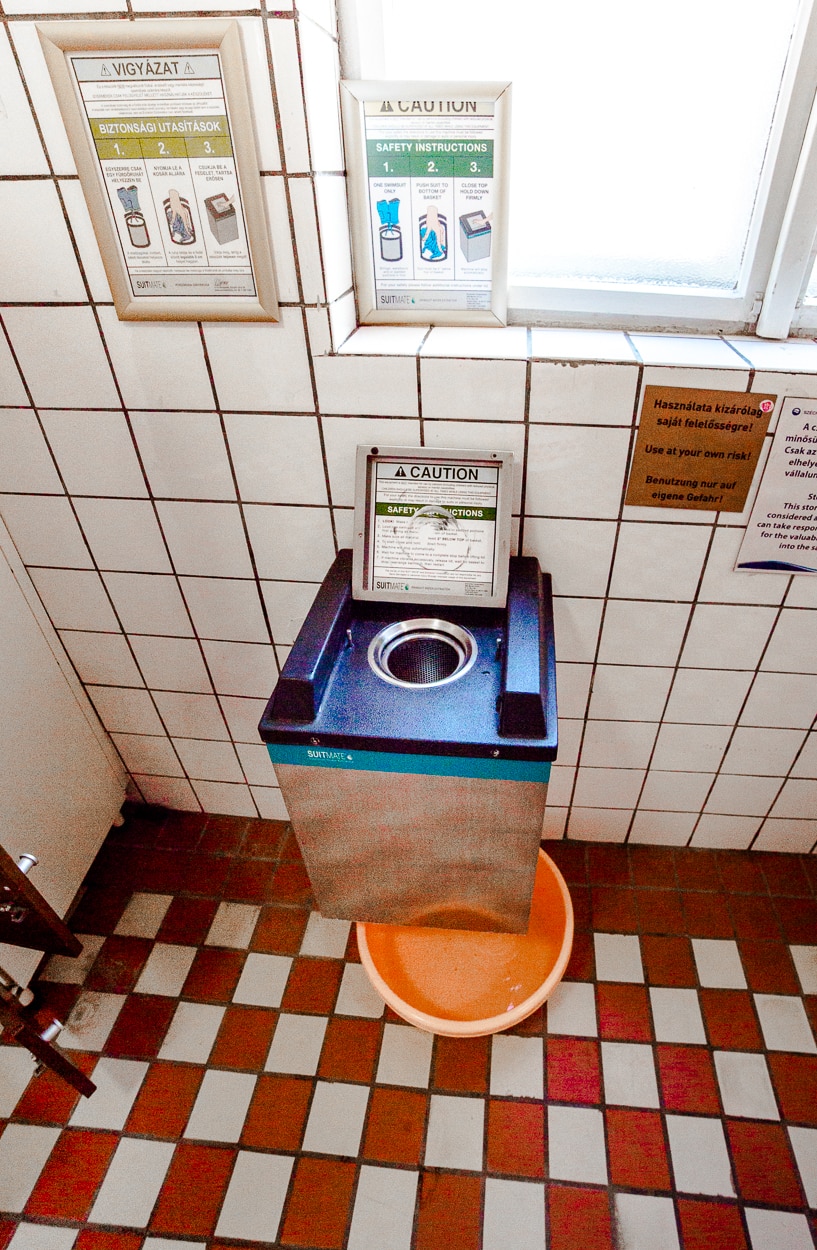 Little did I know, Szechenyi Baths have these small machines which spin the water off of your swimsuits, leaving them pretty much dry. They also provide you with small plastic bags to put your wet stuff into.
On top of that there are also showers to rinse off in, as well as blow dryers to dry your hair, and an area with mirrors to do your makeup, get ready etc. They make it easy for you to leave as dry as possible.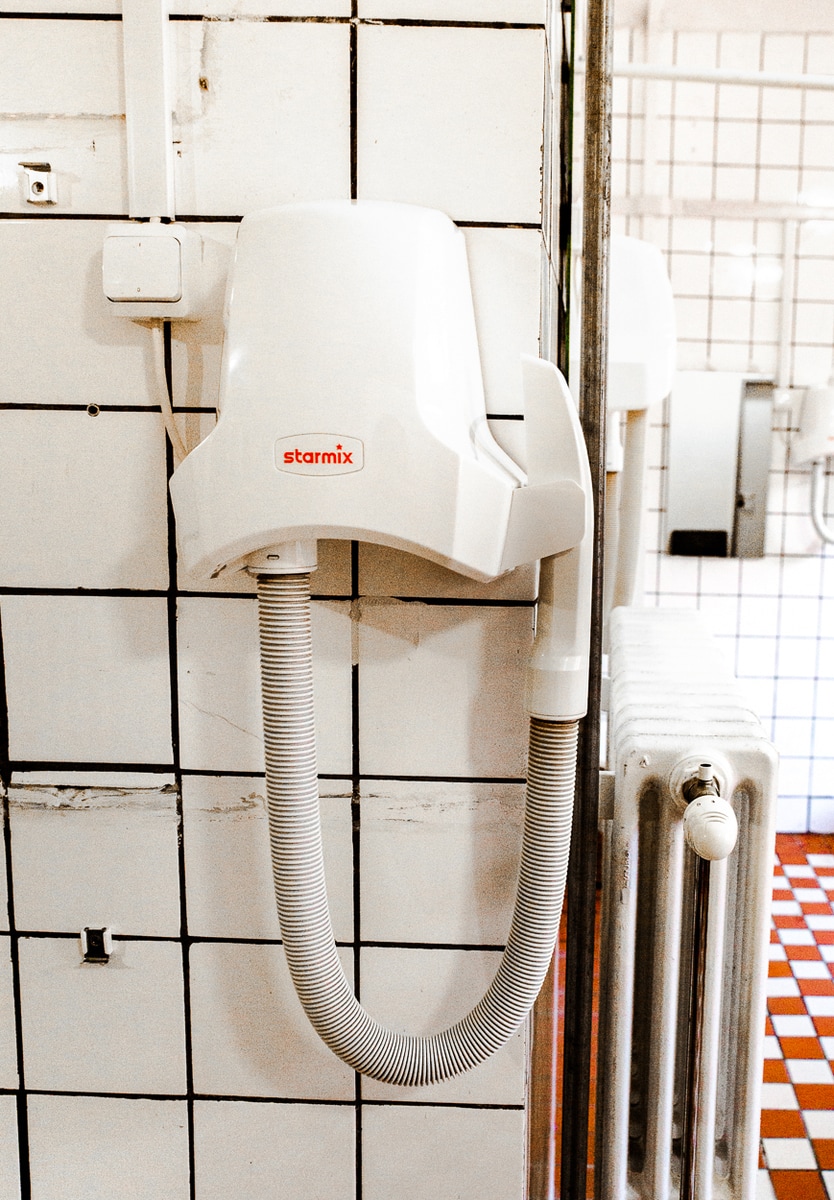 CABINS VS LOCKERS
When visiting Szechenyi Baths, you'll need to put your stuff somewhere, so you have the option of renting either a locker or a cabin.
The lockers are 120cm x 30cm x 65cm (4ft x 1ft x 2ft) and are spacious enough to fit your bag and hang up your clothes. They're perfect if you don't have a lot of stuff and feel comfortable using a communal changing room (separated by sex).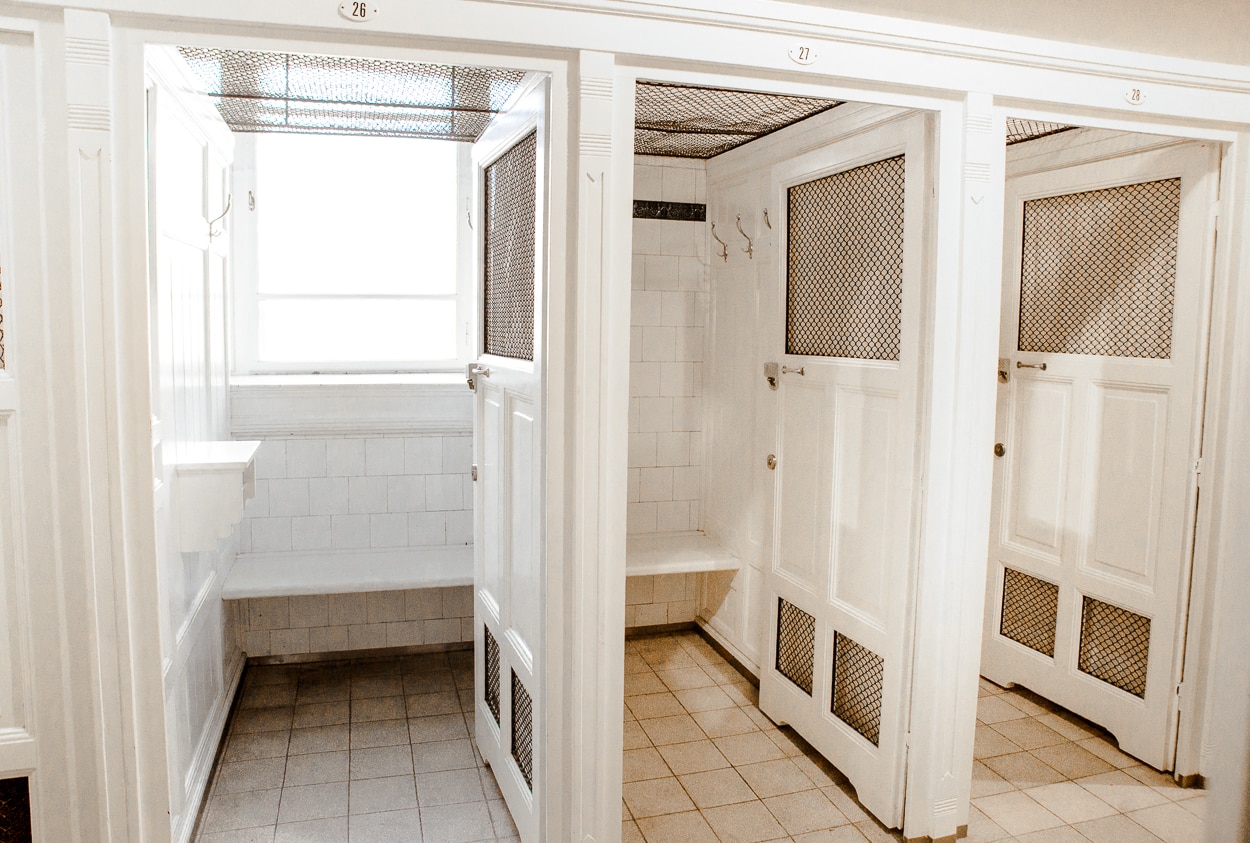 The cabins are small changing rooms, large enough to fit 1 person comfortably. You can store your belongings in here, as well as change in private. Since I had a few camera lenses with me, the cabin also seemed a little more secure than a locker.
The difference in price between the two is less than $2USD so I definitely recommend opting for the cabin as it was much more comfortable. You can also share the cabin with another person.
BRING FLIP FLOPS
Szechenyi Baths has recently enforced a flip flop rule, where you must be wearing sandals whenever you're not in the pools. If you didn't bring flip flops they conveniently have them for sale and it will cost you 2,900 HUF ($10USD).
Also make sure to pack flip flops that can get wet. You will have to walk through a large pool of water to clean your shoes on your way in and out of the building.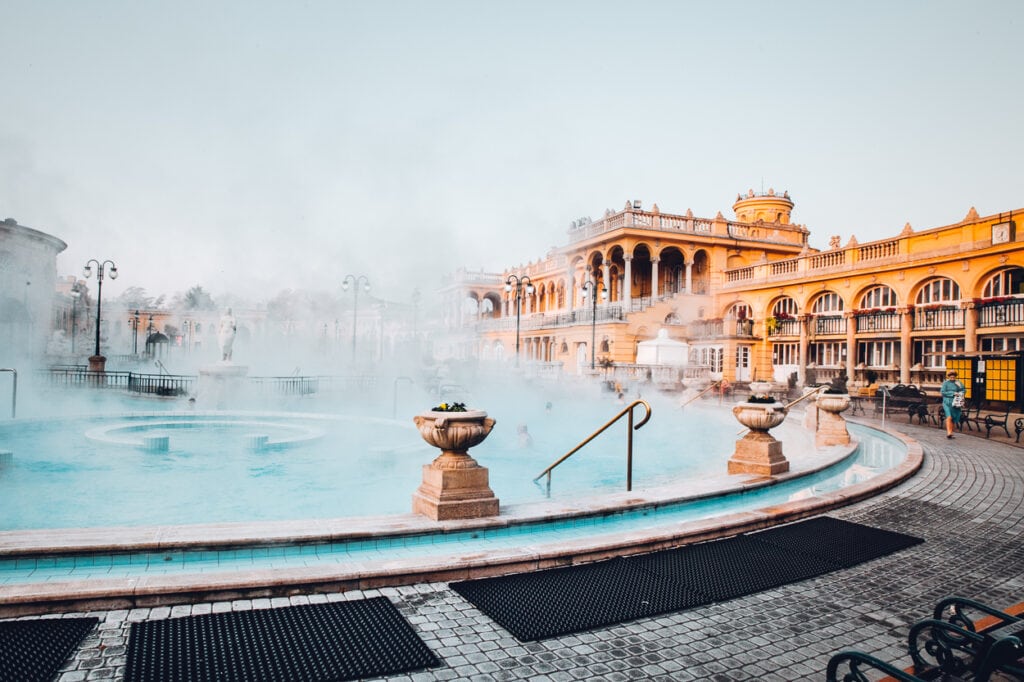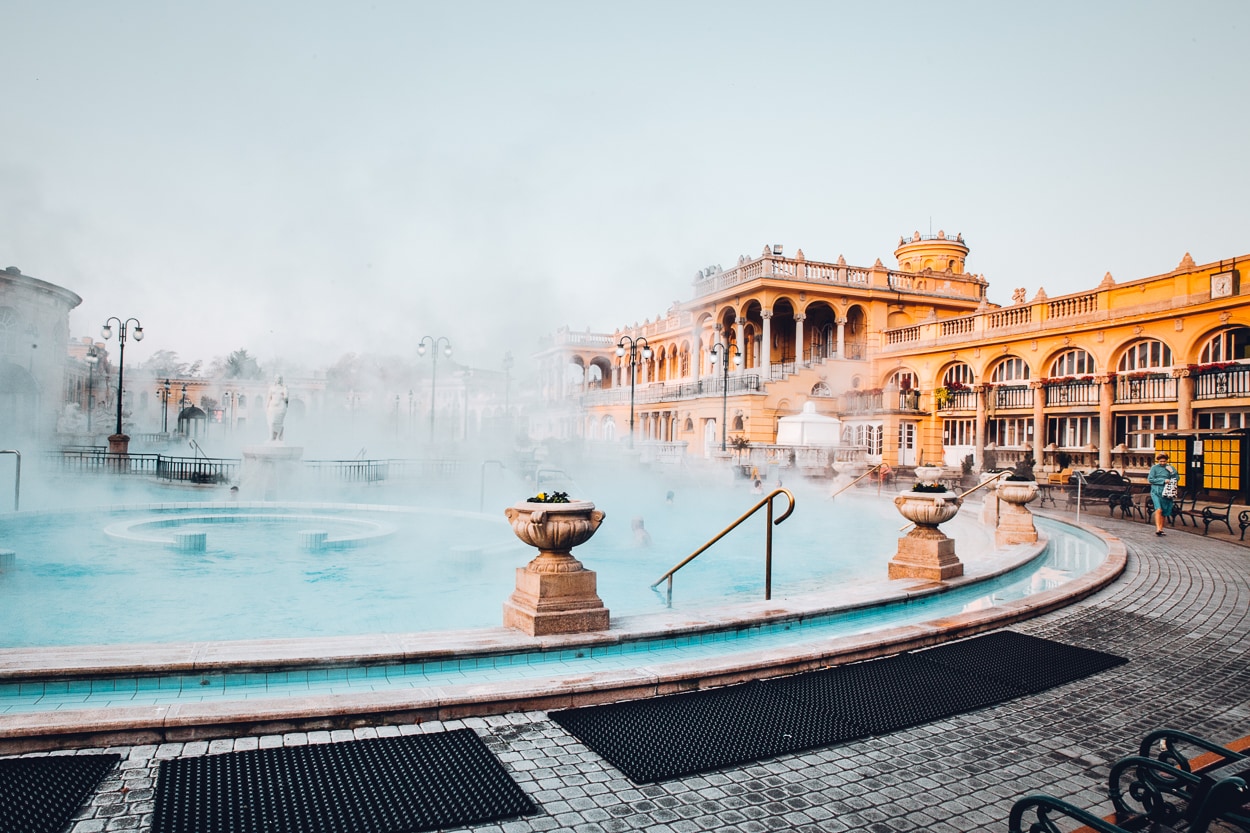 HOW TO FIND THE OUTDOOR POOL
I'm guessing that if you're planning on going to Szechenyi Baths, you probably want to visit the outdoor pool. And good luck finding it.
There are exactly zero signs and it was almost like they didn't want us to go outside haha. We noticed so many people wandering around confused and just about everyone we passed asked us if we knew where the outdoor pool was.
Starting at the entrance to baths (where you first scan your wristband), walk straight past the cabins and then turn right. Keep walking far as you can, straight back and you'll eventually find a glass door tucked in the back corner which will lead you outside. It's very unassuming.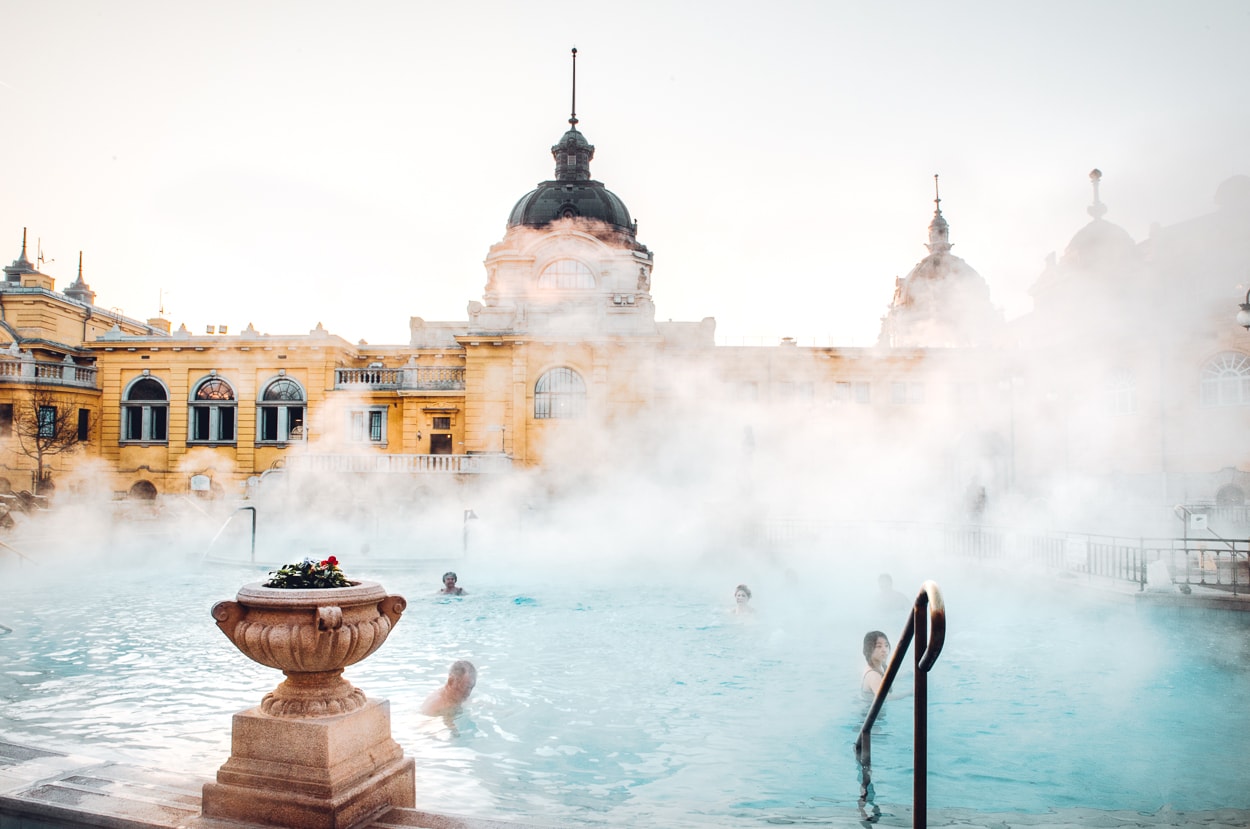 BE SURE TO SPIN IN THE WHIRLPOOL
While we were outside, we noticed a man swirling in circles around the middle jet jacuzzi.. and he was going really fast. We swam over to investigate how he was doing this and discovered the best part of Szechenyi Baths.. the whirlpool.
I'm not exaggerating when I say that the whirlpool was my favorite thing I did in Budapest haha. It spins you in circles with a currant that hauls ass and it is so fun.
Unfortunately it's also very tiny and the more crowded the baths become, the less fun the whirlpool got. People kept piling in and everyone was hitting and falling all over each other.
Another reason to go early.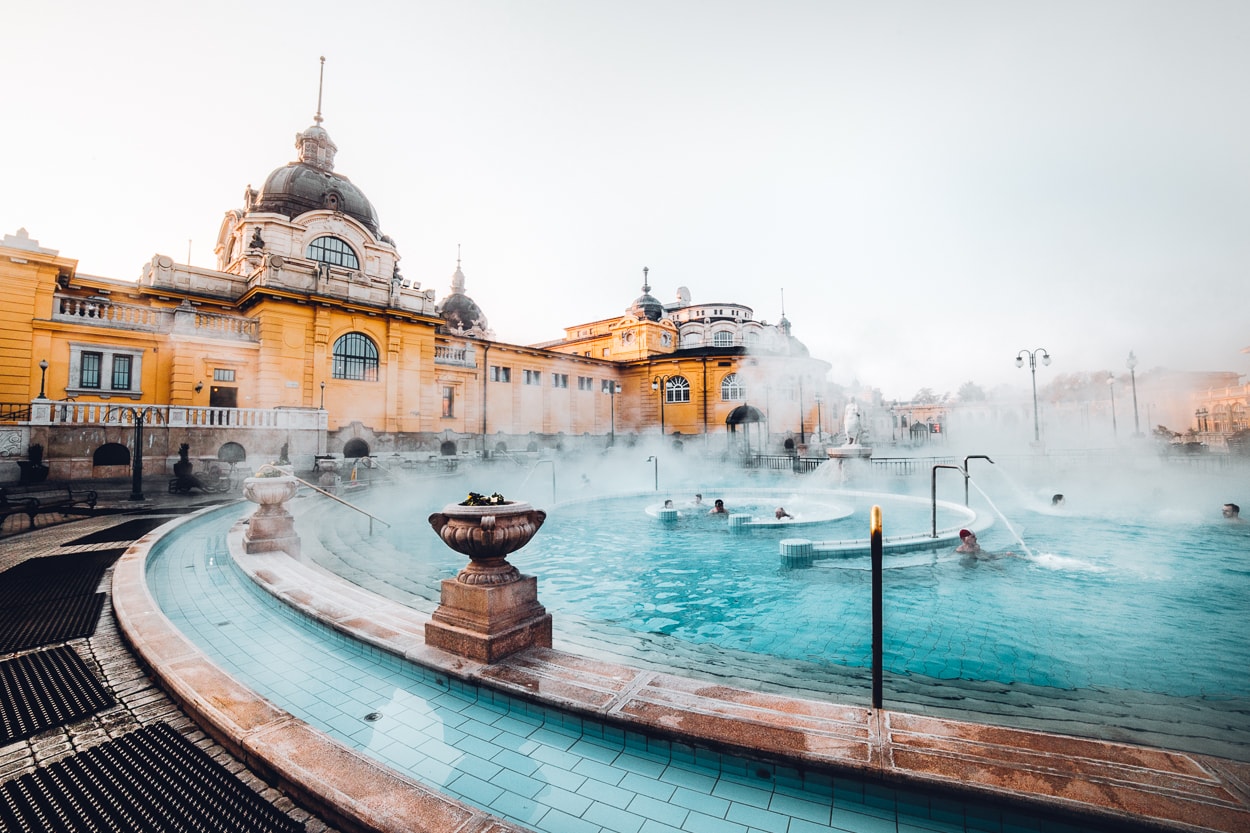 ENGLISH
The employees we personally interacted with spoke very little English. We had a few questions about the different ticket prices which we couldn't properly describe since we don't know Hungarian. Luckily the little research I did before visiting was super helpful.
PHOTOGRAPHY AND DRONES
Photography and video are allowed at Szechenyi Baths. There are no lockers outside though so I did have to run back a forth a few times to put my camera away before swimming.
We contacted them about flying our drone but they said no because the baths are within Government airspace.
---
RELATED POST: 30 PICTURES OF BUDAPEST TO INSPIRE YOUR NEXT TRIP TO HUNGARY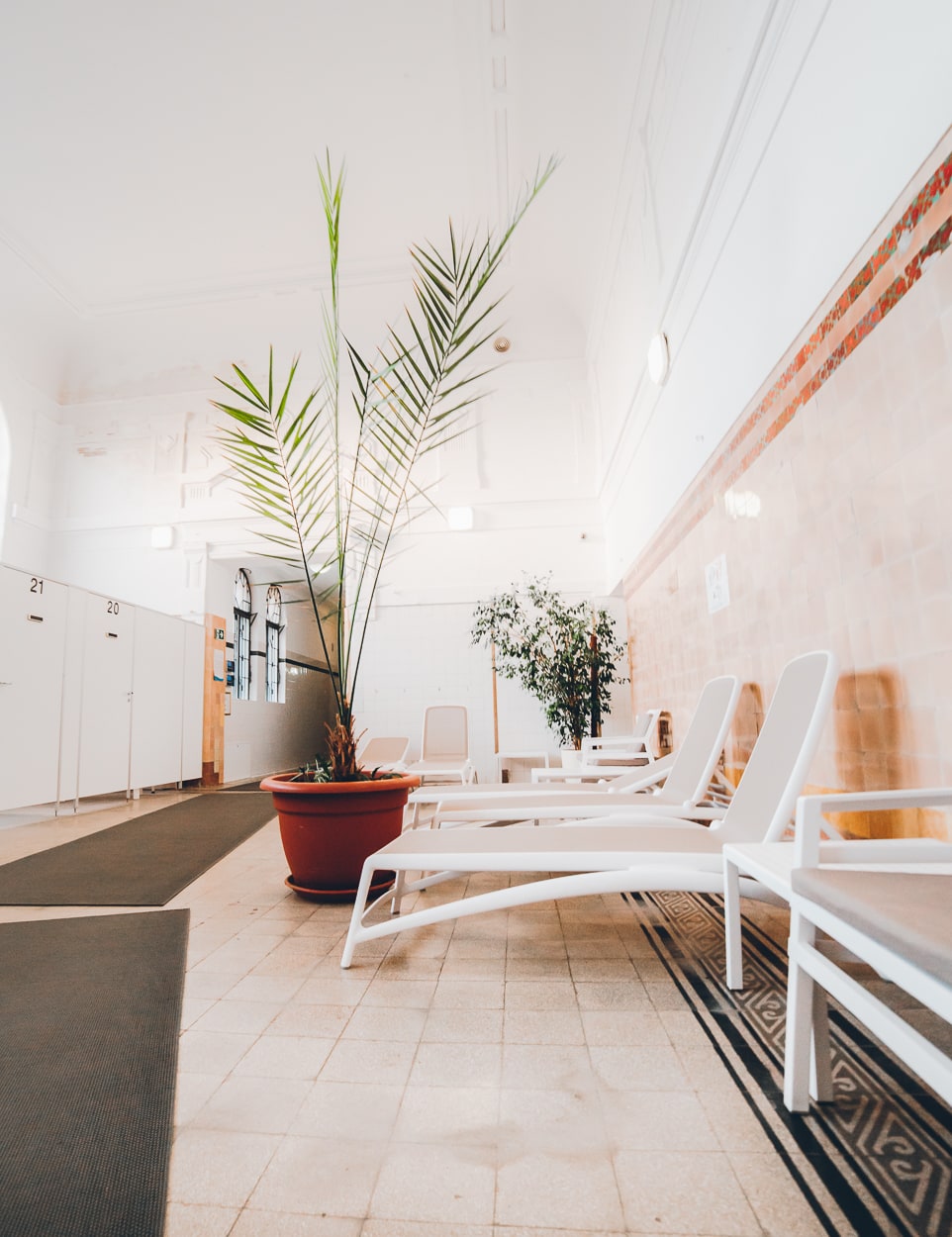 IF YOU PLAN TO SWIM LAPS
If you plan to swim in the middle outdoor lap pool, a swim cap is required. If you didn't bring a swim cap, you can buy one for 1,200 HUF ($4 USD)
No other pools require a swim cap.
THE SZECHENYI BATH PARTY AKA SPARTY
During the weekend Szechenyi Baths turn in a pool party nightclub with drinks, music, lights and dancing. The SParty happens on most Saturdays from 10:30PM to 3AM. If you're looking for a unique night out, this would be it.
Scroll to the bottom of this post for a current price list of SParty tickets.
---
RELATED POST: SZIMPLA KERT // THE ORIGINAL BUDAPEST RUIN BAR YOU HAVE TO VISIT
---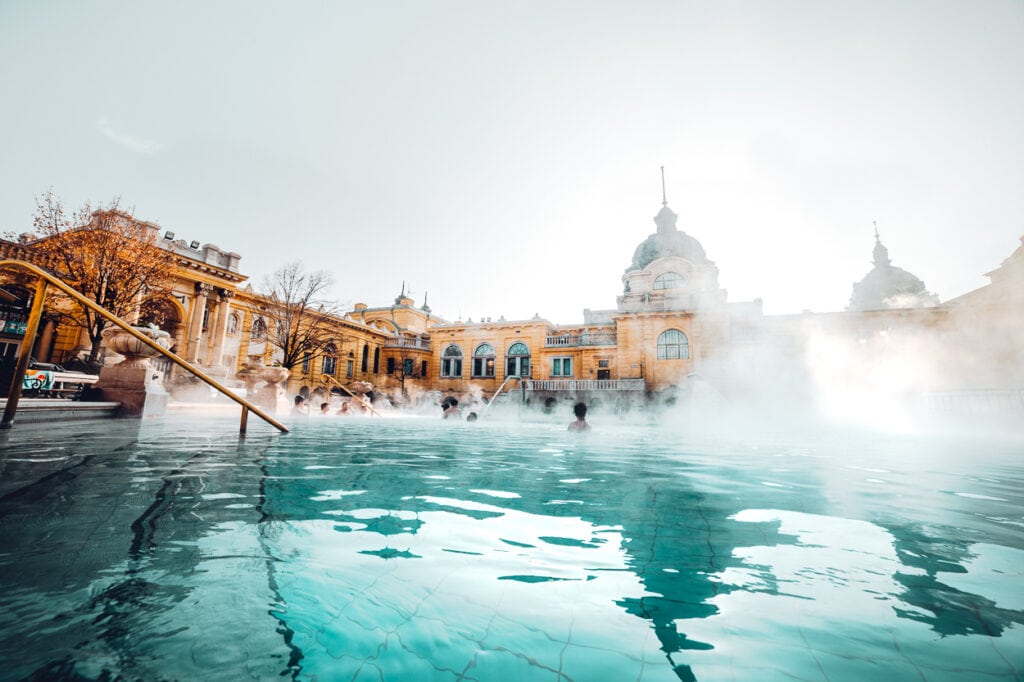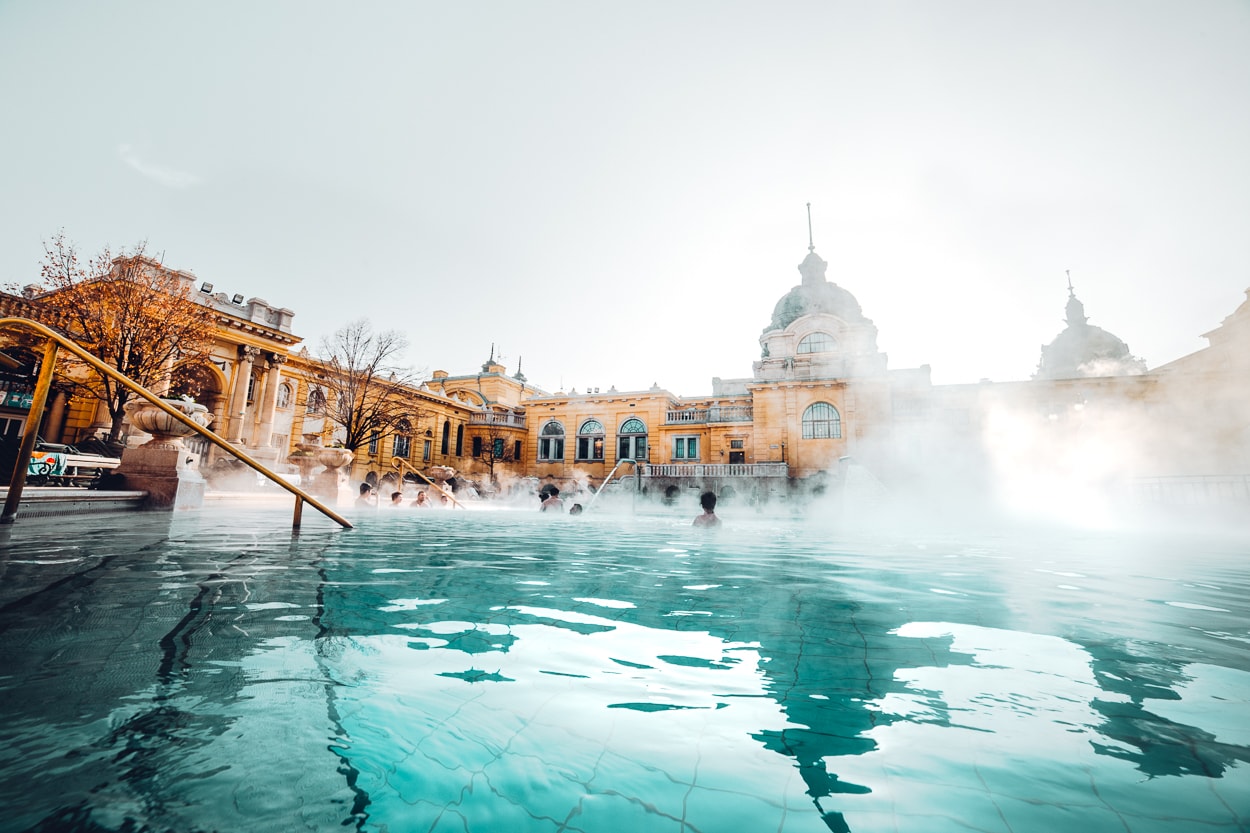 BRING YOUR OWN TOWEL
If you can fit it in your bag, I recommend bringing your own towels. There are towels on site that you can rent but they are small and thin and get soaked quickly. We visited in November and after using the towel once, we didn't want to touch it again because it was wet and freezing.
If you do decide to rent, opt for the towel vs the bath sheet. The bath sheet looks like a bed sheet and is literally useless. Towel rentals are cash only.
Bath Sheet: 1,000 HUF rental fee + 1,000 HUF deposit ($3.42 USD)
Towel: 2,000 HUF rental fee + 2,000 HUF deposit ($6.84 USD)
Bath Robe: 3,500 HUF rental fee + HUF 3,500 deposit ($12 USD)
I also saw people wearing robes from their hotel, so that's another option.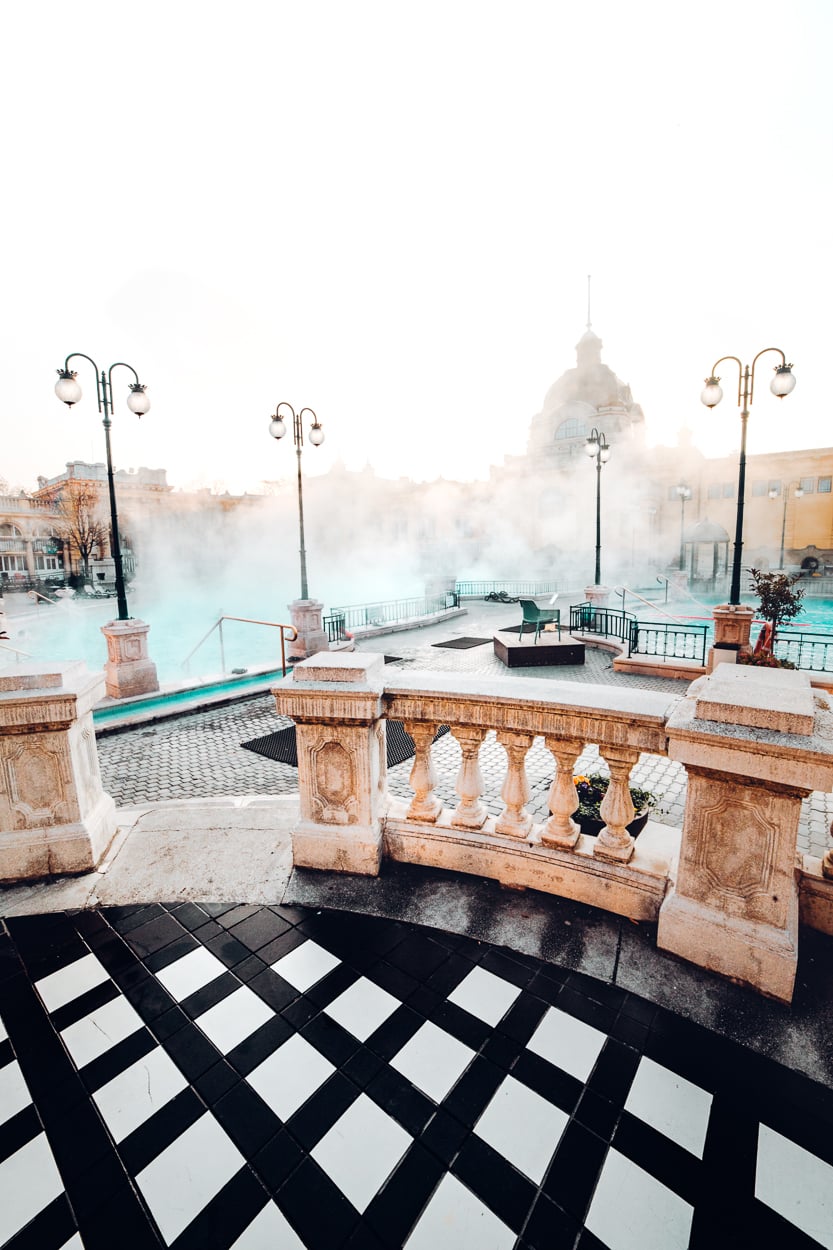 THEY SERVE ALCOHOL
Szechenyi Baths sells beer and wine, along with basic food and snacks at their cafeteria style restaurant.
TAKE A BEER BATH
Speaking of beer.. why not sit in some? There is a beer spa on site where you can soak in thermal water that has been infused with beer ingredients such as hops, malt and yeast.
The best part about the beer spa is that it is all you can drink during your 45 minutes soak (the beer is a Czech Ale), and you pour it yourself.
The beer spa pricing starts at 30 euro for 1 person and 50 euro for 2 people. For more information/booking click here.
---
RELATED POST: 5 BUDAPEST RUIN BARS TO VISIT ON YOUR TRIP TO HUNGARY'S CAPITAL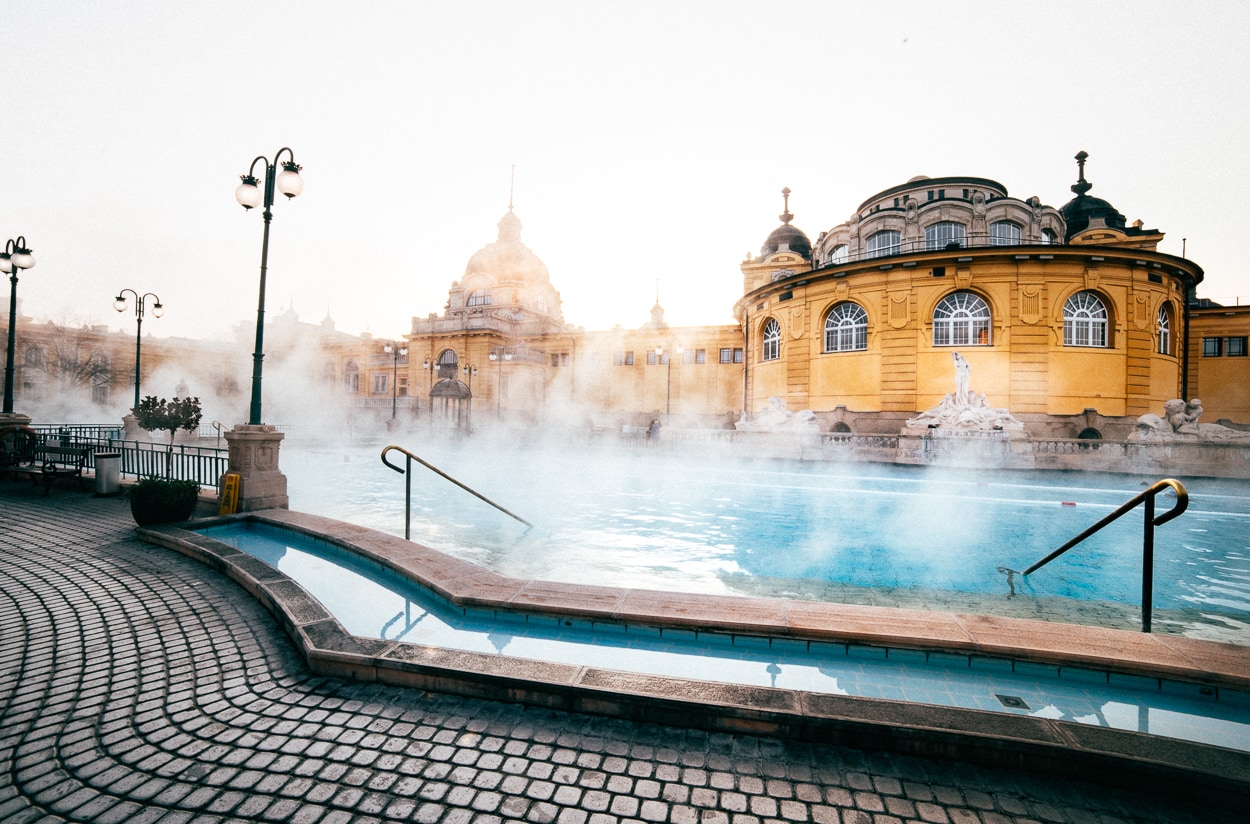 VISIT VAJHUNYAD CASTLE ACROSS THE STREET
Less 5 minutes away by foot, you'll find one of Budapest's most underrated attractions. Vajdahunyad Castle is located on a manmade lake and is a gorgeous place to walk around and take photos.
When we visited, there was a little market taking place outside the castle which made it extra lively and fun. We grabbed a beer and we ate some of the best Langos from our trip at this market.
Heroes Square is also within walking distance to the baths.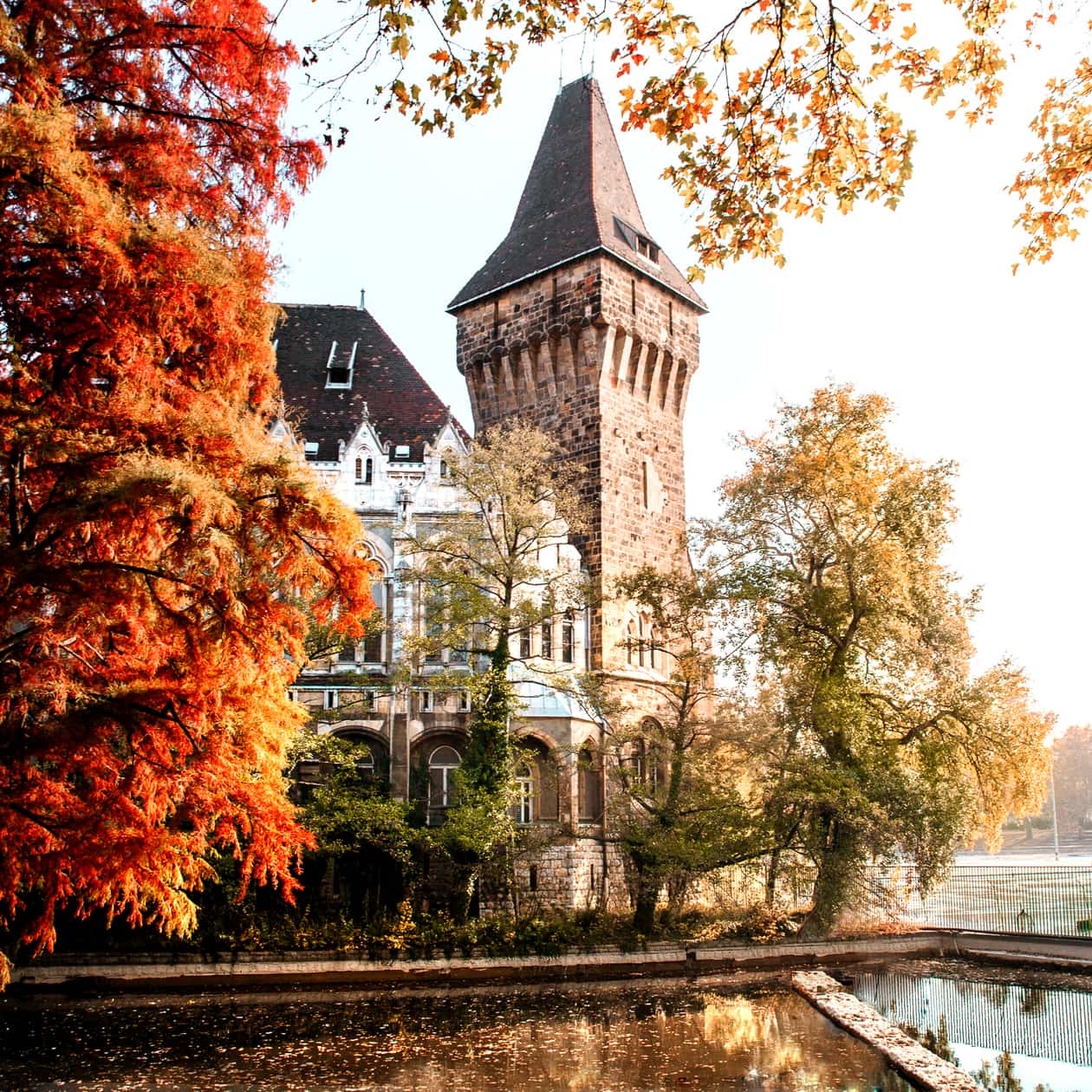 SAVE SOME MONEY
By Budapest standards, a ticket to Szechenyi Baths is definitely on the pricier side. Here are a few tips to save a little money.
TAKE A "COUPLES" MASSAGE
Szechenyi Baths offer a small range of massages and if you opt for a couples massage you can save a few Euro (about 6%). You do not need to be an actual couple to partake in the discounted rate as you free to share the massage room with friends and family.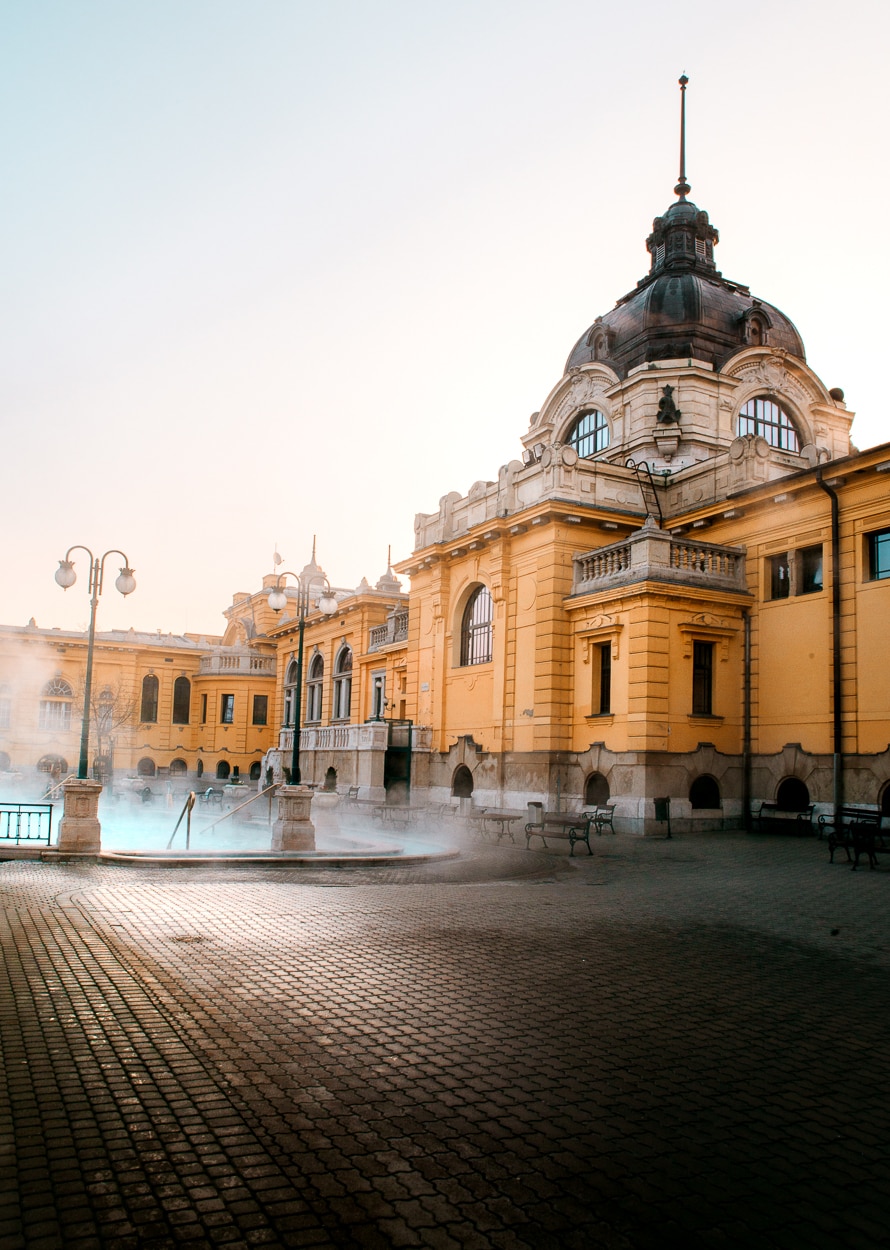 SAVE 20% OFF ADMISSION WITH THE BUDAPEST CARD
The Budapest Card offers free transportation, free entry into 19 museums throughout the city and up to 50% off of main Budapest attractions. If you already have the Budapest Card, your admission into the Szechenyi Baths is 20% off.
For more information, or to purchase the Budapest Card click here .
BRING YOUR OWN
You can rent or purchase anything you need while at the spa but each individual rental cost really starts to add up, so save some money by bringing your own towels, flip flops, shampoo etc..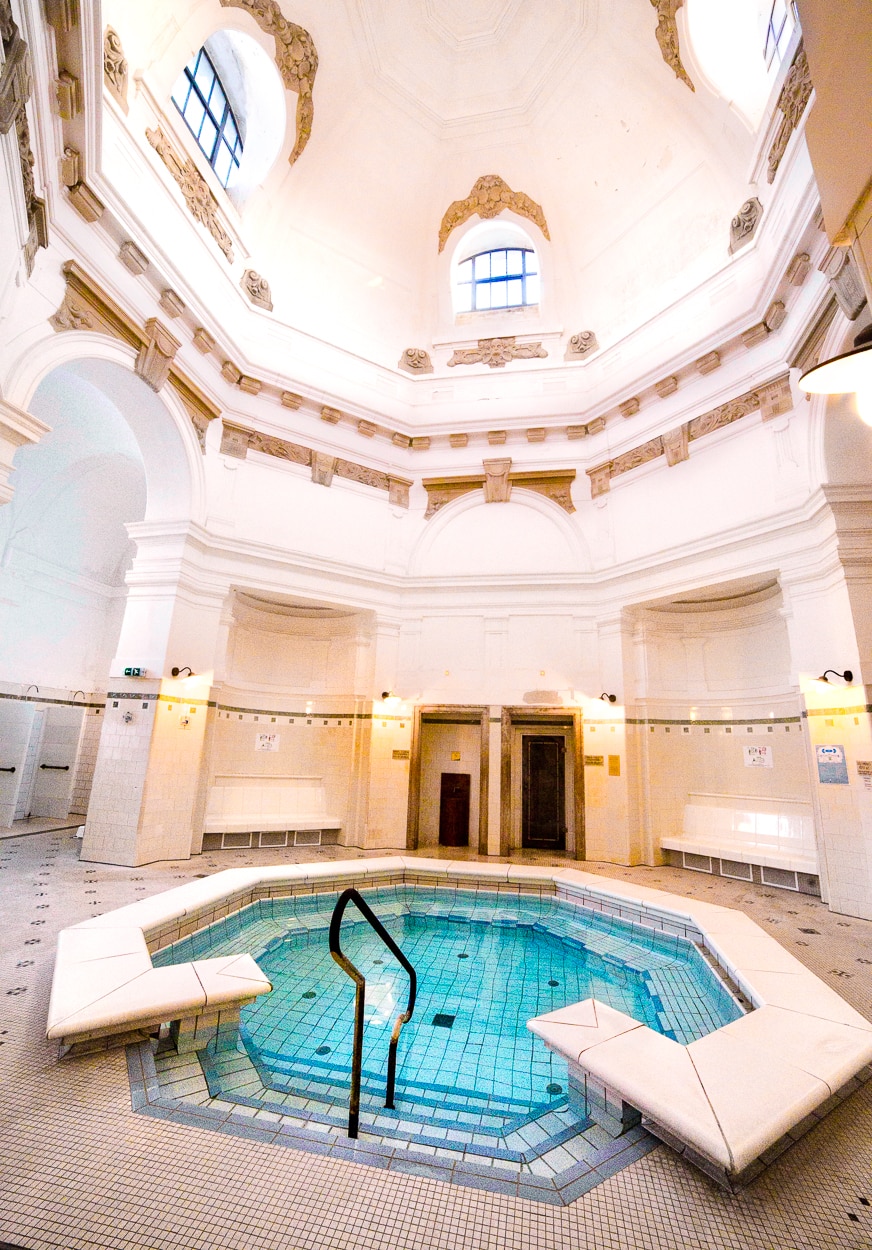 VISIT ON A WEEKDAY
Weekend tickets are more expensive than weekdays, so save a little by visiting Szechenyi Baths during the week… which you should do anyway because it's much less crowded.
VISIT AFTER 7PM
Szechenyi Baths offer a small discounted admission for entry after 7PM. The baths close 10PM, so it's perfect if you're looking for a quick, relaxing soak and a way to unwind after a long day of sightseeing.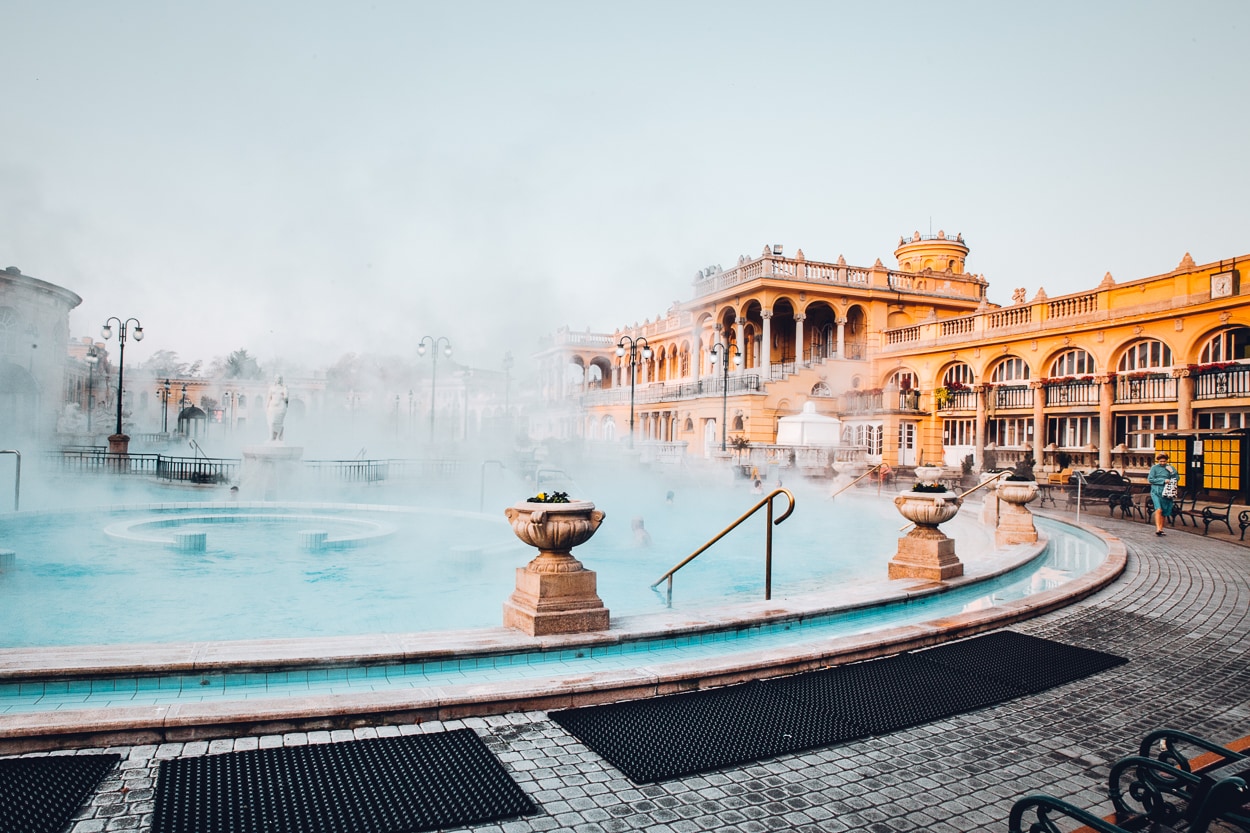 HOW TO GET TO THE SZECHENYI BATHS
The Szechenyi Baths are extremely accessible as there is a Metro stop right outside. Take the M1 (yellow line) to the Szechenyi Furdo stop. When exiting the metro, the baths will be directly to your right. There is also a metro ticket machine at this stop in case you need to purchase tickets for your ride back.
SZECHENYI BATHS HOURS
Daily: 6AM – 10 PM
Spa Party (Saturdays Only): 10:30PM – 3AM
During Christmas and New Years, the hours are amended. Check here for current Holiday opening times.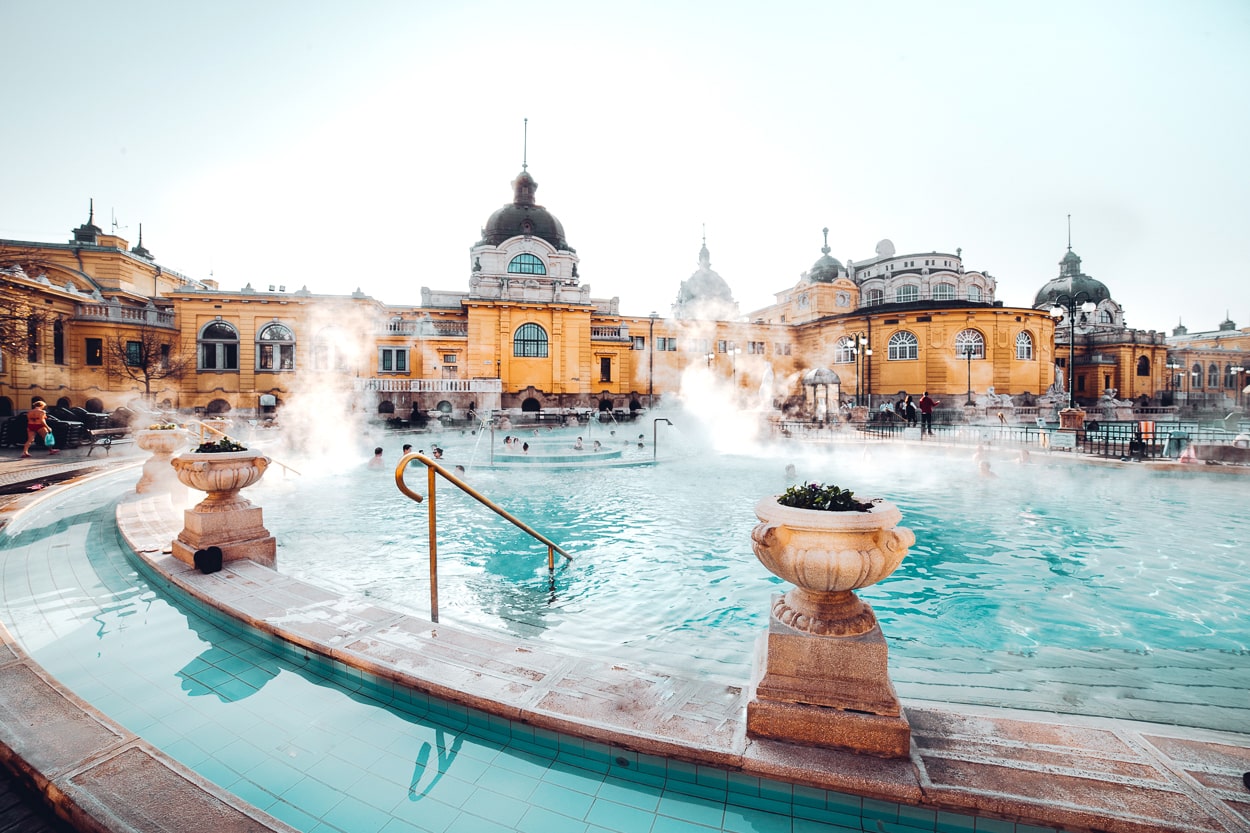 SZECHENYI BATHS PRICE LIST
WEEKEND ENTRY TICKET + CABIN : 6,500 HUF ($22.23 USD)
WEEKDAY ENTRY TICKET + CABIN : 6,300 HUF ($21.55 USD)
ENTRY TICKET + TOWEL + CABIN : 11,100 HUF ($37.97 USD)
WEEKEND ENTRY TICKET + LOCKER : 6,000 HUF ($20.52 USD)
WEEKDAY ENTRY TICKET + LOCKER : 5,800 HUF ($19.84 USD)
AFTER 7PM TICKET + CABIN : 5,400 HUF ($18.47 USD)
AFTER 7PM TICKET + LOCKER : 4,900 HUF ($16.76 USD)
Buy your tickets on the official page here (Hungarian Fornit or Euro) or through GetYourGuide.com here (most currencies).
SZECHENYI BATH PARTY PRICE LIST
TICKET + LOCKER : 50 Euro
TICKET + 2 DRINK COUPONS + LOCKER : 60 EURO
EXPRESS ENTRY + 2 DRINK COUPONS + LOCKER : 65 EURO
EXPRESS ENTRY + 2 DRINK COUPONS + 1 BAG + 1 TOWEL + 1 LOCKER : 70 EURO
EXPRESS ENTRY + 2 DRINK COUPONS + 1 BAG + 1 TOWEL + 1 CABIN + 1 SERVICE + 1 PAIR OF SLIPPERS + 1 BATH ROBE : 200 EURO
Buy your tickets for the Spa Party here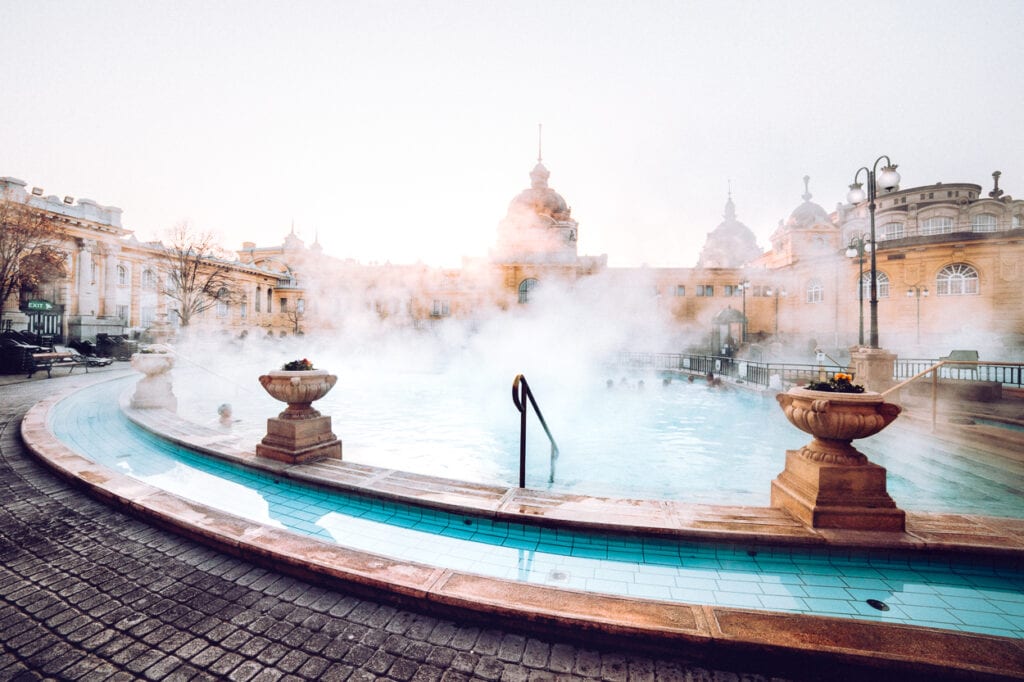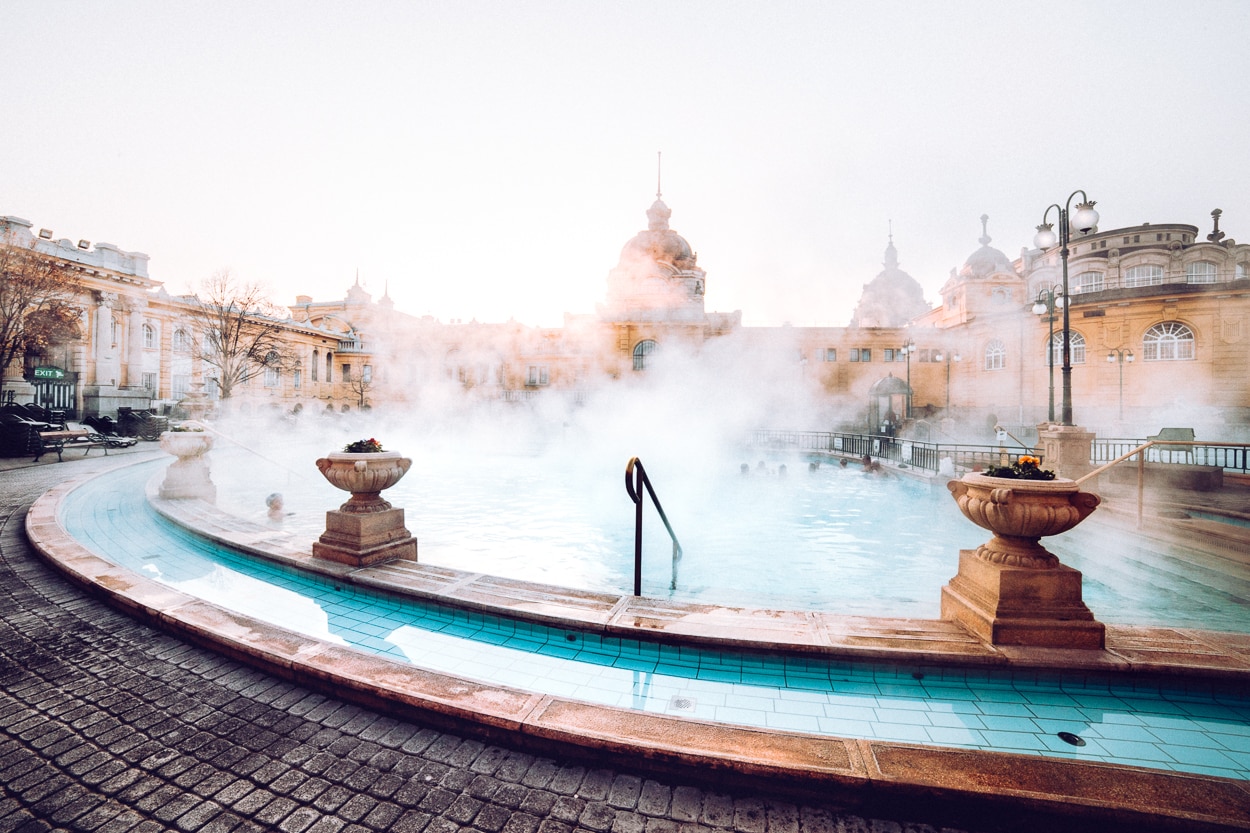 LOOKING FOR MORE BUDAPEST POSTS?
10 THINGS TO DO IN BUDAPEST : WHAT TO SEE + WHAT TO EAT & WHERE TO STAY
SZIMPLA KERT: A WALKTHROUGH OF BUDAPEST'S MOST POPULAR RUIN BAR
30 PICTURES OF BUDAPEST TO INSPIRE YOUR NEXT TRIP TO HUNGARY
FISHERMAN'S BASTION AT SUNRISE: THE BEST VIEWS IN BUDAPEST
BUDAPEST NIGHTLIFE: 7 UNIQUE BUDAPEST BARS TO VISIT ON A NIGHT OUT
5 BUDAPEST RUIN BARS: THE ABANDONED BUILDINGS OF BUDAPEST NIGHTLIFE
3 TOURIST TRAPS TO AVOID AT THE GREAT MARKET HALL IN BUDAPEST
ST. STEPHEN'S BASILICA // A VISITOR'S GUIDE TO BUDAPEST'S LARGEST CHURCH
Did I miss anything? Have you been to Szechenyi Baths or any of the other Budapest thermal baths? Leave a comment below! 
---
PIN IT: SZECHENYI BATHS // TIPS FOR VISITING TRADITIONAL BUDAPEST THERMAL BATHS