With 10 full days in Budapest, we thought we had given ourselves enough time. What we didn't realize was how much we were going to fall in love with the city and that no actual set amount of time would be enough. Nevertheless, we covered a lot of ground, drank a lot of beer and left with an immense appreciation for this city, paired with excitement and eagerness to return.
From where to eat and stay, to our top 10 favorite things to do in Budapest, keep reading for a complete first timer's guide to Hungary's capital.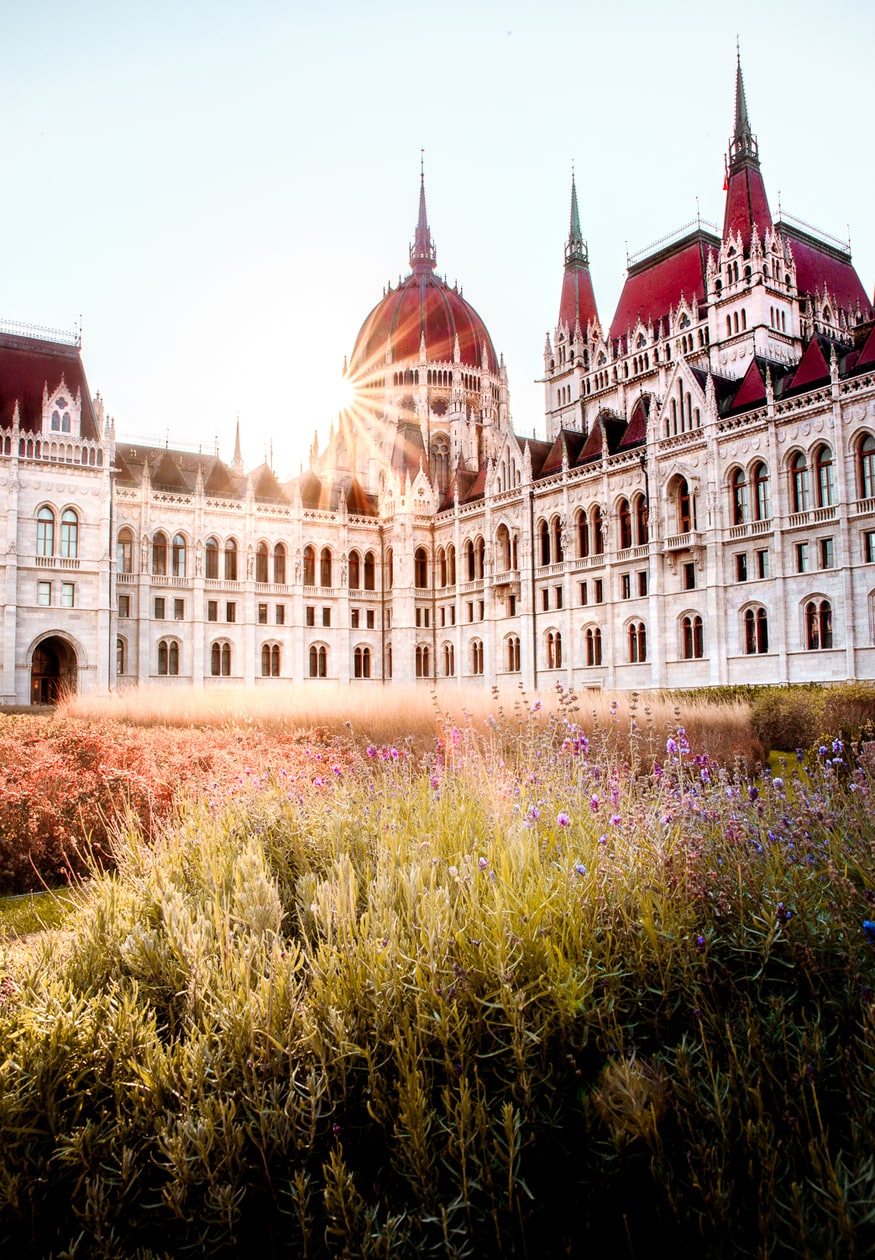 10 THINGS TO DO IN BUDAPEST
WATCH THE SUNRISE FROM FISHERMAN'S BASTION
Fisherman's Bastion is an elaborate viewing tower located on Castle Hill, on the Buda side of Budapest.
---
If you didn't know, Buda and Pest used to be two different cities separated by the Danube River. While they merged into a single city in 1873, it is still common to use "Buda" and "Pest" to refer to specific areas within Budapest.
---
As one of the most popular things to do in Budapest, Fisherman's Bastion is usually crawling with people. So we decided to capitalize on fewer crowds, good lighting and morning views by visiting Fisherman's Bastion at sunrise.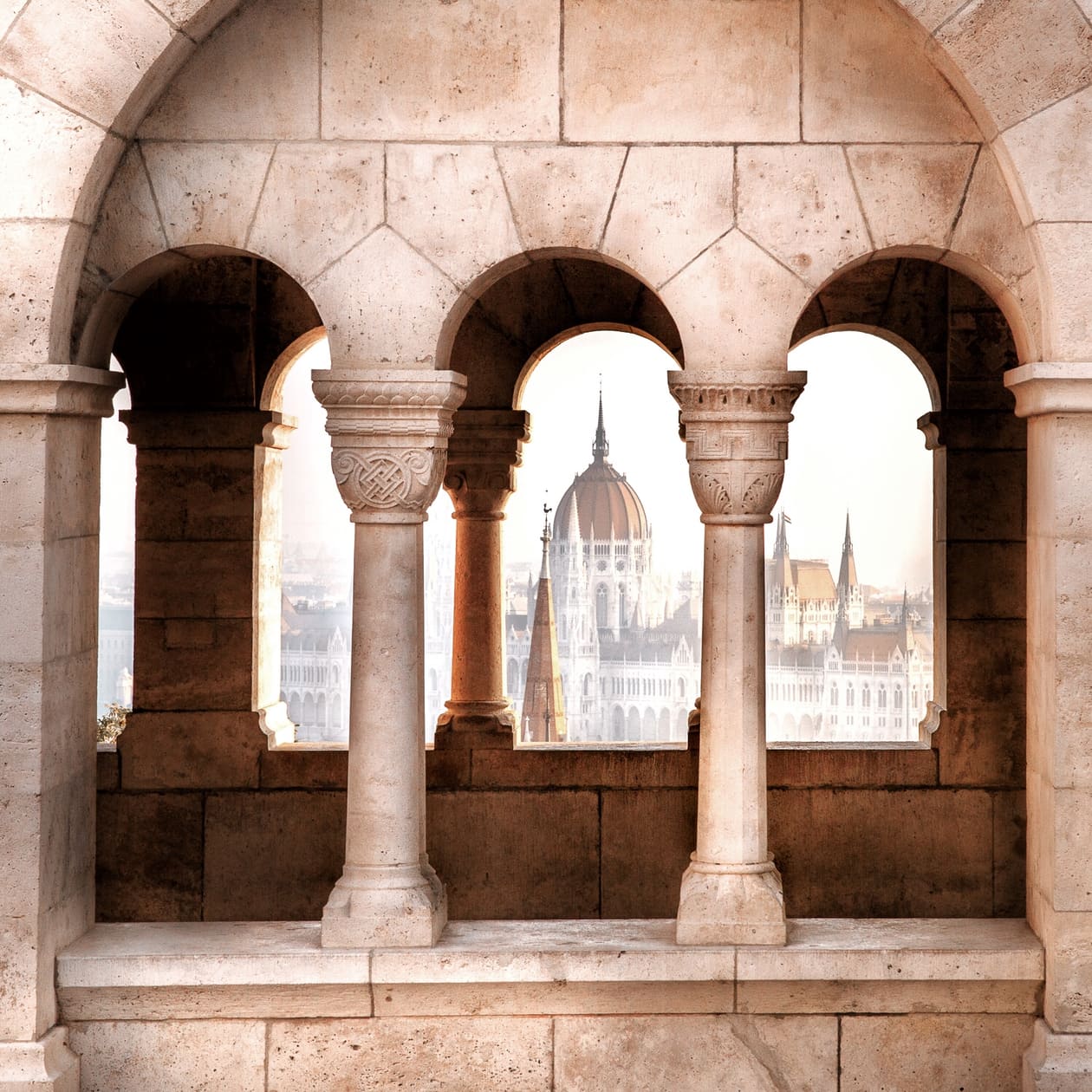 This morning was one of our favorites from the trip and we had the entire structure to ourselves for over an hour.
Click the related post below for sunrise photos of Fisherman's Bastion. Also discover how to get there, where to go for breakfast (hint: it's the oldest pastry shop in Budapest) and tips for visiting.
---
RELATED POST: FISHERMAN'S BASTION AT SUNRISE // THE BEST VIEWS IN BUDAPEST
---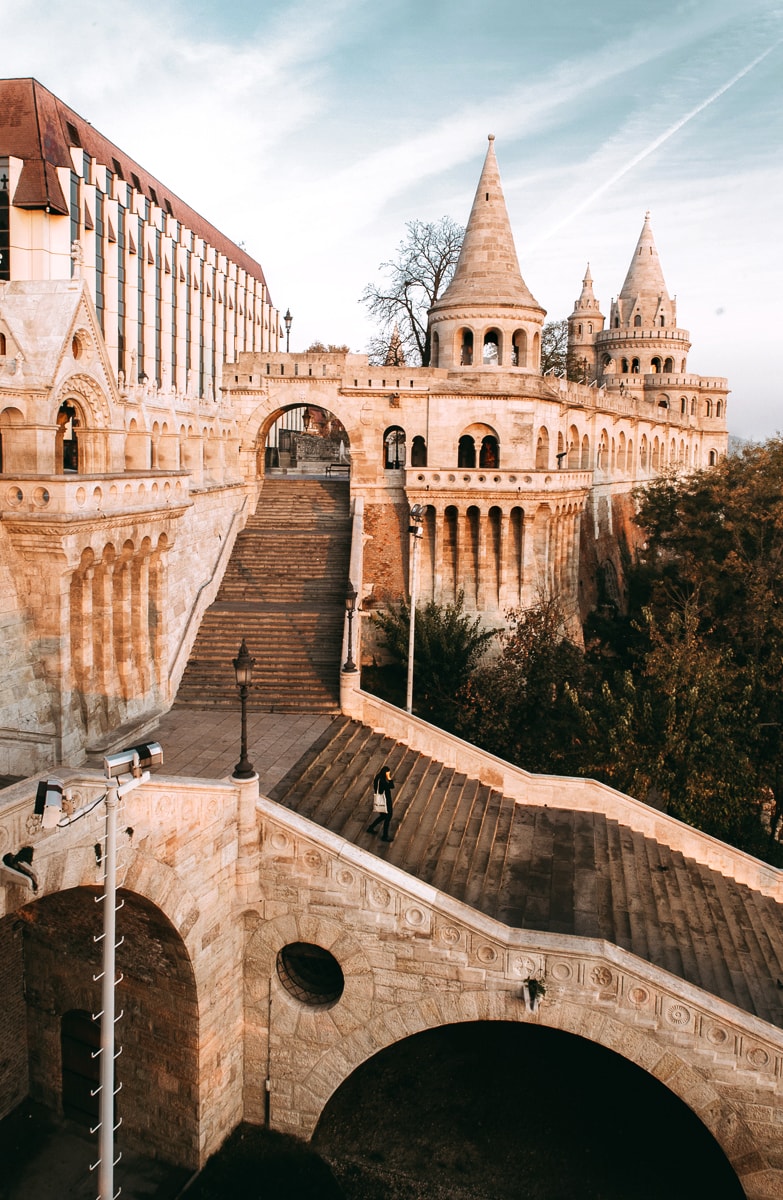 ADDRESS Budapest, Szentháromság tér, 1014 Hungary
HOURS Open 24/7, including holidays
ENTRANCE FEE
Fisherman's Bastion is always free unless you plan to visit the upper towers, which have an entrance fee during certain hours and seasons.
Adults: HUF 1000 ($3.50 USD)
Students and Children Under 14: HUF 500 ($1.75 USD)
Children Under 6: FREE
Pensioners from the EU: HUF 500 ($1.75 USD)

WATCH THE SUNSET FROM LIBERTY BRIDGE
One afternoon on our way out of the Budapest Great Market Hall, we noticed that the sky was super vibrant and the sun was going down quickly. As professional sunset seekers, we quickly looked around for the closest vantage point, which happened to be Liberty Bridge.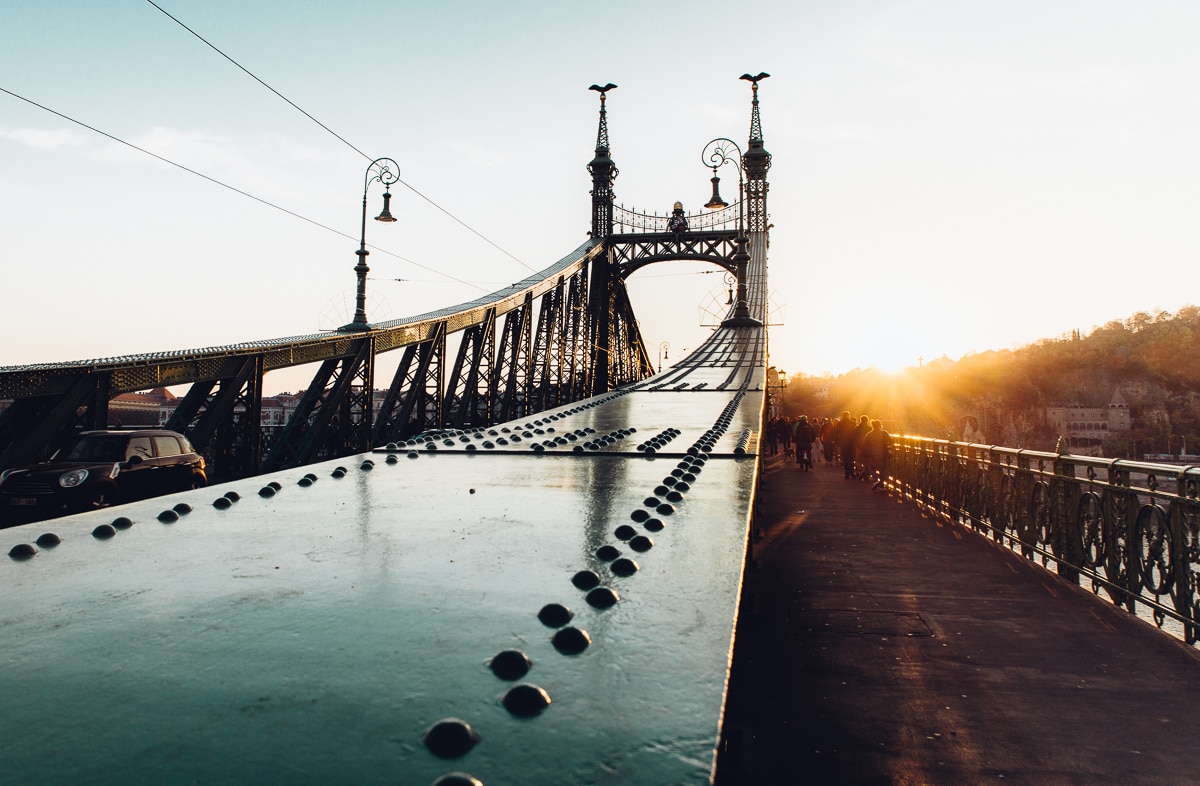 Turns out, we were not the only ones with this idea and a handful of people (mostly couples) were already posted up on the iron railings eating picnics and drinking wine.
While we didn't have wine ( a tragedy) we hopped up onto the bridge and and had the best time hanging out and people watching while the sun dipped behind the hill.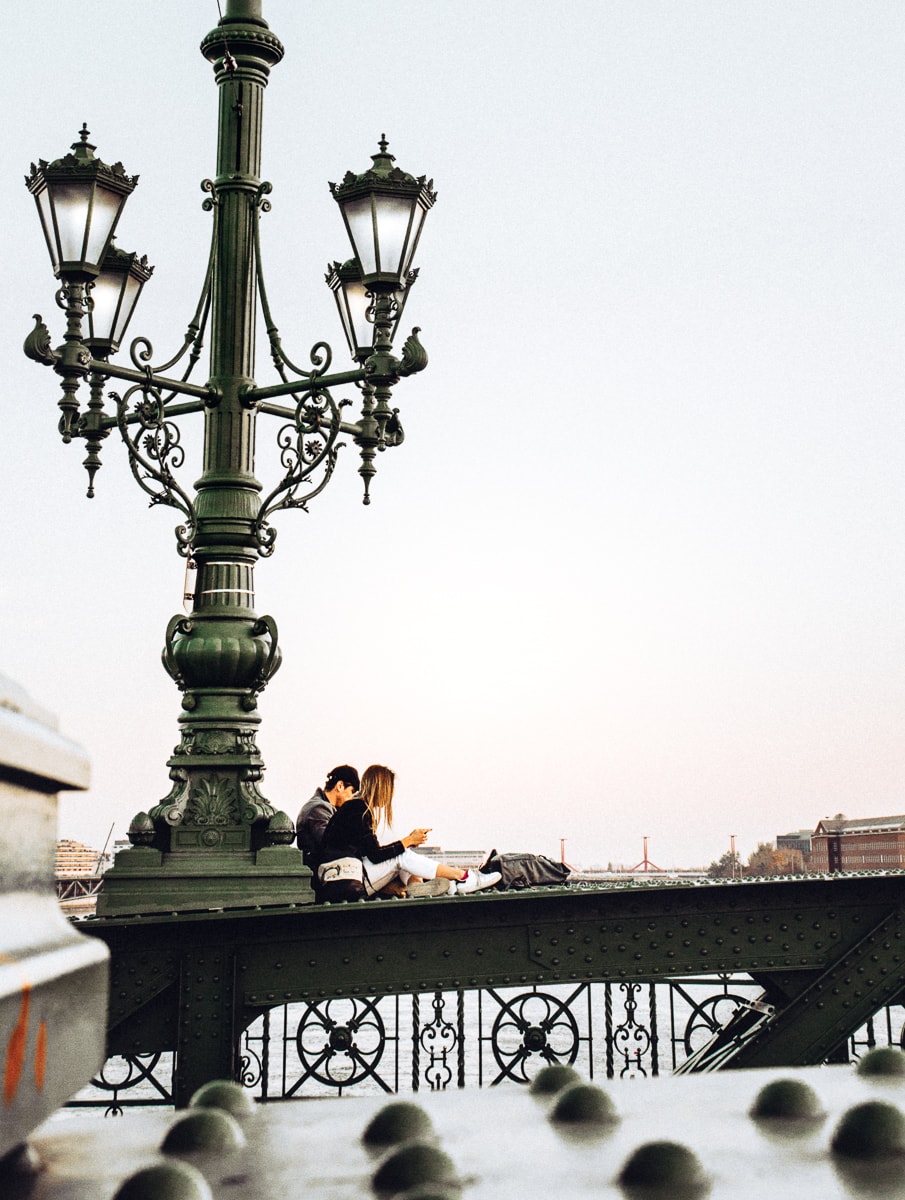 If you decide to watch the sunset (or sunrise!) from Liberty Bridge, know that railings are a little high and depending on your upper body strength (I have none), it might be difficult to hop up.
Also, even though nobody seemed to be hiding it, drinking in public is technically not legal in Budapest. Lay low and air on the side of caution if you do bring alcohol.
EXPLORE VAJDAHUNYAD CASTLE
Vajdahunyad Castle is one of the most underrated things to do in Budapest. I didn't see much about while researching the city, but luckily Nick saw a photo somewhere and added it to our list.
The visit ended up being one of our favorite stops.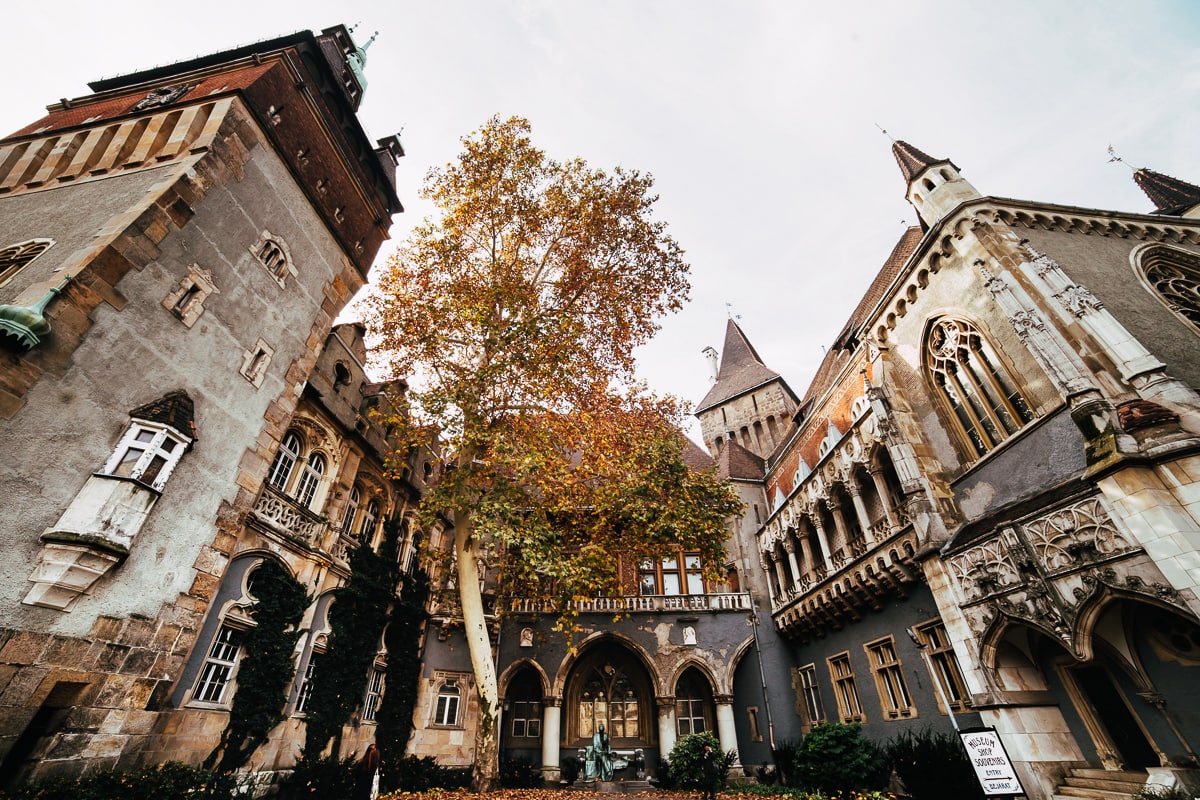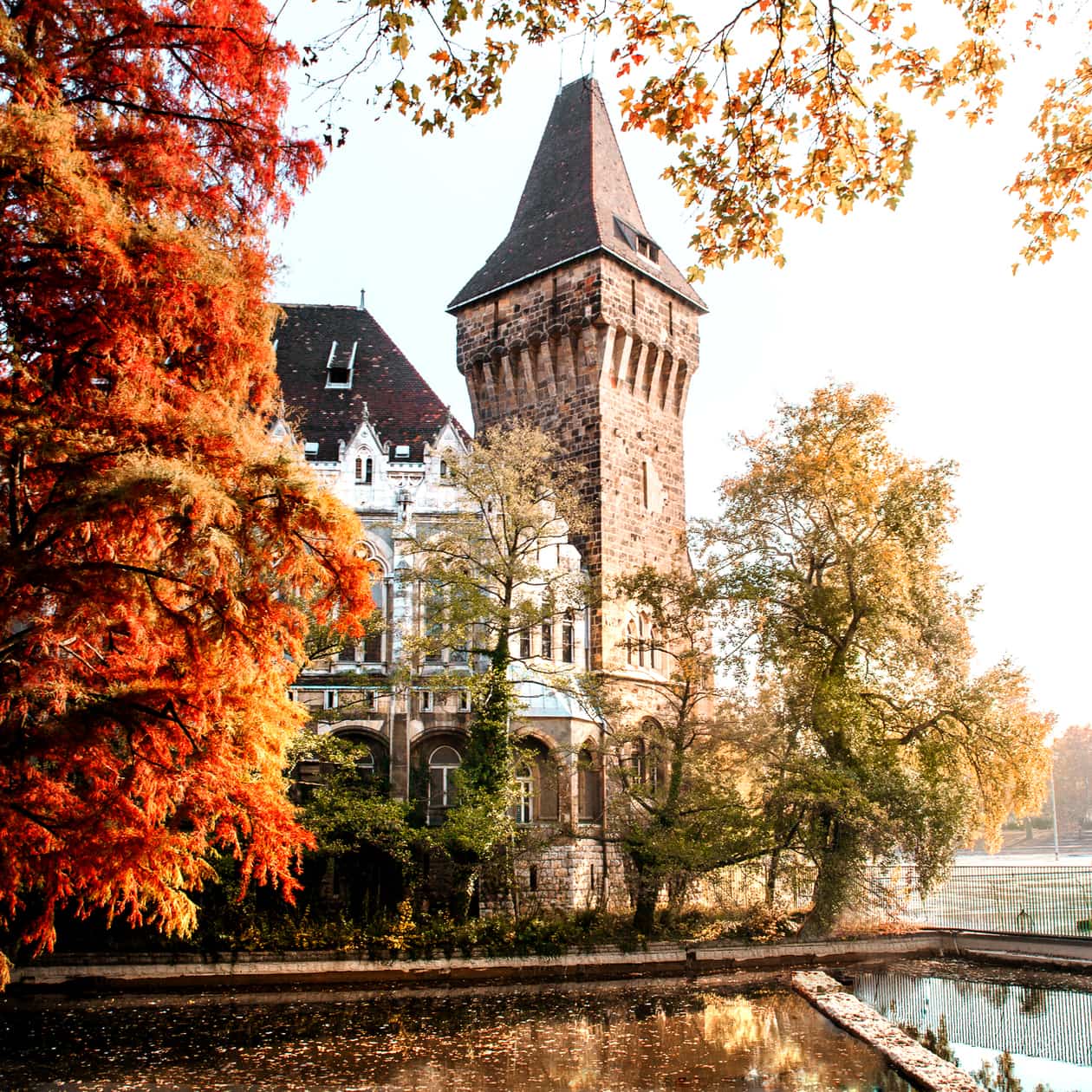 Located near Heroes Square, Vajdahunyad Castle is not a real castle or even a royal residence. In fact, it was built in 1896 to commemorate the 1000th birthday of the Hungarian state.
Vajdahunyad Castle was intended to be a temporary structure, originally built out of cardboard and wood, but it became so popular that they decided to permanently rebuild it in 1904.
The castle complex is surrounded by a moat and inside you'll find a Romanesque church and the Hungarian Agriculture Museum. Off to the side is a big lake where you can rent boats in the Summer and ice skate during the winter.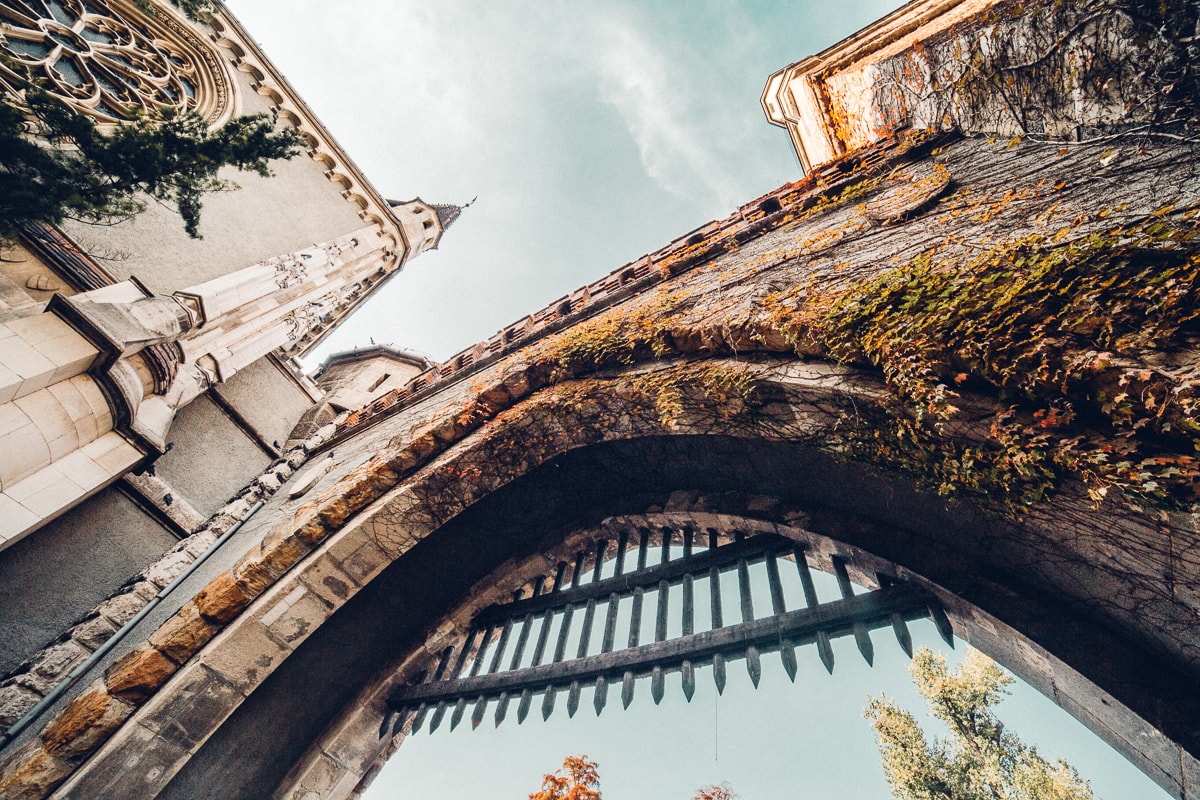 Vajdahunyad Castle is located very close to Szechenyi Baths so after we were done at the baths we walked across the street to check it out. There was an outdoor market taking place and tons of people walking around. The courtyard was filled with vendors selling everything from cheese and souvenirs to palinka and local beer.
The castle regularly hosts events such as markets, festivals and live music but if there is not an event taking place, it's still a beautiful place to walk around and take photos. The architecture is a mix of Gothic, Renaissance, Baroque and Romanesque, and the castle is rumored to be the inspiration for the home of Bram Stoker's Dracula.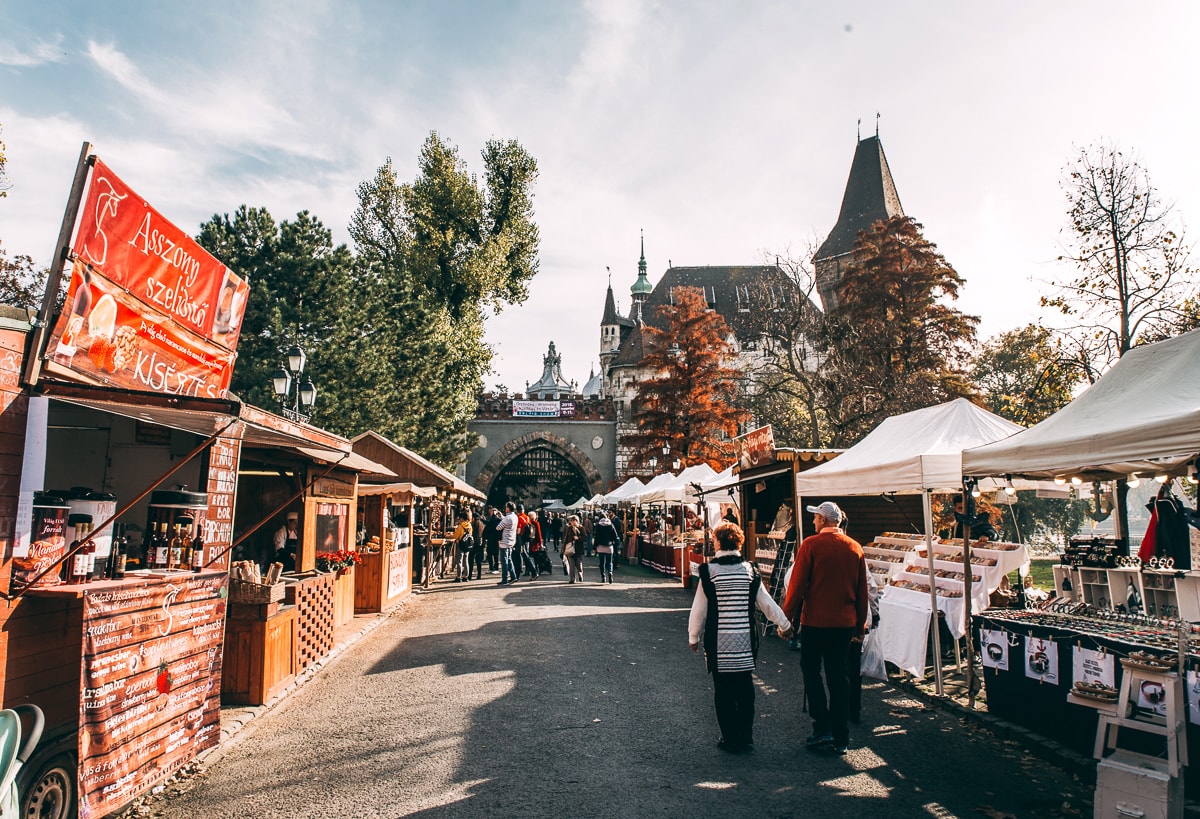 ADDRESS Budapest, Vajdahunyad stny., 1146 Hungary
CASTLE HOURS
Monday: Closed
Tuesday-Friday: 10 am-4 pm (1 November-31 March), 10am-5 pm (April 1-October 31)
Saturday -Sunday: 10am-5 pm
The castle courtyard is open 24/7
TAKE A WALK THROUGH THE BUDAPEST GREAT MARKET HALL
The Budapest Great Market Hall (also known as the Central Market Hall) is the largest and oldest indoor market in the city. It's a bustling environment packed wall to wall with vendors selling everything from produce to Hungarian souvenirs.
The enormous steel frame covers over 100,000 square feet (10,000 square meters) of the market, which spans across three floors. The first floor is dedicated mostly to food. As you wander through, you'll see an array of different items like fish, cured meat, fruits, vegetables and of course paprika. I love browsing markets because it's a great way to get a glimpse into the ingredients of local dishes.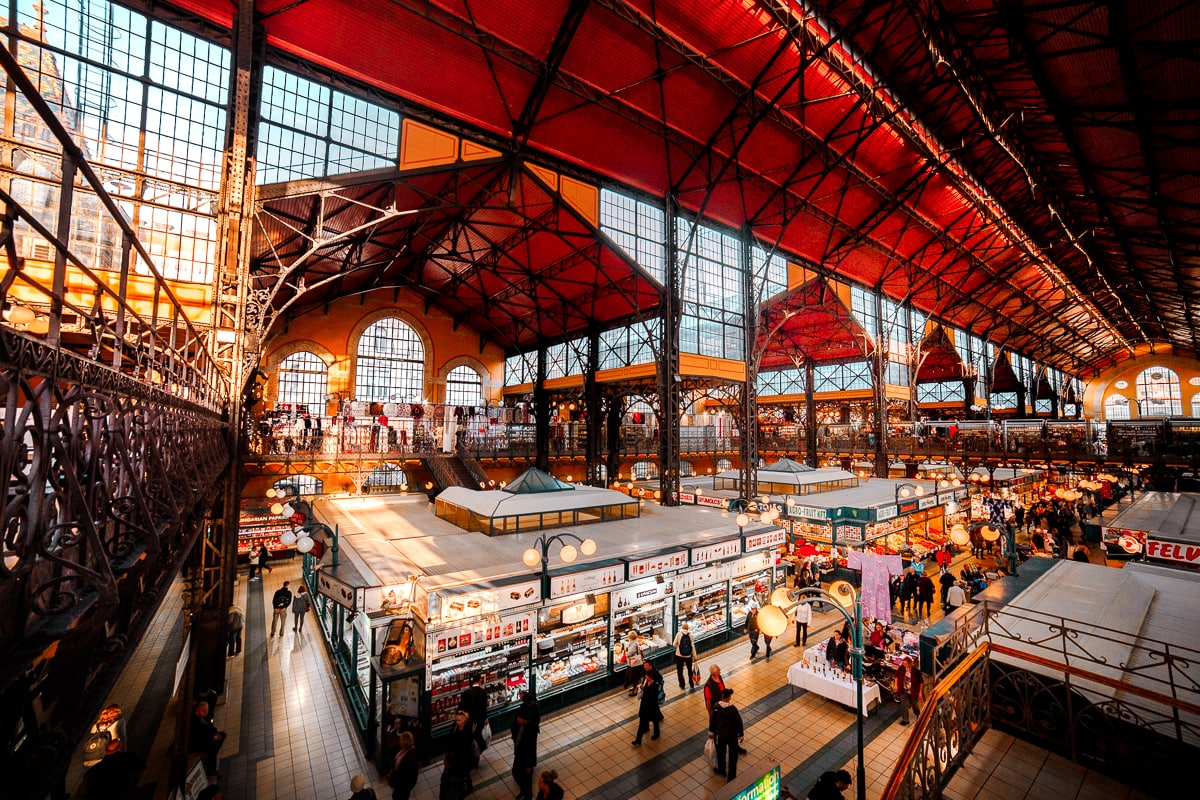 Travel up to the next floors and it starts getting a little more touristy .. and naturally more expensive. Here you'll find the hot food stalls as well as merchants selling Hungarian souvenirs, embroidered table cloths and other random trinkets.
We assumed that the Budapest Great Market Hall would be the perfect place to try a few Hungarian dishes that were on our list, but instead we found ourselves Catherine Zeta Jonse-ing our way through a deep in a web of tourist traps.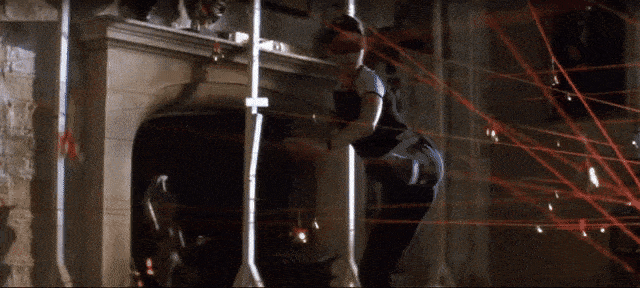 Click the related post below for 3 tourist traps to be aware of if you plan on eating at the market.
---
RELATED POST: 3 TOURIST TRAPS TO WATCH FOR AT THE BUDAPEST GREAT MARKET HALL
---
The food ended up being far too expensive and the experience was a little scammy, so I do not recommend eating at the Budapest Central Market Hall. However definitely stop in to browse the stalls and take a few photos.
HOURS
Monday: 6AM -5PM
Tuesday-Friday: 6AM-6PM
Saturday 6AM -3PM
Sunday Closed
ADDRESS Budapest, Vámház krt. 1-3, 1093 Hungary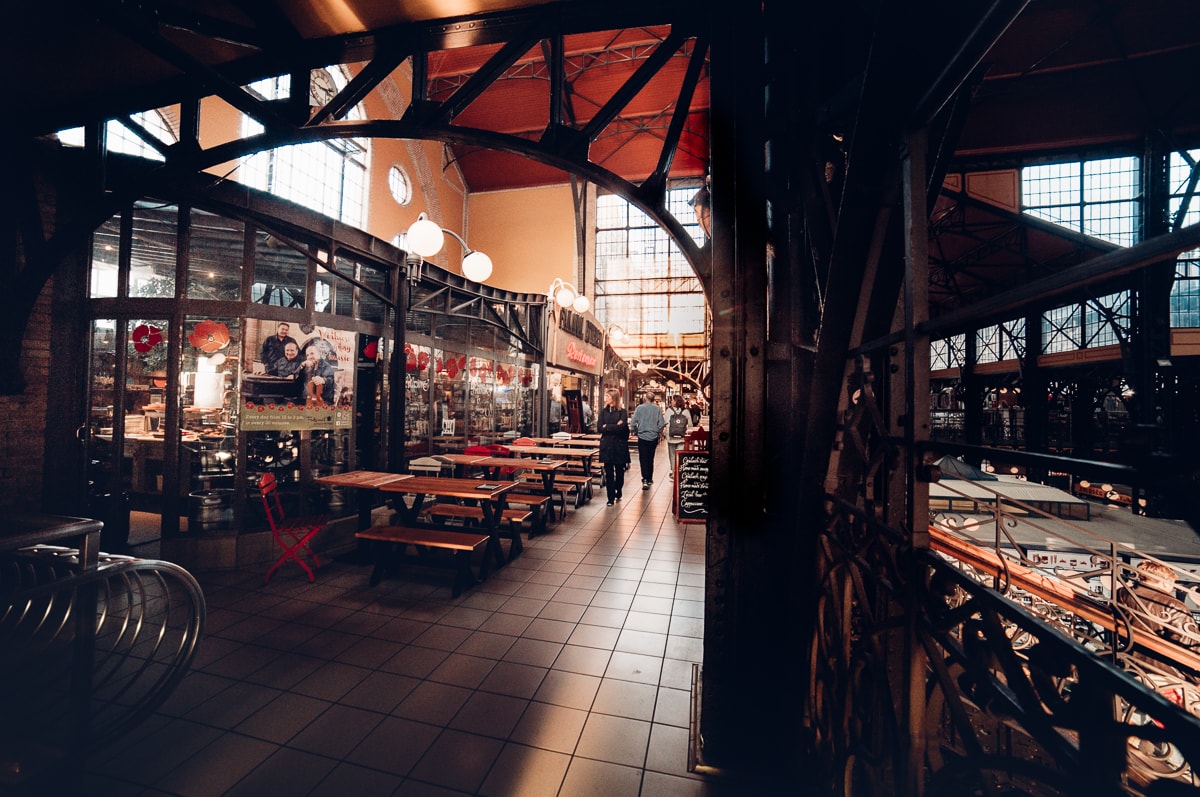 GO RUIN BAR HOPPING IN THE JEWISH QUARTER
Ruin bars are synonymous with Budapest nightlife and it's not a trip to Hungary's capital without visiting at least one.
Ruin bars emerged from the abandoned buildings, factories and residential complexes in Budapest's Jewish Quarter after WWII. Today, the crumbling structures have become home to some of the most unique and colorful places to drink in the city.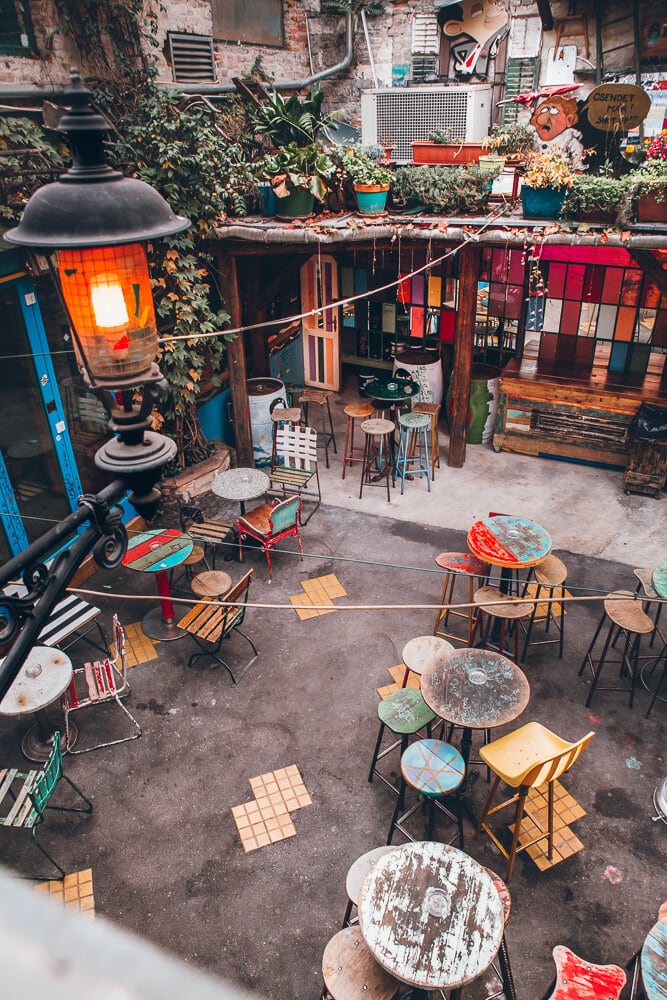 There is a different type of ruin bar to fit the style of just about any traveler. Szimpla Kert is the original ruin bar and it's unique decor and quirky aesthetic makes it one of the most popular pubs in the city. They also have a Sunday morning market with local vendors selling cheese, produce and souvenirs.
If you're looking for something on the classier side, check out Mazel Tov which has a beautiful courtyard, hanging plants and twinkling fairy lights. If you want to party, Fogasház has 7 different bars and clubs in their complex, each catering to different music genres.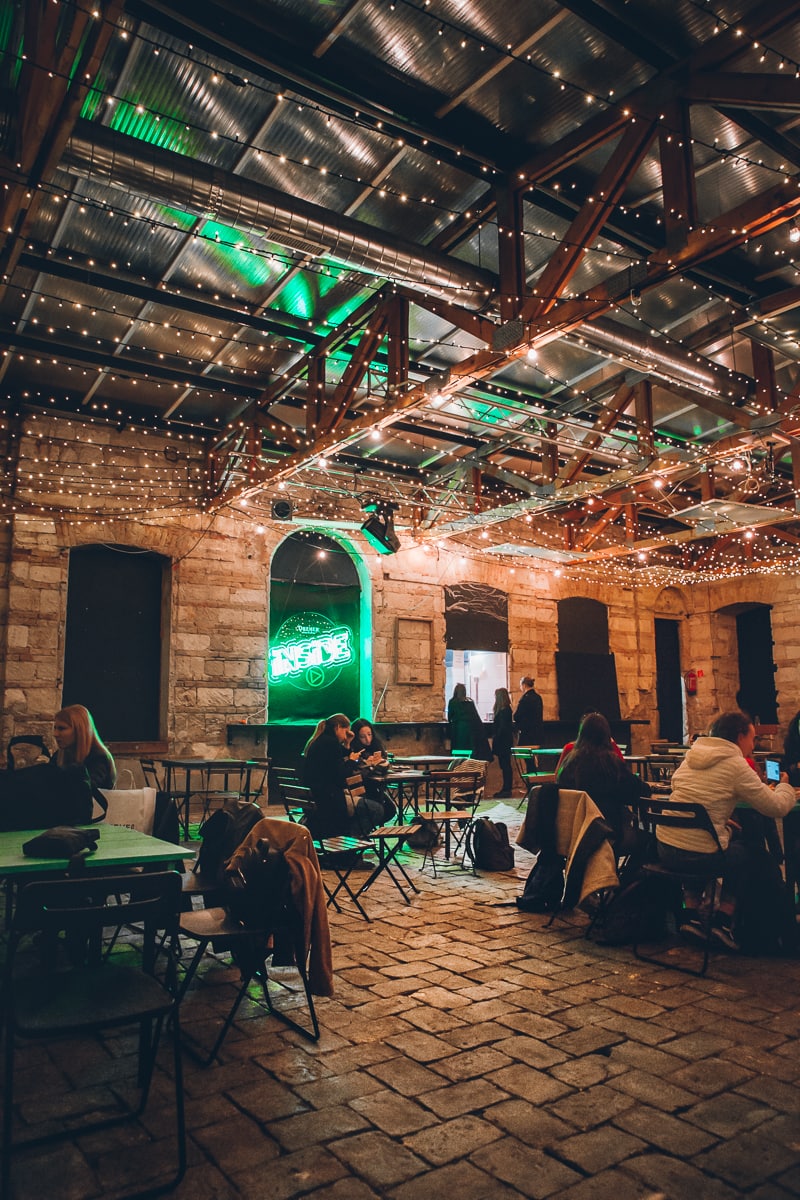 To discover 5 of our favorite ruin bars in Budapest, click our related post below.
---
RELATED POST: 5 MUST VISIT RUIN BARS IN BUDAPEST
---
HOW TO GET TO THE JEWISH QUARTER
To reach the Jewish Quarter, take M2 Metro line (red) to the Astoria station. You can also reach it by 7 & 7A bus or 47 & 49 trams.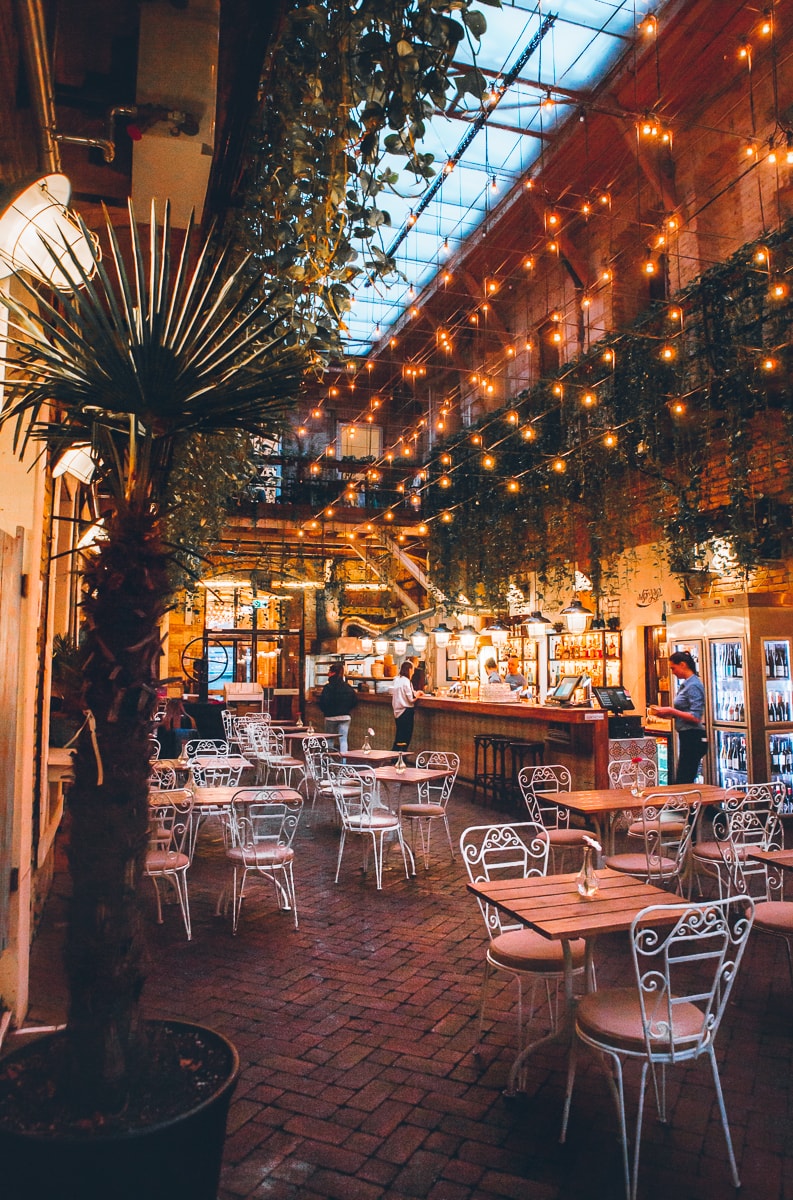 IF RUIN BARS AREN'T YOUR THING, VISIT ONE OF THESE UNIQUE BARS INSTEAD
From rooftop bars with igloo gardens to a communist themed dive bar, there are so many interesting and unique places to drink in Budapest.
Not only that but it's also extremely affordable. We regularly found $1 USD beers on the menu which, compared to Los Angeles' drink prices, basically means they were free.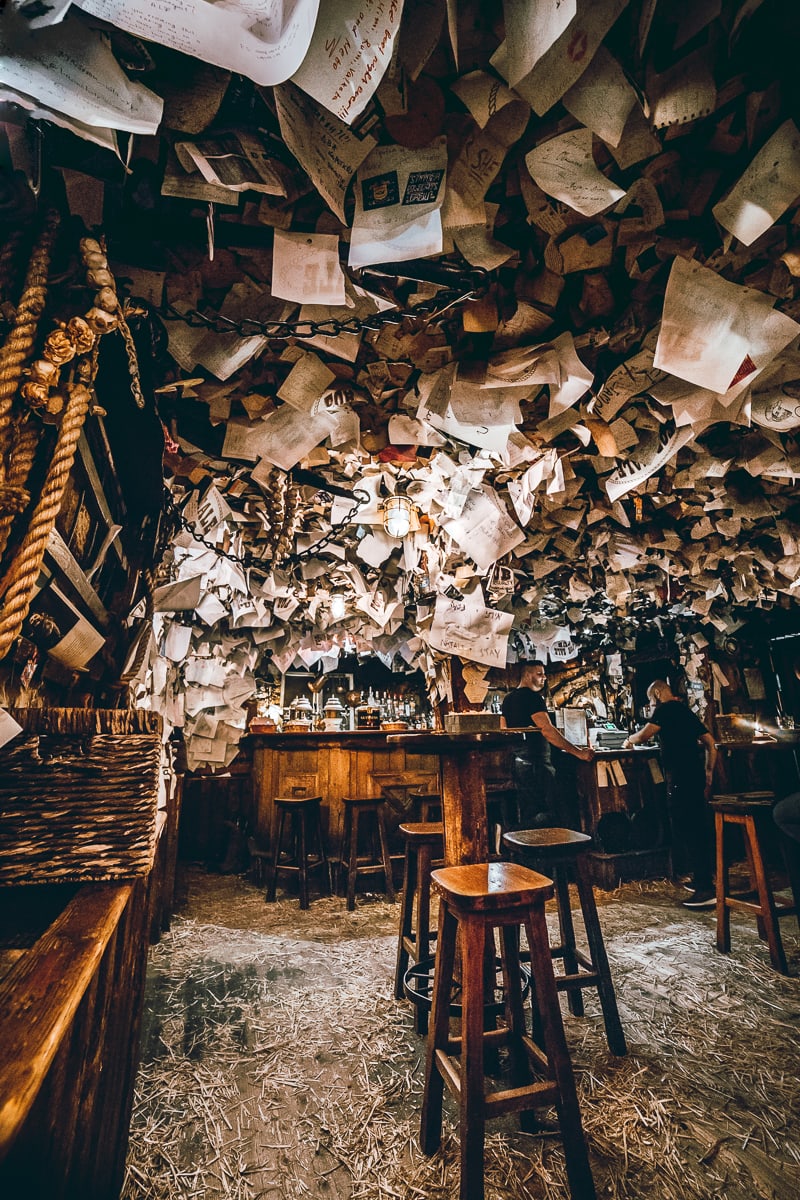 One of my favorite bars in Budapest was For Sale Pub which is decorated with thousands of paper notes that hang from the ceiling. We also loved the Sky Note High Bar at the Aria Hotel because the view of St. Stephen's Basilica from the rooftop was insane.
Click our related post below to discover 7 unique places to grab a drink in Budapest.
---
RELATED POST: BUDAPEST NIGHTLIFE // 7 UNIQUE BUDAPEST BARS YOU HAVE TO VISIT
---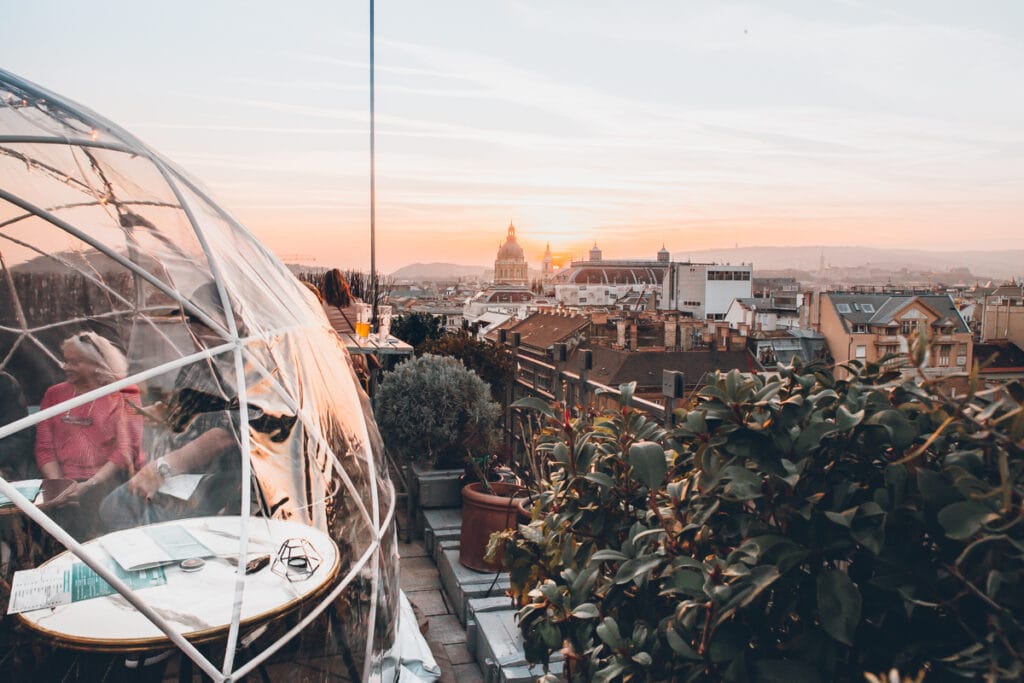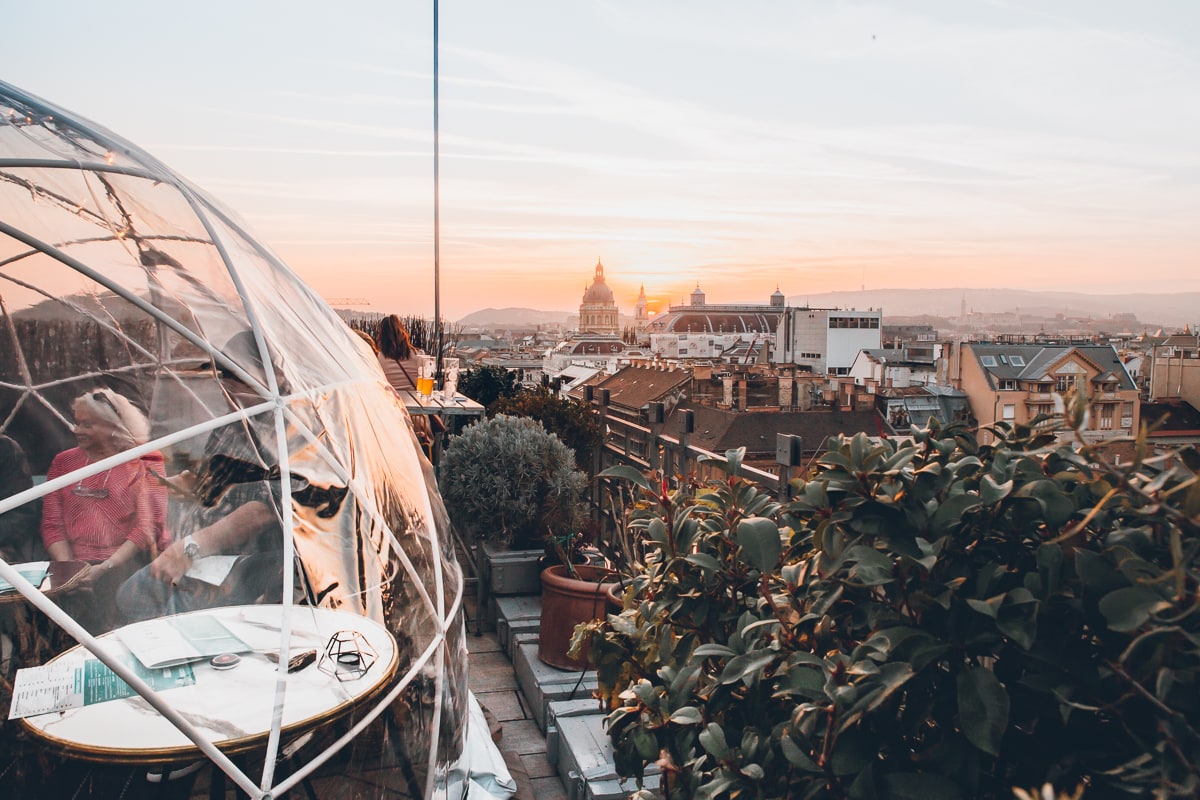 SOAK IN THE BUDAPEST THERMAL BATHS
With over 100 thermal springs beneath Budapest, filtering over 70 million liters (18.5 million gallons) of water each day, thermal baths are an essential part of Hungary's culture and they have become one of the most popular things to do in Budapest amongst travelers.
The water of the thermal baths contains minerals which are said to be very healing, and the natural water temperatures range from 21 and 78 Celsius (70 and 172 Fahrenheit).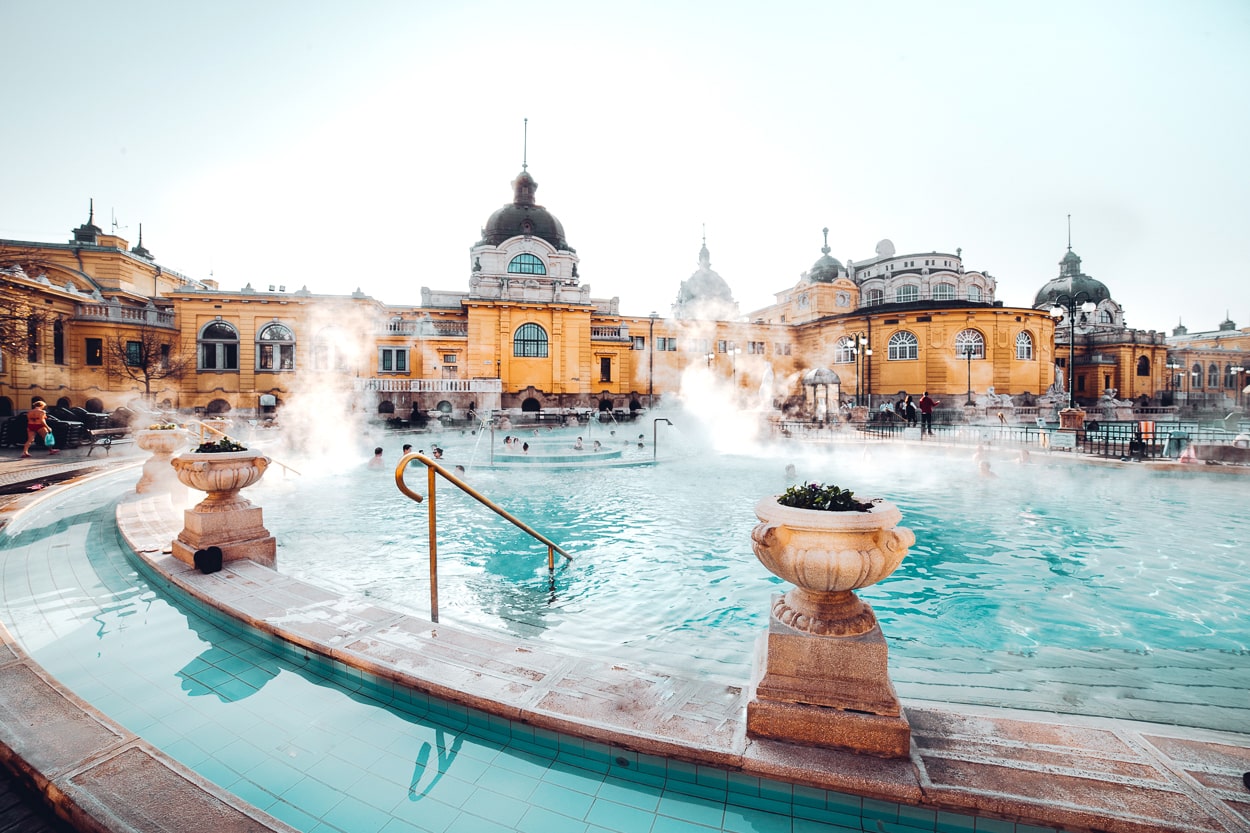 Szechenyi Baths are the largest thermal baths in Budapest (and all of Europe!). They have 18 pools on site including their popular and enormous outdoor pool. Szechenyi Baths also host the infamous SPArty where the baths are transformed into a nightclub setting with light shows, DJ's and drinking.
Located in an Art Nouveau building with marble columns and a huge vaulted skylight, Gellert Baths are another one of the most popular thermal baths in Budapest. If you prefer to go a little more off the beaten path, check out Rudas Baths. They are less busy and have a beautiful rooftop pool.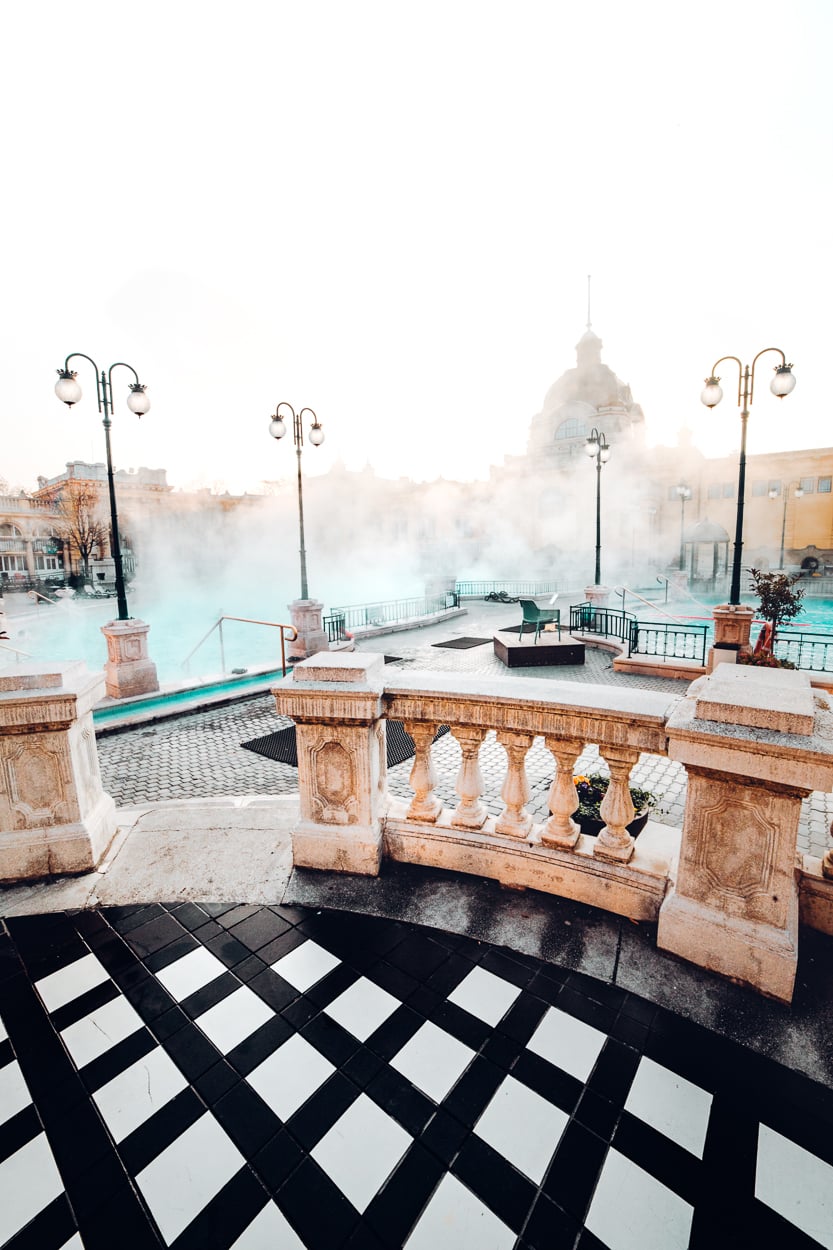 For everything you need to know about visiting Szechenyi Baths, click our related post below.
---
RELATED POST: SZECHENYI BATHS // INSIDE BUDAPEST'S LARGEST THERMAL BATHS
---
SZECHENYI BATHS ADDRESS Budapest, Állatkerti krt. 9-11, 1146 Hungary
HOURS
Daily: 6AM – 10 PM
Spa Party (Saturdays Only): 10:30PM – 3AM
SAMPLE LOCAL HUNGARIAN FOOD
One of the easiest and most fun ways to learn about a country is to sample the local cuisine.
We knew nothing about Hungarian food before our trip to Budapest so Nick put together a list of dishes that we needed to try. As we went about our days, we slowly made our way down the list of things to eat and we left Budapest with a much better understanding of Hungarian cuisine .. as well as a new appreciation for Goulash.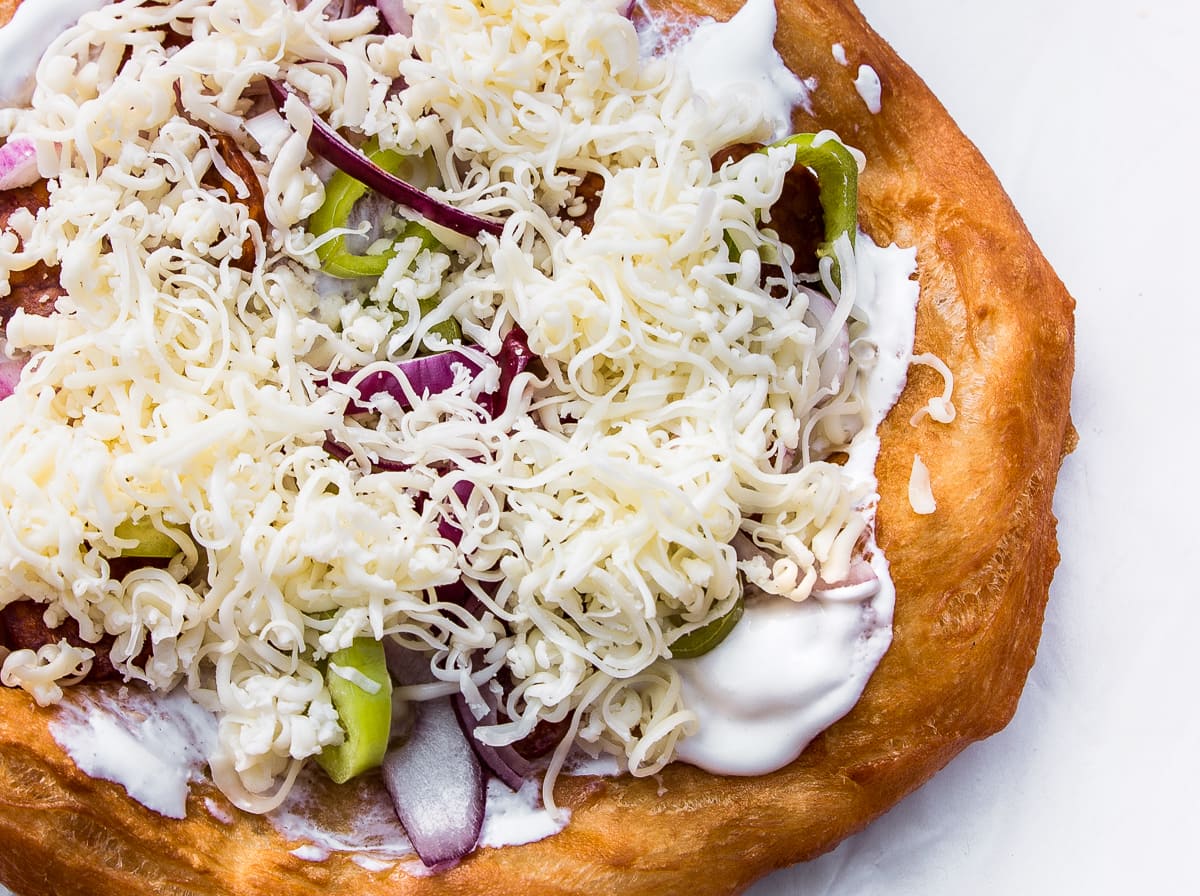 These were our favorite local foods:
LANGOS is a disc shaped sheet of deep fried bread, and it's amazing .. as only deep fried bread can be. It's a cheap and popular street food that you can find throughout the city in markets, food stands and restaurants.
Traditionally, the bread is baked over an open flame. As it's prepared, you can add an array of different toppings, and even choose make it sweet or savory depending on your mood. The most popular toppings are garlic oil or butter, sour cream and grated cheese.
GOULASH is one of the most well known national dishes in Hungary. It's a soup/stew made from chunks of beef, carrot, potato, spices and of course, paprika.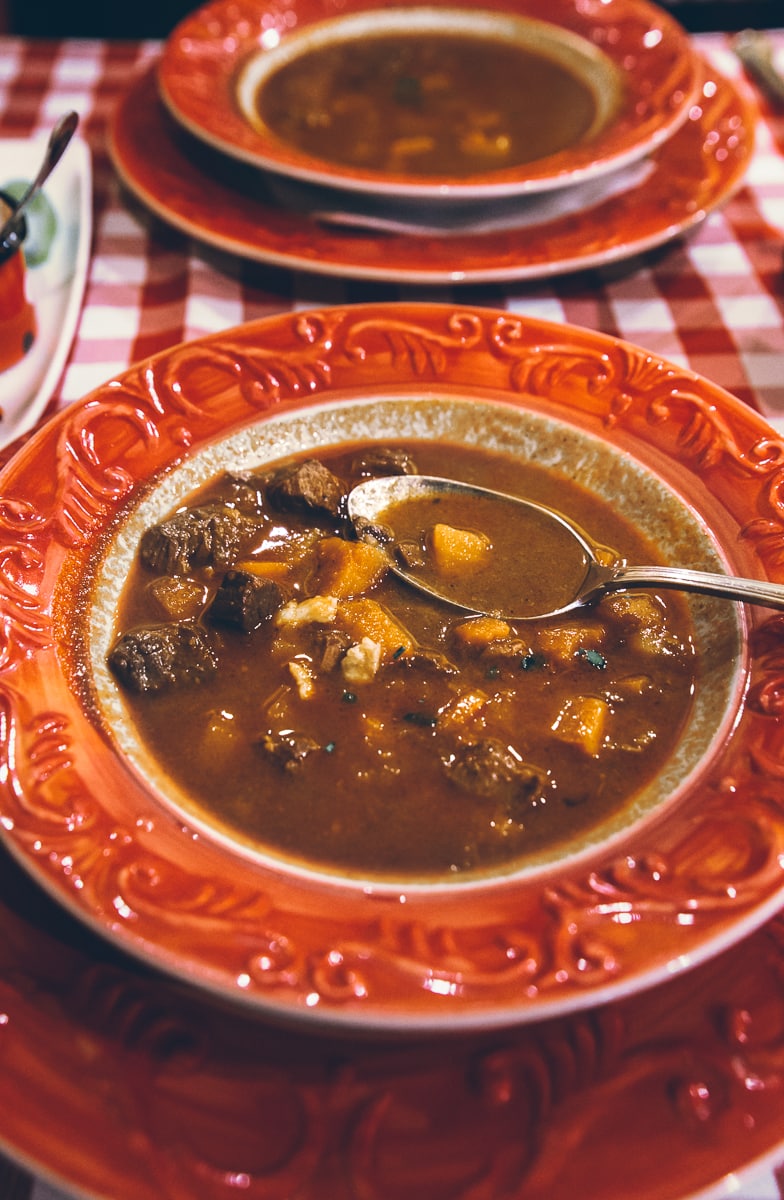 STUFFED CABBAGE is a classic dish made from cabbage leaves that are stuffed with meat (usually minced pork) and rice, then topped with sour cream.
CHICKEN PAPRIKASH is chicken which has been simmered in a creamy paprika sauce. If you are vegetarian, try mushroom paprikash instead.
DOBOS TORTE is a sponge cake layered with chocolate buttercream and topped with caramel.
If you're looking for an excellent Hungarian restaurant in Budapest, check out Hungarikum Bizstro. Scroll down to the "Where to Eat" section of this article for more information about one of our favorite meals from our trip.
CLIMB TO THE TOP OF ST. STEPHEN'S BASILICA
St. Stephen's Basilica is tied with the Hungarian Parliament as the tallest buildings in Budapest. You can climb (or take an elevator) to the top of the dome and the views from above are fantastic.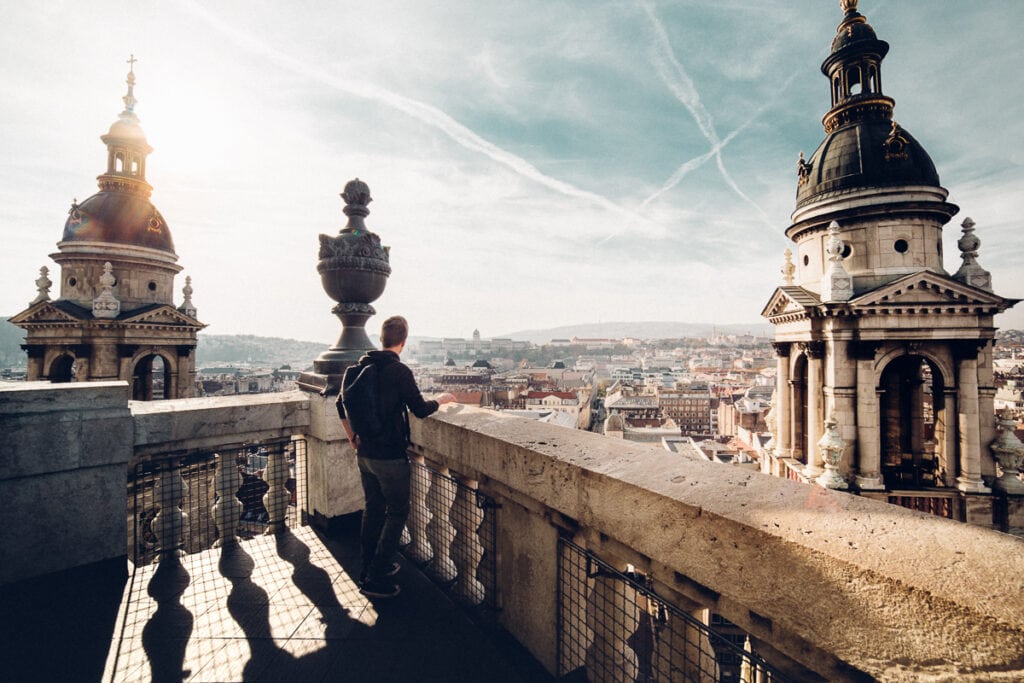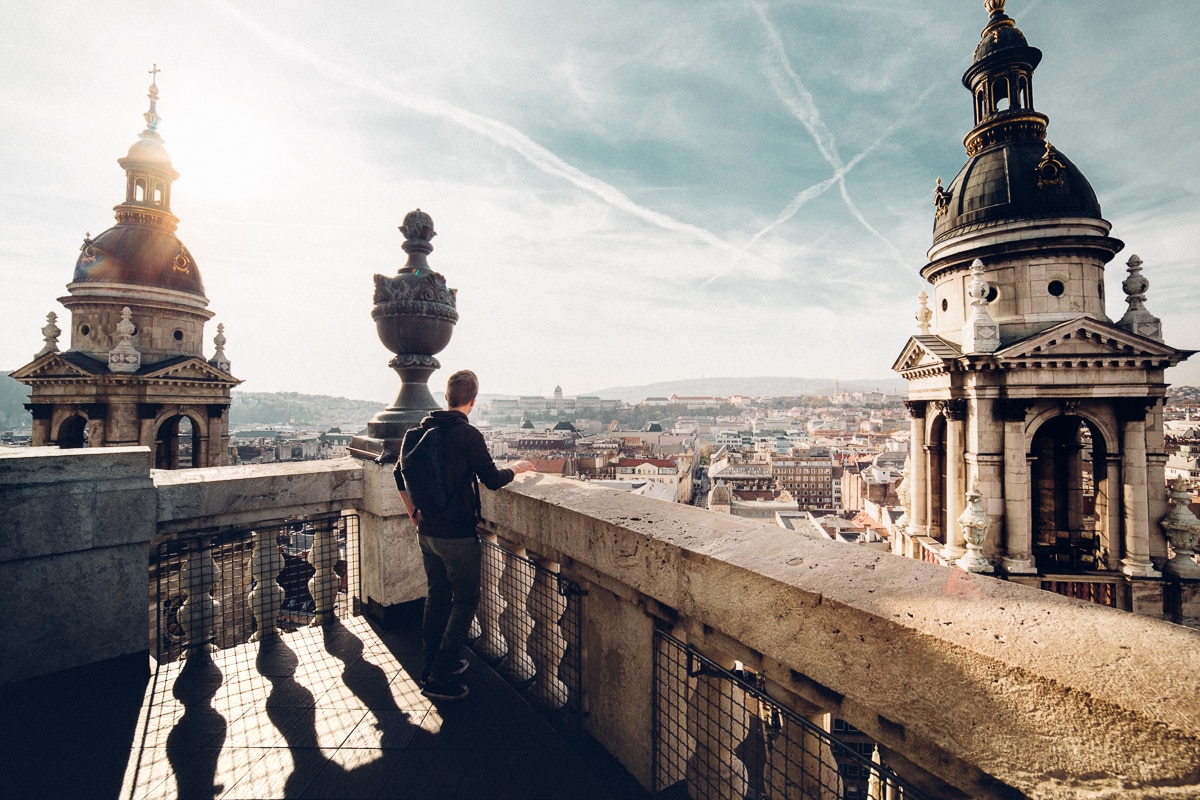 The interior of the church is beautiful as well, decorated with gold detailing, endless marble and colorful frescoes. You can also view the mummified hand of St. Stephen himself inside.
For more photos and information about visiting St. Stephen's Basilica, check out our related post below.
---
RELATED POST: ST. STEPHEN'S BASILICA // A VISITOR'S GUIDE TO THE LARGEST CHURCH IN BUDAPEST
---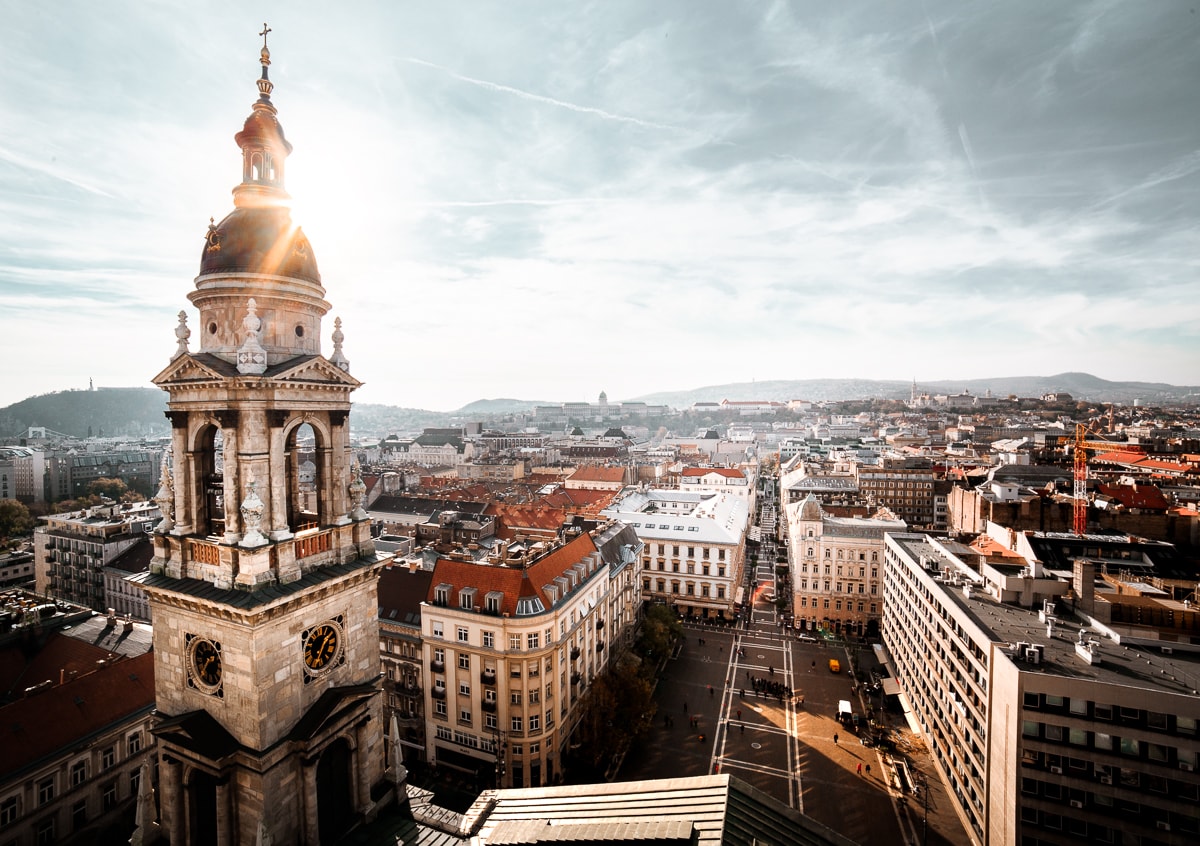 CHURCH HOURS
Monday-Friday 9am-5pm
Saturday 9am-1pm
Sunday 1pm-5pm
PANORAMA TOWER HOURS
Monday-Sunday 10am-6pm
ENTRANCE FEE
Entrance into the church is free with a suggested donation of 200 HUF (.69 cents USD)
PANORAMA TOWER ENTRANCE FEE
Adults: 600 HUF ($2.06 USD)
Students: 400 HUF ($1.38 USD)
Children under 7: Free
ADDRESS Budapest, Szent István tér 1, 1051 Hungary
VISIT THE SHOES ON THE DANUBE
Located on the Pest side of the Danube near the Hungarian Parliament building, there are 60 pairs of bronze shoes facing out toward the river.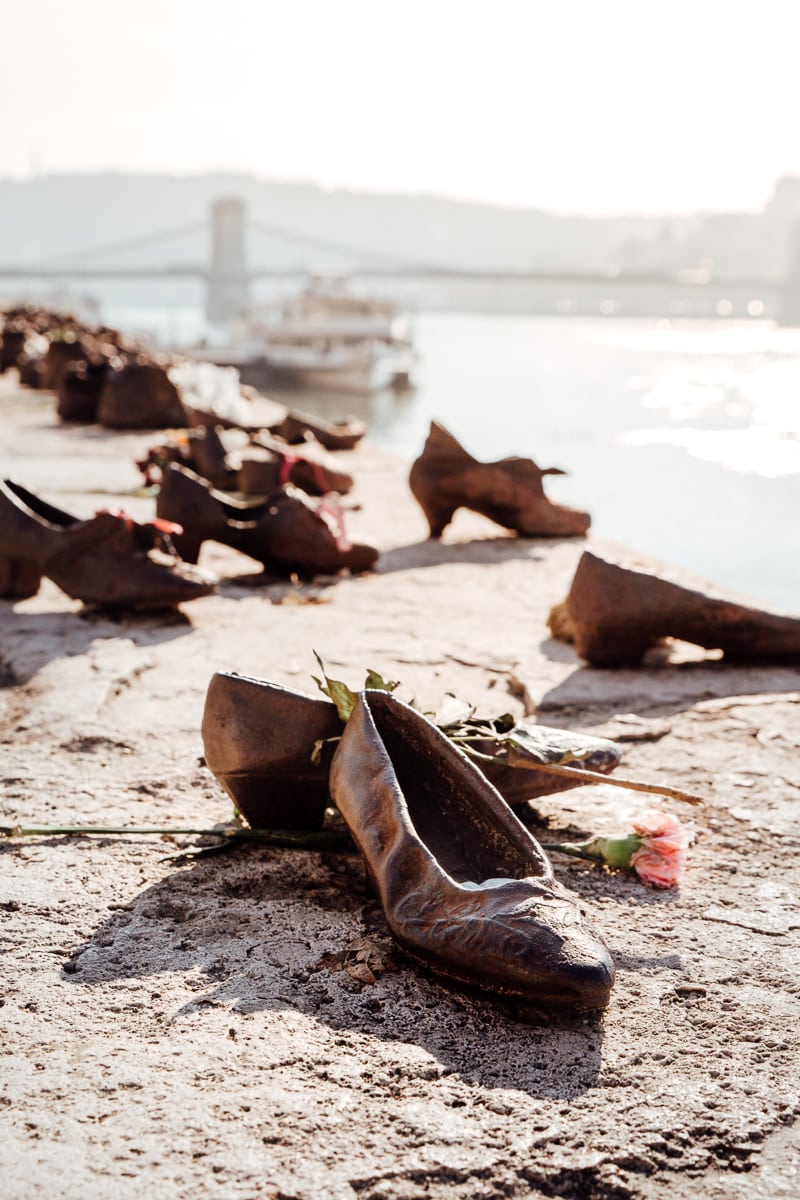 The Shoes on the Danube is a memorial which honors and remembers the Jews who were shot into the river by the Arrow Cross Party police during World War II.
Approximately 20,000 people were murdered along the banks of the Danube. Victims were instructed to remove their shoes and face their executioner. After being shot, the bodies would fall into the river and wash away.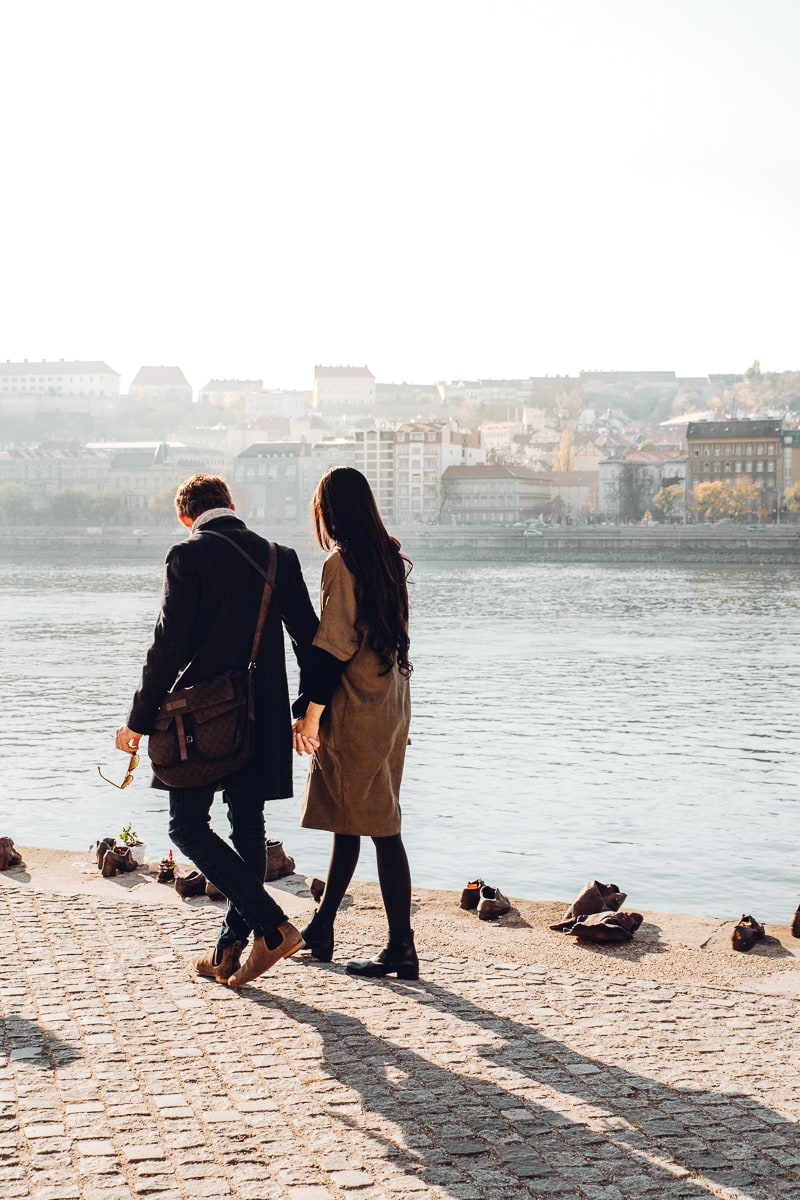 As you make your way up the memorial, you'll notice children's shoes, women's heels and men's work boots. Nobody was safe.
Notes, flowers and trinkets are left amongst the shoes in memory of the victims.
ADDRESS Budapest, Id. Antall József rkp., 1054 Hungary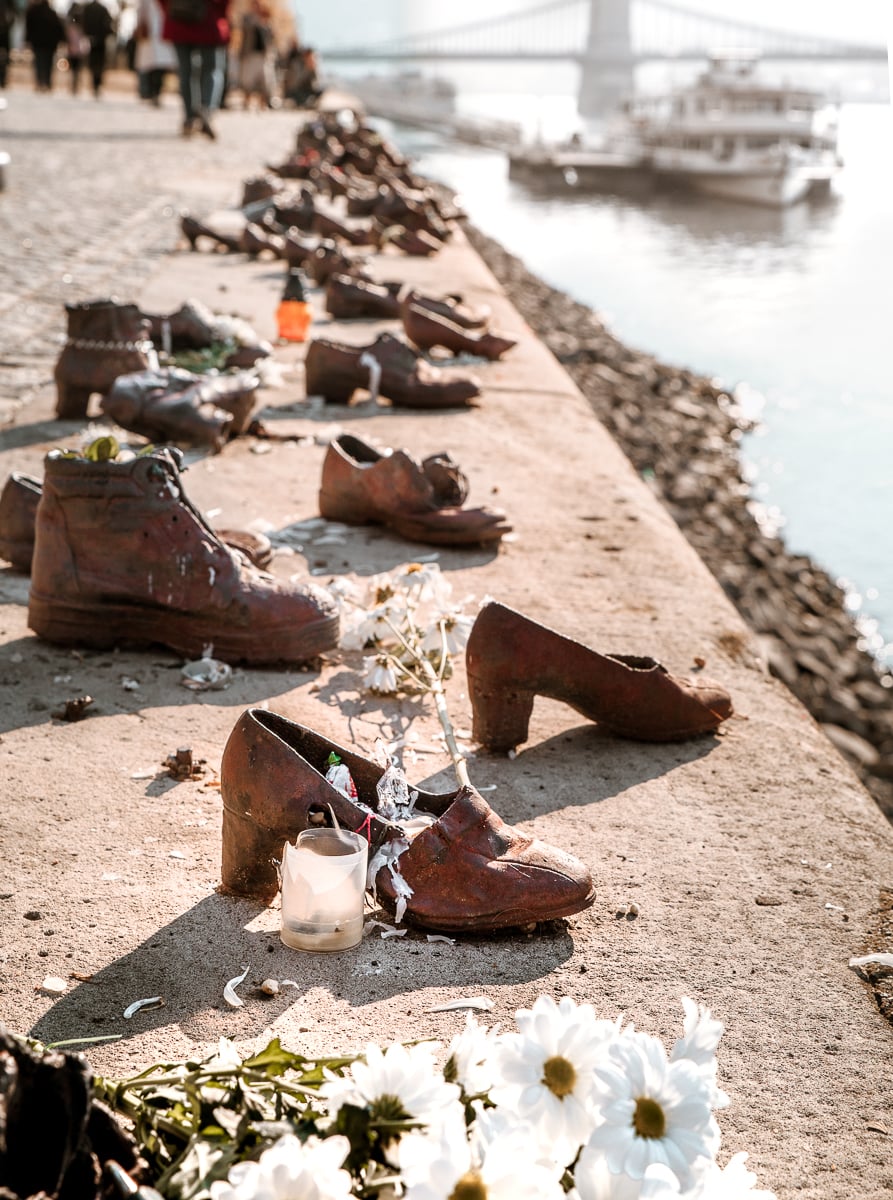 TAKE A RIDE ON THE "MOST SCENIC TRAM RIDE IN EUROPE"
Budapest's Tram #2 has been recognized by National Geographic as one of the Top 10 Trolley Rides in the World, as well as the most scenic tram ride in Europe.
Traveling along the Pest side of Budapest, Tram #2 follows the Danube River, passing the Parliament Building, the Shoes on the Danube and the Chain Bridge. You also get a gorgeous view of Buda Castle and Fisherman's Bastion across the river.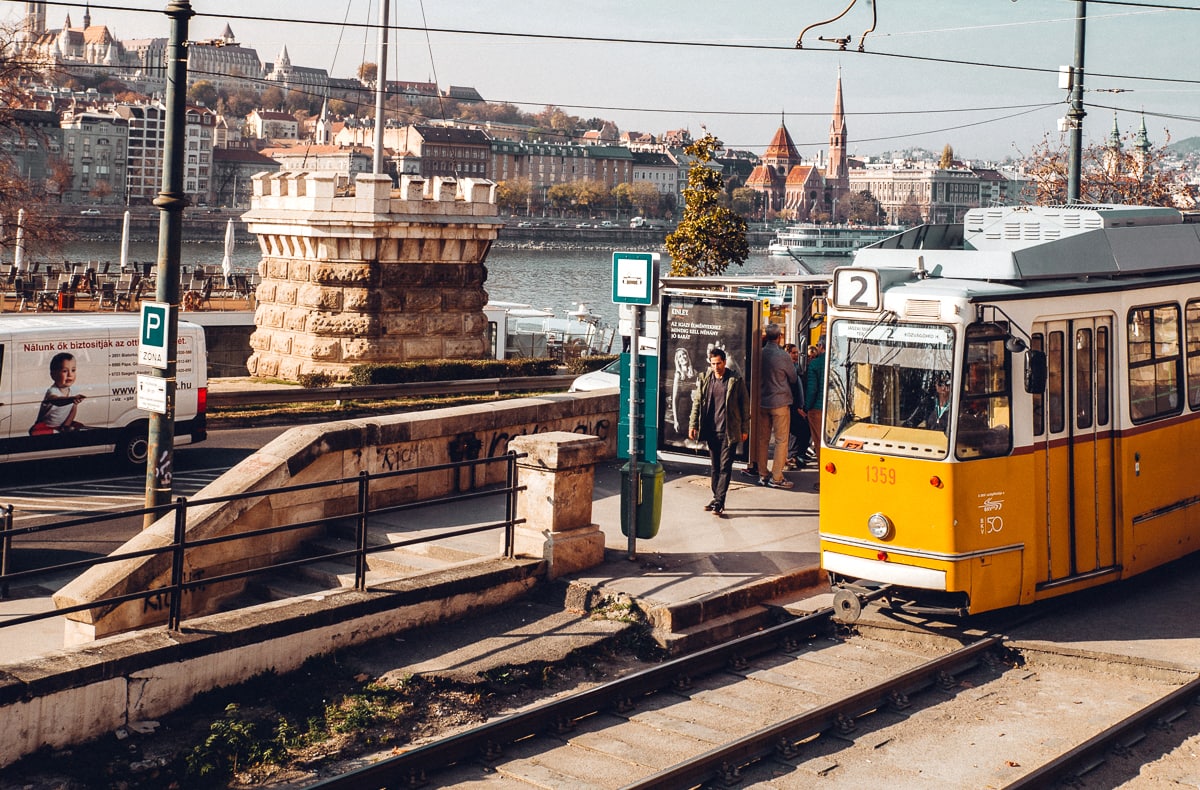 We hopped on the tram at the Parliament Building and traveled down toward the Budapest's Great Market Hall. It was a cheap and fun way to tour this beautiful stretch of the city.
A single journey ticket is 350 HUF ($1.20 USD) and make sure to sit on the side closest to the Danube river for the best views.
10 BUDAPEST TRAVEL TIPS
THE BEST CURRENCY EXCHANGE
We don't normally use currency exchange booths because we prefer to withdrawal from ATM's in order to get cash. However, on this trip Nick had left over Euros that he needed to exchange.
This spot near Deák Ferenc Tér charged no commission and had the best exchange rates we could find.
MONEY EXCHANGE | 1b Király utca, 1075 Hungary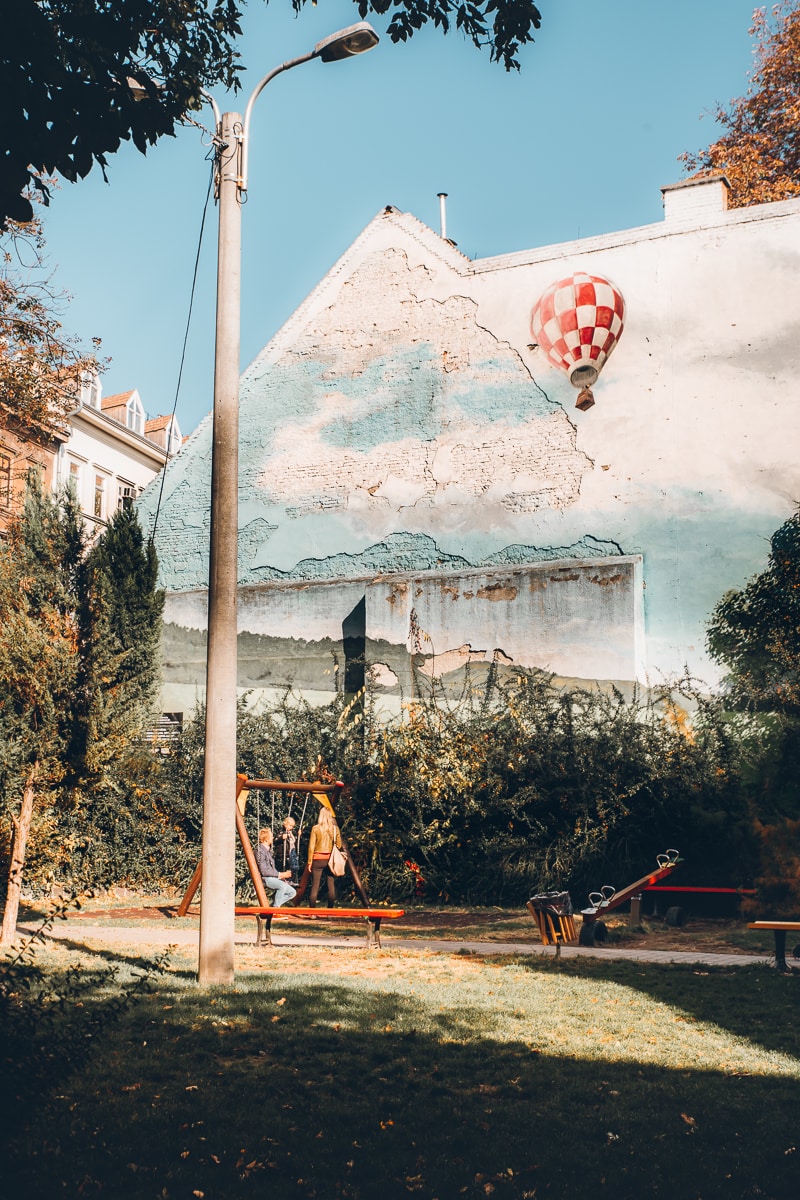 The currency of Budapest is the Hungarian Forint (HUF).
1 HUF= .0035 USD
1 HUF = .0031 Euro
1 HUF = .0028 Pound Stirling
1 HUF = .0047 CAD
1 HUF = .0051 AUD
To convert HUF for all currency, click here
VOLTAGE & OUTLET TYPE
The voltage in Budapest is 230V/ 50HZ. C and F are the most standard outlet types. Both C and F plugs work for either C or F outlets, so you don't need both.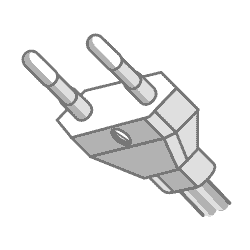 BUDAPEST WEATHER // WHEN IS THE BEST TIME TO TRAVEL
SPRING is considered one of the most ideal times to visit Budapest. It's not as busy as the Summer months and the weather is cooler, with average temperatures ranging between 68-77 degrees Fahrenheit (20-24 Celsius). A lot of festivals and events take place during the Spring including Budapest Beer Week, the Rosalia Festival and the Budapest Spring Festival.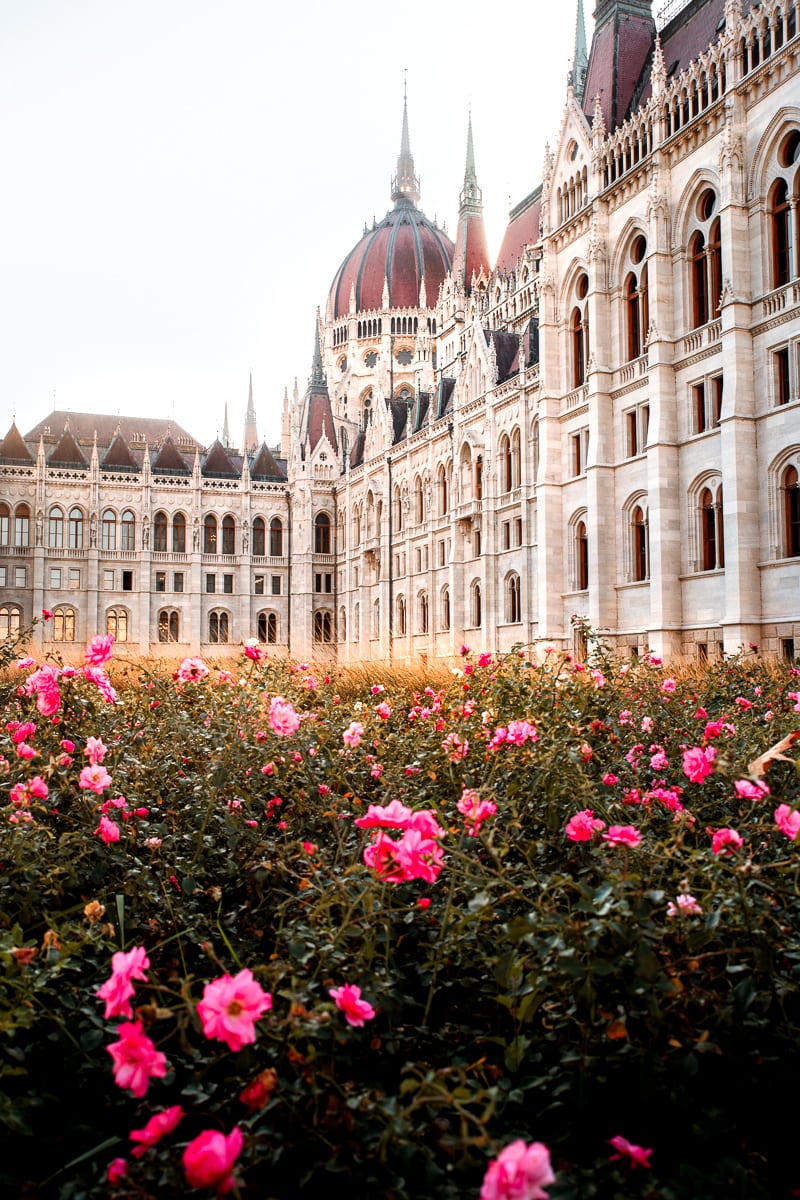 SUMMER Expect long, sunny days with an average of 14 hours of daylight each day. Temperatures average 72 degrees (22 Celsius), with highs around 86 degrees Fahrenheit (30 Celsius). Summer in Budapest also brings some occasional rain.
Room rates are at their highest during the Summer so you should consider booking well in advance as this is the busiest season in Budapest
FALL is one of the best times to visit Budapest because September and October usually remain sunny and warm. We visited at the tail end of fall in November and the weather was extremely pleasant during the day, with cool mornings and nights. Nothing too extreme.
Fall is a great time to capitalize on inexpensive room rates as the Summer crowds have all gone home. Budapest Oktoberfest and the Budapest Wine Festival also happen during the Fall.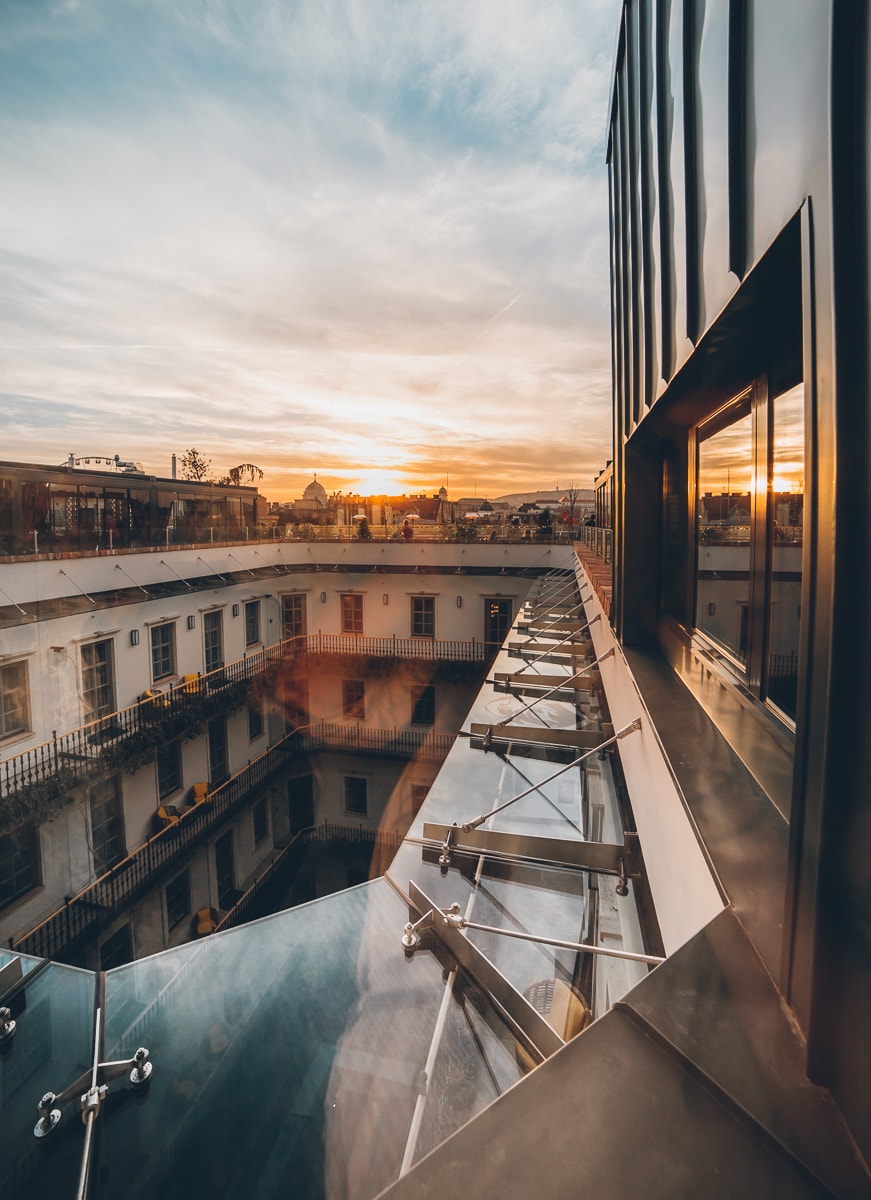 WINTER in Budapest is cold, with January being the coldest month. January's average highs are below 37 degrees Fahrenheit (2.7 Celsius) and the average lows are around 26 degrees Fahrenheit (-3 Celsius). You might also see a little bit of snow during colder periods.
Fall and Winter also have shorter days with December having the least amount of daylight hours (the sun sets as early as 3:54PM).
Christmas markets are in full swing during the Winter months.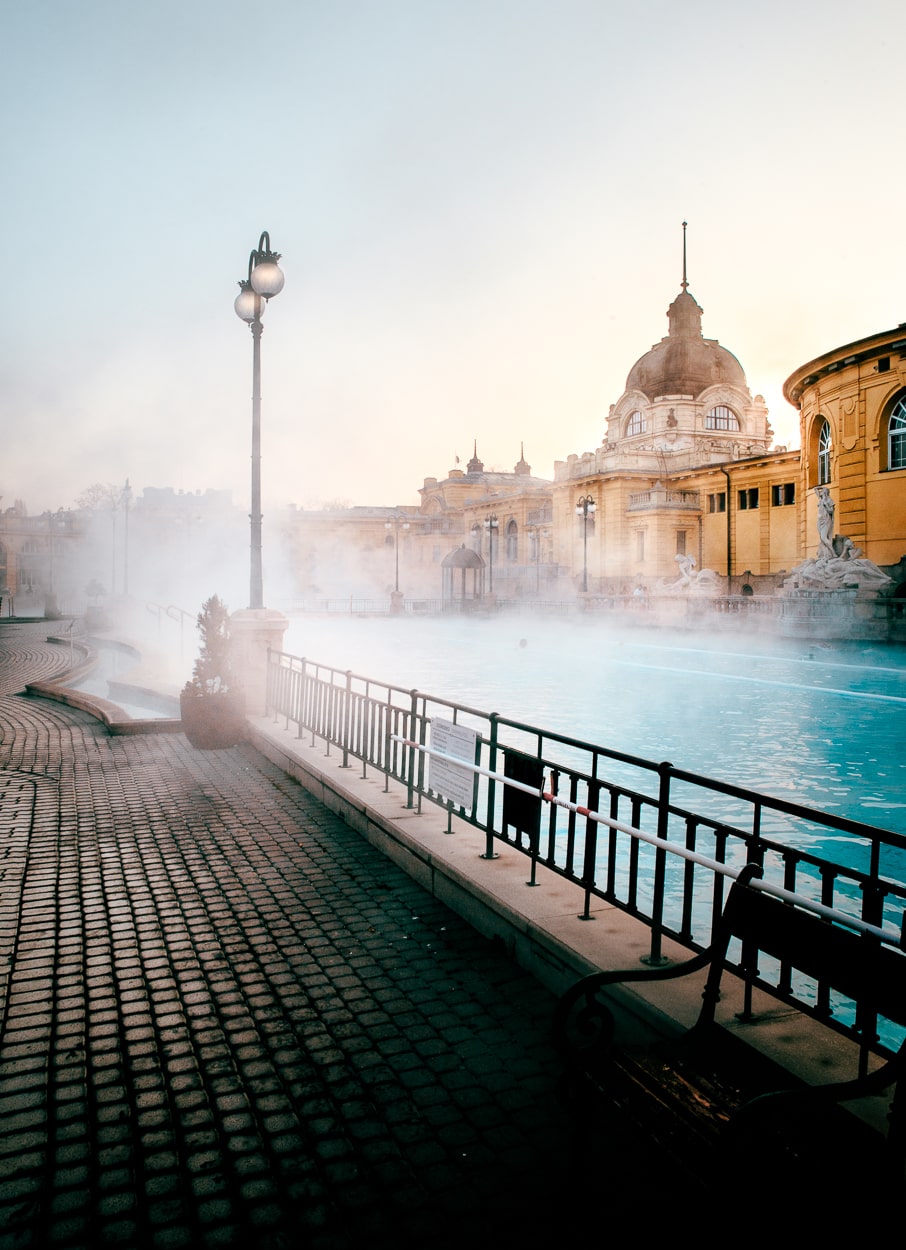 TIPPING IN BUDAPEST
RESTAURANTS It's common for restaurants in Budapest to add a service fee to your bill (usually 12.5%). If you see the service fee on the receipt, there is no need to tip any more. If a service fee has not been added, 10% is customary or 15% for an excellent service.
In the US it's common to leave the tip on the table, but as in many European cities, you should tip your server directly at the time you pay for your meal. If you are paying by credit card, let them know how much to charge your card (including tip).
BARTENDERS Round up to the next 100 forint (usually 30-50 forint for each drink).
HOTELS When tipping bellhops, 100 to 200 HUF per bag is customary. If you wish to tip the housekeepers, 200 HUF per day is appreciated.
TAXIS 10% of the total fare.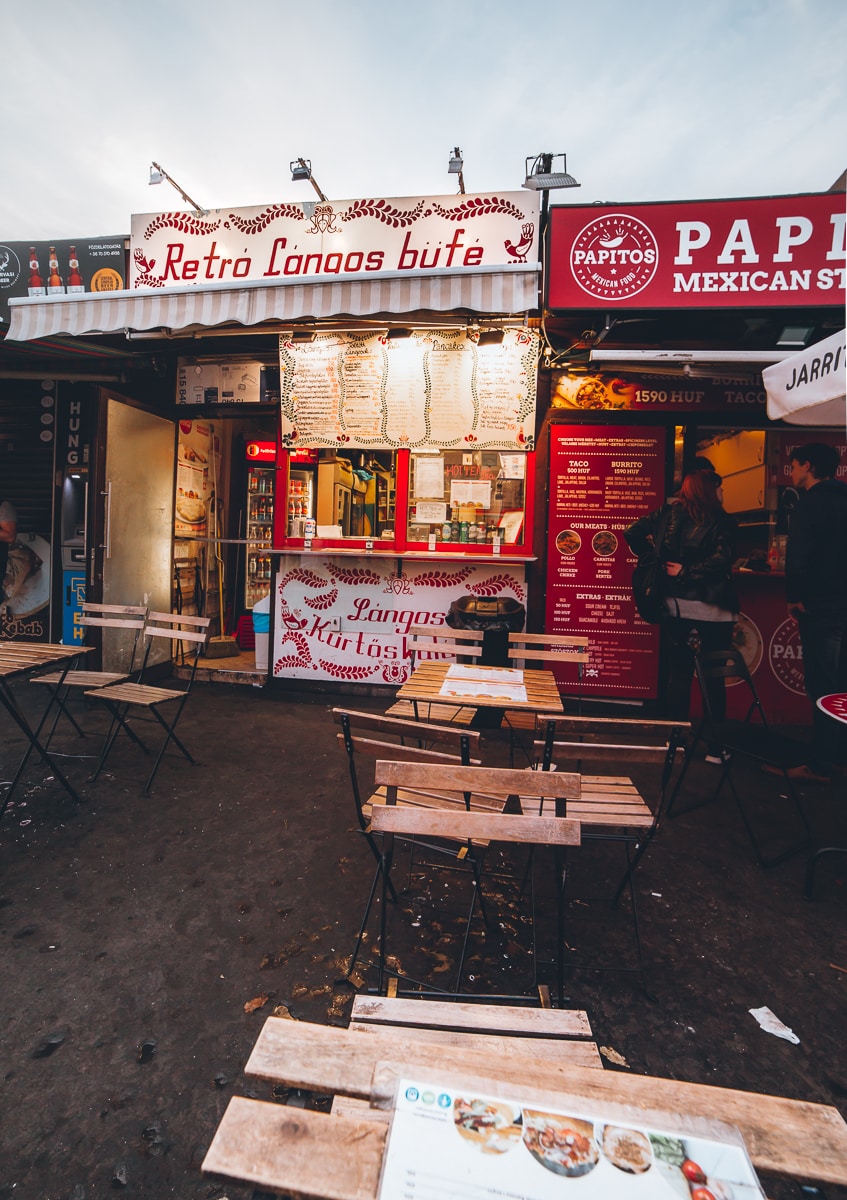 GLASS DEPOSITS
If you're from a country where glass deposits are not the norm, you're probably leaving money on the table.
At most of the Budapest bars we visited, glass deposits are included in the bill and they ranged anywhere from 200HUF to 600HUF (.70 cents – $2 USD). When you're done with your drink, make sure to take your glass back to the bar to collect your deposit.
It's not a ton of money to lose but it can add up if you're going out regularly.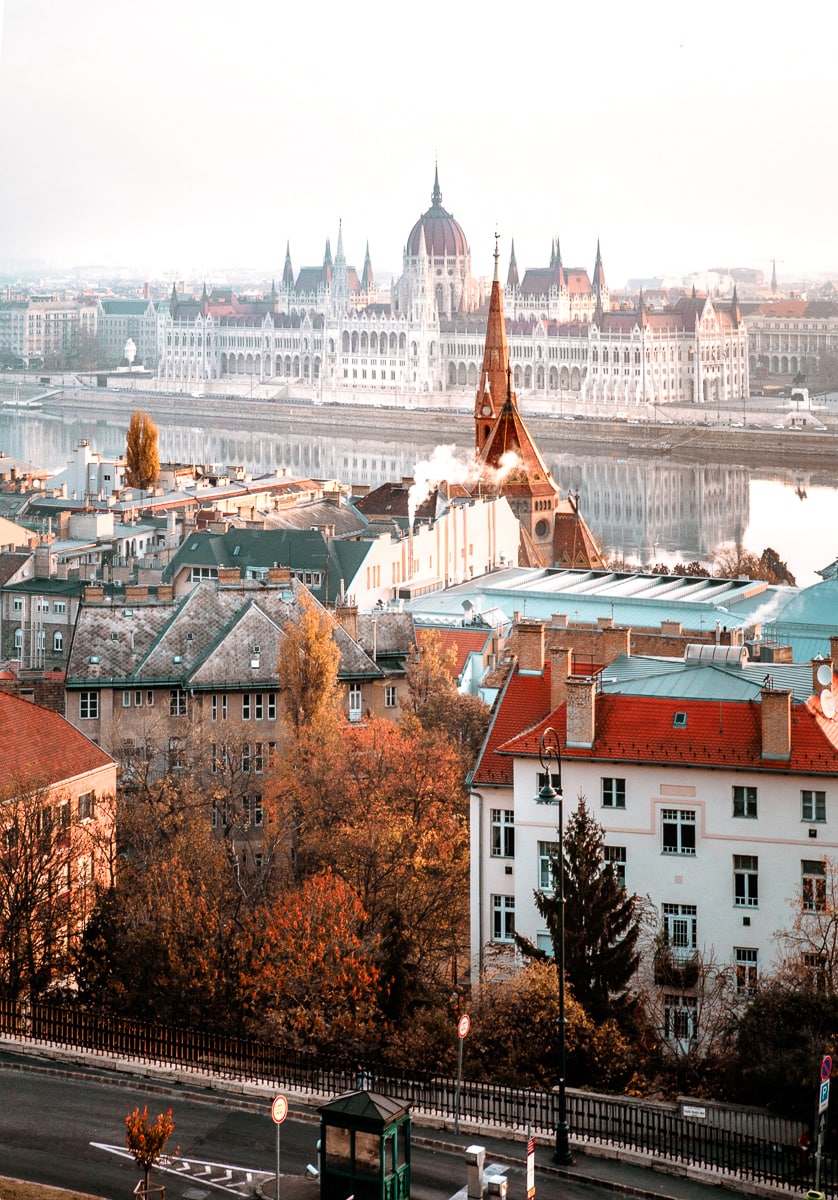 PUBLIC TRANSPORTATION
Budapest is extremely walkable so we found ourselves on foot most of time, but if you choose to use it, the public transportation system is fantastic, Metros, buses and trams are readily available, cheap and easy to use.
WHERE TO BUY TICKETS
You can purchase tickets at any subway station or at newsstands throughout the city. There are also electronic kiosks at certain stops.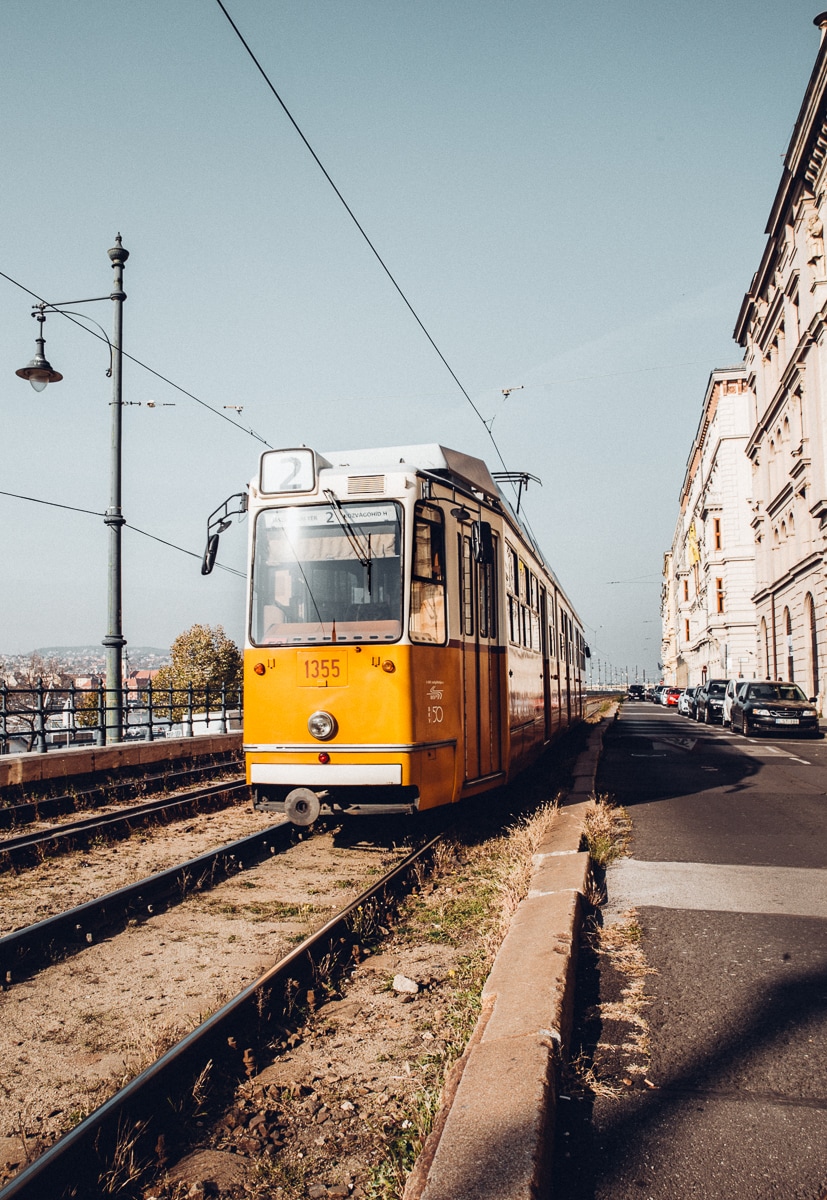 TYPES OF TICKETS
Each ticket is good for one ride and if you plan to transfer, you will need to use another ticket (or buy a transfer ticket). Single tickets cost 350HUF ($1.20 USD) if you buy them prior to boarding, or 450 HUF ($1.45 USD) if you buy them on the tram or bus.
We purchased booklets of 10 tickets, which saved time and allowed us to hop on and off public transportation whenever we wanted. Booklets of 10 tickets cost 3,000 HUF ($10.36 USD).
Budapest also offers travel cards. These 24 hour, 72 hour and 7 day passes are great for those who know they will be using public transportation a lot during their trip. A 24 hour card is 1,650 HUF ($5.70 USD). Click here for all the current rates of transportation tickets in Budapest.
If you are age 65 + and a citizen of European Union countries and Switzerland, public transportation is free for you to use. Just make sure to have a valid ID on you in case you are approached by a ticket inspector.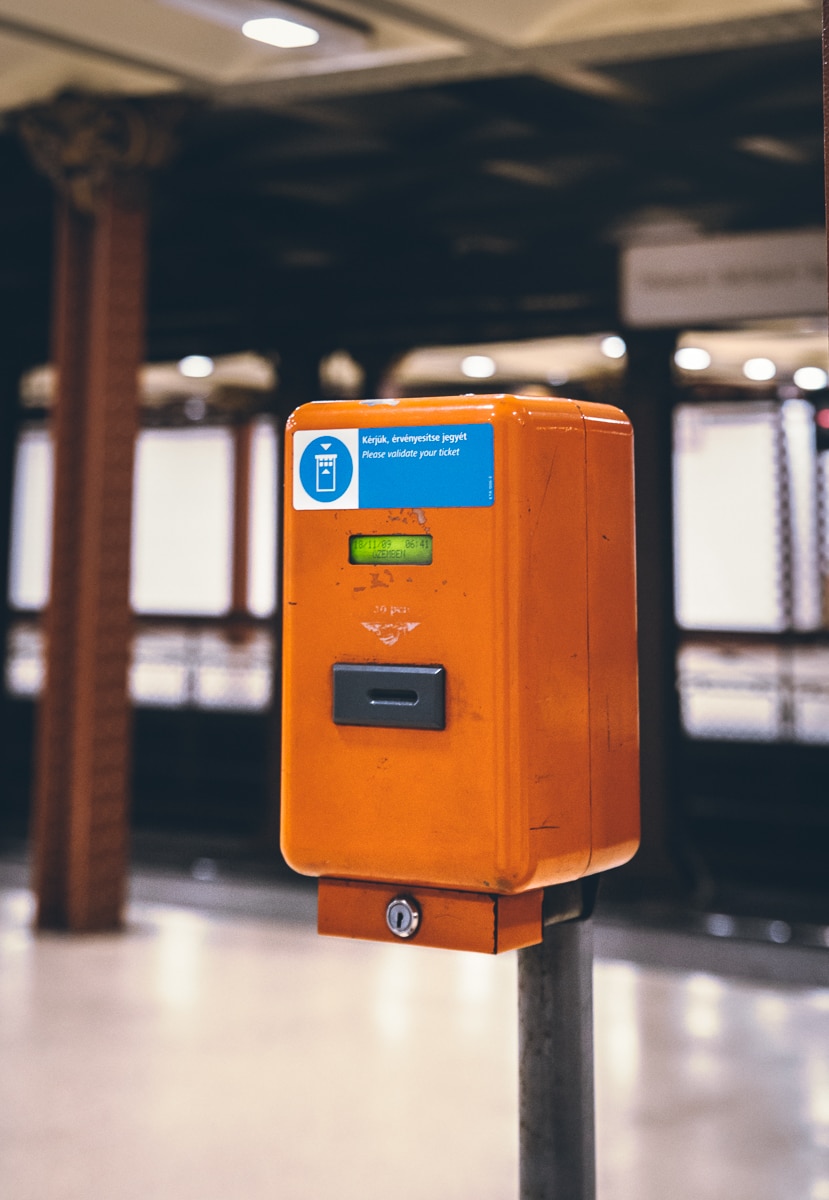 MAKE SURE TO VALIDATE
Validate your tickets to avoid fines when the ticket inspectors hop on board.
You'll find yellow validation boxes on the platforms in the metro; just stick your ticket in the box and get it punched. For busses and trams you can validate when you board.
On the first tram I boarded in Budapest, I could not figure out how the validation box worked because when I stuck my ticket inside, nothing happened. A lady helped me and apparently some of the machines are manual, so you have to press down on the lever to punch your ticket.
WATER // GAS OR NO GAS
Every single time we travel to Europe we forget how much people like carbonated water. And nothing compares to the feeling of thinking you're about to quench your thirst while simultaneously guzzling intense, eye- watering fizz.
If you're a flat water fan who cannot read Hungarian water labels, like us, this is your cheatsheet:
PINK LID Flat Water – No Gas
GREEN LID Some Gas
BLUE LID Full Gas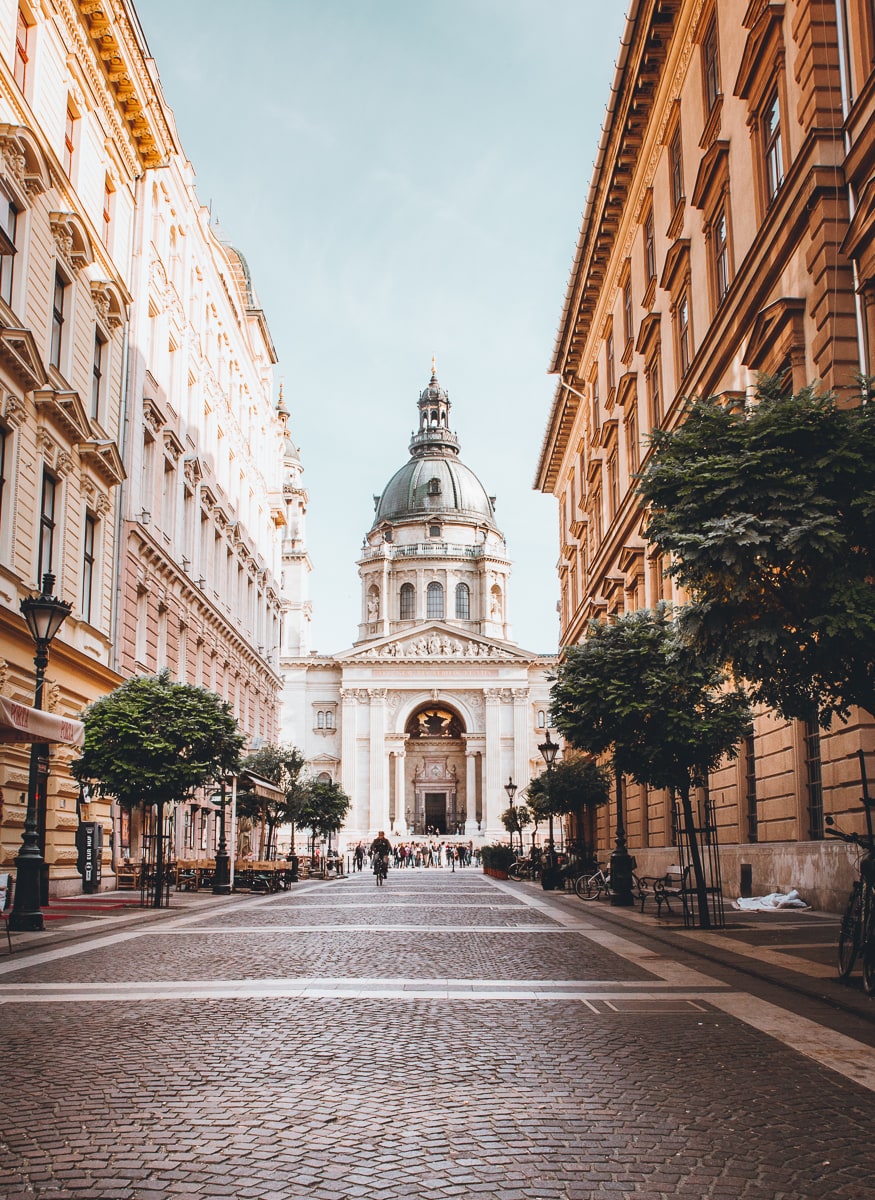 THE BUDAPEST CARD
If museums are at the top your list of things to do in Budapest, the official city card might be worth checking out. The Budapest Card gives you free entry into 7 different museums as well as free travel on public transportation and free walking tours. It also includes discounts on restaurants, tours and admission into the thermal baths.
To learn more about The Budapest Card, click here.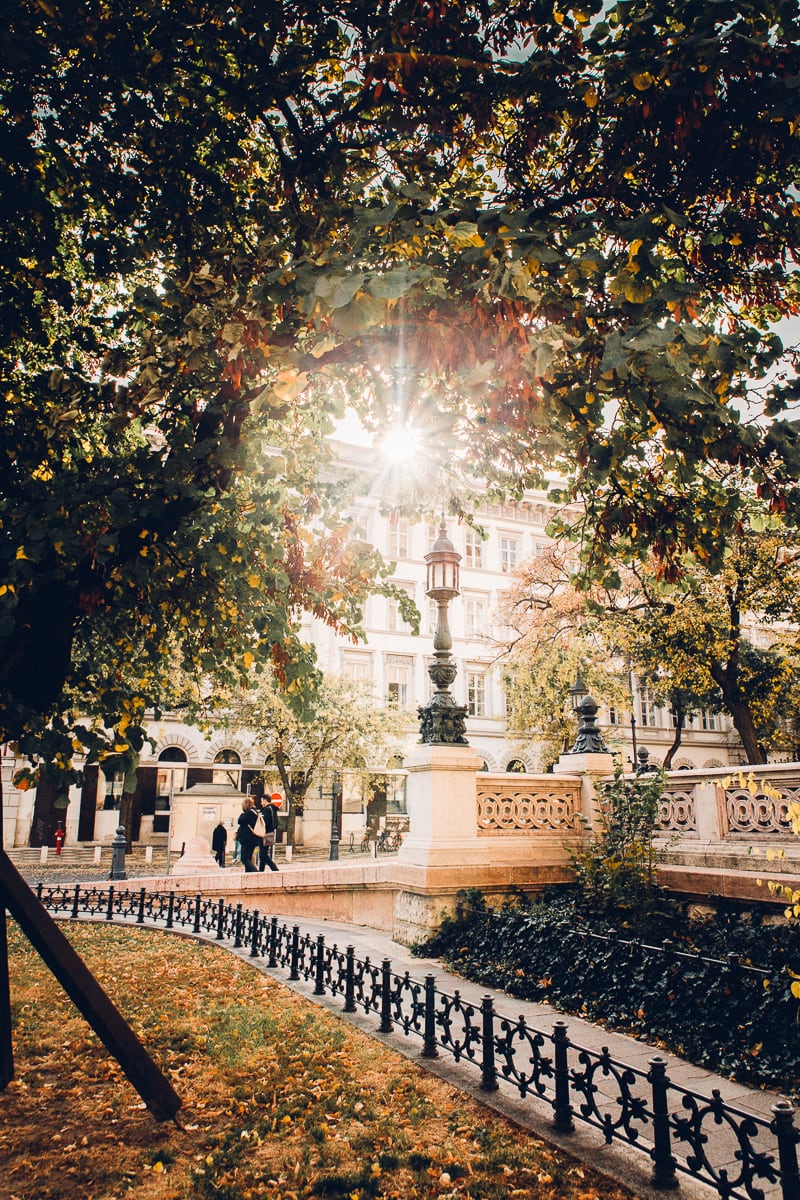 HOW TO GET FROM THE BUDAPEST AIRPORT TO CITY CENTER
AIRPORT BUS
The airport shuttle bus is the cheapest way to get from the Budapest airport to the city center. Bus 100E departs every 10-20 minutes and will take you to the Deák Ferenc tér central metro station. The bus also stops at the Kálvin tér metro stop and the Astoria metro station.
The 100E bus requires a special shuttle bus ticket (different from regular city bus tickets) which costs 900HUF ($3 USD). You can purchase them from the automated kiosks or via their app. The journey takes 35 minutes.
For current timetables, click here.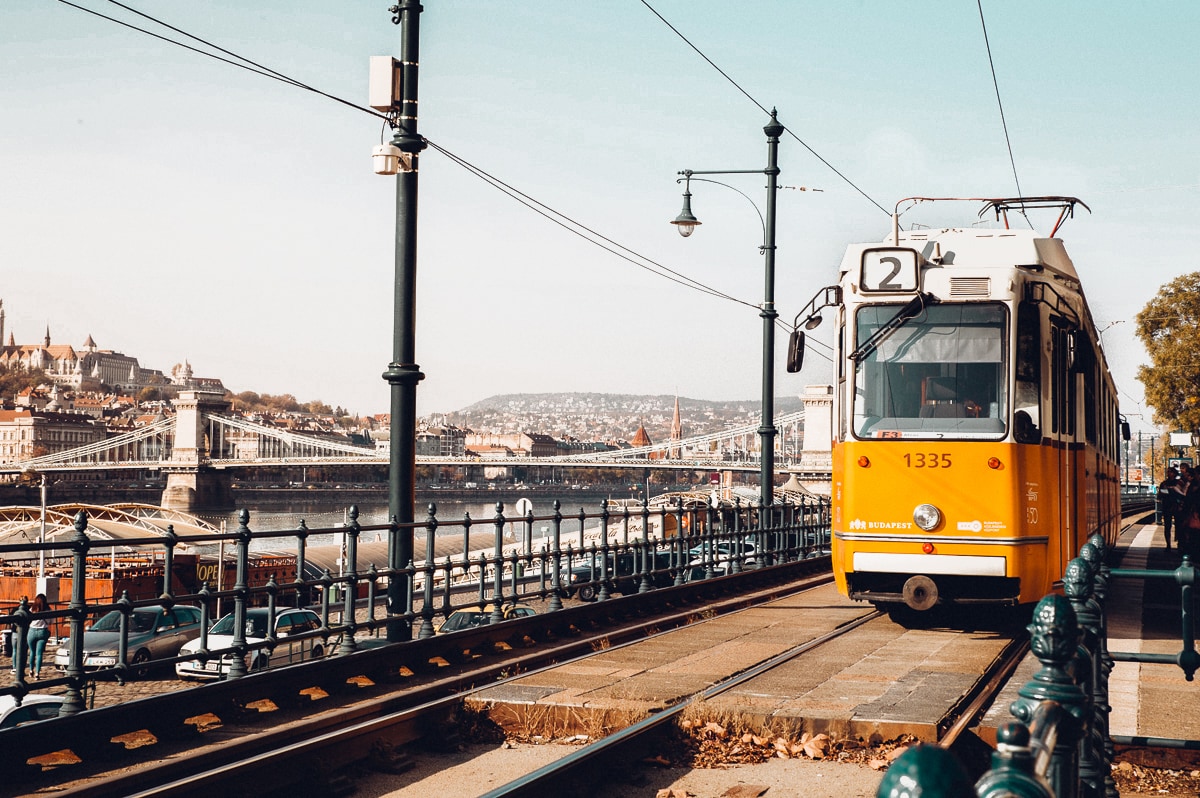 TAXI / UBER Taxis from the Budapest airport operate on meter only. The base fare is 450 HUF and an additional 280HUF per km of driving. Expect to pay around 6,000HUF to 9,000 HUF ($20-$30 USD) depending on where you need to go in the city center.
There is no Uber in Budapest but they do have their own ride sharing service called Bolt.
SHUTTLE A private transfer shuttle service is one of the quickest and easiest ways to get from the Budapest airport to your hotel in the city center. Prices range from 5,775 HUF to 21,800 HUF ($20 USD – $75 USD). For a list of private shuttle options with reviews, click here.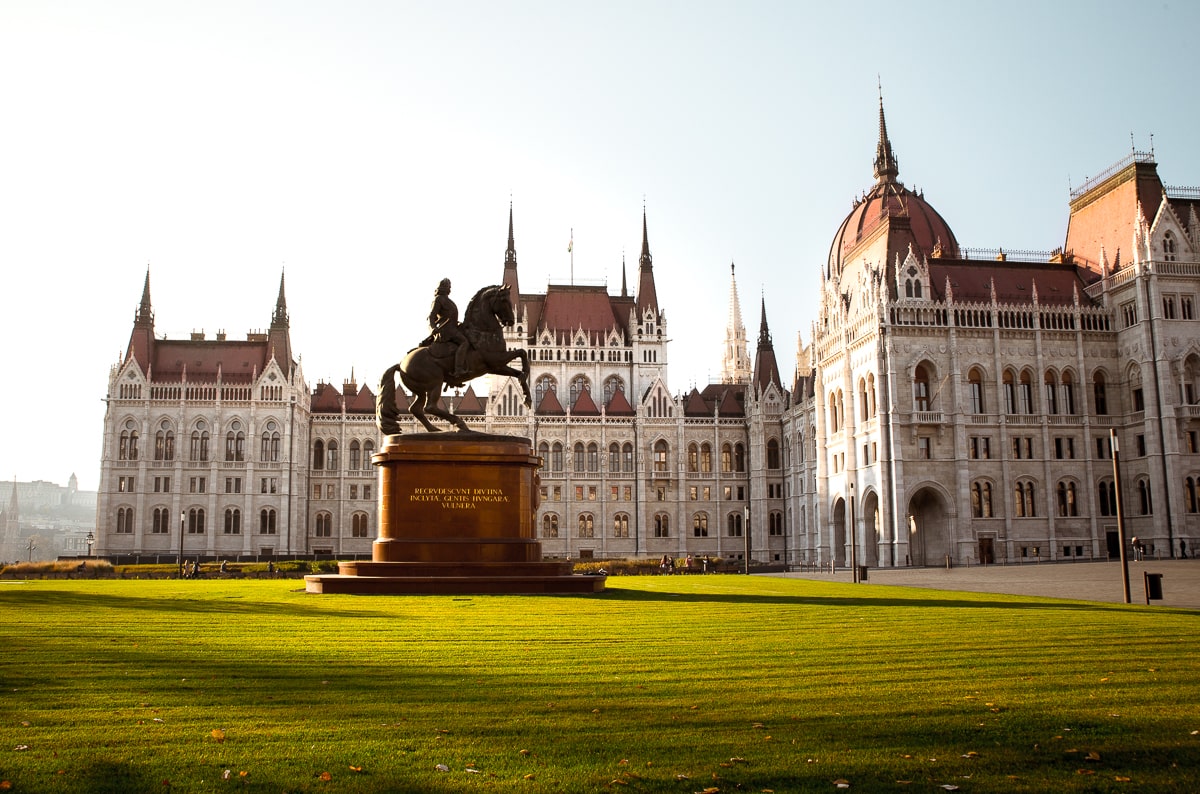 BUDAPEST FOOD // WHERE TO EAT
From a sit down restaurant serving traditional Hungarian cuisine to local street food and the best pastry in Budapest, these were the most memorable places we ate in the city.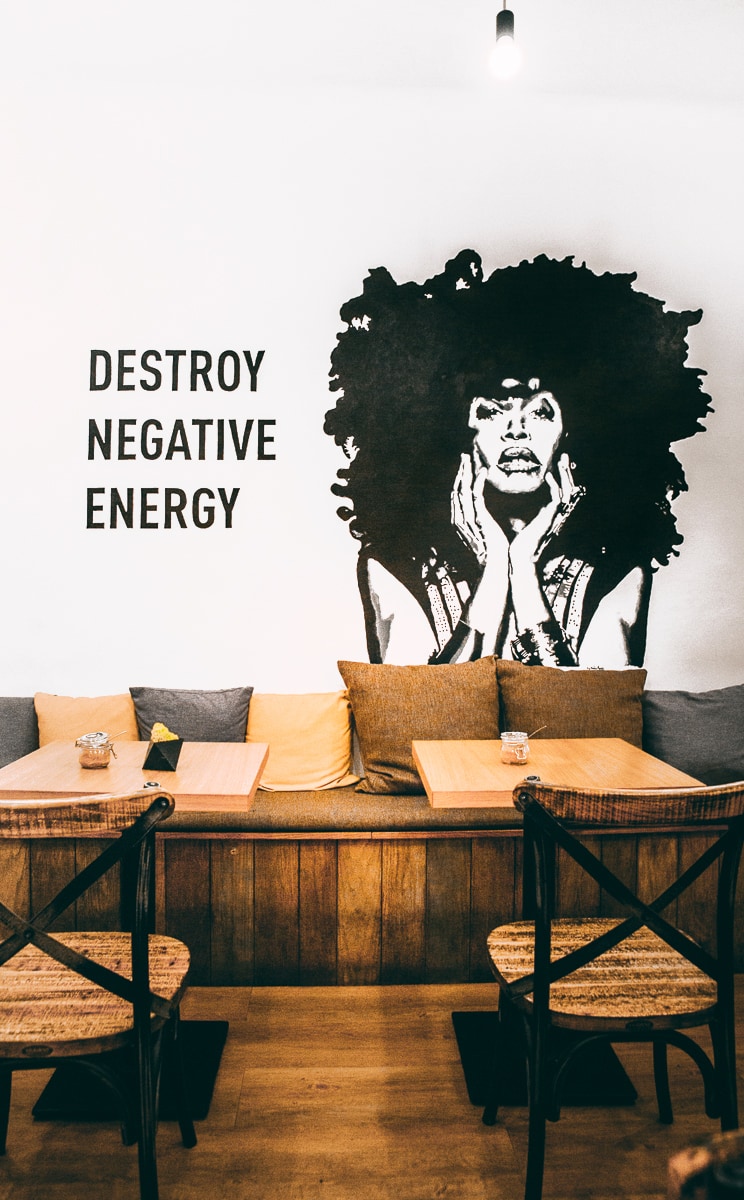 HUNGARIKUM BISZTRO // SAMPLE THE LOCAL CUISINE
Hungarikum Bisztro is one of the top rated restaurants in Budapest, serving traditional Hungarian food created from family recipes that span generations.
When you first walk into Hungarikum Bisztro it feels like you are visiting a local's home for dinner. The space is cozy and cute, and all of the employees were extremely welcoming.
We were greeted by one of the owners who explained her passion for introducing foreigners to her country's cuisine. While a good portion of their guests did seem to be tourists (usually a red flag for us), the food is not your average tourist quality and the prices were great.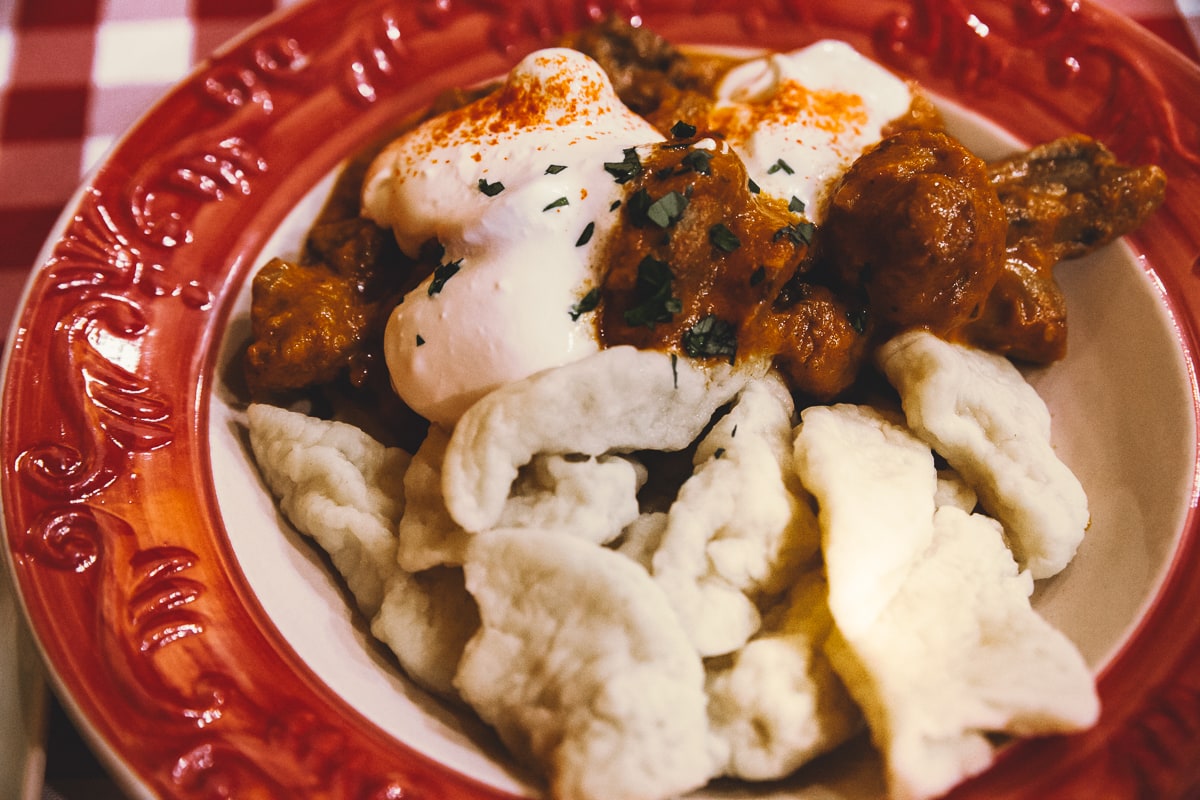 The menus are presented on iPads which cater to your specific language and the staff was more than happy to make recommendations and explain certain dishes.
While waiting for our food, a complimentary appetizer of homemade bread (made the night before from her house!) was brought out. Sour cream melted over the bread and paprika was dusted on top.
For dipping we were given a spicy red sauce that was so good, we bought a jar off of her.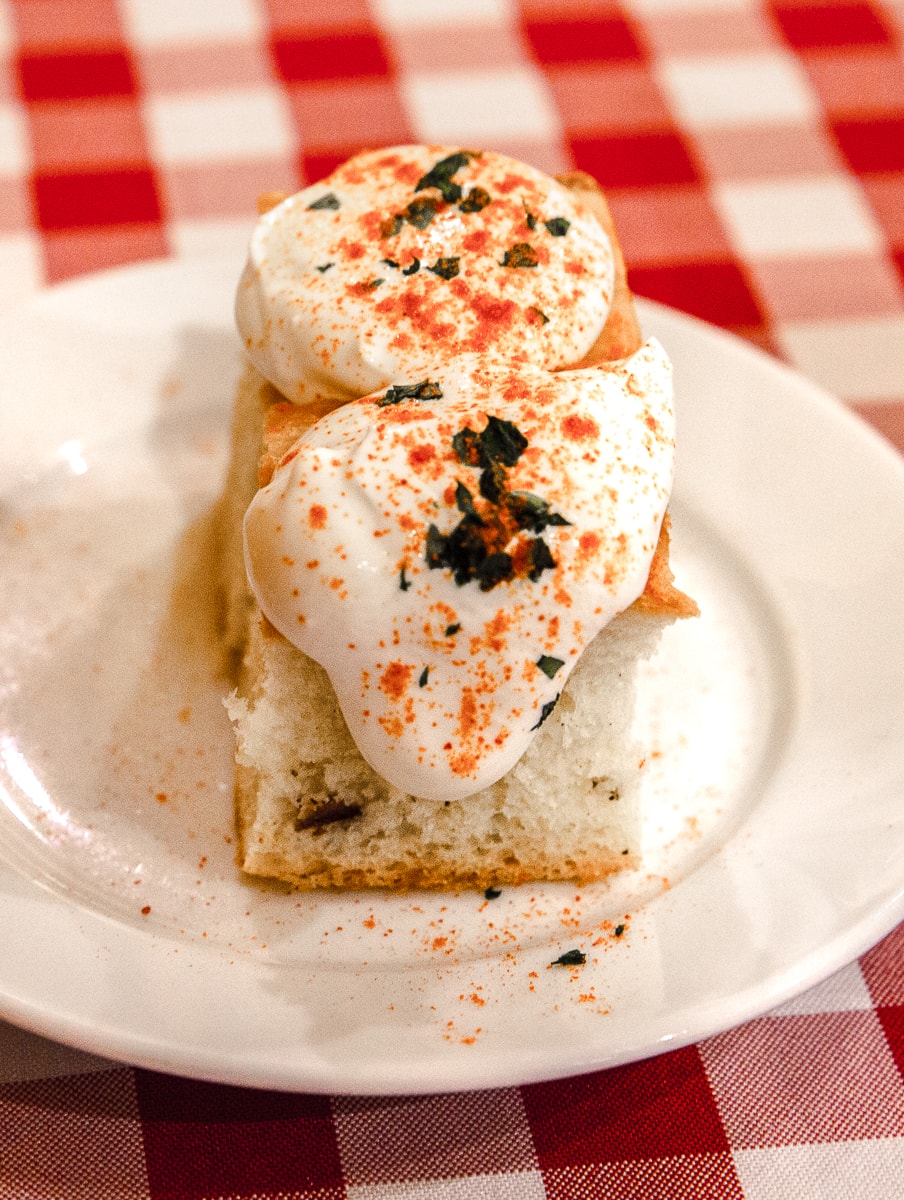 The bread was phenomenal and it was the highlight of the whole meal. We were sad it wasn't on the menu because we would've legit ordered 10 more pieces.
For our main courses, we started with the oven baked sausage and mustard, and then ordered goulash, mushroom paprikash, sliced Hungarian cabbage on the side and two glasses of local wine. Our grand total was less than $30 USD.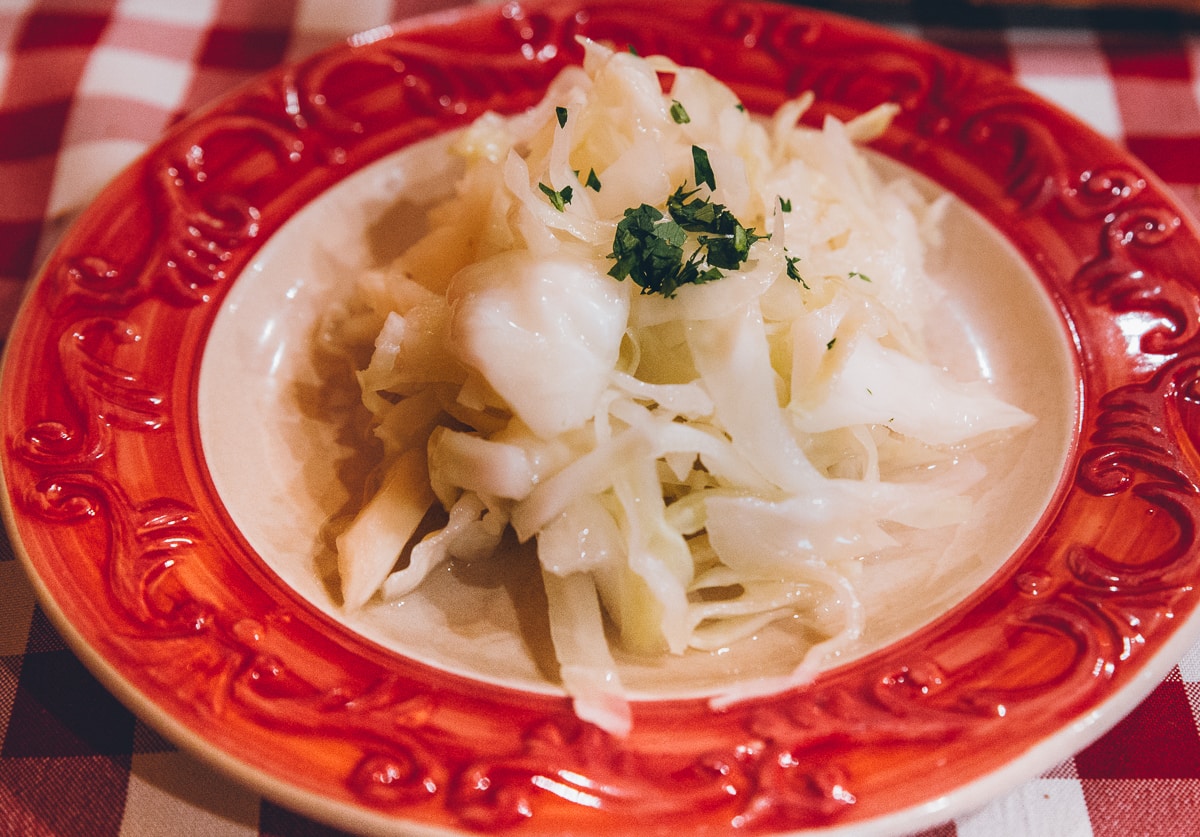 If you're new to Hungarian food, I highly recommend making one of your first meals in Budapest Hungarikum Bisztro. The service and the food was fantastic, and it's a great way to introduce yourself to a few classic menu items you'll see throughout your trip.
Reservations are necessary as the restaurant is consistently booked. You can book reservations from their website portal here.
ADDRESS Budapest, Steindl Imre u. 13, 1051
RUSZWURM // FOR COFFEE AND DESSERT
Ruszwurm Cafe is located on Castle Hill near Fisherman's Bastion, Matthias Church and Buda Castle.
Dating back to 1827, it's the oldest pastry shop in Budapest and one of the oldest in Europe. The cafe is situated just down the street from Buda Castle and has even welcomed its fair share of royal customers over the years.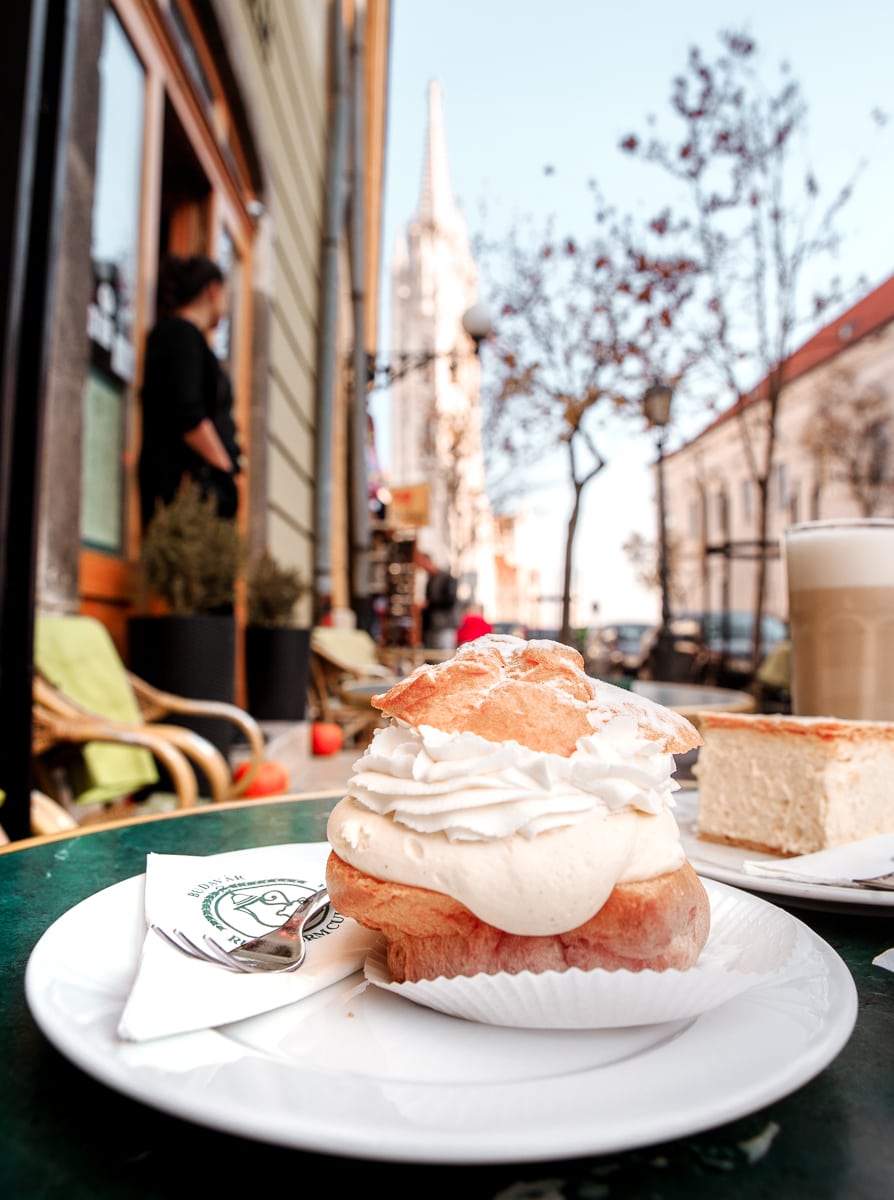 Their creme cake is a house recipe and one of the most popular menu items. It definitely lived up to the hype and I will continue to dream about it forever.
ADDRESS Szentháromság u. 7, 1014
STREET FOOD KARAVAN // FOR LATE NIGHT CRAVINGS
Street Food Karavan is a collection of food trucks that are set up in an alleyway, right next door to Szimpla Kert. We stumbled upon it on our way out of the ruin bar one night and it was the perfect place to grab a late night snack before heading home.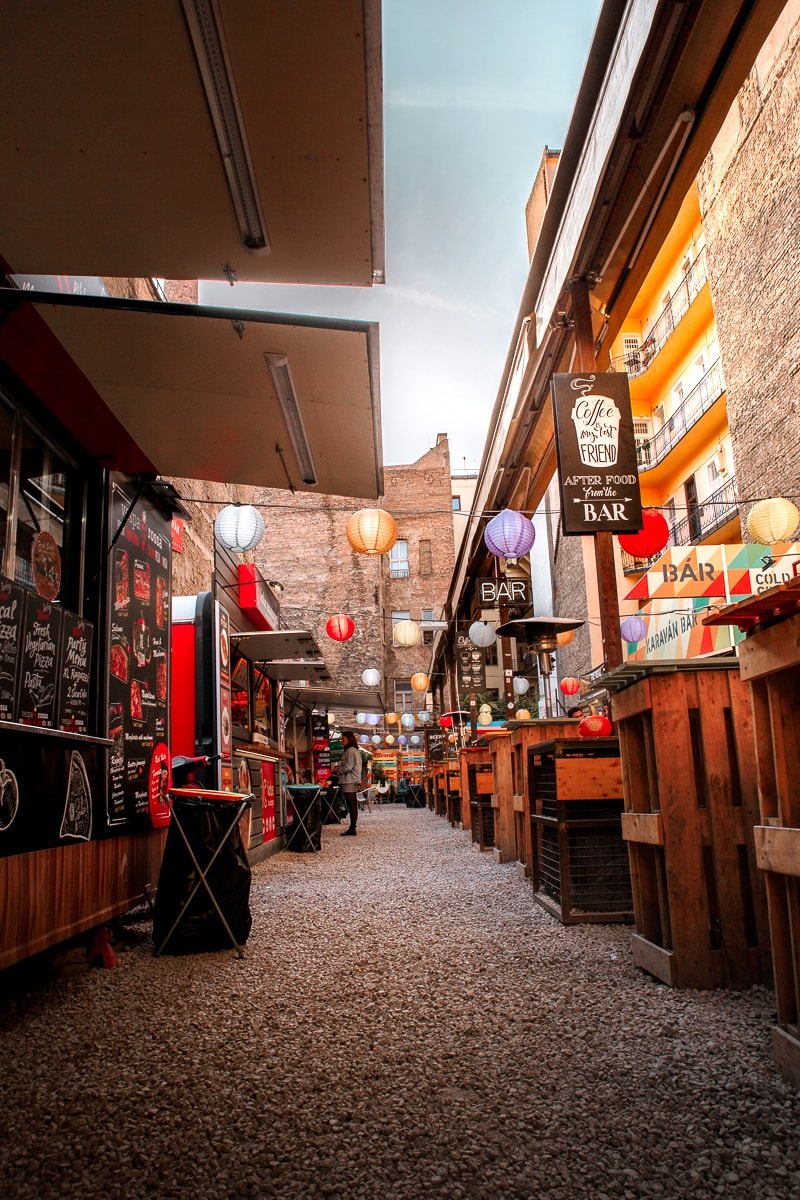 The dozen or so food trucks were serving Hungarian classics like langos and goulash as well as international cuisines, pizza and burgers. There are also solid amount of vegetarian options and even a vegan truck called Las Vegans.
We ordered a sauerkraut bowl (1,690 HUF / $5.84USD) and to be honest I don't remember the food (this is solid recommendation, right??), but I really loved the atmosphere.
Stop in for a beer or a snack if you find yourself bar hopping in the Jewish Quarter.
ADDRESS Budapest, Kazinczy u. 18, 1075 Hungary
LANGOS // A MUST TRY STREET FOOD
Langos is a traditional Hungarian street food made out of fried dough and smothered in the toppings of your choice.
It was our favorite local food that we tried in Budapest and while it might not be the healthiest thing you can consume, it's worth it.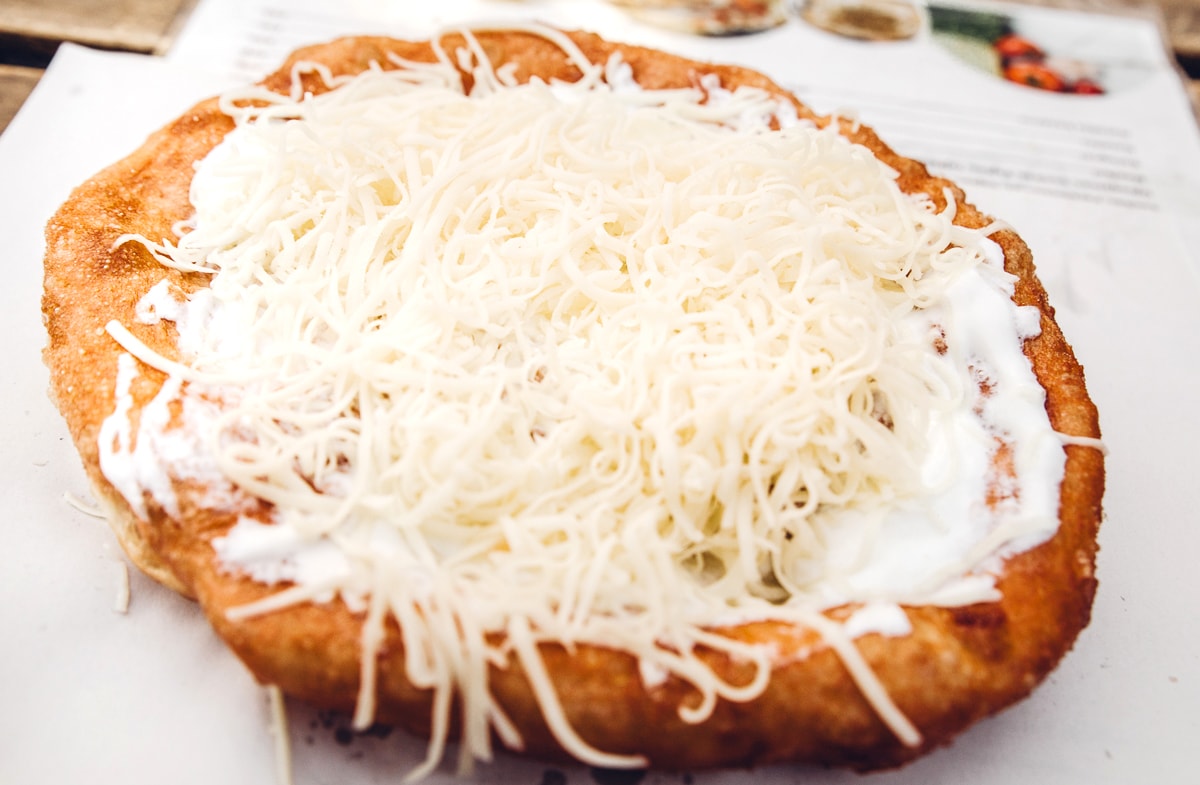 We first tried Langos at a street food stand called Retro Langos, near the Arany Janos metro station. We went the traditional route for our first time and just ordered sour cream and cheese on top. The next time we added red onion, peppers and pepperoni and discovered that the extra toppings made it even better.
The best langos we had was at a seasonal market that was taking place outside of Vajdahunyad Castle. There are lots of events and markets that take place outside of the castle, so if you find yourself in the area look out for the booth (photo below).
And if not, there are a million places to eat langos in Budapest and it's probably going to be good no matter what.. because it's fried dough.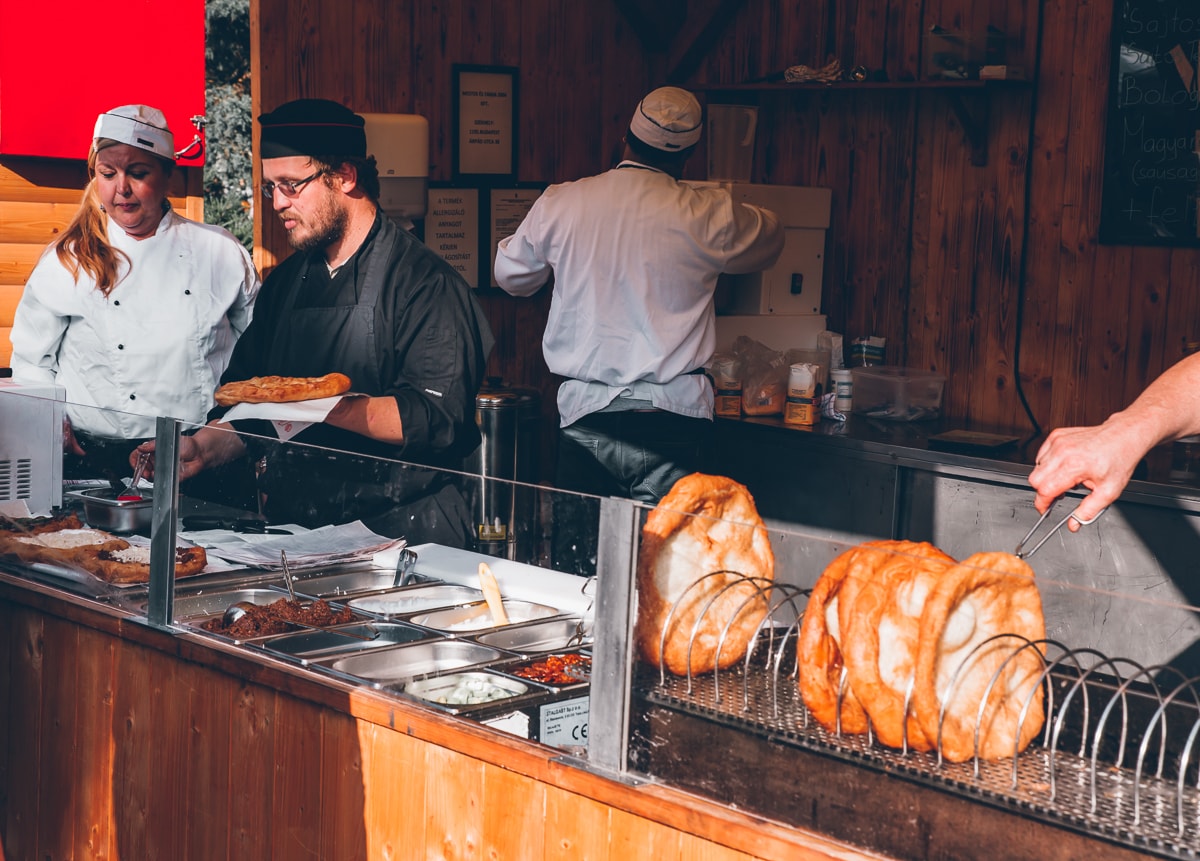 VINYL AND WOOD // THE PERFECT COFFEE BREAK
Vinyl and Wood was a coffee shop located near our Airbnb in the Jewish District. We grabbed a cup of coffee and a croissant here every morning and I really loved the laid back vibe of the place.
It's not mind blowing enough to travel too far out of your way for, but if you're in the Jewish Quarter it's a great place to stop in for a coffee break.
ADDRESS Wesselenyi utca 23., Budapest 1077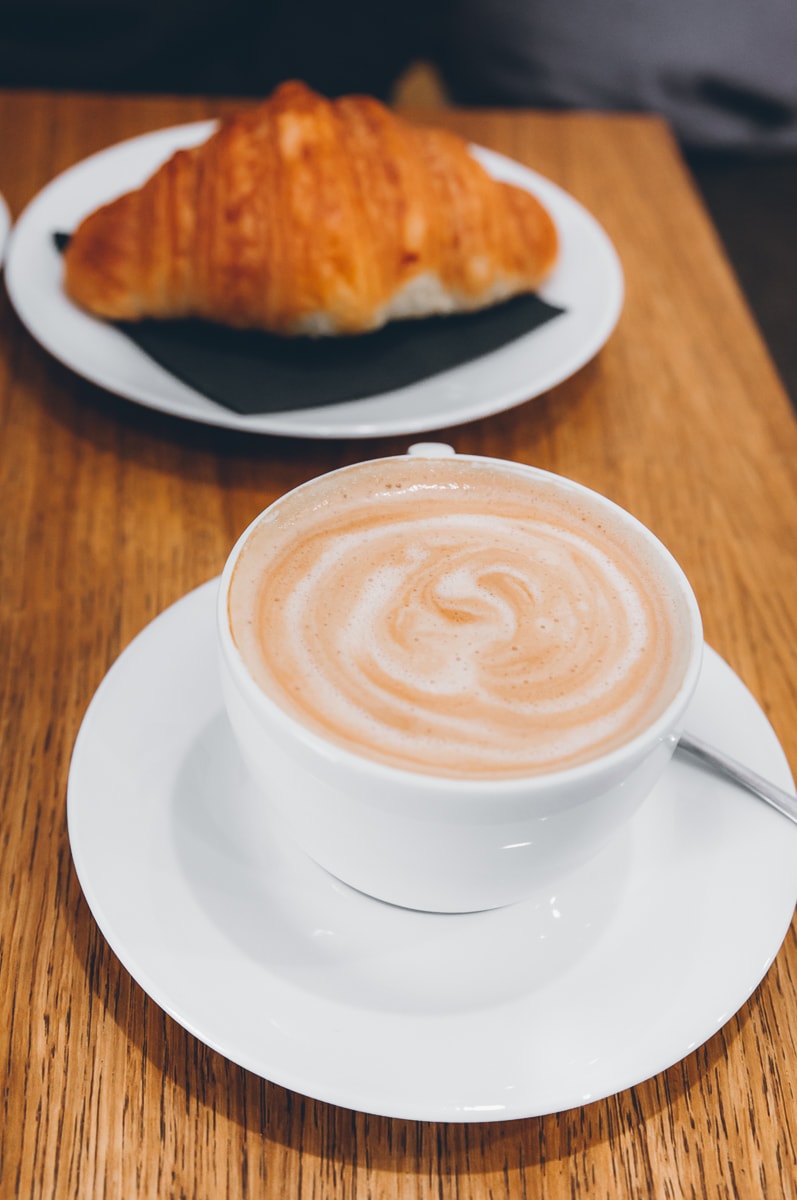 BORZ GASZTROBAR // FOR A CHEAP MEAL ON THE GO
If you're in search of cheap street food in the Jewish Quarter, look no further than Borz Gasztrobar. Their speciality is grilled baguettes and soup, and this little shop gets busy, especially at night.
It's a grab and go place so there is very limited seating. Their soups are even served in a convenient coffee cup to go.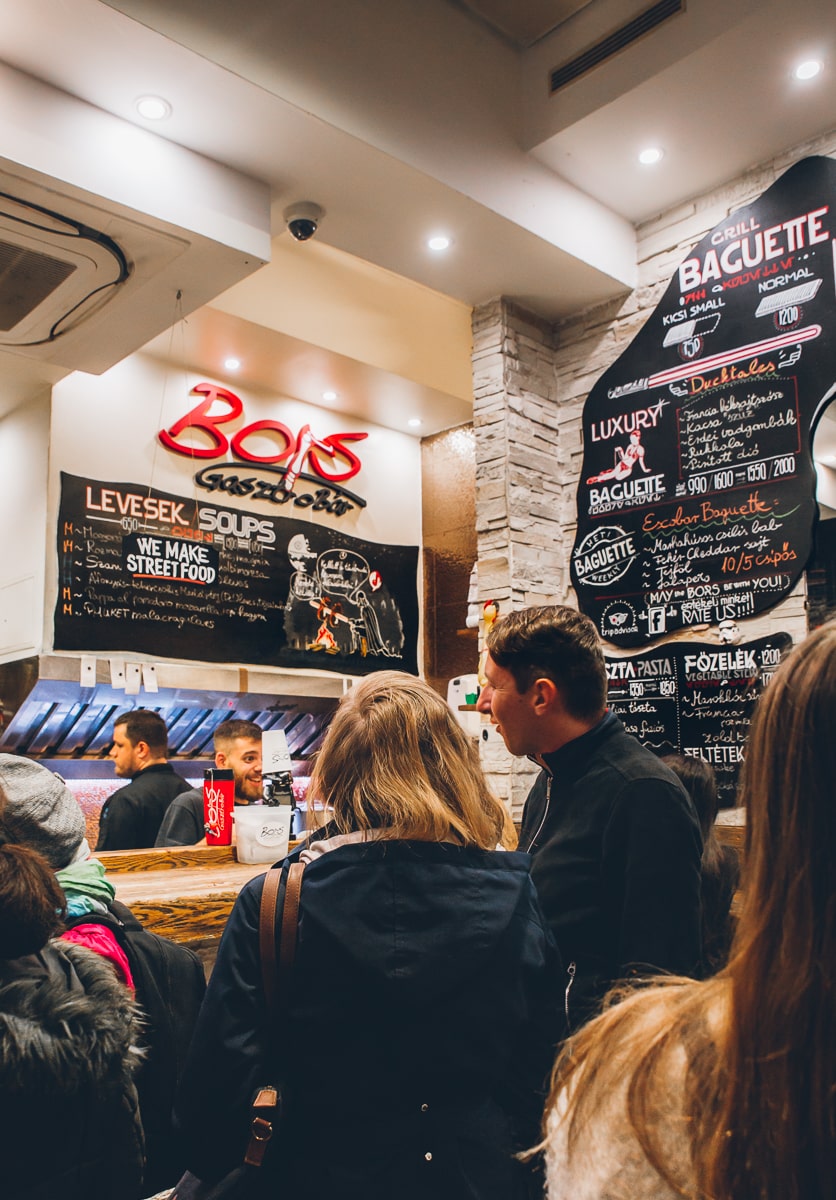 We popped in for a late night sandwich after ruin bar hopping in the area and ordered the butternut squash soup and the Toki Pompas baguette which was garlic, sour cream, mangalica sausage, roasted bacon, red onion and cheese. Prices were great with small sandwiches costing 750 HUF ($2.70USD) and large ones were 1200 HUF ($4USD) .
ADDRESS Budapest, Kazinczy u. 10, 1075 Hungary
BUDAPEST HOTELS // WHERE TO STAY
ULTRA BUDGET
AIRBNB
We were shocked at how many cute and inexpensive Budapest Airbnbs were available in the city, so we decided to save some money on our trip by renting out someone's flat for the week. The Airbnb we stayed in was only $34 USD per night (there were tons of even cheaper options too) and we could not have been happier.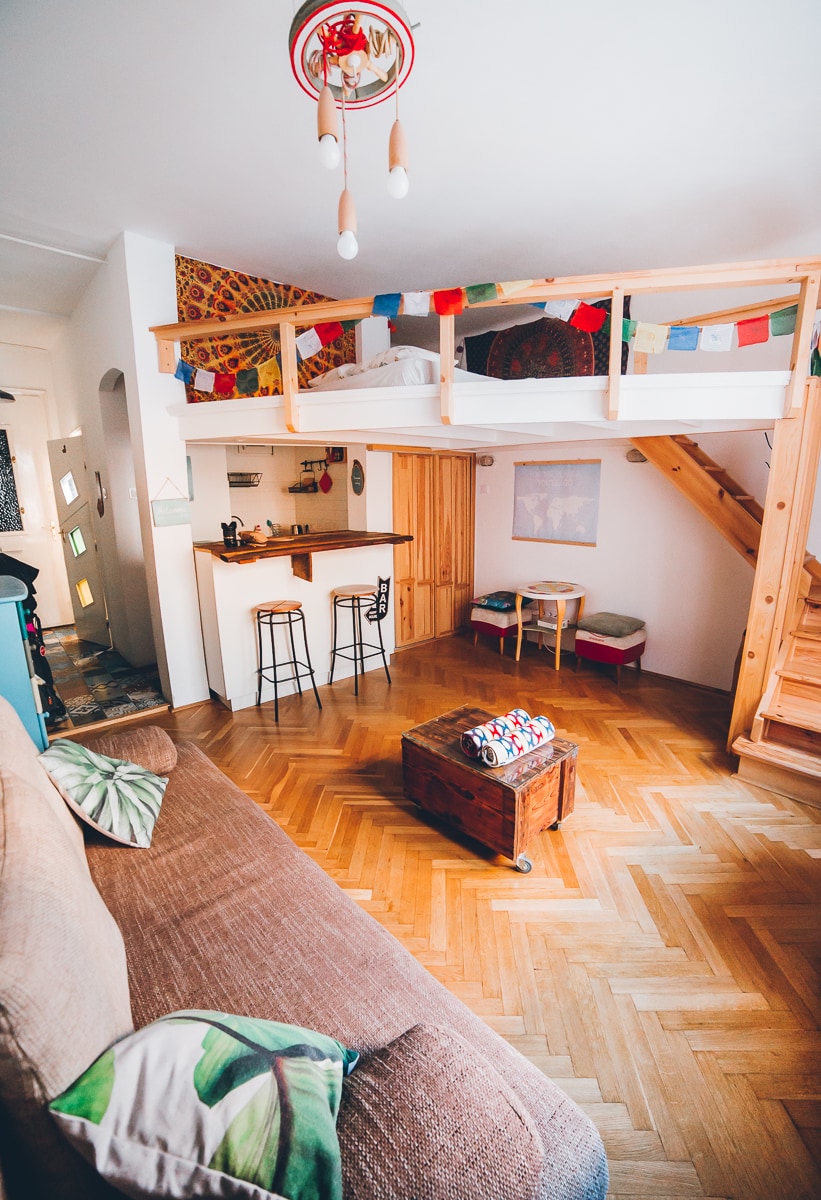 Our Budapest Airbnb had everything we needed and more, including a washing machine, a fully equipped kitchen and a fireplace. The location was fantastic, right in the middle of the Jewish District.
If you are on a tight budget, I recommend checking out the different Airbnb options in the city.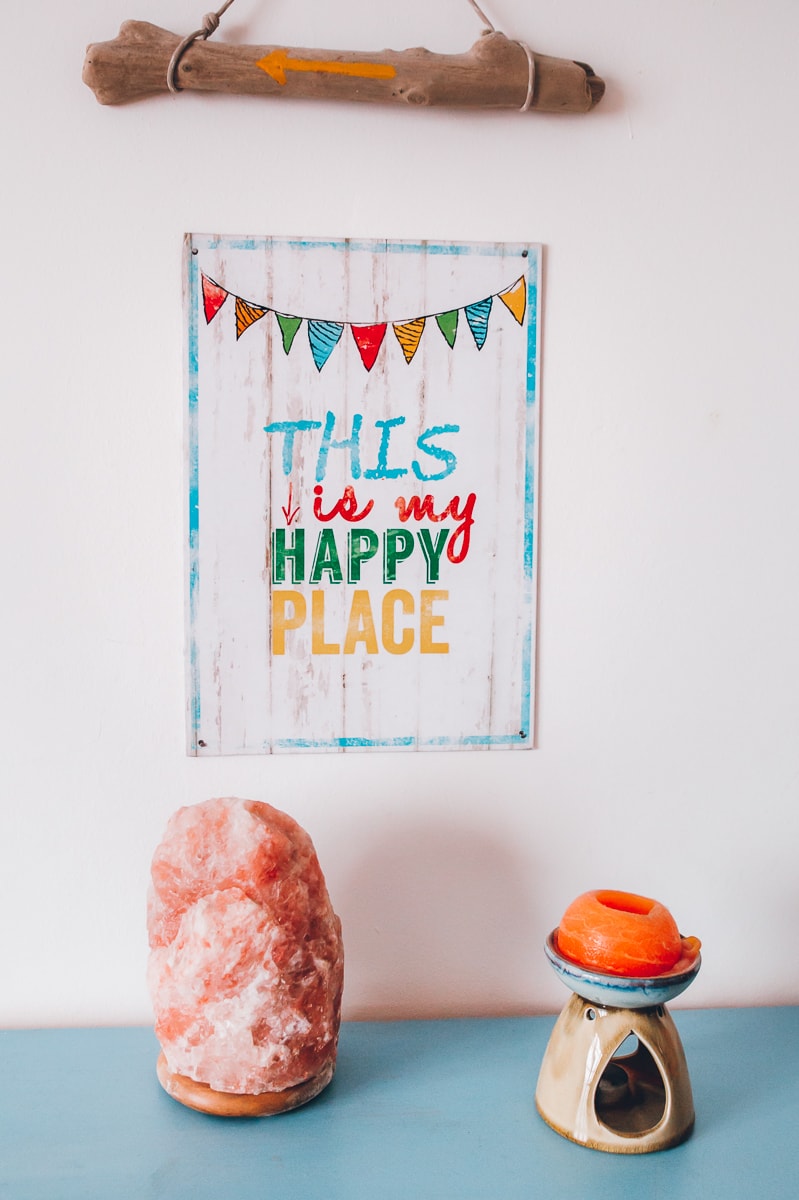 BUDGET
DIAMOND RESIDENCE – CASTLE SPECIAL
Diamond Residence – Castle Special is an apartment located in Buda, less than a mile (1.6km) from Fisherman's Bastion and Buda Castle. Its minimalistic and modern layout is super unique and with rates starting under $50 USD (depending on the season) the price is fantastic.
The apartment offers an airport shuttle, free wifi, a washing machine and a kitchen.
ROOMS AT DIAMOND RESIDENCE START AT $50 USD. CLICK HERE FOR MORE INFORMATION AND BOOKING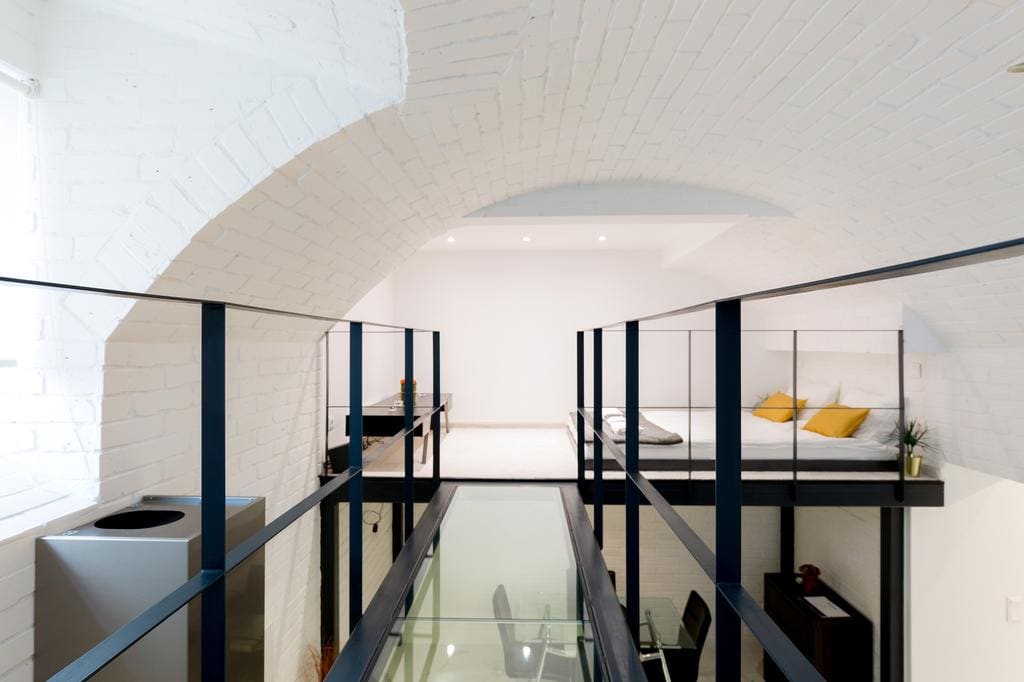 MID-RANGE
HOTEL COLLECT
Hotel Collect is a luxury boutique hotel located in downtown Budapest near Károlyi Park.
The rooms are a unique juxtaposition of French elegance with a vintage masculine feel. Hotel Collect offers free wifi, Netflix, a 24/7 in house bar and a private courtyard.
ROOMS AT HOTEL COLLECT START AT $146. CLICK HERE FOR MORE INFORMATION AND BOOKING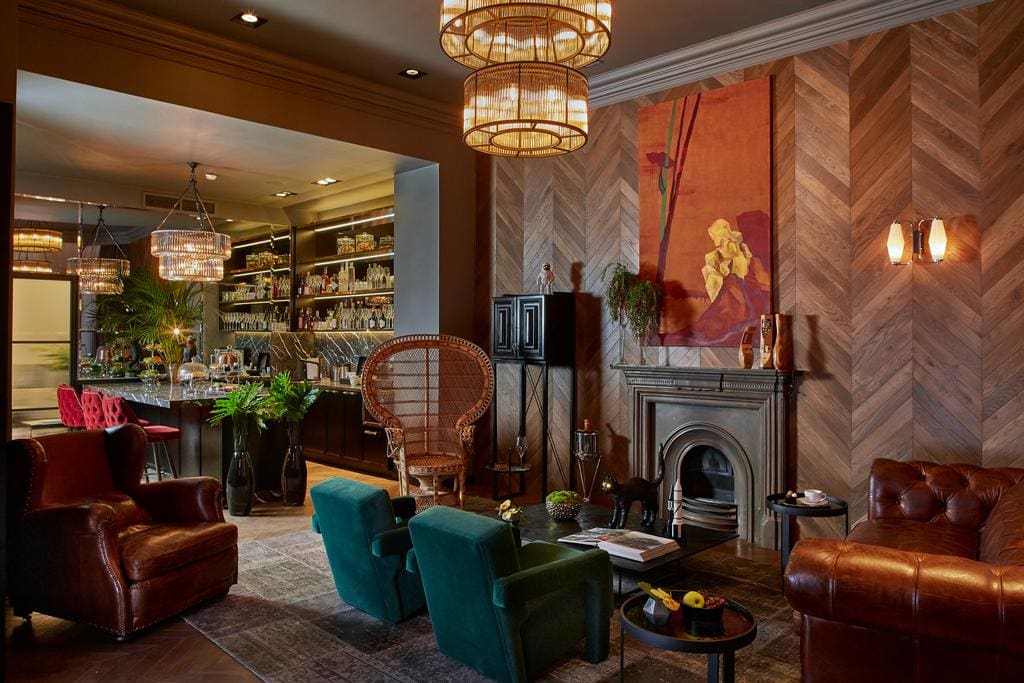 LUXURY
ARIA HOTEL
The Aria Hotel is a music themed, 5-star hotel located near St. Stephen's Basilica in District V. The colorful rooms are styled around four different music genres: jazz, classical, opera and contemporary.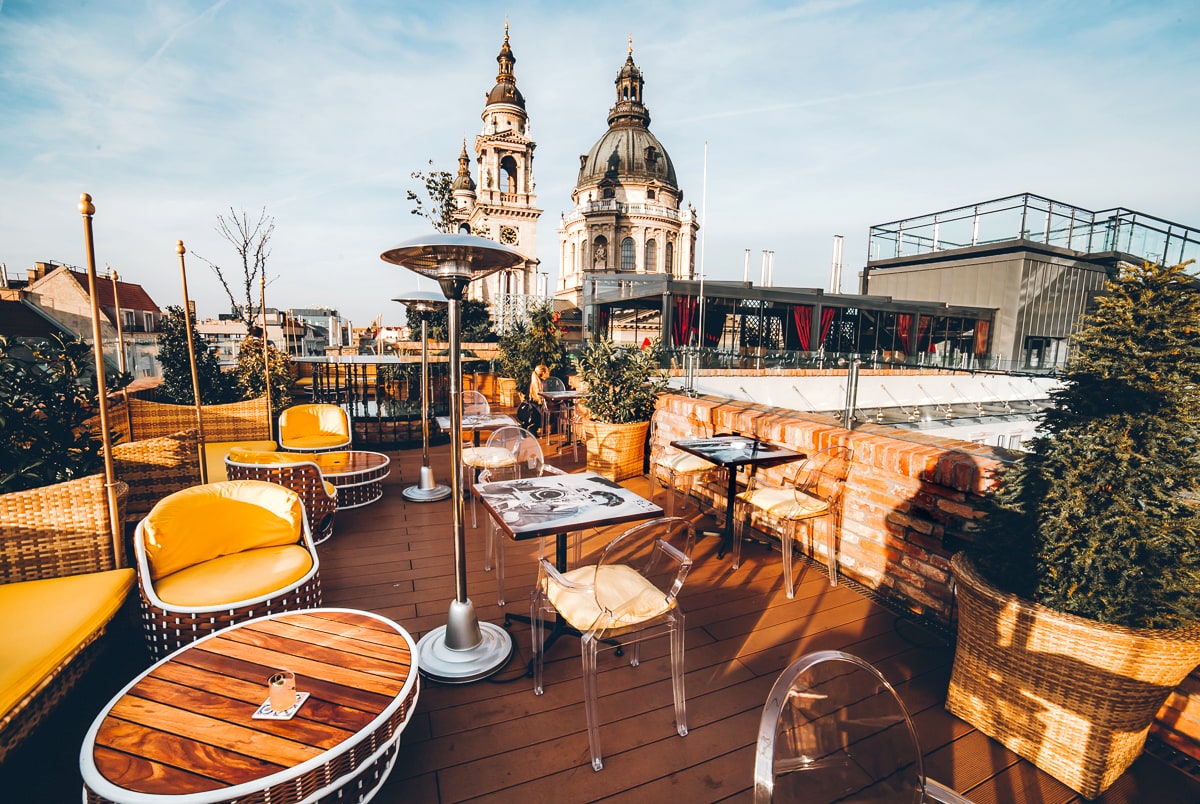 The Aria Hotel offers free breakfast as well as an afternoon wine and cheese hour. Guests also have access to the fitness center, steam room, sauna, whirlpool and pool.
While we didn't stay at the Aria Hotel, we did stop in for a drink at their rooftop bar which became one of our favorite bars in Budapest. The rooftop's seasonal theme was FILM so it was decorated with directors chairs, red carpets, makeup tables and a special cocktail list inspired by cinema classics.
ROOMS AT THE BUDAPEST ARIA HOTEL START AT $293. CLICK HERE FOR MORE INFORMATION AND BOOKING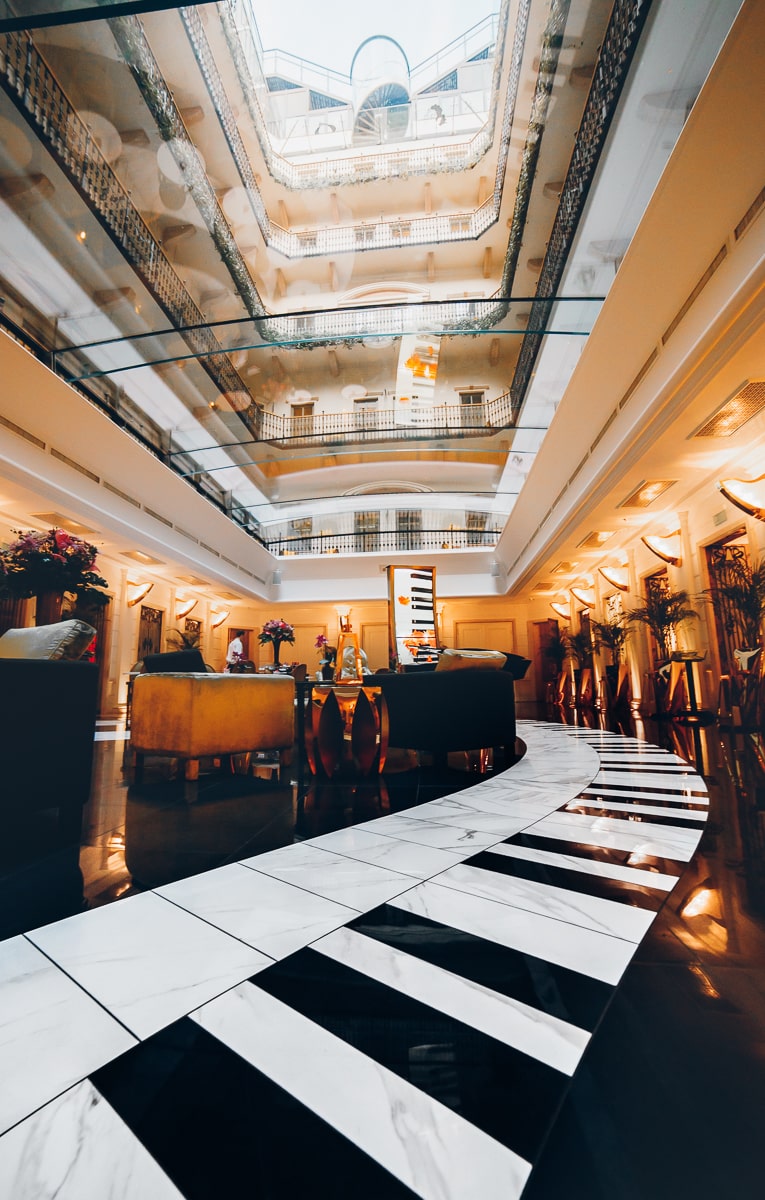 DID I MISS ANYTHING? WHAT ARE YOUR TOP THINGS TO DO IN BUDAPEST? LEAVE A COMMENT BELOW!
---
PIN IT: 10 THINGS TO DO IN BUDAPEST // WHAT TO DO, WHERE TO EAT & PLACES TO STAY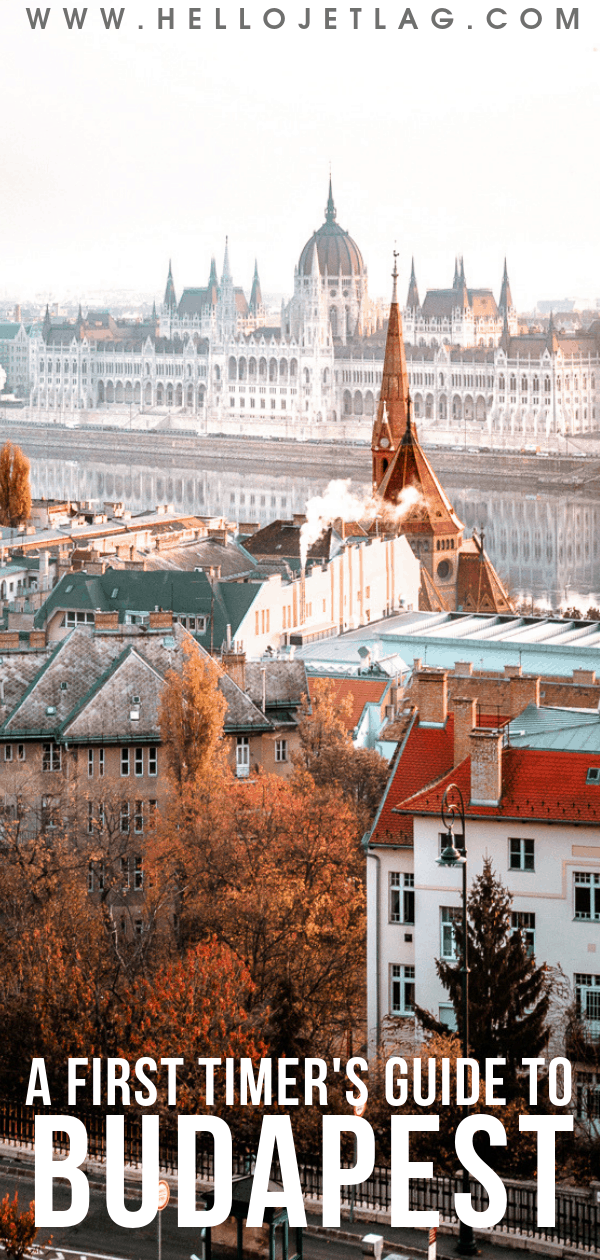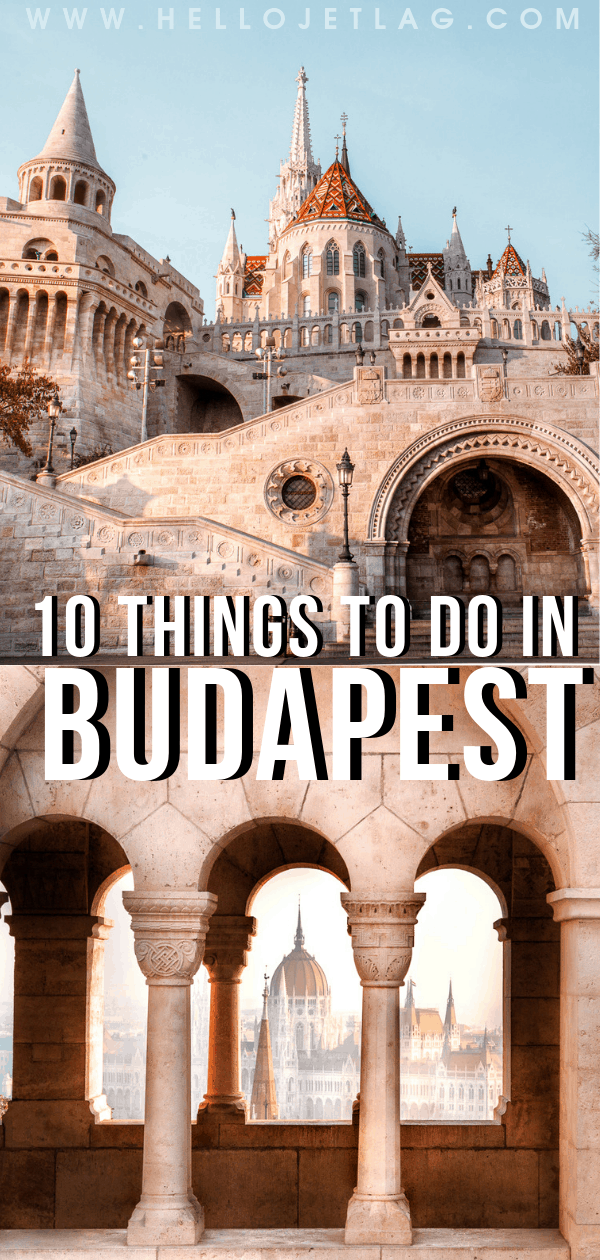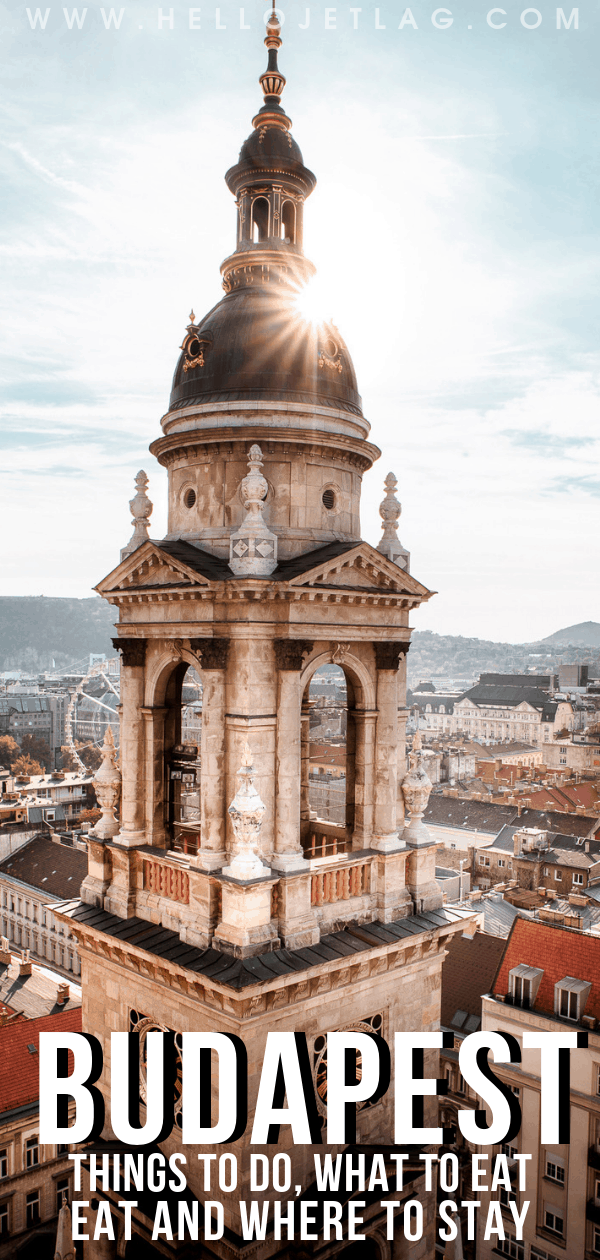 DISCLAIMER: This post contains affiliate links, which means if you click one and buy something, I receive a small commission.