It's nearly impossible to read anything about Budapest without the mention of ruin bars, and Szimpla Kert is reigning Queen of this popular nightlife trend. Located in Budapest's Jewish Quarter, which was home to the Jewish Ghetto during WWII, Szimpla Kert was the first bar to set up shop within the abandoned ruins of a neighborhood which had been left to crumble.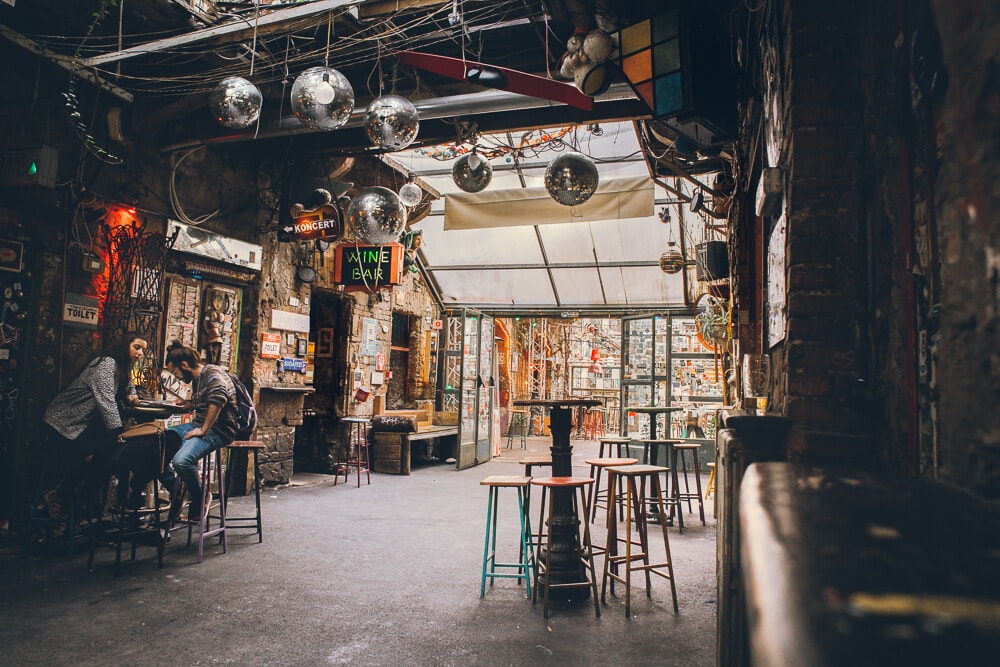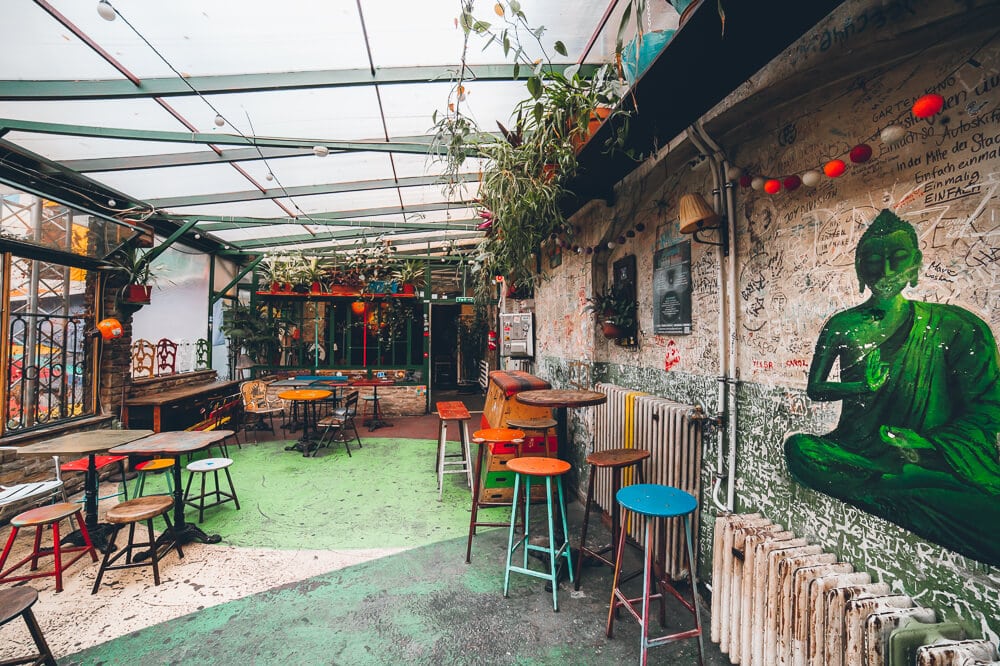 I didn't expect to like Szimpla Kert as much as I did. I figured it would be too touristy for my liking but we still went. obviously, because when have we ever said no to drinks in weird places?
When we entered the courtyard of the ruin bar on our first visit, I knew I was going to be wrong about this place. Its random, eclectic quirkiness out-charmed the fact that it was crawling with tourists, and I was in love.
---
RELATED POST 10 THINGS TO DO IN BUDAPEST : WHAT TO SEE + WHAT TO EAT & WHERE TO STAY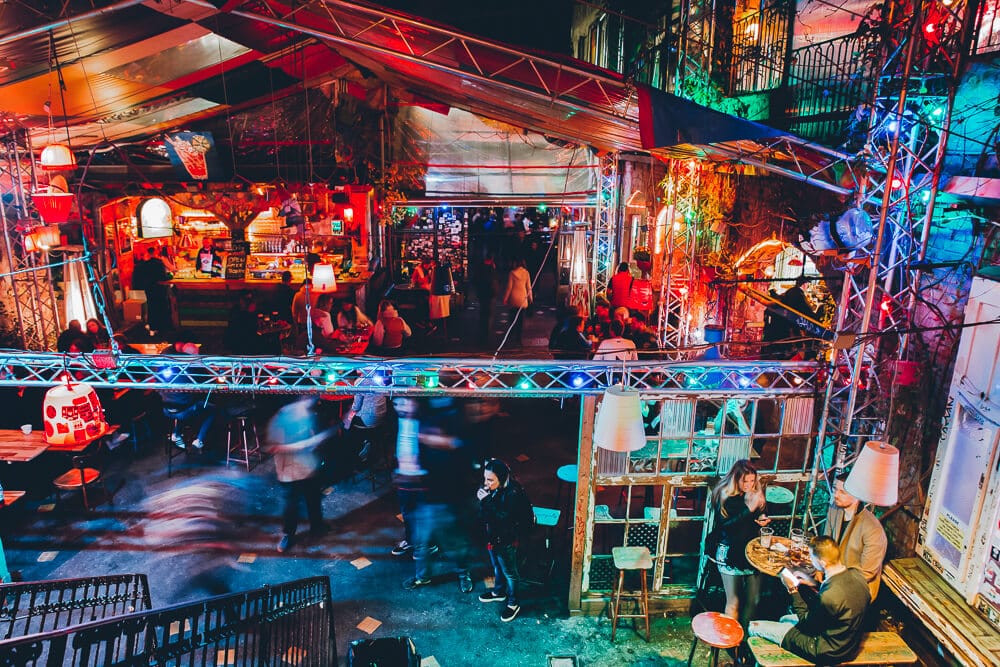 THE MANY BARS OF SZIMPLA KERT
Szimpla Kert used to be home to a stove factory and the interior is huge. It spans out over 2 colorful stories and there are about 8 different bars on the property.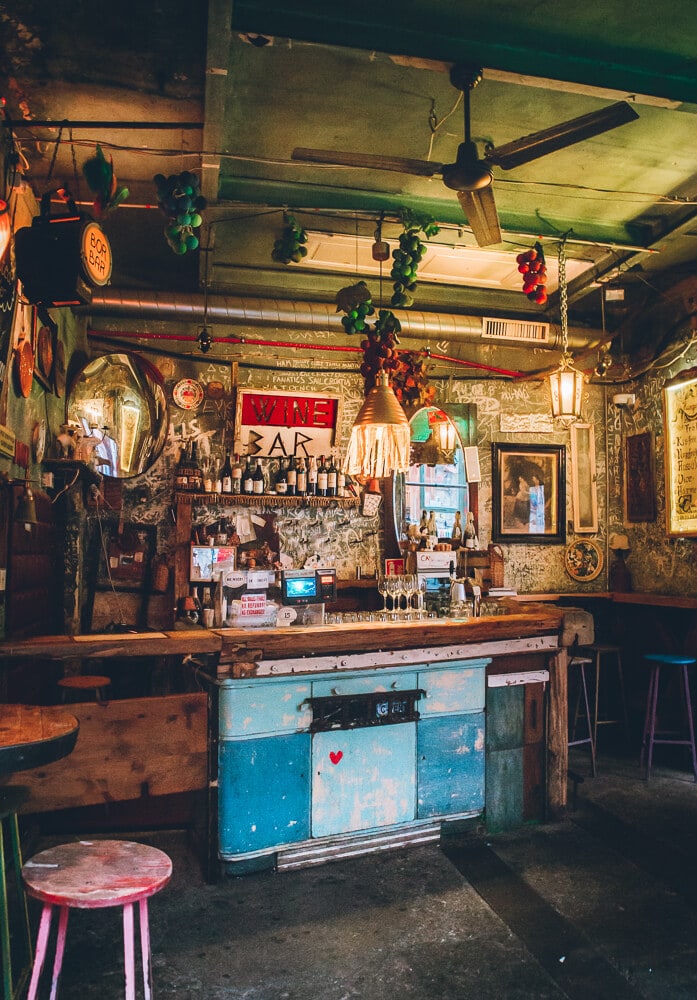 On the ground level you'll find several bars scattered about, including a shisha bar, cocktail bar and wine bar. On the upper level you'll find their restaurant, bio bar and craft beer bar. The craft beer bar is run by Mad Scientist brewery and is aptly designed as a laboratory, with beaker beer glasses and all.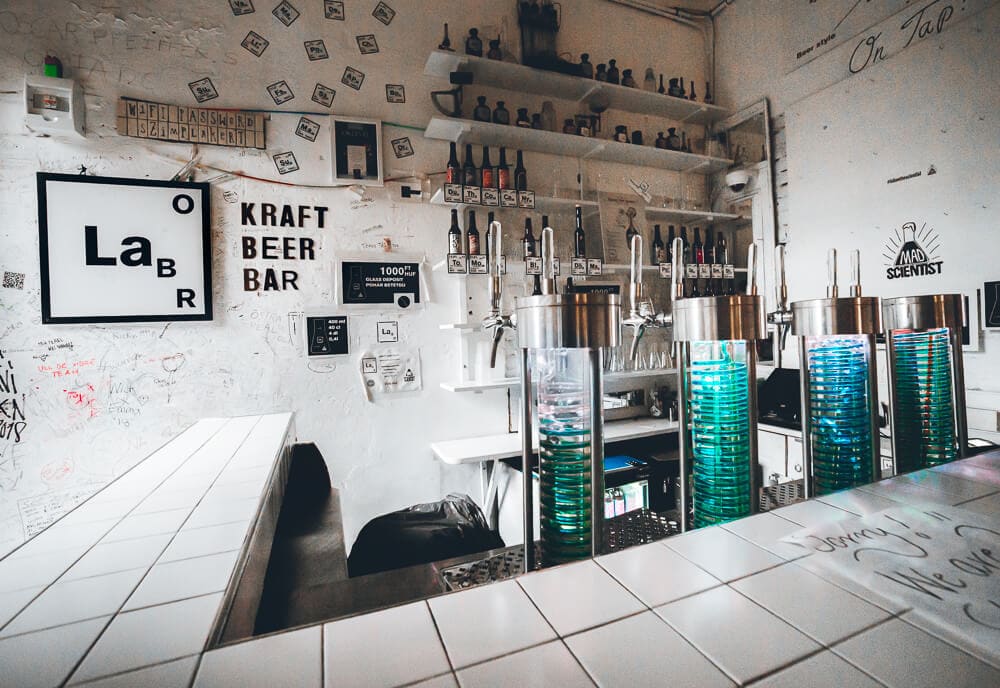 With oddities tucked away in every corner, you could spend hours wandering around Szimpla Kert and keep discovering new things.
Once you grab drink at your bar of choice, you can walk around or take a seat one of their many unique seating options such as the empty bathtub upstairs, an old car or even on top of a vintage television.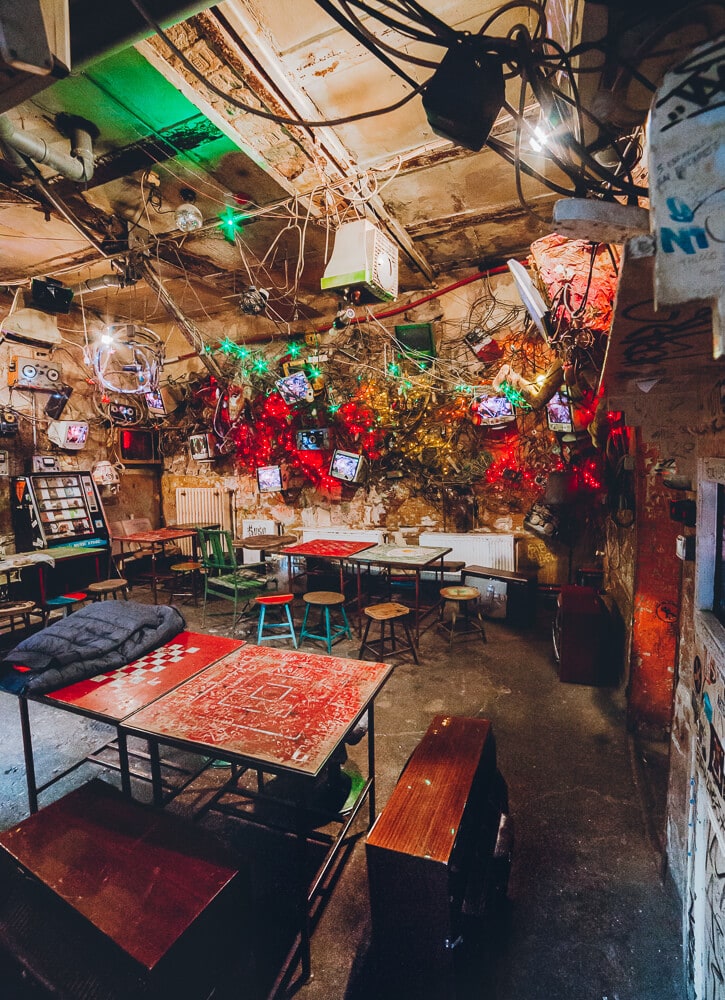 ---
RELATED POST: 5 BUDAPEST RUIN BARS: THE ABANDONED BUILDINGS OF BUDAPEST NIGHTLIFE
---
10 TIPS FOR YOUR VISIT TO SZIMPLA KERT 
SZIMPLA KERT IS FOR EVERYONE
Sometimes trendy bars tend to cater to a certain demographic, and it makes people who don't identify feel a little out of place. Not at Szimpla Kert.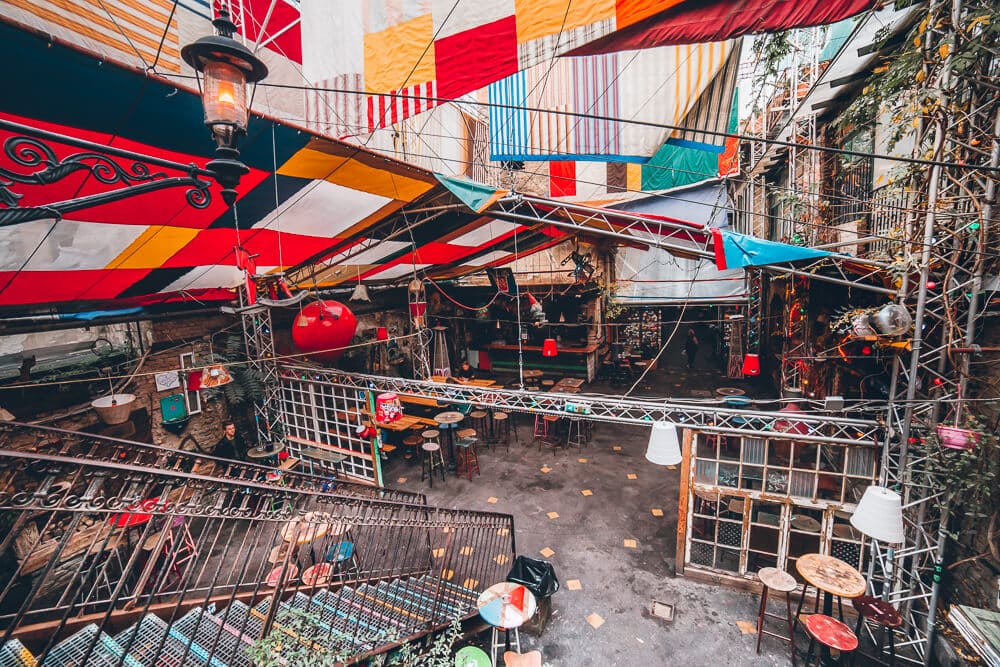 I saw every type of person walk through the doors of this ruin bar. Tourists, locals, young, old, those there to party and others chilling out with a glass of wine. It was actually one of the most diverse bars I've ever been to so whatever age range, scene or vibe you're into, you are welcome.
In fact their website states that they are part of the Safe Space program, and they "believe nobody should be discriminated against for sexual orientation, gender identity or gender manifestation, skin color, religion, ethnicity, financial situation or any other characteristics"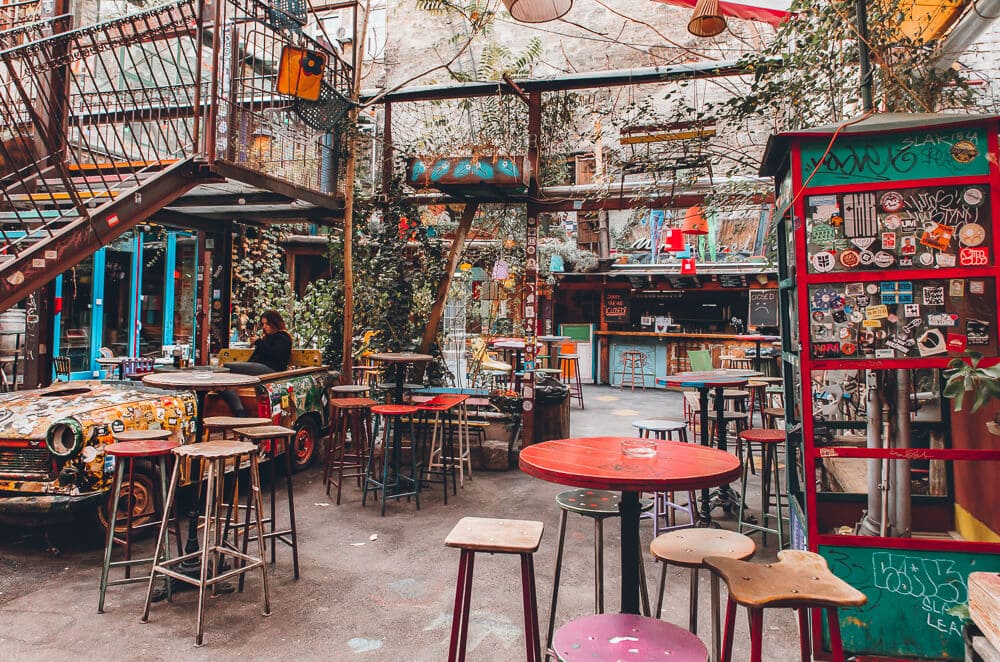 WHEN TO VISIT
During the day the bar's atmosphere is very mellow. There are tons of open tables and enough space to walk around and take photos. If you're not a fan of crowds or if you just want to stop in and check it out, I recommend visiting before 6-7pm.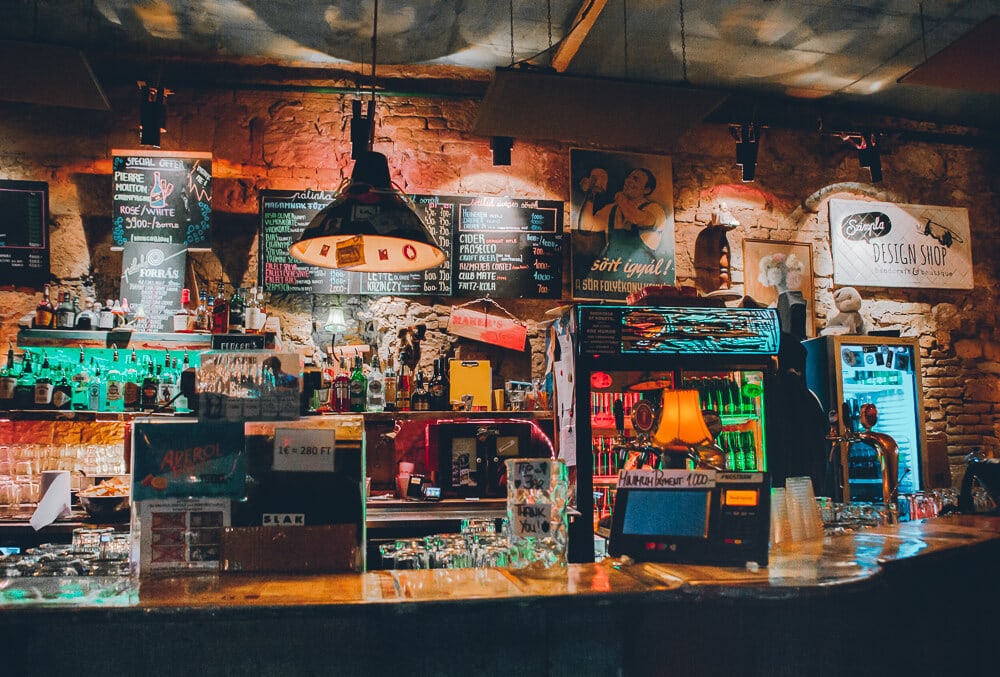 The later in gets into the night (10pm-4am) the more it starts to feel like a club environment, with live music, large crowds and more of a party atmosphere. If you're looking for a night out, you've come to the perfect place.
If you're not interested in drinking at all, come by on Sundays when they host their weekly Farmer's Market and local brunch buffet.
FARMER'S MARKET SUNDAY
On Sunday mornings the bar transforms into a farmer's market, with vendors selling local produce, cheese, meats, jam and spices.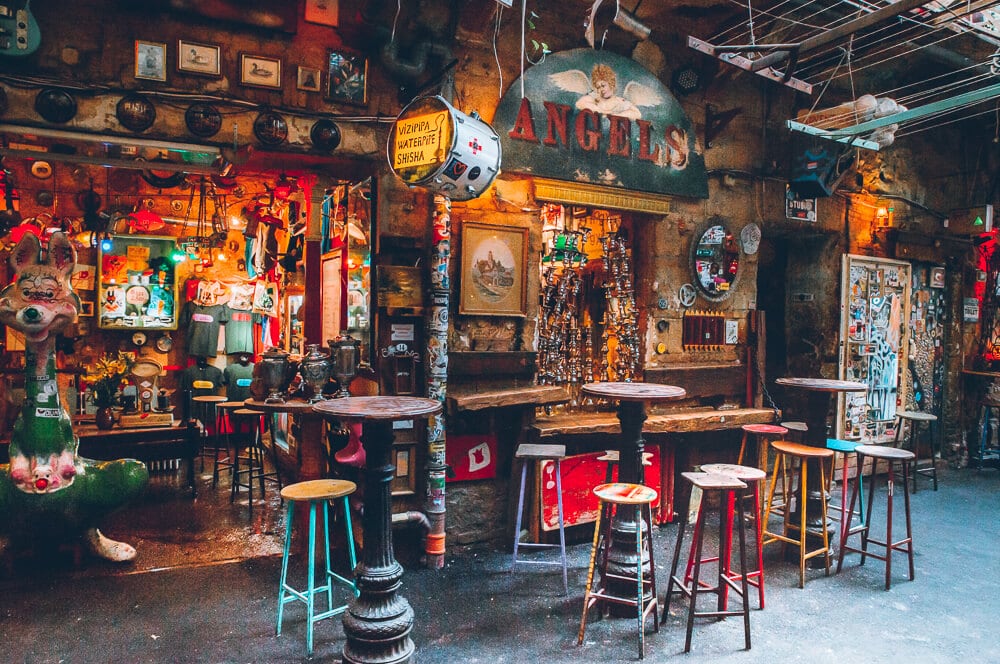 Upstairs, they serve an all you can eat Sunday brunch buffet made with ingredients from the Farmer's Market vendors. Brunch costs 5000HUF ($17.50USD), children under 12 are half off, and under 6 eat free.
Szimpla Sunday is open from 9am to 2pm
GO UPSTAIRS
It's easy to get distracted with how much there is to see on the lower level but make sure to also head upstairs to explore the craft beer bar and urban garden.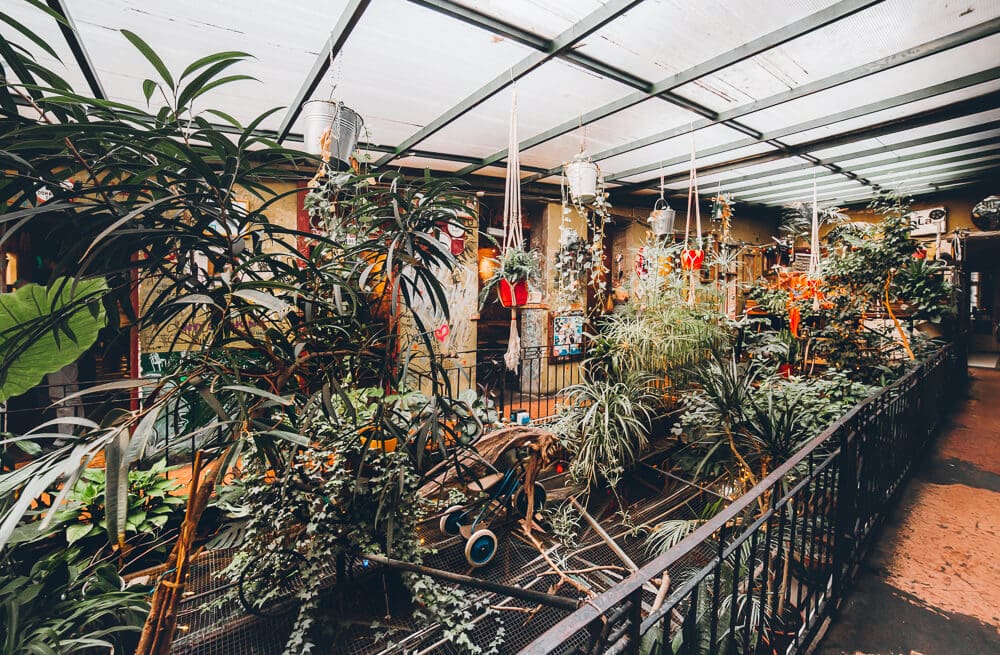 GET YOUR GLASS DEPOSIT BACK
When you buy a drink your total will include a 500HUF ($1.75USD) glass deposit charge. Before you leave, return your glass to any of the bartenders to get your deposit back.
VISIT EARLY DURING PEAK TIMES
Once the bar hits capacity, Szimpla Kert starts to limit entrance and you'll have to wait in line.
The later it gets into the night the more crowded the bar becomes, especially during peak season and on weekends. When we stopped in on Friday night, it was packed and every seat in the place was filled.
If you want a table, I recommend getting there early to skip the line and beat the crowds.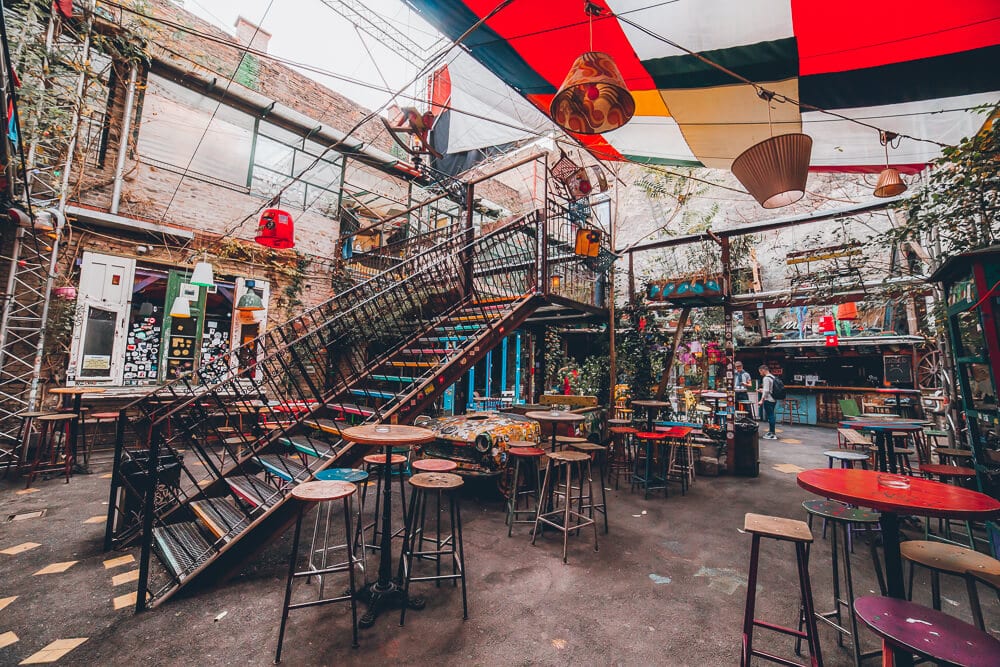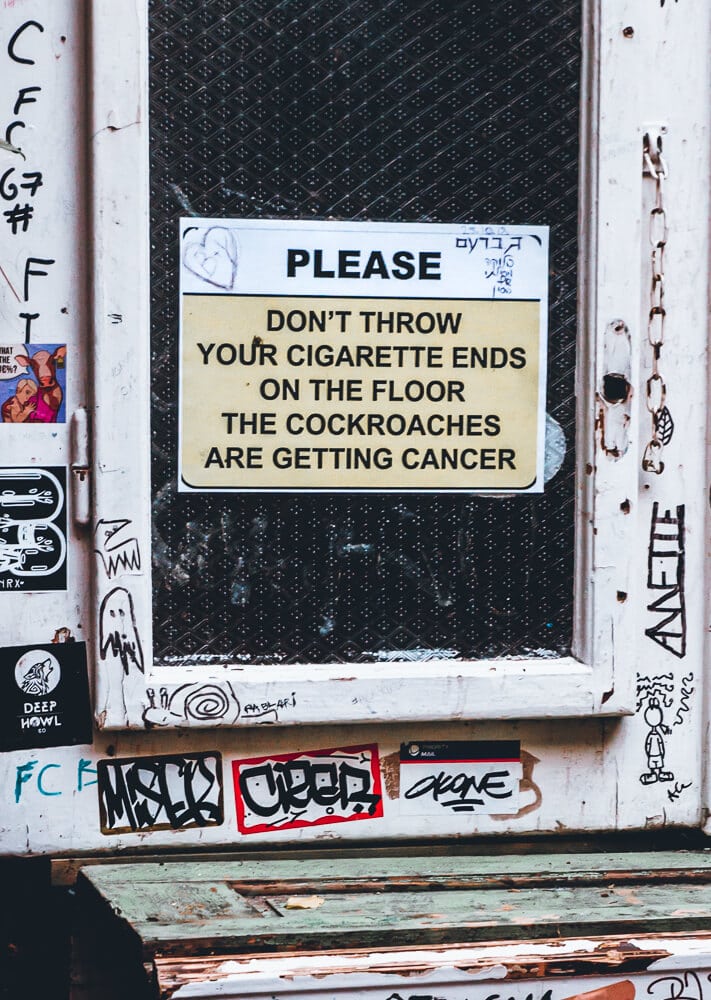 SKIP THE LINE WITH SZIMPLA CARDS
So this isn't really the best deal, but it might be helpful to someone..
Szimpla Kert offers Szimpla Cards which are essentially gift cards that also grant you skip the line privileges. You can buy the cards in 10,000 HUF, 20,000HUF, 50,000HUF and 100,000HUF denominations.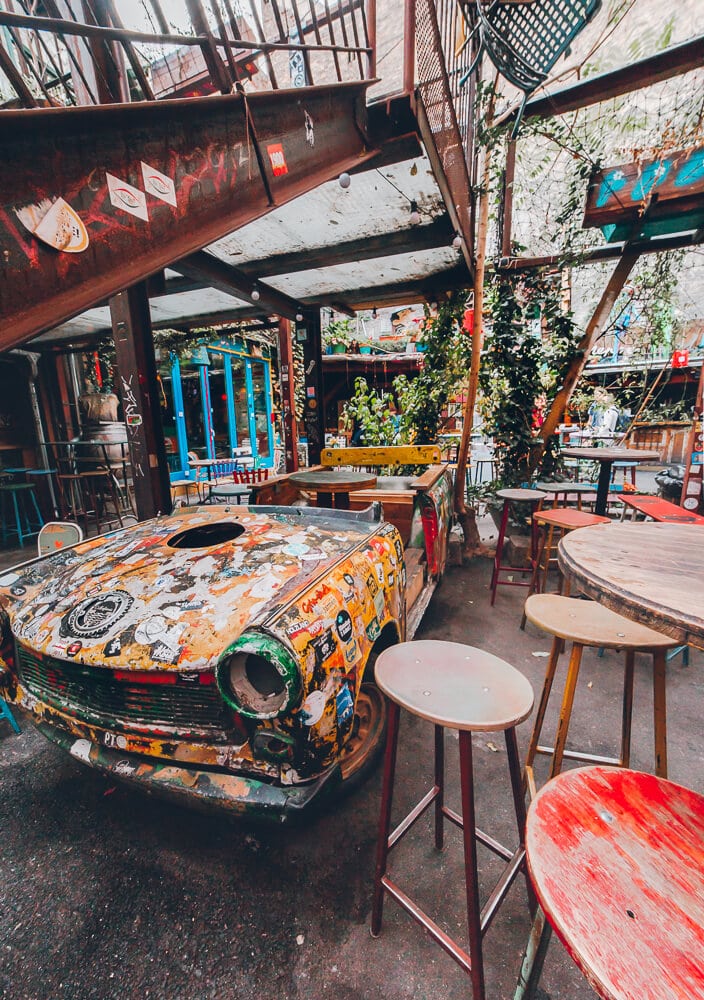 The only catch is that you have to buy the card before 7PM and depending on which card you buy, they limit the number of wristbands
There is also the option to buy a wristband in advance, which includes 1 drink and also allows you to skip the line.
CHECK THE CALENDAR
From blood drives, film screenings and open jams, to music nights featuring just about every genre you can imagine, Szimpla Kert hosts a packed schedule of community events and live music throughout the week.
Make sure to check their calendar to see what's happening during your stay.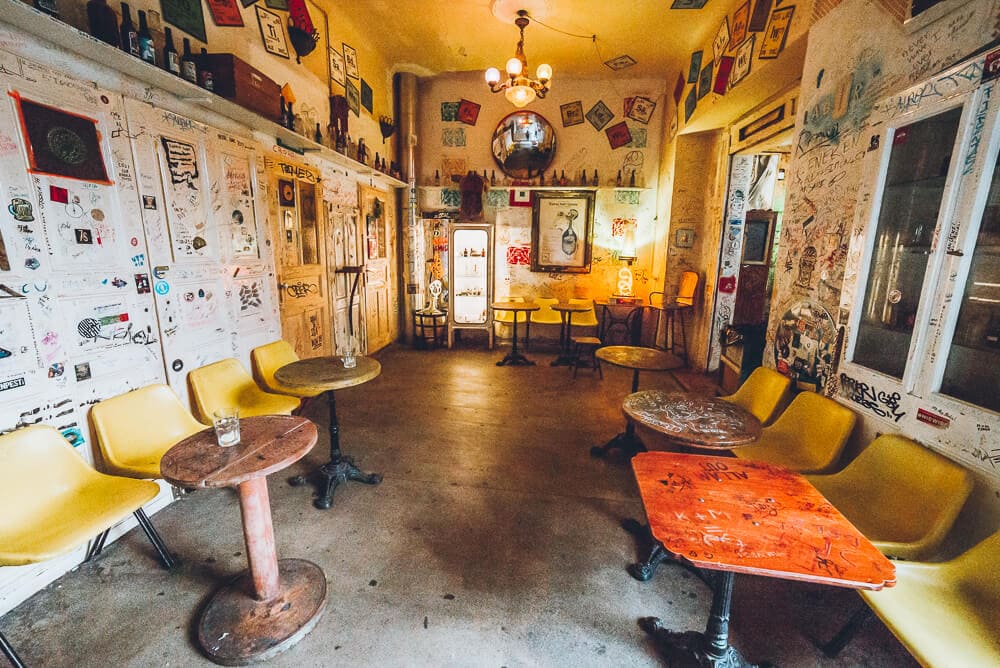 VISIT THE STREET FOOD ALLEY NEXT DOOR
If you walk out of Szimpla Kert and turn to the left, you'll find a cute little alley filled with a dozen street food vendors. They're serving up everything from goulash and langos to burgers and pizza. There is also a vegan booth at the very end of the alley.
It's perfect for late night cravings before heading back to your hotel.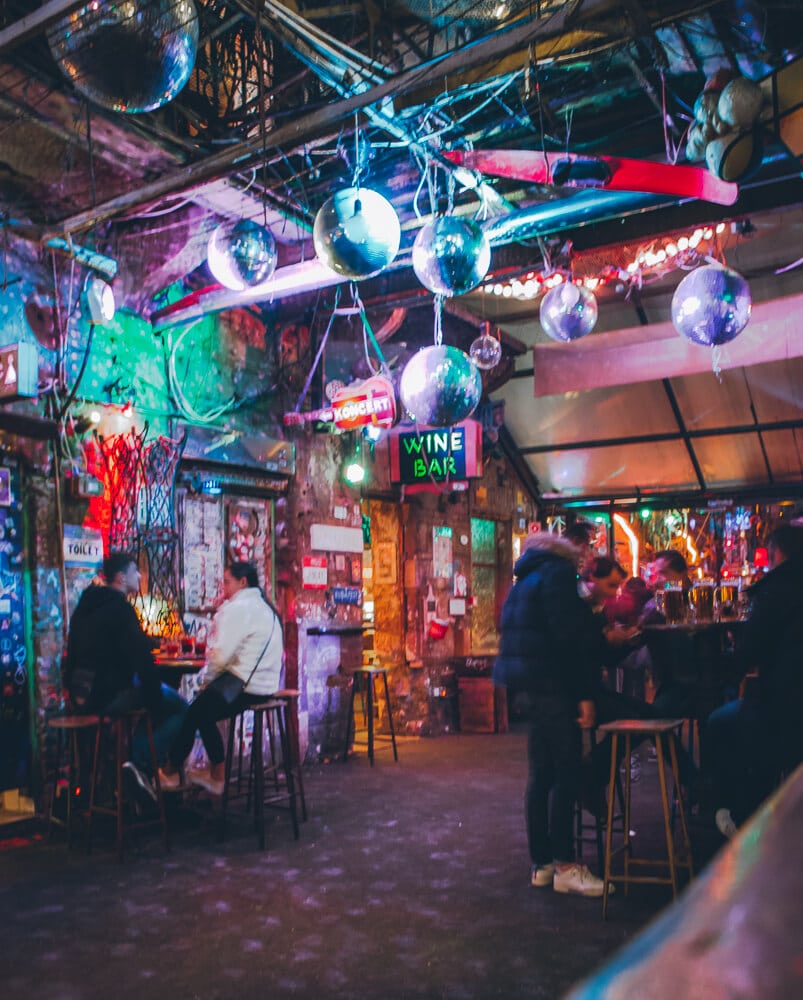 BRING CASH
The wine bar and the shisha bar are cash only. Szimpla Kert has an ATM on site but there's a 5 Euro fee to withdrawl, so bring cash with you to save a little money.
DRESS CODE
Extremely casual. Leave your heels at home.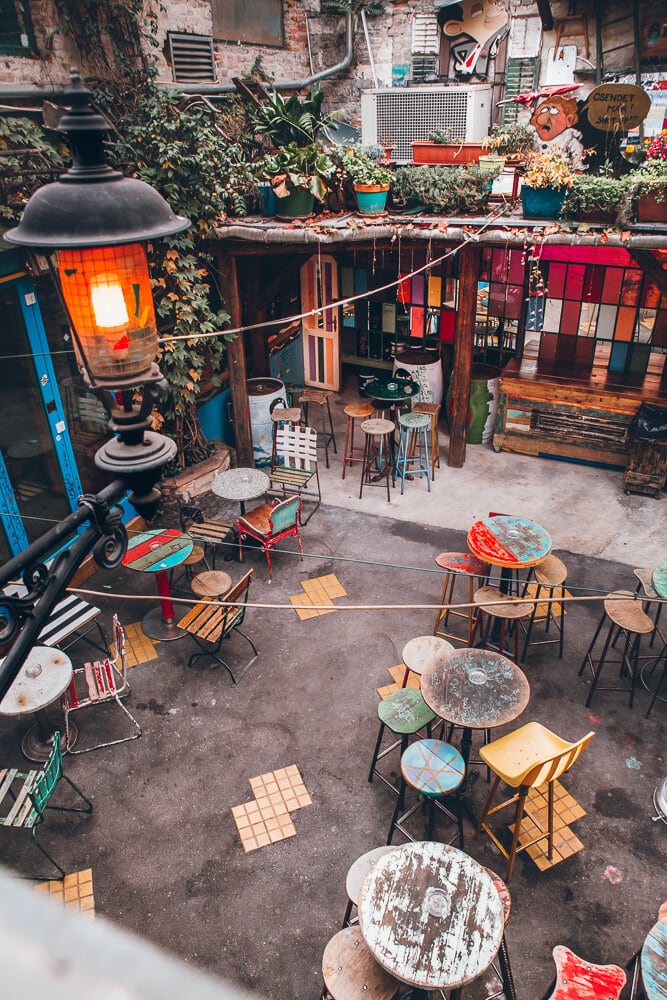 VISITOR INFO
HOW TO GET TO SZIMPLA KERT
ADDRESS Kazinczy utca 14., Budapest 1075, Hungary
METRO STOP Astoria
TRAM STOP Astoria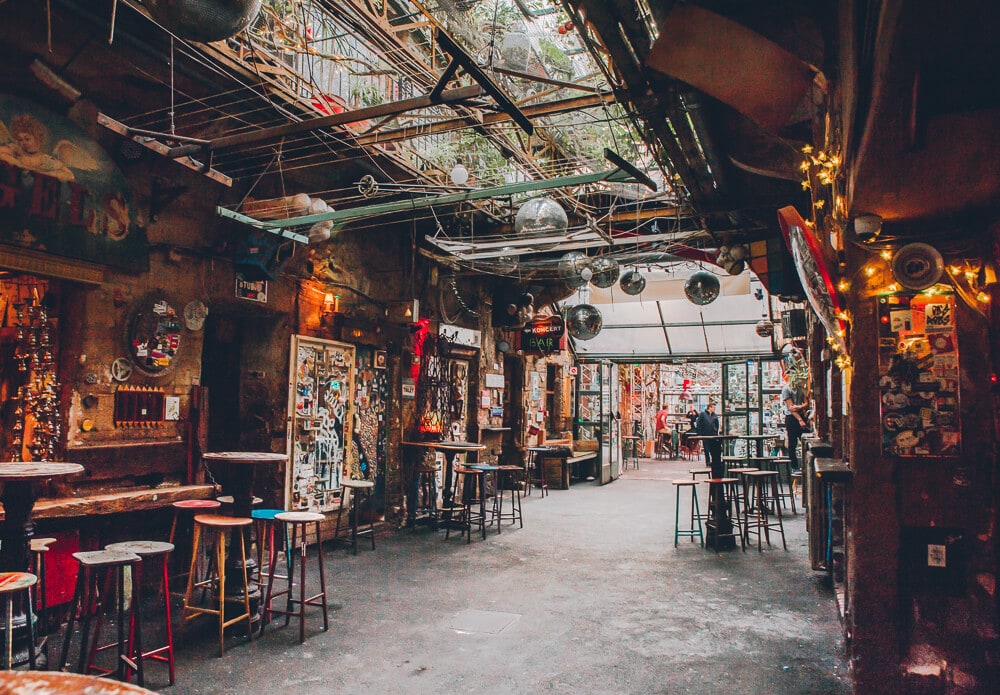 HOURS
Monday – Saturday: 12:00pm – 4am
Sunday: 9:00am – 4am
BAR HOURS
First Bar: Mon-Sat from 12pm / Sun from 9am
Garden Bar: Mon-Sat from 3pm / Sun from 9am
Kitchen: Mon-Fri from 12pm / Sat-Sun from 5pm
First Floor Bar: From 6pm daily.
Beer Bar: From 6pm daily.
Saloon Bar: Mon-Tues: closed / Thurs-Sun from 6pm
Wine Bar: From 7pm daily.
Bio Bar: Mon-Tues: closed / Thurs-Sun from 6pm
Koktail Bar: From 8pm daily.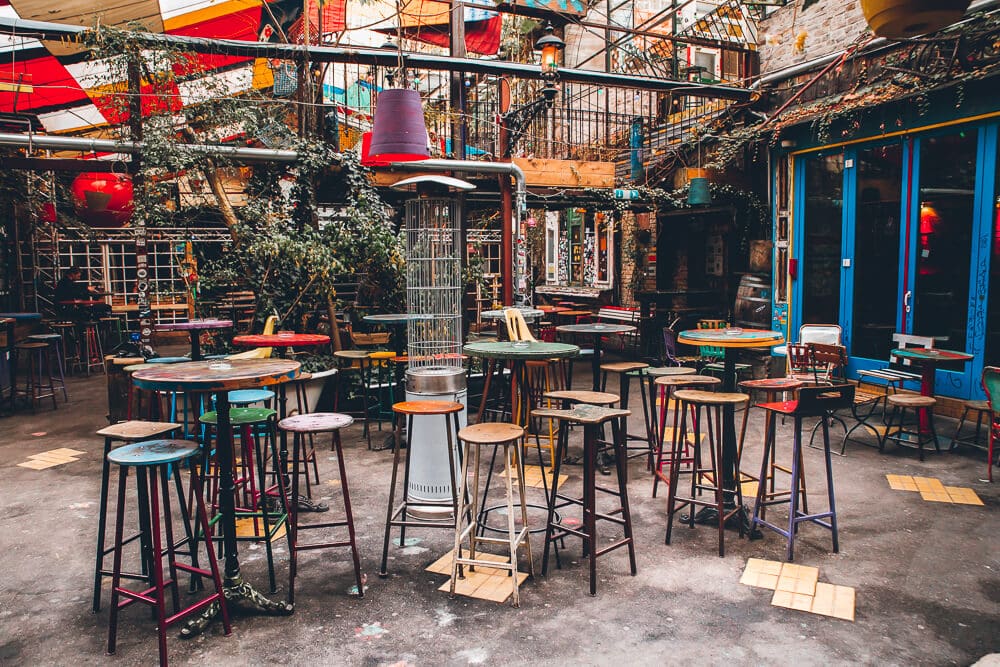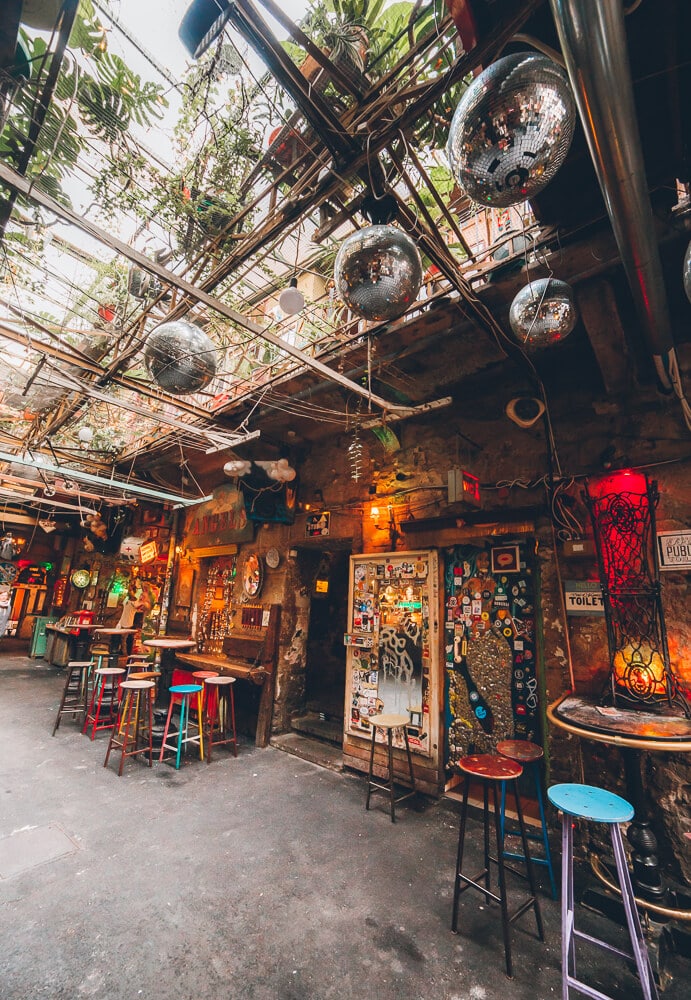 LOOKING FOR MORE BUDAPEST POSTS?
10 THINGS TO DO IN BUDAPEST : WHAT TO SEE + WHAT TO EAT & WHERE TO STAY
SZECHENYI BATHS // 15 TIPS FOR VISITING THE BUDAPEST THERMAL BATHS
30 PICTURES OF BUDAPEST TO INSPIRE YOUR NEXT TRIP TO HUNGARY
FISHERMAN'S BASTION AT SUNRISE: THE BEST VIEWS IN BUDAPEST
BUDAPEST NIGHTLIFE: 7 UNIQUE BUDAPEST BARS TO VISIT ON A NIGHT OUT
5 BUDAPEST RUIN BARS: THE ABANDONED BUILDINGS OF BUDAPEST NIGHTLIFE
3 TOURIST TRAPS TO AVOID AT THE GREAT MARKET HALL IN BUDAPEST
ST. STEPHEN'S BASILICA // A VISITOR'S GUIDE TO BUDAPEST'S LARGEST CHURCH


Have you been to Szimpla Kert? Have anything to add? Leave a comment!
---
PIN IT: SZIMPLA KERT // BUDAPEST'S MOST POPULAR RUIN BAR