From rooftops views and thermal spa parties, to ruin pubs and a communist themed dive bar, Budapest is packed with interesting (and cheap!) places to drink. The city comes alive at night, and while we usually prefer day drinking during our travels, the energy of the Budapest nightlife scene made it impossible to go home early.
Keep reading to discover our 6 favorite Budapest bars (plus 1 we didn't actually go to, but really wanted to).
---
RELATED POST: 5 RUIN BARS TO CHECK OUT IN THE BUDAPEST NIGHTLIFE SCENE
---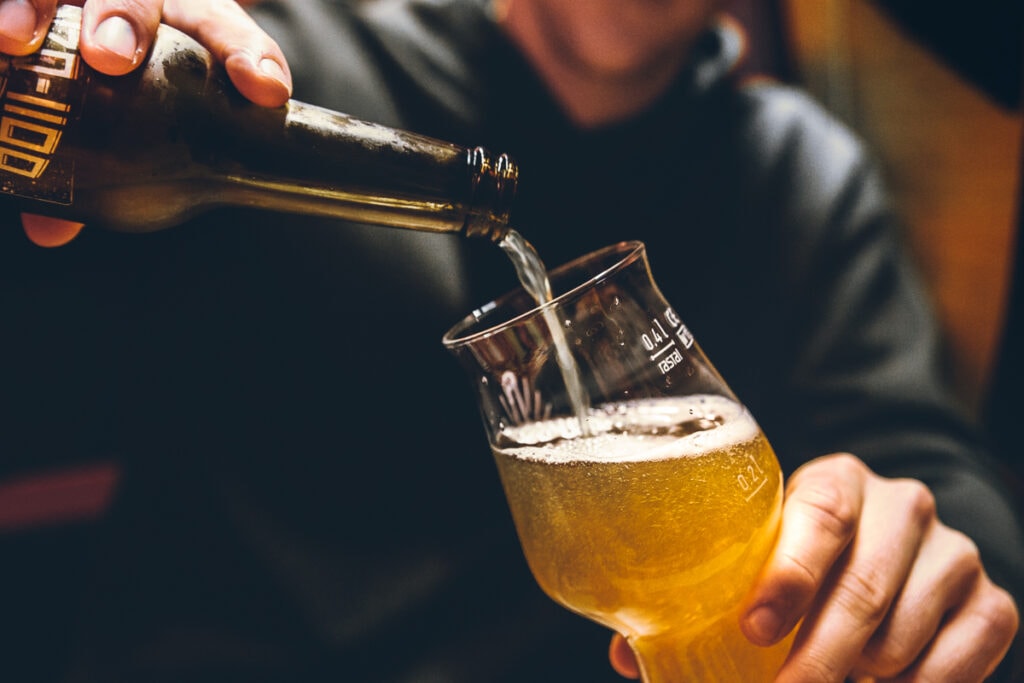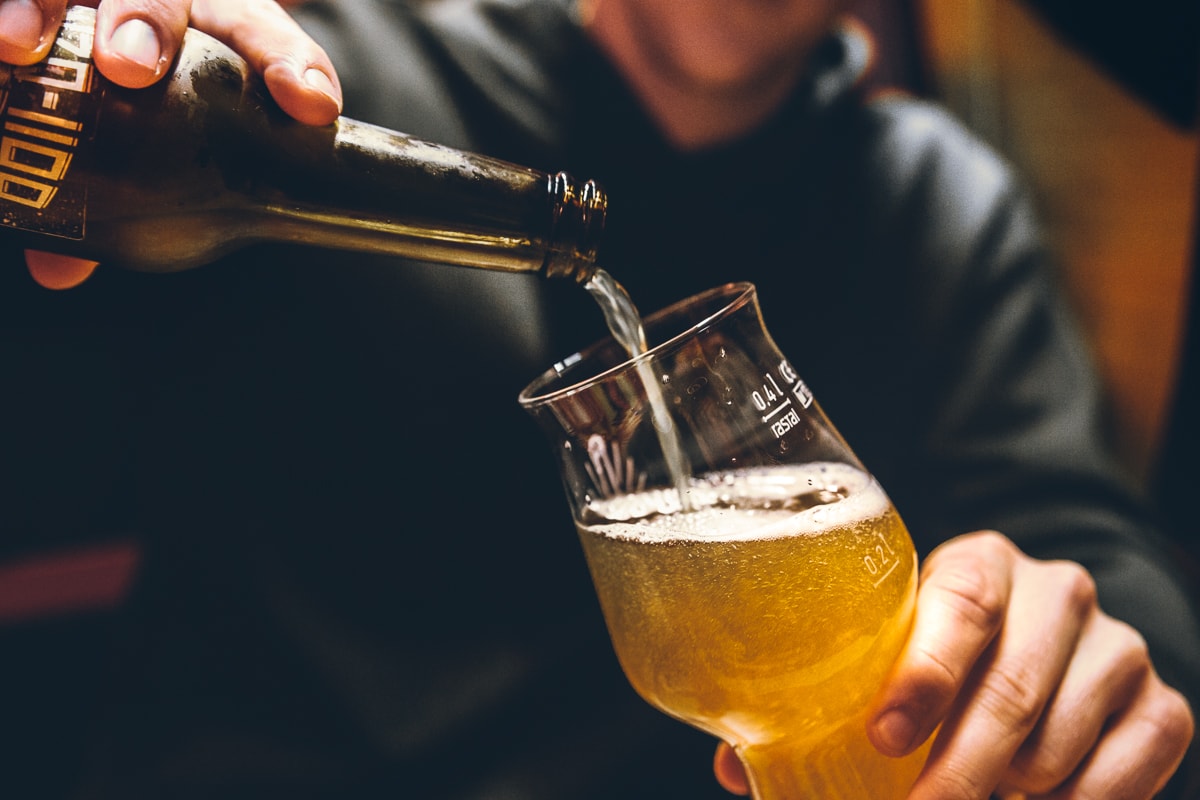 BUDAPEST NIGHTLIFE // 7 UNIQUE BUDAPEST BARS YOU HAVE TO VISIT
360 BAR
360 Bar is a trendy rooftop bar located on Andrássy Avenue in central Pest. During the warmer months it's the perfect setting for daytime drinks with panoramic views, and in the colder season the terrace is transformed into an Igloo Garden.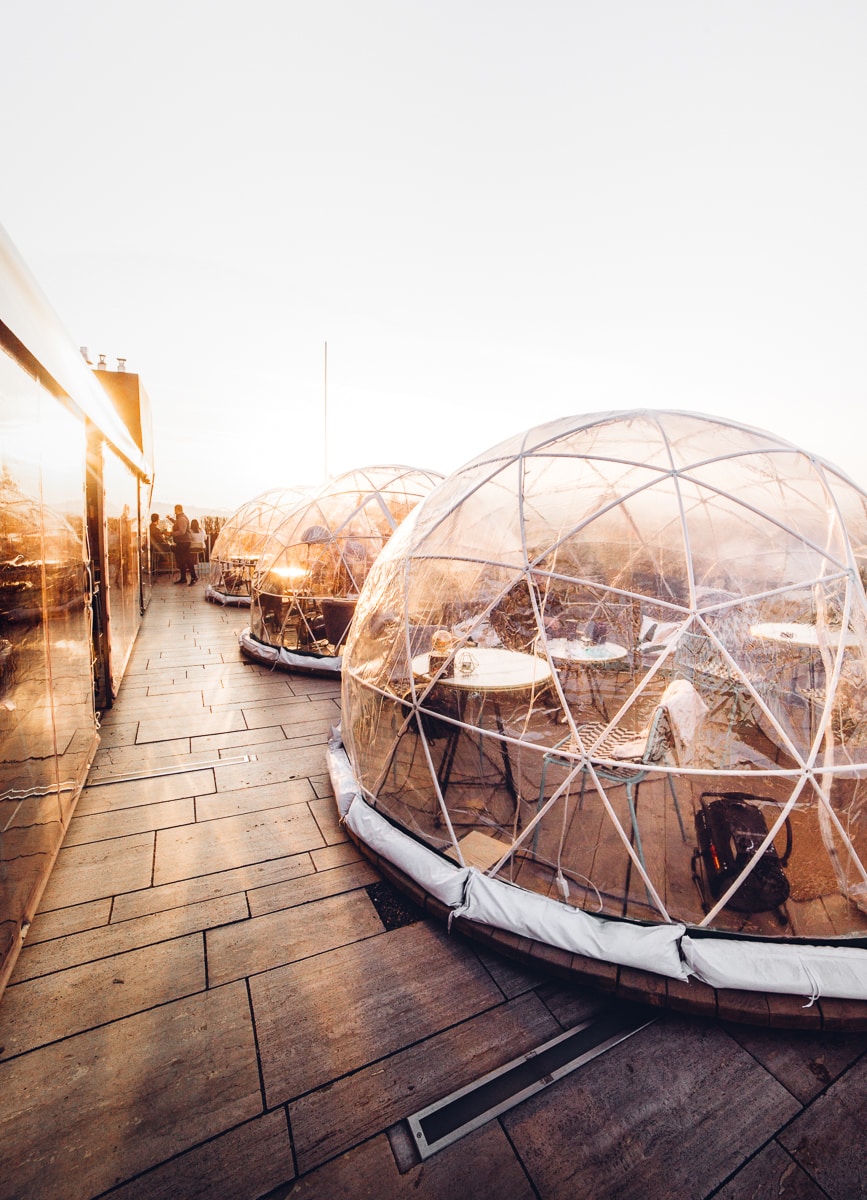 We visited in November and the Winter theme was in full swing. 360 Bar's collection of cozy, heated igloos allows you to partake in the outdoor rooftop experience year round.
The bar offered a special Winter cocktail list which included hot drinks like their Ho Ho Hot Toddy, as well as a several chilled options. I ordered a drink called Gingle Bells made from St. Germain, grapefruit tonic and a sprinkling of pomegranate seeds, which gave it a festive flare.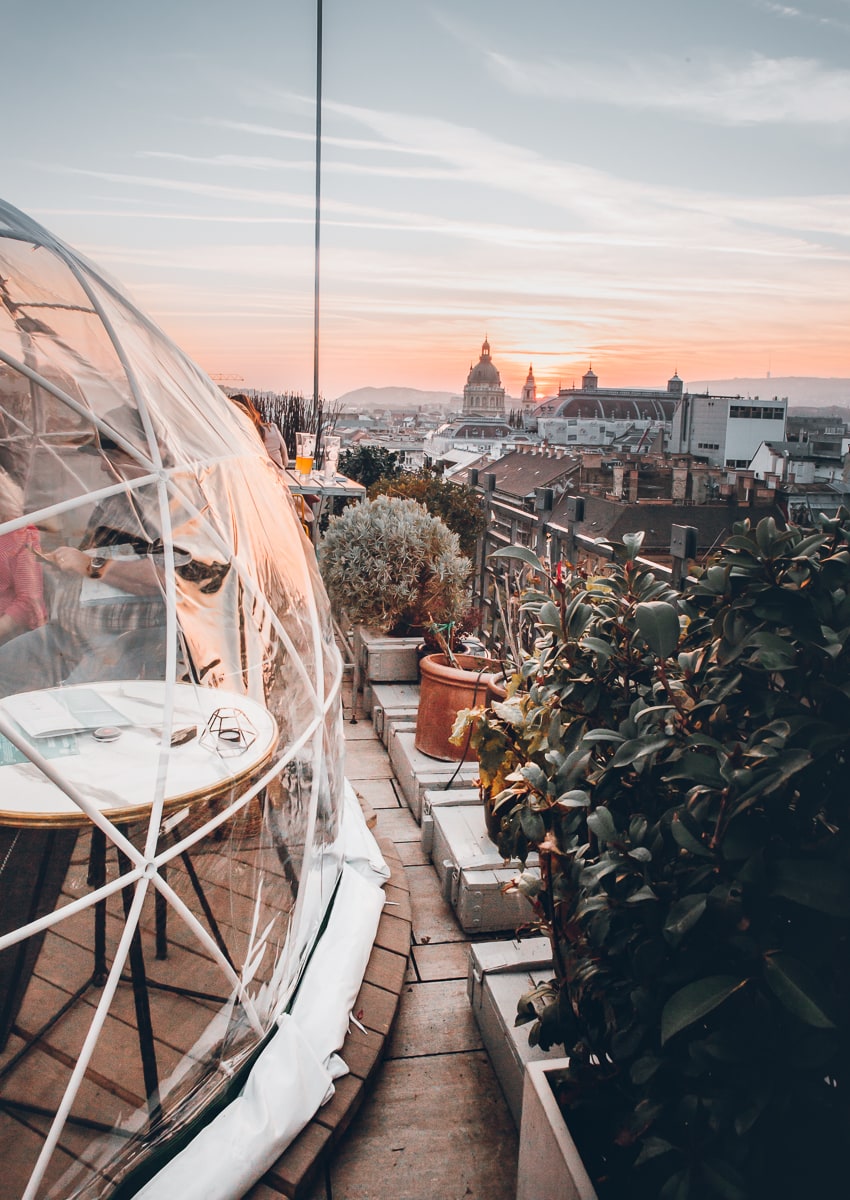 Nick got the Sub Zero which was made with Kraken, peach tea syrup, lemon juice, passion fruit, orange squeeze and bitters. Both drinks were good, but Nick's won because of the passion fruit garnish, obviously.
---
RELATED POST: FISHERMAN'S BASTION AT SUNRISE // THE BEST VIEWS IN BUDAPEST
---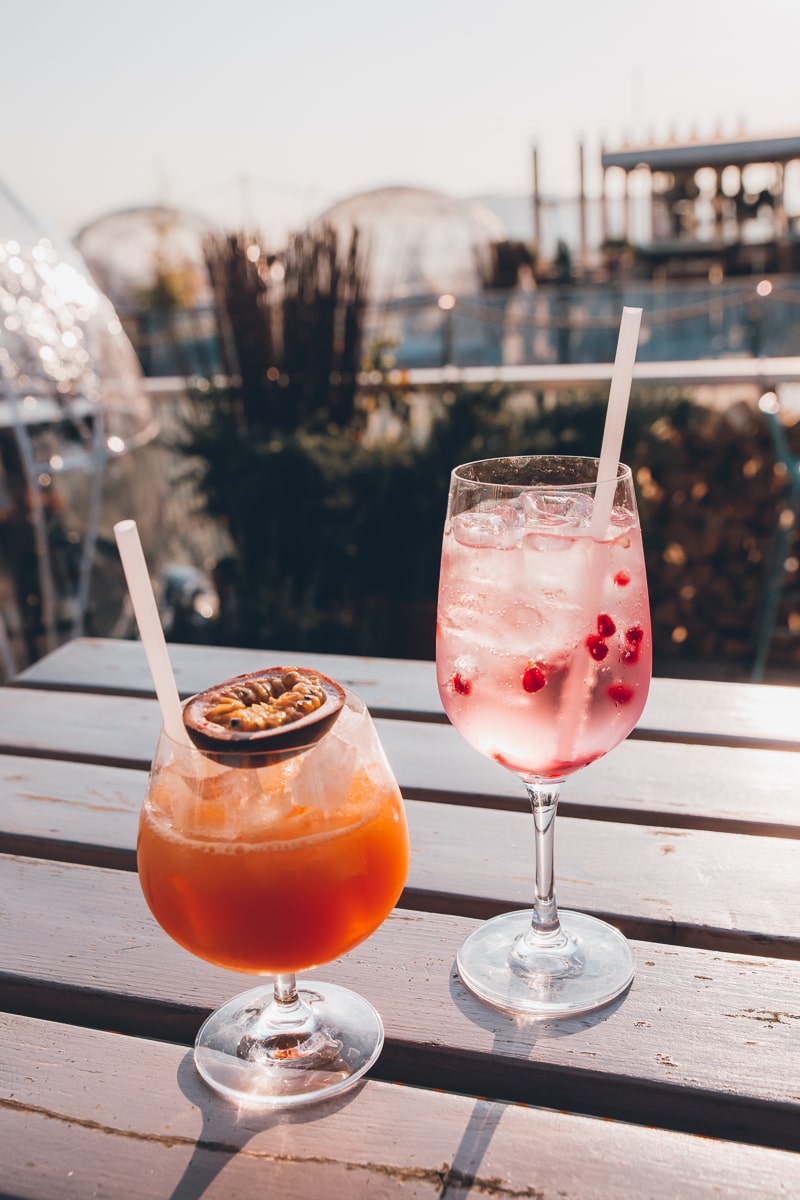 Prices for cocktails ranged from 1850 HUF to 2880 HUF ($6.47 USD to $10 USD), so it wasn't too pricey, and if you get hungry they also have a food menu which consists of burgers, shared platters and salads.
We stopped in for drinks on a weekday, right before sunset and there was a lot of open seating available. As the night went on though, the igloos became increasingly more reserved and the bar got pretty busy. I recommend making reservations beforehand to ensure you're able to be seated and that you don't have to wait in line.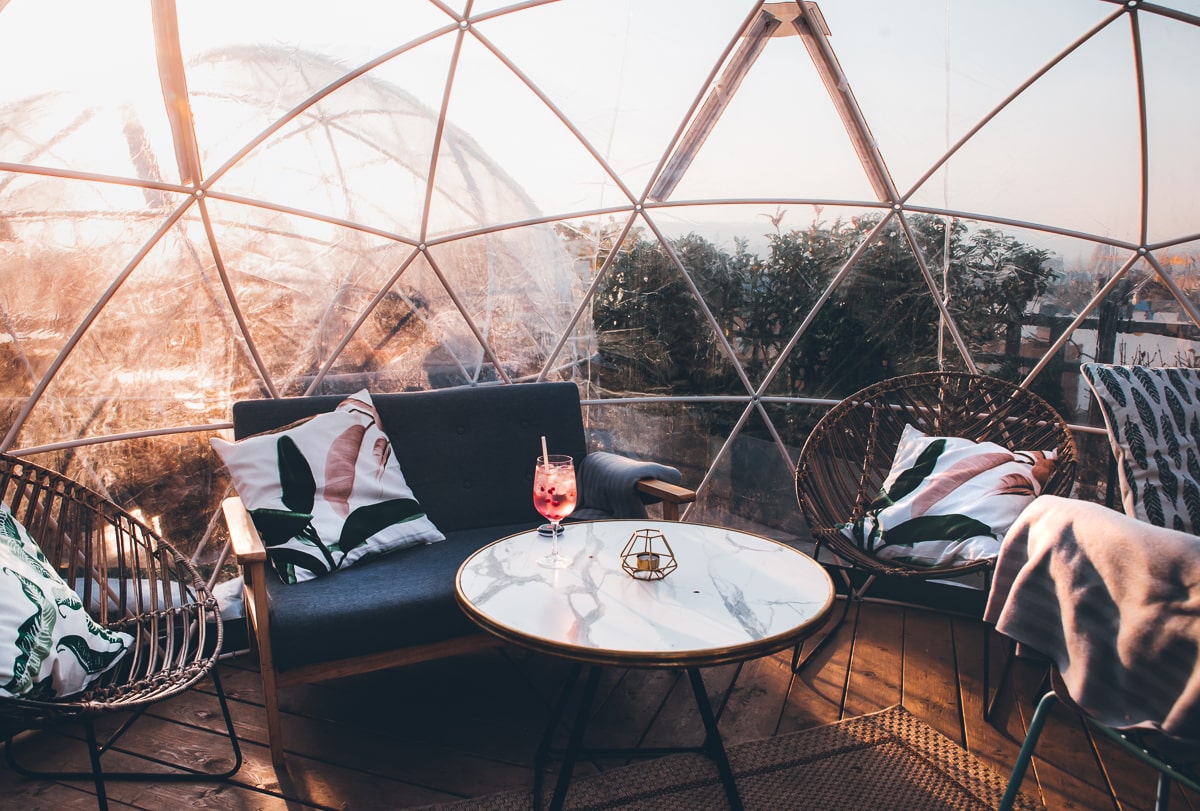 During the Summer, 360 Bar starts charging a small cover at certain times due to their entertainment schedule (1000 HUF / $3.50 USD ). On weeknights after 5pm they have live music and on weekends they bring in a live DJ.
If you plan to visit, be sure to check their Facebook page to see what events are coming up. In addition to their live music schedule, they also host yoga brunches.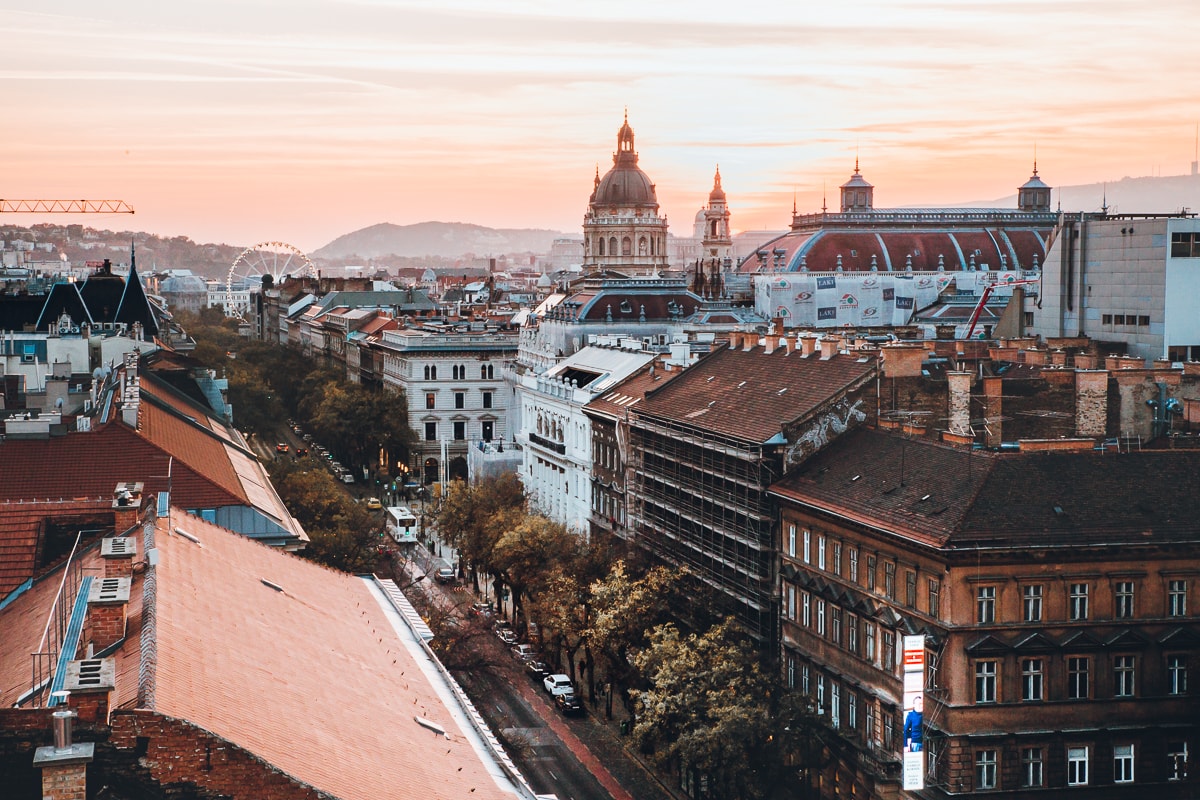 360 Bar ended up being one of my favorite Budapest nightlife experiences. The views from the rooftop were fantastic and it was the perfect place to chill and watch the sunset.
HOUR
Monday-Wednesday: 2:00PM – 12:00AM
Thursday-Saturday: 2:00PM – 02:00AM
Sunday: 2:00PM – 12:00AM
ADDRESS
Andrassy ut 39., Budapest 1061 Hungary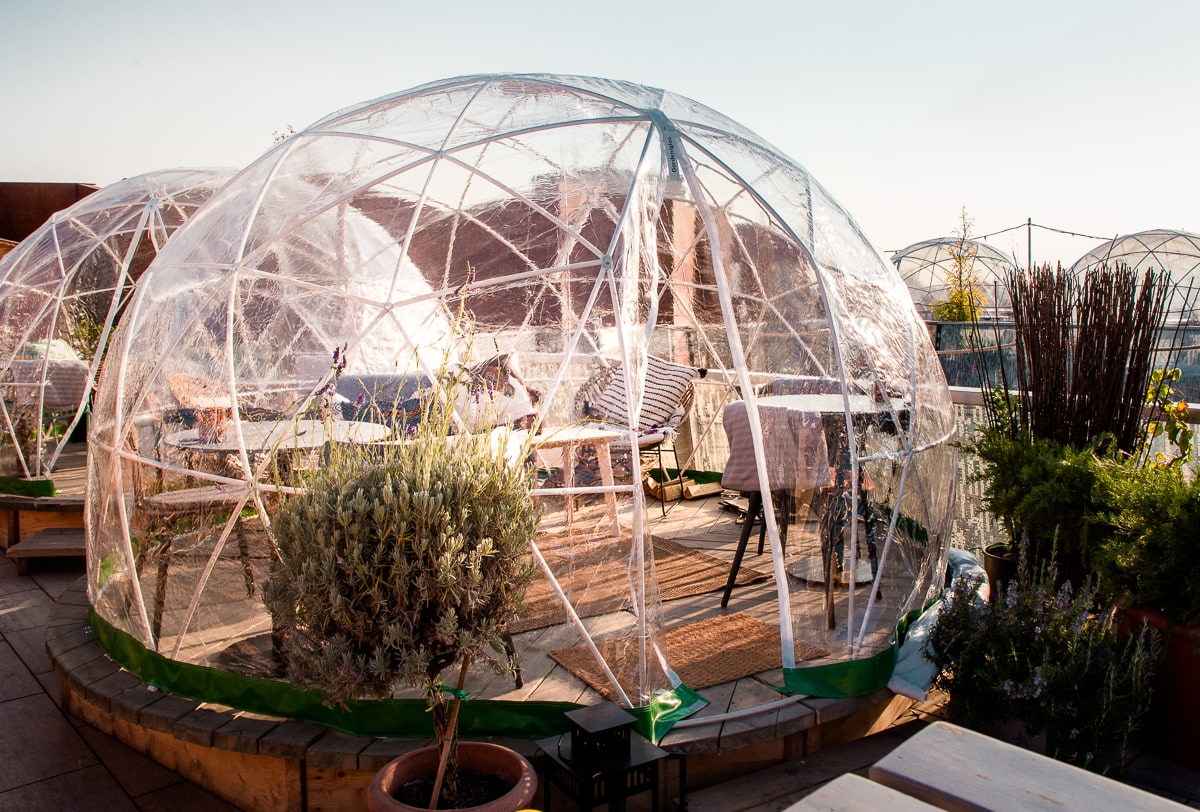 FOR SALE PUB
Across the street from the Great Market Hall sits one of my favorite Budapest bars. While the service was absolutely nothing to write home about, I would gladly return time and time again just to sit and stare at the ceiling.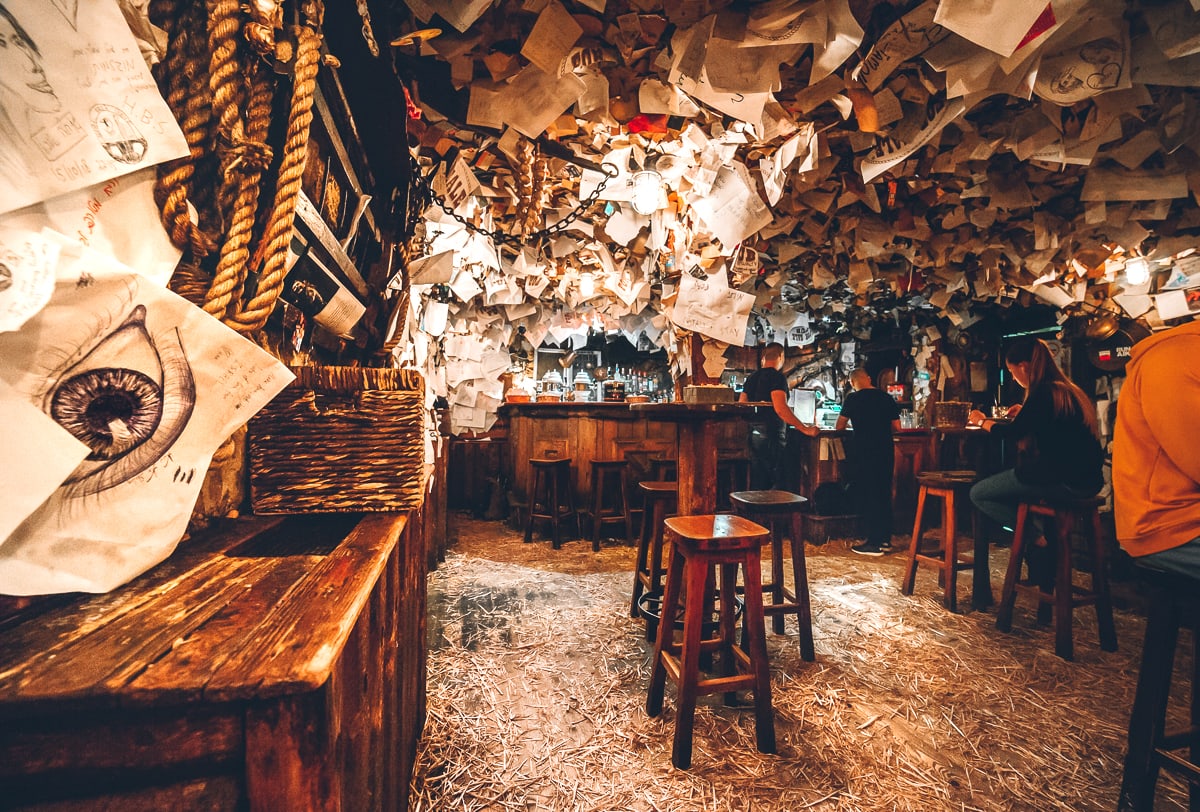 For Sale Pub is a bar and restaurant decorated with thousands of little paper notes. Every square inch of the ceiling is covered in letters, poems, drawings and well wishes from strangers who have sat there before you.
The ambiance feels old worldly, with candlelit lighting, wooden tables and straw scattered across the floor. It feels dark, moody and kind of dangerous.. because.. you know, paper and open flames.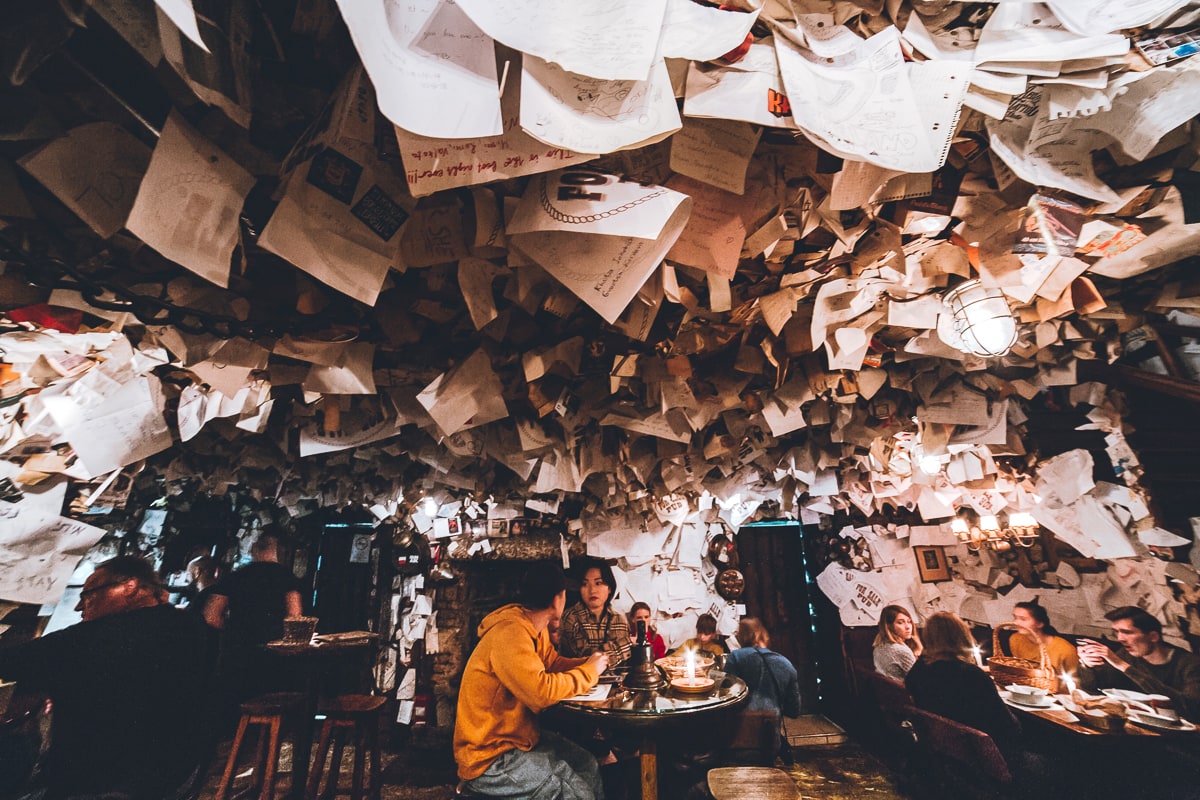 The prices are a little higher than the other bars we visited in Budapest but it's definitely worth stopping in for a beer and a look around.
For Sale Pub is also a restaurant, serving up local Hungarian food. We had just gotten scammed eaten at the Central Market Hall across the street right before visiting so we opted for beers only.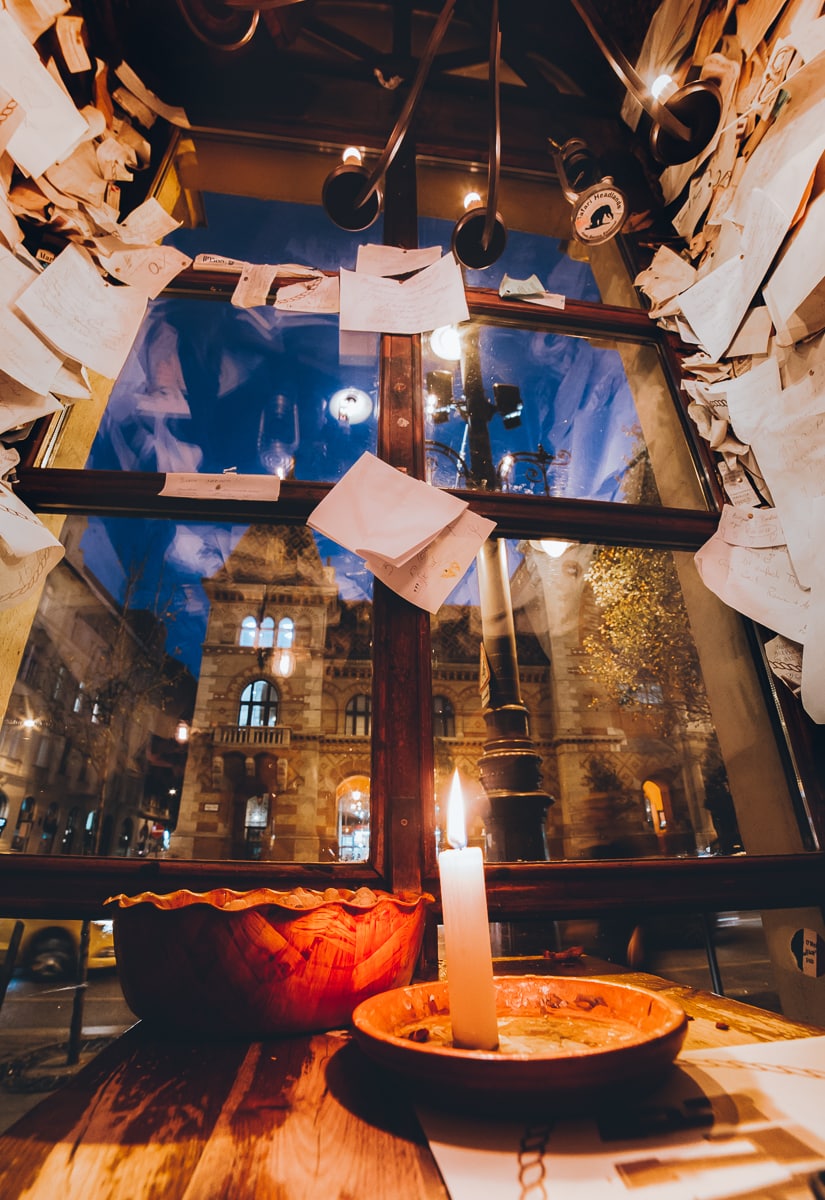 If you plan to visit For Sale Pub, I recommend making a reservation because even shortly after opening (on a weeknight) there was already a wait and it took about 20 minutes for a table to open up.
---
RELATED POST: 3 TOURIST TRAPS TO AVOID AT THE GRAND CENTRAL MARKET IN BUDAPEST
---
HOURS
Monday-Sunday 12PM-3AM
ADDRESS
Budapest, 2, Vámház krt., 1053 Hungary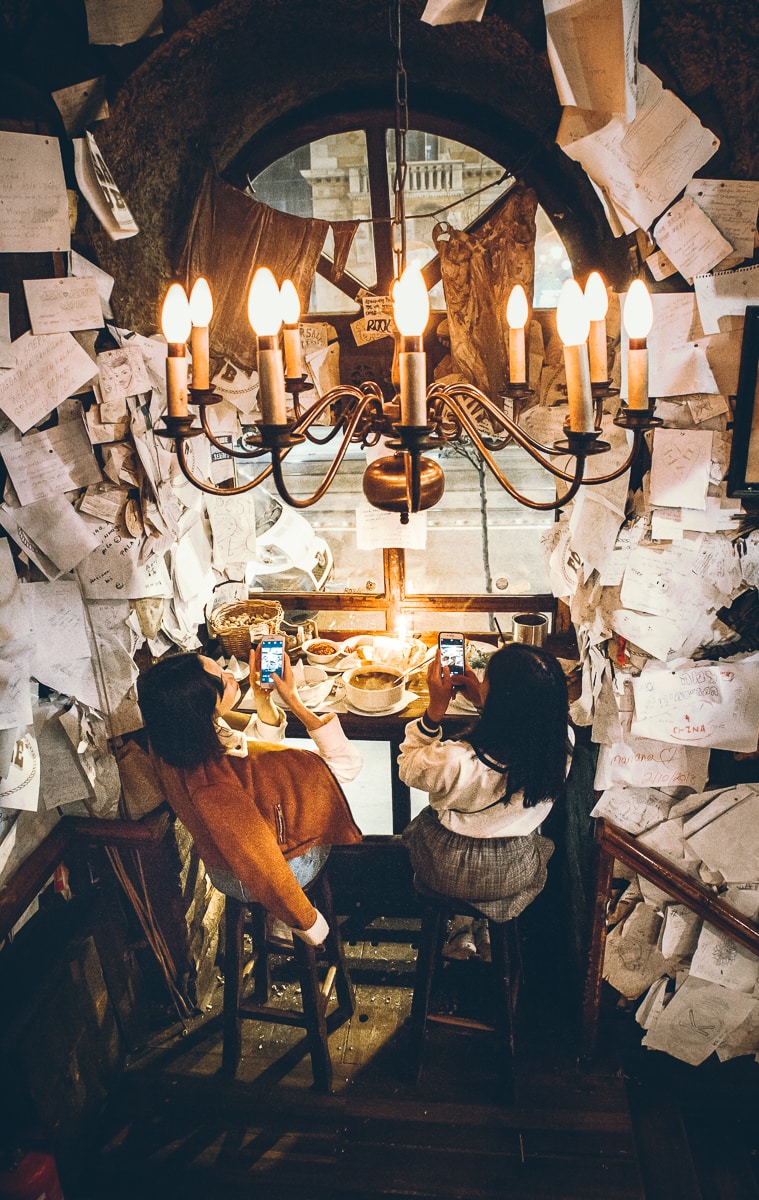 HIGH NOTE SKY BAR
High Note Sky Bar at the Aria Hotel wins for the best views in the Budapest nightlife scene. St. Stephen's Basilica looms over this rooftop bar providing a dramatic and impressive setting, perfect for a cocktail or two.
We first spotted the High Note Sky Bar from the top of the viewing platform within the basilica. The bright yellow patio furniture acted as a siren call, silently signaling to us that it was 5 o'clock somewhere.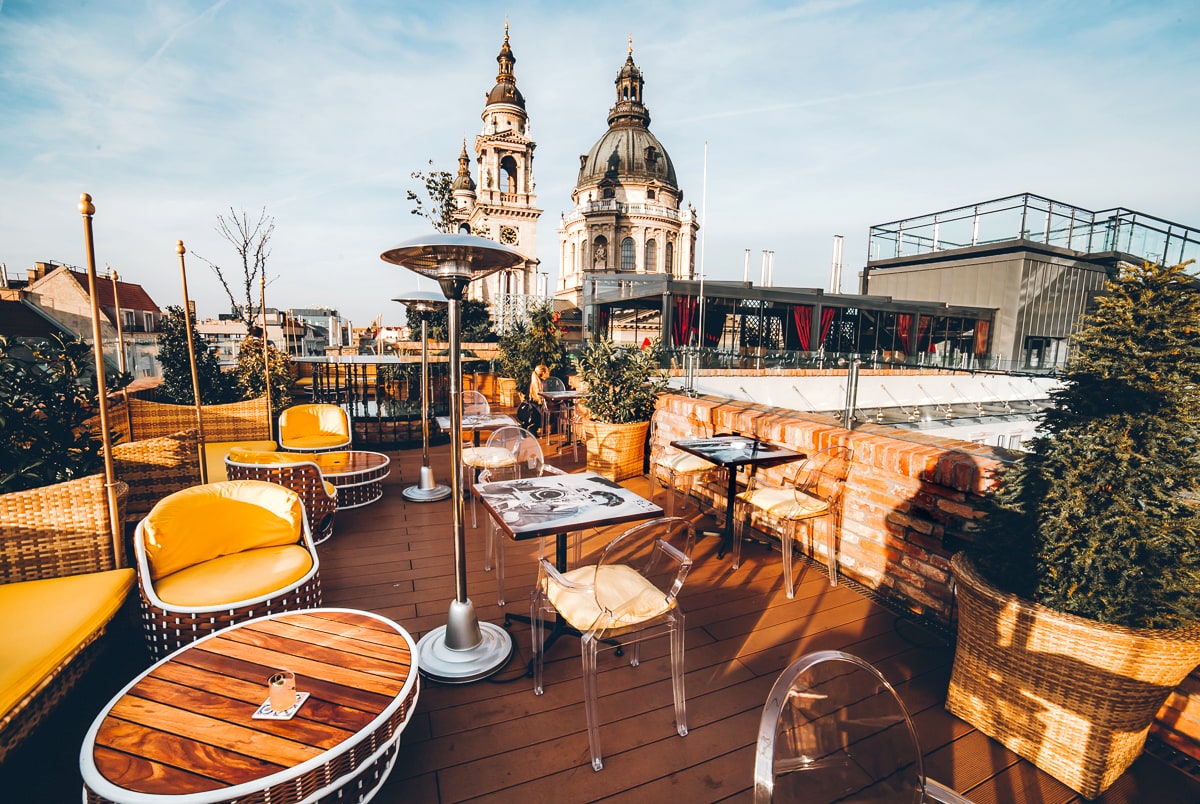 After promptly making our way over from St. Stephen's to the bar, we took a seat on one of the lounges and ordered a drink. The cocktail menu is small but interesting with ingredients such as mustard seed infused armagnac and watermelon tomato water. The drink options change each season, as the bar adopts a new theme.
The Aria Hotel's design is centered around music; they even have a piano walkway in the lobby which guides you to the elevators and up to the bar.
At High Note Sky Bar, however, the theme of this season was FILM. Black and white portraits on the tables, red carpets, vanity makeup lights and directors chairs gave the space a glamorous, Old Hollywood feel.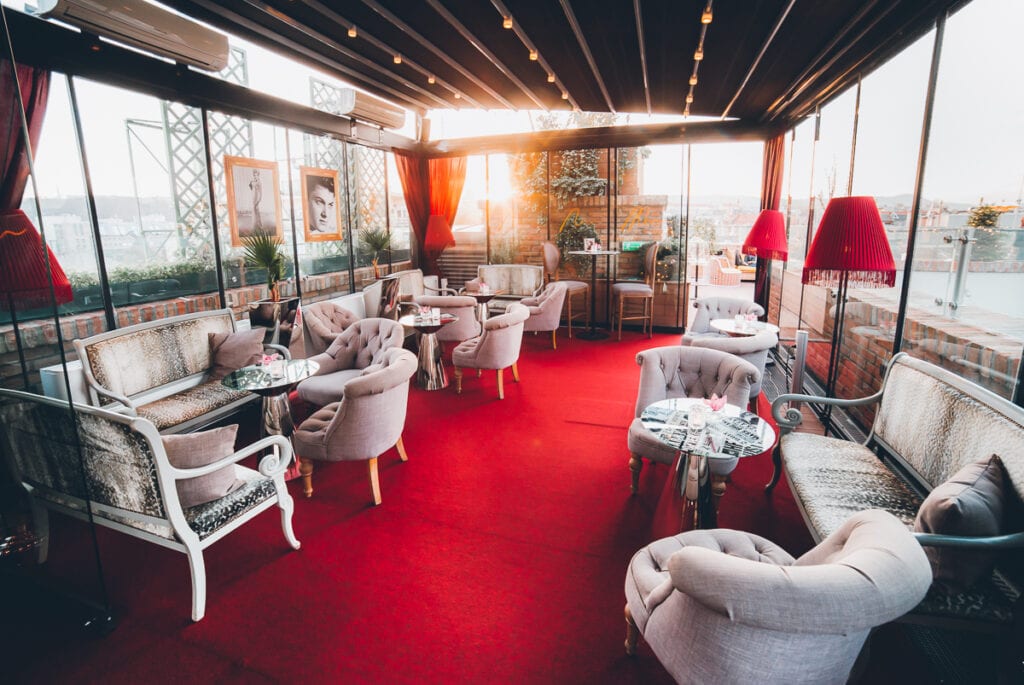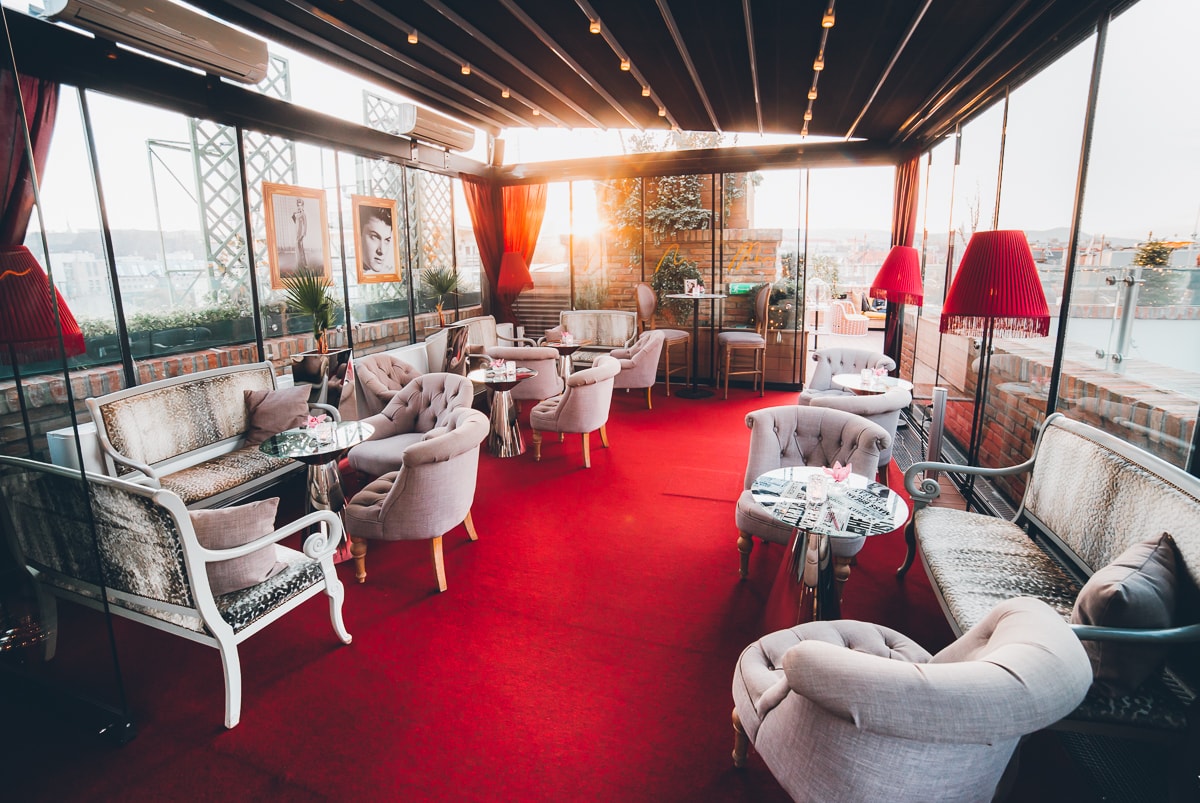 Even the menu was inspired by cinema. I ordered the French 7.5 (Casablanca) made from gin, Tokaj sweet wine reduction, herbal soda and champagne acid, and it came served in an appropriate bullet pierced glass.
Compared to the other Budapest bars on this list, the drinks were on the more expensive side. Prices ranged from 3,000 HUF to 3,900 HUF ($10.50-$13.65 USD) and they were good but not great .. so after one, we switched to beer.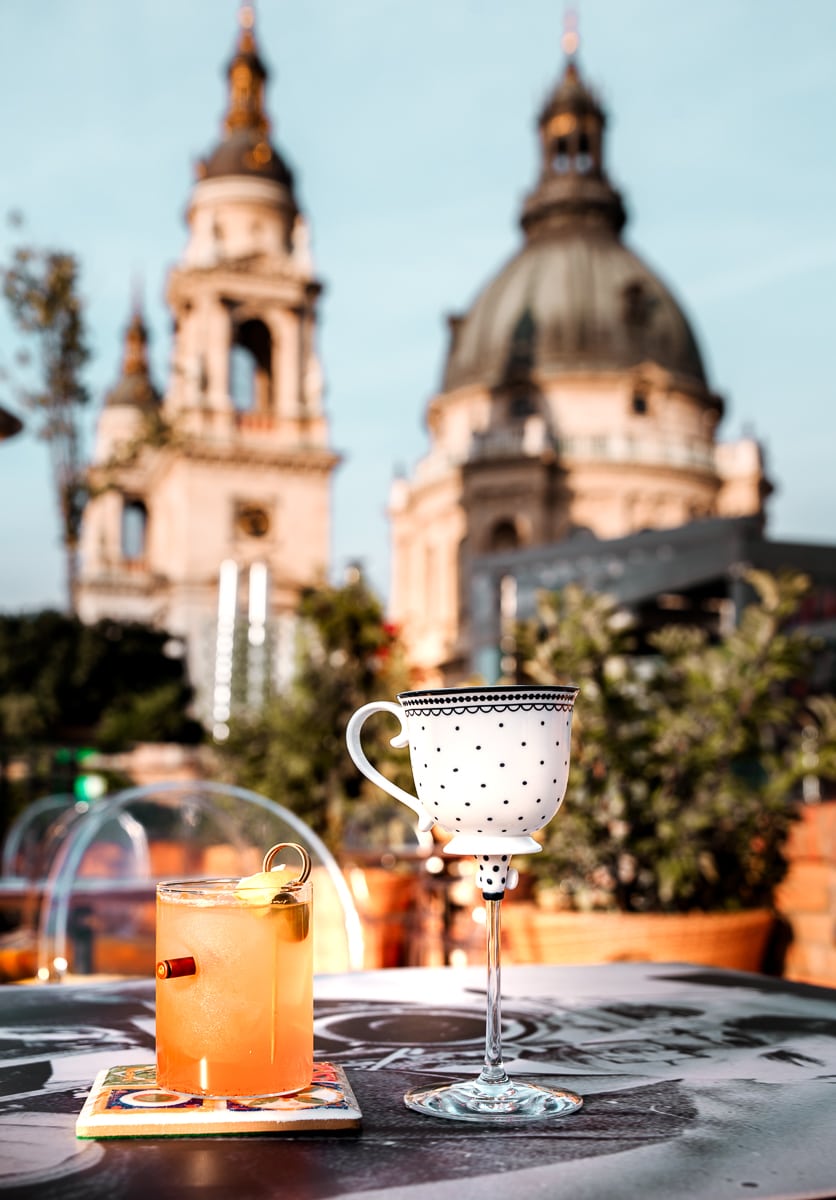 Even though the drinks were a little lackluster, the atmosphere at High Note Sky Bar was one of my favorites. We visited during the day and had the whole terrace to ourselves but I would've loved to return at night to witness the lights of Budapest from the rooftop.
If you plan to visit in the afternoon, be sure to make a reservation as space is limited and I've heard that it gets busy. Also know that if you plan to reserve a table past 6pm, you have to spend at least 30,000 HUF ($105 USD) per hour to keep it.
---
RELATED POST: ST. STEPHEN'S BASILICA // A VISITOR'S GUIDE TO BUDAPEST'S LARGEST CHURCH
---
HIGH NOTE SKY BAR HOURS
Monday-Sunday: 12PM-12AM
ADDRESS
Budapest, Hercegprímás u. 5, 1051 Hungary (located inside of the Aria Hotel)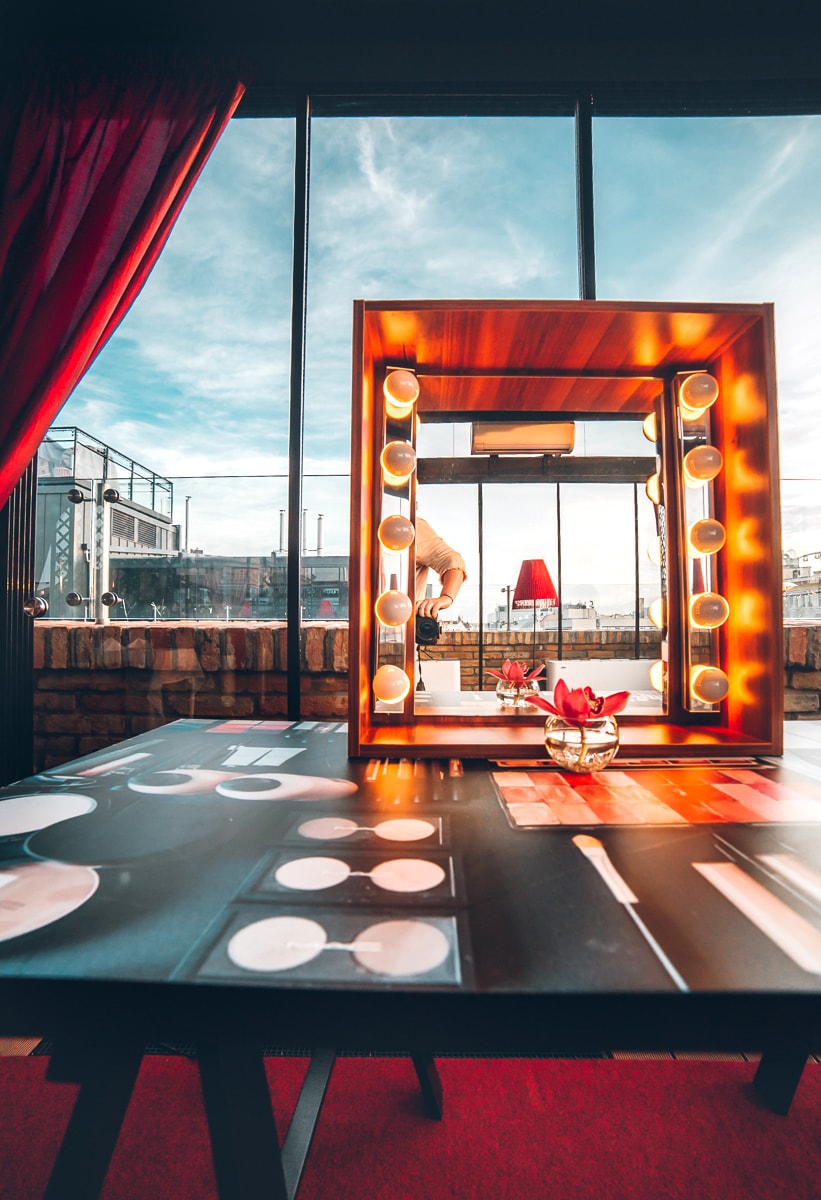 RED RUIN BAR
This communist themed, death metal playing dive bar doesn't necessarily fit my usual formula of rooftop views and pretty decor.. but here we are.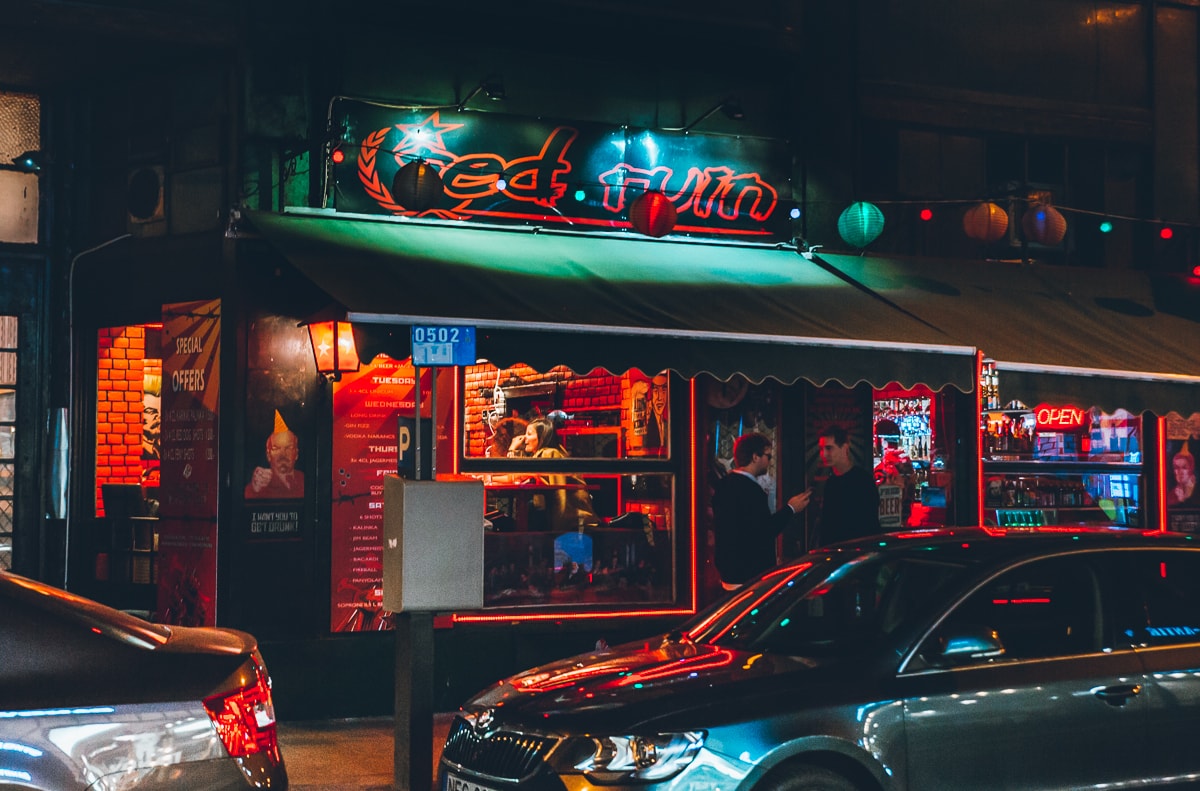 Nick actually found Red Ruin Bar and since he gets dragged to pink tea rooms and other basic bitch locations on a daily basis, it's only fair that occasionally we do what he wants.
Red Ruin is satirical in nature.
Hungary was part of the Eastern Bloc (a group of Communist states aligned with the Soviet Union during the Cold War) so the bar pokes fun at its nation's history with cartoon murals of communist leaders, ironic communist propaganda and of course, red mood lighting.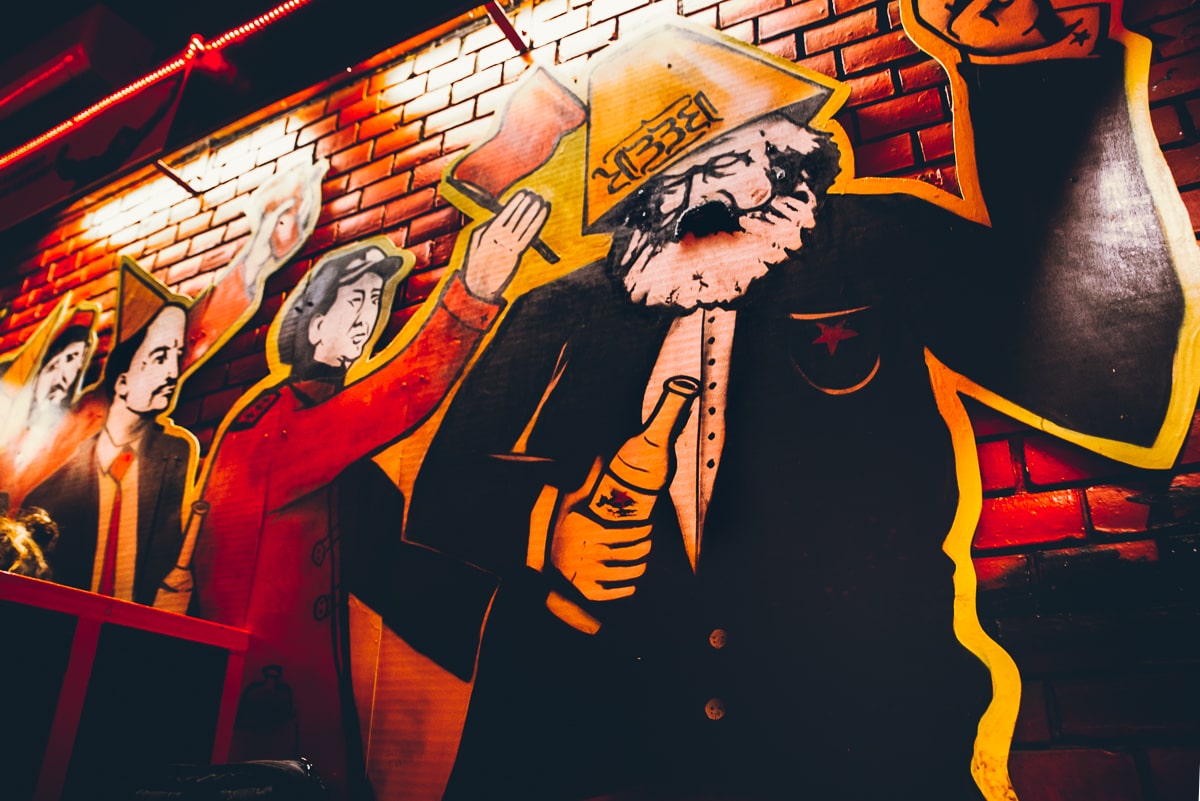 We stopped in for a beer on our way home one afternoon and as luck would have it, we hit the tail end of happy hour. 1 liter steins were only 550 HUF ($1.90 USD)!
The bar serves tons of local craft beers as well as a huge selection of palinka, the infamously strong Hungarian fruit brandy.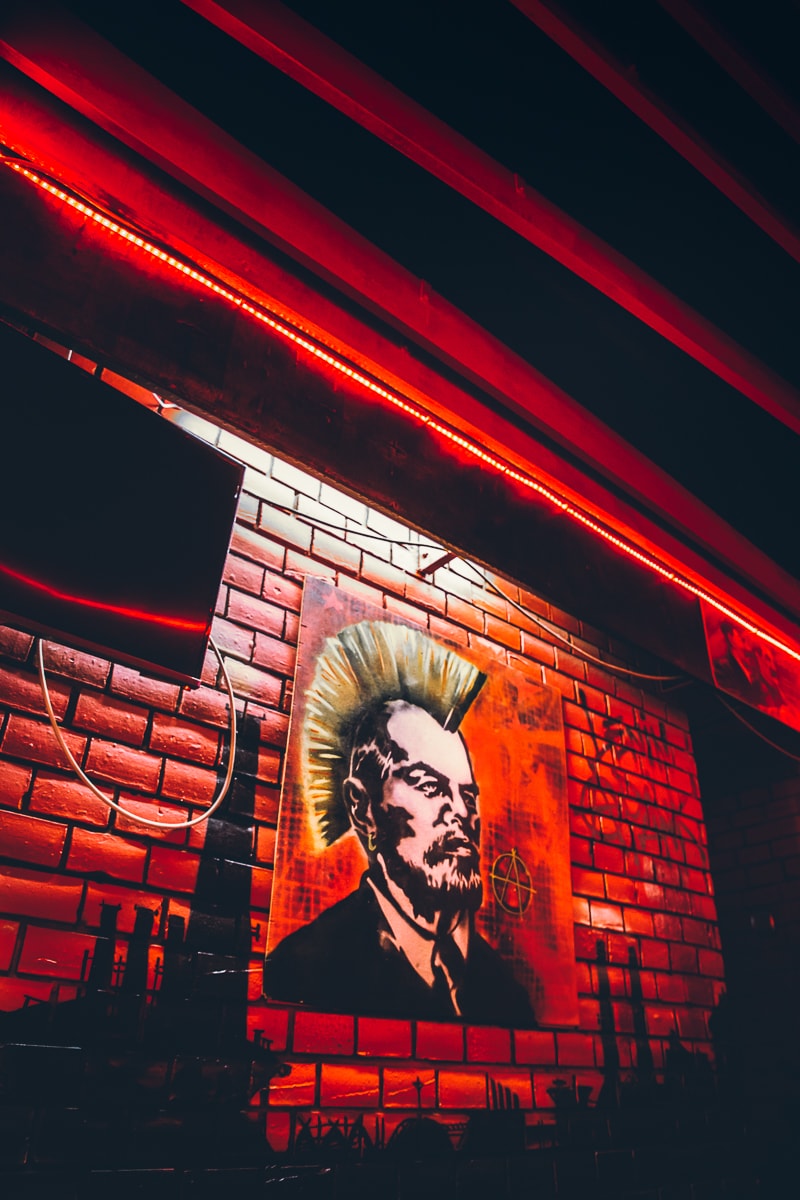 The bartender on this particular night was super friendly and knowledgable and he had great recommendations about the beers that they offer.
Our favorite beer ended up being a Quadruple from Budapest's Mad Scientist Brewing, but its 11% ABV hit hard and next thing we knew, we were taking palinka shots (horrible idea). We stopped in for a single beer and stumbled home after many drinks later.
Red Ruin is not for everyone. It is definitely a dive and the toilets are kind of gross but we had so much fun. At least I think we did.
HOURS
Monday-Saturday 2PM-4AM
Sunday 2PM-12AM
ADDRESS
Budapest, Irányi u. 25, 1056 Hungary
MIKA TIVADOR MULATO
We ran into Mika Tivador Mulato one afternoon while exploring the area near our Airbnb.
Located in the Jewish Quarter, and housed in an old copper factory from 1907, Mika Tivador Mulato is a unique mix of nightclub, lounge and beer garden all wrapped up into one.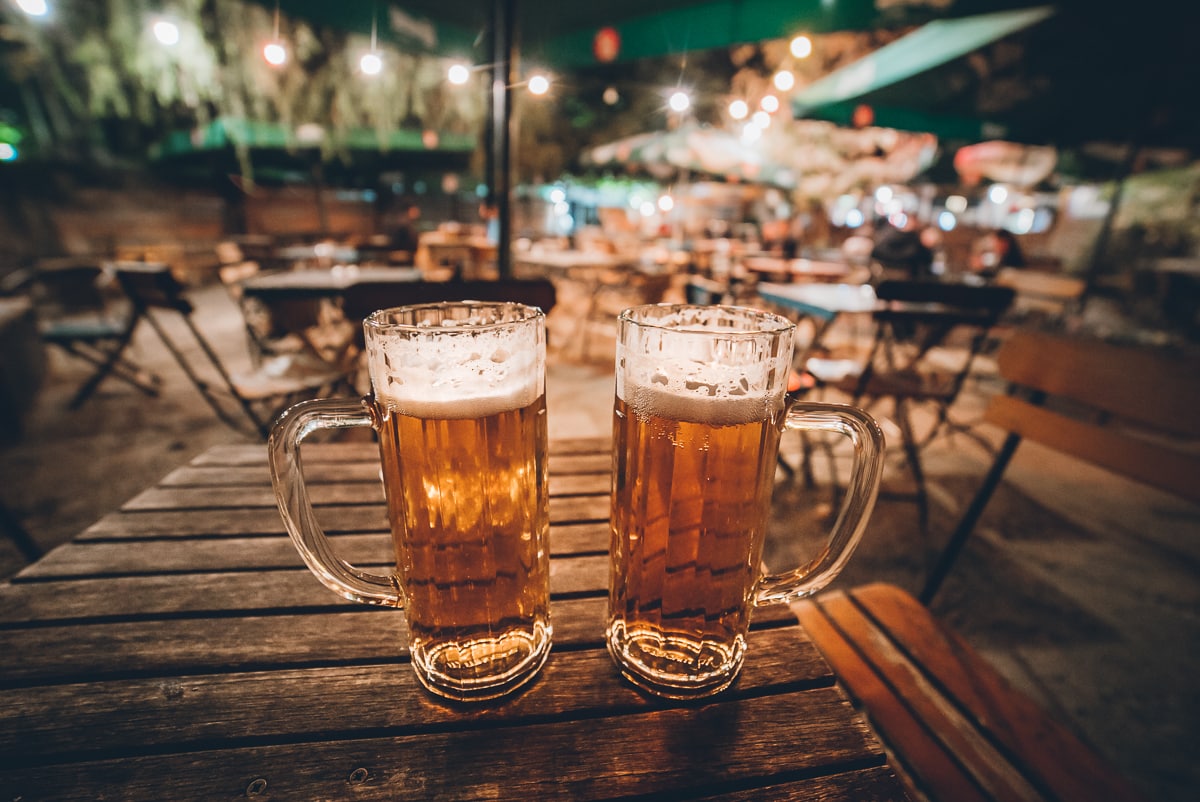 The lounge area is directly inside, and downstairs you'll find the dance floor. Just about every night of the week, the bar hosts DJ's as well as live music from all genres. In the old parking lot next door, Mika Tivador Multo has created an outdoor beer garden surrounded by trees and decorated with twinkly string lights and mural wall paintings.
---
RELATED POST: SZECHENYI BATHS // A VISITOR'S GUIDE TO THE BUDAPEST THERMAL BATHS
---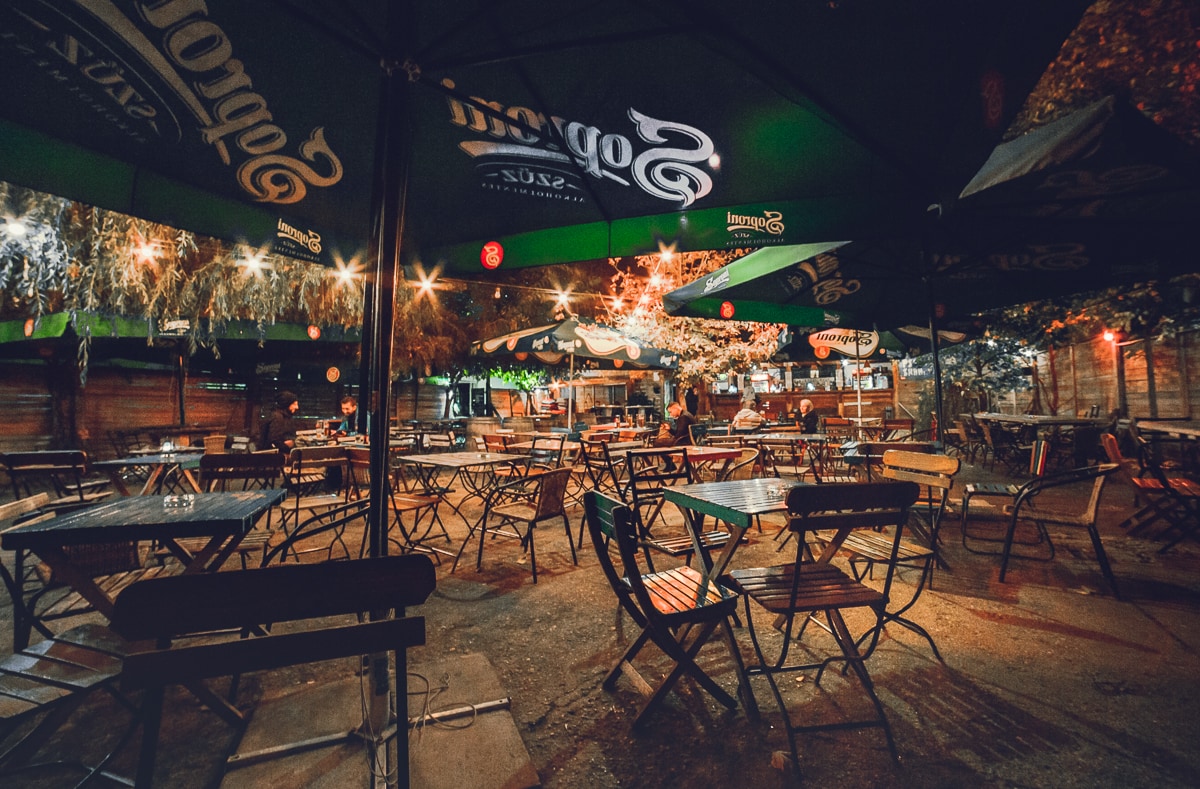 We were more drawn to the beer garden than the indoor bar & club, so we grabbed a table and a few beers that ended up costing up only $1 USD each. Coming from LA, where a can of PBR is $5+, Budapest nightlife prices were so cheap that we considered an overseas move every time we went out.
MIKA TIVADOR MULATO HOURS 
Sunday: 4PM – 12AM
Friday-Saturday: 4PM-5AM 
Monday-Tuesday: 4PM-2AM
Wednesday- Thursday: 4PM-3AM
ADDRESS 
Budapest, Kazinczy u. 47, 1075 Hungary
SZIMPLA KERT 
You can't talk about Budapest nightlife without the mention of Szimpla Kert. As the original ruin bar and one of the city's most popular bars, period, Szimpla Kert has earned its way into the hearts of many a Budapest tourist. Including ours.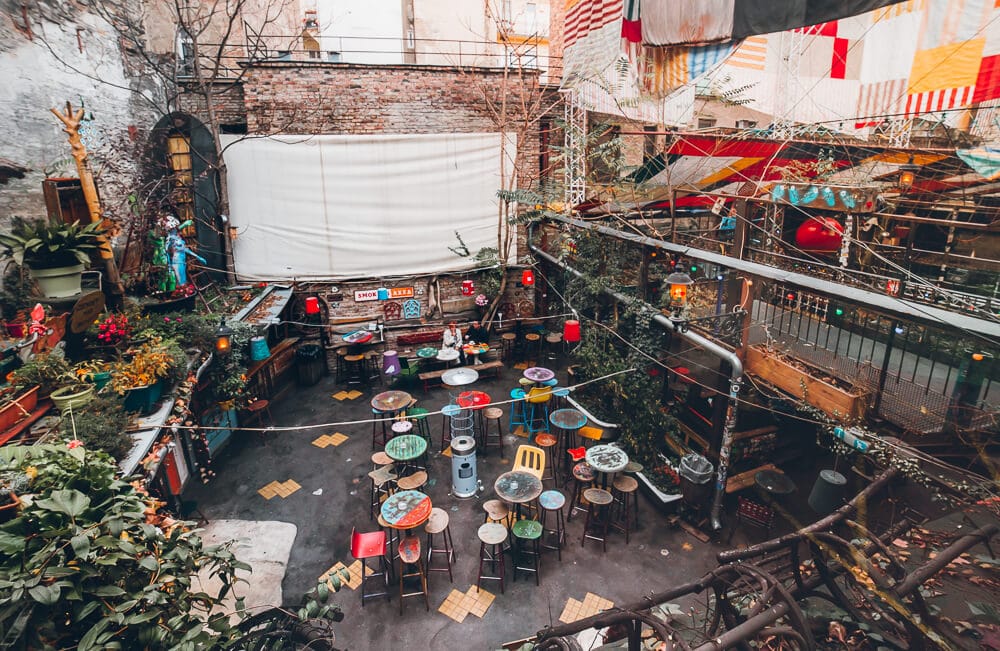 Located in what used to be an old stove factory, there are 8 different bars on site. You can visit the wine bar on the first floor, the craft beer bar on the second floor, or they even have hookah bar if you prefer to smoke vs drink. 
Szimpla Kert spans across two floors and is filled with random oddities, live plants and colorful decor. While it's definitely touristy, we fell in love with the eclectic design and visited more times than any of the other bars on this list.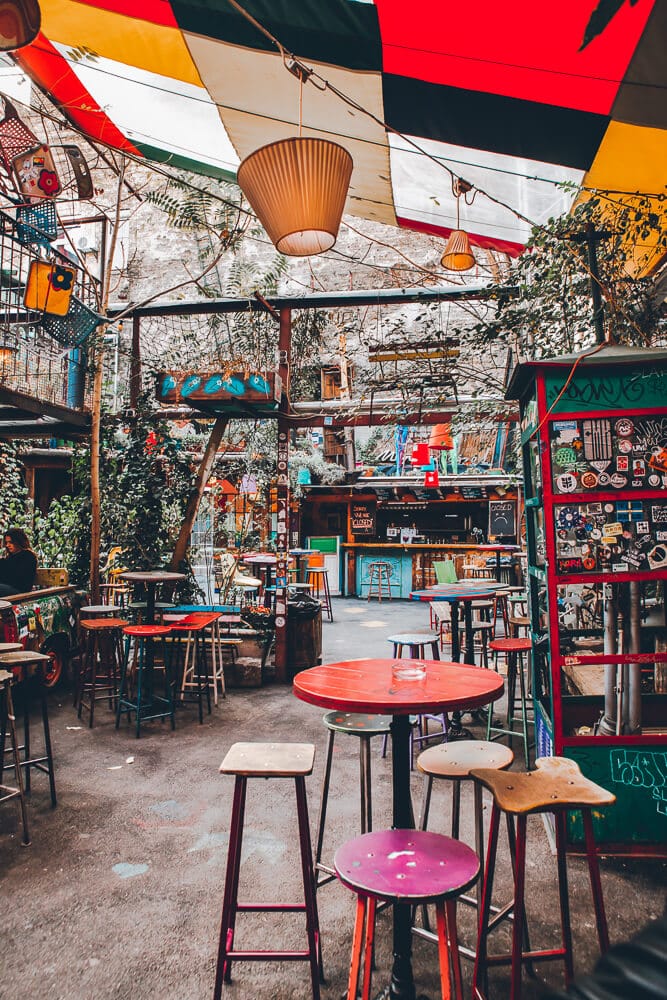 Szimpla Kert is open during the day and is a great place to stop in for a day beer. When it gets dark, the bar transitions into more of party environment with live music and DJ's every night of the week. 
For more information, photos and tips for visiting Szimpla Kert, check out my related post below. 
---
RELATED POST: SZIMPLA KERT // A LOOK INSIDE BUDAPEST'S ORIGINAL RUIN BAR
---
HOURS
Monday – Saturday: 12PM – 4AM
Sunday: 9AM – 4AM
ADDRESS
Budapest, Kazinczy u. 14, 1075 Hungary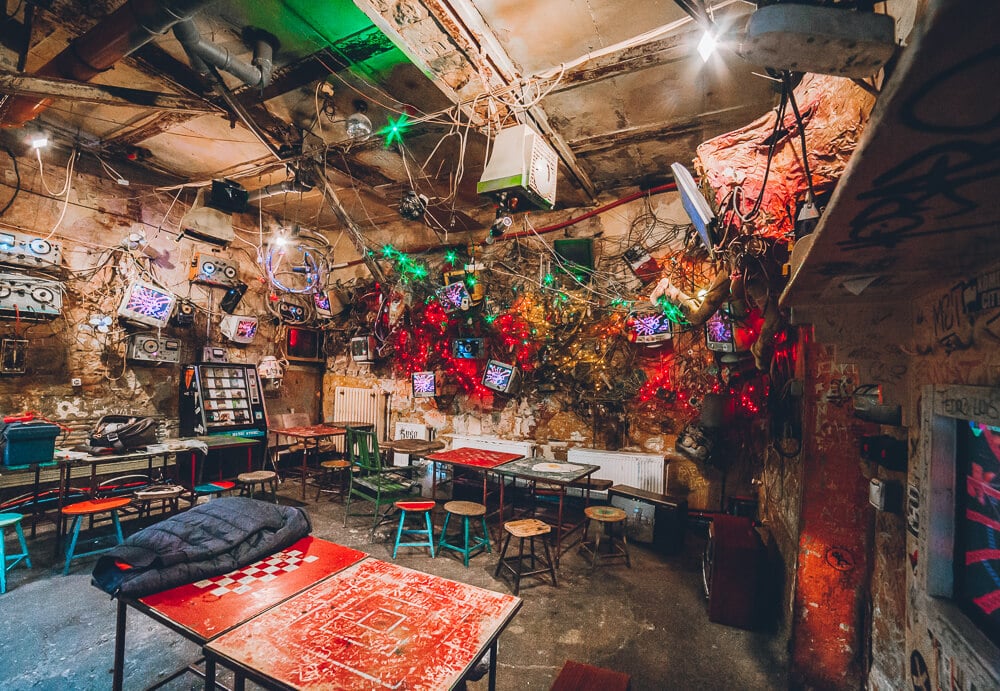 JARDIN COCKTAIL BAR
So we never actually got the chance to order a drink at Jardin Cocktail Bar but we tried, really hard.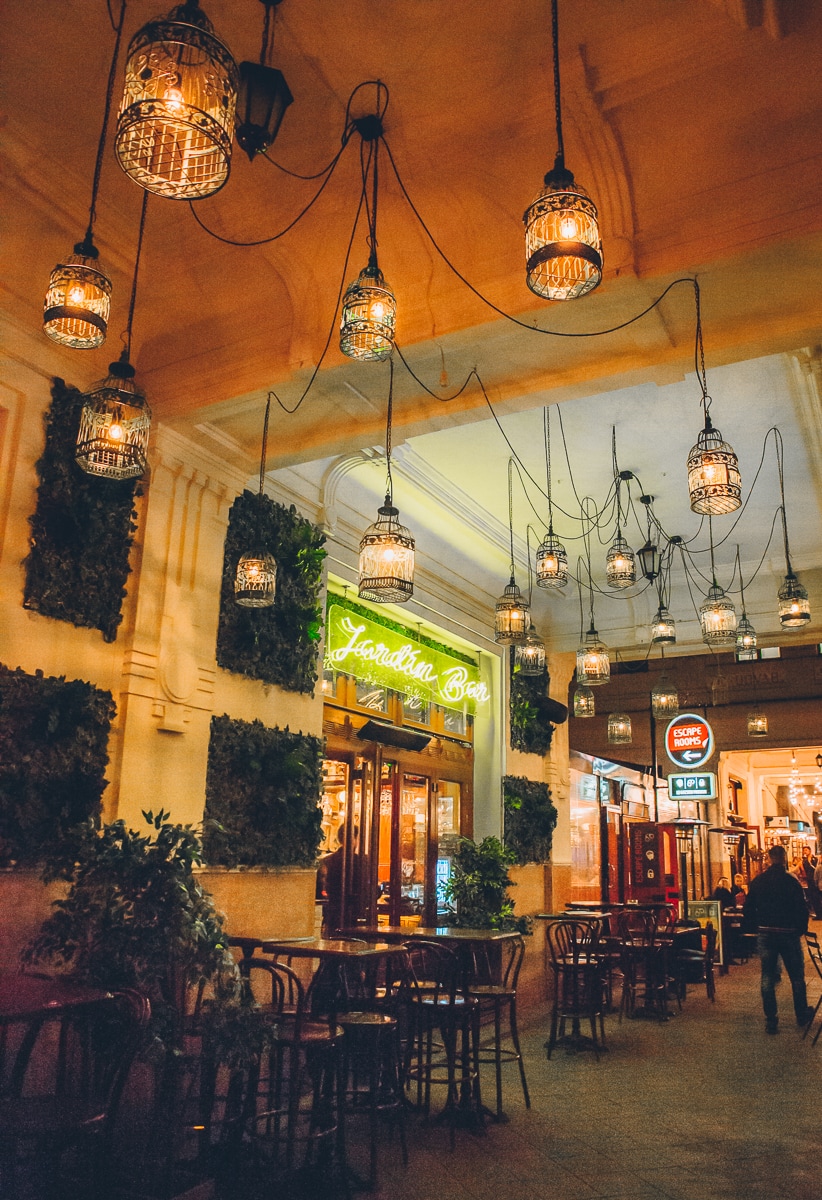 In the Jewish Quarter, there is a big courtyard with a collection of bars and restaurants called Gozsdu Udvar. The entire complex felt pretty touristy but we walked through it on our way home each night because it was lively and fun. Also I was dying to grab a drink this one specific bar.. but it was never open.
Jardin is a cozy cocktail bar serving beautiful specialty drinks and light tapas. At least, they look beautiful on their Instagram..
The bar seemed small but the interior was beautiful, like a mix between a 1920's style speakeasy and a Spanish courtyard, with live plants, tiles and hanging filament lights.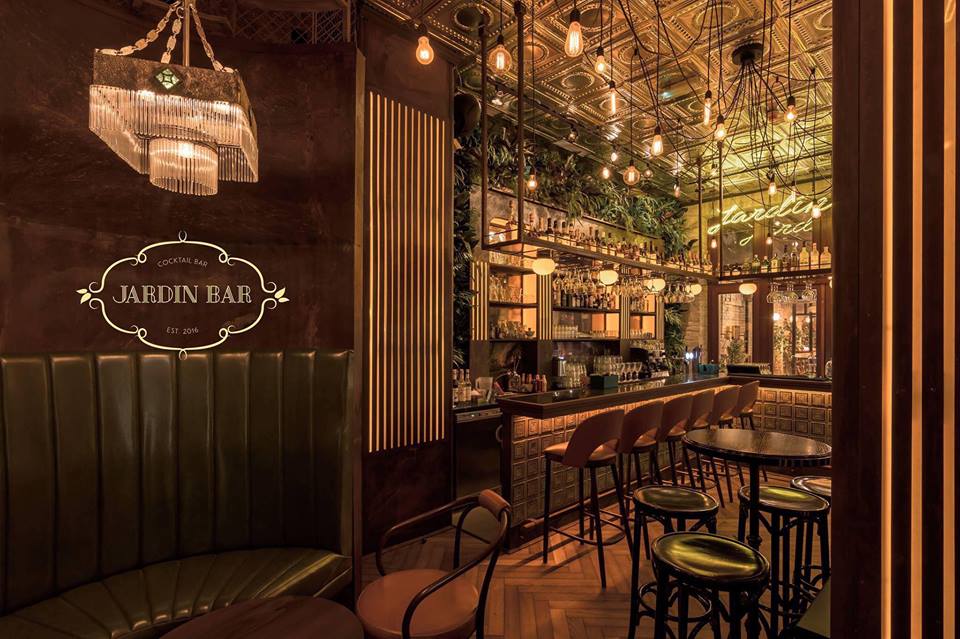 It seemed like an intimate environment for pre or post dinner drinks and I wanted to take photos inside so bad. If you find yourself in the Budapest Jewish Quarter, stop in and let me know how it is!
HOURS
Tuesday-Friday 6PM–1AM
Saturday-Sunday 6PM–2AM
Monday Closed
ADDRESS
Budapest, Dob u. 16, 1072 Hungary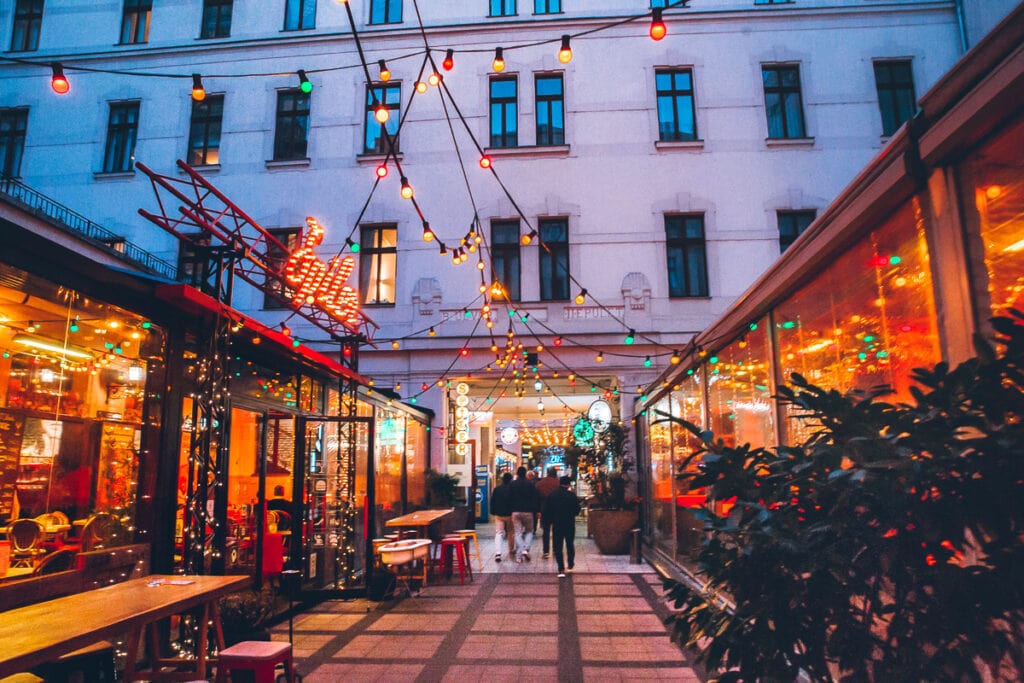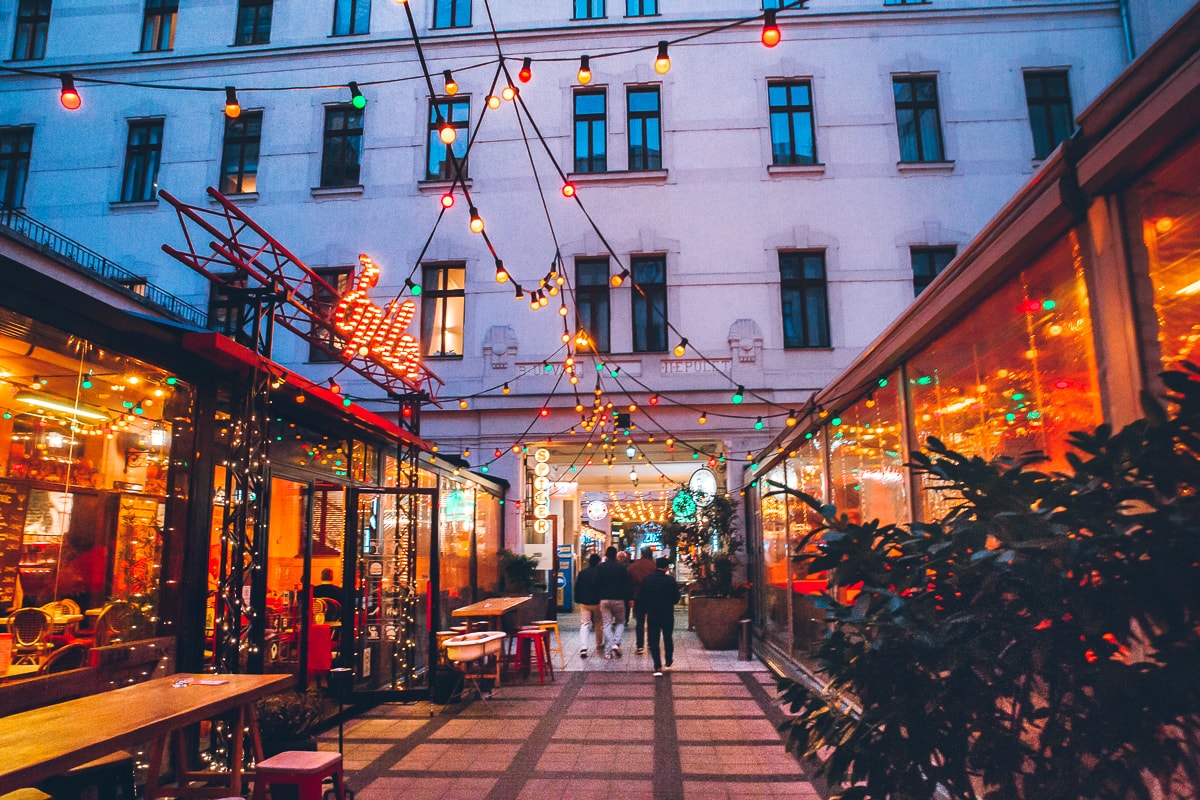 Am I missing anything? What are your favorite Budapest bars?
Leave a comment below! 
---
PIN IT: BUDAPEST NIGHTLIFE // 7 UNIQUE BUDAPEST BARS TO VISIT ON A NIGHT OUT IN HUNGARY'S CAPITAL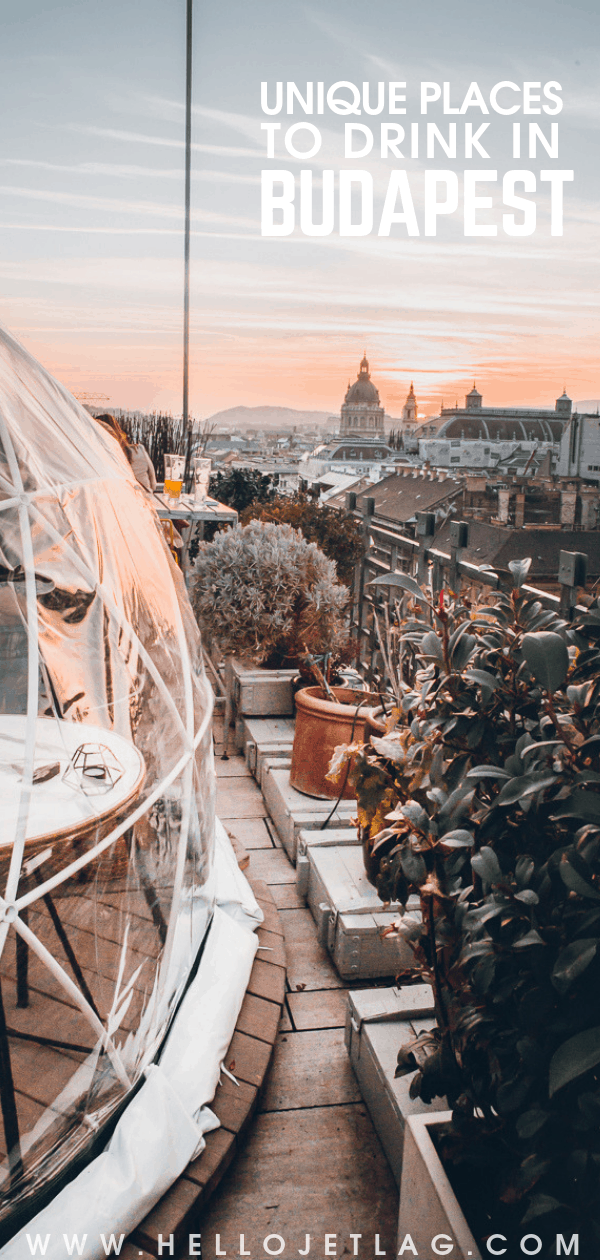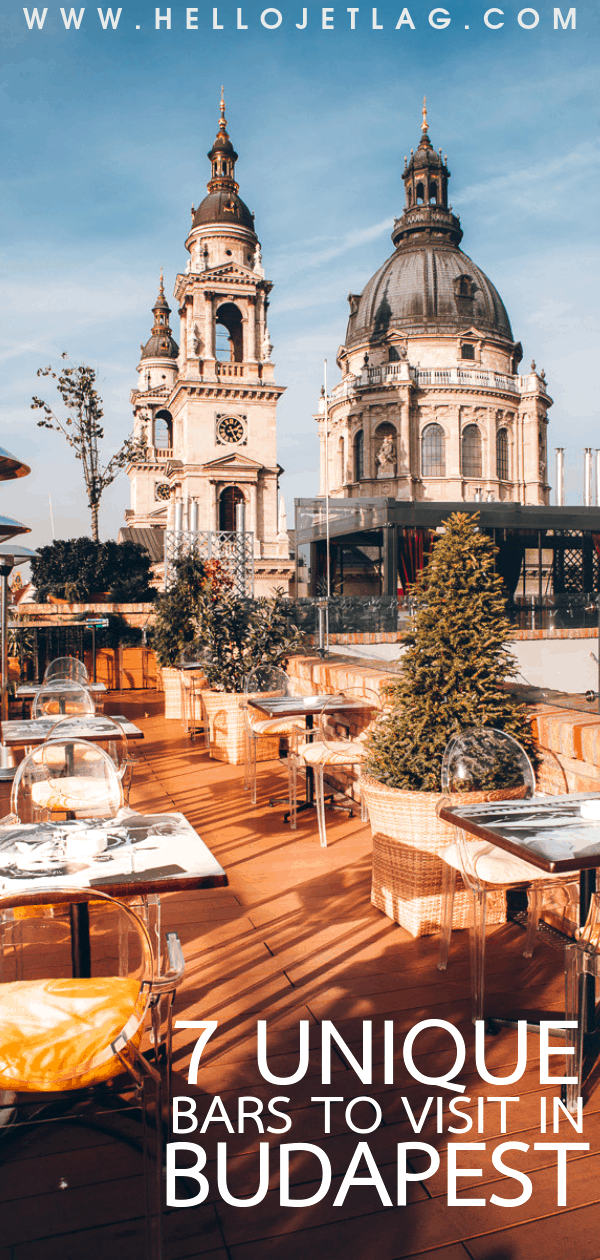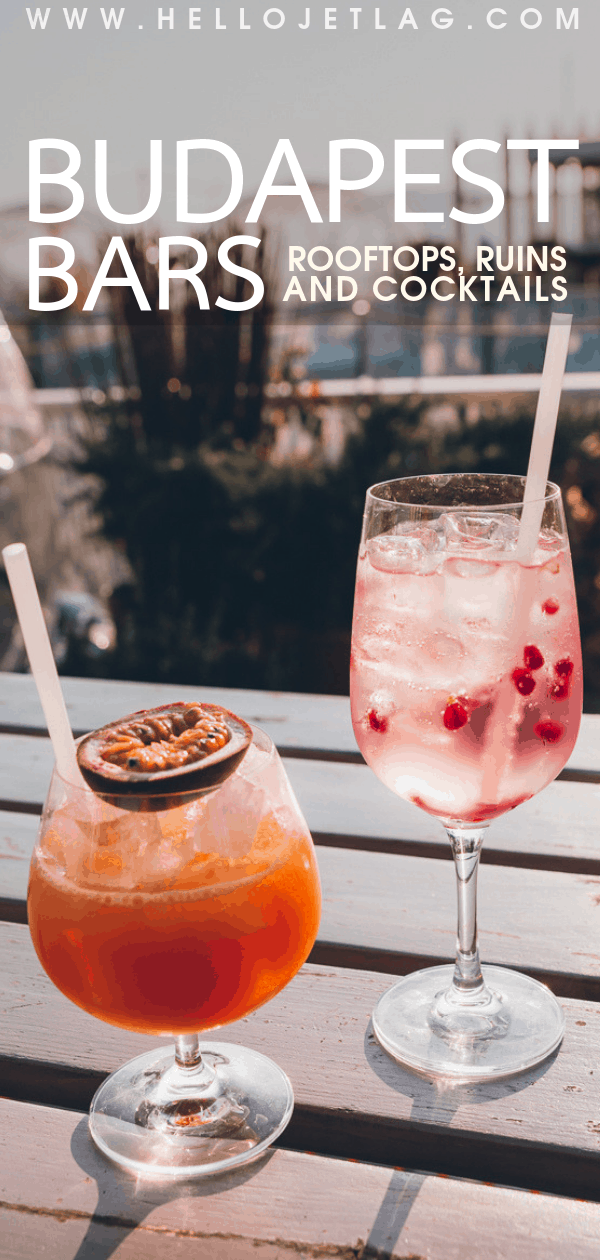 Disclaimer: This post is not sponsored. Some of the links are affiliate, which means if you click them and purchase something, I receive a small commission.