In every new city we visit, we usually try and watch the sunrise at least once. Not only is the early morning light perfect for photos but it is also one of the only ways to experience the most popular attractions without hordes of other tourists.
Fisherman's Bastion offers some of the most stunning views of Budapest, which naturally puts it at the top of every visitor's list of things to do in the city. We knew the only way to get the photos we wanted was to wake up before the sun and make our way to the lookout before everyone else.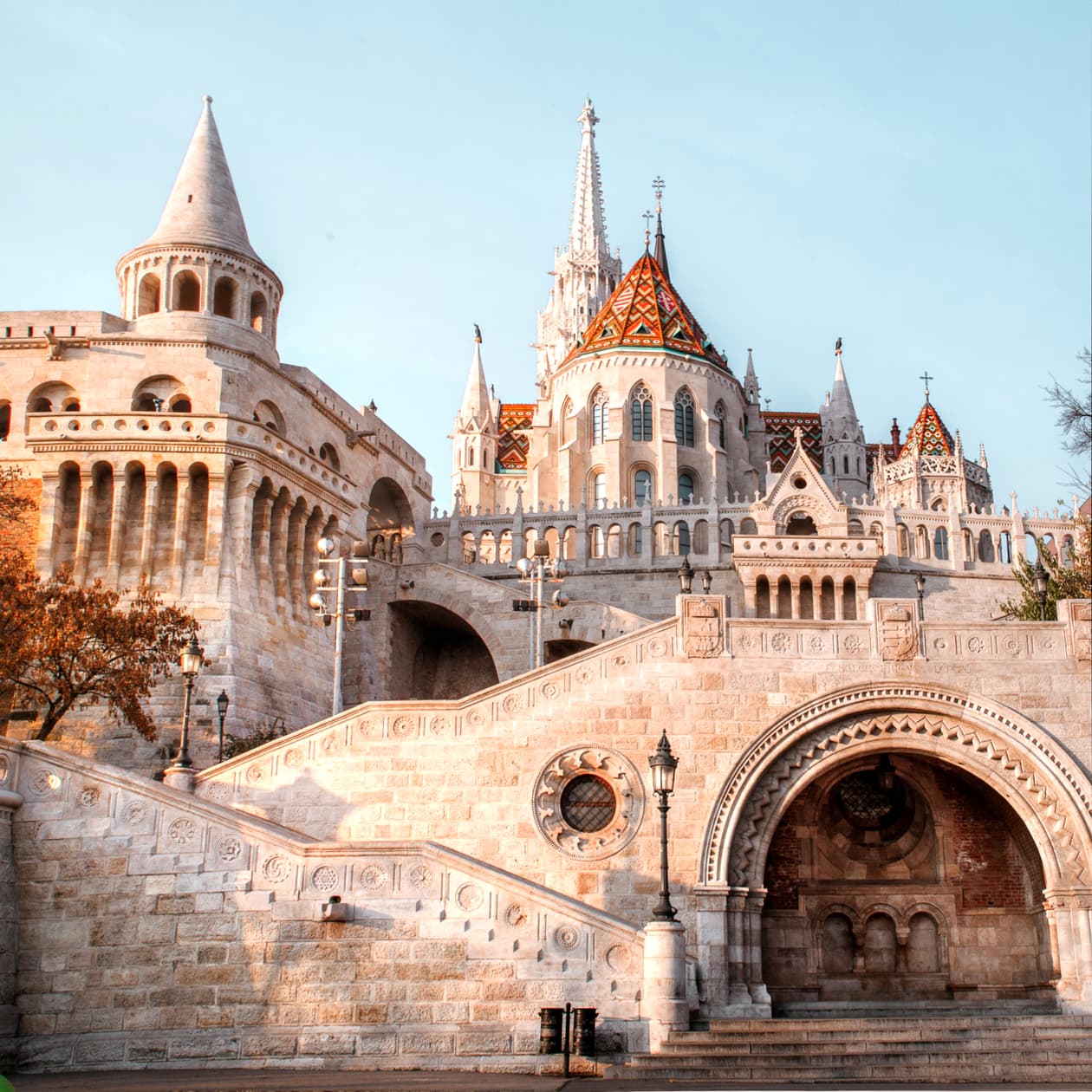 While it's always hard to drag yourself out of bed on vacation, Nick and I both agree that this morning was one of our favorites of the trip.
Keep reading for photos of Fisherman's Bastion at sunrise, learn how to get there, when it opens and what else there is to do on Castle Hill (including the best pastry in Budapest!).
---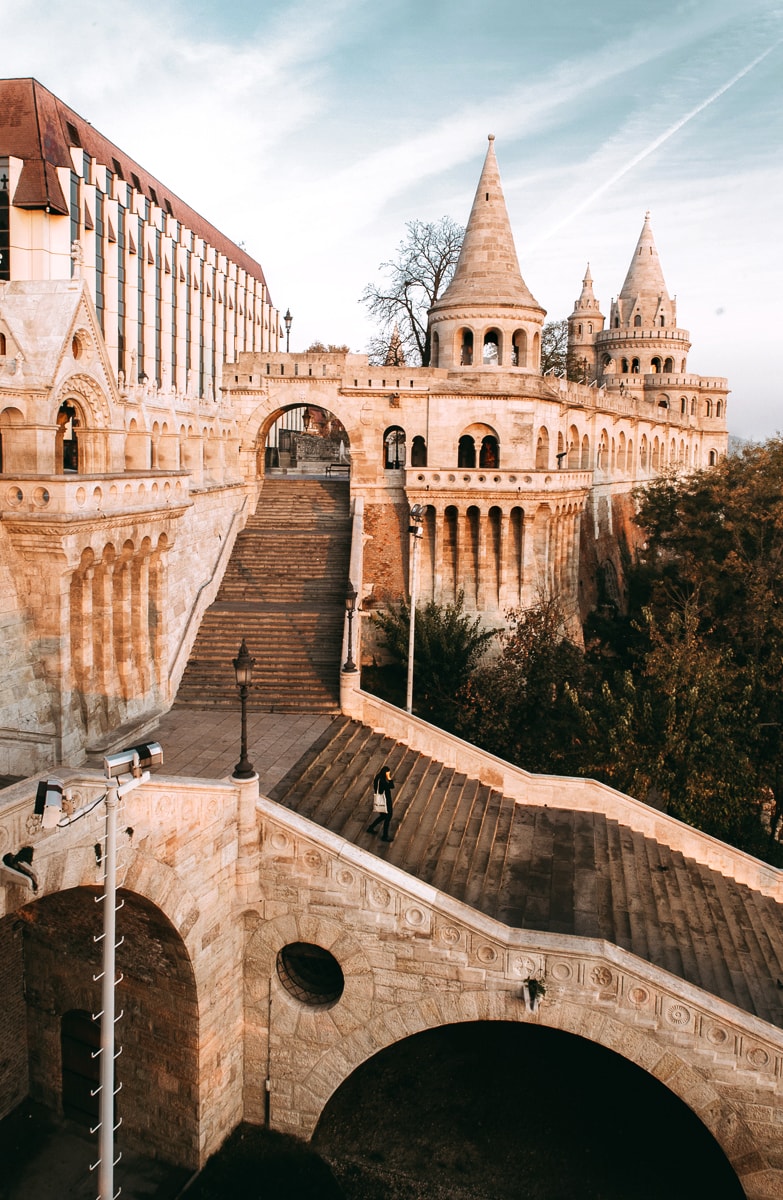 ---
RELATED POST: SZECHENYI BATHS // A VISITOR'S GUIDE TO THE BUDAPEST THERMAL BATHS
---
WHAT IS FISHERMAN'S BASTION
When looking at the monumental architecture of Fisherman's Bastion, you might assume the structure dates back to medieval times. Surprisingly though, it is relatively new and was built between 1895 and 1902 to commemorate the 1,000th birthday of the Hungarian state.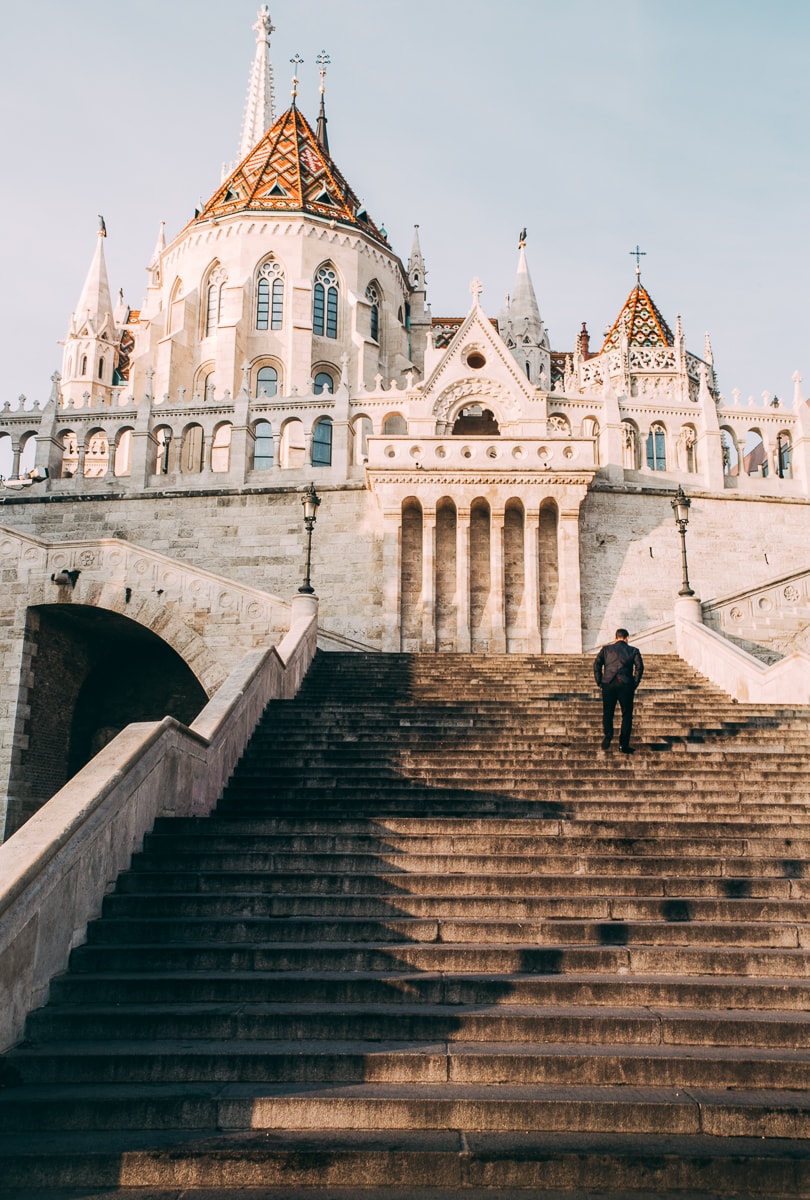 Fisherman's Bastion was designed by architect Frigyes Schulek to serve as a viewing platform, looking out across the Danube and onto Pest.
Shulek built the structure to compliment the nearby Matthias Church (which he also restored and redesigned), and when the lookout was severely damaged during WWII, it was Shulek's son who fully restored it.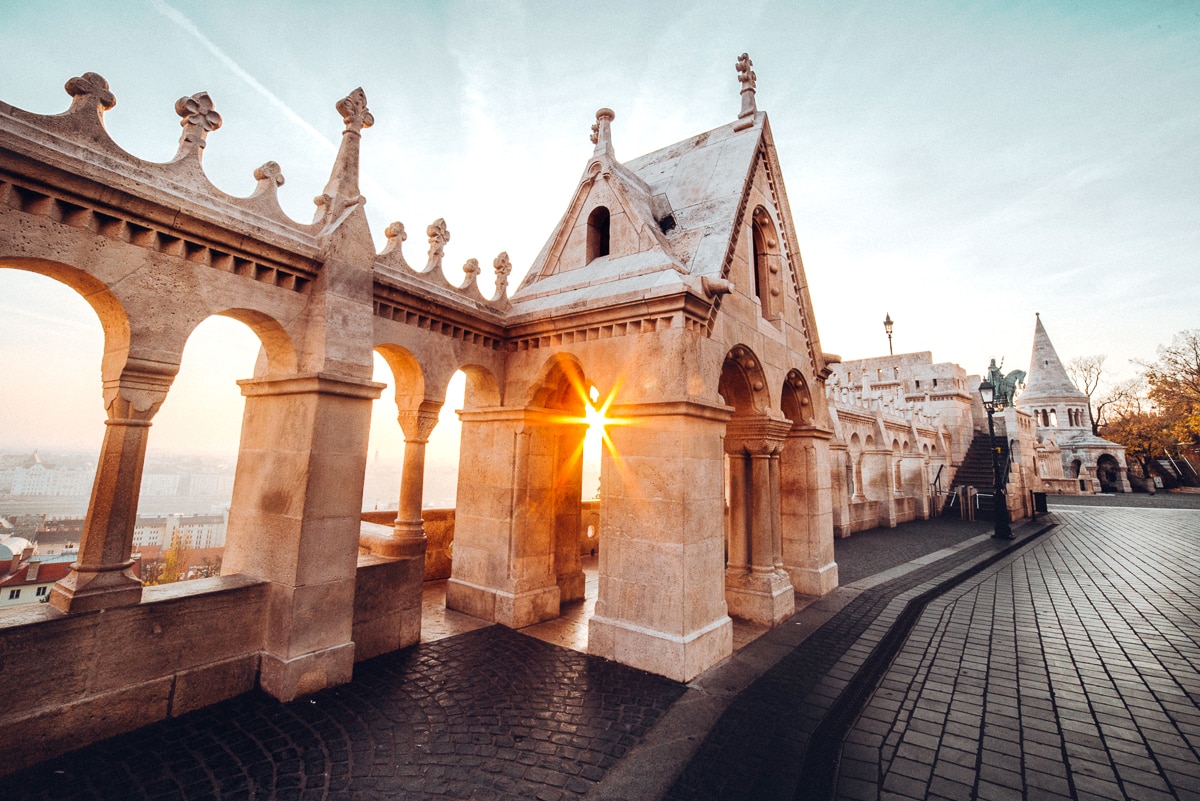 BEAT THE CROWDS // FISHERMAN'S BASTION AT SUNRISE
Before visiting Fisherman's Bastion, I had no idea what it was.
And now, even after researching its history all day for this post, I still don't completely understand. It's hard to believe that this grand of structure's sole purpose is for viewing.. but I'm here for it.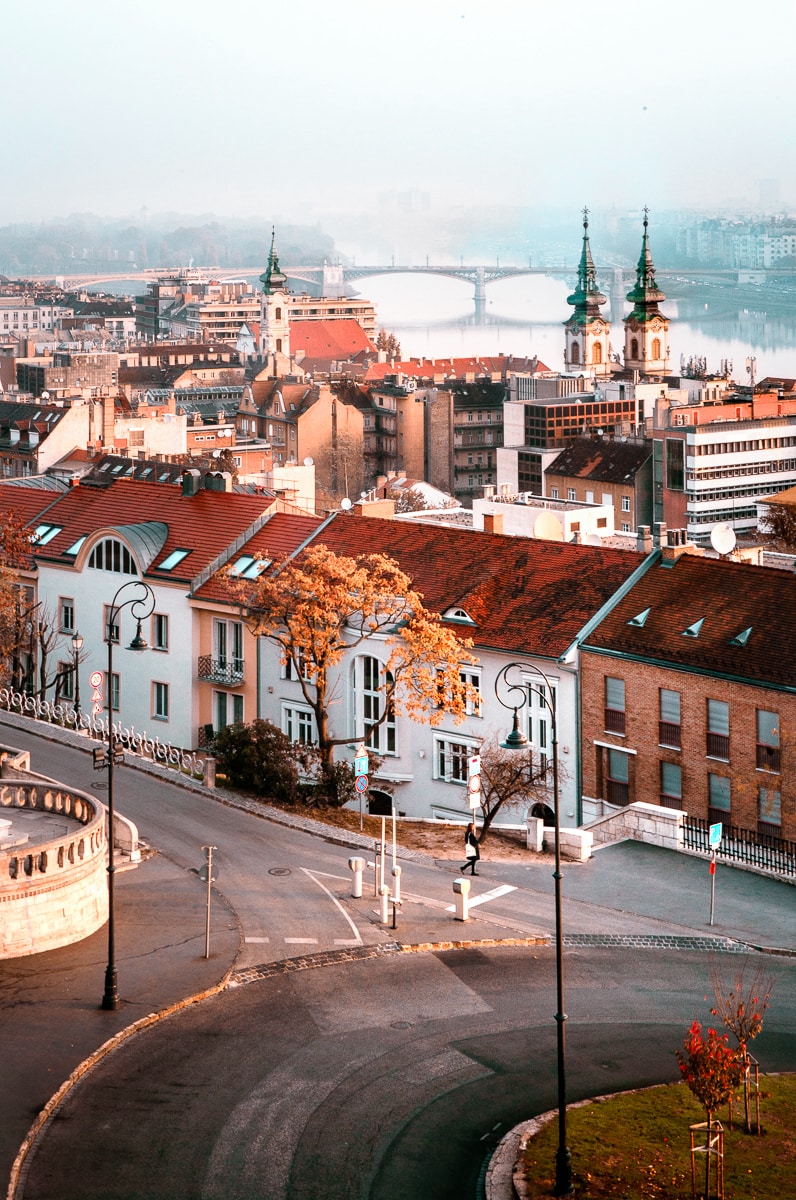 The morning of our visit we didn't properly look up how to get there, so we ended up taking a bus that dropped us off at the bottom of the hill.. directly in front of a million stairs that eventually led to the top.
The journey took us a little longer than anticipated and the sun was already rising when we reached the lookout. Still, the area was so quiet and peaceful, and aside from a man meditating on the top deck, we had the entire thing to ourselves.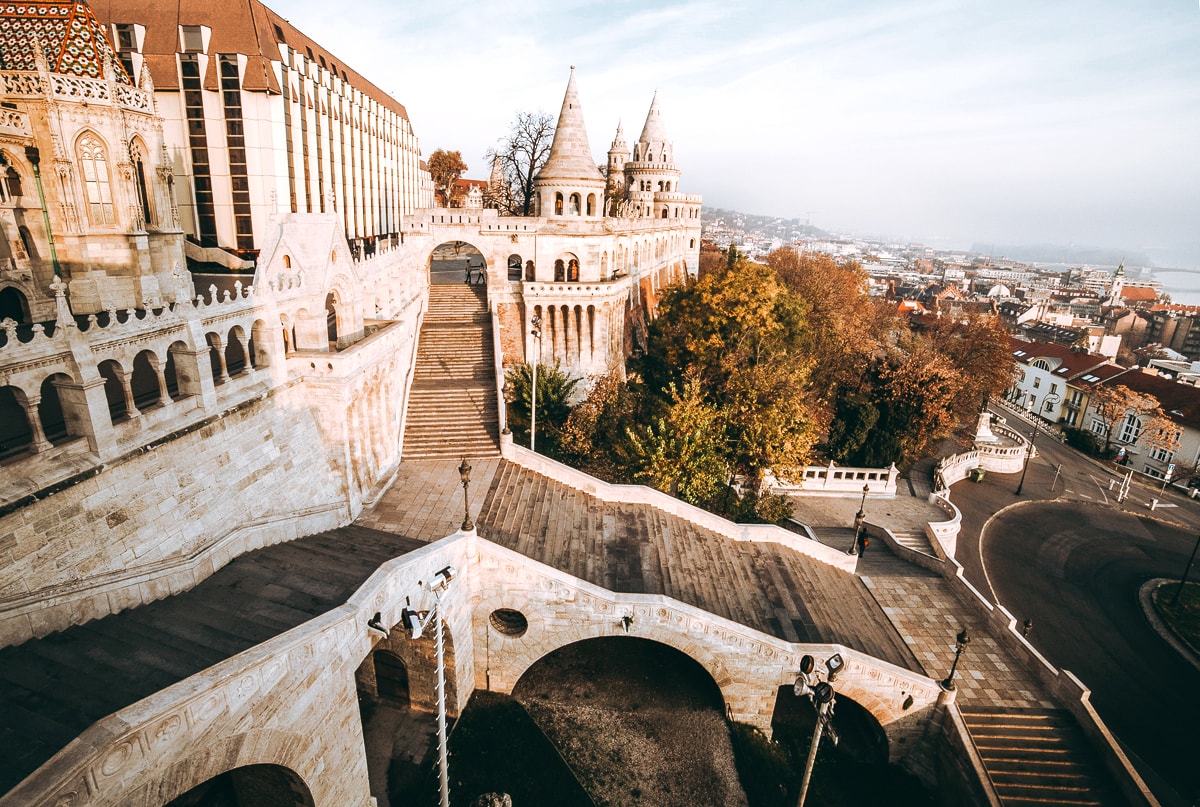 As we walked around, the sun rose higher and higher, its golden light bathing the creamy stone so perfectly. Through each of the tower windows you witness the city framed in a totally different way, and across the Danube we watched Budapest start to wake up.
Everything about Fisherman's Bastion is breathtaking. I found myself taking more photos of the building than of the actual views.. which is very telling because the views are incredible.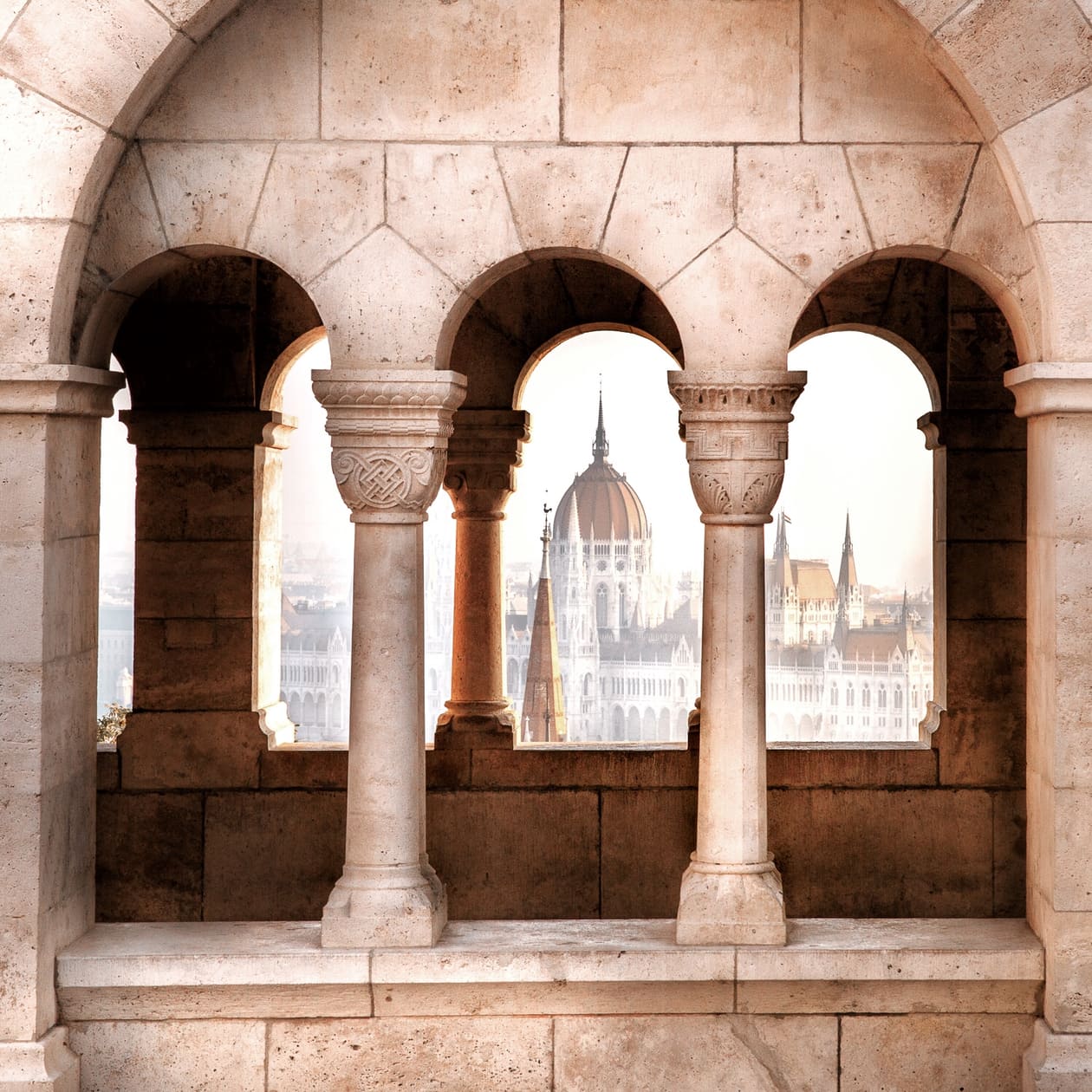 The lookout remained pretty empty until about 7:30am-8am. At 8:30am tour busses started to arrive, and by 8:45am it was packed. I am so grateful that we had Fisherman's Bastion to ourselves for the amount of time that we did and I highly recommend visiting at sunrise to experience it this way.
---
RELATED POST: WATCHING THE SUNRISE FROM THE BURJ KHALIFA IN DUBAI
---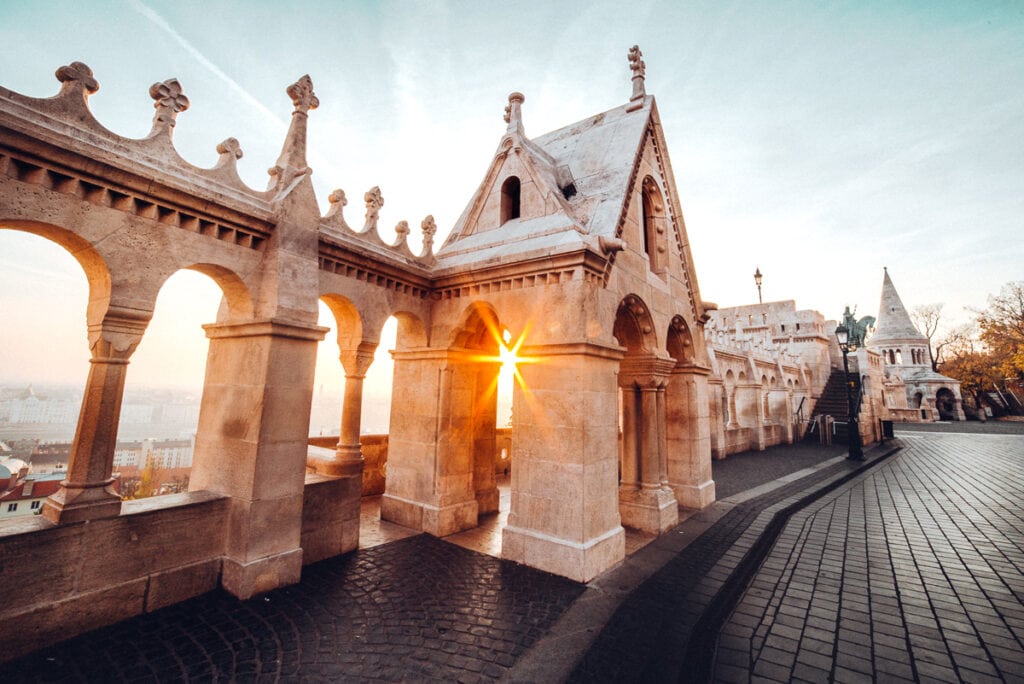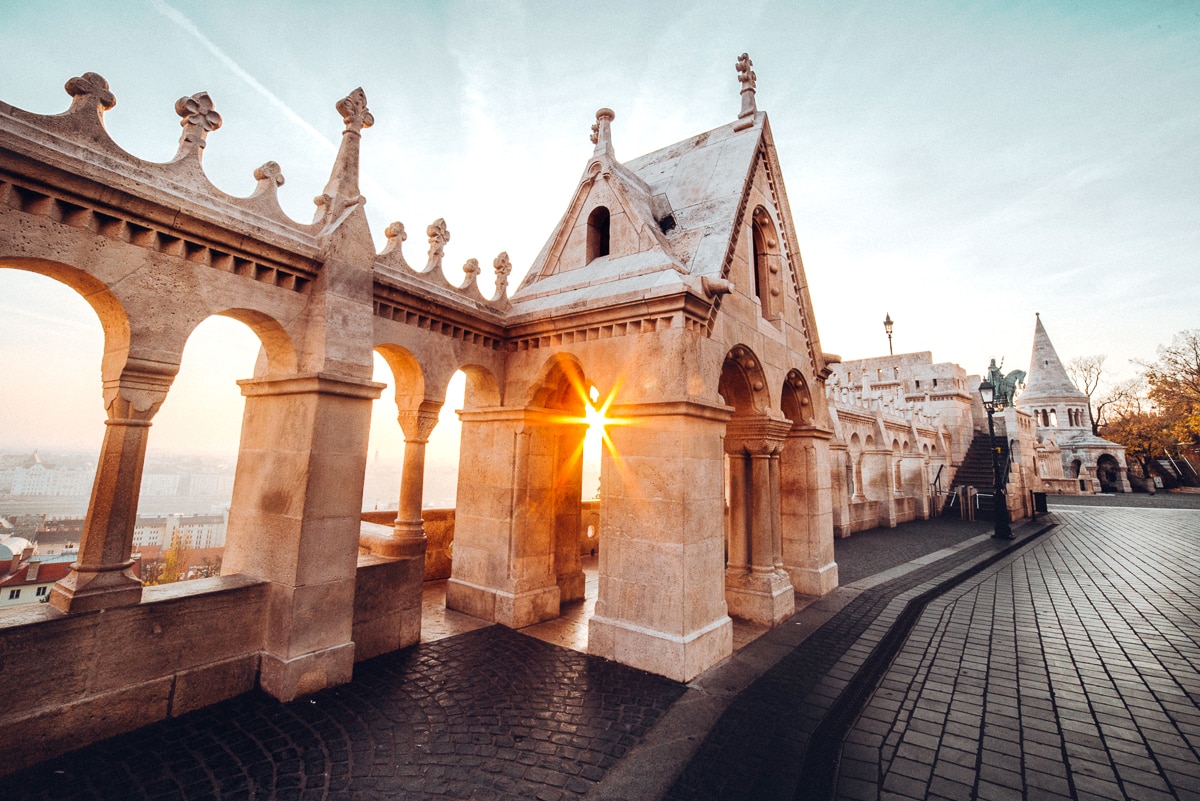 CASTLE HILL // MATTHIAS CHURCH, BUDA CASTLE & THE BEST PASTRY IN BUDAPEST.
If you'll be visiting Fisherman's Bastion, take advantage of your trip up the hill and check out the other popular attractions in the area.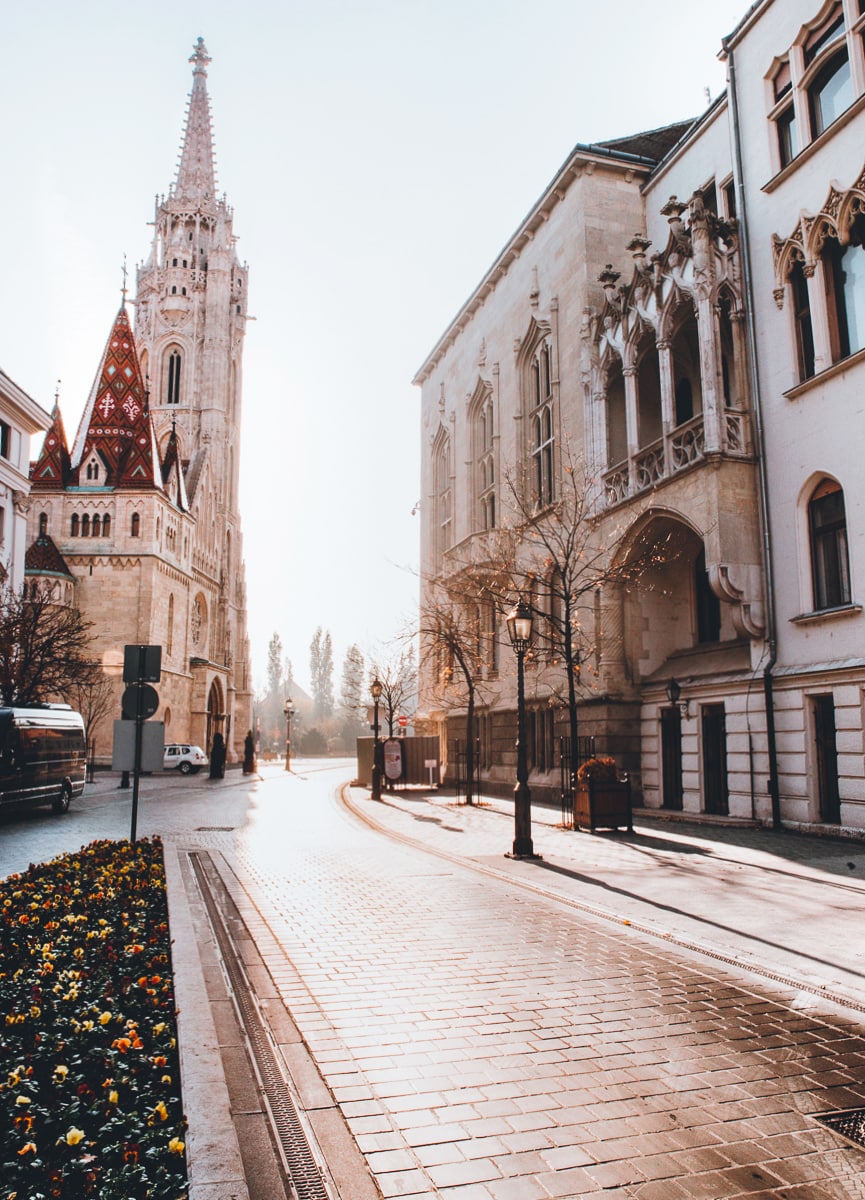 RUSZWUM CAFE
After exploring every hidden corner Fisherman's Bastion (and taking entirely too many photos) we decided to wander around Castle Hill.
Since it was still early, all of the attractions were closed so we popped into a cafe down the street. Turns out, we had randomly discovered one of the oldest pastry shops in all of Europe.
Ruszwurm Cafe has been around since 1827 and its close proximity to Buda Castle has made it a favorite amongst dignitaries and members of the royal family (including Queen Elizabeth) over the years.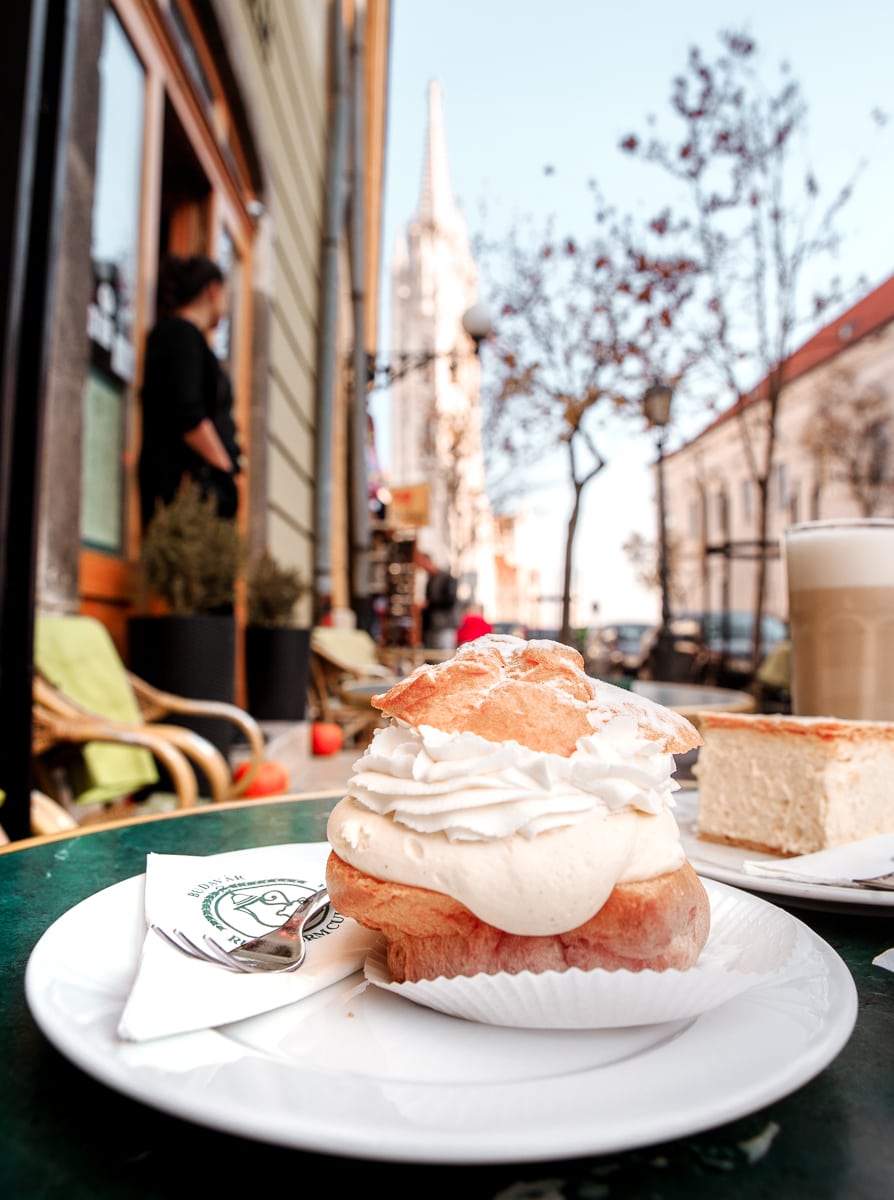 Out of all their cakes Ruszwurm is most well known for their creme pastry, which is a house recipe. We ordered one and just like that, Fisherman's Bastion became a fleeting memory. This was the new most beautiful thing I had experienced that day.
HOURS
Monday-Sunday 10am-6PM
ADDRESS
Szentháromság u. 7, 1014
MATTHIAS CHURCH
Matthias Church is located directly in front of Fisherman's Bastion, and for centuries it was used as a coronation church where many Hungarian Kings were crowed.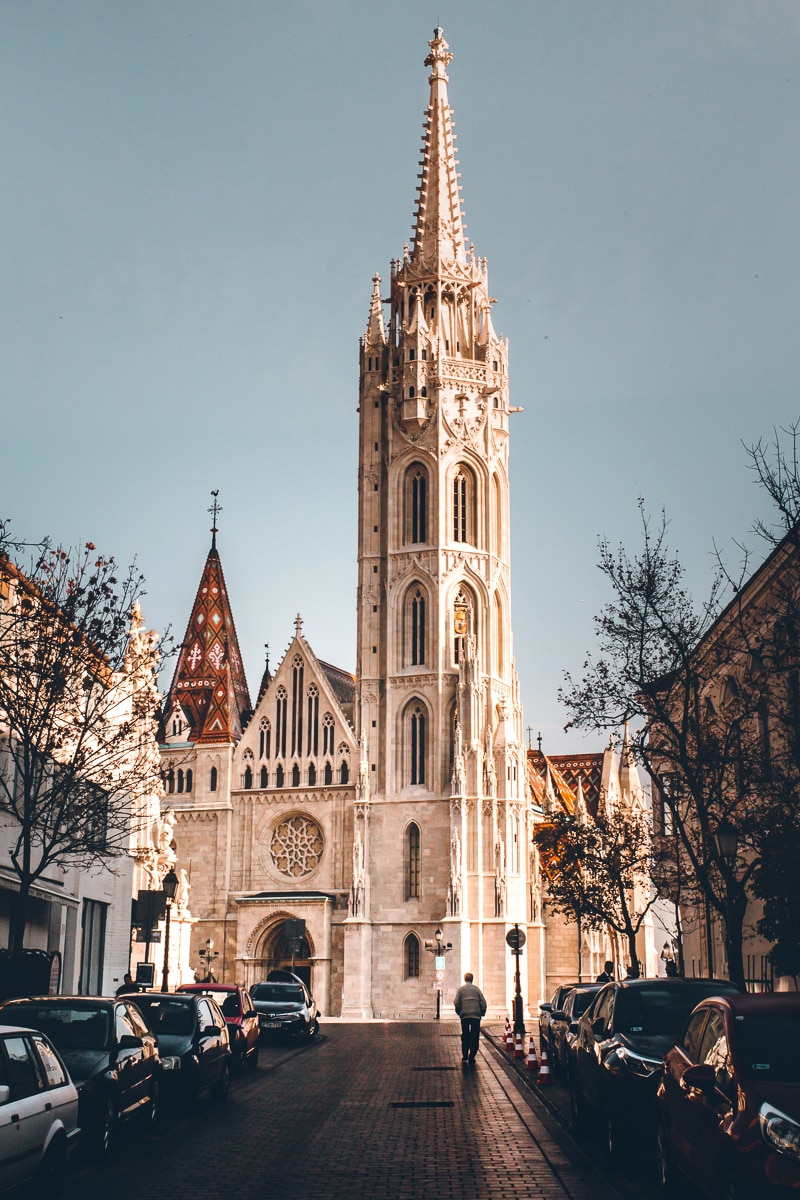 While not as grand as St. Stephen's Basilica in Pest, Matthias Church is super unique and beautiful with its gothic architecture and colorful, tiled roof.
If you want to go inside there is an entrance fee of around $6 USD (which feels kind of expensive for a church tbh). The interior was beautiful but I personally thought the outside was more interesting to look at.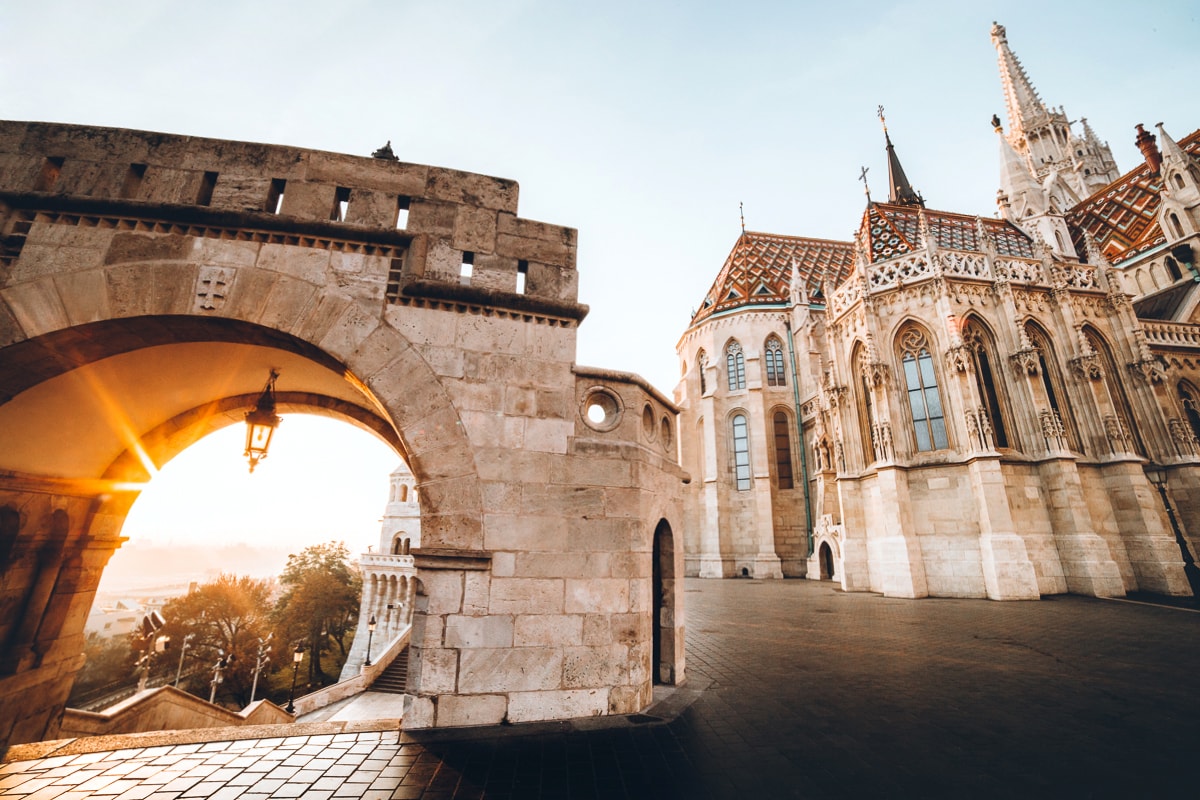 HOURS
Monday-Friday: 9am-5pm
Saturday: 9am-1pm
Sunday: 1-5pm
TICKET PRICES
Adults: HUF 1,800 ($6.26 USD)
Students & Seniors (EU): HUF 1,200 ($4.17 USD)
Ages 6 and Under: FREE
Purchase your tickets outside of the church at the ticket window across the plaza.
---
RELATED POST: ST. STEPHEN'S BASILICA // A VISITOR'S GUIDE TO BUDAPEST'S LARGEST CHURCH
---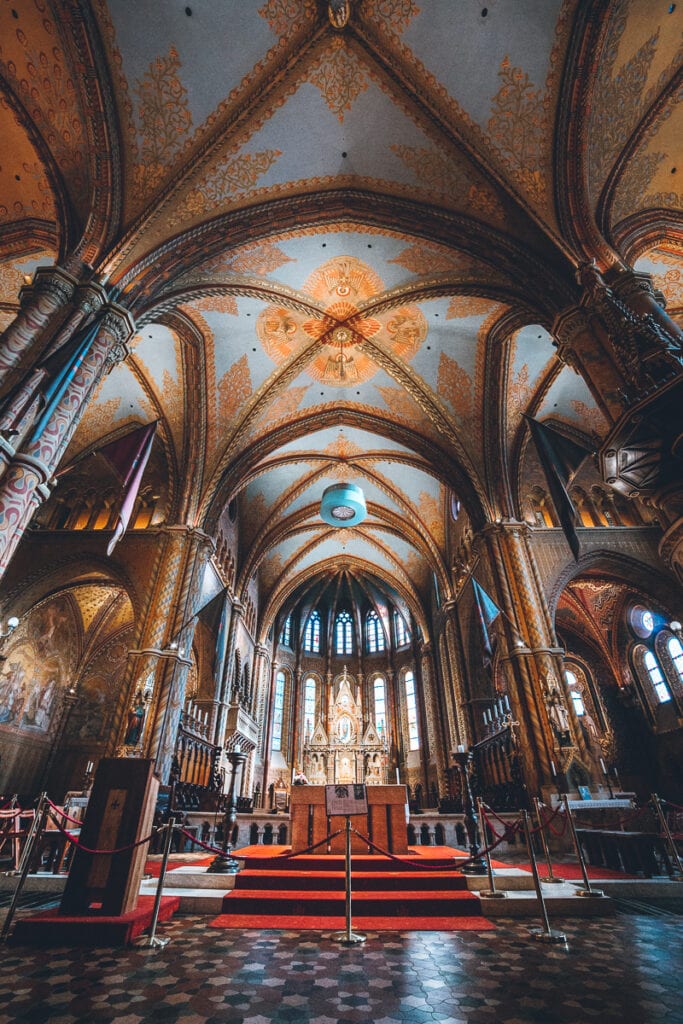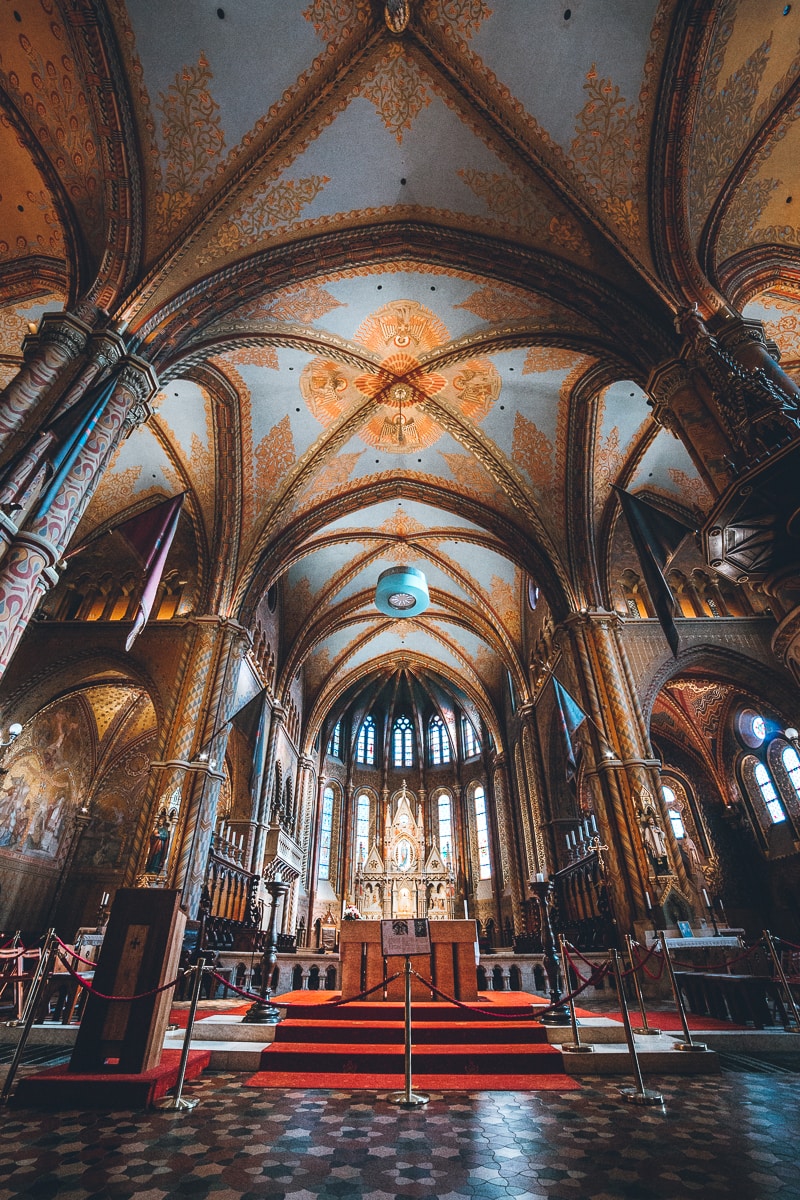 BUDA CASTLE
Buda Castle is located just a short walk from Fisherman's Bastion on Castle Hill. The Baroque palace dates back to the 13th century and has been home many Hungarian Kings. The castle was badly damaged in WWII and is still undergoing renovations.
Today, Buda Castle houses the National Gallery, the Budapest History Museum, and the National Library. We walked around the castle courtyard but didn't go inside as it was too early.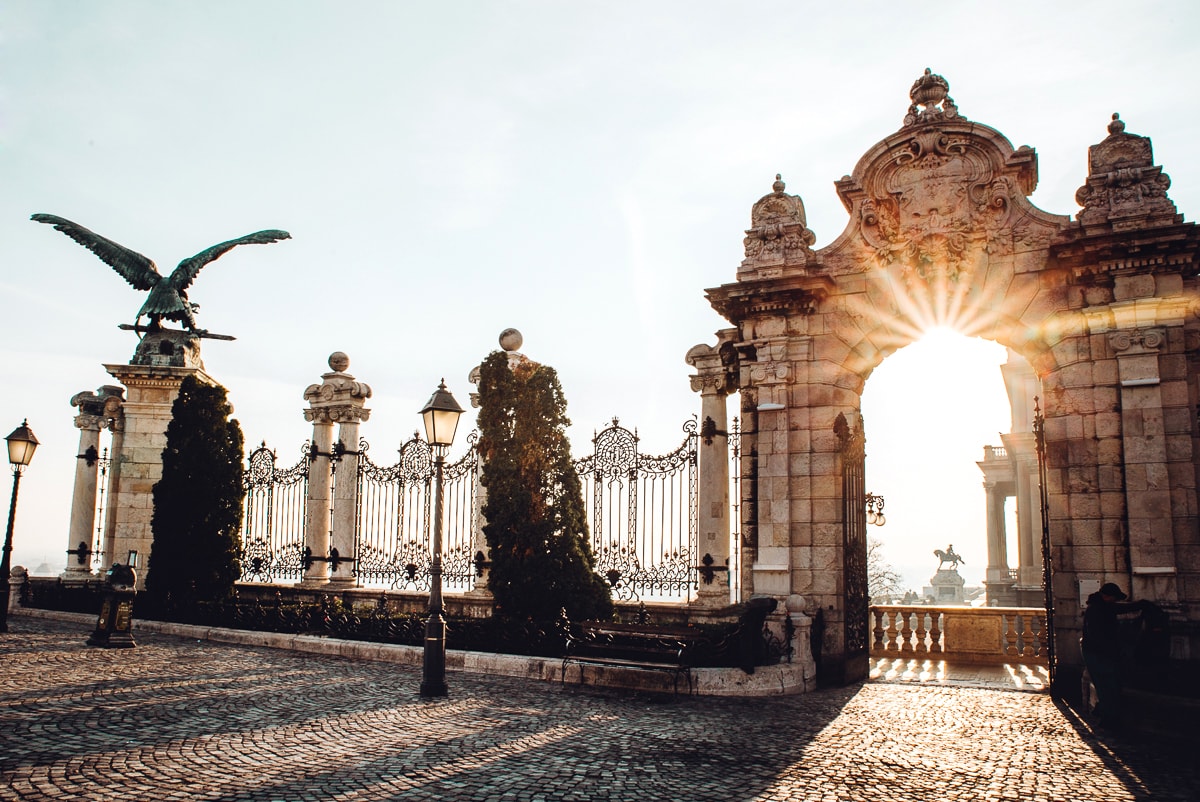 HOURS
National Gallery
Monday: Closed
Tuesday-Sunday 10 am-6 pm
Budapest History Museum
Monday: Closed
Tuesday- Sunday: 10 am-6 pm (1 March – 31 October)
Tuesday-Sunday: 10 am-4 pm (November 1 – February 29 )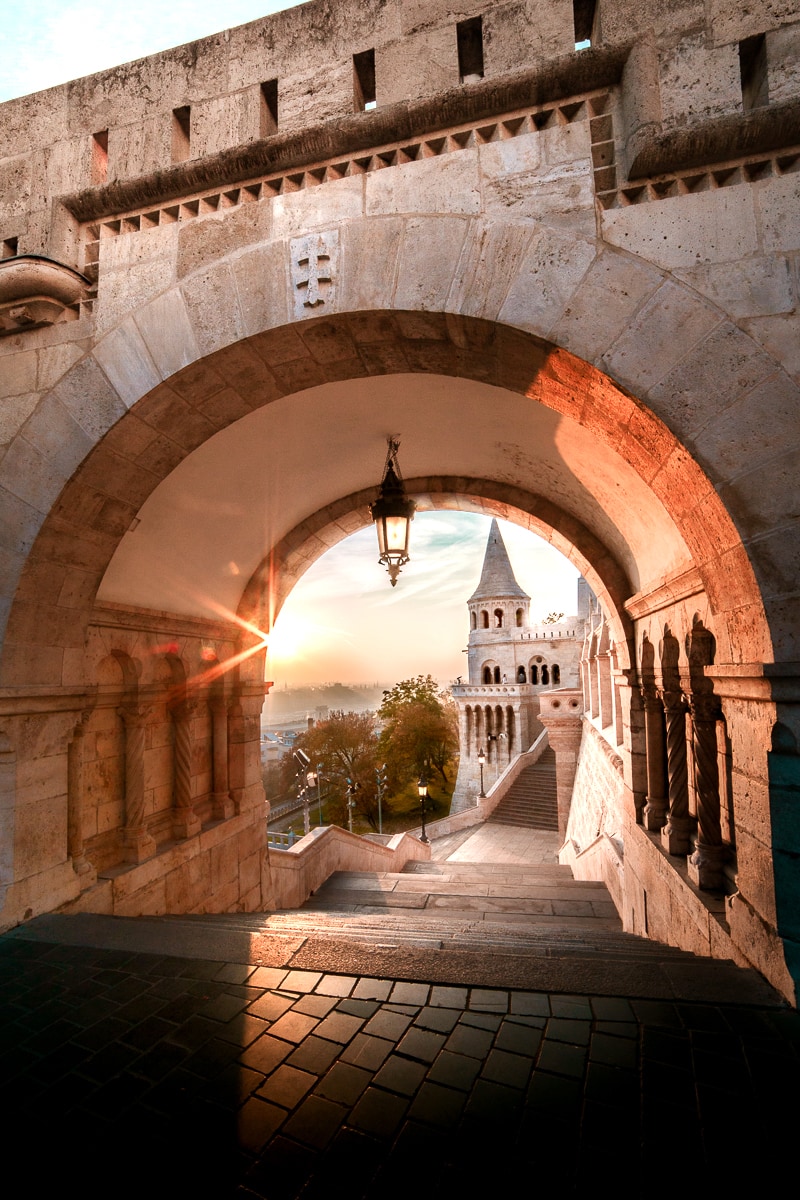 HOW TO GET TO FISHERMAN'S BASTION
BUS
Busses 16 and 16A will take you up Castle Hill and drop you off very close to Fisherman's Bastion, Matthias Church and Buda Castle. Make sure to check bus times before you go as that they are not operational on certain days.
You can catch bus 16 from Deak Ferenc Square in Pest (the yellow and red line metros stop here), or from Szell Kalman Square (red line metro stops here).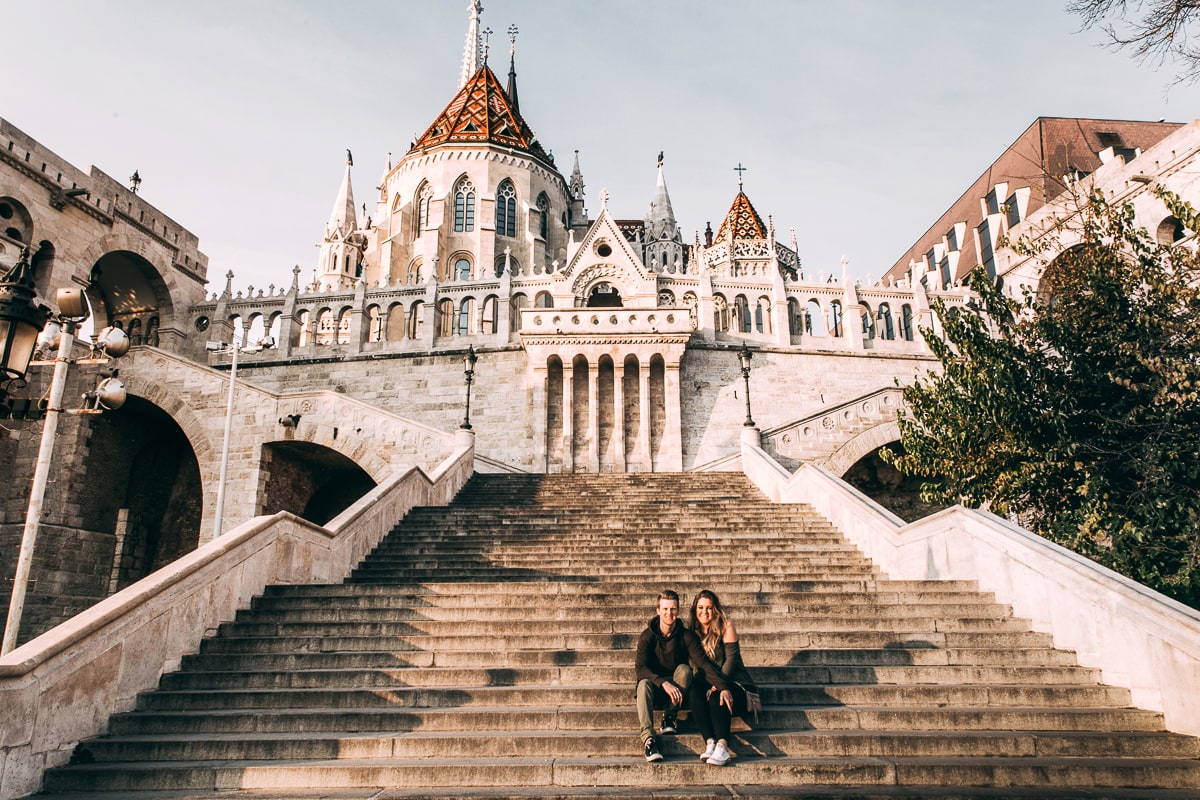 FUNICULAR
For a more fun option, hop on the Budapest Castle Hill Funicular. The funicular station is located right in front of the Chain Bridge on the Buda side. It will drop you off a little closer to Buda Castle but Fisherman's Bastion is a very short walk.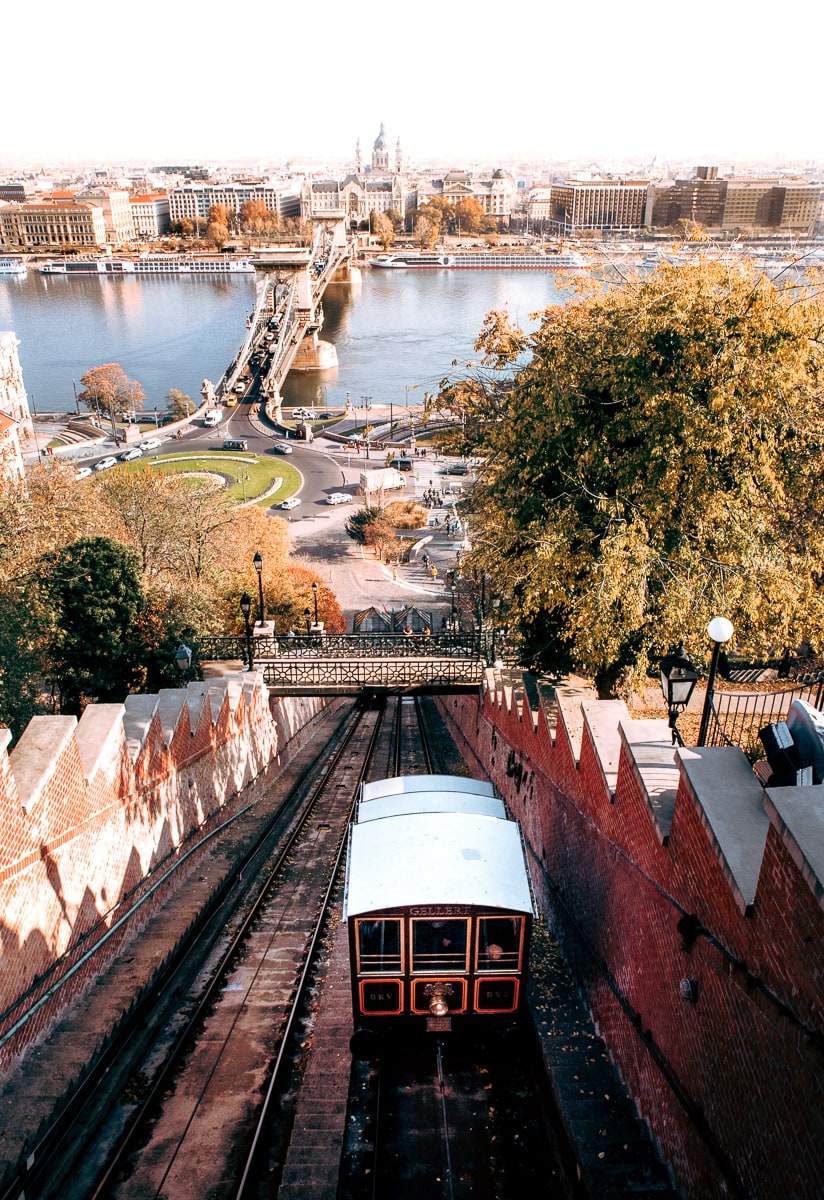 If you're visiting during sunrise, the funicular will be closed on your way up.. but grab it when you're ready to go down the hill.
Funicular Hours:
Monday-Sunday 7.30 am – 10pm
Funicular Tickets Prices:
Adults: HUF 1,200 one way ($4.17 USD) // HUF 1,800 return ($6.26 USD)
Ages 3-14: HUF 700 one way ($2.43) // HUF 1,100 return ($3.82 USD)
Under 3: FREE
WALKING
From Szell Kalman Square, it is a 10 minute walk up uphill (1.5 km / 0.9 miles).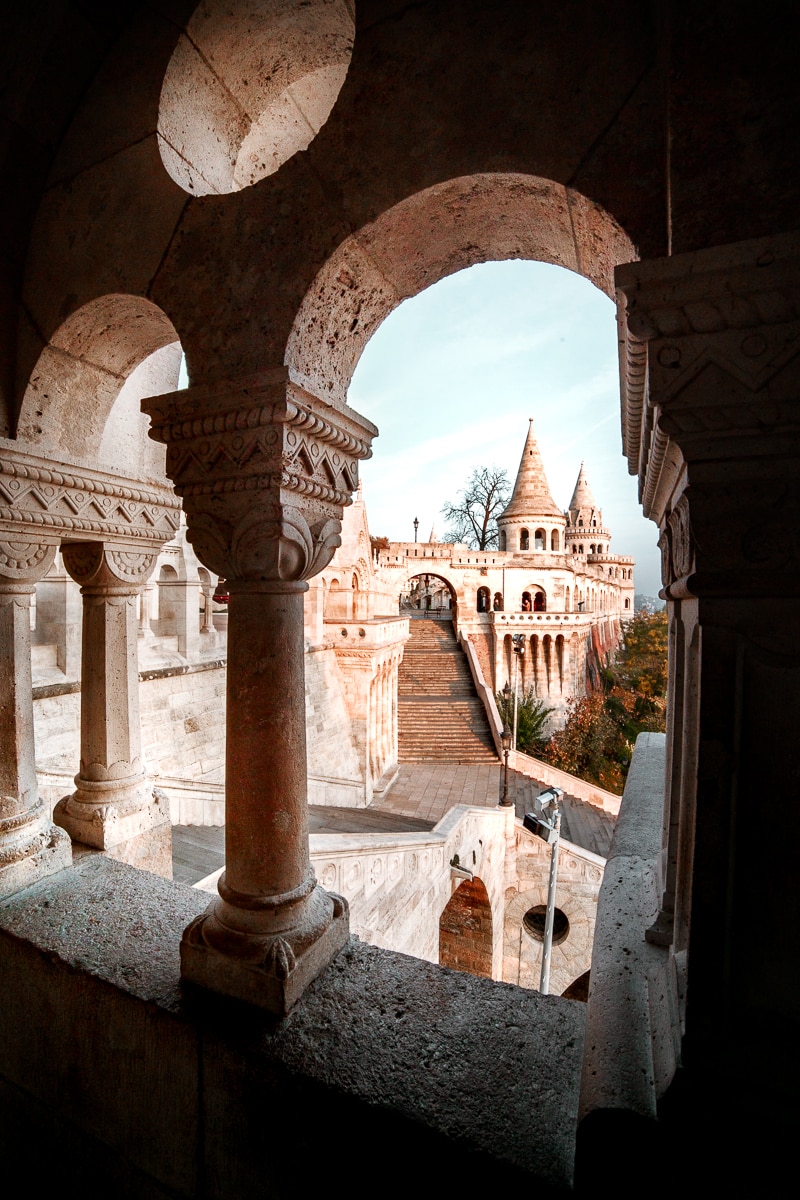 VISITOR INFORMATION
OPENING HOURS
Fisherman's Bastion is accessible 24 hours a day, 7 days a week – including holidays.
ENTRANCE FEES
The monument is free to visit and there are no ticket fees unless you plan to visit the upper towers.
If you visit outside of the official ticked hours, you can get up to the towers at no charge. When we visited at sunrise, everything was free rein. If you visit during off season (October 15th-March 15th) the upper towers are free all day as well.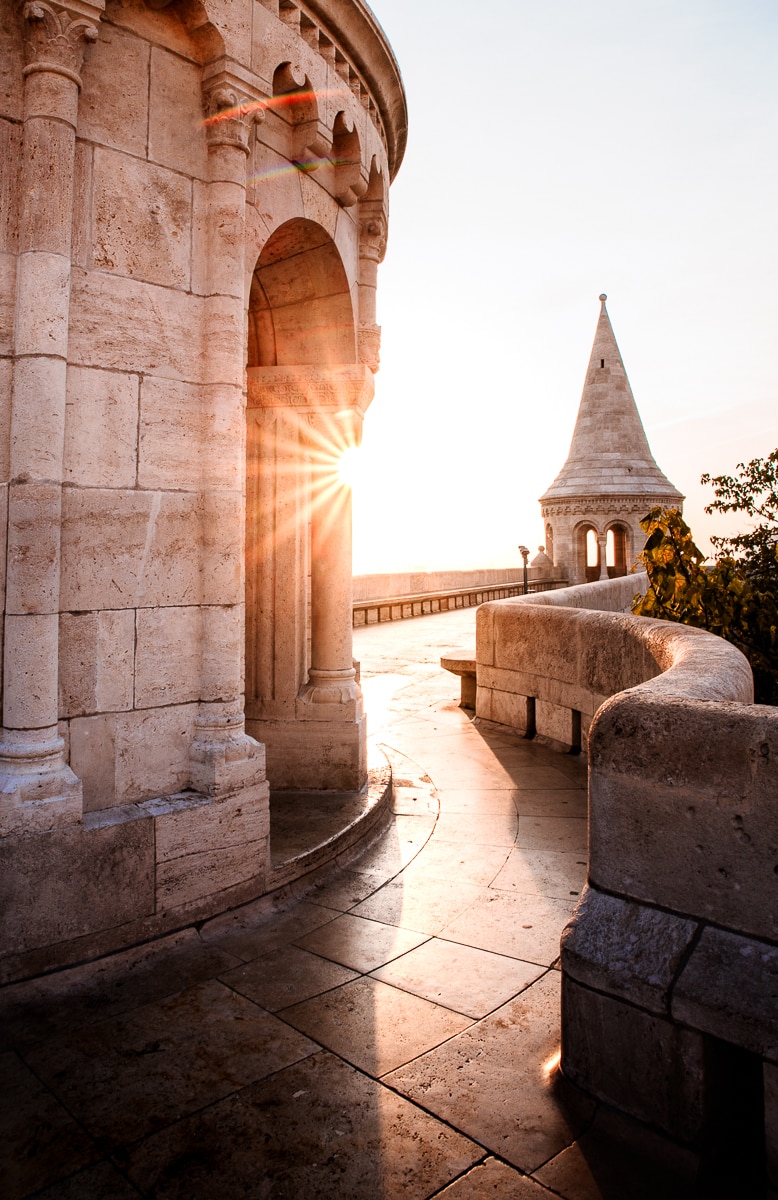 Having explored the entire structure from top to bottom, I will say that the views were not much different all around. If you find yourself visiting during normal opening hours, you can probably feel confident skipping the top if you want to save a little money.
UPPER TOWER TICKETED HOURS
March 16-April 30: 9am -7 pm
May 1- October 15: 9 am-8 pm
October 15th-March 15th: No Charge
UPPER TOWER TICKETS
Adults: HUF 1000 ($3.50 USD)
Students and Children Under 14: HUF 500 ($1.75 USD)
Children Under 6: FREE
Pensioners from the EU: HUF 500 ($1.75 USD)
For more information, visit the official Fisherman's Bastion website here.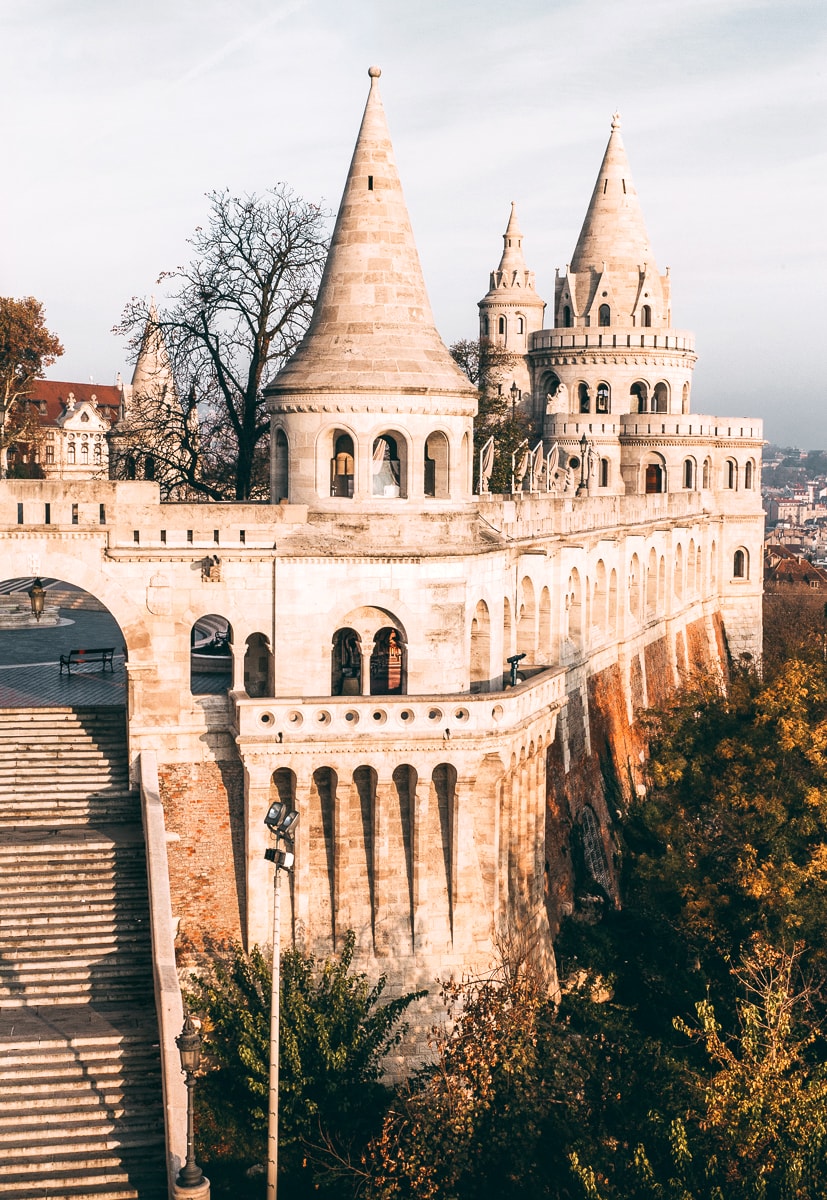 Did I miss anything? Have you been to Fisherman's Bastion? Leave a comment below!
---
PIN IT: FISHERMAN'S BASTION AT SUNRISE // THE BEST VIEWS IN BUDAPEST