A Budapest itinerary without ruin bars is like a tequila shot without the lime chaser. Don't deprive yourself. We made it a goal to visit as many ruin pubs as possible during our 10 days in the city and this unique and eclectic Budapest nightlife scene ended resulting in some of the most memorable experiences from our trip.
---
RELATED POST: BUDAPEST NIGHTLIFE // 7 UNIQUE BUDAPEST BARS YOU HAVE TO VISIT
---

WHAT ARE BUDAPEST RUIN BARS?
Budapest ruin bars originated in the city's Jewish Quarter, which had been mostly abandoned after WWII. From within the crumbling and dilapidated buildings, parking lots and warehouses, a new type of bar was born.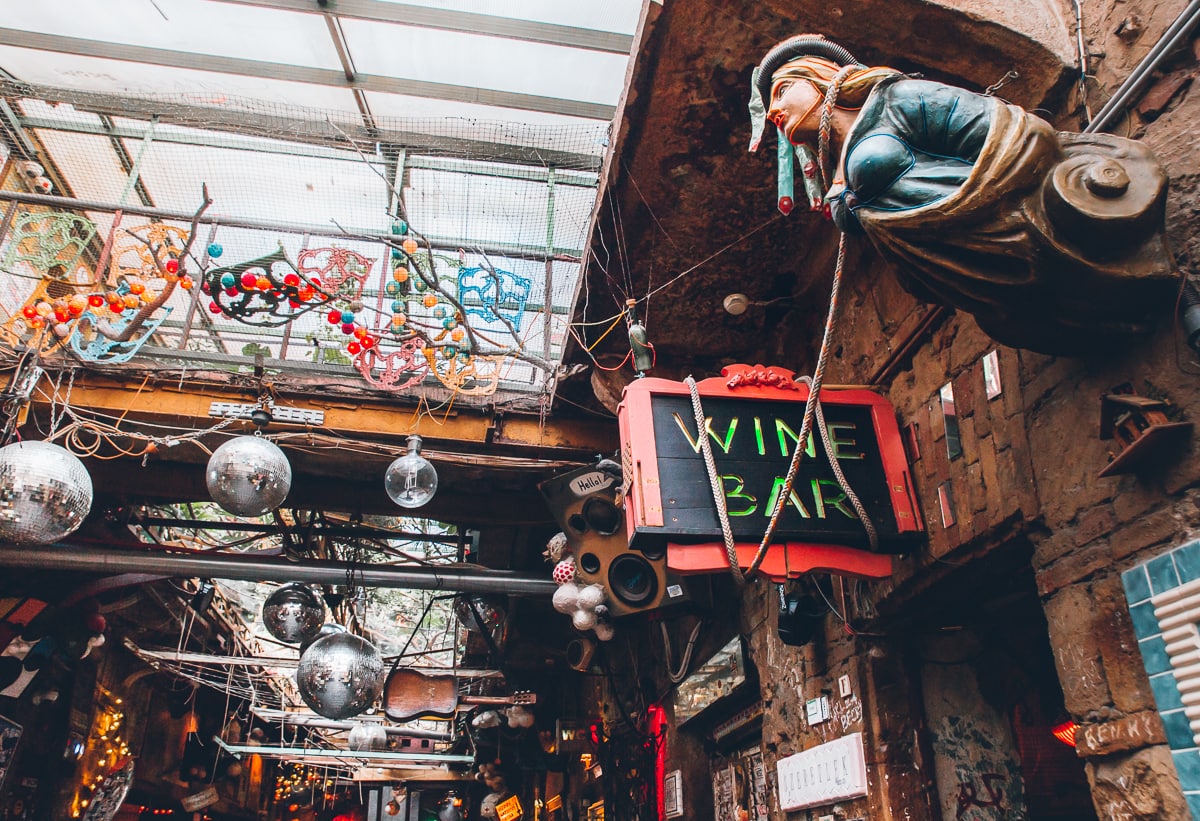 Szimpla Kert started the trend and after its rampant success, more ruin bars started popping up all over the district. The original spaces remain (for the most part) untouched; and the bars are decorated with random flea market finds and salvaged furniture, which gives them their signature grungy, shabby feel. It's completely different than anything we've seen before.
Today you can find a broad range of ruin bars to suit every type of traveler. Even if you're not a big drinker, many of the ruin pubs also host farmer's markets, food stands and community events during the day.
From an upscale courtyard to a massive ruin club party complex, keep reading to discover our 5 favorite Budapest ruin bars.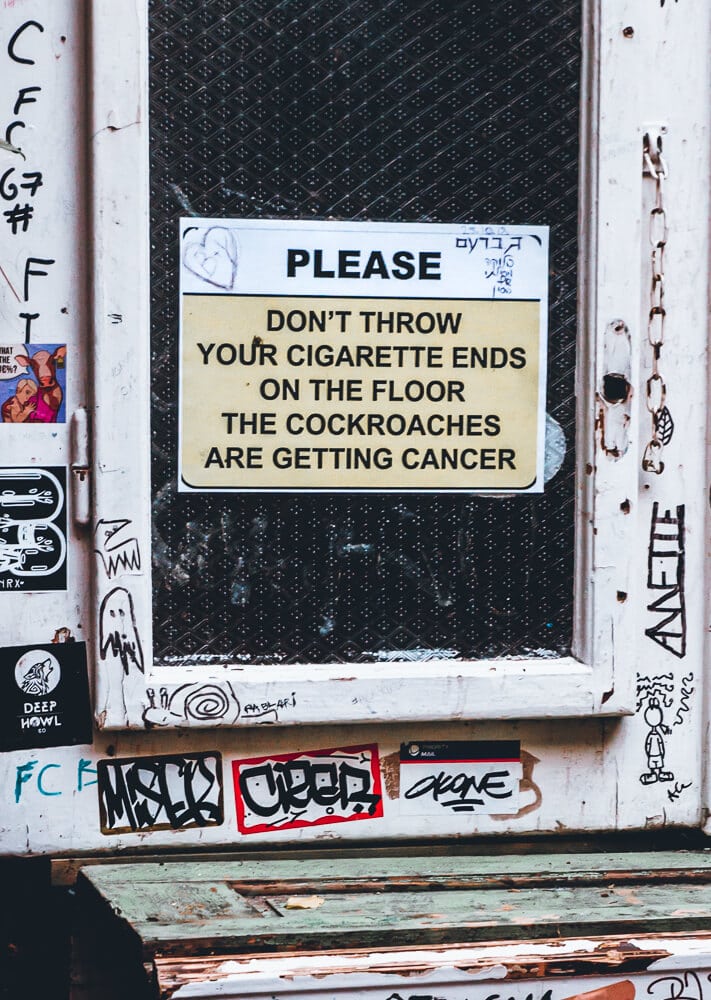 5 MUST VISIT BUDAPEST RUIN BARS
ANKER'T
Anker't is a huge ruin bar located slightly outside of the Jewish Quarter, near Andrassy Ave.
It is home to one of the largest downtown beer gardens, with four bars on site as well as two different food stands serving up burgers and vegan pizza.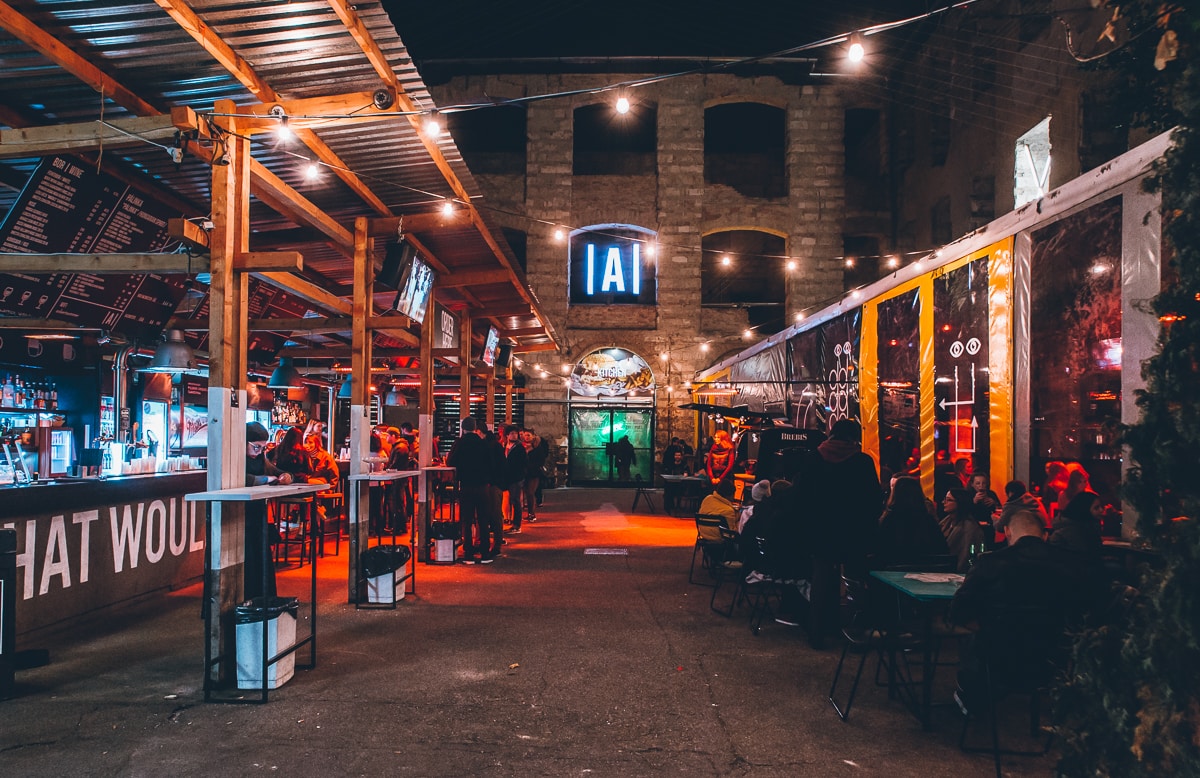 Anker't is located in an old residential building that was built in 1833, and its design is a lot less quirky and cluttery than other ruin bars like Szimpla Kert or Fogasház. It has more of minimalistic lofty feel with large open spaces and blank brick walls.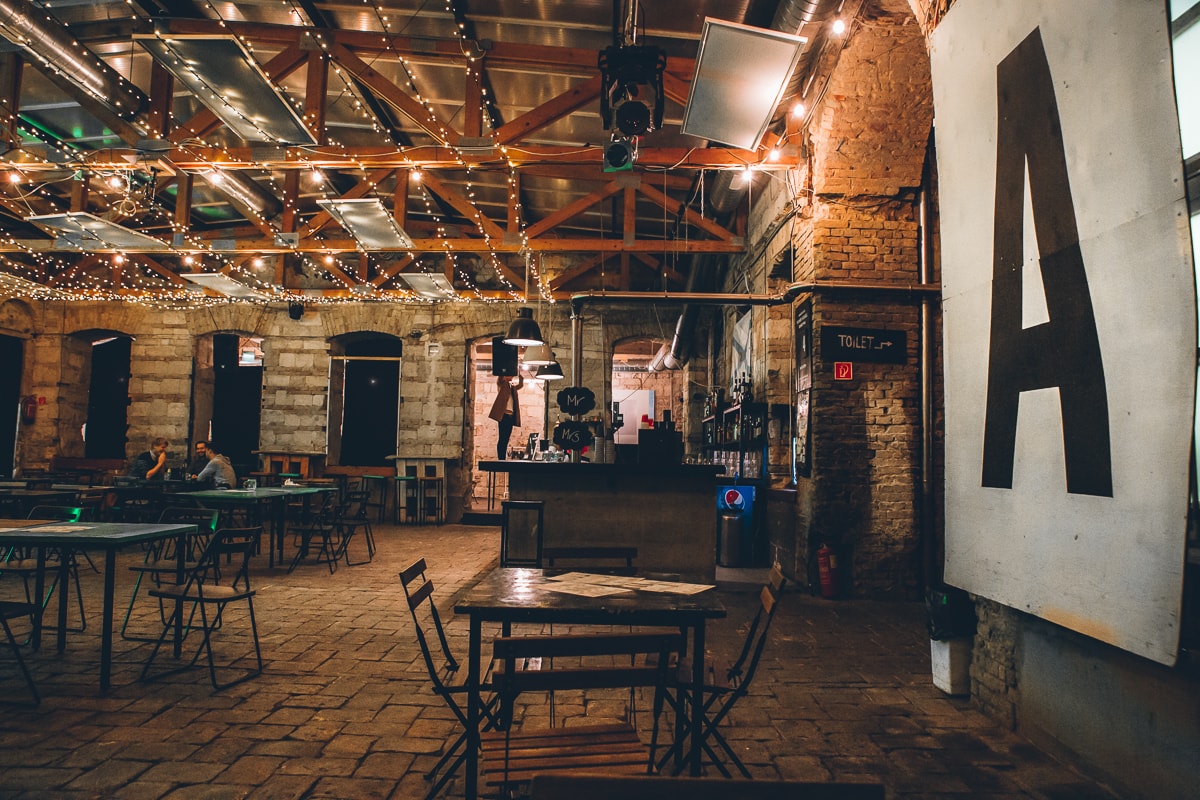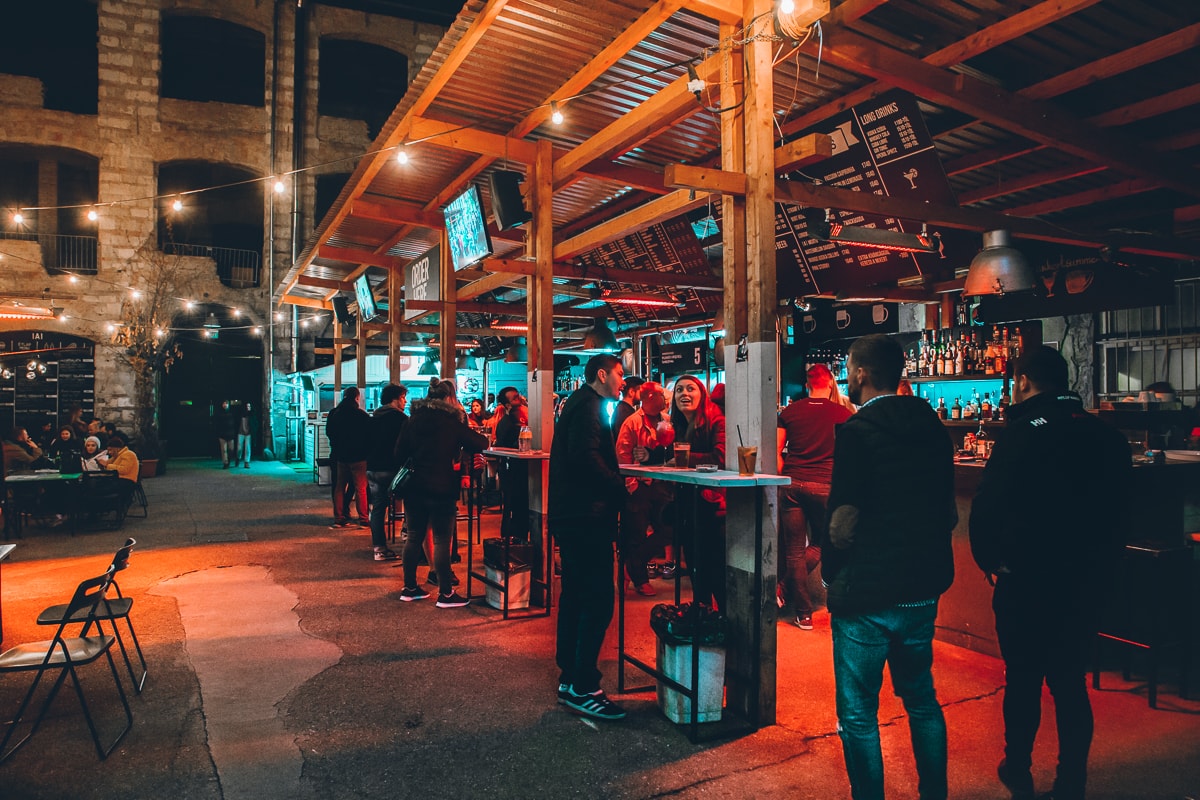 Aside from Szimpla Kert, Anker't was my second favorite ruin bar that we visited during our time in Budapest. The atmosphere was casual and friendly, and the layout made it fun to explore. There is a small dance floor inside, an outdoor beer garden area and several rooms for hanging out and drinking indoors.
Anker't hosts weekly and monthly events such as the Sunday Vegan Food and Flower Market or Friday LGBTQ+ nights with themed music selections including drag hits, disco, latin and pop diva nights. It's also not uncommon to find art exhibitions, poetry slams and open mic nights within the bar.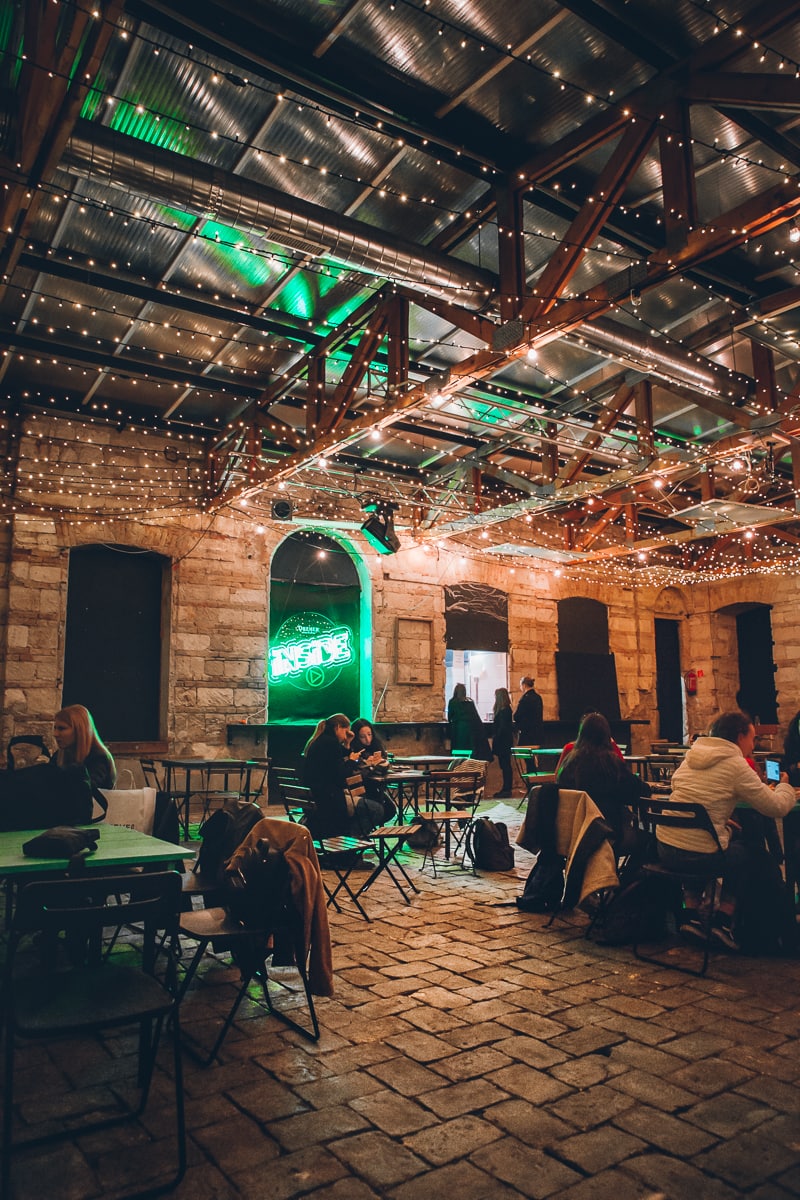 Be sure to check out the event calendar on their Facebook page to see what happening at Anker't during your visit.
ADDRESS
33 Paulay street, Budapest 1061
HOURS
Sunday-Wednesday: 2PM – 12AM
Thursday: 2PM – 1AM
Friday – Saturday: 2PM – 4AM
SZIMPLA KERT
If you can only pick one Budapest ruin bar to visit during your time in Hungary, I recommend making it Szimpla Kert.
Szimpla Kert is the original ruin bar that started it all, and today it remains of the most popular bars in Budapest.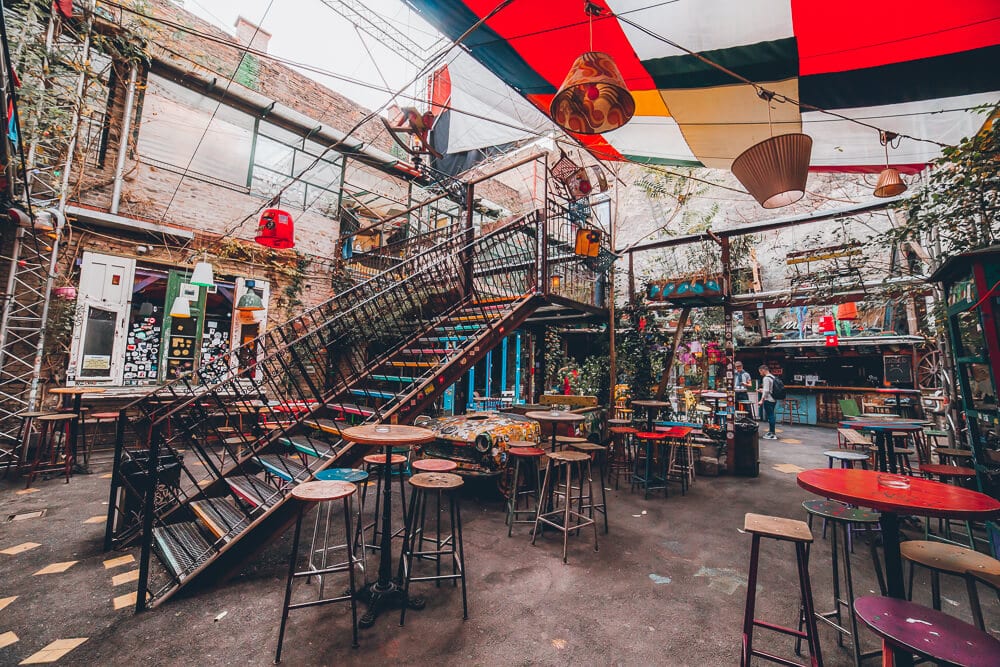 Located on Kazinczy Street in a 200+ year old building which used to be a stove factory, the owners of Szimpla Kert saved the structure from demolition and re-opened it as a creative project. Today there are 8 different bars on site and Szimpla Kert also regularly hosts film screenings, community events and even a local Sunday Farmer's Market.
We visited Szimpla Kert a handful of times while we were in Budapest. There is so much to see that one visit could not do it justice.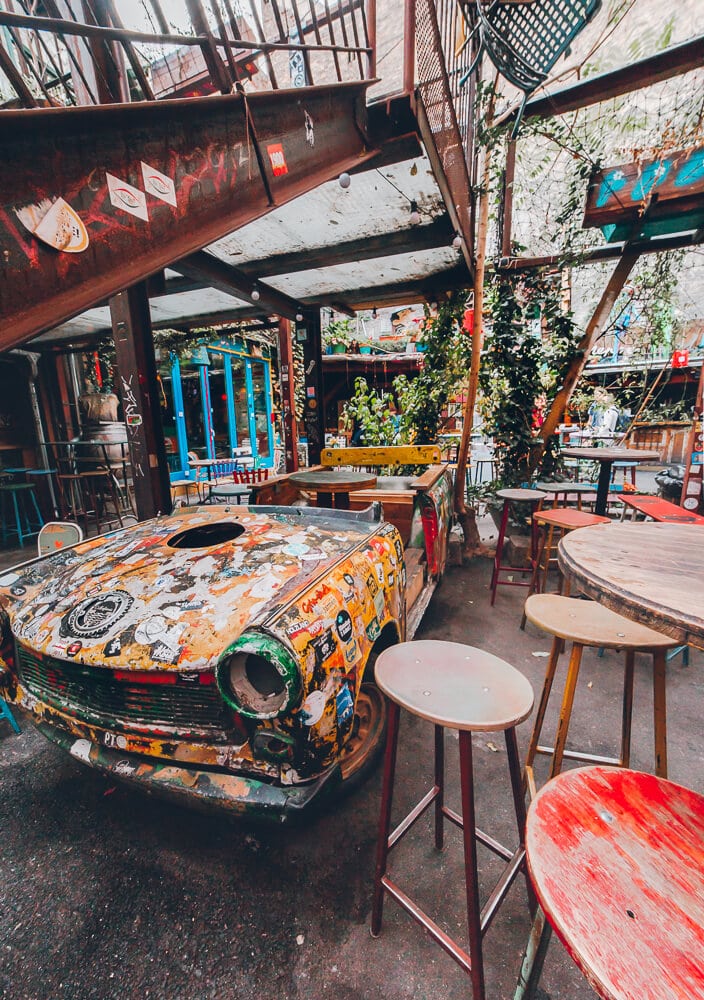 From floor to ceiling, the complex is decorated with random decor, salvaged furniture, vintage lampshades, live plants, disco balls and mannequins. Grab a drink at your bar of choice (they have a wine bar, craft beer bar, hookah bar and several cocktail bars) and then pop a squat in the bathtub, on top of a vintage television or inside of a gutted car.
Szimpla Kert is is definitely touristy but was also one of the most diverse bars we visited. Everyone is welcome here.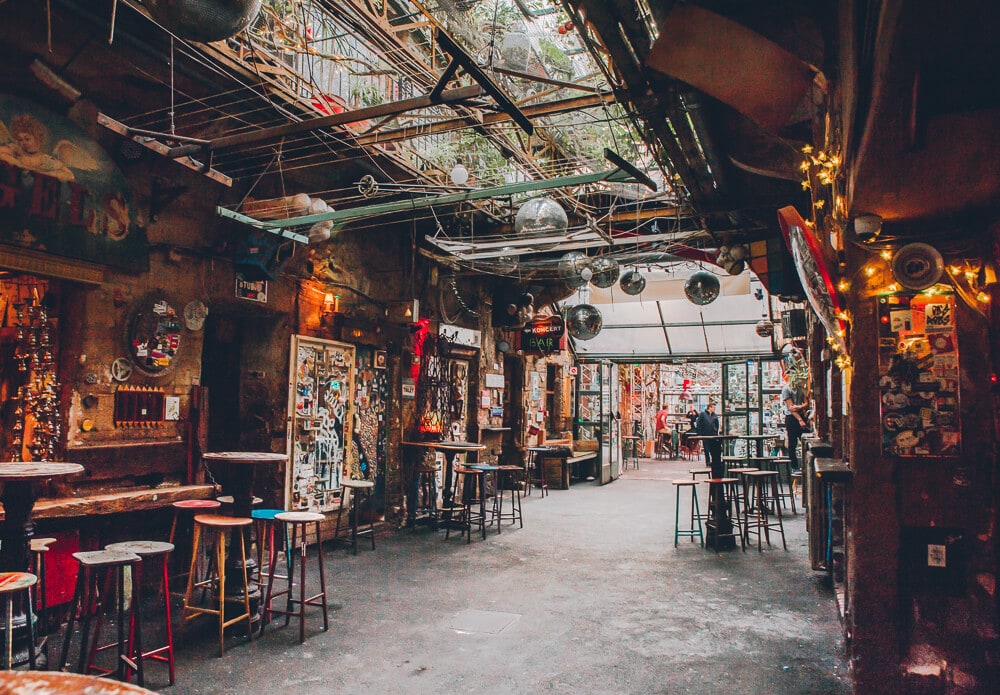 If you want the ultimate Budapest ruin bar experience, Szimpla Kert should not be missed. Click my related post below for more information, photos and tips for visiting.
---
RELATED POST: SZIMPLA KERT // A LOOK INSIDE BUDAPEST'S ORIGINAL RUIN BAR
---
ADDRESS
Budapest, Kazinczy u. 14, 1075
HOURS
Monday-Saturday: 12PM – 4AM
Sunday: 9AM-4AM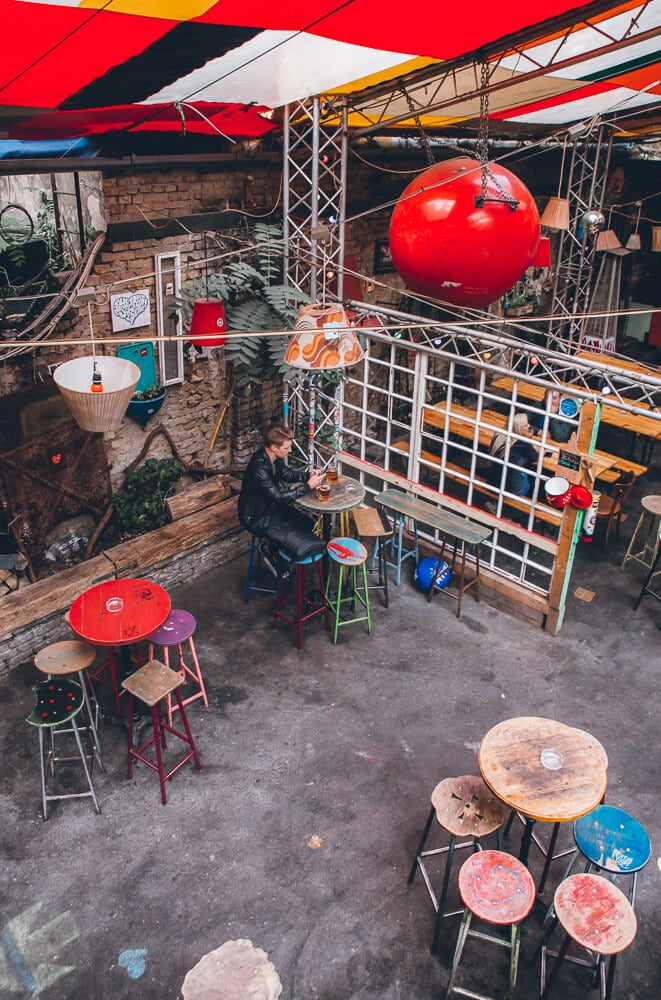 MAZEL TOV
One time at a photoshoot, I listened to a client and her publicist talk about how weird it is that people stay in hostels. Mazel Tov is the ruin bar I would recommend to them.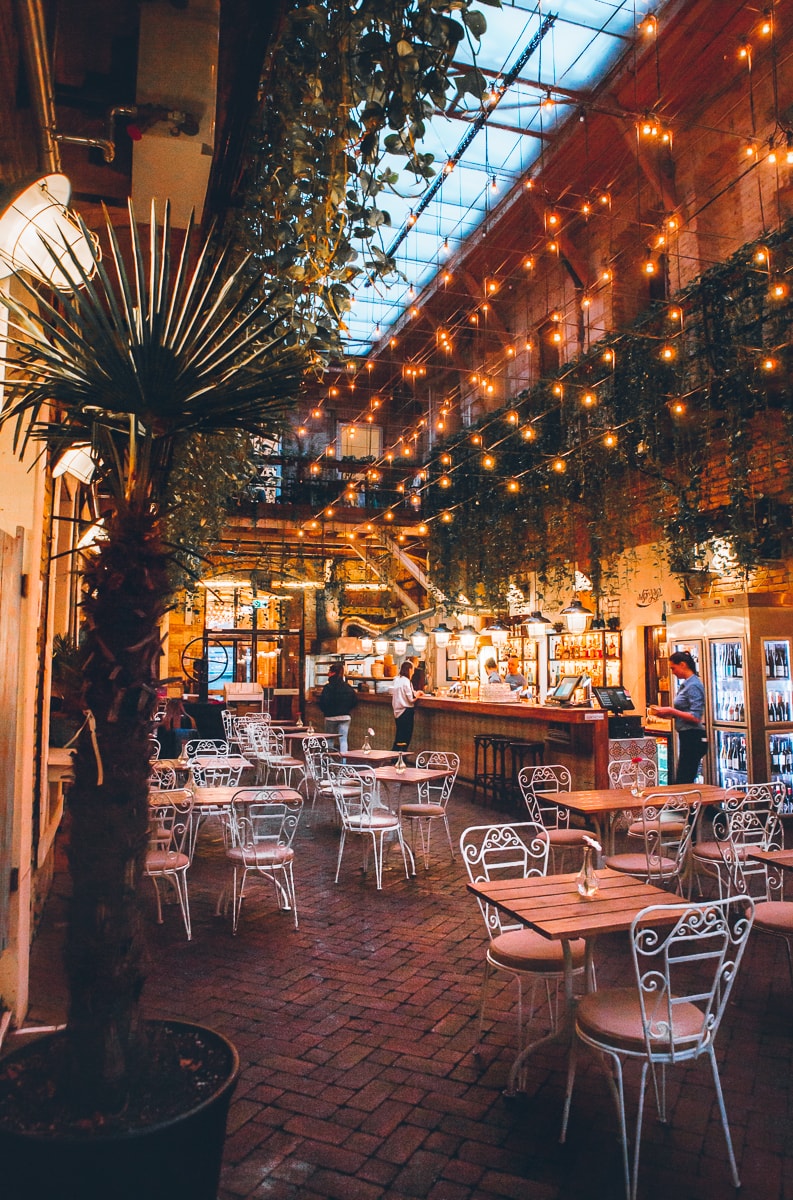 Mazel Tov is located inside of an abandoned brick building, so technically it fits the formula.. however the inside looks nothing like the other Budapest ruin bars on this list.
The long courtyard is decorated with hanging plants, trees and fairy lights, and the large skylights give the space a bright and open ambiance. It's clean and trendy, and overall just a stunning place to have a cocktail.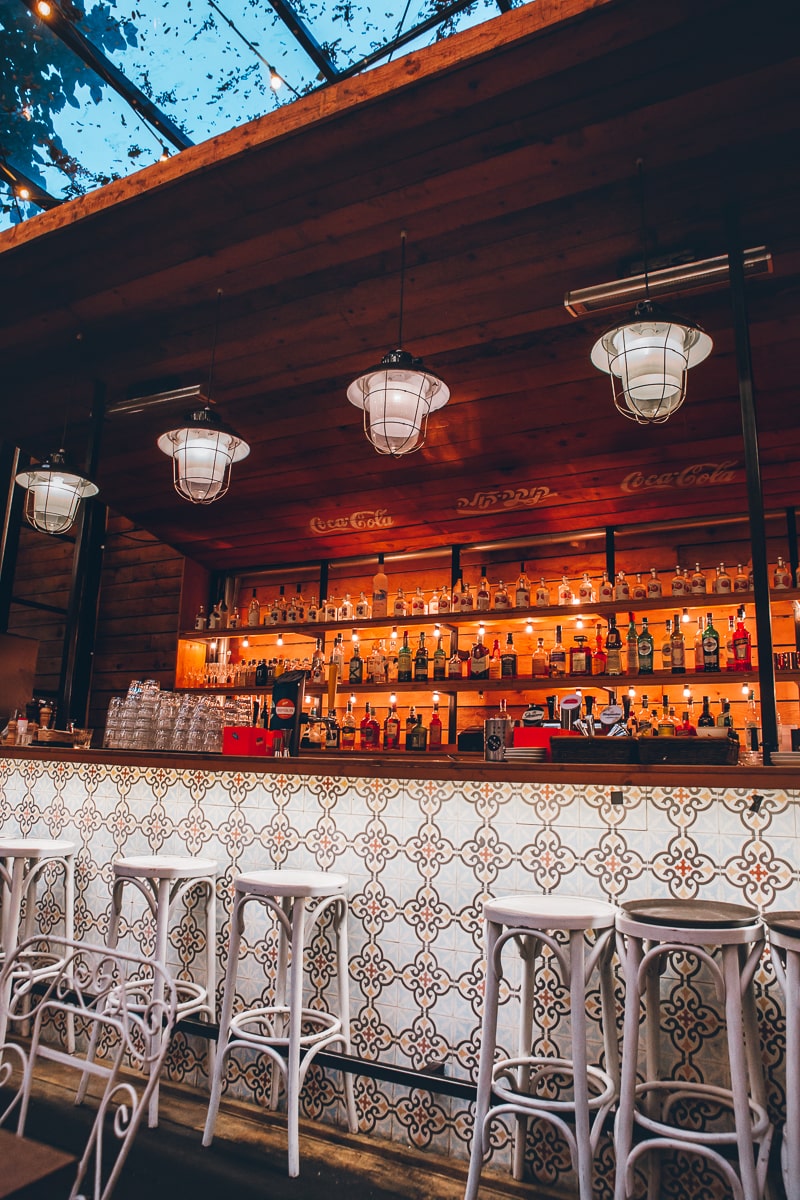 Mazel Tov is definitely more of sit down environment vs a traditional bar. It's actually a restaurant first, serving up Mediterranean cuisine such as shawarma plates, pita sandwiches, salads and Israeli fusion dishes.
You can still visit even if you're not hungry, they were more than happy to seat us for drinks only. The only downside to Mazel Tov is that it was pricier than the other ruin bars we visited, but I guess that's to be expected as the whole experience is much more upscale.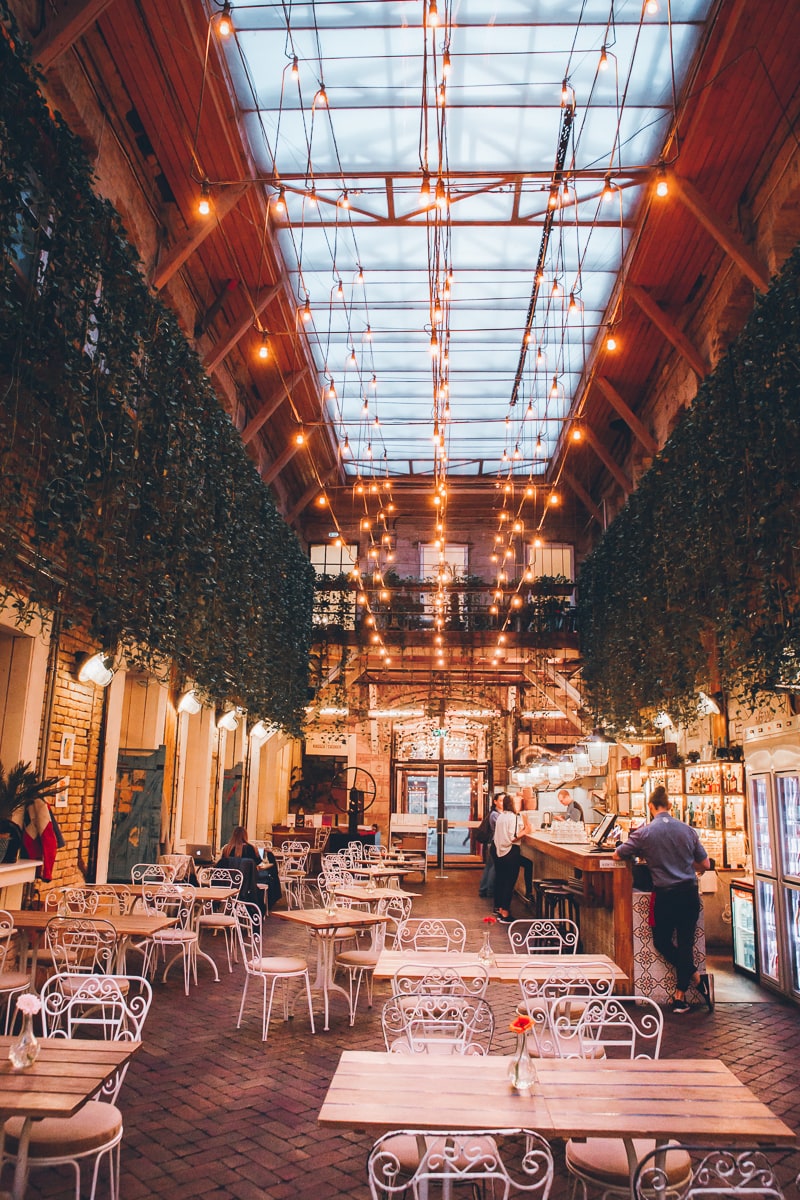 Be sure to check out their website for a list of weekly events. They have jazz nights on Thursday and other live music acts throughout the week.
I loved Mazel Tov but if you visit, I also recommend adding one of Budapest's other ruin bars to your itinerary so you can compare the two very different vibes.
ADDRESS
Akacfa utca 47., Budapest 1073
HOURS
Monday-Wednesday 9AM – 1AM
Thursday – Friday 9AM – 2AM
Saturday 9AM – 2AM
Sunday 9AM – 1AM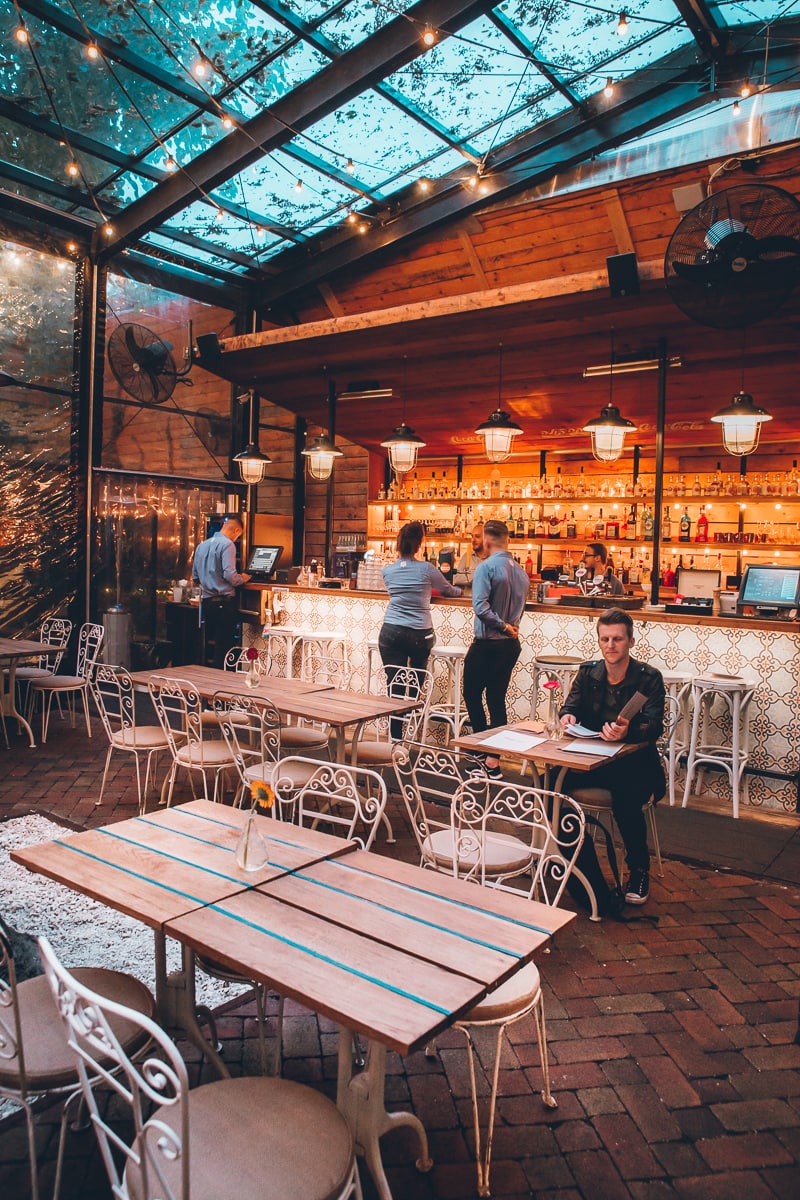 ELLATO KERT
Ellato Kert is a Mexican themed ruin bar located in the heart of the Jewish Quarter's party district.
Occupying the space of an old meat processing plant, Ellato Kert's festive atmosphere is probably not what you'd expect to find on your way down the unassuming alley to the bar.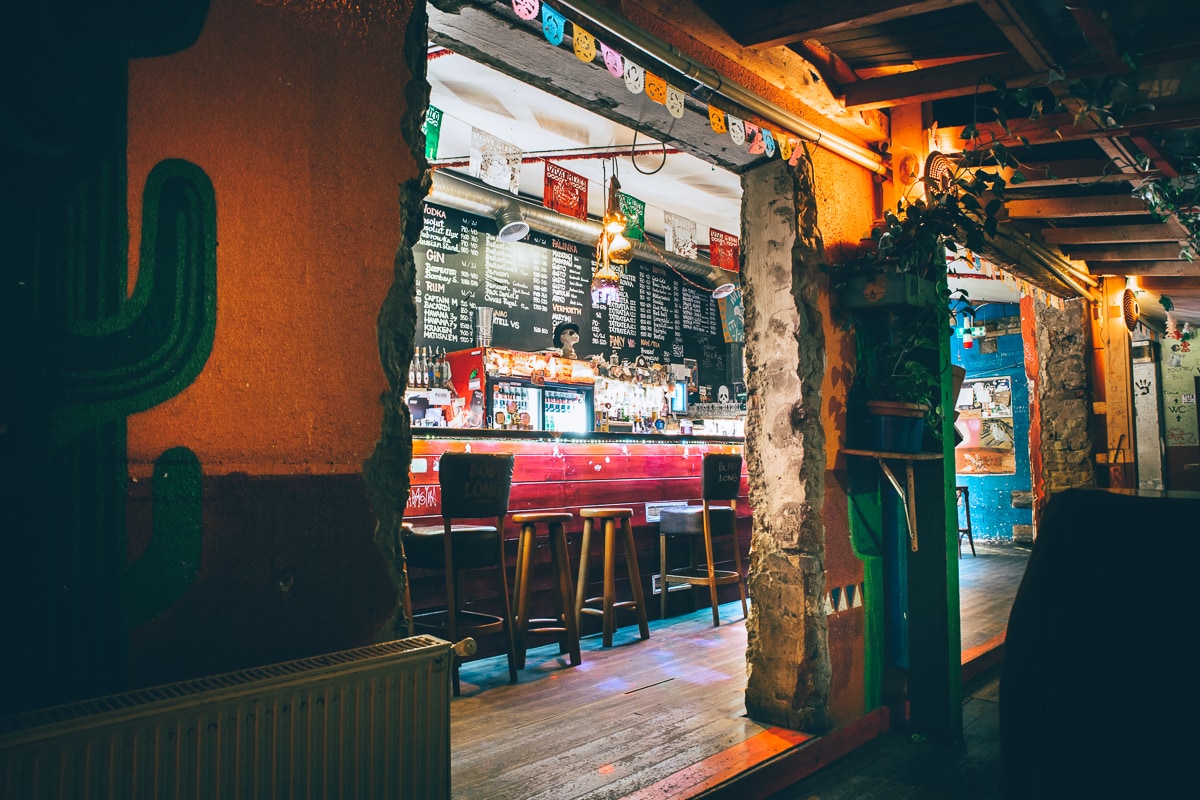 When you pull back the heavy PVC butcher curtain you'll be greeted with a vibrantly decorated courtyard of colorful chairs, pinatas and traditional papel picado flags.
Venture inside and you'll find pool and foosball tables, as well as a taqueria serving up street tacos and burritos.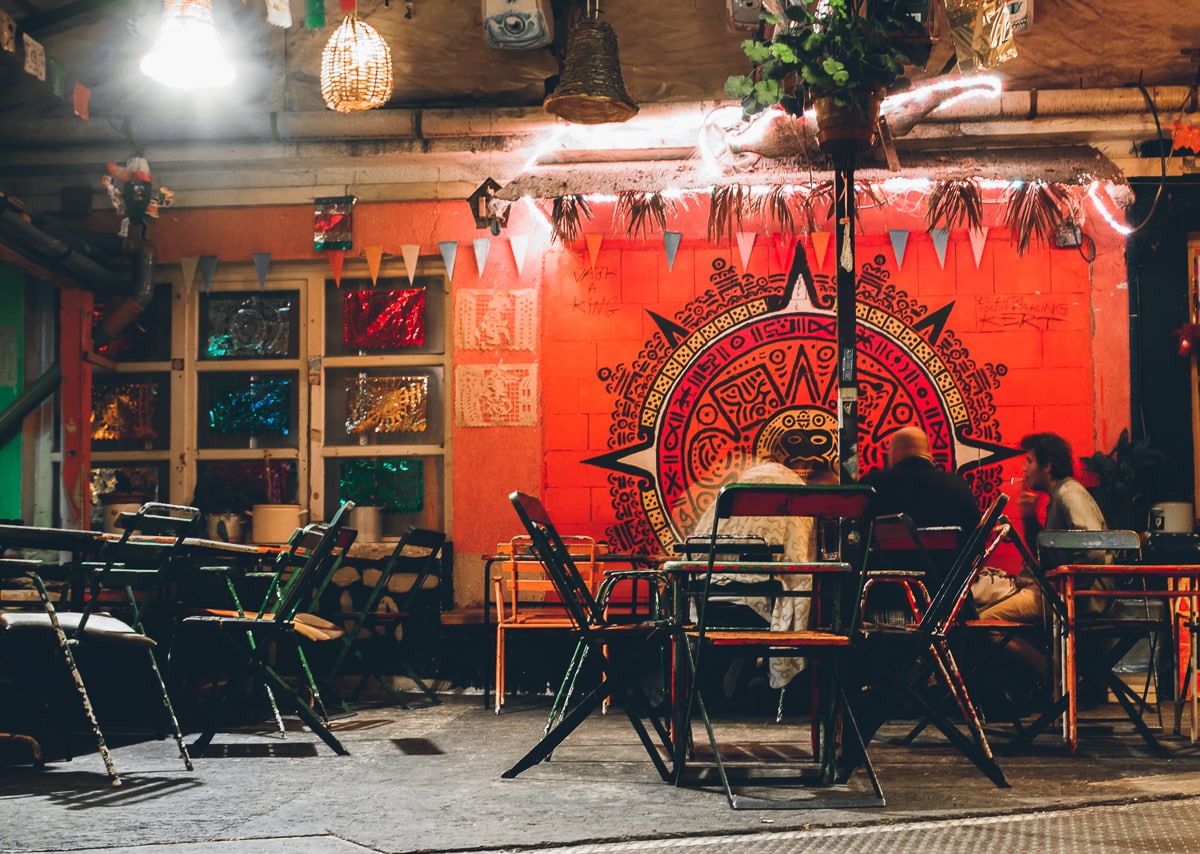 We decided not to try the food (we're annoying Mexican food snobs) and opted for drinks instead. The prices are cheap and the bartenders were nice, the only thing we didn't love was the amount of cigarette smoke. There didn't seem to be a non-smoking area so it was hard to escape.
I recommend Ellato Kert as the perfect ruin bar to start or end your night.
ADDRESS
Budapest, Kazinczy u. 48, 1075
HOURS
Monday-Saturday: 5PM – 4AM
Sunday: 5PM – 12AM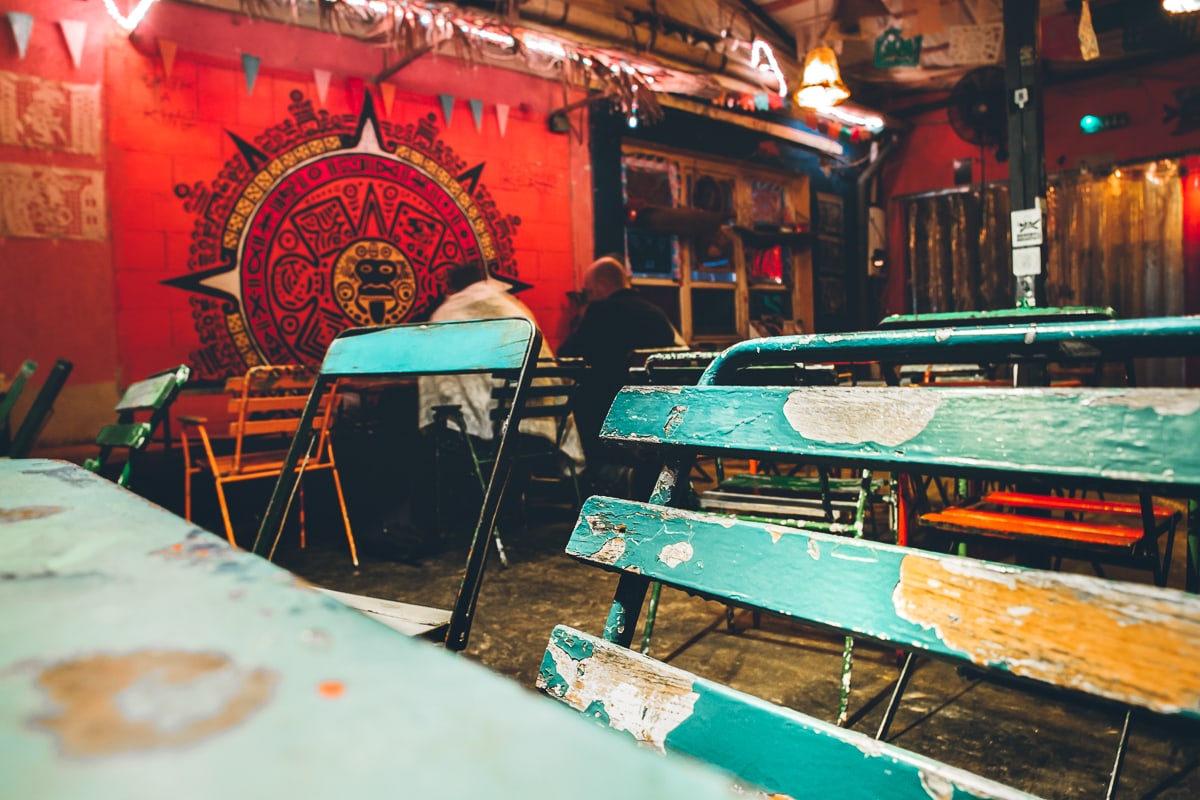 FOGAZHÁZ & INSTANT 
Instand Fogas is a well known and prominent party complex in the Budapest nightlife scene.
The bar is located in a landmark protected building from 1861 and the name of the compound was inspired by a 100 year old sign advertising denture repair, which was found inside during the renovations. Fogasház translates to "House of Teeth."
UPDATE 2022
It has recently come to my attention that Instant Fogas is not safe for tourists, especially women, people of color and members of the LBGTQ+ community. I no longer endorse this particular ruin bar.
Please scroll to read some travelers reviews about this ruin bar.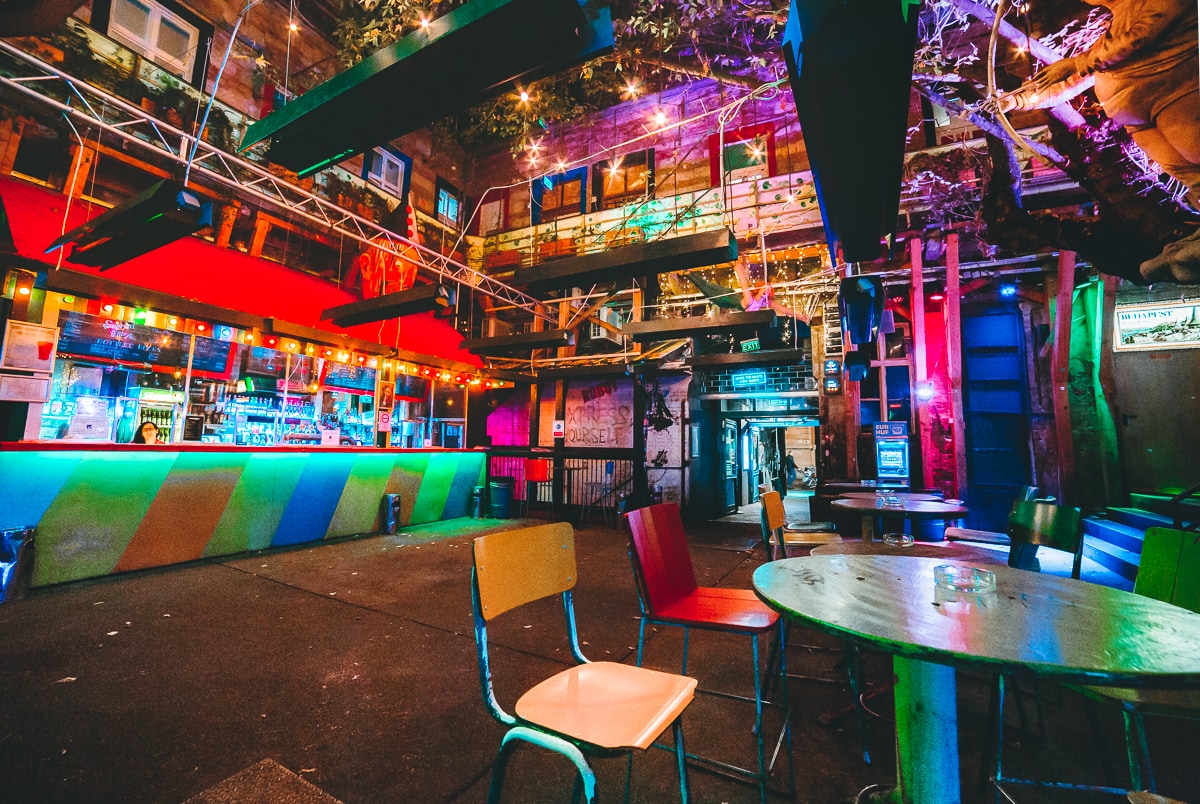 I was recently contacted by a woman who visited the Instant Fogas party complex in August 2022. She described witnessing the club bouncers physically attack her sister, along with multiple other women that night. The women's phones were stolen in the club and when they approached the bouncers, they were assaulted.
This is what she told me:
"This weekend I witnessed multiple young women, all the same look, age range & build, one of them being my younger sister, attacked by 3 of the bouncers. My sister has bruises where the 3 bouncers grabbed her and dragged her to the ground. I witnessed another girl get punched in the stomach and pinned against the wall. I later spoke to this girl and she ended up in A&E with internal bleeding. When she called the club, they did nothing."
We visited the Instant Fogas ruin bar early in the afternoon before the various bars and clubs within the complex got busy, so we didn't see anything out of the ordinary. After receiving this email and looking into the recent reviews on TripAdvisor and Google, I noticed many people with similar stories of violence. There are also countless reviews complaining of racism and discrimination.
INSTANT FOGAS REVIEWS
These are just a handful of reviews from TripAdvisor and Google.
"Bartenders and "security" are obscure and are very, very rude. They push and shout to the guests! And the worst thing: I saw a few times that they hit people (also girls). And thats is a pity because the club and music is great to party." – Johnvb May 2022
"If I could give it a quarter star, I would. Americans shouldn't visit the bar because it's racist. An African-American friend of mine was visiting with the place with friends and the bartender called him the n-word" – Kwaku August 2022
"The security guards at the club are incredibly violent. I've witnessed people (and girls) getting slapped and punched for no good reason." Pan Jan 2022
"There are criminals working there as security guards. They assault guest for no reason. They destroy cellphones, clothes, faces etc. This place needs to close down immediately." – Lilly March 2022
"I cannot believe how rude the staff is. They pushed me and my friends just because we were in front of their way. When we protested they started cursing at us??? …. Thank god me and my friends weren't injured when they pushed us really strongly." – Isabelle Feb 2022
"Rude staff and intoxicated people who loves to harass women, worst thing is that the staff doesn't take serious these kind of complaints." Wendy Oct 2021
"Punched by a bouncer for no reason. I went to walk through a door which was manned by a bouncer and was told I need a ticket. Turned away to walk down the stairs and the bouncer screamed at me in my face saying I need a ticket and punched my arm. This made me fall back and really hurt. I am a 5ft3 woman who did nothing wrong. My arm was sore for the rest of the evening. I was totally sober and was just trying to leave. We complained to management who laughed and did nothing. Do not go here. It is racist, homophobic and clearly misogynist." – Eilidh Nov 2021
"Last February 3, 2020 at around 1:40am we got assaulted by 4 bouncers at Instant Club Budapest, Budapest Akácfa u. 51, 1073. We were on the way out of the club when the bouncer/security started shouting at me at the exit (Language I did not understand), then I told him " Sorry I do not understand you", then he started shouting at me in English violently "you fuc-ing idiot, don't you have a door? Do you know how to use a door, are you stup-d?" (I have no idea what he was talking about since I was just walking) then he was shouting to my face and started pushing me then I replied "please don't be rude, let's be diplomatic here, then he pushed me more and punch me, when I pushed back to defend myself, 3 more bouncers came to help him to assault me, one was chocking my neck the other was pulling my hair, the other was holding my left hand at the same time punching me and the other was punching my face and head. It seems like this was an act of hate, racism and sexism since I am openly gay and brown looking and it seems to me that the bouncer was waiting for me at the exit to start a fight and assault me." – Peter Feb 2020
 "Honestly, this is a really good place that seems to be run by lunatics… the security kicks people out without trying to figure out the issue and then beats the people that they kicked out in the middle of the street. They even started beating people that were watching or trying to calm the situation. The security team punches girls in the face which they already have on the ground with their knee on there necks… this is completely disgusting… shut it down" – Stefan September 2022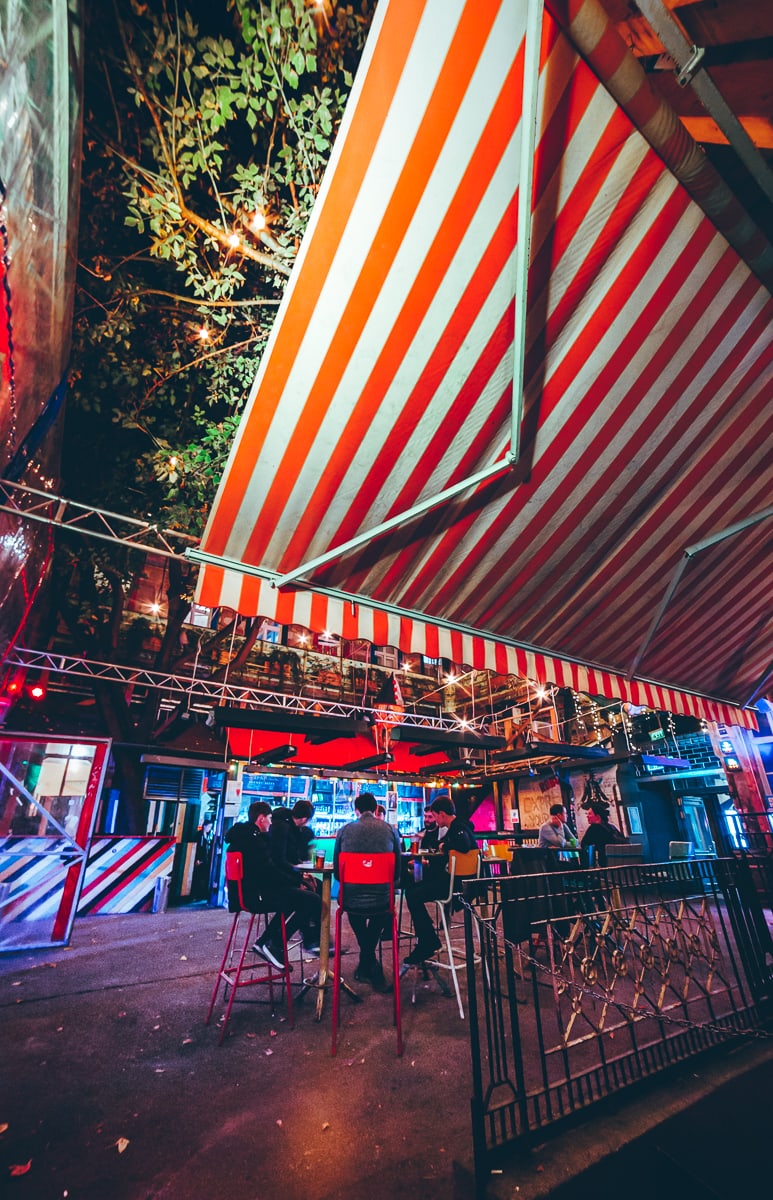 Am I missing anything? What are your favorite Budapest ruin bars?
---
PIN IT // 5 BUDAPEST RUIN BARS YOU HAVE TO VISIT: THE ABANDONED BUILDINGS OF BUDAPEST NIGHTLIFE