A Budapest itinerary without ruin bars is like a tequila shot without the lime chaser. Don't deprive yourself. We made it a goal to visit as many ruin pubs as possible during our 10 days in the city and this unique and eclectic Budapest nightlife scene ended resulting in some of the most memorable experiences from our trip.
---
RELATED POST: BUDAPEST NIGHTLIFE // 7 UNIQUE BUDAPEST BARS YOU HAVE TO VISIT
---

WHAT ARE BUDAPEST RUIN BARS?
Budapest ruin bars originated in the city's Jewish Quarter, which had been mostly abandoned after WWII. From within the crumbling and dilapidated buildings, parking lots and warehouses, a new type of bar was born.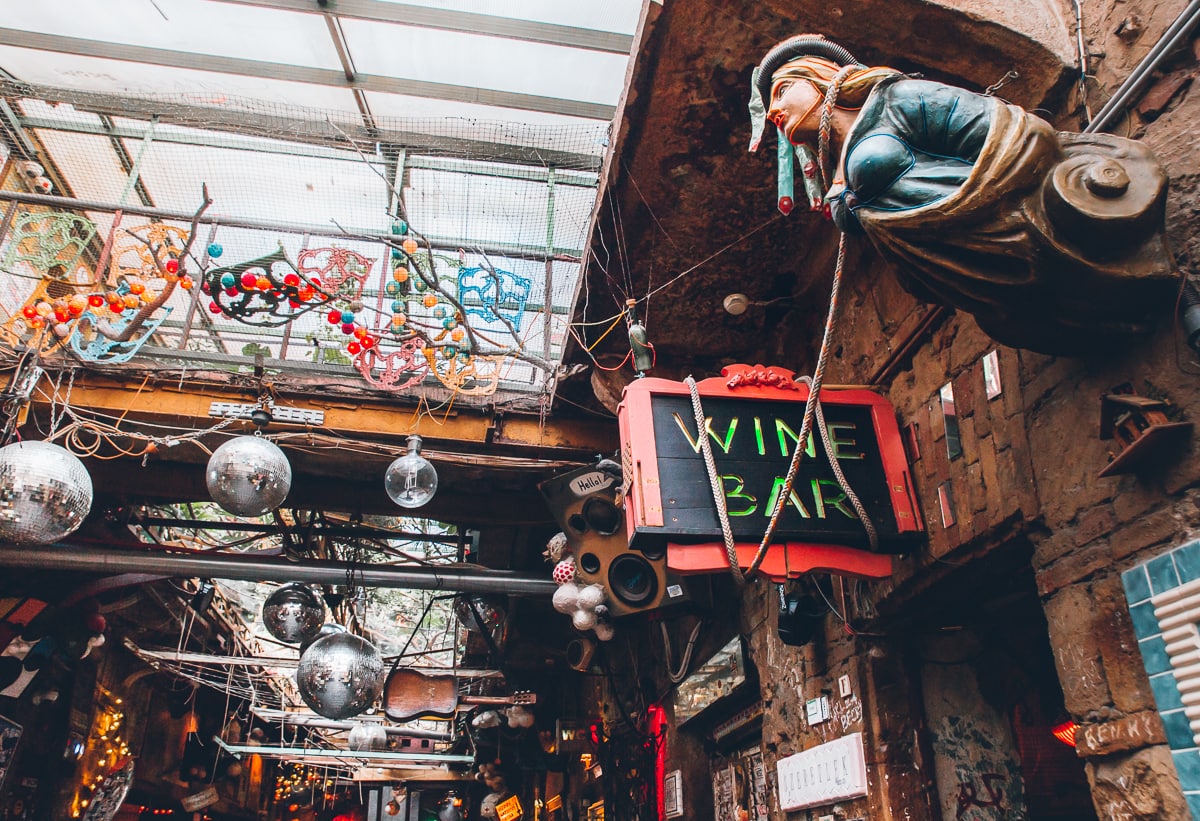 Szimpla Kert started the trend and after its rampant success, more ruin bars started popping up all over the district. The original spaces remain (for the most part) untouched; and the bars are decorated with random flea market finds and salvaged furniture, which gives them their signature grungy, shabby feel. It's completely different than anything we've seen before.
Today you can find a broad range of ruin bars to suit every type of traveler. Even if you're not a big drinker, many of the ruin pubs also host farmer's markets, food stands and community events during the day.
From an upscale courtyard to a massive ruin club party complex, keep reading to discover our 5 favorite Budapest ruin bars.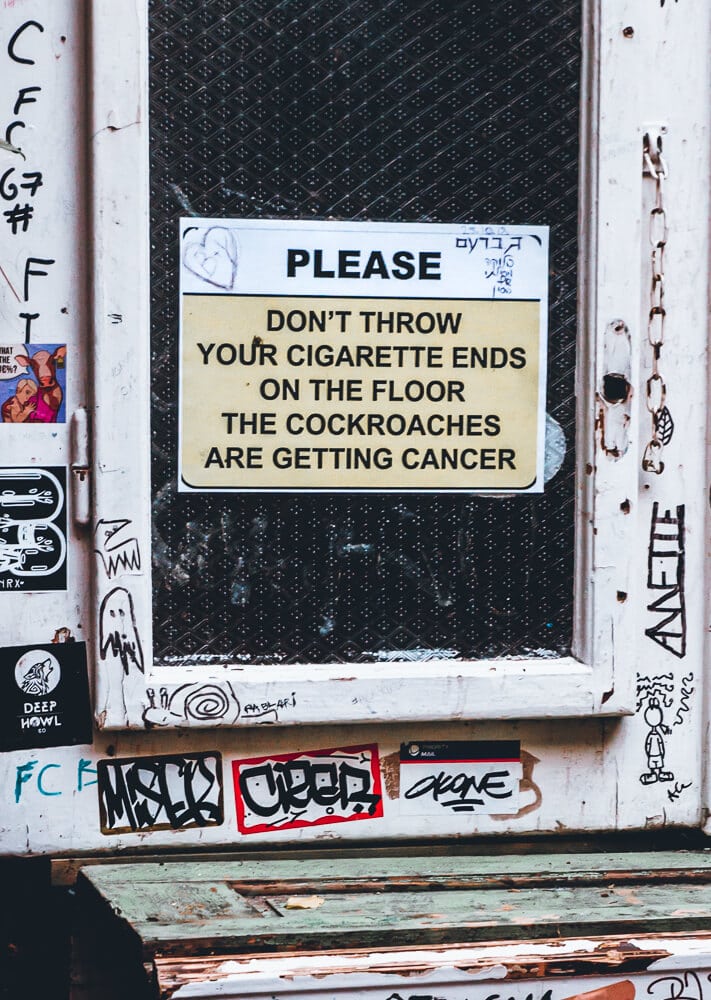 5 MUST VISIT BUDAPEST RUIN BARS
ANKER'T
Anker't is a huge ruin bar located slightly outside of the Jewish Quarter, near Andrassy Ave.
It is home to one of the largest downtown beer gardens, with four bars on site as well as two different food stands serving up burgers and vegan pizza.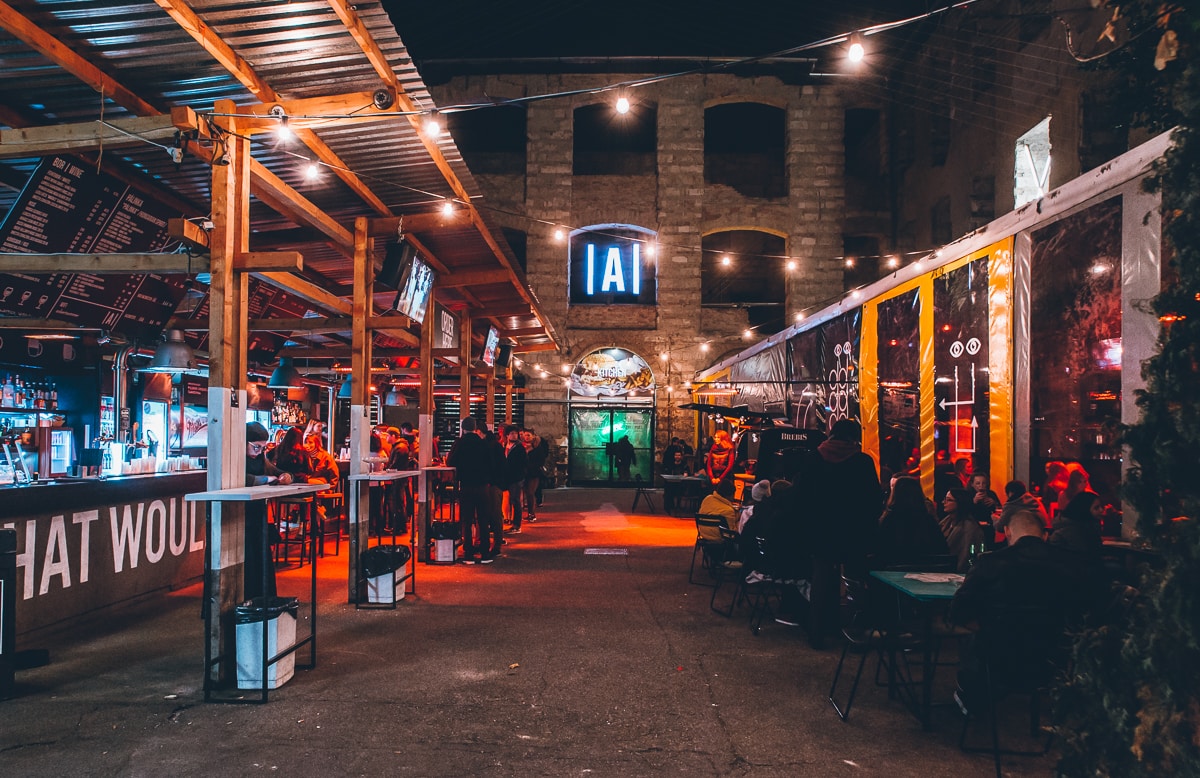 Anker't is located in an old residential building that was built in 1833, and its design is a lot less quirky and cluttery than other ruin bars like Szimpla Kert or Fogasház. It has more of minimalistic lofty feel with large open spaces and blank brick walls.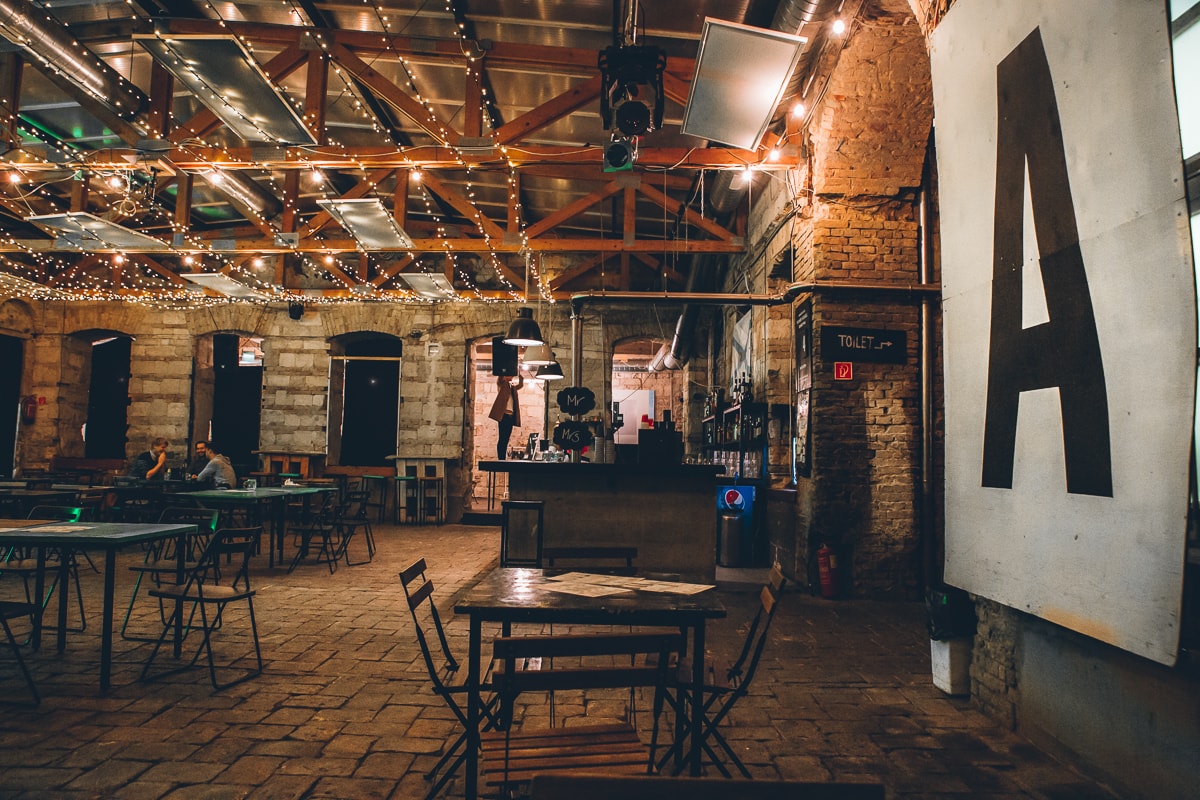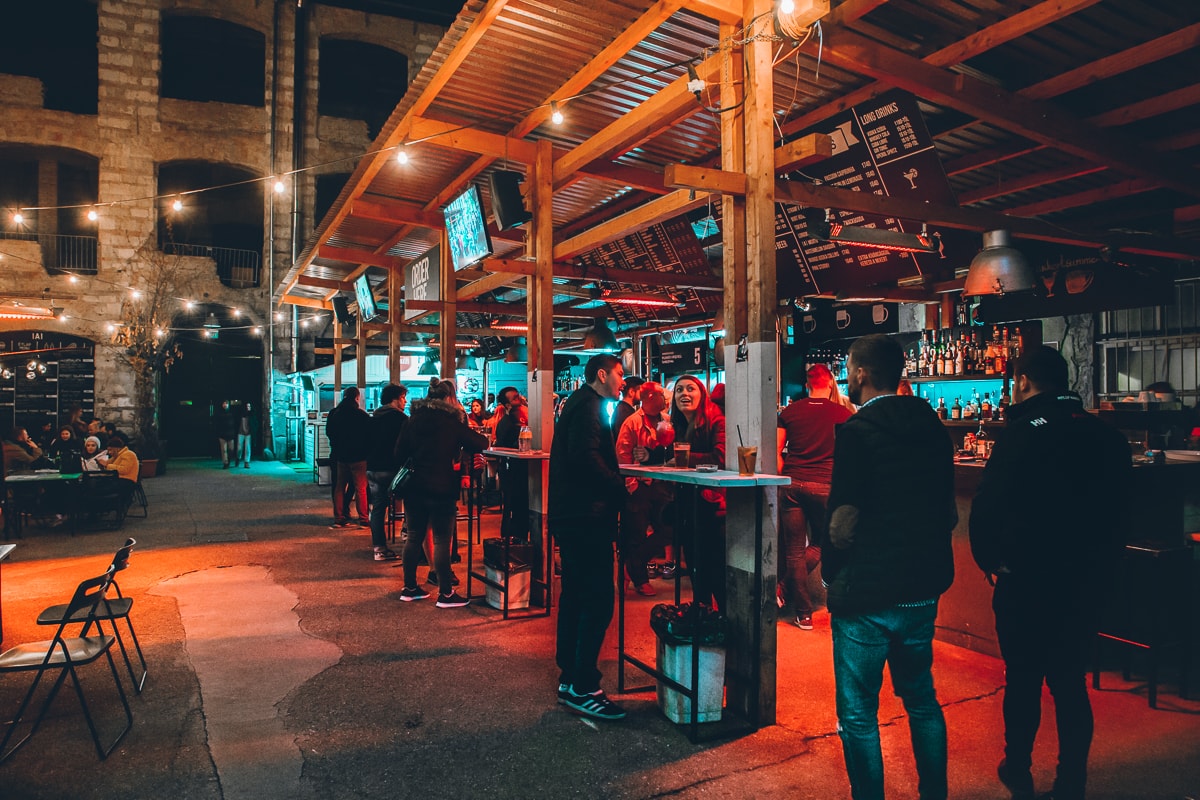 Aside from Szimpla Kert, Anker't was my second favorite ruin bar that we visited during our time in Budapest. The atmosphere was casual and friendly, and the layout made it fun to explore. There is a small dance floor inside, an outdoor beer garden area and several rooms for hanging out and drinking indoors.
Anker't hosts weekly and monthly events such as the Sunday Vegan Food and Flower Market or Friday LGBTQ+ nights with themed music selections including drag hits, disco, latin and pop diva nights. It's also not uncommon to find art exhibitions, poetry slams and open mic nights within the bar.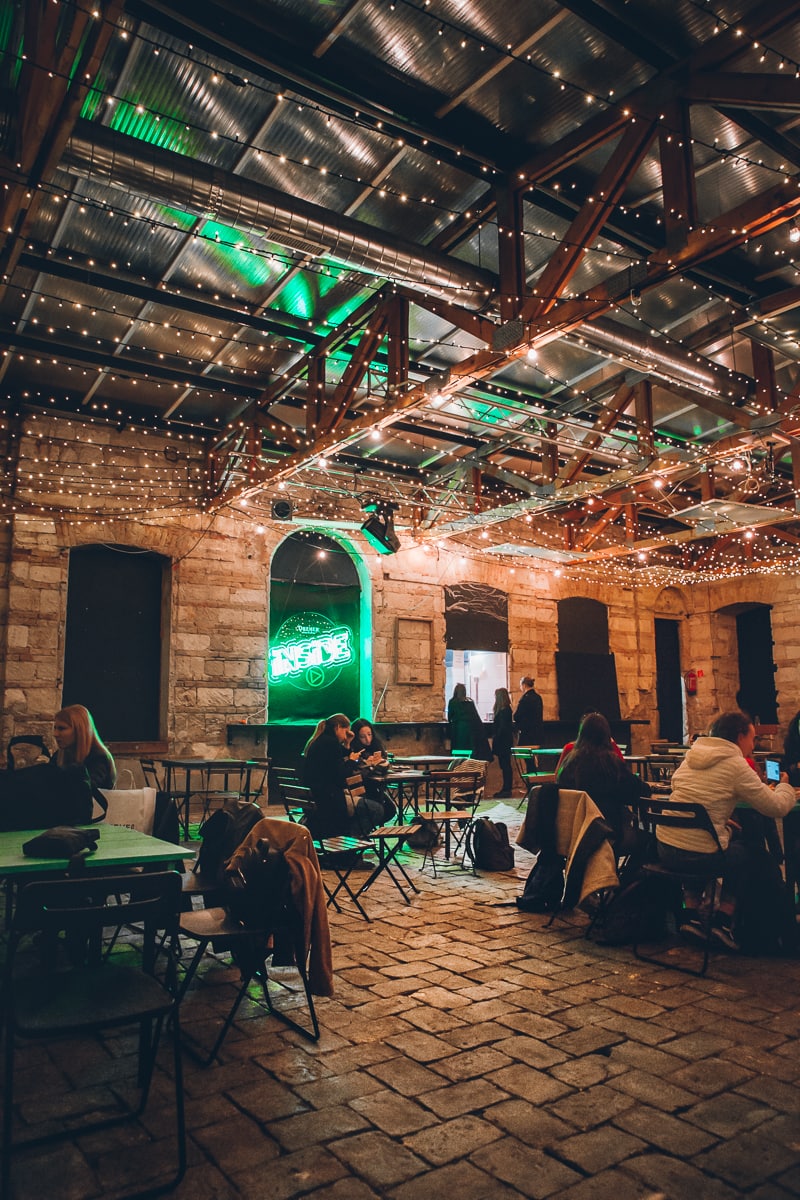 Be sure to check out the event calendar on their Facebook page to see what happening at Anker't during your visit. 
ADDRESS
33 Paulay street, Budapest 1061
HOURS
Sunday-Wednesday: 2PM – 12AM
Thursday: 2PM – 1AM
Friday – Saturday: 2PM – 4AM
SZIMPLA KERT
If you can only pick one Budapest ruin bar to visit during your time in Hungary, I recommend making it Szimpla Kert.
Szimpla Kert is the original ruin bar that started it all, and today it remains of the most popular bars in Budapest.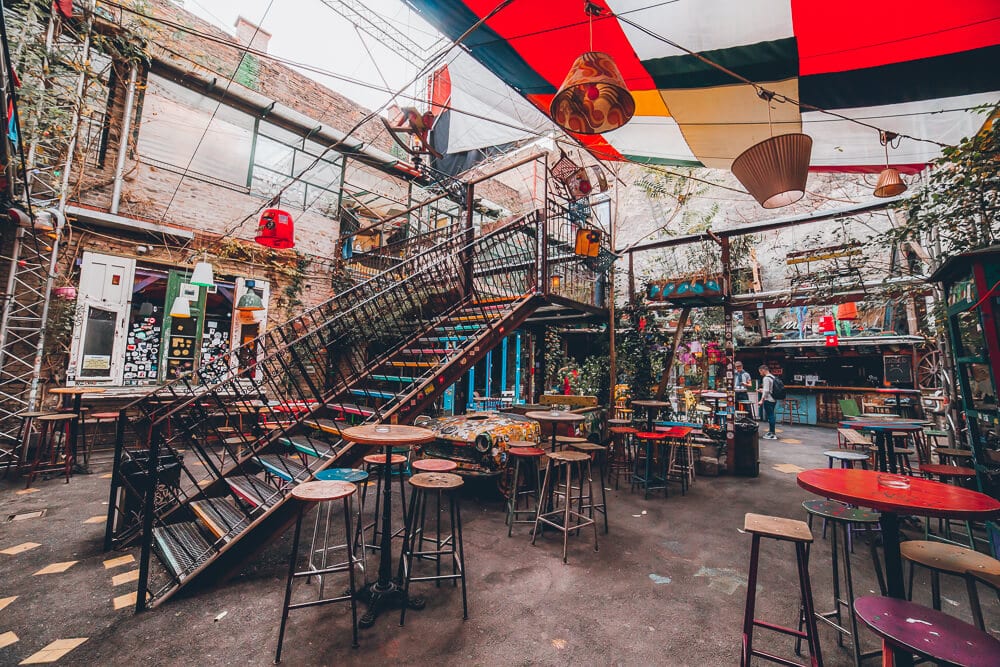 Located on Kazinczy Street in a 200+ year old building which used to be a stove factory, the owners of Szimpla Kert saved the structure from demolition and re-opened it as a creative project. Today there are 8 different bars on site and Szimpla Kert also regularly hosts film screenings, community events and even a local Sunday Farmer's Market.
We visited Szimpla Kert a handful of times while we were in Budapest. There is so much to see that one visit could not do it justice.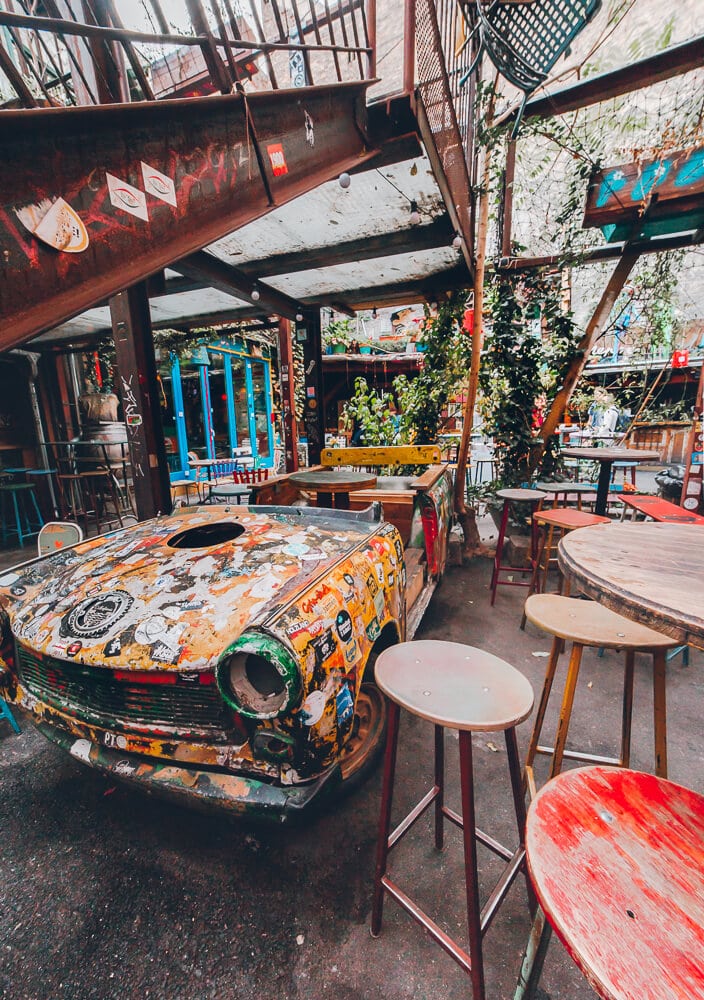 From floor to ceiling, the complex is decorated with random decor, salvaged furniture, vintage lampshades, live plants, disco balls and mannequins. Grab a drink at your bar of choice (they have a wine bar, craft beer bar, hookah bar and several cocktail bars) and then pop a squat in the bathtub, on top of a vintage television or inside of a gutted car.
Szimpla Kert is is definitely touristy but was also one of the most diverse bars we visited. Everyone is welcome here.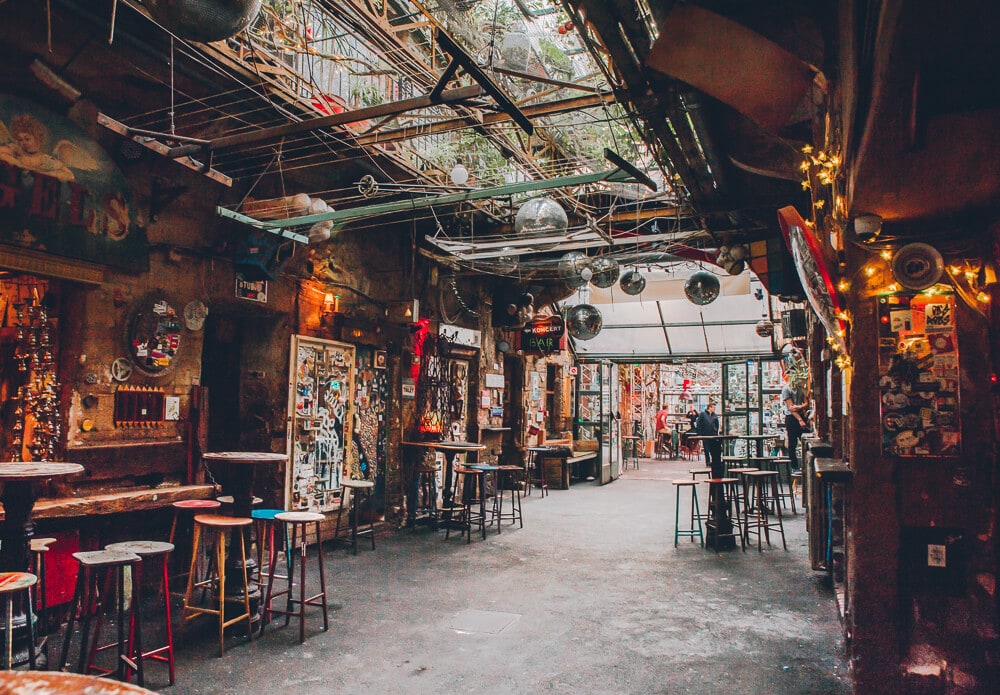 If you want the ultimate Budapest ruin bar experience, Szimpla Kert should not be missed. Click my related post below for more information, photos and tips for visiting.
---
RELATED POST: SZIMPLA KERT // A LOOK INSIDE BUDAPEST'S ORIGINAL RUIN BAR
---
ADDRESS
Budapest, Kazinczy u. 14, 1075
HOURS
Monday-Saturday: 12PM – 4AM
Sunday: 9AM-4AM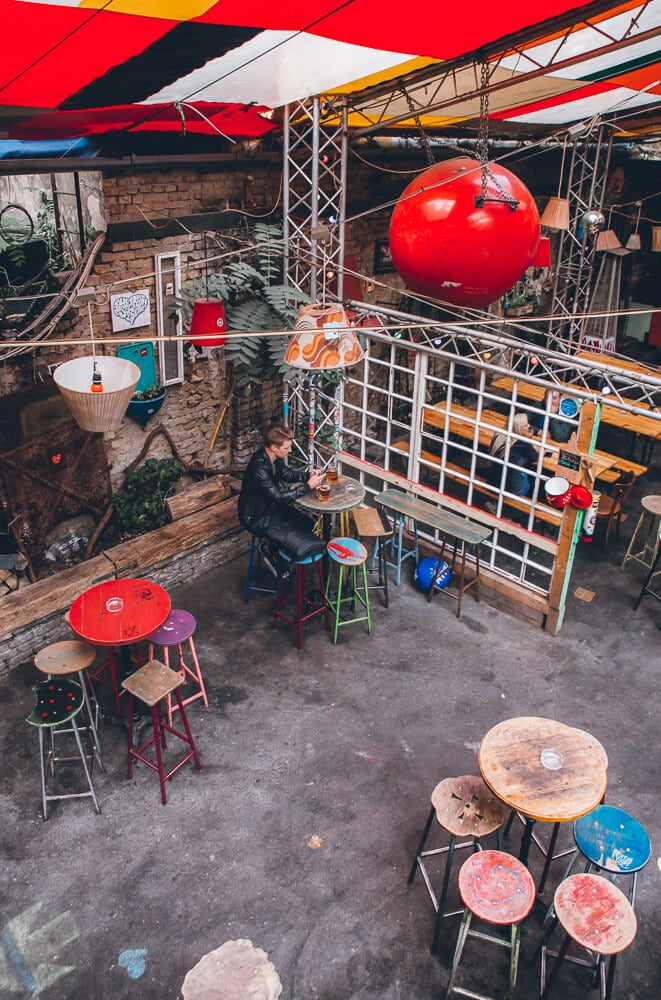 MAZEL TOV
One time at a photoshoot, I listened to a client and her publicist talk about how weird it is that people stay in hostels. Mazel Tov is the ruin bar I would recommend to them.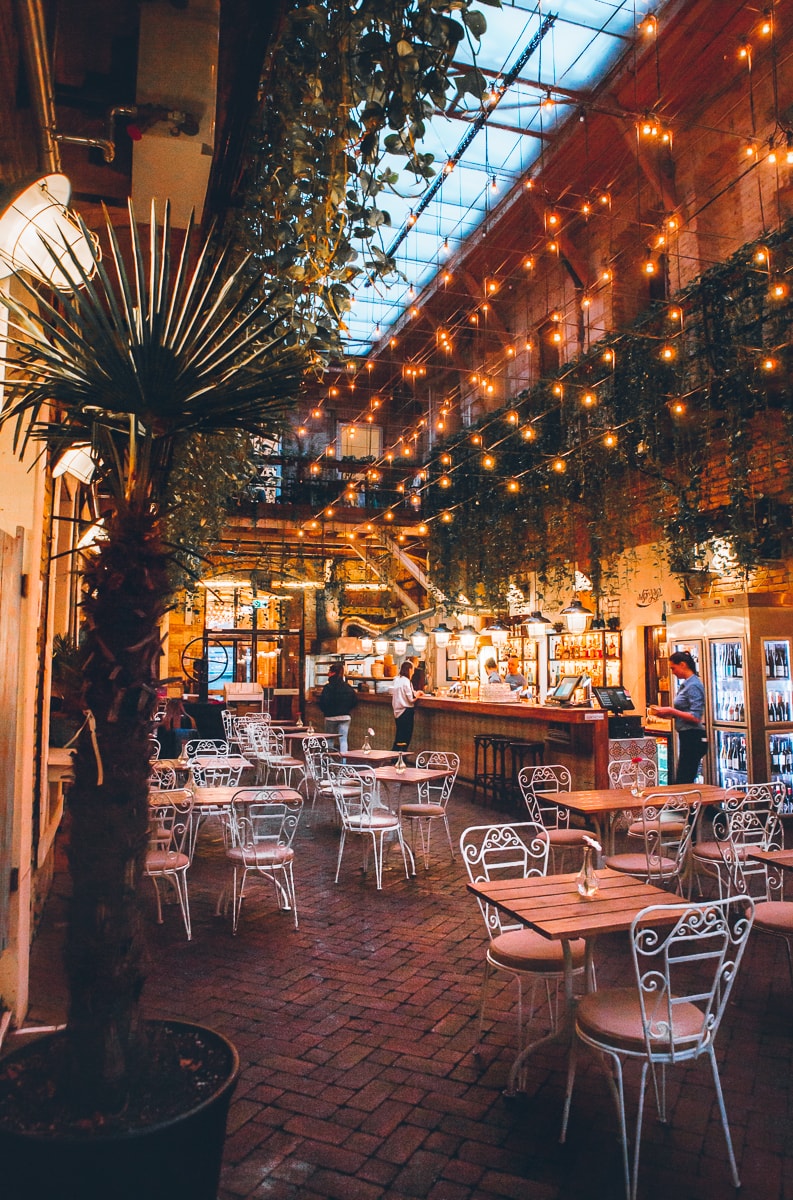 Mazel Tov is located inside of an abandoned brick building, so technically it fits the formula.. however the inside looks nothing like the other Budapest ruin bars on this list.
The long courtyard is decorated with hanging plants, trees and fairy lights, and the large skylights give the space a bright and open ambiance. It's clean and trendy, and overall just a stunning place to have a cocktail.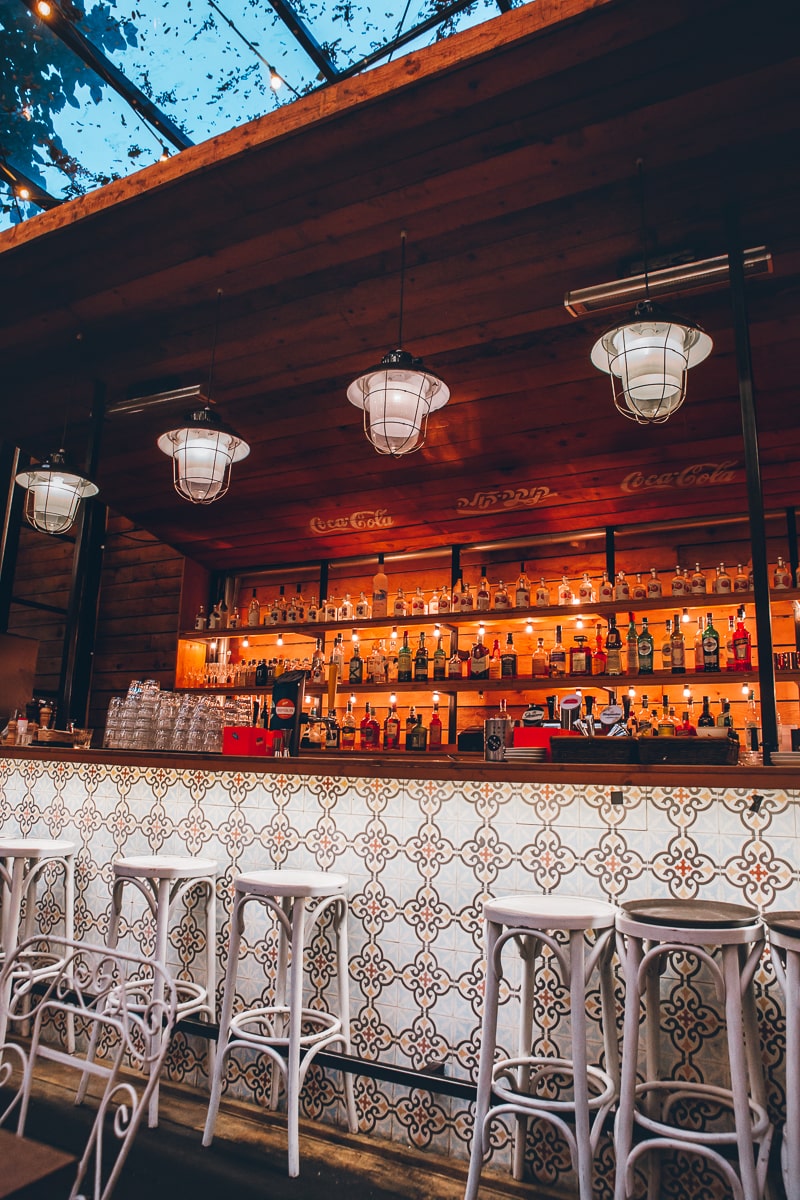 Mazel Tov is definitely more of sit down environment vs a traditional bar. It's actually a restaurant first, serving up Mediterranean cuisine such as shawarma plates, pita sandwiches, salads and Israeli fusion dishes.
You can still visit even if you're not hungry, they were more than happy to seat us for drinks only. The only downside to Mazel Tov is that it was pricier than the other ruin bars we visited, but I guess that's to be expected as the whole experience is much more upscale.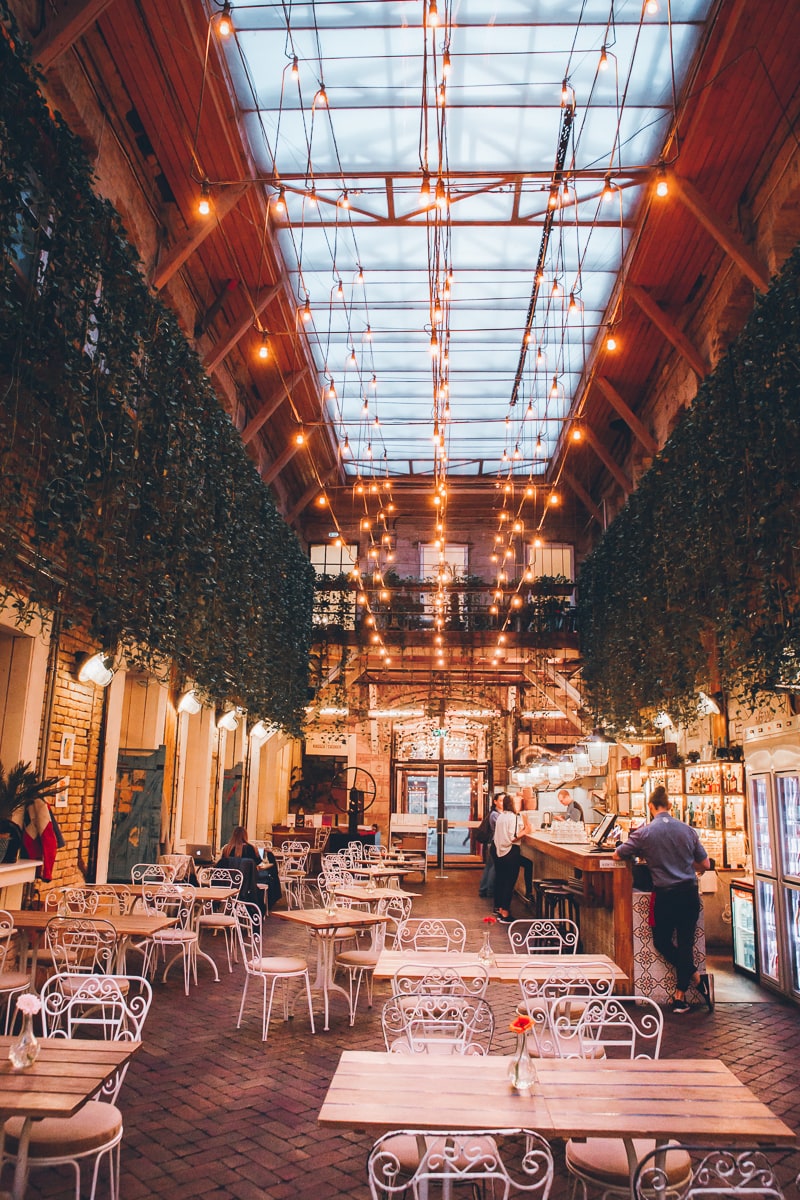 Be sure to check out their website for a list of weekly events. They have jazz nights on Thursday and other live music acts throughout the week.  
I loved Mazel Tov but if you visit, I also recommend adding one of Budapest's other ruin bars to your itinerary so you can compare the two very different vibes.
ADDRESS
Akacfa utca 47., Budapest 1073
HOURS
Monday-Wednesday 9AM – 1AM
Thursday – Friday 9AM – 2AM
Saturday 9AM – 2AM
Sunday 9AM – 1AM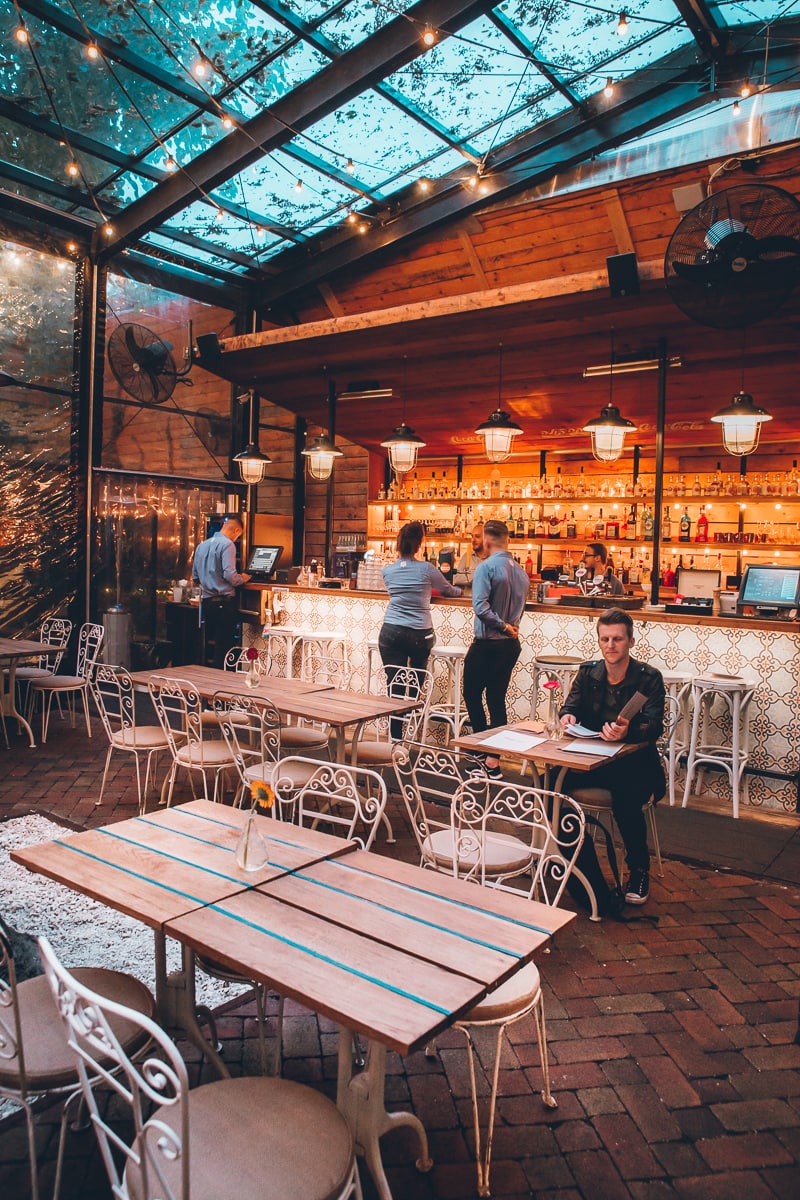 FOGAZHÁZ & INSTANT
Fogasház is a well known and prominent party complex in the Budapest nightlife scene.
The bar is located in a landmark protected building from 1861 and the name of the compound was inspired by a 100 year old sign advertising denture repair, which was found inside during the renovations. Fogasház translates to "House of Teeth."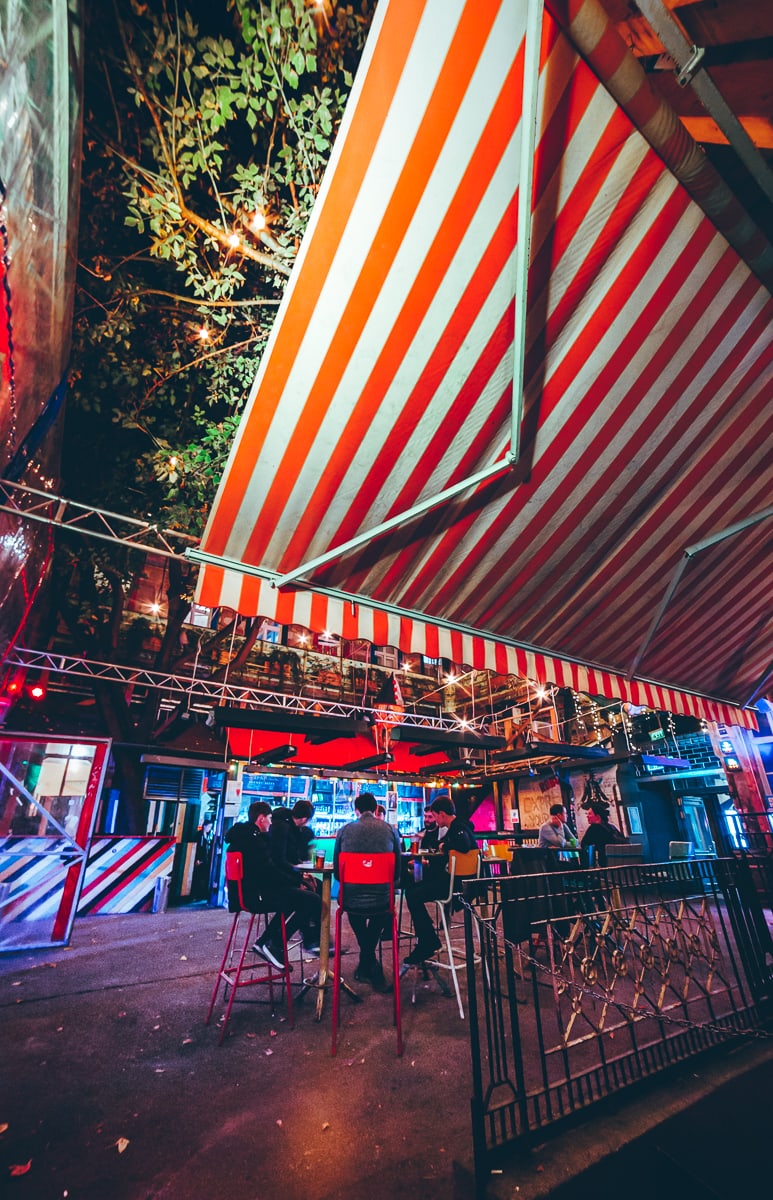 With 18 bars, 7 dance floors and 7 different rooms all catering to various music tastes, Fogasház is definitely more of a club atmosphere than a bar. But whether you're into quiet cocktails on the terrace, an underground techno club or a basement level alternative rock bar, you are bound to find the perfect fit for your party preferences within the complex.
THE BARS AND CLUBS OF FOGAZHÁZ
In very recent history, Instant Ruin Bar moved from their location on Nagymező Street into the Fogasház space. While the two clubs merged, they both still operate independently under the same roof.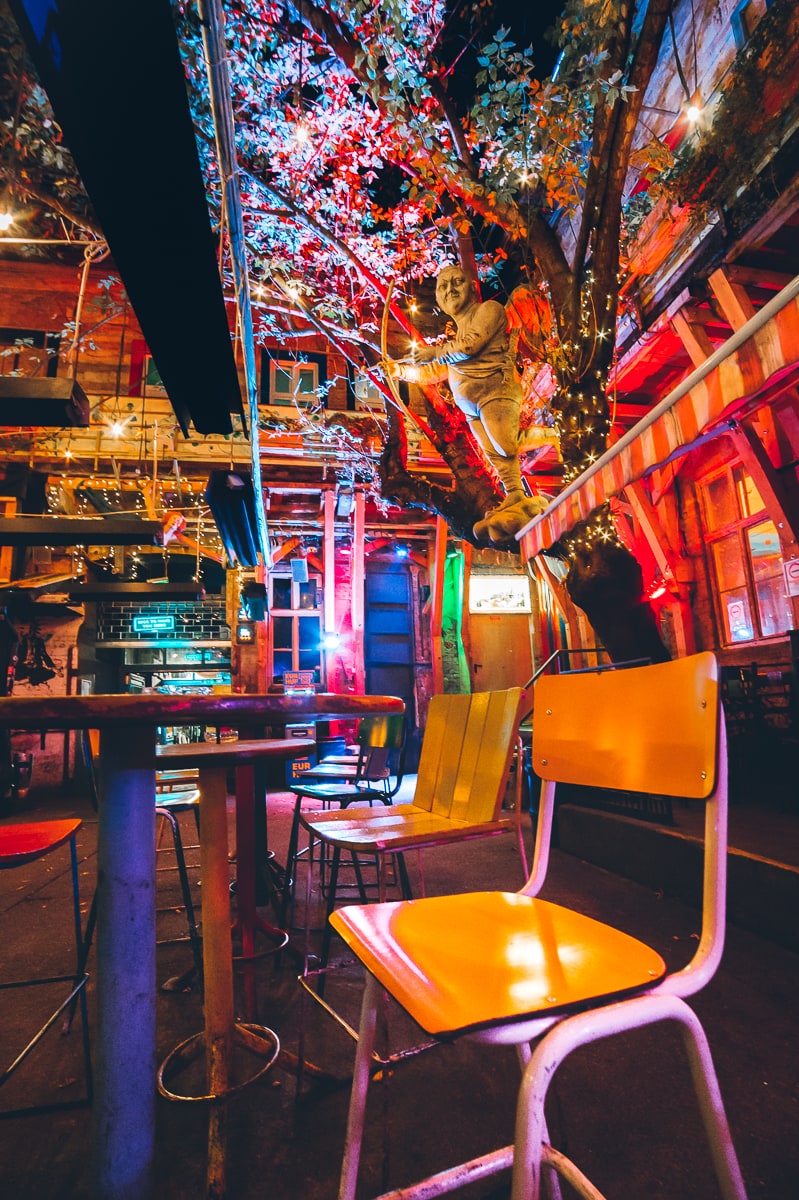 Before its move, Instant was one of the most popular ruin bars in the city. Even though they have completely relocated, it retains the same colorful and quirky atmosphere guests have grown to love.
Liebling is the quietest room in the complex which gives off major wine bar vibes. They have a long list wine, vodka and rum drink options as well as an outdoor rooftop terrace.
Located in a black concrete room on the first floor of Fogasház, you'll find Lärm – considered to be one of the best underground techno and house clubs in Budapest.
Frame is the first and only broken beat music club in Budapest where you'll find electronic genres such as jungle, drum & bass, garage, dubstep, halftime and trap.
Robot is their alternative rock club located in the basement of Fogasház.
Fogas is the eclectic outdoor courtyard area decorated with bizarre props and neon lights. They frequently host DJ's and live acts as well as film screenings and art exhibitions.
We didn't realize that the Fogasház party lasts until 6AM every day, so we were there way too early to experience it in its prime. The different party rooms were closed when we got there, so we grabbed at beer and took a seat in the Fogas courtyard.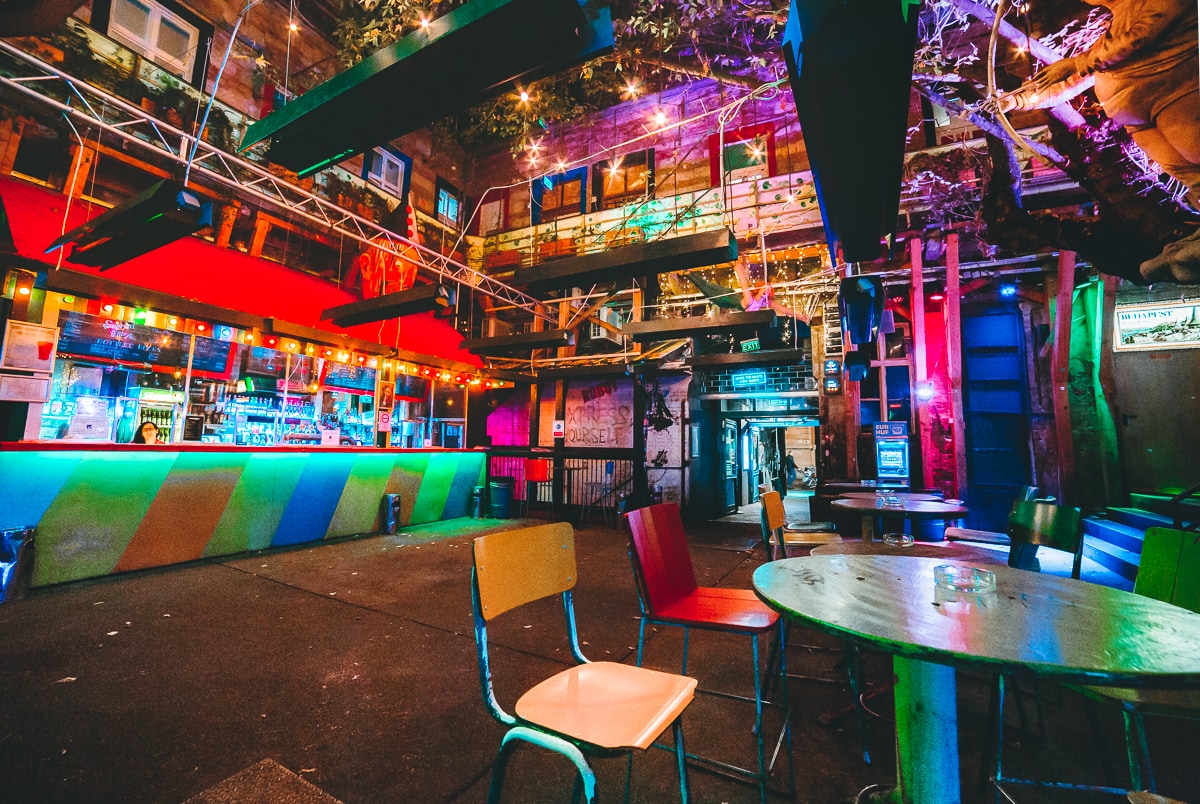 The space feels similar to Szimpla Kert, but a little more seedy. It kinda reminds me of the Tijuana nightclub we used to go to in college. I started getting flashbacks and half expected a giant man with an ear piercing whistle to ambush me from behind and pour cheap tequila down my throat.
Also, I'm just now realizing that if you don't know what I'm talking about, this probably sounds terrifying. And it was, but damn I miss that whistle man.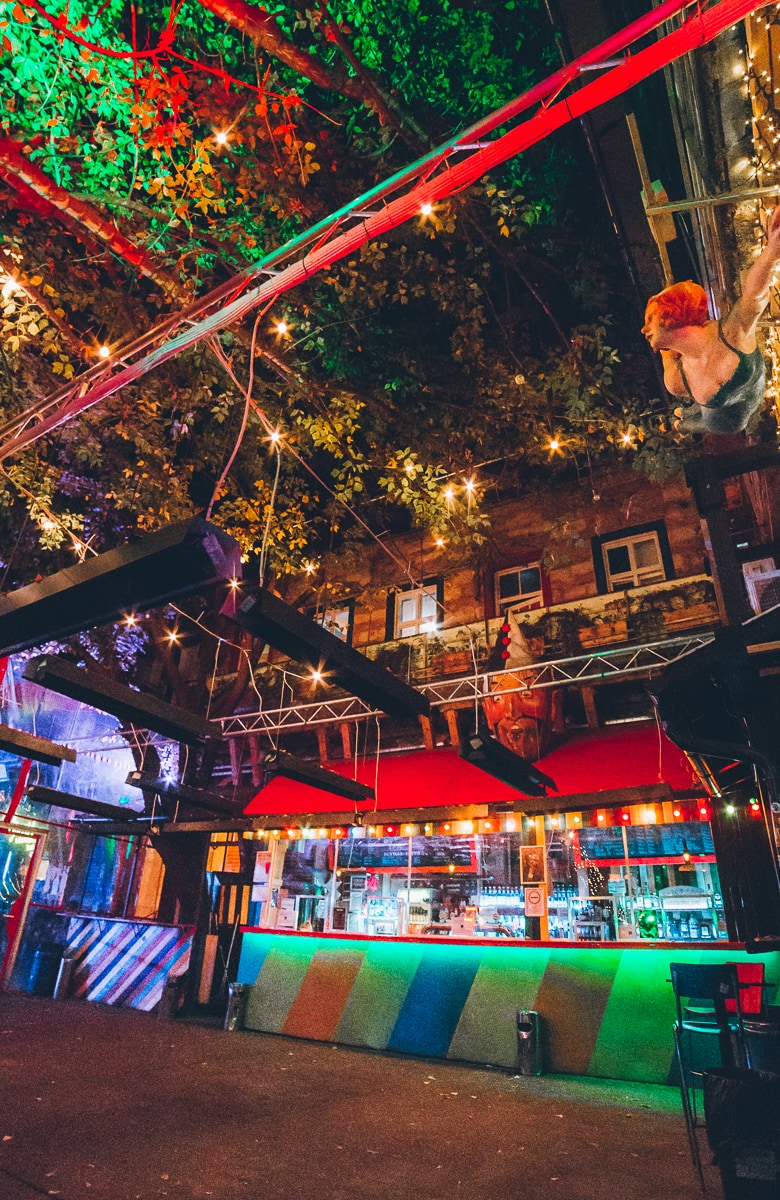 Anyway, while we definitely didn't receive the full Fogasház nightclub experience, we still had fun and it was worth the visit. We actually contemplated running in on our way to the airport at 4AM to see the complex at capacity but ultimately decided that was a slippery slope.
ADDRESS
Budapest, Akácfa utca 49-51
HOURS
Daily 4PM – 6AM
ELLATO KERT
Ellato Kert is a Mexican themed ruin bar located in the heart of the Jewish Quarter's party district.
Occupying the space of an old meat processing plant, Ellato Kert's festive atmosphere is probably not what you'd expect to find on your way down the unassuming alley to the bar.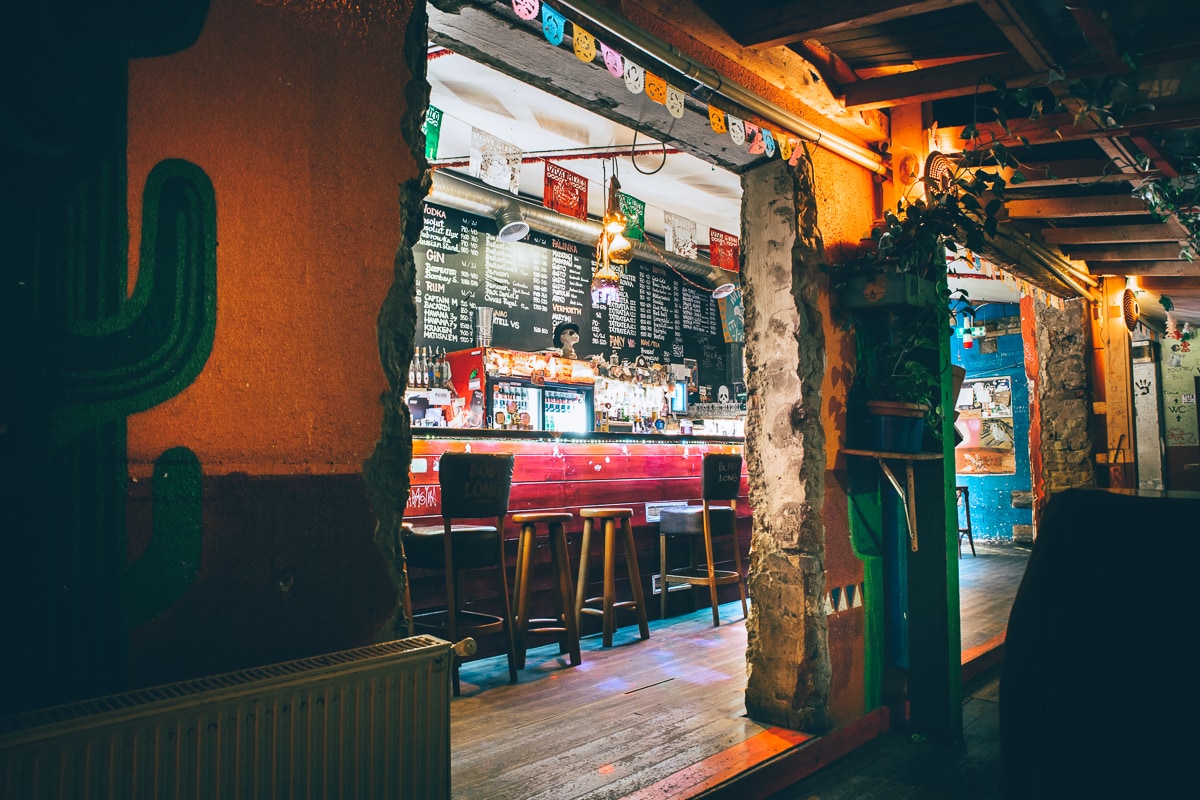 When you pull back the heavy PVC butcher curtain you'll be greeted with a vibrantly decorated courtyard of colorful chairs, pinatas and traditional papel picado flags.
Venture inside and you'll find pool and foosball tables, as well as a taqueria serving up street tacos and burritos.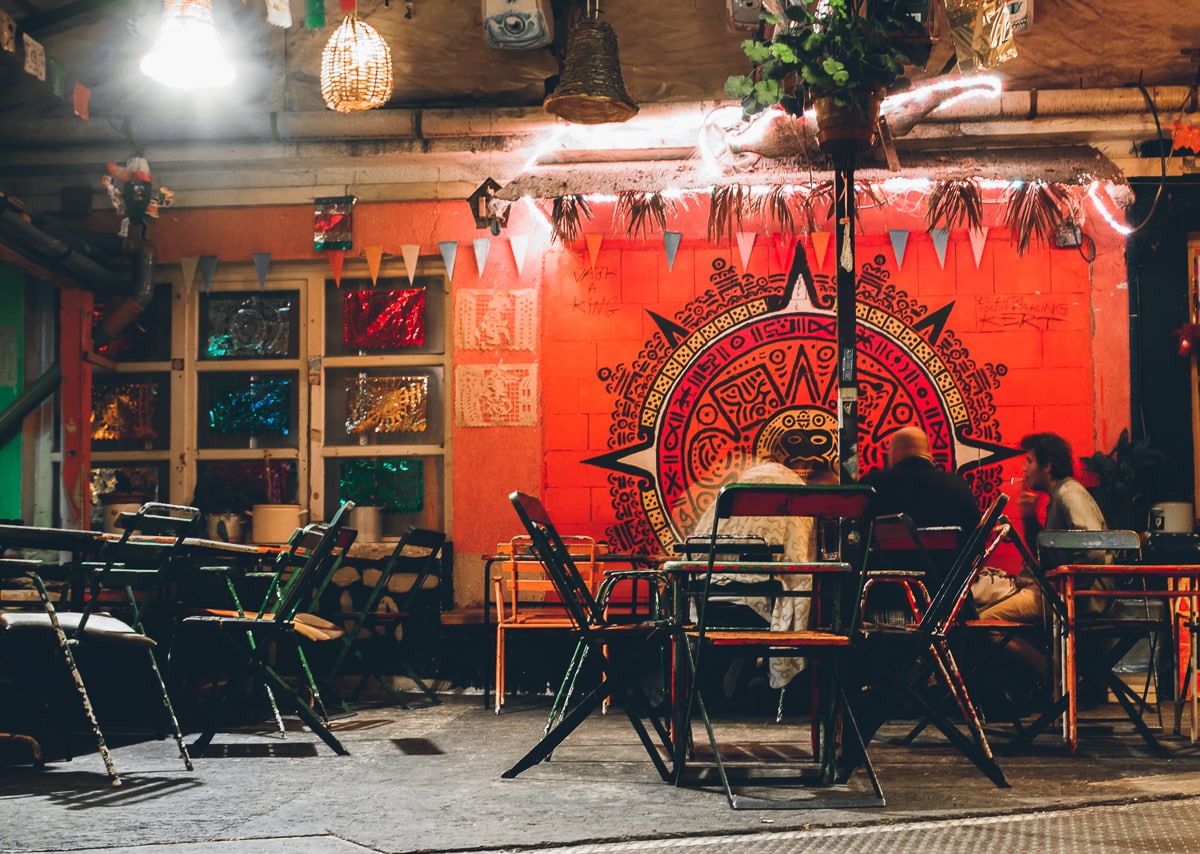 We decided not to try the food (we're annoying Mexican food snobs) and opted for drinks instead. The prices are cheap and the bartenders were nice, the only thing we didn't love was the amount of cigarette smoke. There didn't seem to be a non-smoking area so it was hard to escape.
I recommend Ellato Kert as the perfect ruin bar to start or end your night.
ADDRESS
Budapest, Kazinczy u. 48, 1075
HOURS
Monday-Saturday: 5PM – 4AM
Sunday: 5PM – 12AM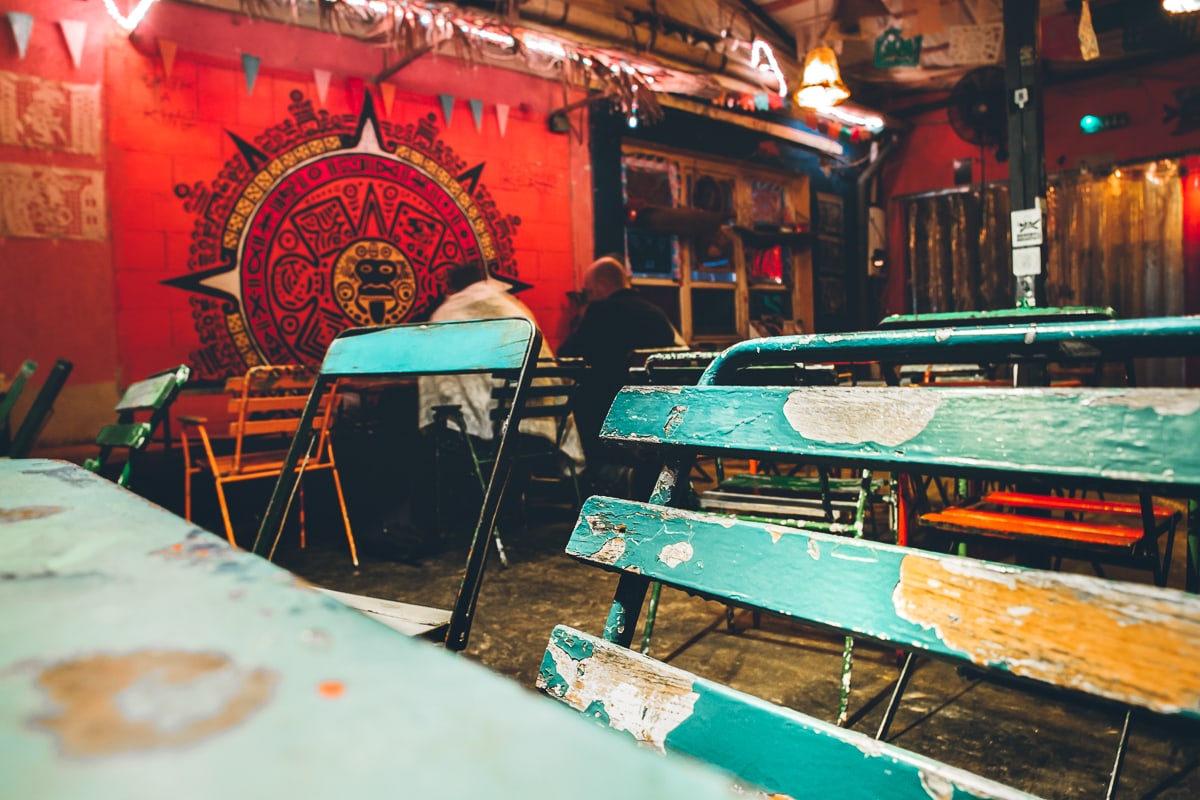 Am I missing anything? What are your favorite Budapest ruin bars?
---
PIN IT // 5 BUDAPEST RUIN BARS YOU HAVE TO VISIT: THE ABANDONED BUILDINGS OF BUDAPEST NIGHTLIFE