The amount of photos I took in Riga was obscene. For a month straight, I bombarded my Instagram followers with it's vibrant buildings, charming streets and colorful parks. With so many photo ops in Riga, it was hard to pick my favorites but I narrowed it down to my top 7. Keep reading for the most Instagram worthy things to do in Riga!
---
[instagram-feed]
Are we Insta friends yet? I always post all of my favorite pictures over there first. Come say hi!
---

7 INSTAGRAM WORTHY THINGS TO DO IN RIGA LATVIA
GO BUCK WILD IN OLD TOWN
Out of all the Instagrammable things to do in Riga, walking around in Old Town takes the cake. Everywhere you turn, there are colorful shop fronts, intricate architecture and tiny streets. It's picture perfect overload, and overwhelment is inevitable. Prepare accordingly.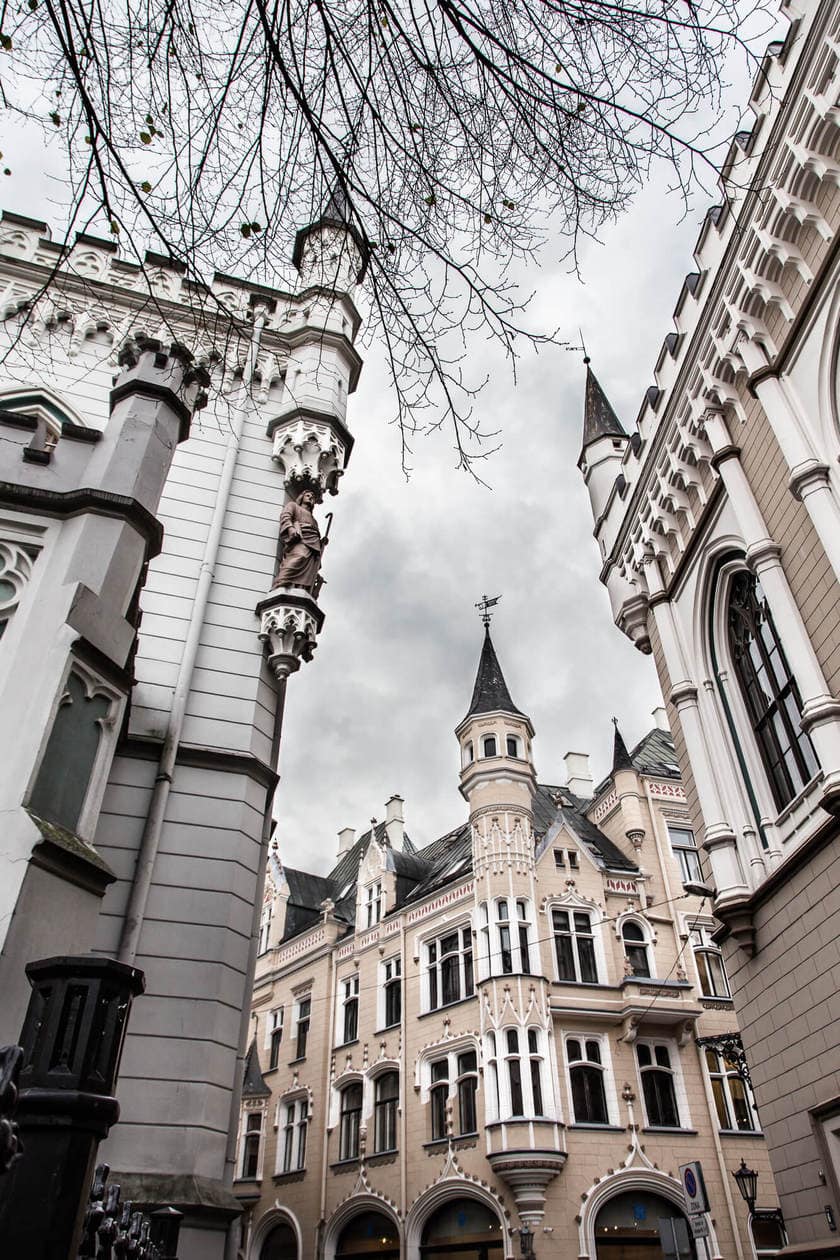 The best part about this city is that it's so underrated, you'll have most of it to yourself.. eliminating the chance of judgy strangers catching you fake laughing while looking off into the distance.
---
FOR MORE PHOTO INSPIRATION // RIGA OLD TOWN // A PHOTO DIARY FROM ONE OF EUROPE'S MOST UNDERRATED CITIES
---

RIDE TO THE TOP OF ST. PETER'S CHURCH
Not gonna lie, this is probably going to be your most expensive pic of the trip.
It costs €9 to ride the elevator to the top of St. Peter's Church but it's a small price to pay for having the best photo on your friends' feeds and the best view of the city (but who cares about the latter.. am I right?). Circle around the tower for a 360° view of Riga and see everything from the Freedom Tower to the Central Market and of course, Old Town.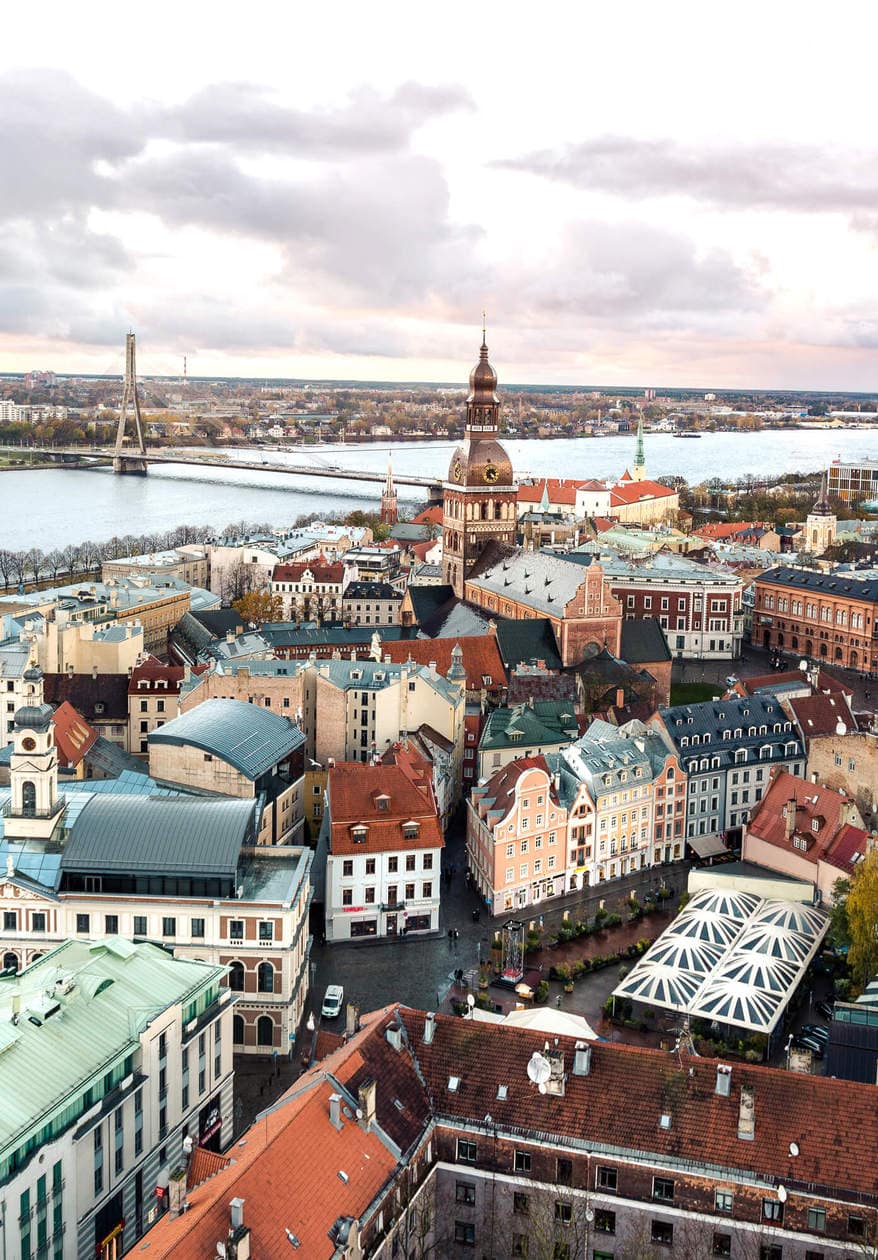 This might not be the best location if you like to be in your photos, but throw out a landscape for some range. It'll be worth it.
PRO TIP: Visit just before the sun goes down for the the best light and hopefully a beautiful sunset backdrop.
---
RELATED POST // ST. PETER'S CHURCH // THE BEST PANORAMIC VIEW OF RIGA
---

SIP ON SPECIALITY COCKTAILS AT BLACK MAGIC APOTHECARY BAR
Let's face it, Latvia does not have the most Instagrammable food (grey peas and pork knuckles just don't scream "like") so we need to focus on cocktails and desserts instead.
With that said, just try and find a more photogenic bar in Riga than Black Magic.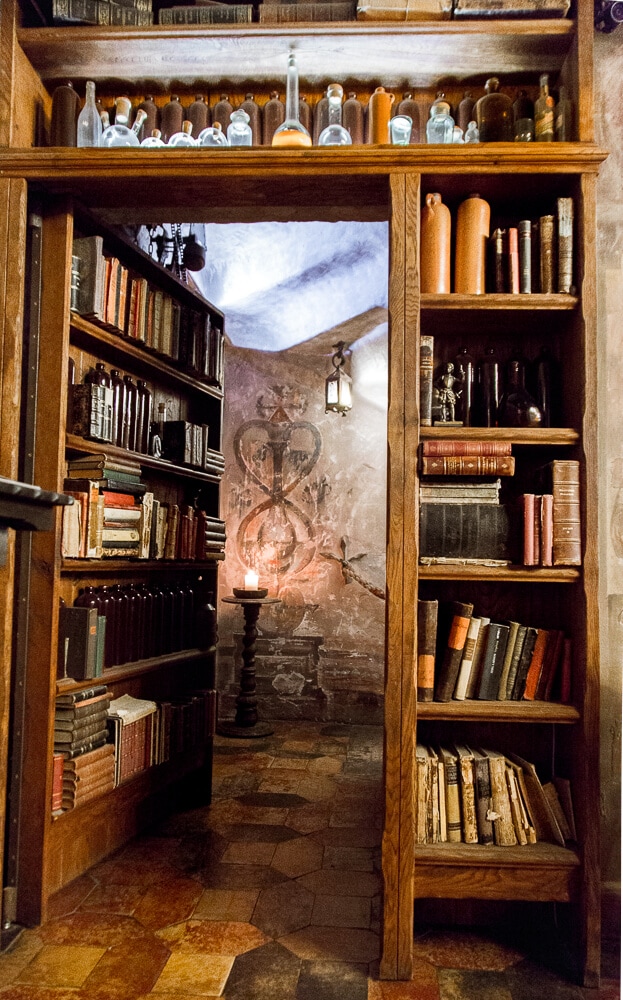 Lounge in one of the velvet burgundy chairs upstair while you sip on a Black Balsam cocktail, or head through the hidden bookshelf and down to the alchemist's laboratory, where you can eat dessert amongst wax candles apothecary bottles.
PRO TIP: It's dark inside (especially downstairs) so get your camera's low-light settings ready.
---
RELATED POST // TASTING RIGA BLACK BALSAM COCKTAILS AT BLACK MAGIC APOTHECARY BAR
---

WALK DOWN ALBERTA IELA
Riga is known to have the finest collection of Art Nouveau buildings in the world. And you know what that means …more opportunities for the gram.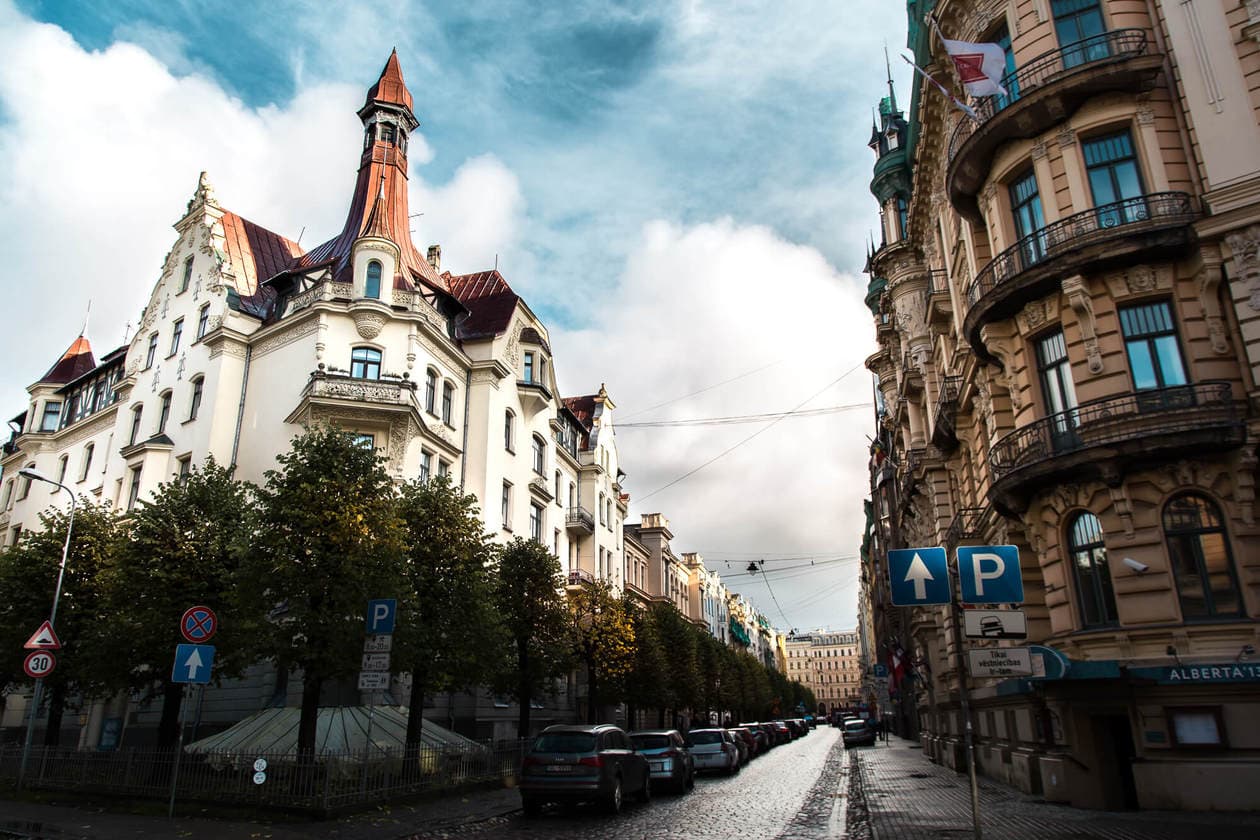 To get the most bang for your buck, head to Albert Street (locally referred to as Alberta Iela) in the Art Nouveau district. It's known for having the highest concentration of renowned Art Nouveau buildings in Riga.
Spend a little time wandering through the rest of the Art Nouveau district as well. There are tons of photo ops to be found.

TAKE A STROLL THROUGH VERMANES GARDEN
I'm not usually the type to seek out parks when I travel (unless there are beer gardens inside like the English Garden in Munich) but Vermanes Garden was especially beautiful. You can sit on the dock, walk along tree-lined paths, or even rent a small boat.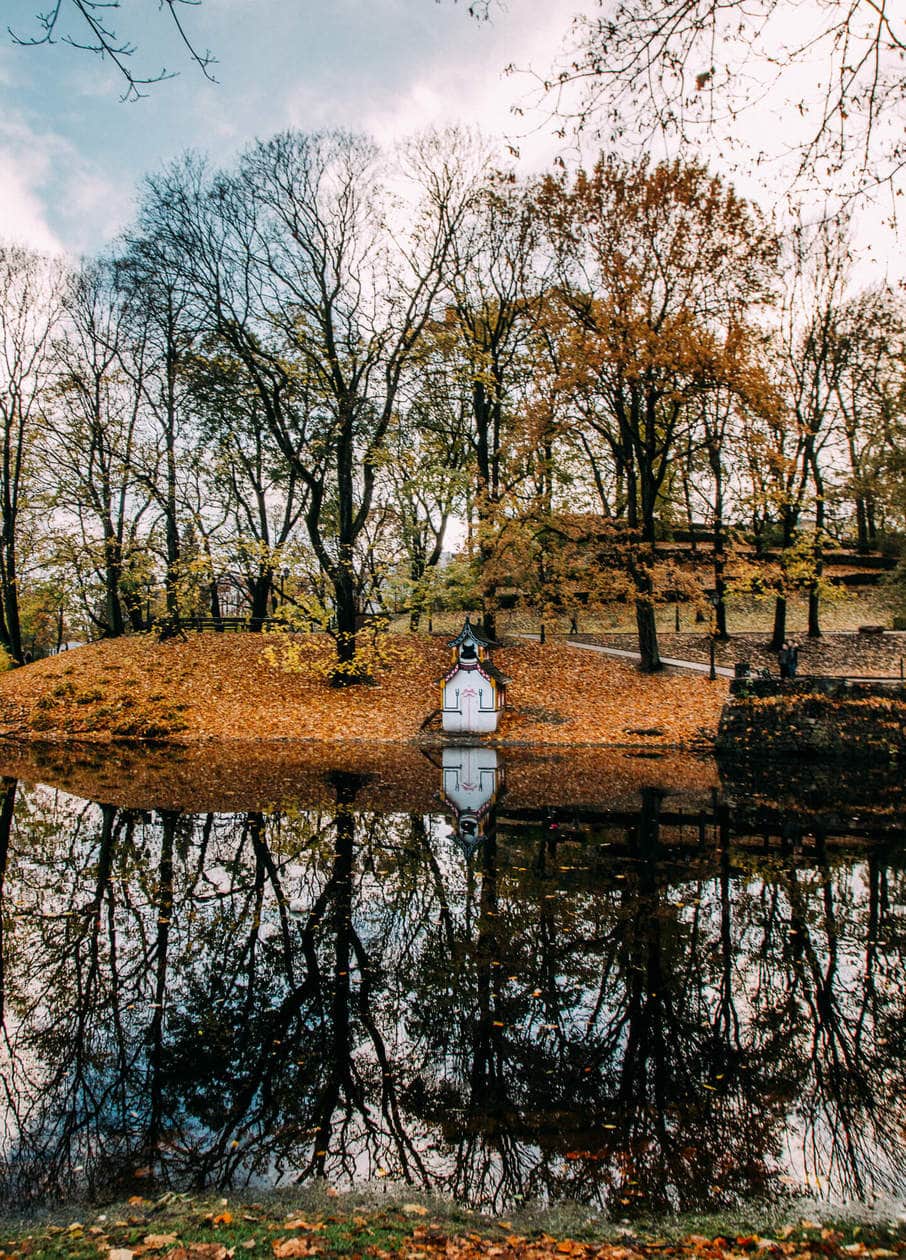 As a bonus, it's right on the outskirts of Old Town so it's easy to pop over for a few pics.
PRO TIP: Visit in the Fall to take advantage of the incredible colors.

GET COZY AT ASPARA TEA HOUSE
Apsara Tea House has the right ingredients for a perfect Instagram picture: 1. tea/coffee 2. floor pillows 3. a chandelier. The tea house also has floor to ceiling windows and is located right on the river which gives you a great backdrop.

PRO TIP: You have to take your shoes off to sit upstairs, so wear cute socks or your photo will be ruined.
---
RELATED POST // APSARA TEA HOUSE: A CHARMING PLACE TO WARM UP IN RIGA
---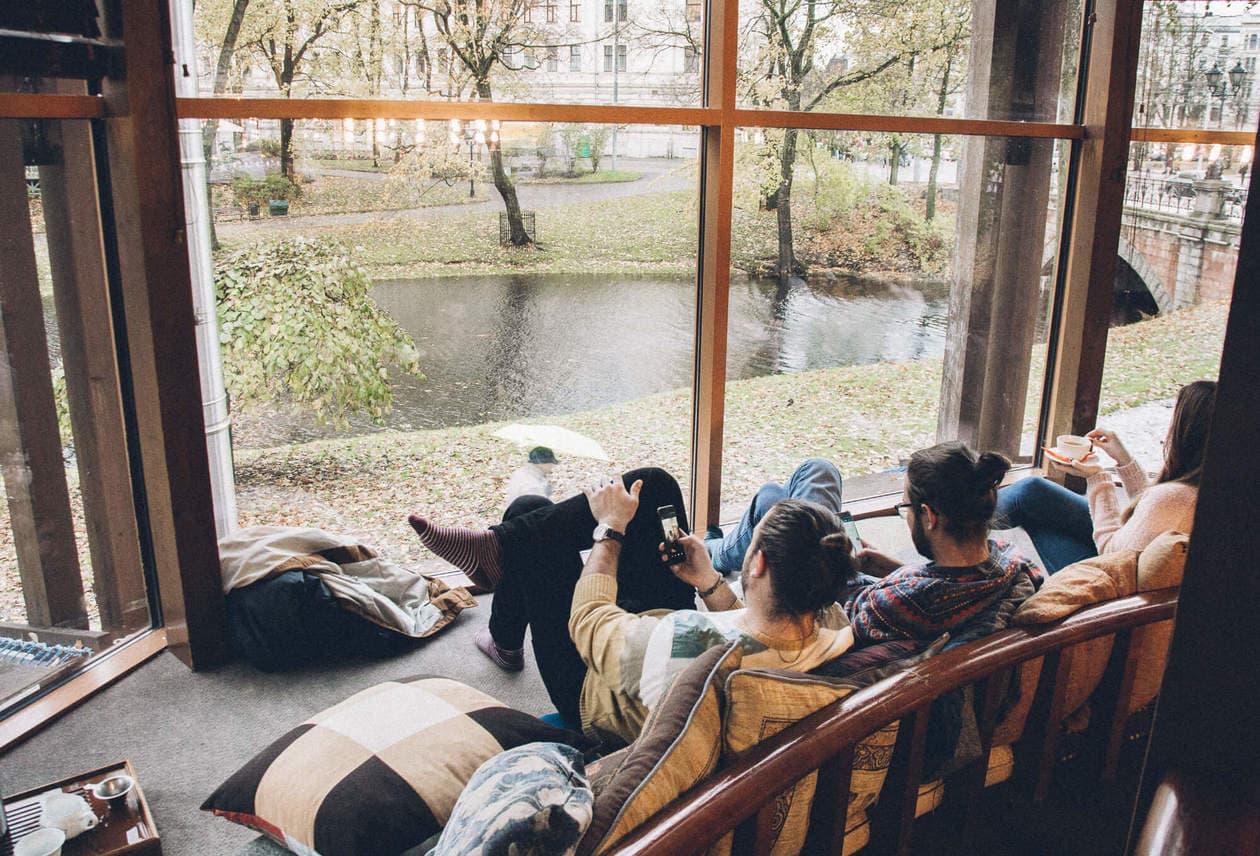 LOOK UP IN THE ART NOUVEAU MUSEUM
On the corner of Alberta Iela stands Riga's Art Nouveau museum. Don't worry, you don't have to go all the way inside (museums are not sexy). In the corridor before you enter the museum, you'll see a spiral staircase, look up and behold the social media perfection.

---
If you liked this post be super to check out my Basic Bitch Tour of London
---

Did I miss any of your favorite Instagrammable things to do in Riga?
---
PIN IT