In the center of Munich lies one of the largest public parks in Europe. The English Garden is 910 acres of peaceful nature, and you could easily spend half a day here.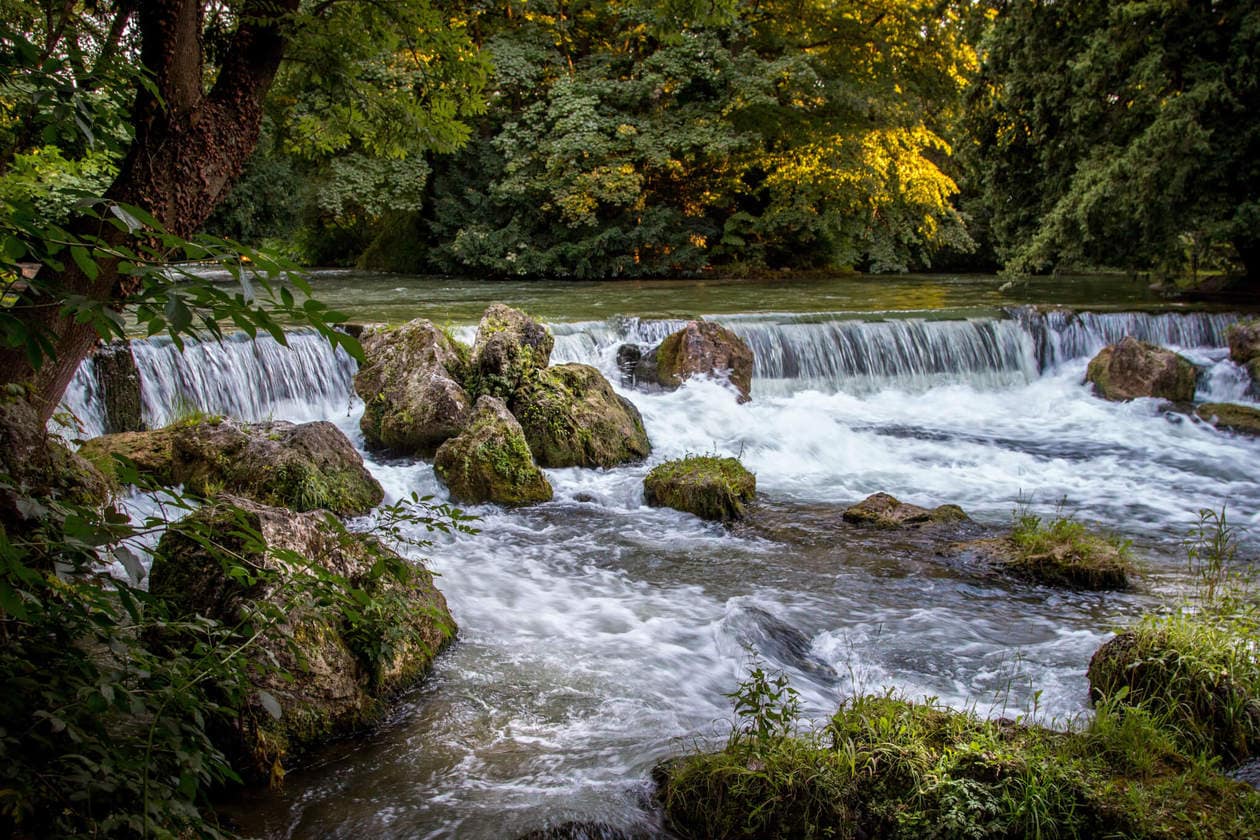 While I don't usually seek out parks when I travel, the English Garden topped every "must do in Munich" list that I came across so we decided to check it out. The park is massive which makes it a little overwhelming, but there are maps everywhere, so it's impossible to lose your way.
Chinesischer Turm Beer Garden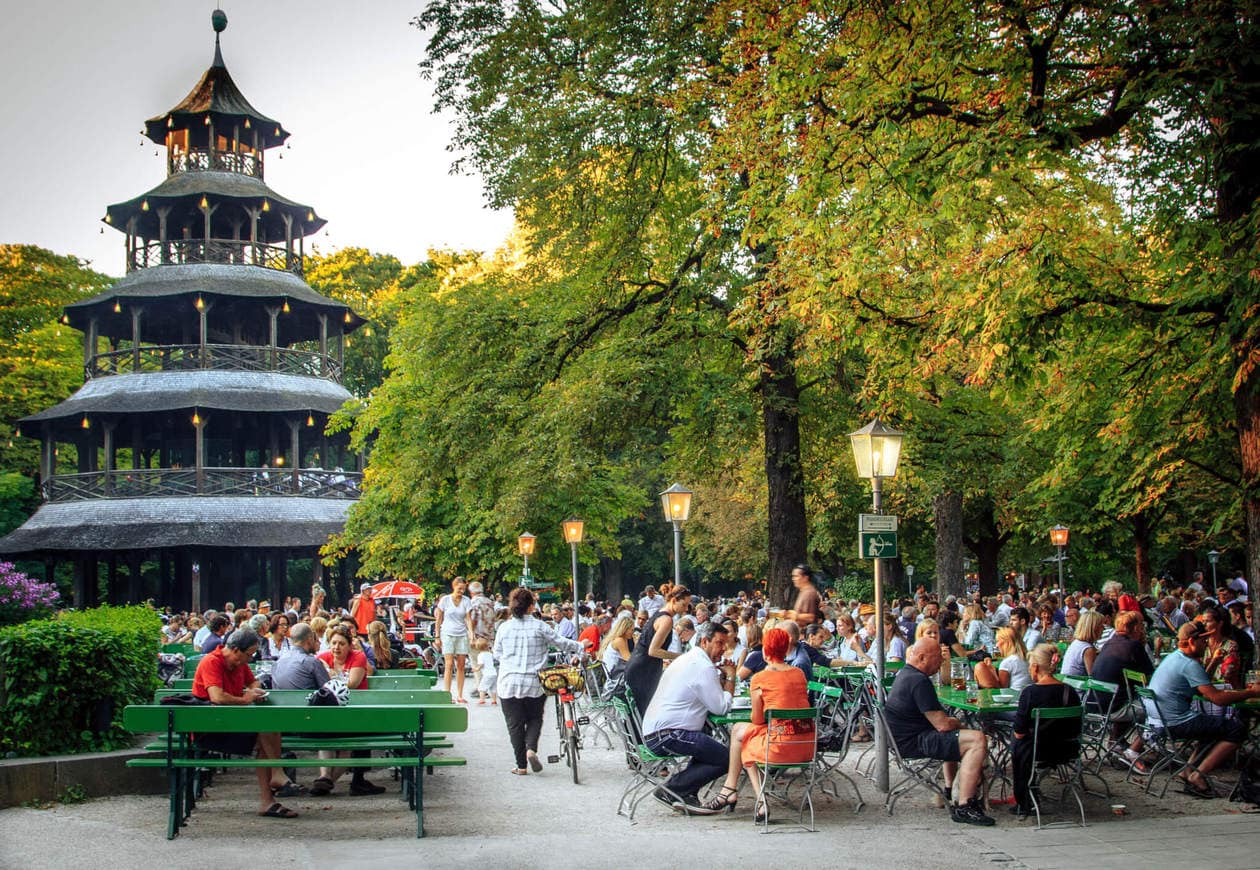 Naturally, our first stop was the Chinesischer Turm beer garden, which ended up being my favorite beer garden in Munich. There was a band playing traditional Bavarian music, food stalls, a playground for children and seating for 7,000.
Relax
We were here on a warm, sunny day in August so there were sunbathers everywhere. The park is so beautiful, it really is the perfect place to relax, read a book or take a walk. Near the Seehaus Restaurant, you can rent paddle boats and take them for a spin on Lake Kleinhesseloher.
Fun Fact: Nudity is legal in the northern area of the park so if you're into that kinda thing, go ahead and strip down! We wanted check it out, but we didn't map our route properly and found ourselves too far away to make over there by sunset.
River Surfers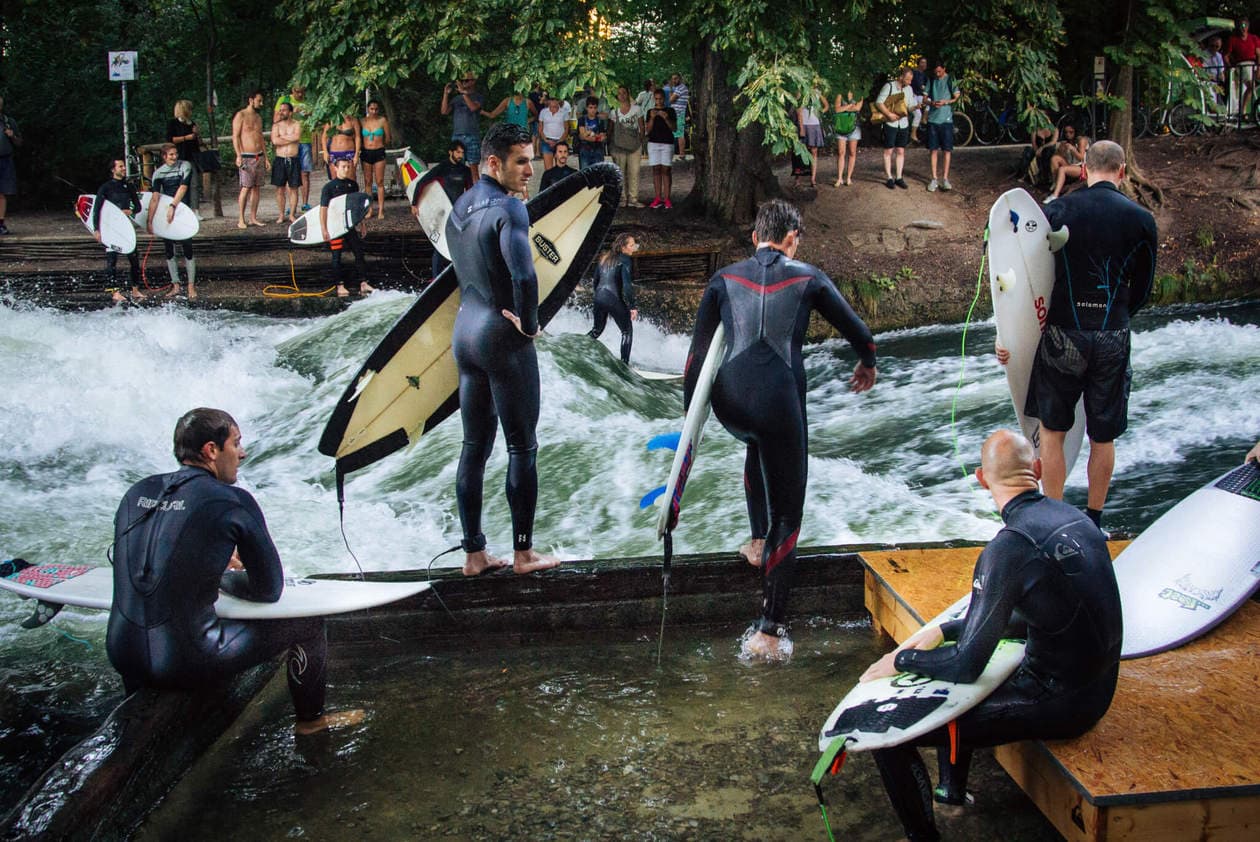 As we were about to exit the the southern end of the English Garden we noticed large crowds of people gathered along the river bank. Water at the base of this man made river is being pumped out at a rate of 20 tons per second. It hits a concrete slab on the river bottom creating powerful waves.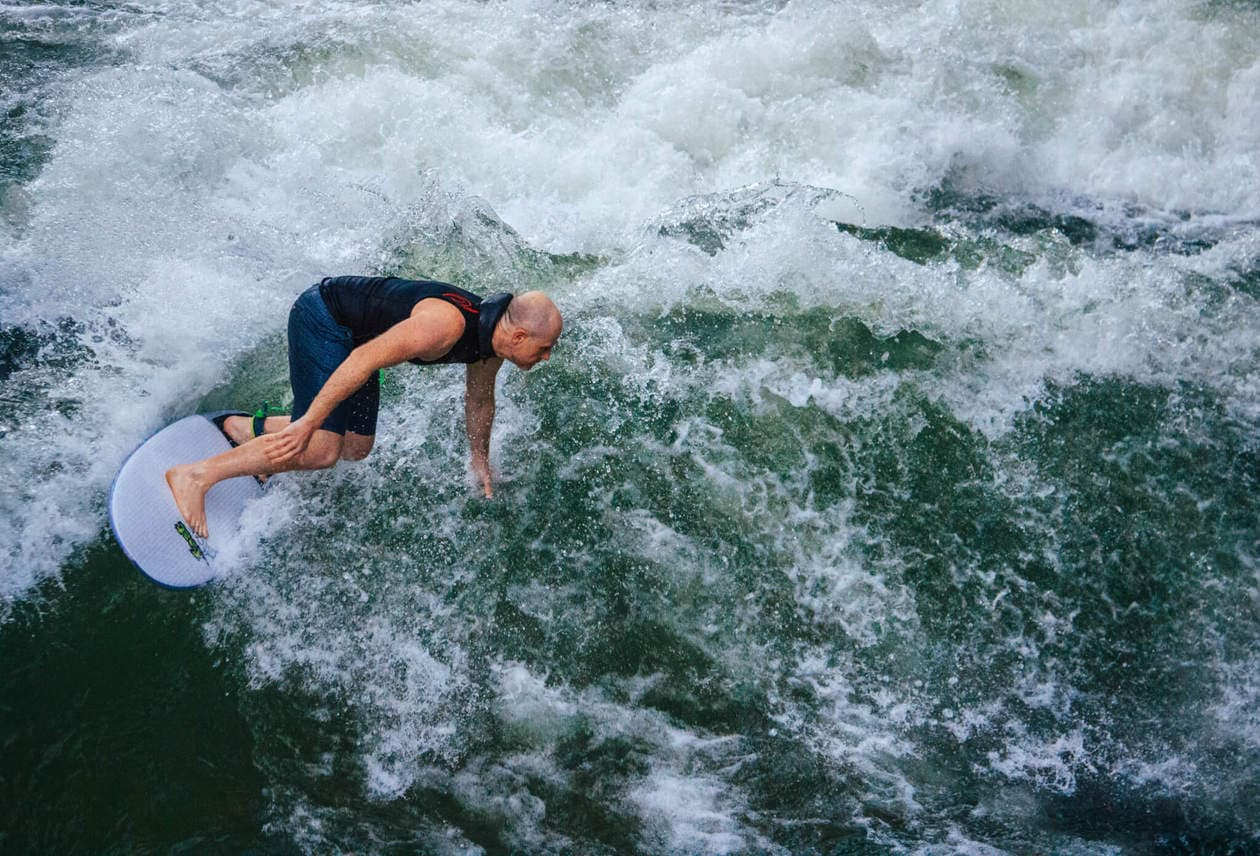 Several dozen surfers were lined up ready to take their turn riding the waves. One by one they jumped in, surfed for about a minute and hopped out, allowing the next person to have a chance. It was fascinating to watch.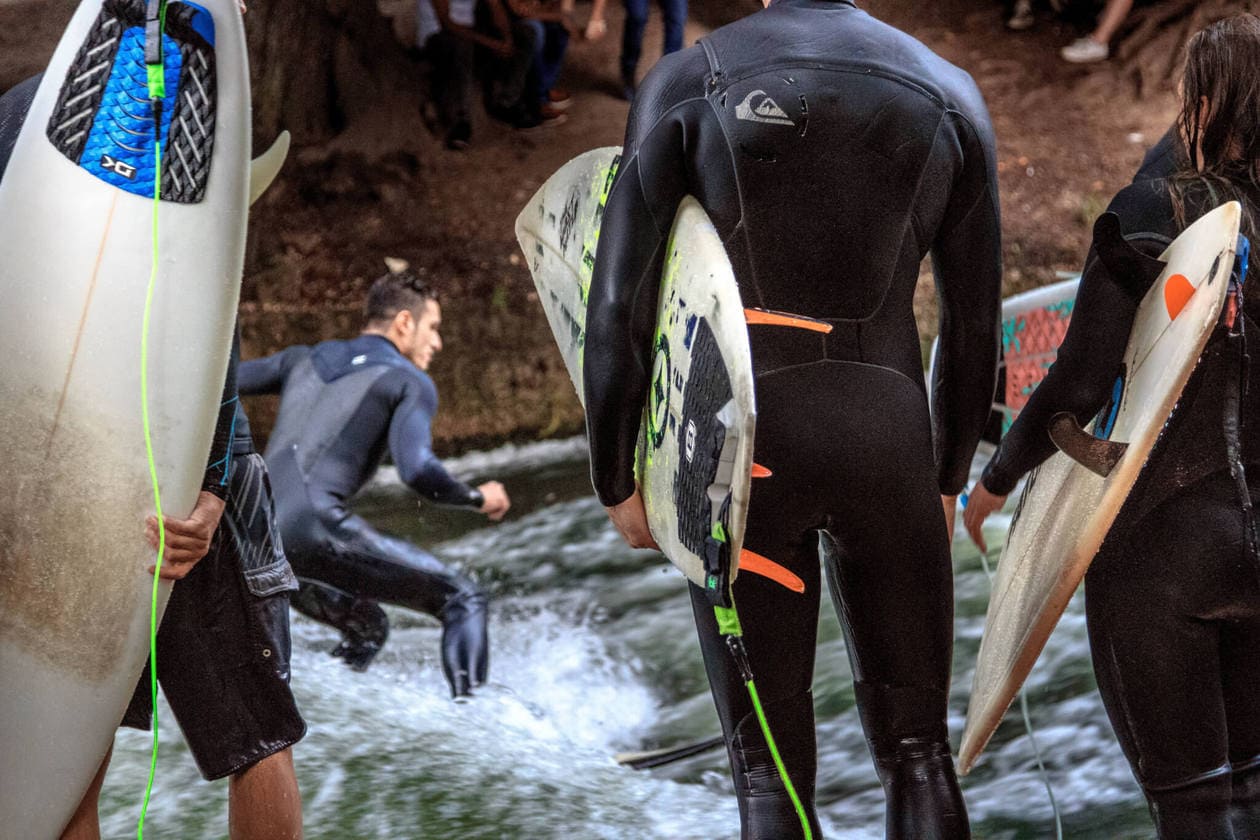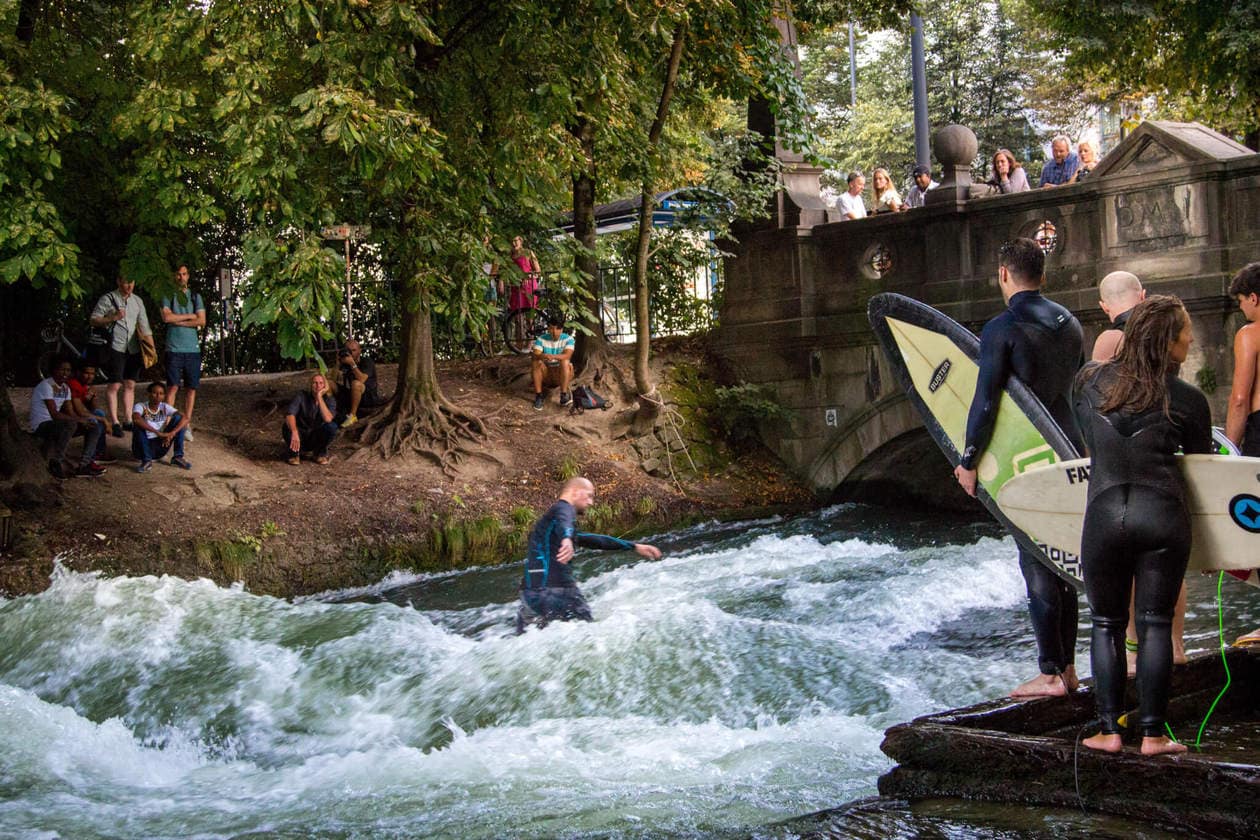 How to Get to the English Garden
Public Transportation
U-Bahn 3,4,5, and 6 to "Marienplatz"
S-Bahn: S 1,2,4,5,6,7, and 8 to "Marienplatz"
Tram 17 to "Tivolistraße"
Bus 54 and 154 will take you closest to the Chinesischer Turm beer garden.