I have yet to experience Oktoberfest in Munich, but for the last 3 years I've drank enough at the Big Bear Oktoberfest to completely forget where I am. So does that still count?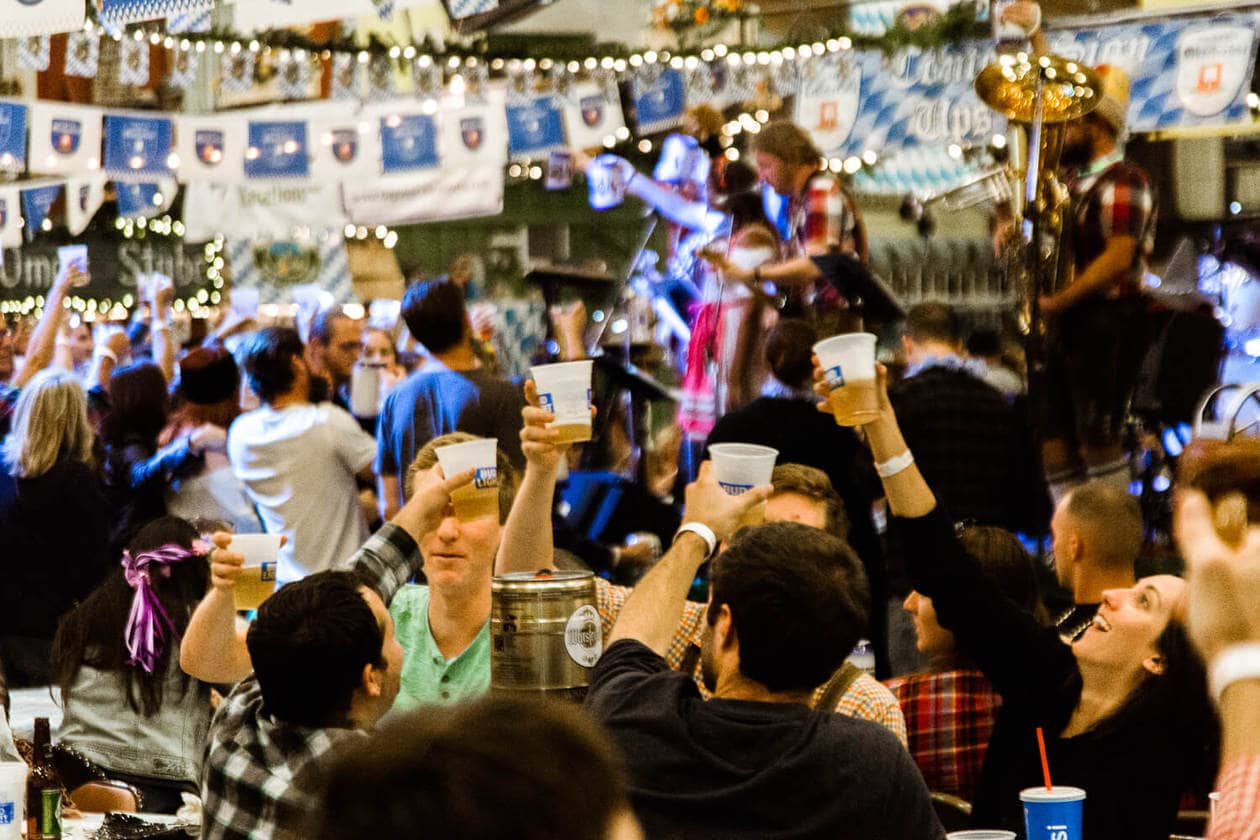 If you've never been to Big Bear Oktoberfest, I have to warn you.. it's a little weird and completely random. I think my sister described it best when she asked if I was on an adult field trip. Let me paint the picture: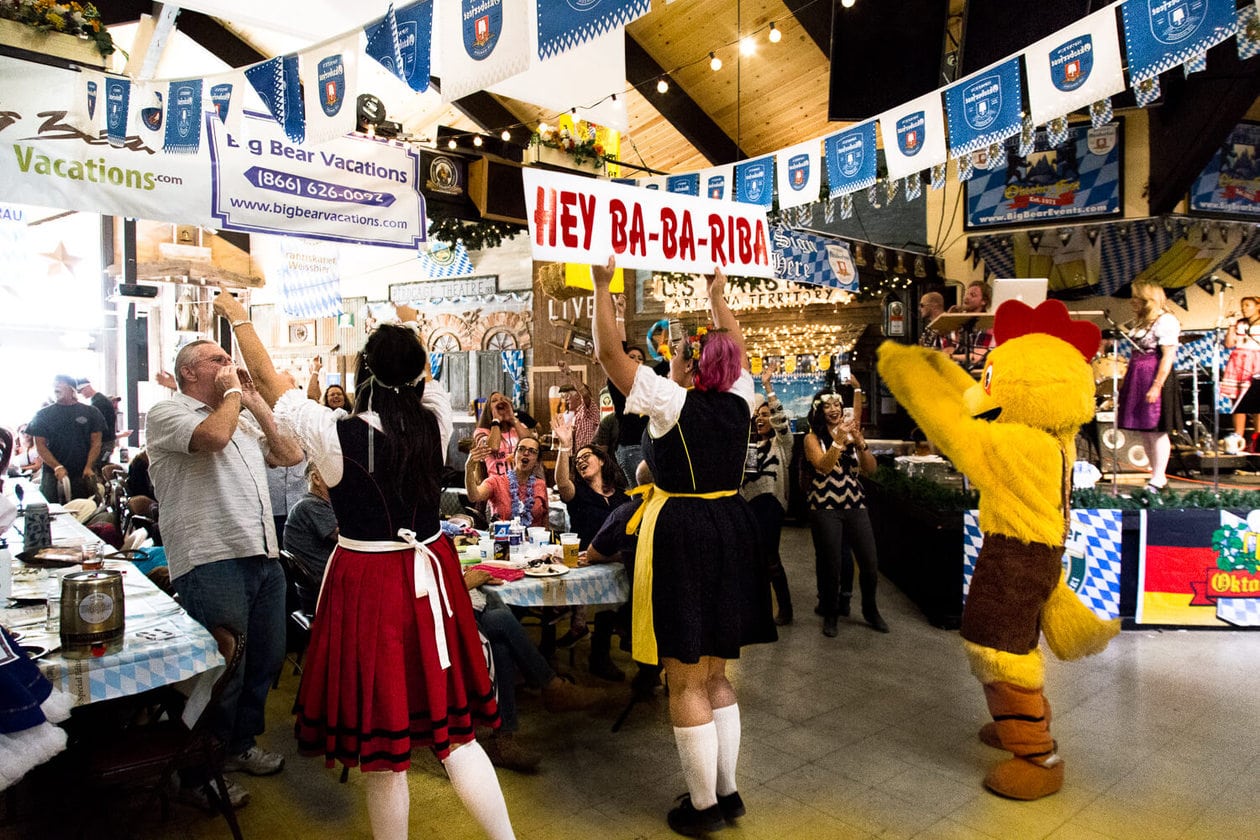 ---
You're in the "Bear Hall" with a 1 liter stein in hand.
The band, direct from Germany, merrily sings Ein Prost.
To your right, a group of people.. half of them wearing traditional lederhosen, the other half in t-shirts with graphics alluding to the 2nd amendment.
To your left, the German born founder of Big Bear Oktoberfest, Hans Bandows (who must have the shoulder muscles of a greek god because I have never seen him without his stein in the air) toasts.
You hear the faint sounds of a cover band playing Free Falling by Tom Petty (RIP) outside, as a group of friends with face painted KISS masks frolic past.
Ein Prost ends and Cupid's shuffle begins.
2 grown ass men and a giant chicken run onto the dance floor and cut a rug like nobody's business.
Then everyone sloppily dances the night away in the fully-lit, fluorescent lighted auditorium.
---
That's Big Bear Oktoberfest and if I haven't lost you yet, you're one of my people. Keep reading for more information about the festival.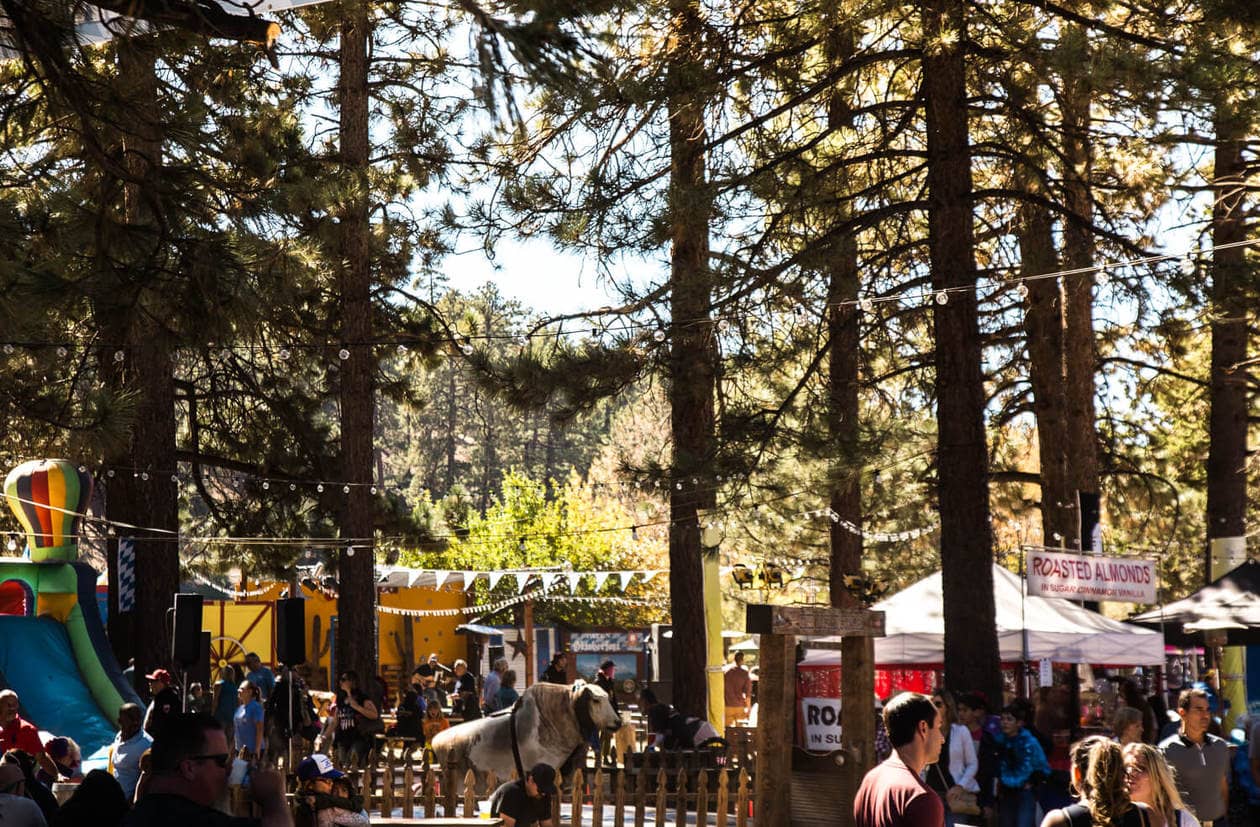 About Big Bear Oktoberfest
2017 marks Big Bear Oktoberfest's 47th anniversary. For 8 consecutive weekends out of the year, Big Bear parties.. hard. It was founded in 1969 by Hans and Erika Bandows, and has since turned into one of the countries largest Oktoberfests.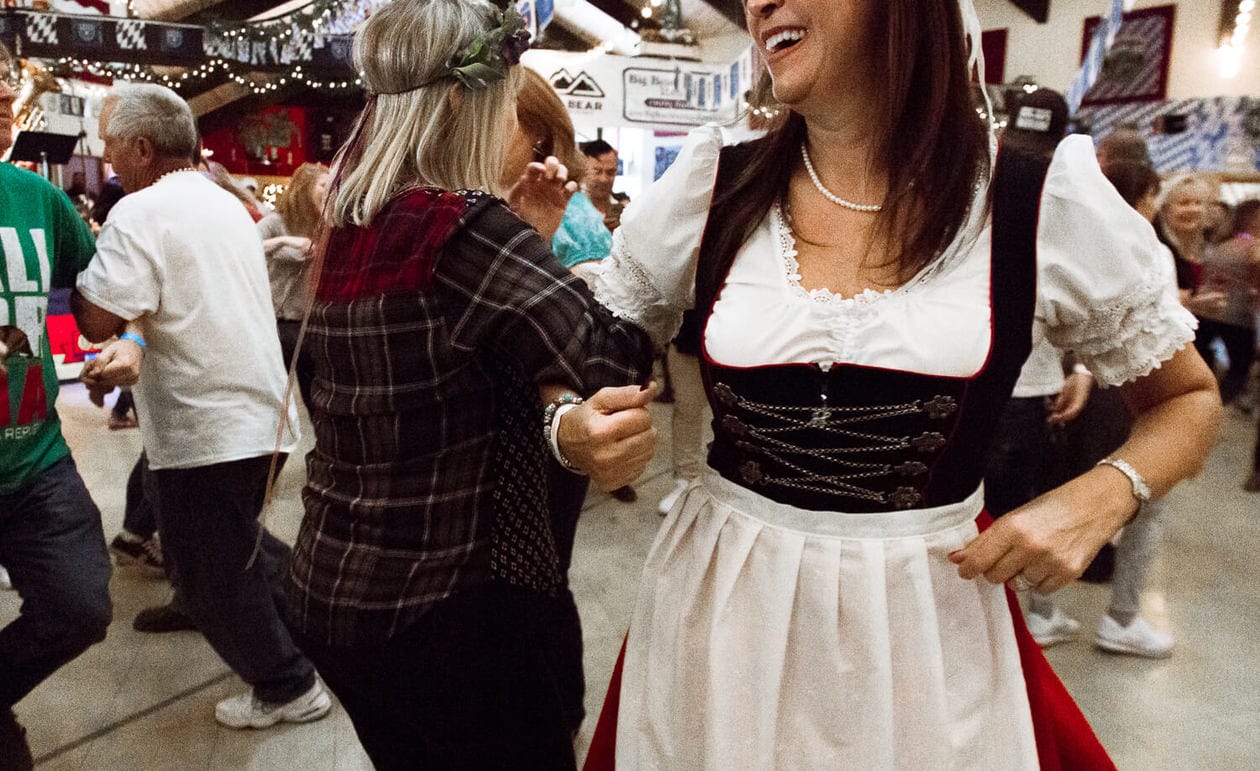 Big Bear Oktoberfest has been recognized as the #1 Oktoberfest in Southern California and amongst the top 10 in the country by AOL, Ski Magazine, LowerFares.com and AskMen.com. While I have no basis for comparison, I can vouch that it consistently ranks high on my list of favorite weekends each year.
It's simply a good time; a no-judgement zone where people from all ages come to sing and dance and drink beer.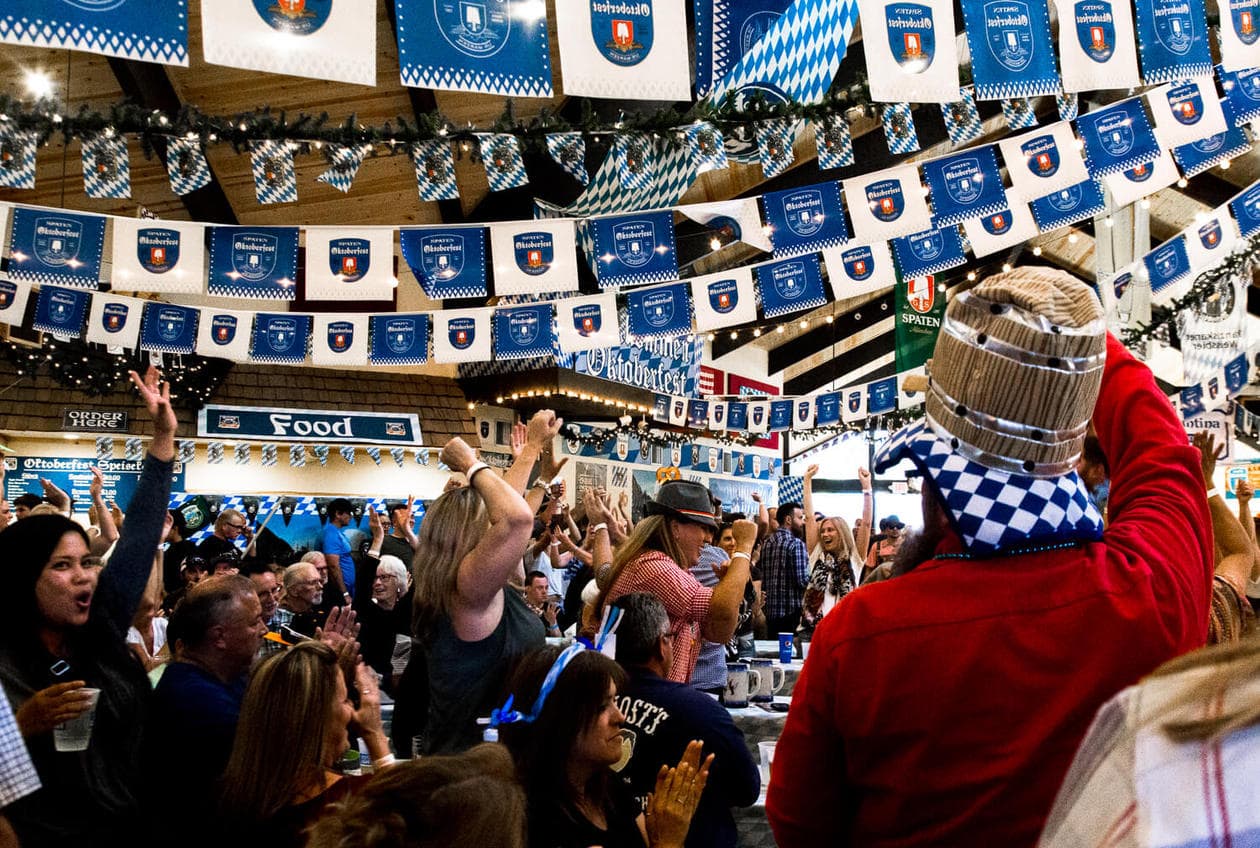 Contests
Throughout the day, Oktoberfest themed contests are held inside of the Bear Hall. You can challenge someone to log-sawing contest, or hold your own in the stein carrying competition.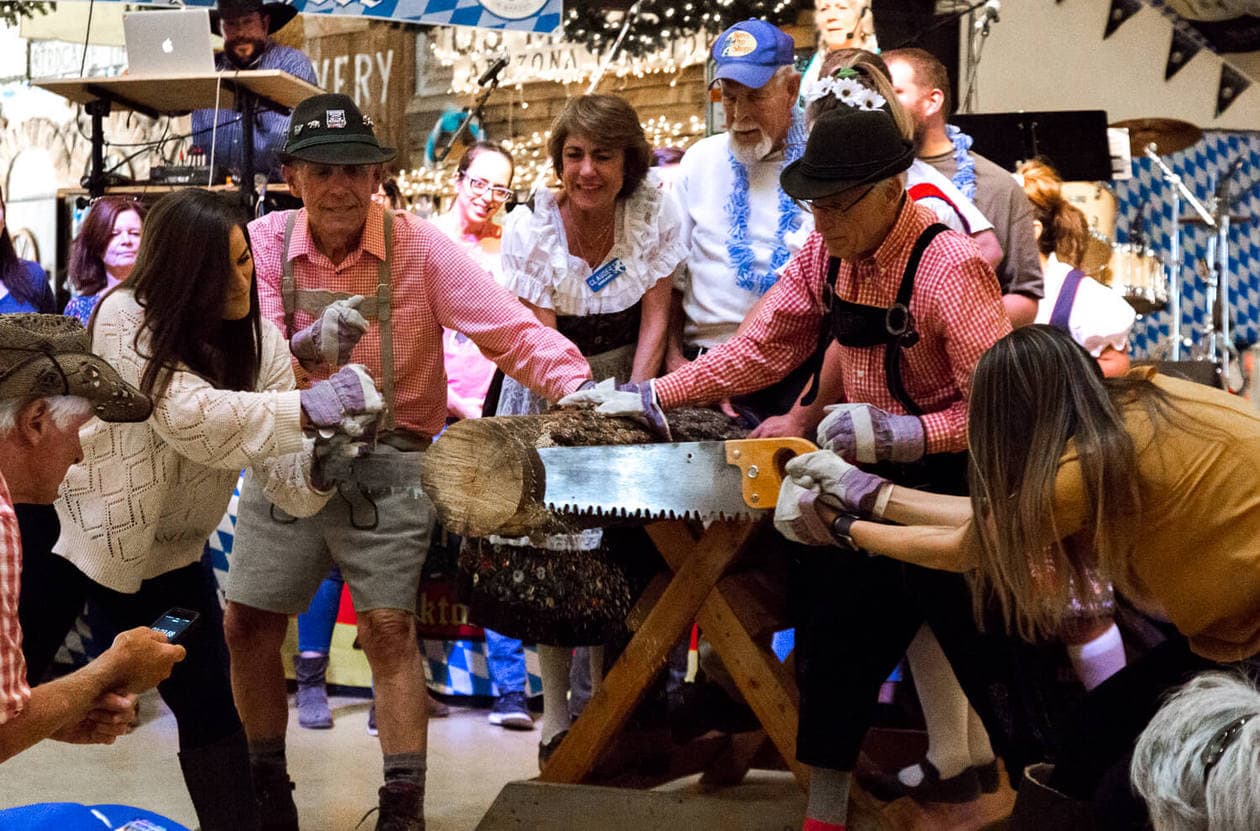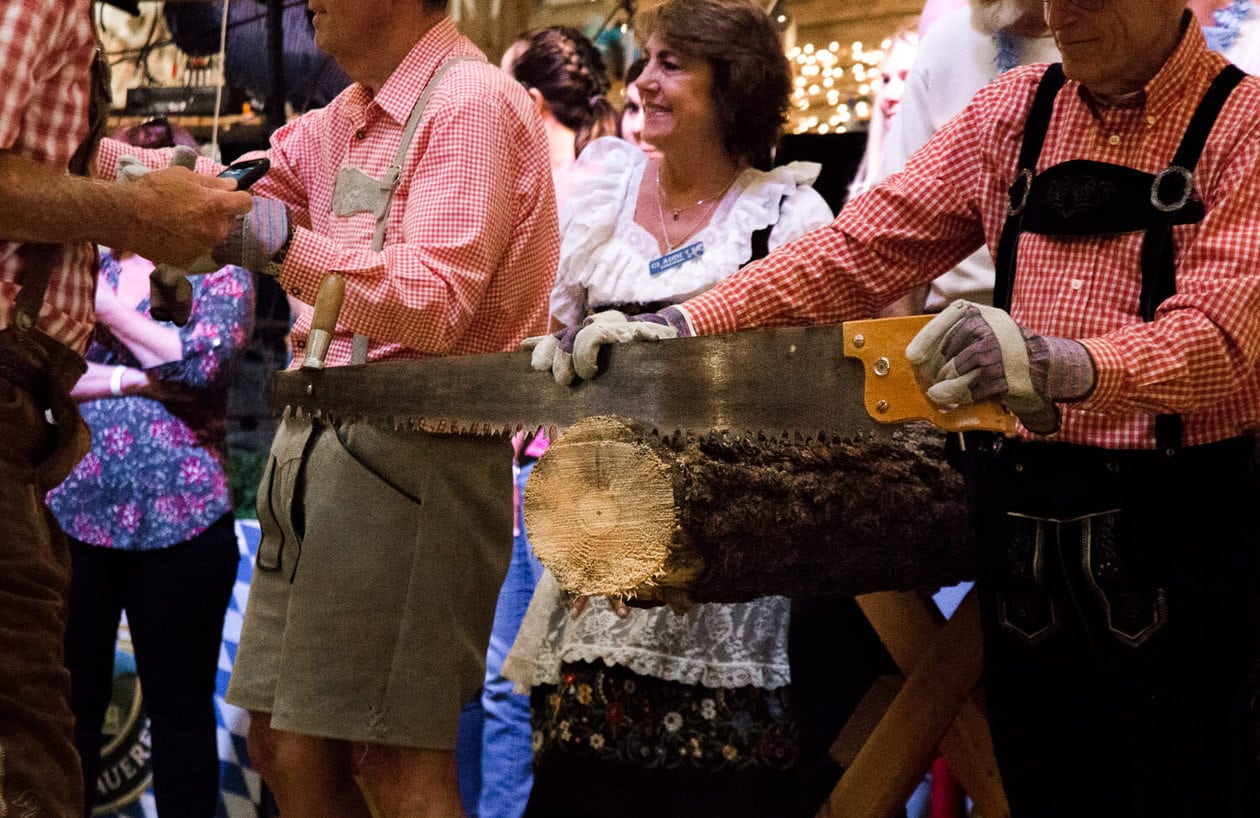 There is "safe-slam" beer drinking  (which is code for non-alcoholic), and a stein holding contest where whoever can keep their stein held out directly in front of them for the longest, wins.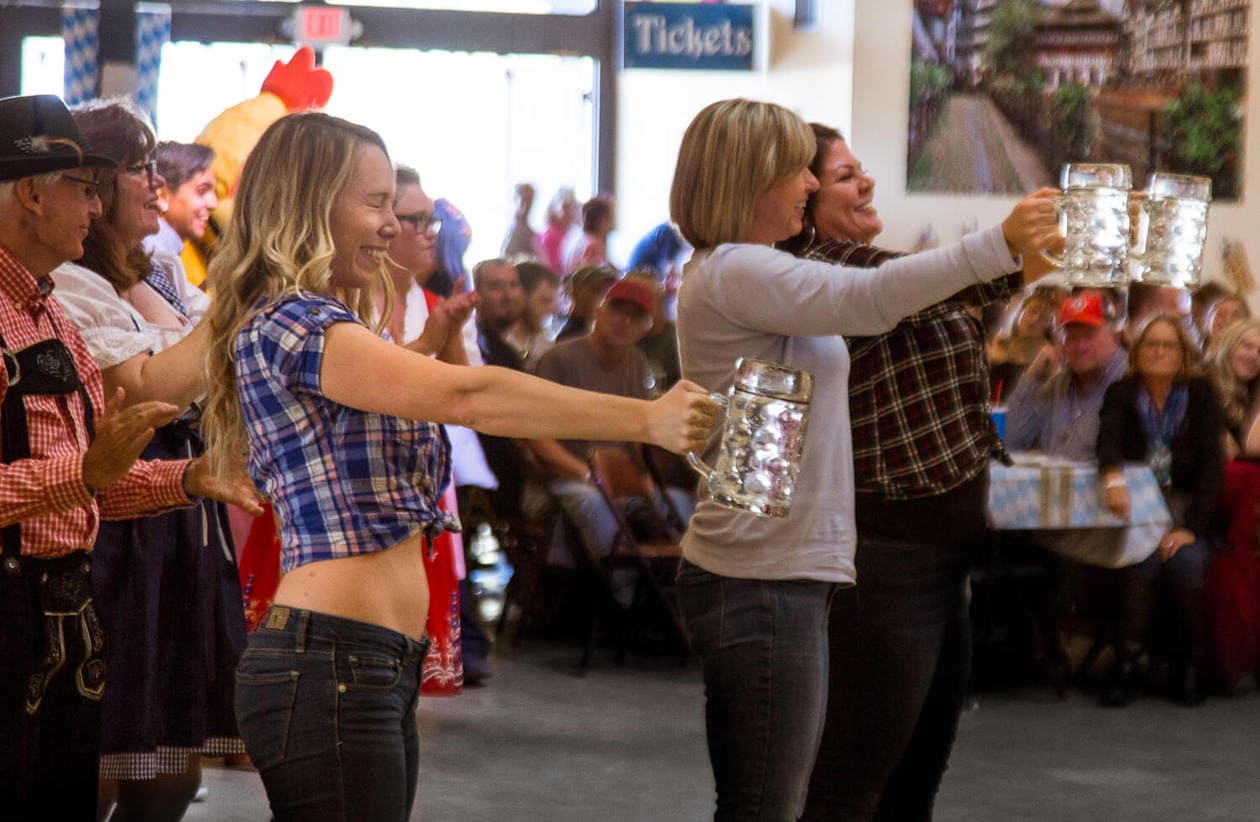 33 Different Beers and 3 German Breweries
Beer is the reason for the season, and Big Bear Oktoberfest offers 3 different German beers on tap: Spaten, Warsteiner and the new, Ayinger. Each German beer has a variety of selections from Pilsner to Dunkle to Hefeweizen, so there's something for every palette.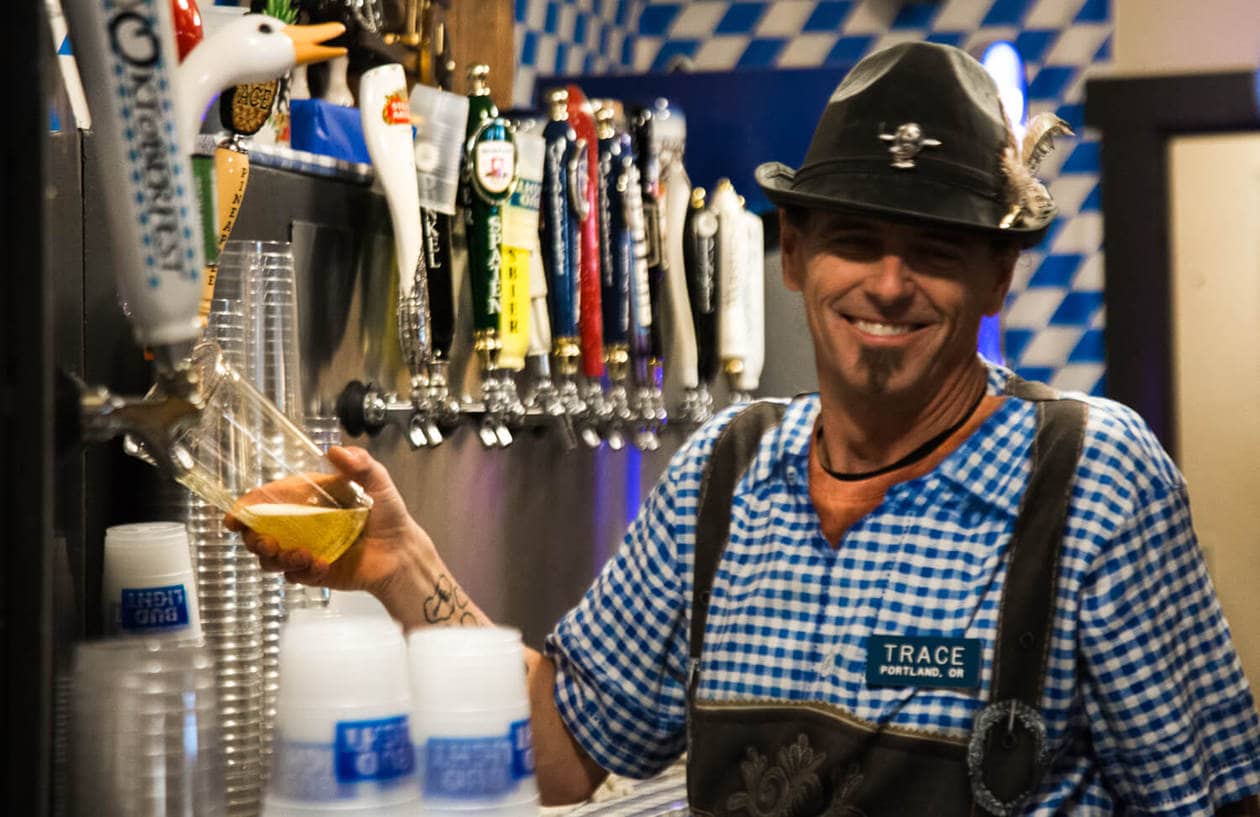 In addition to the German offerings, Oktoberfest also has a Kraft Bierhaus with beers from Hangar 24, Elysian and Golden Road breweries. Lastly, Annheuser-Busch provides domestic options. Honestly, I don't think it should be an option to ever offer Bud Light at an Oktoberfest celebration, but I get that they're catering to their demo.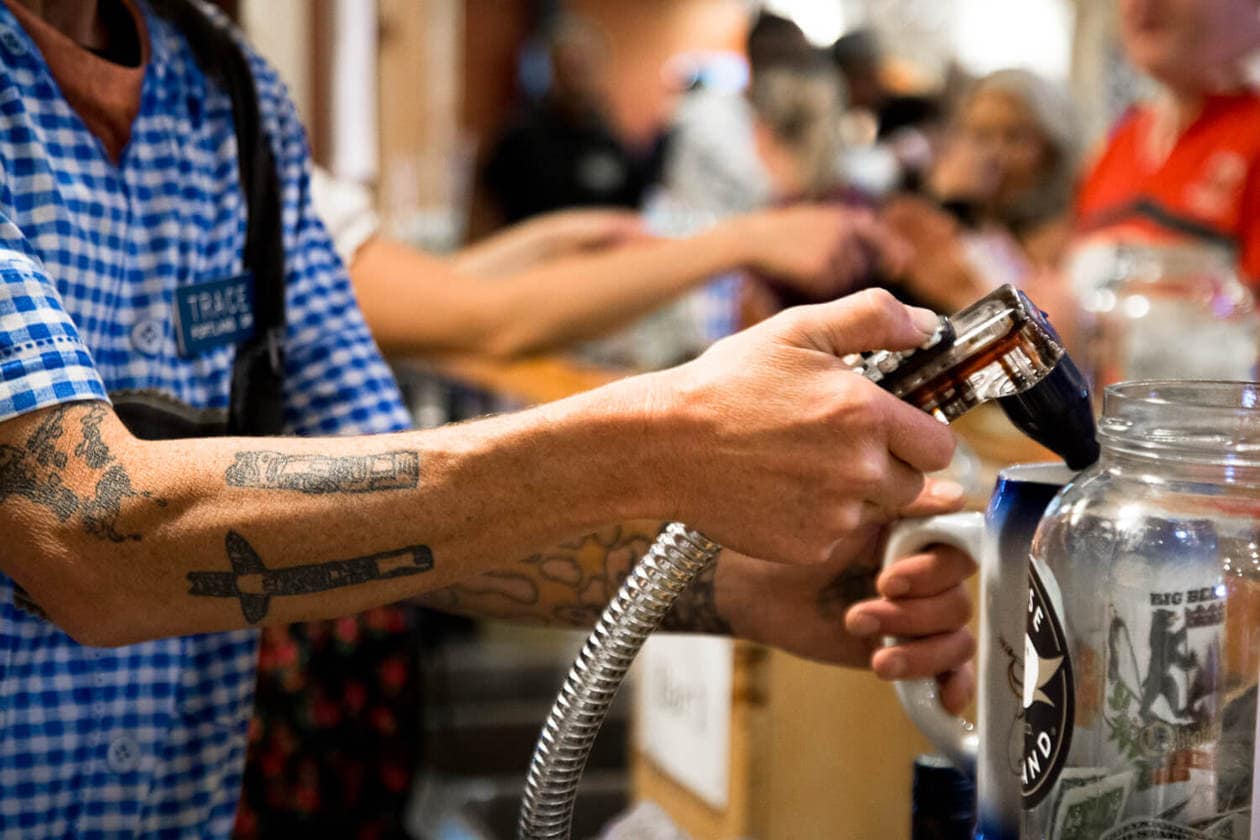 16oz steins are $8 to fill up and 32oz steins cost $16. You have to purchase tickets to buy your beer so no cash is transferred when actually ordering. They sell booklets of tickets at the entrance and inside.
Food
Big Bear Oktoberfest doesn't allow for re-entry into the festival, so you'll probably find yourself browsing the food stalls at some point in the night. Unfortunately, it's a little expensive.
Inside you'll find the German Kitchen serving different kinds of sausages, chicken, pork and roast beef. Outside is the Munich Grill which has more sausages and also sauerkraut. If German food isn't your jam, there's a small food court serving hamburgers, flatbread pizza and street tacos.
If you're vegan or vegetarian your options are unfortunately limited to veggie burgers, potato dumplings and veggie pesto pizza.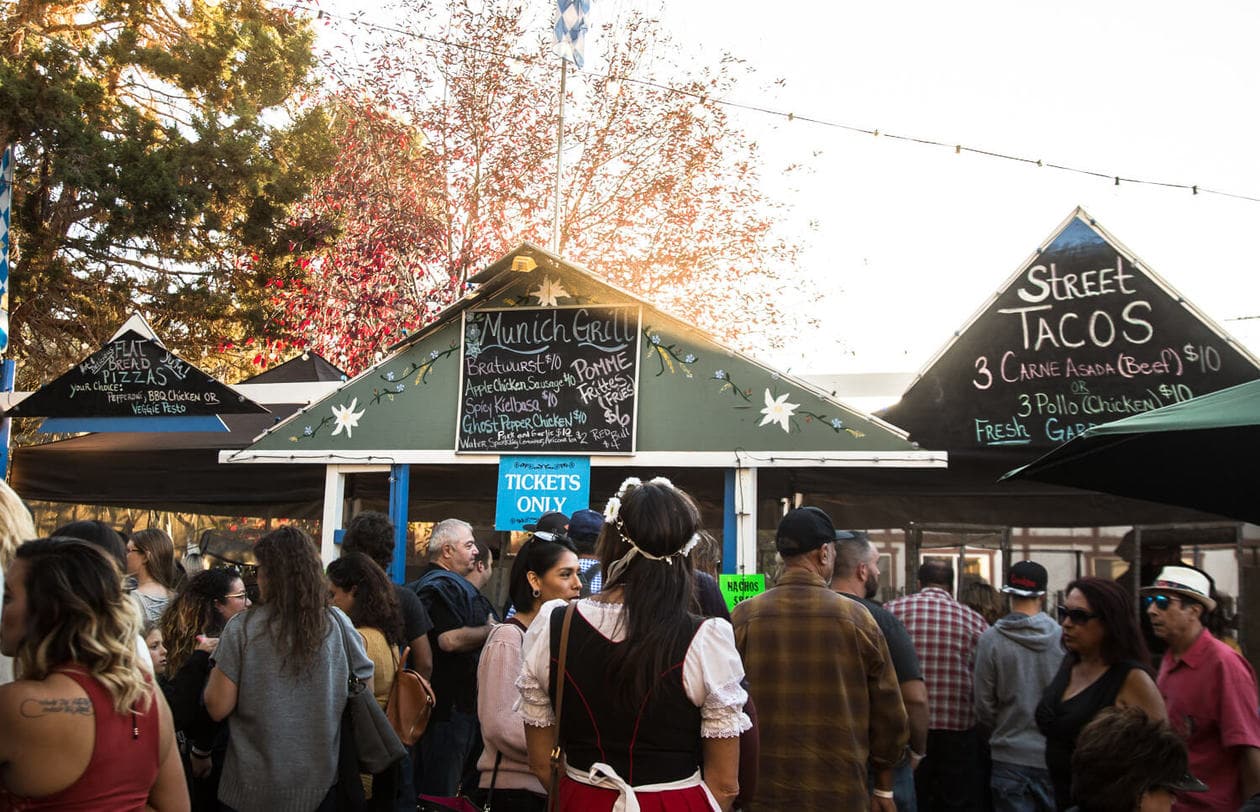 Live Entertainment
During 6 of the 8 Oktoberfest weekends, German bands headline the festival on the main stage inside the Bear Hall. They play  German polka music and Oktoberfest favorites, as well as covers. Also, for some reason the Chicken Dance happens.. a lot.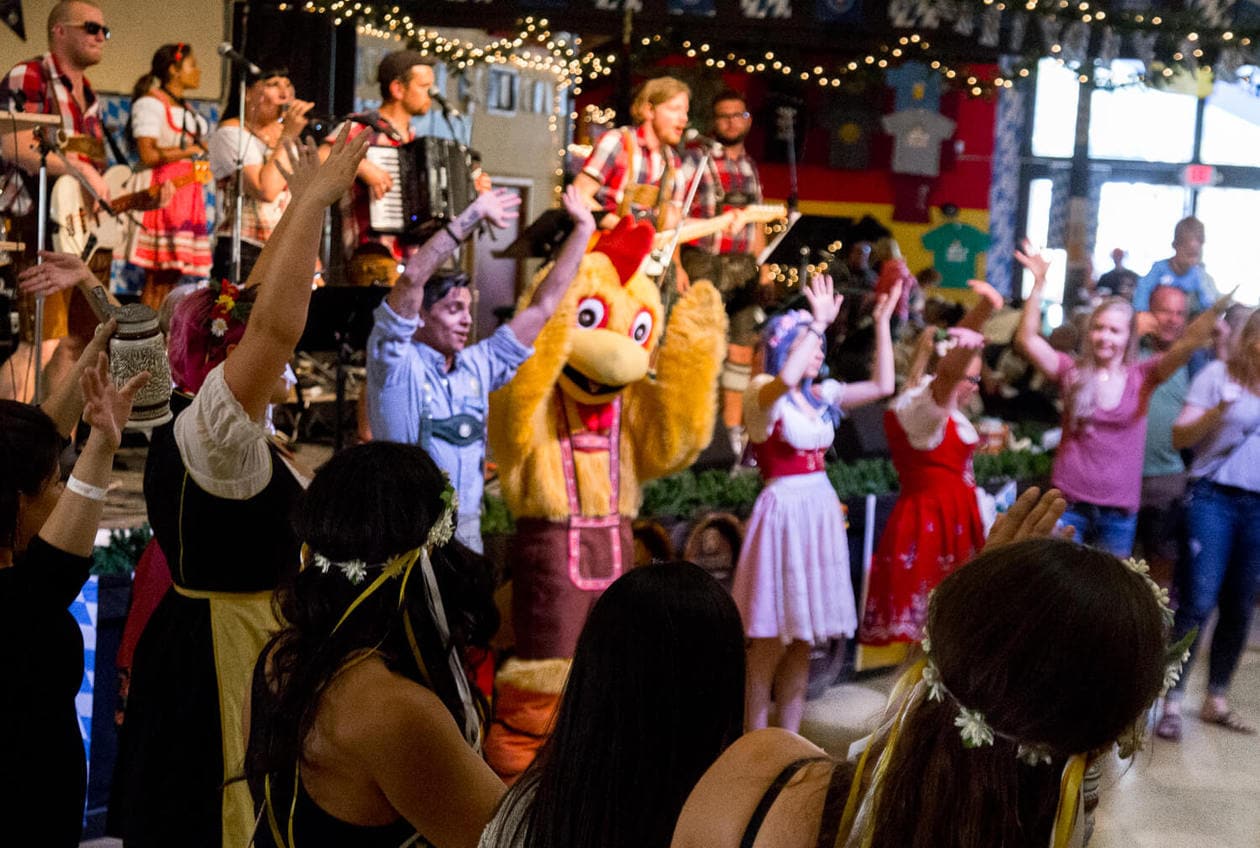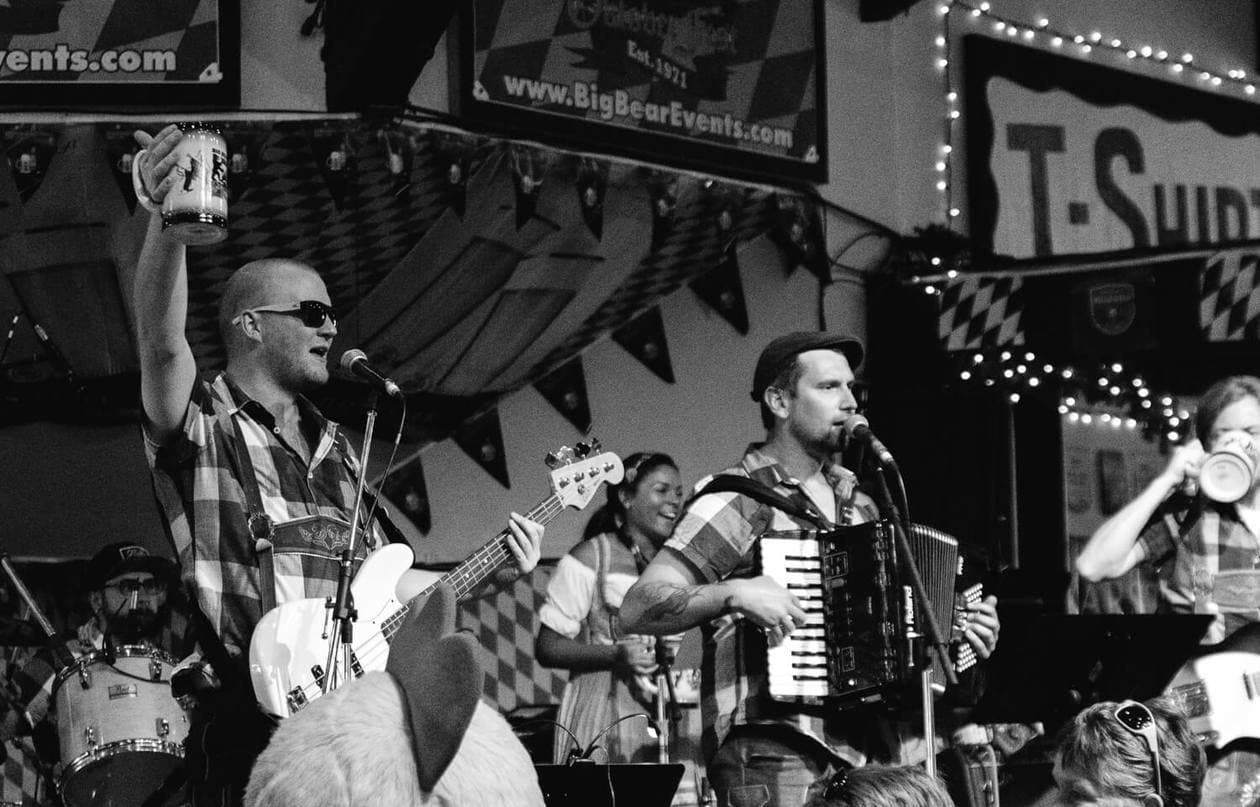 Outside on the Wyatt's stage you can dance to popular cover songs.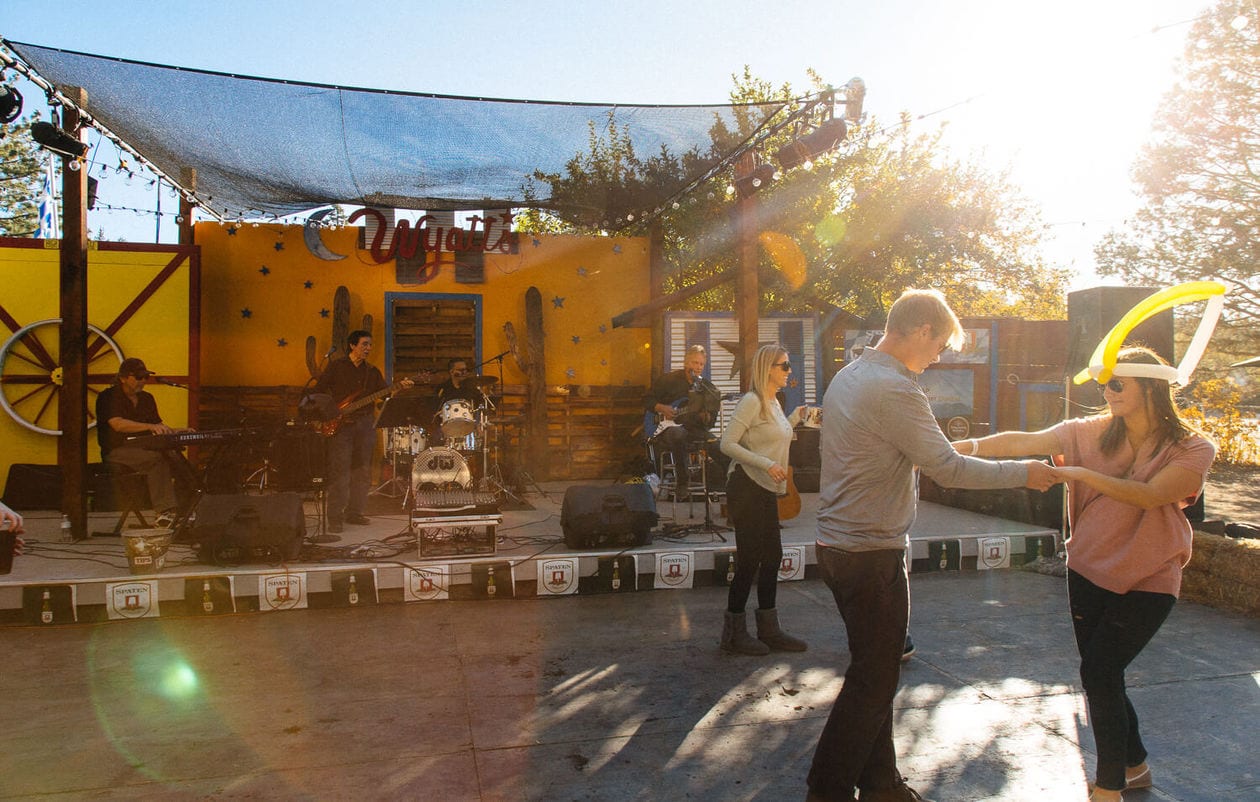 Mechanical Bull, Face Painting and a Western Photo Booth
If you need a break from dancing, there's a handful of stuff to do outside the Bear Hall. While I can't say I've ever looked at any of the retail booths, I do think I'm only about 3 years away from getting to first name basis with the face painter. My past Big Bear Oktoberfest transformations have included Gene Simmons and the Scorpion King.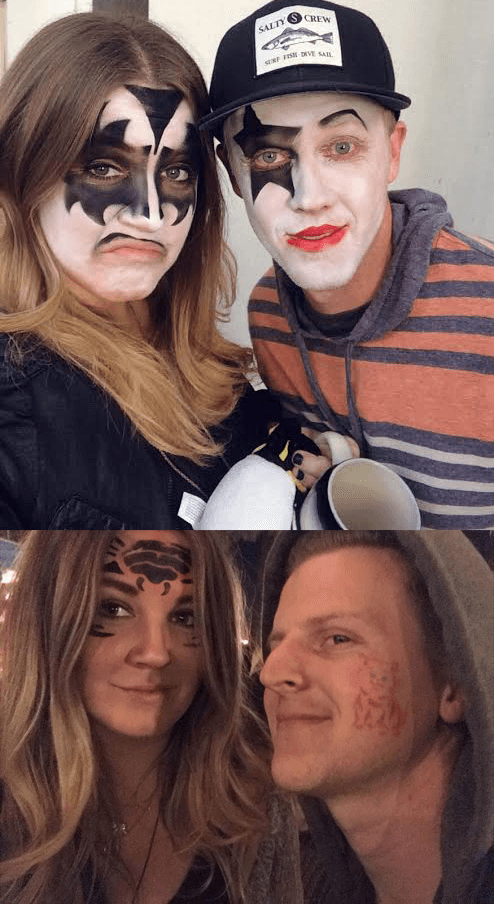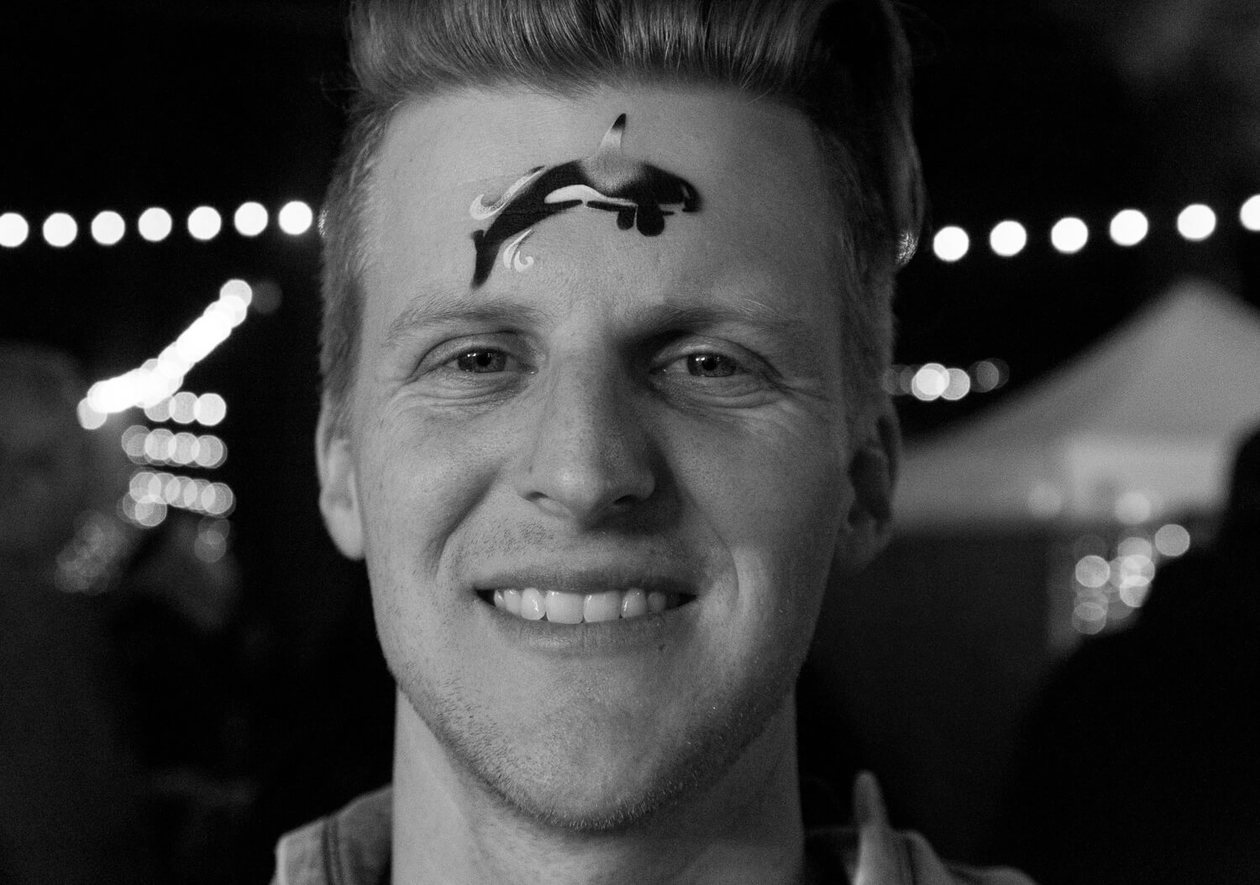 Take a spin on the mechanical bull, throw some darts, ride a backwards bicycle and snap a commemorative photo at the western photo booth. What does any of this have to do with Oktoberfest you ask?
Nothing. But you will be drunk.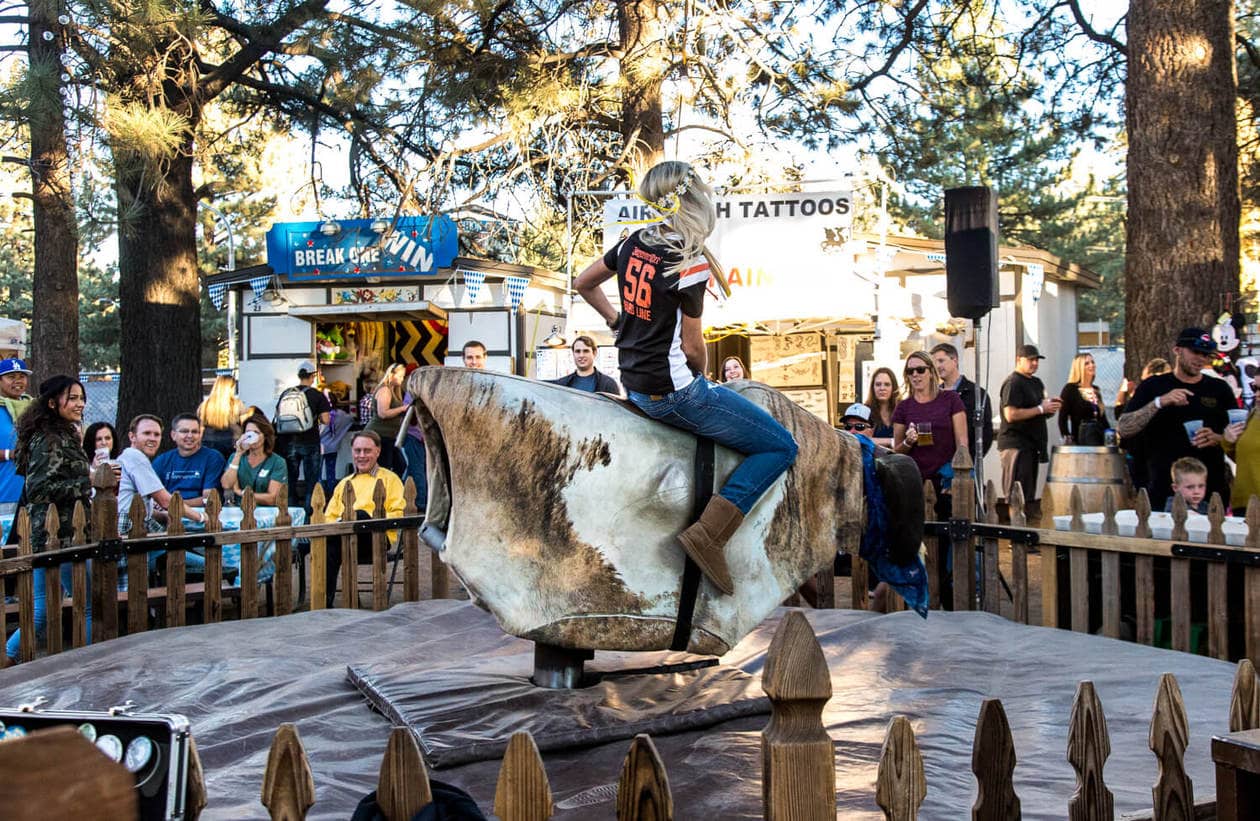 Complimentary Shuttle Home
One of the best things about Big Bear Oktoberfest is that they offer a free door to door shuttle, back to your hotel or cabin. The shuttle runs on Saturdays from 6pm, so you can drink as much as you want and still wind up safe at home at the end of the night.
Alternatively, Oktoberfest offers free unlimited complimentary sodas, coffee, and bottled water to designated drivers. Just let one of the servers know and they will give you an ID bracelet.

Big Bear Oktoberfest Tips
BRING YOUR OWN STEIN  You can bring your own stein, or buy one at the festival (but they're pretty expensive). If you don't want to carry around an extra 5 pounds of ceramic, they do serve beers in plastic cups as well.
CHILDREN Big Bear Oktoberfest is what you make of it, but Sunday is Family Day so that would probably be the best time to bring your kids. Adults also get 1/2 off admission on Sundays and there are special contests for kids starting at 3pm. If you bring your children along on a Saturday, I recommend aiming to get there when it opens and taking off mid-day.
DON'T WEAR WHITE SHOES For the past two years I've stupidly worn my white Converse and they always end up wrecked. The outside area is dirt, and the inside dance floor gets flooded with spilled beer.
BUYING YOUR TICKETS ONLINE  The lines can get pretty long but if you buy your ticket online, you can use the priority entrance. The only downside is online orders come with a service fee. Buy your tickets here 
AUTHENTICITY NIT-PICKERS STAY HOME If you've been to 296 different Oktoberfests including Munich's and you're looking for a 100% authentic Oktoberfest experience, this one is not for you. You'll hate it.
TURN IT INTO A WEEKEND There's a ton of things to do in the Big Bear area. Rent a cabin and make a trip out of it! My suggested weekend itinerary in Big Bear Lake is  HERE 
And speaking of Munich….. Check out some of my Germany posts HERE

Big Bear Oktoberfest Visitor Information
Location:
Big Bear Convention Center | 42900 W. Big Bear Blvd. Big Bear Lake, California 92315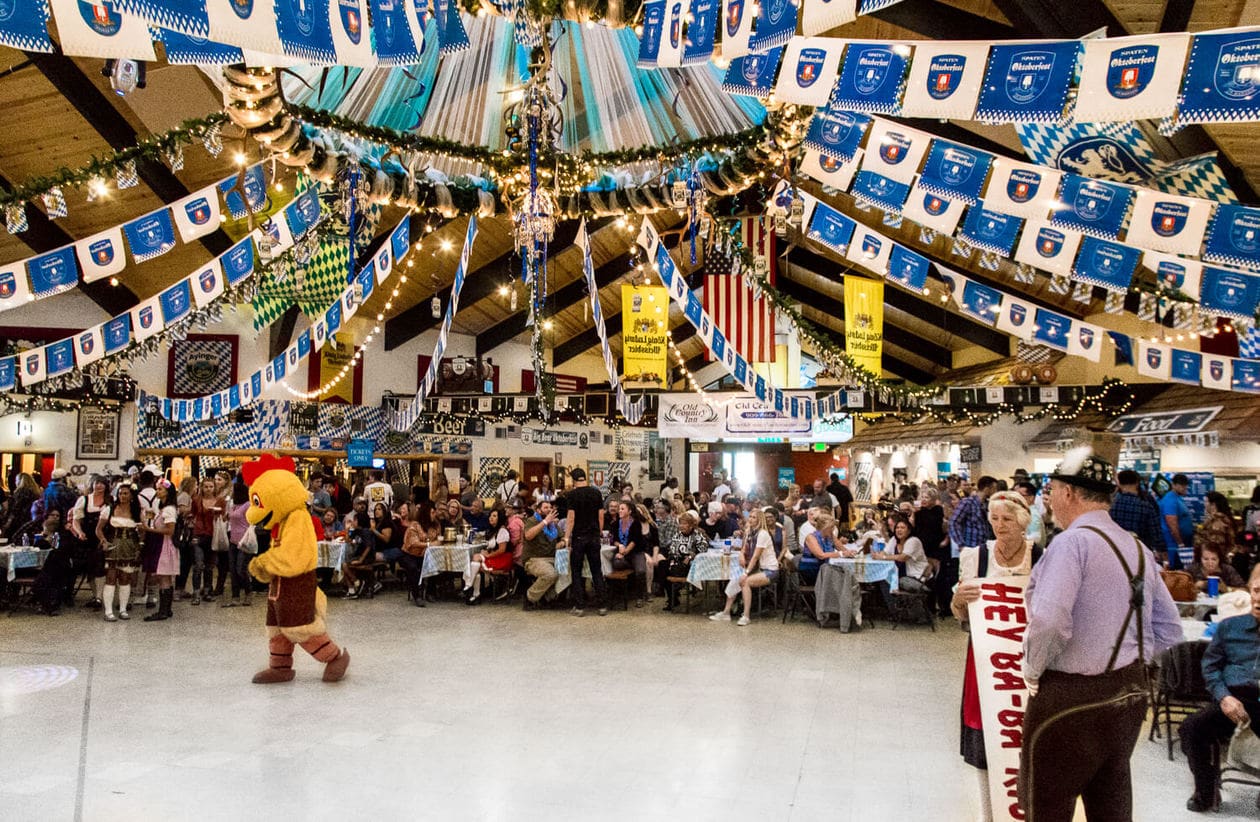 2017 Dates
Every Saturday and Sunday from Sept. 9-Oct. 28
Hours
Saturday: Noon-Midnight | Sunday: Noon-6:00 p.m

Admission
OFF PEAK WEEKENDS:
Sept. 9 & 10, Sept. 16 & 17, and Sept. 23 & 24, 2017
| | | | |
| --- | --- | --- | --- |
| | Saturday | | Sunday |
| Adults (1-Day) | $14.99 | | $8.00 |
| Adults Combo (Both Days) | $16.99 | | |
| Seniors (Age 62+) (1-Day) | $10.99 | | $6.00 |
| Seniors (Age 62+) Combo (Both Days) | $12.99 | | |
| Children (Age 3 through 12) | $8.00 | | FREE |

PEAK WEEKENDS:
Sept. 30 & Oct. 1, Oct. 7 & 8, Oct. 14 & 15, Oct. 21 & 22, Oct. 28, 2017
| | | | |
| --- | --- | --- | --- |
| | Saturday | | Sunday |
| Adults (1-Day) | $19.99 | | $9.00 |
| Adults Combo (Both Days) | $23.99 | | |
| Seniors (Age 62+) (1-Day) | $14.99 | | $6.00 |
| Seniors (Age 62+) Combo (Both Days) | $16.99 | | |
| Children (Age 3 through 12) | $9.99 | | FREE |
Packages
Party Pack $49.99
Includes admission both Saturday & Sunday, annual commemorative 16 oz. beer stein, one beer ticket, one German meal ticket, and a set of party beads.
Uber Party Pack $86.99
Includes admission both Saturday & Sunday, one-liter Big Bear Lake Oktoberfest stein, four beer tickets (good for two beers in the one-liter stein), a German meal ticket, and a set of party beads!
For more information, or to buy your tickets check out the Big Bear Oktoberfest website HERE
Big Bear Oktoberfest provided me with complimentary admission to this year's festival. All opinions are honest and my own. 
---
PIN IT