As we were wandering through the back alleys of Old Town Dubrovnik, avoiding the crowds, we came upon a yellow sign, "cold drinks with the most beautiful view." I don't think there's a single phrase that would signal a stronger YES in my heart than that. That sign led us straight to Buza Bar.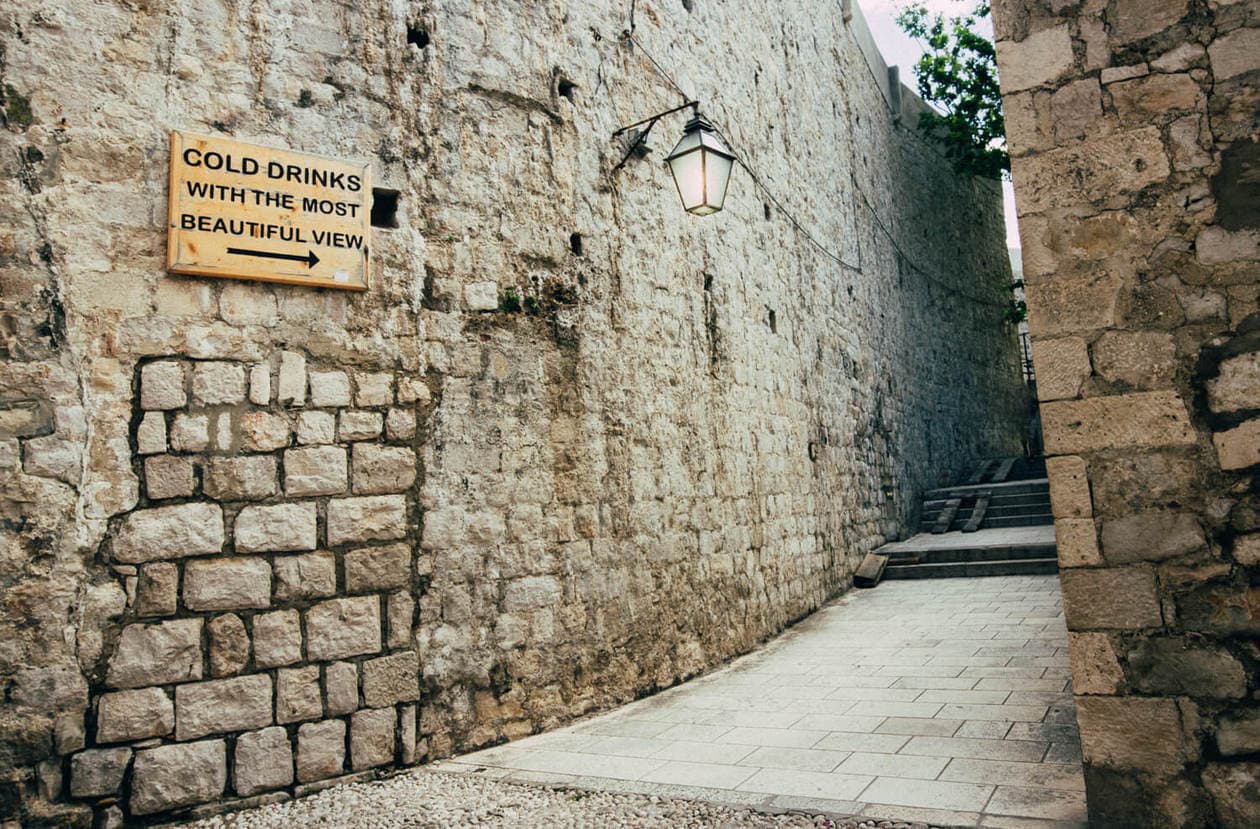 Buza Bar is located near the south side of the Old Town. If you didn't know it was there, you'd easily miss it. The entrance is literally a hole in the wall.. the city wall that is. When you walk through the doorway, you'll find yourself on the edge of a cliff staring into the Adriatic.


Sunsets at Buza Bar
Buza Bar is Dubrovnik's most popular sunset hangout spot, and it gets busy. Because of it's popularity, they actually opened up a second location nearby. If you want a table, make sure to get there before the masses; 2-3 hours before sunset is a good guideline if you're visiting during peak season. If they run out of tables, you can always grab a drink and perch up on the rocks below.


The thing about sunsets at Buza Bar is that you can't actually see the sunset because it's blocked by a portion of the city wall. Alternatively, head over mid-day for sunbathing, swimming and even cliff jumping.

Know Before You Go
Buza Bar is no longer the the secret it used to be, and it's not for everyone. Yes, it gets crowded. The waiters aren't the friendliest. The bar serves only drinks and no food. The drinks are expensive (42HRK / $6.50USD for one beer). Occasionally the beers aren't actually cold as advertised, and they will serve your wine in a plastic cup.

With that said, how often do you find yourself drinking on the side of a cliff directly outside of an ancient city? The experience alone was worth the visit, and I loved it.

Related Post:  Cave Bar Dubrovnik: Drinks, Good Food and a Bangin' View
How to Find Buza Bar
From Gundulic Square, climb up the Jesuit Stairs. From the top, go left toward the wall, and then take a right to keep following the walls. From there you'll see the yellow "cold drinks" sign. Follow it a short distance and until you see a small doorway.
Crijevićeva ul. 9, 20000, Dubrovnik, Croatia

---
PIN IT