My sister is a plant and wildlife scientist in Hawaii which means she is always sneaking tree visits onto our daily itineraries whenever I'm in town. On my most recent trip, we spent the afternoon exploring Foster Botanical Garden, the oldest botanical garden on Oahu featuring more than 10,000 species of rare, ancient and endangered plants from all over the world.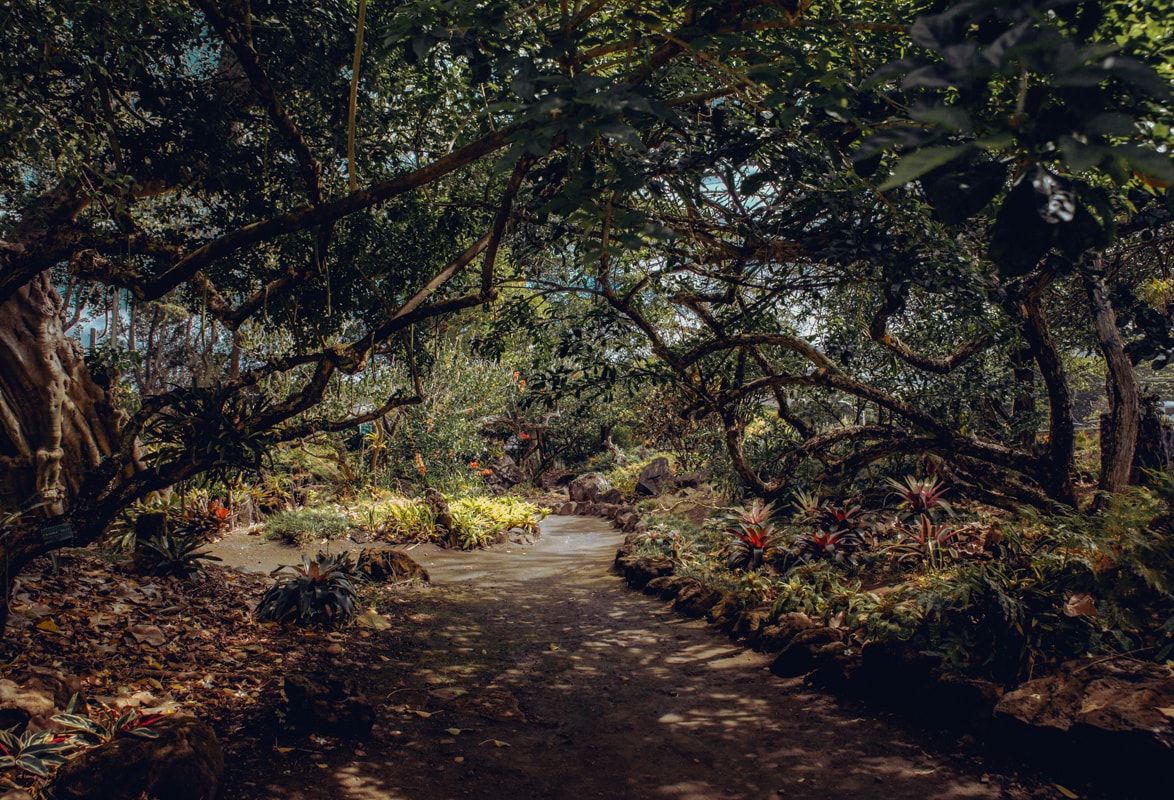 A LITTLE BIT OF HISTORY
In 1853, Hawaii's Queen Kalama leased a section of land (now known as Foster Botanical Garden) to a German physician and botanist named William Hillebrand. Hillebrand lived there for over 20 years, planting a number of exotic and native trees during this time. In fact, many of the trees he planted can still be found growing in the Upper Terrace of the gardens.
When William Hillebrand moved back to Germany in 1884, the land was sold to Mary and Thomas Foster who continued to grow the gardens. Mary Foster eventually donated the land to the city under the condition that the gardens would be kept and forever maintained as a public and tropical park.
---
RELATED POST: THINGS TO DO IN OAHU THAT AREN'T WAIKIKI BEACH
---
VISITING FOSTER BOTANICAL GARDEN
Today, Foster Botanical Garden is one of 5 botanical gardens on Oahu.
You'd never expect to find such a peaceful reprieve in the middle of busy downtown Honolulu, but as soon as you step foot into the gardens, you feel as if you've escaped into another world. The towering trees, tropical flowers and lush landscapes create the perfect setting for an afternoon lunch or a relaxing stroll.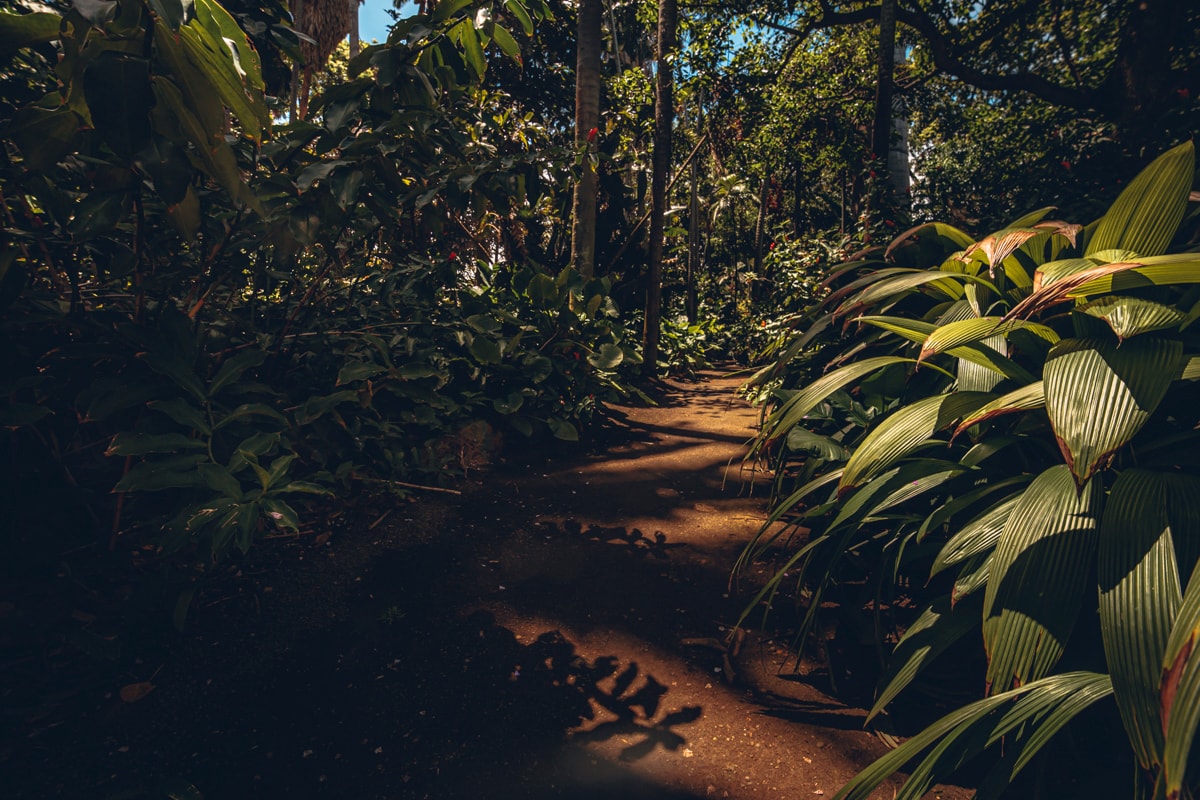 The 13.5 acres of tropical gardens feature some of the oldest trees on the island as well as a world-class collection of orchids, palms, and even some Prehistoric Cycads.
If you don't know what a Prehistoric Cycad is don't worry, I didn't either. You do not have to be a plant aficionado to appreciate this place. Whether you're a staunch nature lover or simply seeking some tropical backdrops for your IG photos, a trip to Foster Botanical Garden is one worth taking.
FOSTER BOTANICAL GARDEN // WHAT TO SEE
Foster Botanical Garden offers a free guided tour everyday at 10:30am but if you miss it, you can take a map of the grounds and easily wander around on your own.
The garden is split up into different sections: Heliconias and Gingers, the Lyon Orchid Garden, a Palm Garden, an Economic Garden, Prehistoric Glen, an open air Butterfly Garden and the Conservatory.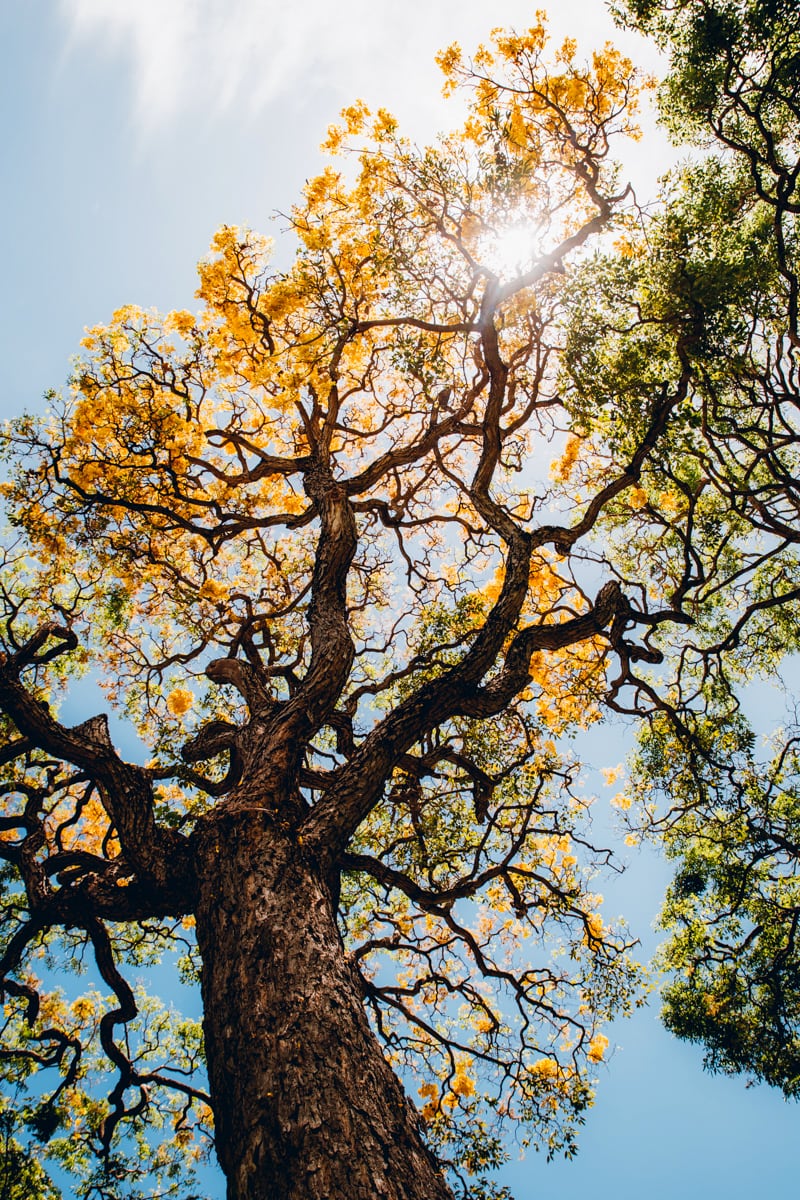 We visited in the middle of the day on a Thursday and were some of the only people walking around.
We started in the Middle Terrace which was filled with palms, aroids, heliconia and ginger plants. From there we followed the trail toward the Upper Terrace and across the spacious Palm Garden.
We accidentally missed the Orchid Garden which is supposed to have a collection of Old and New World species, as well as the Economic Garden which features herbs, spices, coffee and cocoa plants.
The Prehistoric Glen was one of the most interesting sections of our self guided tour. It contains some of earliest known plants to have inhabited the earth.
24 different species of "Exceptional Trees" can be found at Foster Botanical Gardens. Hawaii's Exceptional Tree Act recognizes species of trees that are considered valuable for their beauty while performing crucial ecological functions. Some of the criteria for Exceptional Trees includes historic or cultural value, age, rarity and endemic status.
Some of the Exceptional Trees found at Foster Botanical Garden include the Tropical Almond Tree, Loulu Palm (only found in Hawaii), a Baobab Tree and their incredible Bodhi tree.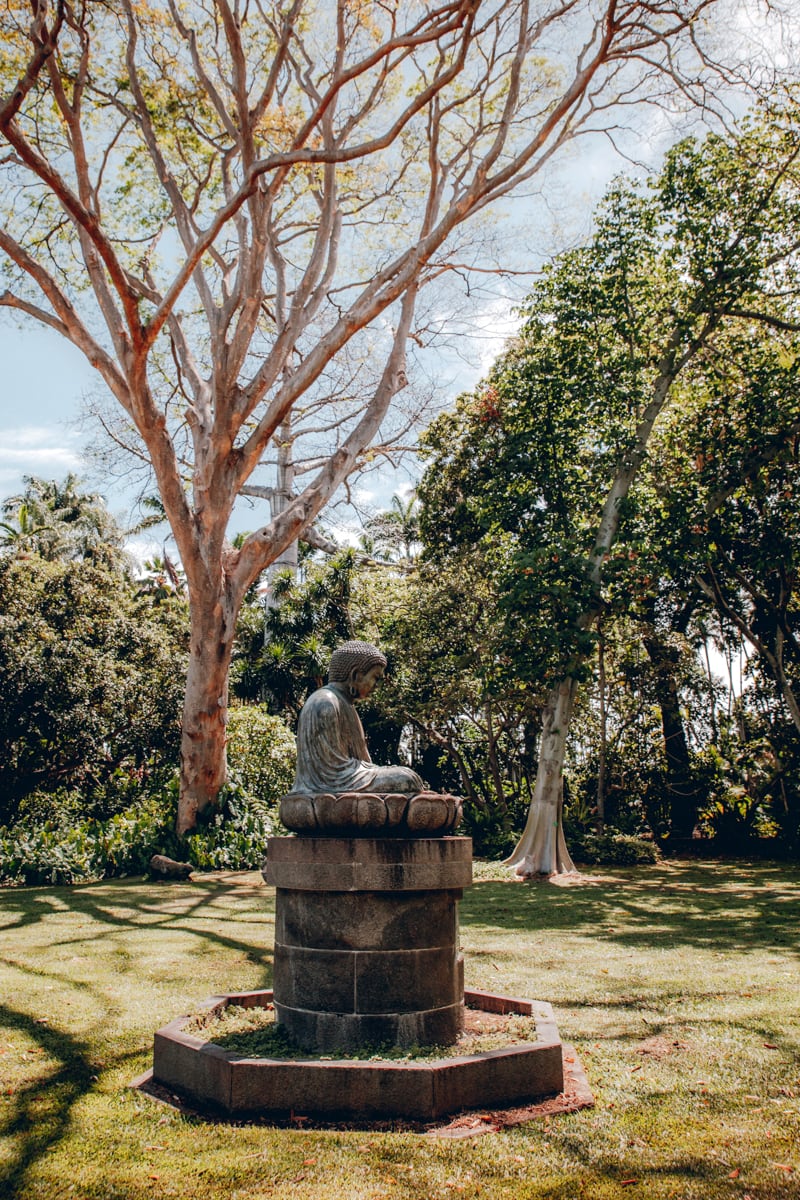 THE CONSERVATORY
My favorite area within the gardens was near the Conservatory.
The Conservatory is an indoor greenhouse featuring an array of tropical flowers and plants. While we missed the Orchid Garden on the other side of the grounds, we saw a few orchids in the Conservatory and they were beautiful.
Next to the Conservatory you'll find an open air butterfly garden. This is also where we saw a few native birds and several neon green Gold Dust Day Geckos.
If you're interested in a great place to view several species of native Hawaiian birds, click my related post below:
---
RELATED POST: HAMAKUA MARSH // SEARCHING FOR NATIVE BIRDS IN OAHU
---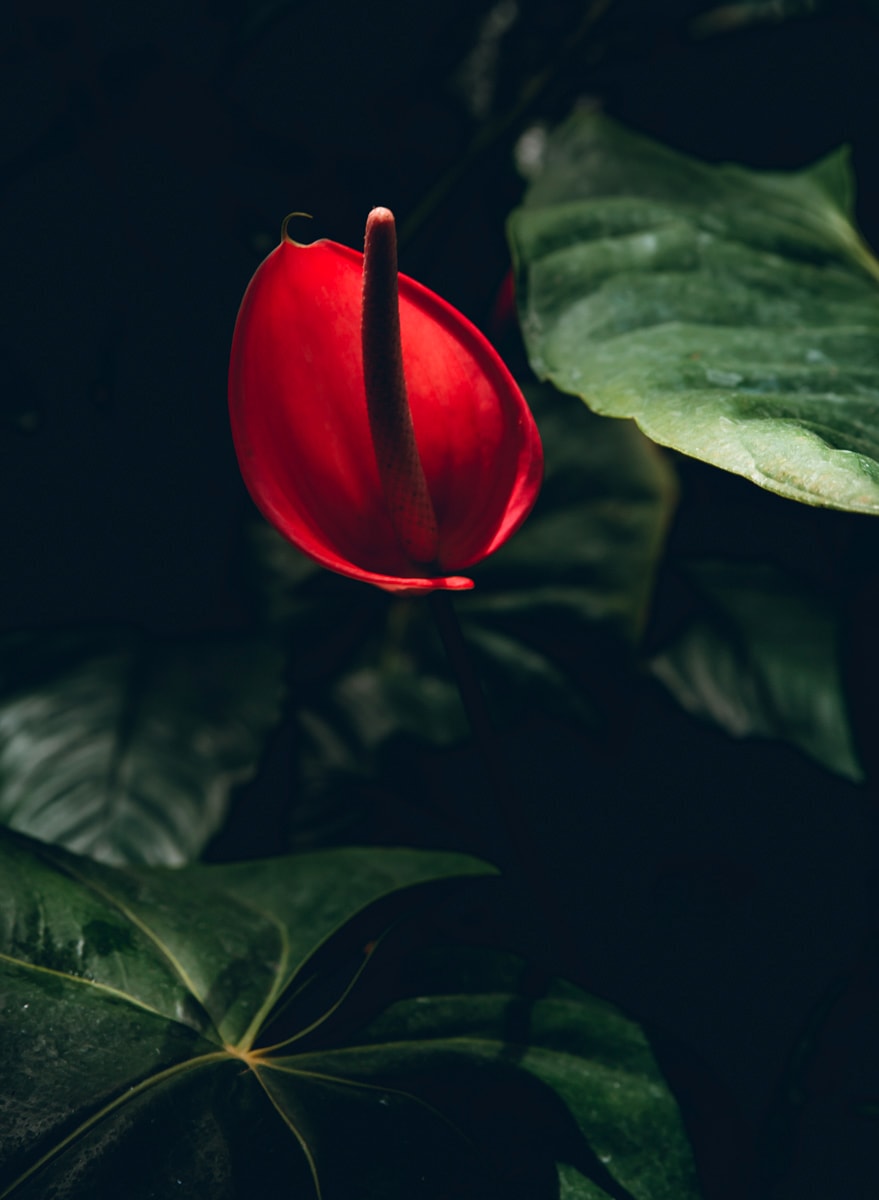 A FEW PLANTS AND TREES TO LOOK FOR
I am by no means an expert on trees, but my sister works in Hawiian forestry and she is filled with interesting facts and information about all of Oahu's plants and wildlife. These were some of the species that I found most fascinating during our visit.
CORPSE FLOWER Foster Botanical Garden is home to a Titan Arum, also known as the Corpse Flower. This unique flower gets its nickname from its off putting scent that some people compare to dead bodies or rotting meat. The Corpse Flower only blooms every 7-10 years but if your timing is impeccable, you might get the chance to see it.
CANNONBALL TREE The Cannonball Tree was one of my favorites in the garden. Flowers on this tree don't have nectar but they are still able to offer a special kind of pollen that gets distributed to bees by the little tentacles located on the flower. When the bee touches down on the perfect landing pad, it gets sandwiches between the flower allowing the plant to dust its head and back with pollen. It's like a little bee fast food drive-thru and I loved it.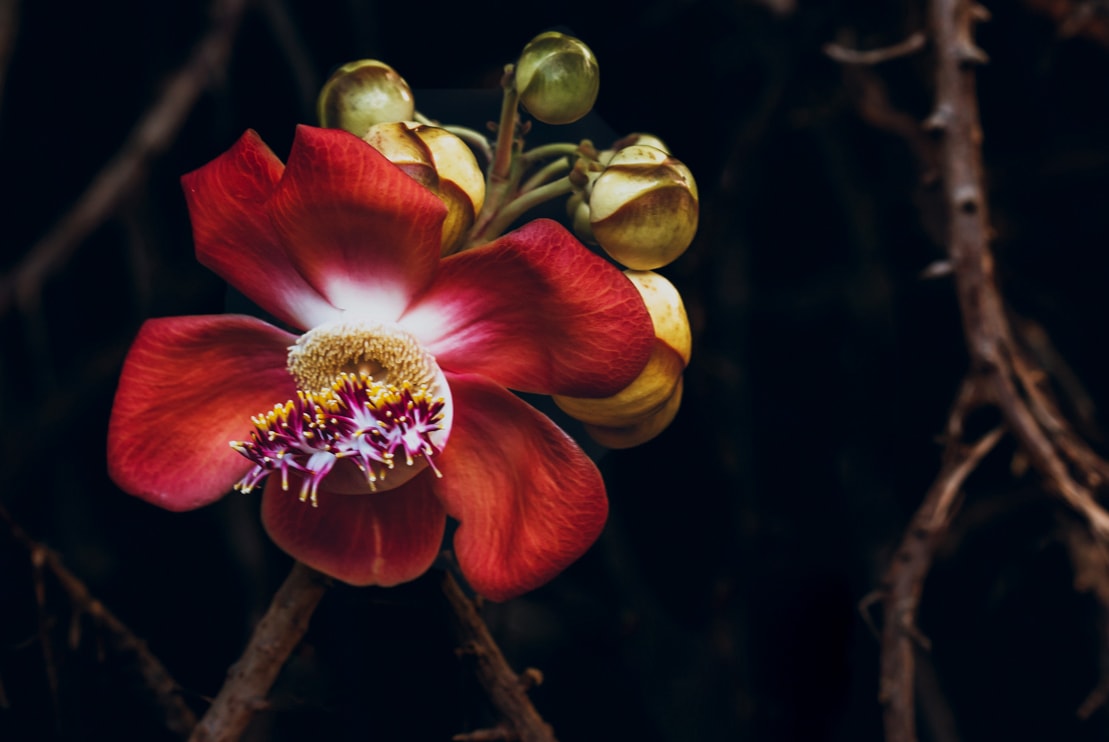 PREHISTORIC CYCADS Cycads are believed to be the world's oldest seed bearing plants, some dating back 250 million years ago (they have outlived the dinosaurs!). Some Cycad species are nearly extinct in nature and a number of others are critically endangered, so it was really cool to be able to see these ancient plants in person.
BODHI TREE People travel from all over the world to view Foster Botanical Garden's famous Bodhi Tree, which is a direct descendant of the exact tree Buddha sat under while reaching enlightenment. Mary Foster, one of the garden's original owners, befriended a Sri Lankan Buddhist monk who gifted her a cutting from the original tree.
RAINBOW EUCALYPTUS Apparently Rainbow Eucalyptus are rather common in some parts of the world but I've never seen one and I was mesmerized by its colorful bark. The bark peels off in strips, revealing new layers below which results in a beautiful pattern of colorful streaks.
---
RELATED POST: LULUMAHU FALLS // A WATERFALL HIKE THROUGH OAHU'S JUNGLE
---
VISITOR INFORMATION
FOSTER BOTANICAL GARDEN ADMISSION PRICES
Adults: $5
Hawaii Residents: $3
Children 6-12: $1
Children under 5: Free
Annual Family Pass: $25
TOURS
The garden offers free guided tours with the price of admission. Tours start at 10:30AM and they recommend that you make reservations (call 808-768-7135).
FOSTER BOTANICAL GARDEN PARKING
Parking is located on site and it is free and unlimited.
HOURS
9AM – 4PM Open daily except for Christmas (December 25th) and New Year's Day (January 1st).
ADDRESS
180 N Vineyard Blvd,
Honolulu, HI 96817
LOOKING FOR MORE OAHU INSPIRATION? CHECK OUT THESE RELATED POSTS
A VISITOR'S GUIDE TO KAKAAKO // HONOLULU'S COOLEST NEIGHBORHOOD
4 OAHU BREWERIES TO CHECK OUT // A SELF GUIDED TOUR IN HONOLULU
LANIKAI PILLBOX HIKE // A SHORT STEEP HIKE WITH AN INCREDIBLE VIEW
15 OFF THE BEATEN PATH PLACES TO EAT IN OAHU
20 PICTURES OF OAHU TO INSPIRE YOUR NEXT VISIT TO HAWAII
23 MUST VISIT VEGAN RESTAURANTS IN OAHU
Have you been to any of Oahu's botanical gardens? Leave a comment below!
---
PIN IT: FOSTER BOTANICAL GARDEN // A BEAUTIFUL TROPICAL GARDEN IN HONOLULU