Kakaako is an up and coming neighborhood located in between Waikiki and downtown Honolulu. It used to be an industrial ghost town filled with auto body shops and old warehouses, until a local gathering of artists breathed new life into the area by using it as their canvas. An influx of public murals sparked a new revival and trendy local businesses started popping up all over. Gawker recently voted Kakaako as "Honolulu's hippest neighborhood," and today it is home to popular events like the monthly food truck gathering Eat the Street.
Keep reading to discover what to do during your visit to Kaka'ako, from local micro breweries and hidden speakeasies, to the most Instagrammable street art Oahu has to offer.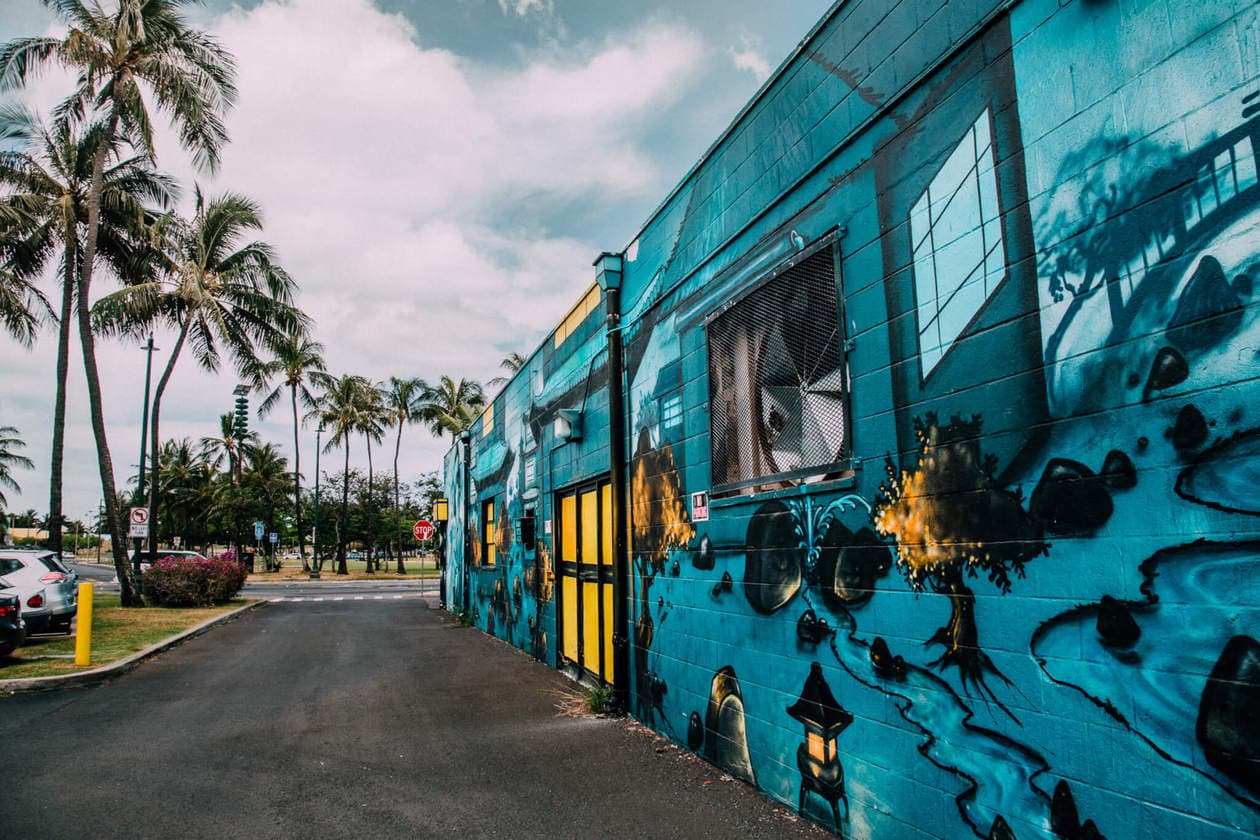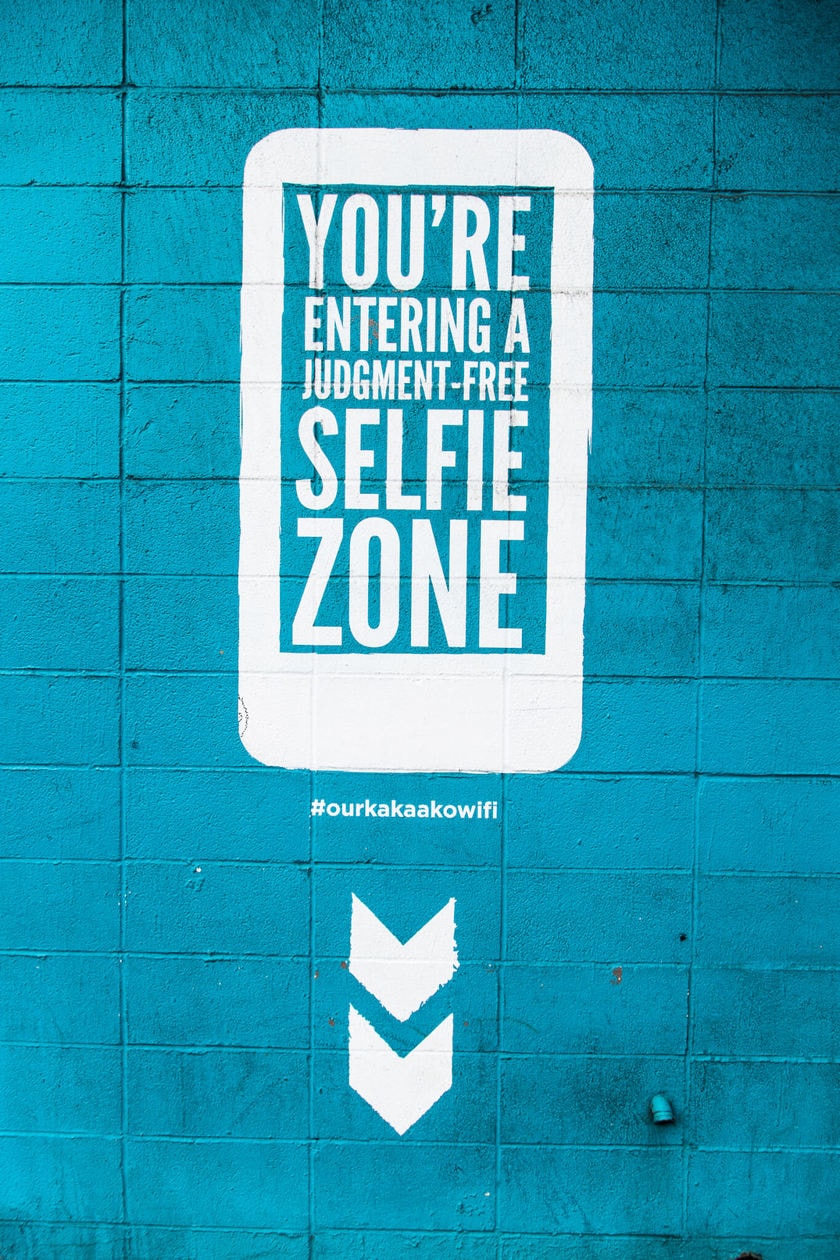 8 THINGS TO DO IN KAKAAKO 
While the murals are the most popular tourist draw, I recommend spending a few hours in the area to really explore the neighborhood as Kakaako is buzzing with interesting things to do.
---
RELATED POST: 10 THINGS TO DO IN OAHU THAT AREN'T WAIKIKI BEACH
---
EXPLORE KAKAAKO MURALS BY POW! WOW!
POW! WOW! is a network of local and global artists whose goal is to engage the community through their creations. Each year for one week, over 100 artists from all over the world come together to create murals and other forms of art in Kakaako (it's expanding to other parts of the world too!).
The murals are definitely the main draw of the neighborhood, and driving through Kakaako exploring its artwork was one of the highlights of our last Oahu trip. It felt like a scavenger hunt with each a new creation awaiting you on every corner.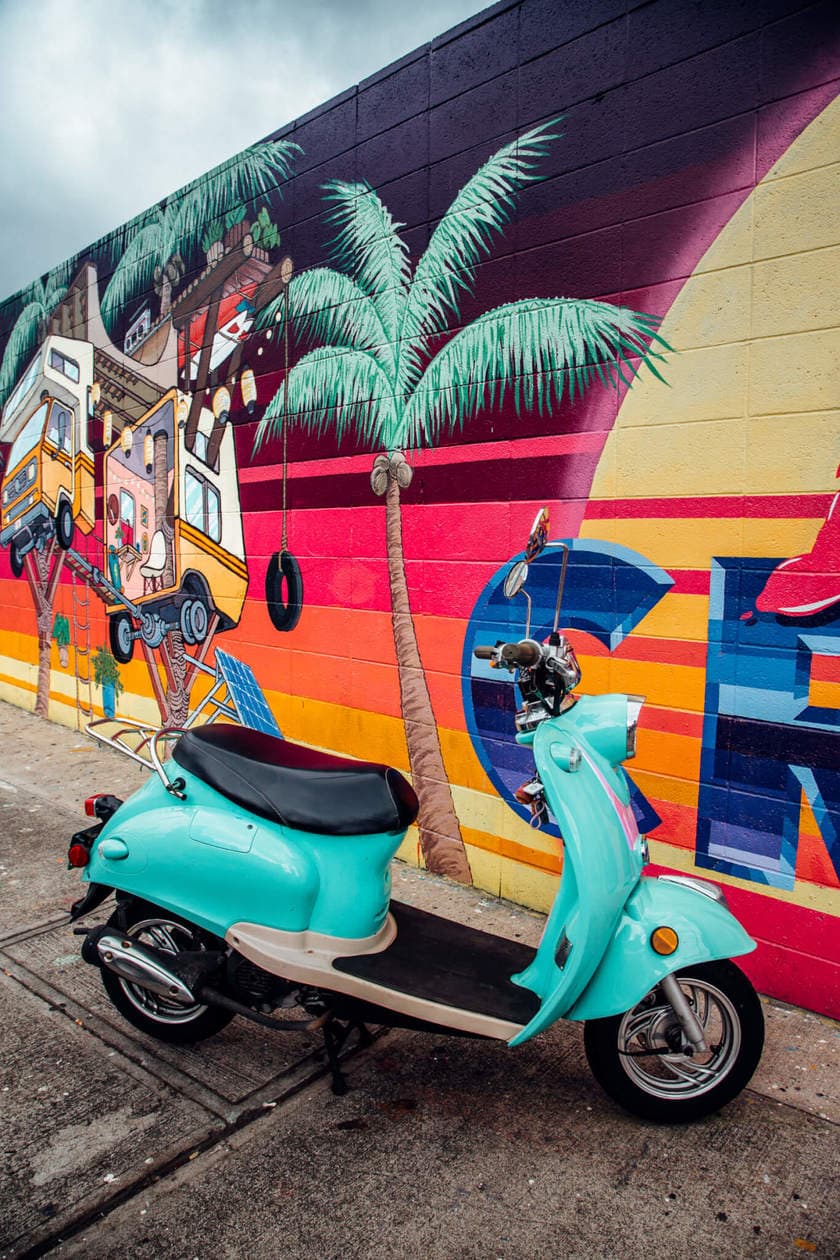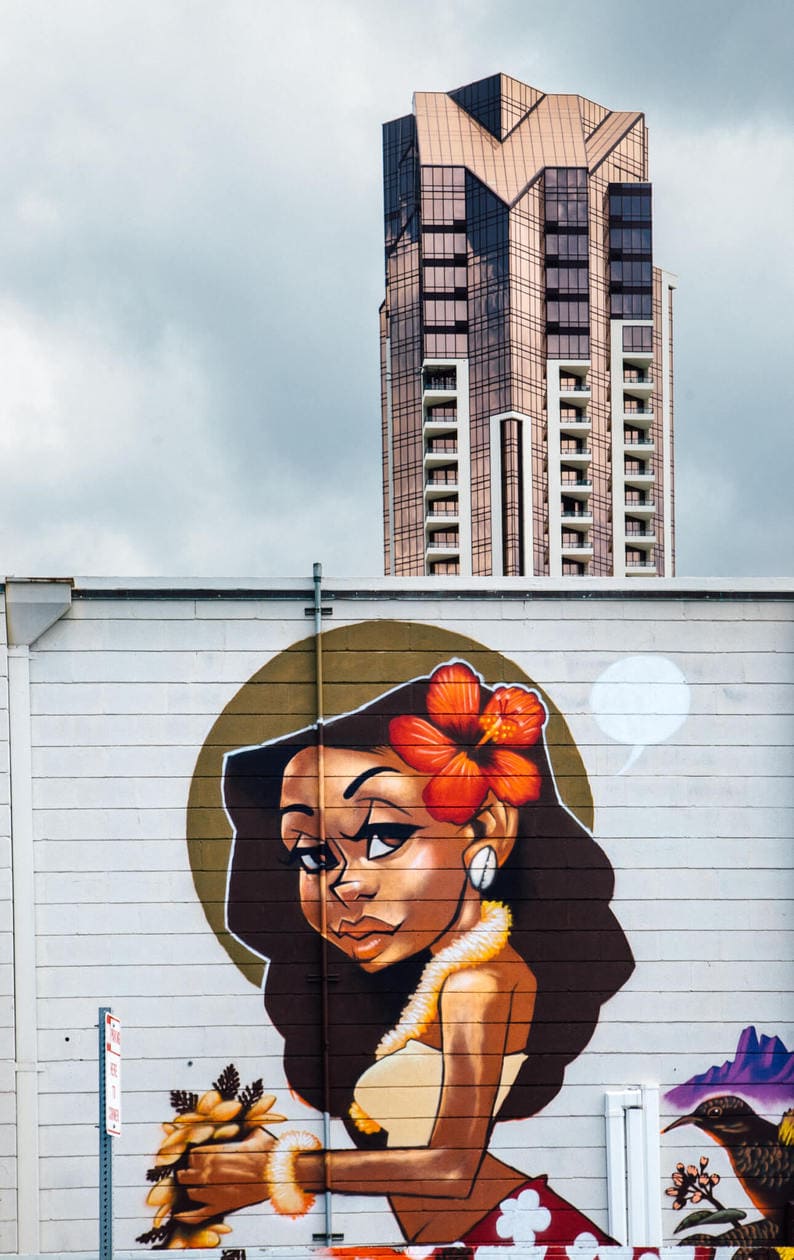 Be sure to check out the updated map on POW! WOW!'s website to find the location of every mural in the neighborhood (many of them change yearly).
Make a list of your top must see pieces, or just wander around like we did and be surprised. To view the map click here. 
HAVE FUN BUT BE CAUTIOUS
Honolulu is ranked as one of the safest cities in America but with that said, Kakaako is located in an industrial district within a large city. As with any metropolitan destination, it's important to be aware of your surroundings and use basic common sense while you explore.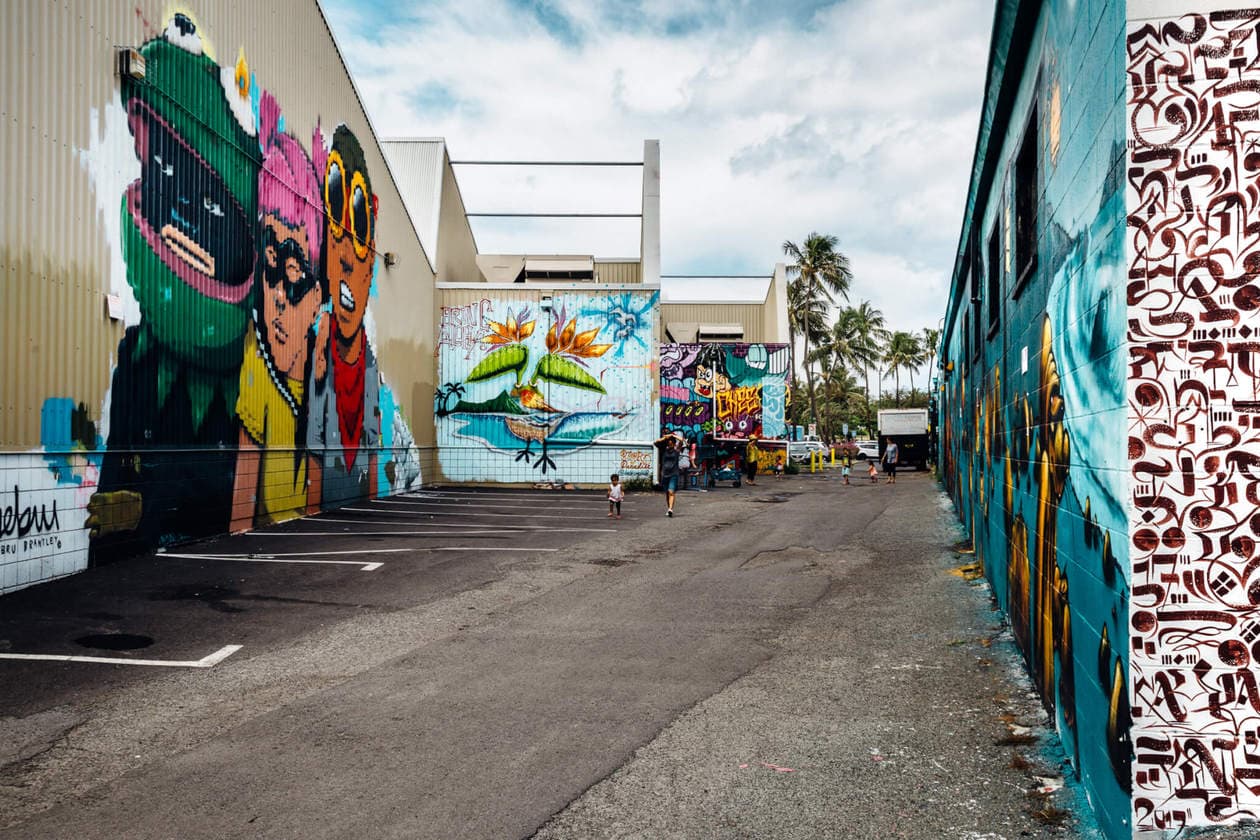 ---
RELATED POST: 20 PICTURES OF OAHU TO INSPIRE YOUR NEXT TRIP TO HAWAII
---
ATTEND A LOCAL EVENT
Kakaako hosts a multitude of weekly and monthly events throughout the year. If you happen to be in town during any of the dates, be sure to check them out.
EAT THE STREET
Eat the Street is a monthly event where over 40 food trucks and 7,000+ people take over Kaka'ako Park. Save your appetite and bring your camera because an Instagram worthy feast awaits.
Location: 747 Ala Moana Blvd Honolulu, HI 96813
Check out their Facebook page for information on the next event.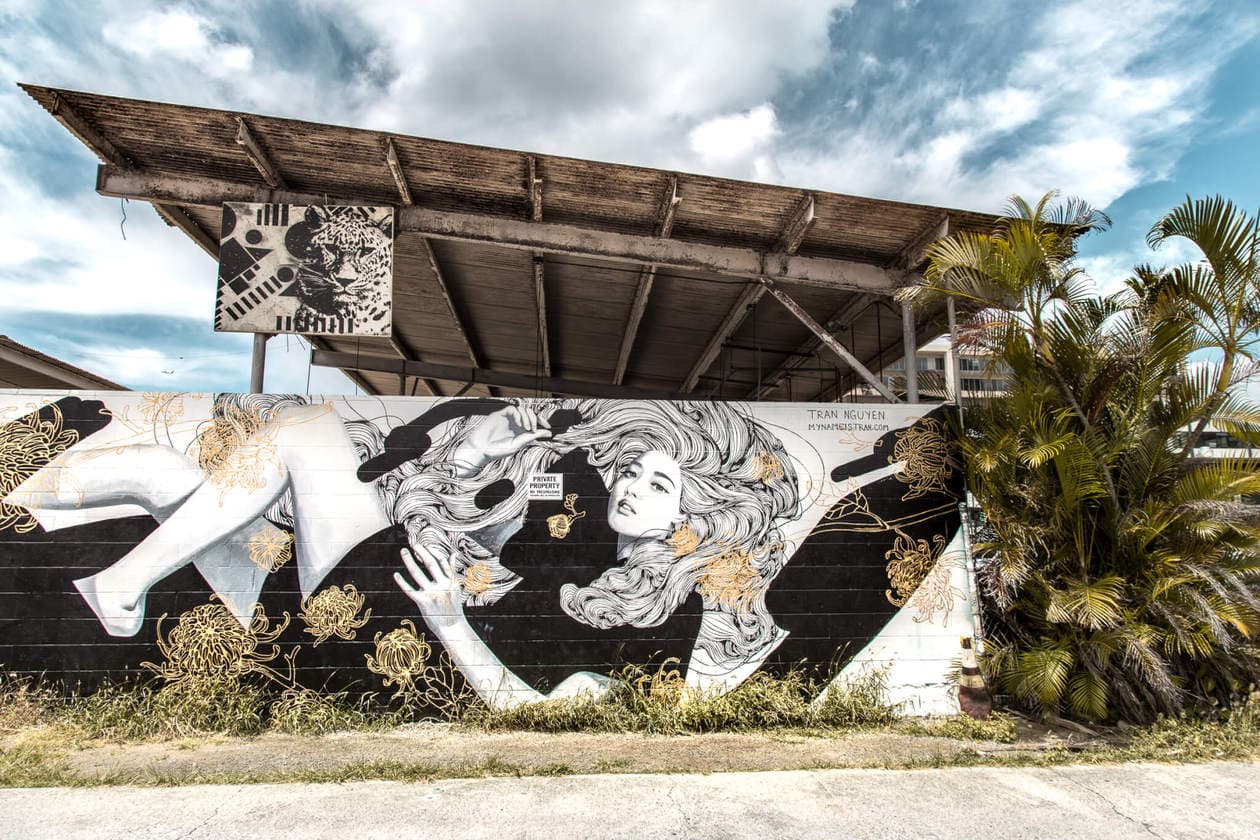 PA'AKAI MARKETPLACE
This monthly market celebrates Native Hawaiian culture and features products by local artists and merchants selling items such as jewelry, art, clothing, beauty products and more. It's a great place to pick up some unique souvenirs while also supporting the community.
Location: SALT -680 Ala Moana Blvd. Honolulu, HI
Keep an eye on SALT'S event page for the next Pa'akai Marketplace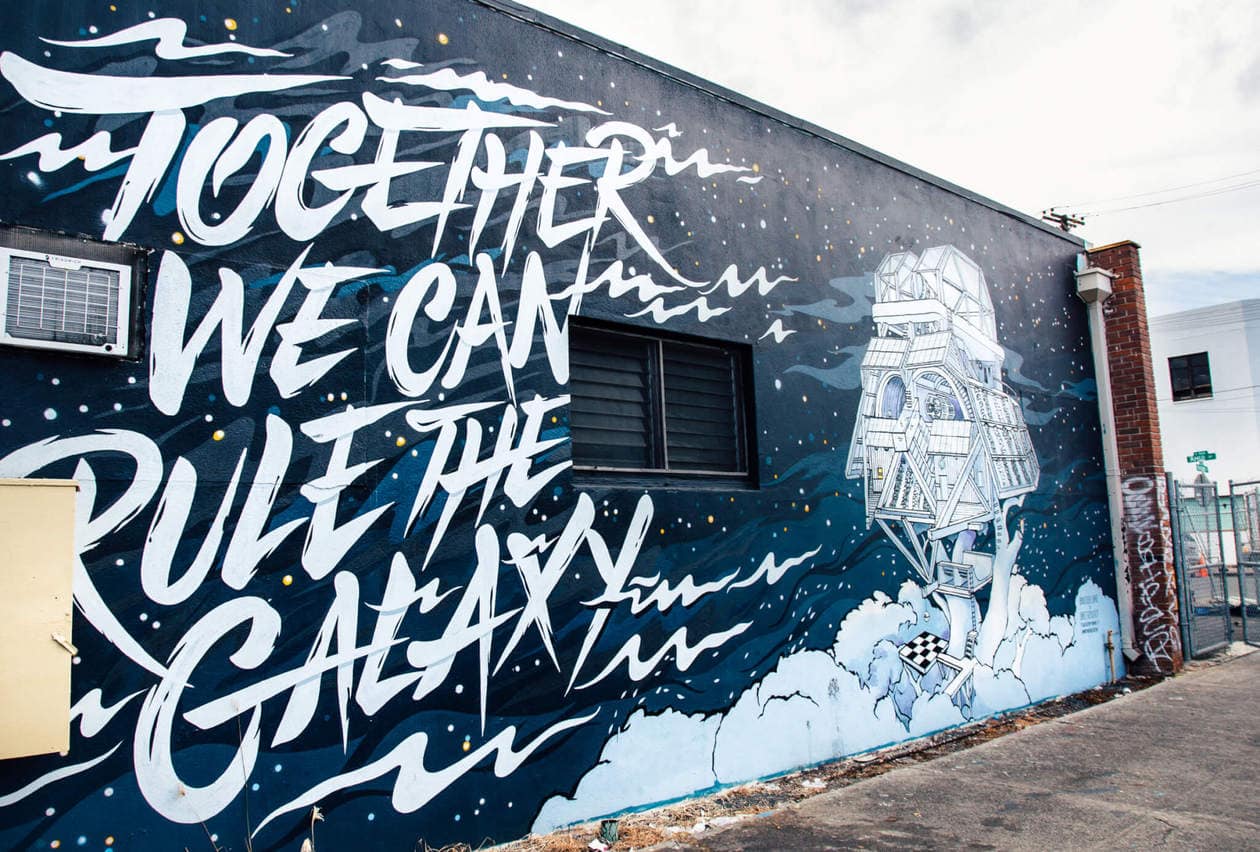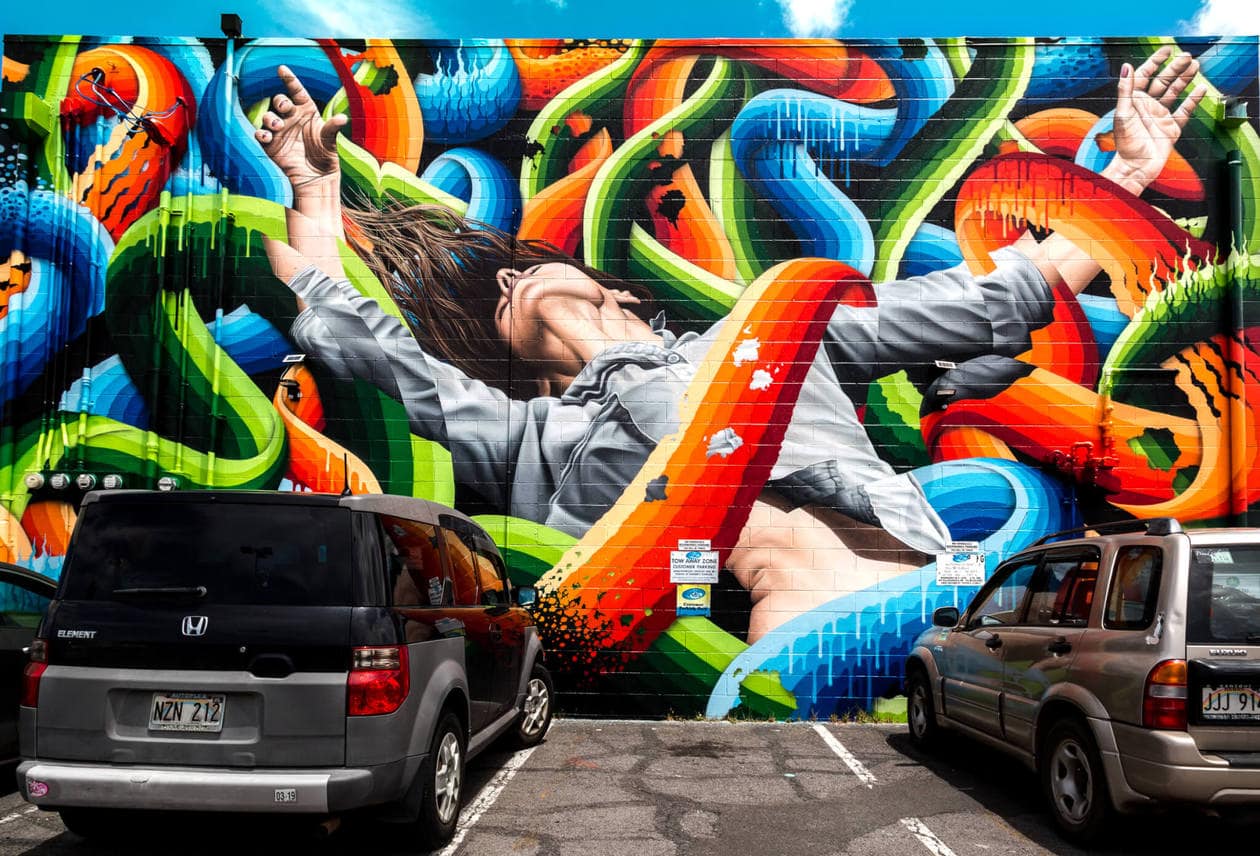 YOGA & BRUNCH
Who doesn't want a live DJ, or harp players serenading you as you enter into downward dog? Once a month, SALT hosts a yoga and brunch event, where they they bring in local vendors, live music and brunch from various restaurants and cafes around town.
Location: 691 Auahi Street Honolulu, HI 96813
Keep an eye on SALT'S event page for the next date.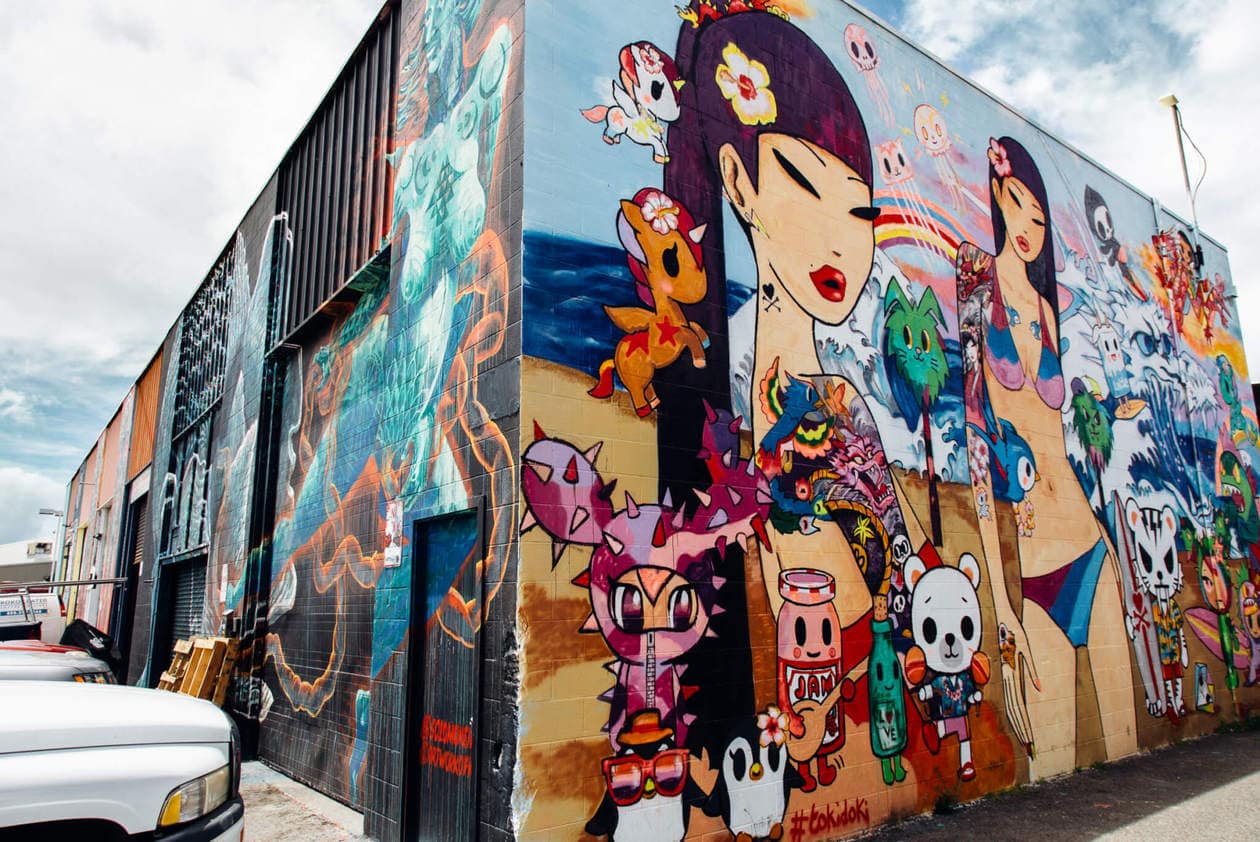 KAKAAKO FARMER'S MARKET
The Kakaako Farmer's market takes place every Saturday from 8am-12pm. Browse locally grown fruits and veggies, or grab a snack at one of the booths in market aisle. Farmer's markets are one my favorite ways to experience the local side of a destination.
Location: Ward Warehouse // Auahi Street, between Ward & Kamakee, Honolulu HI
GO ON A SELF GUIDED MICRO BREWERY WALKING TOUR
Beer has been a part of Kakaako's history for over a century. It was once home to to the Honolulu Brewing and Malting Co, a pre-Prohibition brewery which opened it's doors in 1900, and launched the Primo lager brand in 1901.
Today, local breweries are popping up all over and reviving the neighborhood's roots. If you want to do your own beer tour, most of the breweries are within a 5 minute walk from each other.
---
RELATED POST: 4 OAHU BREWERIES YOU HAVE TO VISIT // A SELF GUIDED WALKING TOUR
---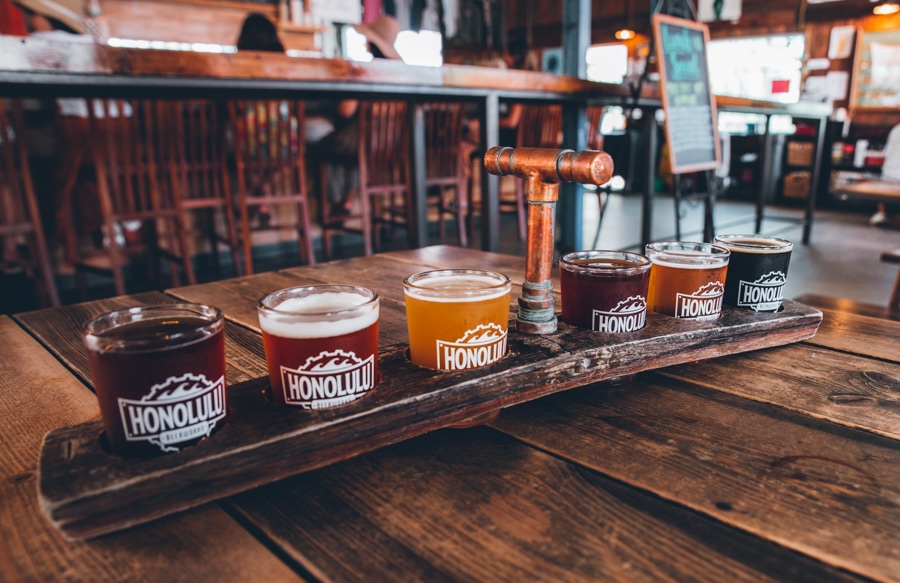 HONOLULU BEERWORKS
Honolulu Beerworks is a craft microbrewery in the heart of Kakaako. It is located in an open air warehouse, with a small beer garden in the back. Check out their coconut hefeweizen or their honey citrus saison. Honolulu Beerworks has also been said to make some of the best IPA's on the island.
Location: 28 Cooke St. Honolulu, HI 96813
HOME OF THE BRAVE BREWING
Home of the Brave Brewing is a small brewing company located in Kakaako's popular Brewseum, a bar that doubles as a WWII museum (see the next section for more information!). Their signature Pilot Pale Ale and 442 Go for Broke are brewed in the former Home of the Brave Victory Club below the Brewseum's 1940's style speakeasy.
Location: 901 Waimanu Street, Honolulu HI 96814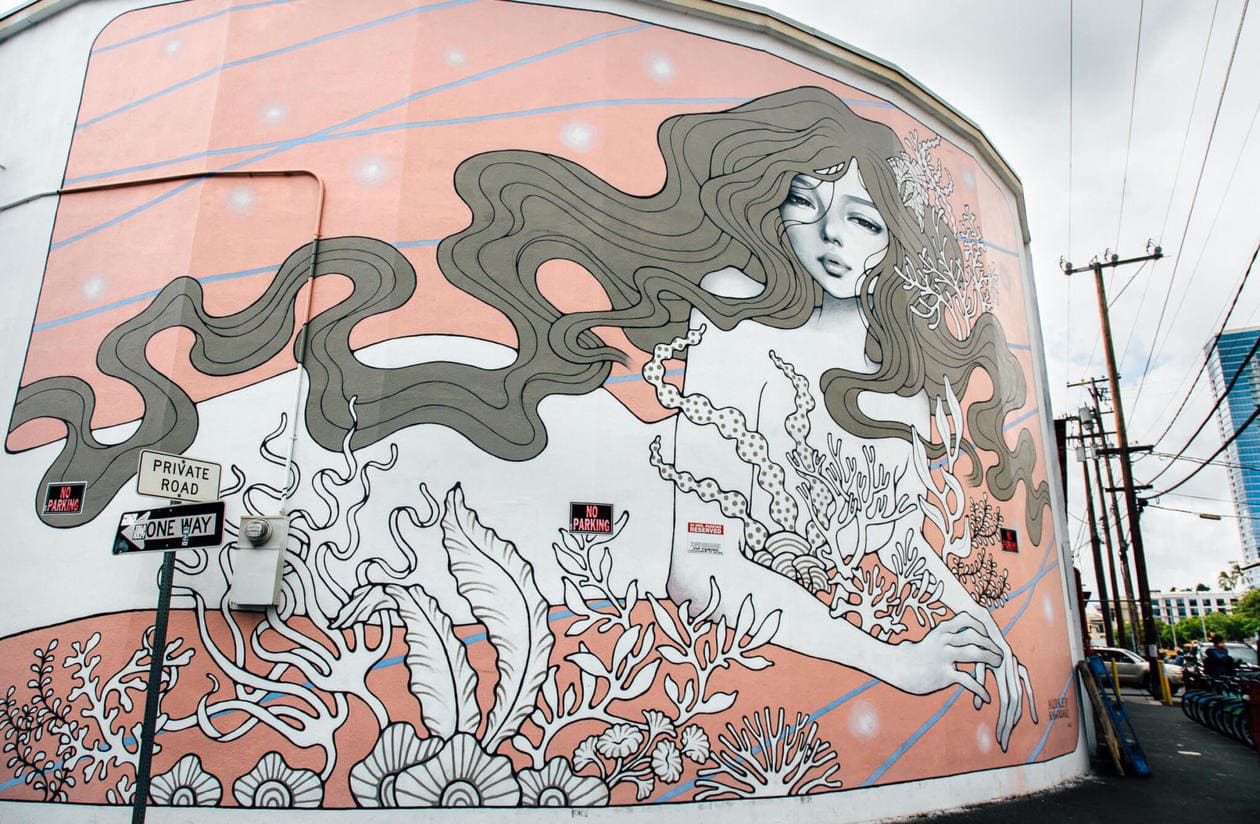 WAIKIKI BREWING
Waikiki Brewing recently opened their 2nd location in Kakaako, on Queen Street. All of their beer is brewed on site in their 20 barrel brewhouse. Stop in for happy hour everyday from 3pm-5pm for $5 pints and $12 growlers. Also, be sure to try their Blackstrap Molasses Porter, which won the silver medal at the 2017 Great American Beer Festival.
Location: 831 Queen Street, Honolulu, HI 96813
ALOHA BEER COMPANY
Aloha Beer Company is a locally owned and operated brewery handcrafting their rotating selection of beers on site. They also offer a light menu of small plates, charcuterie boards and sandwiches, designed to pair with their beers.
Location: 700 Queen St, Honolulu, HI 96813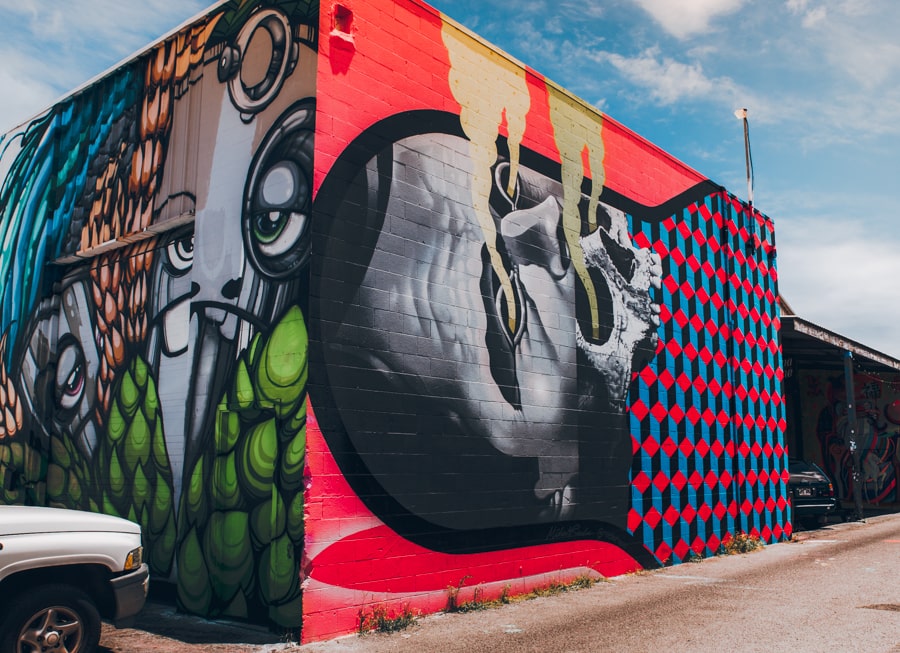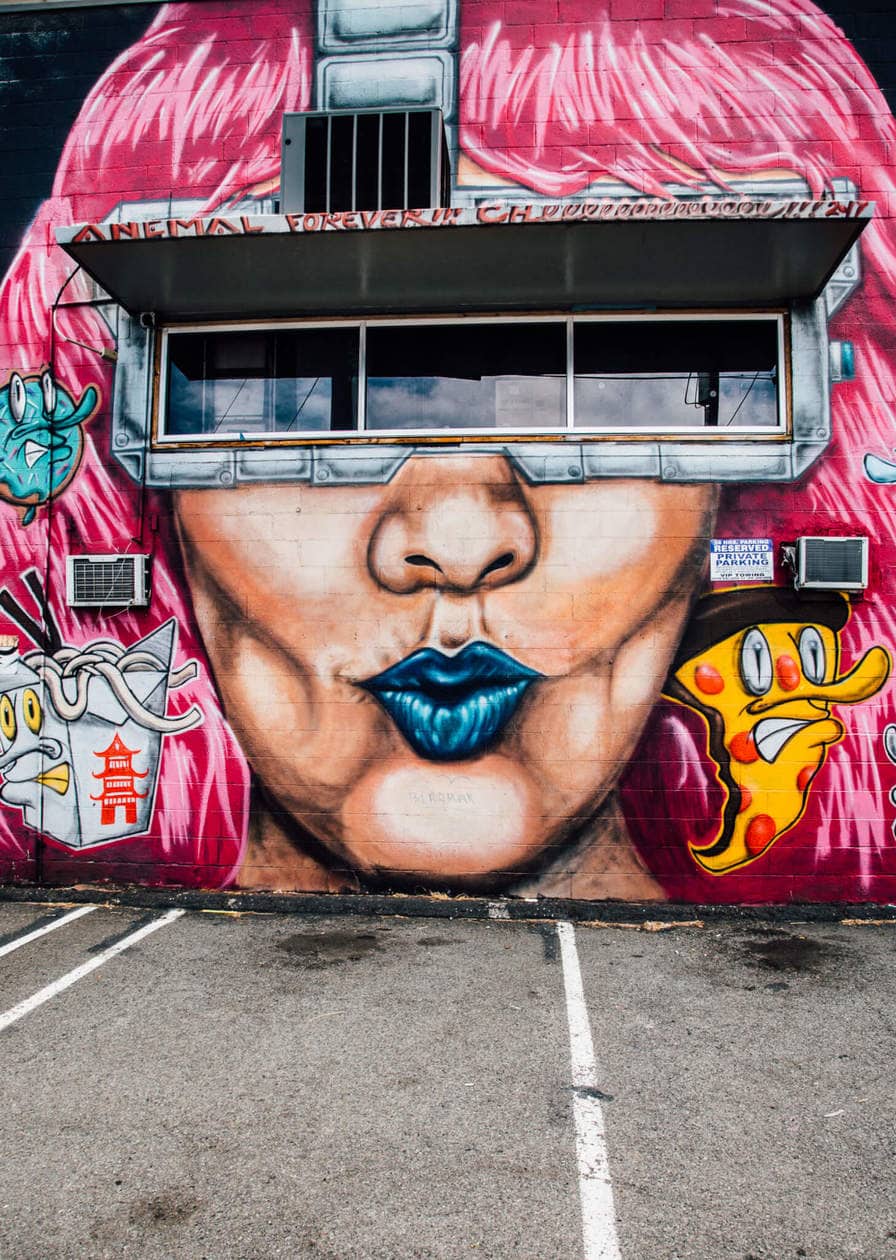 VISIT THE BREWSEUM
The Brewseum is by far one of the most unique bars I've ever stepped foot inside. The brewery doubles as a WWII museum .. with a hidden speakeasy upstairs. Have I captured your attention?
Sip on flights served out of airplane propellers as model bomber planes fly overheard. Military memorabilia and artifacts line the walls, and they even have an old 1945 Army jeep that you can take pictures in. The Brewseum hosts weekly game nights so stop in for trivia or Battleship Bingo.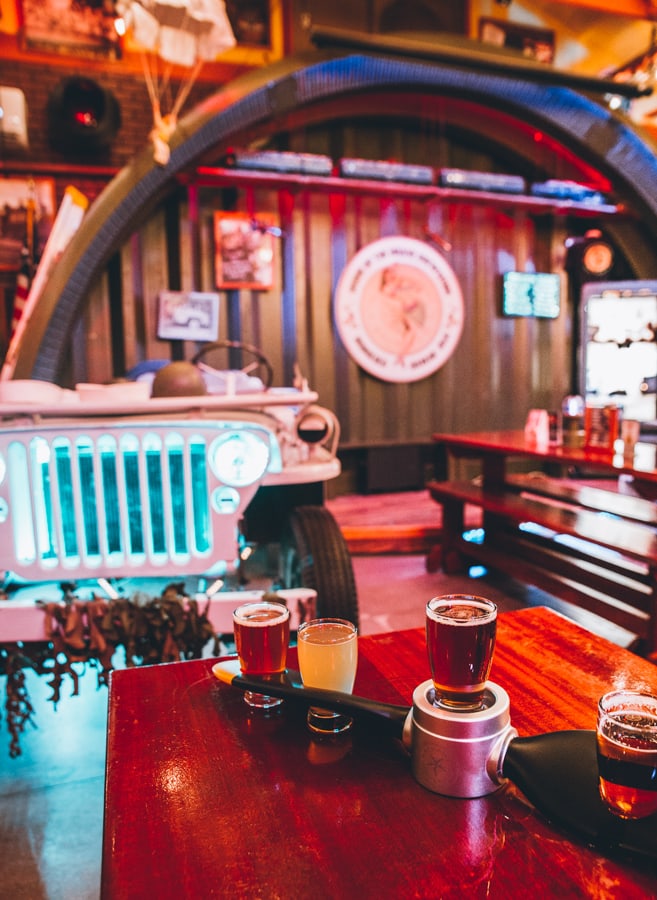 Also be sure to go upstairs and check out their 1940's tiki style speakeasy, the Wiki Waki Woo (ask the owners for the special knock password to gain entry), where you can taste the Brewseum's signature beers from their Home of the Brave Brewing Company.
For upcoming events and more information click here.
Location: 901 Waimanu Street, Honolulu HI 96814
EXPLORE 'SALT AT OUR KAKAAO'
SALT is Kakaako's main hub. Taking up 85,000 square feet of retail space (an entire city block!), it is a local gathering place filled with restaurants, shops and local businesses.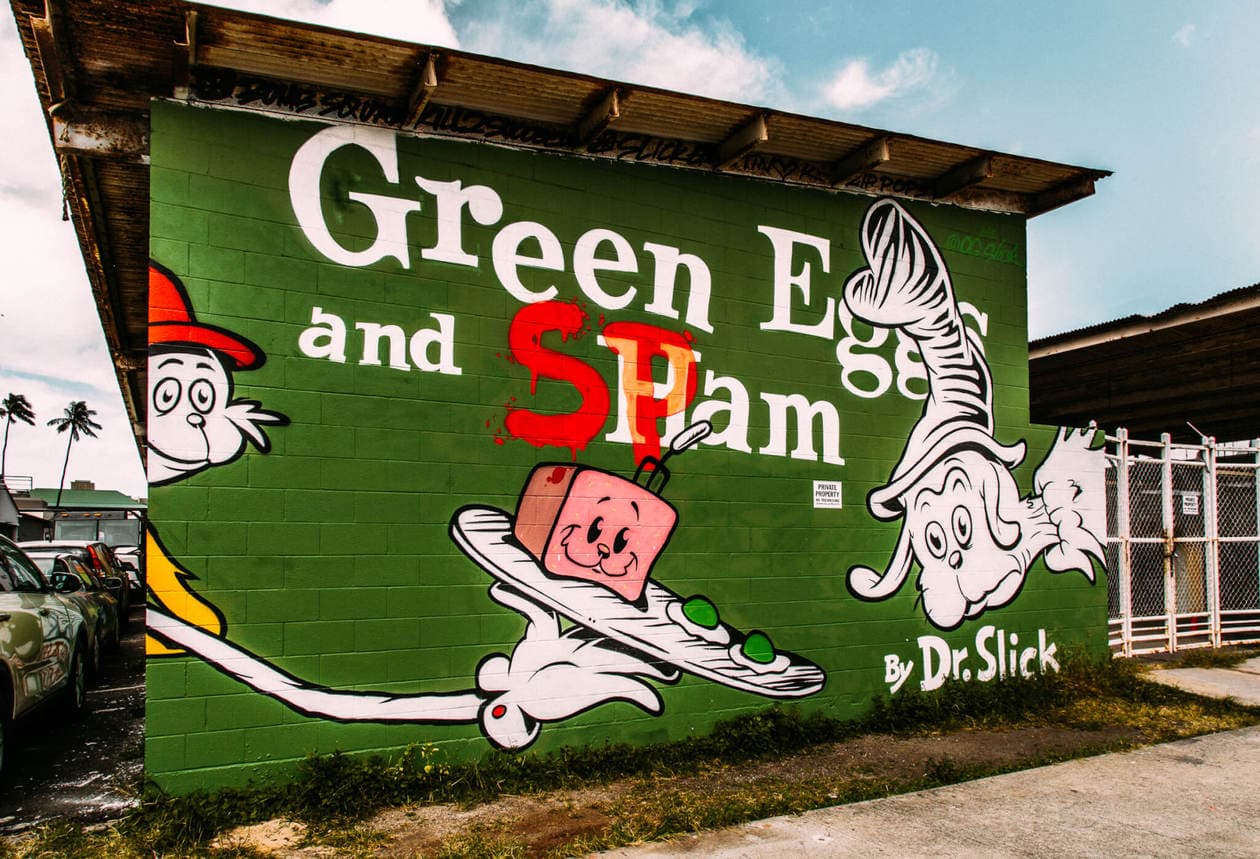 SALT was the recipient of the 2018 SCOTY award for Shopping Center of the Year, presented by the International Council of Shopping Centers. It's a lively place to walk around, grab a bite to eat, shop and even take a fitness class.
Grab a cold brew and some avocado toast at Arvo or a fresh squeezed juice at Lanikai Juice, and browse the many boutique shops for vintage records, sustainable clothing and local souvenirs.
To view all the restaurant and merchants operating within SALT, click here to visit their website. 
Location: 691 Auahi Street. Honolulu, HI 96813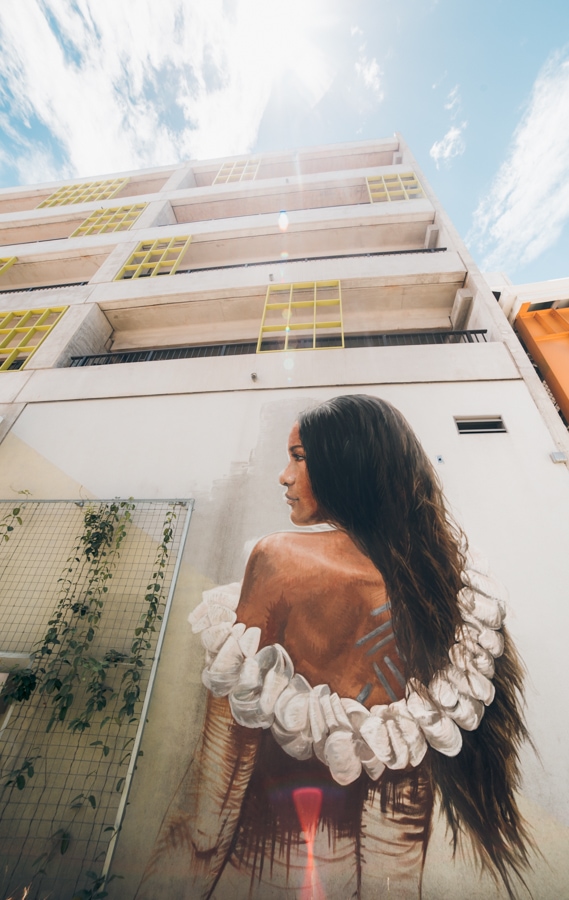 SHOP FOR UNIQUE SOUVENIRS
There are a handful of interesting boutiques in the neighborhood, many of them residing within the SALT complex. From ukulele stores to specialty surf shops, you can find a selection of uniquely curated, one of a kind souvenirs and (non-tacky hah) gifts to remember your Hawaii trip by.
PAIKO
Paiko is a bright and airy botanical boutique and flower shop located at SALT.
You can purchase planters, books, handmade soaps, stationary and other unique gifts, or visit their DIY station to create your own air-plant terrariums.
If you're looking for some unique things to do on Oahu, Paiko also offers workshops and classes throughout the month with topics such as creating flower crowns, making your own massage oils, bonsai workshops and succulent gardens.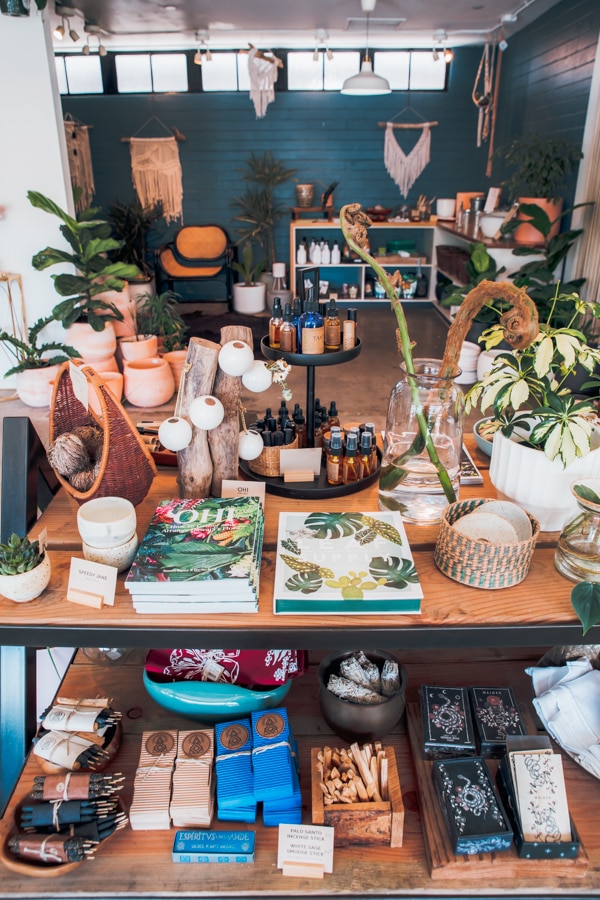 HERE. 
Here. is a women owned, sustainable, small batch production boutique that supports independent labels from around the world. You'll be guaranteed to find one of kind souvenirs at Here. Their selection of products is extremely unique as the shop owners aim to seek out up and coming, not very well known brands. You can find women's clothing as well as a jewelry, fragrances, candles, handmade bags and even artisanal dish wear.
KAHALA 
If you have to wear an Aloha shirt, at least make it a cool one. Kahala is the creator of the original Aloha Shirt and they offer one of a kind prints, created locally in Honolulu.
GRAB LUNCH AT ONE OF KAKAAKO'S RESTAURANTS & STREET FOOD CARTS
From coffee shops to BBQ, Japanese bento and tacos, there are tons of food options to choose from within Kakaako. These are a few of our favorite options (that we've tried so far):
---
RELATED POST: 15 OFF THE BEATEN PATH PLACES TO EAT IN OAHU 
THYDA'S TACOS
If you're craving Mexican food, Thydas Tacos is one of the most authentic options on the island. This small food truck located on Queen St. in Kakaako serves up LA street style tacos. They have an impressive 5 star average on Yelp and their menu items range from burritos and mulitas, to quesadillas and tacos. They also have jackfruit options if you're a vegetarian.
If you're in Oahu on a Tuesday, be sure to stop by for their $2 taco Tuesday specials.
Thyda and her team are so friendly, you feel as if you're dining with friends. There are a few benches to sit on but the experience is more of a grab and go type of establishment.
Location: 1034 Queen St Honolulu, Hi 96814
Monday: 11am-2pm | Tues-Thursday: 11am-5pm | Friday: 11am-3pm
CHUBBIES BURGERS
Chubbies is a popular food truck serving 50's style hamburgers, aka smash burgers. Their beef is island raised and grass fed – free of hormones and antibiotics.
Chubbies has a small menu of only 3 burgers (no vegetarian option yet, unfortunately) and 3 styles of crinkle cut fries, but they've amassed a cult-like fan base. Check them out on Auahi St. next to Starbucks and Jamba Juice.
Location: 960 Auahi st, Honolulu HI 96814
Tuesday-Sunday: 11am-3pm and 5pm-9pm | Closed Mondays
TAKO'AKO
Located within the SALT complex, Taco'ako is a small restaurant serving classic Mexican menu options, with a bit of a hipster twist. Tacos are dressed with gourmet ingredients such as papaya vinaigrette, Korean mayo and wasabi chipotle cream. They also offer includes burritos, tostadas and elote.
My mom and I split the avocado taco which was made with tempura battered avocado, black beans, slaw and wasabi & chipotle cream. It was delicious and enough food to hold us over for a mid-day snack. Also be sure to slather on some of their house hot sauces (so good!).
Tako'ako is great place to stop in for lunch if you're exploring the area.
Location: 675 Auahi St #129, Honolulu, HI 96813
Monday – Saturday: 12PM-3PM | Closed Sundays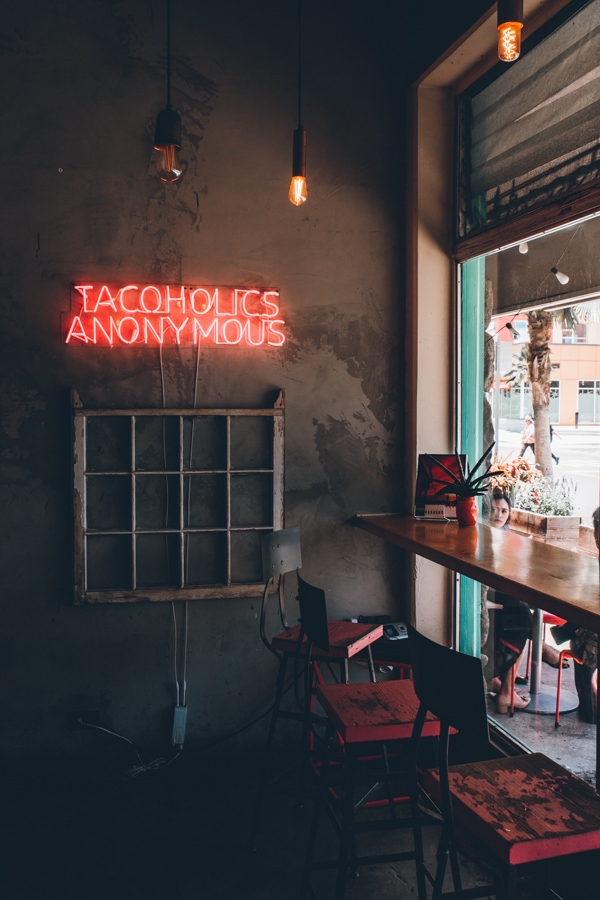 ---
RELATED POST: LANIKAI PILLBOX HIKE // A SHORT HIKE WITH INCREDIBLE VIEWS ON OAHU
---
SING KARAOKE AT CAFE DUCK BUTT 
Cafe Duck Butt is a local Korean bar where you can sing karaoke, watch K-pop music videos, eat Korean food and drink soju out of a watermelon. It has a bit of a hole in the wall, dive bar vibe but you can't beat the $1/song karaoke. They also have happy hour from 5pm-8pm.
My sister (who lives down the street) recommends the kimchee pancakes and the soju.
The bar is located in a nondescript warehouse and can be a little hard to find. It's located on Kawaiahao St. off of Ward Ave.
Location: 901 Kawaiahao St Honolulu, HI 96814
---
RELATED POST: THIS BERLIN BAR IS LOCATED ON THE ROOF OF A SHOPPING MALL
---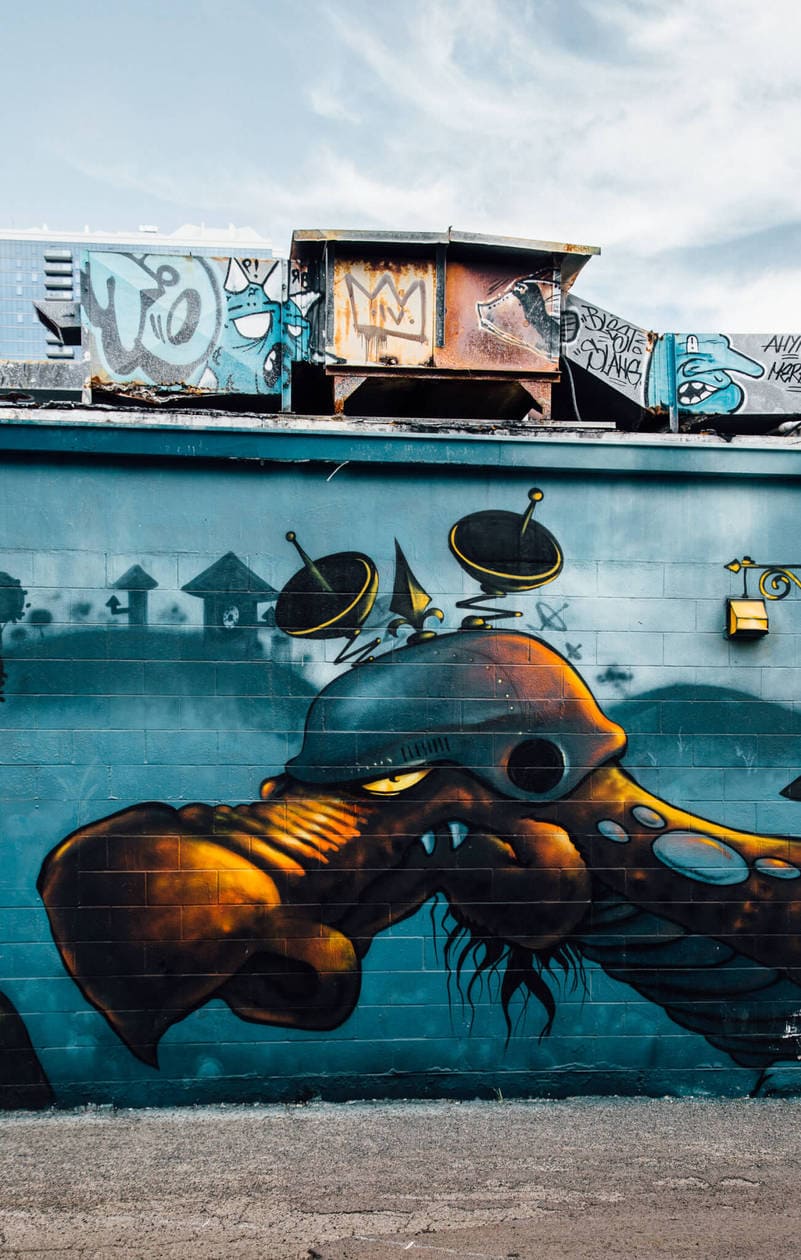 Did I miss anything? Where are your favorite places to go in Kakaako?
---
PIN IT // A GUIDE TO KAKAAKO: HONOLULU'S COOLEST NEIGHBORHOOD