Hawaii's rich soil and year-round tropical climate allows for the perfect environment to grow fresh, colorful and exotic ingredients for plant based dishes. During recent years, the number of Oahu vegan restaurants has expanded quickly. A year and a half ago there were only 13 strictly vegan restaurants and today the island is now pushing 20.
My sister Shannon has been living in Hawaii for over 6 years. During her time on Oahu, she has actively sought out the best plant based food options across the island.
From locally sourced banana soft serve, to authentic Hawaiian dishes and the best vegan sushi I've ever had, this is a list of 16 Oahu vegan restaurants, plus 7 must try vegan and vegetarian friendly options.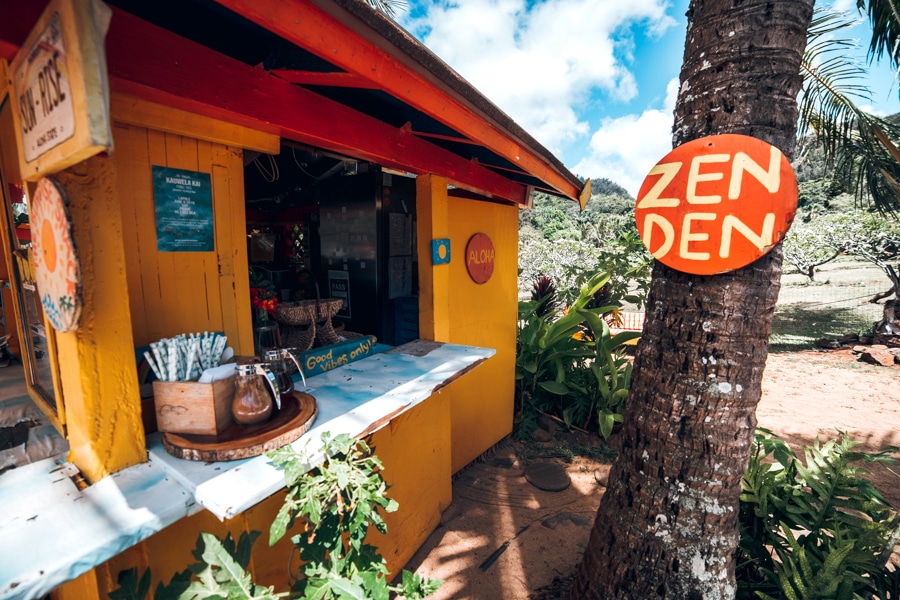 ---
RELATED POST: I recently wrote a post covering 15 off the beaten path places to eat in Oahu. While the restaurants are not strictly plant based, most of them do have vegan or vegetarian friendly options. If you are looking for more recommendations, be sure to check it out!
15 OFF THE BEATEN PATH PLACES TO EAT IN OAHU
---
OAHU VEGAN & VEGETARIAN INSTAGRAMS TO STALK
Looking for some food inspo to help plan your trip? Check out these Oahu plant based Instagram accounts.
 @GOODFOODMOVEMENT posts about vegan and vegetarian food related events, as well as restaurant recommendations and dishes to try while you're on Oahu.
Also check out @OAHUVEG for some plant based inspiration. It's a small account run by a local and she posts really pretty food photos from all of the Oahu vegan restaurants around the island.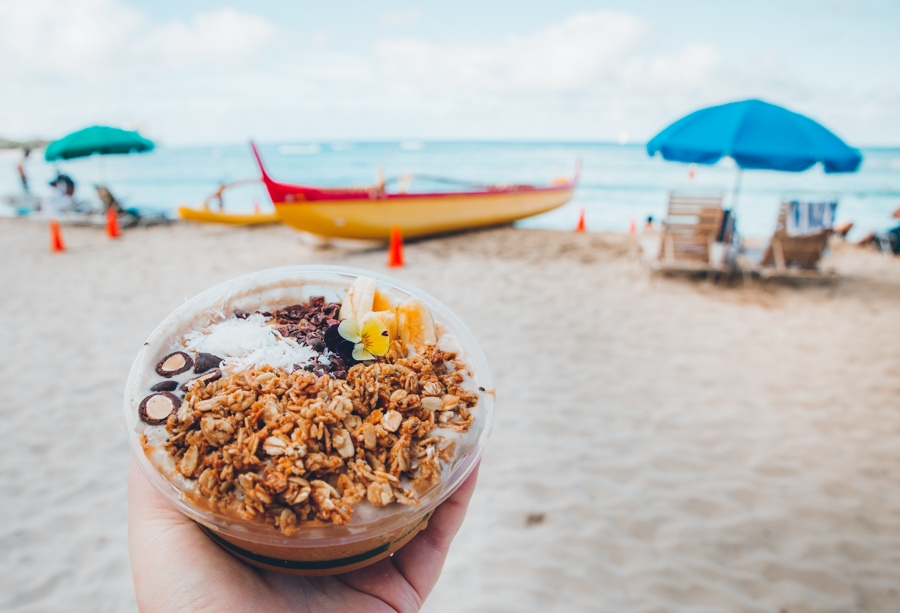 16 MUST VISIT OAHU VEGAN RESTAURANTS
TANE VEGAN IZAKAYA // THE BEST VEGAN SUSHI ON OAHU
Tane Vegan Izakaya is a newer Oahu vegan restaurant serving a fully plant-based menu which features Japanese dishes such as ramen and sushi.
While my sister has been a vegetarian her whole life, I still eat meat occasionally and sushi is one of the dishes that I have had a hard time giving up. Eating at Tane actually changed my outlook on plant based rolls. It is by far the best vegan sushi I've ever tried, and not once during our meal did I wish there was fish on the menu. 
Chef Kin Lui applies classic Japanese culinary techniques to vegetables, fruit, mushrooms, and flowers to create the most amazing dishes and rolls. In addition to being vegan, most of the menu is also gluten free. 
The Baker Roll was our favorite out of all the plates we tried. It was made with tempura asparagus, shredded gobo, marinated eggplant, sweet potato crips and torched gochujang aioli. The Point Reyes Roll was also incredible, made with marinated eryngii mushrooms, avocado, spicy shredded tofu, pickled jalapeno, pickled pineapple, sweet shoyu and habenero sauce.
Tane Vegan Izakaya is a great option for those celebrating a special occasion or having a date night on the island. It is on the more upscale side (but not overly fancy). We stopped in after snorkeling one afternoon and I felt a little underdressed.
ADDRESS 2065 S Beretania St, Honolulu, HI 96826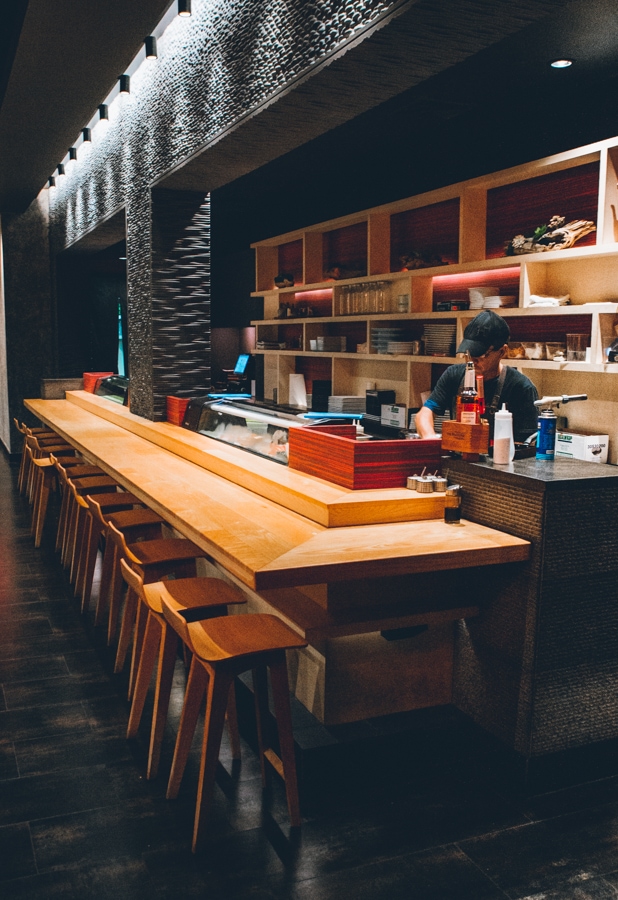 UMEKE MARKET // A HEARTY HOME COOKED MEAL
Umeke Market is a 100% plant based restaurant serving an organic vegan menu of tacos, salads, sandwiches burgers, and lentil dishes.
It's the perfect place to eat if you are looking for a hearty and satisfying lunch. The menu is huge and includes savory items such as gyro and BBQ pulled "pork" sandwiches, nachos, loaded potatoes, and Korean "chicken."
If you're in the mood for something lighter, try one of their smoothies, soups or detox salads.
I ordered the Super Taco made with red lentils, cashew queso, cilantro, dairy free sour cream, Mama T's homemade hot sauce and local cabbage slaw. It was massive and I devoured it.
In addition to being plant based, Umeke Market also strives to be eco-friendly in their operation. They have replaced all styrofoam, plastic bags, plastic straws and utensils with all eco-friendly versions. They have also been certified by the Surfrider Foundation as an Ocean Friendly Restaurant.
Umeke Market is a cafeteria style restaurant, where you order at the front and then take a seat anywhere. It is open from 8am-1pm, and it gets extra busy during lunchtime.
ADDRESS 1001 Bishop St Ste 110 Honolulu, HI 96813
---
RELATED POST 4 MUST VISIT OAHU BREWERIES // A SELF GUIDED TOUR
---
BANAN // LOCALLY SOURCED BANANA SOFT SERVE
Banan is a farm to table food truck serving up healthy soft serve made from bananas and other locally sourced produce from all over the Hawaiian Islands.
Banan actively supports local farmers, which is turn assists in boosting the local economy. Their mission is to bridge the gap between farmers and their customers by making it easy to buy a locally grown meal.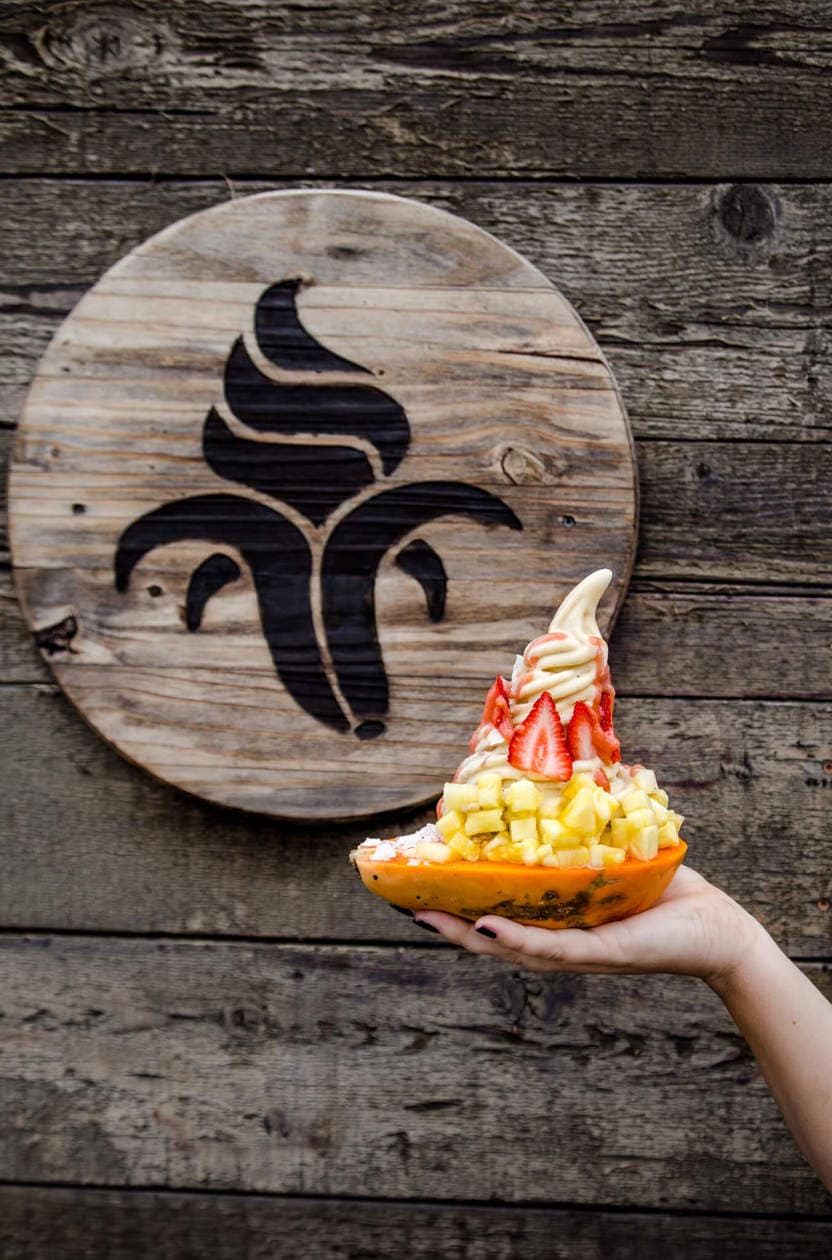 There are several Banan locations on the island, including a food truck at the base of Diamond Head, a location in the heart of Waikiki, a cube in the Kahala Mall and a storefront at the University of Hawaii. We visited Banan's original food truck location near Diamond Head.
You can choose from simple flavors to "creations," which include add-on fruits and toppings such as coconut and puffed quinoa. If you're vegan, just double check that your creation doesn't include honey.
They also give you the option to have your dessert served in a beautiful (highly instagrammable) papaya bowl.
My favorite part about Banan is that they donate all of their food waste (about 1,000 gallons a week!) to a local farmer to feed his pigs :).
LOCATIONS
Diamond Head 3212 Monsarrat Ave, Honolulu, HI 96815
Waikiki 2301 Kalakaua Ave Honolulu, HI 96815
Kahala Mall 4211 Waialae Ave. Honolulu, HI 96816
University of Hawaii 1810 University Ave. Honolulu, HI 96822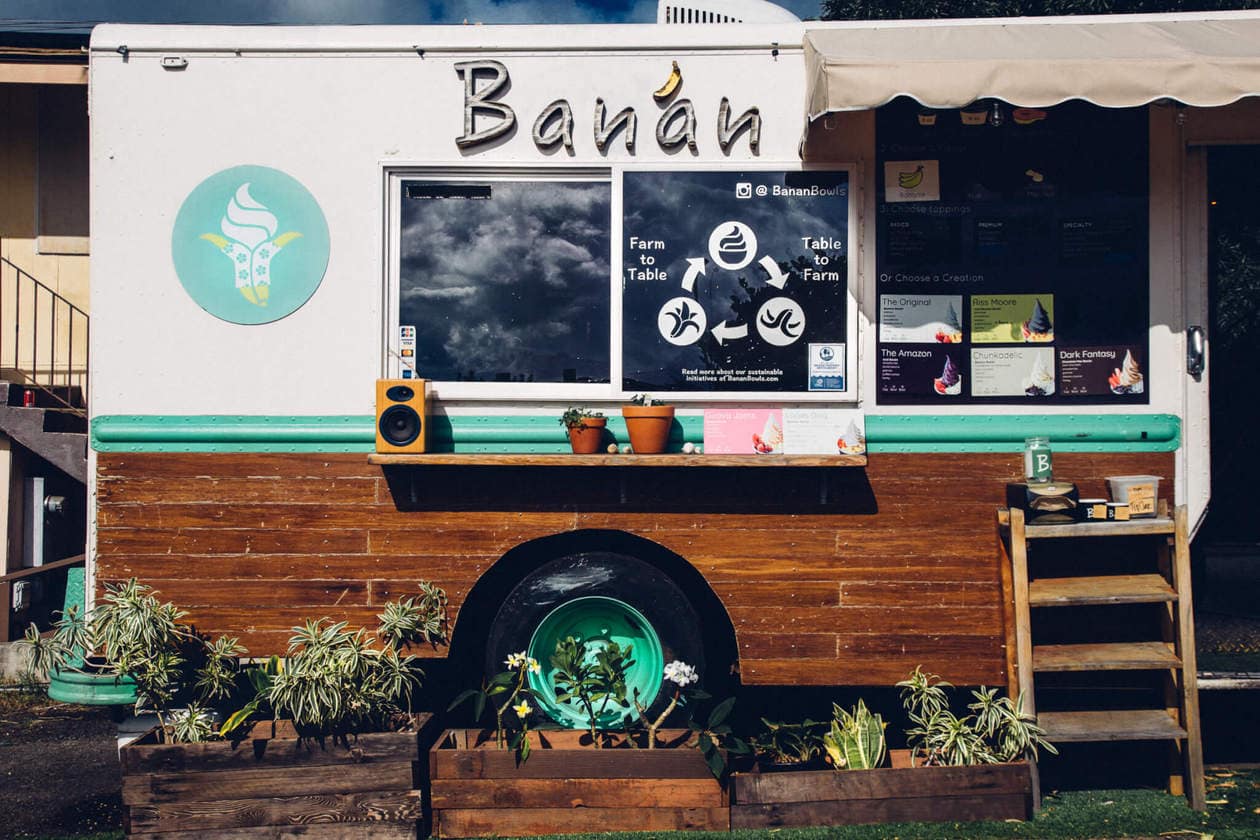 LE'AHI HEALTH // HEALTHY VEGAN TACOS AND BOWLS
Le'ahi Health is a plant based restaurant with several location across Oahu. Their menu is 100% vegan and also includes a ton of raw and gluten free options.
All of their organic food has been locally sourced and hand-picked off of Hawaii farms. They even make their own kombucha in house.
Le'ahi Health serves bowls, tacos, salads and smoothies with fresh, natural ingredients. My mom, sister and I stopped into their Kailua location one afternoon after a kayaking to the Mokulua Islands and we had one of the most healthy and nutritious meals I've ever had on Oahu.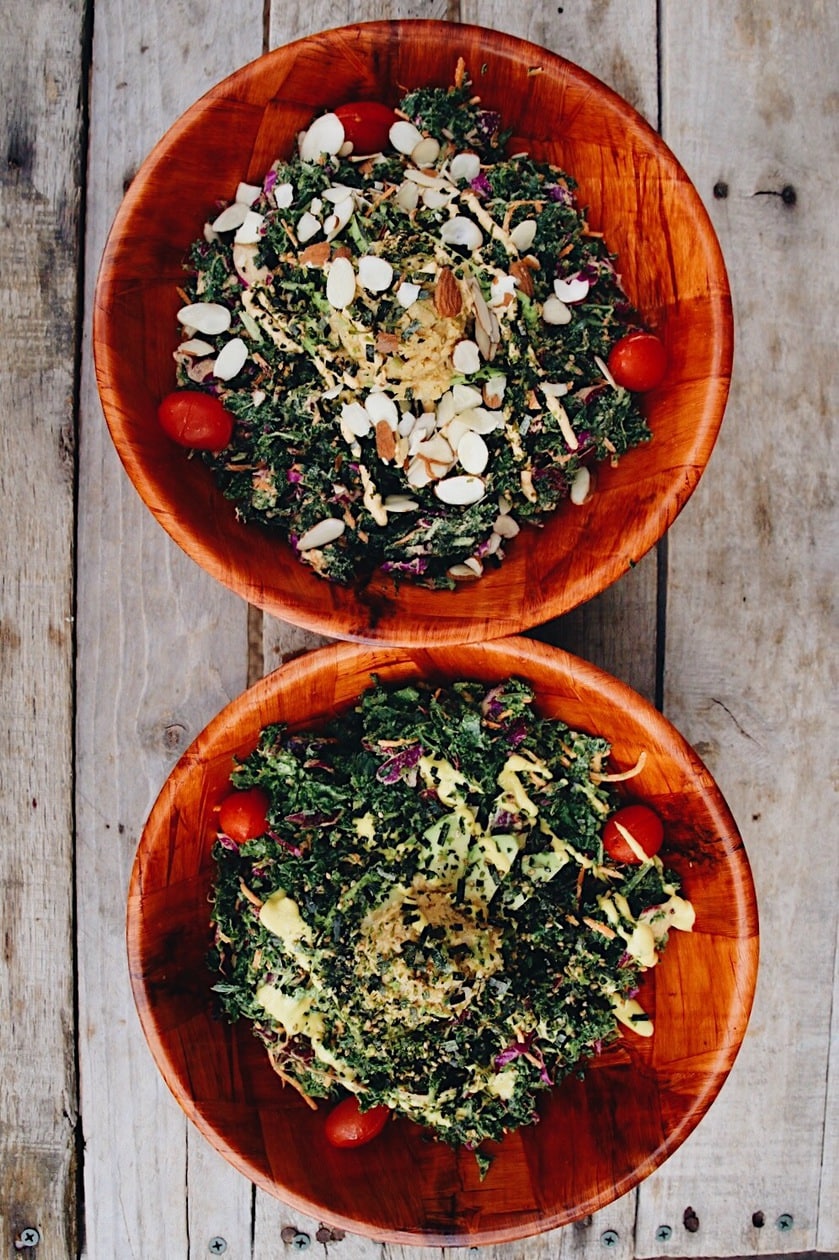 We split the Surfer Bowl which was made with kale, red cabbage, green onion, carrot and Japanese cucumber. The salad was tossed in a ginger tahini dressing and topped with almonds, avocado, grape tomatoes and furikake and mock tuna. We also ordered The (Mock) Tuna Bowl which was very similar but served over brown rice and tossed in a maple mustard dressing.
Both of the bowls were delicious (the Tuna Bowl was my favorite of the two) and the portions were large. Between three of us, we didn't even finish two bowls.
LOCATIONS
KAIMUKI 3441 Waialae Ave, Honolulu, HI 96816
KAILUA 481 Kuulei Rd, HI 36734
AINA HAINA 820 W. Hind Drive Honolulu Hi. 96821
---
RELATED POST: 10 THINGS TO DO IN OAHU THAT AREN'T WAIKIKI BEACH
---
AI LOVE NALO // AUTHENTIC VEGAN HAWAIIAN FOOD
Ai Love Nalo serves authentic vegan Hawaiian food and it is one of my sister's favorite restaurants on the island. Located in Waimanalo, Ai Love Nalo is a great lunch option if you find yourself visiting the windward side of Oahu.
The restaurant makes all of their dishes from scratch, including their sauces, gravies and dressings. They also offer in-house brewed kombucha.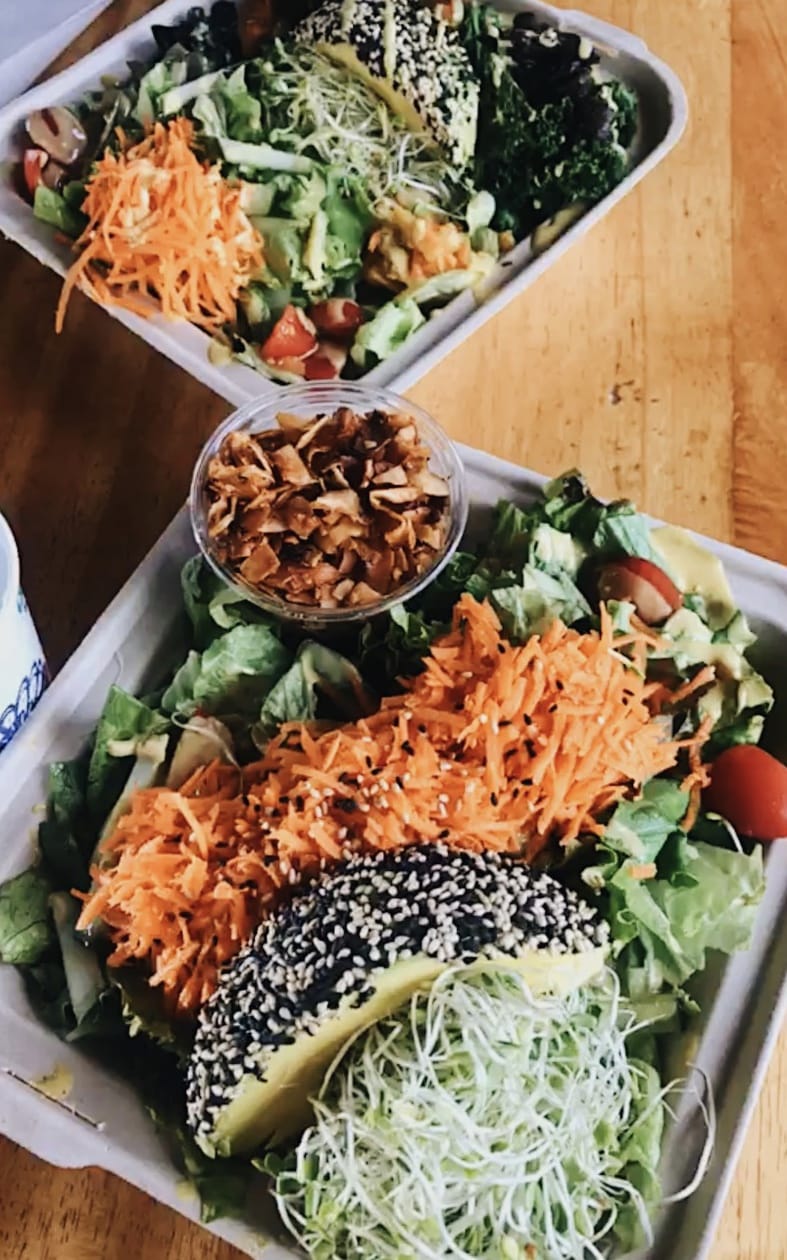 Ai Love Nalo's best selling entree is the Medi Bowl, made with kalo-falafel, baba ganoush, beet hummus and millet tabbouleh.
I recommend trying their Hawaiian dishes such as Oh Wow Laulau made with local veggies such as kalo, ulu and 'uala, wrapped in lu'au leaves and soaked in a creamy coco sauce with poi. They also have lu'au and tofu poke bowls.
ADDRESS 41-1025 Kalanianaʻole Hwy, Waimanalo, HI 96795
JUICY BREW
Juicy Brew is a vegan and gluten free restaurant with two locations on Oahu. They feature a rotating menu that changes weekly (and sometimes daily). You can expect to find everything from curry to breakfast burritos, baked goods and Italian style hoagies. The menu is inspired by local ingredients and what is in season at the moment. They also have a popular weekend brunch Saturday and Sunday from 10am-3pm.
Check out their Instagram for the latest menu. 
ADDRESS 3392 Waialae Ave, Honolulu, HI 96816
1401 S Beretania St, Honolulu, HI 96814 (This location is located within a medical center but it is open to the public).

VEGAN HILLS
Vegan Hills offers a 100% plant based menu featuring soups, salads, sandwiches, bowls, pastas, tacos and more. They also serve brunch until 2pm. Their food is non-GMO and locally sourced as much as possible. They also have a full bar offering speciality cocktails, beer, wine, mimosas and sangria.
ADDRESS 3585 Waialae Ave. Honolulu, HI 96816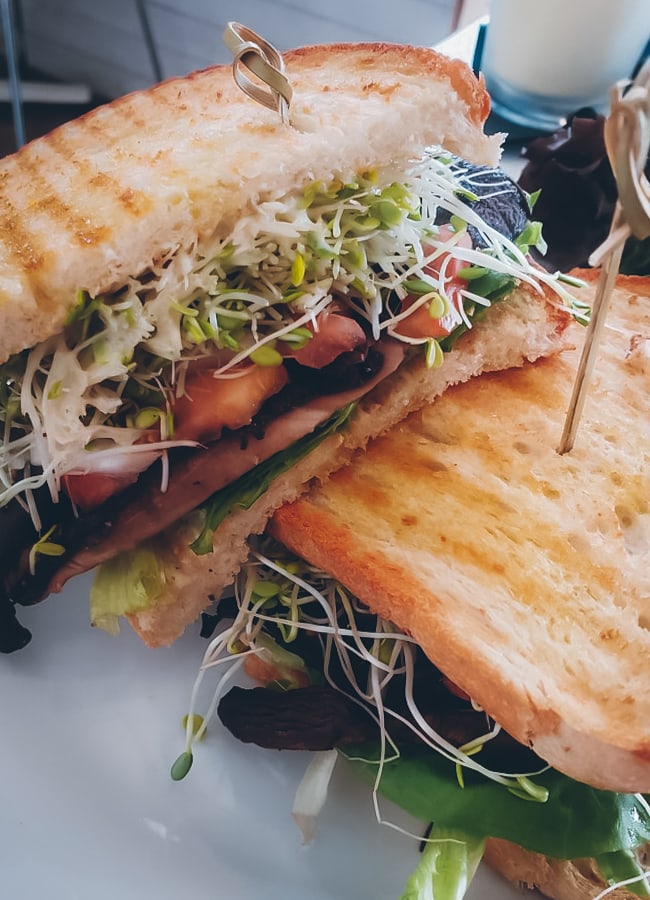 THE COSMIC KITCHEN
The Cosmic Kitchen is a vegan cafe located in Haleiwa offering locally sourced and organic ingredients in their dishes. Their menu consists of sandwiches, soups, salads, smoothies, and "grab n go" dishes.
ADDRESS 66-443 Kamehameha Hwy Haleiwa, HI 96712 (located in the back of Celestial Natural Foods.)
PEACE CAFE
Peace Cafe is an Oahu vegan restaurant serving up healthy, home cooked meals in Honolulu. Their menu features, sandwiches, poke bowls, salads, BBQ tempeh plates, a Tex Mex burrito, Morrocan stew and more. They are also adamant about using eco friendly products for their to-go orders.
ADDRESS 2239 S King St Honolulu, HI 96826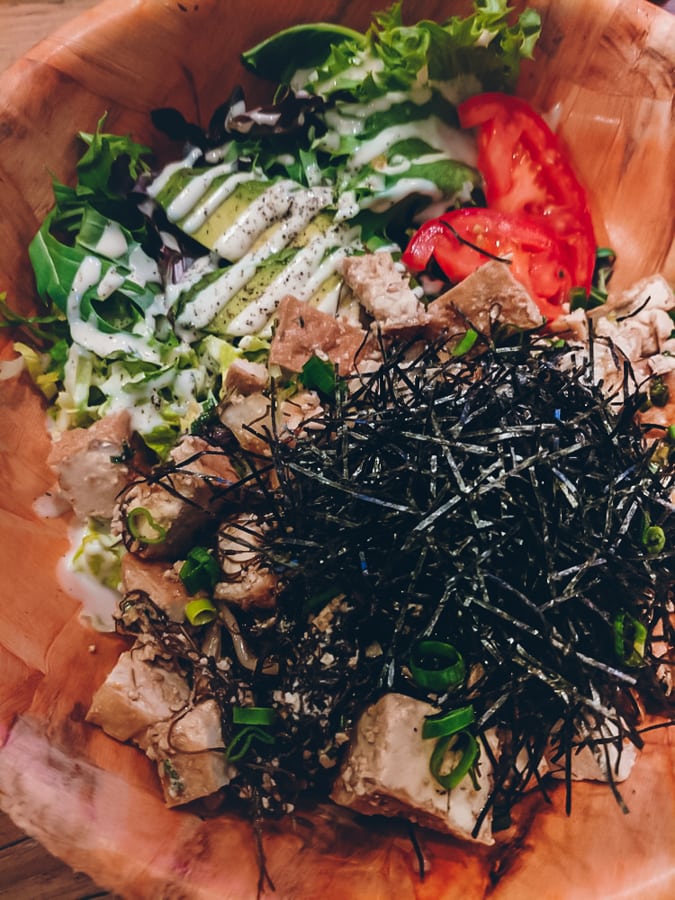 SIP HONOLULU
Sip Honolulu is a vegan coffee shop in Honolulu providing organic, fair trade tea and coffee. They also serve blended coffees, cold brews and a small selection of food ranging from acai bowls, salads, breakfast burgers and wraps.
ADDRESS 500 Ala Moana Blvd #4d, Honolulu, HI 96813
MOTHER BAKE SHOP
Mother Bake Shop is a vegan bakery located in Kailua. They serve coffee (the rose latte is a best seller), artisan sourdough bread, bakery goods, French pastries and a few savory breakfast options.
ADDRESS 131 Hekili St #101, Kailua, HI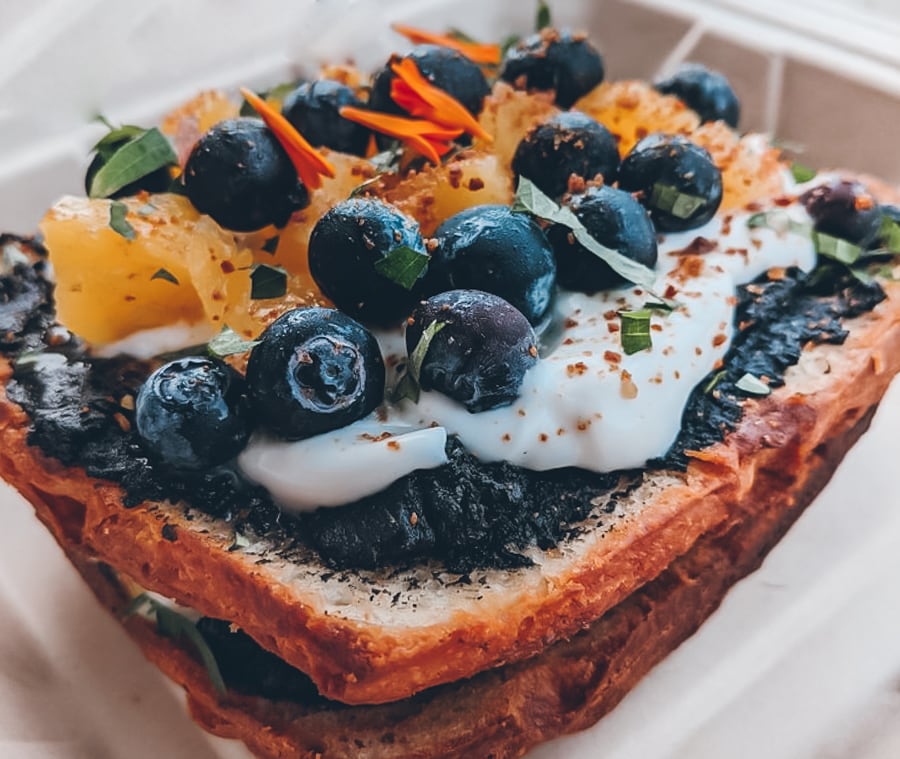 BLONDIE'S
Blondie's is a woman-owned plant based food truck offering 100% vegan fare. They specialize in high protein dishes and you can find breakfast sandwiches, burgers, tacos and bowls on the menu.
ADDRESS 411 Pacific Street Honolulu, HI 96817 (Lowe's Iwilei Parking Lot)
SURFER'S WIFE
Surfer's Wife is a vegan farmer's market vendor making waffle baked falafels (fawaffles). You can find them at the Haleiwa Farmers Market on Thursdays, the Kaka'ako Farmers market on Saturdays and the Kailua Farmers Market on Sundays.
ADDRESS 59-864 Kamehameha Hwy, Haleiwa, Hawaii 96712
---
RELATED POST: MURAL HUNTING IN KAKAAKO // A GUIDE TO HONOLULU'S COOLEST NEIGHBORHOOD
---
RAISED BY THE WAVES
Raised by the Waves is a plant based cafe serving a healthy, organic and locally sourced menu. They are also eco-friendly and operate 100% plastic free.
They serve smoothies, home made elixirs, antioxidant bowls, waffles, avocado toast and more. Raised by the Waves is located in the Kuhuku Sugar Mill on the North side of the island.
ADDRESS 56-565 Kamehameha Hwy #B9 Kahuku, HI 96731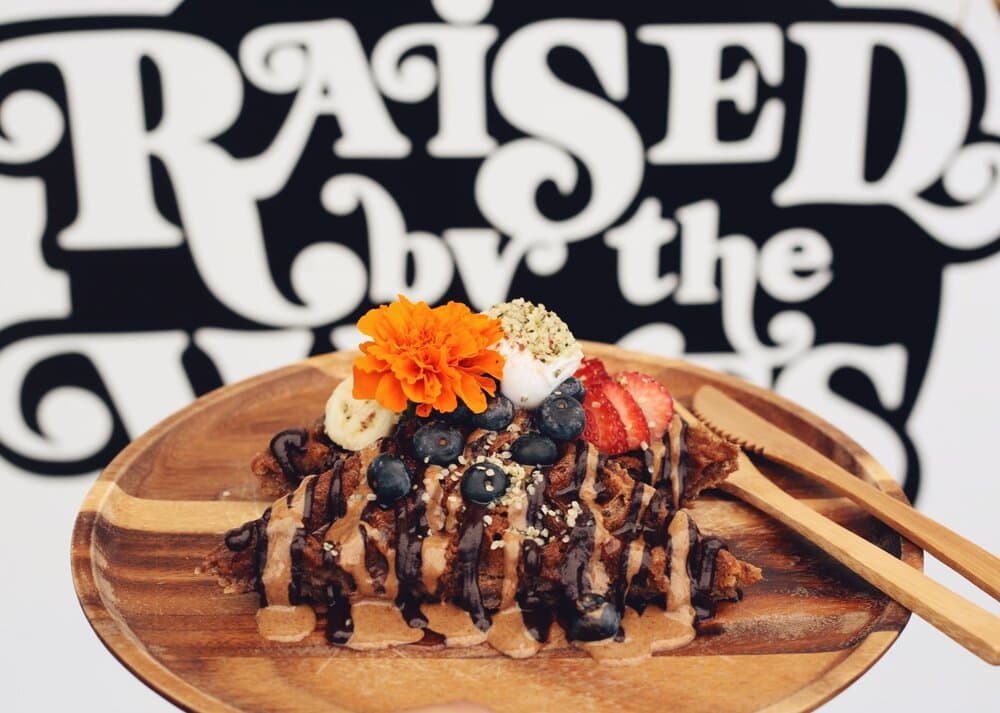 OLENA
Olena Cafe is a locally owned juice bar and cafe located in the Ala Moana area of Honolulu. They source local and organic ingredients from Hawaii farmers to create their juices and dishes. Olena serves cold pressed juices, Hawaiian grown teas, smoothies and coffees. They also have salads, breakfast sandwiches, grilled cheese sandwiches, wraps and waffles on their menu.
Be careful not to confuse this with "Olena by Ron Simon" which is another restaurant also located in Honolulu.
ADDRESS1631 Kapiolani Blvd, Suite #2, Honolulu, HI 96814
SIMPLE JOY
Simple Joy is family-owned Oahu vegan restaurant that serves Vietnamese style entrees such as pho and bahn mi as well as a variety of Western style dishes like pastas, burgers, sandwiches and "chicken" nuggets.
ADDRESS 1145 South King Street # B # B, Honolulu, HI 96814
LOVING HUT
Loving Hut is a chain vegan restaurant serving mostly in Vietnamese and Chinese style dishes.
ADDRESS 1614 South King St Honolulu, HI 96826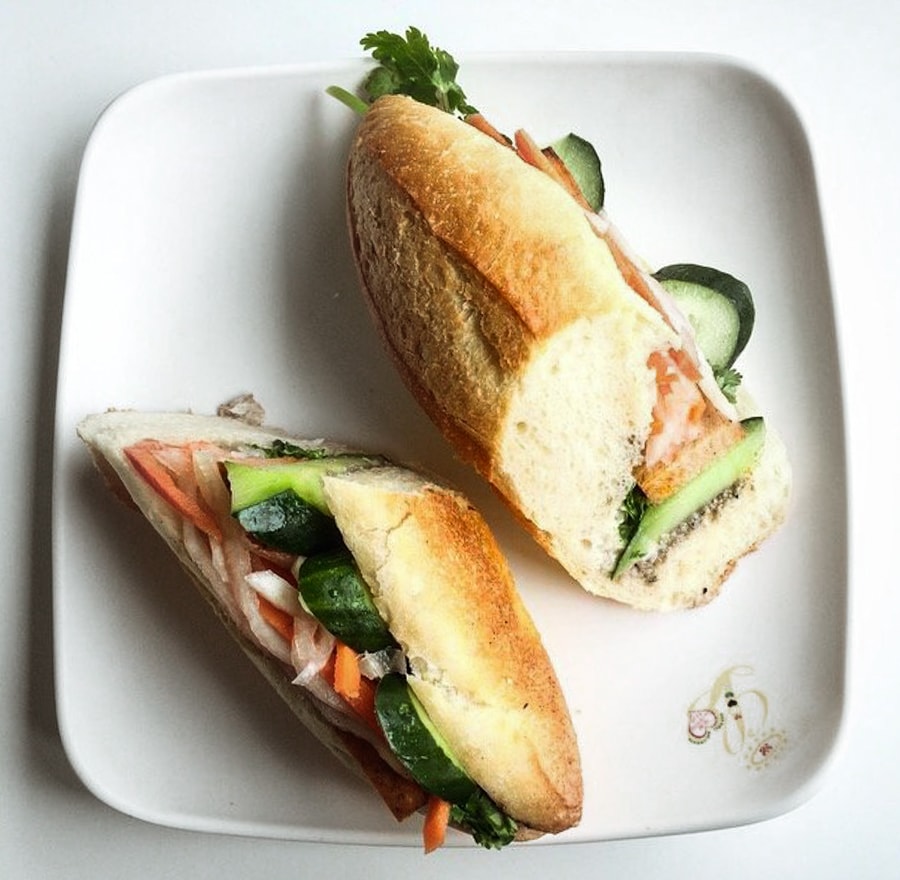 7 VEGETARIAN FRIENDLY RESTAURANTS ON OAHU
Aside from the strictly 100% vegan restaurants above, the island also has a ton of vegan and vegetarian friendly restaurant options and dishes to choose from. These are some of our favorites.
GOVINDAS // VEGAN & VEGETARIAN BUFFET IN HONOLULU
Govindas is a vegetarian and vegan buffet located within a Hare Krishna temple in Honolulu.
Their lunch buffet is open Monday-Saturday from 11am to 2pm, and they offer a selection of Indian dishes such as curries, daal, and halwa as well as a few Western style dishes.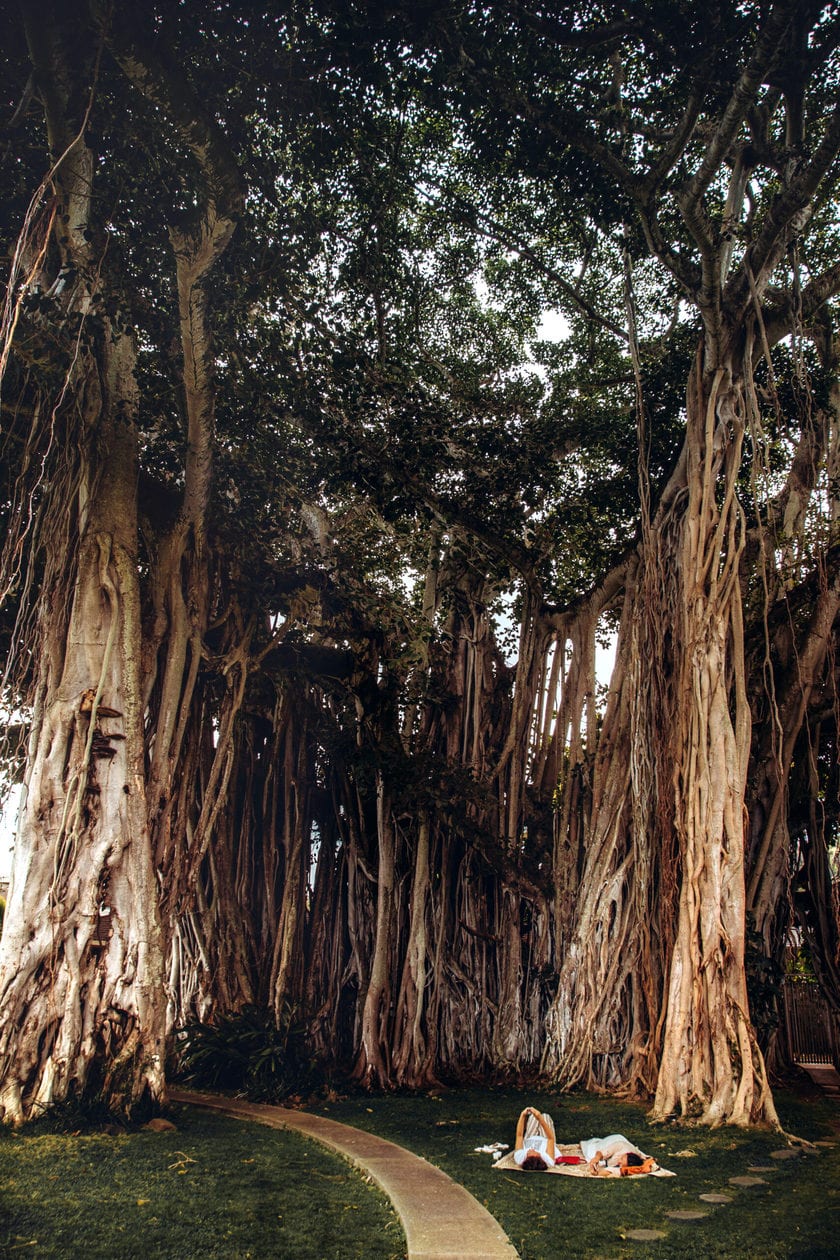 While the food is good, I recommend stopping in for the atmosphere. The temple is tucked away in a residential neighborhood and it's a peaceful escape from the busy, touristy parts of the island. Be sure to check out their incredible banyan tree in the backyard that you can sit under while you eat your lunch.
Govindas recently came out with a new pricing structure. You either pay $8.99 per pound or $13 a plate (whichever is cheaper). It used to be all you can eat, but now if you would like second helpings, another plate is $5. For drinks, they offer a Lemon-mint ginger juice which is complimentary.
To view the menu for the week, click here.
ADDRESS 51 Coelho Way Honolulu, Hawaii, 96817
BEET BOX CAFE // ORGANIC VEGETARIAN CAFE WITH VEGAN AND GLUTEN FREE OPTIONS
Beet Box Cafe is a vegetarian restaurant with tons of vegan and gluten free options on their menu.
Breakfast is served all day and includes acai bowls, breakfast burritos, breakfast sandwiches, scrambles, avocado toast and more. For lunch they offer salads, tacos, burritos and burgers. Beet Box Cafe also has a large menu of smoothies and fresh juices.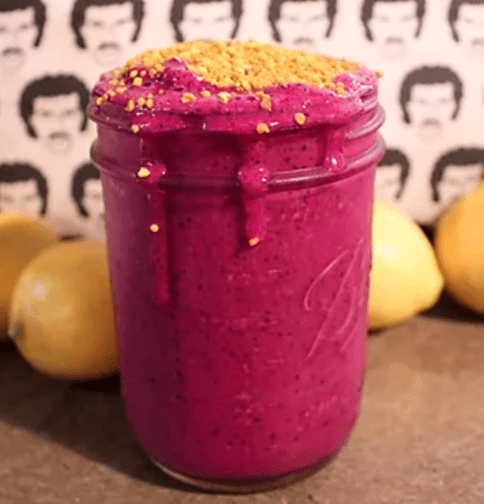 The burrito babe one of the restaurant's best sellers. It is made with sautéed broccoli, onion, carrots, zucchini, red peppers and tofu, then smothered in Thai coconut curry peanut sauce and wrapped in a whole wheat tortilla with brown rice.
LOCATIONS
KAILUA 46 Hoolai St, Kailua, HI 96734
HALEIWA 66-437 Kamehameha Hwy Ste.104 Haleiwa, Hawaii 96712
---
RELATED POST: LANIKAI PILLBOX HIKE // A SHORT HIKE WITH INCREDIBLE VIEWS ON OAHU
---
DOWN TO EARTH // VEGETARIAN (& VEGAN FRIENDLY) DELI
Down to Earth is a health food store with 6 locations across Oahu and within the store they have a vegetarian deli. All of the food is made from scratch, using no artificial ingredients or preservatives. You can choose from veggie burgers, wraps, sandwiches, smoothies, fresh juice, pizza and more.
All of the breads, buns and wraps in Down to Earth's deli are vegan and most of the menu items can be made vegan friendly.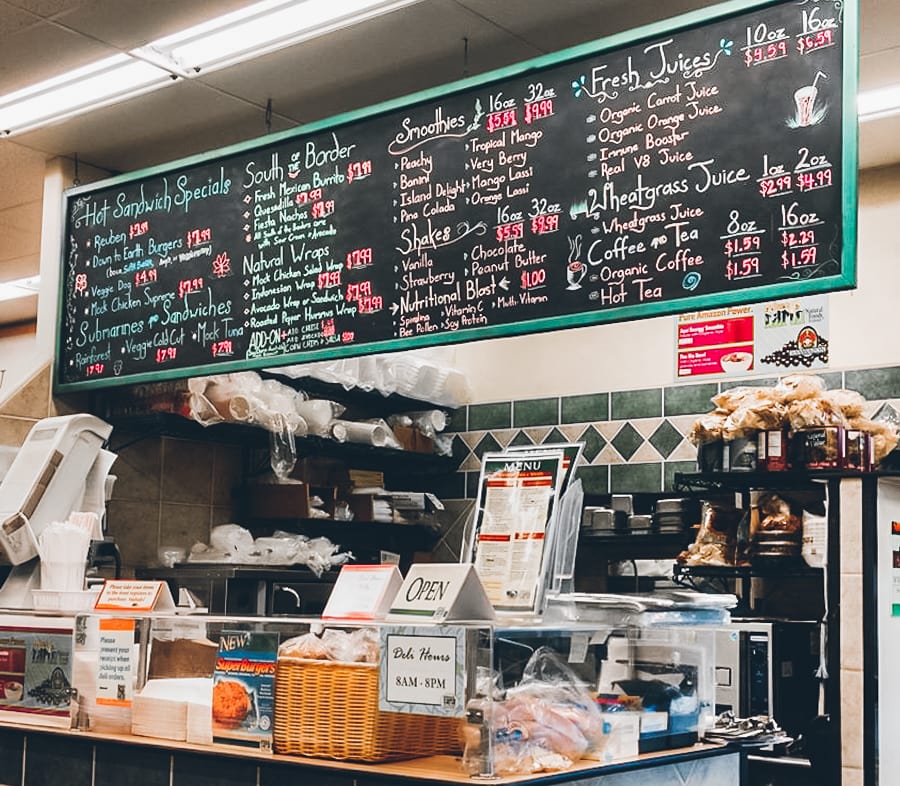 To check out the deli menu for each store click here. 
Down to Earth is also a great grocery store for vegetarians and vegans looking to stock up snacks or grab groceries. This is especially helpful for those who are staying in an Airbnb or vacation rental with access to their own kitchen.
ADDRESS For a list of Down to Earth locations, click here
THE SUNRISE SHACK // SMOOTHIE BOWLS AND BULLET COFFEE
The Sunrise Shack is a small grab and go hut serving colorful and organic smoothie bowls, cold pressed juices and bullet coffee. It one of my favorite places to eat on Oahu, not only for the food but because of the good vibes that exude from this happy, bright yellow shack.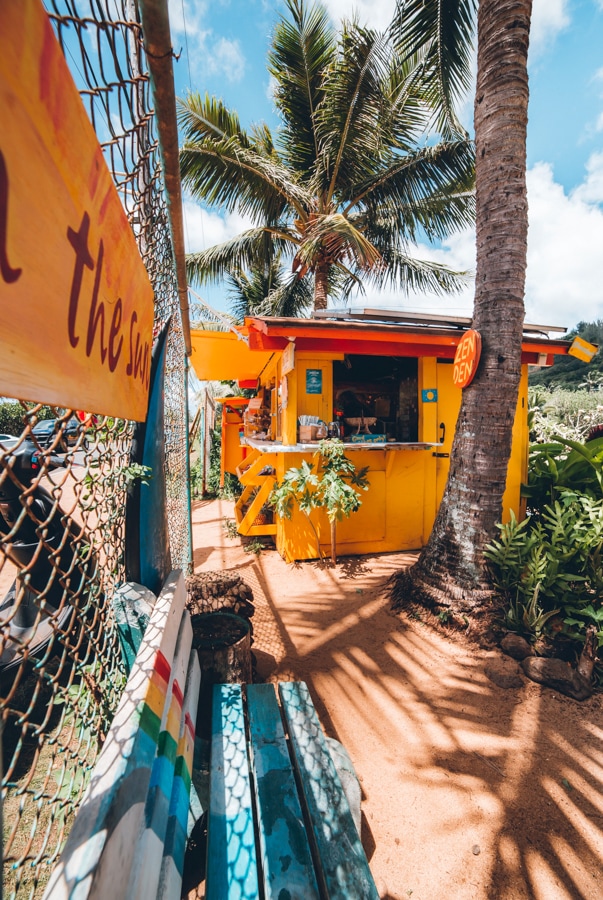 90% of the menu is vegetarian (2 of their sandwiches have meat) and all of the smoothies and smoothie bowls are either vegan or beegan. The granola is gluten free, nut free and vegan. They also offer plant based wraps and creamer options for their coffees.
The Sunrise Shack has two locations on Oahu, one in Waikiki and one on the North Shore. If you can, I highly recommend visiting the original North Shore location (it's cuter).
LOCATIONS
WAIKIKI 2335 Kalakaua Ave, Honolulu, HI 96815
HALEIWA 59-158 Kamehameha Hwy, Haleiwa, HI 96712
MONTSARRAT SHAVE ICE // ALL NATURAL SHAVE ICE
Shave ice is usually at the top of most tourist's list of things to eat in Hawaii and Montsarrat Shave Ice is a must visit if you're looking to check off that box.
Located in a tiny hut near Diamond Head, Montsarrat Shave Ice serves all natural syrups made from fruit. They don't use any artificial colors or added sweeteners and the result tastes like a fruit puree over fluffy ice.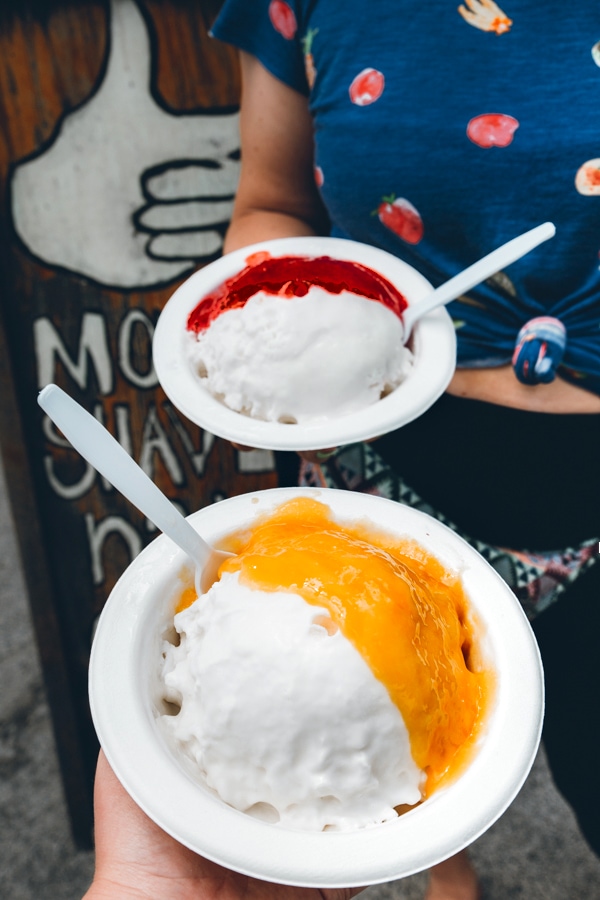 They offer a range of flavors such as mango, coconut, pineapple, strawberry, raspberry, cherry and more. While the syrups are fruit based, some of the topping are not vegan (condensed milk, honey and ice cream).
ADDRESS 3046 Monsarrat Ave (at Oahu), Honolulu, Hawaii 96815
WAIALUA BAKERY
Waialua Bakery is a family run restaurant in Haleiwa that has been around for 20+ years.
On the menu you'll find salads, sandwiches, smoothies acai bowls and baked goods. Most of the ingredients in their dishes come from their own family farm, and if they don't grow it themselves they source from other local farmers. Waialua Bakery makes their bread, cookies, veggie burgers, ice cream, pesto and hummus from scratch.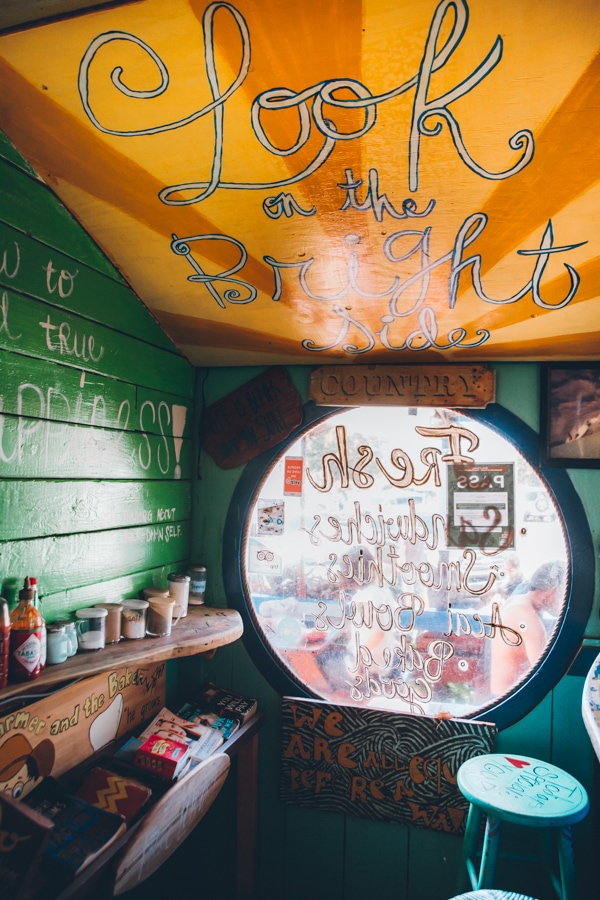 They do have meat on their menu, but there are a lot of vegetarian friendly options available. They offer several veggie sandwiches like avocado or hummus, as well as veggie burgers, acai bowls and smoothies. Most of the vegetarian options can be made vegan as well.
The prices are great (for Hawaii) and the vibes are good. It's a great place to stop in for lunch if you find yourself looking for food on the North Shore.
ADDRESS 66-200 Kamehameha Hwy, Haleiwa, HI 96712
WATER DROP VEGETARIAN HOUSE
Water Drop Vegetarian House is owned by the Taiwanese Buddhist temple. They serve Chinese vegetarian food and offer a rotating menu of classic dishes. Most of the food is also vegan friendly (it will be labeled if it's not).
ADDRESS 801 Alakea Street, Honolulu, HI 96813
What are your favorite Oahu vegan restaurants and/or vegetarian dishes? Leave a comment!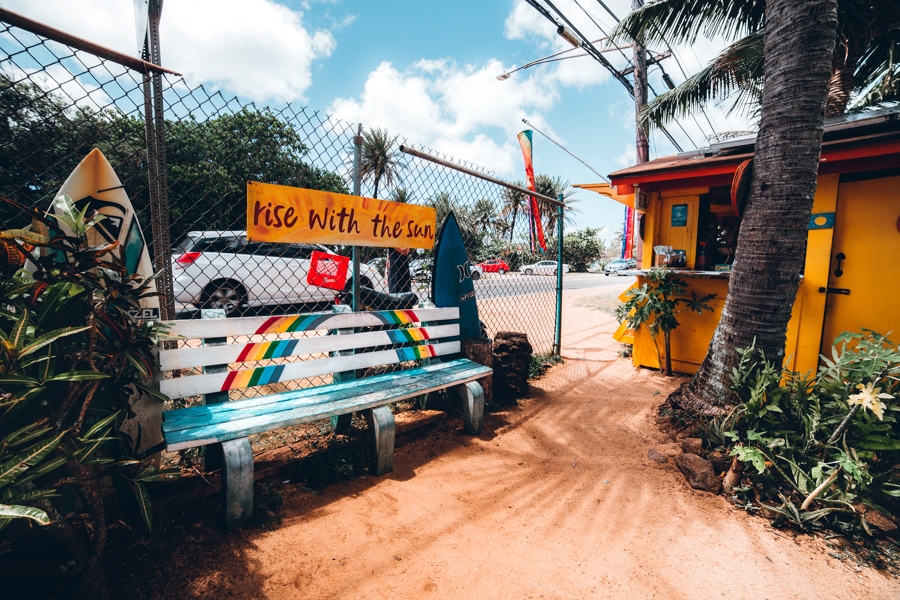 ---
PIN IT: 16 OAHU VEGAN RESTAURANTS + 7 MUST VISIT VEGETARIAN FRIENDLY RESTAURANTS