Traveling with a local is my favorite way to find the best hidden gems in a destination. My sister Shannon has lived on Oahu for several years and she keeps a list of restaurants, food trucks and markets for me to try whenever I visit. Whether we were driving through a residential neighborhood to an all you can eat buffet at the Hare Krishna temple, or tasting the best poke on the island at a chain grocery store.. everything is usually memorable and delicious. Keep reading for 15 off the beaten path places to eat in Oahu including where to find the best shave ice, pizza and more.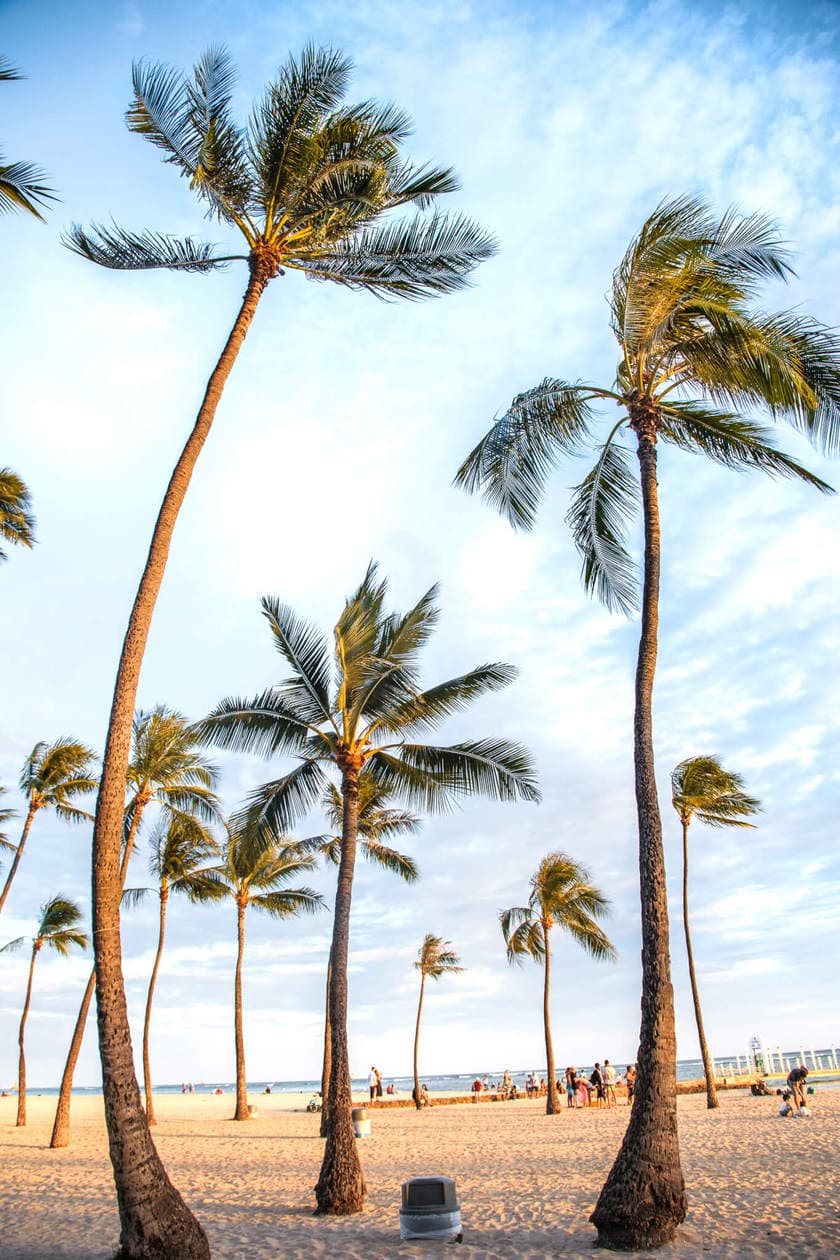 15 OFF THE BEATEN PATH PLACES TO EAT IN OAHU
BANAN // A HEALTHY, LOCALLY SOURCED SOFT SERVE
Banan is a cute lil' food truck serving up healthy (vegan friendly) soft serve made from bananas and other locally sourced produce. Their mission is to support local farmers and boost the local economy with their products.
There are several Banan locations on the island, including a food truck at the base of Diamond Head, a location in the heart of Waikiki, a cube in the Kahala Mall and a storefront at the University of Hawaii. We visited Banan's original food truck location near Diamond Head.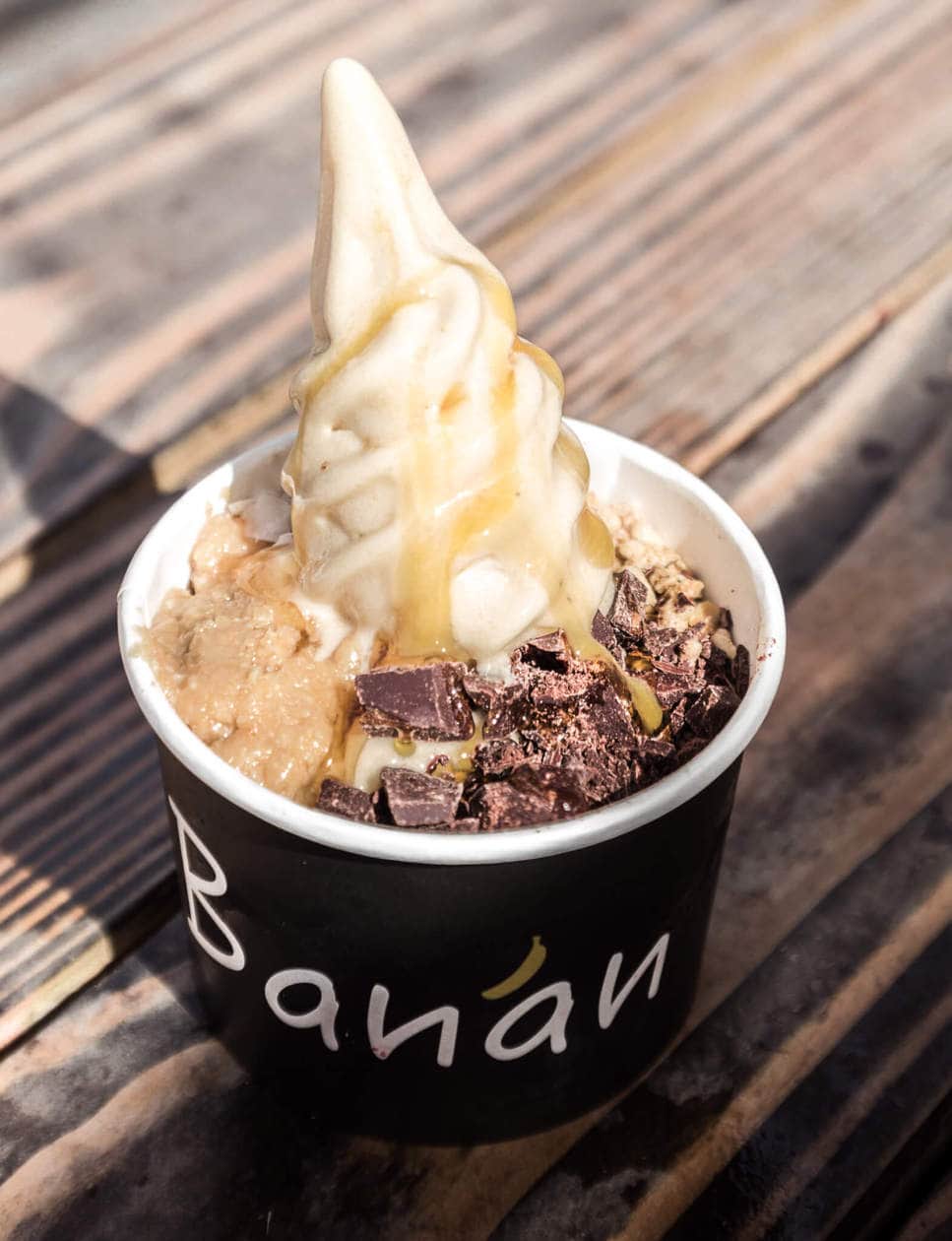 There are a ton of different options from simple flavors to "creations", which include other fruits and add-ons like coconut, honey and puffed quinoa. You also have the option to get your order served up in a perfectly instagrammable papaya bowl.
After choosing your soft serve, head over to their cute cabana seating area and enjoy!
My favorite part about Banan is that they donate all of their food waste (about 1,000 gallons a week!) to a local farmer to feed his pigs 🙂 .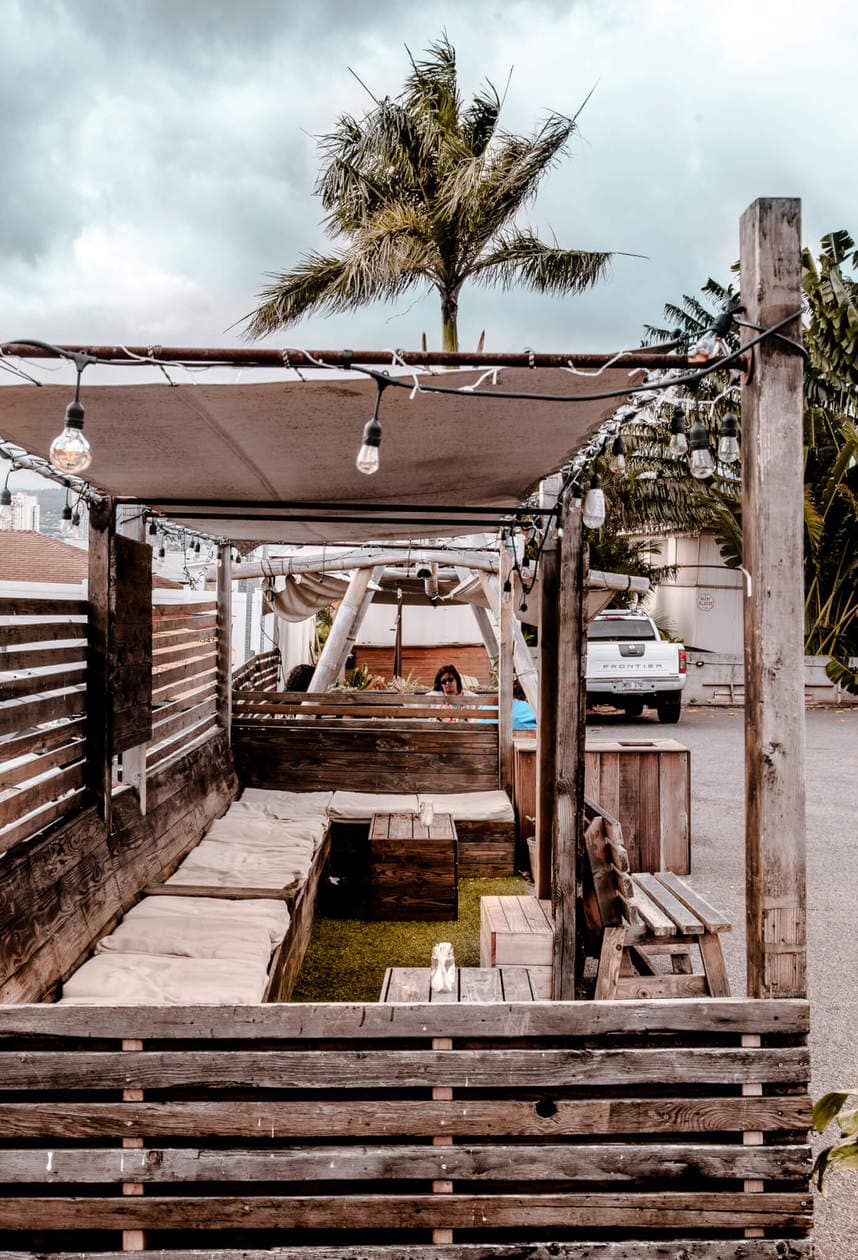 For a list of Banan's partner farms in Hawaii, or for more information click here. 
BANAN LOCATIONS
Diamond Head
3212 Monsarrat Ave, Honolulu, HI 96815
Hours: 9am-6pm
Waikiki
2301 Kalakaua Ave Honolulu, HI 96815
Hours: Mon-Thurs 9am-7pm | Friday-Sunday 9am-7:30pm
Kahala Mall
4211 Waialae Ave. Honolulu, HI 96816
Hours: Mon-Sat 10am-9pm | Sunday 10am-6pm
University of Hawaii
1810 University Ave. Honolulu, HI 96822
Mon-Thu 10am-8pm | Fri-Sat 10am-10pm | Sun 10am-6pm
THE SUNRISE SHACK // GOOD VIBES AND SMOOTHIE BOWLS
I don't think this qualifies an "off the beaten path" place to eat in Oahu anymore, but The Sunrise Shack has been one of my most memorable food experiences on the Islands, so it deserves to be on this list.
The Sunrise Shack was founded by local pro surfers who opened their first small coffee shop in 2016 on Oahu's North Shore. Serving smoothie bowls, bullet coffee, cold pressed juices and healthy baked goods, the shack has been so successful that they opened their second location in Waikiki a few years later. 
We visited both shops and if you can, I highly recommend the original, Haleiwa location. The bright yellow Sunrise Shack is located on the side of the road and is a vortex of good vibes and happy energy. The guy working at the register was so friendly and outgoing, he even whipped out his ukulele and started playing to us while taking our orders. His energy matched the colorful shop perfectly and it really made the experience for us.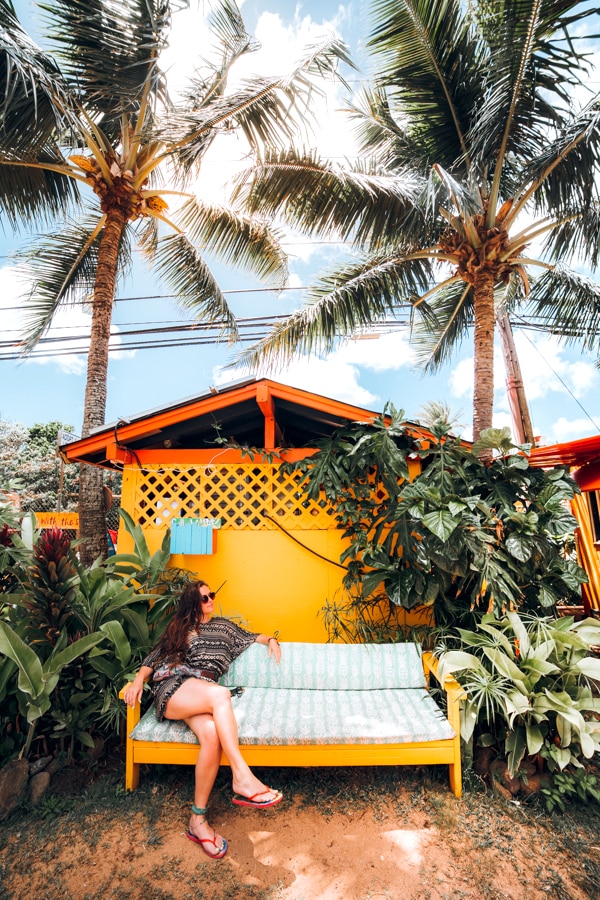 On top of all the good vibes, Sunrise Shack offers an amazing menu featuring top quality, locally sourced and organic ingredients. I ordered the Monkey Bowl which was made up of blended bananas, coconut cream, peanut butter, almond milk, dates and cinnamon and then topped with cacao nibs, gluten free granola, banana, peanut butter, coconut flakes and chocolate covered almonds. It's one of my favorite things I've ever tasted on this island.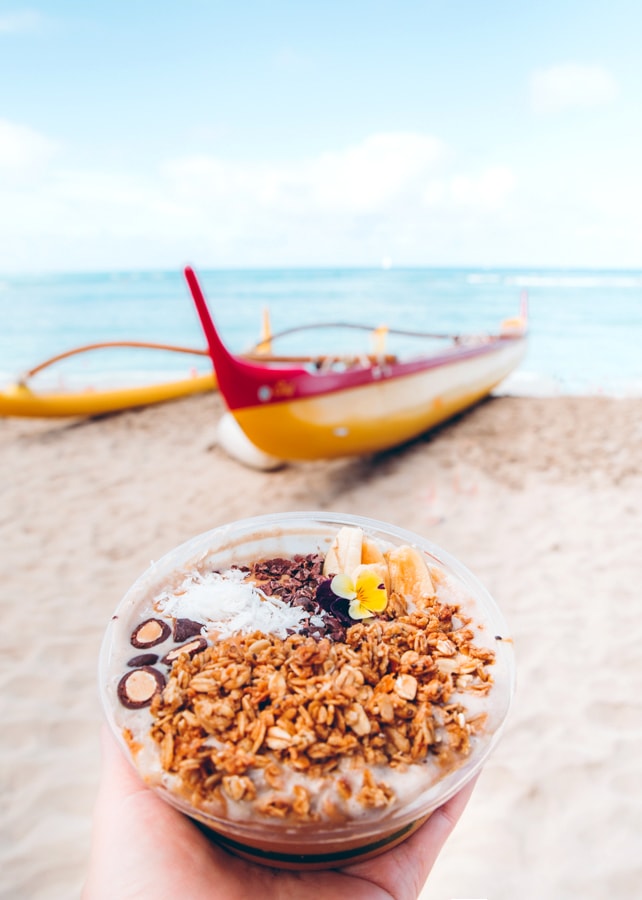 Also be sure to try the bullet coffee made with coconut oil, MCT oil, grass fed butter and vanilla. It's incredible and addicting.
The prices are on the higher end but the bowls are huge (definitely big enough for two people to share) and the experience is more than worth checking out.
ADDRESS 2335 Kalakaua Ave, Honolulu, HI 96815 (Waikiki) | 59-158 Kamehameha Hwy, Haleiwa, HI 96712 (North Shore)
FOODLAND // THE BEST POKE IN OAHU
If I told you that you can find some of the best poke in Oahu at a chain grocery store, would you believe me? Don't worry, I was skeptical too..
Even though Shannon is a vegetarian, she frequently gets asked about where to find the best poke whenever her friends visit her on the island. After polling locals from all over, the general consensus is overwhelmingly… Foodland.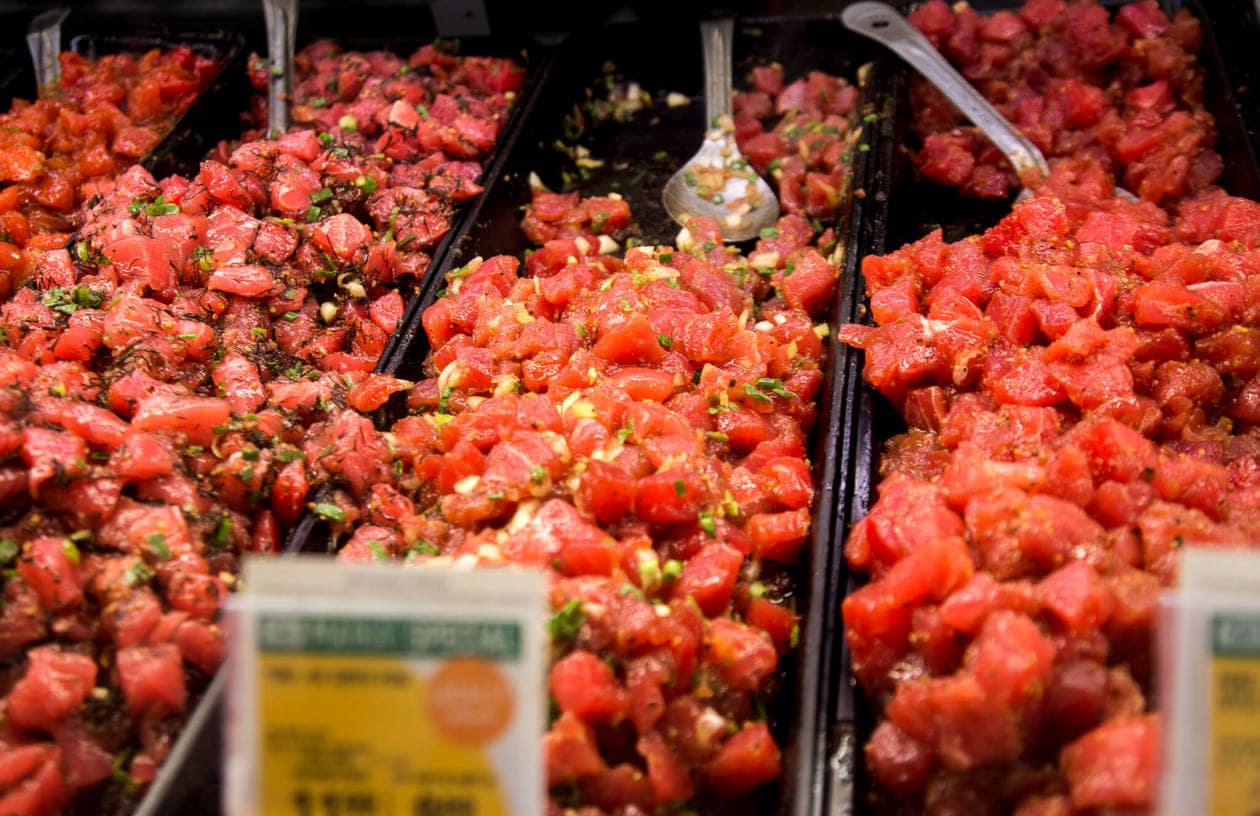 While we were in Kauai the week before, Nick and I made it our mission to locate the best poke. We ate at all of the best reviewed markets and stores on the island, and each one was delicious.
However after trying Foodland's poke (we ordered the secret spicy ahi), we agreed that it was by far the best we had during our whole trip to Hawaii.
For a list of Foodland locations click here.
THYDA'S TACOS // LA STYLE MEXICAN STREET FOOD
Being from San Diego, I usually don't trust Mexican food that is located more than 100 miles from the border.. but Thyda's Tacos surprised me.
On Instagram, their bio reads "LA street style Mexican food," and they really do deliver. While the tacos are not as good as San Diego tacos 😉 (I'm biased), they definitely meet the quality of proper LA street tacos.
Located in a very small and easy to miss taco truck, Thyda's Tacos serves tacos, burritos, quesadillas, mulitas and rice bowls. Your menu selection also comes with limes, radishes and pickled jalapeno on the side.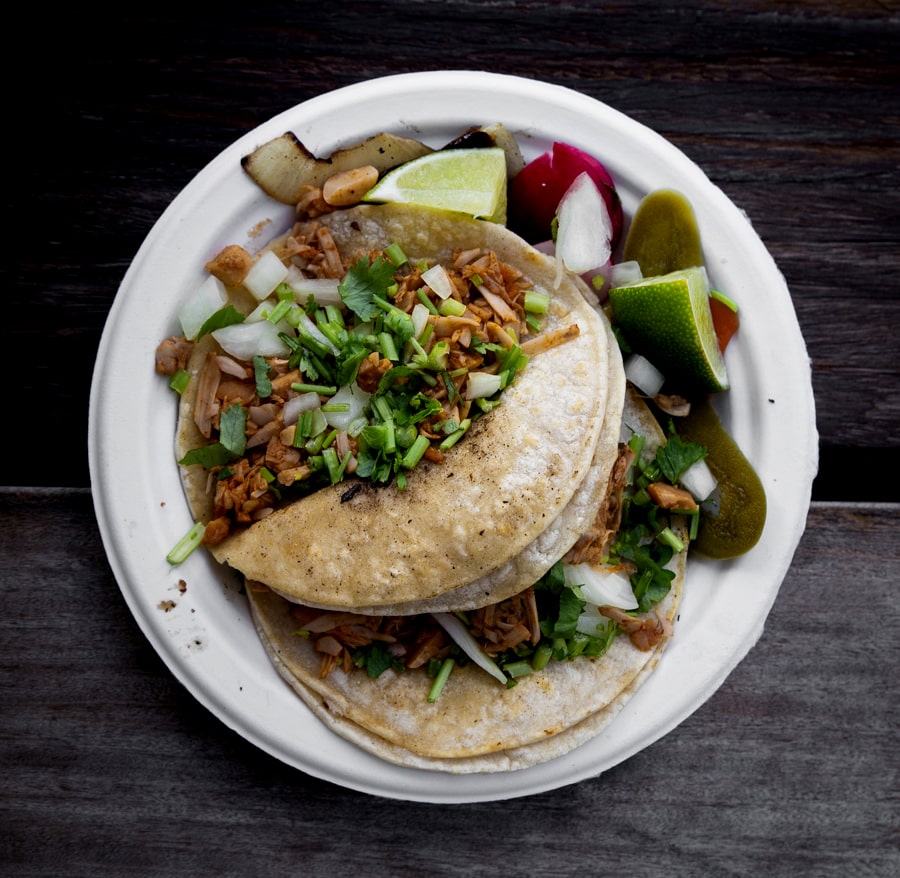 Be sure to stop by for Thyda's Taco Tuesday specials. You can get $2 pollo and carnitas tacos and $2.50 asada, barbacoa, jackfruit and lengua tacos. Vegetarians can also eat here as they offer jackfruit "meat" in all of their menu offerings.
Thyda and her team are so friendly, you feel as if you're dining with friends. There are a few benches to sit on but the experience is more of a grab and go type of establishment. The stand is located on the back side of Whole Foods on Queen Street, and the parking situation is not great. They have a single stall available but you can also park at Whole Foods and walk over.
If you're craving Mexican food, this is definitely one to add to your list.
ADDRESS 1034 Queen St #4116, Honolulu, HI 96814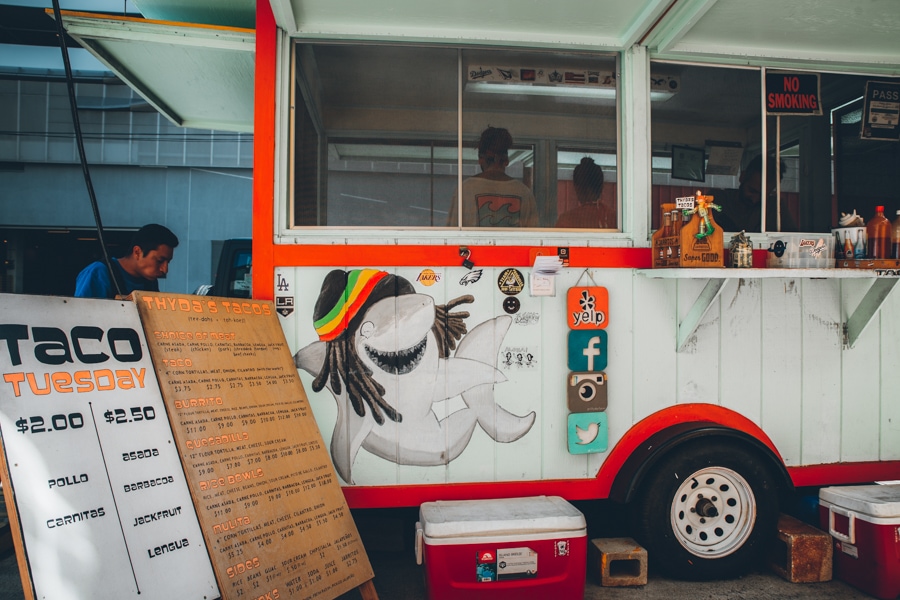 MONSERRAT SHAVE ICE // THE BEST SHAVE ICE ON OAHU
My sister calls Monserrat Shave Ice the best shave ice on Oahu. My grandma is so obsessed with it, that she sneaks out and catches the bus across town everyday to get her fix.
This tiny shave ice stand is tucked away in an alley near the Pioneer Salon and it is the perfect way to cool down after hiking Diamond Head (nearby).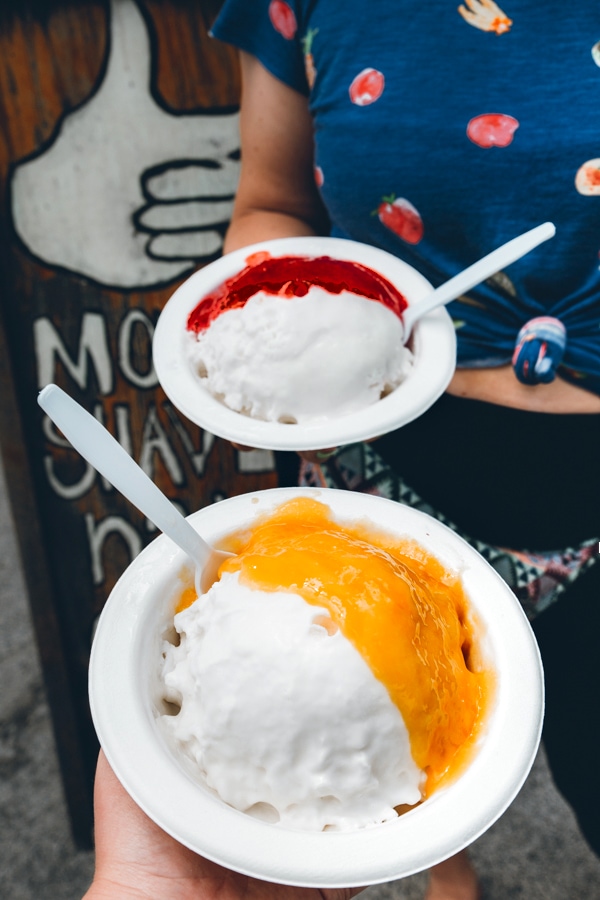 Montserrat Shave Ice is unique in that they use natural fruit and no artificial coloring when creating their syrups. The result is a thicker consistency that feels more like a fruit puree. It tastes natural and fresh, and the difference in flavor between this and many of the shave ice places in Oahu who use artificial sweeteners is night and day.
They offer a range of flavors such as mango, coconut, pineapple, strawberry, raspberry, cherry and more. You also have the option to top it off with condensed milk, azuki bean or mochi balls if you'd like.
I recommend ordering two flavors. I went with a mixture of the mango and coconut, which was split half and half down the middle. The coconut syrup is interesting because due to the oils, it starts to harden when it hits the soft, fluffy shave ice. The consistency becomes thicker making it feel more like a creamy dessert. It was delicious but overall I preferred the fruity flavors. The mango, and mixed berry were amazing but the strawberry was the clear flavor winner out of our group.
Prices start at $4USD for a small, $5 for a medium and $6 for a large.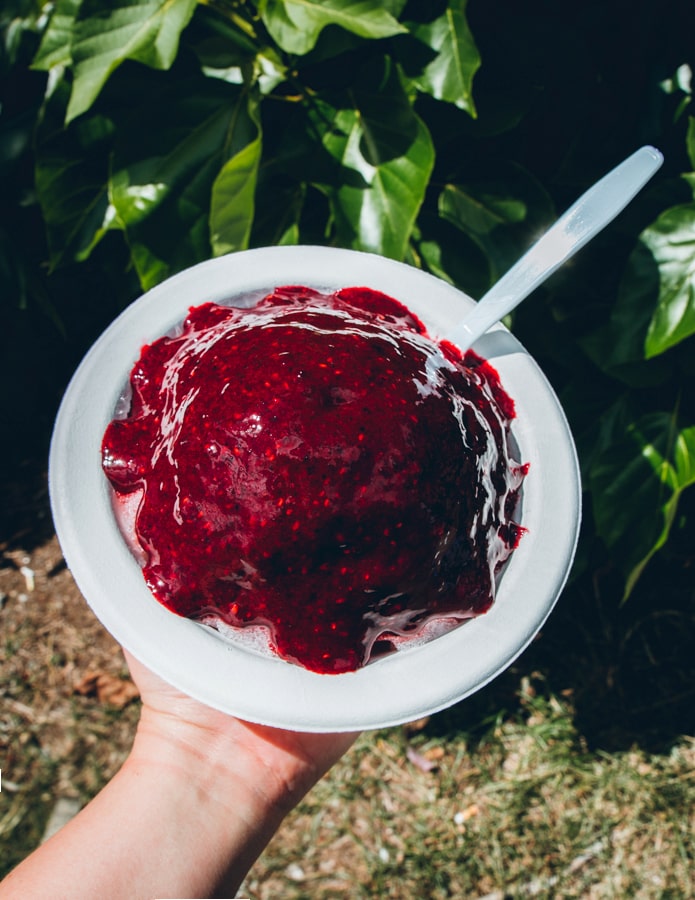 The only thing to be aware of is their opening hours. Montserrat Shave Ice is closed on Monday and sometimes they shut down before their advertised closing time. We have showed up during normal operating hours to sadly find that they are not open. Calling ahead of time is best, just to make sure.
ADDRESS 3046 Monsarrat Ave. Honolulu, HI 96815
J DOLANS // THE BEST PIZZA IN OAHU
J Dolans (formerly JJ Dolans) is an Irish pub serving up New York style pies, and it's one of the top places to eat in Oahu if you're craving pizza. The restaurant has been ranked on Pizza Today Magazine's Hot 100 ( a list of the nation's best-performing pizzerias, ranked by sales) for three years in a row.
It's also been mentioned as one of the top pizza joints in Hawaii by the NY Daily News, Thrillist, and The Daily Meal.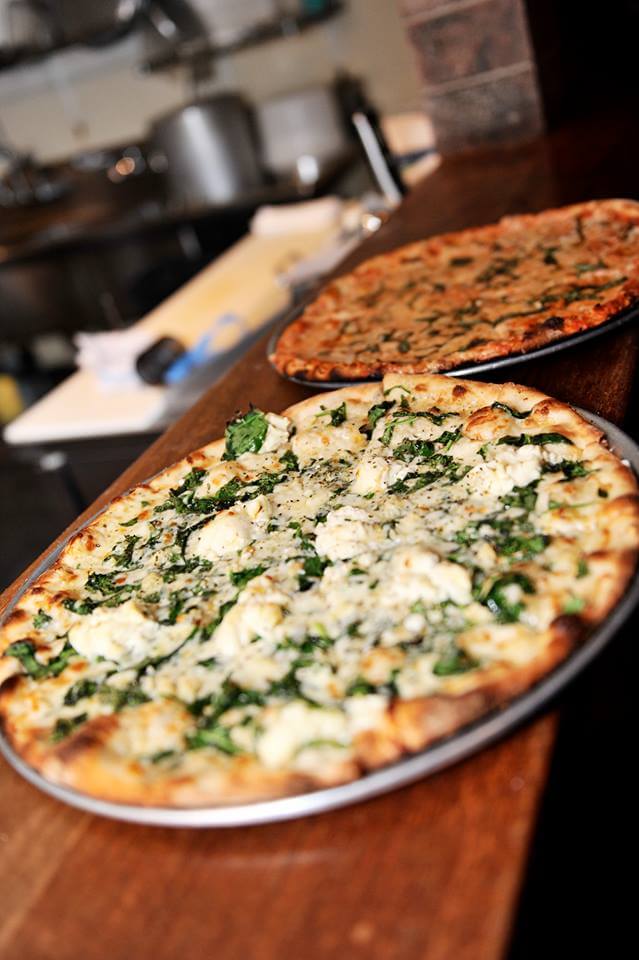 J Dolan's dough is hand tossed with a touch of Guinness folded in, and their prices are very reasonable. There are people out there who are very particular about their pizza, and I'm not one of those people (I like it all).. but I can say that we ordered their White Pie and it was delicious.
ADDRESS 1147 Bethel St, Honolulu, HI 96813
Monday-Saturday 11am-2am | Closed Sundays

GOVINDA'S // A VEGETARIAN LUNCH BUFFET AT A HARE KRISHNA TEMPLE
Govindas is a literal hidden gem. It's tucked away in a residential neighborhood of Honolulu, and for $13 you have access to an all you can eat lunch buffet located on the grounds of a Hare Krishna temple.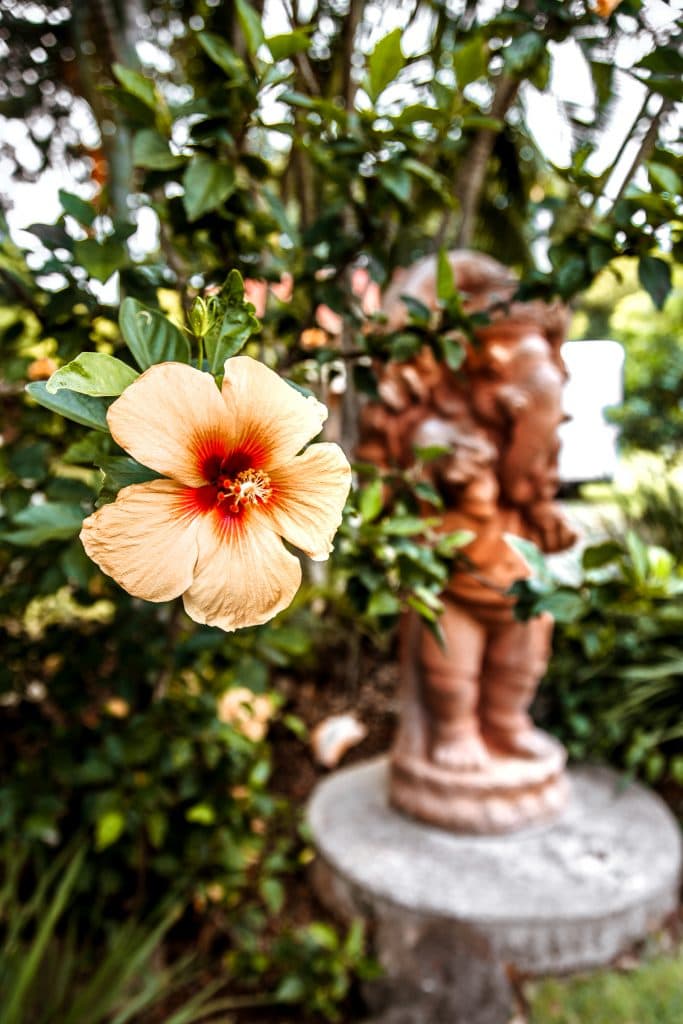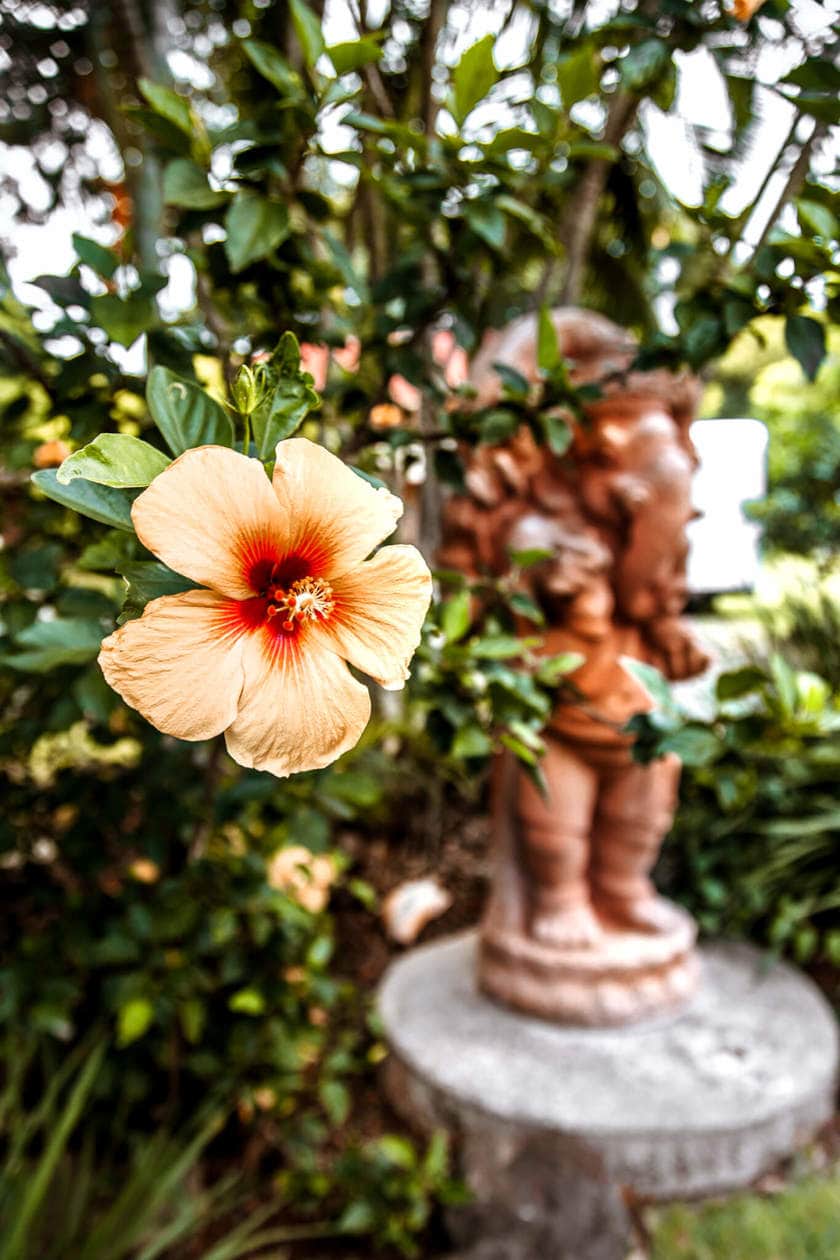 Govindas is only open for 3 hours each day during lunch, so it was a little hard to fit it into our schedule, but I'm glad we did. When you arrive, take your shoes off and enter the temple; the buffet is located to the left.
The setting is very casual but I guarantee it's one of the most peaceful places to eat in Oahu. After grabbing your first plate, I recommend eating lunch outside under their massive banyan tree.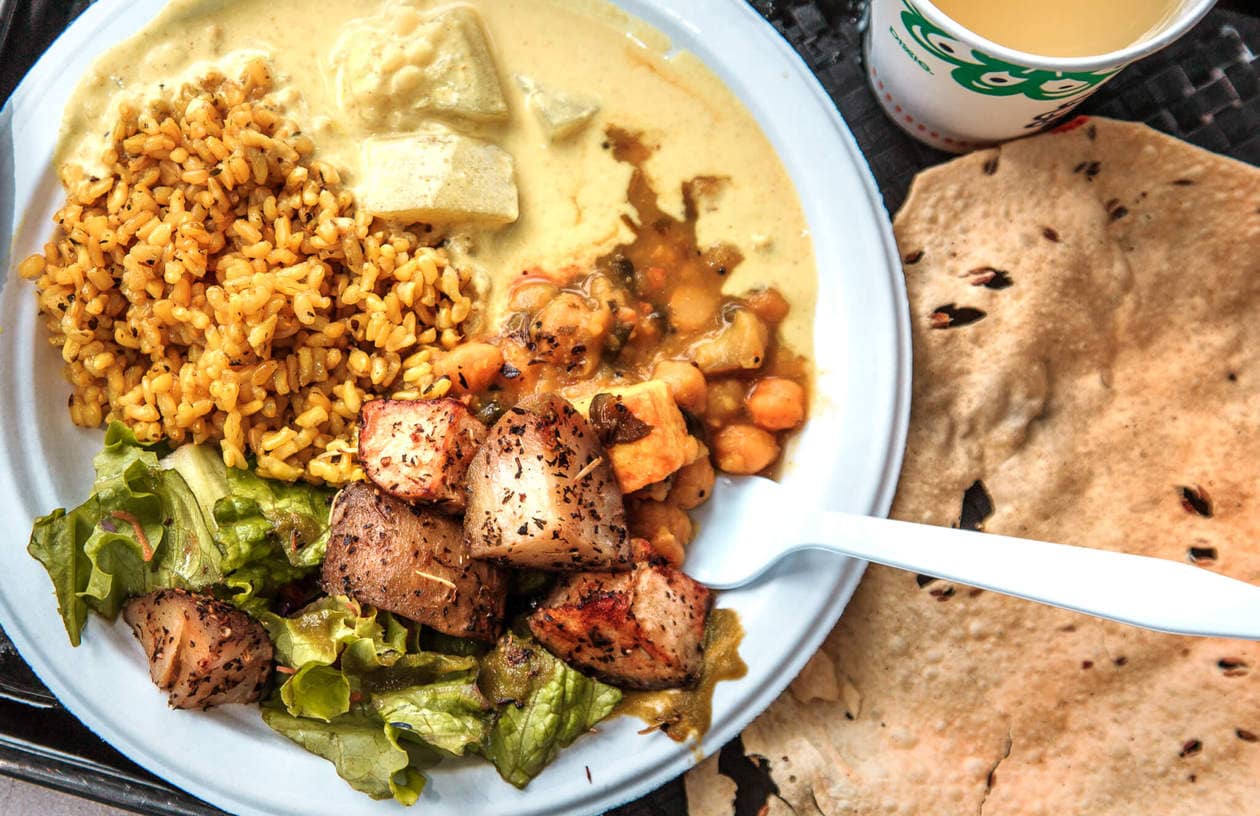 The food is mostly vegetarian with a few vegan friendly options, and the buffet consists of a salad bar, rice, a few curries, dhal, roasted vegetables, plus a daily special.
To view the full menu click here. 
ADDRESS 51 Coelho Way, Honolulu, HI 96817
Monday-Saturday 11am-2pm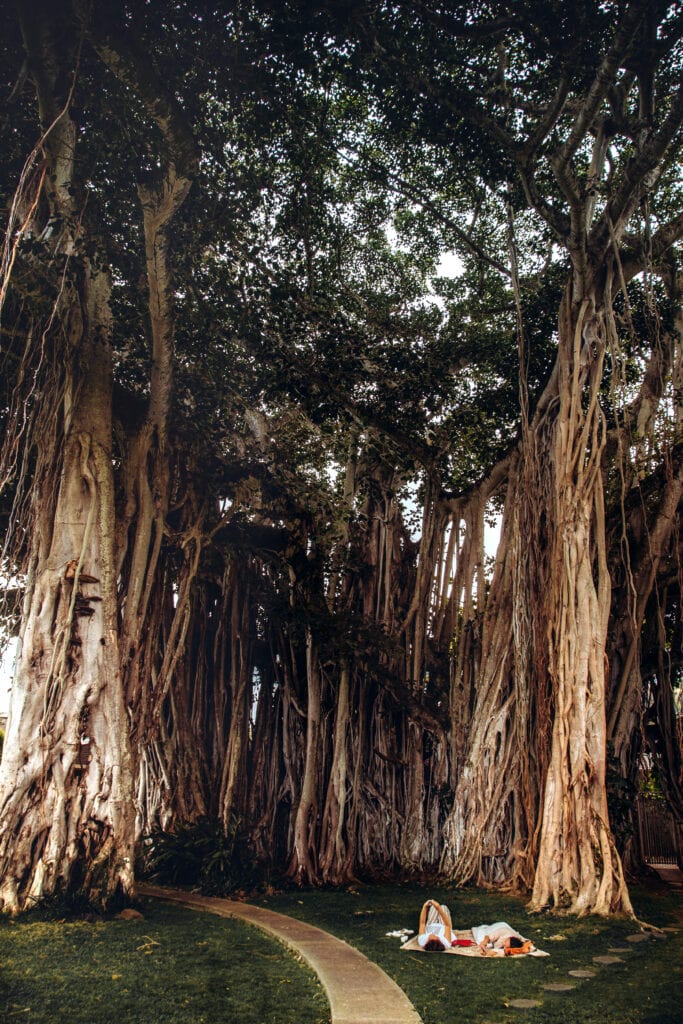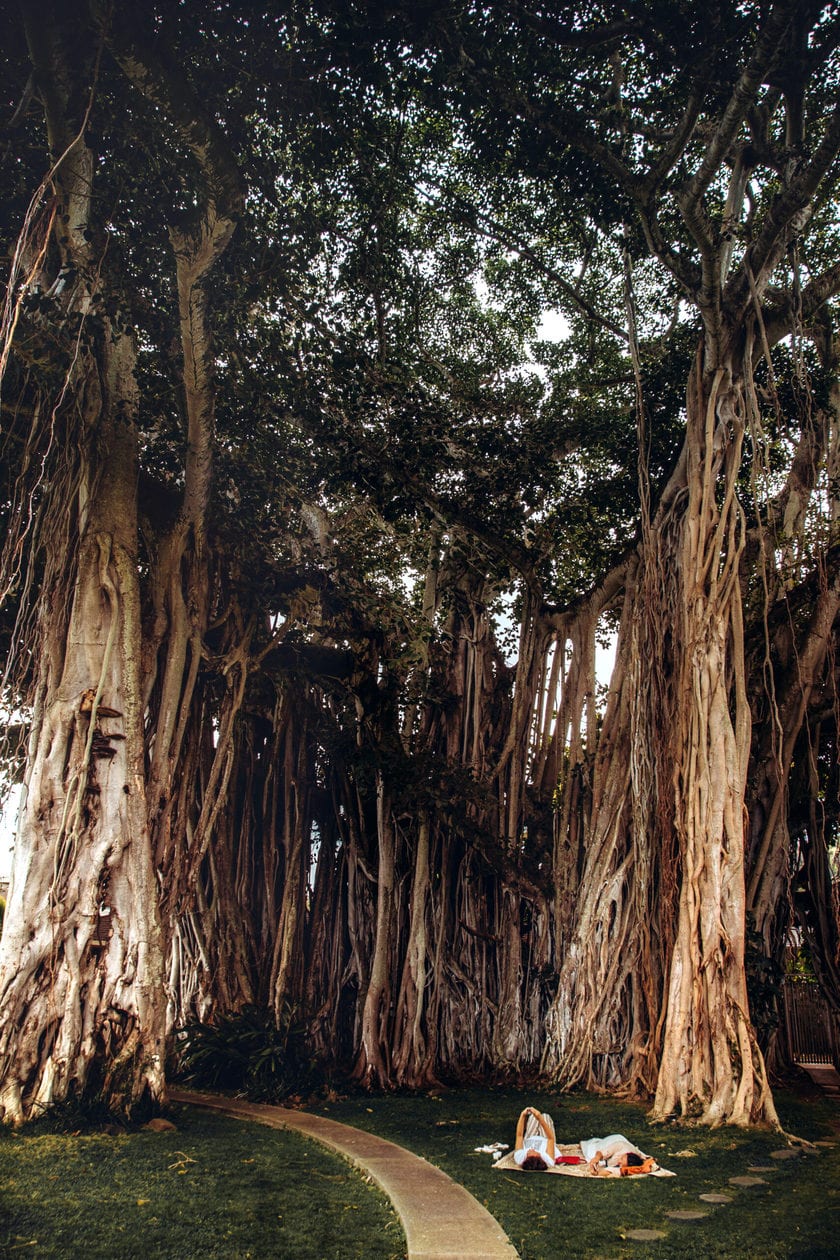 SIDEWALK DELI // KIMCHEE PANCAKES AT A HOLE IN THE WALL DELI
I asked Shannon to take me to her favorite restaurant on the island, and she led me into what appeared to be a tiny Korean general store selling everything from Aldo shoes (seems legit) to yellow onions. The menu is small but it's ok because you only need to order one thing.. the kimchee pancakes.
---
RELATED POST: THE HOLE IN THE WALL RESTAURANT YOU MUST VISIT FOR CHEAP EATS IN HONOLULU
---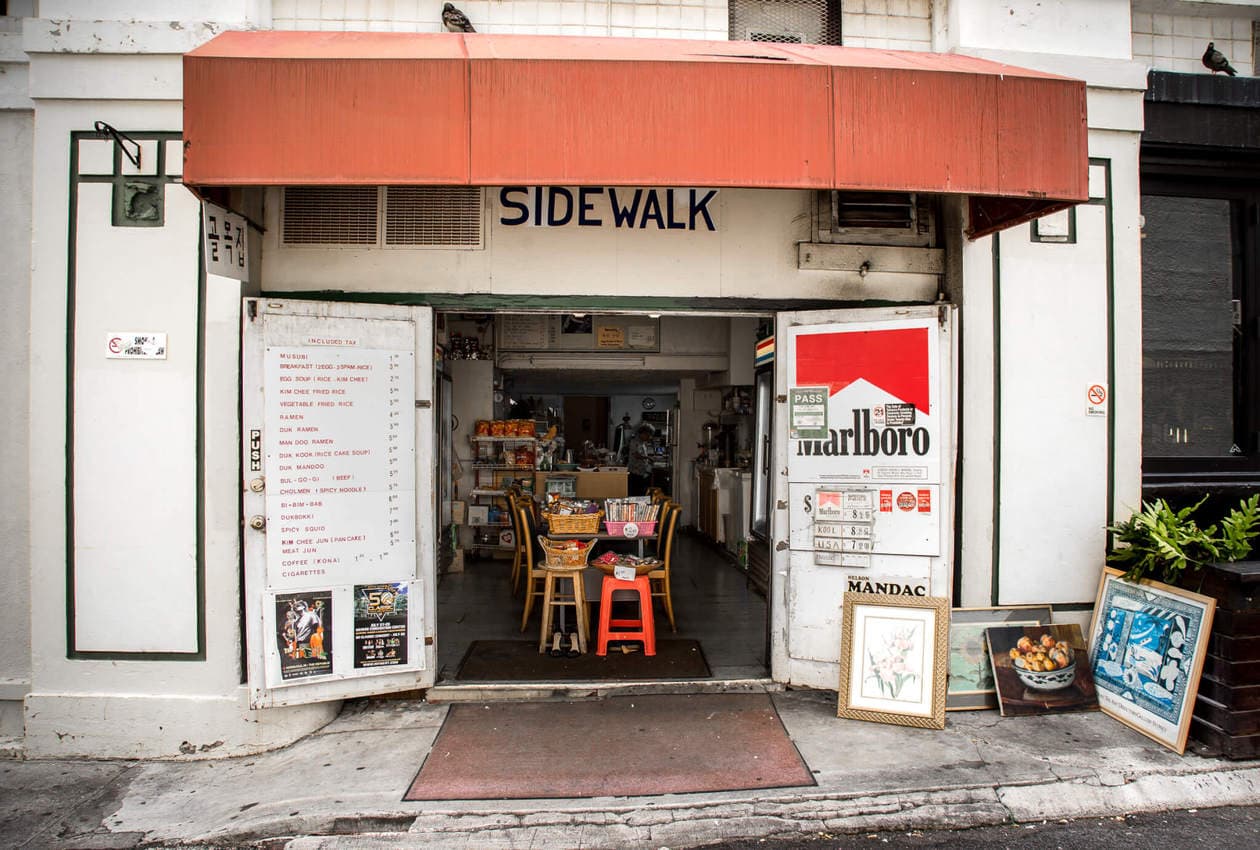 The lady behind the counter cooks the pancakes on her tiny grill. You will have a lot of questions but they will all fade away after you taste your first bite. Sidewalk Deli is not going to be for everyone, but if you want a cheap meal and don't mind a true hole in the wall restaurant, you will not regret it. It's definitely an experience, and it ended up being one of my top favorite places to eat in Oahu.
Sidewalk Deli is located next to Proof Public House on Fort Street Mall and Chaplain Lane.
---
UPDATE: Sidewalk Deli has unfortunately closed permanently. 🙁
---
ADDRESS 1154 Fort Street Mall Suite 107, Honolulu HI 96813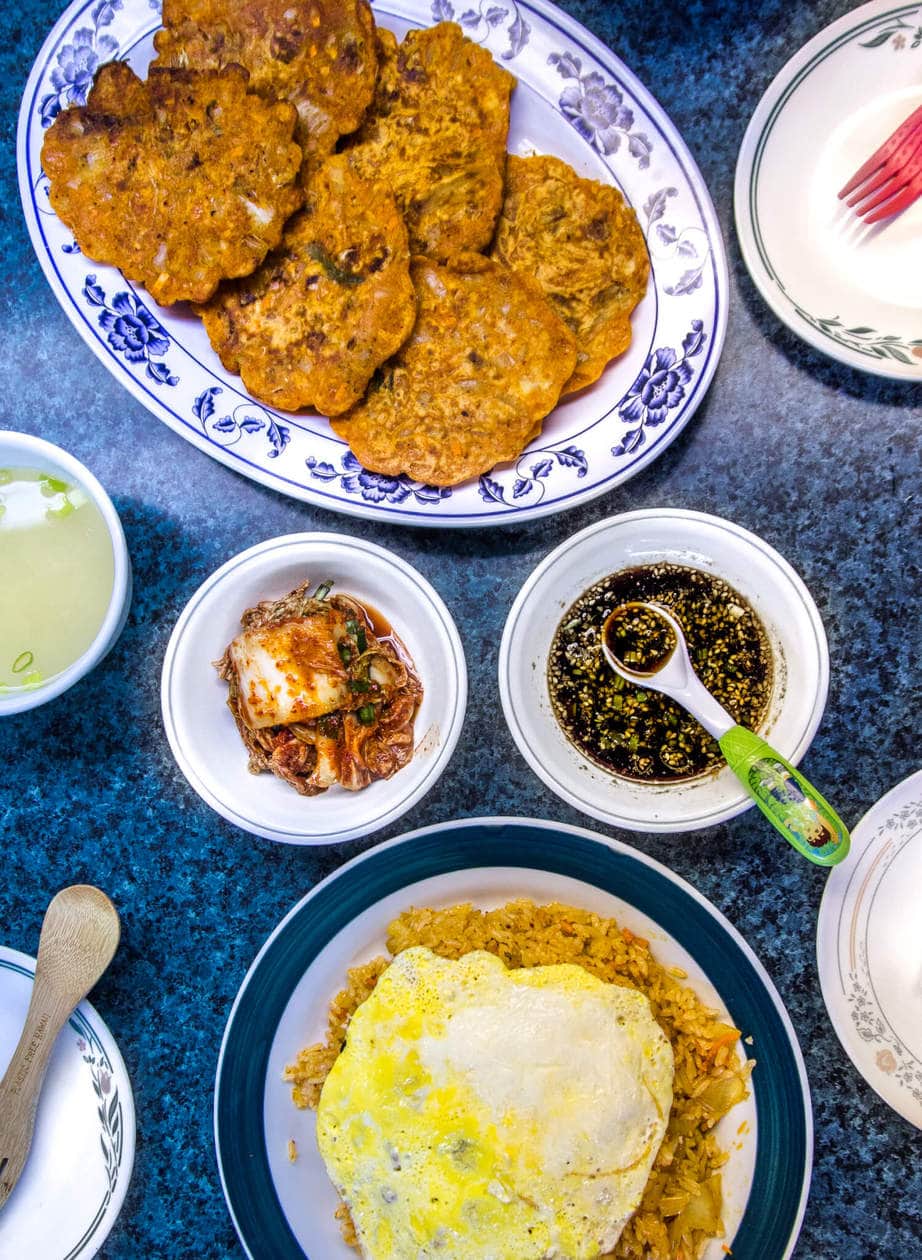 ASATO FAMILY SHOP // AN INSANELY POPULAR LOCAL SHERBET SHOP 
Asato Family Shop is one of the most interesting places to eat in Oahu .. if you're lucky enough to get the chance.
Due to its extreme popularity, their lines start to form hours before they open… sometimes before 5am. That, plus the fact that they are only open on Sunday, makes it a difficult but rewarding experience if you are able to walk away with a pint of sherbet.
Asato Family Shop serves pints of sherbet featuring local flavors such Li Hing Chamoy, Pickled Mango Juice, Mango Pineapple, Li Hing Gummy Bears, and Green River.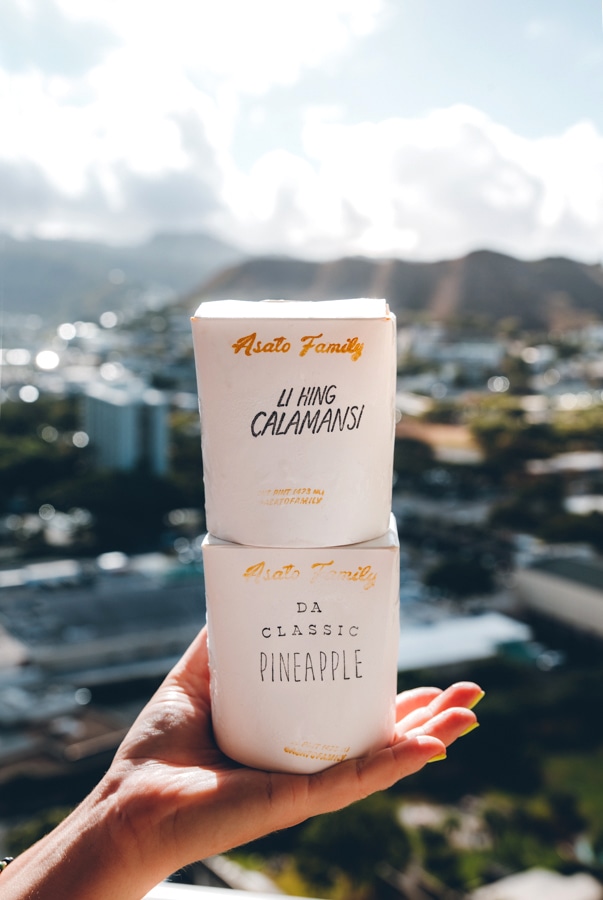 If you didn't grow up in Hawaii, some of the flavors might be new to you but give them a chance. My favorite was the Li Hing Calamansi. It was one of the most unique and addicting sherbets I've ever had and I'm officially on board with the hype surrounding this place.
If you want to try your luck and secure a pint for yourself, I recommend bringing a chair and an umbrella to protect you from the sun. Also be sure to check their Instagram. That's where Asato Family Shop announces their flavors for the week and they also update you on how the line looks hour by hour. Pints sell out quickly, so they also let you know when things are running low.
My sister lives nearby and can see the line from her balcony so she knows when to run down. Luckily, she already had a few pints in her fridge for me to try so I didn't have to wake up at 5am this time around.
ADDRESS 1306 Pali Hwy. Honolulu, HI 96813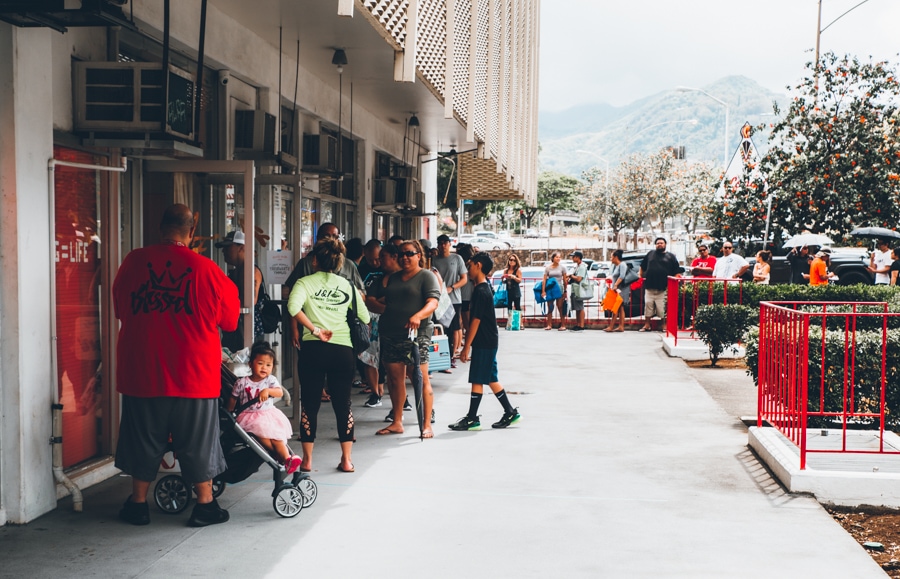 ALI'I COFFEE // A MUST VISIT LOCAL COFFEESHOP
Ali'i Coffee is located near my sister's house in the Chinatown/Downtown area, and their cold brew is one of the things I look forward to most when I visit her on Oahu.
It's a small, local coffee shop serving espresso drinks, cold brews on tap, "coff-tails," and some light food options such as sandwiches, flatbreads and avocado toast.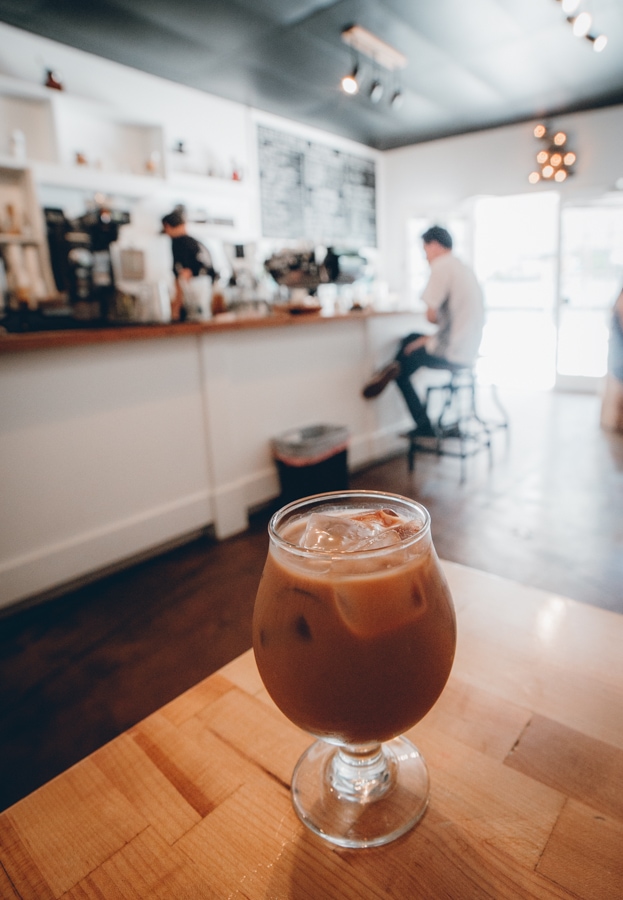 My favorite menu item is "The King" cold brew which they have on tap. It's made with chocolate, coconut, and half & half, almond/coconut creamer. It's so smooth and delicious, and I compare every cold brew I drink to it. It's a must try.
Also be sure to check out their Taro Ube Latte, the Mint Chip Coff-Tail made with mint and Mexican chocolate, or the Kula which has a lavender base.
ADDRESS 35 S Beretania St. Honolulu, HI 96813
SHIROKIYA JAPAN VILLAGE WALK // JAPANESE FOOD AND CHEAP BEER
Shirokiya Japan Village Walk is not technically one the most off the beaten path places to eat in Oahu, but unless you are Japanese there's a good chance you might not come across it during your trip research. 
This massive food court is filled with vendors serving ramen, udon, sushi, hotpot, crepes, bubble tea and more. One of the biggest draws is their super cheap beer prices: glasses range from from $1-4USD and you can get a pitcher of Kirin for $8USD.
My sister and I go for the veggie ramen at Ramen Ono-ya (one of the only veggie options in the food court) and cheap drinks. The atmosphere is lively with live music on busy nights, and it's a super fun place to grab a bite to eat.
One of the most popular booths for tourists and Instagrammers is the Charmy booth which serves colorful soft serve ice cream at a ridiculous price tag ($16). The Aloha design is their bestseller.
ADDRESS 1450 Ala Moana Blvd #1360, Honolulu, HI 96814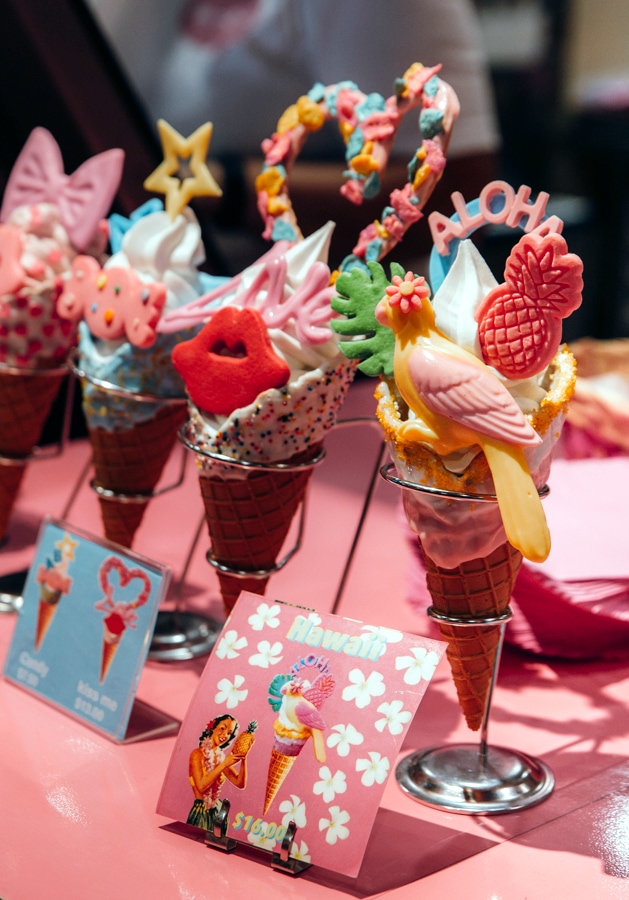 WING ICE CREAM PARLOR // QUIRKY ICE CREAM FLAVORS IN CHINATOWN
Thrills is on this list because of its cute atmosphere and Wing's is on this list because of the ice cream.
The kitschy interior design is funky (yet charming in it's own way) and the owner is not the most welcoming (but maybe he was having a bad day). However, the ice cream flavors he creates are so quirky and unique, it's definitely worth stopping by for a scoop to-go.
 As you browse the glass case of selections for the day, bizarre yet intriguing flavors jump out at you – sour cream and onion, Cheez-It, garlic, rose and Grey Poupon are some of his past creations. If you're not feeling super adventurous, they have normal flavors too, as well as some dairy free options. 
We went with rose and "Cheezus" the Cheez-It flavored ice cream. Both flavors were spot on and Cheez-It ice cream was surprisingly addicting.
Wing Ice Cream Parlor unfortunately doesn't offer samples, so I recommend the ice cream flight which comes with 3 small scoops for $5.25USD.
ADDRESS 1145 Maunakea St. Ste 4 (Entrance on Pauahi St.)Honolulu, HI 96817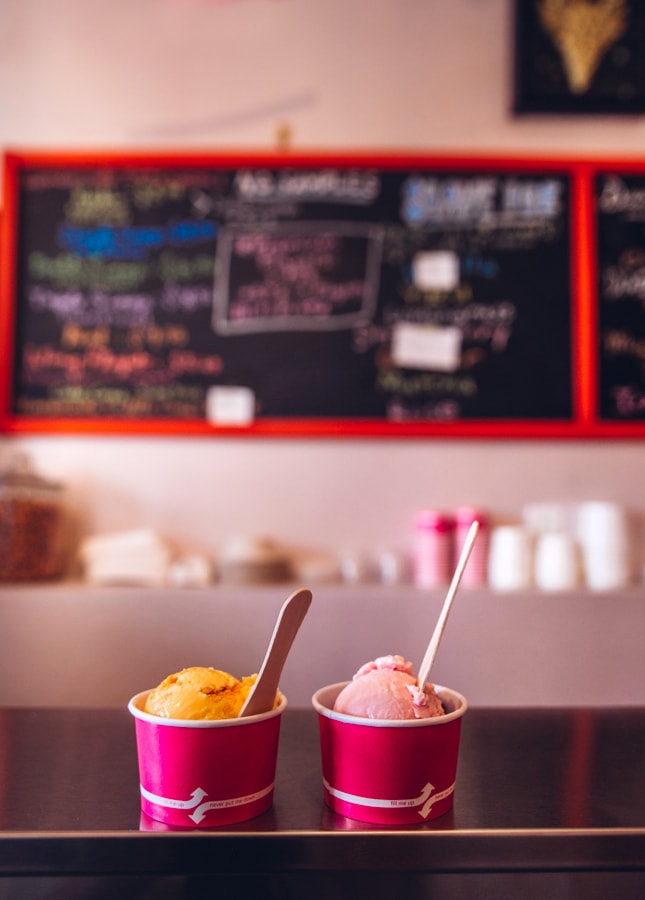 THRILLS // AN INSTAGRAMMABLE ICE CREAM PARLOR
Black ice cream cones have entered peak trendiness on Instagram and Thrills is here to hand deliver the prettiest ice cream photo your feed has ever seen.
Thrills is located near the Ala Moana Shopping Center and while their ice cream is good, if you don't care about cute photos, there are definitely better options on the island.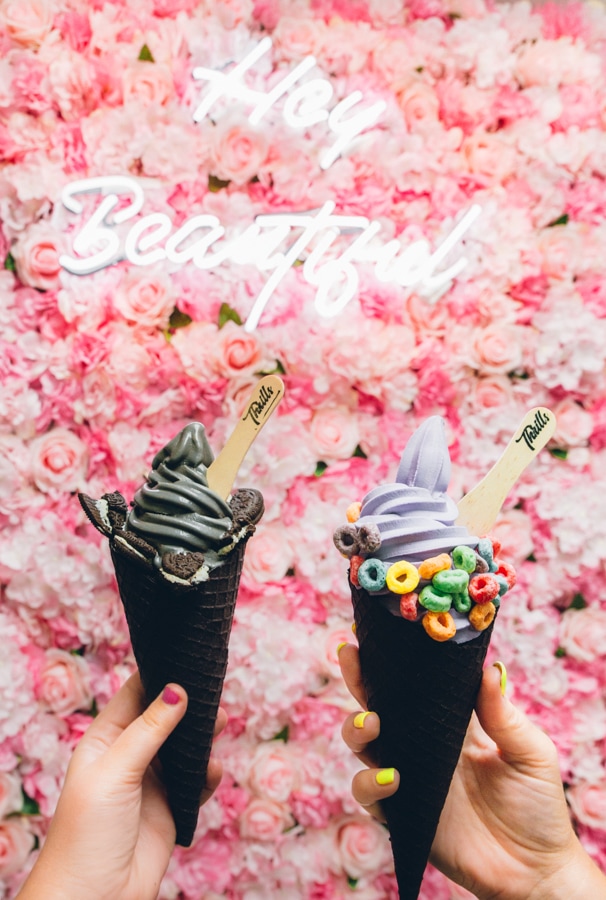 With that said, if you're the type to live and die for the gram, you're gonna love Thrills. From their pink flower wall, neon signs, colorful toppings and the "lick me" tiled floor, there is a photo op at every corner.
As far as flavors go, Thrills offers a short list. They rotate 5 options which include selections like matcha, Oreo, brownie batter and Orange Dreamsicle. You also get one free topping and can choose from fruity pebbles, Teddy Grahams, Oreos, classic sprinkles and more.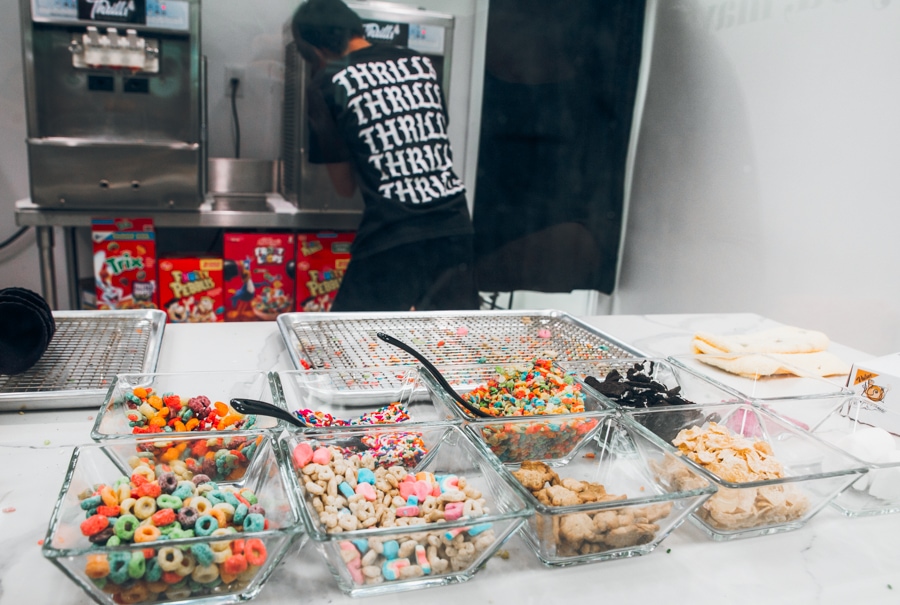 Full Disclaimer: Thrills opened in 2019 and we were amongst their first customers. I don't think they had mastered the activated charcoal ratio in their black cones yet because shortly after eating our ice cream we were both running to the restroom with black diarrhea lmao. We saw later that they mentioned it on their Instagram and had remedied the issue. All of their reviews are great, we were just the unfortunate guinea pigs. At least our photos are cute though.
ADDRESS 510 Piikoi St. Honolulu, HI 96814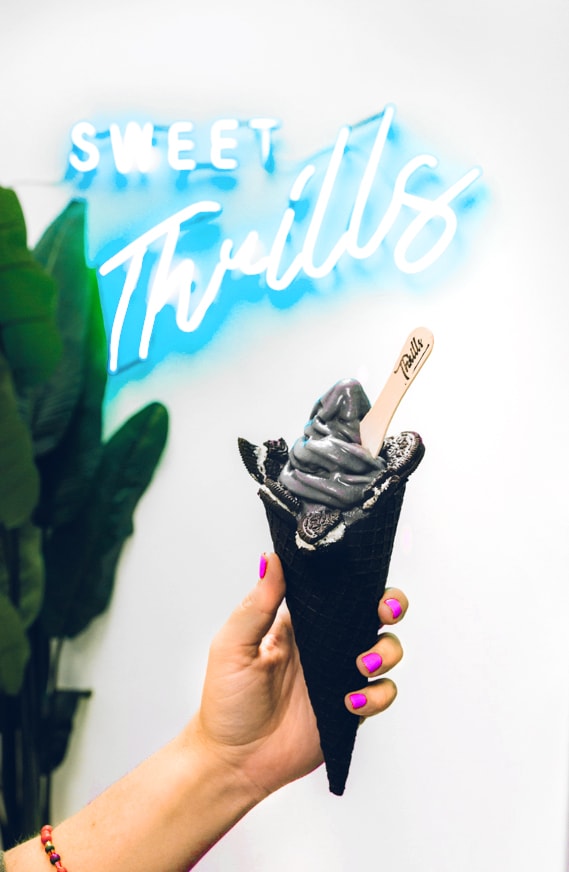 TACO'AKO // GOURMET TACOS IN KAKA'AKO
Thyda's Tacos serves authentic street style tacos while Taco'ako is more of an upscale taco experience.
Located in the SALT complex in Kaka'ako, Taco'ako is a small restaurant serving classic Mexican menu options such as tacos, burritos, tostadas and elote .. but with a bit of a twist. Tacos are dressed with gourmet ingredients such as papaya vinaigrette, Korean mayo and wasabi chipotle cream.
They also have a few options for vegetarians such as avocado and cauliflower tacos, and a veggie burrito.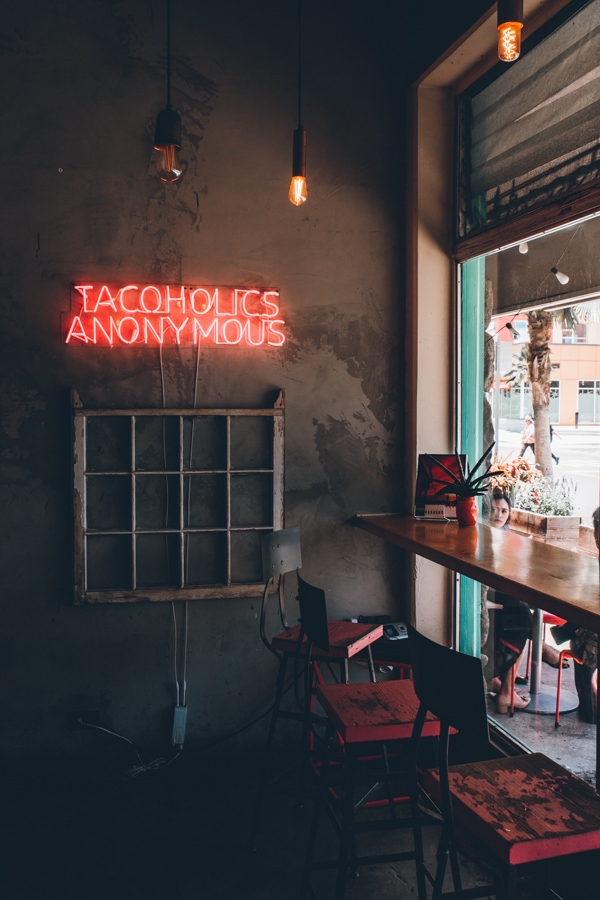 My mom and I split the avocado taco which was made with tempura battered avocado, black beans, slaw and wasabi & chipotle cream. It was delicious and enough food to hold us over for a mid-day snack. Also be sure to slather on some of their house hot sauces (so good!).
Taco'ako is a great place to stop for lunch if you're exploring Kaka'ako (read my Kaka'ako neighborhood guide here!). There are a few options for inside counter seating, as well as some outdoor sidewalk tables.
ADDRESS 675 Auahi St #129, Honolulu, HI 96813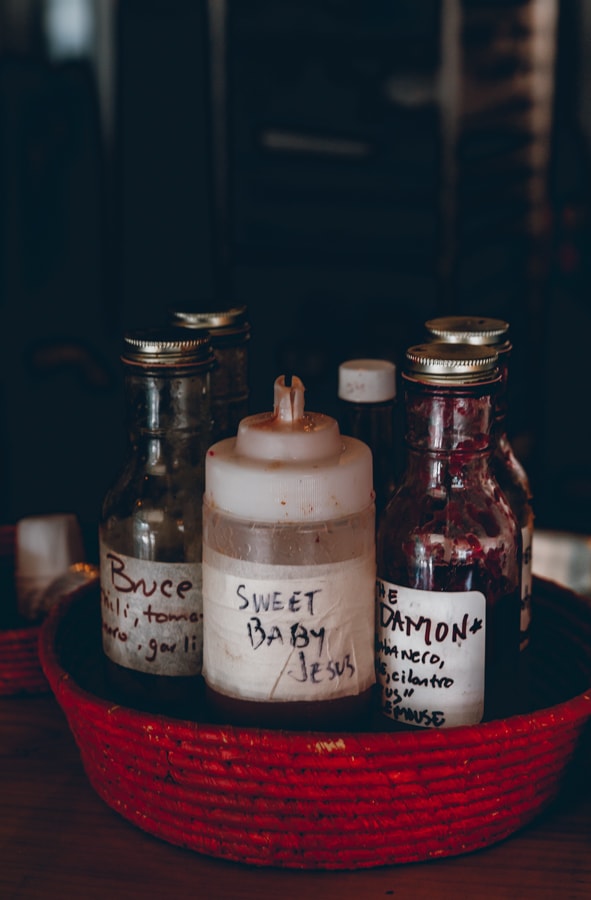 WAILUA BAKERY // A FRESH HOMEMADE LUNCH ON THE NORTH SHORE
Wailua Bakery is one of my sister's favorite places to eat in Oahu, whenever she's on the North Shore. On my last trip, we stopped in before snorkeling at Shark's Cove and had an amazing lunch.
Wailua Bakery is a family run restaurant that has been around since 1999. Most of their ingredients come from their own family farm, and if they don't grow it themselves they source from other local farmers. The ingredients are fresh and natural, and they even make their bread, cookies, veggie burgers, ice cream, pesto and hummus from scratch.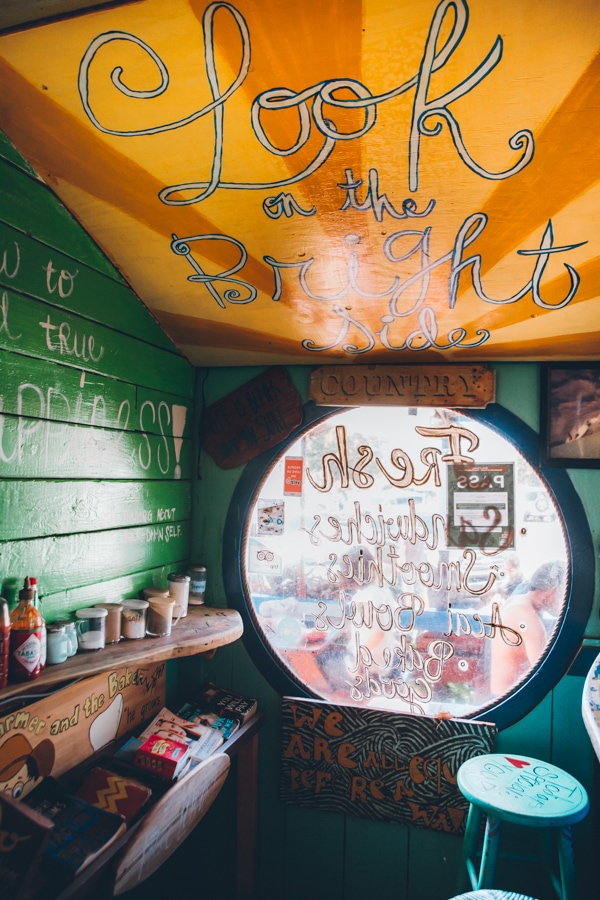 The restaurant serve salads, sandwiches, smoothies acai bowls and baked goods. Their ice cream sandwiches are very popular as they make the cookies and ice cream in-house. Also be sure to try their homemade lemonade or their plantation tea, which made with pineapple juice and black tea. 
The prices are great (for Hawaii) and the vibes are good. They have a small free library inside where you can borrow or leave books and their colorful hand painted signs with uplifting quotes makes the dining experience memorable.
ADDRESS 66-200 Kamehameha Hwy, Haleiwa, HI 96712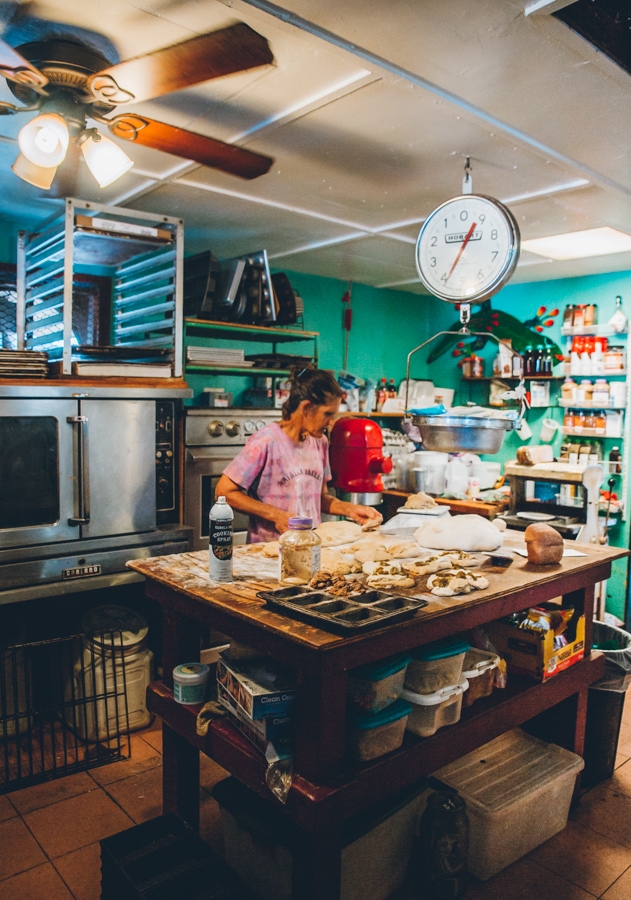 HAUPIA FRENCH TOAST AT CJ'S DELI // THE BEST BREAKFAST IN WAIKIKI
CJ's is located in Hilton Hawaiian Village. It's a New York style deli mixed with Hawaiian fusion, and it's not a place that I'd normally pick. We avoided Waikiki during most of our trip but one of my sister's closest friends on the island works here, so we popped in for a visit one afternoon.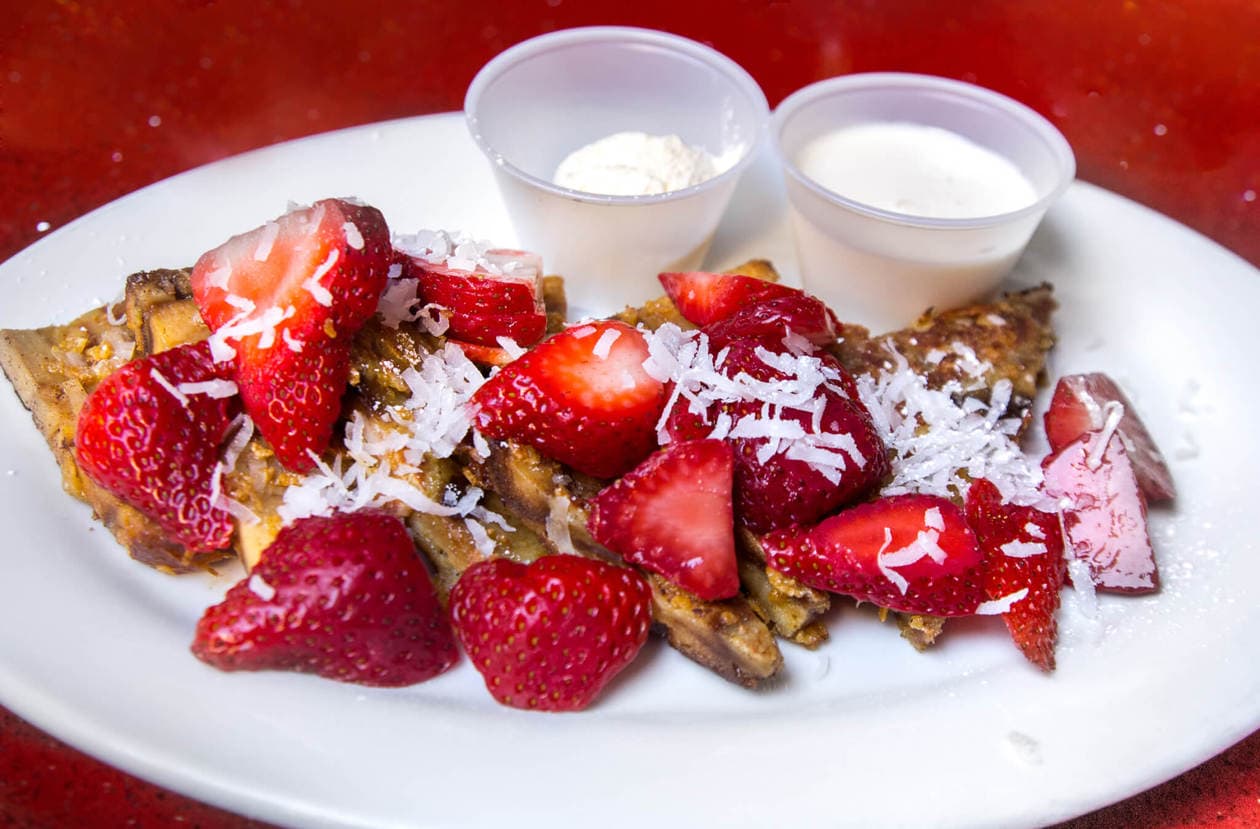 Forget everything else on the menu (seriously though, it's not great) and order the Haupia French Toast. The french toast is made out of homemade bread pudding with a coconut and corn flake crust, coconut "haupia" layers, fresh strawberries and a homemade coconut rum sauce on top. It's so good you won't even flinch at the (Waikiki appropriate) price tag.
ADDRESS
Located in the Rainbow Bazaar at the Hilton Hawaiian Village
2005 Kalia Road Honolulu, HI 96815
Monday-Sunday 7am-9:30pm (breakfast is served all day)
Did I miss anything? What are some of your favorite unique places to eat in Oahu?
---
PIN IT // 15 OFF THE BEATEN PATH PLACES TO EAT IN OAHU