Hawaii's craft brewing scene has exploded over the past 10 years with breweries popping up all over the islands. A large concentration of Oahu's breweries are located in Honolulu's trendiest up and coming neighborhood, Kaka'ako.
What used to be a desolate industrial area filled with automotive shops, has recently been brought back to life thanks to a network of local and global artists who have creative beautiful murals all over the neighborhood.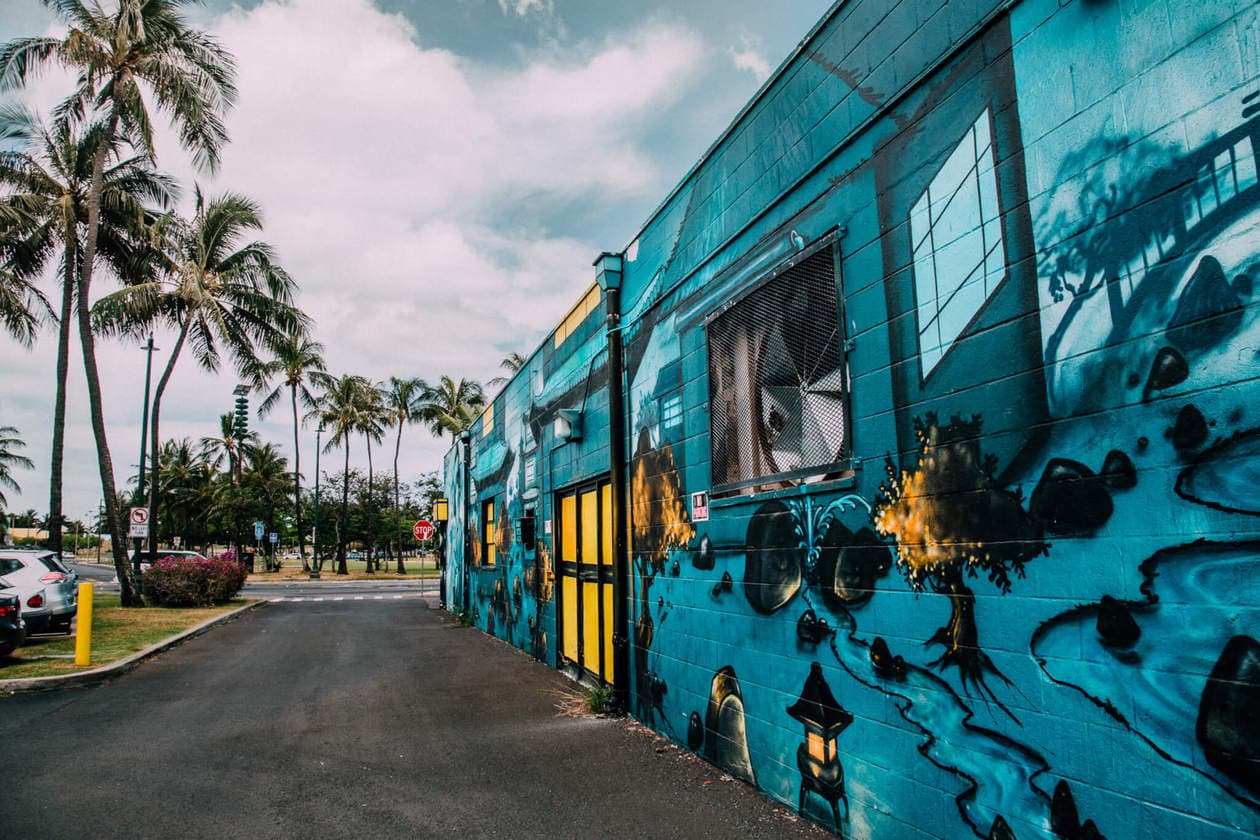 Today, micro breweries are popping up all over Kaka'ako and reviving the neighborhood's roots. Beer has been a part of Kakaako's history for over a century. It was once home to to the Honolulu Brewing and Malting Co, a pre-Prohibition brewery which opened it's doors in 1900, and launched the Primo lager brand in 1901.
From a unique WWII museum that doubles as a brewery, to local beer that gives back, keep reading to discover 4 must visit breweries in the area. Take my self guided walking tour or pick and choose from your favorites on the list.
And while you're at it, be sure to check out my Kaka'ako guide below for 8 things to do while you're in the area.
---
RELATED POST: A GUIDE TO KAKAAKO // HONOLULU'S COOLEST NEIGHBORHOOD
---

4 MUST VISIT OAHU BREWERIES // A SELF GUIDED WALKING TOUR IN HONOLULU
All of the Oahu breweries on this list are within walking distance of each other, making it the perfect afternoon activity for beer lovers visiting the island. If you'd like to check off all 4 of the breweries, this self guided tour with lead you on the easiest route.
To begin, I recommend starting at the furthest brewery, Honolulu Beerworks.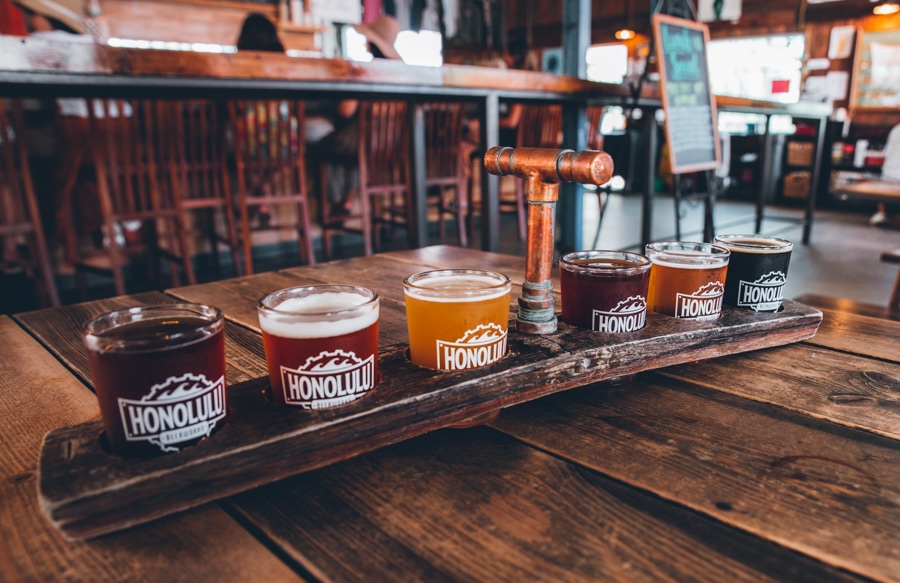 HOW TO GET TO HONOLULU BEERWORKS FROM WAIKIKI
Kaka'ako is about a 10 minute drive from Waikiki, where you'll most likely be staying if you're a tourist in Oahu.
UBER & LYFT are available in Honolulu and are the fastest option.
THE BUS The Bus is the cheapest way to get from Waikiki to Kaka'ako. A one way fare is $2.75 or you can purchase an all day pass for $5.50. Routes 43, 20 and 19 will drop you off near the brewery. To find the best route from your location, check out the DaBus app. It uses the near real-time arrival information and is the easiest way to determine which stops you need to get off at.
HONOLULU BEERWORKS
First up is one of my favorite Oahu breweries, Honolulu Beerworks. This craft microbrewery is located in the heart of Kaka'ako and it has been said that they make some of the best IPAs on the island.
THE BEER
They try to incorporate as many unique and locally sourced ingredients in their brewing process as possible. Their Honey Citrus Saison incorporates all local citrus, honey, and lemongrass.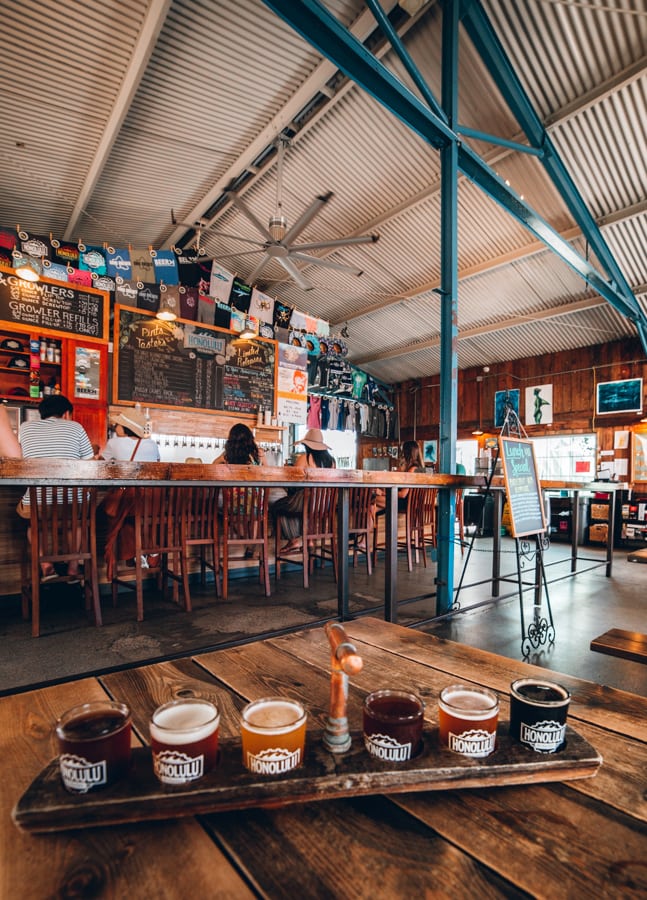 In addition to the Honey Citrus Saison, Honolulu Beerworks' other core beers include the Hop Island IPA, Kewalo Cream Ale, Cocoweizen (a coconut Hefeweizen), Sheltered Bay IPA, Point Panic Pale Ale, Makakilo Brown Ale, South Shore Stout and Pussy Grabs Back, their Extra Pale Ale.
Honolulu Beerworks regularly brews beers that benefit non-profits. Proceeds from their core beer, Pussy Grabs Back benefits the Pink Boots Society which funds scholarships and educational opportunities for women in the brewing industry.
During Pride Month they recently offered a glitter Blood Orange Saison which benefitted the Hawaii Health & Harm Reduction Center.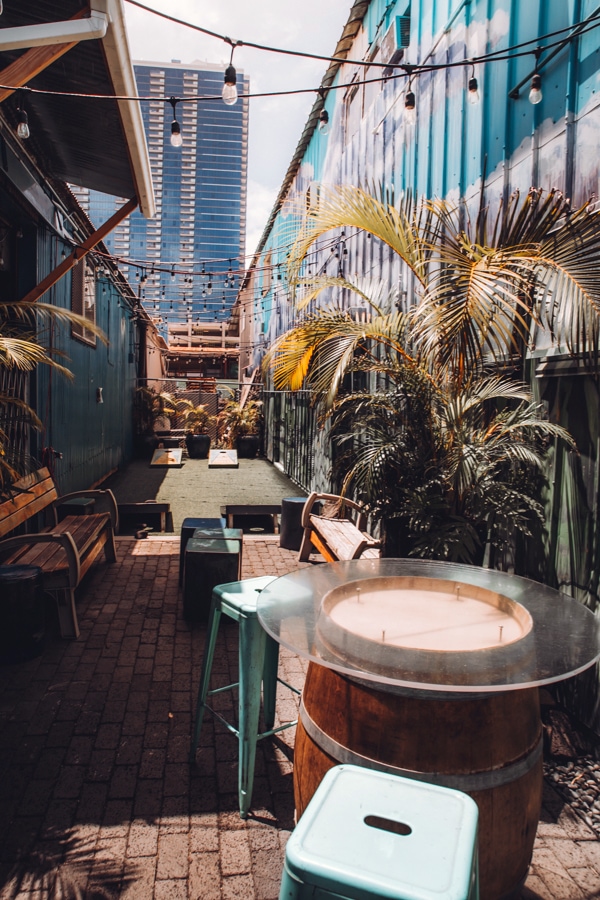 In addition to their core beers, Honolulu Beerworks also offers limited release beers like barrel aged Belgium Triples, and Scotch Ales aged in hot sauce barrels.
Honolulu Beerworks has my favorite beers out of Oahu breweries I've tried on the island. The time time we visited I fell in love with 2 of their limited release beers, The GOT Queen of Thorns (a farmhouse ale aged in chardonnay barrels) and the Stupid Sexy Flanders (a red ale aged in red and white French oak barrels).
THE BREWPUB
Honolulu Beerworks is located in an open air warehouse, with a small outdoor beer garden in back.
Their communal, open bench seating reminds me of German beer halls, which I love. The brewery also offers a menu featuring pub food such as Bavarian pretzels, candied nuts and sliders. Sandwiches, salads and beer mac and cheese is also available.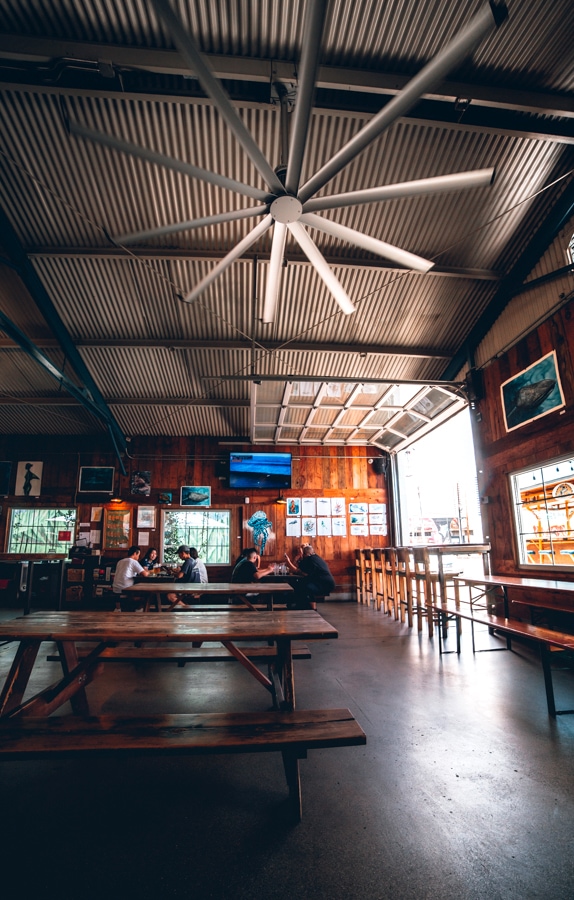 The brewery showcases local artist's artwork on their walls and the staff are friendly and inviting. Be sure to check their event schedule as they regularly host trivia, singles mixers and The Office quiz nights.
While they don't offer happy hour on their beer prices, they do have specials on cocktails and wine from 2pm-6pm daily
ADDRESS 28 Cooke St. Honolulu, HI 96813
HOURS Monday – Thursday: 11am – 10:00pm
Friday – Saturday: 11am – 12:00am
Sunday: Closed
WEBSITE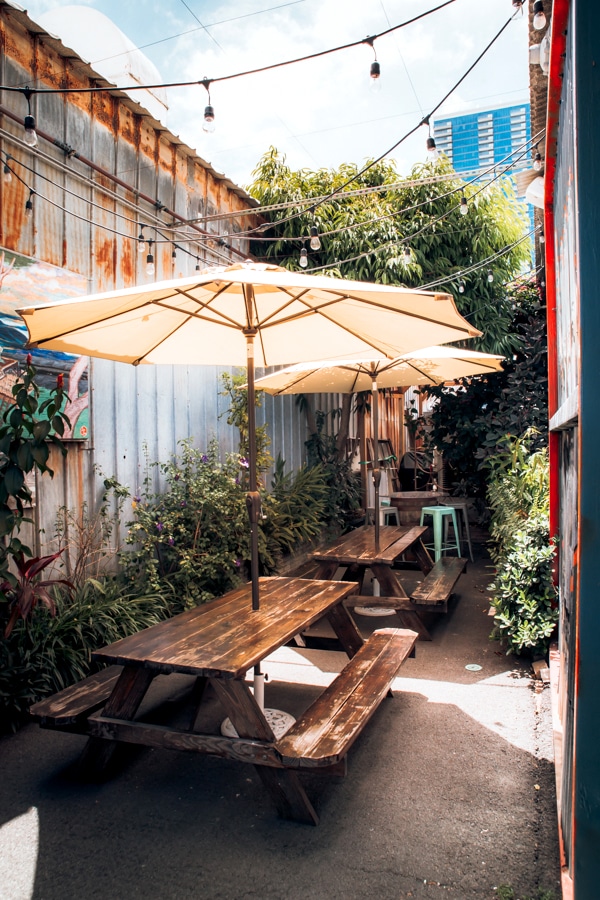 A GOOD AREA TO GRAB LUNCH OR DINNER
Honolulu Beerworks is located near SALT, Kaka'ako's main shopping center filled with restaurants, cafes and boutiques. This is the perfect time to grab lunch or dinner before making your way to the next brewery. While all of the breweries on this tour offer food, SALT is going to the have the largest selection of food options to choose from during the tour.
HONOLULU BEER WORKS TO ALOHA BEER COMPANY
Walk out of the door and turn left, heading

northeast

on

Cooke St

toward

Auahi St. The walk goes by fast because there are tons of murals by the Pow! Wow! artists to look at. You'll pass a large park on your left. Eventually, you'll t

urn right on Queen Street after 0.3 miles. Aloha Beer Company is a little ways down the street.
---
RELATED POST: 15 OFF THE BEATEN PATH PLACES TO EAT IN OAHU
---

ALOHA BEER COMPANY
Aloha Beer Company is a locally owned and operated brewery handcrafting their rotating selection of beers on site. They're the only brewery on this list that I haven't visited personally, but people rave about it and their reviews are excellent.
The brewery offers a selection of core beers and limited releases such as:
VIENNA LAGER Amber Lager
BLONDE Blonde Ale
JEFE-WEIZEN Hefeweizen brewed with blue agave syrup and garnished with a lime.
QUEEN ST PILS German Style Lager
WAIMANALO FARMHOUSE ALE Belgium Saison
HOP LEI IPA West Coast Style IPA
RED ZEPPELIN American Amber / Red Ale
PORTLUCK PORTER Robust Porter
HOP TIDE PALE LAGER Hoppy American Lager
FROOT LUPES American Imperial IPA
CYCLHOPS Barley-wine style Ale
GIMME BLACK PILS German Black Lager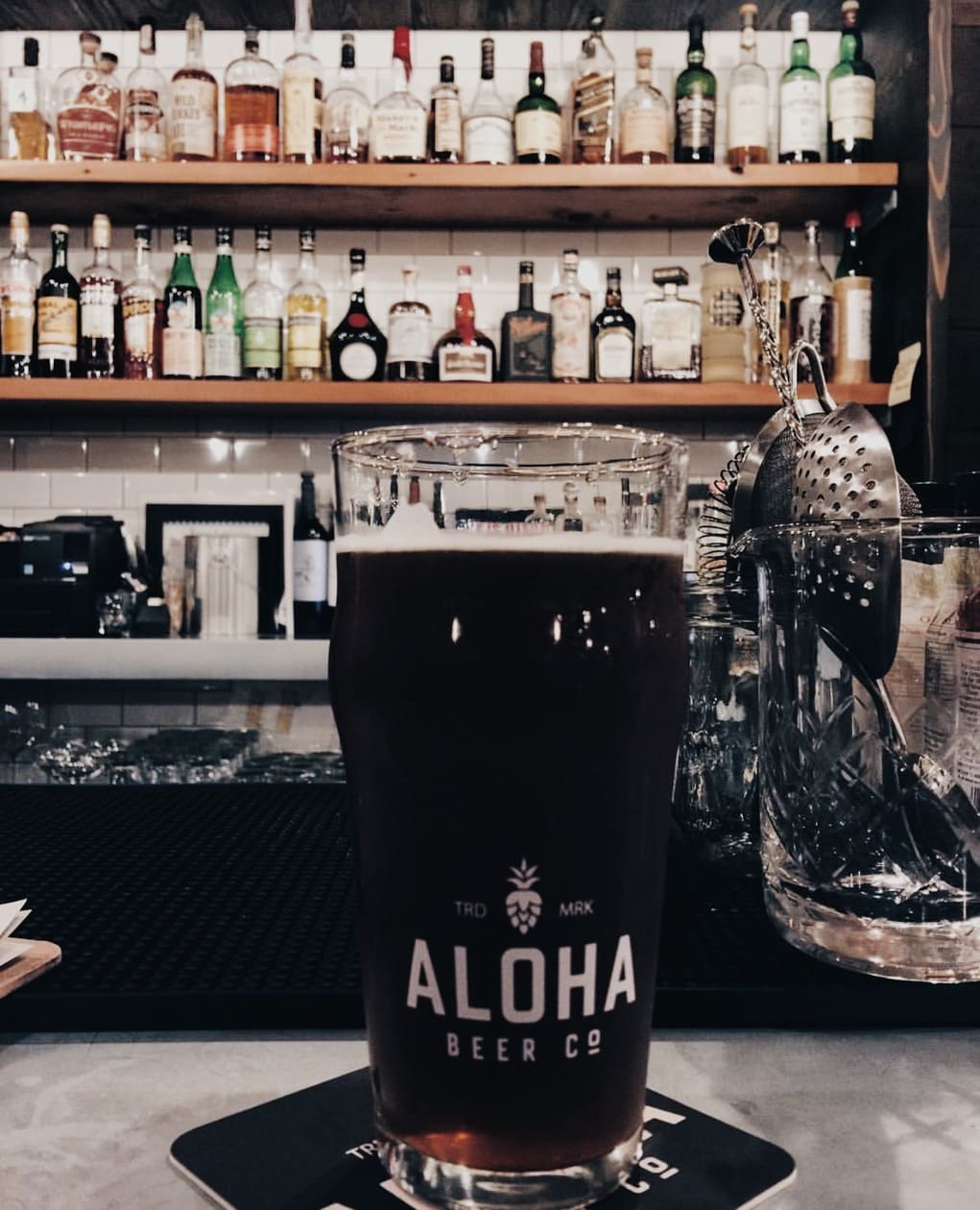 The taproom is located on the lower floor and they also have a roaring 20's style speakeasy bar called the Hi-Brau room upstairs which serves their house beer as well as craft cocktails.
For food, Aloha Beer Company serves small plates and charcuterie boards as well as sandwiches, pretzels and specialty steak fries.
ADDRESS 700 Queen St, Honolulu, HI 96813
HOURS Monday – Saturday: 4PM – 11PM
Sunday: Closed
WEBSITE
ALOHA BEER COMPANY TO WAIKIKI BREWING
Walk out of Aloha Beer Company and turn left, heading

southeast

on

Queen St

toward

Cooke St. Waikiki Brewing is a 3 minute walk (0.1 miles).
---
RELATED POST: 10 THINGS TO DO IN OAHU THAT AREN'T WAIKIKI BEACH
---

WAIKIKI BREWING
THE BEER
Waikiki Brewing has two locations on Oahu, one in Waikiki and the other on Queen St. in Kaka'ko. Their Kaka'ako location is conveniently located in between Aloha Beer Company and Home of the Brave Brewing, less than a 5 minute walk away from both.
All of Waikiki Brewing's beer is brewed on site in their 20 barrel brewhouse. They have a core lineup of nine beers including the Aloha Spirit Blonde Ale, Craft Light Lager, Hana Hou Hefe, 808 Pale Ale, Black Strap Molasses Porter, English Brown Ale, Jalapeño Mouth, Skinny Jeans IPA and the Eee Pah IPA. They also feature seasonal and limited-release beers throughout the year.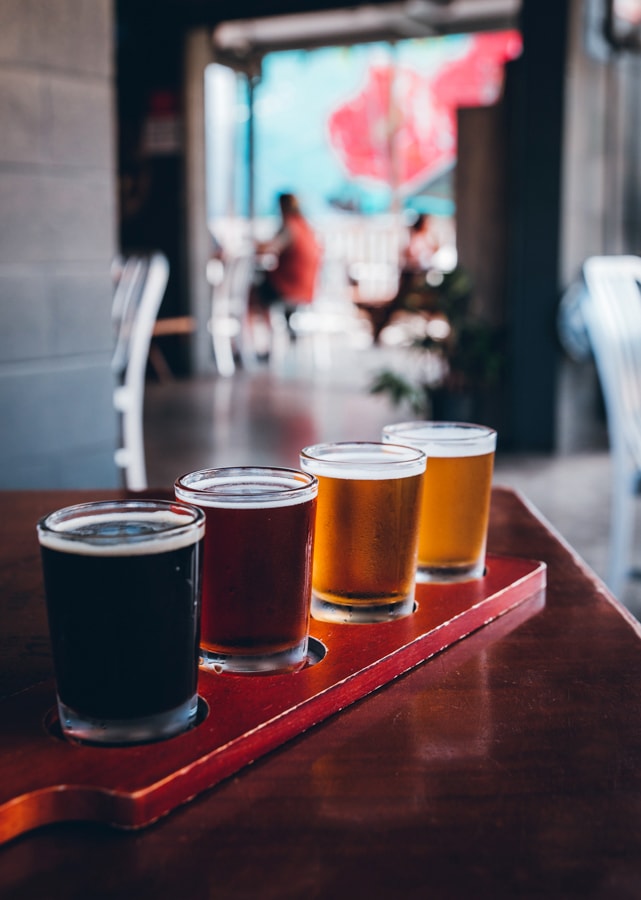 The Jalepeno Mouth is an amber ale which utilizes fresh jalapeno chilies in the boil, and it is incredibly unique. Also be sure to try their Blackstrap Molasses Porter, which won the silver medal at the 2017 Great American Beer Festival.
THE BREWPUB
Waikiki Brewing in Kaka'ako has a casual laid back vibe, and was filled with mostly locals when we visited. The staff were some of the most attentive and friendly out of all the Oahu breweries I've been to.
It feels very open inside, with indoor and outdoor seating available. There are also a ton of televisions so it's a great place to sit back with a beer and watch the game.
Happy hour at runs from 3pm to 5pm daily and features $5 pints of our their core beers as well as 64 ounce growler fills that are only $12. Waikiki Brewing also has a food menu offering smoked meats, sandwiches, salads, pizza and plate lunches.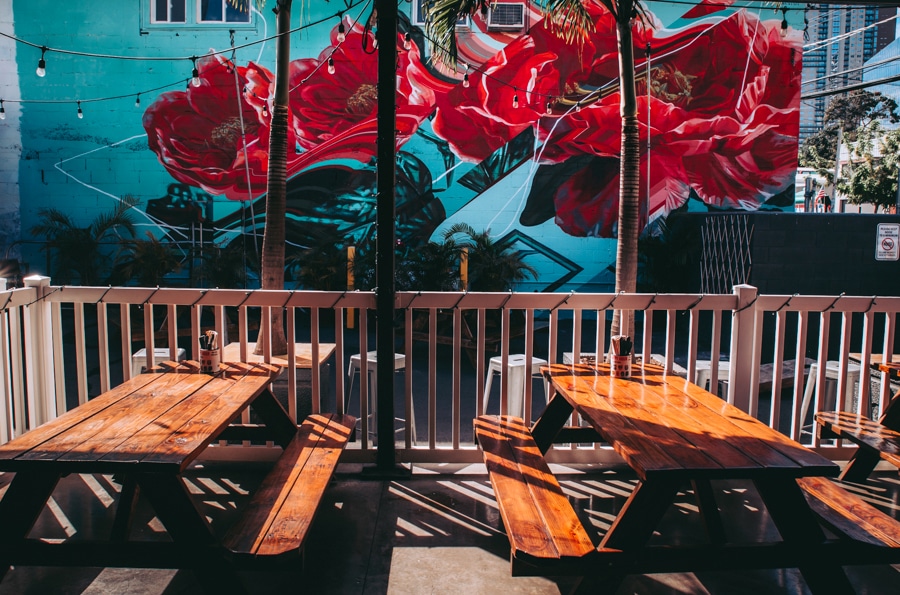 Be sure to check out their weekly event schedule which includes trivia on Sunday nights, Family Nights on Tuesdays, weekend brunch and NFL game night specials.
ADDRESS 831 Queen Street, Honolulu, HI 96813
HOURS Monday 2pm-11pm
Tuesday-Thursday: 11am-11pm
Friday 11am-Midnight
Saturday 10am-Midnight
Sunday 10am-11pm
WEBSITE
WAIKIKI BREWING TO HOME OF THE BRAVE BREWING / BREWSEUM
Walk out of Waikiki Brewing and turn right, heading

southeast

on

Queen St

toward

Kamani St.

Turn

left

onto

Kamani St and then

make a

right

onto

Waimanu St. Home of the Brave Brewing and the Brewseum is a 4 minute walk (0.2 miles away).
---
RELATED POST: 20 PICTURES OF OAHU TO INSPIRE YOUR NEXT TRIP TO HAWAII
---
HOME OF THE BRAVE BREWING AT THE BREWSEUM
If I had pick a favorite out of the Oahu breweries, I'd choose Honolulu Beer works for the beer and Home of the Brave Brewing for the experience.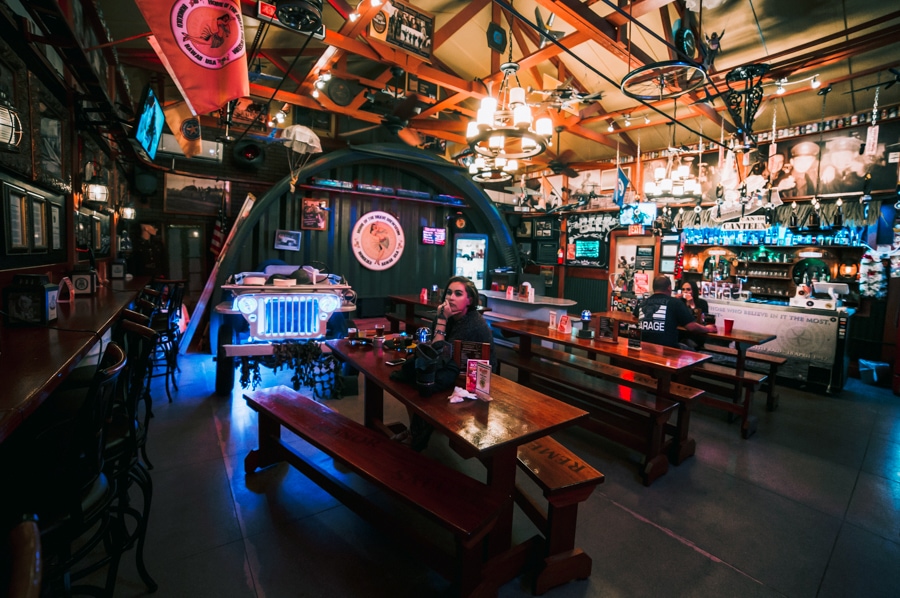 Home of the Brave Brewing is a small brewing company located in the Brewseum, a local brewery that doubles as a WWII museum. It is by far one of the most interesting breweries/brew pubs I've ever visited and it makes for a unique way to brush up on some history all while drinking a cold craft beer.
THE BEER
Home of the Brave Brewing makes just two core beers, the Pilot Pale Ale and 442 Go for Broke, both of which are brewed in the the original Brewseum (next door). Throughout the year, limited releases are also introduced such as the Wiki Waki Woo Brew Passionfruit Papaya Wheat, or the Charlie Brown Brown Ale.
In addition to their own beer, Home of the Brave Brewing also serves 6 other rotating taps from craft breweries such as Kona Brewing and Maui Brewing. They also serve bottled beer and wine.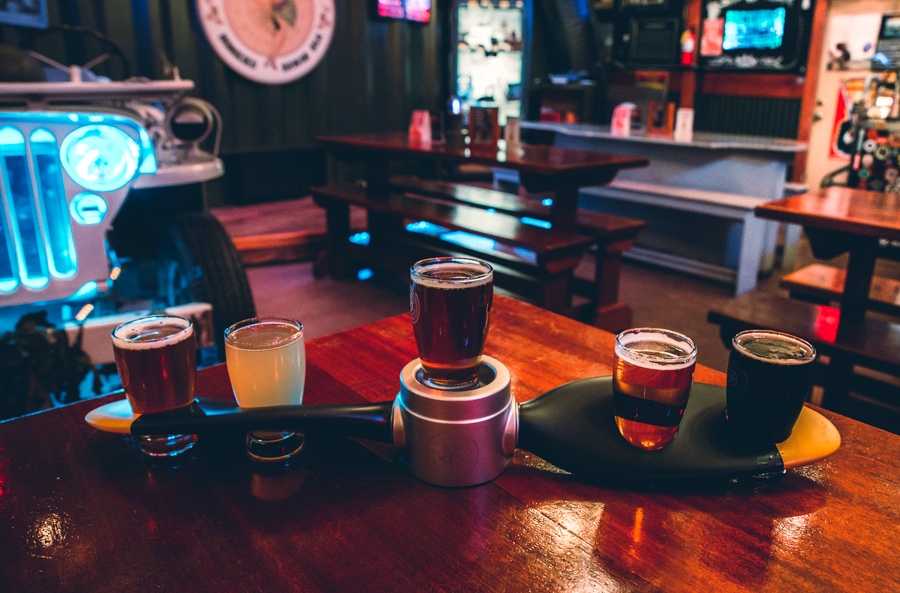 THE BREWSEUM
The Brewseum is the largest private collection of World War II memorabilia in the Pacific. The contents of the museum have been donated by over 100,000 WWII Veterans and their families, and it includes photos, letters, posters, artifacts, uniforms and more.
Within the Brewseum, you'll also find a vintage military jeep (that you can take photos in) as well as an '42 Army issue Harley-Davidson that was used in the film Pearl Harbor.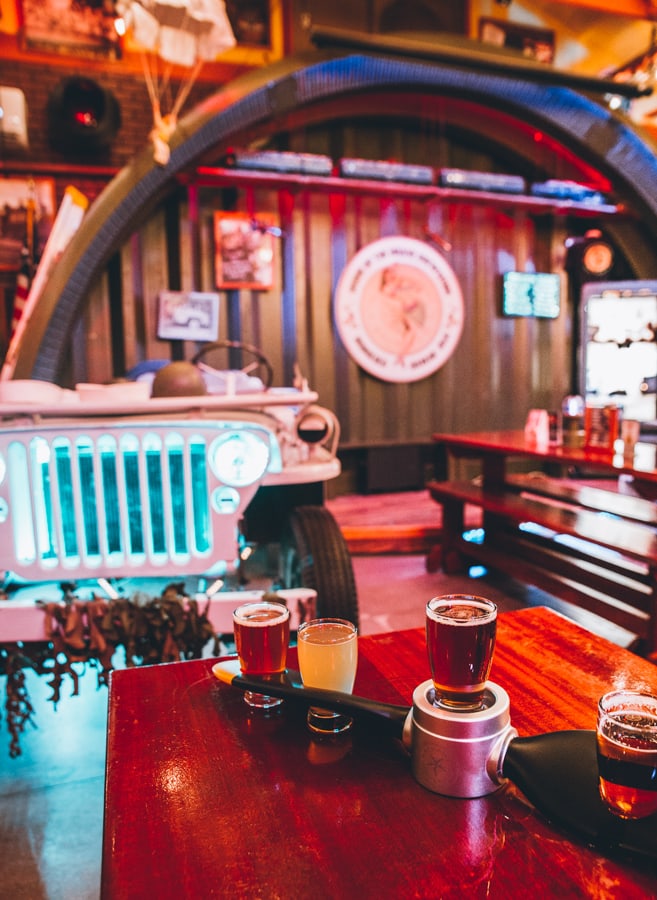 Model bomber planes circle above your head on an old-fashioned brass and wood pulley system, as you drink your beer flight served out of an airplane propeller. On the back wall, there is a 40's style telephone playing loops of real radio war broadcasts when you lift the receiver to your ear.
The Brewseum offers the smallest selection of food out of the breweries on this list, but they do have free popcorn for guests plus pizza, soft pretzels and Klondike ice cream bars. Food trucks can also be found outside on weekends.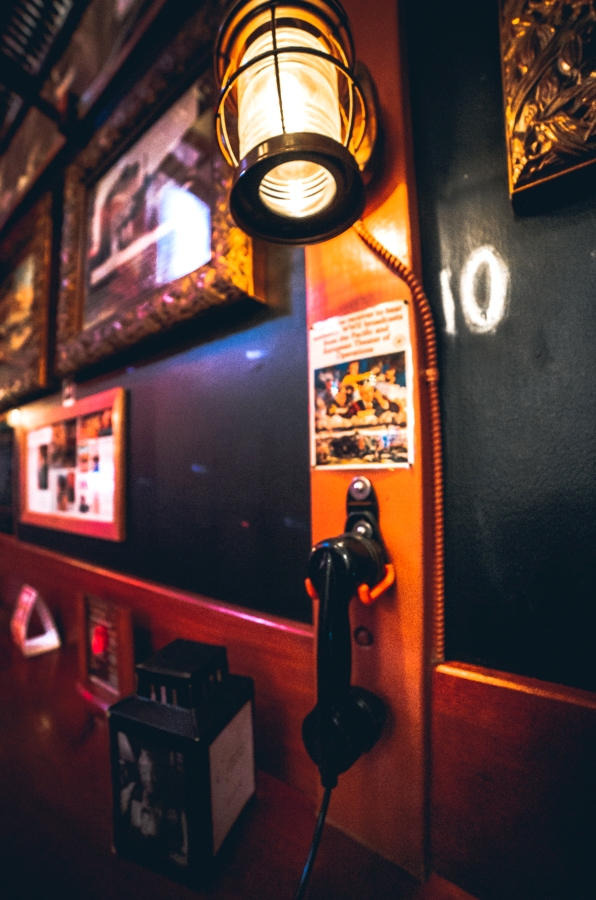 We stopped in on a week night before closing and it was pretty empty. The bartender was super friendly and came over to chat with us about the Brewseum and its history. He also told us about their weekly schedule of trivia and Battleship Bingo, as well as their speakeasy.. which unfortunately closed during our visit.
The Wiki Waki Woo is a 1940's style speakeasy located above the museum, and it has been rated amongst the top tiki bars in the U.S. You'll need a password and a secret knock to enter (ask the staff downstairs) but once you're in, you can enjoy cocktails & pints of beer straight from the brewing tanks below the bar.
ADDRESS 901 Waimanu Street, Honolulu HI 96814
HOURS Tuesday-Thursday: 5pm-10pm
Friday-Saturday: 5pm-11pm
Sunday-Monday: Closed
WEBSITE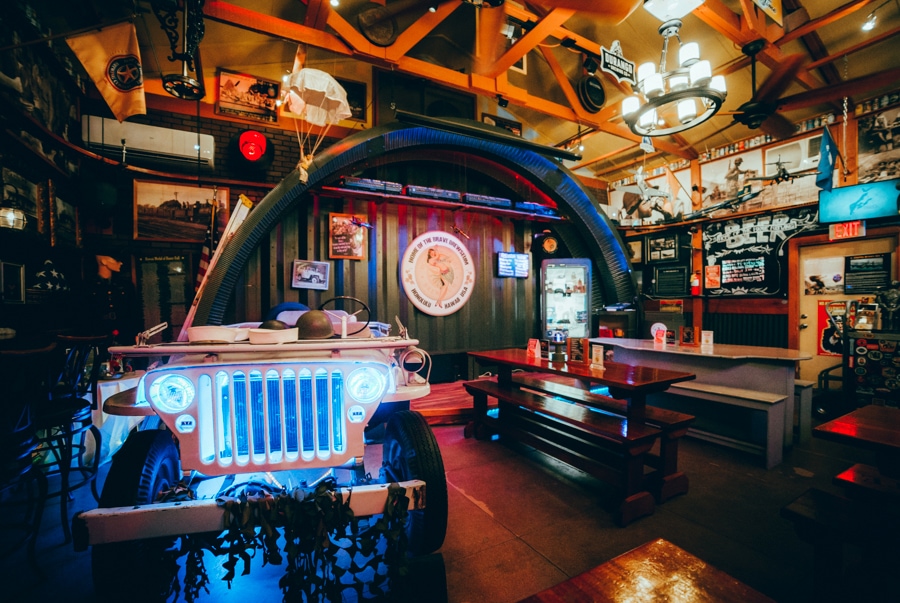 Have you been to any of these Oahu breweries? Leave a comment below!
---
PIN IT: 4 MUST VISIT OAHU BREWERIES // A SELF GUIDED WALKING TOUR