Prague welcomes over 8 million travelers a year, making it the 5th most visited city in Europe. If a trip to Czech Republic's Golden City is in your future, there are a few things you should know to keep to make the most of your trip. Keep reading to discover 15 Prague travel tips, including how to save money, how much to tip, how to get from Prague Airport to city center and more.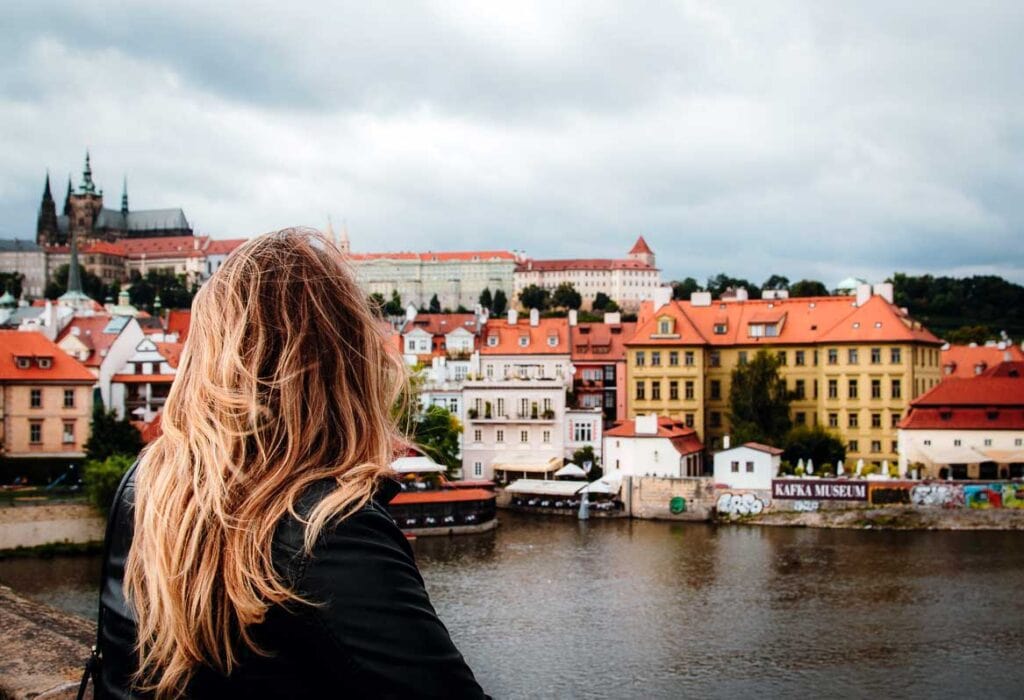 15 PRAGUE TRAVEL TIPS FOR FIRST TIME VISITORS
1. Get Up Early
One of my favorite memories in Prague was the morning that we explored Old Town at sunrise. Standing on Charles Bridge alone was a sharp contrast to the day before when we were packed together, shoulder to shoulder with other tourists.
I understand that waking up at sunrise is not what most people want to do while on vacation, but if you can make it out during at least one of your mornings, you will see a completely different side of Prague.
RELATED POST: PRAGUE WITH NO PEOPLE – WAKING UP BEFORE THE CROWDS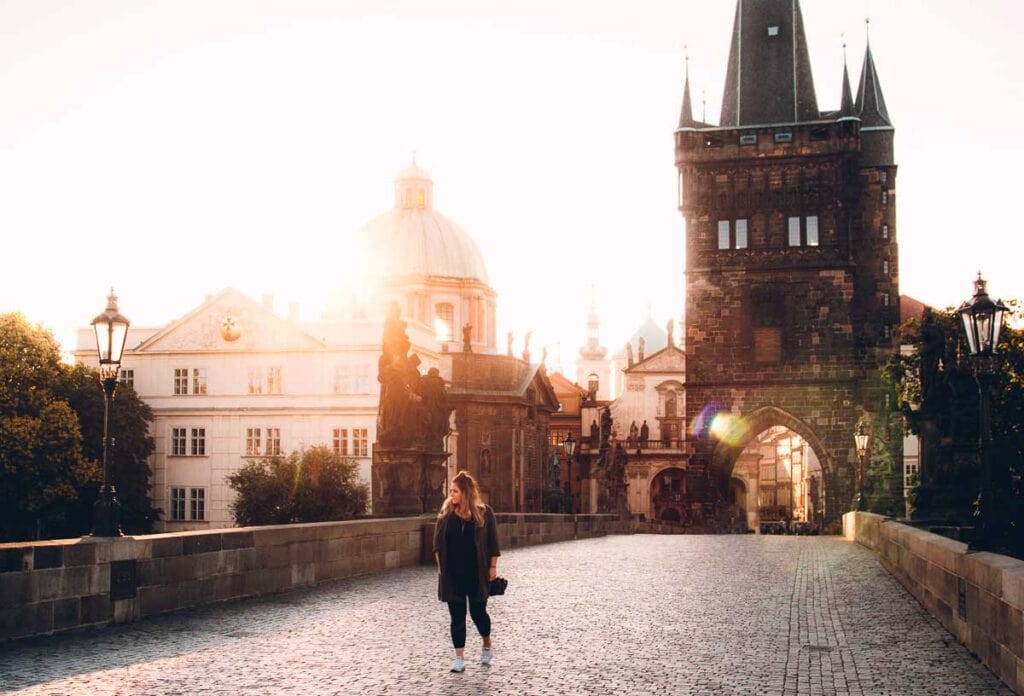 2. Skip the Astronomical Clock Show
Every hour on the hour, hundreds of people flock to Prague's Astronomical Clock to watch the infamous "show." It is a highly anticipated event, with a pretty subpar payoff. During the show, you will watch the little figurines to the side of the clock do a short dance, then the skeleton turns his hourglass over, and a bird pops out of the top. The movements are so subtle, I didn't even know what I was watching.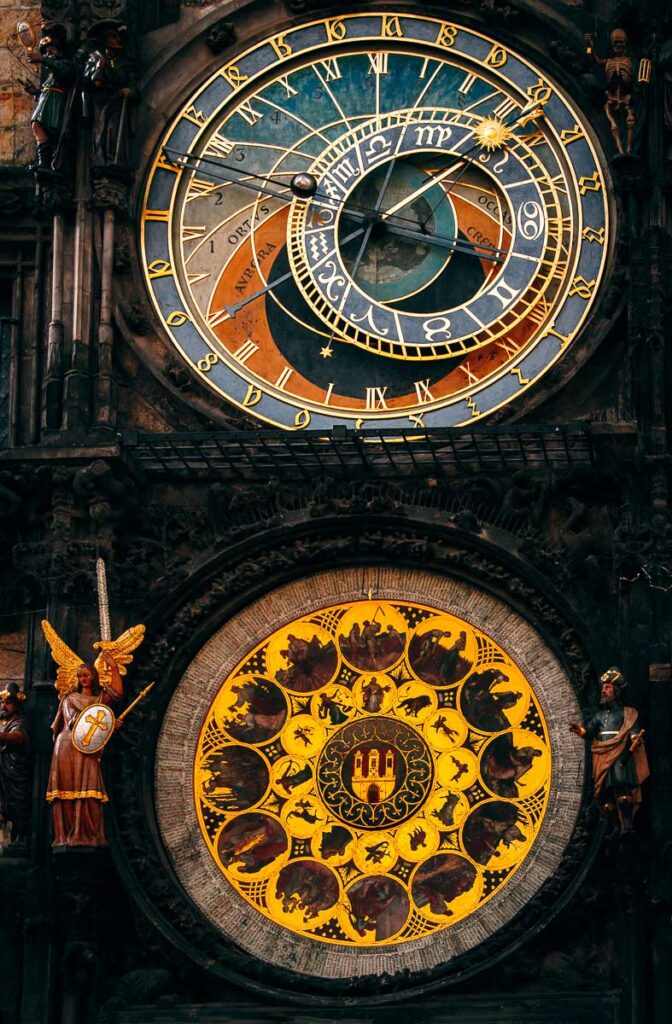 The only amusing part of this experience was listening to the disappointed commentary around us. Everyone was questioning what had just happened before finally realizing it was over and slowly dispersing back into the city.
If you find yourself near the Clock Tower at the top of the hour, go ahead and check it out. If not, I would not recommend the taking time out of your day to make a special trip to watch the show.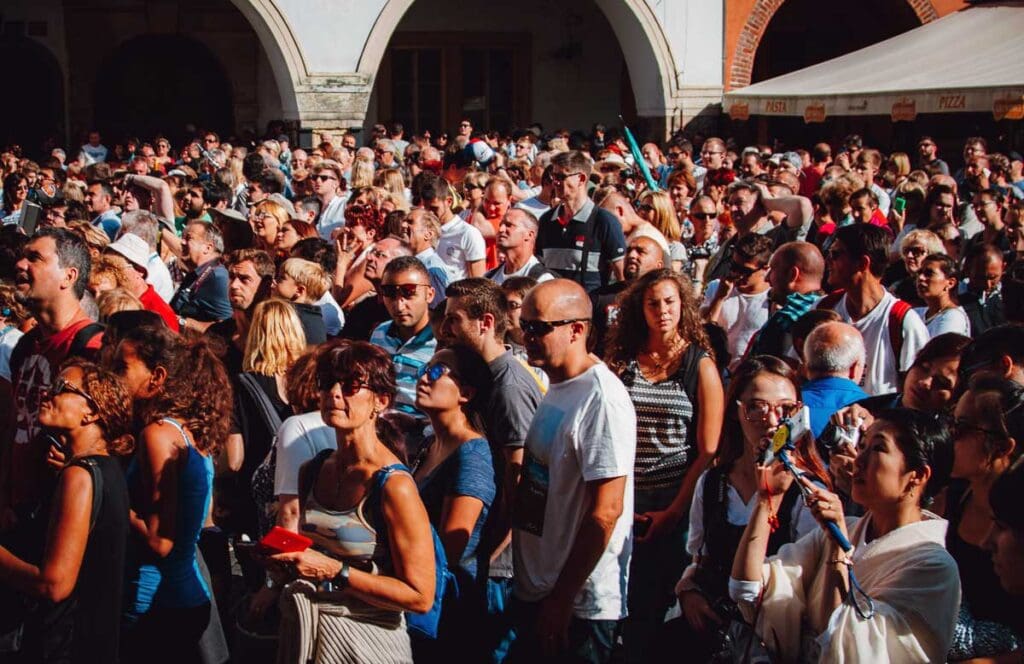 3. Prauge Money Tips : Avoid Unnecessary Added Conversion
My favorite way to exchange US Dollars for local currency is by withdrawing money from an ATM (vs visiting an exchange). It's easy and convenient, and ATMs have some of the most competitive exchange rates in the city. If you plan on using an ATM while in Prague, I recommend opting for bank owned ATMs to avoid unnecessary fees. Euronet ATMs in particular should be avoided as their fees are outrageous and their conversion rates are horrible.
If you find yourself at an ATM, and the machine asks you if you would like to withdrawal with or without conversion, choose without conversion. You are going to receive local currency either way – what you are actually choosing is whether you would like your bank to do the conversion, or the ATM. It's a sneaky way for them to charge you higher rates. Check out this post for a better explanation (and video) of how this works.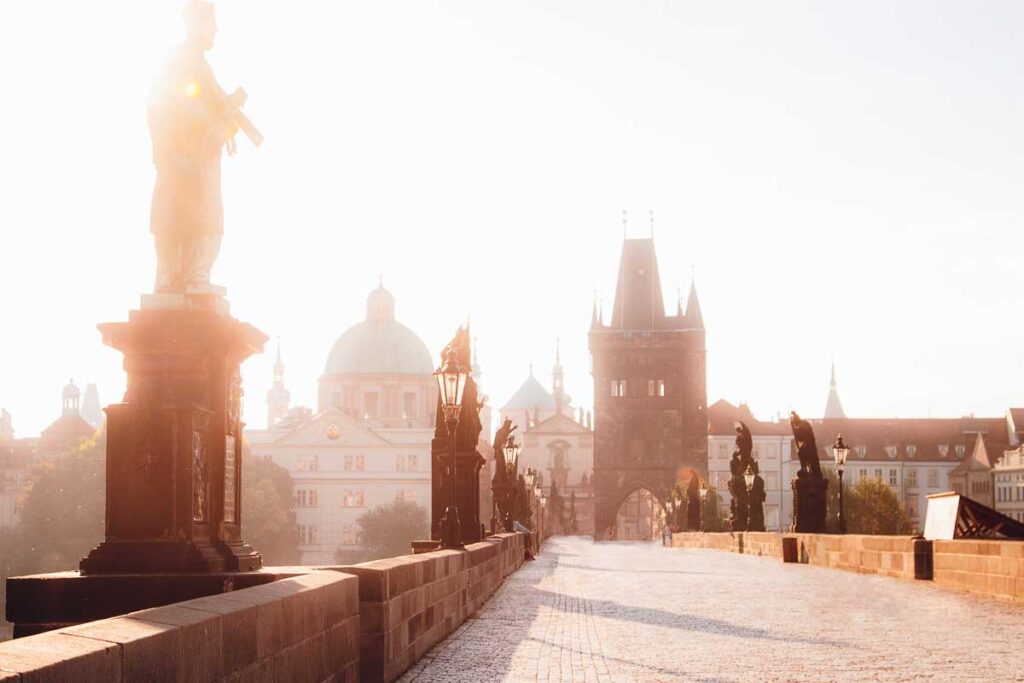 On a similar note, if you are ever paying by credit card and the merchant asks if you would like to pay in Czech Crowns or your home currency, always choose Crowns. This is called Dynamic Currency Conversion and while it may seem convenient to have your card charged in your local currency, you will be paying an extra conversion fee which always winds up being more money.
4. Prague Public Transportation Tips
BUY A LONG TERM TRAVEL TICKET
Prague has an excellent public transportation system which offers multiple ways to travel about the city. If you know you will be taking public transportation more than two times in a 24 hour period, save money by purchasing a 24 or 72 hour transportation ticket. These tickets are good for unlimited travel on all public transportation within the city, including trams, metros, and busses.
WHERE TO PURCHASE TICKETS
Tickets are available for sale all over the city. Look for the yellow machines at almost every public transportation stop. To buy a ticket from these machines, you must have exact change and they do not accept any bills.
Alternatively, you can download the "PID Lítačka" app from the Google Play or Apple Store to purchase tickets online. You can also buy tickets from information centers, newspaper shops and even onboard the trams.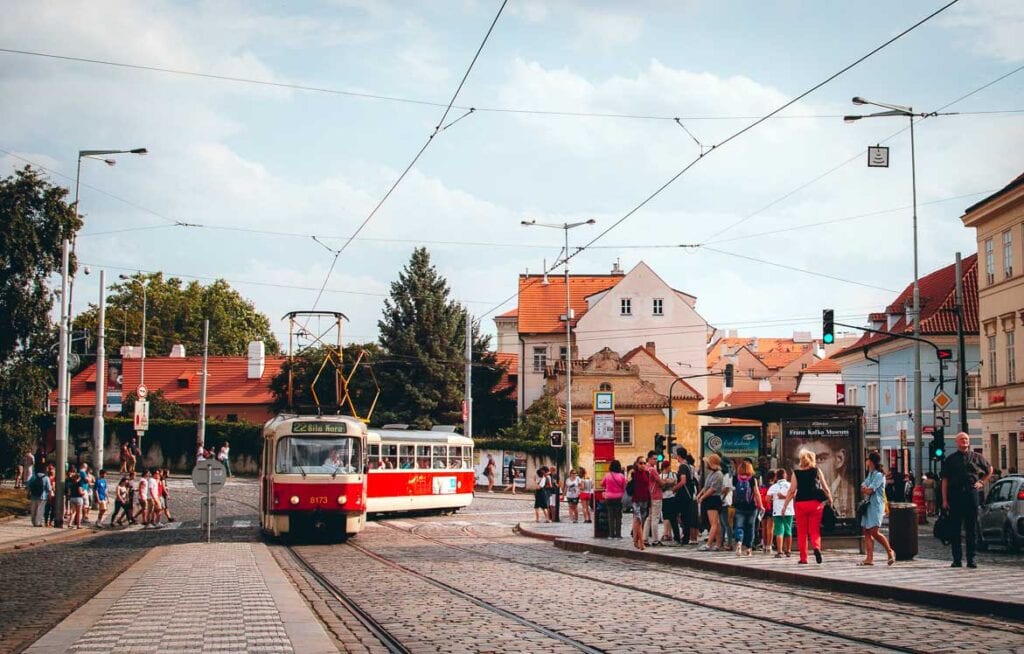 MAKE SURE TO VALIDATE YOUR TICKET
If you have a paper ticket, make sure to get it validated before getting on the metro, or as soon as you board the bus or tram. The validation machines timestamp your ticket, making it valid for your journey. If you have not validated your ticket, you risk a large fine if a ticket inspector happens to come on board.
You can find yellow validations machines on the busses and trams, and before you get on the metro.
YOU MIGHT NEED A TICKET FOR YOUR LUGGAGE
If you are coming to or from the airport on public transportation, you might need to buy an extra ticket for your luggage if your bag is over 25×45×70 cm (9.8×17.7×27.5 inches). If you find yourself needing a ticket for your luggage, choose the discounted ticket rate of 16CZK (.74 cents USD).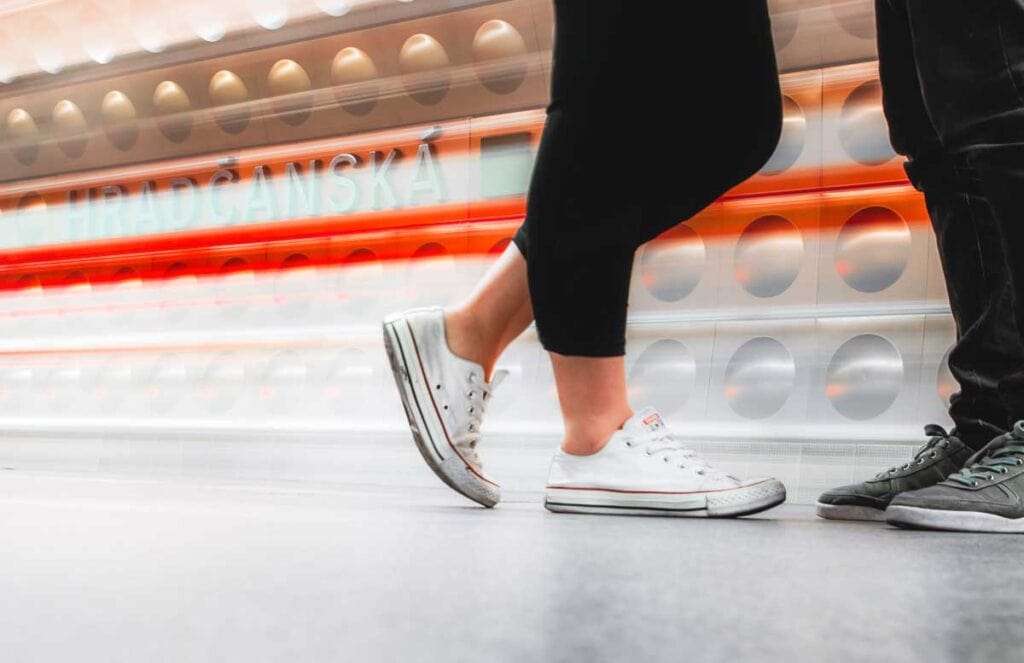 5. Climb the Charles Bridge Tower for a Quiet View of the City
While the Old Town Hall Tower has a never ending line that wraps around the corner, the tower at Charles Bridge sits almost completely empty. The doorway to enter is very inconspicuous, which maybe be the reason for the lack of visitors.
To access the tower, you have to climb 137 steps to the top and there is a small entry price of 150CZK ($7USD), but the view is well worth the cost of admission.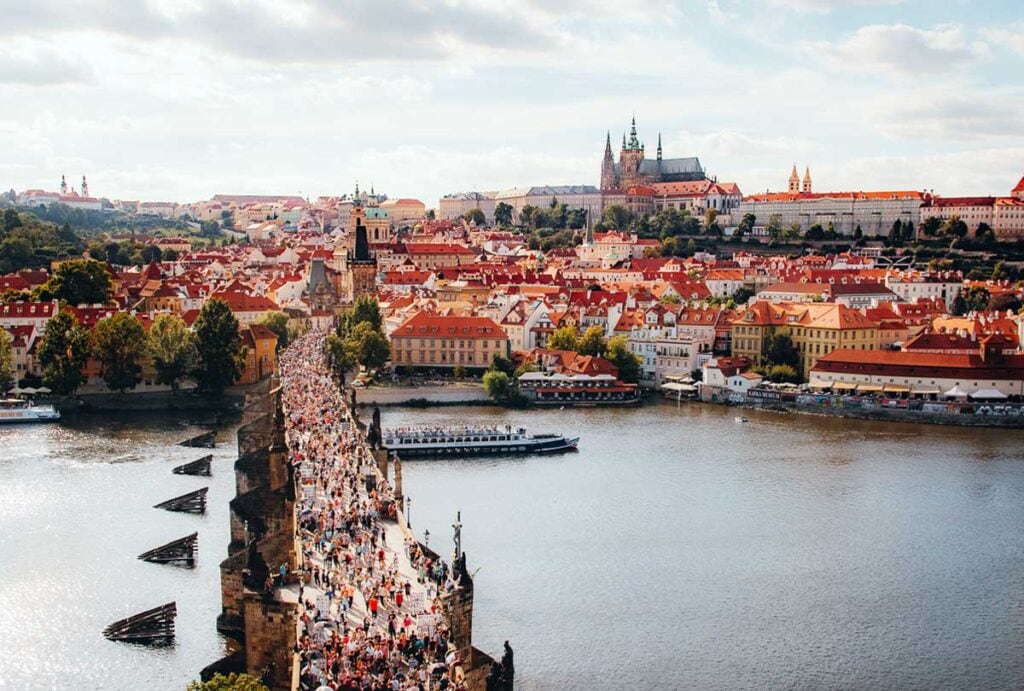 6. Be Wary of Pickpockets
Prague is one of the most popular destinations in Europe, and unfortunately wherever large groups of tourists gather, there are bound to be those looking to take advantage of the unsuspecting visitors.
In general, Prague is a very safe city but petty theft does happen, so just be aware of your belongings while you're traveling. Avoid carrying large amounts of cash, keep your camera and/or your purse secure by wearing it crossbody. If you're sitting down at a restaurant, wrap your purse around your leg or your arm, so it can't be snatched away. The same with your phone or camera – don't leave them sitting openly on the table.
Most theft happens when people are distracted. Stay aware of your surroundings, especially in highly populated areas such as around the Astronomical Clock, the Charles Bridge and Tram 22.
7. Take a Break from Beer and Try a Cocktail (or Absinthe)
The Czech Republic drinks more beer per capita than any other country in the world. There is no shortage of places to grab a pint, but if you're looking for a break from beer… Prague also happens to be known for its absinthe bars. Absintherie Jílská, Green Devil's Absinthe Bar and Absinthe Time are some of the most popular.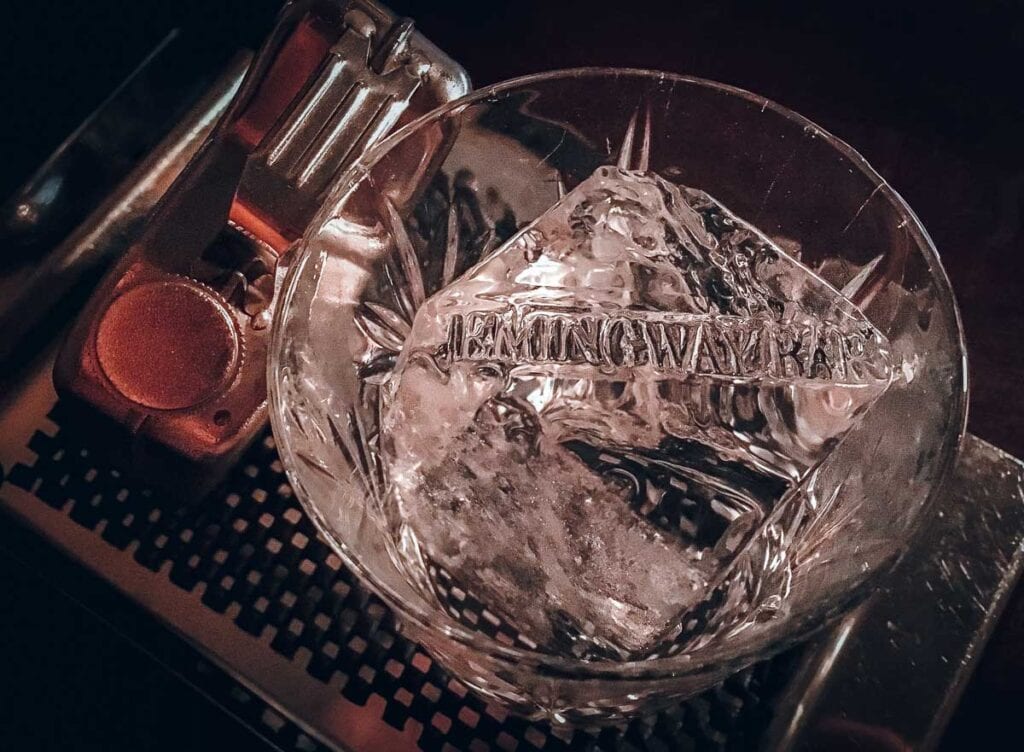 Also check out Hemingway Bar, a small speakeasy style cocktail bar on Karoliny Světlé, serving an endless list of absinthe, rum, whiskey, and champagne. The menu is creative, the presentations are incredible and the bartender really seems to care about making a drink that you will love.
Hemingway Bar is very small so there is usually a wait, especially if you don't have a reservation. We initially visited for their absinthe but the rest of the menu was way more appealing. I ordered the "Chocolate Factory" cocktail which was made with ghee butter infused Becherovka (herbal liquor), Pedro Ximénez Sherry, Nutella and macadamia nut syrup.
Nick had "Hemingway's Gasoline" which was basically the house version of an old fashioned, but way better. It was made with Whiskey, Campari, Punt e Mes and walnut bitters. We also tried their "BBQ Mary," which was made with mezcal, lemon juice, bbq sauce, tomato juice, herbs and dijon mustard. It was the best version of a Bloody Mary I've ever had.
HEMINGWAY BAR ADDRESS Karoliny Světlé 279/26, 110 00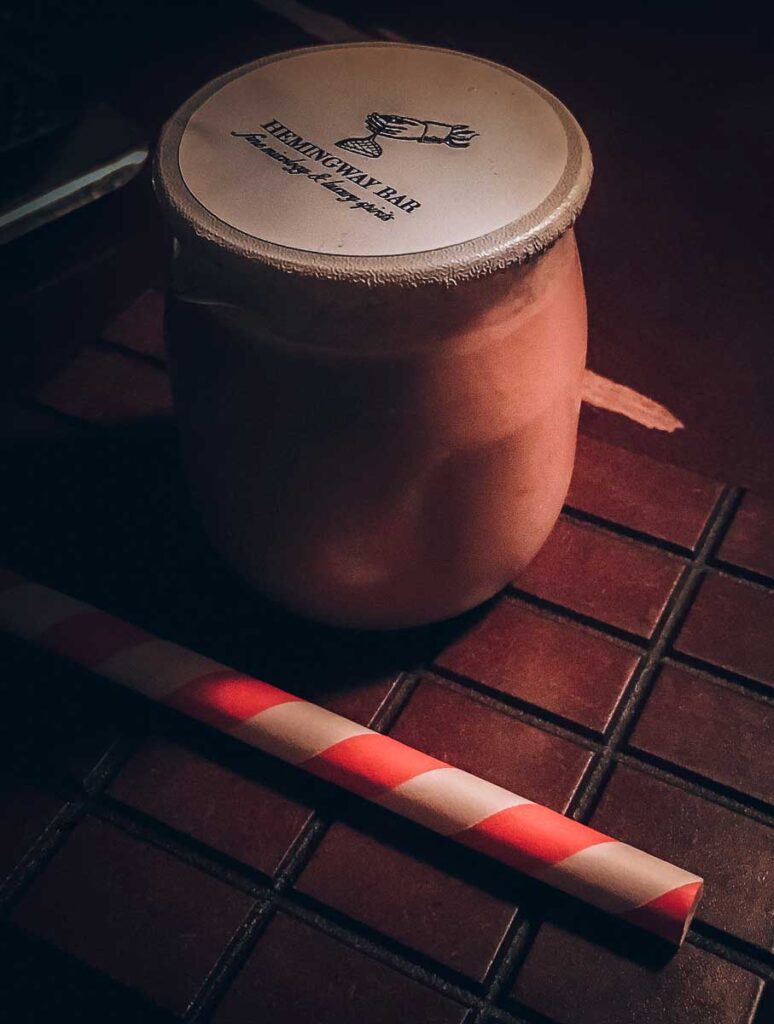 8. Avoid Taxis and Opt for Uber Instead
If you do any amount of research on Prague, chances are you've come across a handful of taxi horror stories. From overcharging to rigged meters, Prague taxi drivers do not have the best reputation. There are several ways to reduce your risk of a taxi scam such as calling for a taxi vs. hailing one, asking for their rate before getting in the car etc..
But why not avoid the hassle all together and call an Uber instead. Uber is available in Prague and they quote you the rate upfront. You can also look into Liftago, the Czech Republic's version of Uber.
9. Tipping in Prague
RESTAURANTS Within the city, it is customary to tip 10% of the bill (15% if the service is excellent). If you're dining in a more touristy area of Prague, make sure that the bill does not already include a service fee before you tip. If they do, there is no need to tip anymore. Do not tip bad service.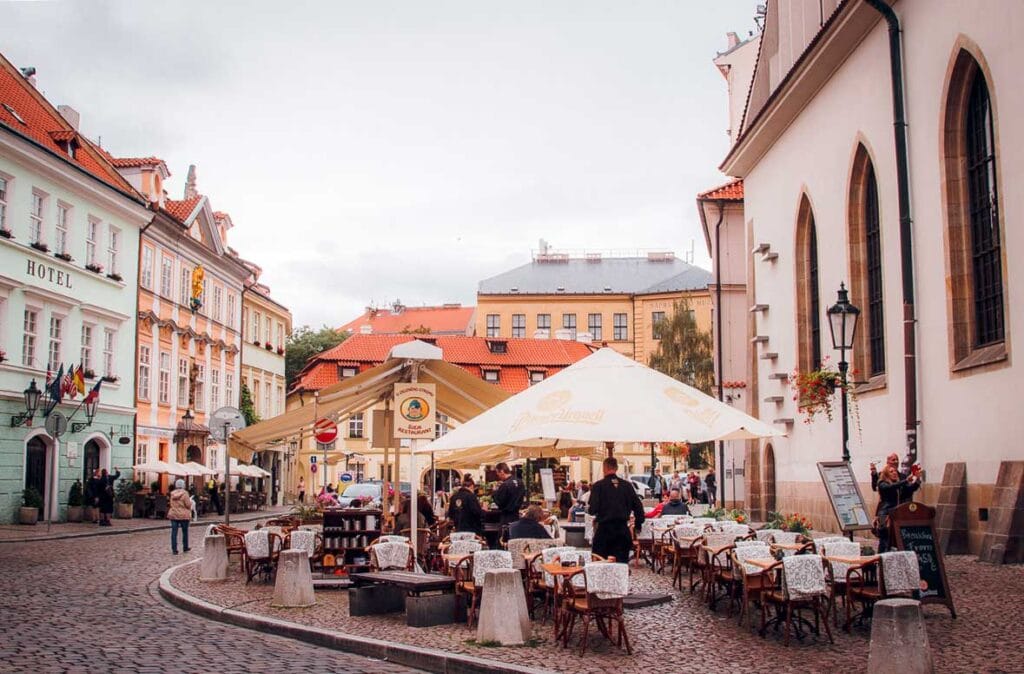 HOW TO TIP AT A RESTAURANT As is common with many European cities, when the waiter brings you your bill they will present it to you and then expect you to pay on the spot, including however much you would like to add for the tip.
The first time we experienced this, we were not prepared and had to quickly do the math in our head so that we could let them know how much change was needed. If you are paying with a credit card, you will need to calculate the tip and tell them how much to charge your card. There is nowhere on the receipt to add a tip, and leaving change on the table is also not a common practice.
BARS Round the bill up. If your beer is 45CZK, give 50CZK.
TAXI If you haven't agreed on a fixed amount for the ride, take the fare and round up. For example: if the meter says 280CZK, round up and tip 300CZK. If you have agreed on a fixed amount, there is no need to tip on top of it.
HOTELS For hotel porters, tip 20-25CZK per bag. For housekeepers, there has been an ongoing online debate about whether or not to tip housekeeping in Europe, and I still get confused. Some argue that it is not customary while others recommend leaving a small tip at the end of your stay. I would base it on your own circumstances taking into consideration the length of your stay, the type of hotel you're in, how much of a mess you've left etc.
TOUR GUIDES Tip your tour guides $15-20 per person. $10-15 for free walking tours.
10. Buy Your Old Town Hall Tower Tickets Online to Save Money and Skip the Line
Lines to access the Tower viewing area in the Old Town Hall can take hours, especially during peak season. Buy your ticket online so that you can skip the line and save a little money. Standard admission is 250 CZK ($11.64 USD) but if you purchase them online you can save 40CZK ($1.86 USD).
If you are an early riser, plan on making your visit to the tower within the first hour of opening and they will give you 50% off the admission price.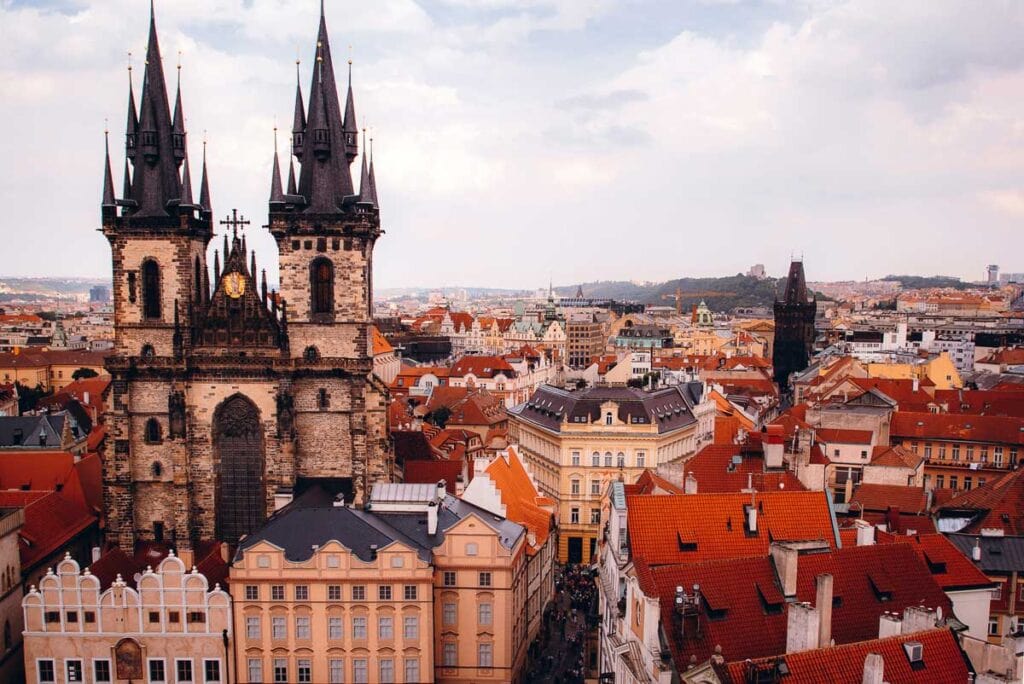 11. Visit Prague During Off Season
Visually, Prague is one of the most beautiful European cities I've ever seen, but unfortunately the mass crowds of people prevented me from falling in love with it. We visited during the middle of peak season and it felt like a trip to Disneyland, not a European vacation.
My vision of strolling down Charles Bridge at sunset was replaced with a reality that included shuffling shoulder to shoulder with thousands of other tourists. Even stopping to take a photo was nearly impossible because everyone behind you starts piling up. When we were in Old Town, the crowds never let up and it got old very fast.
While Prague is busy year round, I highly recommend booking your trip for the off season (Spring and early Fall). You will not only beat some of the crowds, but you will get better room rates too.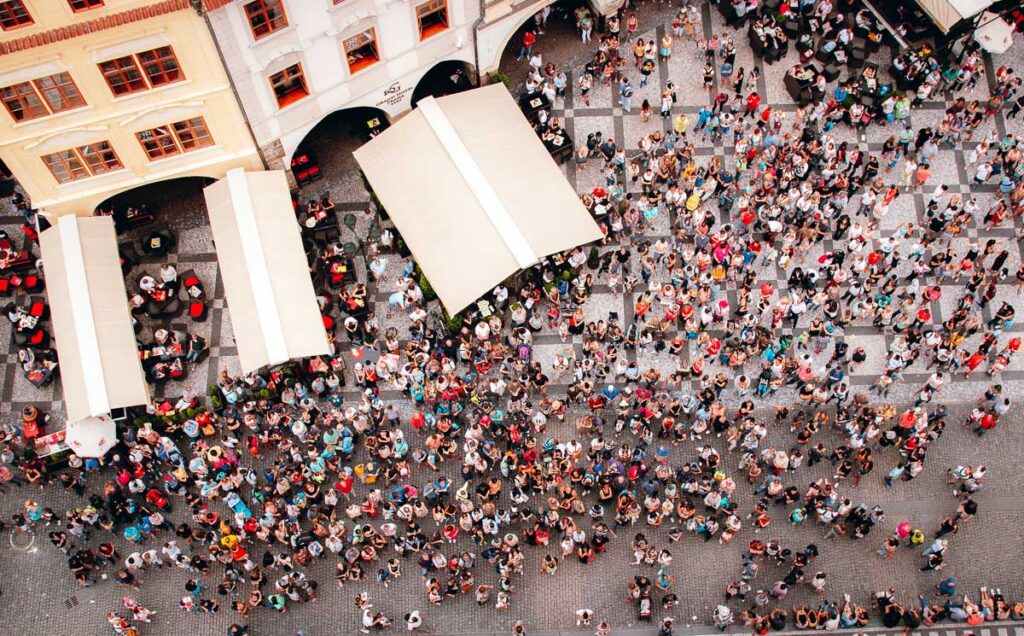 12. Explore The Road Less Traveled
The majority of tourists will start and end their trip to Prague in Old Town but if you want to beat the crowds and see a different side of the city, I highly recommend venturing beyond Staré Město.
We booked an AirBnb in Vinorhady, which is located 3 miles (4.8 km) from Old Town. It was so nice to leave the chaos each night, and we discovered a handful of hidden gems on our way to and from the city center. We found an open air market with delicious street food, an amazing local Czech restaurant and one of the best bakeries I've ever been to.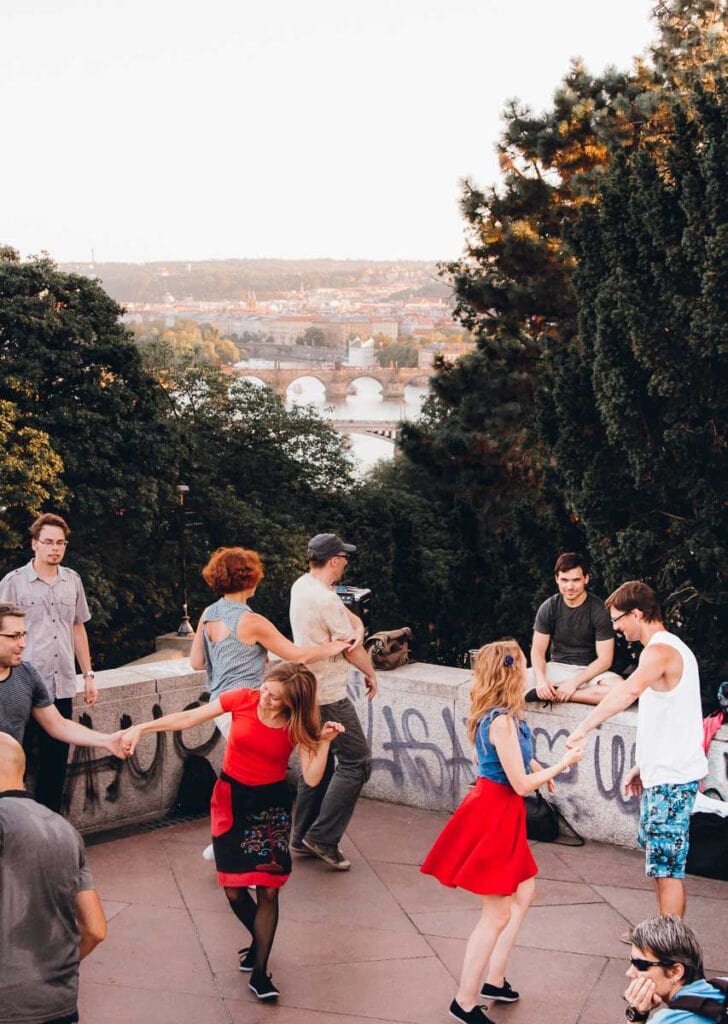 You don't have to travel far to see the quieter side of Prague. Even some of the alleys that run parallel to the main streets in Old Town were significantly more quiet. You never know what you're going to find if you step off the beaten path. Like the day we stumbled upon swing dancers in Letna Park, and a 17th century monastery brewery near the Petřín Lookout Tower.
RELATED POST: LETNA BEER GARDEN – CZECH BEER AND THE BEST VIEWS IN PRAGUE
13. The Metro Shuts Down at Midnight
I expected a party city like Prague to have public transportation available 24 hours a day, but we learned the hard way that this is not the case. One night after staying out longer than usual, we were heading home and discovered that the metro had been boarded up. During our trip, we had been taking the metro to and from our hotel and we didn't know of any other way to get back. We also couldn't find wifi as everything was already closed, so we had to flag down a taxi and pay much more than we should've to get back to our hotel.
Prague's metro runs from around 4:45am to midnight. Trams and buses do remain in operation so if you only know how to reach your hotel via metro, research an alternative way of getting back if you know you'll be out late.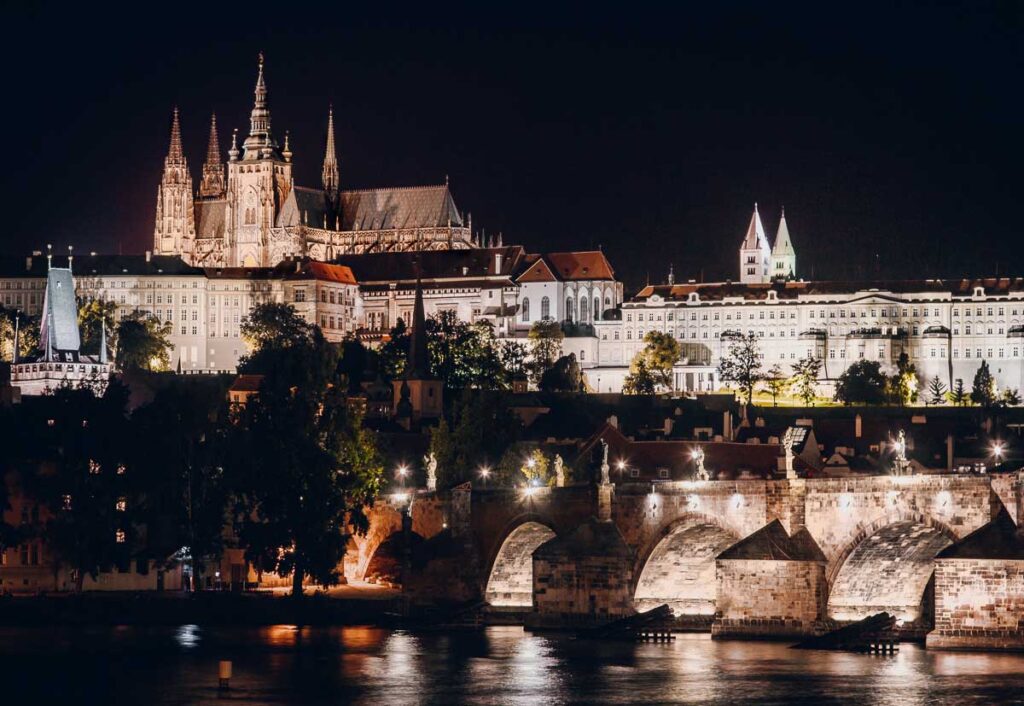 14. Take a Day Trip
If you're looking for a change of scenery and want get out of the city for a little while, there are dozens of interesting destinations just a short train ride away.
CESKY KRUMLOV is only two hours from Prague and this magical little town looks like it was ripped from the pages of a fairytale. Like Prague, it is also packed with tourists, so I recommend staying one night if you can. Once the day trippers go home, you'll have the whole place to yourself.
RELATED POST: CESKY KRUMLOV – THINGS TO DO, WHERE TO STAY & HOW TO GET THERE.
BRNO is located two hours from Prague and it is the second largest city in the Czech Republic. I spent a few days here and really fell in love with it. It's much less touristy and it is a beautiful place to spend some time. Click below to read some of my posts about Brno including things to do, the best bars , photos and more.
RELATED POSTS: BRNO : EVERYTHING YOU NEED TO KNOW ABOUT PRAGUE'S SISTER CITY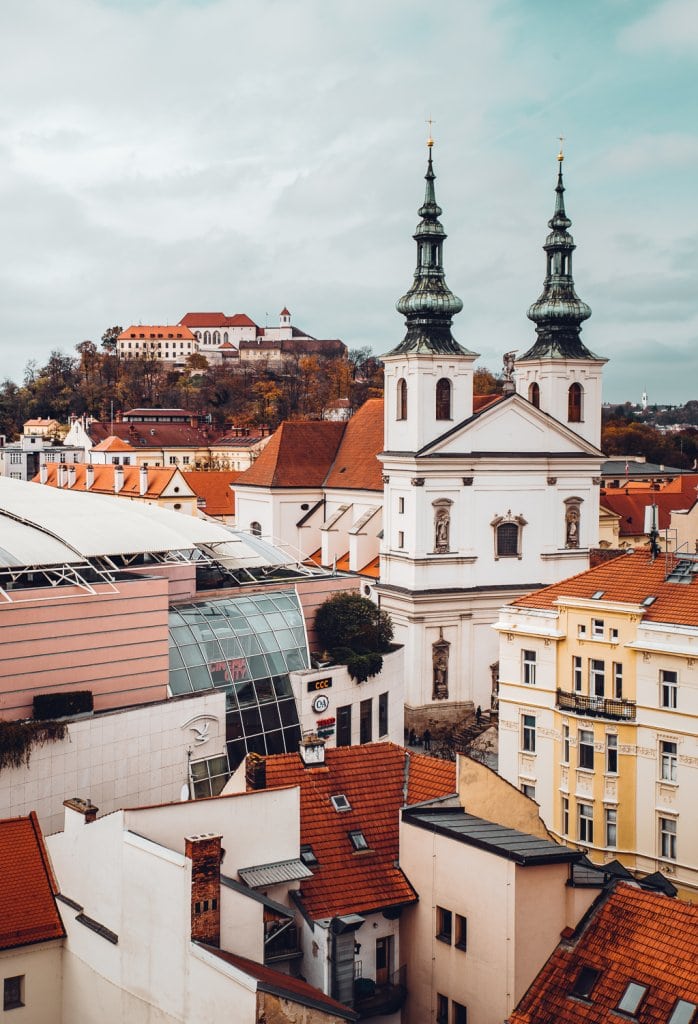 PILSEN is only 1 hour from Prague and is the perfect day trip for Czech beer fans. Visit the Pilsen Urquell Brewery where you will tour the factory and even taste some unfiltered beer straight from the barrel.
TEREZIN is located 45 minutes from Prague and was where Terezin Concentration Camp and the Jewish Ghetto were located. During WWII over 150,000 Jews were sent here, and while thousands died at Terezin, it was mainly used as a transit camp before sending people to death camps such as Auschwitz. It was also used as a "model" ghetto to trick the rest of the world into thinking that the Jewish people were being treated fairly.
RELATED POST: TOURING AUSCHWITZ – BIRKENAU – WHAT TO EXPECT
15. Read Up on Some Common Tourist Scams
As with any large city that caters to tourists, there are bound to be a few tourist traps and scams. I recommend reading up on the most common ones so that you can be prepared, and hopefully save yourself some money and avoid getting taken advantage of.
RESTAURANT ADD ONS A common scam in Prague restaurants (mostly in the tourist areas of town) is charging for extras. If you sit down to eat and find bread or pretzels on the table, they are not complimentary. If you don't plan on eating them, ask the waiter to take it way, or you will find it on your bill later.
PAY BY WEIGHT In some of the markets you will see vendors selling various grab and go food options such as pork knuckles or ham. The price advertised in large font may seem like a good deal, until you read the fine print. If you see /100g anywhere on the sign, know that you will be paying that rate per 100g. It ends up costing much more than you expected, for a lot less food.
For a list of other common scams within Prague, click here.
PRAGUE TRAVEL TIPS : THE BASICS
WHAT CURRENCY DO THEY USE IN PRAGUE?
Despite being a member of the European Union, Prague and the rest of the Czech Republic still use their own currency, Czech Koruna (Crowns). 
1 Czech Koruna (CZ) Equals: 
.047 USD
.039 EURO
.033 Pounds Stirling
.057 Canadian Dollar
.060 Australian Dollar
For a full list of currencies, click here.
WHAT LANGUAGE IS SPOKEN IN PRAGUE?
Czech is the official language of Prague.
WHAT ADAPTER DO I NEED IN PRAGUE? POWER SOCKETS & VOLTAGE
Prague's most widely used plug types are C and E, the standard European two pin socket. Their voltage is 230V / 50Hz AC.
If you are traveling from North America, you will need a voltage converter as well as a plug adapter. North American voltage is 110V and you can easily ruin your appliances by plugging it into an outlet supplying double the voltage. If you are traveling with an iPhone or MAC, it's good to know that Apple products are dual voltage.
HOW TO GET FROM PRAGUE AIRPORT TO CITY CENTER 
If you will be flying into Prague, you will arrive at the Václav Havel Airport, located 9.3 miles (15km) from the city center. Depending on which mode of transportation you take (and the current traffic), the journey takes about 25-45 minutes.
AIRPORT EXPRESS BUS
The Airport Express Bus is the easiest way to get from the Prague airport to city center. The bus stops at Terminal 1 and Terminal 2 and will drop you off in the city center at the Main Train Station (Praha hlavní nádraží) on Wilsonova Street
The AE Bus runs every 30 minutes between 6:30am-10pm going from the airport to the city center. You can purchase tickets directly from the bus driver (with correct change) or from the information centers within the airport. Tickets cost 60 CZK for adults ($2.79 USD), 30CZK ($1.40) USD for ages 6-15. Children under 6 are free.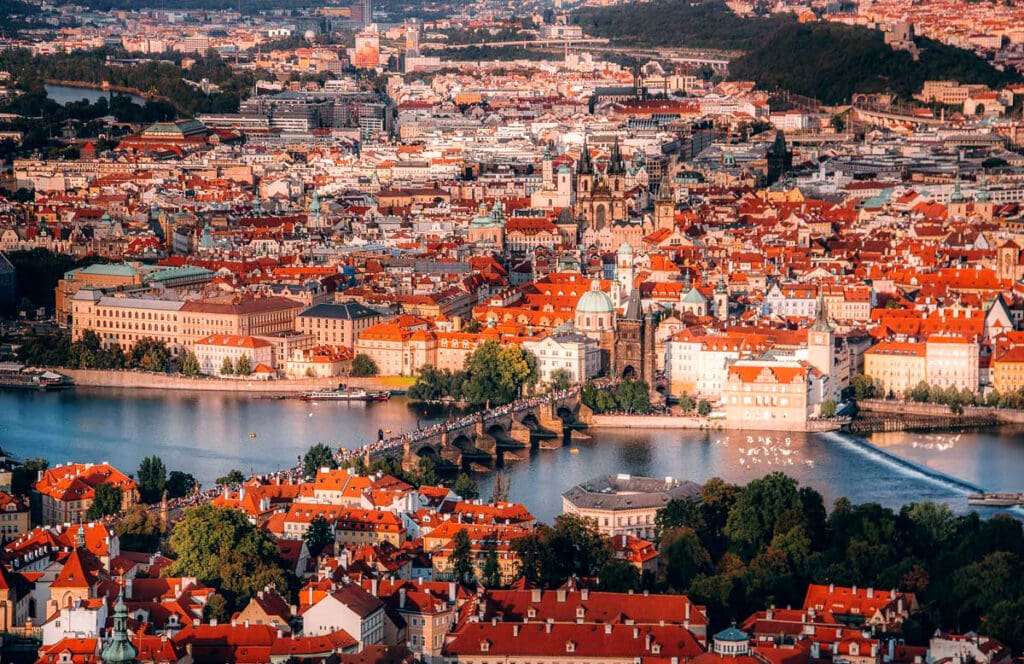 BUS
Public bus is the cheapest way to get to the city center, but it's not a non-stop journey. The bus will take you to the metro, which will then take you to the city center.
The most common public bus that travelers take is bus 119. It will take you to the metro stop Nádraží Veleslavín where you will hop on the green line toward the center (centrum). You can get off at Staromestska, Mustek or Muzeum, depending on where your hotel is located.
Purchase your bus tickets from the yellow ticket machines right outside of the airport. Opt for the 90 minute ticket, which will be good for both the bus and the metro. A standard 90 minute ticket costs 32CZK ($1.49 USD).
UBER
Uber is available in Prague and is usually a better deal than taxis. Expect to pay between $15-30 USD.
Is Prague Accessible? Prague Tips for people with Limited Mobility and/or Disabilities
Prague is moderately accessible with some definite limitations . A majority of streets are cobblestone which might be difficult for some travelers. The public transportation system is a work in progress, but with enough options to access the city.
Check out WheelChairTravel.com, a fantastic resource with many Prague travel tips for those with limited mobility and/or disabilities. They cover all aspects of accessibility in Prague, from the airport to the public transportation. AccessiblePrague.com is a travel agency for travelers with special needs. They arrange transportation, accommodation, equipment rentals tours and more. Lastly, check out the city's public transportation page for updated information about their barrier free metro stops and other accessible travel options.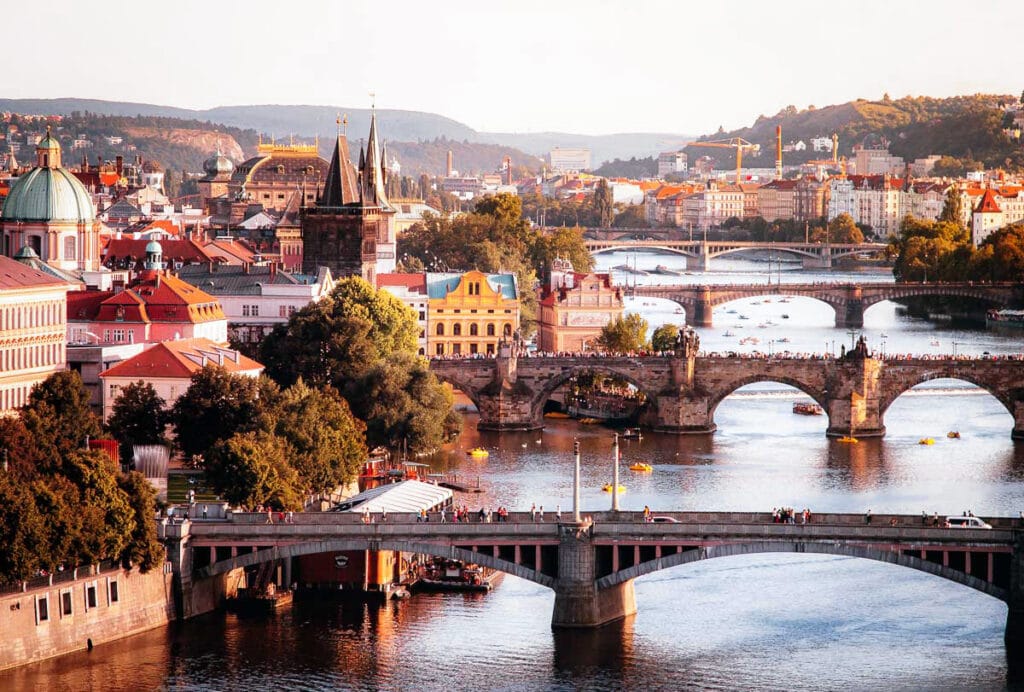 Did I miss anything? Share your best Prague travel tips in the comments below!
---
PIN IT: PRAGUE TIPS FOR FIRST TIMERS – THE ULTIMATE TRAVEL GUIDE
Disclaimer: This post contains affiliate links.