There is usually a bit of a learning curve when visiting other countries. Even though I always do basic research on customs and etiquette, there are just some things you have to learn from experience. Here are 11 Prague travel tips I picked up while visiting the Czech Republic's capital.
1. Buy Old Town Hall Tower Tickets Online to Save Money and Skip the Line
The first day we tried to go up the Old Town Hall Tower, the line to buy a ticket was 20 minutes long and another 40 min to the top. What a lot of people don't know is that you can buy your ticket online in advance. This not only saves you 20czk but also grants you front of the line access. Admission is usually 130czk ($5.45), online tickets are 110czk ($4.61).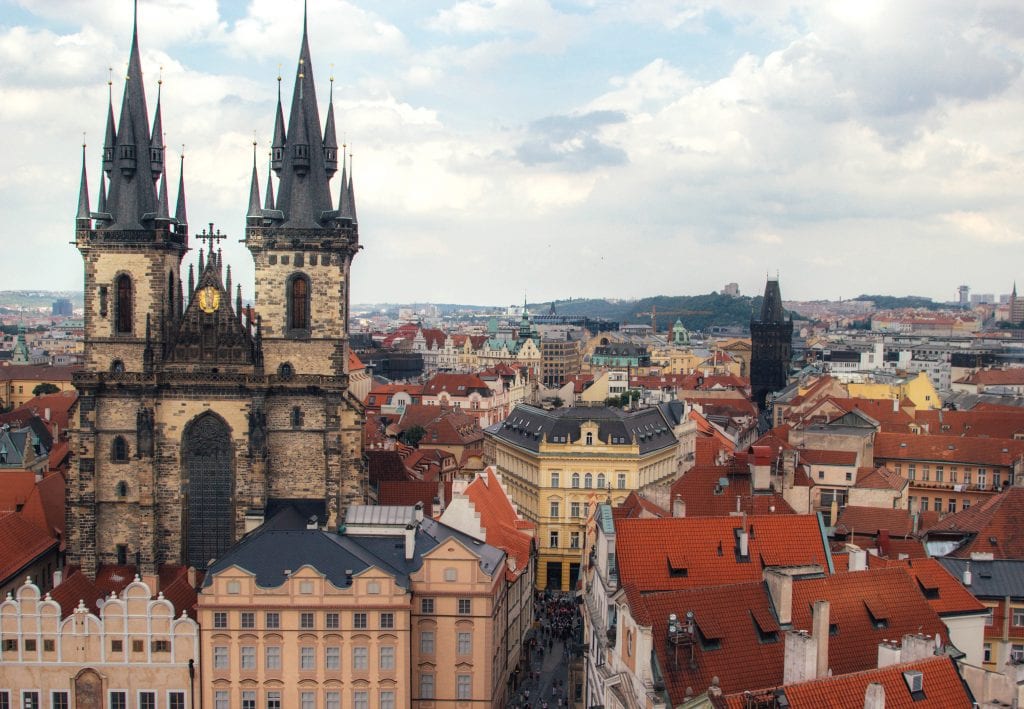 The next day when we returned to the Old Town Hall Tower,  we were sent directly up the elevator, bypassing a large line of tourists that went out the door.
 .
2. Ticket Kiosks Don't Have Change or Take Bills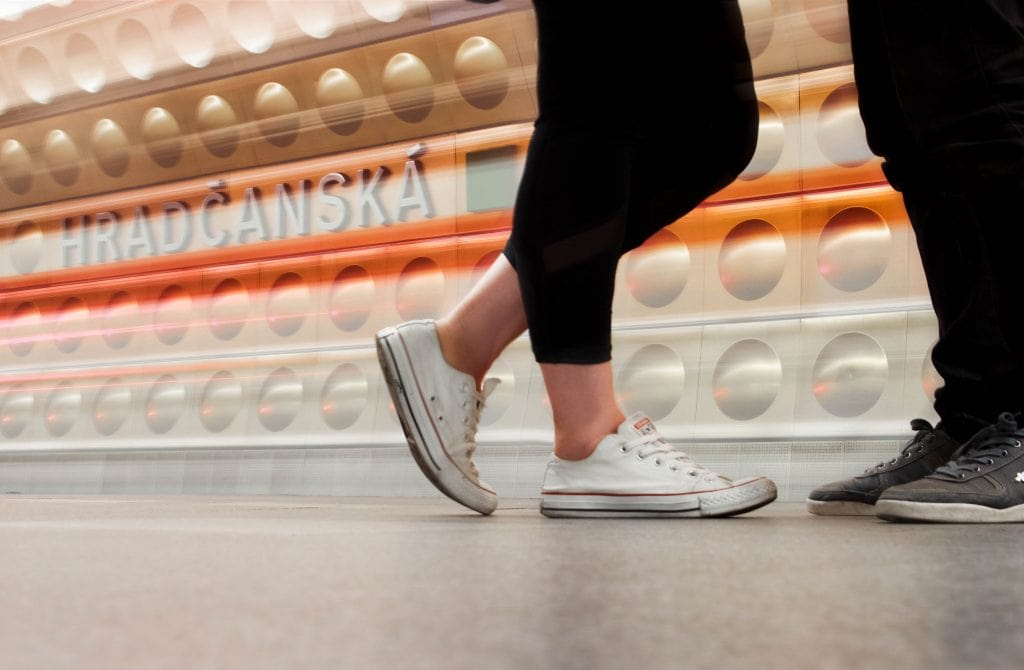 Public transportation is everywhere in Prague. My advice would be to buy a 24 hour, or a 3 day transportation ticket which is good for all public transportation within the city. You can buy these tickets at the airport before you even enter the city, or you can purchase them at almost every public transportation stop. It's super convenient, except for the fact that you must have exact change and they don't accept bills.
A few times we found ourselves stuck at a metro stop with only bills, and no way to buy a ticket. Nick tried to buy a croissant from a vendor in order to get change but the lady refused to sell it to him because she didn't want to deal with the hassle of breaking a bill. We did discover that most newspaper stands will sell you a ticket and we were able to find those pretty easily.
.
3. A Quiet View of the City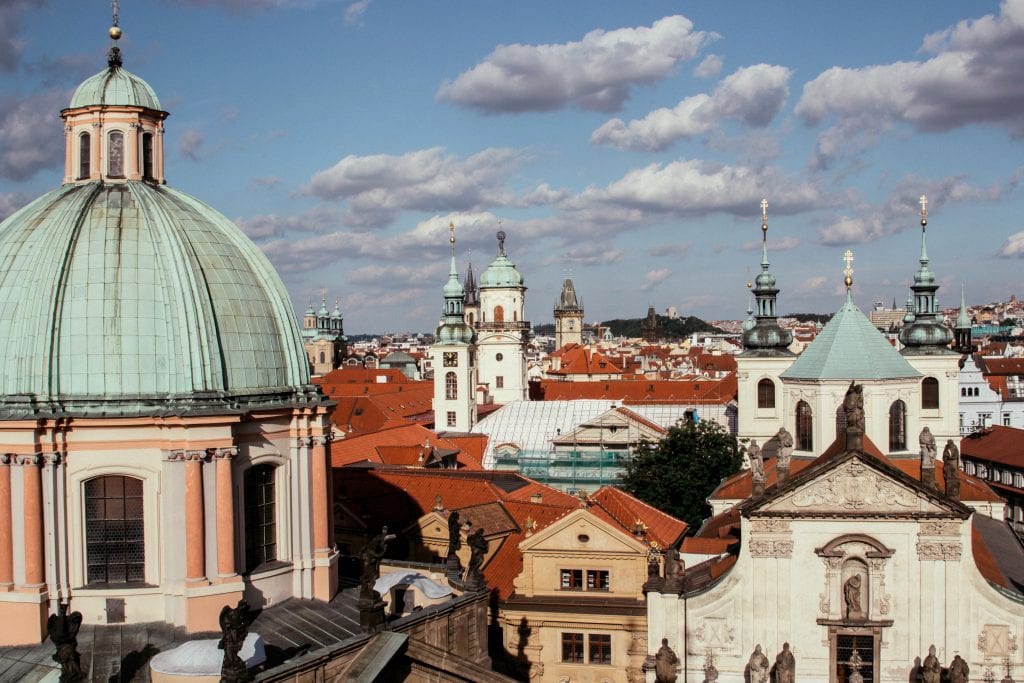 While the Old Town Hall Tower has an hour line to get to the top, the tower at Charles Bridge is totally empty. The doorway to enter is pretty inconspicuous so maybe people don't know it's there? You have to climb about 137 steps up to the top and it costs 90czk ($3.77). The view is gorgeous and well worth the price of admission. There were only 4 or 5 people at the top when we were there as opposed to at the Clock Tower, where we battled 50 people for prime photo taking viewpoints.
4. Avoid Prague During Peak Season
Visually, Prague is one of the most beautiful European cities I've ever visited. Unfortunately, the mass crowds of people have prevented me from falling in love with it. You walk shoulder to shoulder with the other tourists as you all shuffle down the main streets of Old Town. Walking down the famous Charles Bridge should be magical and romantic, but I felt rage towards the oblivious tourists in front of me with no spacial awareness. The crowds made me anxious and they actually cheapened the city for me a little. It felt like Disneyland.
You want to wander around and get lost in places like this, to marvel at its beauty. Even stopping to take a photo causes people to pile up behind you. I've heard that Prague is pretty busy year round but if I ever come back, there's no way I would ever do it during peak season.
 .
5. Get Up Early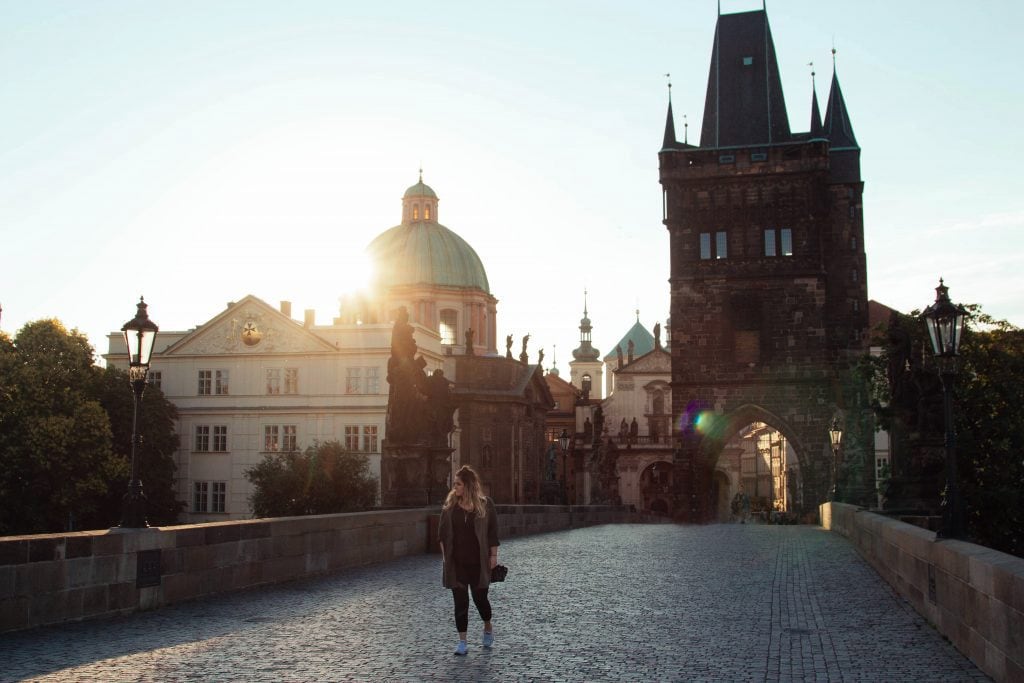 One of the best things I did in Prague was explore Old Town at sunrise.  At 6am we were standing on Charles Bridge with nobody else! It was beautiful and vibey, and I was finally was able to see why so many people love this city.
Related Post: Prague With No People: Waking Up Before the Crowds
6. Take a Break from Beer and Try a Cocktail
The Czech Republic drinks more beer per capita than any other country in the world! While we did drink our fair share of beer in Prague, we branched out a few times, resulting in us having some of the best specialty cocktails we've ever tasted. Hemingway Bar was a small speakeasy on Karoliny Světlé. There are only a few tables so chances are you'll have to wait. The menu is creative, the presentations are amazing, and the bartender seems to really care about making a drink that you love. Compared to the prices of beer, these cocktails were a little pricey… but it was totally worth it.
 I had the "Chocolate Factory" (obviously) which was made with ghee butter infused Becherovka (herbal liquor), Pedro Ximénez Sherry, Nutella and macadamia nut syrup. Nick had "Hemingway's Gasoline" which was basically their version of an old fashioned, but way better. It was made with Whiskey, Campari, Punt e Mes and walnut bitters. Last but not least, we shared a "BBQ Mary," made with mezcal, lemon juice, bbq sauce, tomato juice, herbs and dijon mustard. It was the best version of a Bloody Mary I've ever had.
Hemingway Bar 
Karoliny Světlé 279/26, 110 00
Praha 1-Staré Město, Czech Republic
 .
7. The Road Less Traveled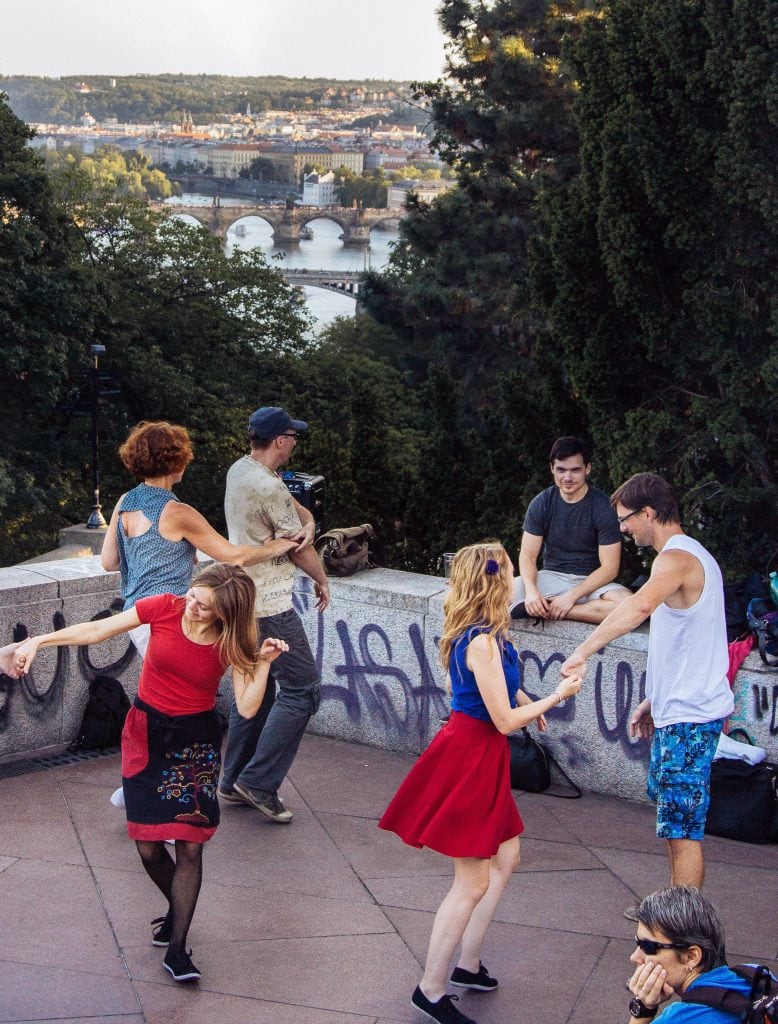 Old Town, is where most people spend the majority of their trip to Prague. If you want to beat the crowds and see a different side of the city, venture beyond Staré Město. Even some of the parallel streets to the main drag were significantly more quiet. Our AirBnb was in Vinorhady where we found a cute open air market and one of the best bakeries I've ever been to. We stumbled upon locals swing dancing in Letna Park. Letna Beer Garden also wasn't too far from Old Town, it was filled with locals and ended up being one of our favorite things we did.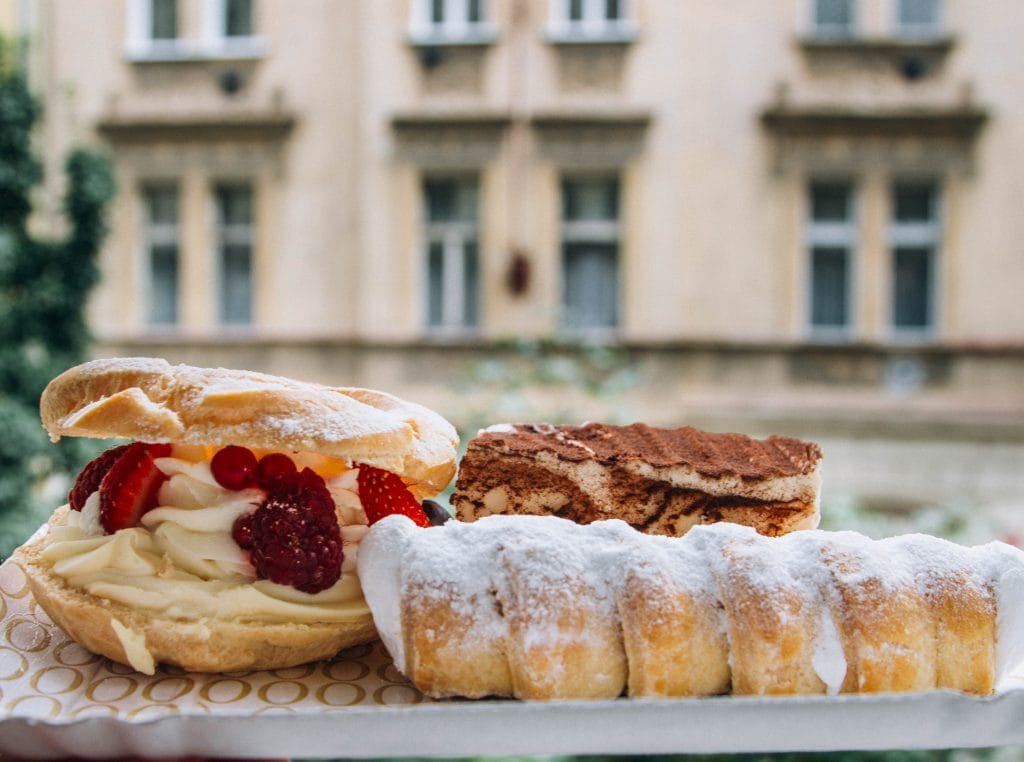 .
.
8. The Metro Shuts Down at Midnight
You'd think that the city with a party reputation like Prague would have adequate transportation into the wee hours of the morning. We left Hemingway Bar at 1 am and walked to the nearest metro stop, only to find that it was boarded up for the night. Turns out, the metro stops at midnight. Trams and buses remain in operation but we didn't know it at the time, as the metro was our primary mode of transportation.
 .
 9. Tipping in Prague
When the waiter brings you your bill they will usually present it to you and expect you to pay right then. This includes tip, which kind of puts you on the spot. You have to do the math quickly and tell them how much you are paying so they can give you the right amount of change. A tip of 10%-15% is customary.
.
10. Bread on the Table
If you sit down to eat and find bread or pretzels on the table, just know they are not complimentary. If you don't plan on eating them, ask the waiter to take it way. Whether you eat the food or not, you will be charged. This happens mostly in the tourist areas of town.
.
11. Skip the Astronomical Clock Show
Every hour on the hour hundreds of people flock to the Clock Tower to watch the "show." It's a highly anticipated event, with a less than exciting climax. The little figurines to the side of the clock each do a little dance, the skeleton turns it's hourglass and a bird pops out of the top. The movements were so subtle that I didn't even know what I was watching. My favorite part of the show was everyone's commentary around us. People were questioning what just happened, and wondering if it was over. If you're near the Clock Tower on the hour, go ahead and check it out. If not, I wouldn't recommend making a special trip to see it.
Feel free to share your own Prague travel tips in the comments!