Most people can't wait to get inside of Old Town Dubrovnik's city walls, and rightly so. It's stunning and unique, and just an overall picture perfect little town. Unfortunately with only a 1.2 mile circumference, it's not uncommon to find yourself shoulder to shoulder with 10,000 other tourists. While I loved Old Town, I pretty much avoided it at all costs. This forced me to go off the beaten path a bit and find some different things to do in Dubrovnik .
Related Post:  VISTING OLD TOWN DUBROVNIK: 5 TIPS FOR AVOIDING THE CROWDS
5
Things to do in Dubrovnik Outside of Old Town
Lokrum Island
Just a quick, 15 minute boat ride away sits the Island of Lokrum, right off the coast of Old Town. Since most tourists are visiting via cruise ship, they don't have a lot of time to spare and Lokrum usually gets left off of the itinerary. This makes the island the perfect place for a peaceful retreat.
Swim in the Dead Sea
Lokrum's own little natural wonder. The Dead Sea is a small lake linked with the sea and you can spend the day swimming and sunbathing on it's shores.

Game of Thrones Exhibit
Whether you're a fan of the show or not, the Game of Thrones exhibit on Lokrum was mega interesting. Watch interviews with the producers and cast about how they film in Dubrovnik. The production facts were insane, and you can sit on the infamous Iron Throne. I highly recommend checking this out.

Frolic with the Animals
Nobody lives on Lokrum, making the only inhabitants it's animal friends. You'll see peacocks strutting around, along with bunnies, hedgehogs, tortoises and 156 species of birds.

Other Things to Do on Lokrum
Walk through the remains of a 12th/13th century Benedictine monastery. Wander through gardens and olive groves, hike to the fortress (Fort Royal) and swim in the Adriatic . You can easily spend a full day, or simply an afternoon on the island.

Ferry Information:
Buy your ferry tickets at the Old Town Port. An employee will be sitting in front of the Lokrum ferry collecting money. It costs 40 kuna ($6.40) for a round trip ticket and the journey takes 15 minutes. Make note of the last departure time from Lokrum back to Old Town and give yourself enough time to get back to the dock.
For more information on Lokrum Island: Click Here

Check out the Views from Fort Lovrijenac
Perched high above the Adriatic on a 37 meter (121 ft) rock, sits Fort Lovrijenac. Chronologists date the fortress back to the 10th century; it was a key point of defense for Dubrovnik over 100's of years.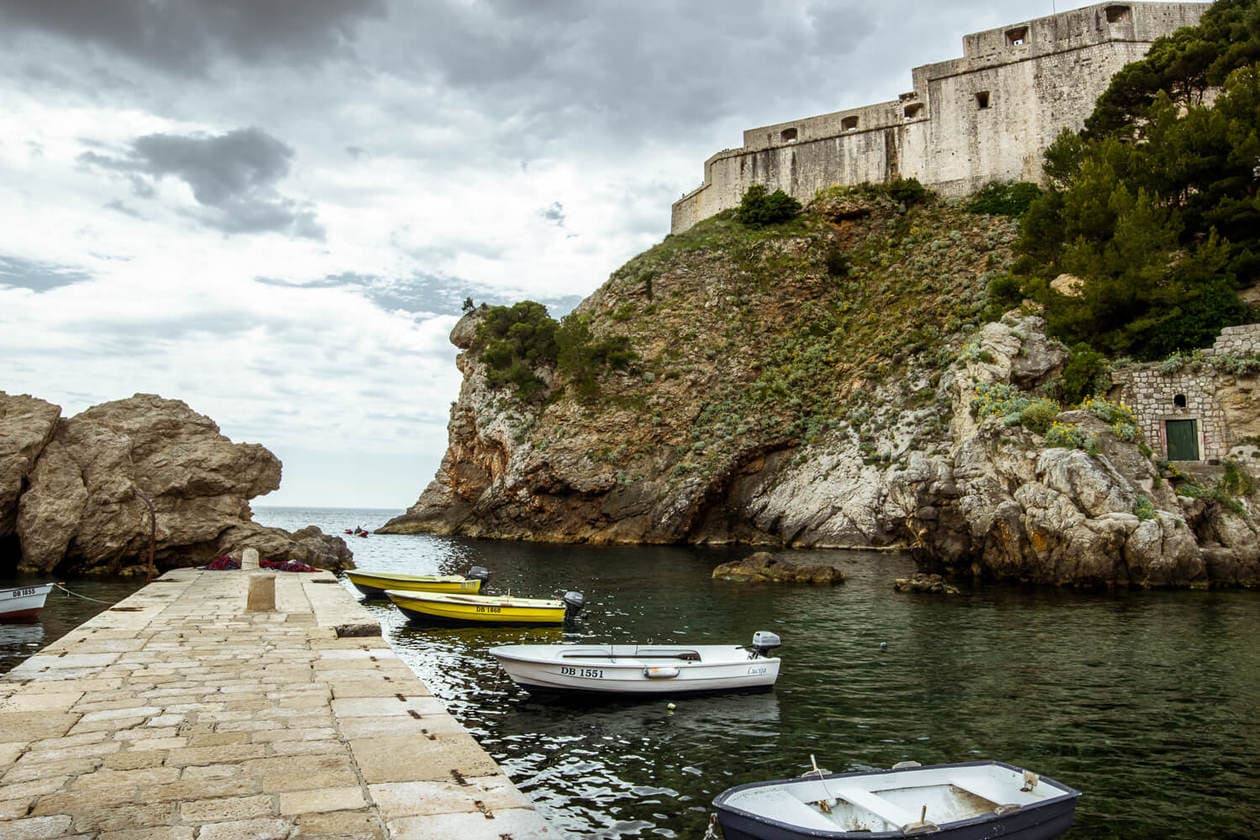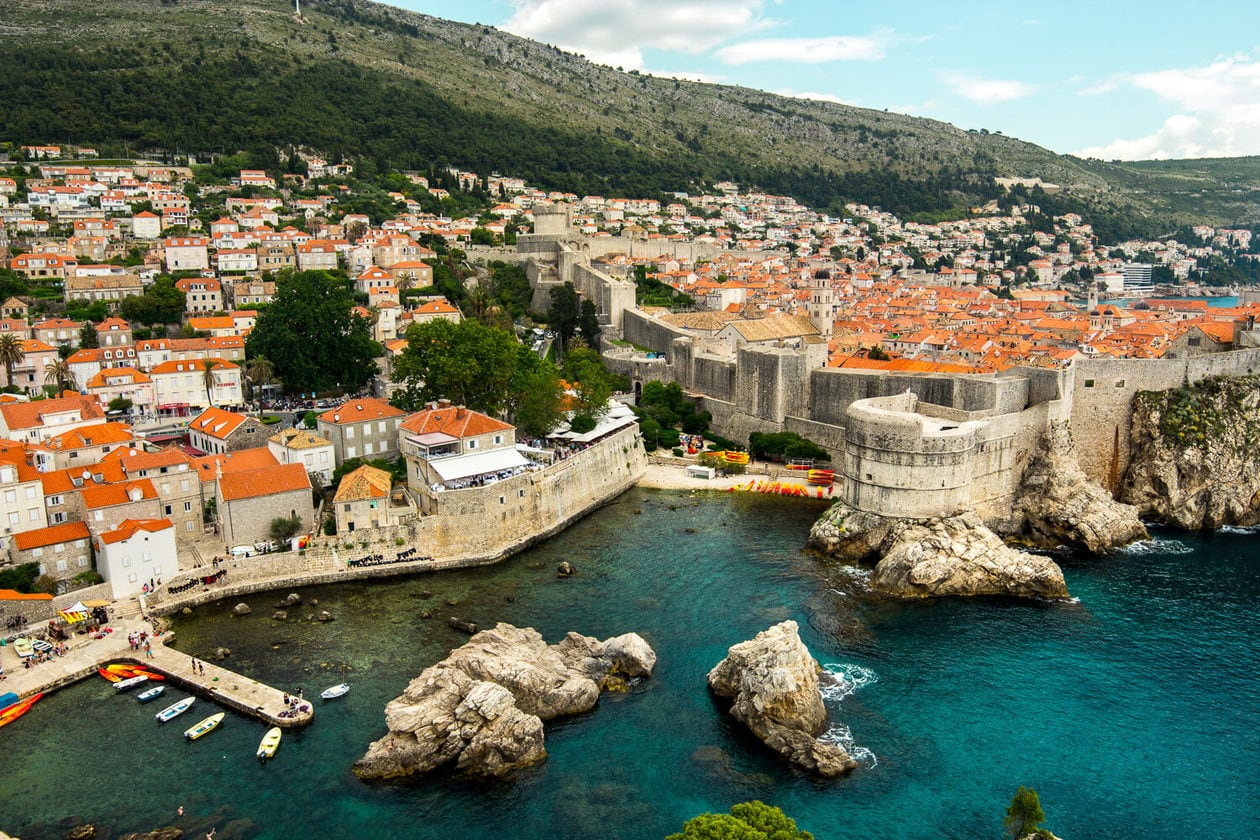 While there's not much to do within the fortress, it's an interesting and quiet place to walk around. We had the whole fortress to ourselves except for a small Game of Thrones tour. My favorite views of the city were from Fort Lovrijenac, so it's worth a trip over just to see them.
Tickets to the fortress are included with your admission to the city walls.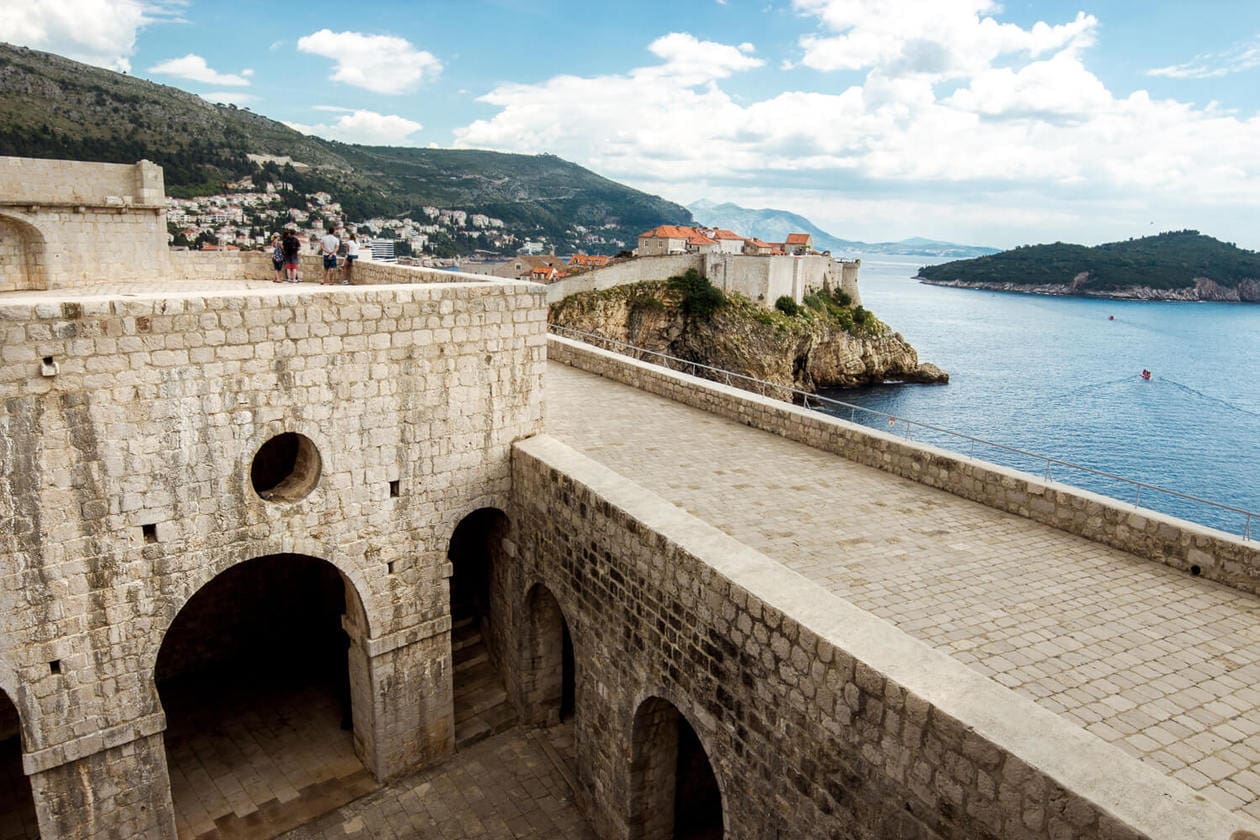 Sail to the Elafiti Islands
Sailing was one of my favorite things to do in Dubrovnik. We took a full-day sailboat tour of the Elafiti Islands with Dubrovnik Daily Sailing and loved every minute of it. The water off of Croatia is the most gorgeous shade of blue and it's hard to resist not jumping in at any given moment. We spent the entire day swimming, exploring underwater caves and having lunch in a local fishing village. It was seriously perfect.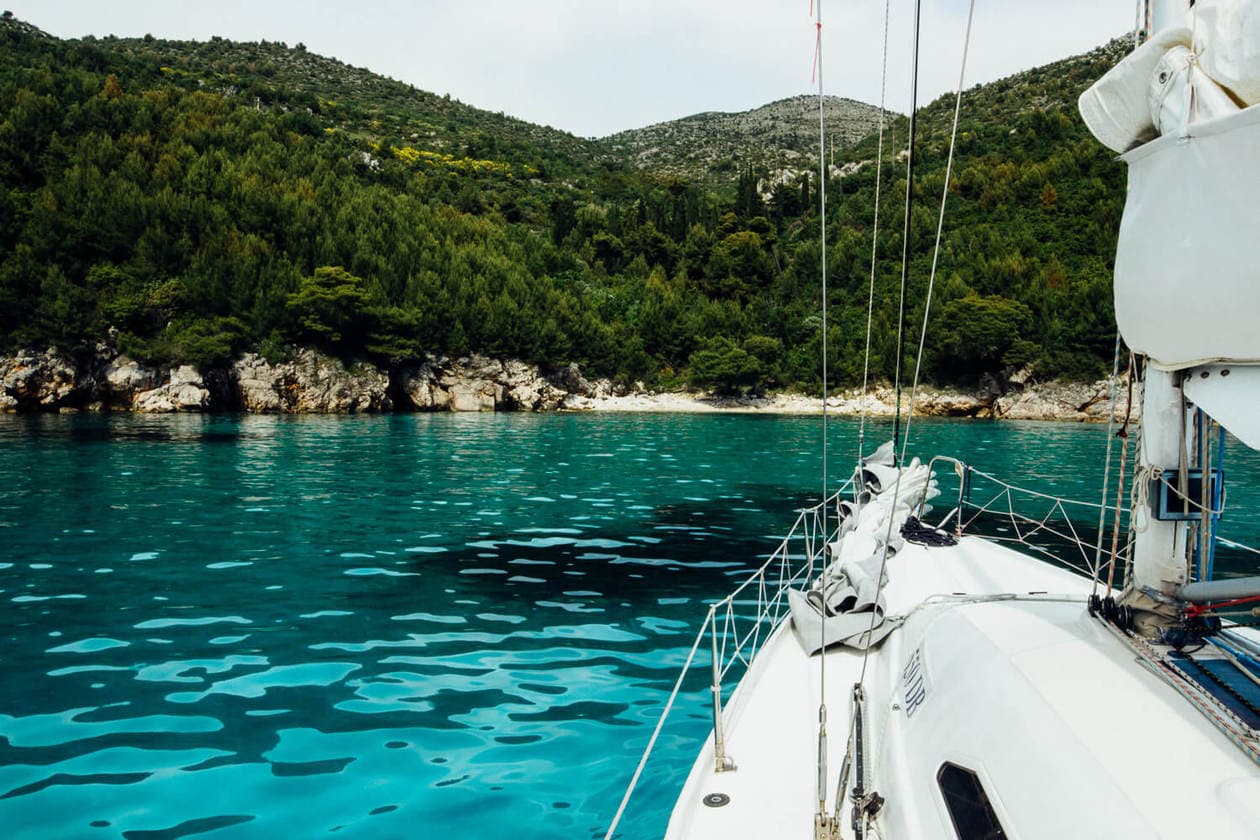 Whether you rent a boat or join in on a tour, getting out on the water shows you a different side of this beautiful city.
Read More About Our Day Sailing: SAILING DUBROVNIK: A DAY TRIP TO THE ELAFITI ISLANDS

Ride the Cable Car
The Dubrovnik Cable Car is one of the more popular things to do in Dubrovnik. Located directly outside of the city walls, the cable car will take you 778 meters (.5 mile) above the city for some of the most breathtaking views you've ever seen. The ride itself is only a few minutes but once you're at the top, you can walk around or have dinner & drinks at Panorama Restaurant to capitalize on some extended viewing.
For more information about the Dubrovnik Cable Car and Restaurant Panorama: DUBROVNIK'S PANORAMA RESTAURANT HAS THE BEST DINNER VIEWS, EVER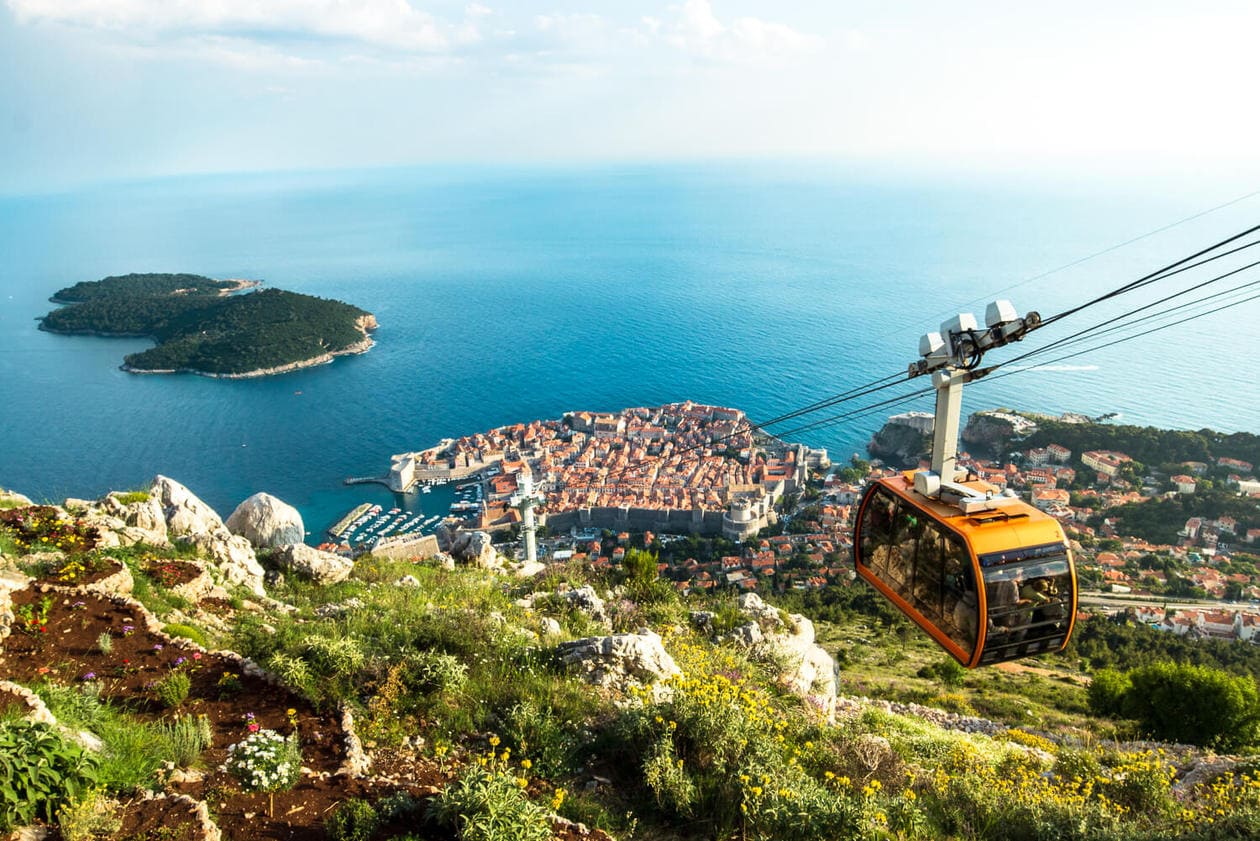 How to Find the Dubrovnik Cable Car
The Cable Car is located right outside of the Old City's wall. From either the Ploce or Pile Gate, walk out and around the city walls to the north. It's an 8-12 minute, easy walk to the cable car station and a 4 minute ride up the mountain. Adult tickets cost 140 kuna ($22) for a round trip.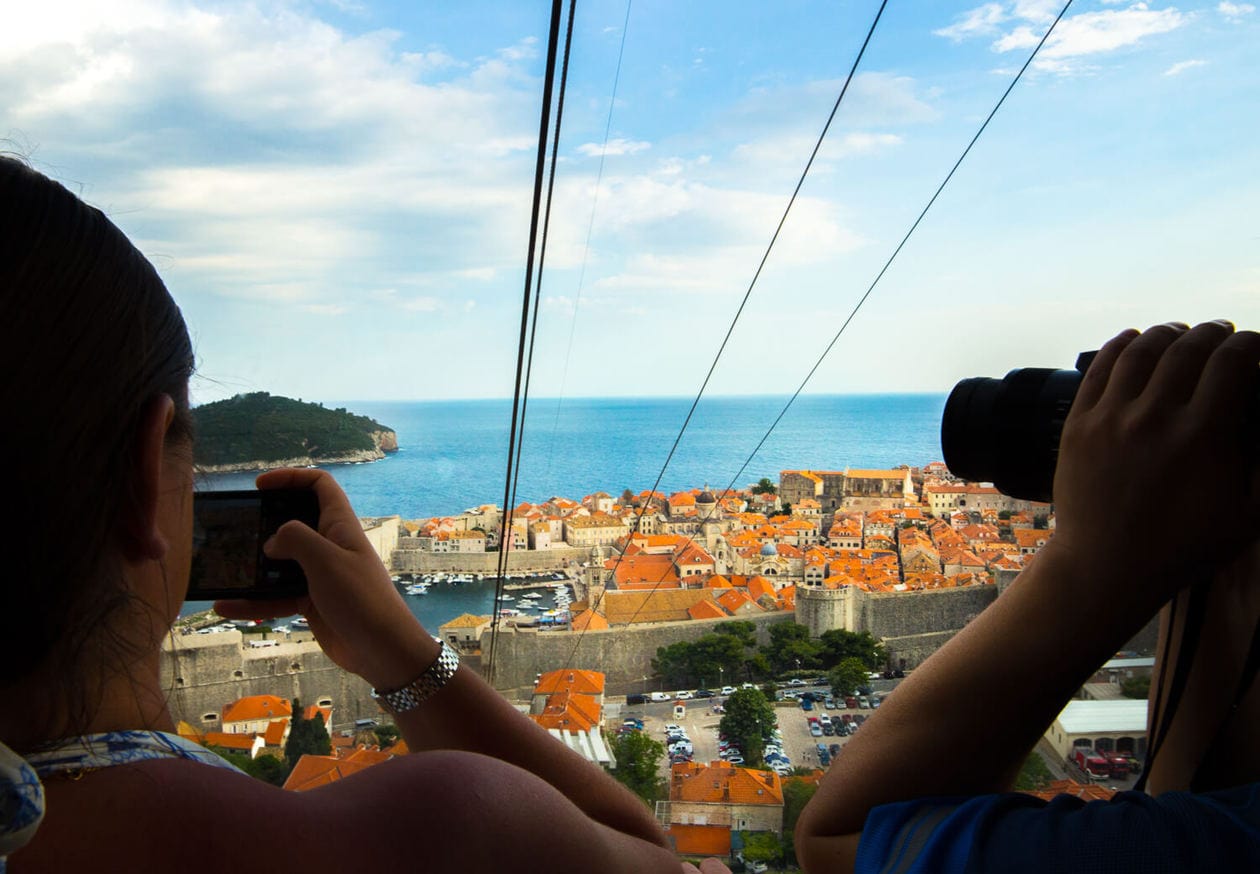 Lounge at Hotel More
Hotel More is located on the peninsula of Lapad, only 2 miles from Old Town. Their bar is located within a cave and it leads out to the coolest deck, right on the water (you can swim too!). We spent multiple days and afternoons lounging on day beds and drinking rose. Buza Bar is on most people's lists of things to do in Dubrovnik, but I found Bar More to be less crowded and a lot more relaxing.
Related Post: CAVE BAR DUBROVNIK: DRINKS, GOOD FOOD AND A BANGIN' VIEW

How to Get to Hotel More & Cave Bar Dubrovnik:
Public Transportation: From the Old Town, take bus number 6 toward Babin Kuk.
The #6 bus runs every 10 minutes and the ride takes 10-15 minutes. Bus tickets cost 12,00 kunas ($1.90 USD) and are valid for one hour.
Uber also runs in Dubrovnik and Hotel More has wifi throughout the hotel, so it's easy to call a ride.

---
PIN IT
Did I miss something? What are your favorite things to do in Dubrovnik?