778 meters above Dubrovnik sits a picture perfect restaurant with a mind-blowing view. Whether you eat dinner or simply grab a drink, a trip to Panorama Restaurant is a must do while in Dubrovnik.

Panorama Restaurant
Panorama Restaurant sits on top of Srd Hill and boasts the most breathtaking view I've ever experienced from a dining table.

Reservations are Necessary
Since Panorama Restaurant is one of the most sought after restaurants in Dubrovnik, it's essential to make reservations a few days in advance. I always drop the ball when it comes to reservations and when I contacted them the day before, they were fully booked. We decided to go anyway and hope for a cancellation.

We arrived at the top of the mountain around 5pm to trying to beat the dinner crowd. The hostess let us put our name in, with the request of an edge table. Luckily, it only took about 30 minutes for them to call our name. We did notice that the amount of walk-ups steadily increased as we were waiting, and toward the end of our meal they were turning people away. If you have your heart set on Panorama Restaurant, book your reservation well in advance.

Food & Service
Unfortunately, the service at Panorama Restaurant was not the greatest. Our waiter seemed busy and was absent most of the meal. They have a service button on the table so you can page your server, but it didn't seem to work.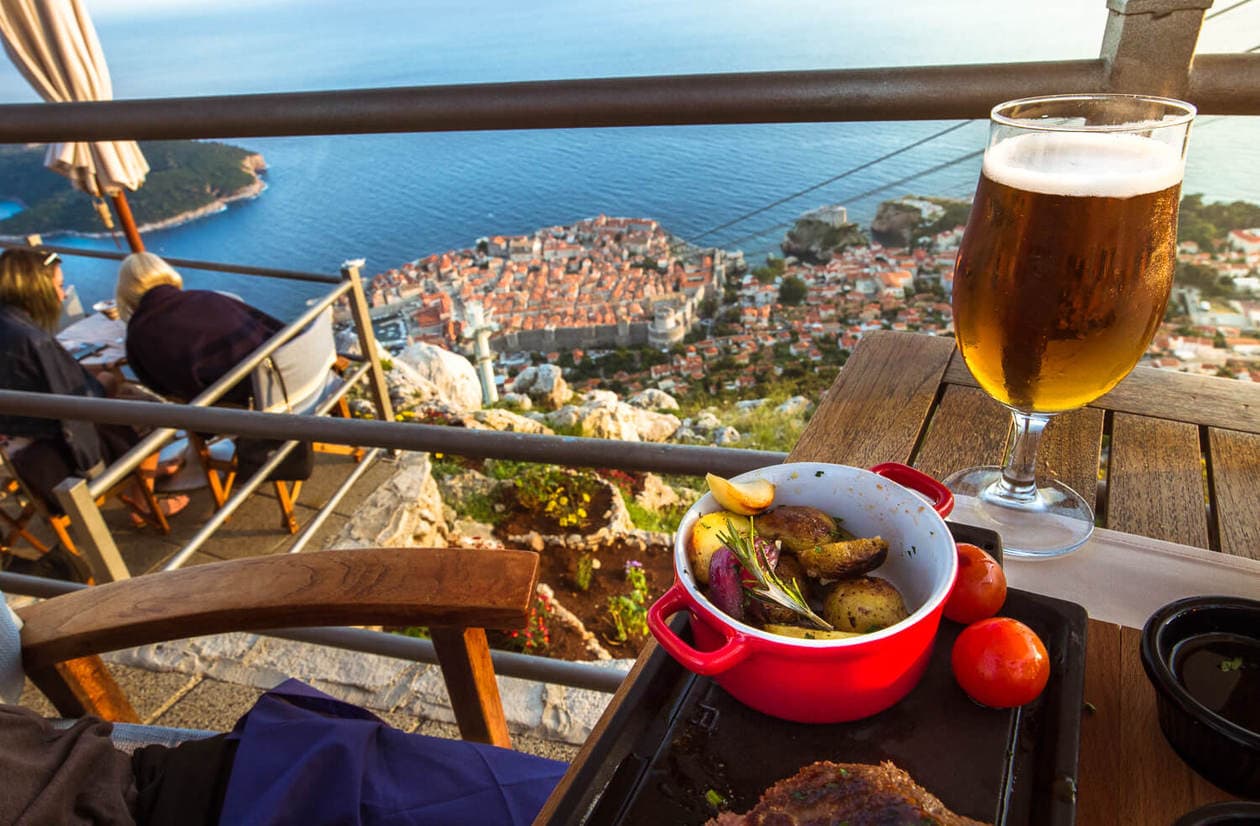 Panorama Restaurant offers a Mediterranean Cuisine and both of our meals were delicious. It was also very reasonably priced. We ordered 2 entrees, 2 drinks each, plus desert and it came out to $96USD before tip. We preferred the food and service at Restaurant More, but obviously these views are unrivaled and well worth the trip up the mountain.
Alternatively, you can skip the meal and just have drinks; they set up a bar on the patio during sunset.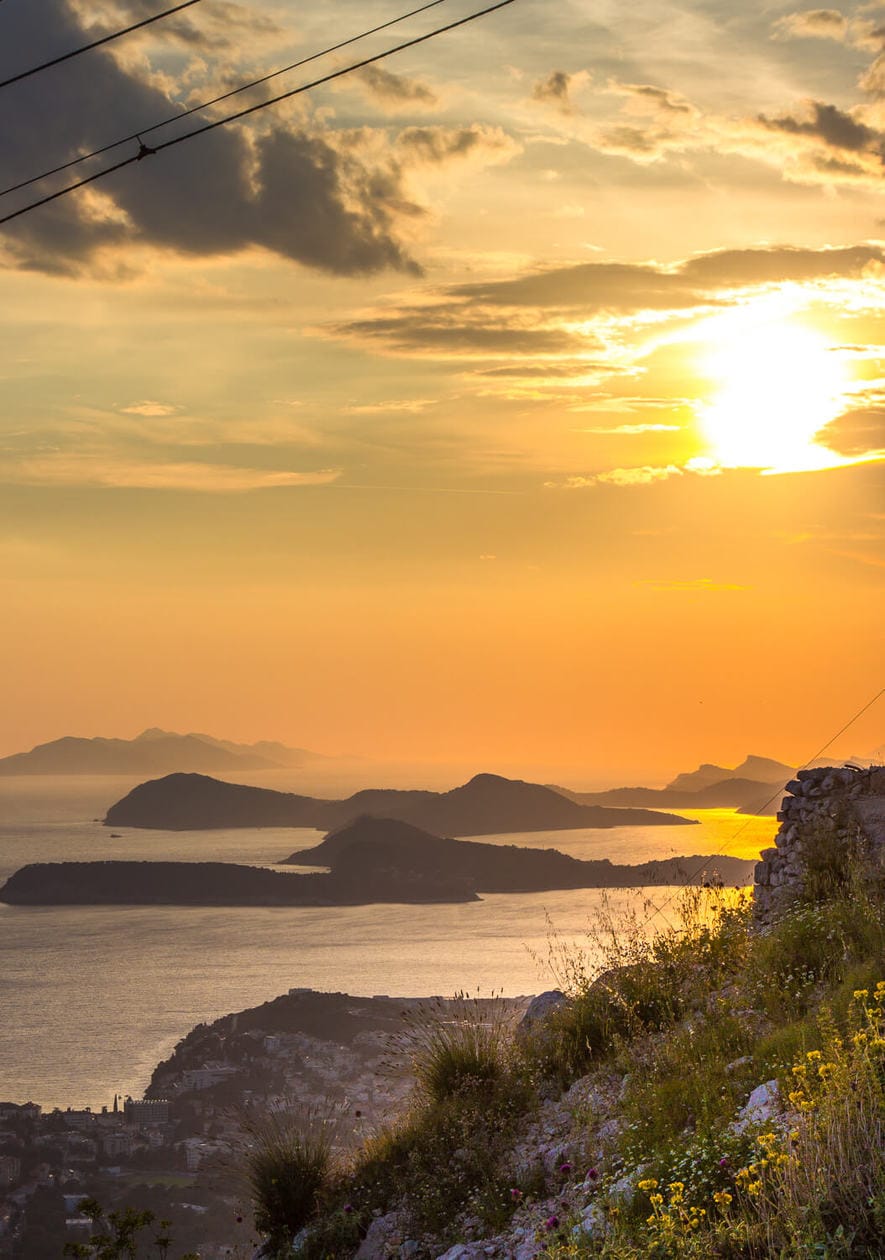 Getting to the Top of the Mountain: The Dubrovnik Cable Car
There are two ways up Srd Hill: you can ride in the Dubrovnik Cable Car or you can walk. Walking is not advised unless you're prepared for a hike.

How to Get to the Dubrovnik Cable Car
The Cable Car is located right outside of the Old City's wall. From either the Ploce or Pile Gate, walk out and around the city walls to the north. It's an 8-12 minute, easy walk to the cable car station and a 4 minute ride up the mountain.
Prices (as of 2017)
adult round-trip: 140,00 kn / $22USD
adult one-way ticket: 85,00 kn / $13.50USD
children round-trip ticket (4 – 12 years): 60,00 kn / $10USD
children one-way ticket (4 – 12 years): 40,00 kn / $6USD
4 years old and under: free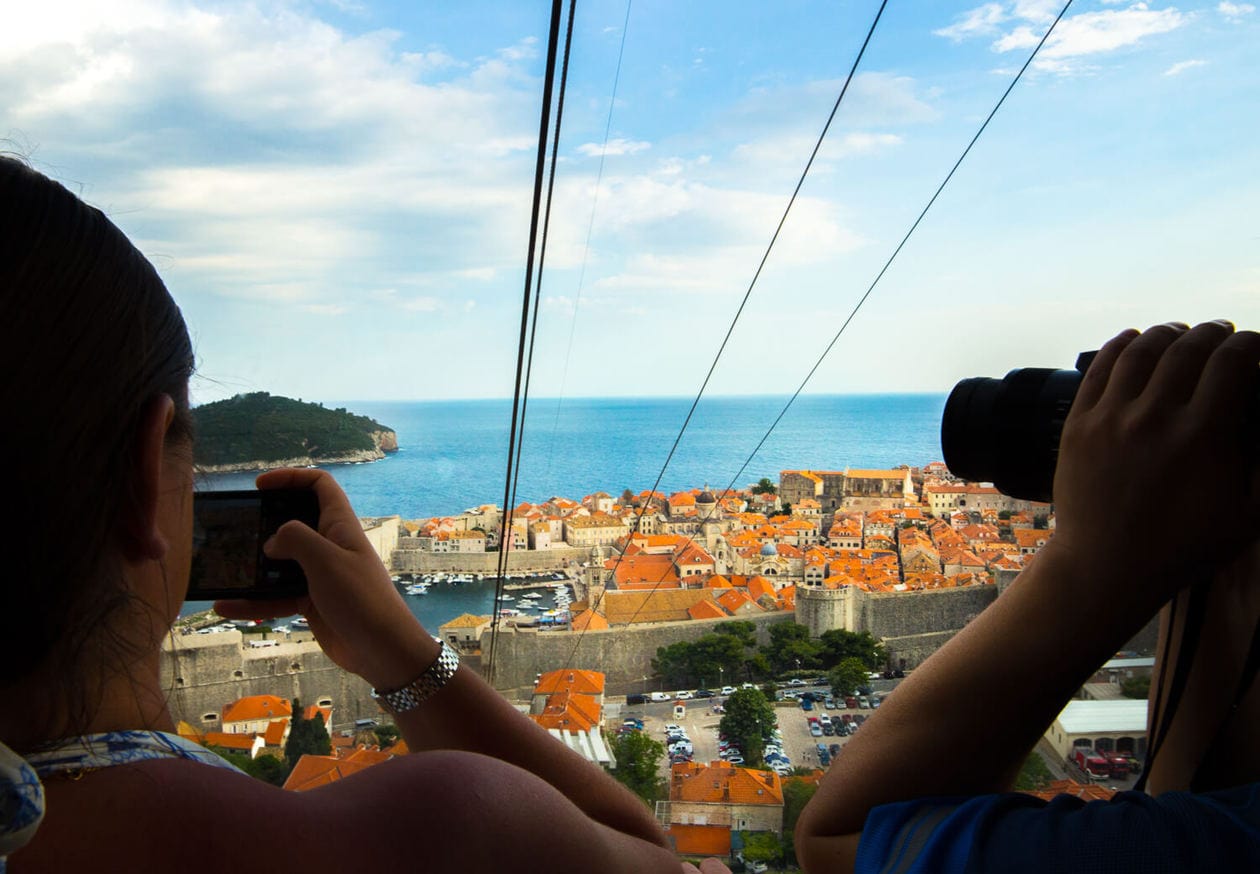 Hours
June/ July/ August
9am – Midnight

Panorama Restaurant
Srđ ul. 3, 20000, Dubrovnik, Croatia
---
PIN IT