From 18th century French chateaus to an adorable bed and breakfast, we booked some incredible hotels during our time in Brittany. But there was one place that stood out amongst the rest and has not only become our favorite place to stay in France, but maybe even our favorite place to stay.. ever.
Domaine Arvor is the unique campsite/farm/creative brainchild of Samuel Lemarchand. Samuel spent 15 years traveling the world and visited over 40 countries before returning to France to take over his family farm near Dinan.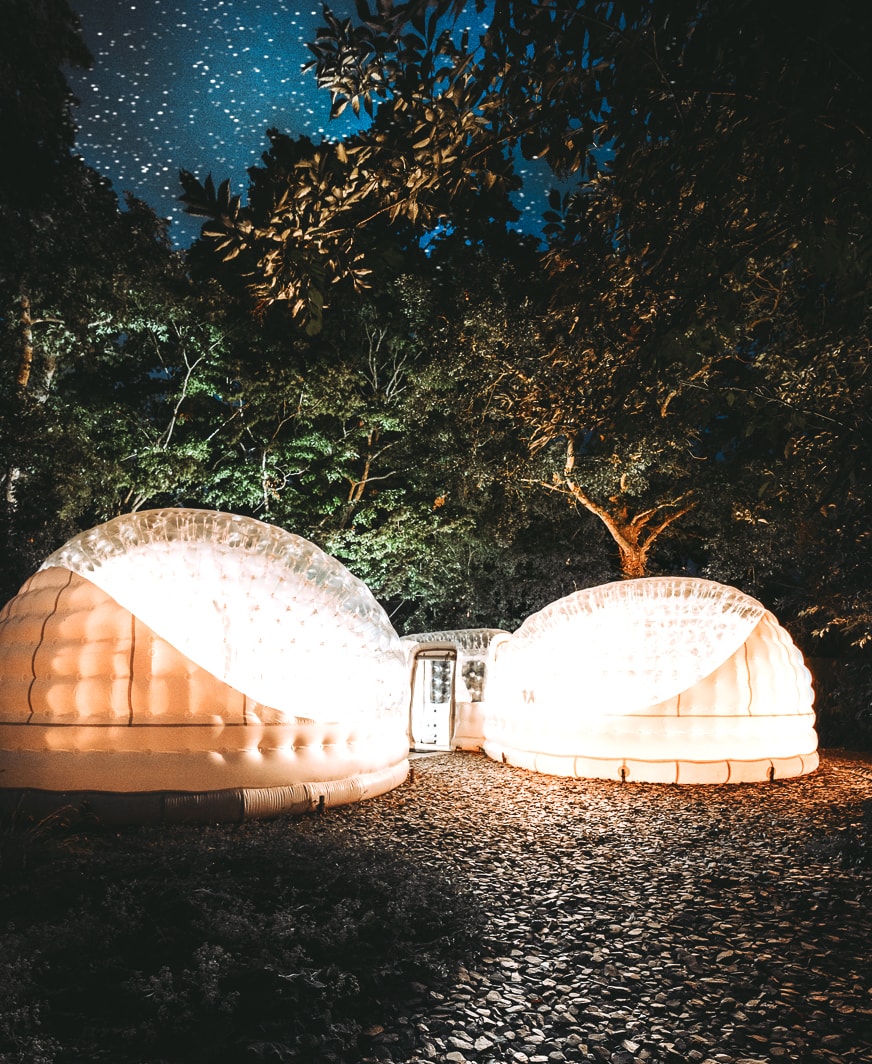 Samuel decided to bring a bit of the world back to Brittany and has built a compound of unique lodging options inspired by his travels. At Domaine Arvor guests can stay in yurts, an igloo, treehouses, tipis, safari tents and even bubble rooms.
Located just 10 minutes from Dinan (in Lanvallay) this hotel was the perfect place to spend a few nights relaxing, playing with donkeys and horses, and watching the stars from our private jacuzzi. Keep reading for everything you need to know about this fantastically unique place to go glamping in France.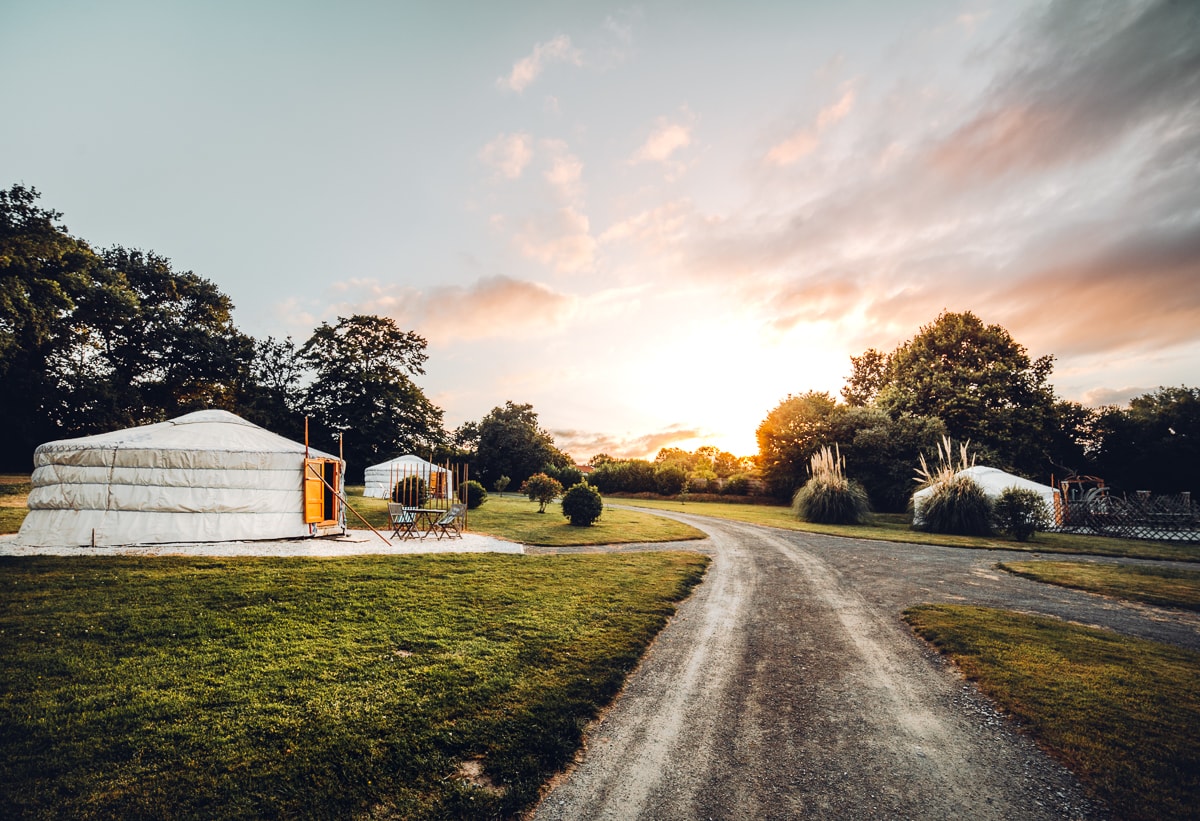 DOMAINE ARVOR // UNIQUE GLAMPING IN FRANCE
With so many unique room options to choose from at Domaine Arvor, I temporarily contemplated changing our entire France itinerary so that we could stay in every one. It was so hard to choose.
But with only 2 nights near Dinan before moving closer to the coast, I ultimately decided on 1 night glamping in the Igloo and 1 night in the Black and White Bubble. 
THE IGLOO
The Igloo and the Gaelic Treehouse (more on that below) are Samuel's passion projects, and he has spent a lot of time designing and curating each of these unique rooms.
When you first step inside the Igloo, you'll notice animal skin rugs, faux fur throws, a round bed and 60's style globe chairs. But keeping with the Igloo theme, there are also penguin figurines and polar bear decor.
It's eclectic and quirky and I loved everything about it.
The 450 square foot room feels huge, and the large window on the back of the dome opens up the space up even more, offering great views of the adorable barrel jacuzzi.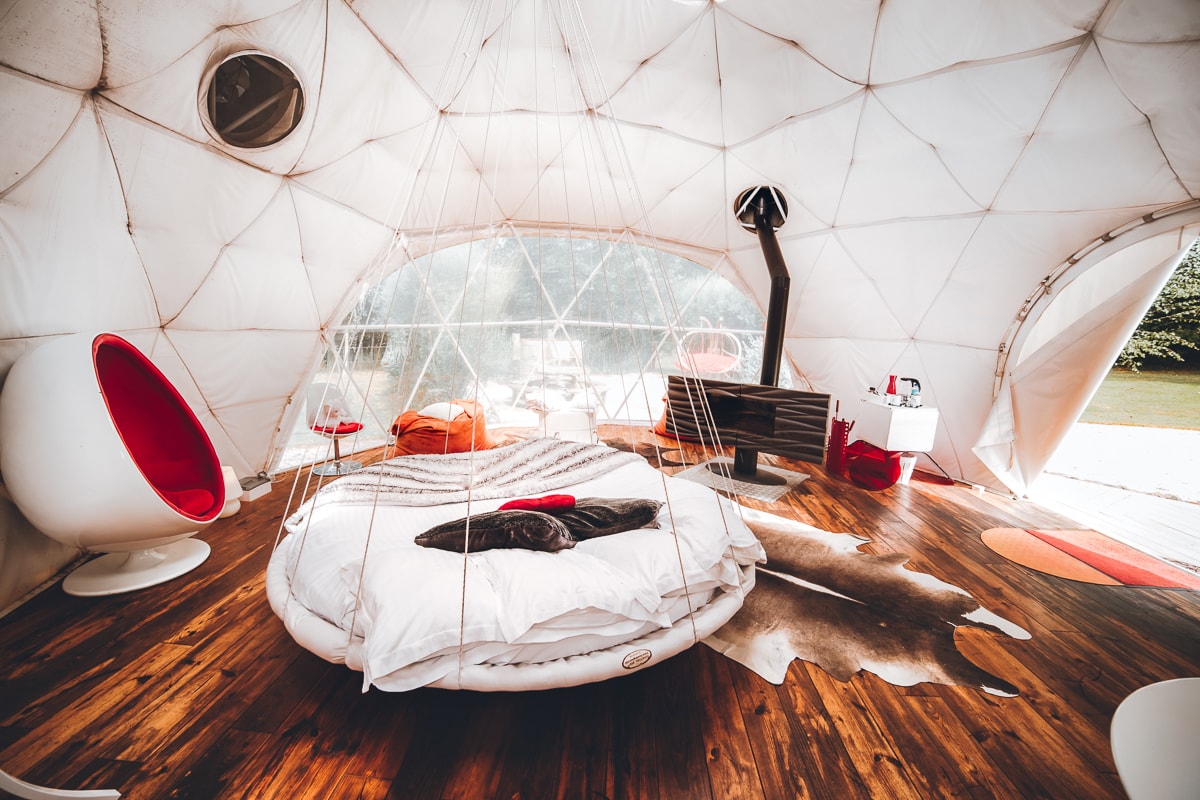 THE HANGING BED
In the middle of the room, you can't miss the round bed hanging from the ceiling. A major statement piece that was surprisingly very comfortable.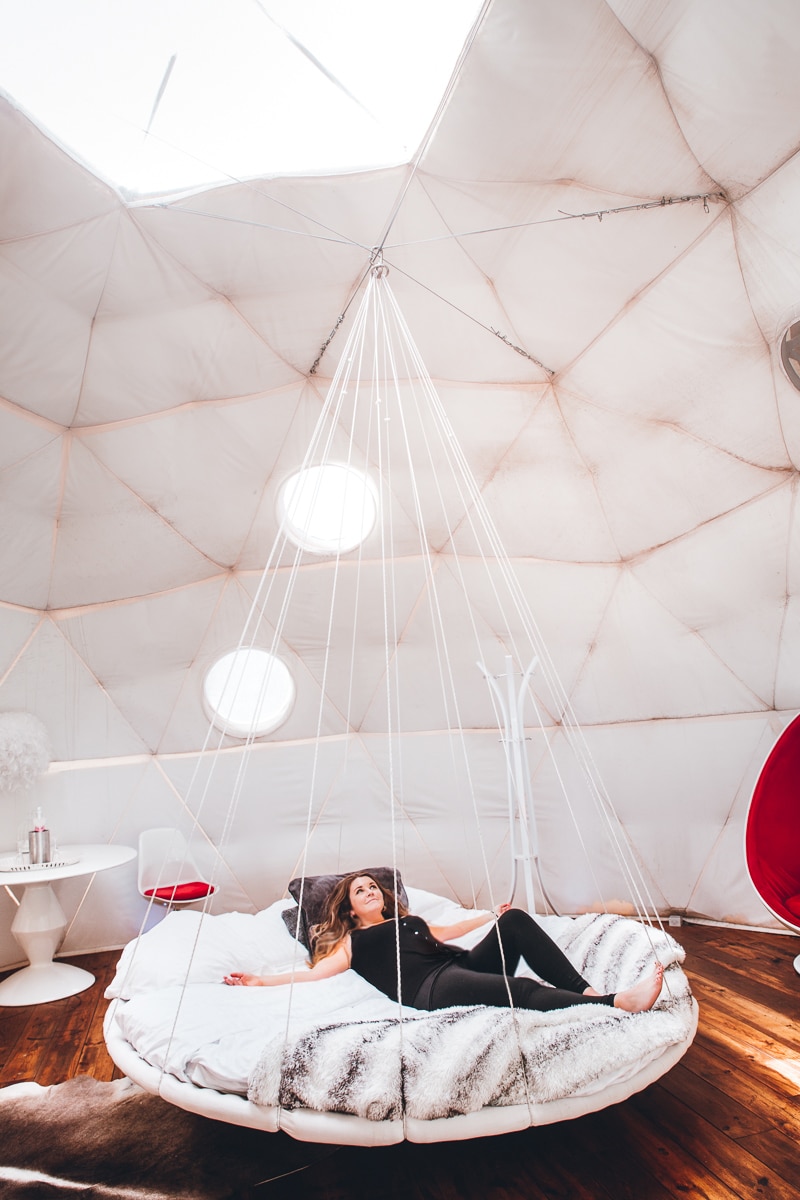 Not only were the sheets crisp, impeccably clean and super fluffy, but the shape of the bed cradles your body perfectly while the subtle rocking puts you to sleep instantly. It feels similar to sleeping in a hammock.
If you move a lot in your sleep, the rounded shape does make it a bit hard to roll around. I fell asleep and woke up in the exact same position, I don't think I moved all night.
THE HOT TUB
All of the rooms at Domaine Arvor have outdoor patios, and some also have private jacuzzis. If you can afford to splurge a little, having your own hot tub is magical and we spent hours listening to music and stargazing from the comfort of our patio.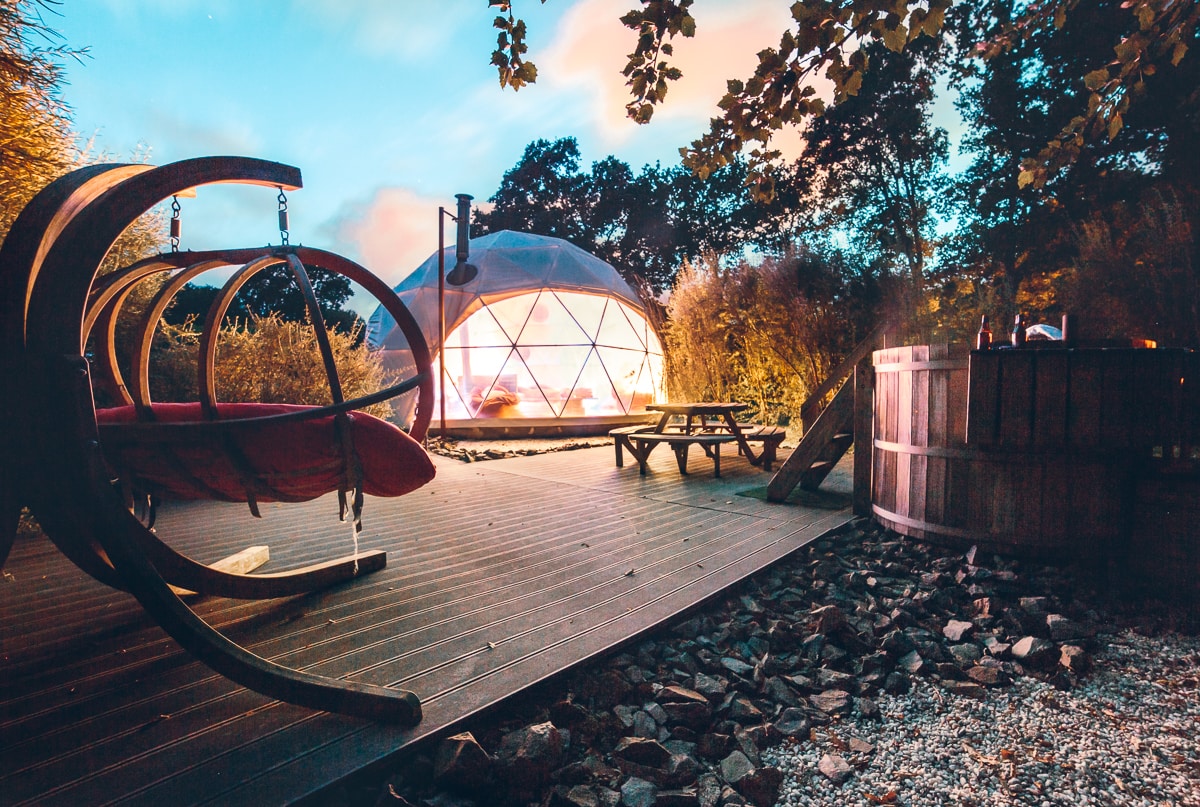 NO TOILETS
While there is definitely an aspect of "glamping" at Domaine Arvor, the rooms are extremely comfortable and clean, and if it wasn't for the lack of plumbing and the occasional bug here and there (you're on a farm so you have to expect bugs), you wouldn't know the difference between this luxury campsite and a normal hotel.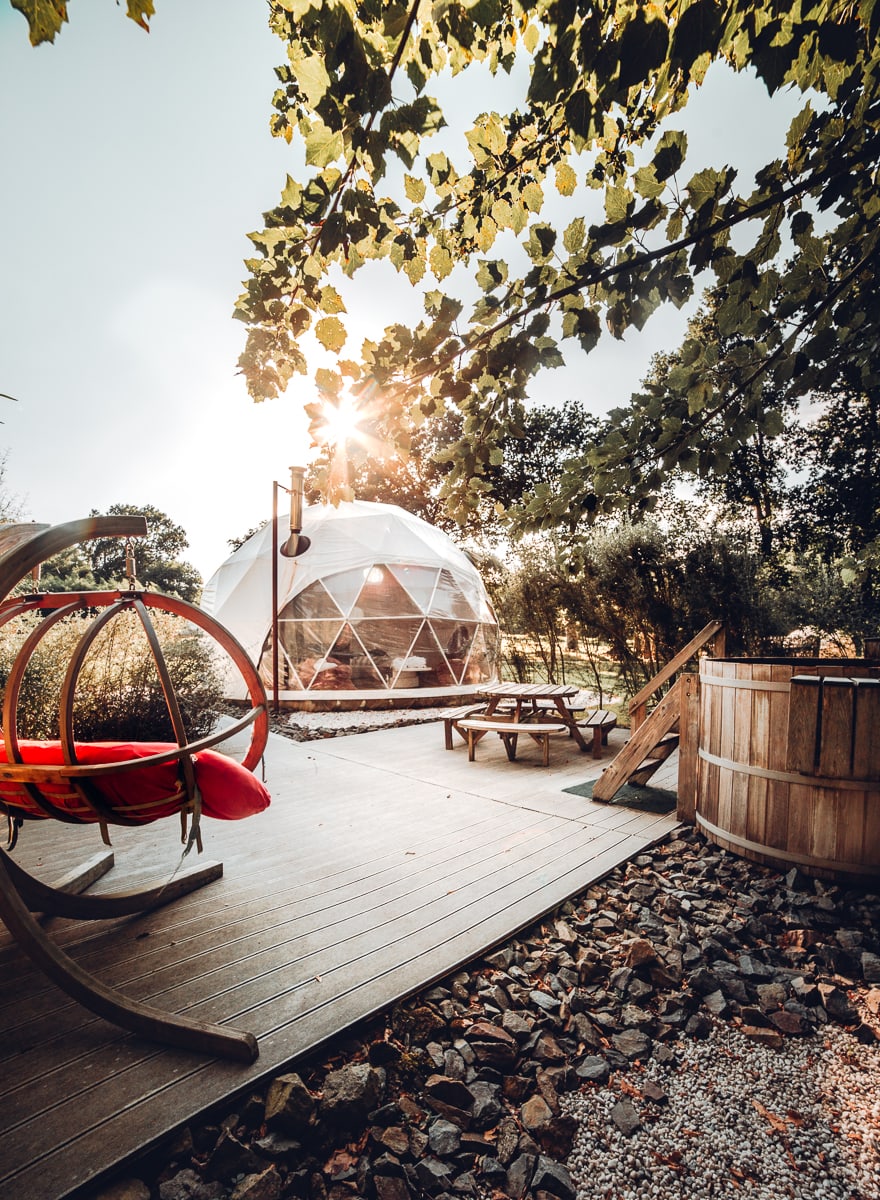 While there are no toilets within the room, there is a dry toilet very close to the Igloo, as well as flushing toilets and showers at the top of the hill (scroll down to read more about the toilets and common areas below).
There is also a faucet with running water outside near the hot tub where you can wash your hands, get drinking water etc.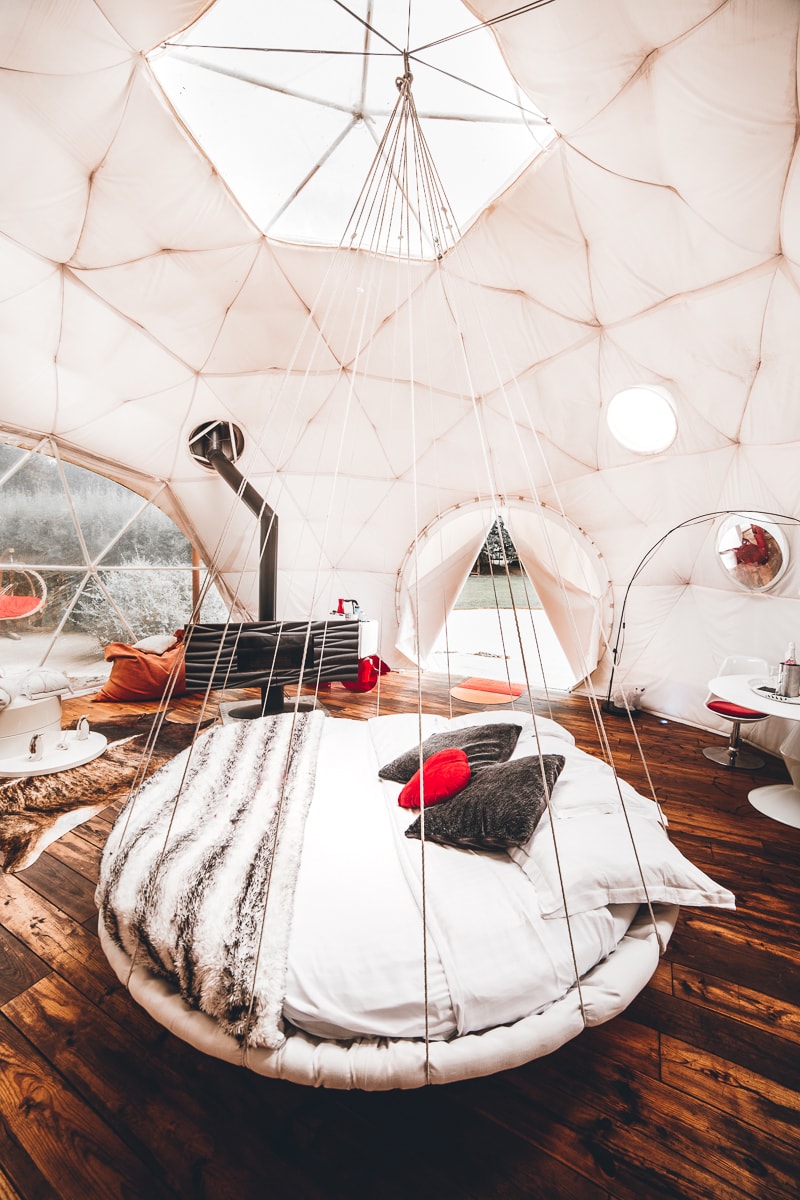 AMENITIES
The Igoo at Domaine Arvor is fully equipped with power as well as multiple outlets for charging your electronics. There is also an electric kettle, tea, coffee, a microwave, a bluetooth speaker (located in the lamp) and fluffy robes available for use.
During the day the Igloo did get pretty warm (we visited in July), but the temperatures regulated at night when it cooled down tremendously inside the dome.
During colder months you can take advantage of the wood burning fireplace to heat up the room.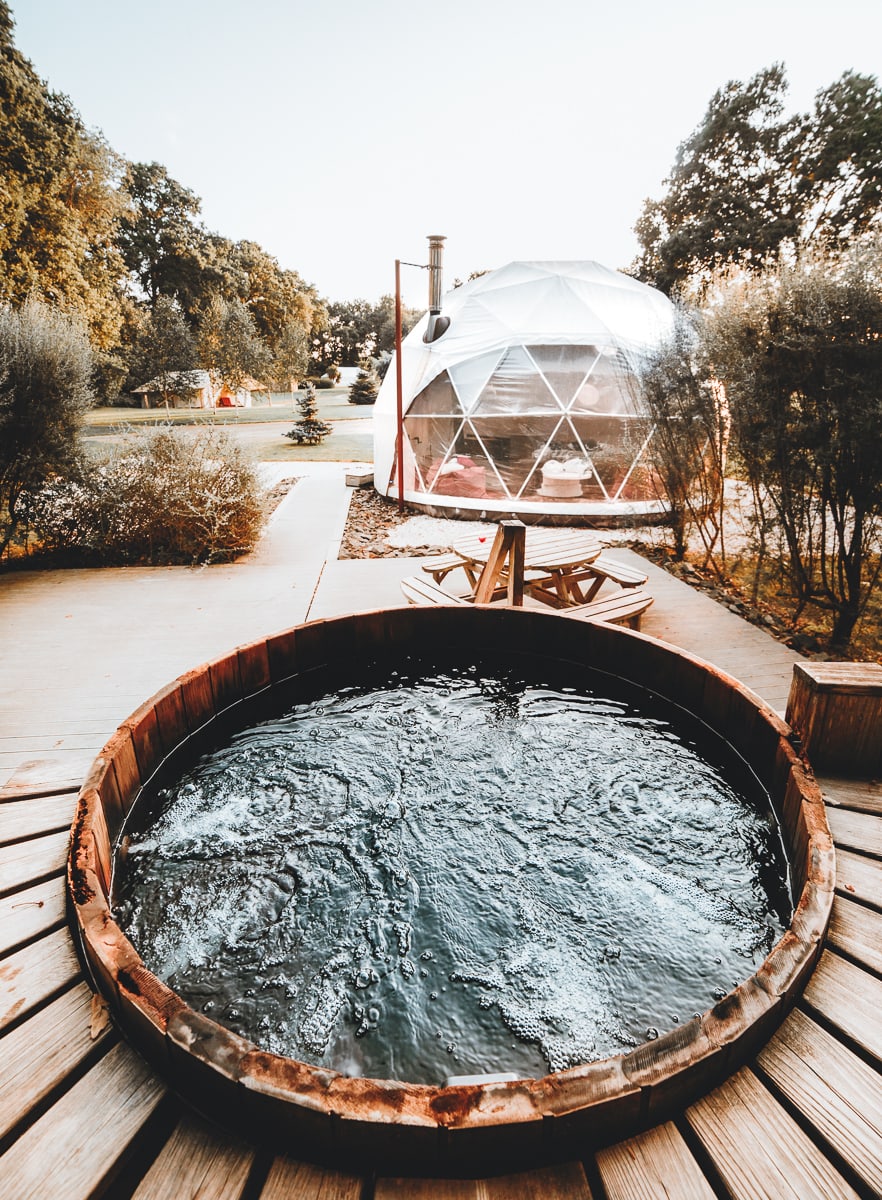 While there is no WiFi in the rooms, you can find a connection near the reception area in the common room.
I love the decision to not offer WiFi in the rooms because it forces you to shut off and eliminate the constant distraction of social media, texts and emails. Samuel told us we would leave Domaine Arvor feeling more relaxed than ever, and he was totally right.
---
RELATED POST: ARRE LULU BAJA // THE CUTEST AIRBNB IN MEXICO
---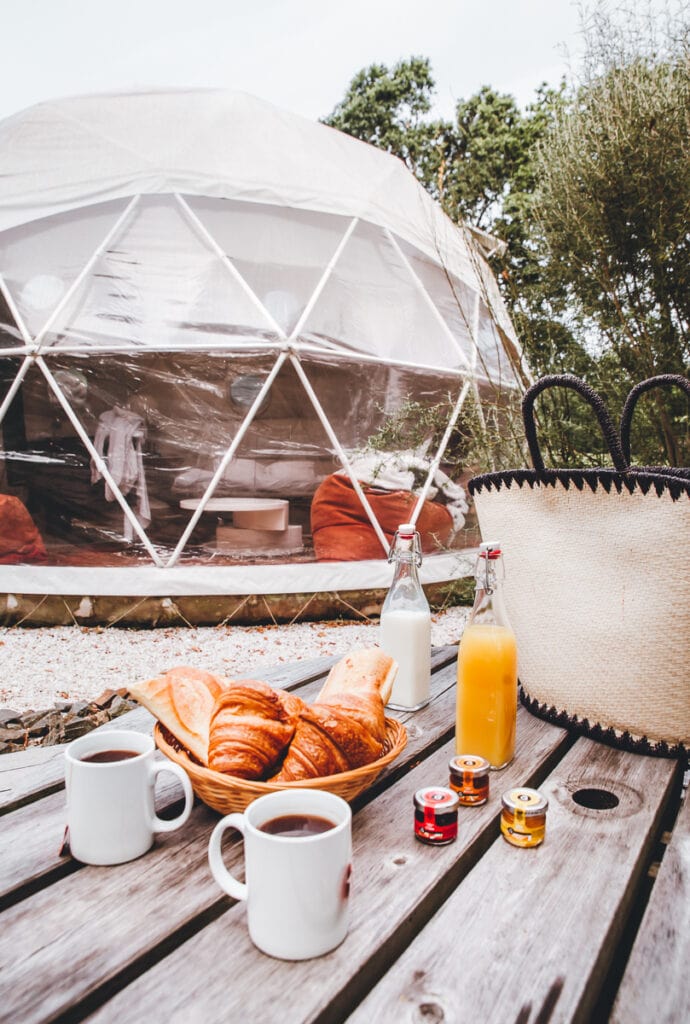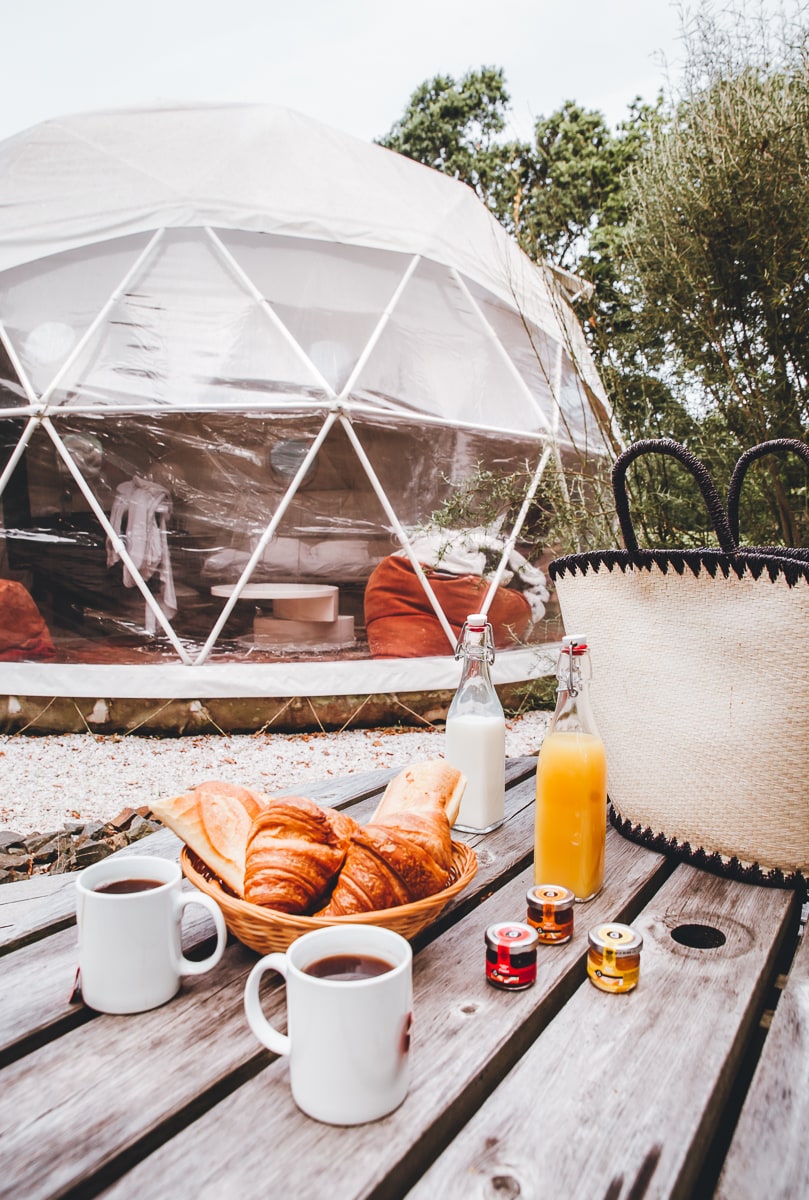 THE BLACK AND WHITE BUBBLE
On our second night at Domaine Arvor, we moved to the Black and White Bubble.
It seemed like a good idea when booking but we were so sad to leave the Igloo and it's insanely comfortable hanging bed. With that said, The Black and White Bubble did not disappoint and I'm glad we got to stay in each one.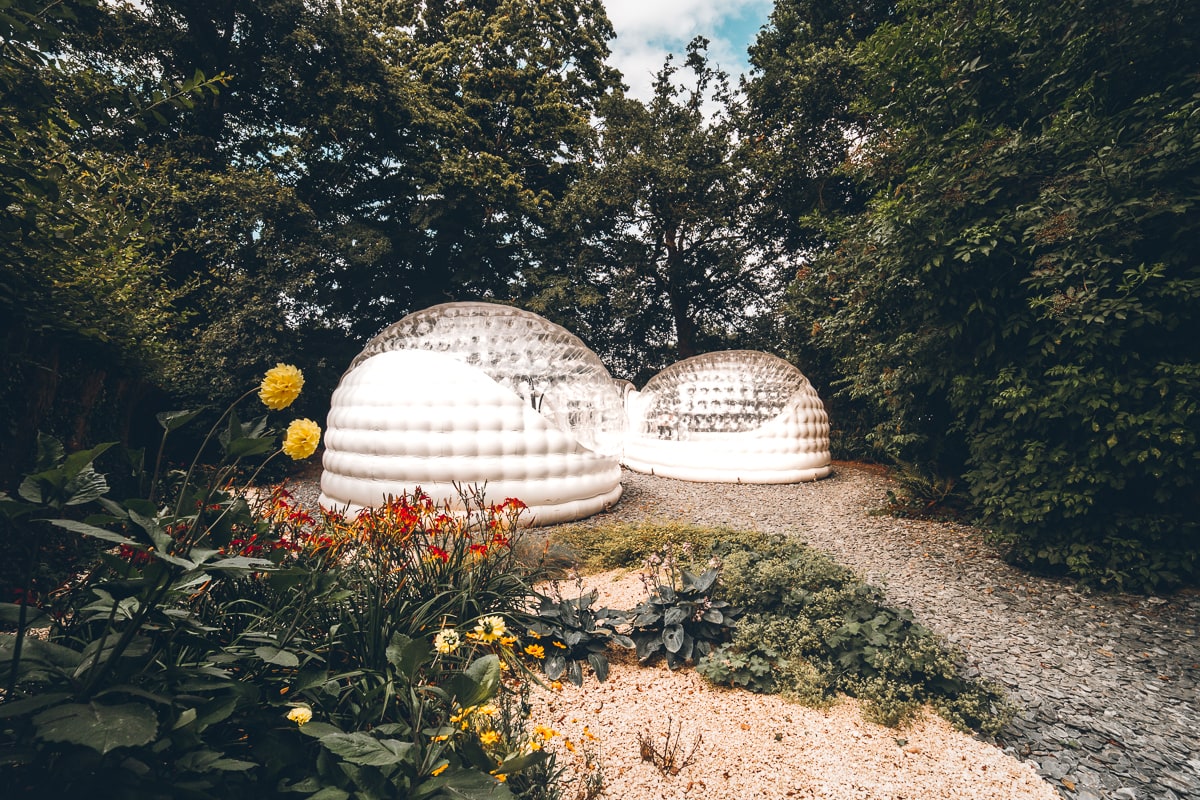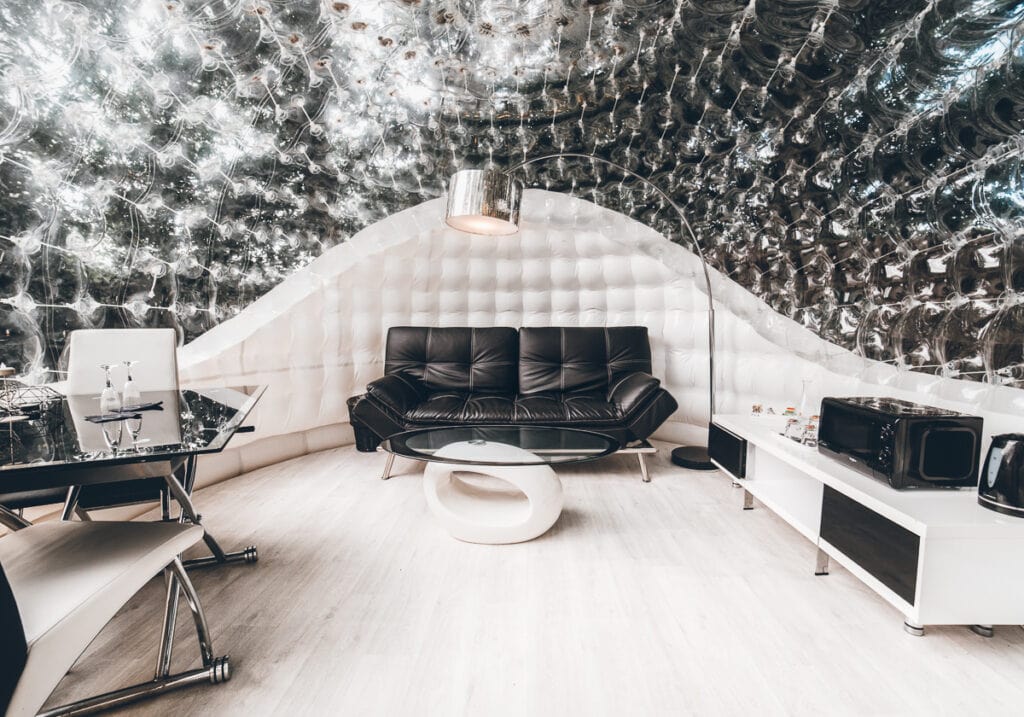 A BUBBLE SUITE
Chances are that you've seen photos of (or even stayed in) a bubble hotel, but you've probably not experienced one quite like this.
Instead of the standard 1 room bubble, Domaine Arvor has created a bubble suite, complete with a living room, bedroom and a separate bubble for the private jacuzzi.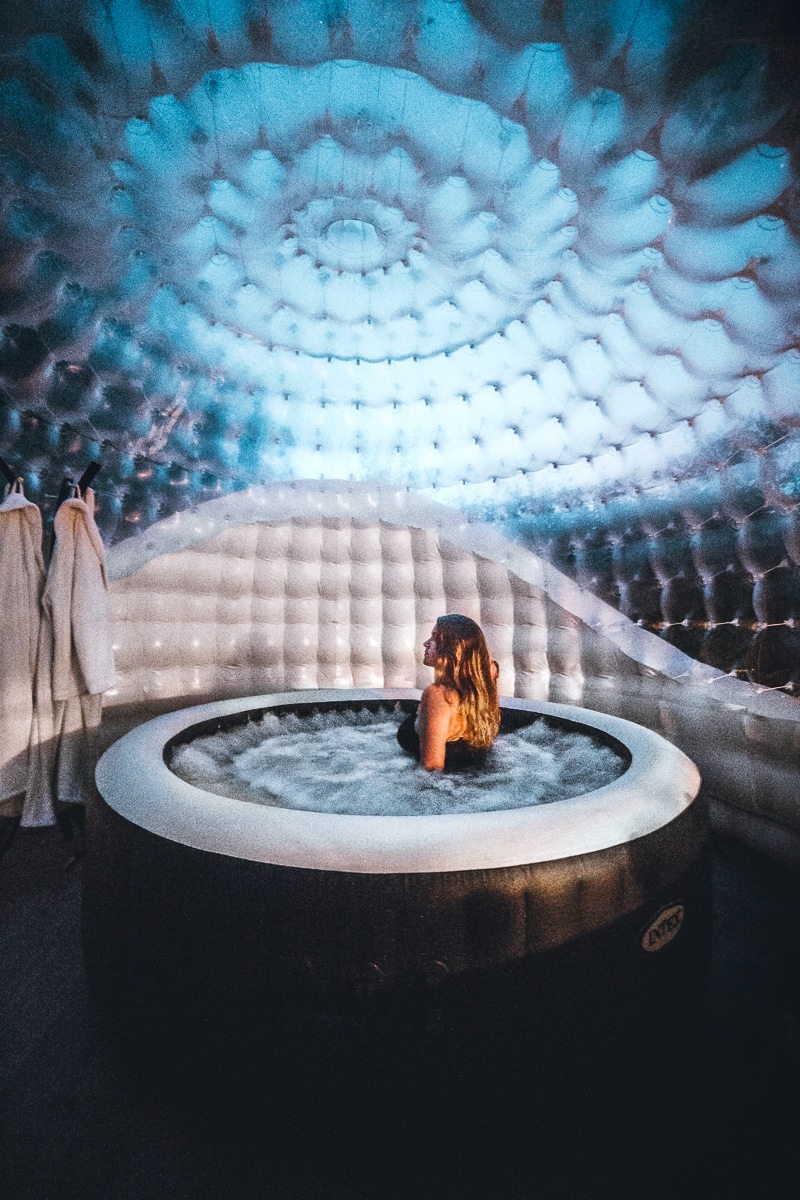 The back patio overlooks a grassy field as well as the family of donkeys who live here to help with eco-grazing. The donkeys even came over to visit us during breakfast, which was ultimate icing on the cake.
PRIVACY
With several bubble lodging options on the property, the hotel does a great job at ensuring privacy for their guests (given the see-through nature of the rooms).
All of the clear bubbles are surrounded by a private fence which is roped off at the entrance.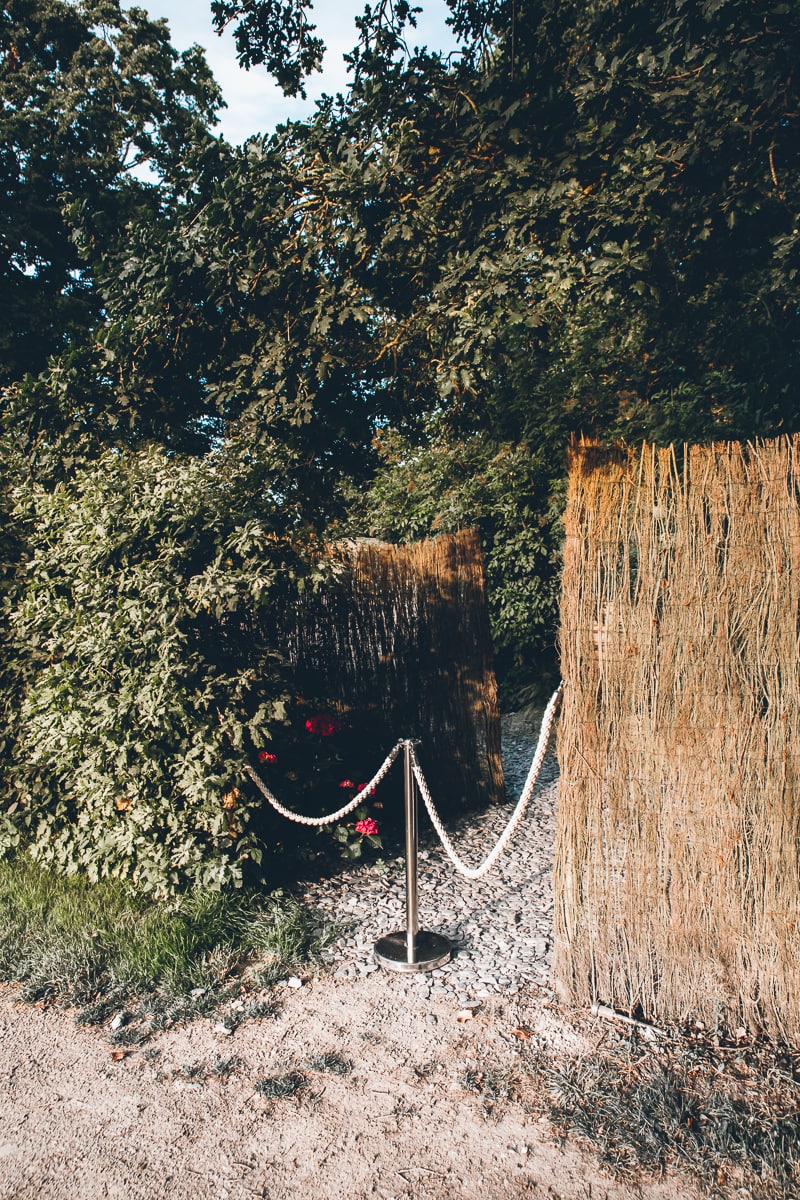 BLACK AND WHITE BUBBLE AMENITIES
For the most part, the amenities were the same in the Black and White Bubble as they were in the Igloo. The outdoor faucet is a little further away so they also provide a carafe for water.
This room was warmer than the Igloo but they provided us with several fans for airflow and in the afternoon, the temperature was perfect.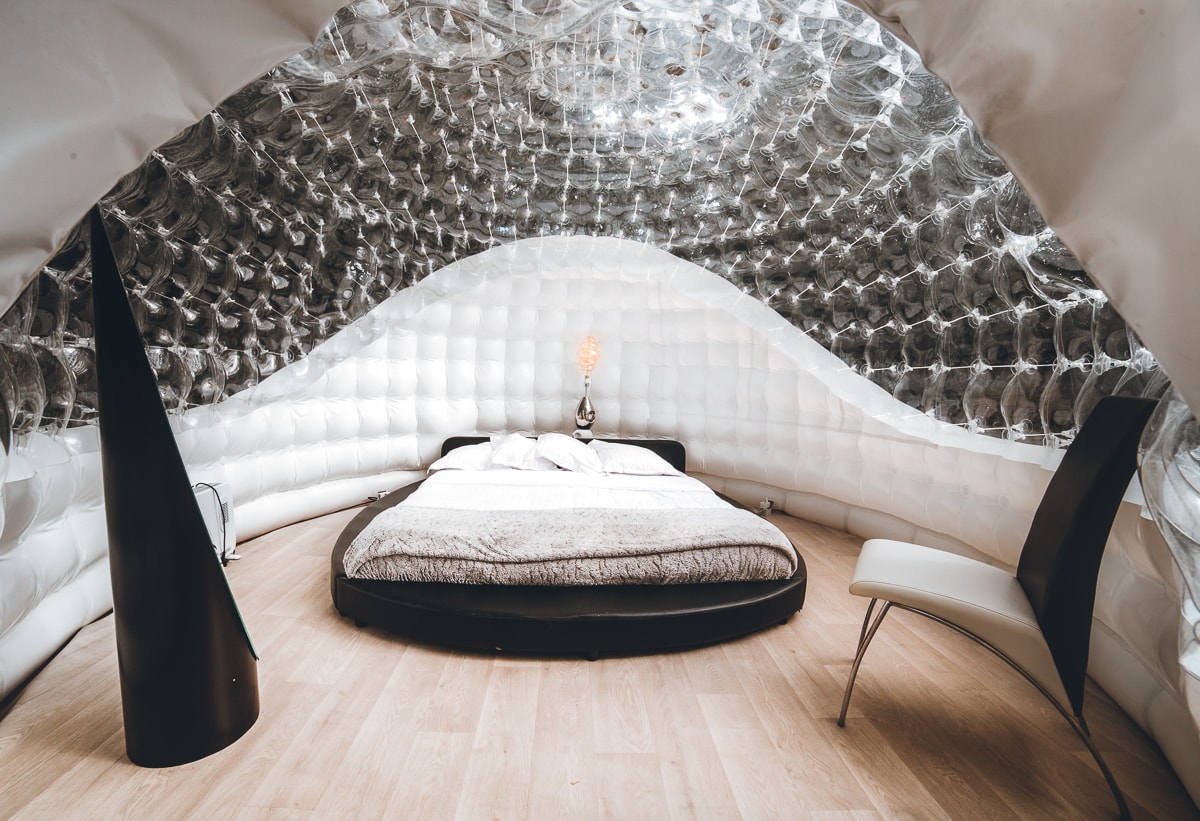 The Black and White Bubble is located closer to the reception area so we were able to pick up on the WiFi signal most of the time.
This room was also closer to the showers and toilets, so you won't need to use the dry toilets if that's something you're on the fence about.
THE GAELIC TREEHOUSE
While we didn't stay in the treehouse, Samuel gave us a tour because it is one of the most unique lodging options that Domaine Arvor has to offer, and we were dying to see inside.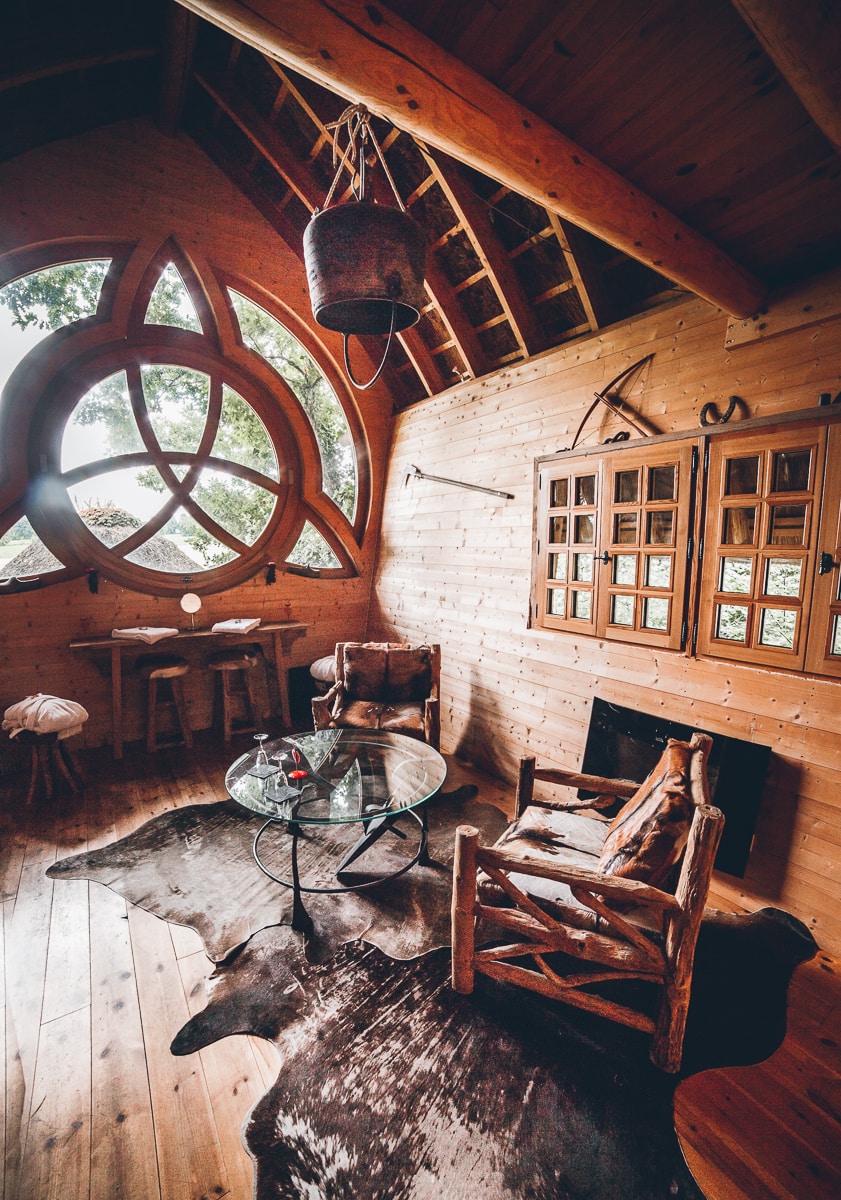 A long, wooden walkway guides you up 20 feet (6 meters) into the trees and as soon as you step through the door, you'll feel as if you've stepped back into time. Outlander style.
The stunning Celtic Trinity Knot window offers views of the patio which is complete with an outdoor shower and a private jacuzzi.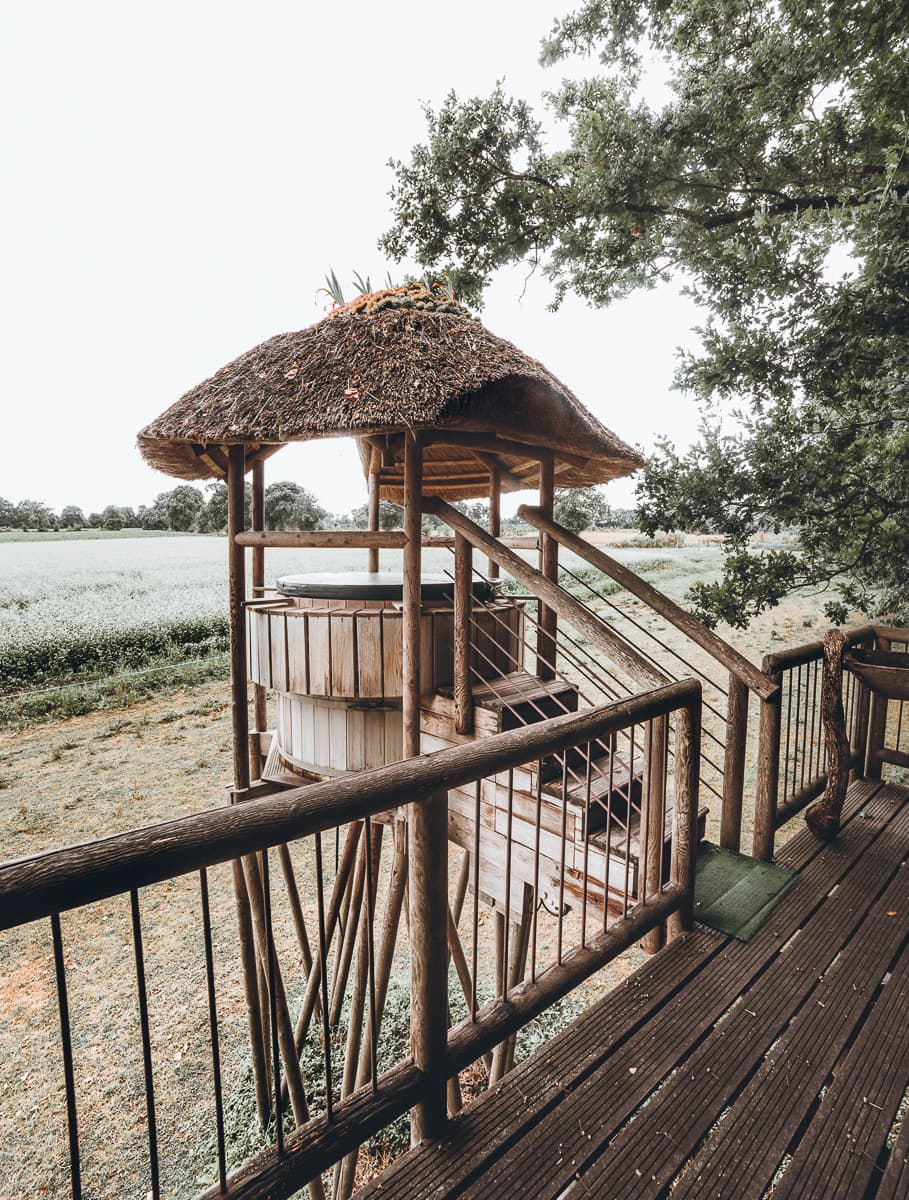 The Gaelic Treehouse would be perfect for families as there are bunk beds on the lower level and a large bed in the upper attic area.
MORE UNIQUE HOTEL ROOM OPTIONS AT DOMAINE ARVOR
Samuel told us that we were free to visit some the vacant rooms before his guests arrived. We wandered around the campsite peeking into doors and discovering some of the coolest hotel rooms, not only near Dinan but in all of France.
The Western Tent was inspired by the American Plains and is appropriately decorated with wooden furniture and decor such as lanterns and barrels.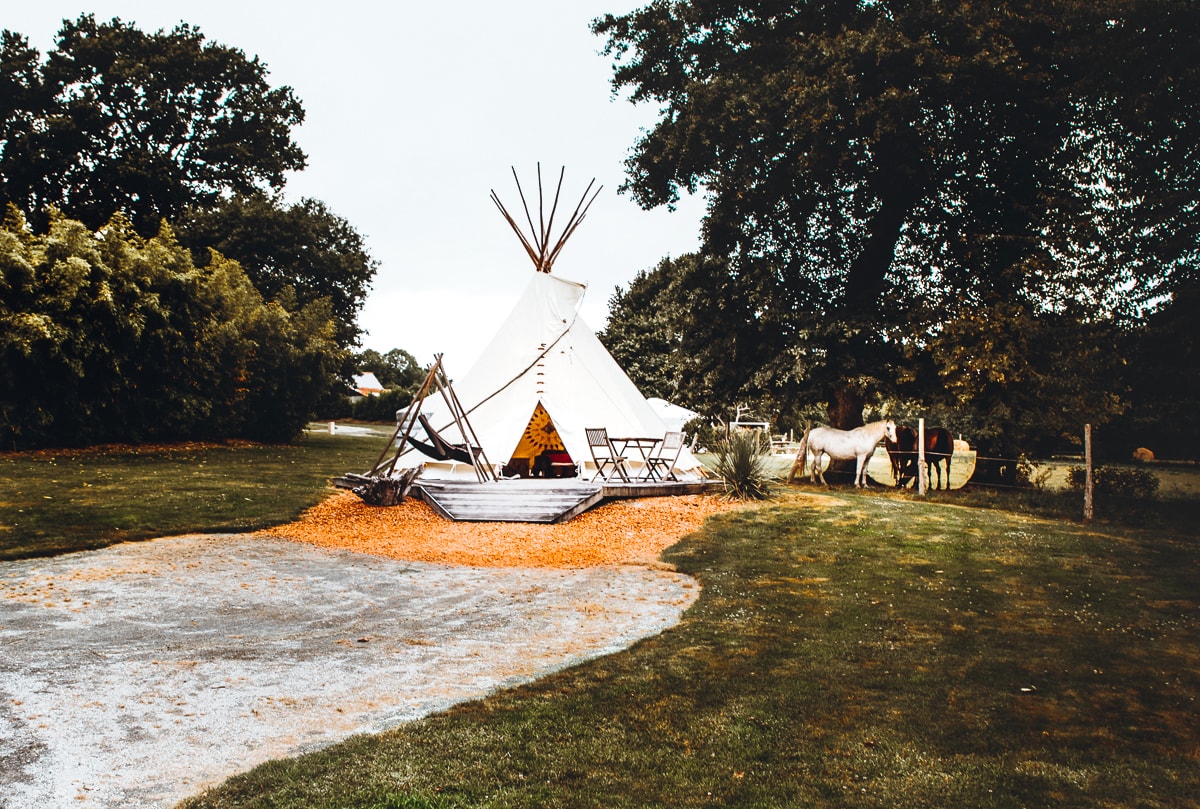 Not too far from the Western Tent is the Native American Tipi, which I was happy he also included in his representation of North America.
Toward the top of the hill, you will find a collection of Mongolian Yurts as well as an African safari tent.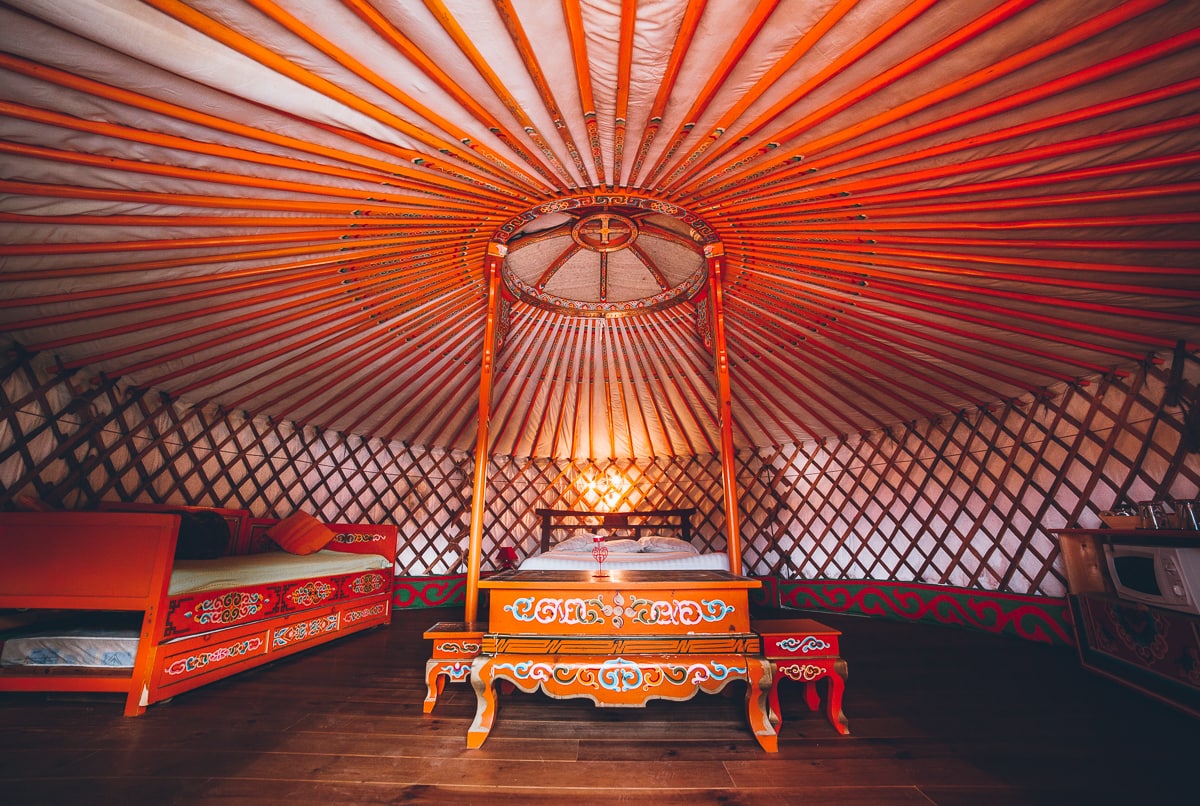 Throughout the property you will also find several bubbles, a train car turned hotel room, and a second tree house.
If you'd prefer to skip the glamping experience all together, Domaine Arvor also offers traditional bed and breakfast cottages which include a private bathroom. Click here for more information about the bed and breakfast cottages.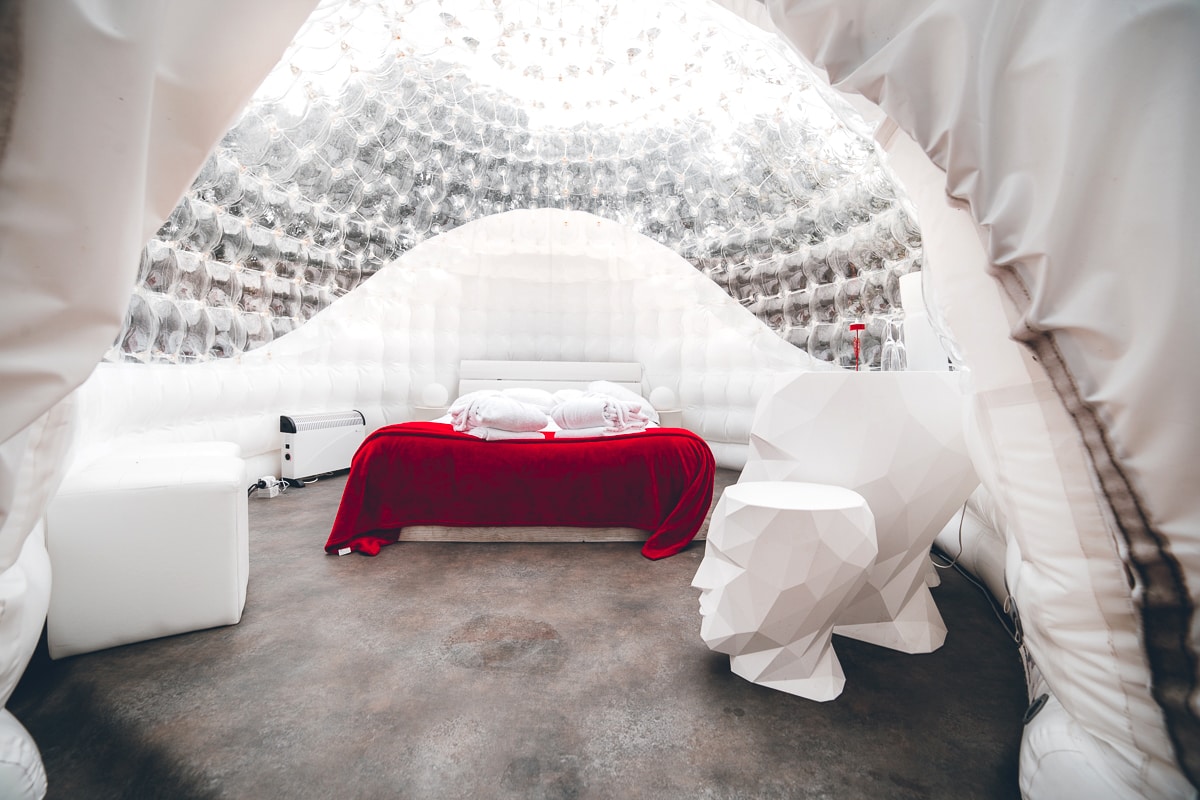 DINING AT DOMAINE ARVOR
BREAKFAST
If you book a room at the hotel, breakfast is included and is hand delivered in the morning at 9AM, and left outside your door.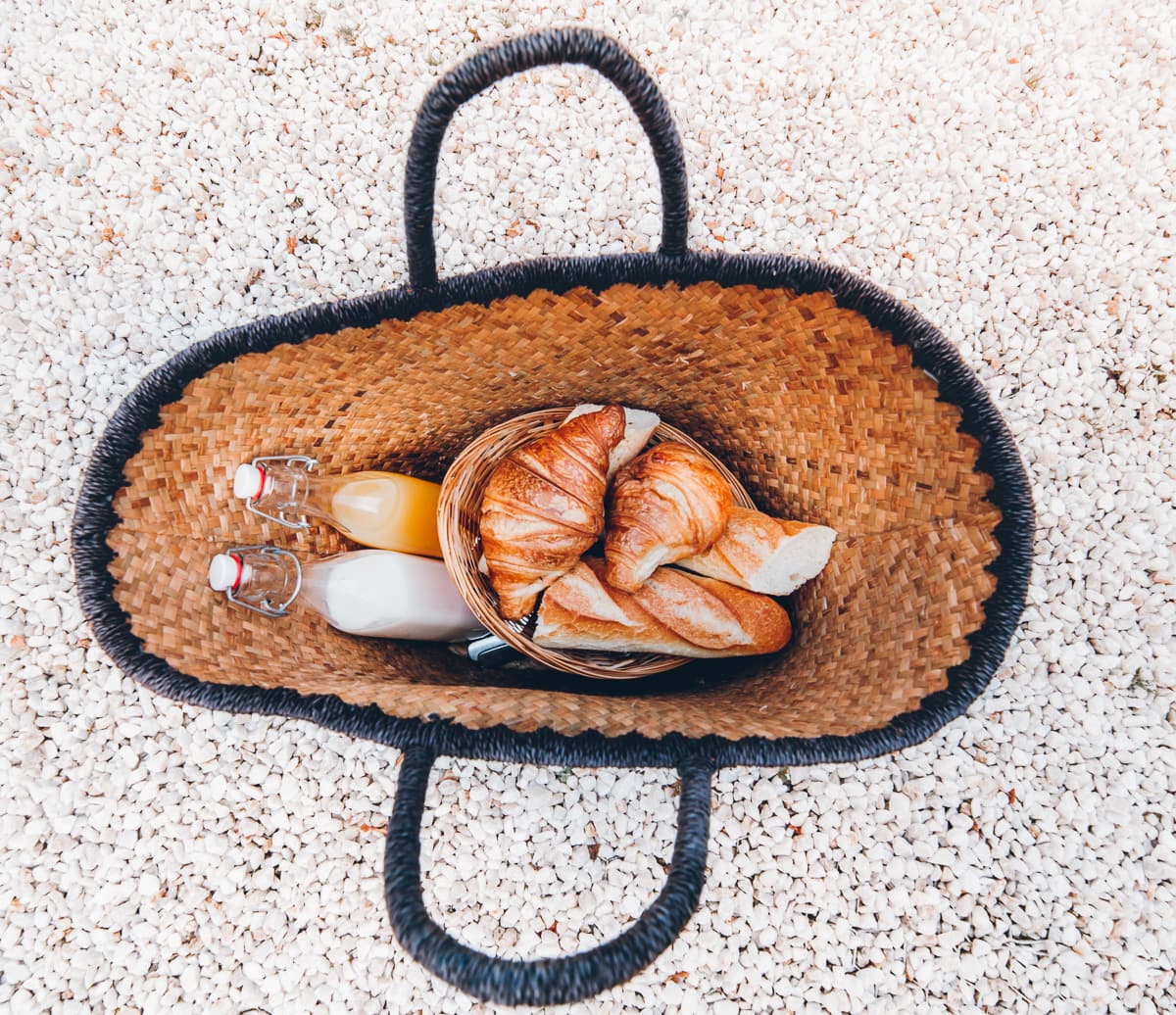 During our first morning we were surprised to discover a picnic basket complete with a full breakfast spread sitting on our patio. It was the perfect way to start the day, sitting outside and eating while watching the horses run around in the fields.
Breakfast consisted of hot tea (or coffee), milk and orange juice, as well as a basket of bakery items which included baguettes, croissants and pastries.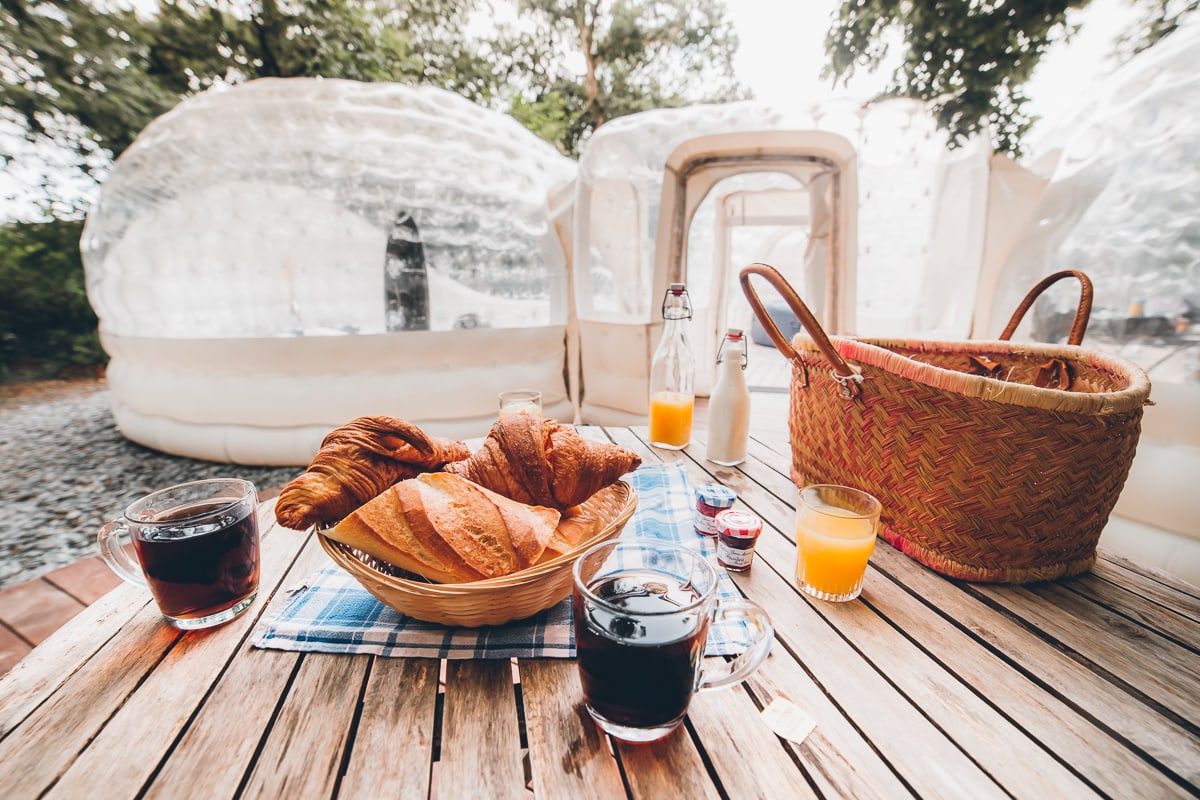 DINNER
While dinner is not included in your room rate, Domaine Arvor does have options if you prefer stay at the campsite and not to travel to Dinan for a meal.
In the reception area you'll find a fridge with glass jars of food as well as beer and bottles of wine for purchase.
The food comes from a famous local chef in Dinan named Thierry Teffaine. His restaurant, Les 3 Lunes, is the #1 restaurant in Dinan on TripAdvisor and his other company La Cuisine de Mon Père offers gourmet takeaway dishes.
More than 80% of the ingredients within the dishes are organic and locally sourced, and the meals are sealed in airtight jars.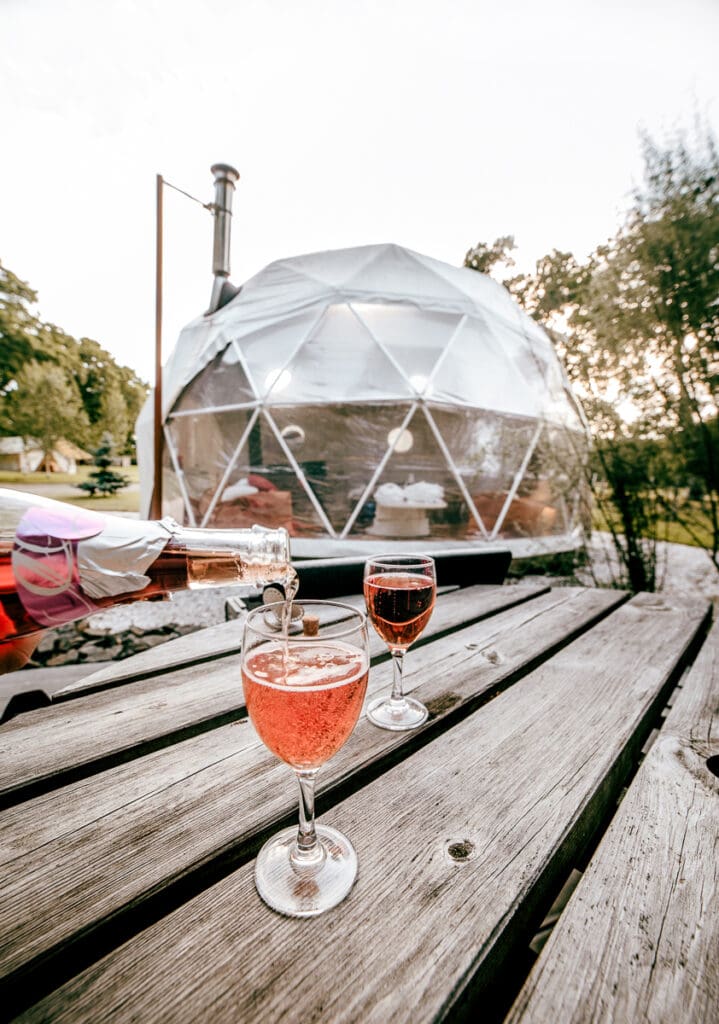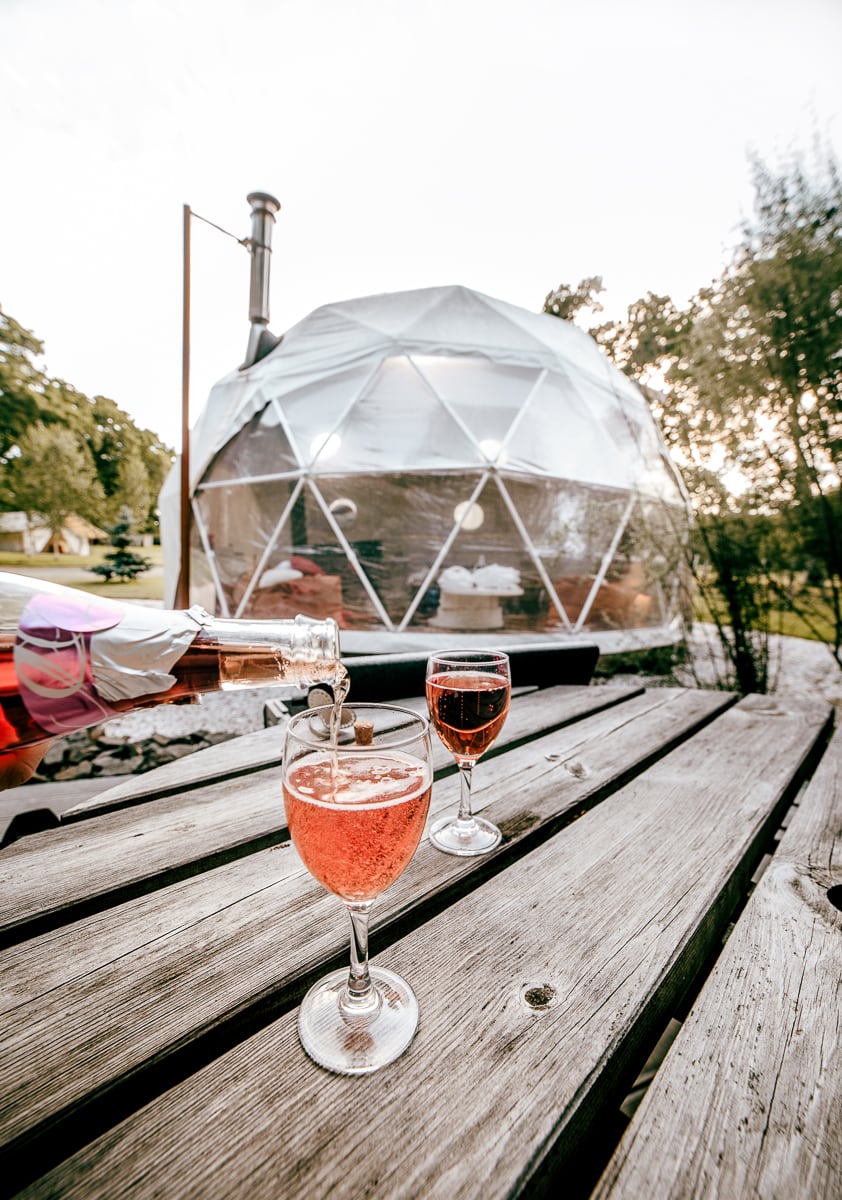 We decided on the ginger chicken, a cheese and vegetable pasta, a sausage appetizer and two desserts. The prices were also pretty reasonable with appetizers and desserts ranging from 5-7 euro and entrees around 9-11 euro.
After putting in our order with Samuel, he prepared a basket for us and delivered our meal during dinner time. The whole concept was fun, super unique and fit in perfectly with the glamping theme.
The food itself was good but we didn't think to use the microwave in our room to heat it up, so we ate everything cold 🤦🏼‍♀️ .
The desserts were the highlight of the meal. We ordered a caramel creme custard and dark chocolate mousse, both of which were fantastic. Even if you don't order a full dinner, I recommend grabbing a few desserts to eat in your room.
DINAN
Domaine Arvor is located in Lanvallay which is only 10 miles ( 16 km) away from Dinan. There are tons of restaurants and food options to choose from there if you decide not to eat at the campsite.
THE COMMON AREAS
Near the reception area you will find the common room where you can grab WiFi, take showers and even use the sauna.
SHOWERS
There are 4 showers available for use which are large, very clean and are equipped with hot water and heated towel racks.
In order to save water, the showers operate on timers but if you're not finished you can simply press the button again. The showers also have soap dispensers, giving you one less thing to pack.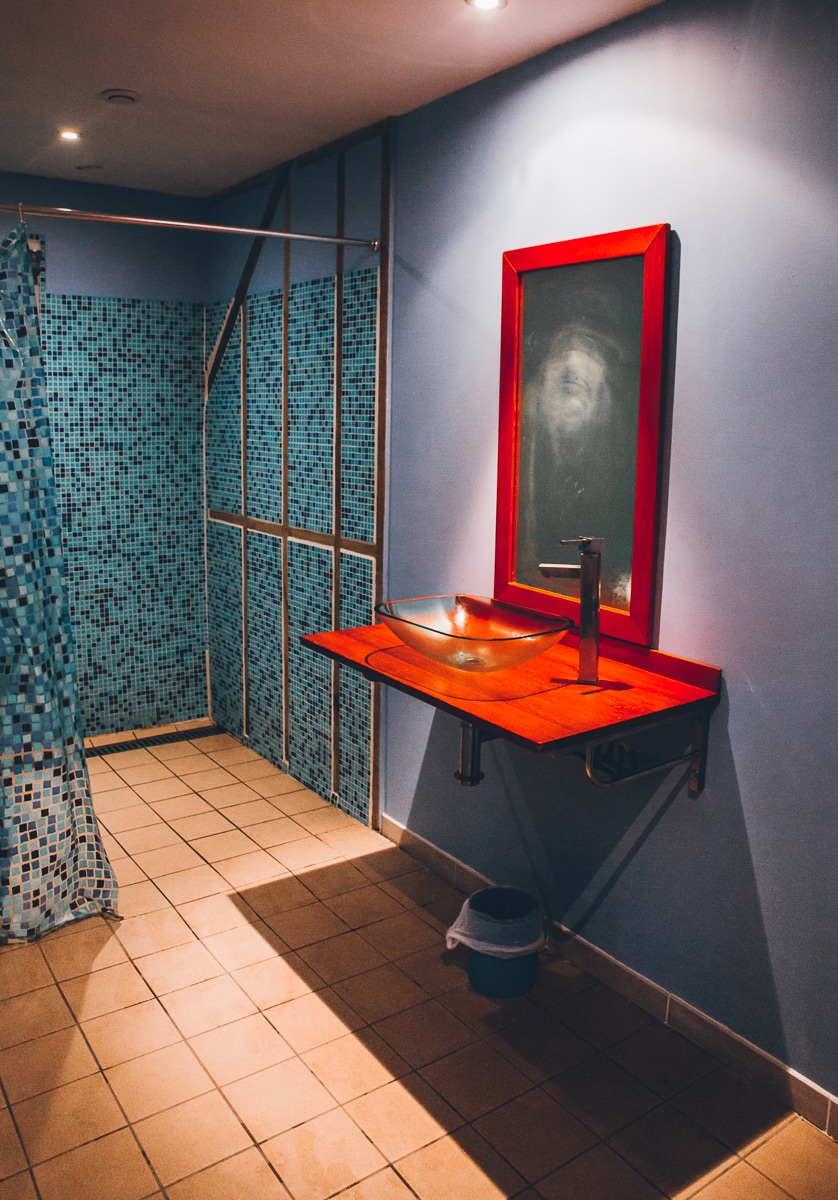 I think it's important to stress how nice the facilities are. We have stayed in our fair share of hostels over the years and I have come to loathe the shared shower process. This has much more of a luxury campsite feel that I think even high maintenance travelers will enjoy.
TOILETS
I mentioned earlier that in the lower half of the property, there are no toilets in the rooms. Instead, scattered throughout the property, you'll find several dry toilets (also known as composting toilets) for when nature calls.
If you've never used a dry toilet before, they operate without water. Instead of flushing, you take a scoop of sawdust and sprinkle it on top after you are done.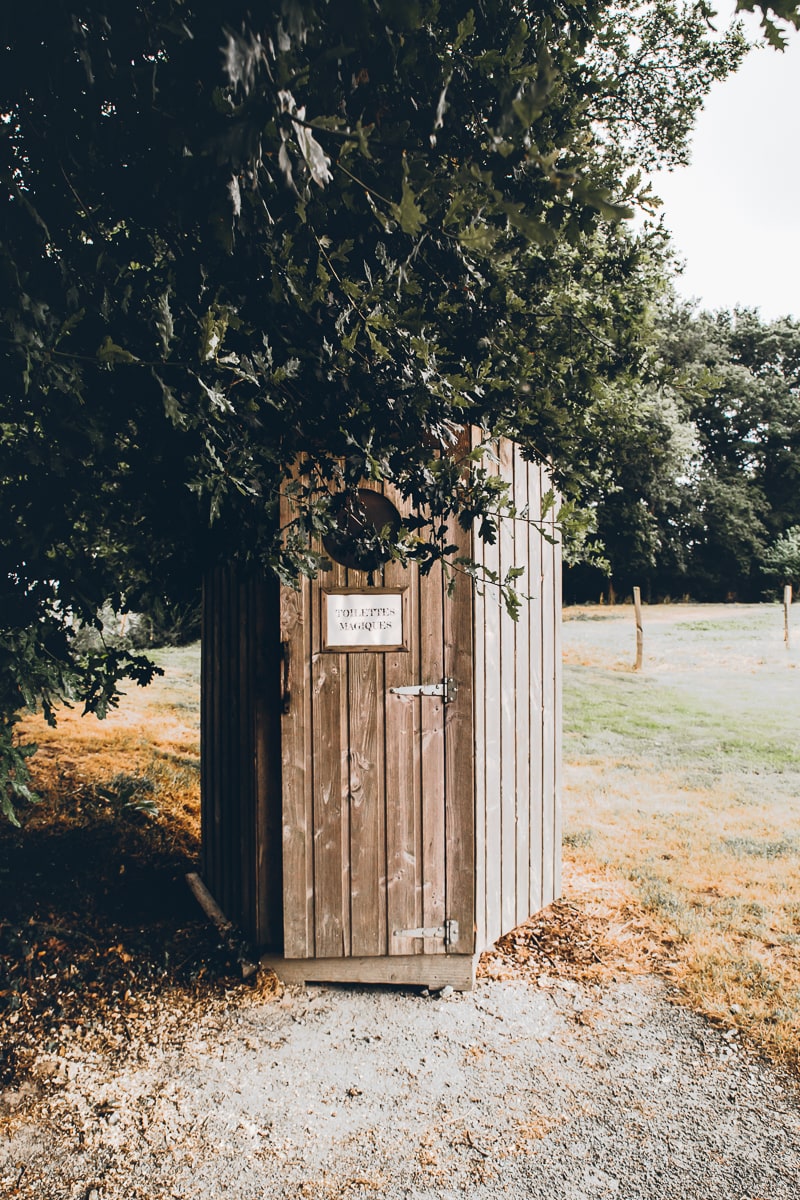 The toilets are spotlessly clean and they actually smelled good inside- which is almost never the case.
It was not an issue at all and if you're nervous about it, you can always go up the hill and use the flushing toilets in the common areas.
---
RELATED POST: BETTINA'S ART HOUSE // THE CUTEST AIRBNB IN BAVARIA
---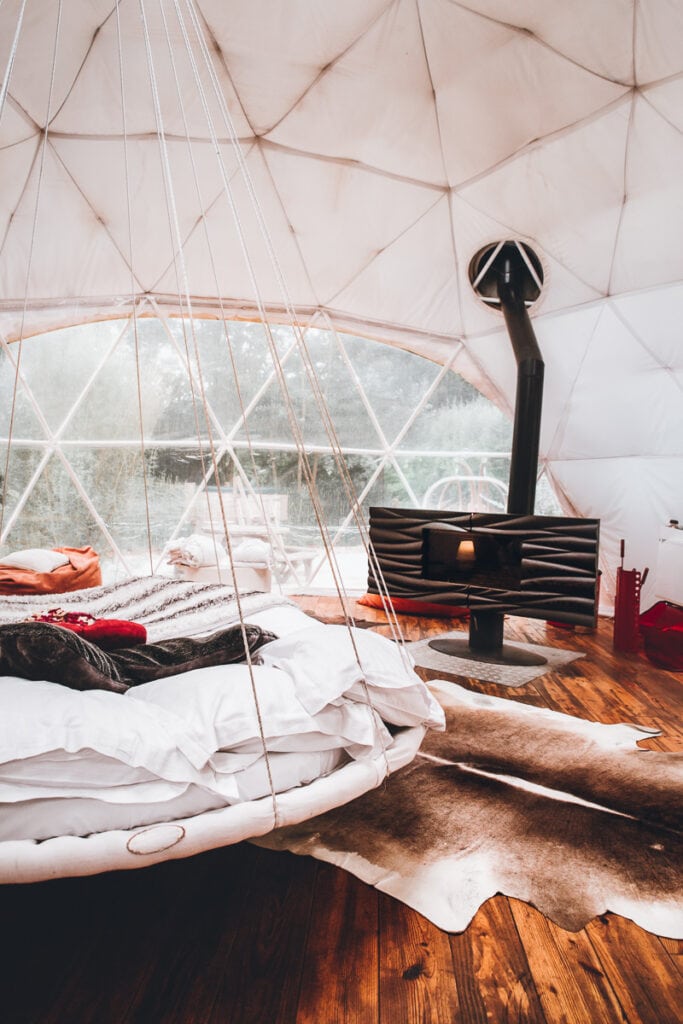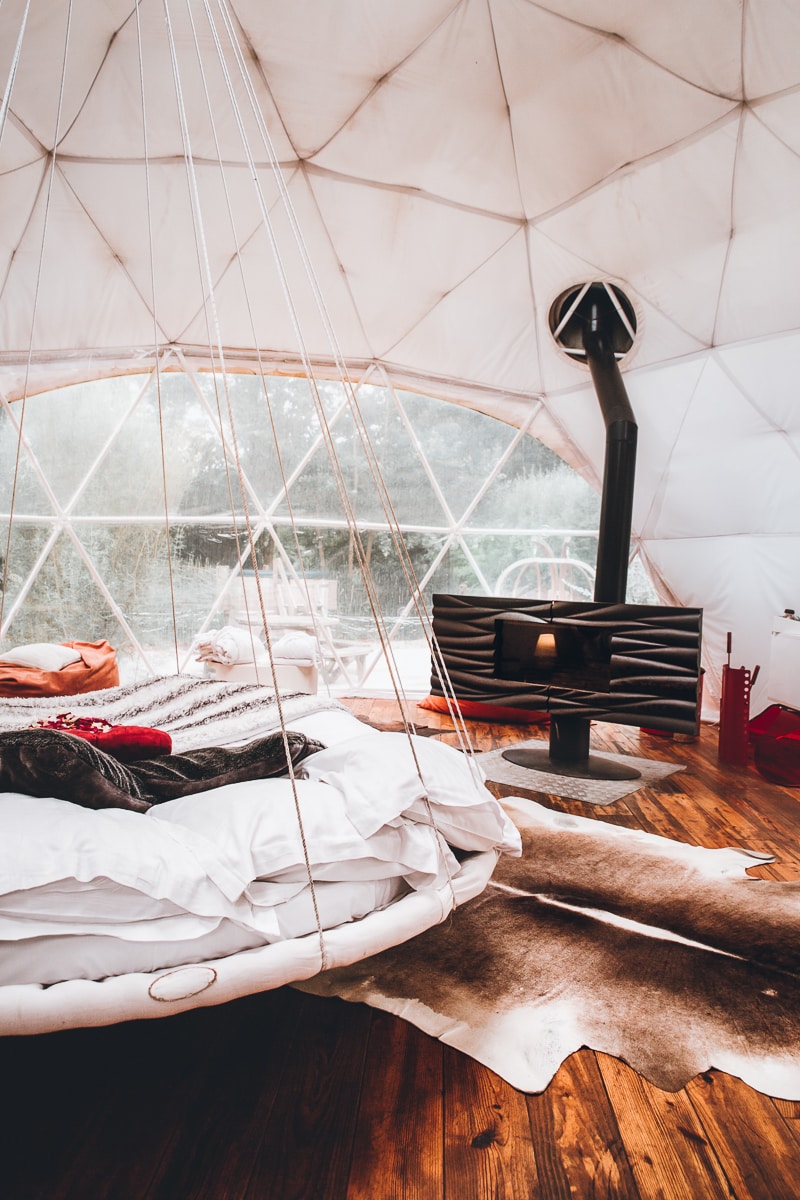 THE WELLNESS AREA
Domaine Arvor offers a wellness area for guests which includes a sun bath, jacuzzi, Finnish Sauna and the only outdoor Hammam (steam room) in France.
To kick up the relaxation vibes even more, you can also schedule a massages or a mani/pedi.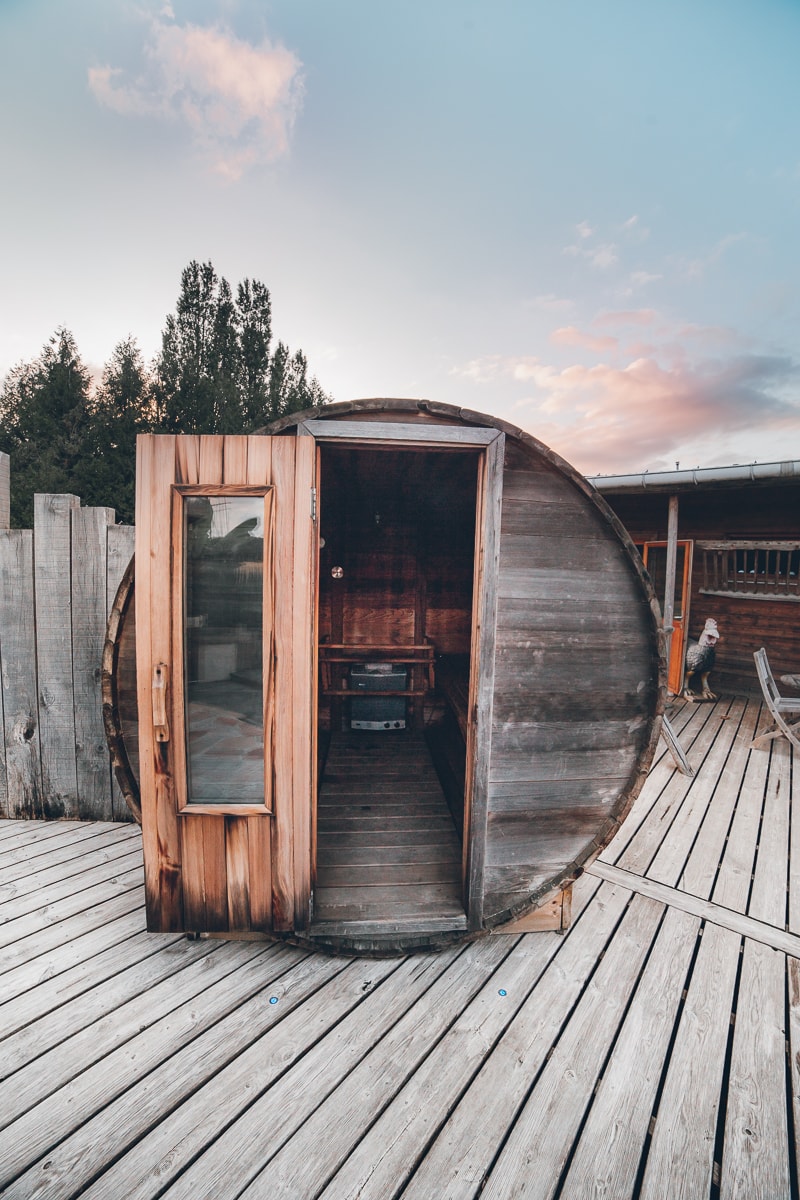 WHAT TO PACK FOR YOUR STAY AT DOMAINE ARVOR
While the rooms at Domaine Arvor are fully equipped for your stay, these are a few things I recommend packing in order to make the most out of your glamping experience..
SANDALS
Flip flops or sandals are great for being able to throw on quickly when you need to walk to the toilets, or head up the hill to take a shower. When I travel, I prefer to bring rubber flip flops so that I can also wear them in the shower if I need to.
Birkenstock makes a waterproof version of several of their styles which are also fashionable enough to pair with outfits. The Madrid version is low profile, thin slide for women that comes in a ton of colors. One of my other favorite styles the Gizeh sandal which is unisex so it works for both men and women.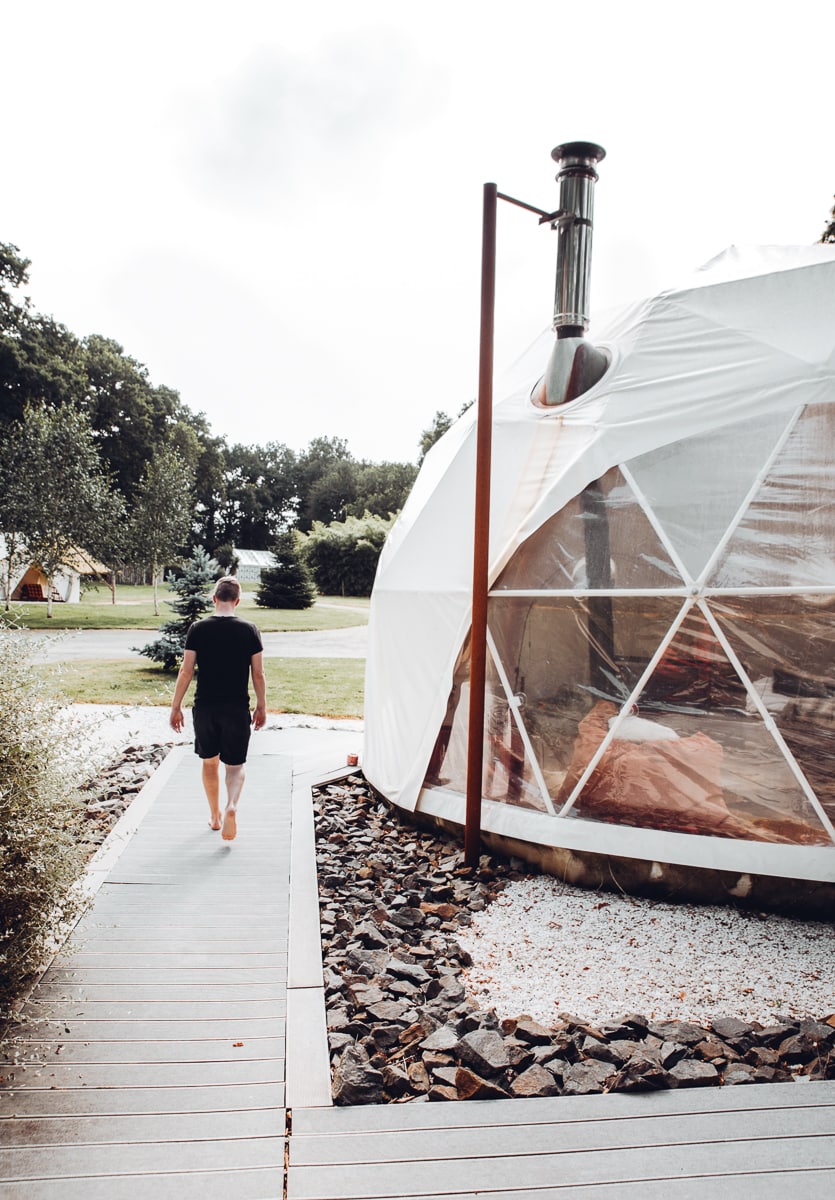 FLASHLIGHT
While the rooms are set up with electricity, the property does get dark at night.
We forgot to pack a flashlight so we ended up using our iPhones. They worked well enough but a real flashlight would have been convenient for trips to the toilet in the middle of the night.
Check out this lightweight travel flashlight that is smaller than a pen and costs less than $10 USD
EXTRA LONG PHONE CHARGING CORD
Extra long phone cords are super helpful to have when traveling in Europe because not only are there less outlets available in general, but sometimes they might be far away from the bed.
This is the one we have and it has lasted us years.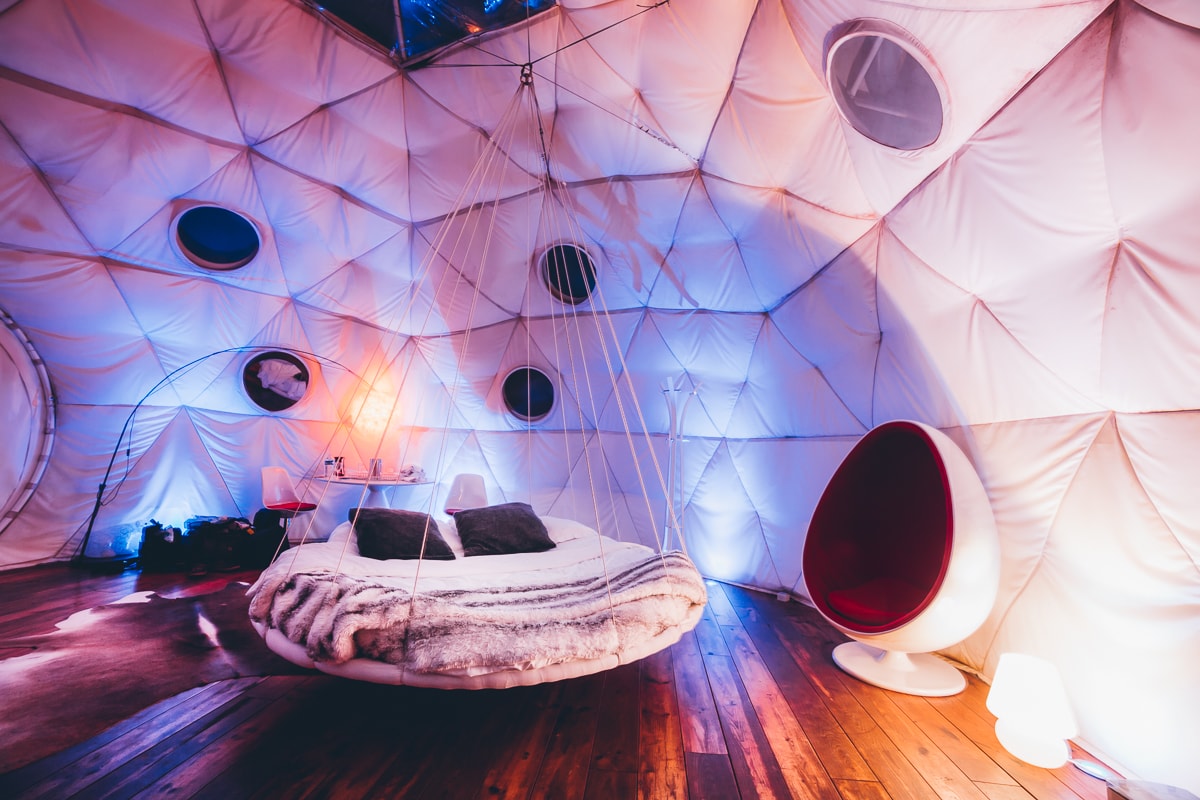 SWIMSUIT
Many of the rooms have their own private jacuzzis and even if your room does not, a swimsuit would be helpful to have in the wellness center should you want to use the sauna or the Hammam.
SUNSCREEN
Whether we were eating breakfast on the patio or just walking around the farm, we spent a lot of time outside during our stay at Domaine Arvor. Even on cloudy days, it's important to protect your skin so sunscreen is a must.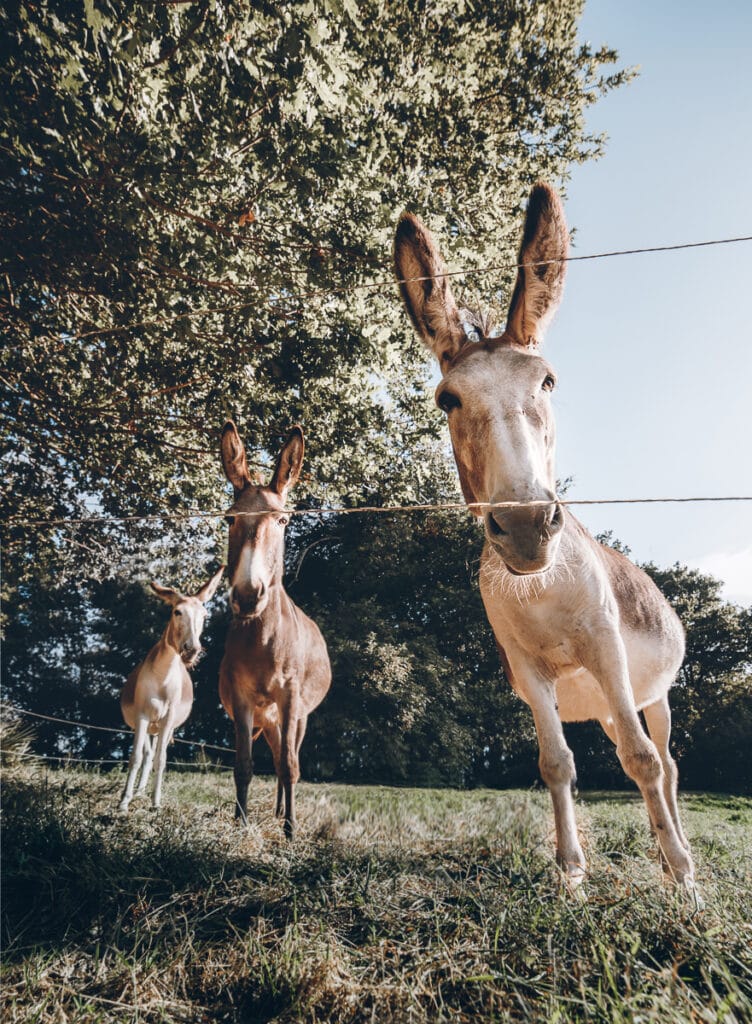 My holy grail face sunscreen is the Tatcha Pore Perfecting (check out my review here). It's a little pricey so if you're looking for a cheaper option, I also love this one by Biore. which is imported from Japan and one of the most dry-touch face sunscreens that I've ever found
A SWEATER/JACKET
We visited Brittany (Bretagne) in the Summer, and everyone was talking about how unusually hot it had been this year. Even then, it still got cold at night.
A comfy sweater is perfect to throw on for when you're walking around outside after dark.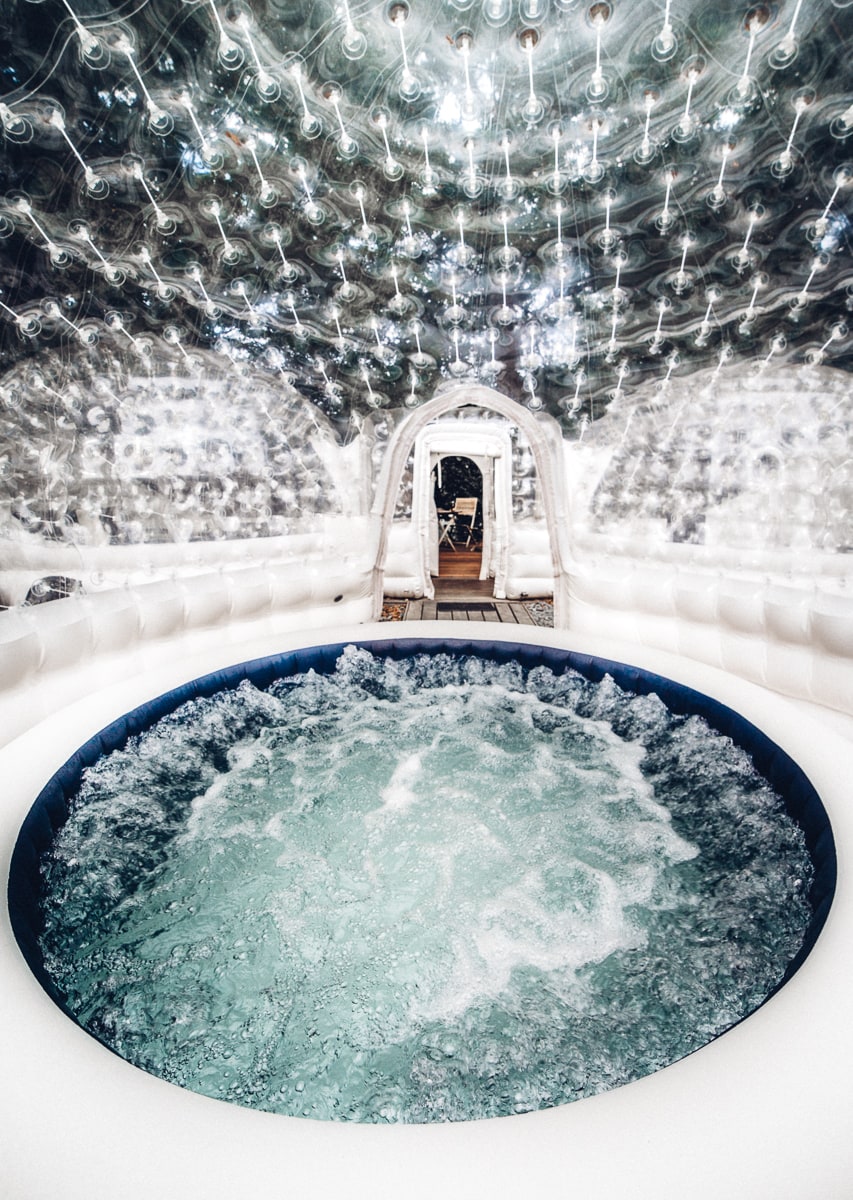 SLEEPING MASK
If you'll be staying in any of the bubble rooms or the Igloo, I recommend packing a sleeping mask if you like to sleep in. The bubbles are clear so as soon as the sun starts to come up, you'll probably want to block out some of the light.
I love this sleeping mask because it has domes for your eyes and doesn't squish your lashes while you sleep.
DOMAINE ARVOR VISITOR INFORMATION
ADDRESS La Ville Ameline, Tressaint, 22100 Lanvallay, France
CHECK IN 4PM
CHECK OUT 11AM
WEBSITE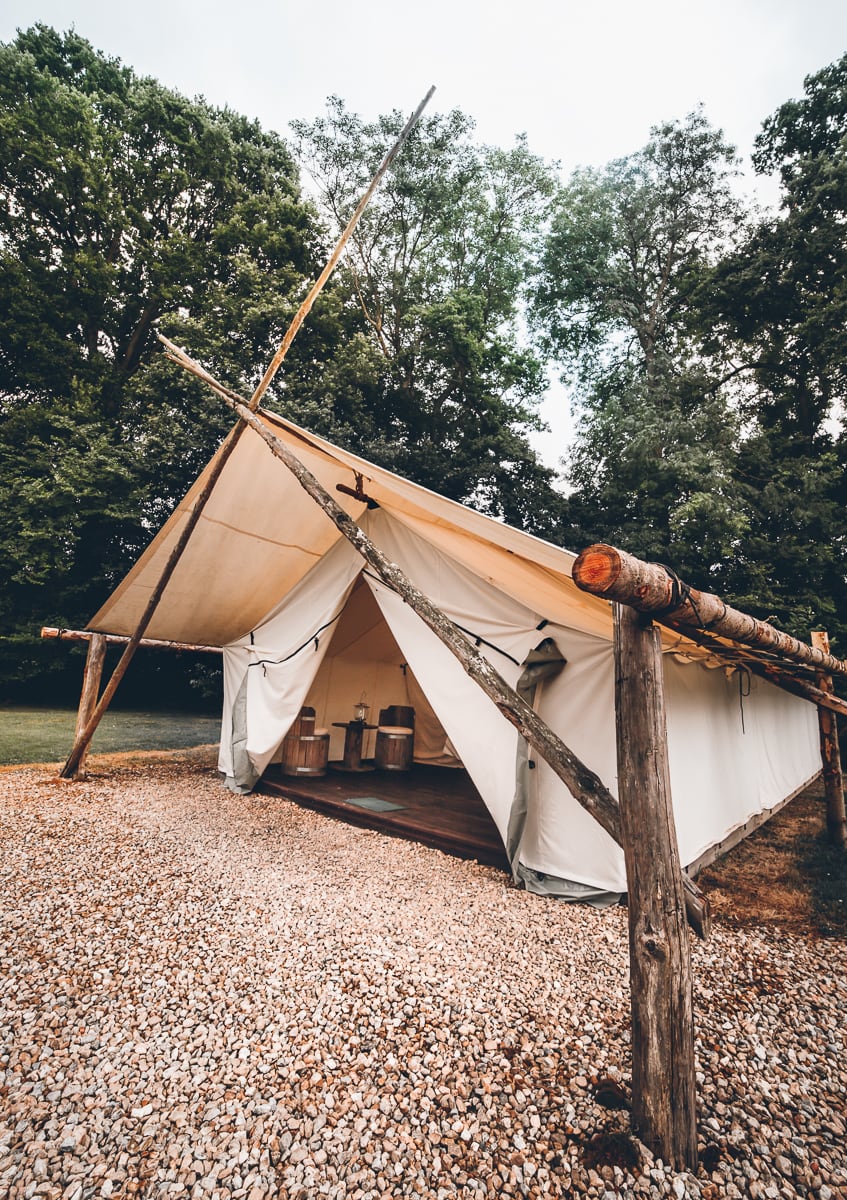 Have you ever been campin / glamping in France? Leave a comment below!
---
PIN IT: DOMAINE ARVOR // THE MOST UNIQUE LUXURY GLAMPING IN FRANCE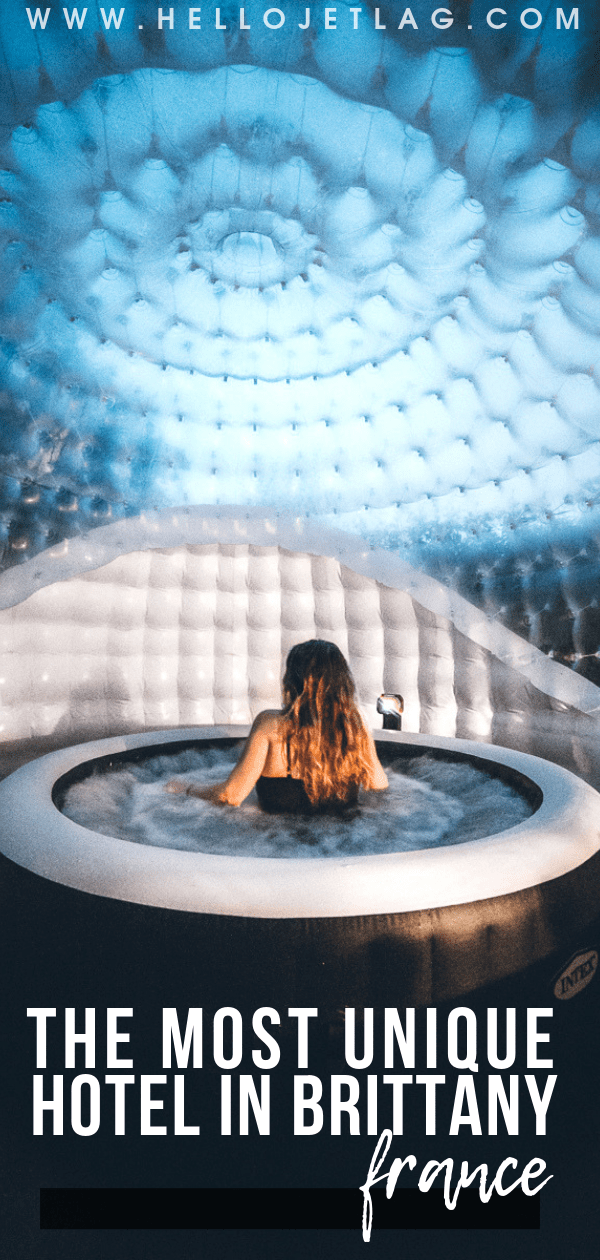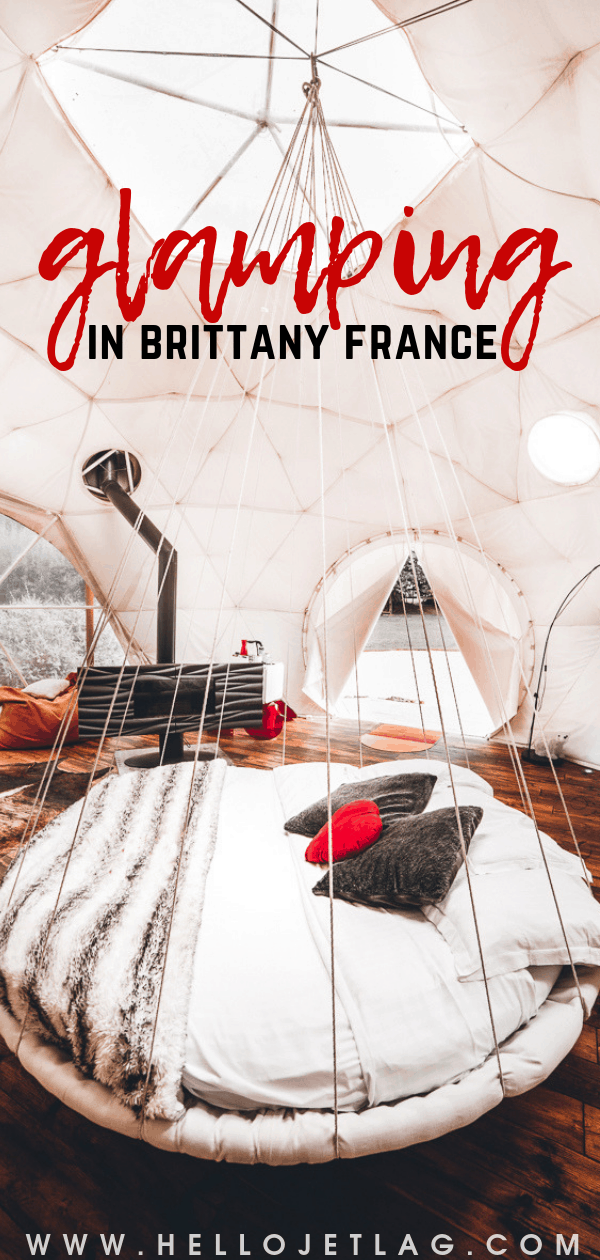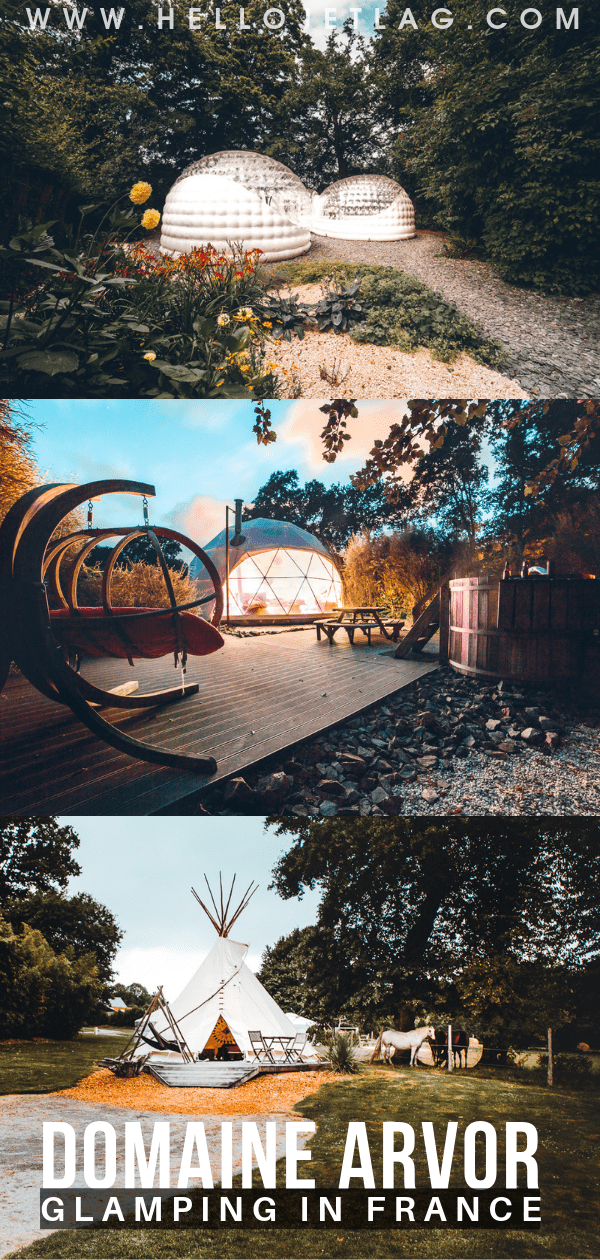 DISCLAIMER: This post is not sponsored but our stay was complimentary (thank you Domaine Arvor!!). Links in this post are affiliate which means if you click them and purchase something, we receive a small commission.