The Czech Republic drinks more beer per capita than any other country in the world, so what better way to partake in the favorite local past time than with a phenomenal backdrop of the country's most beloved city. Letna Beer Garden is located at the top Letna Hill and it offers some of the best views of Prague.
Keep reading to discover one of the most beautiful beer gardens in the world, including how to get there, what to expect, photos and more.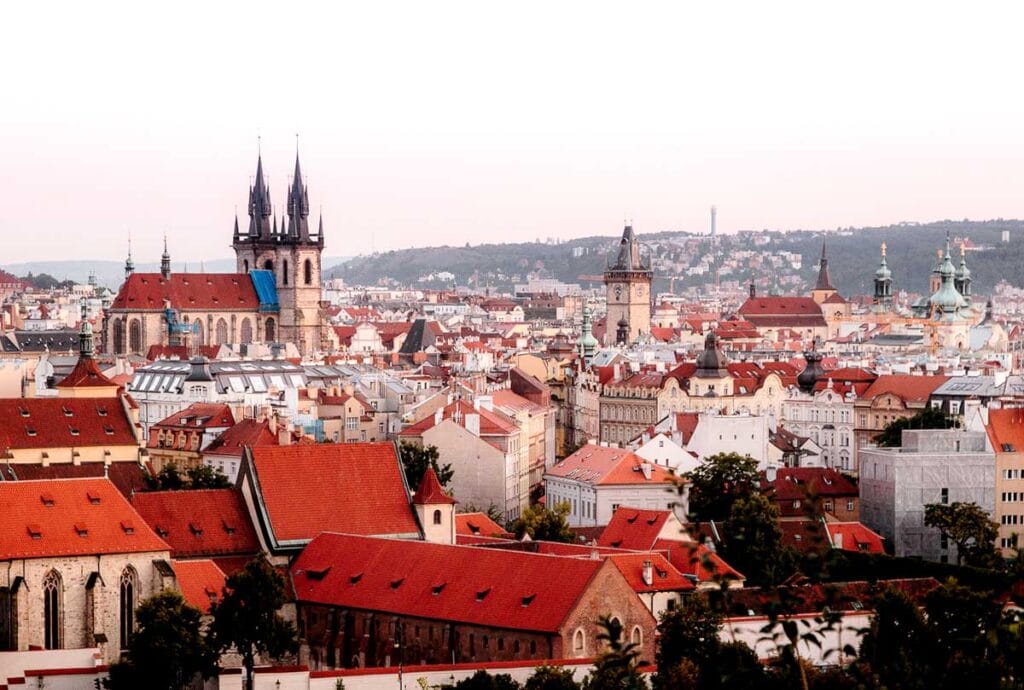 As my Instagram bio once said, "I like drinking and pretty places, and I combine these two things as often as possible." Throughout my lifelong quest to seek out the prettiest places in the world to drink, there is one particular location that has fondly remained at the forefront of my memory. Letna Beer Garden.
Letna Beer Garden encompasses everything I look for in a bar. It's unpretentious, local and inexpensive. Its location within Letna Park, on the top of Letna Hill also offers a breathtaking panorama of Prague. During our time in the city, an afternoon beer at Letna became our favorite sunset ritual.
LETNA BEER GARDEN : WHAT TO EXPECT
Long wooden benches line the Eastern corner of Letna Park. The beer garden is all self seating, and during busier times, expect to share a table with other groups. There is a small, simple concession stand on the property serving up a few types of local Czech beer, wine and a small offering of food.
The crowd is a mixture of locals and tourists of all ages, ranging from college students to families. The beer garden is also kid friendly, and even has a park play area for children.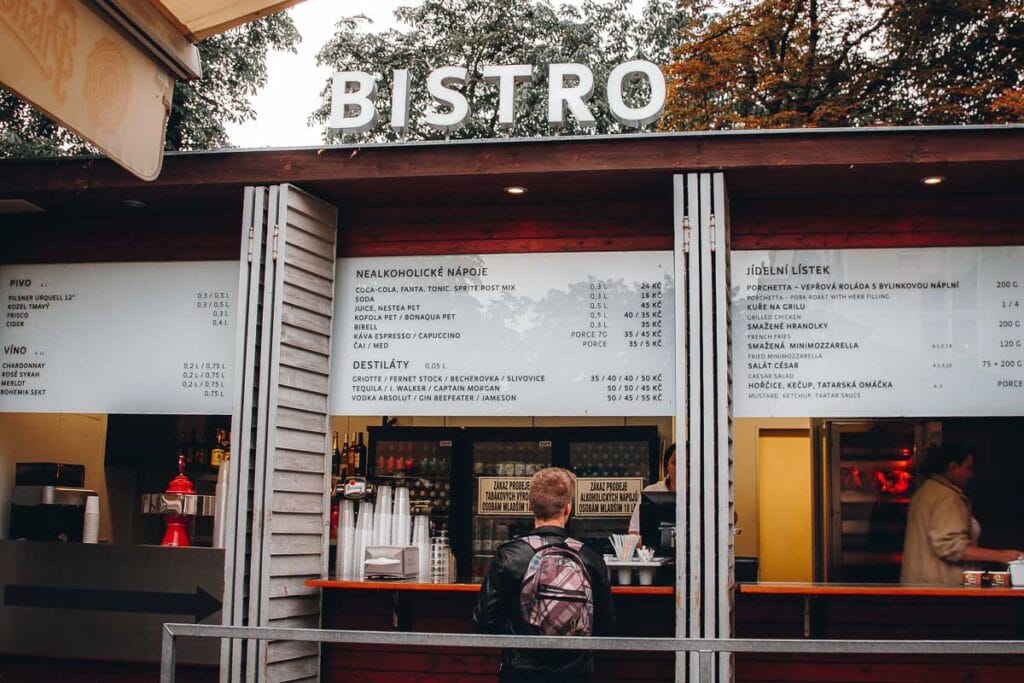 THE MENU
Letna Beer Garden serves several types of beer on tap including Pilsner Urquell, Kozel Dark Lager, and Gambrinus. Beers ranged from 35-45czk ($1.45 USD-$1.86 USD). The beer garden also serves cider, wine, coffee and soft drinks, along with few hard alcohol options if you're in the mood for a cocktail.
As for food, there is a very small (and kind of random) menu which includes porchetta (pork roast), french fries, a Caesar salad and grilled chicken. They also offer fried cheese, which is a popular Czech dish. We ordered some to try, but it was nothing to write home about.
On the weekends, there is a kebab vendor that sets up at the beer garden and his kebabs were delicious. It is definitely worth skipping the concession stand and ordering one of these if you're feeling hungry.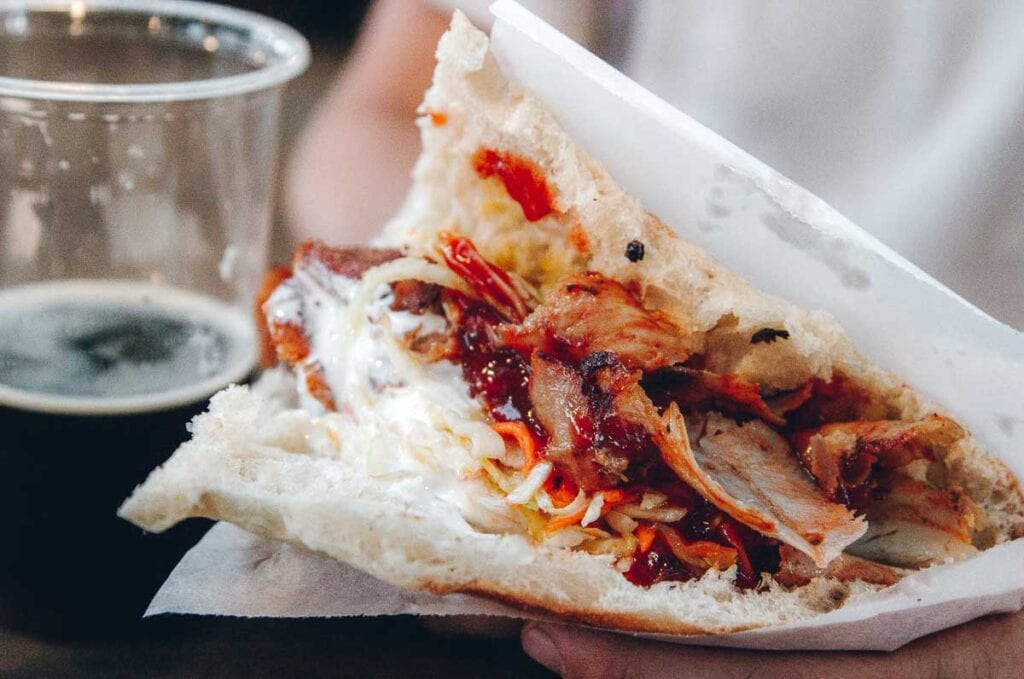 THE VIEW
While the beer is cheap and the atmosphere is friendly, Letna Beer Garden would be just another place to drink if it wasn't for it's incredible view. Drinking a cold Pilsner while taking in the gorgeous panorama of Prague is a memory you'll never forget.
RELATED POST: 6 LOCATIONS WHERE YOU WILL FIND THE BEST VIEWS IN PRAGUE
TIPS FOR VISITING LETNA BEER GARDEN
WHEN TO GO While the views are perfect 24 hours a day, I recommend visiting around sunset to capitalize on the best lighting, especially if you'll be taking photos.
BRING CASH The concession stand is cash only and while there is an ATM on site, the fees are higher than in other areas of the city.
BRING CHANGE FOR THE TOILETS There are restrooms at the beer garden, but make sure to bring change. It costs 5CZK (0.23 USD) for each visit and the attendant was not accepting larger bills.
PACK YOUR OWN PICNIC Since the food options are somewhat limited at Letna Beer Garden, many people pack their own. Grab something from a local restaurant or supermarket on the way up, and set up your own picnic.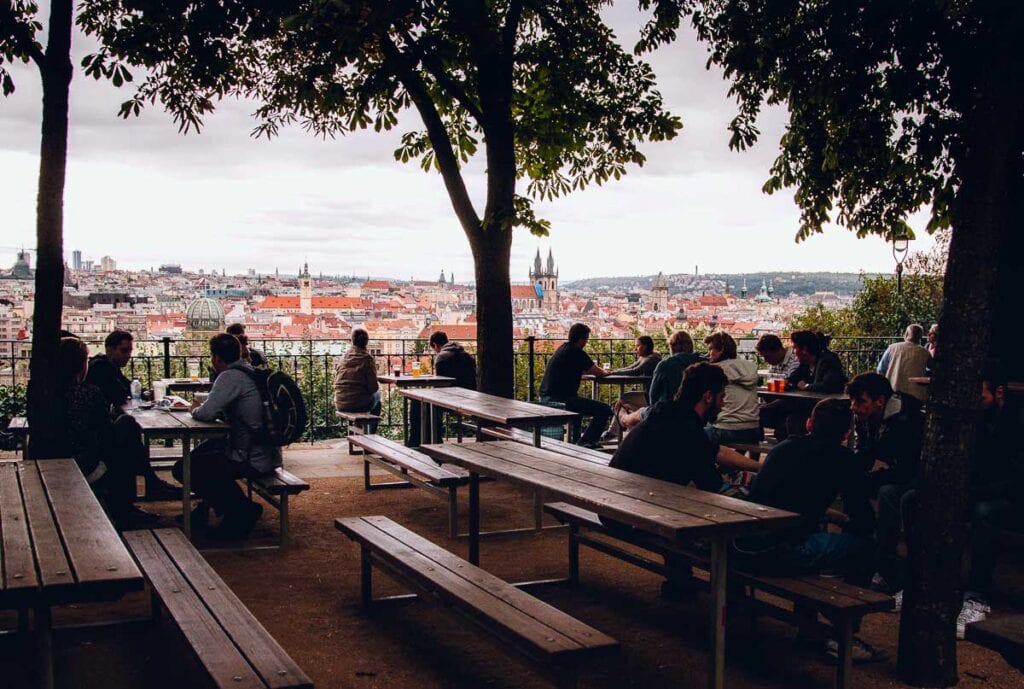 HOW TO GET TO LETNA BEER GARDEN
There are several ways to get to Letna Beer Garden with the easiest way being to take the Tram to the stop Letenské náměstí (trams 1, 8, 12, 25, 26, 91 and 96). This brings you around the back of the park and eliminates having to climb up the steep hill. It is a 10 minute walk to the beer garden from the tram stop.
Alternatively, you can also get off at the tram stop, Sparta. The walk is slightly longer, but nicer as you will cut through the park most of the way.
If you don't mind climbing the hill, you can walk across the Štefánikův most bridge from Old Town and next to the tunnel, you will see a set of stairs that will take you straight up to the park.
OPENING HOURS
Monday-Sunday: 9AM – 12AM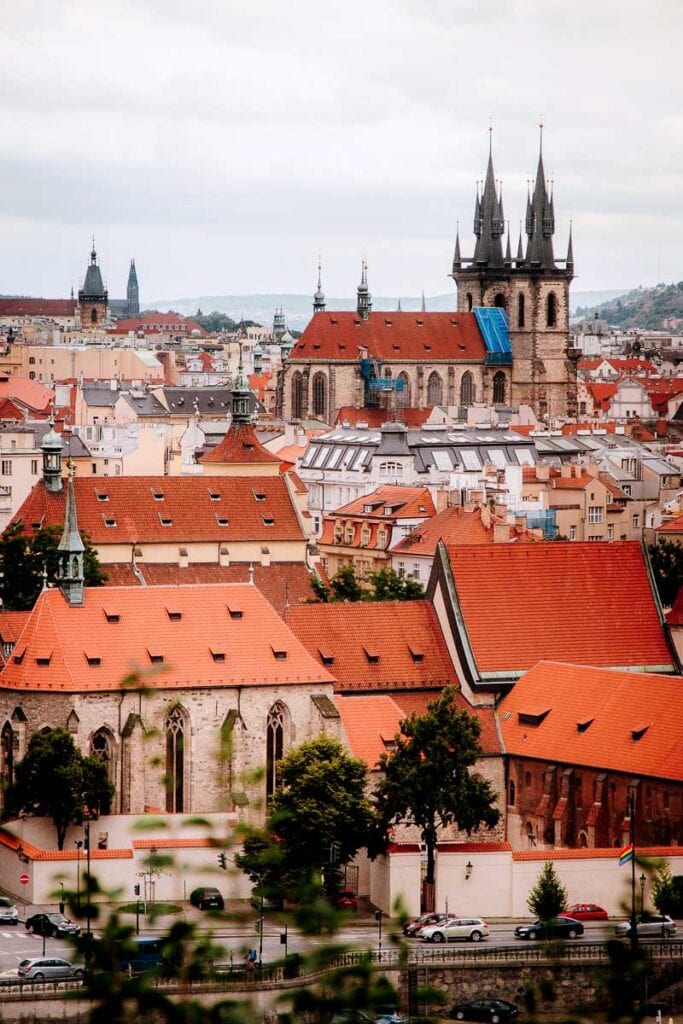 ---
LOOKING FOR MORE BEAUTIFUL PLACES TO DRINK? CHECK OUT THESE RELATED POSTS:
BUZA BAR DUBROVNIK- A LITERAL HOLE IN THE WALL BAR, ON THE SIDE OF A CLIFF
CUATROS CUATROS: COCKTAILS, SUNSETS AND SWEEPING VIEWS IN ENSENADA, MEXICO
CAVE BAR DUBROVNIK: DRINKS, GOOD FOOD AND AN AMAZING VIEW
THE BEST ROOFTOP BAR IN DUBAI: LEVEL 43 SKY LOUNGE
SHIMMERS DUBAI: BEACH COCKTAILS WITH THE BEST VIEWS OF BURJ AL ARAB
PIN IT: LETNA BEER GARDEN – CZECH BEER & THE BEST VIEWS IN PRAGUE