In the deep South of Czechia (formerly known as the Czech Republic) there sits a magical little town nicknamed the Jewel of Bohemia. With it's colorful streets, Baroque castle and snaking river, Cesky Krumlov appears to be straight out of a fairytale. I have never been more excited to photograph a destination and when our bus arrived 11pm, I couldn't wait until morning to finally see it with my own eyes. Keep reading to discover everything you need to know about visiting Cesky Krumlov including things to do, how to get here, and where to stay.
5 THINGS TO DO IN CESKY KRUMLOV
GET LOST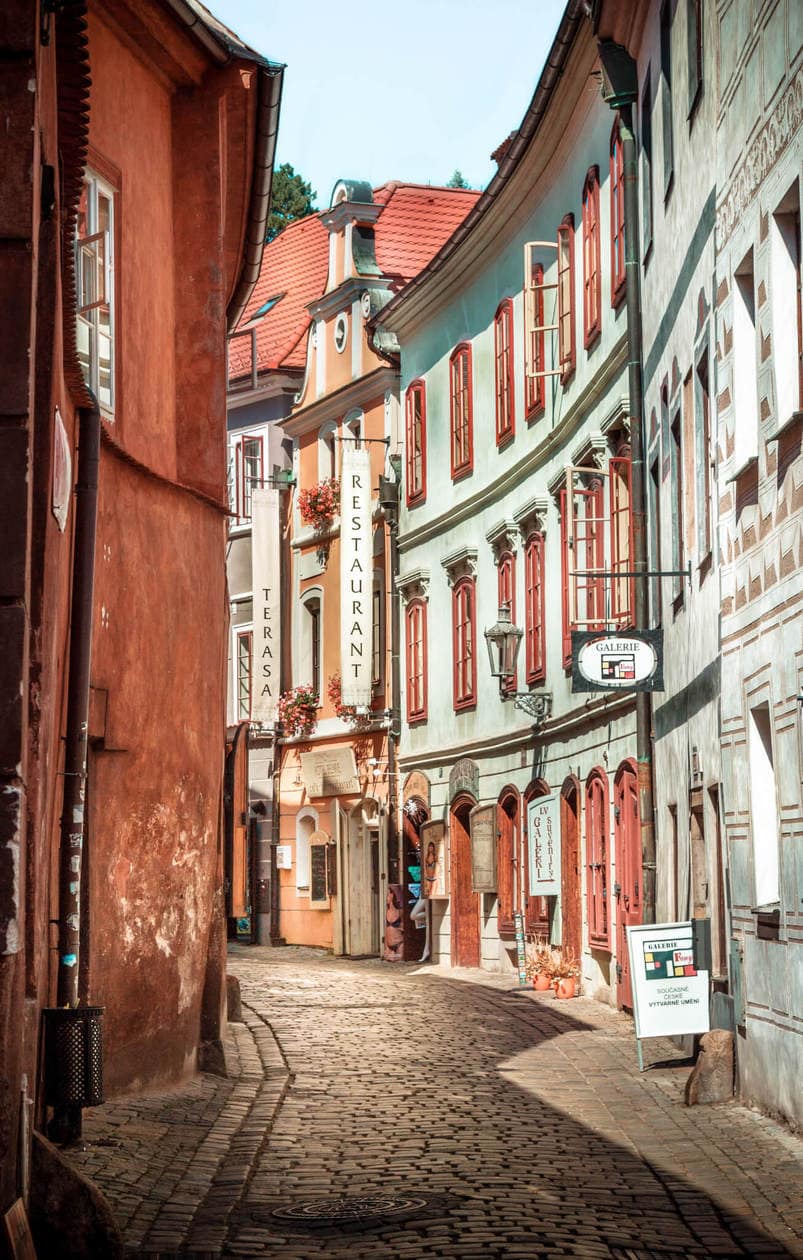 Cesky Krumlov is straight up travel porn. Down each alley and around every corner and delivers something new and even more picture perfect than the last. The town is small so you can't really get lost, but it's fun to try. We didn't plan much of an itinerary for our day here, we just wandered around, popping in for a drink here, a snack there and simply looking for the best views we could find.
EXPLORE CESKY KRUMLOV CASTLE, TOWER & GROUNDS
The Cesky Krumlov Castle is a national heritage site and the second largest castle in the Czech Republic. You have the option to tour the castle, gardens and tower separately, so there's a lot of ground to cover, or you can pick and choose what interests you.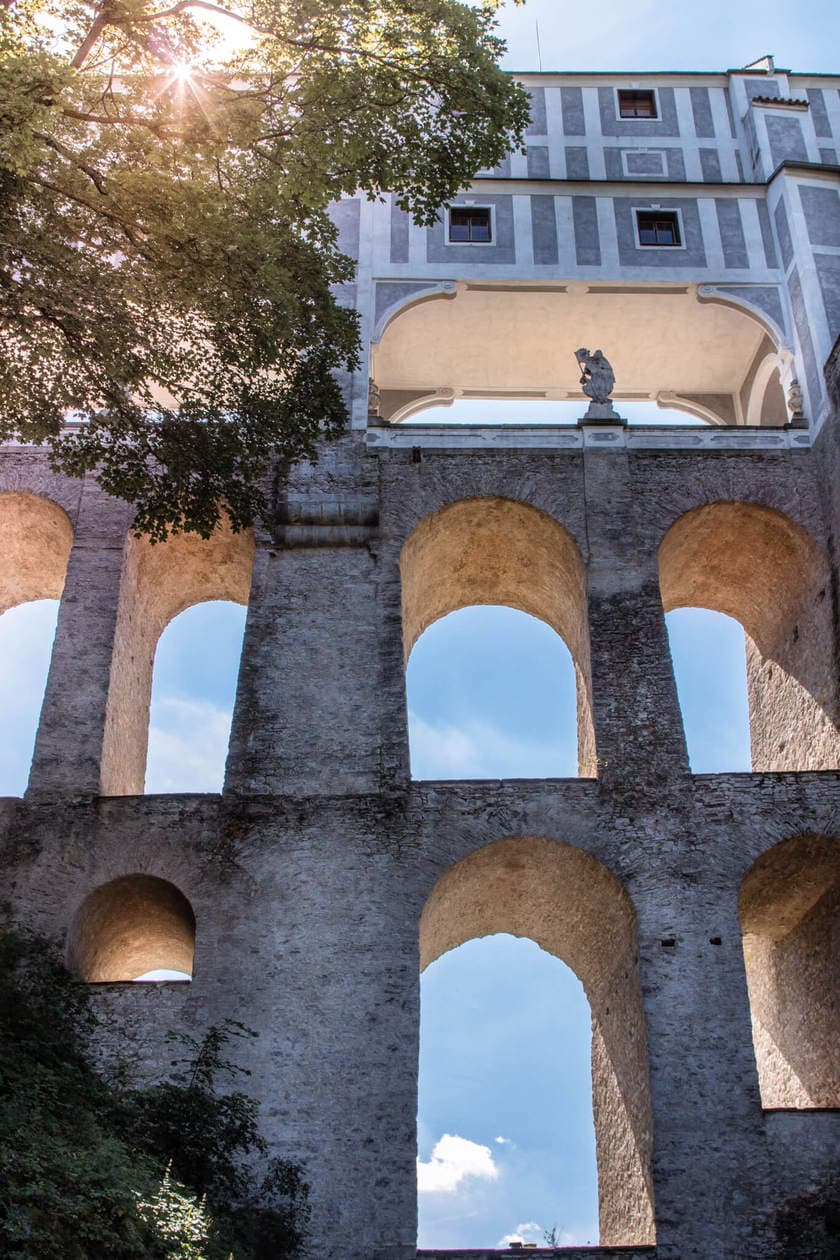 Stop in and see the Baroque Theater which is one of the most preserved and complete Baroque theaters left in Europe. Wander through the 17th century Baroque gardens, visit the 5 charming courtyards or climb 162 steps to the top of the tower for an incredible view.
SNACK ON A TRDELNIK
Trdelniks are one of the most common Bohemian street foods treats that you'll find in Prague and Cesky Krumlov. They are made out of rolled dough which is baked over an open flame and topped with sugar or other toppings like nuts, jam, nutella or ice cream.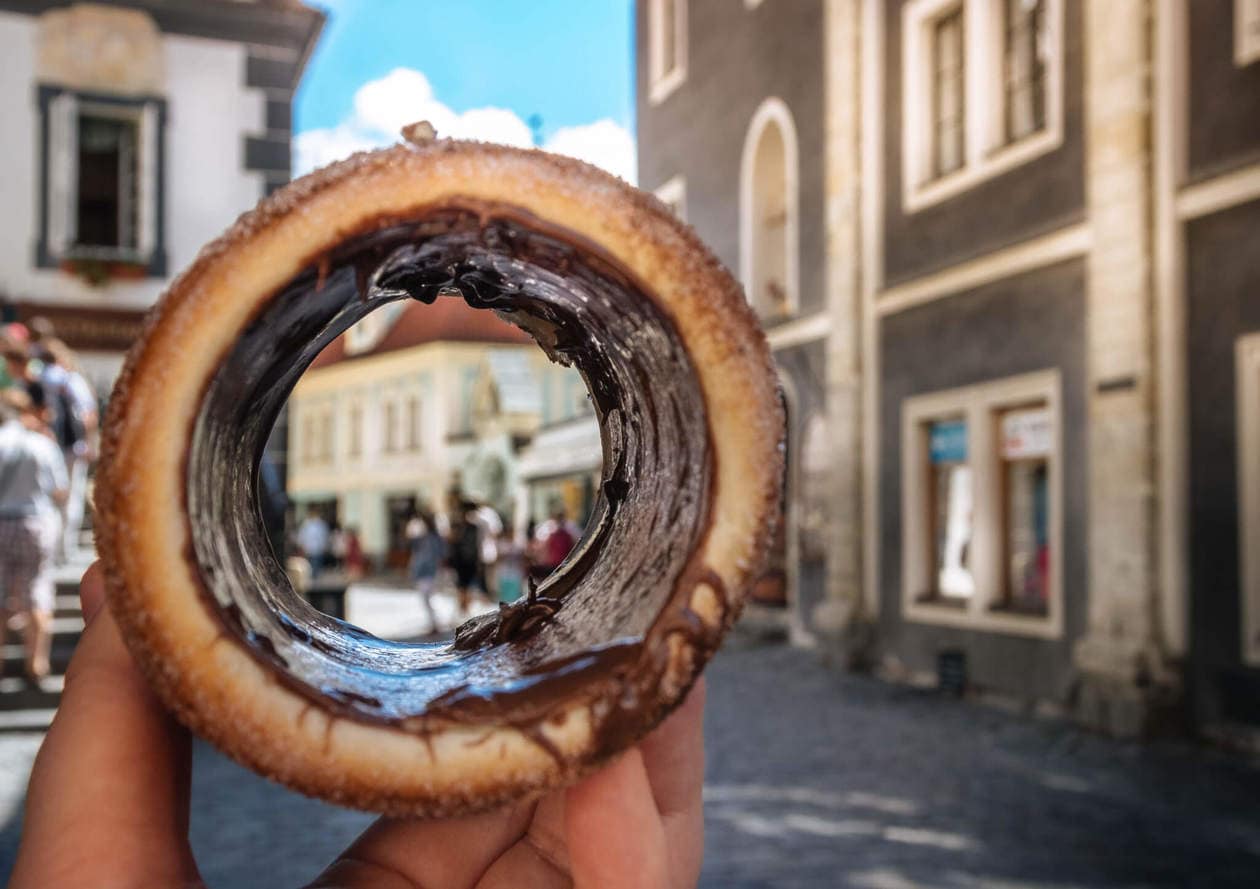 FLOAT AROUND THE CITY IN A RAFT
As you walk through the town and check out the Vltava River, you'll see dozens of people floating downstream with a beer in hand.
Renting an inflatable raft and making the loop around the city is one of the most popular things to do in Cesky Krumlov during the warmer months. The journey takes between 30min to 1 hour depending on how slow you wanna go. Or, you can opt for a half day or full day adventure which takes you all the way to Rožmberk or Boršov. When we were driving to Austria on our way out of the Czech Republic, the scenery was breathtaking. We didn't bring our swimsuits this time around but when I wind up here, I am definitely going to plan a day rafting through through the country.
Prices for rafting range from 300 CZK to 750 CZK ($13.50 – $33).
For more information on rafting click here.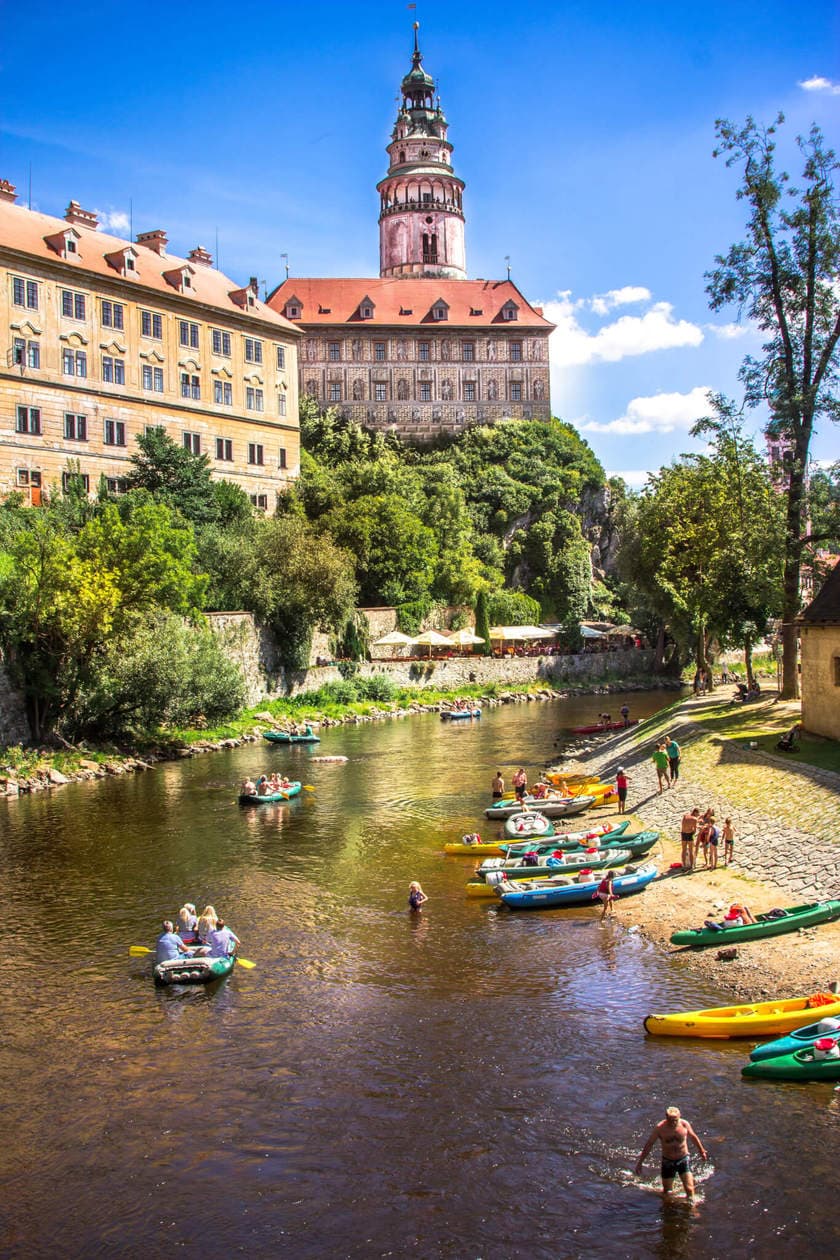 HAVE A BEER OVERLOOKING THE BEST VIEW OF THE CITY
As I mentioned before, we spent most our time in Cesky Krumlov looking for the best views, and one of my favorite panoramas was located from the viewing platform near the castle.
As an added bonus there is a little outdoor concession stand with cold drinks and beer. Surprisingly the beer was also the cheapest that we found anywhere in town. Venture up here in the afternoon to watch the sunset and grab a pre-dinner drink.
---
RELATED POST: 6 PLACES TO GO FOR THE BEST VIEWS OF PRAGUE
---
6 TIPS FOR VISITING CESKY KRUMLOV
STAY THE NIGHT
Most people visit Cesky Krumlov as a day trip from Prague. While you can definitely do it this way, I recommend staying at least one night. The town gets super crowded with day trippers from about 10am-6pm, and it starts to feel a little like Disneyland. Being there in the early morning and late afternoon gives you a chance to have the town all to yourself. It was really magical walking the streets alone.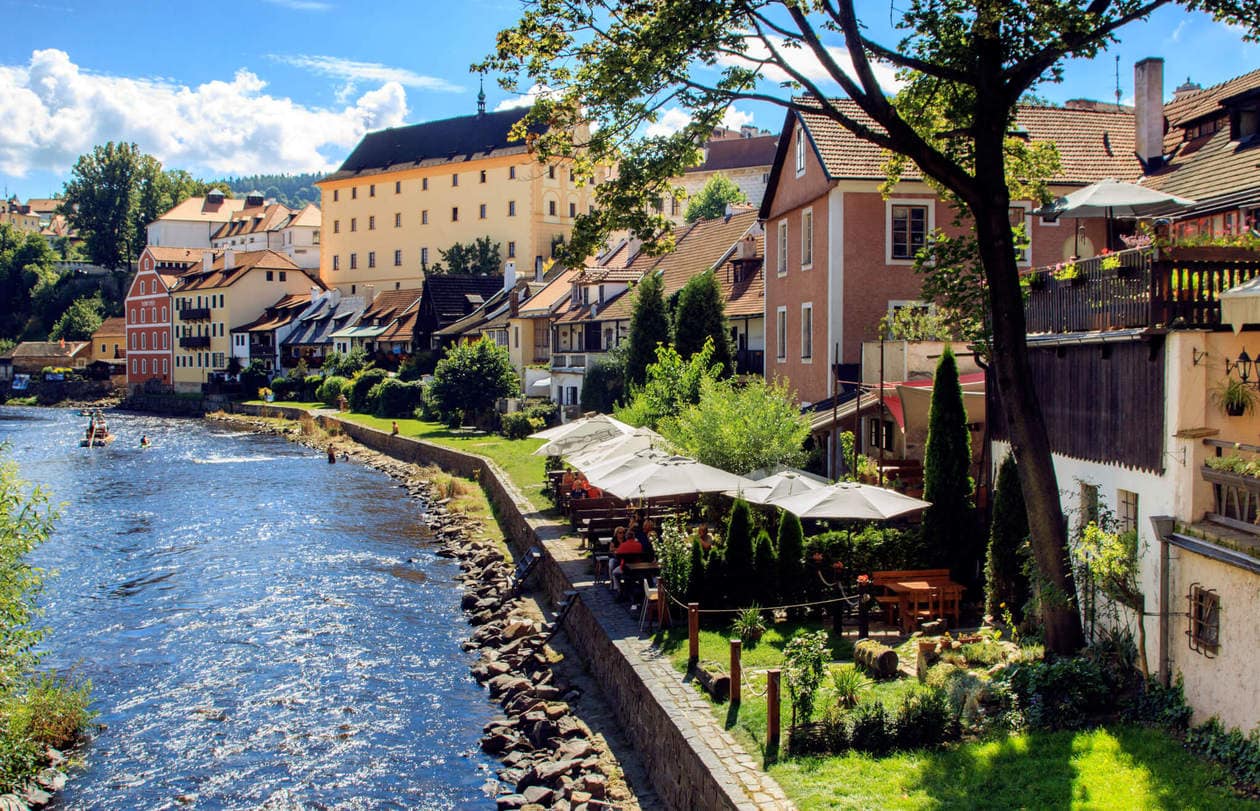 There are tons of penzions (guest houses) within and right outside the city center. Before getting here, I was nervous to stay outside because I wasn't sure how far away we'd be. I booked a guesthouse on the outskirts and we ended up being only a 2 minute walk away. Rooms within the center are significantly more expensive, so save money by booking a guesthouse outside the center limits.
IS ONE DAY ENOUGH TIME? I was worried that one full day (+ two nights) wouldn't be enough time, but Cesky Krumlov was a lot smaller than I expected. We spent the morning winding our way through it's narrow streets, getting lost and eating trdelniks. After about an hour and a half, we had successfully seen the entire town.
With not much distance to cover, you can relax and take it all in without rushing.. even if you're just visiting as a day trip.

BE PREPARED TO CLIMB
There is a lot of elevated terrain in Cesky Krumlov, so make sure to wear comfortable shoes. Inclines and declines are sprinkled throughout the town and if you want to go to the castle (which you should because it has the best view), be prepared for a climb. It's not a difficult walk, but some parts do get steep. My Apple Health app reported that I climbed about 320 feet (97 meters) just by walking around.
BRING A SWIMSUIT (SUMMER)
It was rookie move not packing a swimsuit on this trip but in my mind, swimming and the Czech Republic don't exactly seem to go hand in hand. I found myself wishing I had one though as rafting is one of the most popular things to do in Cesky Krumlov and it looked really fun.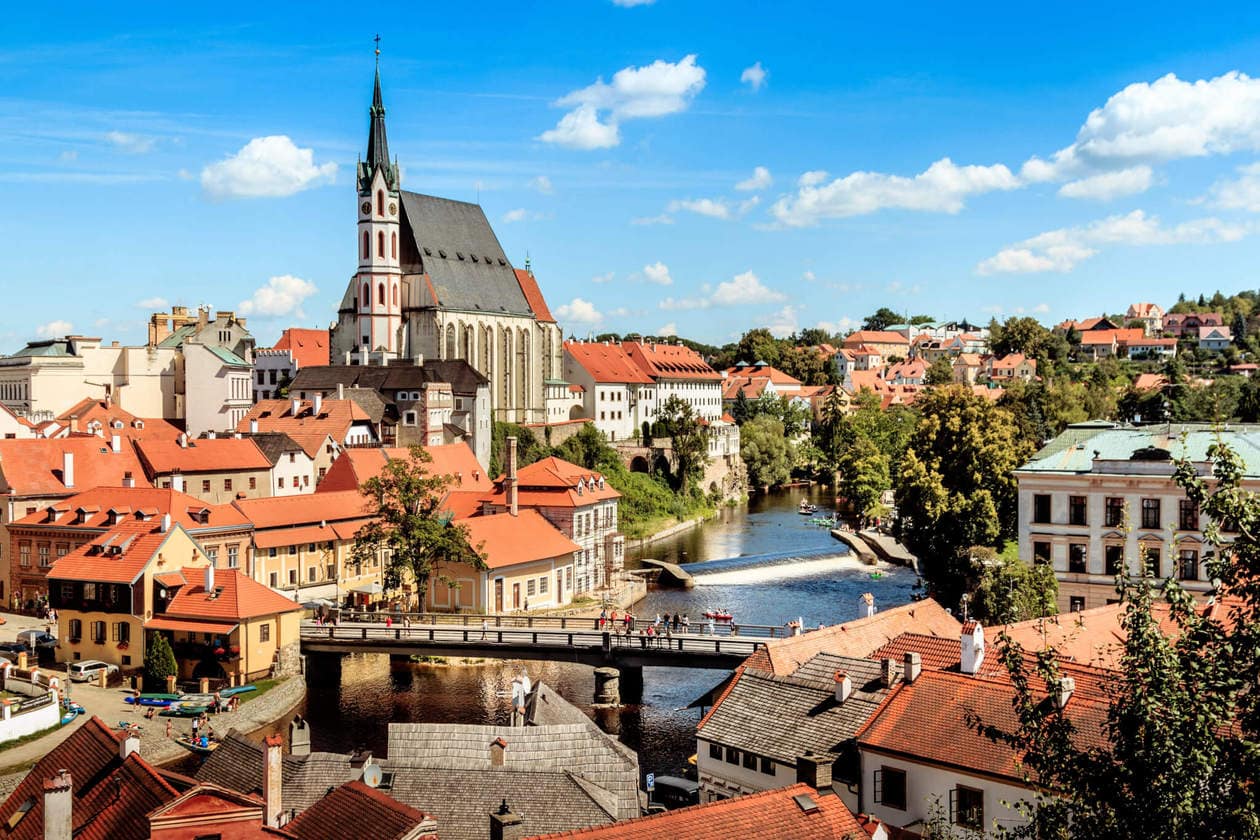 THE CESKY KRUMLOV CARD
City cards are usually hit or miss for me, but the Cesky Krumlov Card is cool because it's valid for 12 months after your first visit. For 300 CZK (about $13.50USD) you gain entrance into the castle and castle tower, plus 4 other museums in town including the Regional Museum, Seidel Photographic Studio Museum, Egon Schiele Art Centrum and the Monasteries.
For more information about the Cesky Krumlov card, click here.
THINGS CLOSE EARLY
Between 5-6pm, when the tour busses head back to Prague, all the stores and food stands start closing up shop. At exactly 5pm, we were in line for a trdelnik and the girl actually refused to sell us one because it was time for her to go home. Every restaurant in stayed open into the night though, and they were very busy.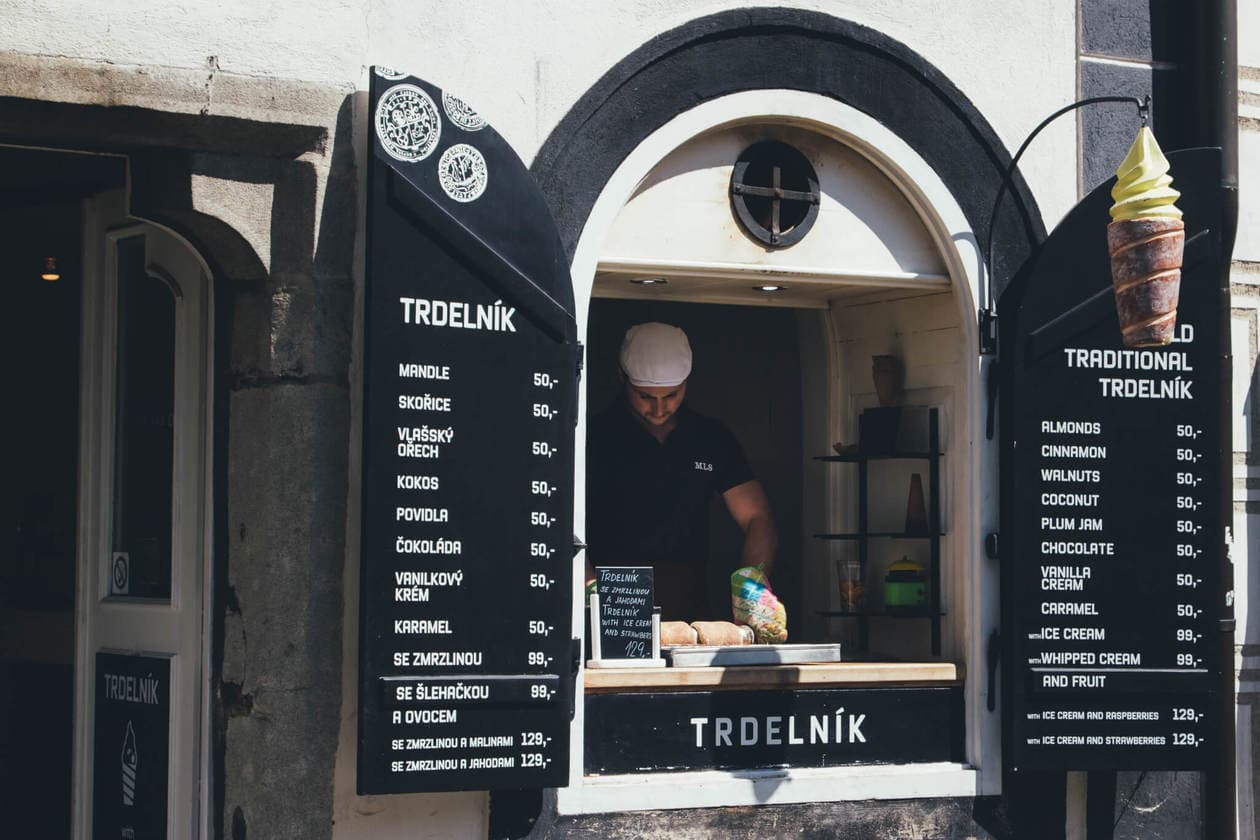 HOW TO GET TO CESKY KRUMLOV FROM PRAGUE OR SALZBURG
HOW TO GET FROM PRAGUE TO CESKY KRUMLOV
BUS
If you don't have a car, the quickest and easiest way to get from Prague to Cesky Krumlov is by bus. We went with the popular company called Student Agency because they were cheap and had the most departure times. It was $8 USD per person, one way. Prices vary slightly depending on what time you leave and where you depart from.
It takes 3 hours to get from Prauge to Cesky Krumlov and the bus drops you off close to the city center. It was only a 8-10 minute walk to our guest house.
The Student Agency bus was fantastic. There were televisions on the back of the seat and complimentary hot drinks. Free wifi was available on board, there was 1 outlet per 2 seats for charging electronics.
MAKE A RESERVATION: If you are heading to Cesky Krumlov during peak season or on a weekend, make sure to have a reservation. We missed our first bus and almost were stuck in Prague for another night as all of the other busses were not only full, but had waiting lists. Luckily, we were able to get a spot on the last bus leaving Prague at 9pm.
TRAIN
Until recently, you only used be able to access Cesky Krumlov via train by stopping in Cesky Budejovice first. There is now a direct route leaving at 8:01 am from the main train station in Prague. The journey takes 2 hours 54 minutes and costs around 199 CZK ($9 USD). The direct train back to Prague leaves at 2:07pm which could put a damper on day trip plans as it only give you a few short hours to explore.
The train station is about 10 minutes from the town center, and there are taxis waiting to take you there for around 100-150 CZK ($5-$7USD).
To book train tickets or view departure times, click here.
SHUTTLE
There are multiple shuttle companies traveling from Prague to Cesky Krumlov, and most have several departures times per day. Prices are 800CZK ($35) per person and they will drop you off at directly at your hotel.
---
RELATED POST: 11 PRAGUE TRAVEL TIPS FOR FIRST TIME VISITORS
---
HOW TO GET FROM SALZBURG TO CESKY KRUMLOV
SHUTTLE
Taking a shuttle is the easiest and quickest way to get from Salzburg to Cesky Krumlov. There are multiple shuttle companies that will take you door to door for around 800 CZK ($35). We used Bean Shuttle and I would recommend them. The journey takes 3 hours.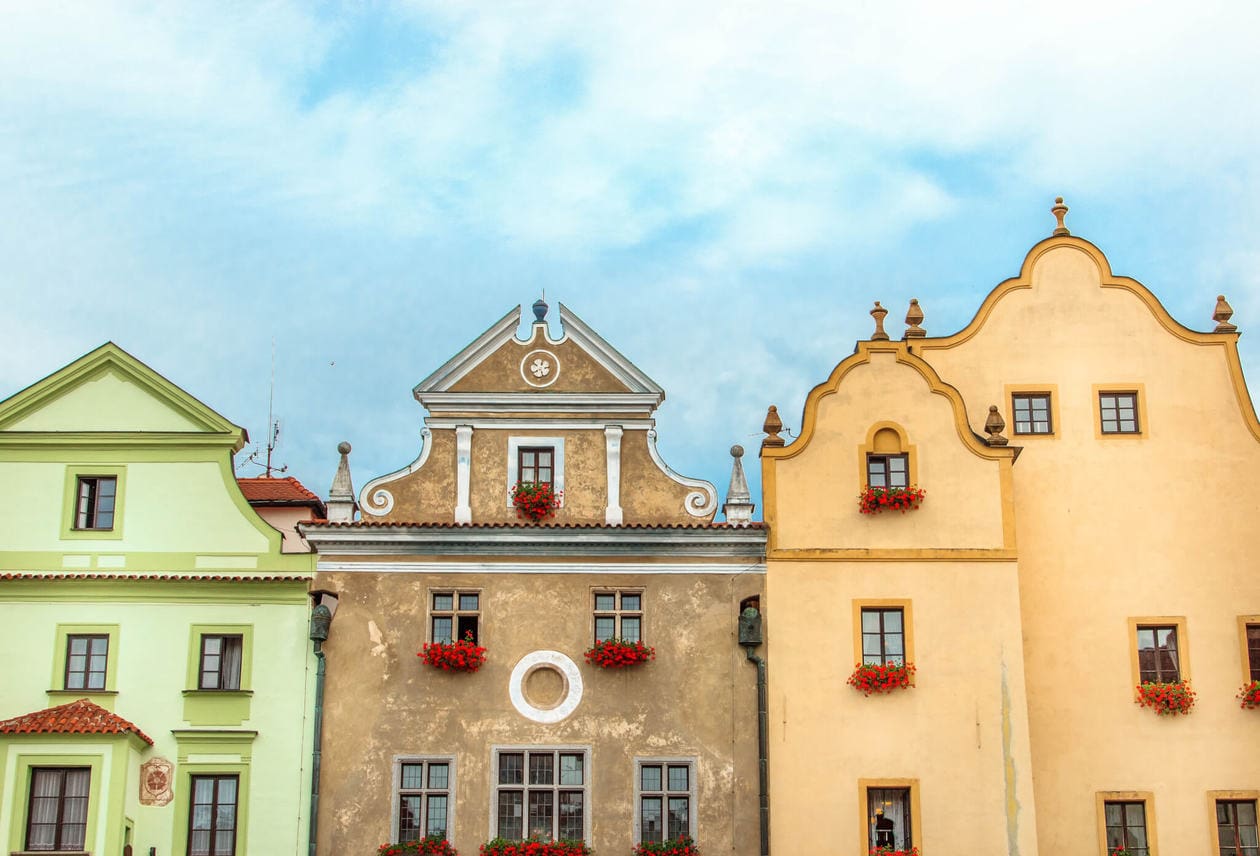 BUS
The LEO Express bus is the most popular option to get from Salzburg to Cesky Krumlov however there is only 1 departure time per day. The journey time is about 3hours and 10minutes and costs around 12 euro ($13.50USD).
For bus times and tickets click here.
TRAIN
There are no direct trains between Salzburg and Cesky Krumlov. You must either connect in Cesky Budejovice or Linz, and journey times range from 4hr 30min to 8hours.
---
RELATED POST: 10 THINGS TO DO IN SALZBURG
---
WHERE TO STAY IN CESKY KRUMLOV
LUXURY
5 BEDROOM HOUSE This guesthouse doesn't have a name but it's an adorable 5 bedroom house located only 900ft (274 meters) from the main square. It features a full kitchen, dishwasher, hot tub, terrance and even a playground. Rates start at $430/night
For more information or booking click here.
MODERATE
APARTMAN ATELIER PARAL This gorgeously decorated apartment is located only 350 feet from the Cesky Krumlov Castle. It offers river views, a fully equipped kitchenette and continental breakfast served daily. Rooms start at $220/night.
For more information or booking click here.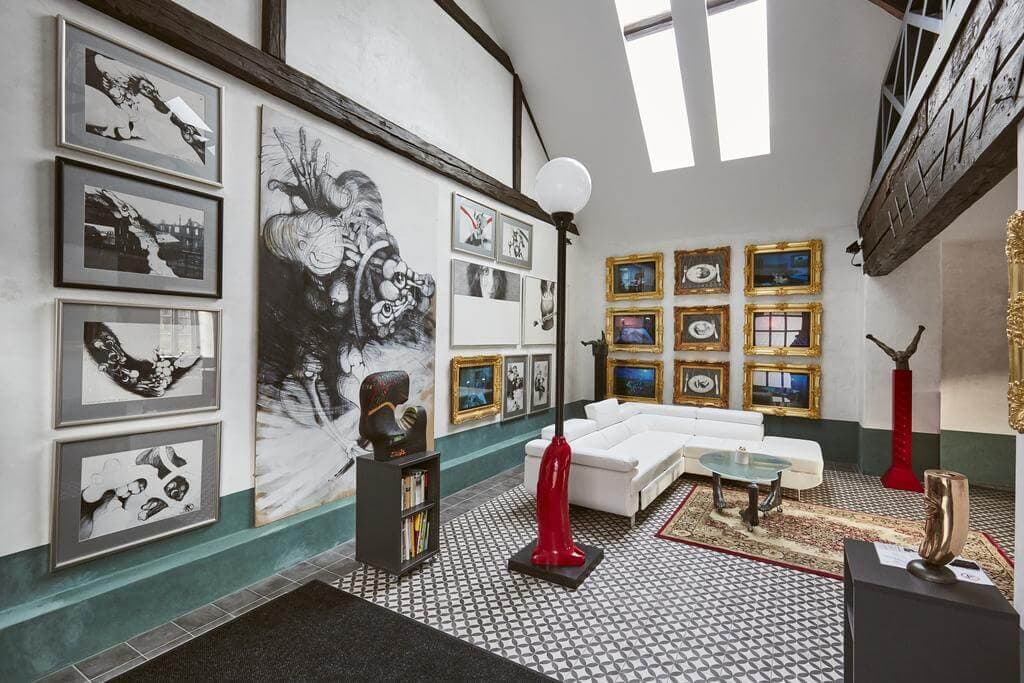 BUDGET
GUESTHOUSE LARGO Located in the heart of the city center, Guesthouse Largo is a chic, affordable option for those wanting to spend the night in Cesky Krumlov. Rates start at $80/night
For more information or booking click here.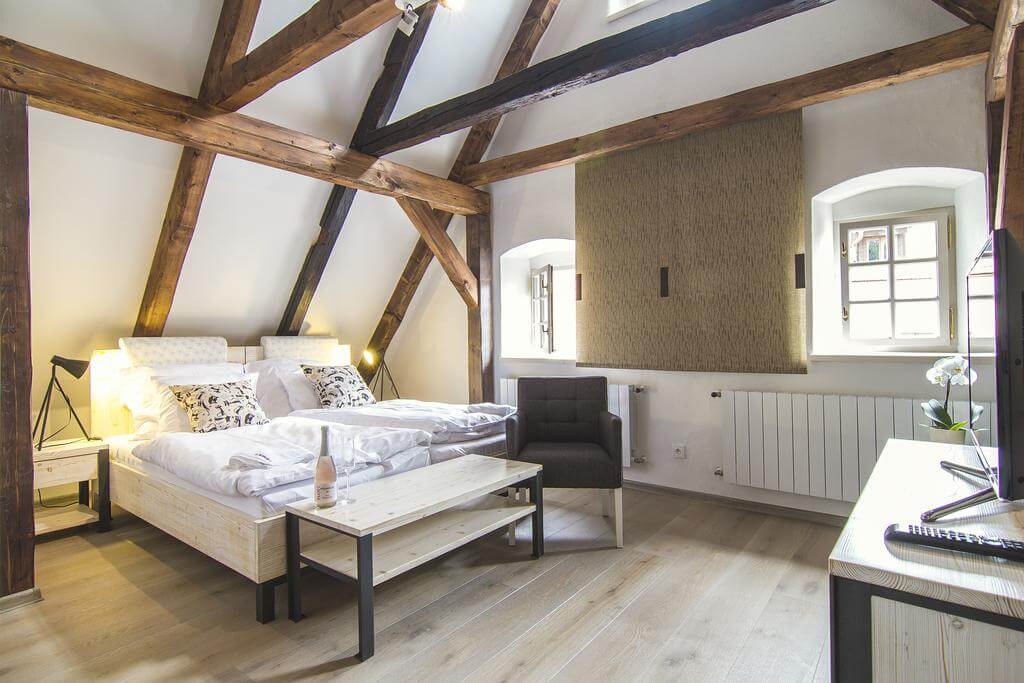 DID I MISS ANYTHING? LEAVE A COMMENT BELOW!