After over a year of not traveling (thanks, pandemic) we decided to use Nick's birthday as a desperate excuse to get out of town. Valle de Guadalupe is one of our favorite local getaways, and spending a few days in Mexico was a welcomed escape.
While Valle de Guadalupe has no shortage of incredible restaurants with amazing chefs, I was looking for somewhere extra special to celebrate Nick's birthday dinner. A friend in the area recommended Primitivo, an outdoor restaurant located under a 300 year old oak tree. It was the perfect setting for a special occasion and became one of the most memorable meals we've eaten in Baja California.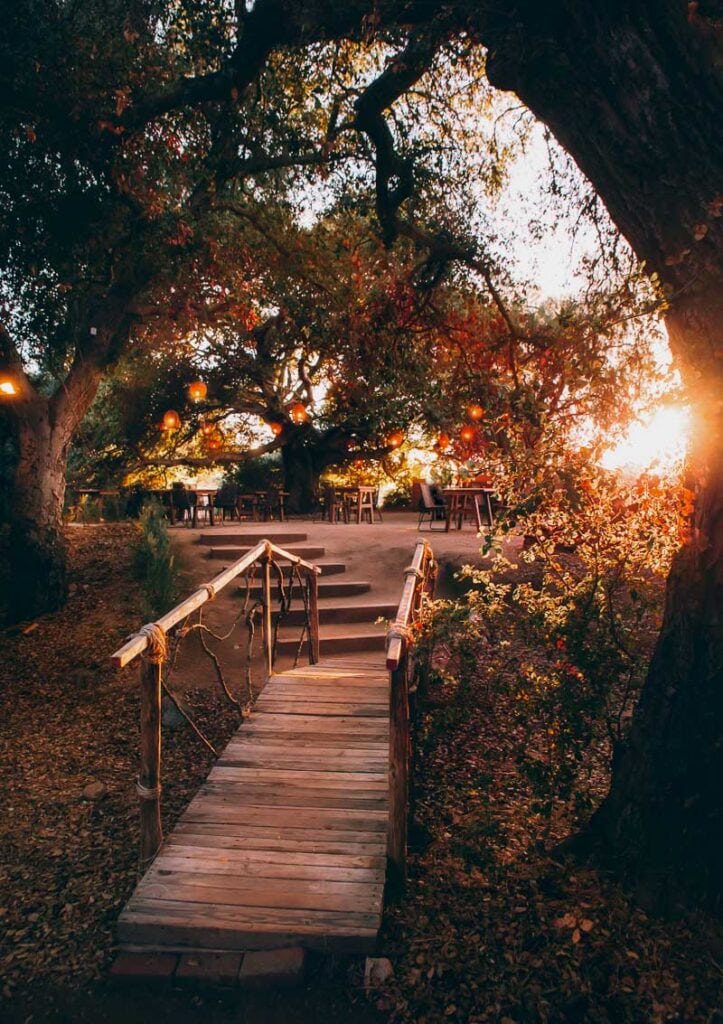 PRIMITIVO RESTAURANT: A UNIQUE RESTAURANT IN VALLE DE GUADALUPE
Primitivo restaurant is located off La Ruta del Vino not too far from our favorite Airbnb, Arre Lulu Baja. It's a little difficult to find as the signage is small and the restaurant is hidden underneath a massive oak tree.
When you arrive, the hostess will greet you outside of the tree and lead you beneath its branches, into what feels like a hidden world. Hanging lanterns illuminate the space and smells of rich barbecue fill the air.
Primitivo's slogan is "firewood, fire and iron," and in the back of the restaurant you'll find an open air kitchen utilizing these three elements. They work directly with local suppliers to bring in the freshest ingredients, and food is cooked over coal on an open flame. Primitivo's menu changes daily based on what ingredients are available and what's currently in season.
RELATED POST: ARRE LULU BAJA – THE CUTEST AIRBNB IN MEXICO'S VALLE DE GUADALUPE
THE MENU
I was unable to find an online menu for Primitivo before we went, so we had no idea what to expect. After providing us with a QR code to scan the menu, the waitress explained that the restaurant focuses on meat. They also believe that if you are going to kill the animal, you should use every part of it.
We were given a choice between five different entrees: oysters, duck, beef, octopus or fish (yellowtail was the catch of the day), all of which are designed to feed two people (this might not work for everyone).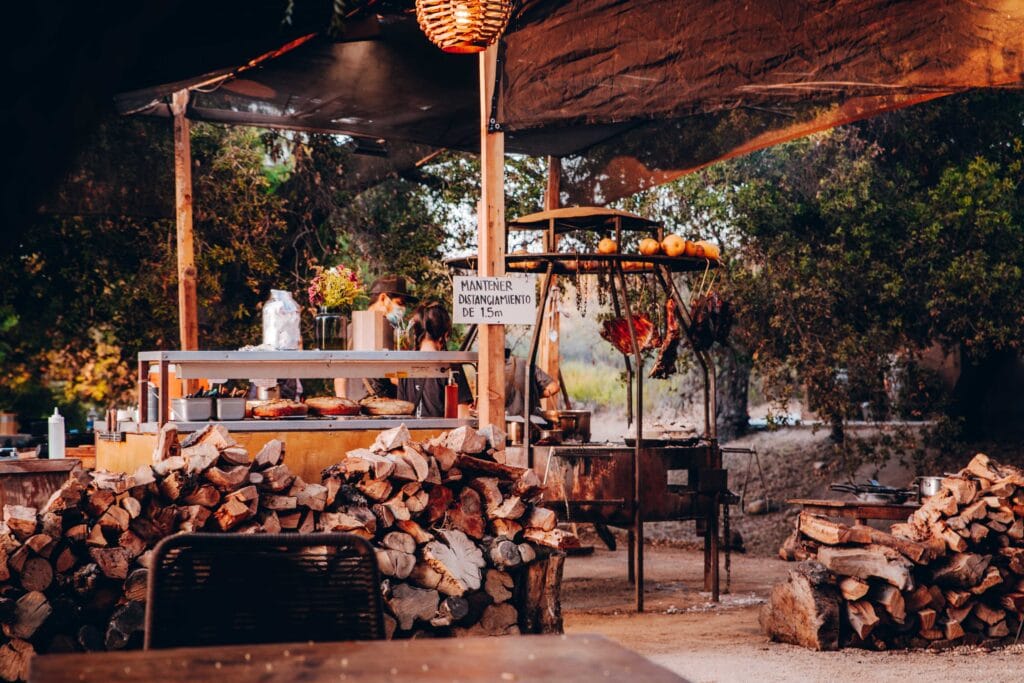 Each of the options comes with a multitude of courses, each utilizing different parts of the animal. Normally, Nick and I don't eat a lot of meat and when we do, I definitely would not classify us as adventurous meat eaters. We ordered the beef entree, and were honestly a little nervous about what was going to be served.
When in Rome.
VEGETARIANS
After our meal, I asked if the restaurant is able to accommodate vegetarians and the waitress said yes. If you are vegetarian, there are probably better restaurant options for you in Valle de Guadalupe, but if you find yourself visiting Primitivo with a meat eater, I recommend contacting the restaurant before your visit to ensure that they can prepare properly for you.
THE 5 COURSE DINNER : BEEF
Eating at Primitivo is an experience. It took us over 2.5 hours to finish our meal, as each course was carefully prepared and presented to us one by one. Every course that was brought out was delicious and even though some of the cuts were not what I would regularly choose to eat, I appreciate the fact that they do not waste part any of the animal.
TRIPE AND CRISPY POTATOES
Our first course was fried tripe laid upon a bed of crispy, thin potatoes and garnished with lemon wedges and rosemary.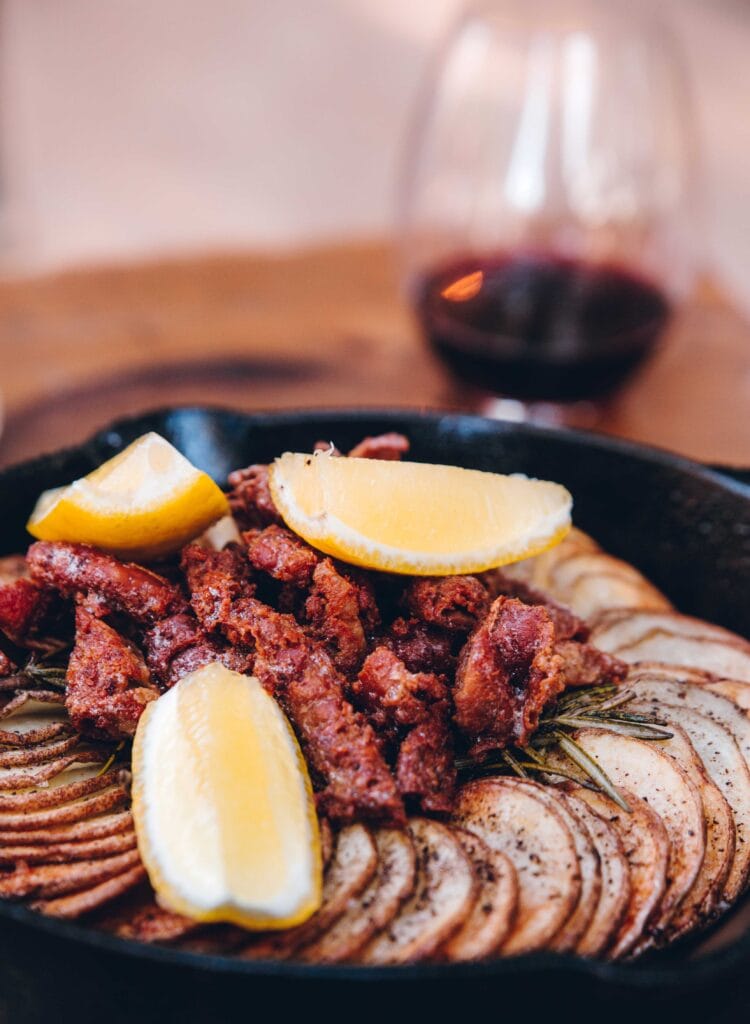 SWEET BREAD
Next, the waitress brought out Sweet Bread on a round, wooden serving tray. This dish was accompanied by red corn tortillas and a homemade (spicy) habanero sauce. I'd never heard of Sweet Bread before and was happy because I thought it was literal bread. Nick was quick to squash my excitement, after explaining what it actually was.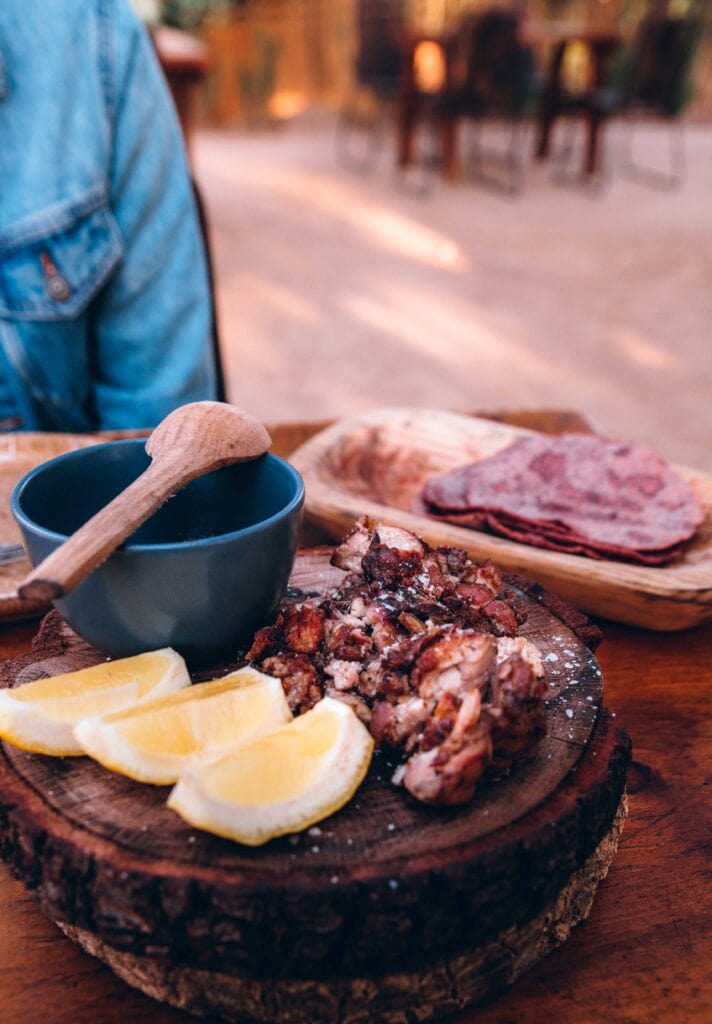 GLAZED CARROTS WITH RIBEYE
The third course consisted of purple, glazed carrots with small chunks of ribeye pieces scattered throughout the dish.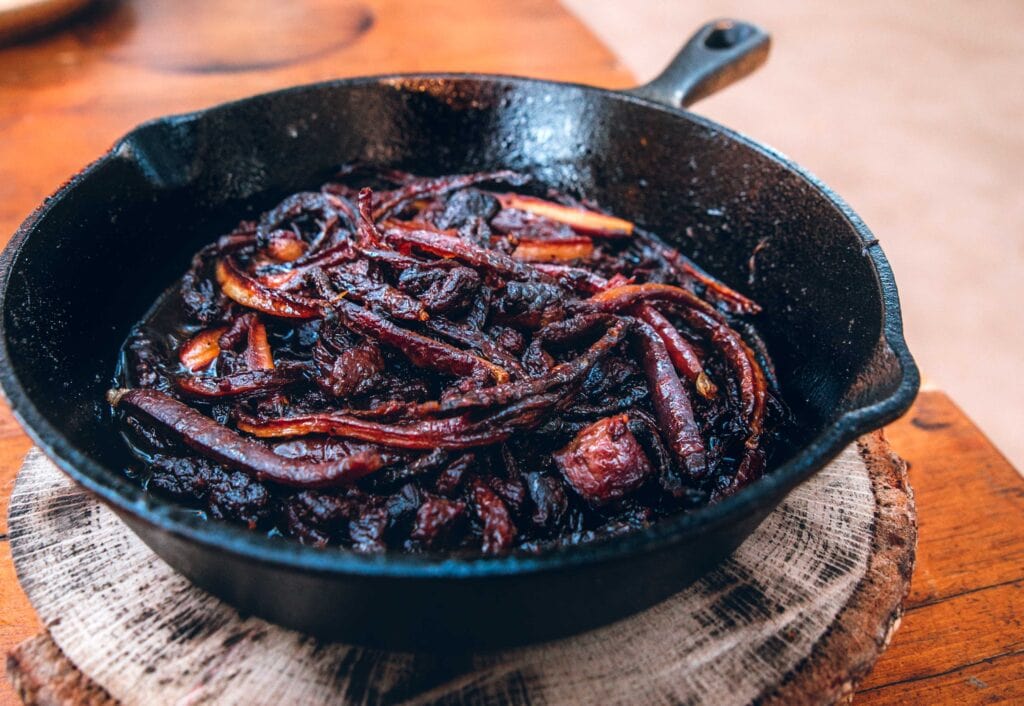 RIBS AND FOCCACIA BREAD
Slow cooked ribs were charred on the outside and sprinkled with flaky salt. They were served alongside fresh focaccia bread.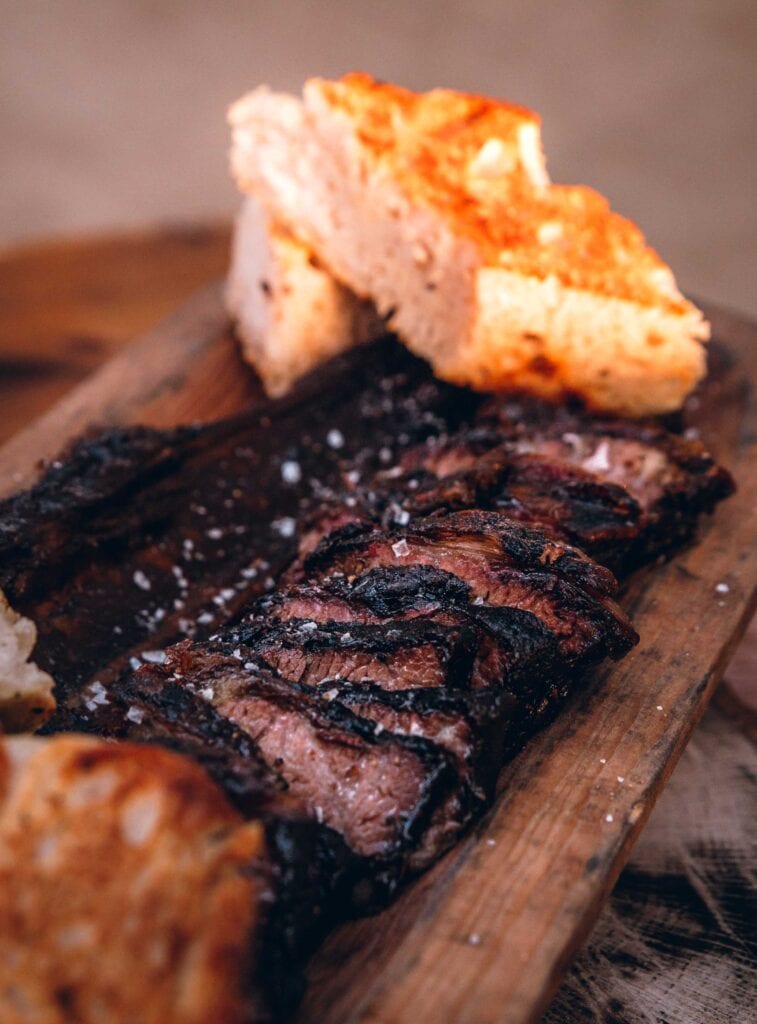 NEW YORK STEAK WITH MASHED POTATOES
The highlight of the meal was the New York Strip Steak served over buttered mash potatoes. By this time we were very extremely full but still we ate the whole thing.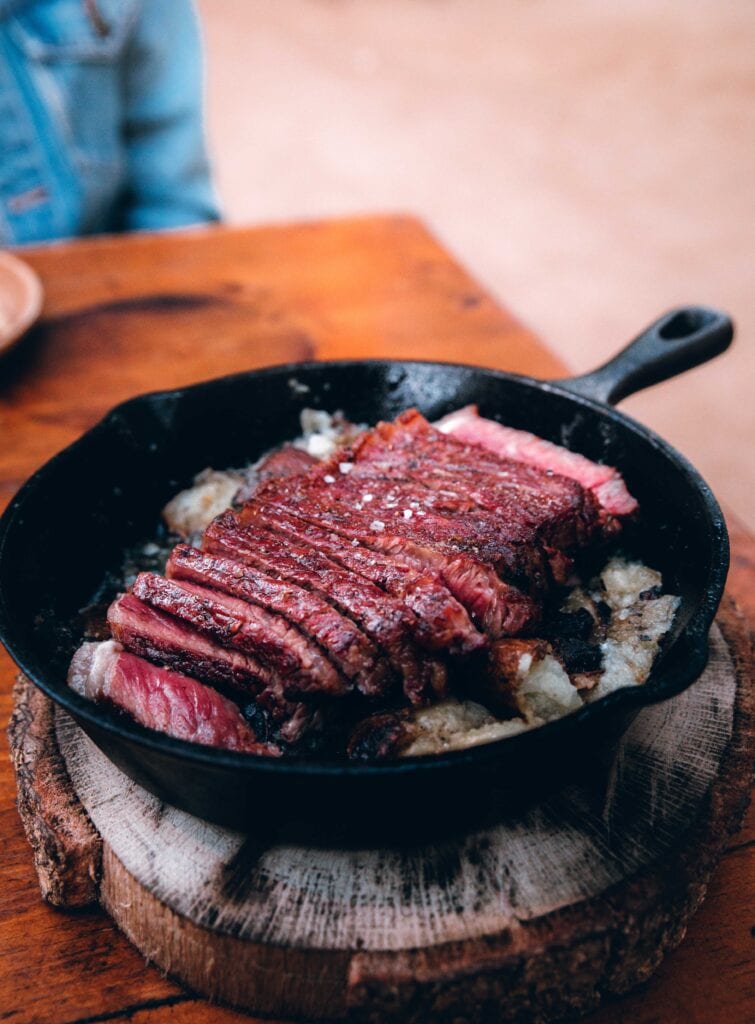 MEZCAL
We unfortunately had no room left for desert, but ordered a shot of Mezcal before heading out. The bartender presented the shot with a roasted orange (to cut the sweetness) and three different types of salt that he handmade to compliment the drink. Charred salt, lime salt and hibiscus salt lined the plate, and they really did bring out the different flavors of the mezcal.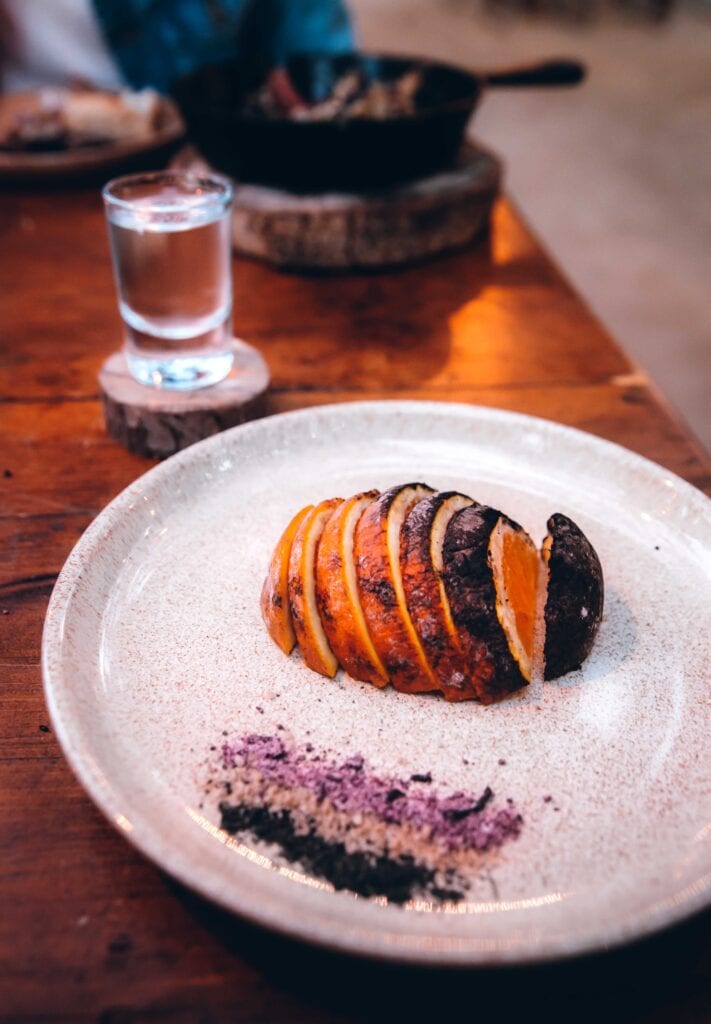 The menu changes daily so you won't know exactly what will be offered during your visit, but these were a sampling of the other options available when we were there. Each option includes all of the courses listed underneath it.
OYSTERS $380 MXN ($19 USD) per Dozen
Oysters in the Shell with Ponzu Sauce
Grilled Oysters with Butter
DUCK $1,600MXN ($80 USD) for 2 People
Chicharron with Vegetables
Wings with Honey Glazed Carrots
Duck Legs with Potato and Tomato Stew
Duck Breast with Butternut Squash and Arugula
OCTOPUS $950MXN ($48 USD) for 2 People
Chicharron with Sautéed Cabbage
Marinated Torso
Roasted Tentacles with Heirloom Tomato Stew
FISH (YELLOWTAIL) $1,400 MXN ($70 USD) for 2 People
Sashimi
Ceviche
Roasted Toro with Sautéed White Onion and Arugula
Head with Roasted Lemon
Tenderloin with Roasted Cabbage
DESERT $150 MXN ($7.50 USD) each
Banana Tart with Lavender Ice Cream
Almond Cream Cake with Wild Blackberries and Yogurt Ice Cream

DRINKS
Primitivo offers wine from local wineries as well as cocktails, and local craft beer. We brought our own bottle of wine and they charged a corkage fee of $150MXN ($7.50USD) which was very reasonable.
HOW TO GET TO PRIMITIVO RESTAURANT
Primitivo Restaurant is located right off La Ruta Del Vino. When you first pull off the highway, you'll find yourself on a dirt road with very little signage so it's a little confusing to find.
The only evidence of a business is a big iron gate, that you might assume will lead you to the restaurant but it will be locked. One of the reviewers on TripAdvisor was angry because he claimed that the restaurant was closed due to the fact that the gates were locked when he arrived. I was worried that this happened to us too but we discovered that the gate has nothing to do with the restaurant.
Instead, you'll need to drive slightly past the iron gate until you see a small dirt road on the right. There will be a security guard waiting nearby, who will take your name and let you through.
After making your way up the road it's still not totally obvious where the restaurant is located, but remember that it's all underneath the Oak tree at the top of the hill.
OPENING HOURS Tuesday-Saturday 1-7PM Sunday 12-5PM. The restaurant is closed on Monday.
ADDRESS
Carretera Ensenada-Tecate km 89,
San Antonio de las Minas,
Ensenada Baja California.
WEBSITE Visit the restaurant's official website here.
PIN IT: PRIMITIVO RESTAURANT VALLE DE GUADALUPE : DINNER UNDER A 300 YEAR OLD OAK TREE