Half of our existence is spent searching for obscure bars with good views, and our trip to Berlin was was comprised of exactly that. Klunkerkranich is a funky rooftop bar located on the top of a parking garage in Neukölln. It's a little ways off the beaten tourist path and kind of hard to find, but it's the perfect place to spend a lazy afternoon drinking beers and watching the sunset. Keep reading for more information about Klunkerkranich, what to expect, and how to get there.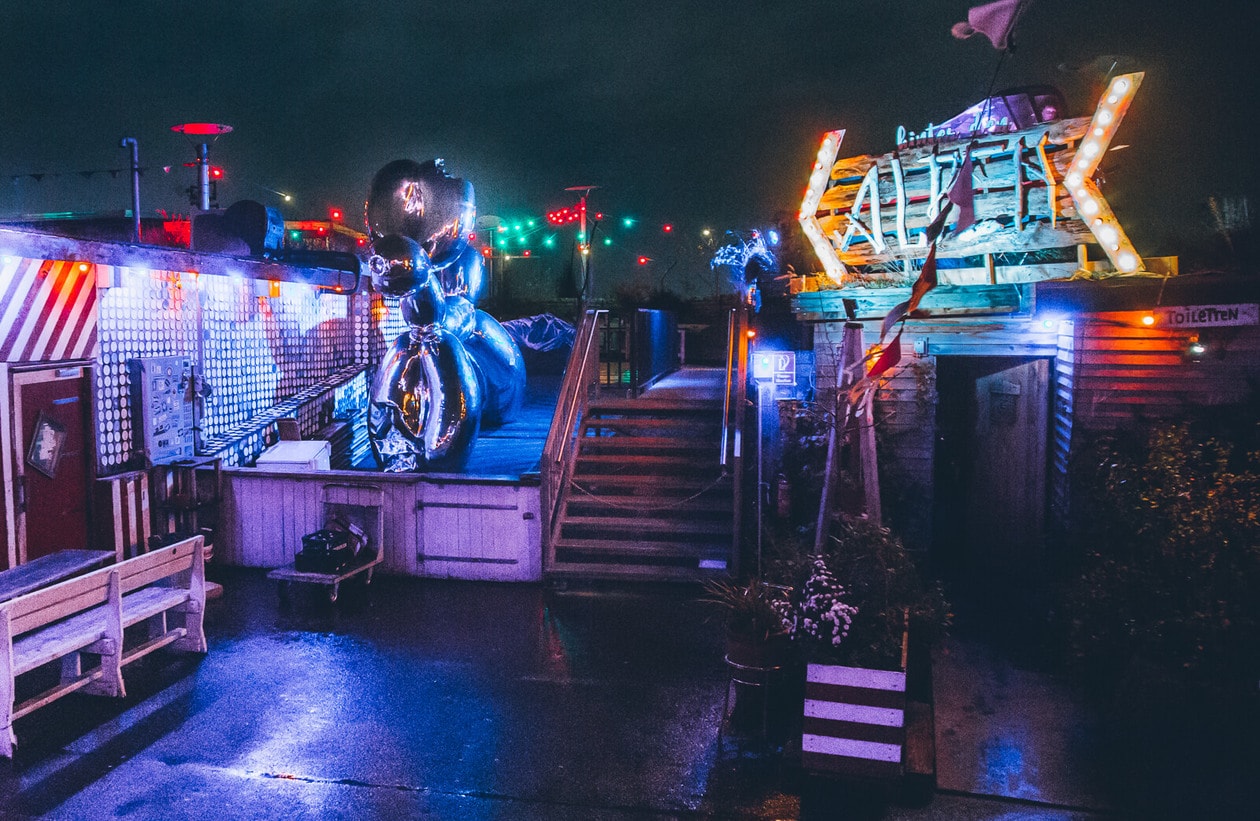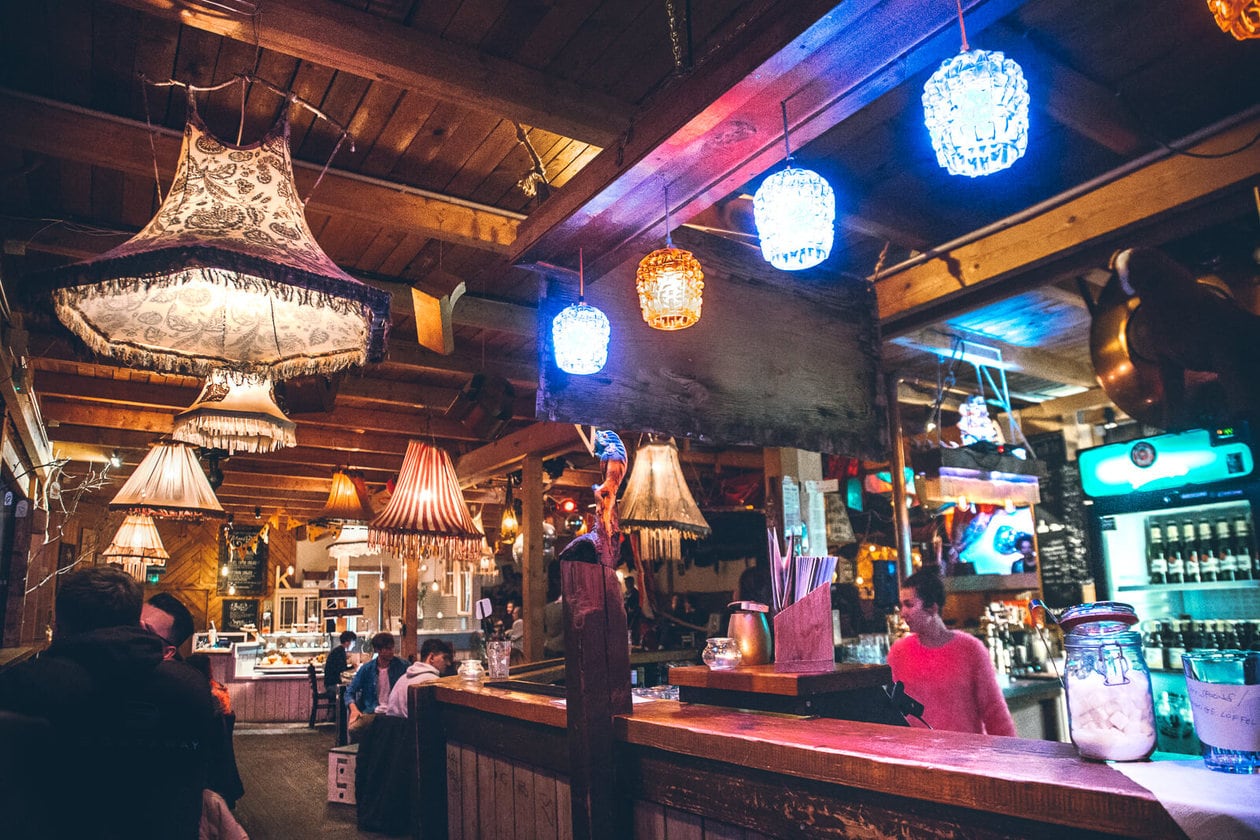 HOW TO GET TO KLUNKERKRANICH
Klunkerkranich is located in Nuekölln about 30 minutes outside of the main city center.
To get there, take the U-17 (U-Bahn) and get off at Rathaus Neukölln. When exiting the metro, you'll come face to face with a big mall called Neukölln Arkaden.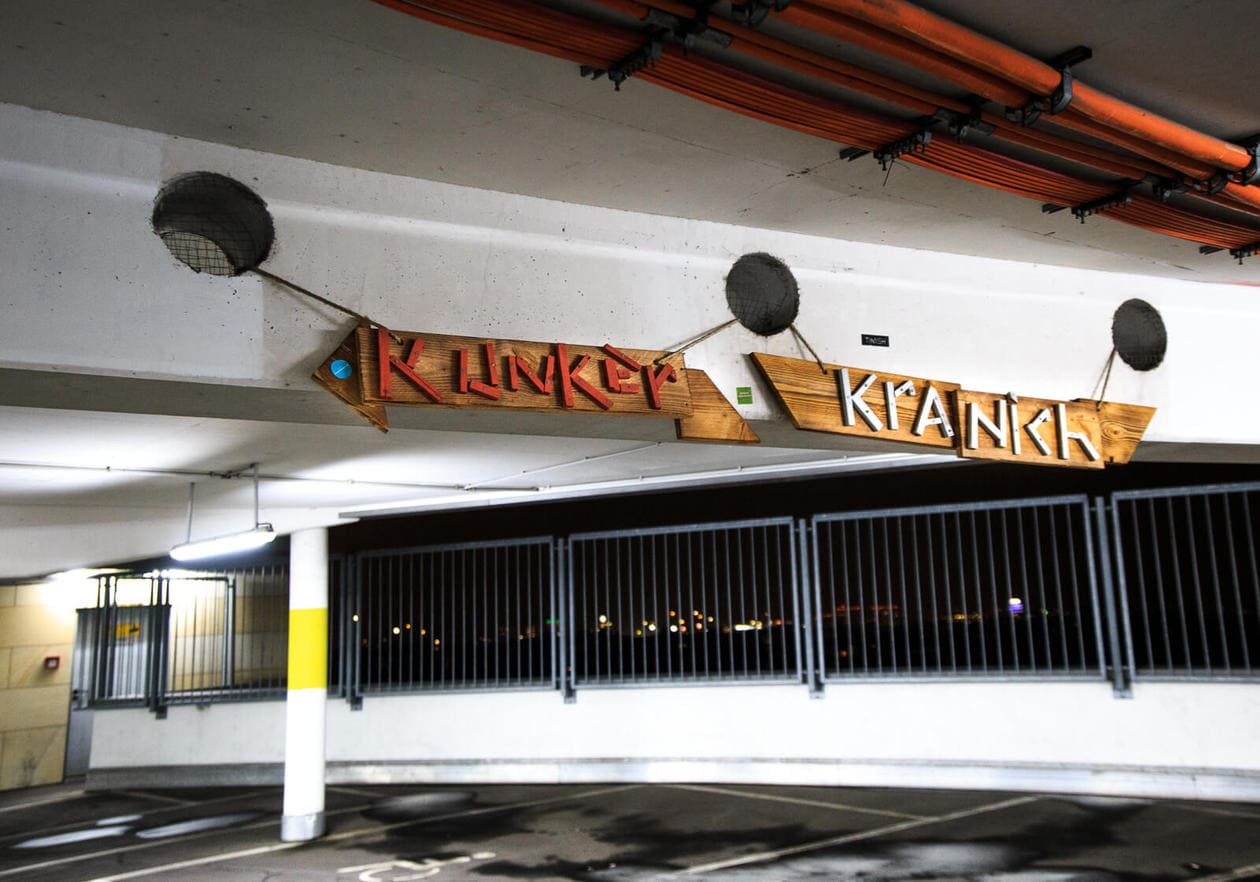 Go into the mall, find the parking garage elevators, and head to the top floor (floor 5). When the elevator doors open, turn left and then walk the rest of the way up a short ramp to the garage rooftop. You'll see signs for Klunkerkranich once you get to the 5th floor.
It's a pretty weird journey but you're totally gonna forget you're drinking on top of a shopping mall once you arrive.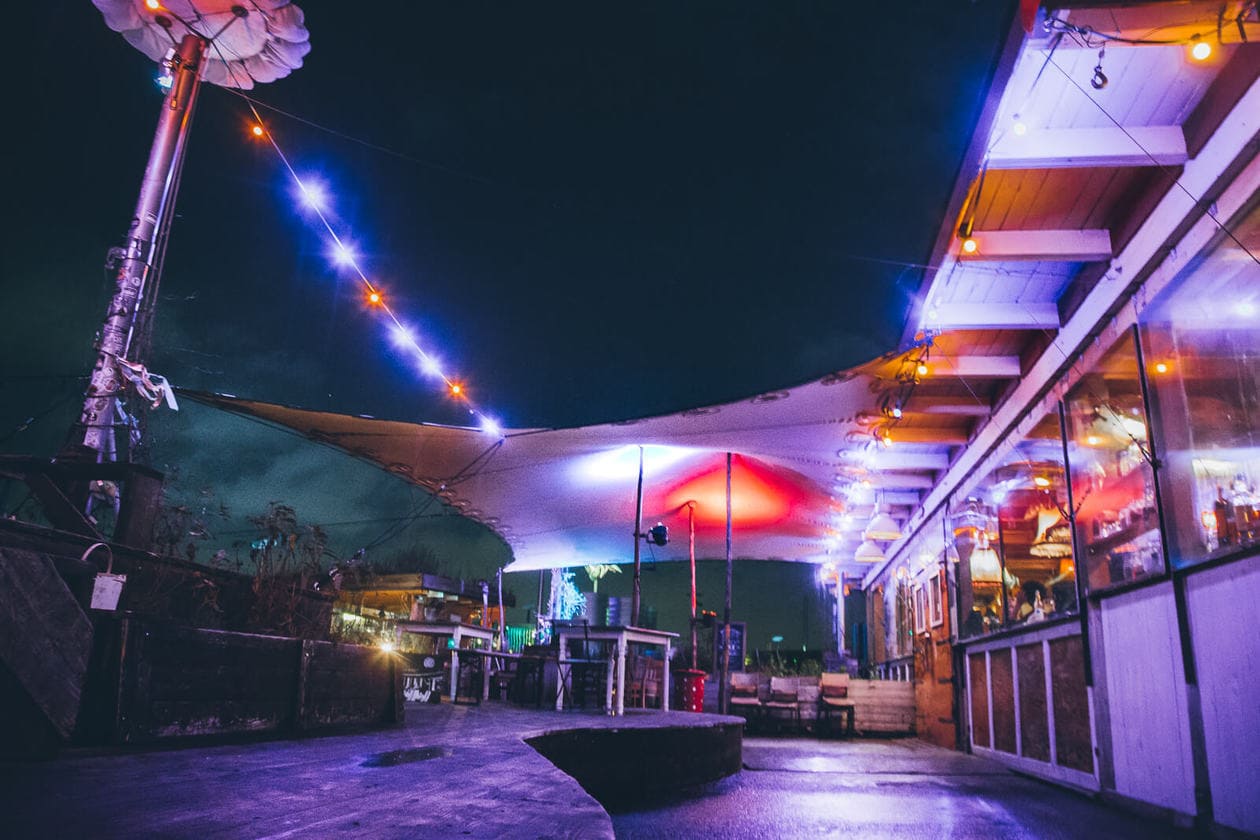 KLUNKERKRANICH ROOFTOP BAR
Watching the sunset is one of our favorite things to do and when we travel, we usually handpick where where we'll be each evening when the sun goes down. Klunkerkranich was the chosen location for our last night in Berlin, but because of Europe's short daylight hours in October, we found ourselves racing to get there on time.
---
RELATED POSTS
THE BEST SUNSET BAR IN CAPPADOCIA, TURKEY (AND MAYBE THE WORLD)…
CUATRO CUATROS // COCKTAILS, SUNSETS AND SWEEPING VIEWS IN ENSENADA MEXICO

---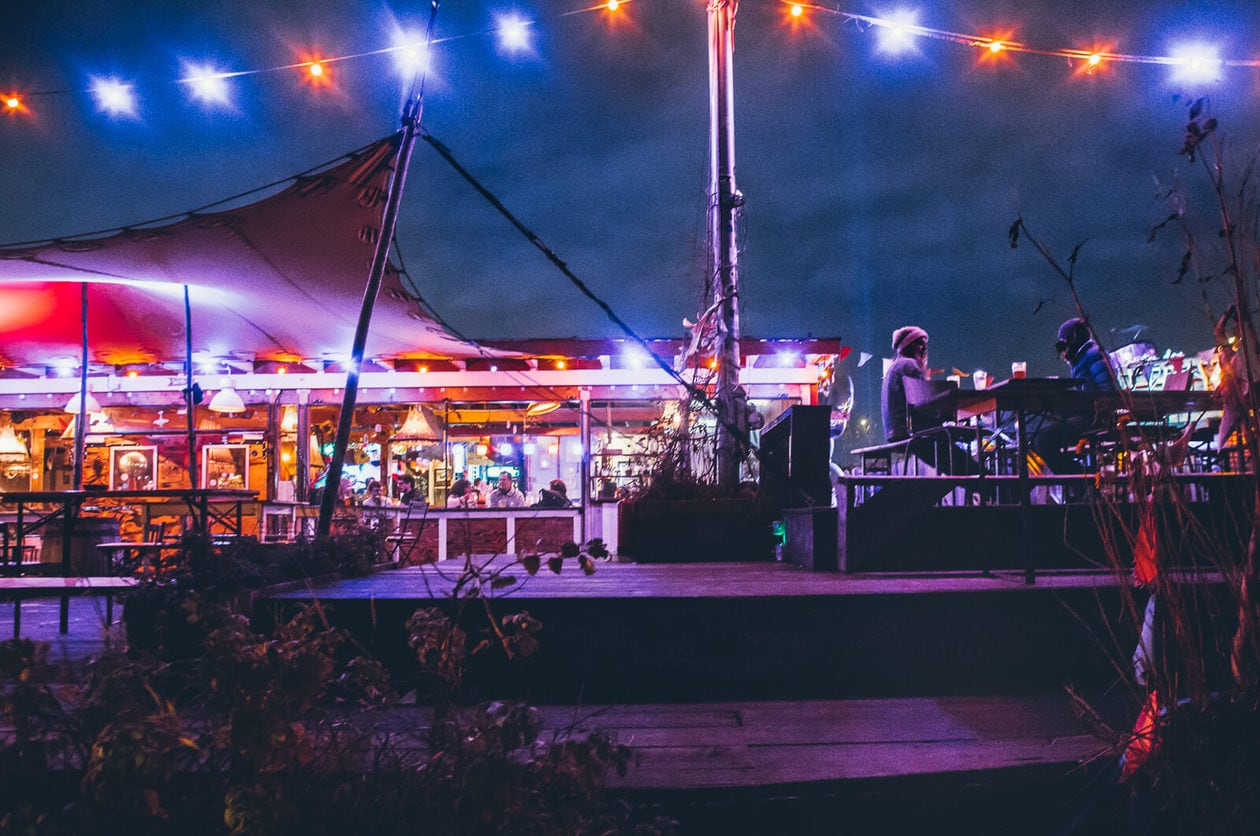 First, we got on the U-Bahn going in the wrong direction. Then we walked around the perimeter of a large shopping mall several times looking for this infamous rooftop bar.
Major lightbulb moment when we discovered that the bar was actually on the rooftop of the mall..
By the time we finally arrived at Klunkerkranich it was cold, dark, and the sun had already set. While this did dampen the vibe a little, we're not ones to complain so we still grabbed a beer and a table near the edge.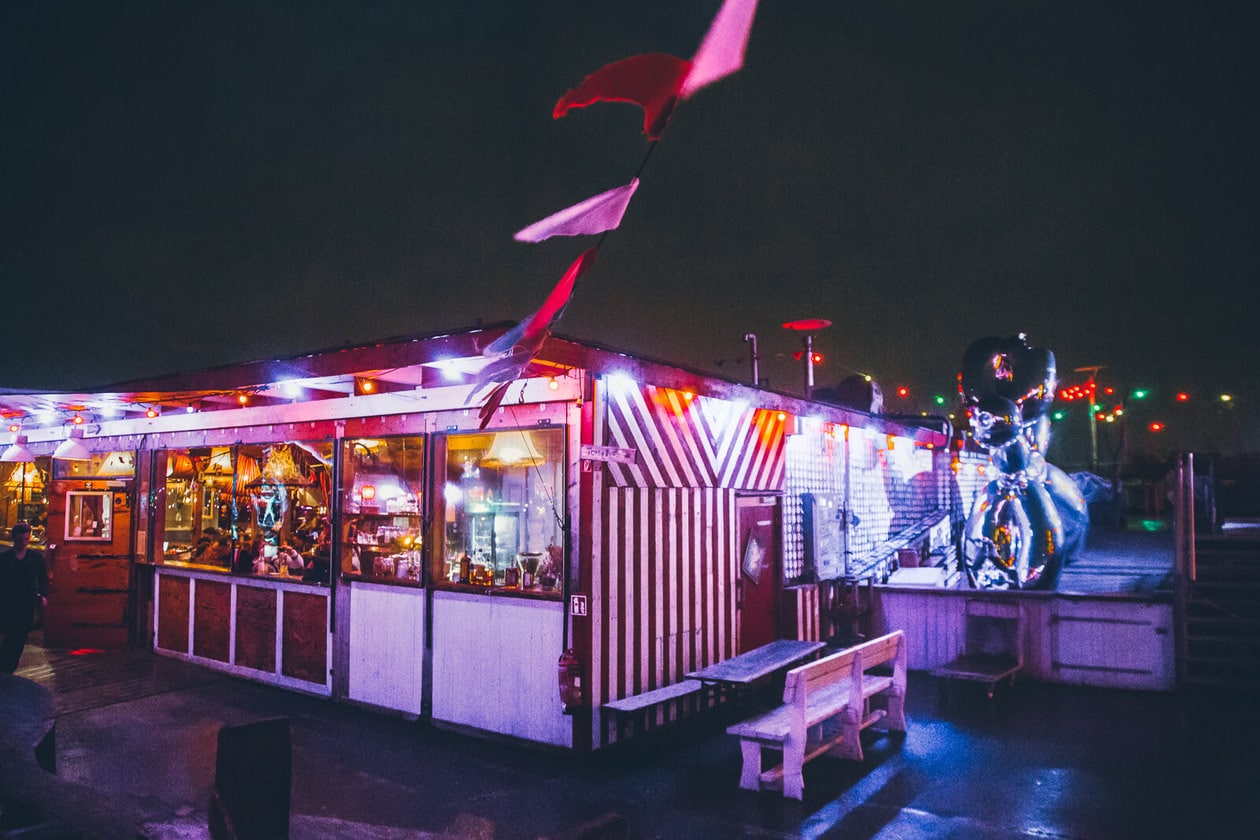 We were in Berlin during the fall when the weather was less than ideal. I can only imagine how fun Klunkerkranich would be in the Summer. It's the perfect place to sit back and relax for a few hours. On the rooftop, there are planter boxes everywhere, a community garden in one section and even a sandpit for families that visit during the day. Although Berlin doesn't have the most exciting skyline, you'll get one of the best views of it from this roof.
---
RELATED POST: A FIRST TIMER'S GUIDE TO BERLIN // WHAT TO KNOW BEFORE YOU GO
---
THE BAR
So while drinking our beers on the rooftop deck, it went from cold to really cold.. and then it started to rain. Realizing that we were the only idiots still sitting outside, we decided it was time to make our way indoors.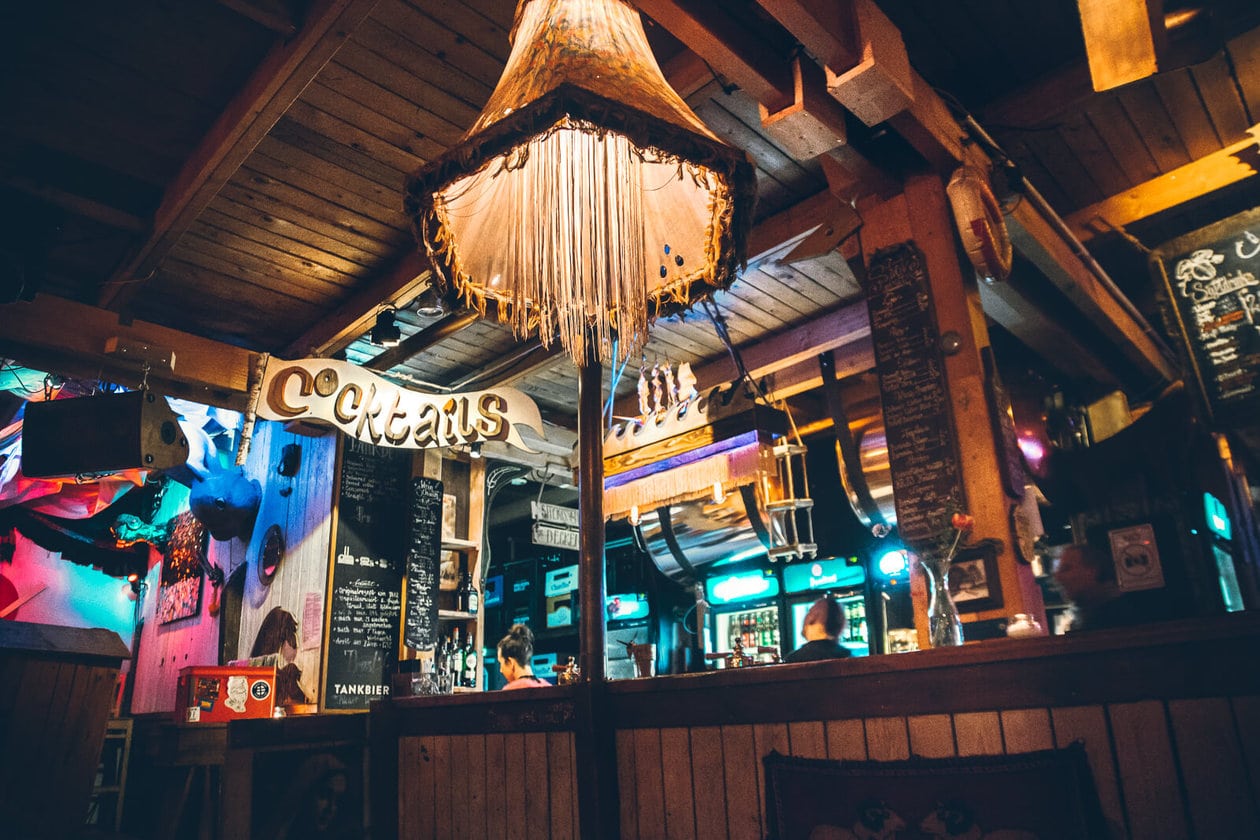 Inside the bar felt super laid back and very 70's retro, with tan couches and fringed lampshades hanging from the ceiling. A DJ was playing music from his laptop in the corner, but depending on the day of the week, they also have live music.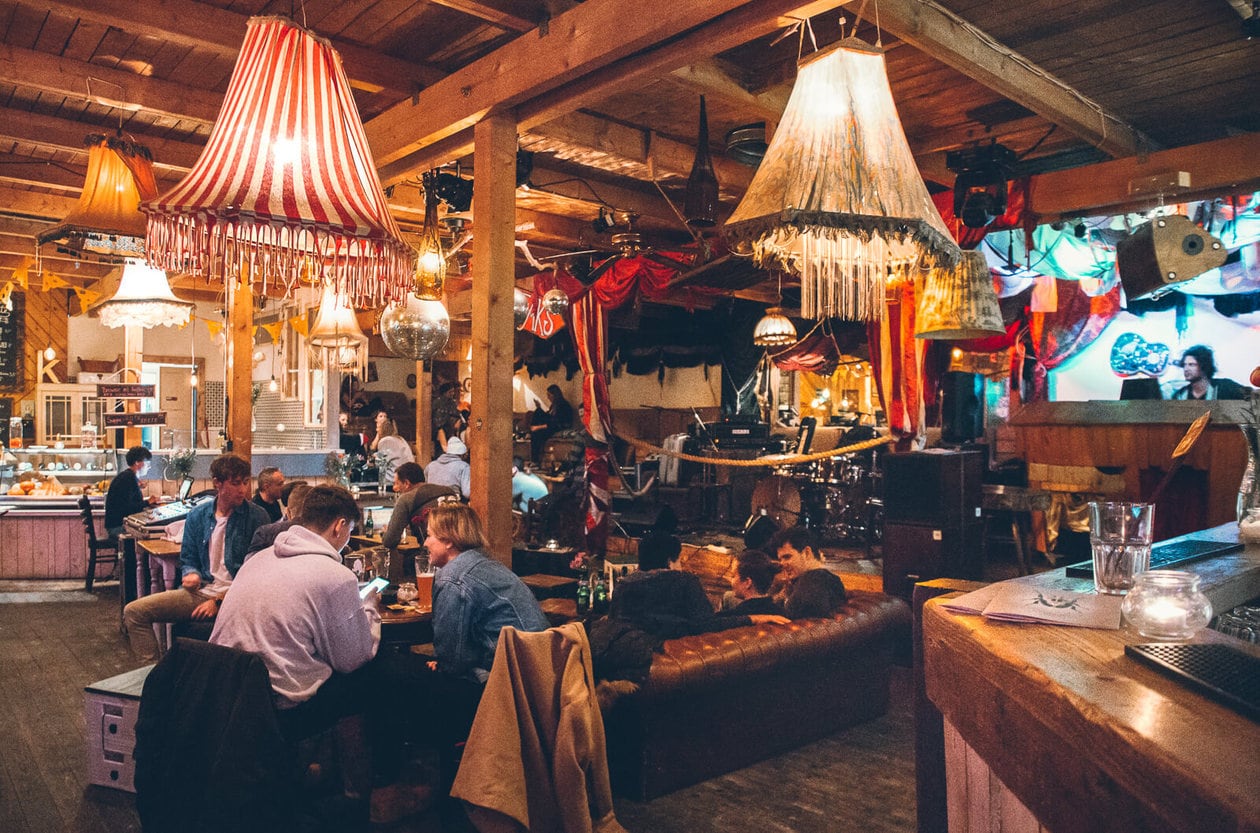 I always forget that it's still legal to smoke indoors in a lot of European cities, and at one point in the night everyone around us felt it was time to roll their cigs. The room quickly became a cloud of smoke and we decided to call it a night.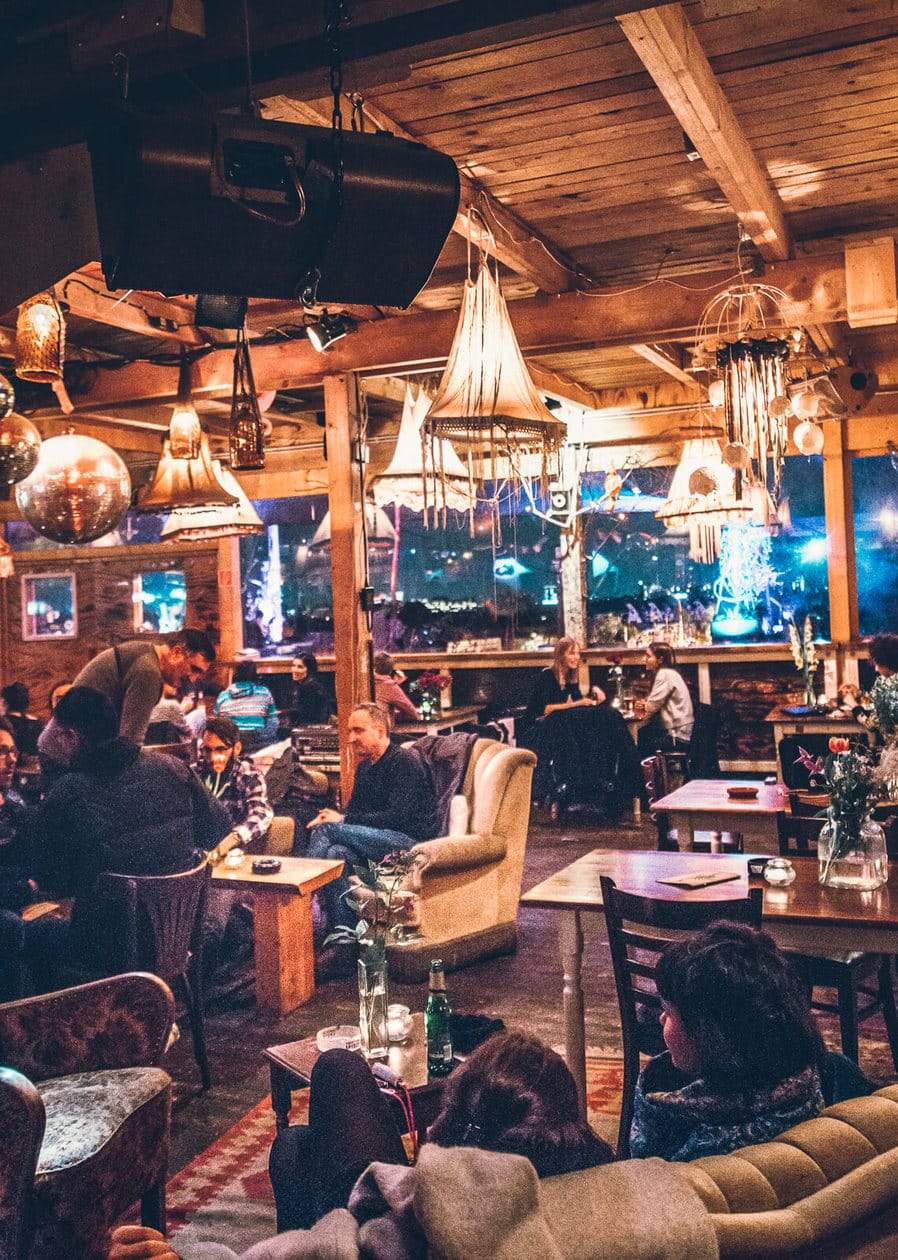 KNOW BEFORE YOU GO
BOTTLE DEPOSIT Klunkerkranich implements a bottle deposit policy of €1/per bottle. They'll give you a card that you return with your bottle to get your money back.
COVER CHARGE Admission is free before 4pm. We paid a cover of €3 (after 4pm), and I heard it raises to €5 when there is live music.
FOOD Klunkerkranich offers a light food menu throughout the week. On Saturday & Sunday, they serve breakfast from 12pm-4pm, and from Wednesday-Sunday their kitchen is open 4pm-10pm.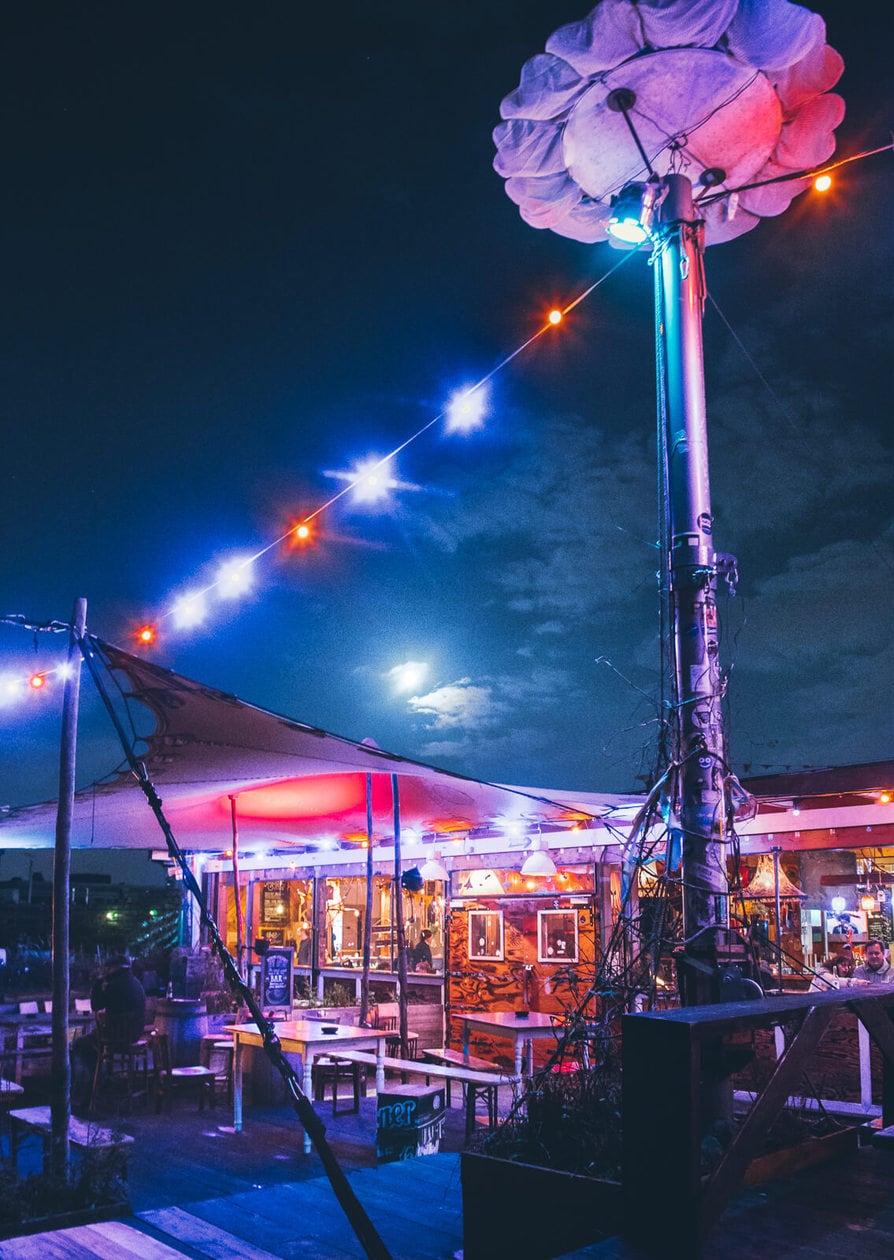 WEEKENDS The rooftop bar is popular and Klunkerkranich gets really busy, especially on the weekends. They also have a capacity limit, so chances are you'll find yourself waiting in line if you show up during popular times. Get there early to avoid the wait.
WINTER BREAK During January and February, they take a Winter break. Check the website to make sure they're open if you will be visiting during off-season.
HIPSTERS Klunkerkranich has the reputation for being a hipster bar, and while it definitely had that look and feel, we saw people of all ages and all types enjoying themselves.
HOURS
Monday & Tuesday: Closed
Wednesday – Friday 4pm – 2am
Weekend + Holidays: 12pm – 2am
Check out Klunkerkranich's website here for more information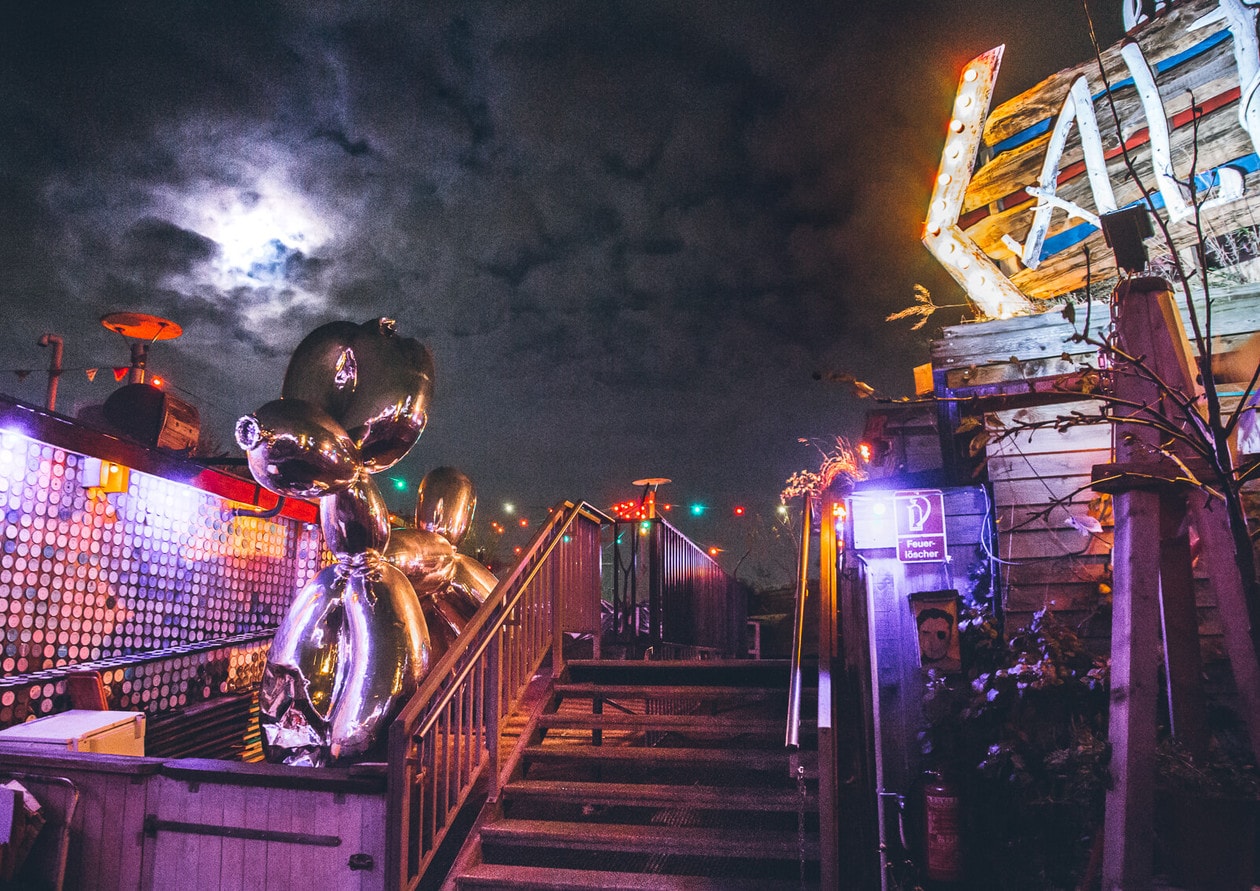 GOING TO BE IN BERLIN? CHECK OUT THESE RELATED POSTS 
A FIRST TIMER'S GUIDE TO BERLIN // WHAT TO KNOW BEFORE YOU GO
BERLIN"S STREET FOOD THURSDAY AT MARKTHALLE NEUN  
THE EAST SIDE GALLERY // A BEGINNER'S GUIDE TO THE BERLIN WALL 
COLD WAR IN BERLIN // A VISIT TO CHECKPOINT CHARLIE
THE TOPOGRAPHY OF TERROR & 4 OTHER WWII SITES TO VISIT IN BERLIN 
---
PIN IT