Cuatro Cuatros is a massive compound located on 2,130 acres of land between the vineyards of Valle de Guadalupe and the coast of Baja California. On the property you'll find a winery, hiking trails, zip lining, a restaurant and 3 hotels. But best of all, perched high atop a cliff overlooking the Pacific Ocean, you'll find one of my all time favorite sunset bars, Bar Bura.
It's a bit of a treasure hunt to get there, but the views are so worth it. Keep reading to discover everything you need to know about visiting Cuatro Cuatros' Bar Bura in Mexico, including how to get there, what to expect, tips for visiting and more.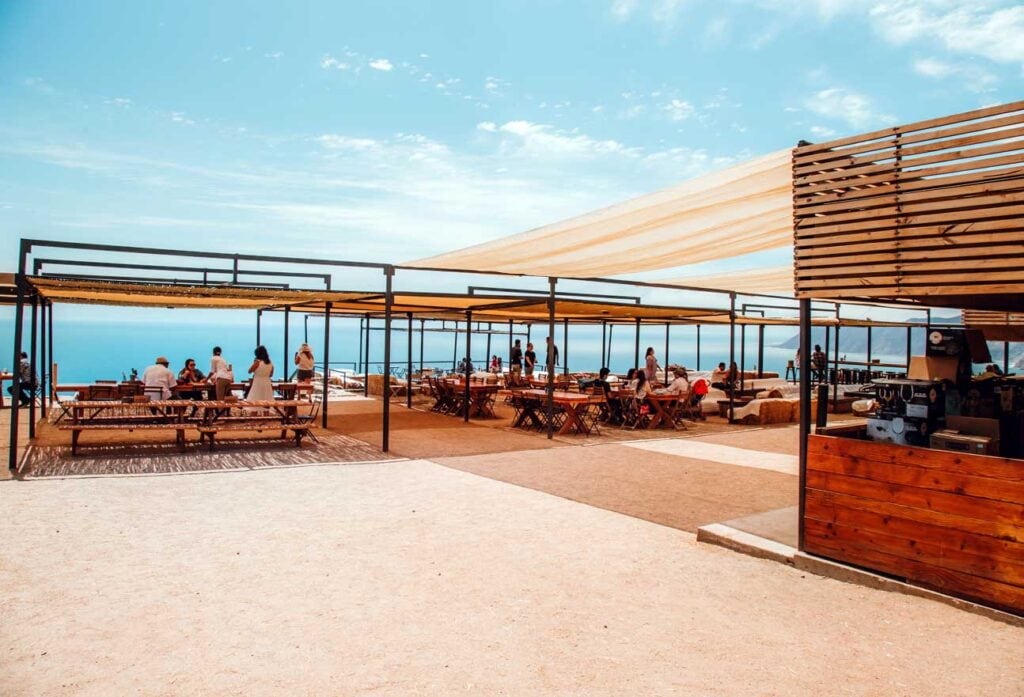 HOW TO GET TO CUATRO CUATROS
Cuatro Cuatros is a 90 minute drive from San Diego and only 30 minutes from both Valle de Guadalupe and Ensenada. Getting there is not the easiest, but the journey is half the fun. (Update: it is now actually very easy to get there).
---
RELATED POST: Valle de Guadalupe: Everything You Need to Know About Mexico's Wine Country
---
Keep your eyes open as you drive along Highway 1, because it can be easy to miss. Look out for a short rock wall with a guard stand and a small sign that says Cuatro Cuatros. At the entrance gate, tell the security guard that you're going to Bar Bura and they will instruct you where park.
We have been visiting Cuatro Cuatros for years, and getting here used to be a lot more complicated than it is today. The bar's growing popularity seems to have forced them to fine tune a few small details, making everything much more accessible.
Once you enter the property, there will be multiple employees around to show you exactly where to park. Gone are the days when you'd to have to navigate yourself up a never ending bumpy dirt road to the top of the cliff .
Parking is now located near the entrance in a lot close to the Cuatro Cuatros cabanas. After parking, the employees will lead you toward a big wooden boat where you will wait for the shuttle bus to escort you to the bar.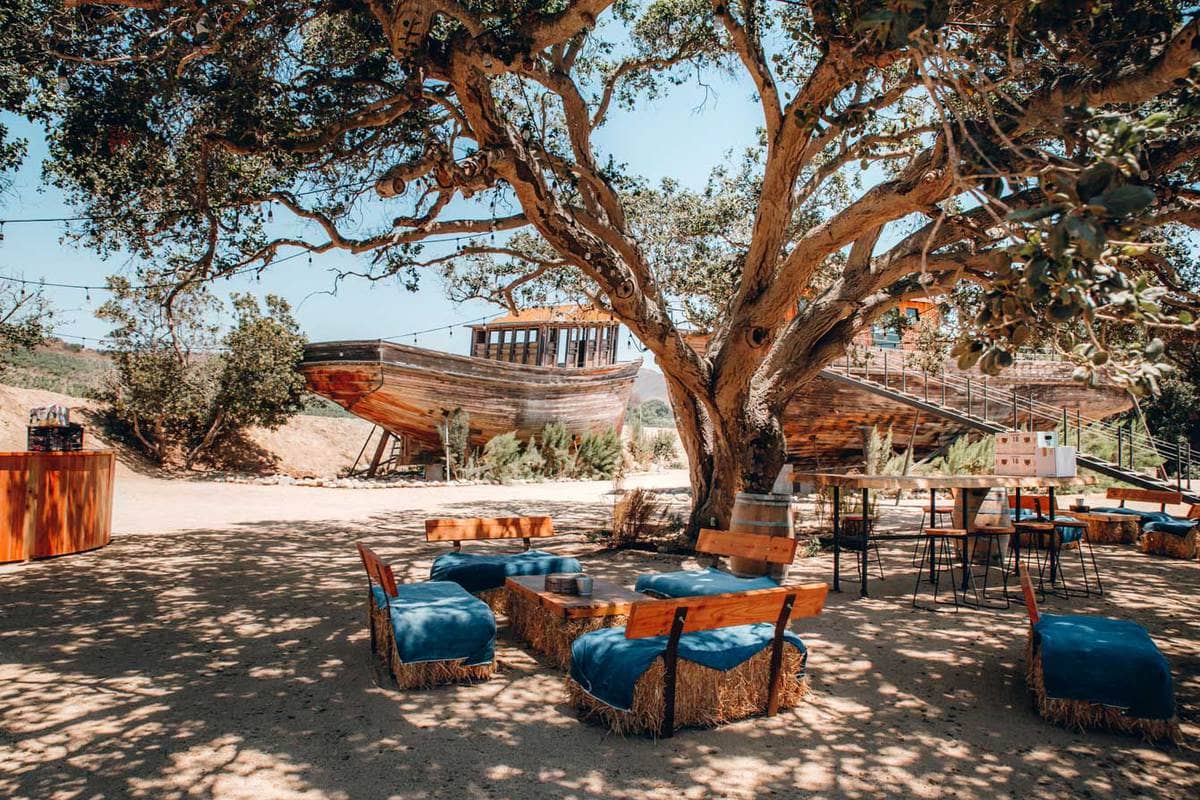 ENTRANCE FEE
Bar Bura has an entrance fee of $5 USD per person and they will collect the money from you before you get on the shuttle. You'll also be given a complimentary drink while you wait: either water, Coke or a mini Corona.
When the shuttle bus makes its way back around to the lower lot, hop inside and they'll drive you up a windy dirt road and down toward the coast to Bar Bura.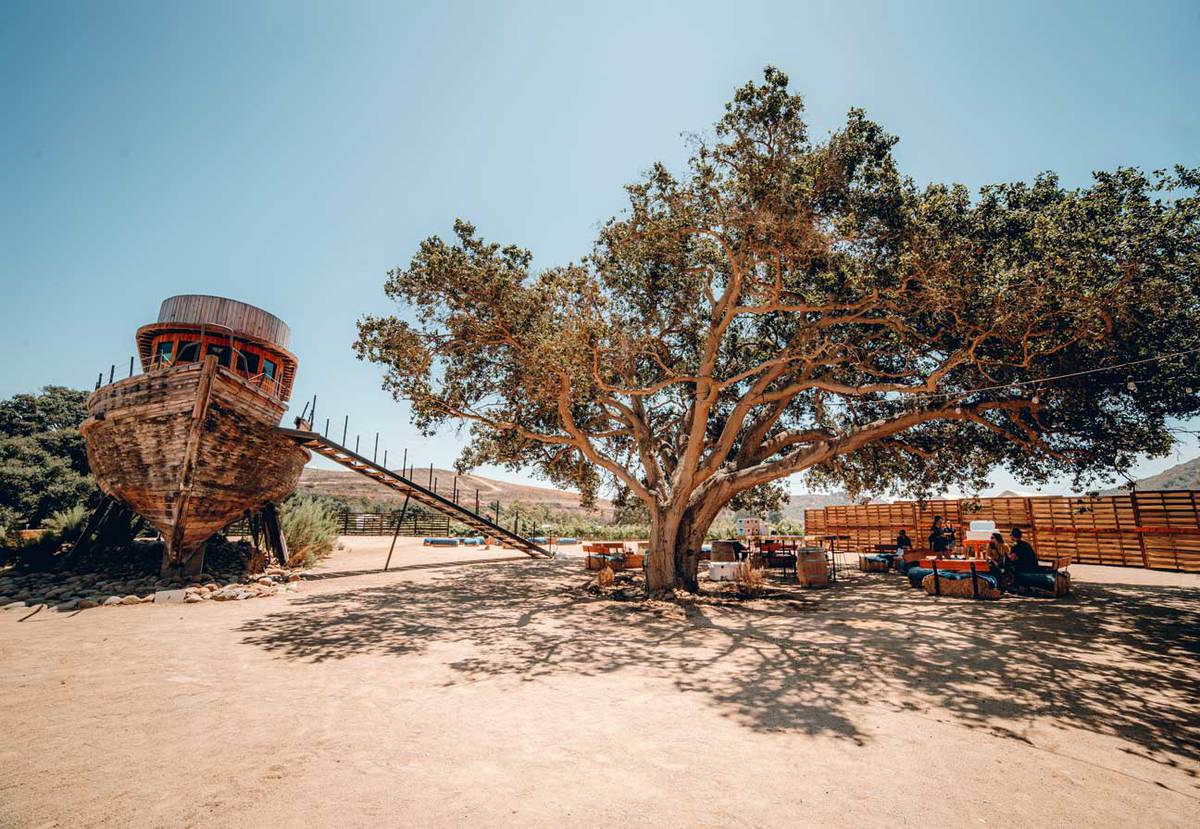 CUATRO CUATROS BAR BURA
Cuatro Cuatros' Bar Bura is located on the edge of a hill with nothing but the endless expanse of the Pacific Ocean out in front of you. It's pretty touristy and definitely on the pricier side for this area, but the sunset views cannot be beat.
Get there early to grab a table (or a bale of hay) because open seats fill up quickly, especially on the weekends. It's highly recommended to make a reservation ahead of time to secure the best views.
---
RELATED POST: 9 Valle de Guadalupe Wineries to Check Out While in Baja California
---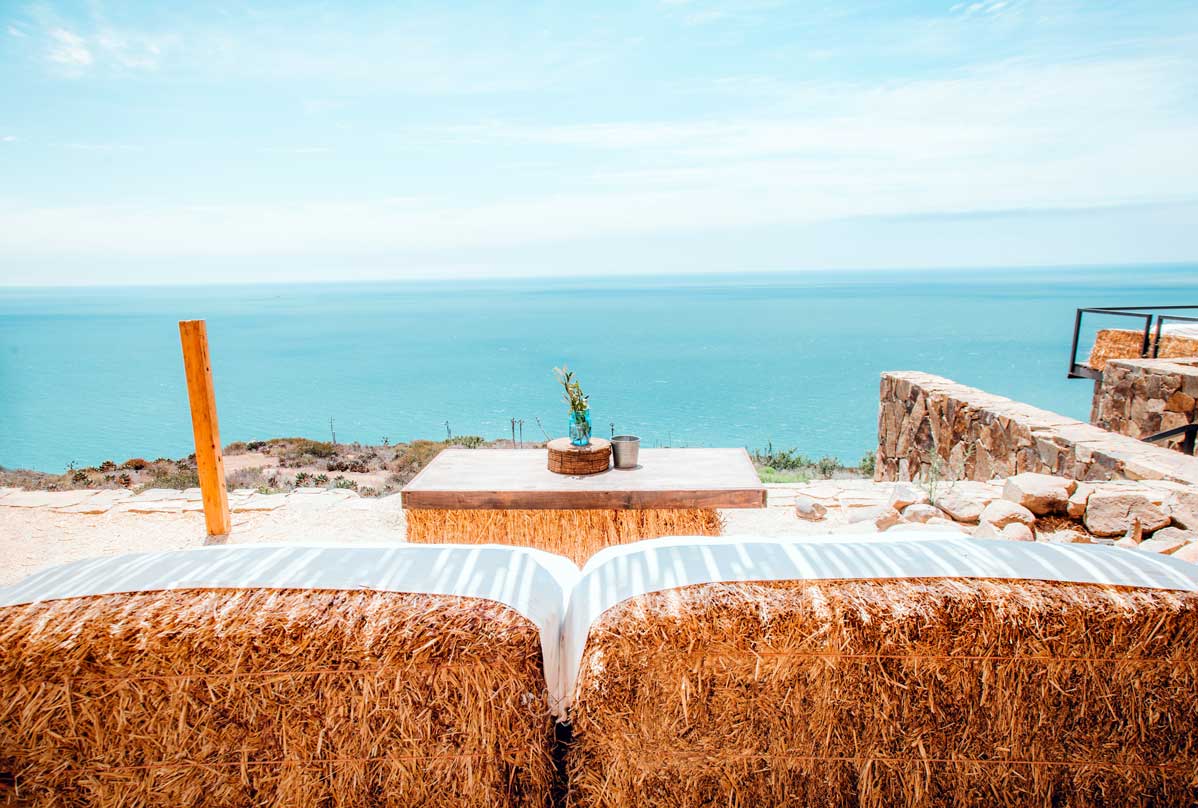 BAR BURA MENU
Bar Bura has a small, seasonal food menu which rotates daily and consists of tapas style dishes and contemporary Mexican food. The menu features 100% of ingredients sourced from Baja California.
You'll find dishes such as pork shoulder tapas with beer and caramelized onion, crispy octopus with habanero mayonnaise, yellowtail ceviche and more. There are not usually many vegetarian food options and a lot of their dishes are centered around fish.
For drinks, you can choose from classic cocktails, several local wines, beer, mezcal and other spirits. Cocktails and glasses of wine range from $7-13 USD and the wine menu rotates, but bottles of wine typically range from $25-60 USD.
---
RELATED POST: La Guerrerense: The Best Street Food in the World Sits on a Street Corner in Ensenada
---
THE SERVICE
To be completely honest, the service can be hit or miss at Bar Bura. I've noticed a consistent trend, that when it starts to gets busy, the service tends to get worse. During peak times, we usually just order at the bar because it is a lot faster than trying to flag someone down.
---
IF YOU LIKE SUNSET BARS..
---
8 TIPS FOR VISITING CUATROS CUATROS BAR BURA
BUDGET ENOUGH TIME
This is not the type of bar you can run into for a quick drink. The service is sometimes slow and the shuttle lines can get long. Allot enough time in your schedule to allow yourself to be able to relax and enjoy the scenery.
VISIT 2-3 HOURS BEFORE SUNSET
Visit a few hours before sunset to capitalize on the best light. The coastline is incredibly beautiful and you're going to want to take photos.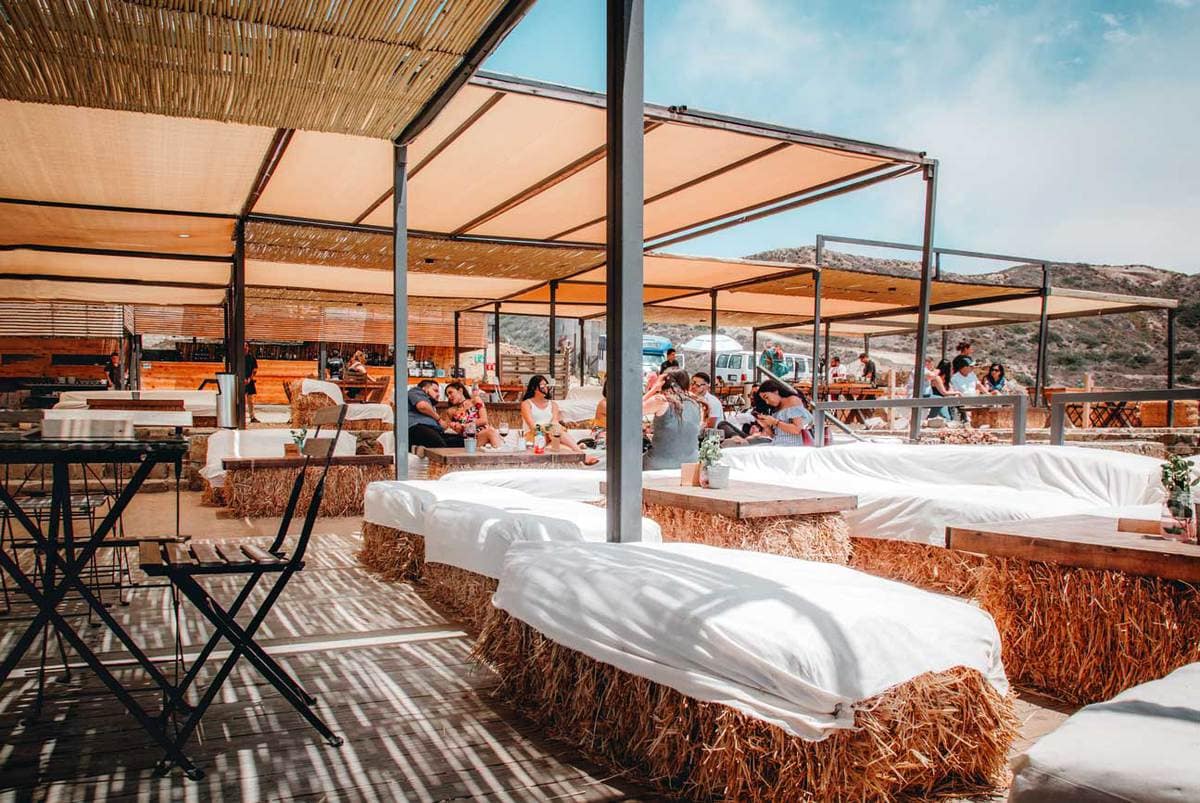 CHECK THE WEATHER
With the cliffside location and an ocean breeze, Bar Bura can get chilly. Make sure to check the weather before visiting because you might need to pack a sweater.
BRING CASH
At the bar, they take major credit cards but the $5 USD entrance fee is usually cash only.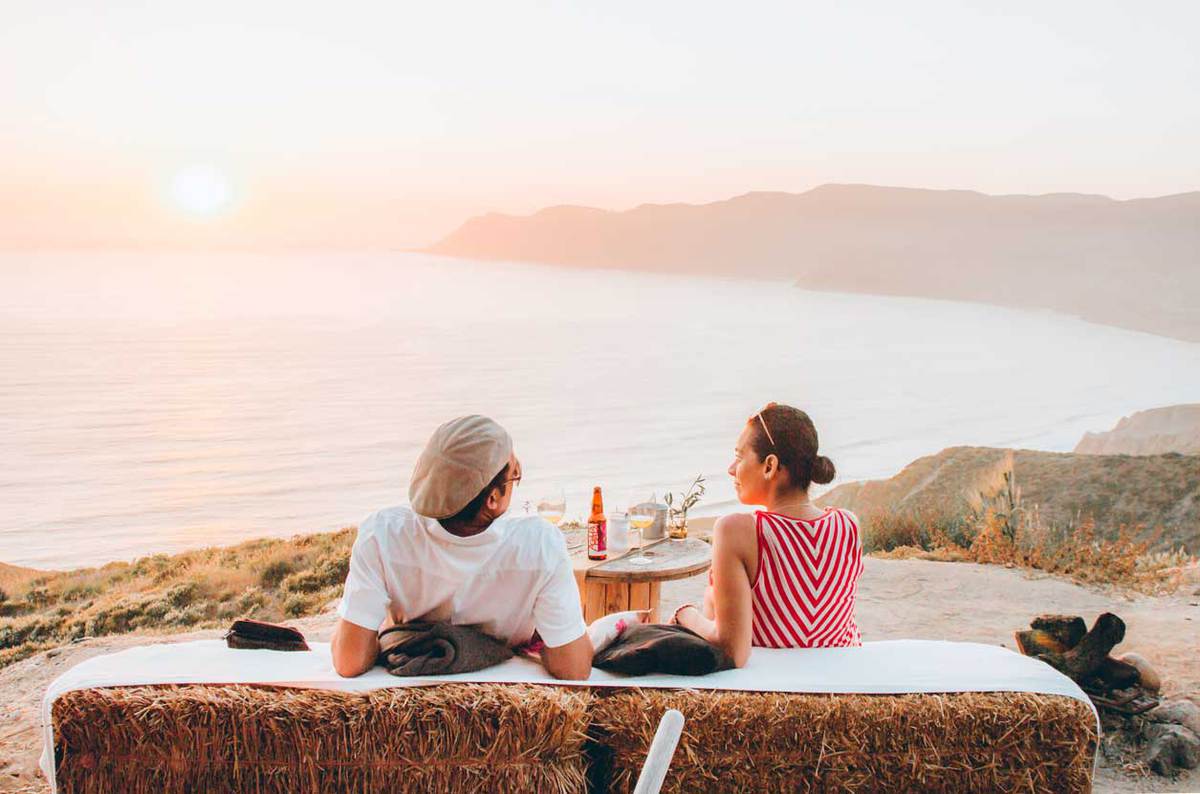 MAKE A RESERVATION
The best seating areas will almost always require a reservation during the weekend, so call in advance if you want to ensure yourself a spot with good views. During the week, you can usually grab an edge table if you get there early enough. But reservations are still recommended.
TAKE A TRIP TO THE RESTROOMS
The toilet stalls have open backs with ocean views, so make sure to take a special trip to the restrooms to check it out.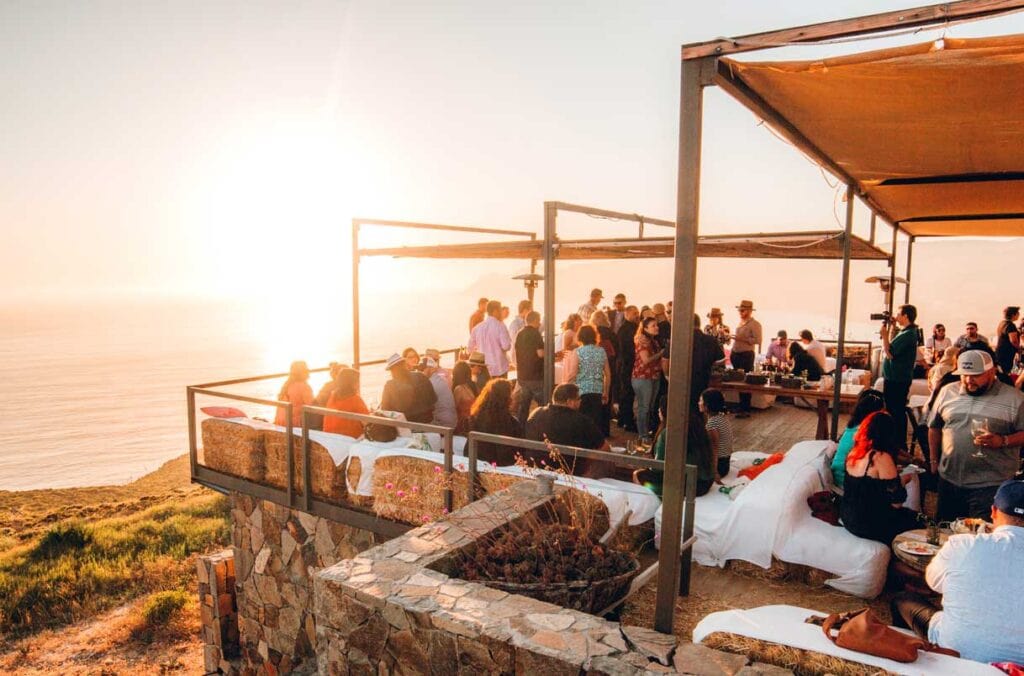 THE PRICES
If you're from San Diego or Los Angeles, Bar Bura's prices are not going to surprise you, but compared to other bars in the area it is expensive. If you prefer a more laid back and local vibe, you might prefer a different option
CALL AN UBER
Uber is available in this area! If you're going to be drinking, plan accordingly.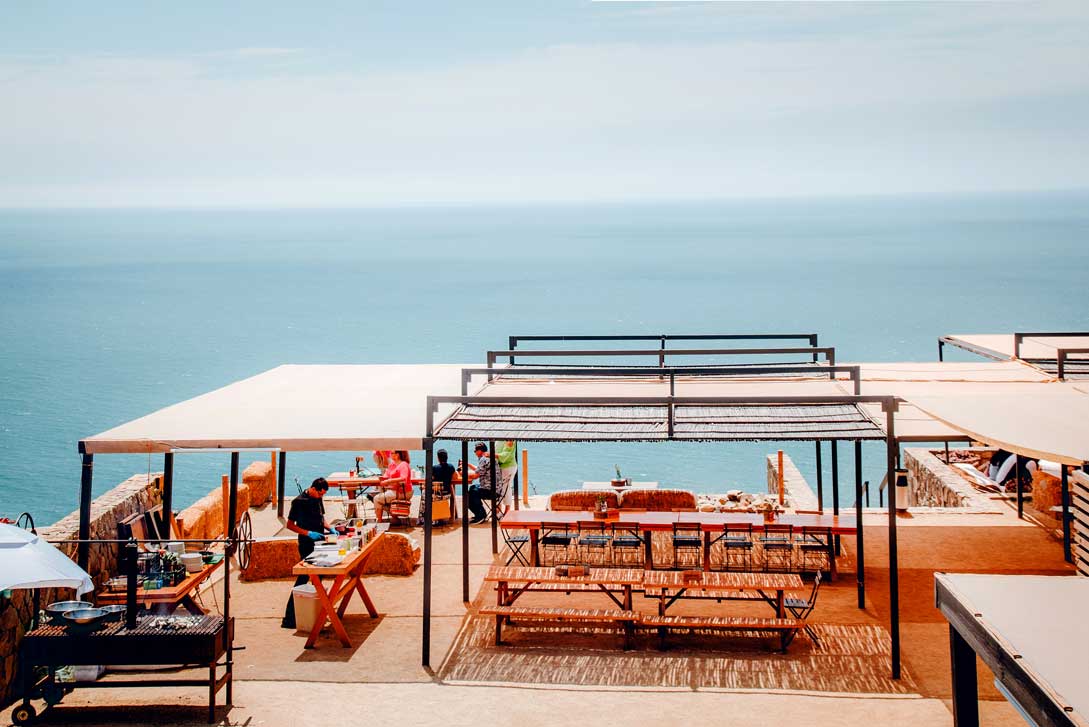 CABANAS CUATRO CUATROS
If you're looking for a unique camping experience in Baja California, down the hill from Bar Bura sits Cuatro Cuatros' boutique hotel, Cabanas Cuatro Cuatros.
Their 19 glamping tents were designed by architects Mauricio Rocha and Gabriela Carrillo and are nestled amongst the vineyards. Similar to Encuentro Guadalupe's eco-lofts, they were built with the intent of combining luxury with the unique landscape.
For more information or to book Cabanas Cuatros Cuatros, click here.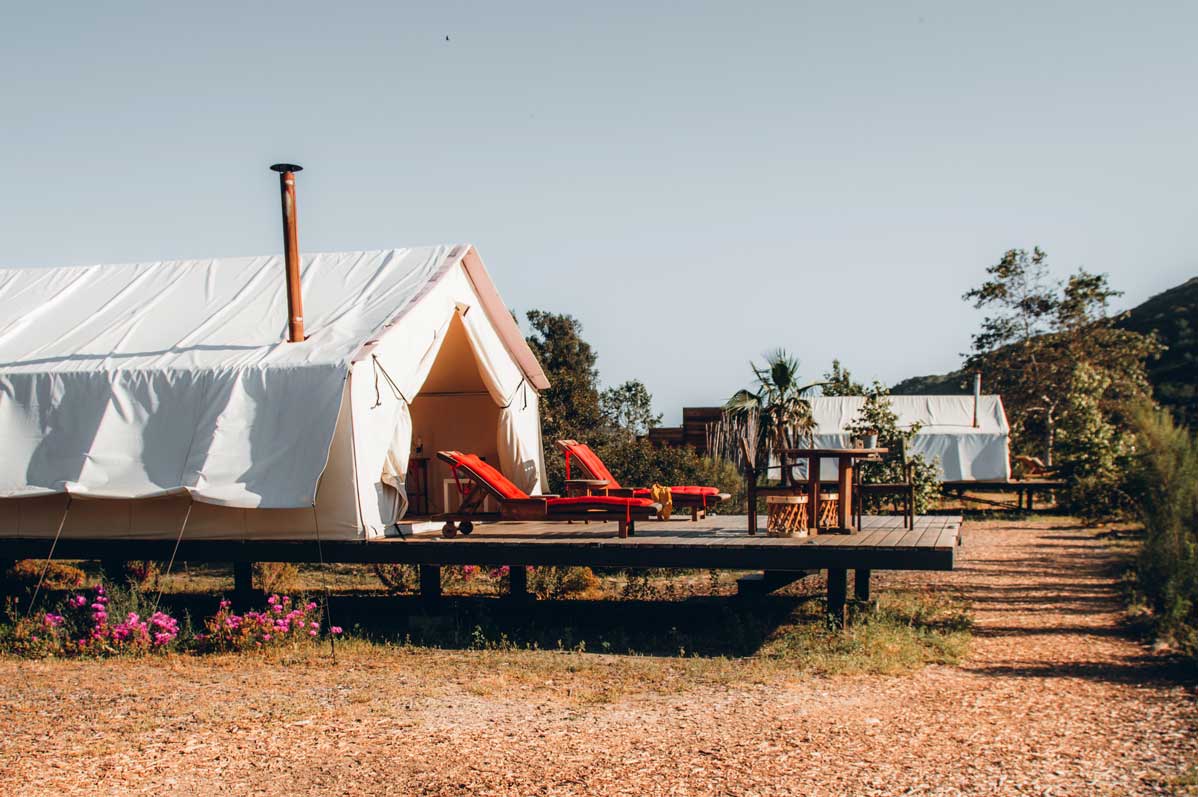 ---
RELATED POST: ENCUENTRO GUADALUPE: A MODERN ECO HOTEL IN MEXICO'S WINE REGION
---
LOOKING FOR MORE BAJA CALIFORNIA POSTS?
---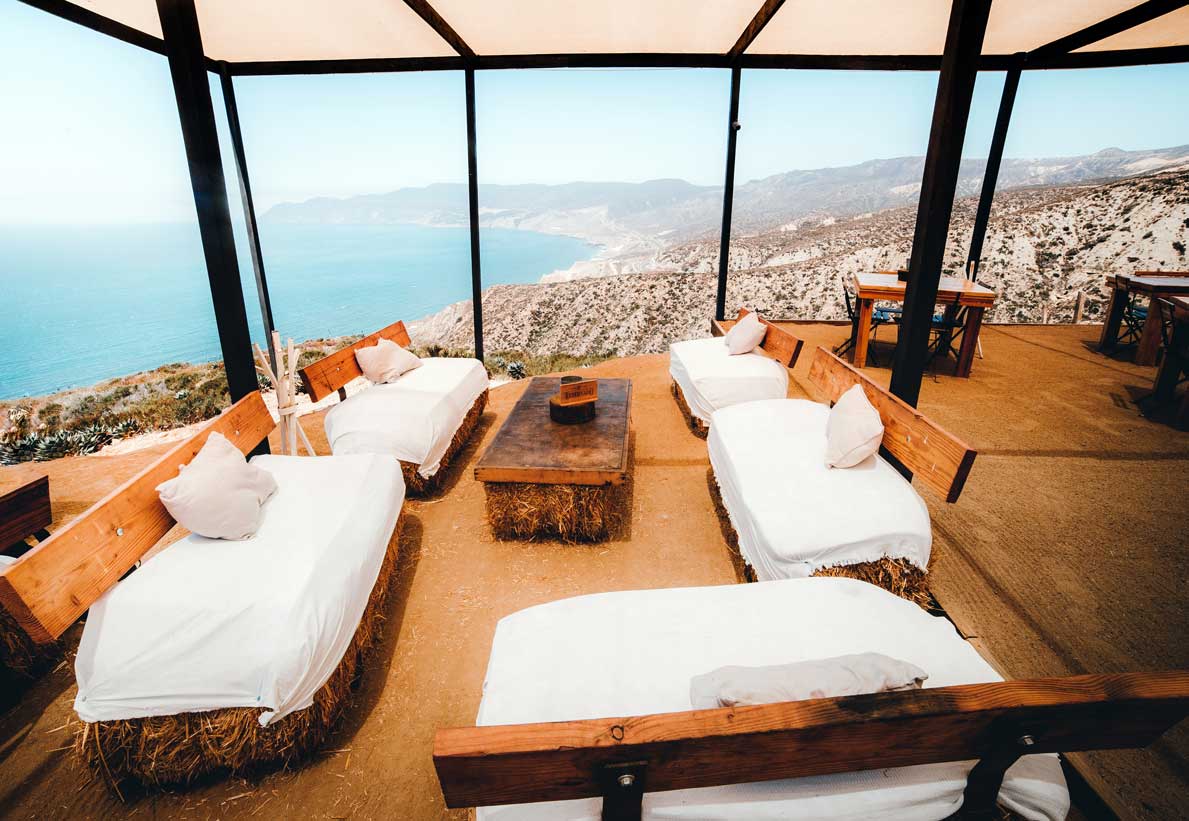 PIN IT: CUATRO CUATROS BAR BURA // A CLIFFSIDE SUNSET BAR IN ENSENADA , MEXICO