This site receives a small commission for purchases made via affiliate links.
[vc_row][vc_column][vc_column_text]Cuatro Cuatros resides on 2,100 acres of nature between the vineyards and the ocean. They have a winery, hiking trails, a boutique hotel…and perched high on a cliff overlooking the Baja Coast, sits one of my favorite sunset bars. It's a bit of a treasure hunt to get there but the views are so worth it. Keep reading for more information about Cuatro Cuatros Bar Bura in Mexico, including how to get there, what to expect and more
HOW TO GET TO CUATRO CUATROS
Cuatro Cuatros is a 90 minute drive from San Diego and only 30 minutes from both Valle de Guadalupe and Ensenada. Getting there is not the easiest, but the journey is half the fun.
It's located along Highway 1 and as you pass by, you'll see a rock wall with the name written on it. Tell the security guard that you're going to Bar Bura. A little ways after the entrance, you'll pass a big abandoned boat on your left side. On the right, a man will be collecting the entrance fee ($5 USD per car). It's pretty weak that they charge an entrance fee, especially considering the bar prices, but what can you do..
After paying, veer to your right and continue up the bumpy, windy dirt road for what seems like eternity. At the top of the hill you'll see a big parking lot and if it's busy, someone will tell you where to park. From there, you'll wait for the shuttle bus down to the bar. Are you thirsty yet?
Pile in the pass van and rattle down another dirt road. Finally, you've arrived and you have earned your drinks.
CUATRO CUATROS BAR BURA
Cuatro Cuatros Bar Bura is located on the edge of a hill with nothing but Pacific Ocean out in front of you. Get there early to grab a table (or a bale of hay) because open seats fill up quickly, especially on the weekends. The best seats require reservations on busy nights so call in advance if you want to ensure yourself a good spot.
Waiters will be walking around but you can also order at the bar, which is a lot quicker.
Since it was a wine themed weekend, we ordered a bottle of rosé one night and a red the next. They didn't have any wine options from their own winery, which seemed like an odd choice on their part.
Obviously, Nick and I also ordered a michelada, which were amazing minus price tag ($10). That's the only thing about Cuatro Cuatros, the prices are definitely on the more expensive side for the area.
[/vc_column_text][/vc_column][/vc_row][vc_row][vc_column][vc_message message_box_color="grey" icon_fontawesome="fa fa-glass"]
IF YOU LIKE SUNSET BARS..
[/vc_message][/vc_column][/vc_row]
THE INFAMOUS CUATRO CUATROS VIEW
The #1 reason to make the trek over to Cuatro Cuatros is for the view. The coastline stretches out endlessly in both directions and the scenery looks similar to Northern California and Big Sur. As always, I recommend you go during sunset when the colors are the prettiest. Order a bottle of wine, sit back and watch the sun sink beneath the ocean.
Tip: Make sure to check out the restrooms! The stalls all have open backs with perfect views.
CABANAS CUATRO CUATROS
If you're looking for a unique camping experience in Baja California.. right down the hill from Bar Bura sits Cuatro Cuatros' boutique hotel, Cabanas Cuatro Cuatros. 14 glamping tents are nestled among the vineyards; and similar to Encuentro Guadalupe's eco-lofts, they was built with the intent of combining luxury with landscape.
---
RELATED POST: ENCUENTRO GUADALUPE: A MODERN ECO HOTEL IN MEXICO'S WINE REGION
---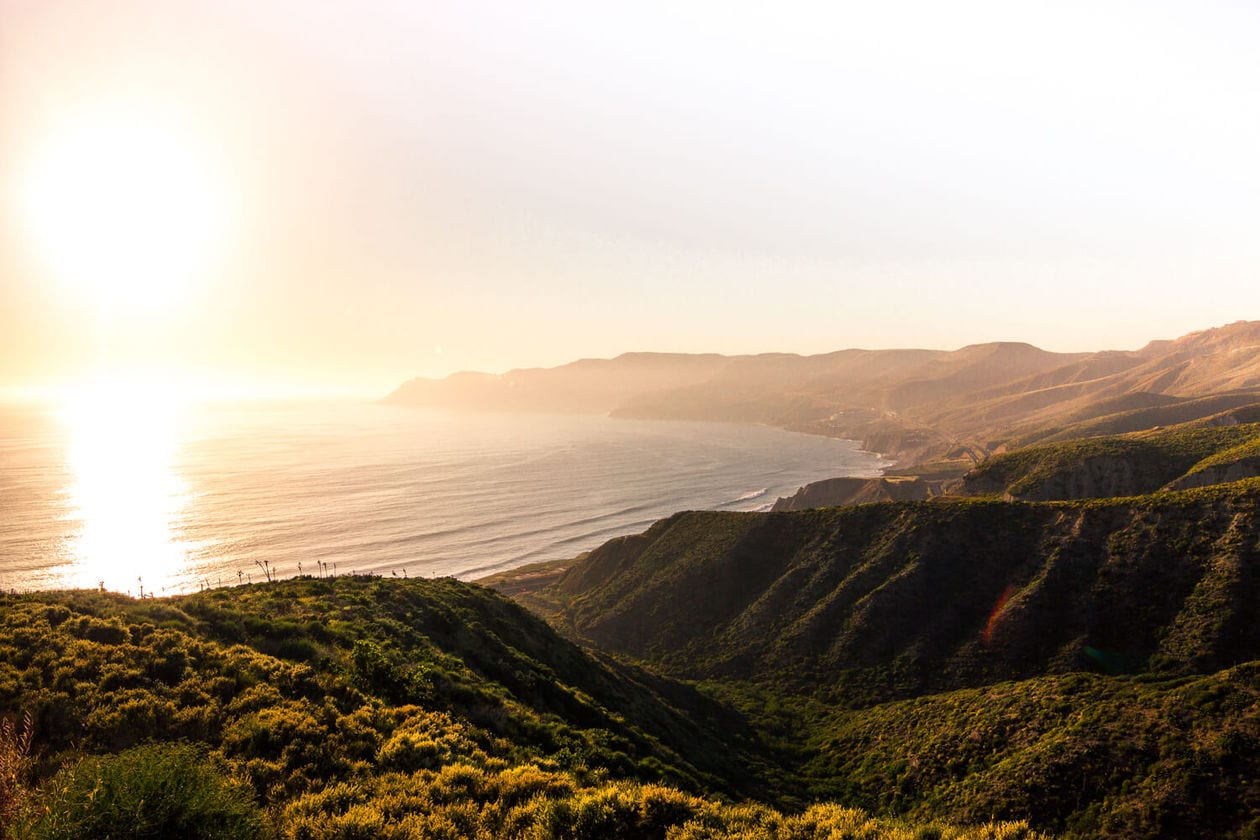 [vc_row][vc_column][vc_message style="square" message_box_color="white" icon_type="typicons" icon_typicons="typcn typcn-wine"]
RELATED POSTS
[/vc_message][/vc_column][/vc_row]
---
PIN IT // CUATRO CUATROS BAR BUJA
      
Disclaimer: Some links may be affiliate which means if you click on and buy something, I receive a small commission (at no cost to you) which helps me to continue to run this site 🙂 Thank you for your support!