Putting together our itinerary for Armenia was difficult. Aside from Yerevan and the popular monasteries scattered throughout the country, there was very little travel information to be found. It was a little daunting, but more so exciting because we had the opportunity to really head off beaten path. With no knowledge of Armenia to begin with, the first thing I did was pull up Google Maps and start researching each town and village North of Yerevan. This is how I found Avan Dzoraget Hotel.
Avan Dzoraget Hotel sits on the Debed River, nestled in the shadow the the Caucasus Mountains and it is a peaceful retreat from busy Yerevan. Keep reading for more information about the hotel, plus photos, and how to find it (because it's not easy!).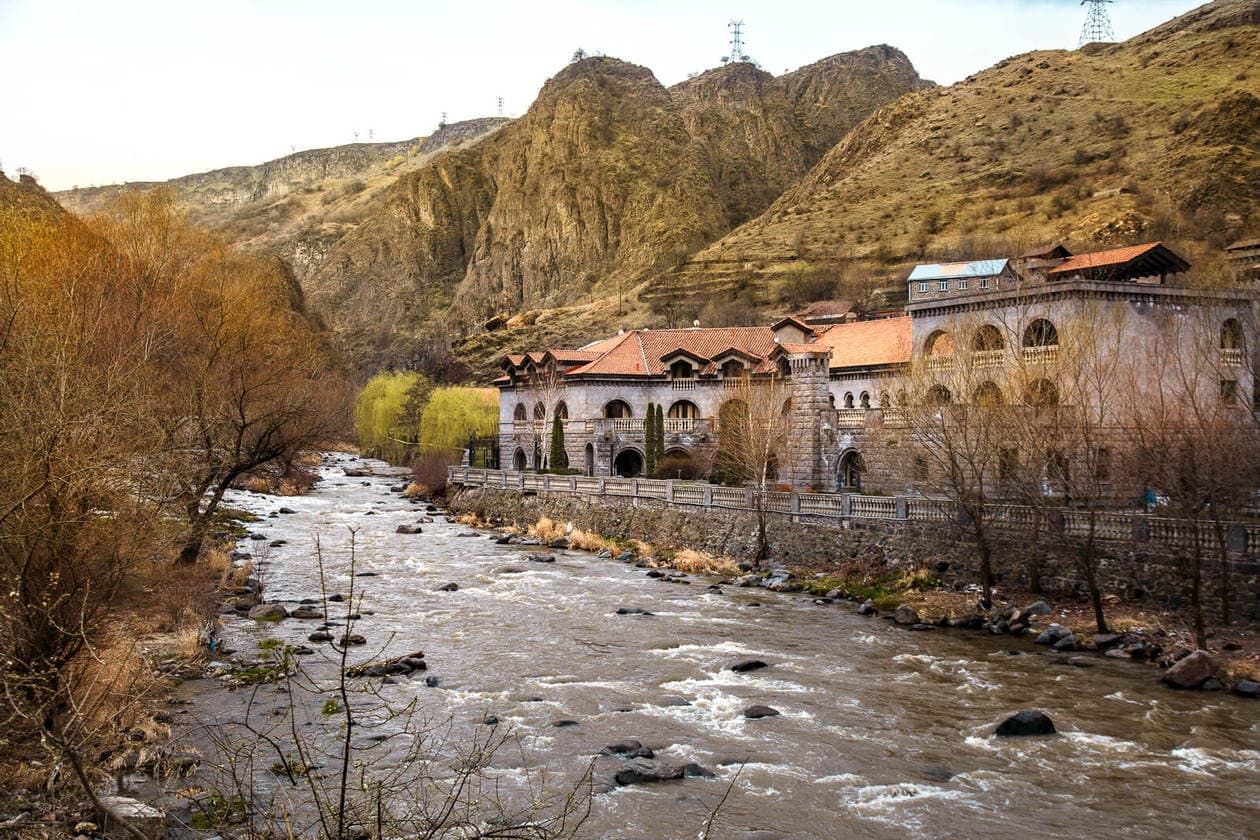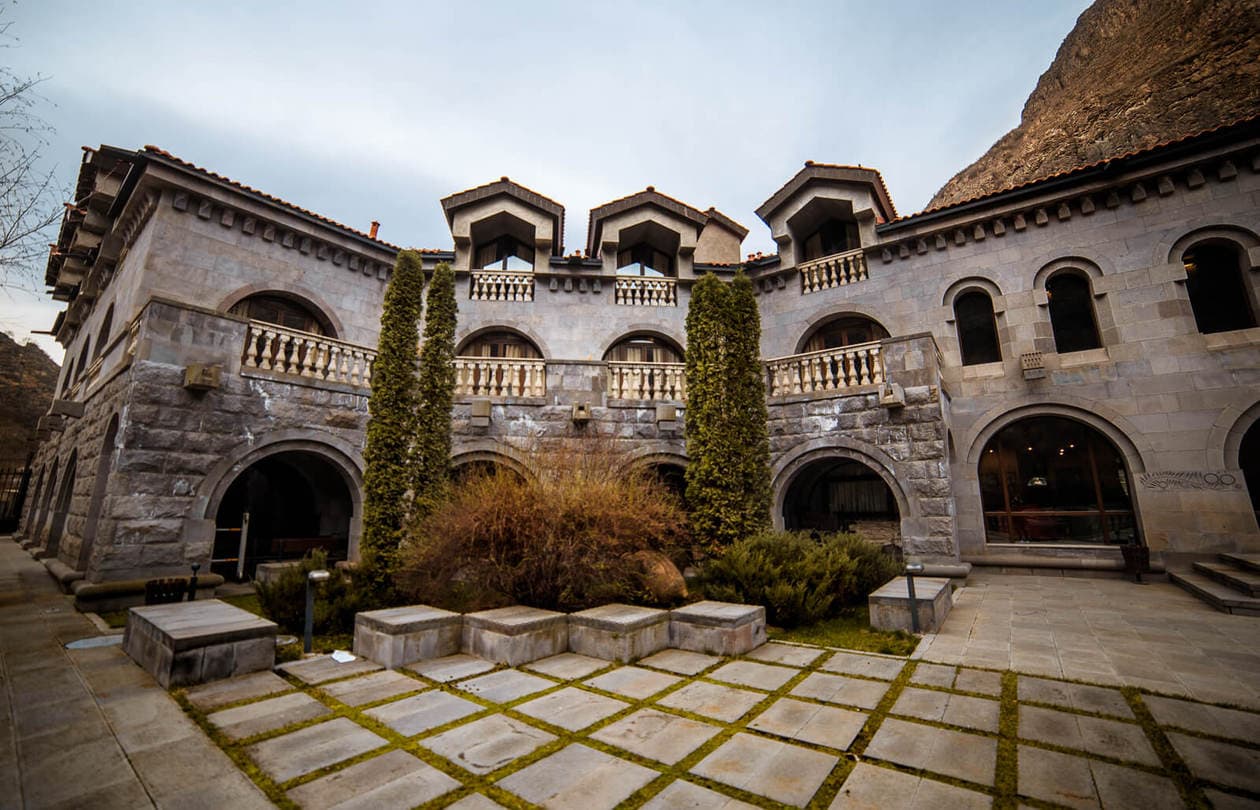 THE HOTEL
The hotel's design is inspired by the romance of medieval Armenian castles. That, mixed with it's unique, lush location in the heart of Debed Canyon, Avan Dzoraget feels magical. It's the perfect setting for a cozy getaway, and an excellent jumping off point for exploring the Lori Province of Armenia.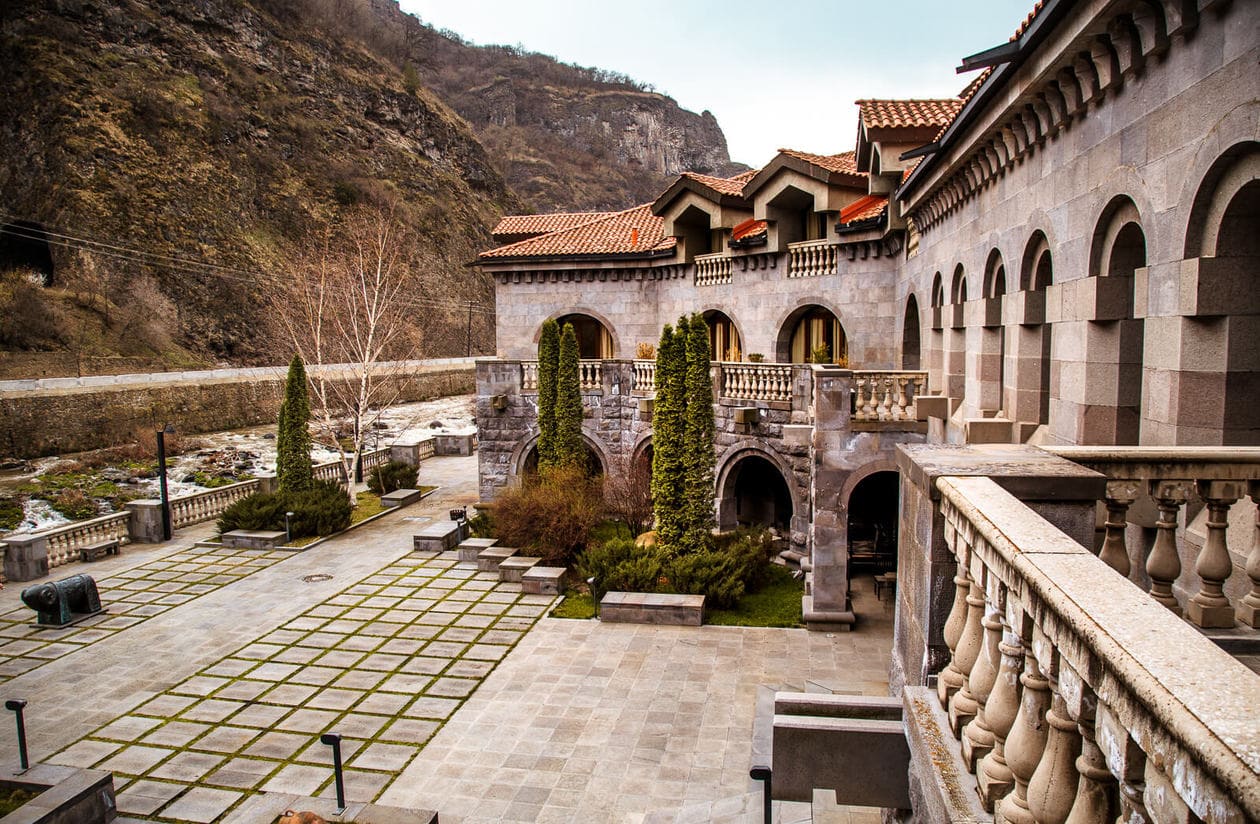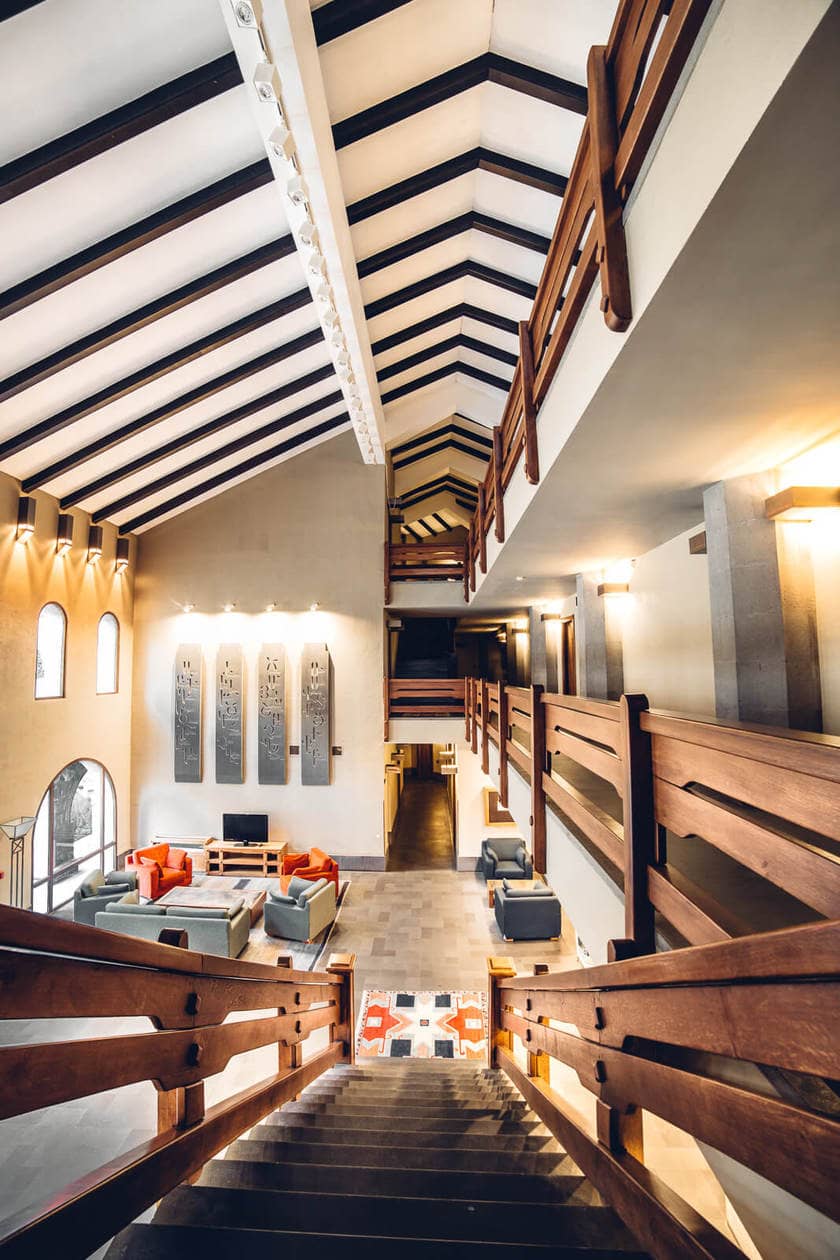 The roads nearby are under construction by the Government, so we highly underestimated the amount of time it would take to reach Avan Dzoraget Hotel. I had a list of things to do in Lori Province, but once we finally reached the hotel, it was so peaceful that we decided to spend our remaining daylight hours just relaxing there.
The building's exterior is made from basalt stone and the interior is decorated with handmade Tufenkian carpets, while splashes of Armenian culture can be found throughout the property. You can find pre-medieval script decorating the walls, and Armenian folktales adorning the courtyards' Taurus. As far as facilities, Avan Dzoraget has an indoor swimming pool, sauna, a modest gym and massage services upon request.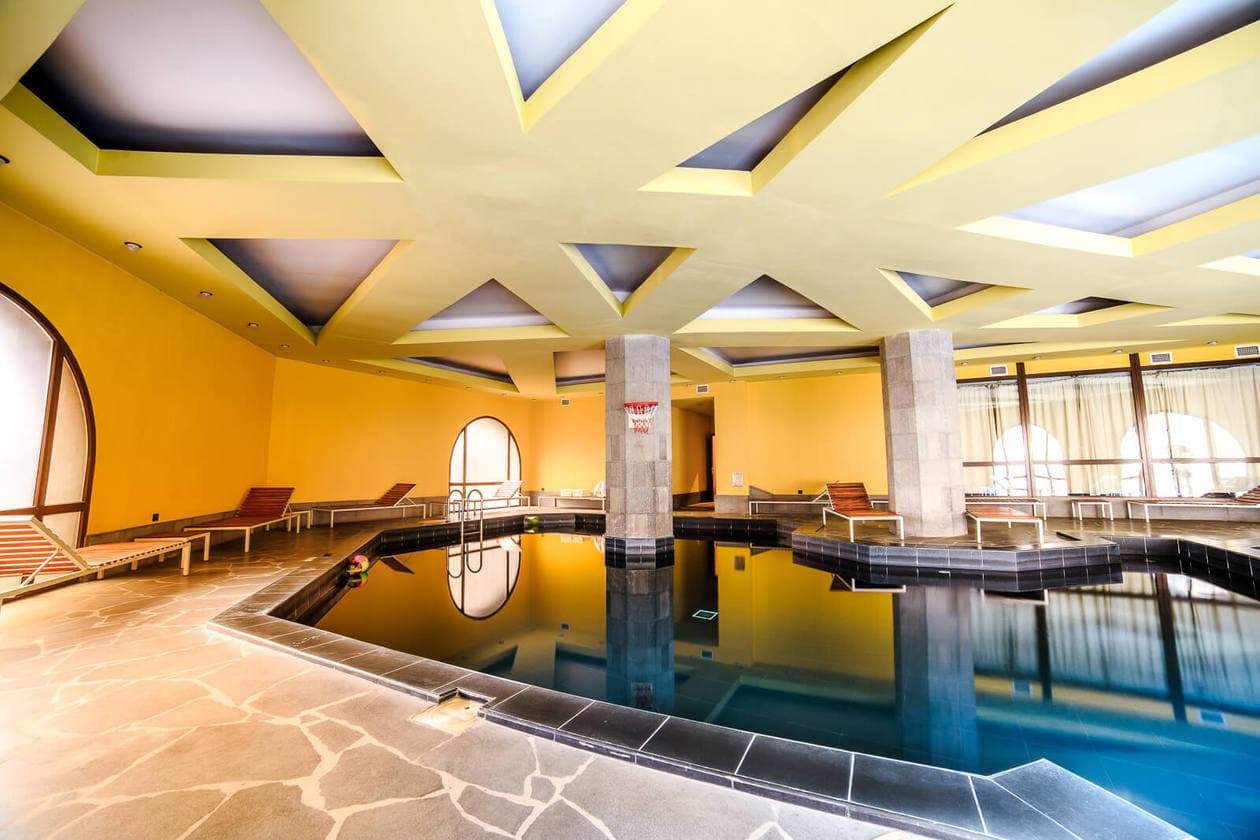 They also have a pool table on the 2nd floor which you can rent out by the hour (2700 AMD / $5.50USD).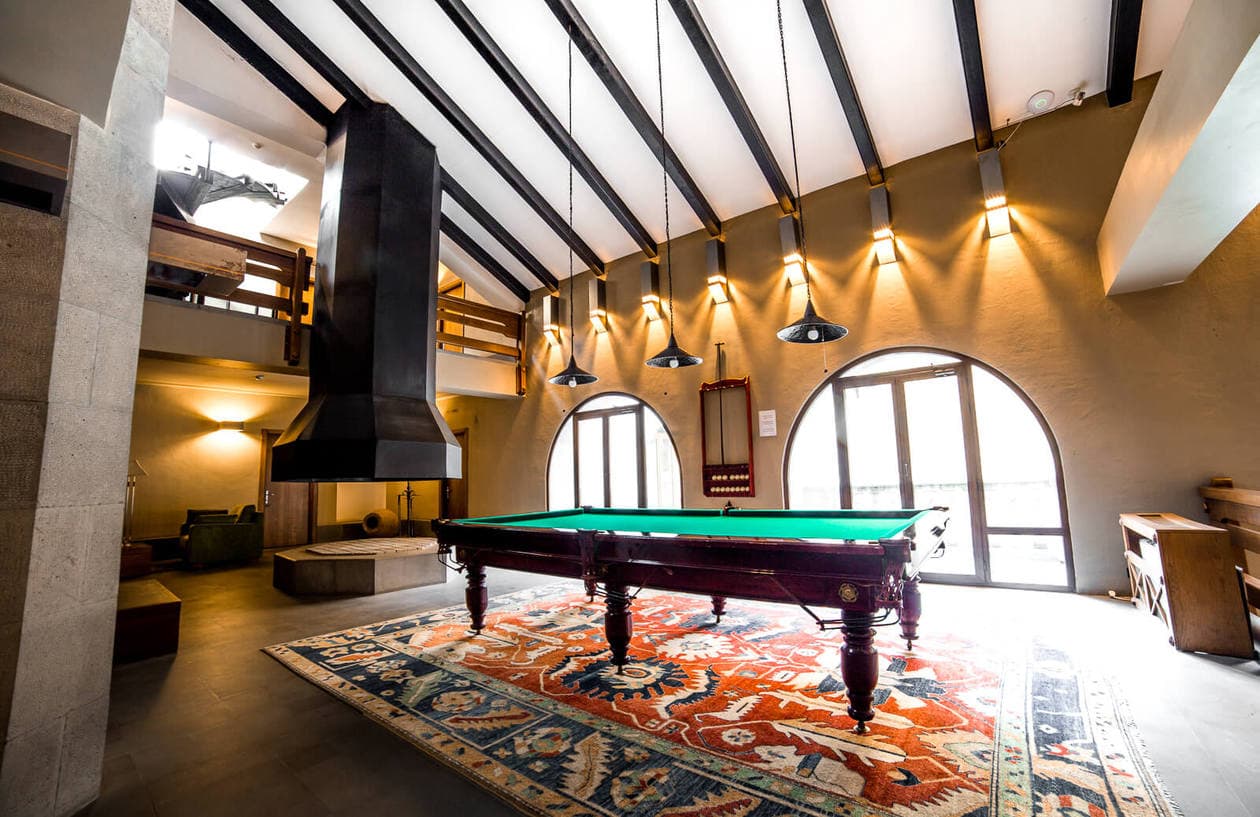 THE FOOD
After spending some time outside on the river terrace, we decided to make our way down to the bar for a cold beer and a light meal. The hotel's location is pretty secluded, so know that if you stay here you'll probably find yourself eating at their restaurant, which serves Armenian and Georgian cuisine. We ordered lavash, pickled veggies, and of course a local cheese platter. The food was great, and although it was pricey for Armenia's standards, everything was still very inexpensive.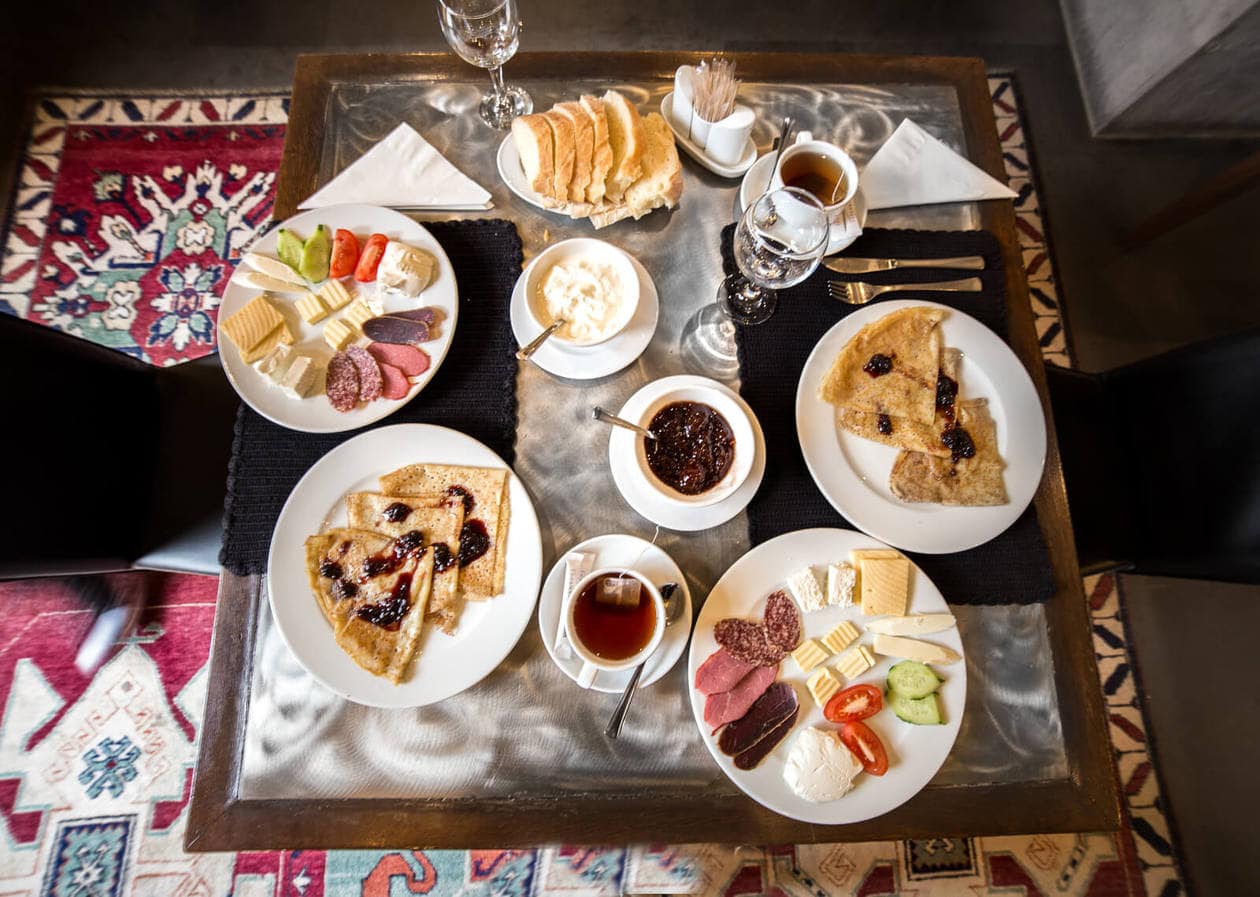 BREAKFAST
Breakfast is included in your stay and on the menu are omelettes, fried eggs, fried potatoes, cereal, pancakes, soboureg and harisa. I'm not a fan of Western breakfasts so we tried to order one of the Armenian options but they didn't have it. We ended up getting the pancakes and they were delicious. Breakfast also came with lavash and a cheese/meat plate.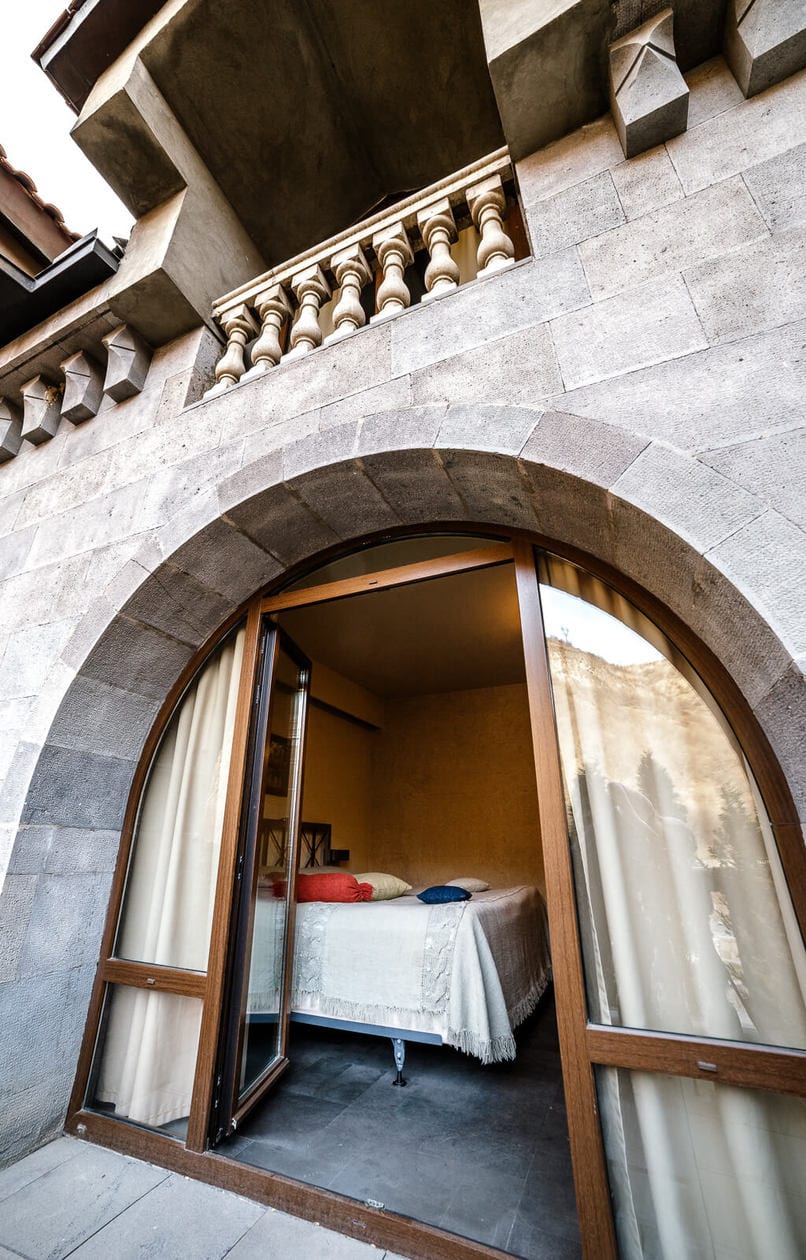 THE ROOMS
Avan Dzoraget Hotel has 55 rooms on site, including 6 suites and 2 presidential suites. We stayed in one of their double rooms and my favorite part was our balcony, which offered a beautiful view of the river and surrounding mountains. The area is so remote that we slept with our door open so we could listen to sounds of the river while we fell asleep.
The room was simply decorated but had everything we needed, plus it was very comfortable, spacious and extremely clean.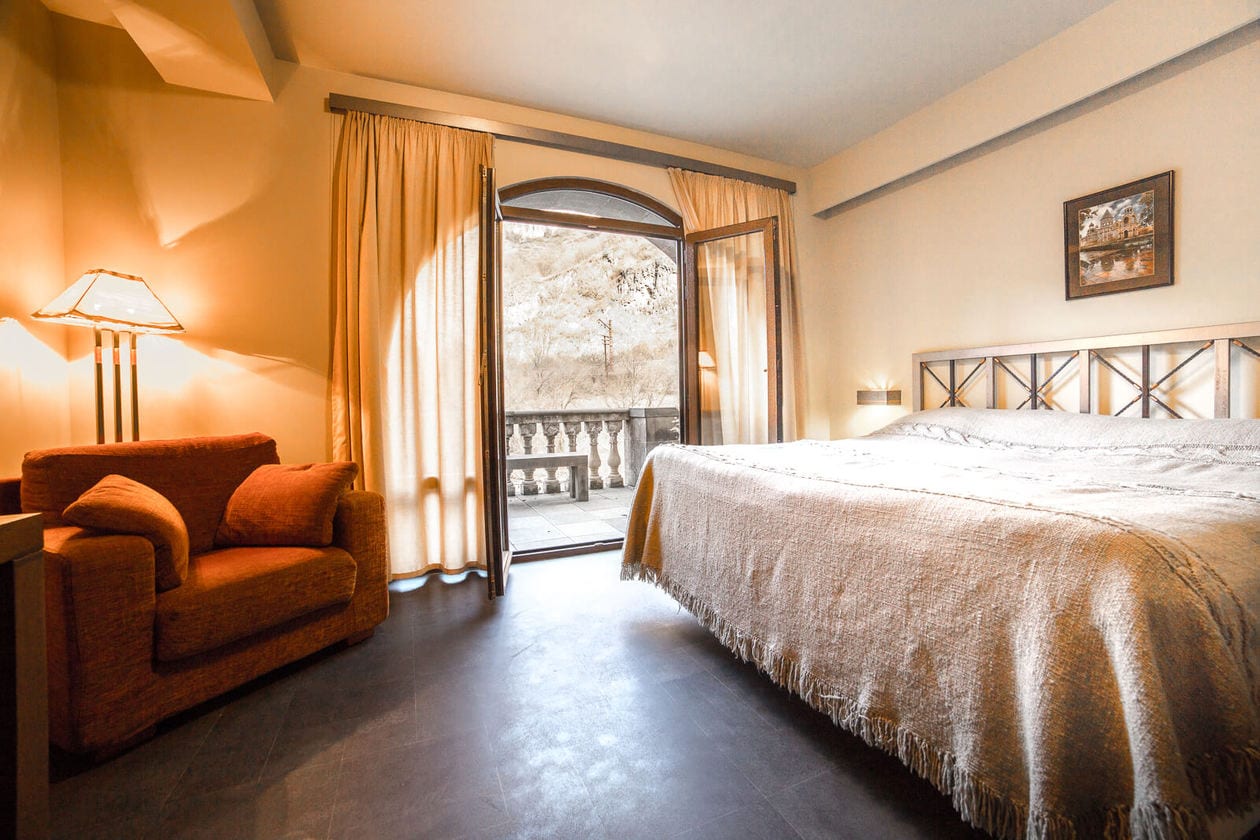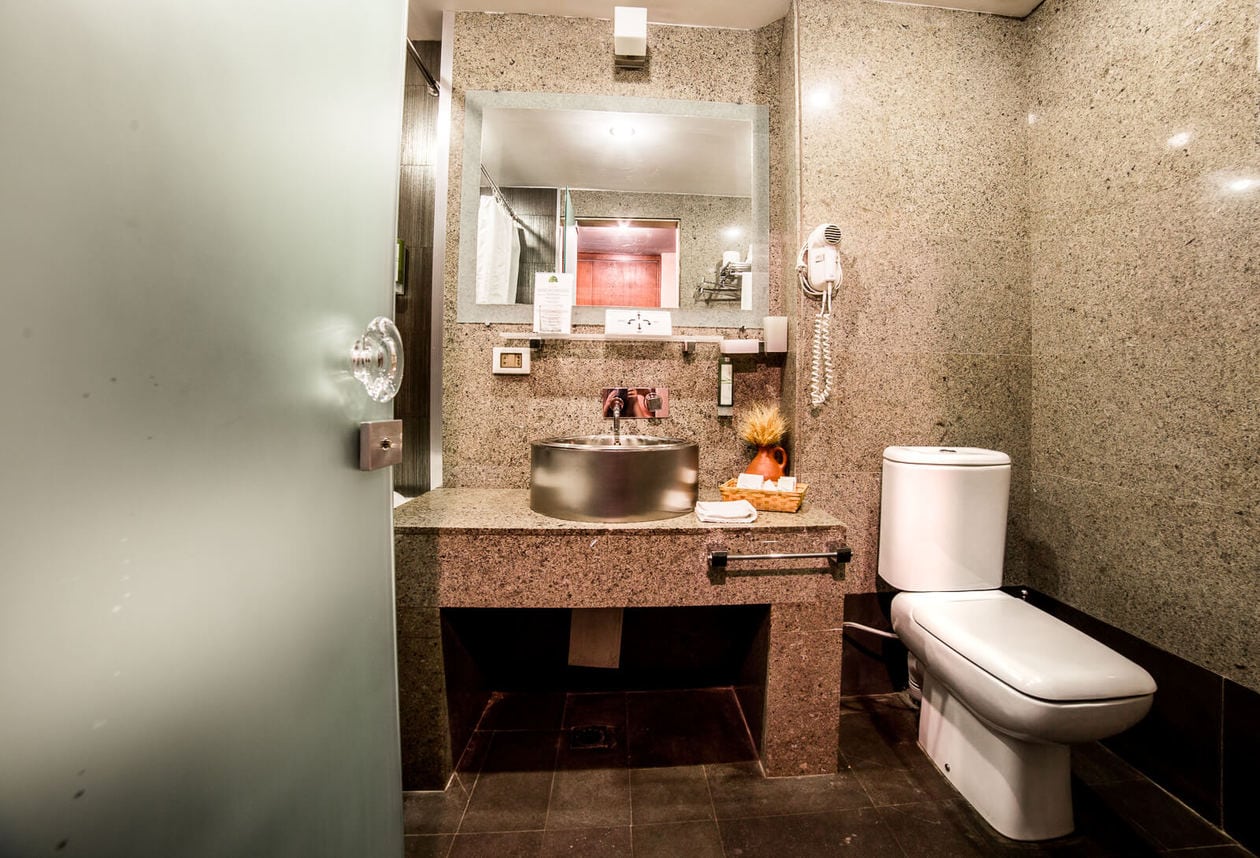 AVAN DZORAGET HOTEL INFORMATION
CHECK IN 3 PM
CHECK OUT 12 NOON
BREAKFAST Included; 8AM-11AM
PARKING On site & complimentary
WIFI Free; The wifi was strong in the hotel lobby but a bit spotty in the rooms.
PRICE Rooms start at $100 USD
---
---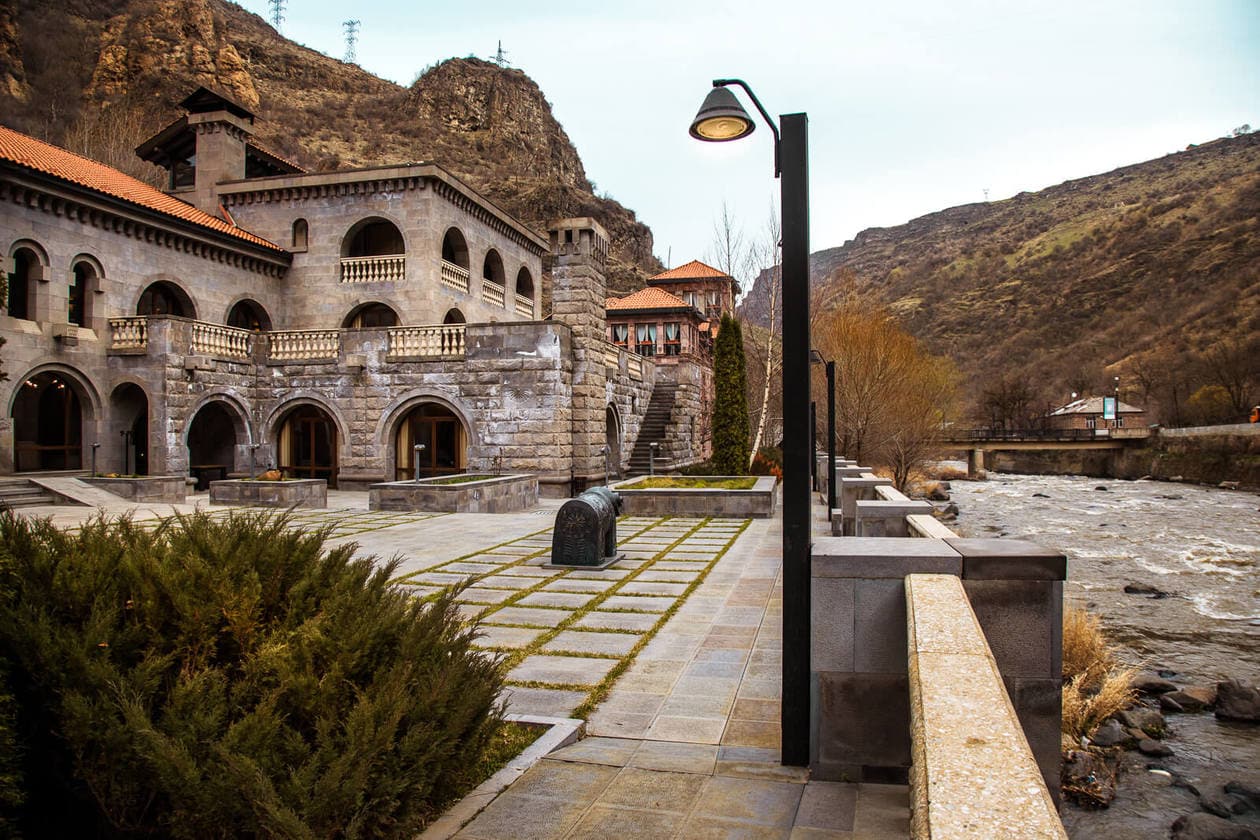 HOW TO GET TO AVAN DZORAGET HOTEL
In many of the reviews online, people mentioned difficulty finding the hotel. I didn't pay much attention to this, thinking that saving it's location on Google Maps was enough.. but it wasn't.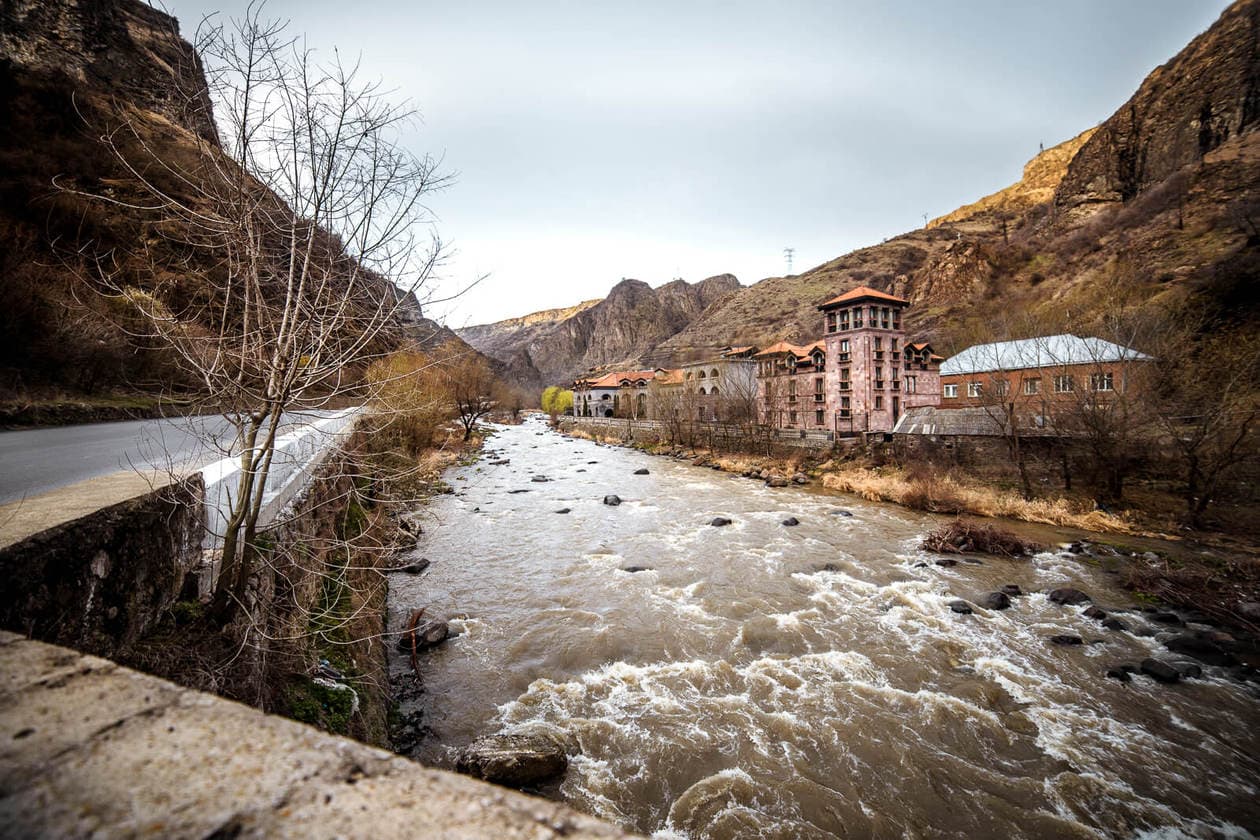 The hotel is only 87 miles (140km) from Yerevan, but it took us over 3 hours to reach the general vicinity. The roads are under construction near the hotel so it was a long bumpy journey; and when we found ourselves driving in a remote village along a small stream, we realized that the hotel's location on Google Maps was wrong.
Thankfully the Armenian people are very helpful, and after some language barrier induced charades, a local was able to point us in the right direction.. 5 miles up the road.
DRIVING Reaching Vanadzor from Yerevan was easy and the directions were accurate. After that, we got extremely lost. The hotel recommends this routing once you reach Vanadzor (see map below).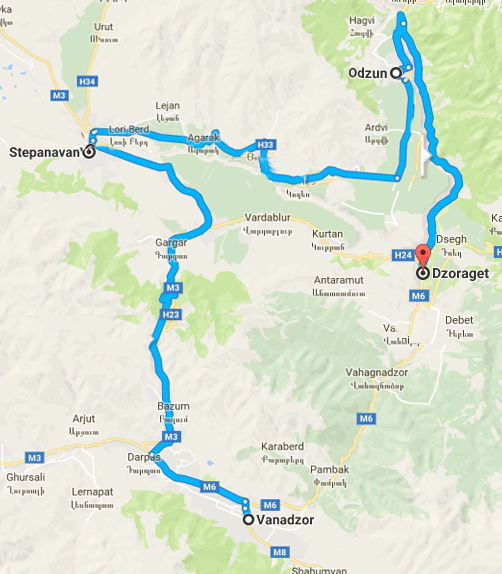 Check the map below for the location on Google Maps (blue) vs the actual location of the hotel (in pink). The hotel's coordinates are 40.9597411, 44.6347572
BUS Renting a car is highly recommended but if necessary, you can reach the hotel via public transportation. From Yerevan, take the public bus (marshrutkas) to Vanadzor. At Vanadzor, take the bus which goes straight to Dzoraget, and from there, take a taxi to the hotel.
The roads are only temporarily bad and should hopefully be fixed soon!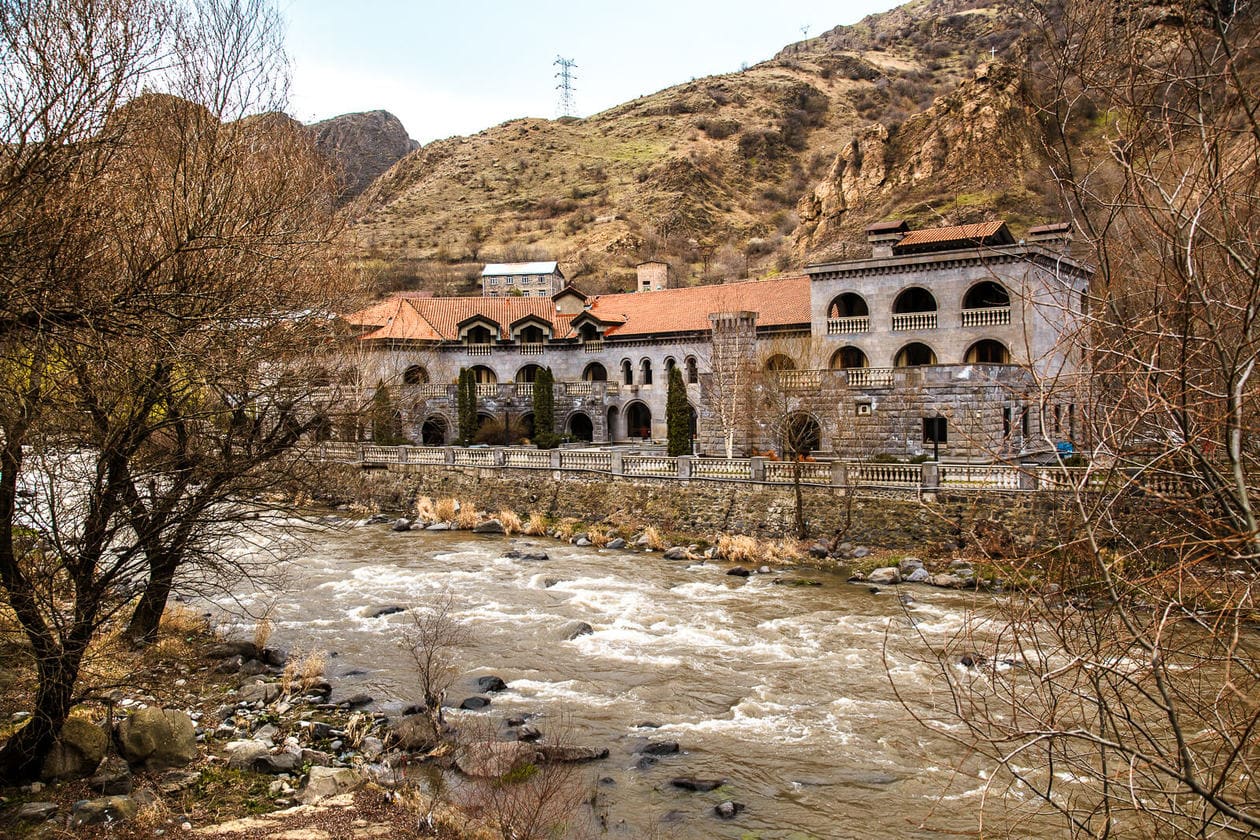 5 THINGS TO DO IN LORI PROVINCE
The Lori Province in Northern Armenia is one of the most beautiful regions in the country. I recommend visiting in the Spring or Summer to see it in it's full glory. We were there in early March and most of the trees were still bare. I can only imagine how stunning it is in full bloom.
These sites near the hotel were on my list of things to do before we ran out of time. I can't wait to return to Avan Dzoraget and not only get to stay in this beautiful hotel again, but to properly explore what this region has to offer.
HAGHPAT MONASTERY A medieval monastery complex founded by Queen Khosrovanuysh around 976. It has been described as a "masterpiece of religious architecture and a major center of learning in the Middle Ages," and is a UNESCO World Heritage site. Distance from the hotel: 29 km (18 miles) / 40 Minutes.
SANAHIN MONASTERY A 10th century monastery most commonly visited in conjunction with the Haghpat Monastery. Distance from the hotel 24 km (15)/ 37 minutes
LORI BERD FORTRESS Built around 1105-1120, the Lori Fortress was intended to be the capital of the Tashir-Dzoraget kingdom before it was taken over by the Georgians. Distance from the hotel 32 km (20 miles) / 55 Minutes
ODZUN BASILICA An Armenian Church founded in the 5th-7th century. Distance from the hotel: 21 km (13 miles ) / 30 Minutes
KOBAYR MONASTERY A 12th century monastery in the village Kober. It was one of the most important seats of written language and cultural centers of Armenia. Distance from the hotel 6.8 km (4.2 miles) / 12 minutes
---
PIN IT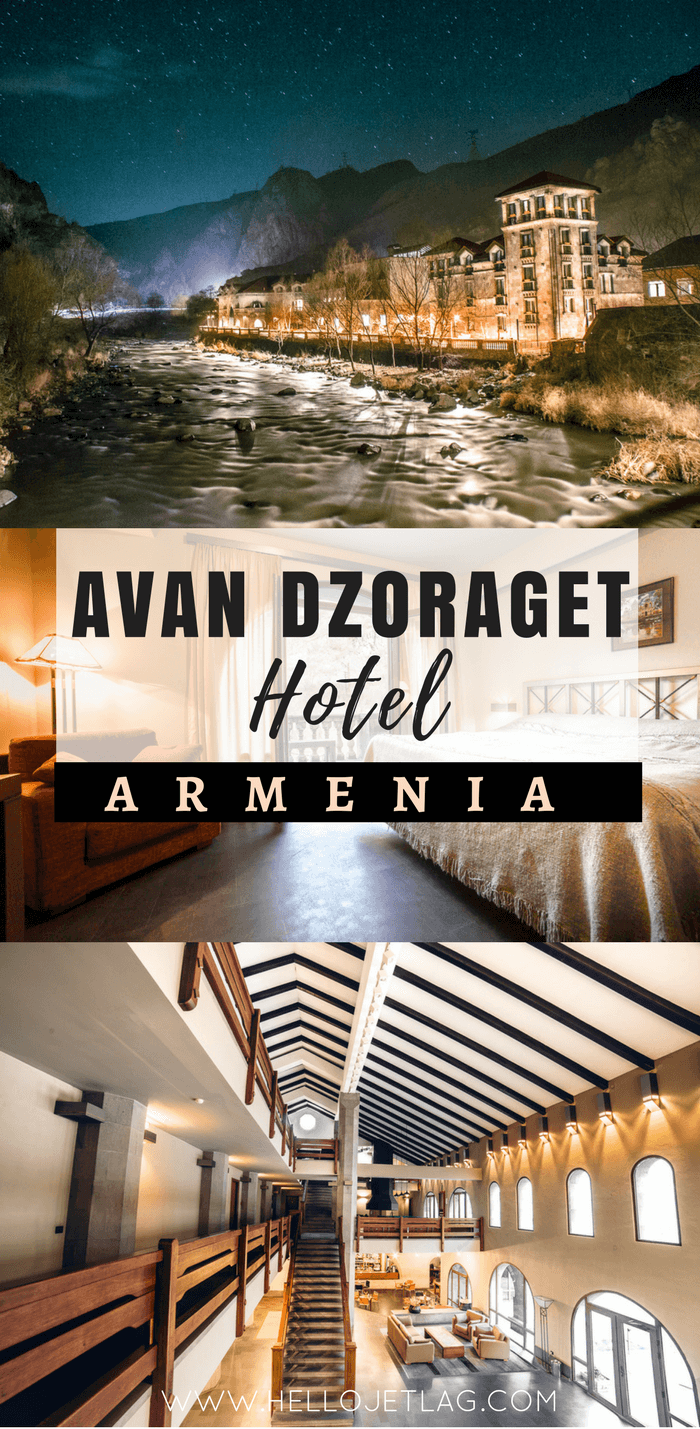 Disclaimer: Many thanks to Avan Dzoraget Hotel for hosting us! As always, all opinions are honest and my own. This post contains affiliate links which means if you make a purchase I receive a small commission (at no cost to you).