If you look past the white sand and crystal blue water of Lanikai beach, two twin islands lie in the distance. Mokulua Islands are an iconic part of Kailua's epic views, but did you know that you can actually visit them? Keep reading for everything you need to know about kayaking to Mokulua Islands including tips for visiting, things to do, where to rent a kayak and more.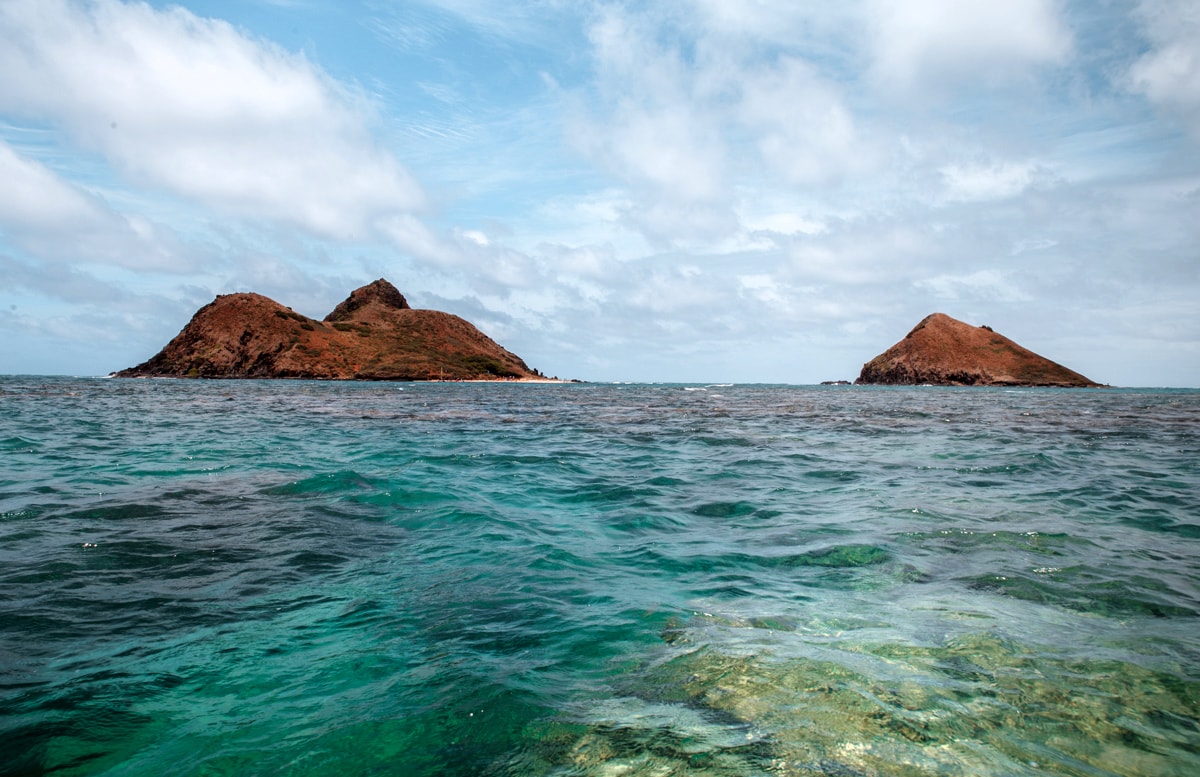 KAYAKING TO MOKULUA ISLANDS // EVERYTHING YOU NEED TO KNOW
WHAT ARE THE MOKULUA ISLANDS?
The Mokulua Islands (also known as Na Mokulua or the Mokes) are twin islets that lie off the coast of Wailea Point on the windward side of Oahu.
Moku Nui is the name of the larger island on the left; the smaller island is Moku Iki. They are primarily seabird sanctuaries which are monitored by the state and most of the islands are off limits.
If you'll be kayaking to Mokulua Islands, you will be visiting Moku Nui, as people are not allowed on Moko Iki.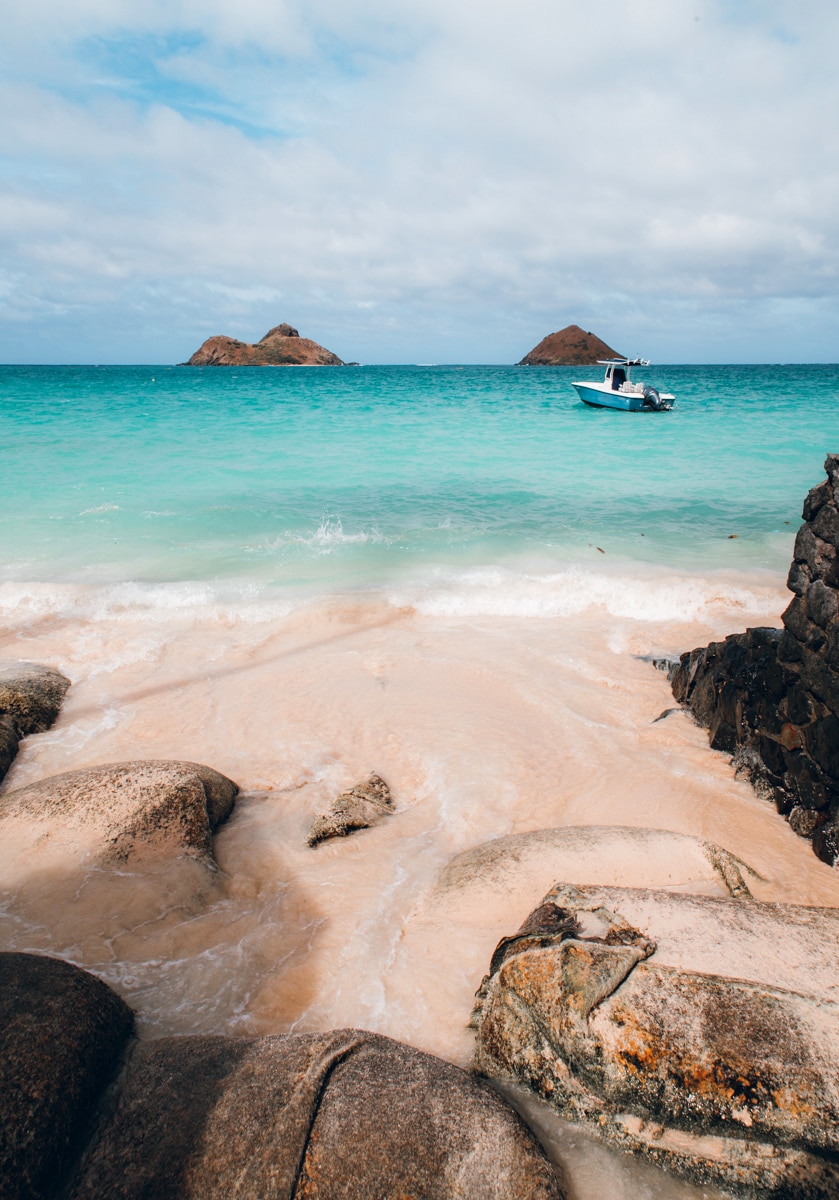 HOW TO KAYAK TO MOKULUA ISLANDS WITHOUT A TOUR
Most tourists who decide to kayak to the Mokes do so via guided tour. My sister works on Oahu as a plant and wildlife scientist and has a lot of experience kayaking to Moko Nui so we decided to take the journey on our own.
If you are a good swimmer and in moderate shape, visiting the islands on your own is great option, especially for those wanting to take their time and not be bound to a strict timeline.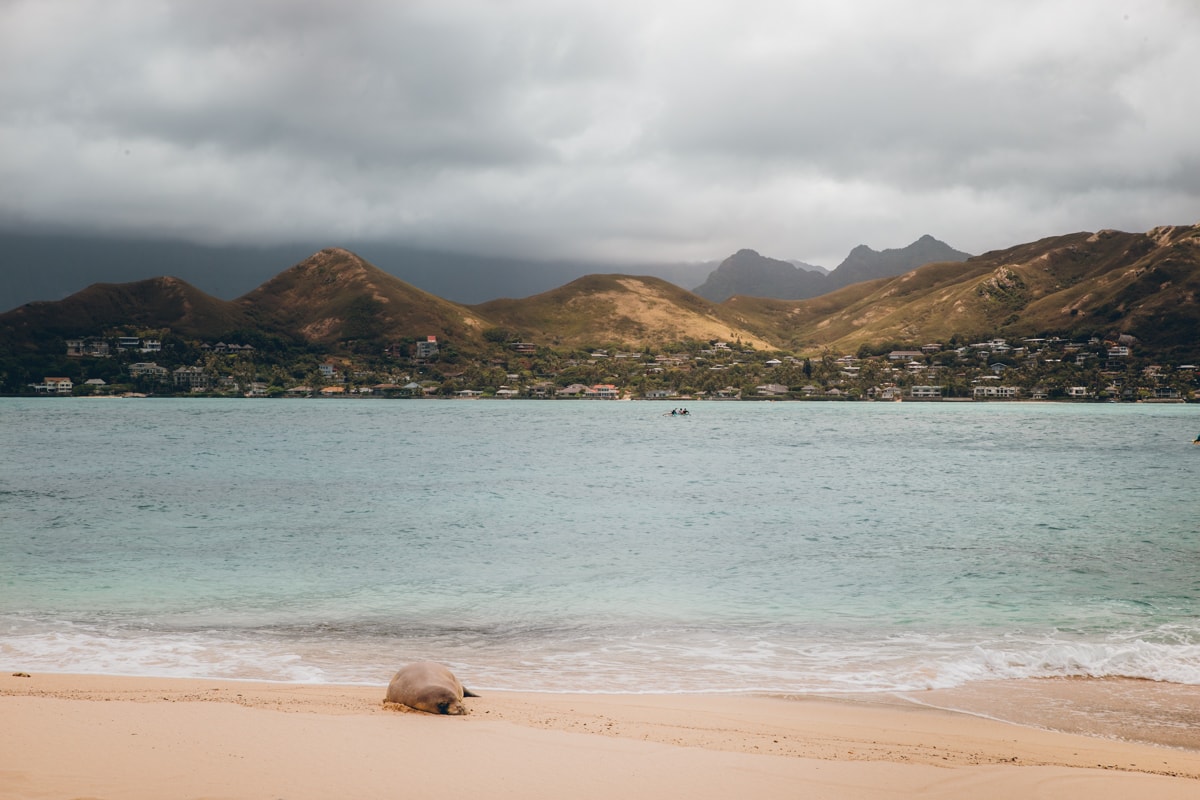 WHERE TO LAUNCH: KAILUA BEACH PARK VS LANIKAI BEACH
Most people start kayaking from either Lanikai Beach or Kailua Beach Park.
Lanikai Beach is directly parallel to Mokulua Islands and is more of a straight shot, while Kailua Beach Park is the better launching point if you have plans to also visit Flat Island (Popoia Island). Flat Island is located about 1/4 mile (.2km) off the shore from Kailua Beach Park and it's a good stopping point if you anticipate that you might need a break during the journey. For more information about Poipoa, check out this post by Borders and Bucket Lists.
If you don't have a rental car, Kailua Beach Park may be a better launch zone as you can rent a kayak and walk it to the beach. However keep in mind that this beach also makes for a bit of a longer kayak ride.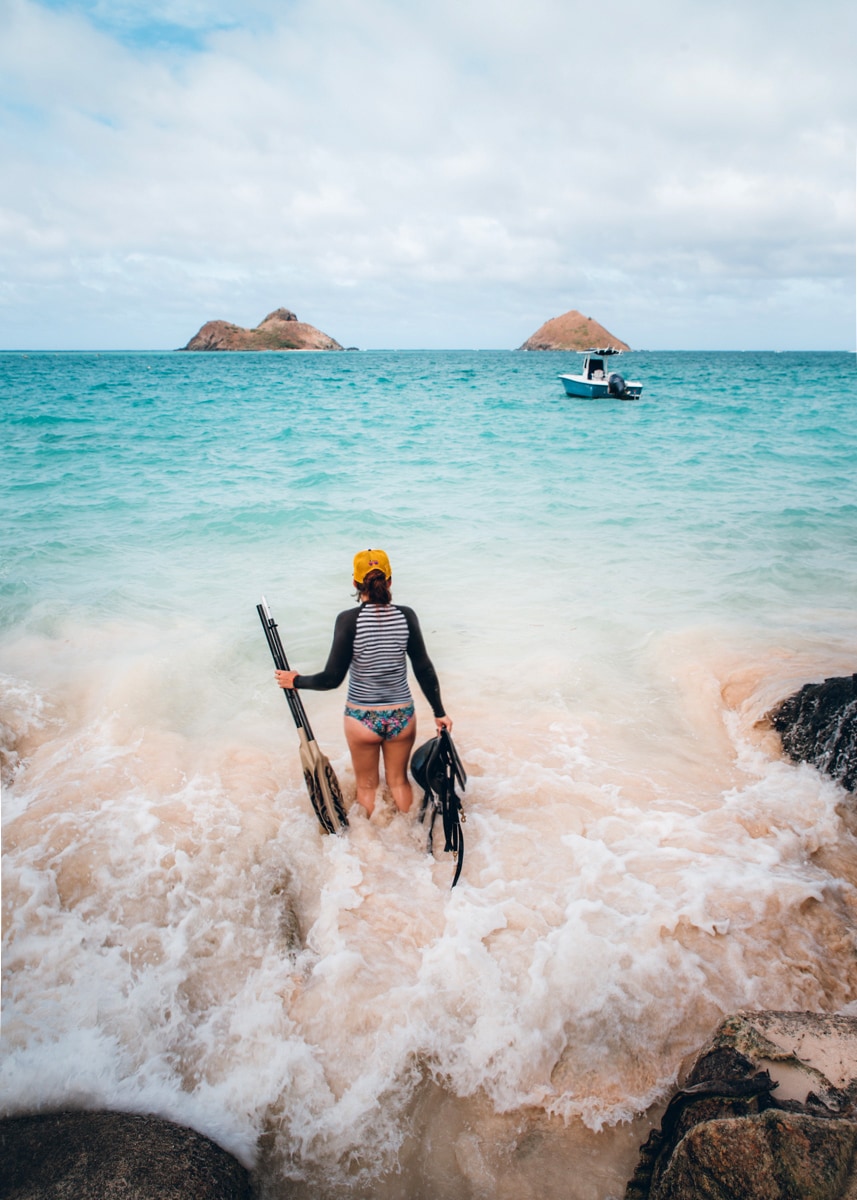 THE KAYAK RIDE
The Mokulua Islands are roughly 3/4 mile (1.2 km) from Oahu's shore but depending on the wind and the current, it can feel much longer.
The ride to the island was more difficult than I was anticipating (I am not an avid kayaker, so take from this what you will..). While the waves were not huge on this particular day, the current was strong, so it felt like I wasn't even moving.
We didn't follow a particular route, we just stayed in line with the left side of Moko Nui, making sure to avoid shallow parts of the reef as well as larger swell.
On the way there I was in a single kayak and coming back, my sister and I shared a double kayak while my mom took the single. It was much easier paddling with two people.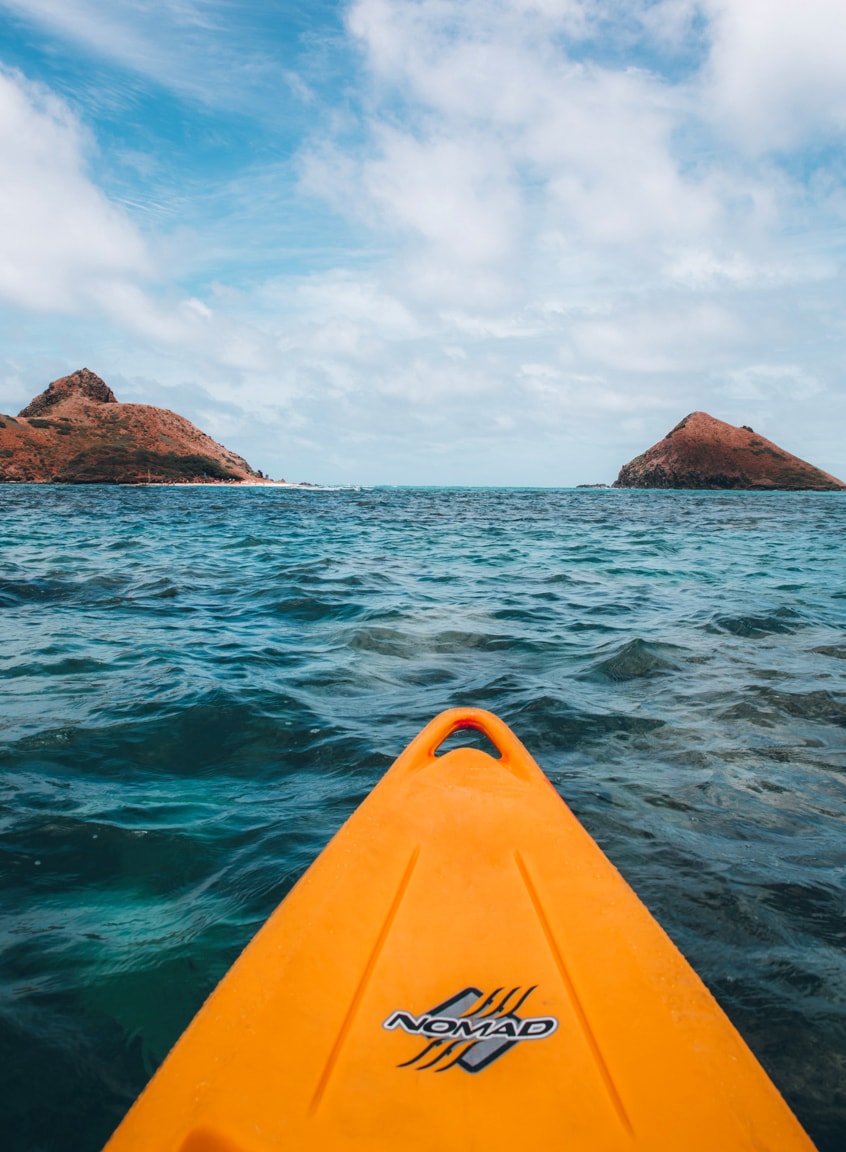 LANDING ON THE MOKES
The most important thing to know when kayaking to the Mokes is how to land and launch from the island.
The ocean's waves wrap around Moko Nui from two different directions and crash together in the middle which can easily can cause you and your kayak to flip over. As you begin to approach the island, stay toward the left side. This way you're basically riding the waves onto the shore as opposed to winding up in between them.
On your way back, I also recommend taking off from the left side. If you launch from the middle of the beach, you will have to fight the waves and we saw a lot of people flipping over.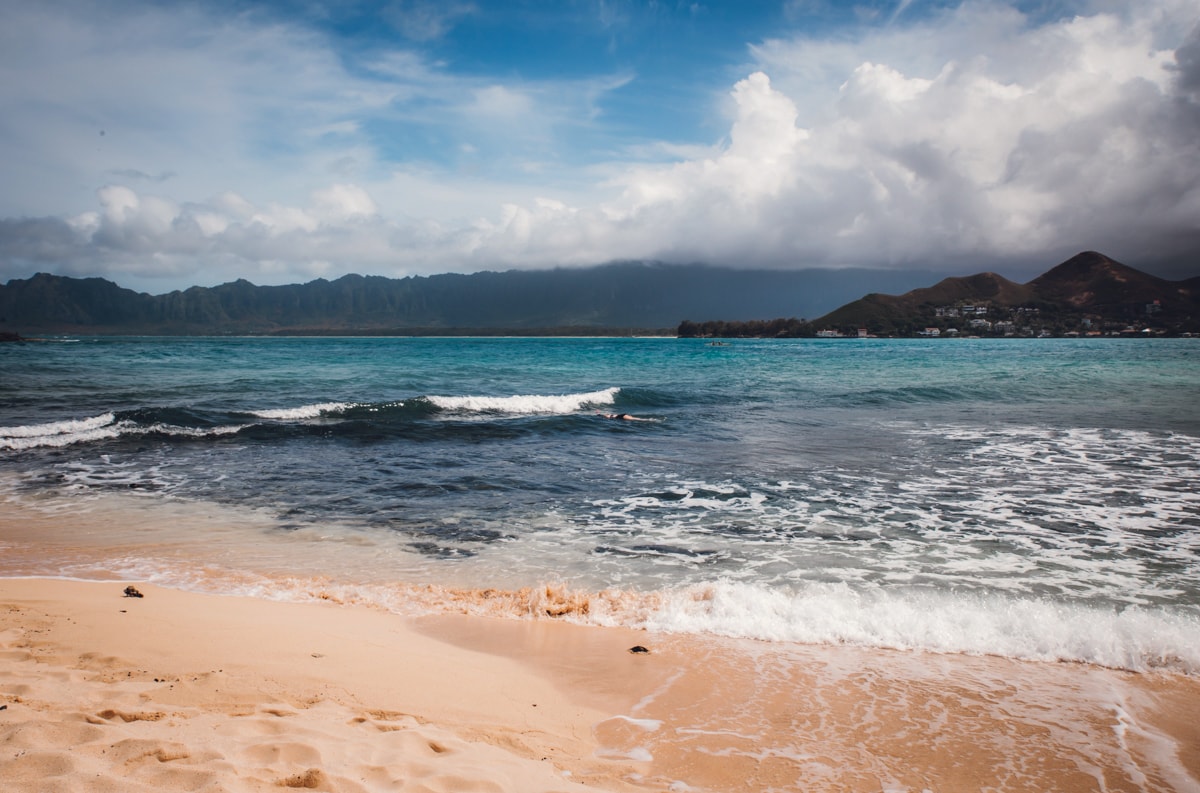 ---
RELATED POST: THINGS TO DO IN OAHU THAT AREN'T WAIKIKI BEACH
---
RENTING A KAYAK IN KAILUA
If you'll be embarking on a self guided tour to Mokulua Islands, you're gonna need a kayak. Overall the rental process is quick and easy, allowing you to be on your way in no time.
The rental companies provide soft racks and straps for your car so that you can transport the kayaks to the beach. Our rental company attached the kayaks for us and were super helpful in showing us how to do it ourselves so that we could bring them back. They also provided us with tips and instructions on a route recommendation. Once we signed the waivers and did a safety briefing, we were allowed to head out.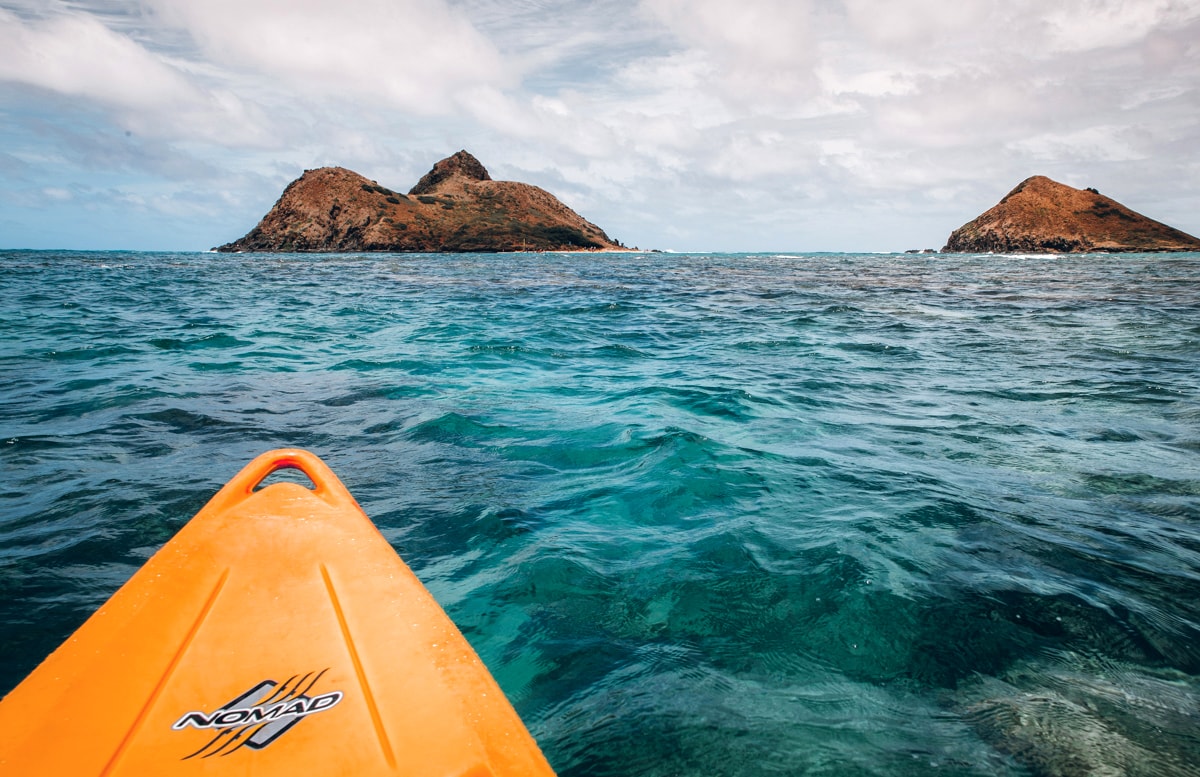 FULL DAY KAYAK RENTAL TANDEM To rent a 2 person kayak for up to 8 hours, click here.
FULL DAY KAYAK RENTAL SINGLE To rent a single person kayak for up to 8 hours, click here.
HALF DAY KAYAK RENTAL TANDEM To rent a a 2 person kayak for up to 4 hours, click here.
HALF DAY KAYAK RENTAL SINGLE To rent a single person kayak for up to 8 hours, click here.
KAYAK RENTAL PACKAGE This company offers a kayak rental package for those who don't want to do a tour, but do want the overall ease that tours can offer. The package includes hotel pick up and drop off from Waikiki, lunch, kayaking equipment and permits. Click here for more information. 
KAYAKING TO MOKULUA ISLANDS ON A GUIDED TOUR
Some may prefer kayaking to Mokulua Islands via guided tour as they might feel more secure having someone nearby who knows exactly what they are doing. Most guides operating this type of tour are trained naturalists as well as lifeguard, CPR and First Aid certified.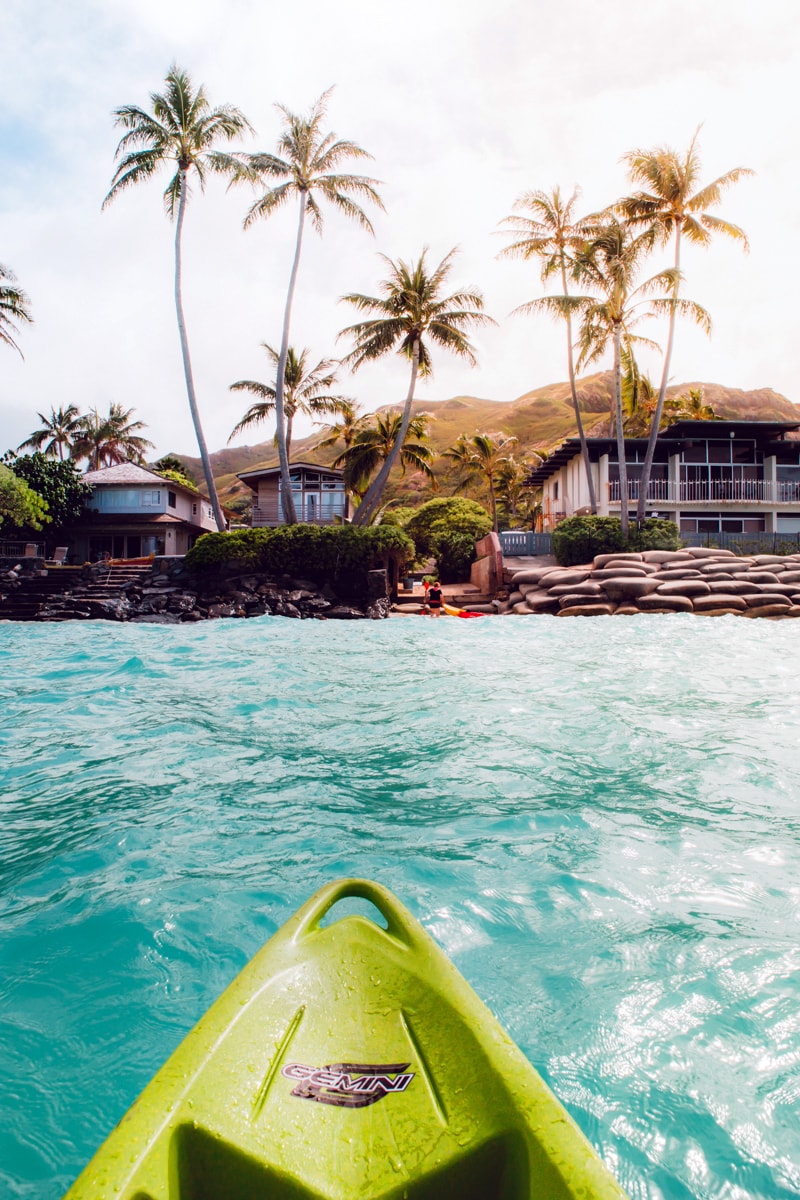 GUIDED KAYAKING TOUR WITH LUNCH This tour includes round trip transportation from Waikiki, use of snorkels, dry bags, lockers and showers, lunch and a professional guide. The company has also been the recipient of the Eco-Tour Guide of the Year for two years. Click here to read more.
FULL DAY MOKULUA ISLAND KAYAKING TOUR This 5 hours tour includes hotel pickup and drop off, a trained naturalist guide, kayaking instructions and a picnic lunch. Snorkeling equipment, dry bags and lockers are also provided. Click here to read more.
THINGS TO DO ON MOKULUA ISLANDS
The Mokes have no facilities or man made structures of any kind, just wild nature and there is enough to do on the island to keep you busy for hours.
GO SNORKELING The incredible reef and lava formations off the shore of Moko Nui make for perfect snorkeling conditions. We spotted a ton of colorful fish as well as a few sea turtles. 
TAKE A DIP IN THE QUEEN'S BATH Queen's Bath is a tide pool on Moko Nui that has been created out of the lava rock. It's about 6-8ft deep but the diameter is on the smaller side, so it does get crowded quickly.

CLIFF JUMPING AT SHARK'S COVE At the back of the island you'll find Shark's Cove, a popular spot for cliff jumpers.
WILDLIFE WATCHING There is a ton of wildlife to look out for during your day trip to the Mokes. Sea turtles and tropical fish are abundant, as well as the Wedge-tailed Shearwater birds which nest on the island. It is also one of the best places on Oahu to see the highly endangered monk seal. 
---
RELATED POST: 15 OFF THE BEATEN PATH PLACES TO EAT IN OAHU
---
12 TIPS FOR KAYAKING TO MOKULUA ISLANDS
YOU NEED A PERMIT
In order to visit the Mokes or Popoia Island you must have a permit. The permit costs $3 per person and allows you to land your kayak on the island. The easiest place to acquire a permit is through your kayak rental company. Let them know you will be kayaking to Mokulua Islands and they can add it to your rental fee.
YOU CANNOT VISIT THE SMALL ISLAND (MOKO IKI)
Moko Iki (the smaller island to the right) is completely off limits to all visitors. You are allowed to visit Moko Nui but you have to stay along the perimeter of the island. Due to the presence of the protected bird sanctuary, venturing into the middle of the island is not allowed.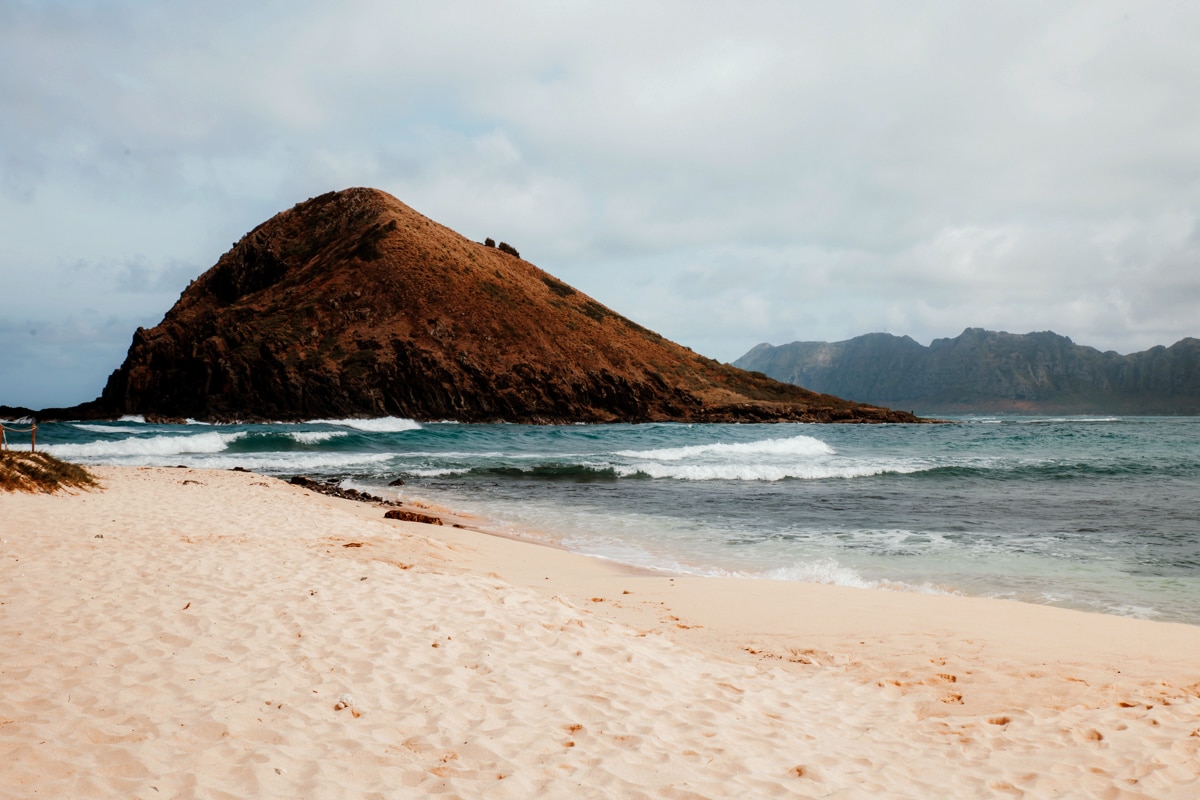 YOU CANNOT VISIT THE ISLANDS ON SUNDAY
Landing permits are not issued for the islands on Sundays, so visits are limited to Monday-Saturday.
CHECK THE WEATHER AND SURF CONDITIONS
Choppy seas, strong currents and heavy wind can make for a much more difficult kayaking experience than you'd probably like. It can also be extremely dangerous if conditions are extreme (wind gusts can reach 25MPH!). Make sure to check the weather and surf before you paddle out so that you can stay as safe as possible. This website has in-depth, up to date information for Kailua's weather and water conditions.
THERE ARE NO FACILITIES
There are no restrooms or facilities on the islands so plan accordingly. If you'll be kayaking from Lanikai Beach, they also have no public restrooms. Kailua Beach Park does have restrooms and an area to shower off.
NO PETS ALLOWED
Because the Mokes are primarily a bird sanctuary, dogs and other pets are not allowed.
PACK A LUNCH
You're going to be expending a lot of energy getting to the island so packing a lunch or some snacks to have when you get there is a good idea. Just make sure that everything is sealed and tucked away so that it doesn't get soggy when you're kayaking out.  This stackable thermos is amazing for picnic lunches.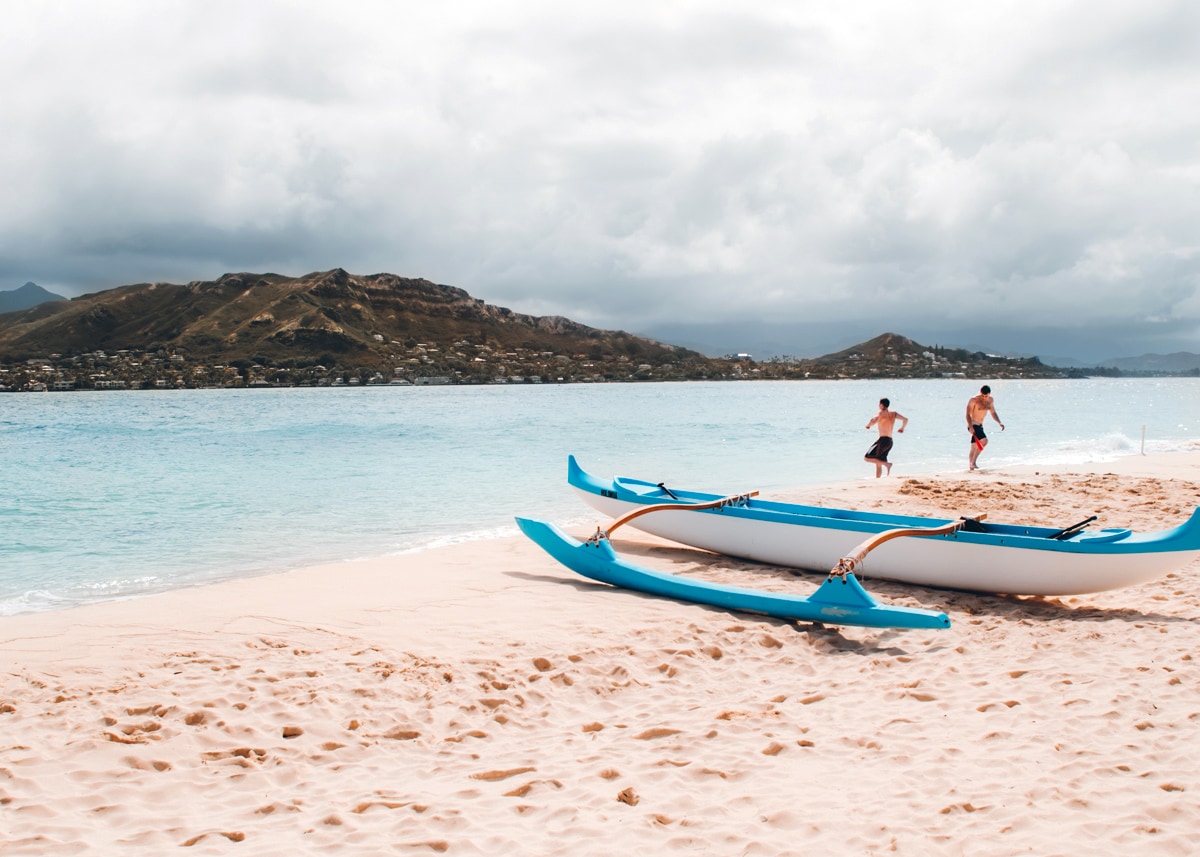 VISIT ON A WEEKDAY
Moko Nui is small and it gets crowded quickly. Saturdays are the busiest so I highly recommend visiting on a weekday for a calmer, quieter experience.
PICK UP YOUR TRASH
This should be a given, but unfortunately some people don't know how to act. Make sure to pick up and bring all of your trash back with you.
GIVE YOURSELF 5+ HOURS
We got a bit of a late start and ended up having to cut our time on Moko Nui short because we needed to return our kayaks by a specific time. I recommend heading out early and opting for a full day kayak rental so that you don't have to prematurely head home if you don't want to.
PREPARE TO GET WET
It is safe to assume that everything you bring with you is going to get wet (unless it is in a dry bag). Also secure any valuables you have because if your kayak flips, they will have a new home at the bottom of the ocean.
SPEND THE DAY IN KAILUA
Kailua has some of the prettiest beaches on Oahu and one of my favorite hikes on the island is nearby. The Pillbox Hike offers incredible views and is said to have some of the best sunrises on the island. For more information about the hike, click my related post below.
---
RELATED POST: LANIKAI PILLBOX HIKE // A SHORT HIKE WITH AN INCREDIBLE VIEW IN KAILUA
---
WILDLIFE ON MOKULUA ISLANDS (AND TIPS FOR VIEWING IT)
The Mokulua Islands are primarily known as a bird sanctuary but there is a lot of other wildlife you might spot on your day trip.
MONK SEALS
Hawaiian monk seals are one of the most endangered marine animals in the world. With only 1,100 left in the wild it is rare to spot one, but one of your best chances will be on Mokulua Islands
Because these islets are more remote and not as busy, it is relatively common for monk seals to use the shores as a place to rest and sleep.  If you are lucky to see a monk seal while in Oahu, please watch it from a distance (150ft /46 meters) and do not approach it. They often come to shore to sleep because they are tired so if they are forced back into the water when they are not ready, it could be dangerous for them. 
If you happen see a monk seal on Oahu, please report it to the Hawaii Marine Animal Response (HMAR) at 808-220-7802. They document sightings for research purposes and will often send someone to set up a roped off barrier which encourages people to keep their distance from the seal.
A monk seal was sleeping on the beach during our day trip and it was really special.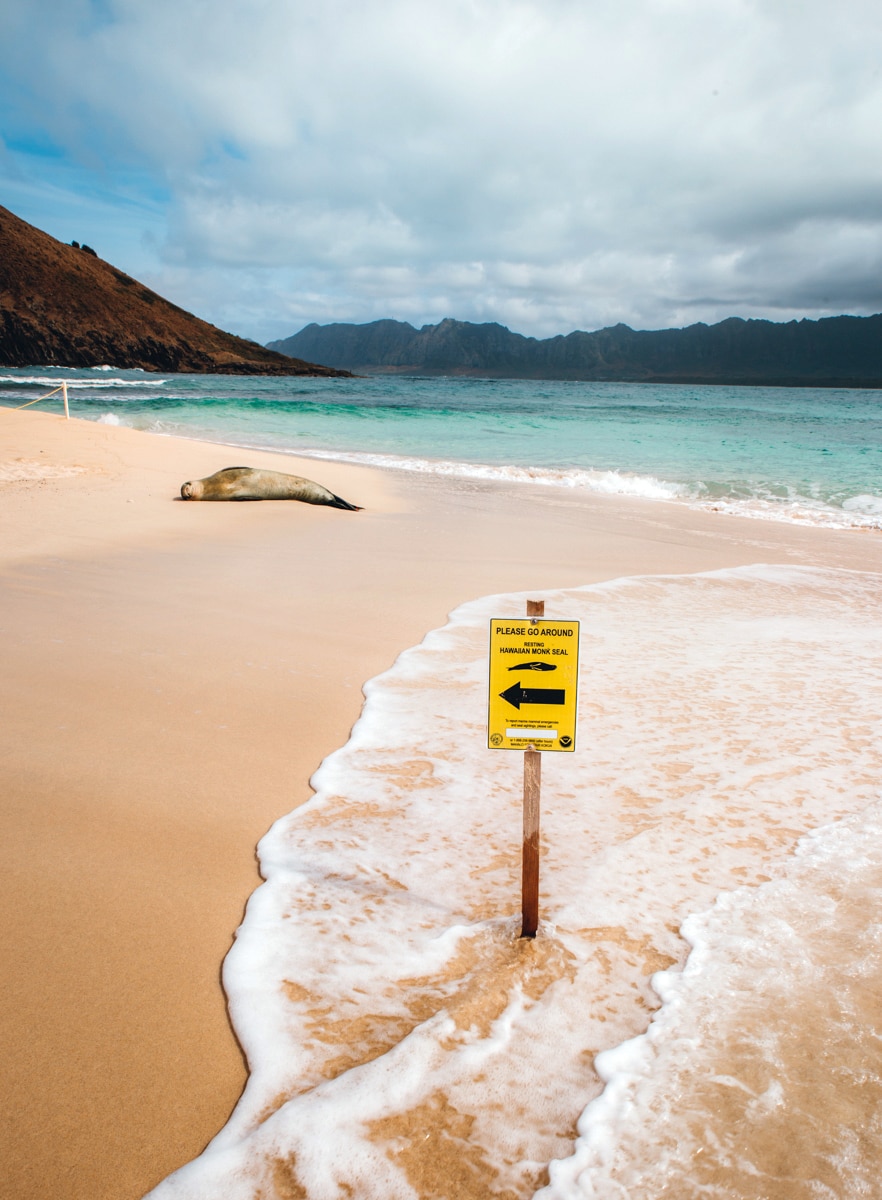 WEDGE TAILED SHEARWATERS
The Mokes are home to some of the largest colonies of indigenous Wedge-tailed Shearwater birds ('u'au kani).
You'll probably notice that the interior of Moko Nui is completely off limits. This is because the Shearwaters lay their eggs in the sand and their small nests are so delicate that they can crumble and collapse with even the slightest bit of disturbance.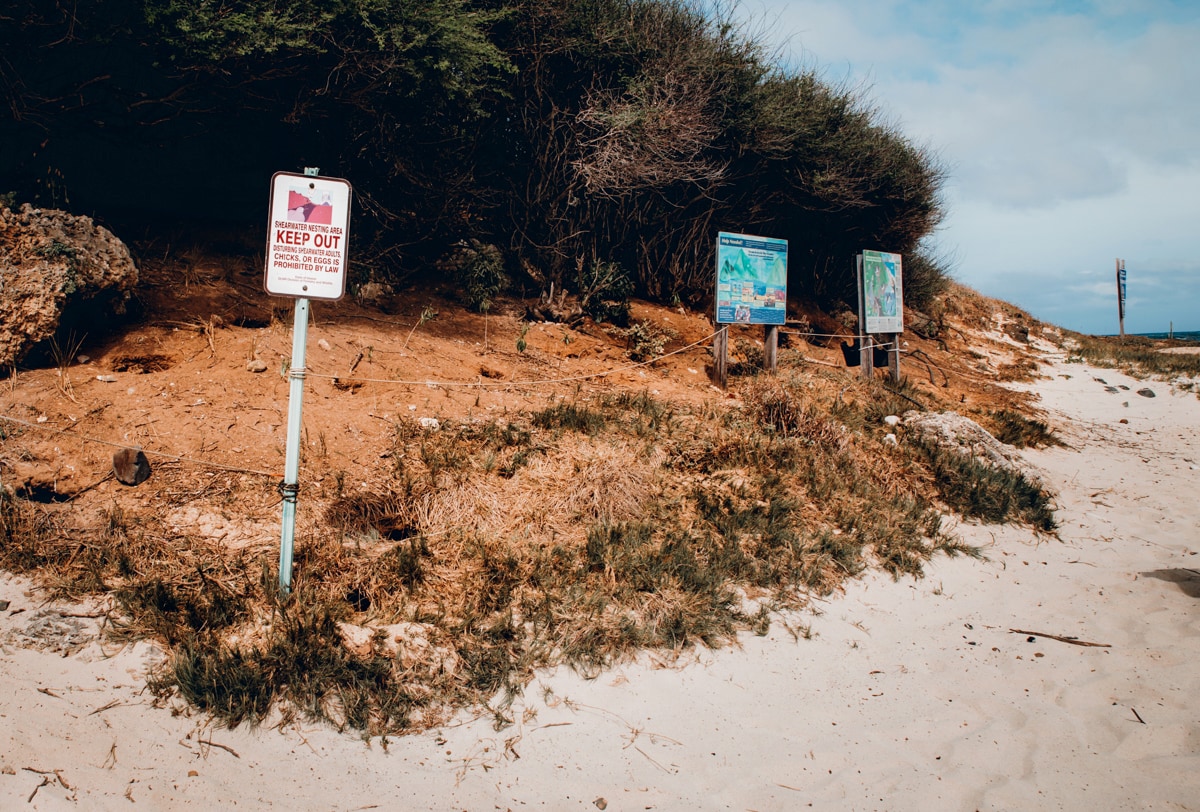 It's extremely important to read all warning signs and not go off the trails. If you accidentally step on a nest, you will be killing baby birds. Think of it as a battlefield with tiny baby bird landmines and unless you are a psychopath, that should be reason enough to stay along the perimeter of the island.
If you like birds, be sure to check out Hamakua Marsh in Kailua to spot some rare and indigenous species. Click the related post for more information.
---
RELATED POST: HAMAKUA MARSH // SEARCHING FOR NATIVE BIRDS IN OAHU
---
SEA TURTLES
Green sea turtle sightings are common in Hawaii. We saw several while snorkeling off shore of Moko Nui.
WHALES
Occasionally humpback whales can be seen in the distance during the Winter months. You'll have the best chances of seeing them from the back of the island.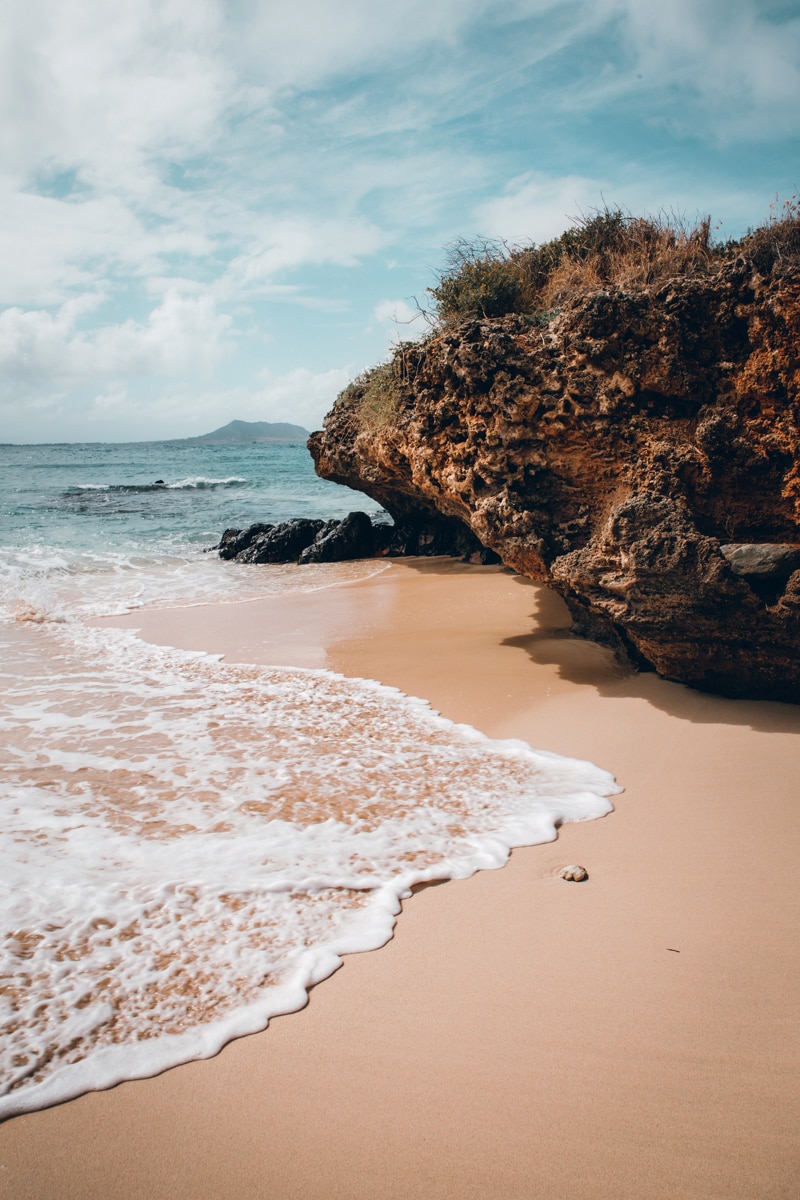 WHAT TO PACK
DRY BAG Getting wet is inevitable so having a dry bag is necessary if you want to keep water off of your belongings. I usually travel with a dry bag to keep my camera, phone and keys dry when in tropical destinations. On this particular day trip it ended up being a life saver. They are also great for keeping things sand free.
Most kayak rental companies on Oahu have dry bags that you can rent for cheap.  If you want to purchase one before your trip, I have this one and like it a lot.  
REEF SAFE SUNSCREEN The sun's rays feel even more intense while you're out on the water, and there is limited shade on Moko Nui. Sunscreen is a must and make sure to pack a reef safe version (like this one) to protect the delicate coral.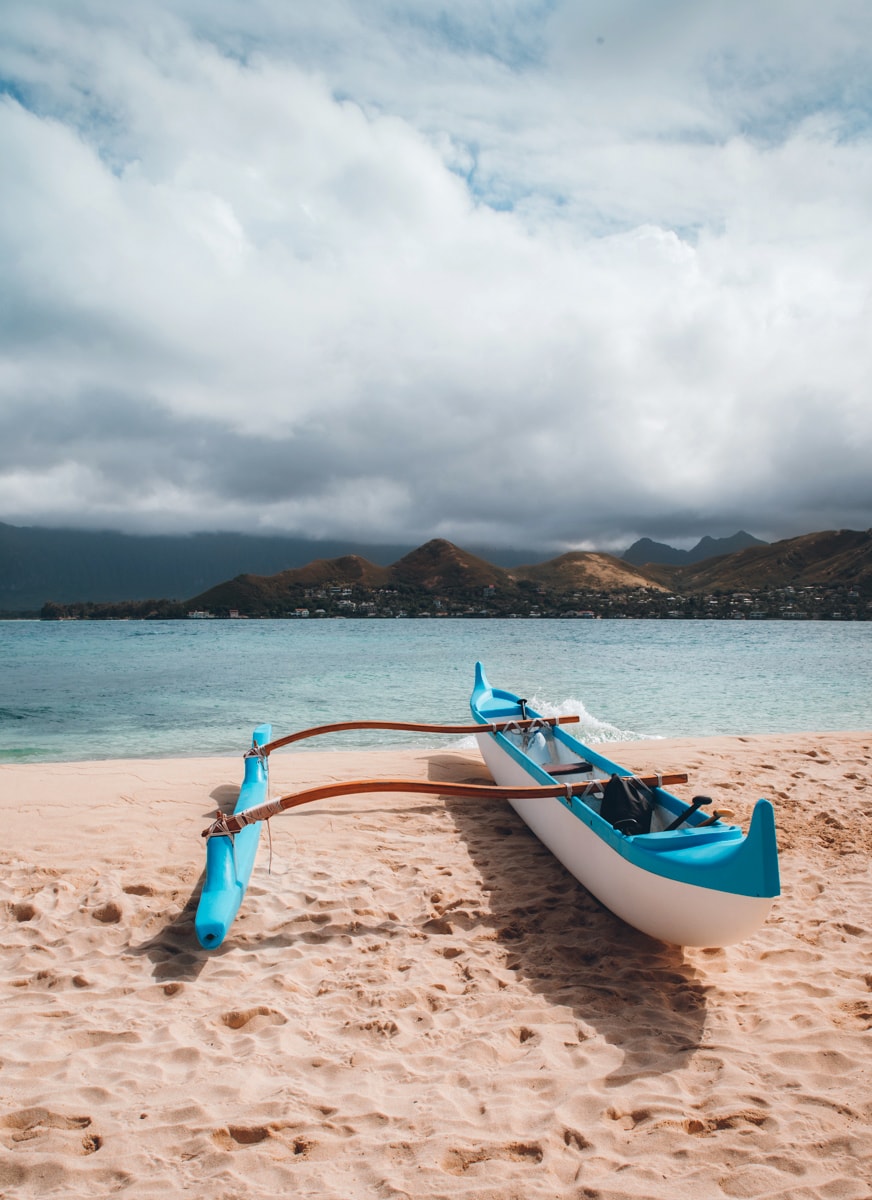 LUNCH There are no food option on the island so packing a lunch or some snacks is highly recommended. You'll be glad you did after your long kayak ride.
SNORKEL GEAR Unique lava formations and the shallow reef off the shore of Moko Nui make for excellent snorkeling conditions. If you're not a strong swimmer, make sure to bring fins as the current can be a little strong.
REUSABLE WATER BOTTLE Cut down on single use plastic and keep your water cold by packing an insulated, reusable water bottle. I use this one when I travel.
WATER SHOES The lava rock can be brutal on your feet so having water shoes or sturdy footwear is recommended if you'll be exploring the island's perimeter.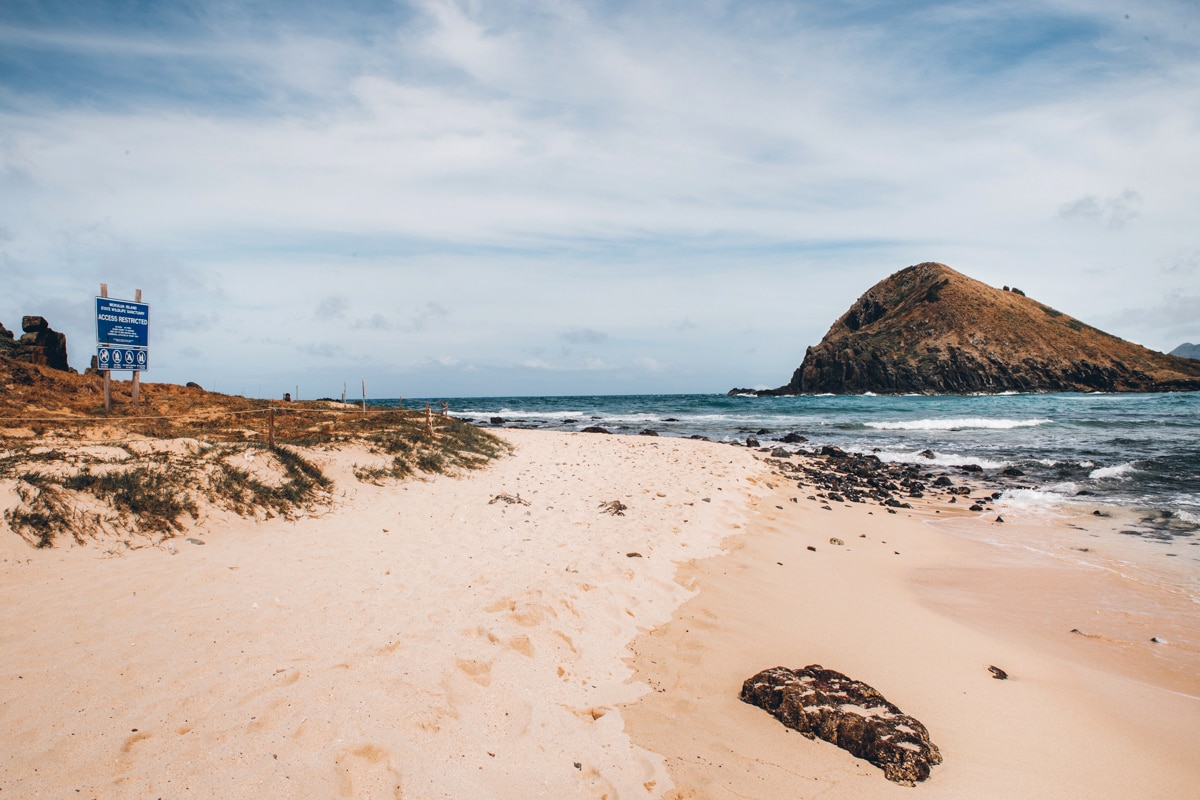 LOOKING FOR MORE OAHU INSPIRATION? CHECK OUT THESE RELATED POSTS
A VISITOR'S GUIDE TO KAKAAKO // HONOLULU'S COOLEST NEIGHBORHOOD
4 OAHU BREWERIES TO CHECK OUT // A SELF GUIDED TOUR IN HONOLULU
LULUMAHU FALLS // A WATERFALL HIKE THROUGH OAHU'S JUNGLE
LANIKAI PILLBOX HIKE // A SHORT STEEP HIKE WITH AN INCREDIBLE VIEW
THINGS TO DO IN OAHU THAT AREN'T WAIKIKI BEACH
15 OFF THE BEATEN PATH PLACES TO EAT IN OAHU
20 PICTURES OF OAHU TO INSPIRE YOUR NEXT VISIT TO HAWAII
23 MUST VISIT VEGAN RESTAURANTS IN OAHU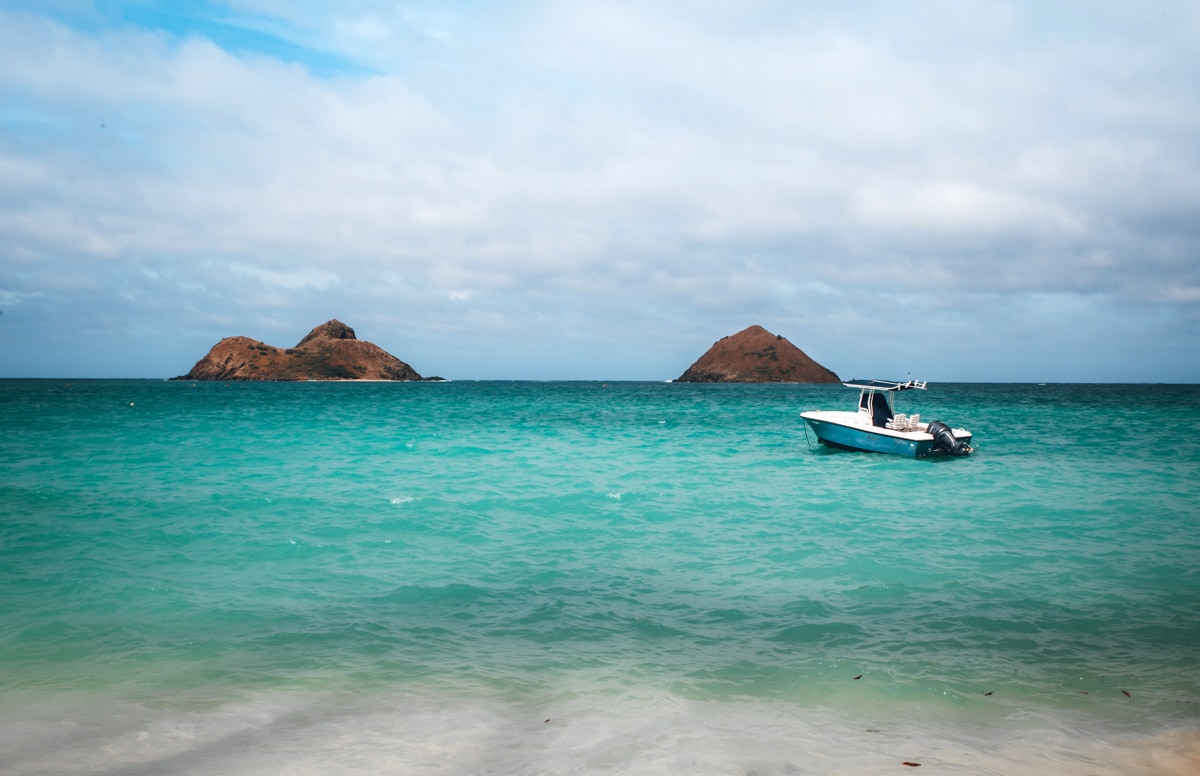 Have you kayaked to Mokulua Islands? Leave a comment!
---
PIN IT: KAYAKING TO OAHU'S MOKULUA ISLANDS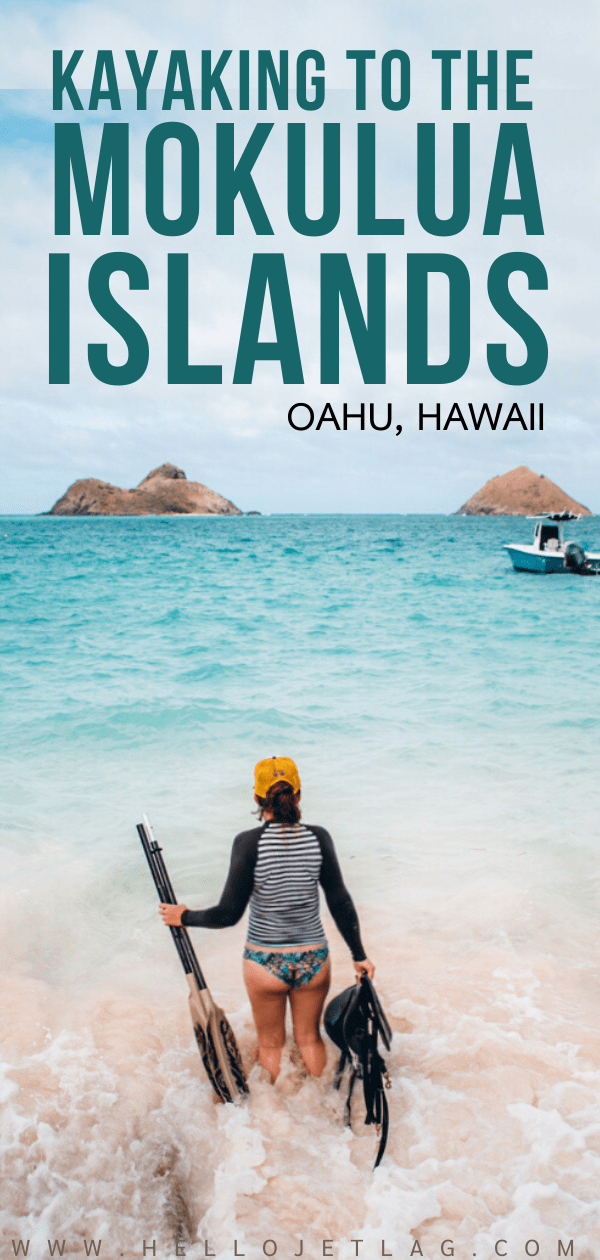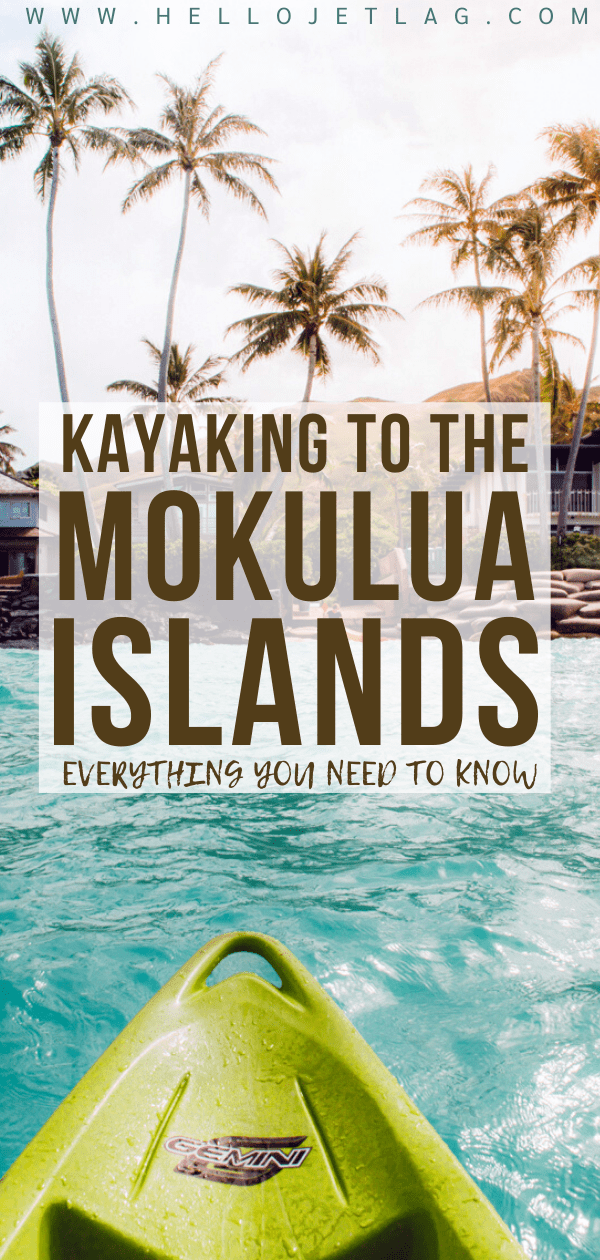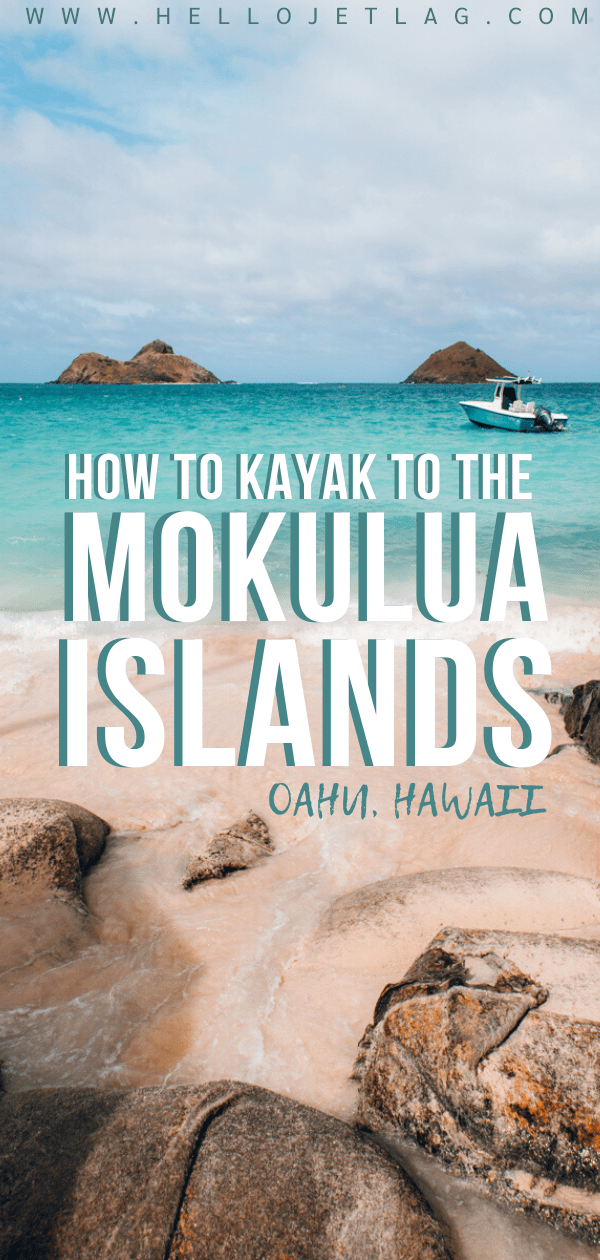 DISCLAIMER: This post contains affiliate links which means if you click them and purchase something, I receive a small commission.