Fussen is a charming Bavarian town at the end (or beginning.. depending on which way you're driving) of the Romantic Road. Just about everyone passes through here on their way to Neuschwanstein Castle, but most don't take the time to stop and see what it's all about. Keep reading to discover 5 things to do in Fussen, what to eat and where to stay.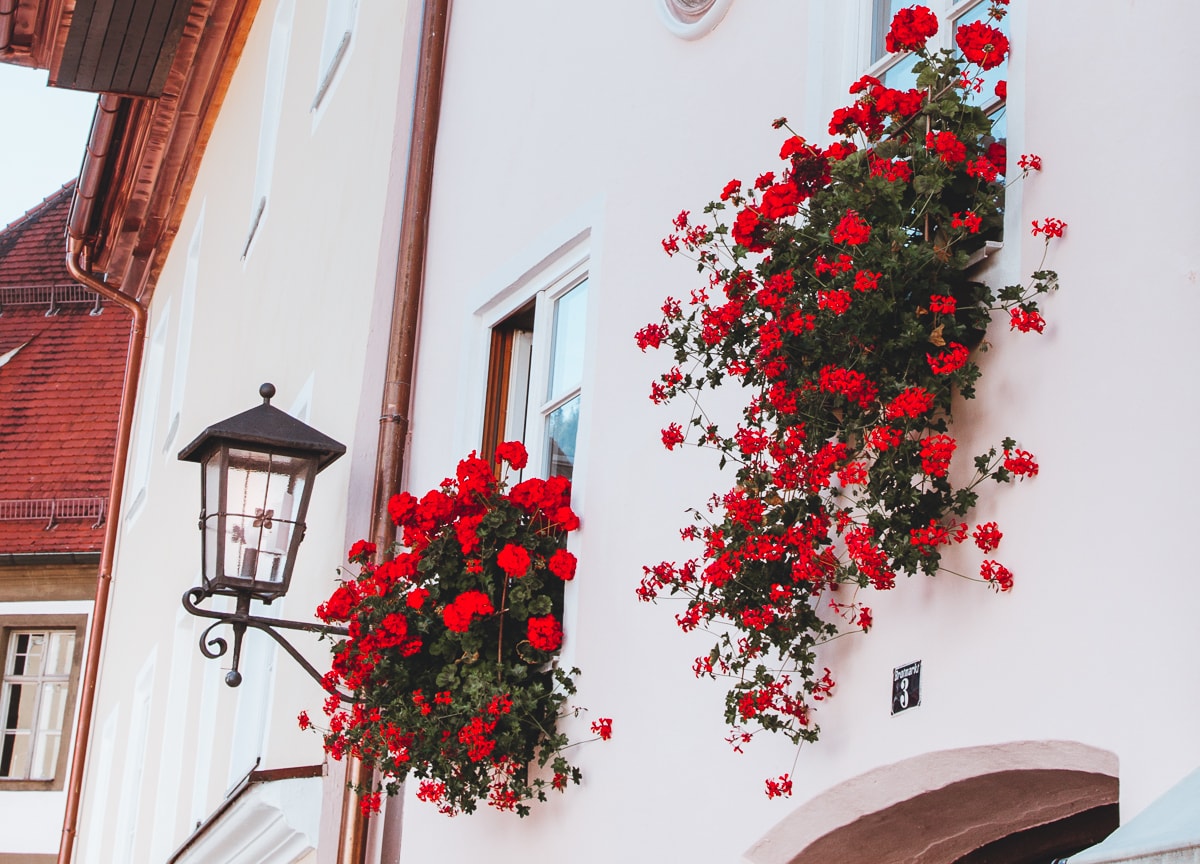 We picked Füssen as one of our overnight stops while on our 'Romantic Road' road trip, and I'm so glad we did. While the town is small, we discovered a few hidden gems that the majority of visitors undoubtedly miss.
Keep reading to discover 5 things to do in Fussen, Germany, including a beautiful waterfall, a picture perfect town center and a giant slide.
---
RELATED POST // GERMANY'S ROMANTIC ROAD: TRAVEL TIPS AND SUGGESTED ITINERARY
---
NEUSCHWANSTEIN CASTLE
While not technically in Fussen, Neuschwanstein Castle is the largest draw for people visiting this part of Bavaria.
 Neuschwanstein Castle welcomes over 1.5 million visitors a year, and is not only the most famous castles in Germany, but also one of the most popular attractions in Europe.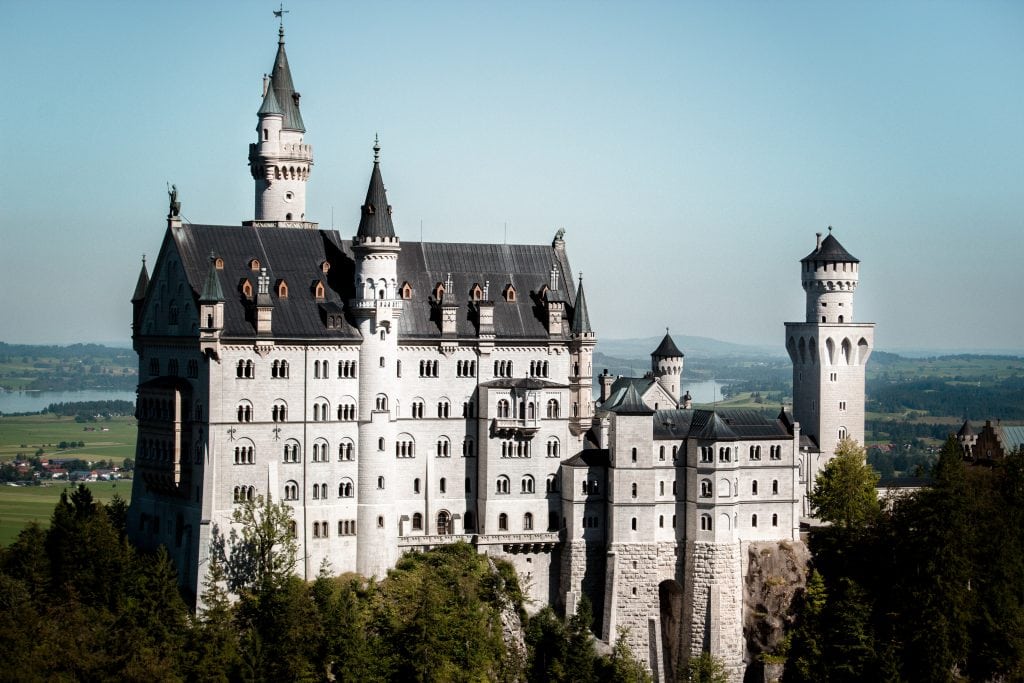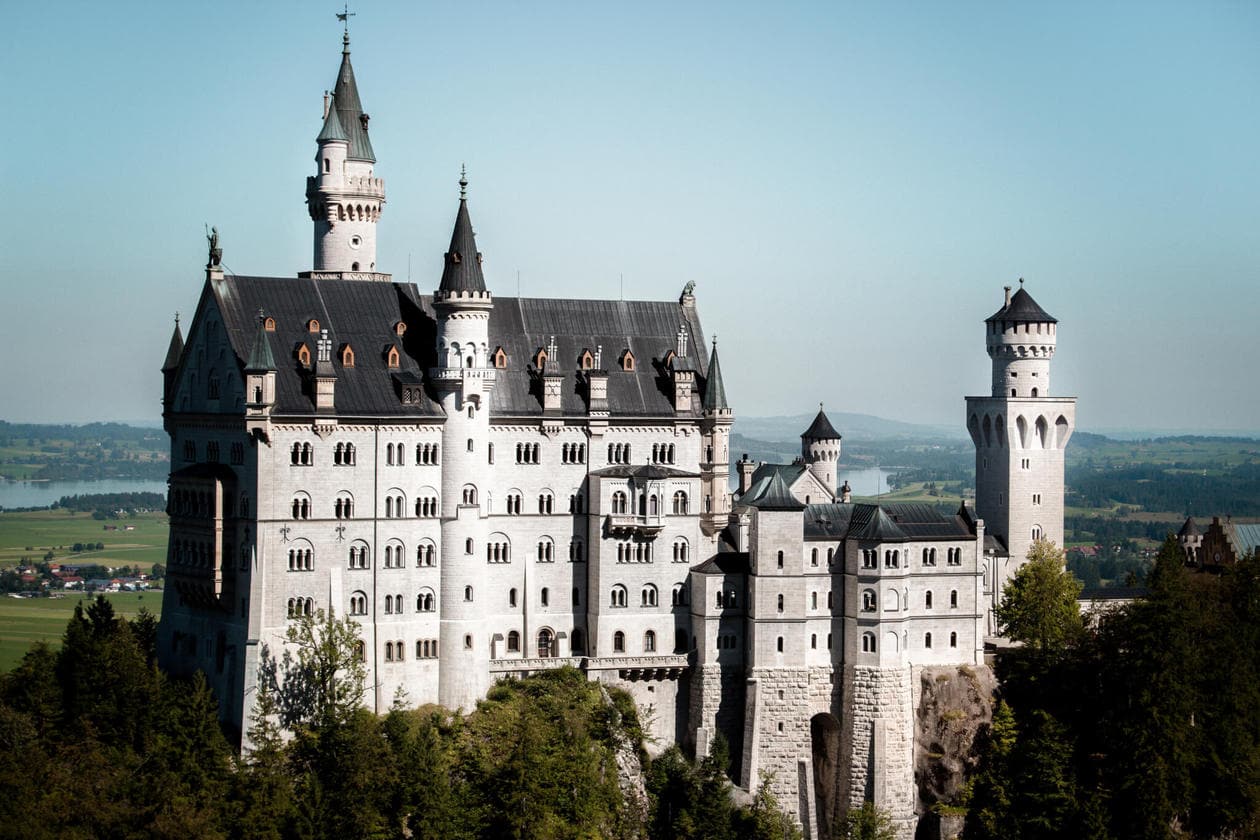 Fussen is only a 6 minute drive to Schwangau, the home Neuschwanstein, making it the the perfect hub if you plan on spending the night in this area.
Neuschwanstein is said to be the inspiration for Sleeping Beauty's castle, and it is the definition of a real-life fairytale location. The castle is nestled perfectly amongst one of the most beautiful landscapes I've ever experienced, and it is truly a magical sight to see.
For everything you need to know about visiting Neuschwanstein Castle, including tips for buying your tickets, how to get there, the best views and more, click my related post below.
---
RELATED POST // VISITING NEUSCHWANSTEIN CASTLE: EVERYTHING YOU NEED TO KNOW
---
ALTSTADT VON FUSSEN
Altstadt Von Fussen is the town center of Fussen, and it's tiny.
In fact, you can actually walk through and safely see everything there is to see in about 30 minutes.. and that's if you're walking slow.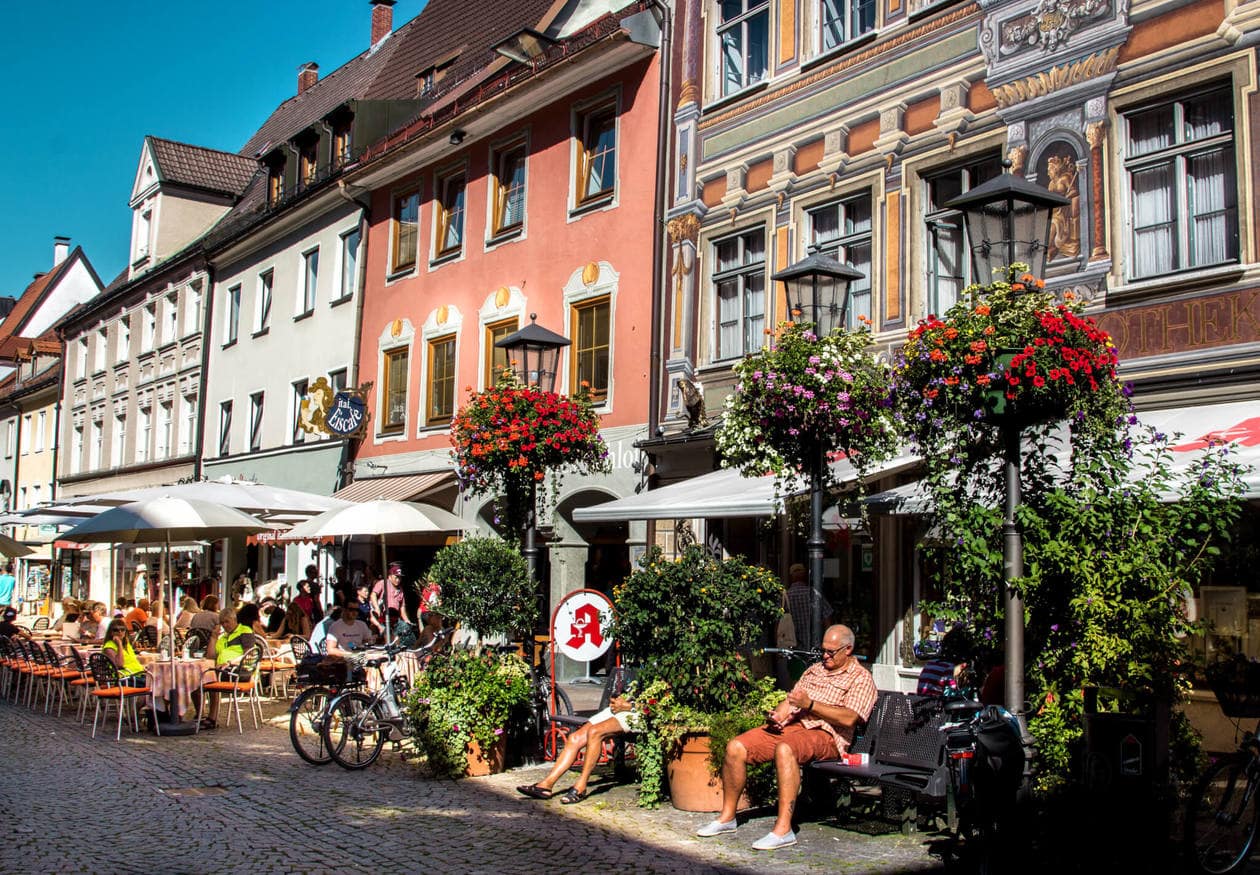 Grab an ice cream or pick up your postcards at one of the many souvenir shops and restaurants lined along the cozy cobblestone streets.
All of the shops blatantly target tourists , so it doesn't feel totally authentic… but nevertheless, it is a charming stop and worth taking a quick stroll through for some photos.
GET THERE EARLY
If you plan to walk through Altstadt Von Fussen, make sure to do it earlier in the day.
Most of the shops close down by 6PM and if you're visiting on a Sunday there's a good chance not many places will be open at all.
CHEAP EATS // WOK INN
Because most of the restaurants in this area seemed super touristy (ie expensive and/or mediocre), we decided to keep it simple and try this random Chinese restaurant that looked cheap and had good reviews.
It was a risky move, Chinese food in Bavaria, but it paid off.
Wok Inn is located down a small side road in the center of town. It's a no-frills place to go for a fast, cheap meal. The had a lot of vegetarian options as well and the food was surprisingly very good.
On our way out of town, we actually stopped in again for some take-out as this was our first break from German food in a few weeks and it was a much needed reprieve from schnitzel and sausages.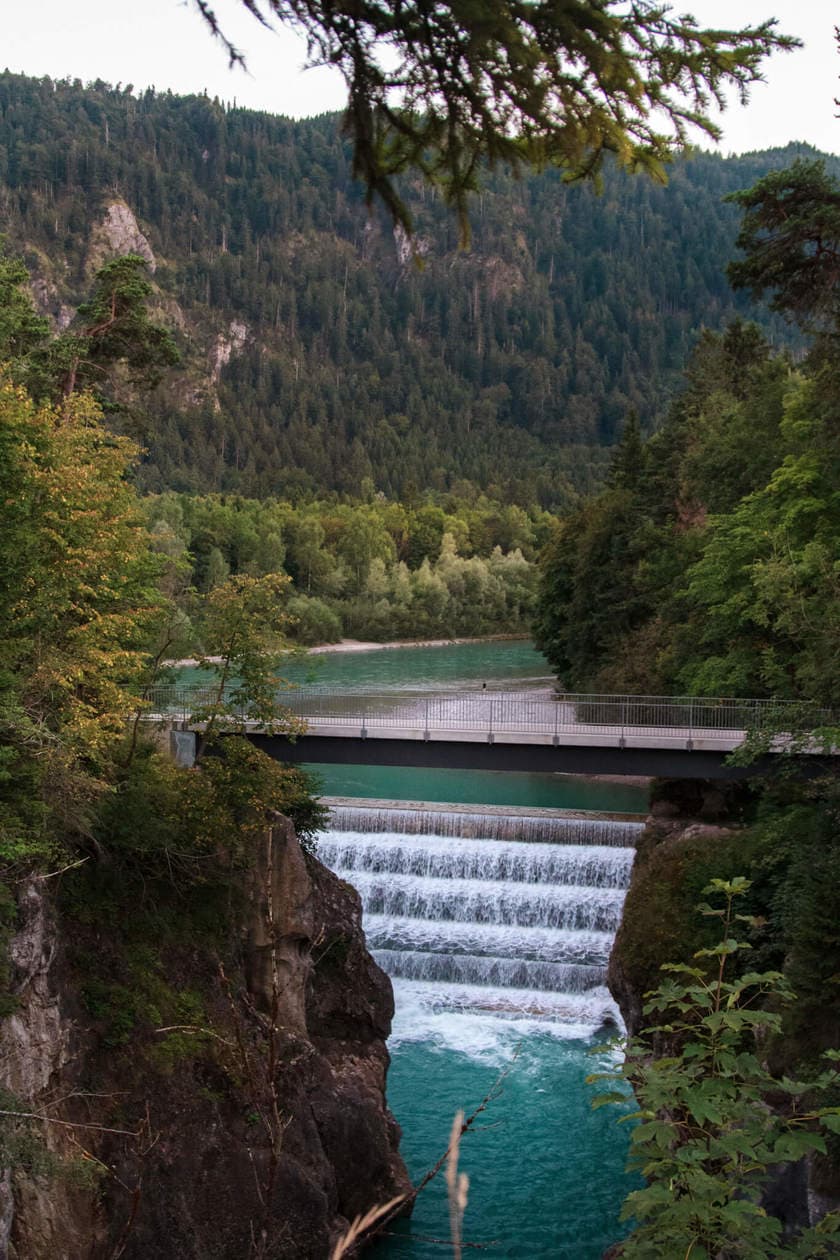 LECHFALL
If you walk 10-15 min South from Fussen's town center, you'll run into the spot where water from the river Lech plunges into Lech Gorge, over a manmade waterfall.
Head out onto the bridge and stand over the falls for the best view. Lechfall is small and the visit will only take you 10-15 minutes, but the scenery is beautiful.
THE BRIGHT BLUE WATER OF LECH RIVER
One of the most striking things about Lechfall is the unusually bright, opaque turquoise water. And it's especially striking if you visit on a sunny day.
The color of the river is a result of cold water temperatures and very few plankton, mixed with high mineral content and the reflection of the limestone particles in the sunlight.
STEAKHAUS FUSSEN // DINNER WITH A VIEW OF THE RIVER LECH
Directly across the street from the Lechfall footbridge is a restaurant called Steakhaus Fussen with some of the best views of the River Lech.
We grabbed a beer here in the afternoon to watch the sunset and it was stunning. If we hadn't already eaten, we would've had dinner here.
The restaurant serves steak and tapas style small plates, with a few vegetarian options thrown in. The reviews are great and the prices are very reasonable… and you can't beat the view.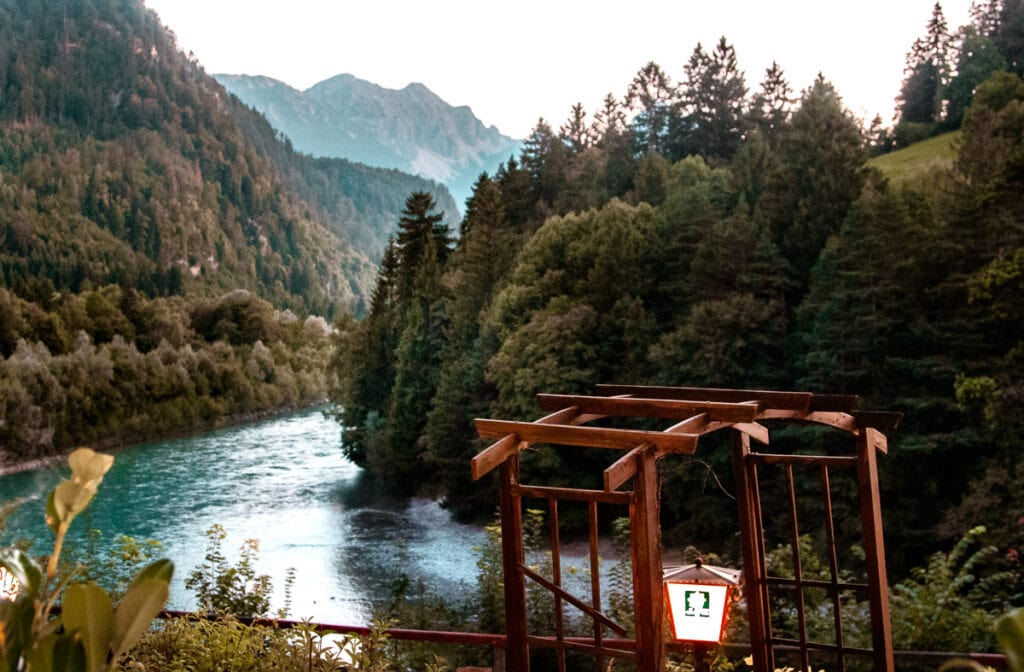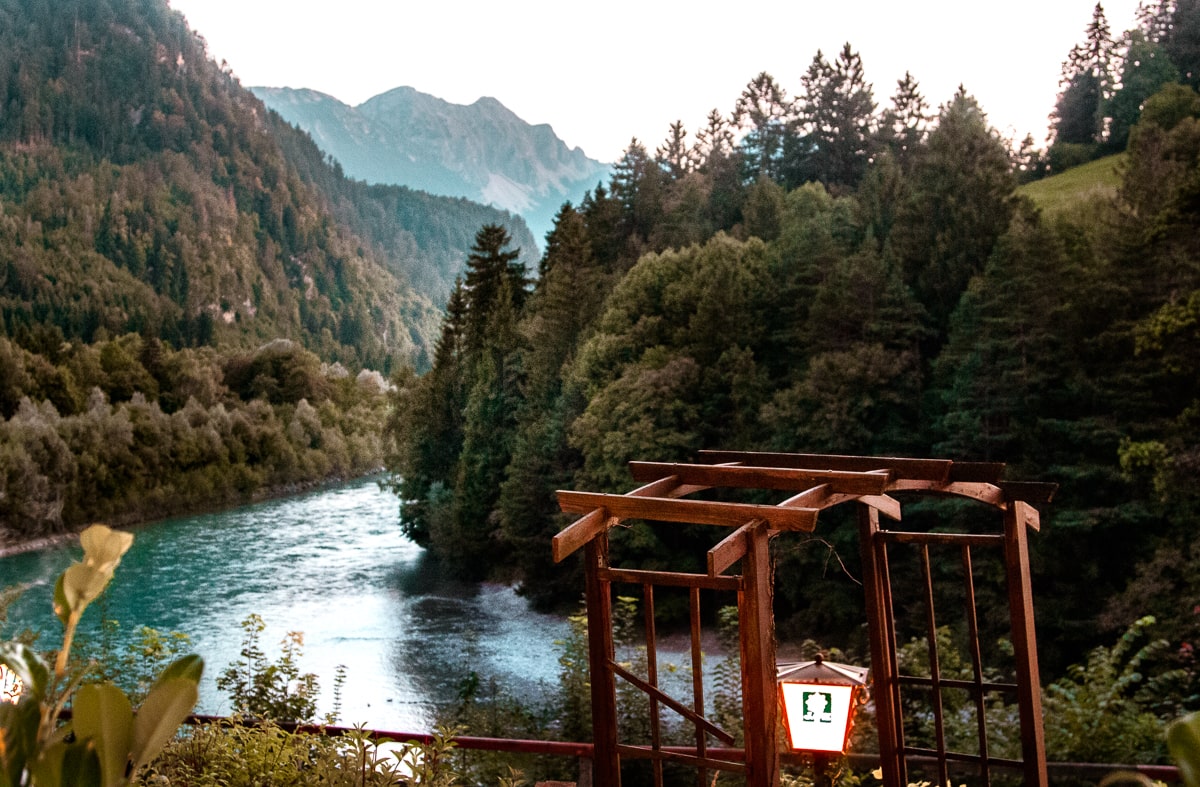 STRADDLE AUSTRIA ON A TREETOP WALKWAY
Less than half a mile (80 km) from Lechfall, you'll find the Austrian border. It's completely unassuming (literally just a line in the road) so you would definitely miss it unless you were looking at a map.
I really wanted to straddle Austria and Germany at the same time, so we drove over to the border and discovered this massive tree top walkway.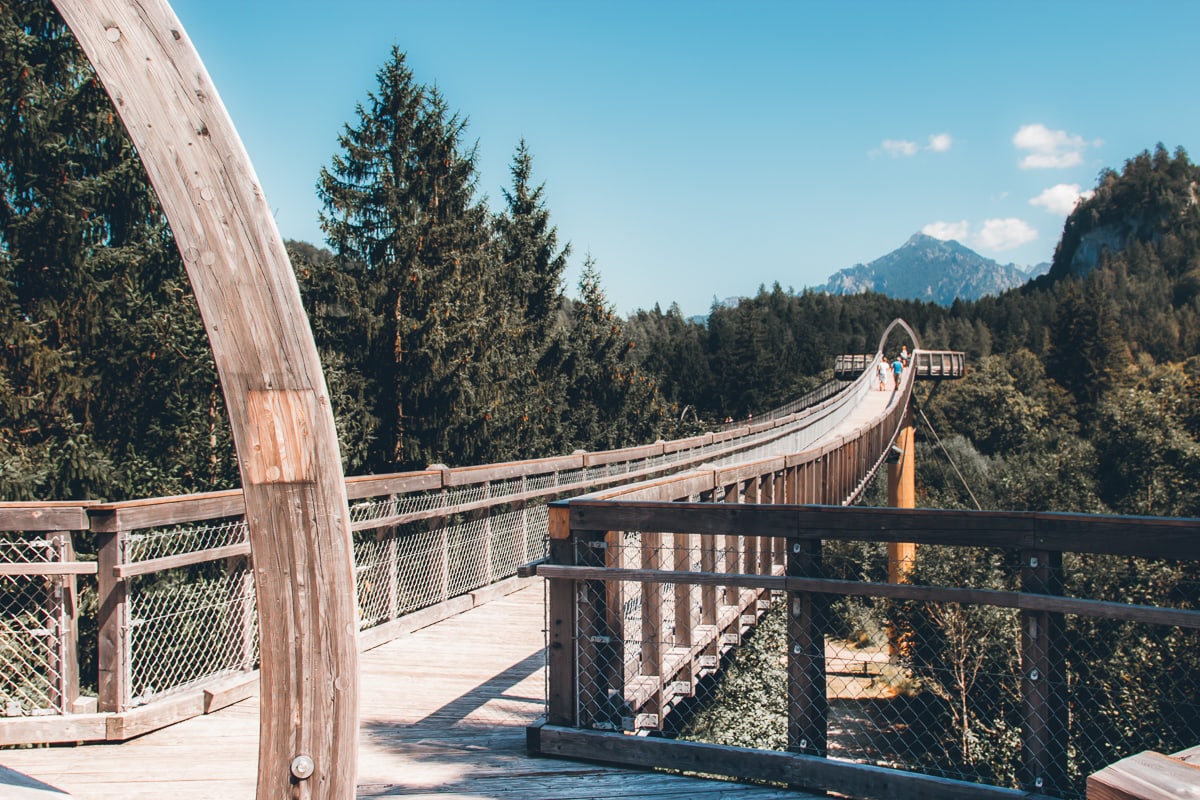 The walkway is pretty short (480 meters / .3 miles) but it's tall enough (21 meter / 69 ft) to lift you over the trees for an excellent 360 degree view of the area.
You can start in Germany and walk into Austria, or vice versa and there's the perfect border line for a quick photo op along the way.
ADMISSION Apparently it costs 5 euro to enter but we didn't know and accidentally walked right past the ticket booth. Nobody said anything.. oops.
Children, teens and people with disabilities are free.
HOURS
May-October: 10am-5pm (last admission 4:30pm)
April & November: 10am-4pm (last admission 3:30pm)
December-March: as weather permits.
For more information about the treetop walkway click here.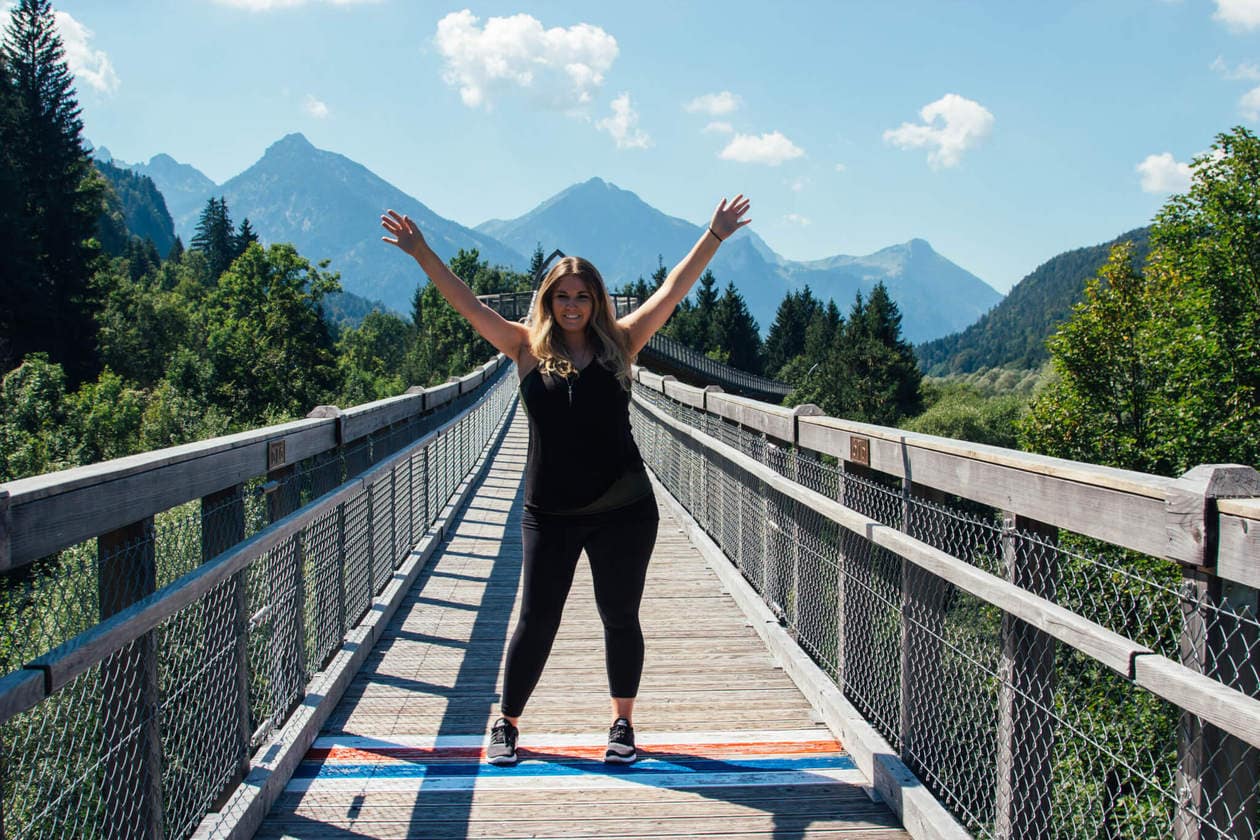 RIDE A GIANT SLIDE TO THE ADVENTURE TRAILS
Directly below the treetop walkway and right next to the German/Austrian Border is a giant slide and several "adventure trails" to explore.
We randomly stumbled upon the slide on our way to the border and obviously couldn't pass it up. We spent 30+ minutes running up and down the hill, taking turns and remembering how fun it is to be a kid again.
The first day we visited, we had the entire slide to ourselves and we had so much fun that we ended up coming back the next day. Unfortunately that was a Saturday and a several local families were occupying the slide when we got there.
Waiting in line with 7 year olds and then sliding down the silver chute while their parents watched kind of killed the vibe so we didn't stay long the second time around.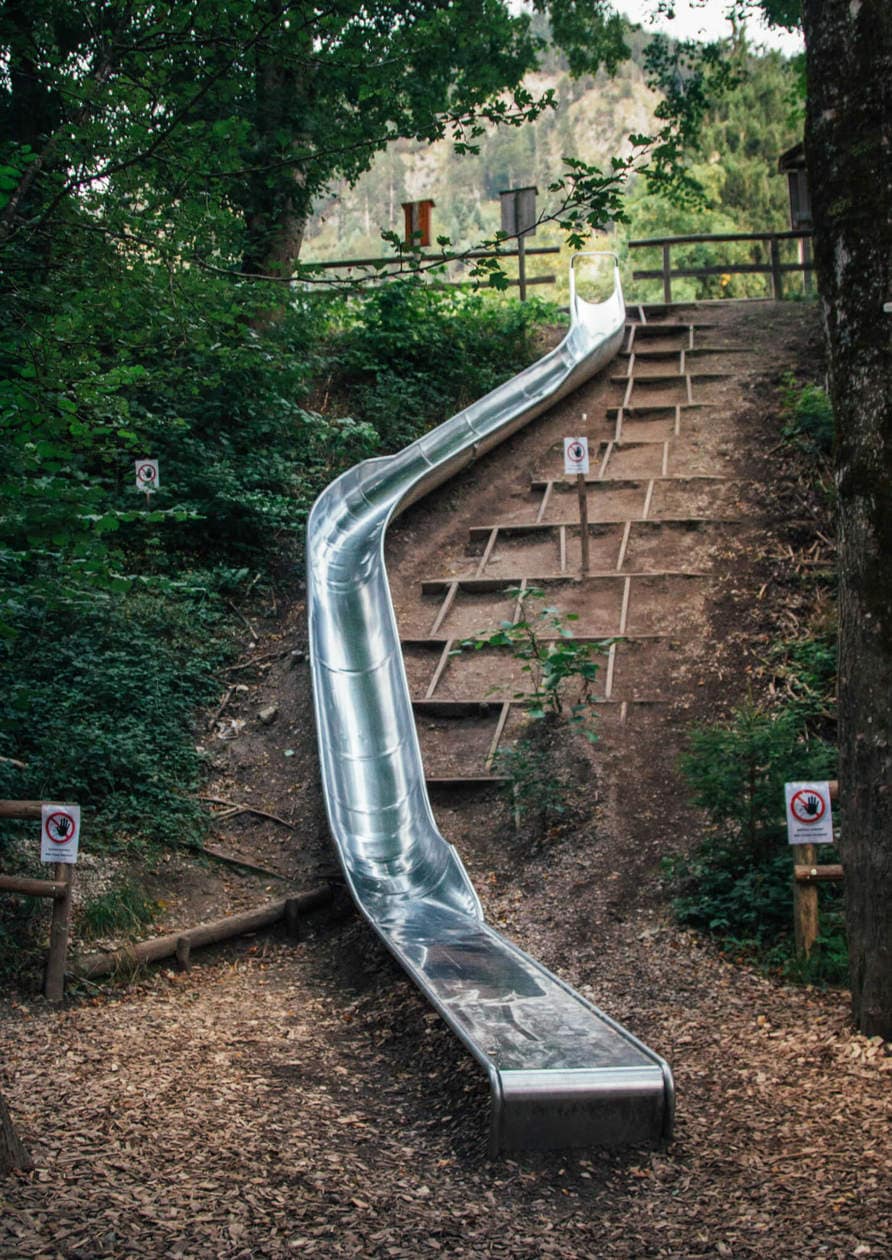 At the bottom of the slide, you'll find several adventure trails.
There is the Forest Trail, the Mountain Trail and the Valley of the Senses. Each trail has its own set of activities to do along the way as well as information about the area, but it was mostly written in German.
The trails are short and easily walkable and I'm 99% sure they were designed for children, but we loved it anyway. We chose the Forest Trail and it was a fun and unique way to explore the scenery.
The trail ended at the River Lech where people were sun bathing and swimming.. even though the water was freezing.
ADMISSION Free
For more information about the adventure trails click here
ALPINE SLIDE
I didn't discover the Alpine Slide until after we'd left Bavaria, so now I have a reason to return.
During the Summer, you can take a toboggan and wind your way for half of a mile (750 meters) down the mountain.
The slide is located about 2 miles from Neuschwanstein Castle. You can also paraglide, hike or take the mountain cable car up for an incredible view.
Information about the Alpine Slide: Here and Here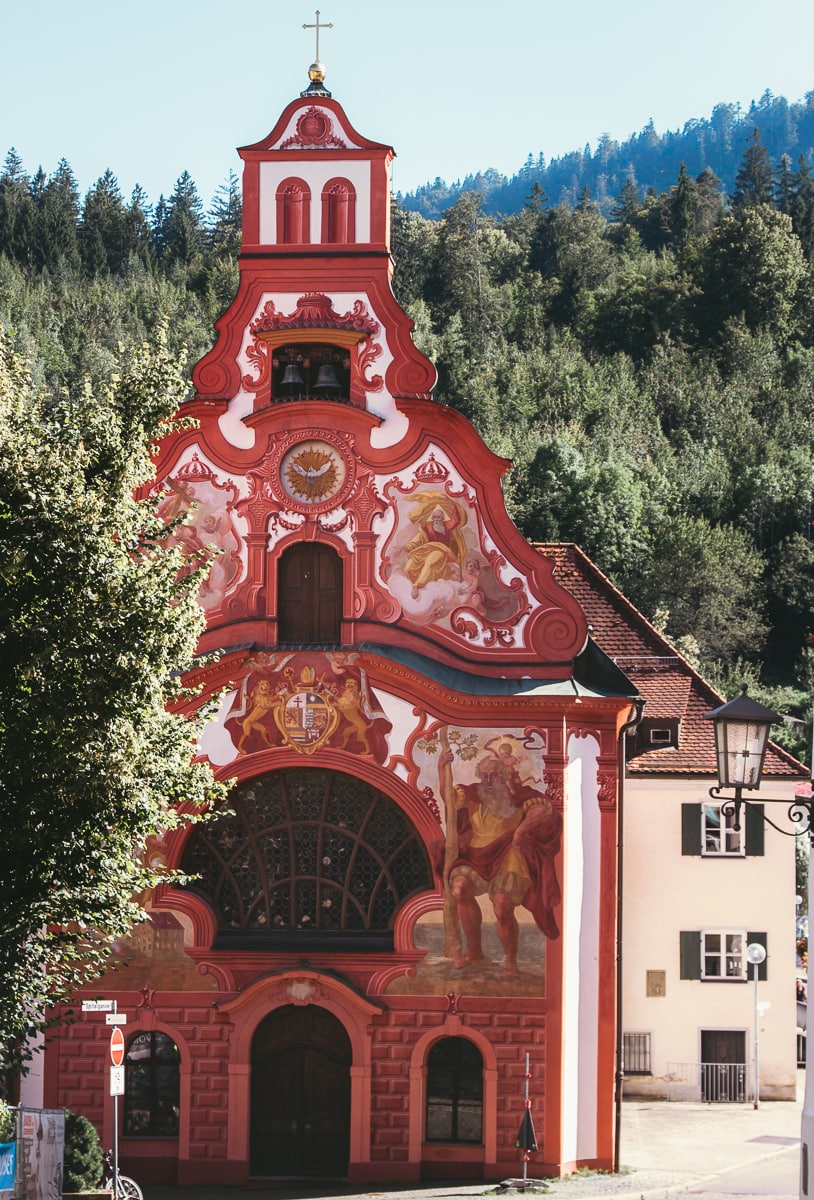 ---
LOOKING FOR MORE ROMANTIC ROAD INFO? CHECK OUT THESE RELATED POSTS
---
WHERE TO STAY IN FUSSEN, GERMANY
HOTEL FANTASIA
Located in the town center of Fussen (and only a 2 minute walk from the bus station), Hotel Fantasia is a stylish budget-friendly option. They also have room options for groups/families of 3-6.
PRICE RANGE From $72 USD (€59)
For Hotel Fantasia information and booking click here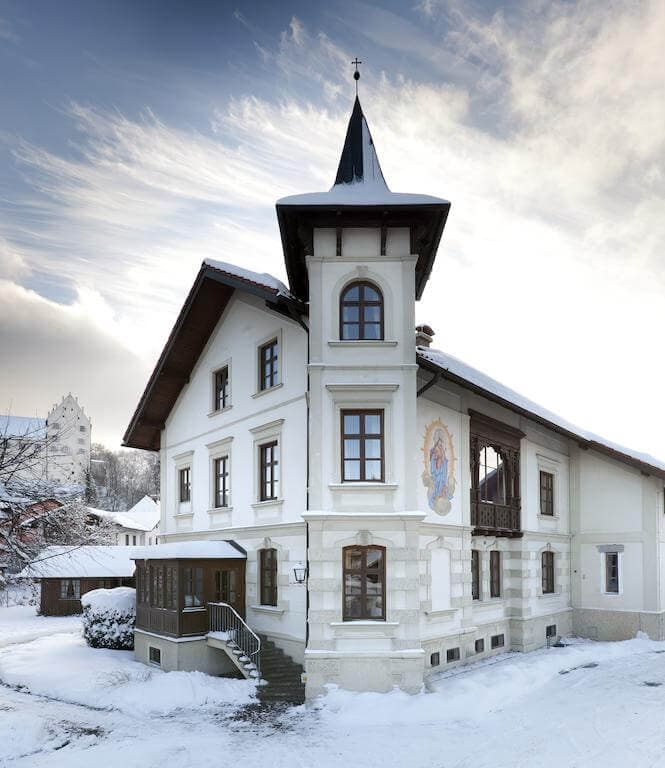 HOTEL SONNE
Hotel Sonne is ranked amongst the top 25 hotels in Germany. Each of the rooms have a different, stylish design and it's located in the center of Fussen.
PRICE RANGE From $98 USD (€79)
For Hotel Sonne information + booking click here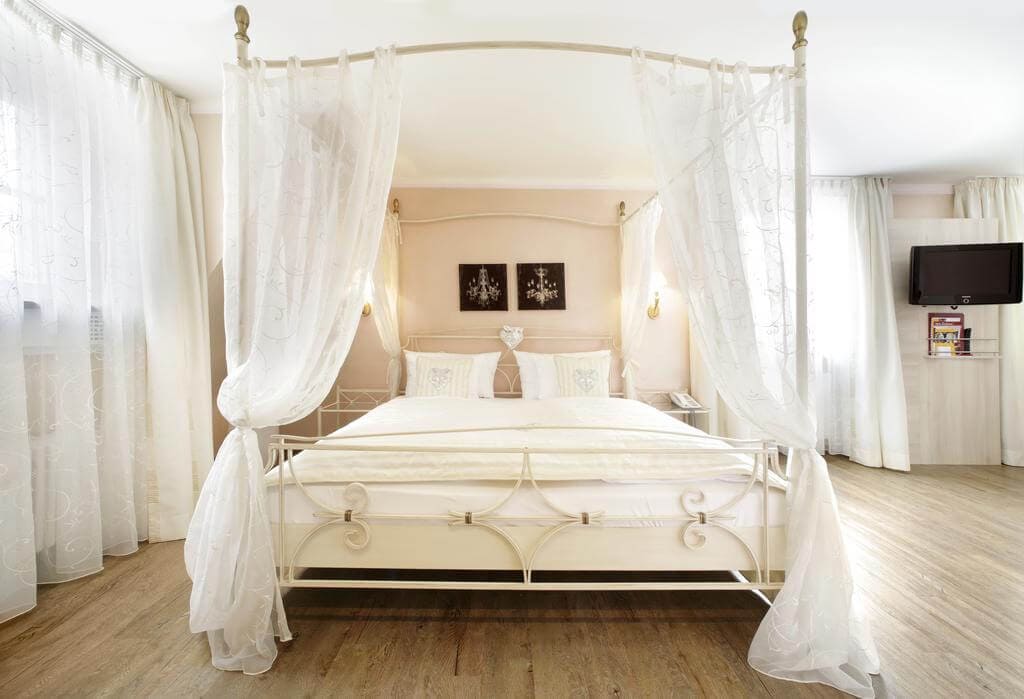 HOTEL SOMMER
Hotel Sommer is a wellness hotel located 5 minutes outside of the town center but it's views and year-round indoor and outdoor (heated) pools are worth the extra mile. The hotel also has a sauna, fitness center and free bike rentals.
PRICE RANGE From $250 USD (€218)
For Hotel Sommer information and booking click here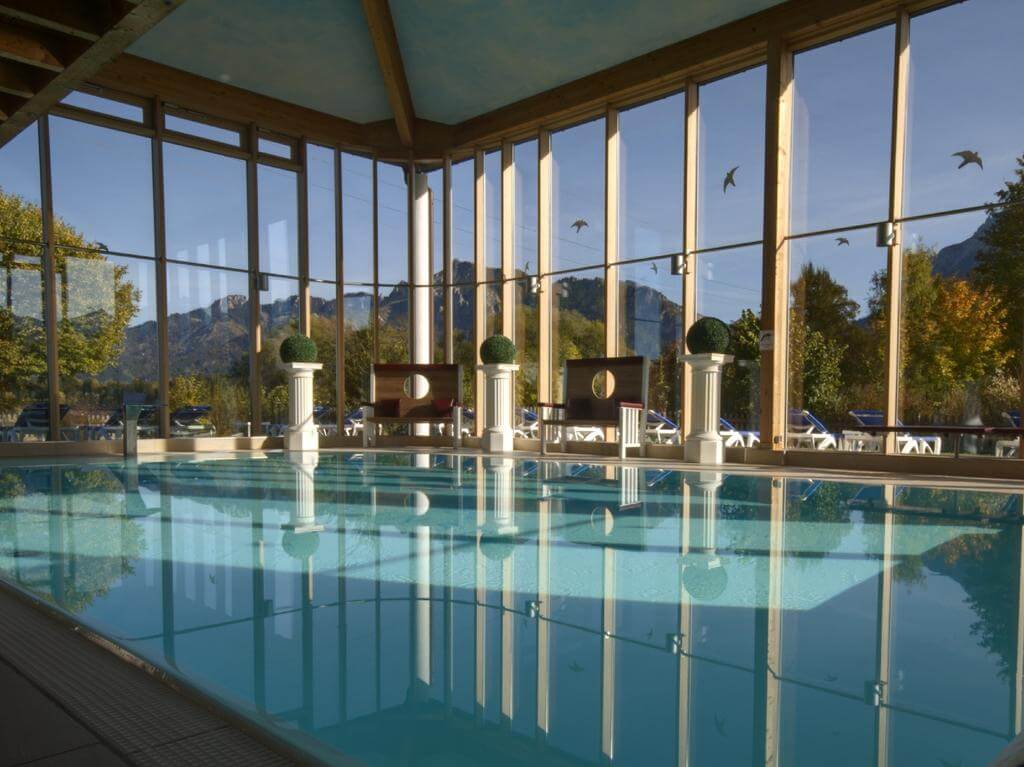 HAVE YOU EVER BEEN TO FUSSEN? DO YOU HAVE ANYTHING TO ADD TO THIS LIST? LEAVE A COMMENT BELOW!
---
PIN IT // 5 THINGS TO DO IN FUSSEN, GERMANY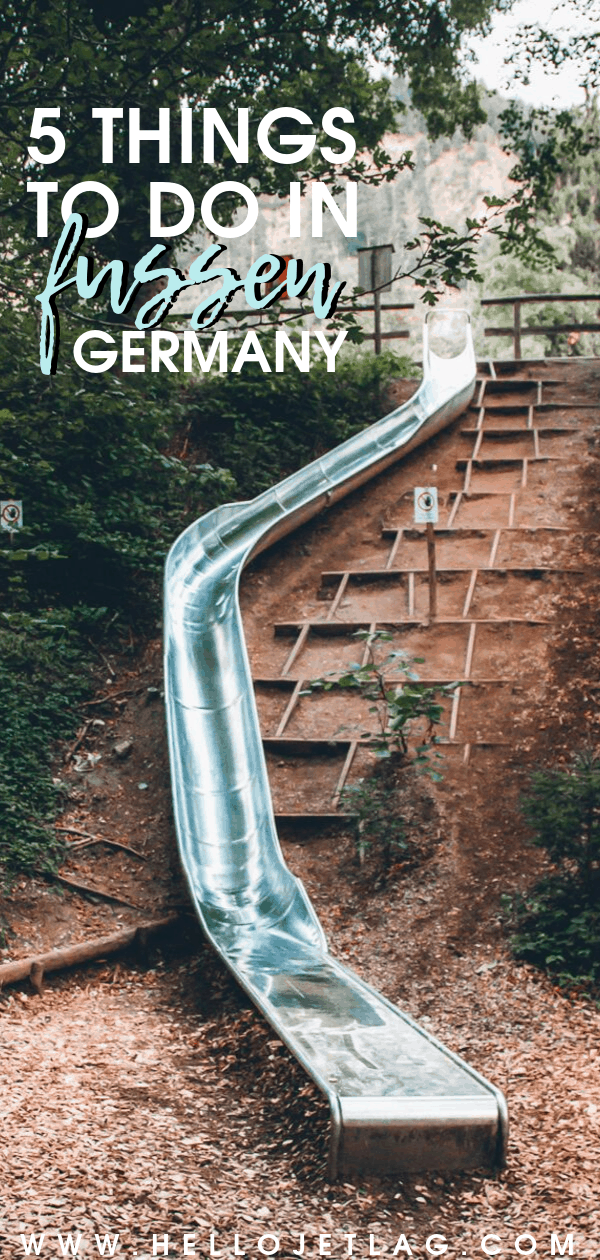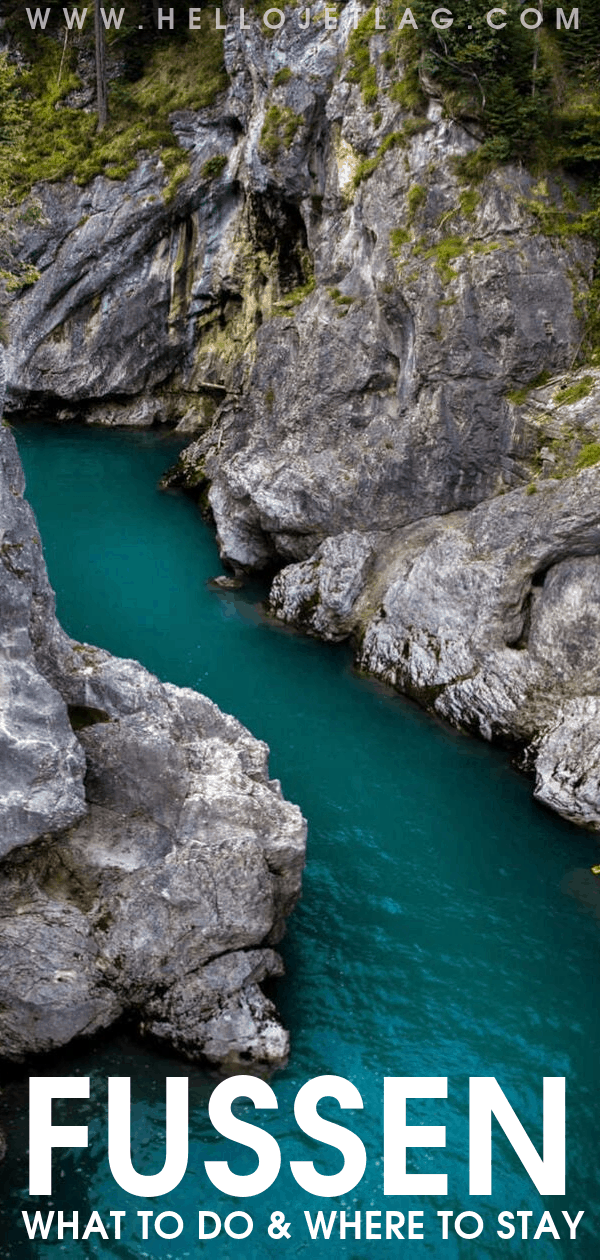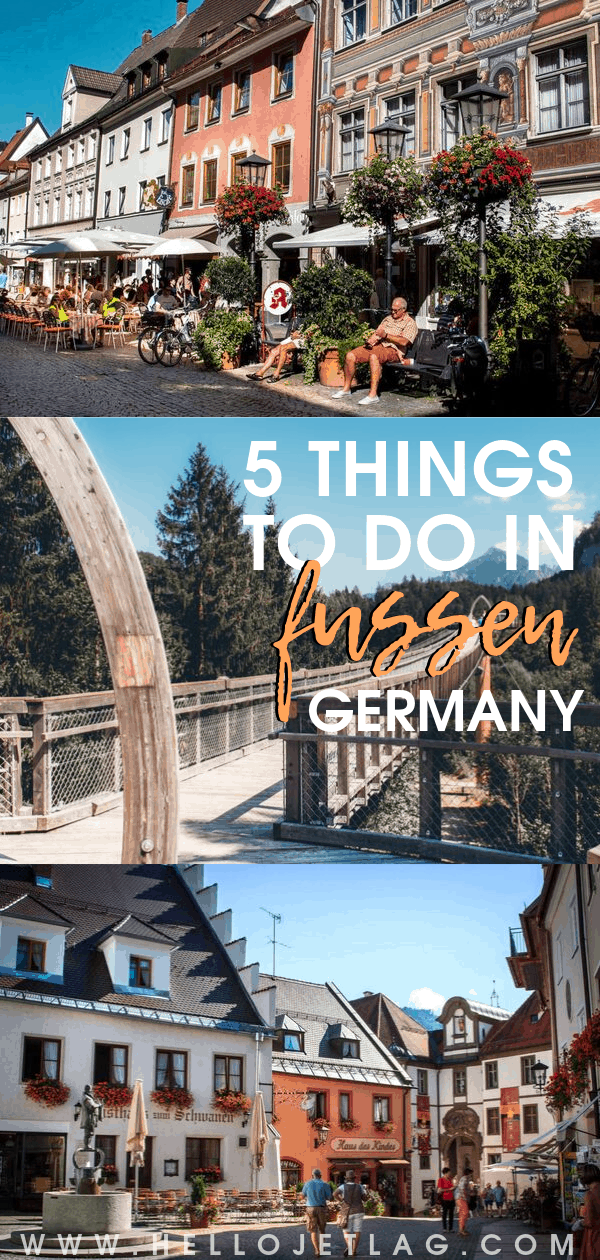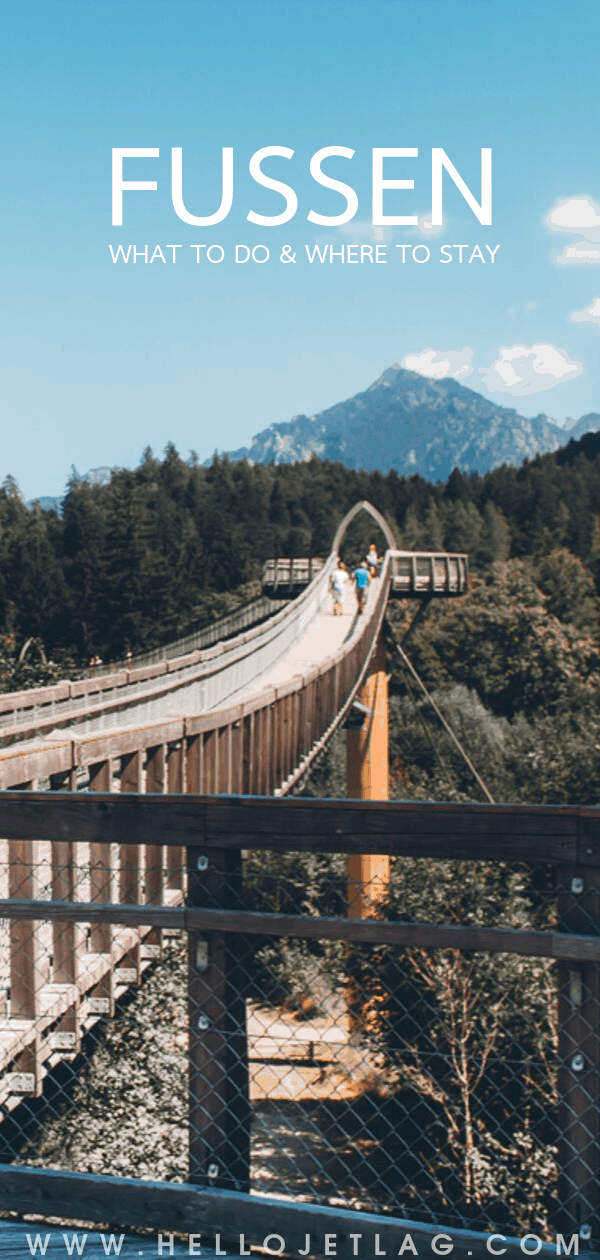 Disclaimer: This post contains affiliate links, which means if you click them and purchase something, we receive a small commission.