If you have an Instagram, chances are that you've seen countless photos of beautiful people eating tiny sandwiches in this famous, all pink tearoom. I literally hate pink and a visit to Sketch was at the top of my list of things to do while in London. They're marketing geniuses, but more importantly, Sketch celebrate and promote artists. Every detail is taken into account, from the china on the tables to the egg shaped toilets, and you are transported into an eclectic fantasy land that you can't help but fall in love with. Whether you go for the art or the Instagram pic, I highly recommend at least walking through while you're in London. Keep reading for more information about Sketch afternoon tea, the pink restaurant and everything else you need to know before you visit.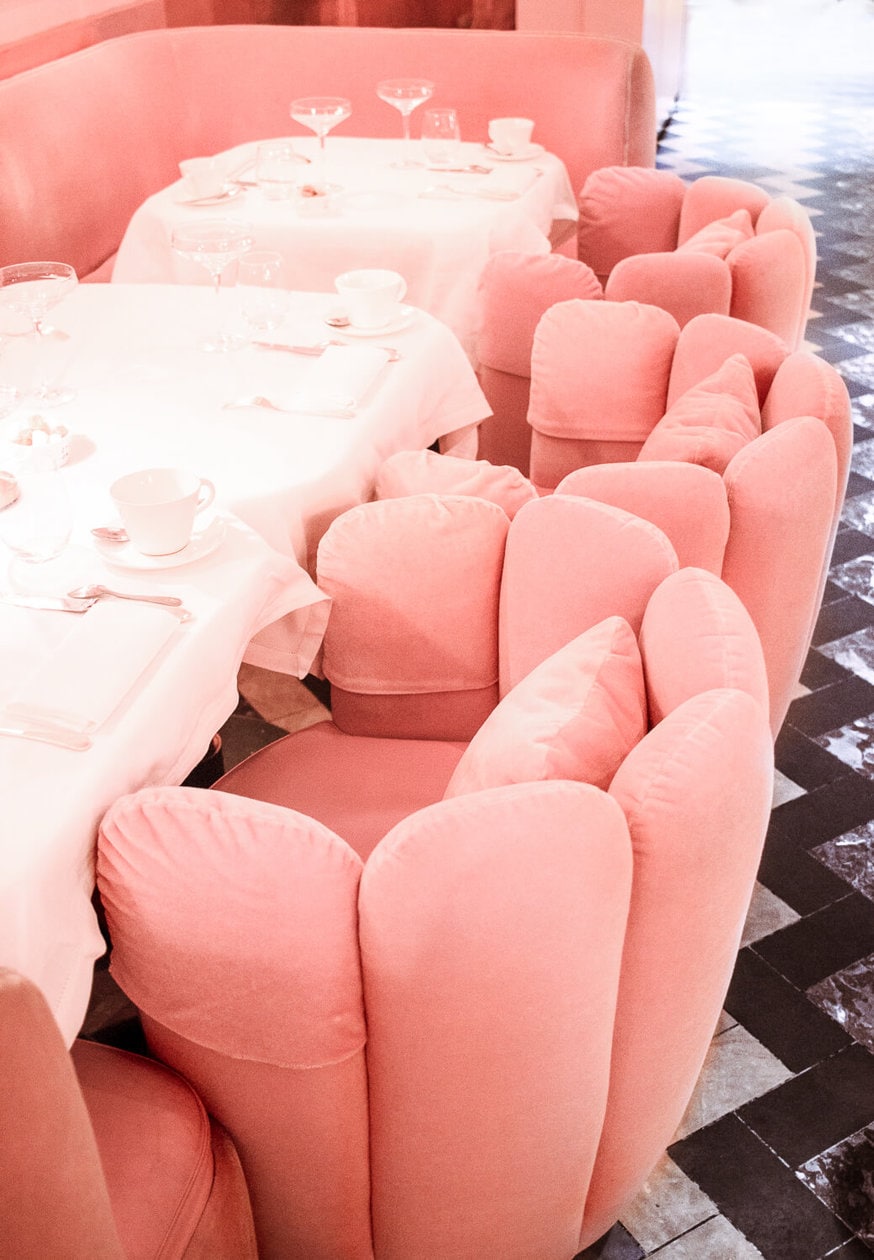 THE MAYFAIR FLOWER SHOW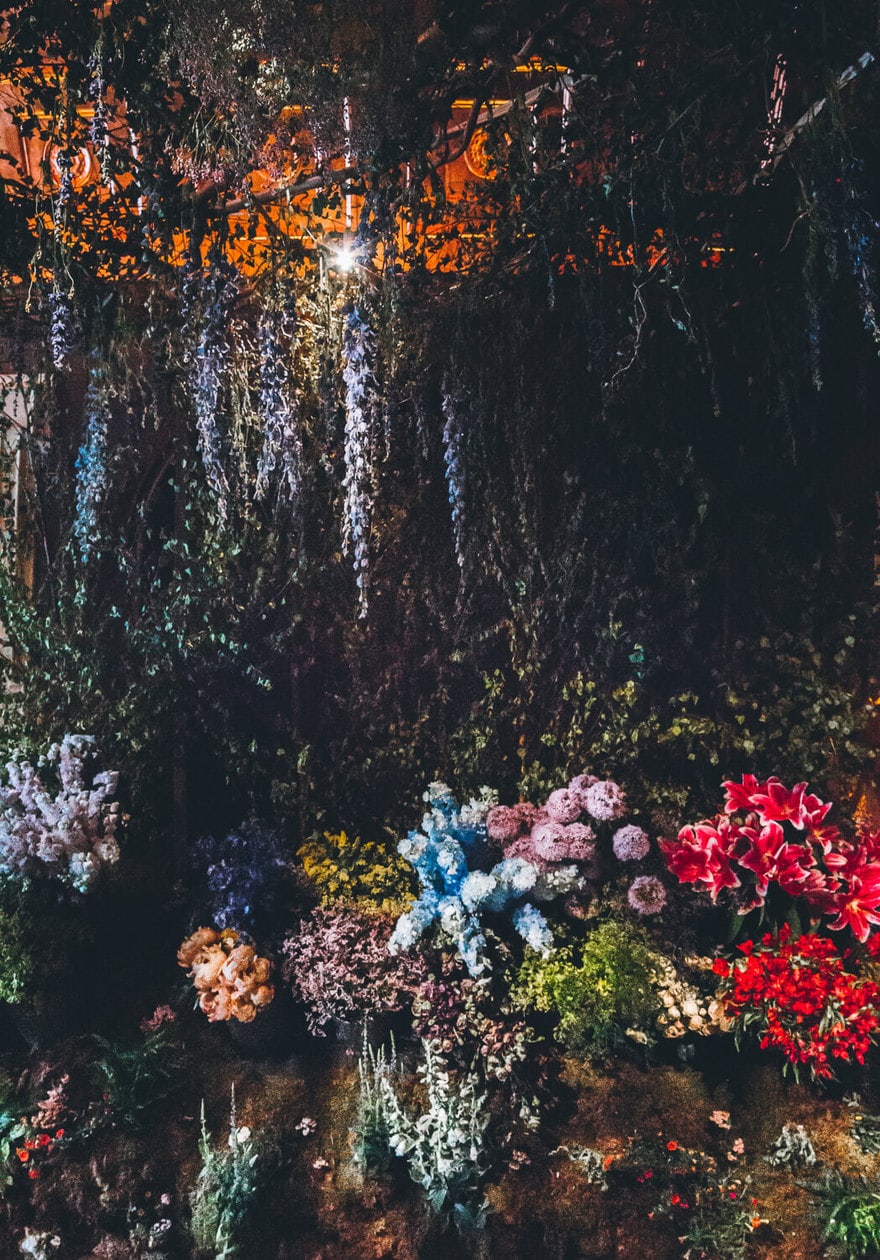 I was lucky to be in town during Sketch's annual Mayfair Flower Show, where five of London's leading florists let their imaginations run wild and transformed this already picture perfect location into an out of this world floral installation. Inspired by the Chelsea Flower Show, Sketch collaborated with Diptyque and Pommery champagne to create the exhibit, and the display was breathtaking.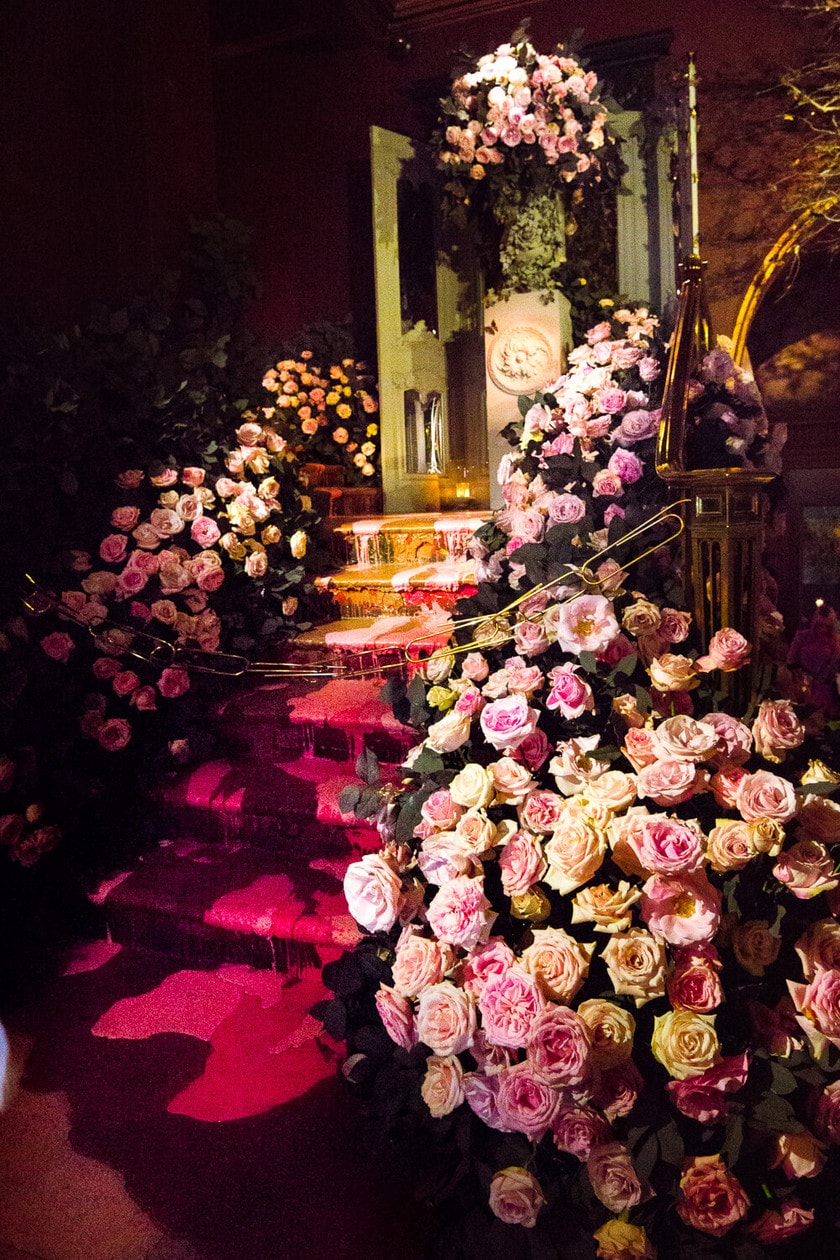 The outside of the restaurant looks like it is taken right out of the pages of a storybook and passerby's were stopping by the dozen to take photos and peek inside.
A game of hopscotch greets you at the entrance; it's the perfect way to awake your sense of play and wonder before exploring the dream world that awaits. Inside, hundreds of flowers line Sketch's long hallway, wisteria hangs from the ceilings and the staircases are covered in pink roses and dripping paint, very reminiscent of the Queen of Hearts' garden in Alice in Wonderland.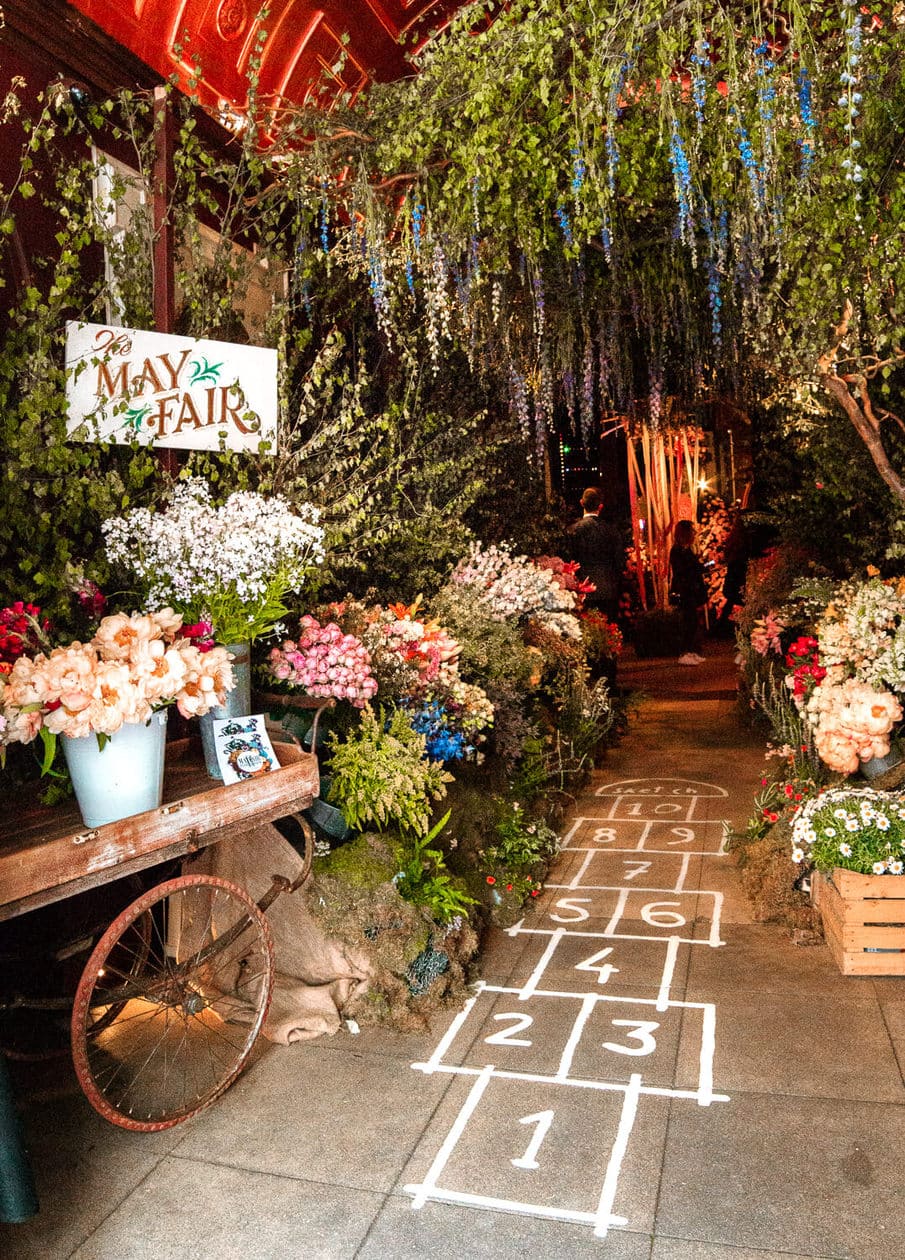 THE GALLERY // AFTERNOON TEA AT LONDON'S PINK RESTAURANT
Sketch actually has four separate restaurants within their building, each decorated with it's own unique theme, but it's the pink tearoom room that is always most popular amongst visitors.
At 2pm in the middle of the week, every table was full.. so reservations are necessary.
---
THE BASIC BITCH TOUR OF LONDON // THE CITY'S MOST INSTAGRAMMABLE LOCATIONS
---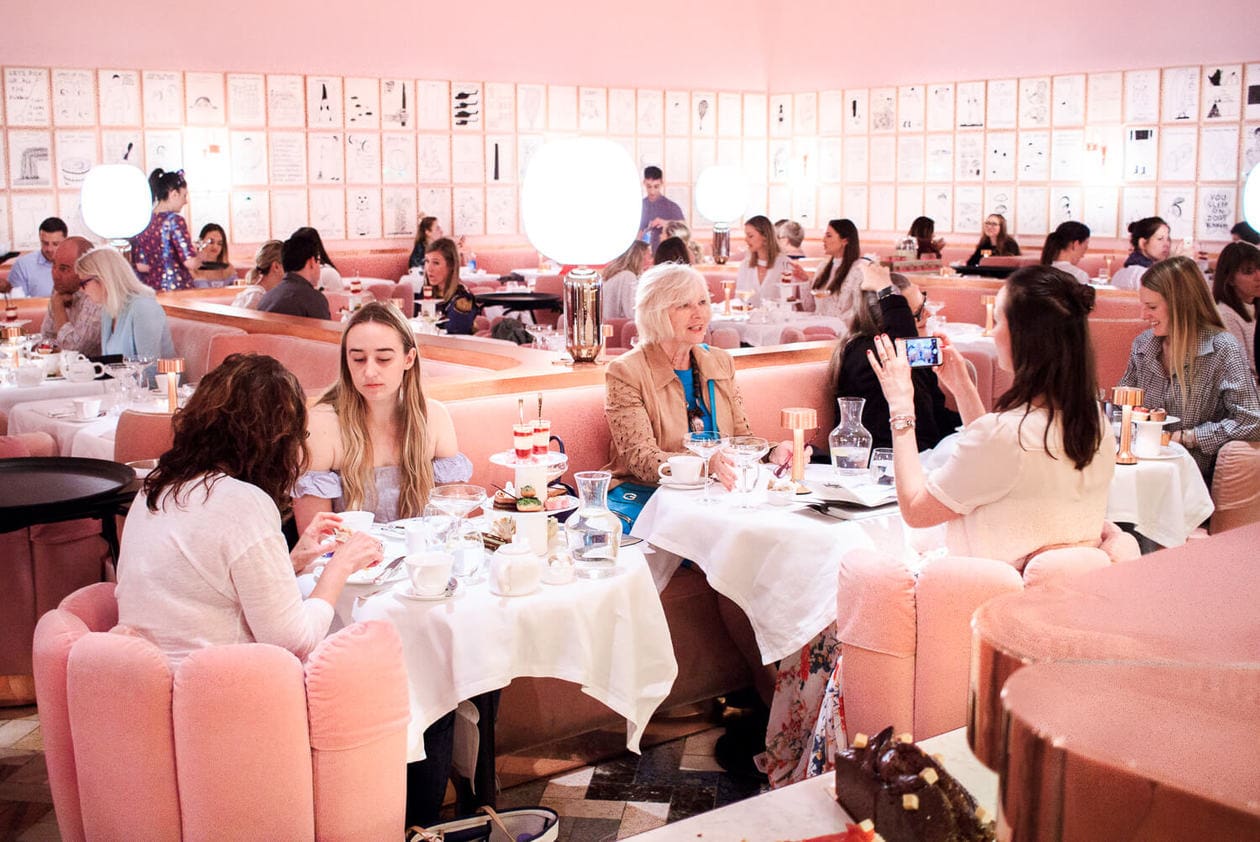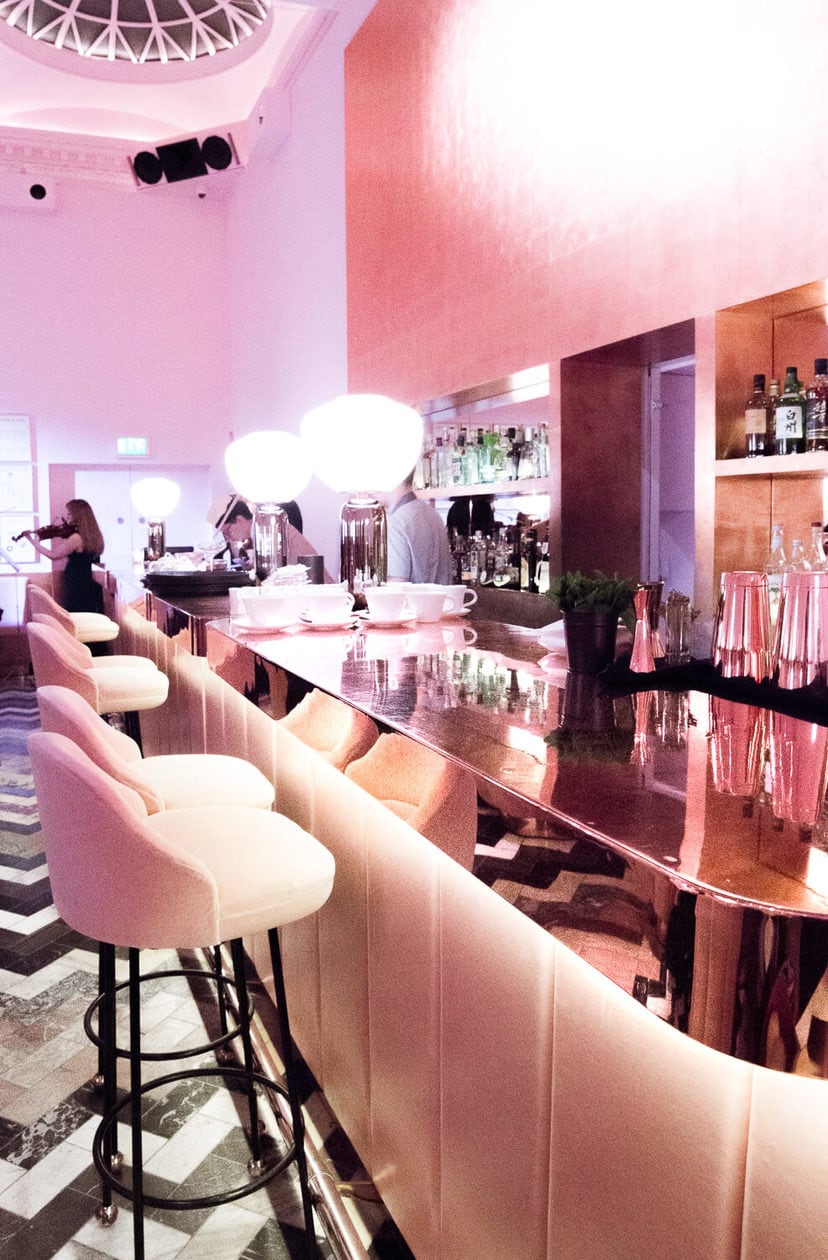 THE DESIGN
The Gallery's design at Sketch is based around British artist, David Shrigley, and his 239 original works of art that line the walls. Architect and designer India Mahdavi created The Gallery's monochromatic pink interior to compliment these works of art in an eclectic way. Shrigley's black and white humorous drawings somehow make the perfect contrasting backdrop for the delicately feminine tearoom.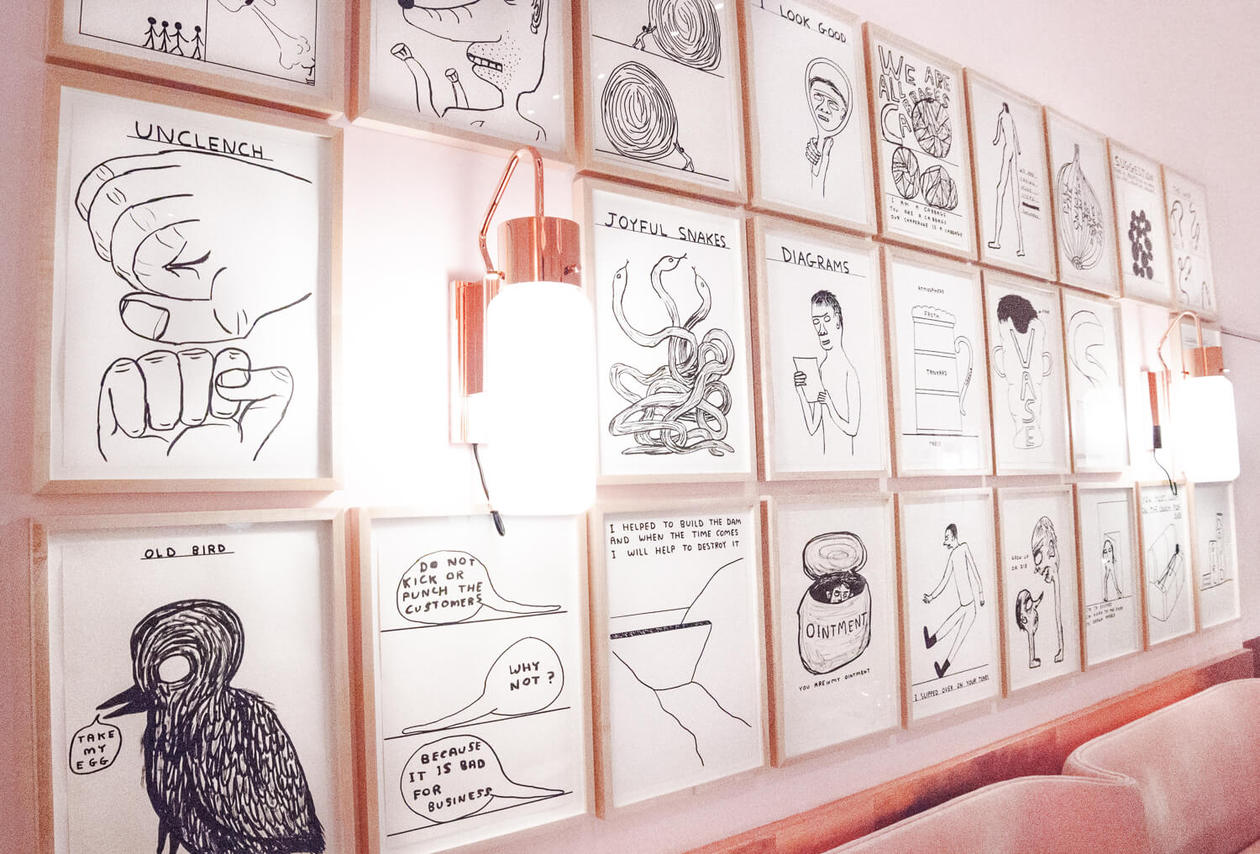 THE DETAILS
Sketch Afternoon Tea is definitely not the cheapest option in London, but you really are paying for the experience. Every detail has been perfectly curated, from the staff uniforms to the ceramics. The severs dawn exaggerated floral boutonnières and housekeeper's wear traditional maid outfits. On the tables, David Shrigley's art even graces the dishes, giving your elegant spread a touch of edginess.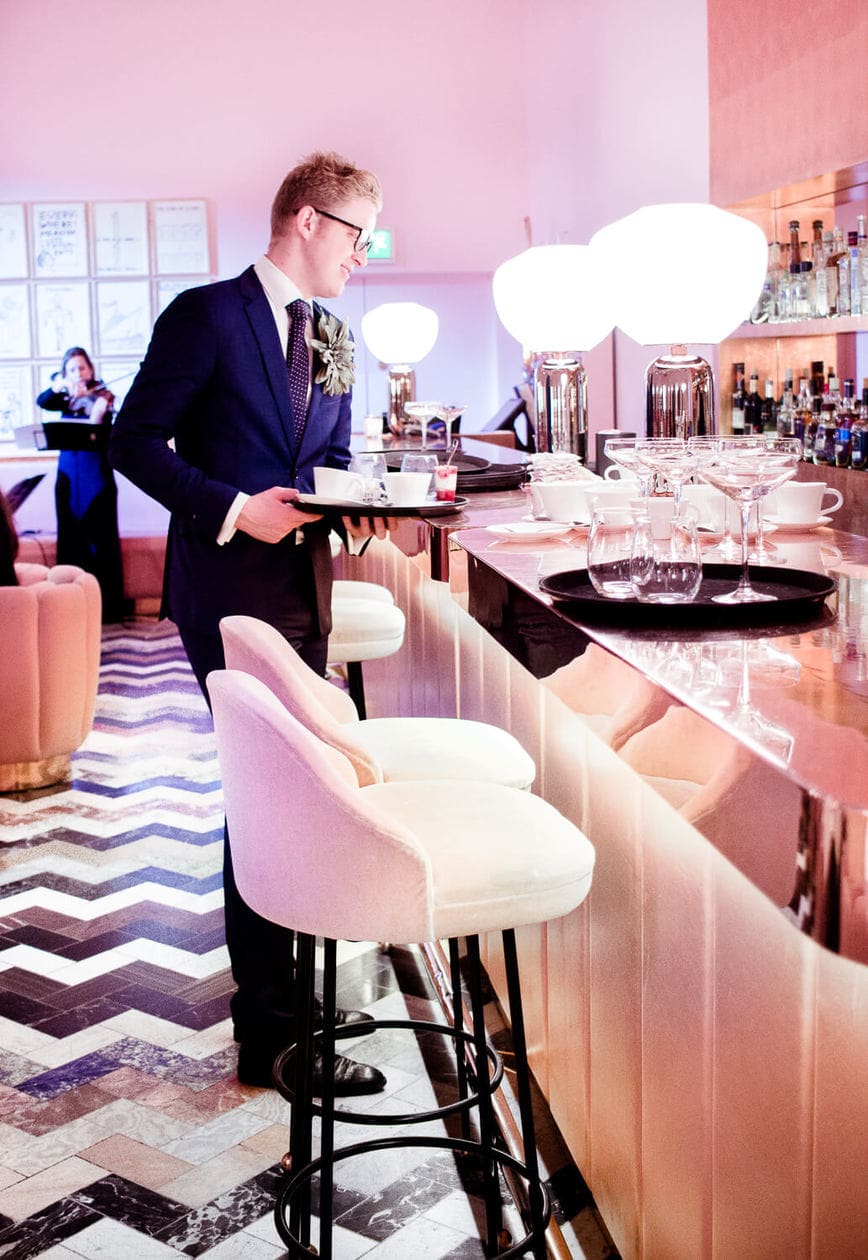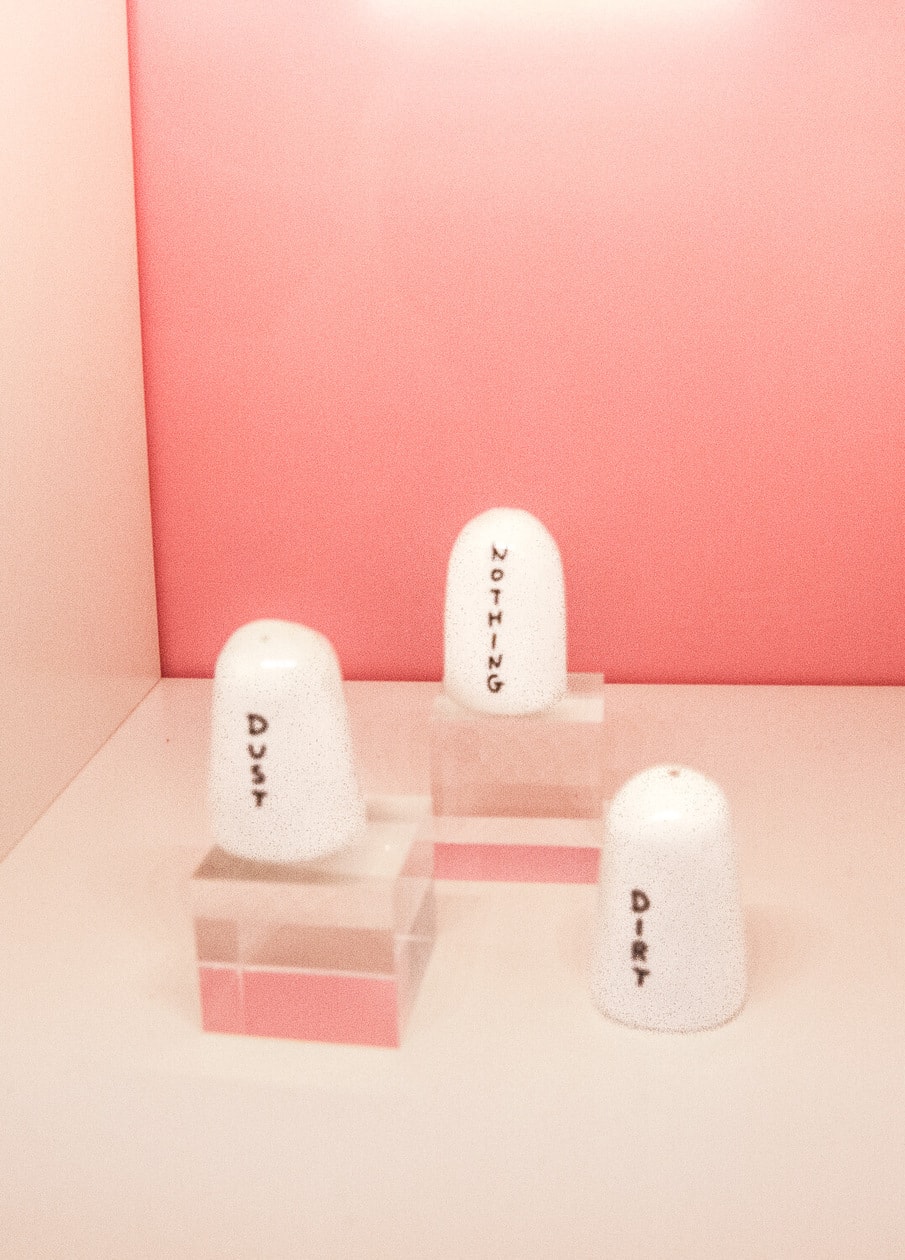 SKETCH AFTERNOON TEA
You'll be given 3 different menu options while dining in The Gallery at Sketch: A La Carte, Dessert or the full Sketch Afternoon Tea experience. Sketch offers a classic afternoon tea or you can upgrade to the champagne afternoon tea for £14 more. They also have a children's afternoon tea which includes an assortment of finger sandwiches, juice, malabar marshmallows, and a selection of pastries.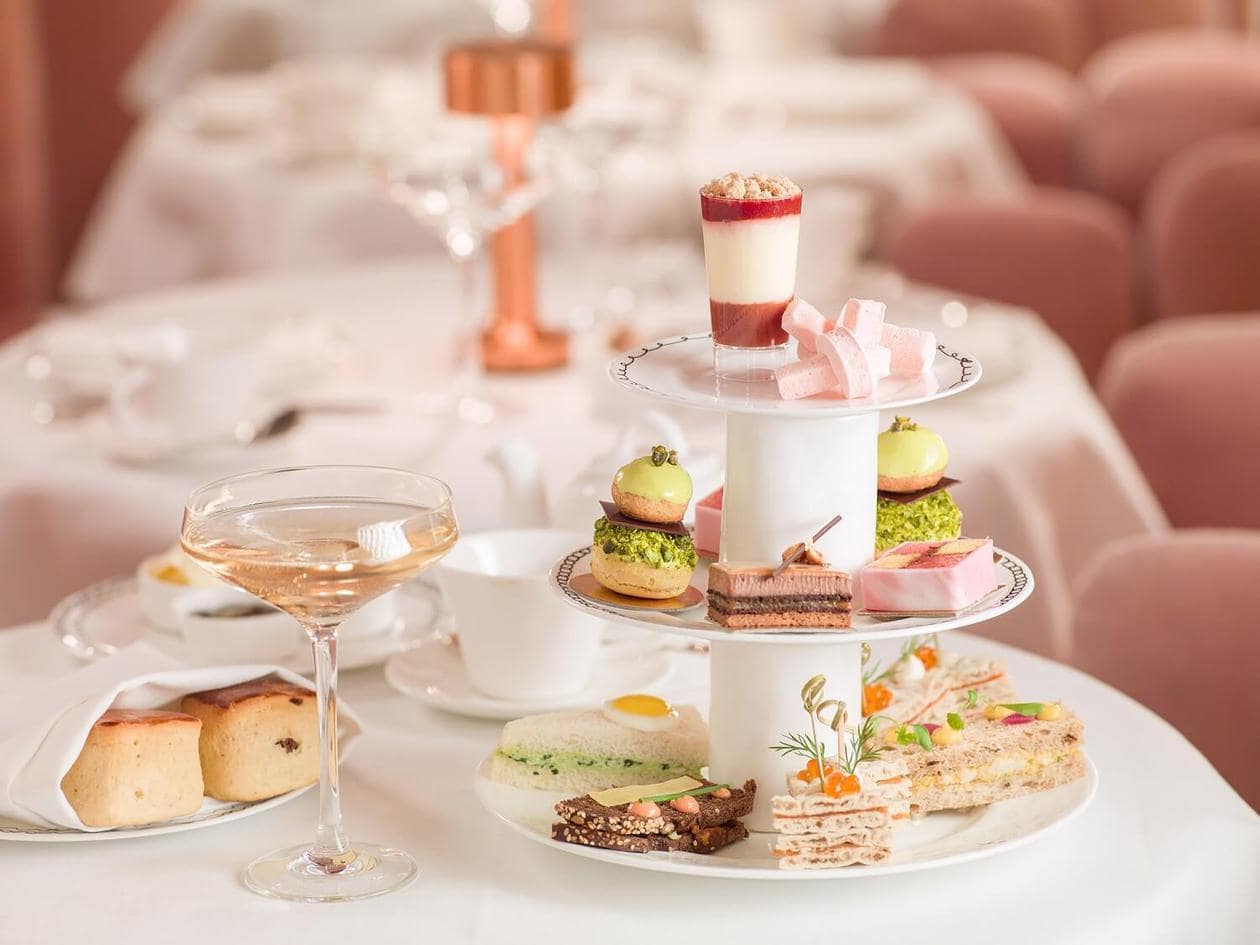 The Sketch Afternoon Tea menu includes a selection of finger sandwiches such as cucumber and ricotta, coronation chicken, salmon and Jacob's cream, foie gras and eggs truffle gougere. It also includes sultana scones with clotted cream (my favorite!) and homemade strawberry jam. The tea finishes off with an assortment of pastries including passion fruit opera cake, coconut & cranberry marshmallow, pineapple & coriander tart and vanilla hazelnut Battenburg.
Sketch also offers an extensive number of tea options from chai, floral and fruit teas, to mint and vanilla versions.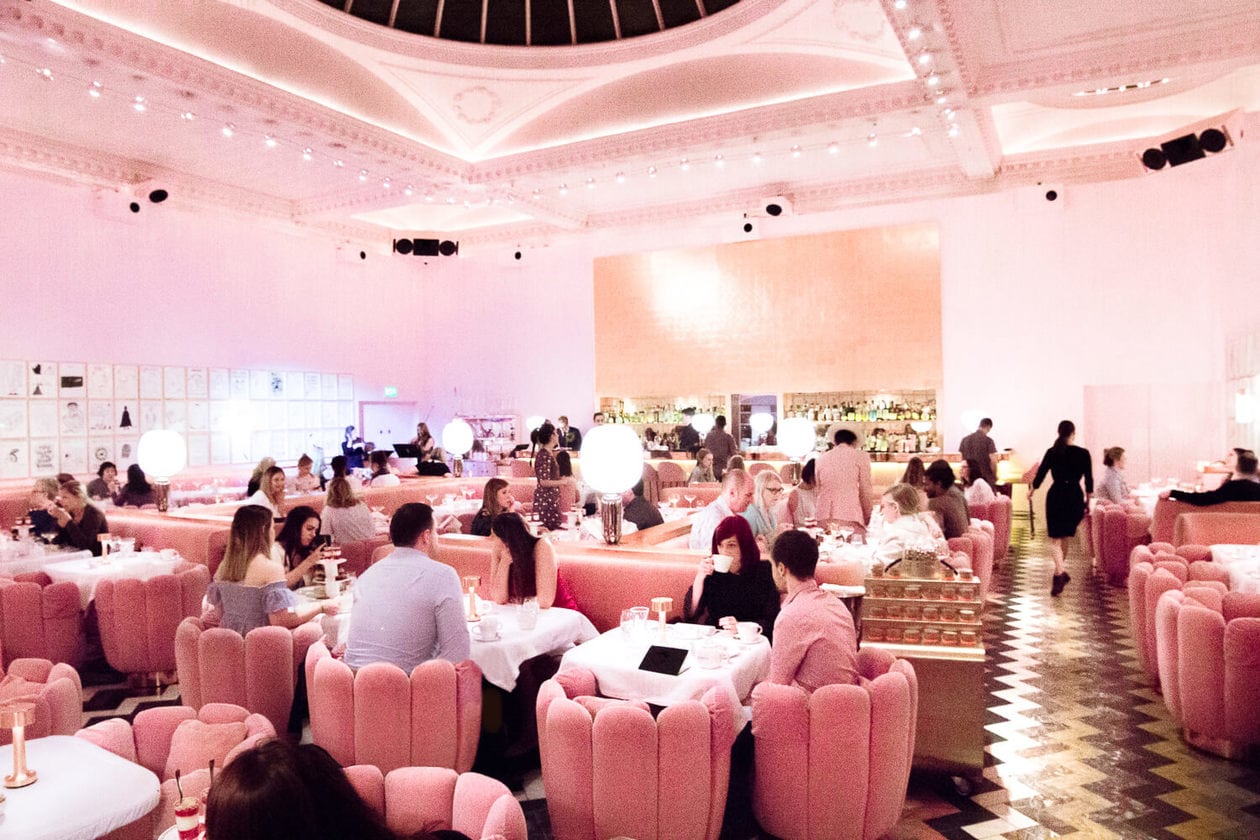 SKETCH AFTERNOON TEA PRICES
£59 ($76 USD) for classic afternoon tea
£73 ($94 USD) for champagne afternoon tea
£30 ($39 USD) for children's afternoon tea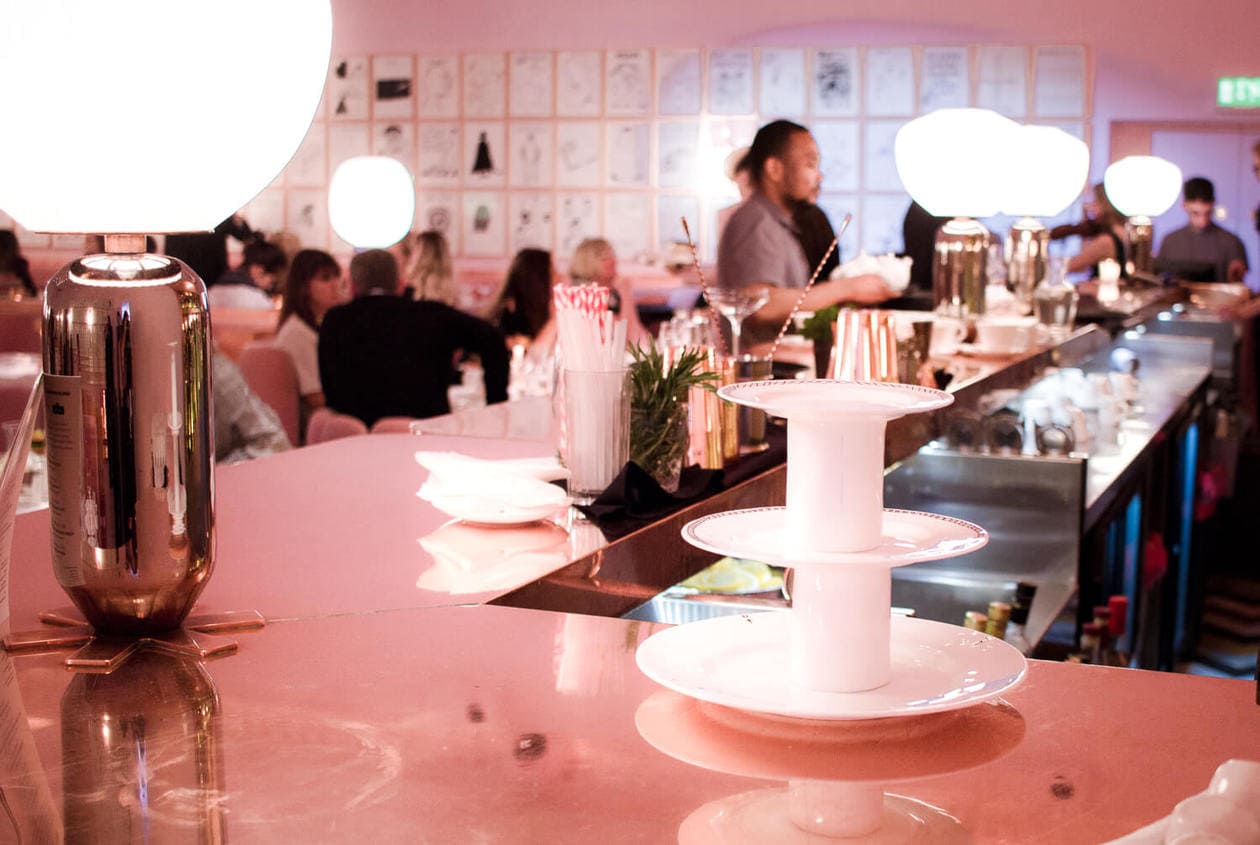 SKETCH TOILETS // THE FAMOUS EGG SHAPED PODS
Have you ever put a restroom on your bucket list? Well I have, and judging by the crowds of people inside Sketch's toilet, I feel better knowing I'm not the only one.
---
RELATED POST: A GUIDE TO LONDON'S MOST PHOTOGENIC NOTTING HILL HOUSES
---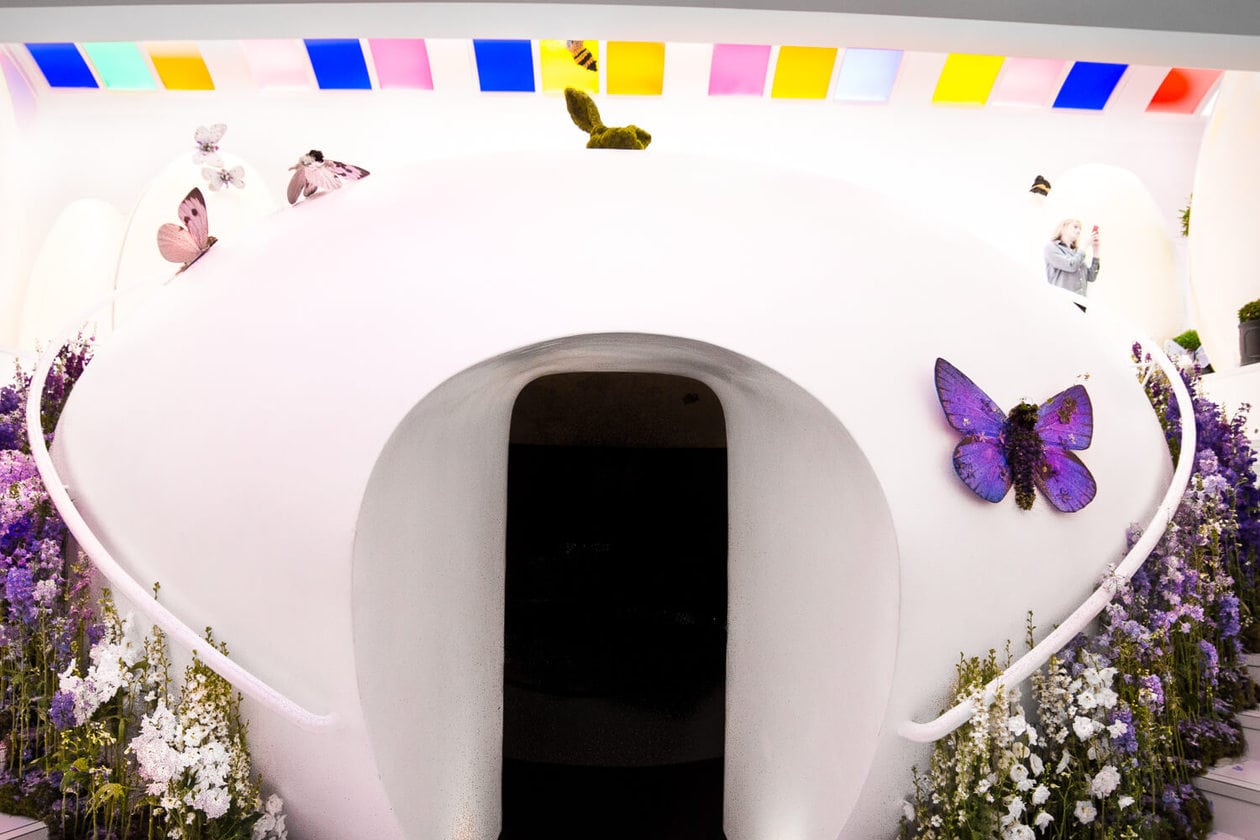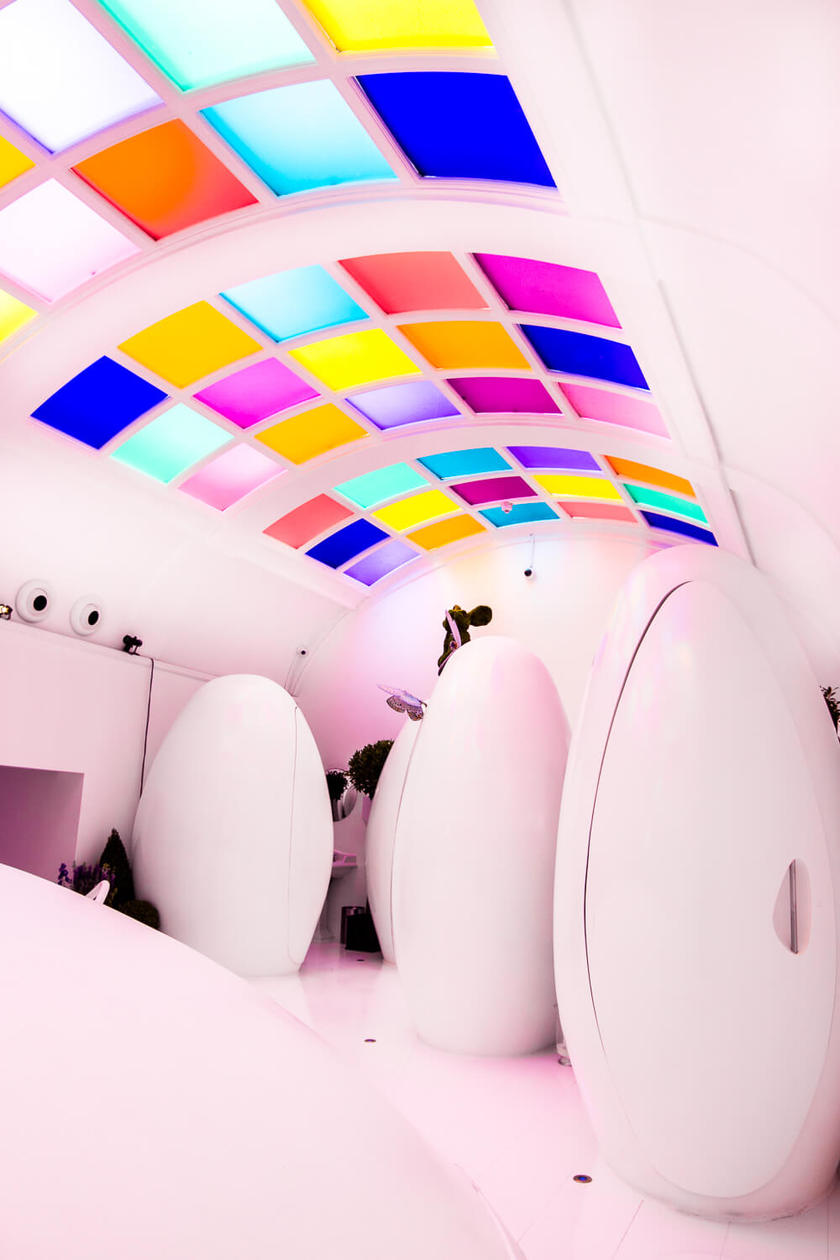 The owner of the restaurant claims that the egg shaped toilets came to him in a nightmare 😂but in reality, they are anything but. The stark white pods are softly illuminated by the rainbow ceiling in an unexpected convergence of Sci-Fi and disco that is both bizarre and beautiful.
90% the people inside the bathroom are taking photos and not actually using the toilet, so it doesn't make for the most private experience if nature is actually calling. Still, a visit to Sketch is not complete until you pop in and experience one of the most unique restrooms in the world.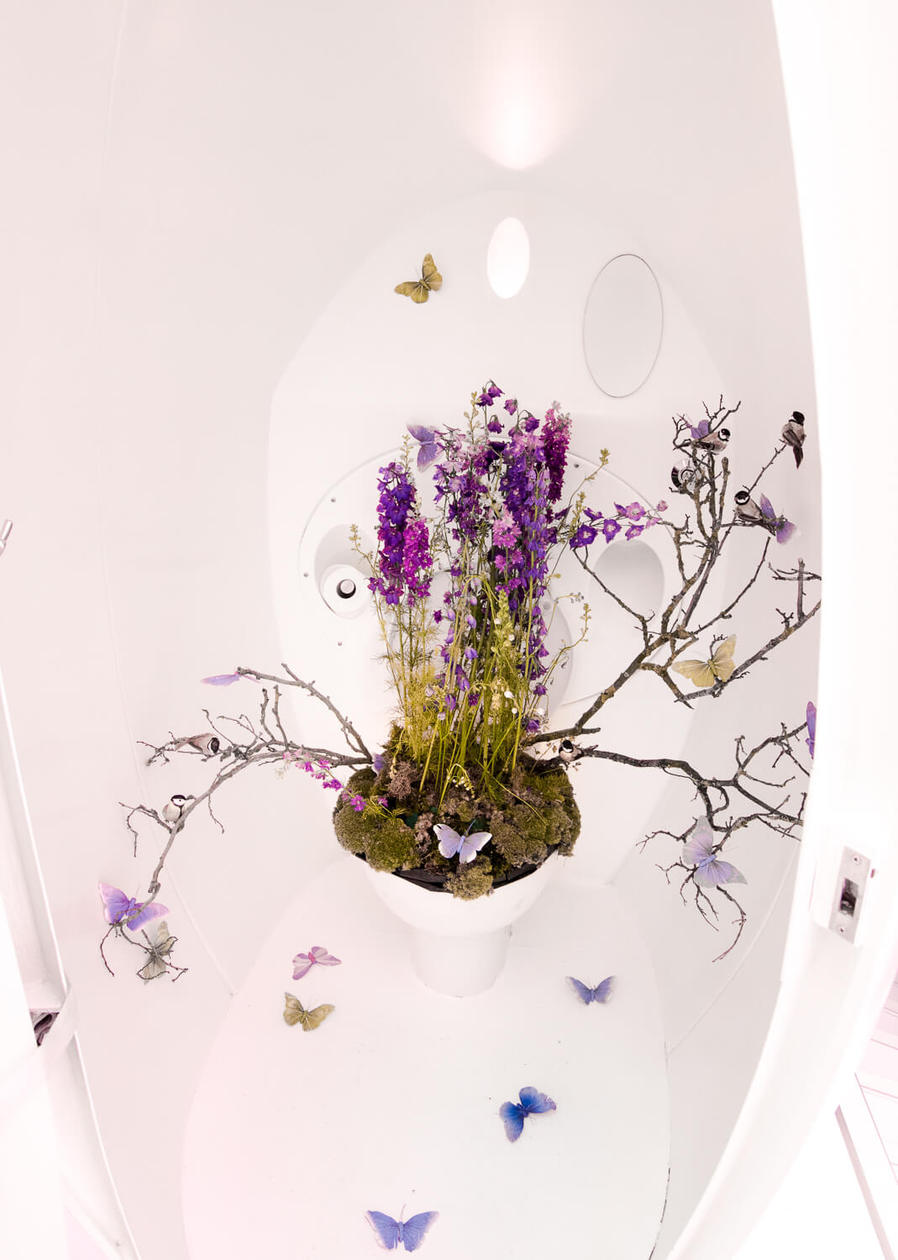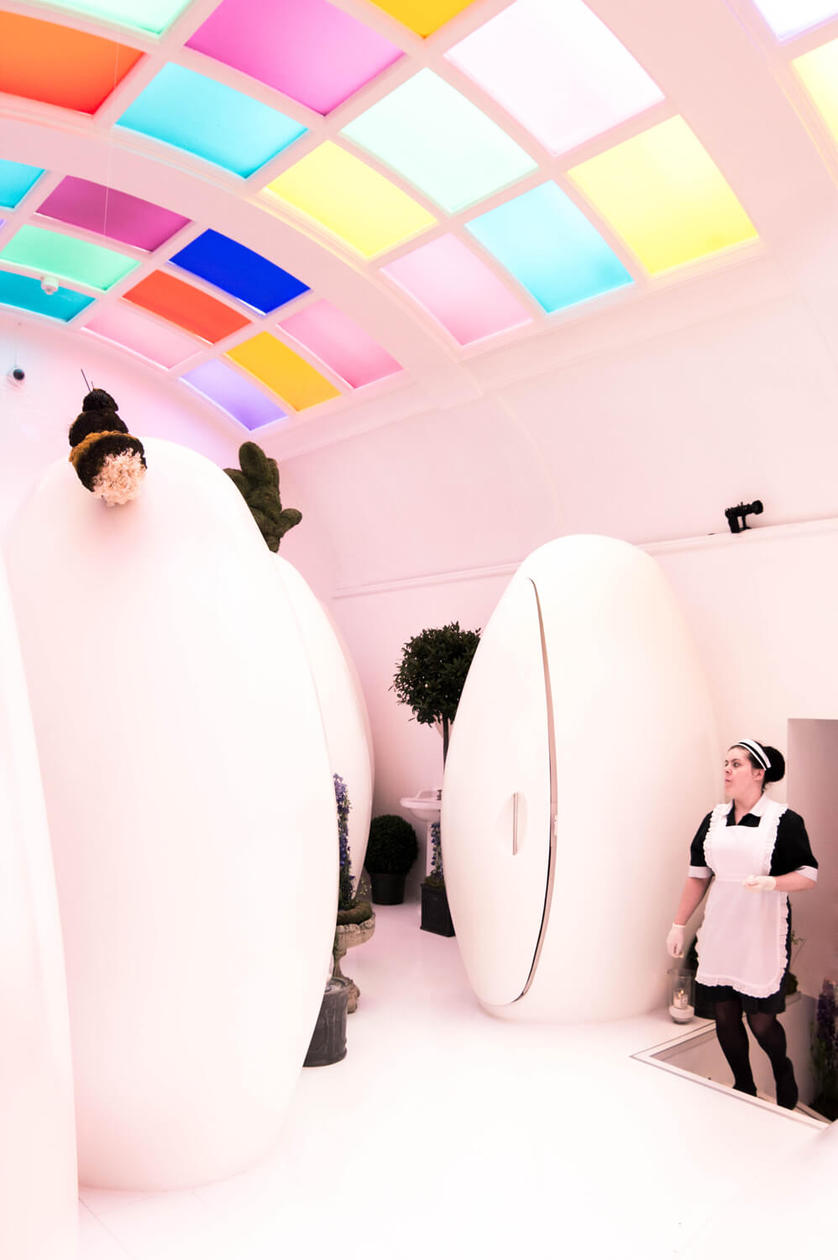 THE GLADE // BRUNCH IN A DECOUPAGE ENCHANTED FOREST
Yes, the pink tea room is adorable but also make sure to check out the other restaurants in Sketch. I especially loved the rich colors and fairytale accents in The Glade. Artists Carolyn Quartermaine and Didier Mahieu used their vision to create a decoupage enchanted forest, which gives off major Alice in Wonderland vibes.
The Glade serves breakfast and Lunch by reservation only, or they accept walk-ins if you're only looking for a cocktail.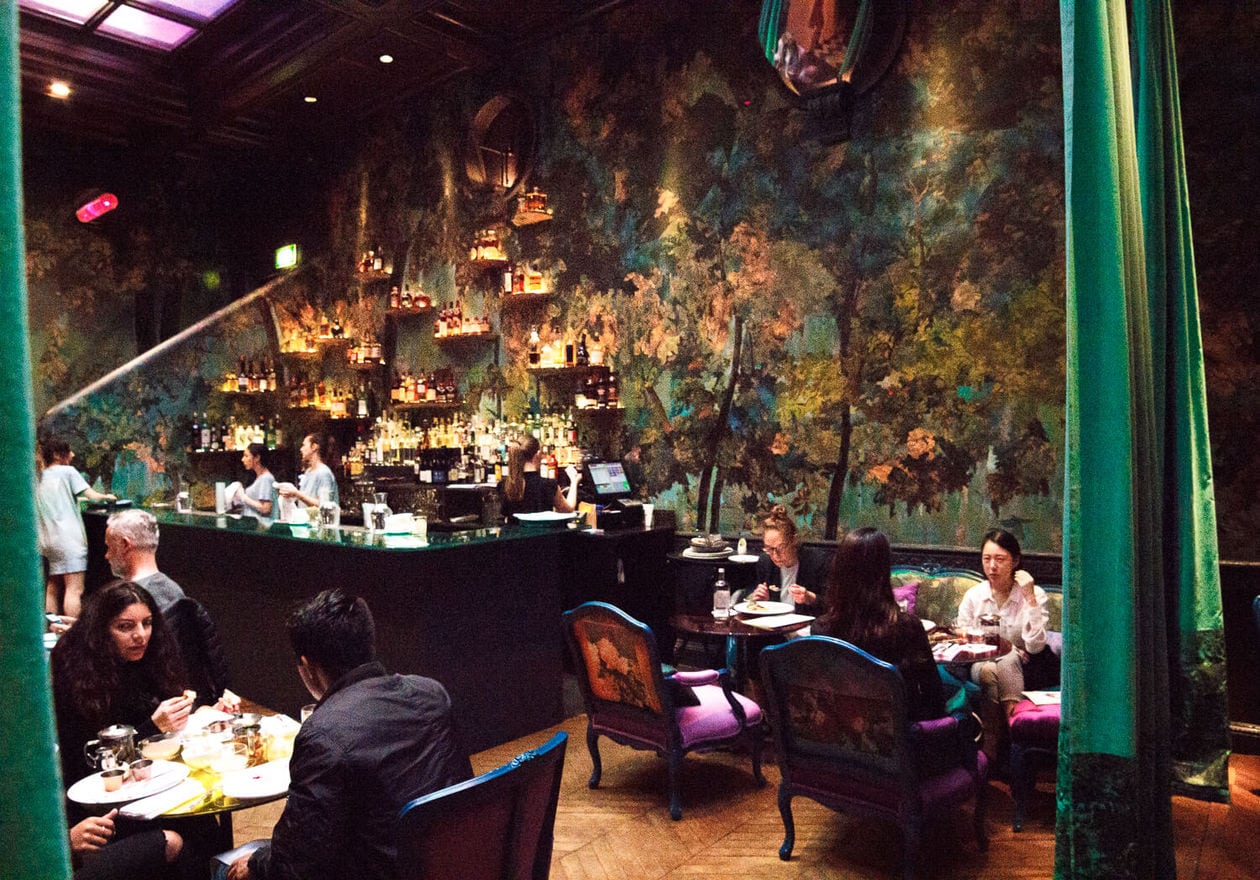 THE LECTURE ROOM & LIBRARY // THE PARLOUR
THE LECTURE ROOM & LIBRARY is an elegant two Michelain star dining room. It's menus are devised by French Master Chef, Pierre Gagnaire.
THE PARLOUR Vintage vibes with neon accents, The Parlour is a quirky dining area and bar located at the front of the restaurant. This was my least favorite room in Sketch, and it shares the same menu with The Glade, so if I had to choose.. I'd pick the latter.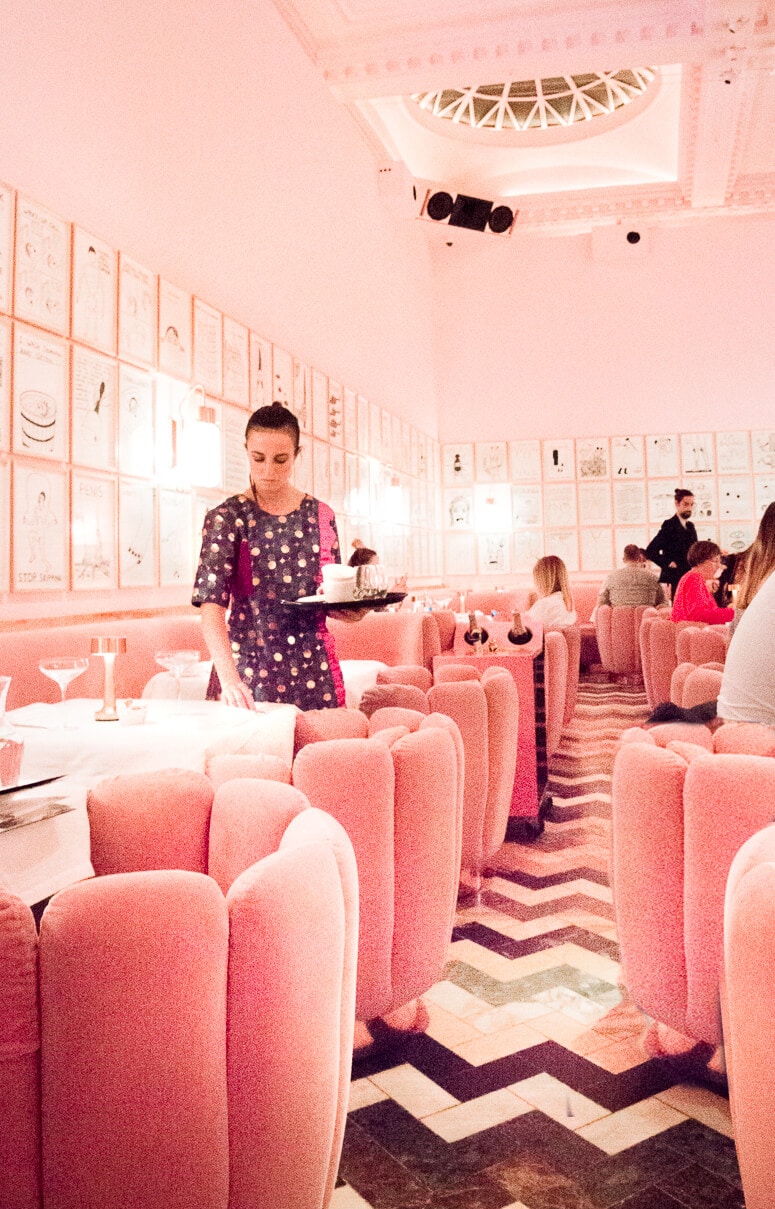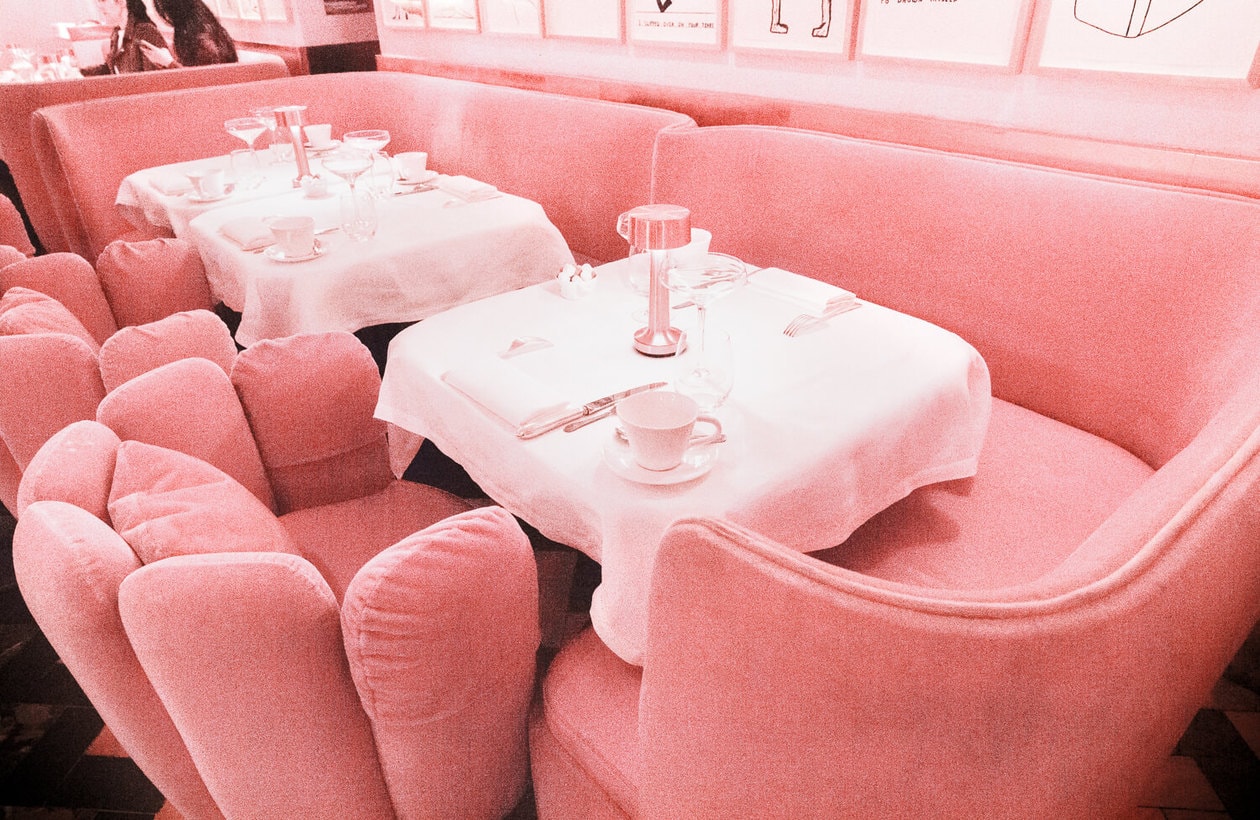 SKETCH RESTAURANT VISITOR INFORMATION
Dress code: Art smart (their words, not mine) "We ask our guests to dress with a sense of style and character." Shorts are not permitted.
Address:
9 Conduit St
Mayfair, London
W1S 2XG, UK
Nearest Tube Station: Oxford Circus
For Reservations:
+44 (0) 20 7659 4500
Website : HERE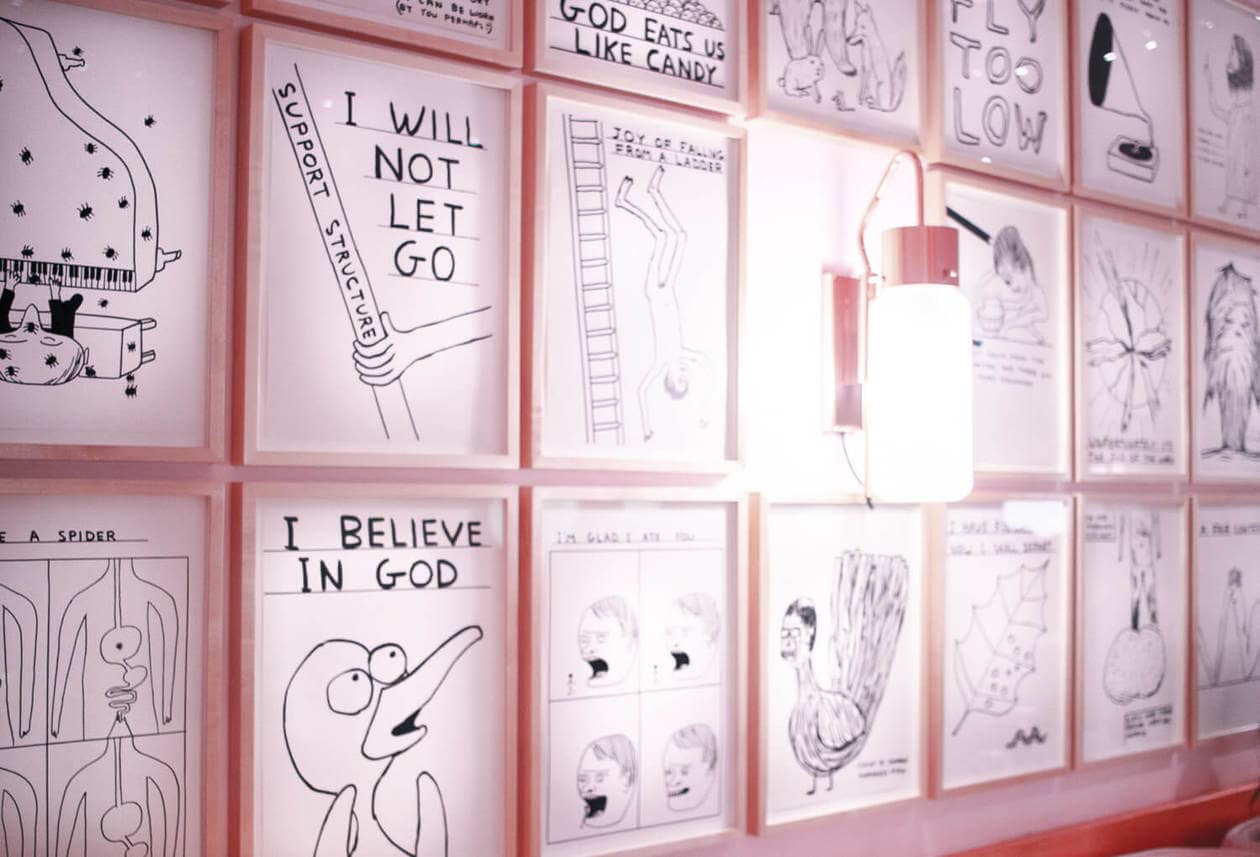 OPENING HOURS
The Gallery (The Pink Restaurant)
Afternoon Tea – Monday to Sunday – 12:30pm to 4:30pm
Dinner – Monday to Saturday – 6.30pm to 2am
Sunday – 6.00pm to midnight
The Glade
Monday to Friday – 12:30pm to 2am
Saturday – 10am to 2am
Sunday – 10am to 11:30pm
The Parlour
All day from Breakfast to Cocktails
Monday to Friday – 8am to 2am
Saturday – 10am to 2am
Sunday – 10am to midnight
The Lecture Room & Library
Lunch – Tuesday to Friday – noon to 1.45pm
Dinner – Tuesday to Saturday – 7pm to 11pm

HAVE YOU HAD AFTERNOON TEA AT SKETCH?
---
PIN IT