I once read that Brno is the ugly sister of Prague, and as the ugly sister in my own life (just kidding mom, please don't text me) I felt a personal desire to do the city justice. What I ended up discovering during my time here is that Brno doesn't need my help because it's cool AF .. oh, and it's definitely not ugly.
If you like laid back cities with not too many tourists, lots of good beer, wine and nice people, you should consider spending a few days here. From my favorite bars, restaurants and hotels, plus a list of things to do, keep reading to discover everything you need to know before traveling to Brno.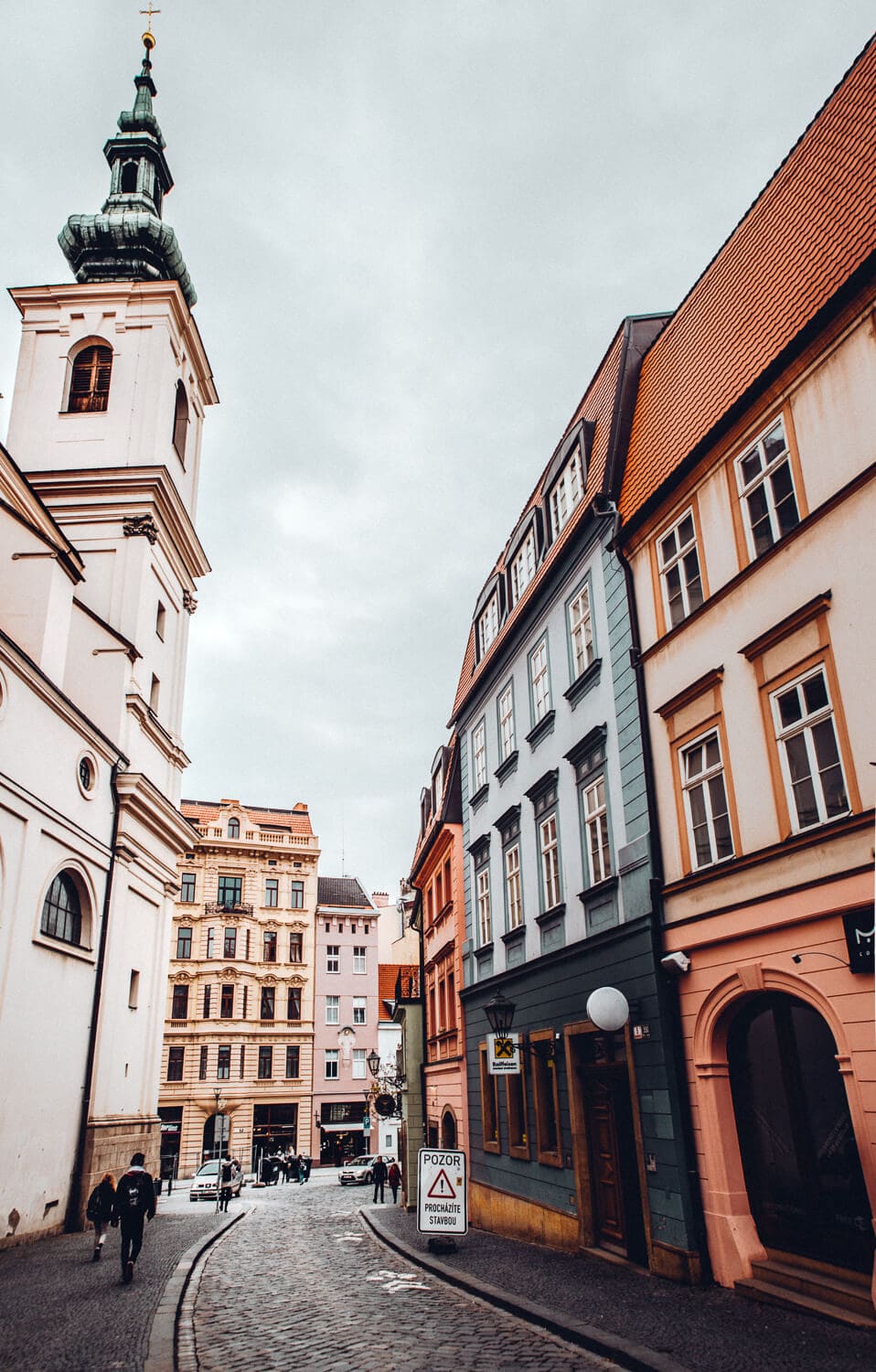 BRNO TRAVEL BASICS
BRNO WEATHER // THE BEST TIME TO TRAVEL
RAINFALL
June is the wettest month with an average of 9 rainy days. October is the driest month with around 5 days of rainfall.
HOTTEST/COLDEST MONTHS
The warmest months are July and August, with average temperatures of 72F (22C) and highs around 82F (28C). The coldest month is January, with an average temperature of 30F( -1C) and lows dipping down to 26F (-3C).
DAYLIGHT HOURS
June and July have the longest amount daylight hours (around 16), while December through January offer 8-9 hours of daylight each day.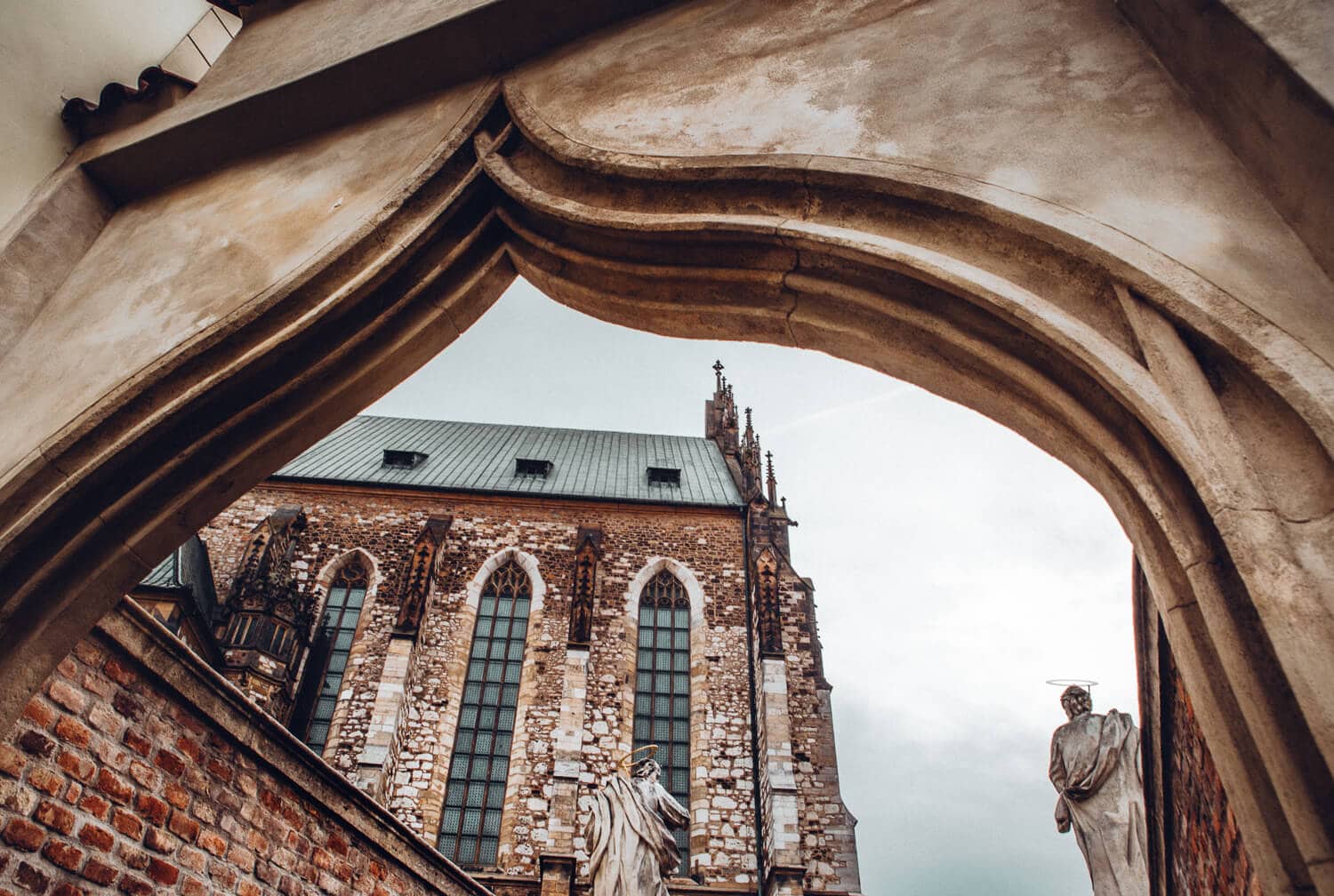 CURRENCY
Brno operates on the Czech Koruna. I was converting from USD, which made my stay in Brno extremely affordable. Large beers cost an average of 35 CZK ($1.50 USD), most of my meals were less than $180 CZK ($8 USD) and all of the tourist attractions I visited were between $3 and $7 USD. Credit cards are widely accepted in the city and ATMs were easy to find.
$1 USD = 22.70 CZK
€1 EURO = 25.76 CZK
$1 AUD = 15.85 CZK
$1 CAD = 16.70 CZK
£1 POUND STIRLING = 28.62 CZK
For current exchange rates, or if your country is not listed above click here.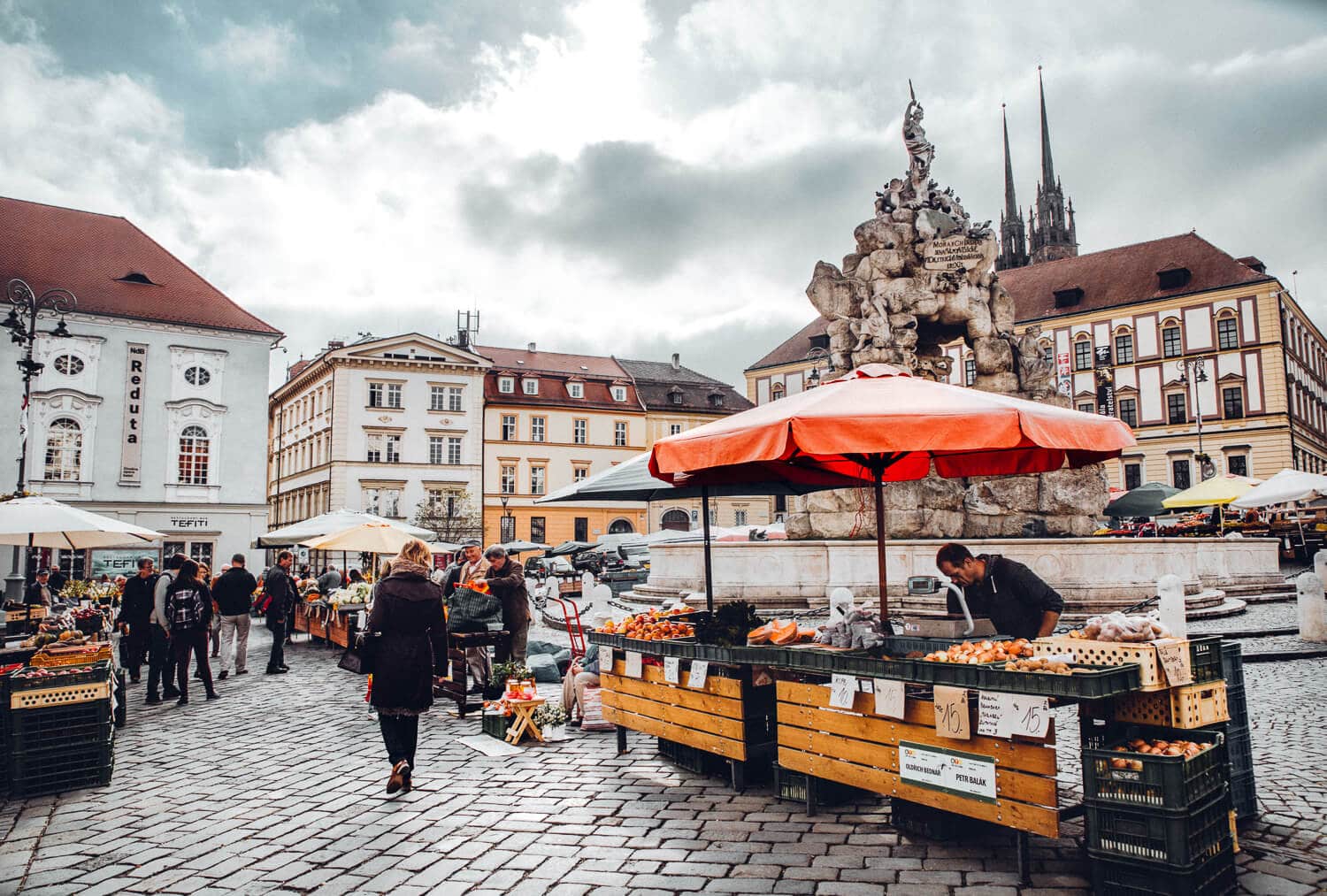 TIPPING IN THE CZECH REPUBLIC
RESTAURANTS If no gratuity or service charge is added to the bill, 10% is customary for good service. In small cafes or pubs, round up to the nearest 10 or 20 CZK.
While some people may be accustomed to tipping after payment, in Brno (and many other European cities) you will leave the tip when you pay. If paying with a card let them know how much (including tip) to charge you. If paying with cash, let the server know how much change you'd like back.
TAXIS It is not required to tip taxis.
HOTELS 25-45 CZK ($1-2 USD) per bag for porters.
LANGUAGE
In the Czech Republic, people speak Czech. Since Brno is not as popular as some of the country's other cities as far as tourism is concerned, you'll find that not everyone speaks English. About 20% of the people I interacted with did not, however every restaurant I visited had an English menu and everyone I met was very nice and accommodating to my lack of knowledge about their language.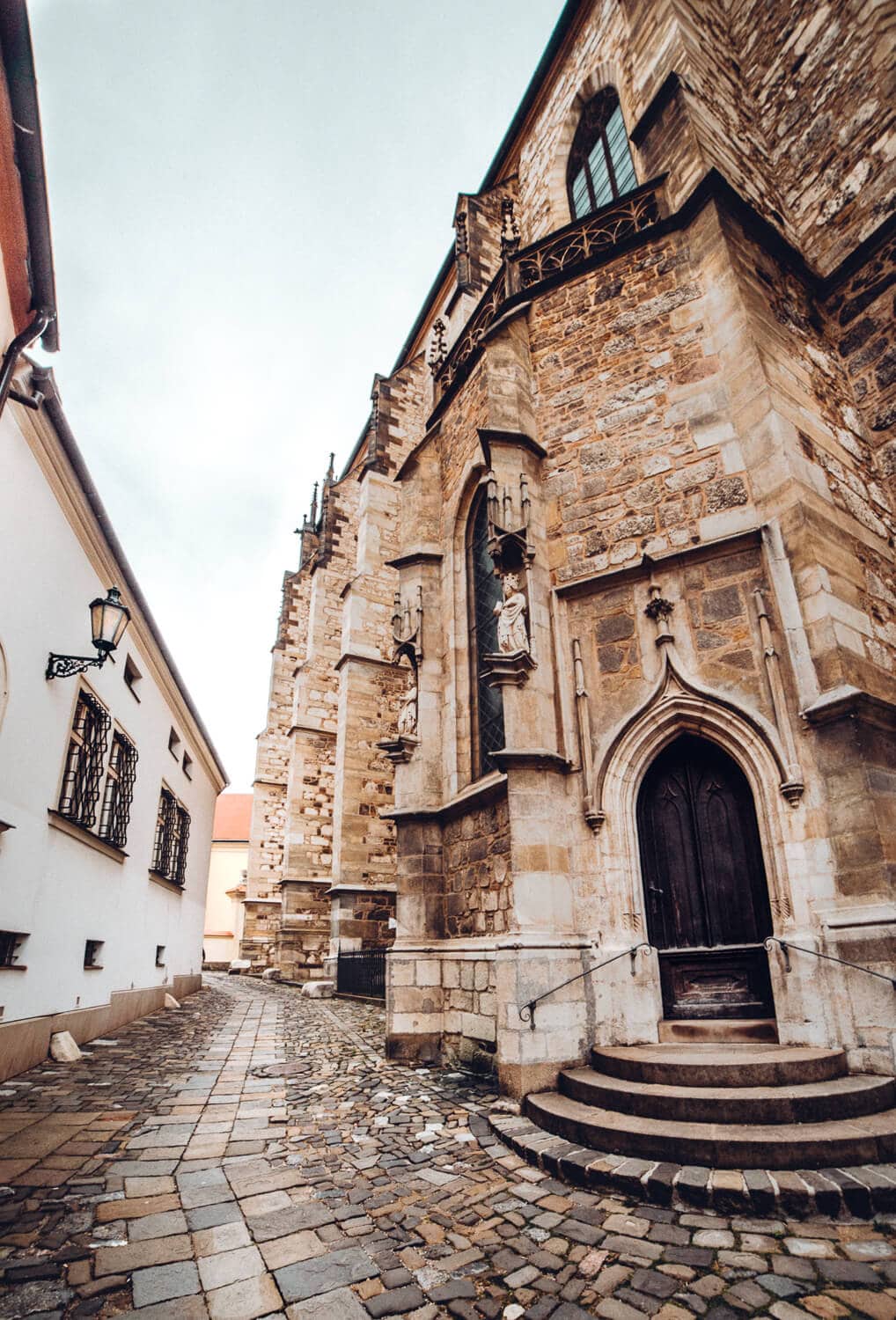 VOLTAGE / OUTLET TYPE
The Czech Republic outlet types are C and E, and the voltage is 230V / 50 Hz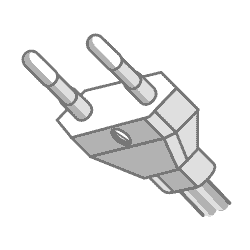 WIFI
WiFi is readily available in Brno, and you'll find it in just about every restaurant, hotel and coffee shop. There is also free, open wifi available in several of the public squares.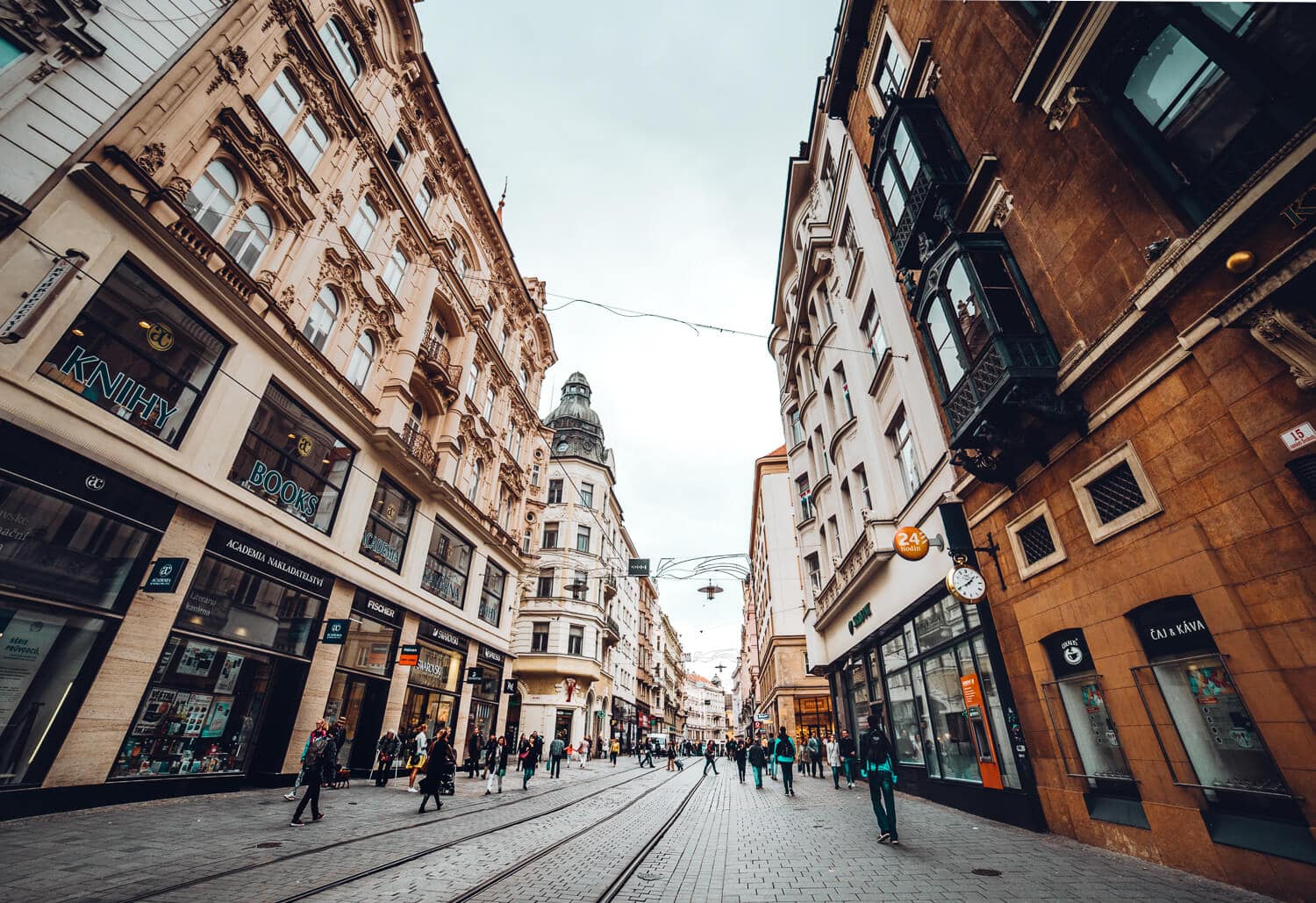 10 THINGS TO DO IN BRNO
From crypts to nuclear fallout shelters, a labyrinth under the vegetable market and where to find the best views, these are my top 10 things to do in Brno. For more in-depth info and photos, click the related post below.
1. Explore Spilberk Castle
2. Visit the remains of 50,000 people in the Ossuary of St. James
3. Take a peaceful stroll around Petrov Hill
4. Tour the 10 Z Nuclear Fallout Bunker
5. Drink inexpensive beer and wine
6. Head underground to the Labyrinth Beneath the Vegetable Market
7. Sip a crazy cocktail at Super Panda Circus
8. Visit the Capuchin Crypt
9. Admire the views from the Brno Old Town Hall
10. Take a day trip to Punkva Caves
---
RELATED POST: 10 THINGS TO DO IN BRNO // BONES, BEER AND LABYRINTHS
---
BONUS #11: FIND THE HIDDEN Ds
Brno is known to have a handful of phalluses hidden throughout the city, but none are as grand as the sculpture of courage at Moravian Square. Head on, the sculpture of a knight riding his horse does not conjure up any x-rated imagery, but when you step underneath and look up the horse's neck you'll be staring at an unmistakable, gigantic package.. balls and all. My favorite part about all of this is that the city has a picture of it in their guide book with the caption "discover hidden art." Loud and proud, Brno. I like it.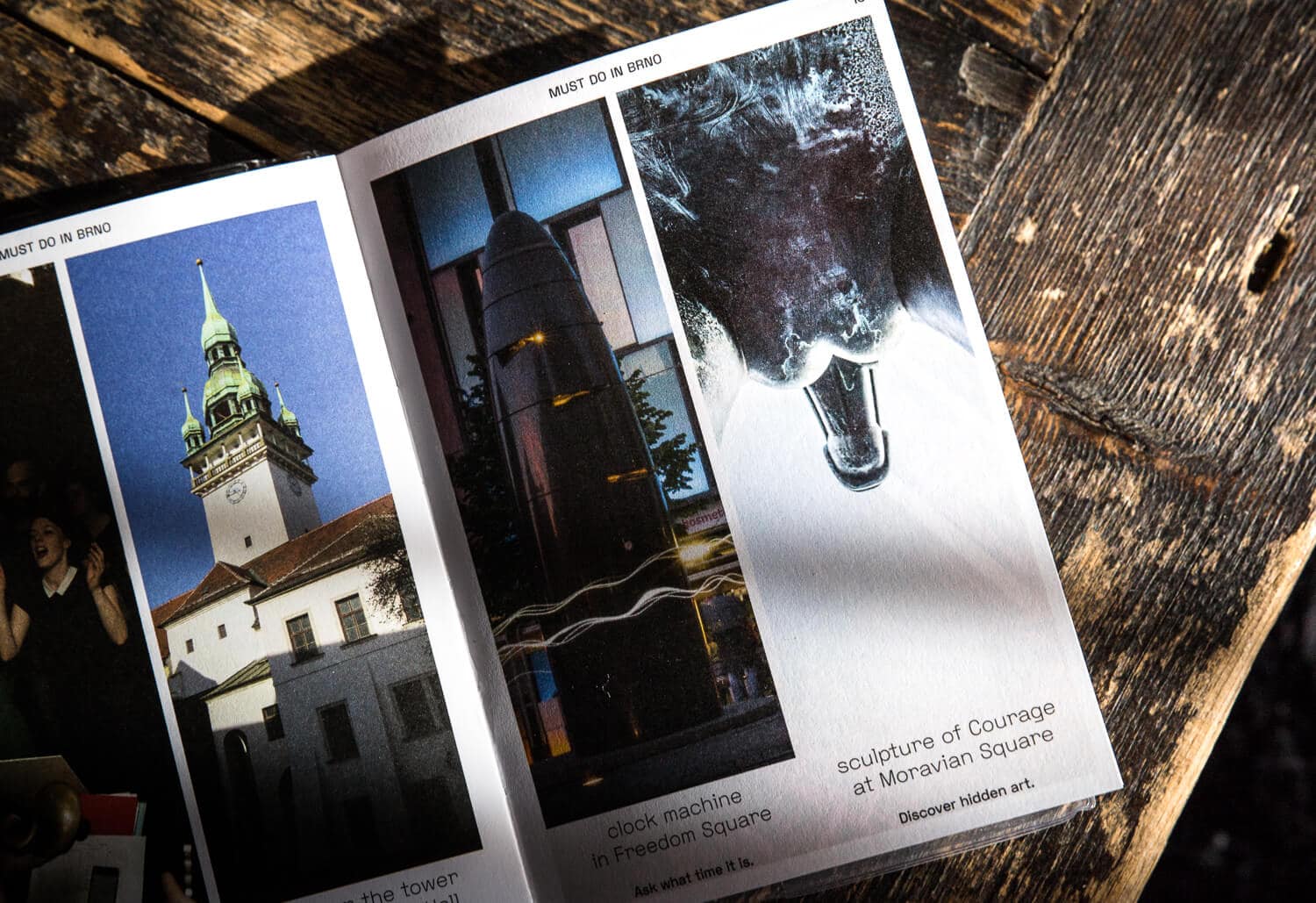 BRNO RESTAURANTS // WHERE TO EAT
From casual eateries to fine dining restaurants, Brno has a great selection of places to eat. Since I was traveling alone (and more focused on beer tbh) I opted for quick, casual spots where I could grab a bite and be on my way. These were my top three favorite meals:
SOUL BISTRO A trendy bistro perfect for lunch or dinner. They serve a daily menu of light and healthy items such as salads, sandwiches and soups, and the food is super fresh and delicious. Soul Bistro also serves homemade desserts plus a good selection of local wines.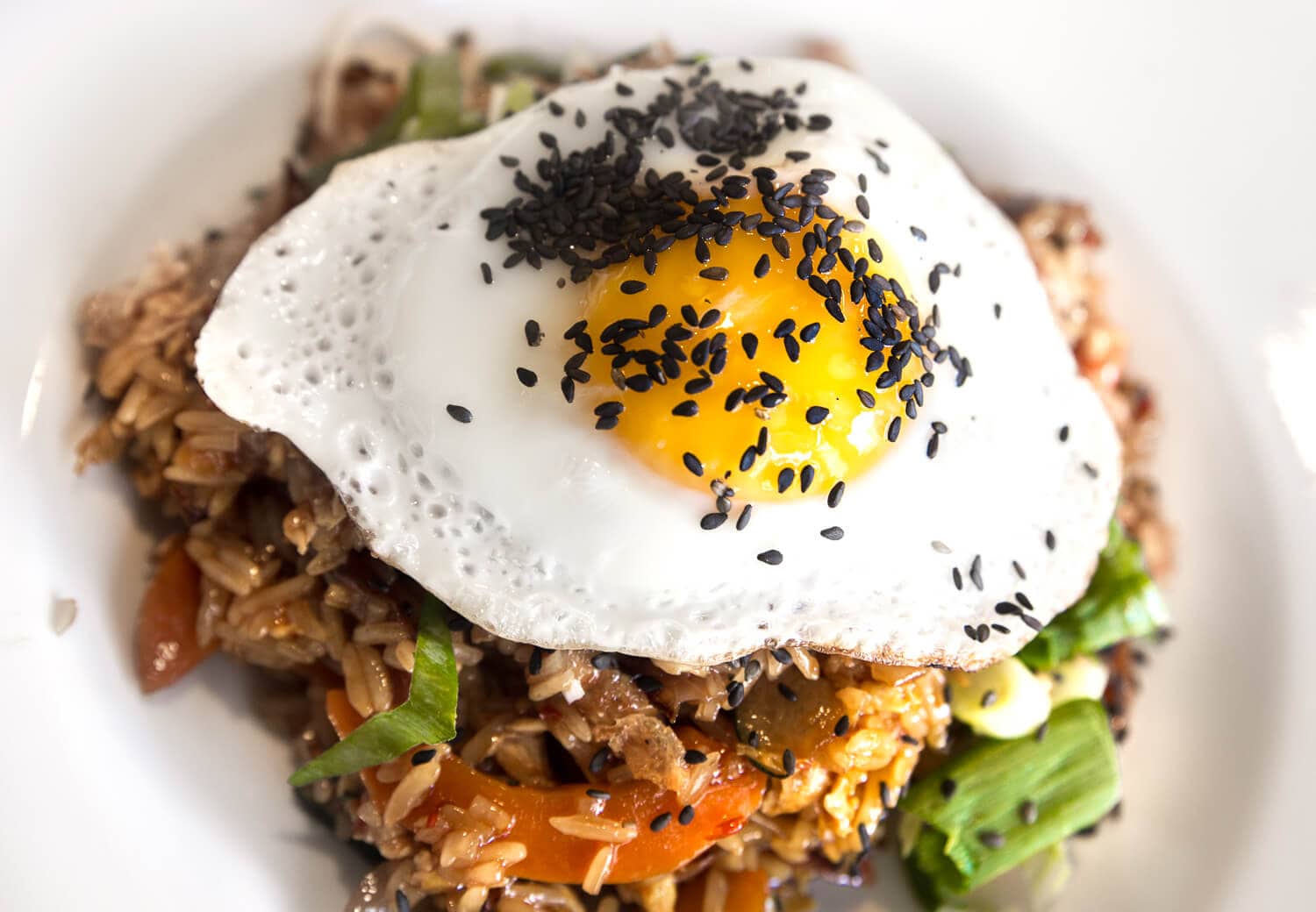 STOPKOVA PLZENSKA PIVNICE This restaurant was recommended to me for having some of the best local cuisine in the city, and it ended up being one of my favorite meals in Brno. Stopkova Plzenska Pivnice serves up local favorites such as roast duck, goulash and Moravian Sparrow (which I learned is actually a pork dish). Since I am not at all adventurous when it comes to meat dishes, I opted for the smoked sausages baked in beer, under the appropriate "Meals to Accompany Beer" category. I still think about it to this day.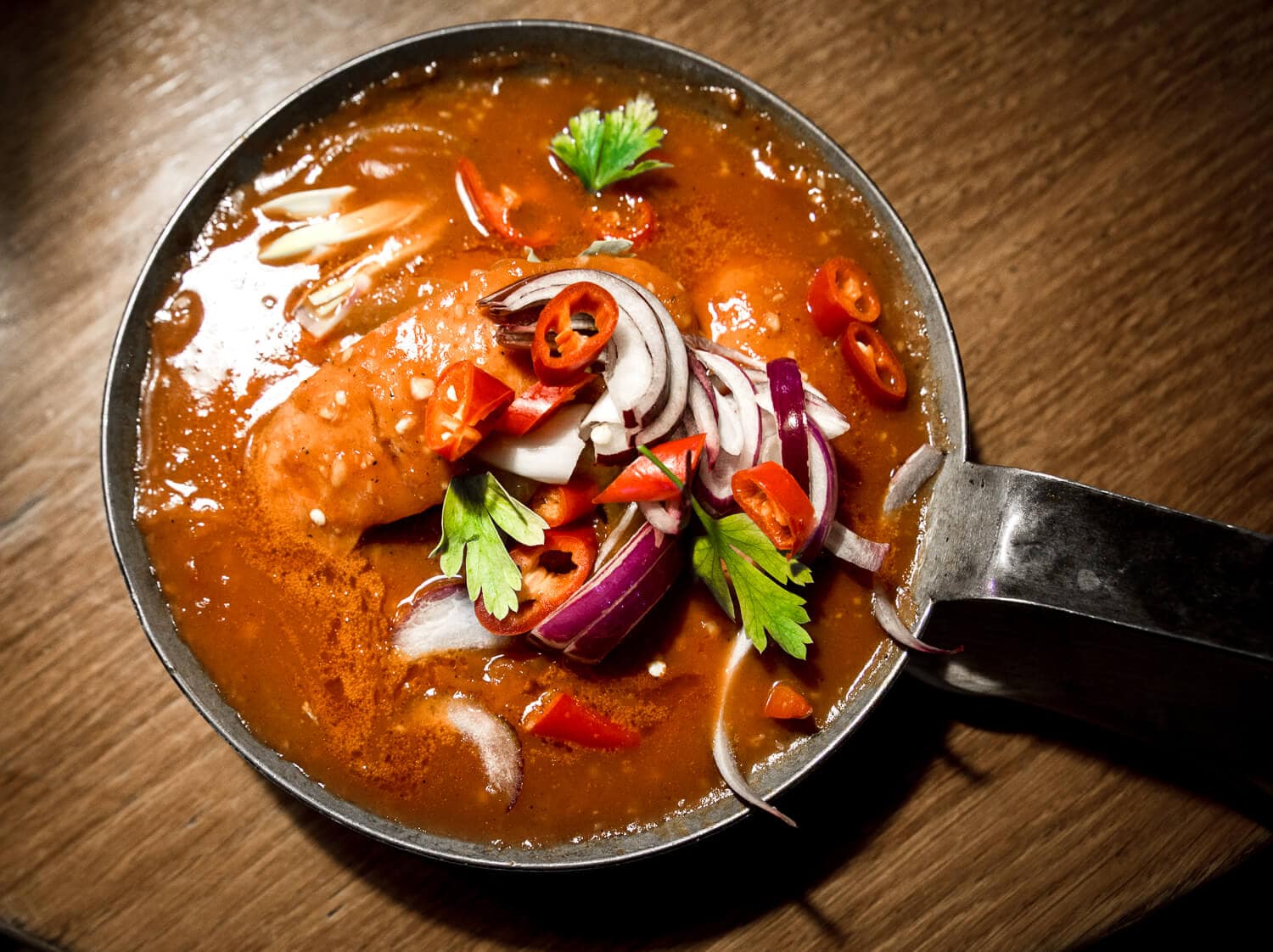 BURGER INN On my last night in the city, I popped into this little gourmet burger joint which is said to have the best burgers in Brno. It's a casual spot, with just a few seats inside but the service was good and it's perfect for a late night snack or quick bite to eat. I ordered the veggie beet burger with goat cheese and it hit the spot.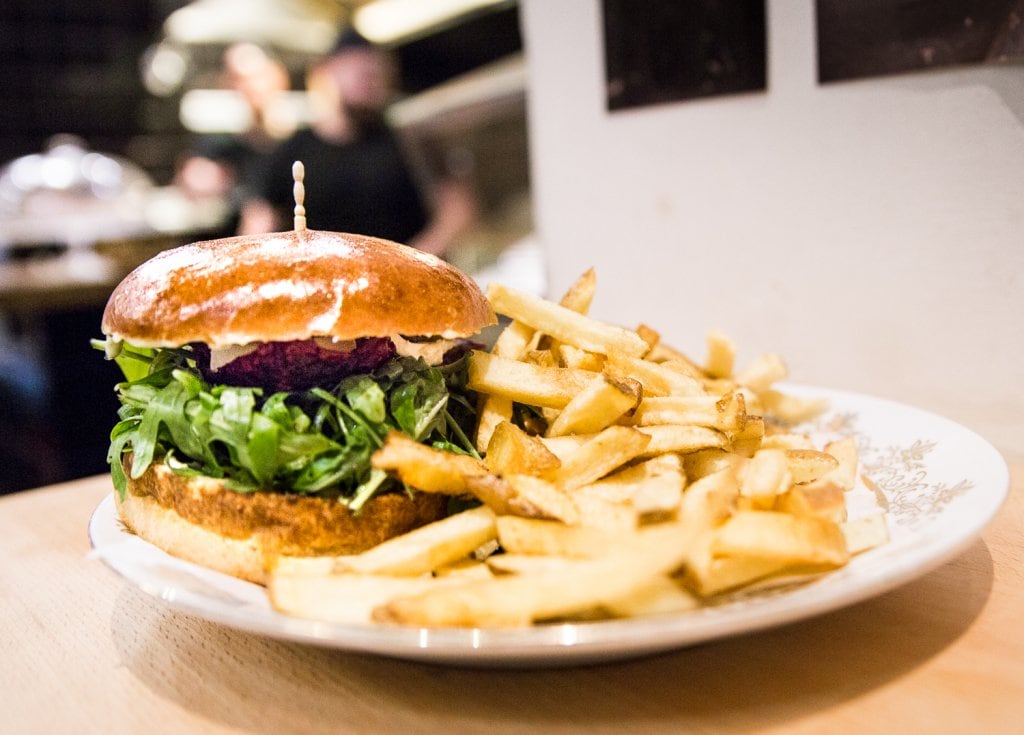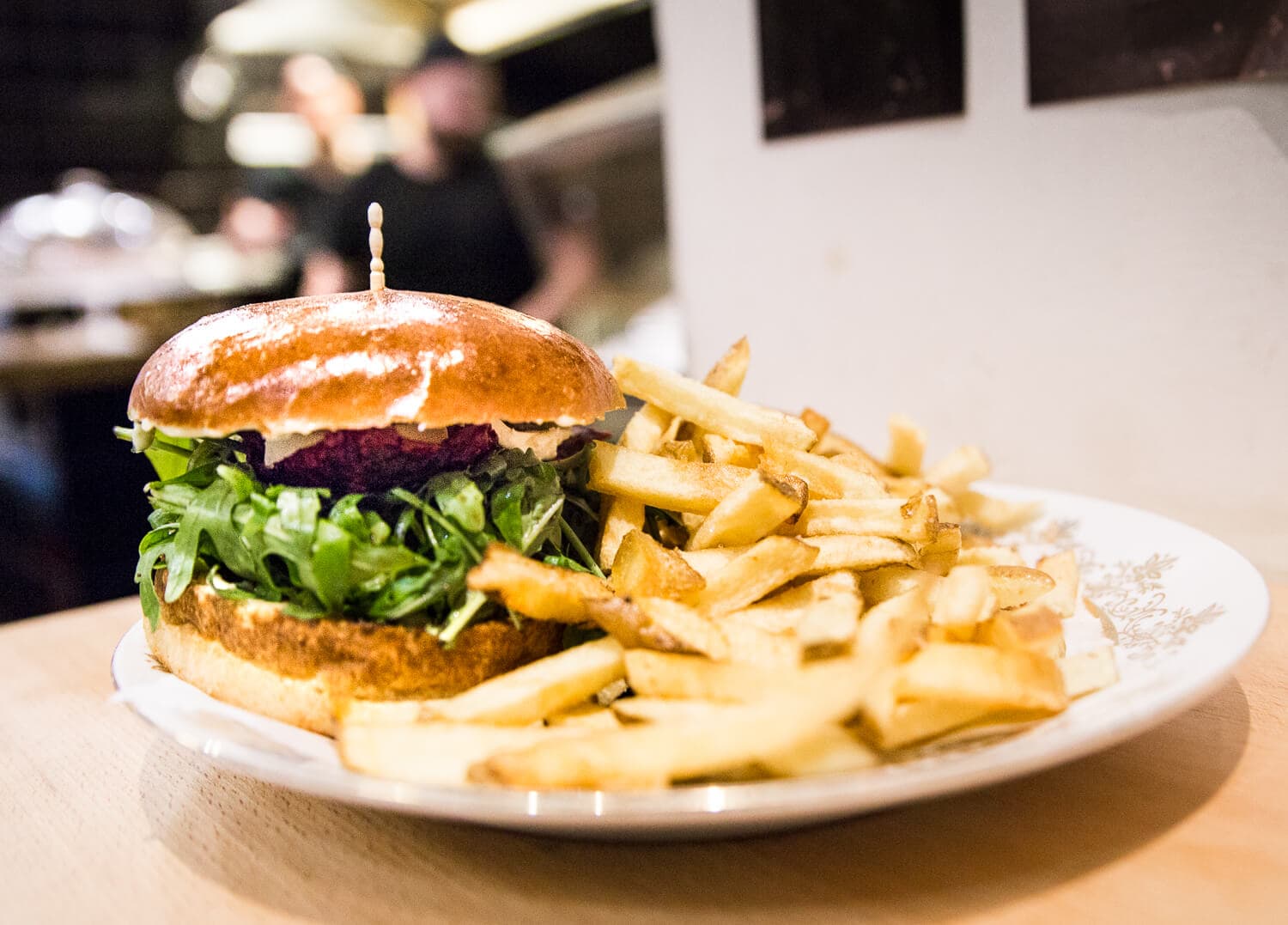 BRNO BARS // WHERE TO DRINK
While the Czech Republic is a well known destination for beer lovers, Brno also offers something special for wine drinkers. As the capital of Moravia, where more than 90% of the country's wine is produced, the city is the perfect gateway for wine tasting day-trips. Join a tour (like this one), or visit one of the many wine bars in the city.
When I was in Brno, I decided to focus more on beer than wine, and I was surprised at how many great places there were to check out. Here are my top 3 favorite bars: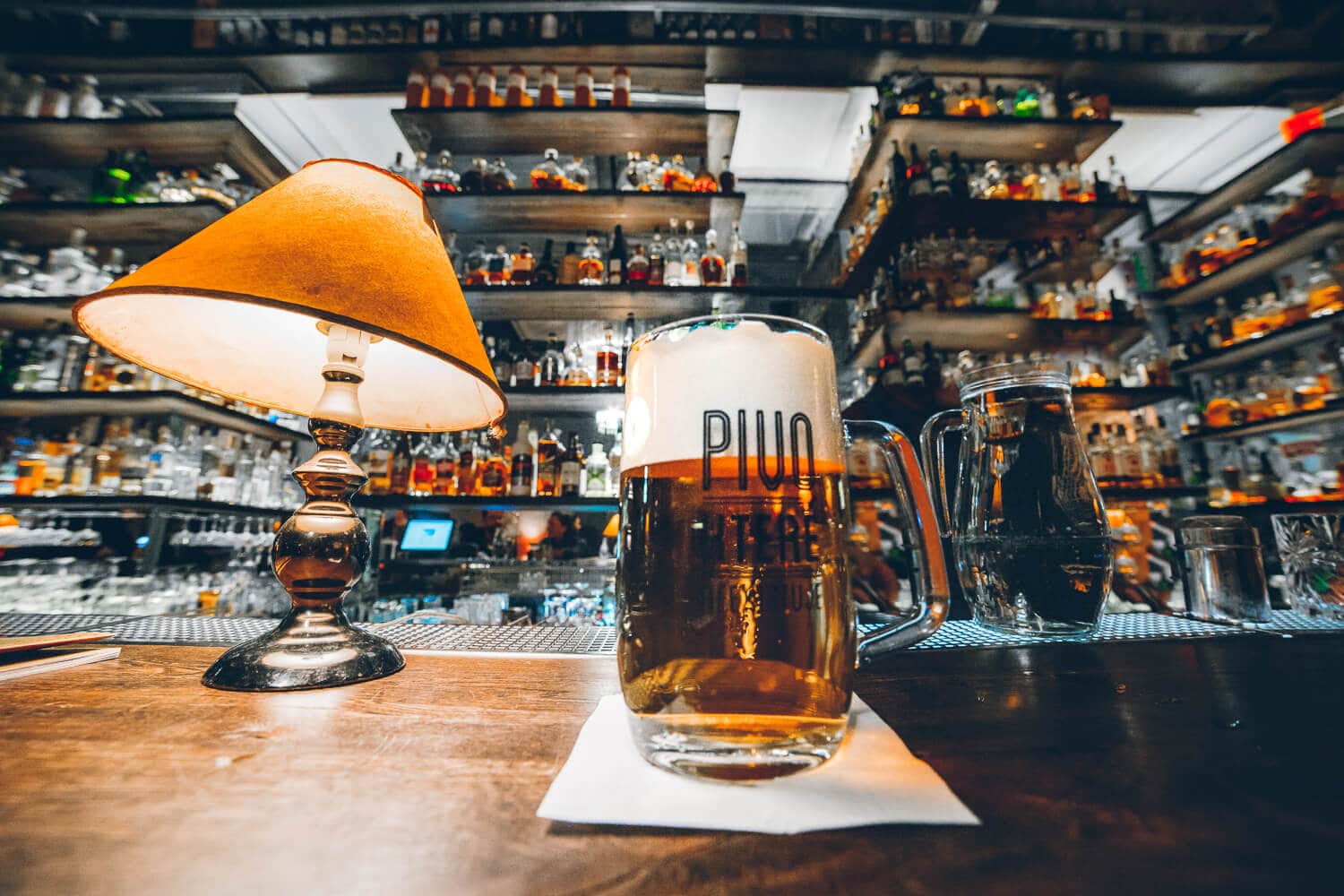 SUPER PANDA CIRCUS – I was wondering if it was possible to get through an entire post about Brno without talking about Super Panda Circus, and it's not. Fun, strange and spectacular, this was my #1 favorite bar in the city. It's a must visit, even if you don't drink (they have mocktails)! No excuses.
VYCEP NA STOJAKA This bar served the best beer I found in Brno. They serve only Czech beer from local microbreweries, which you can drink in the square.
THE BAR THAT DOESN'T EXIST A classy cocktail bar with an extensive selection of whiskey and rum. It's one of the most popular bars in Brno for a reason.
For more information about these bars, plus a few other favorites check out the related post below.
---
RELATED POST: 7 MUST VISIT BARS FOR BEER AND COCKTAILS IN BRNO
---
HOW TO GET TO CITY CENTER
BRNO AIRPORT TO CITY CENTER If you'll be arriving in Brno via the airport, catch the E76 bus from the departure terminal (or the N86 night bus for arrivals between 11pm-5am). You can purchase your tickets from the machines in the arrivals terminal, or from the airport shop in the departure terminal. A bus ticket costs 25 CZK for adults and 12 CZK for children under 15, or if you choose to pay the driver on board, the price is a little higher. The journey takes 20 minutes and the bus will drop you off at the main train station (Hlavní Nádraží) in front of the Grand Hotel.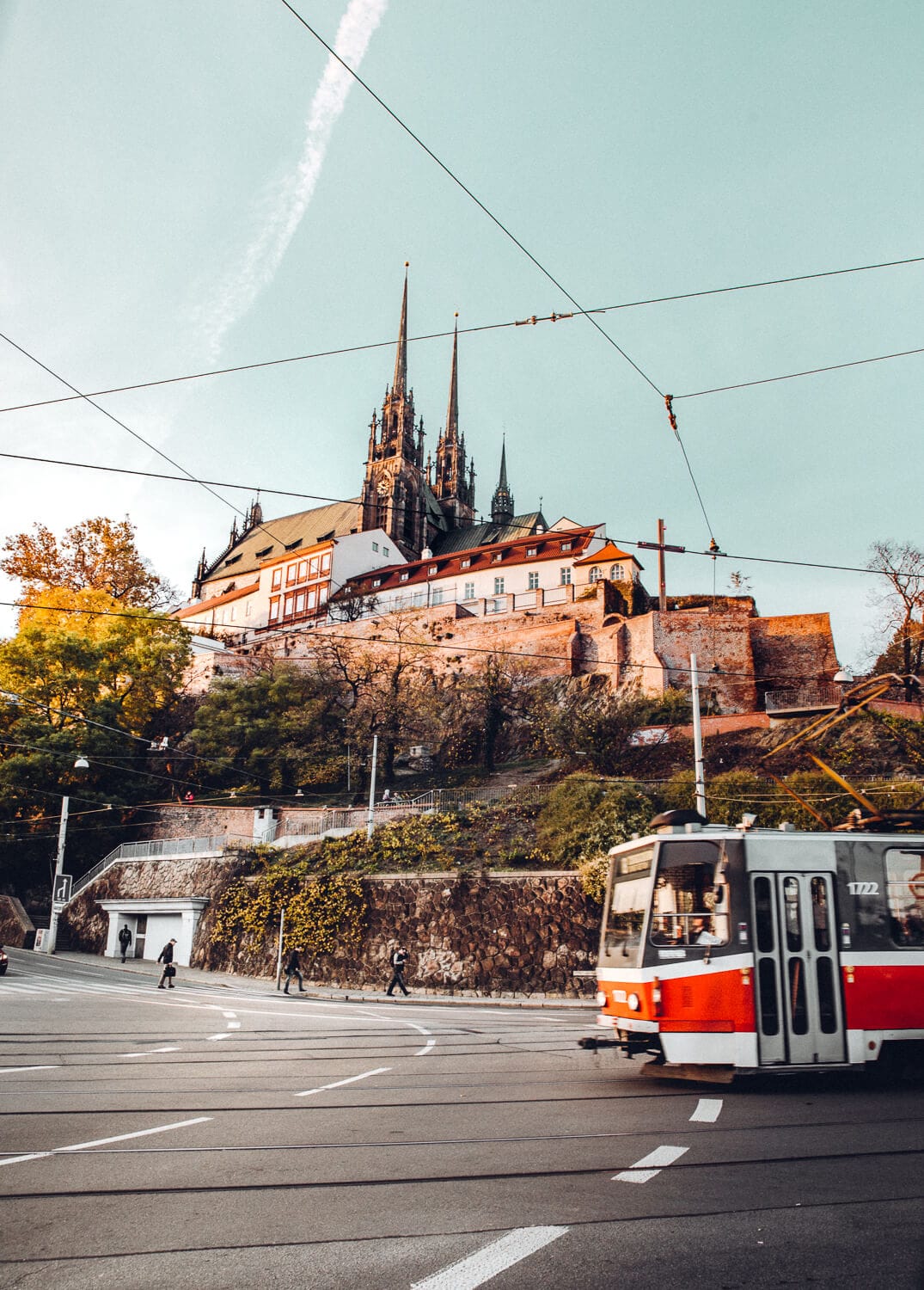 BRNO TRAIN AND BUS ARRIVALS
The Brno Main Train Station and the Bus Station are within the city center. It's just a short walk to the tram stops which will take you to where you need to be.
PUBLIC TRANSPORTATION
Brno has an excellent public transportation system of trams, trolleybuses and buses. I found Brno to be very walkable, so I only hopped on a few times.
You can buy your tickets from the yellow vending machines at certain stops, or from the newsstands. You can also purchase your ticket from the driver at a slightly higher price. Tickets are very inexpensive, starting at 10 CZK ($.40USD) for a non-transfer single ride and 90 CZK ($4USD) for a 24 hour pass.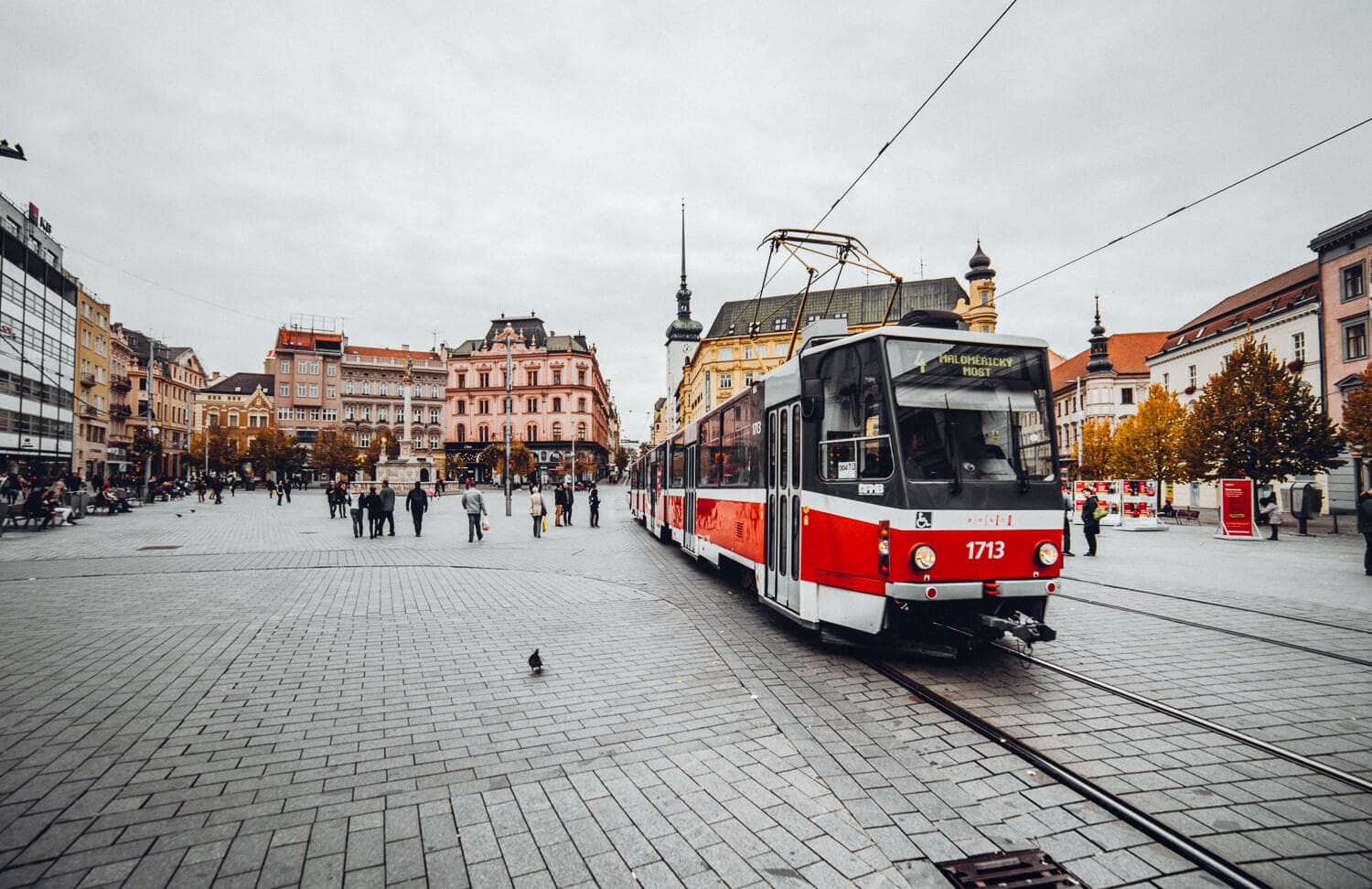 SAFETY IN BRNO
The Czech Republic is the 10th safest country in the world (the US is #49). As a solo, female traveler I felt extremely comfortable the entire time I was in Brno, day and night. As with anywhere you travel, stay conscious of your surroundings and always listen to your gut.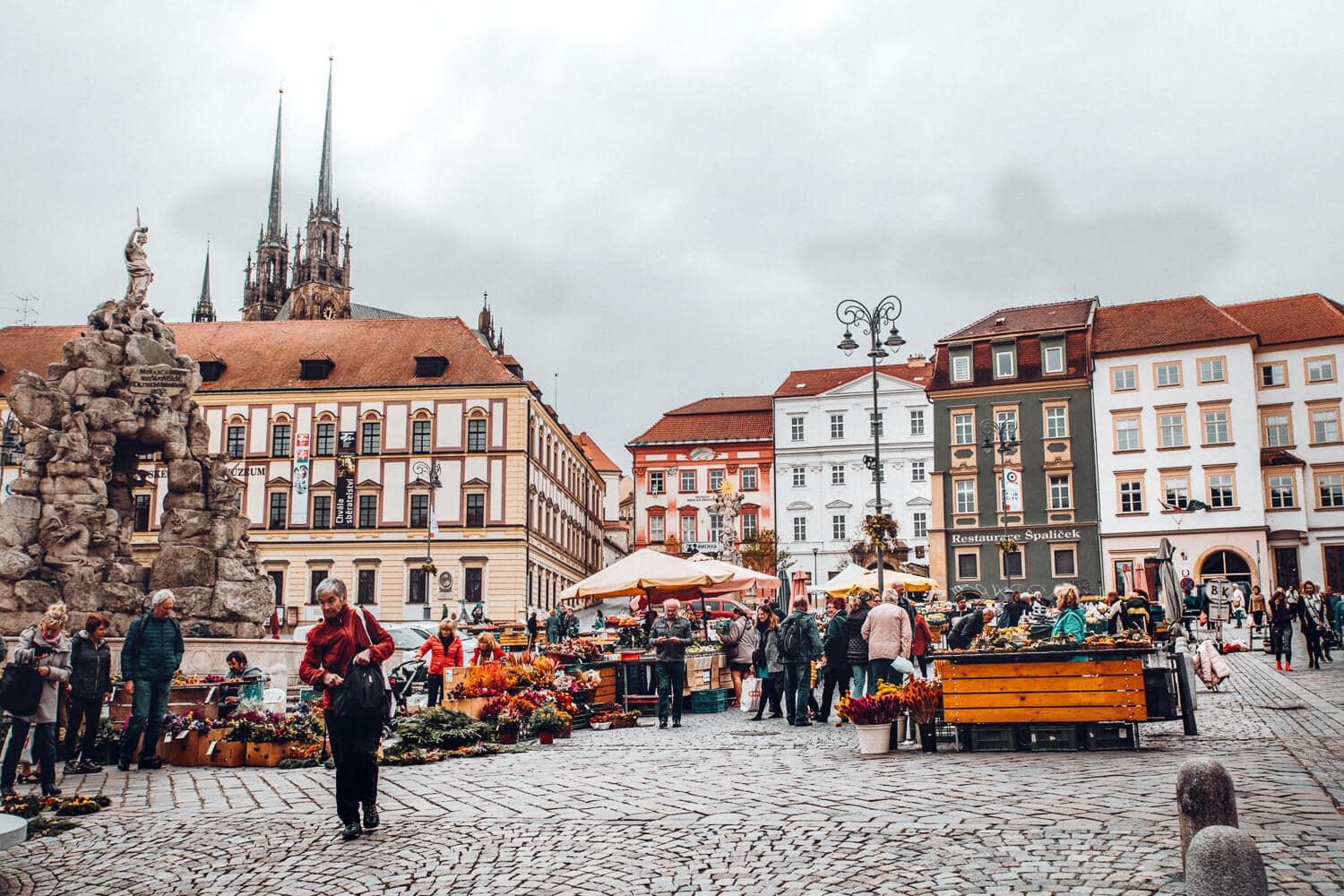 BRNO HOTELS // WHERE TO STAY
APARTMENT MASARYKOVAN°30
Masarykova N°30 is a chic collection of 1-2 bedroom apartments in the city center of Brno, very close to the train station and tram stops. Each boutique unit features a kitchen, washing machine and free wifi, along with city views. Be sure to check the photos for each unit to pick one that best fits your style. Rooms start at $102 USD / night.
For more information and booking click here.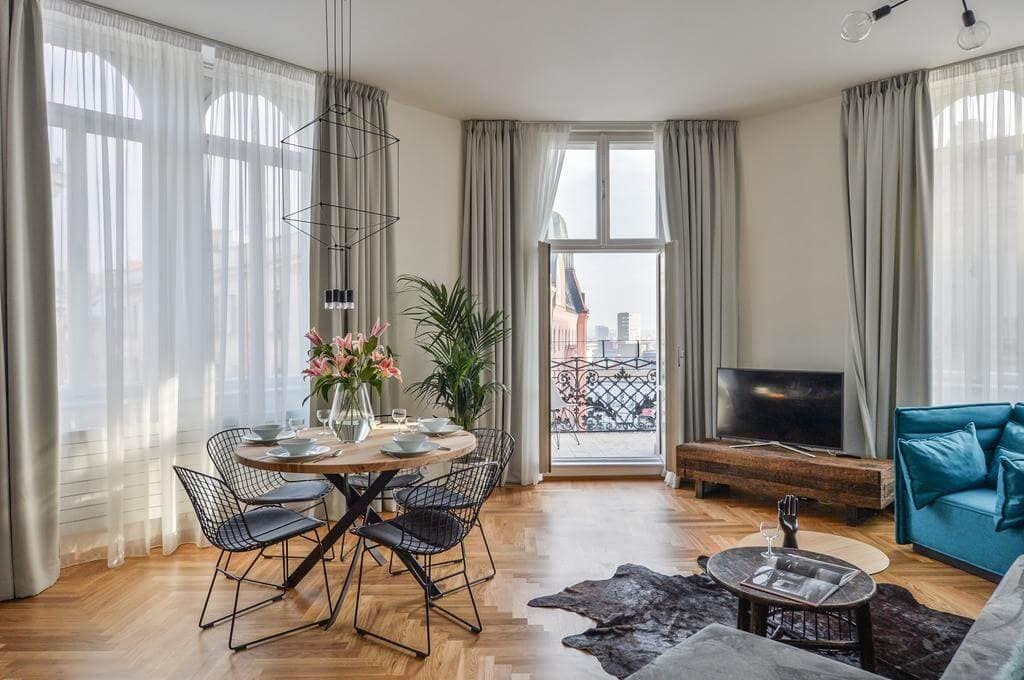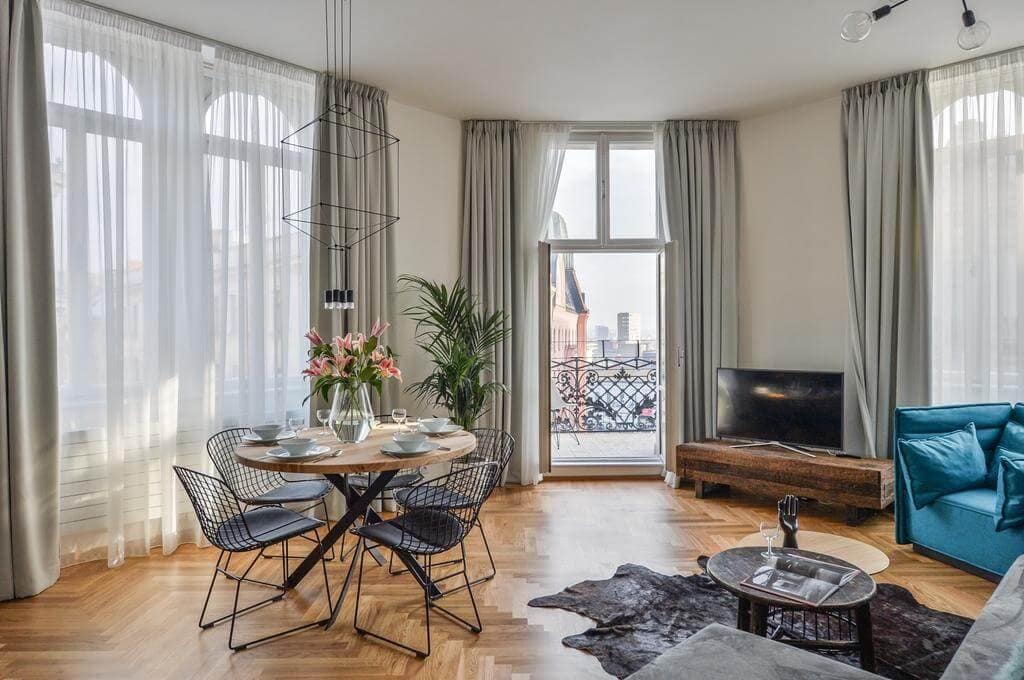 BARCELO BRNO PALACE
Barcelo Brno Palace is a 5 star hotel named Best Luxury Urban Hotel in Eastern Europe by the World Luxury Hotel Awards. They offer free wifi, a fitness room, sauna and a convenient, central location. Rooms start at $241 USD / night.
For more information and booking click here.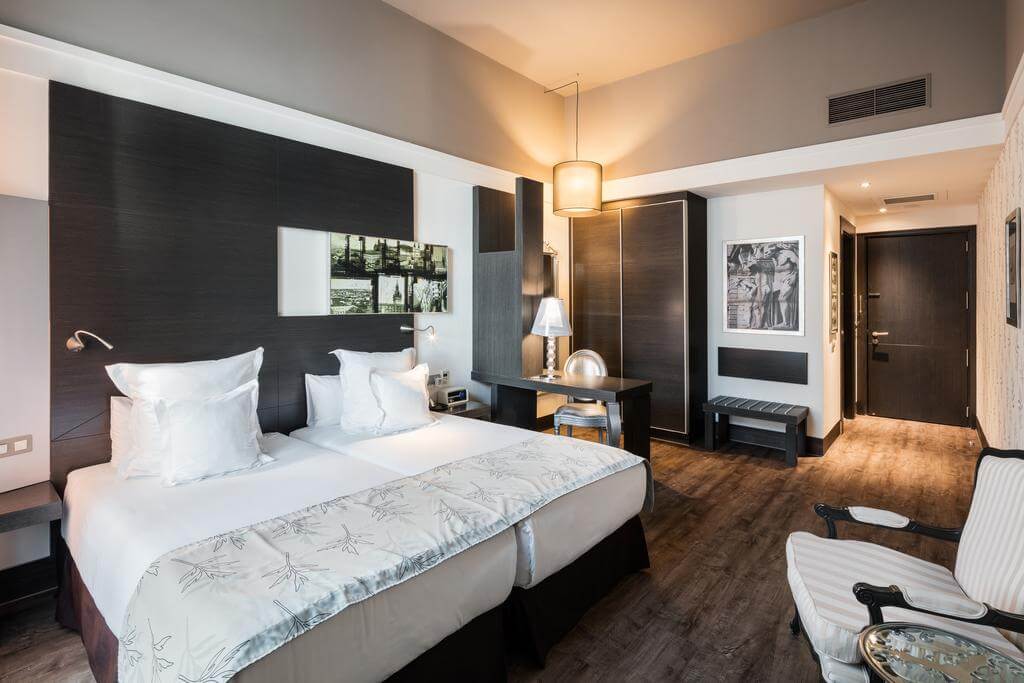 COURTYARD BY MARRIOTT BRNO
This was the hotel I stayed in and I could not have been more comfortable. It's located slightly further away than my other recommendations but they offer a free shuttle into the city center Monday-Thursday. The hotel offers a rooftop fitness center, an on-site restaurant/bar and beautiful views from the rooms. Rates start at $125 USD / night,
For more information and booking click here.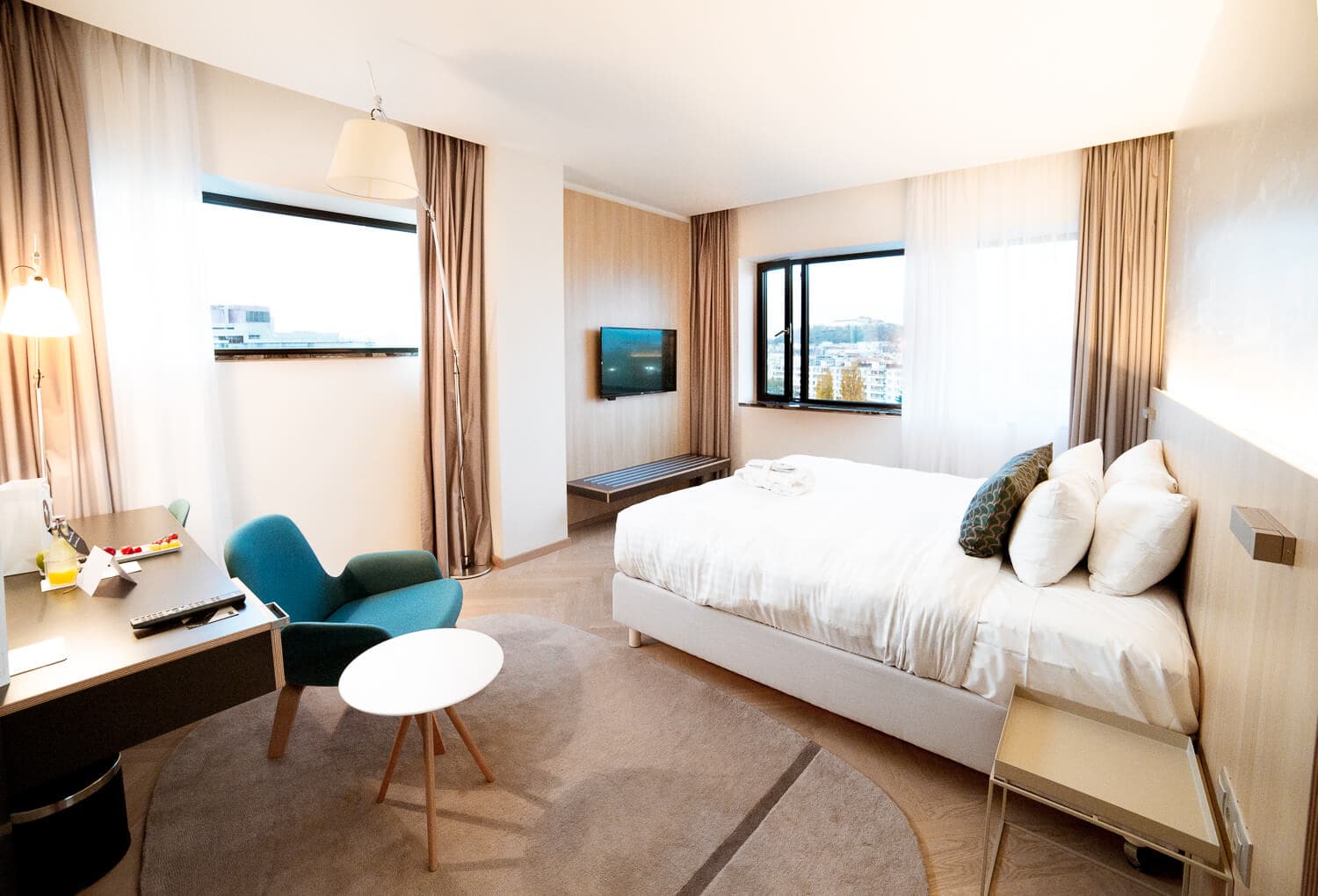 COCO CHANEL LUXURY APARTMENT
The Coco Chanel Luxury Apartment is a beautiful, fully furnished 1 bedroom apartment located in a 13th century building (in the 2nd oldest house in Brno!). The unit features a kitchen, washing machine and free wifi. Guests also have access to the building's fitness room and sauna. Rates start at $187 USD / night.
For more information and booking click here.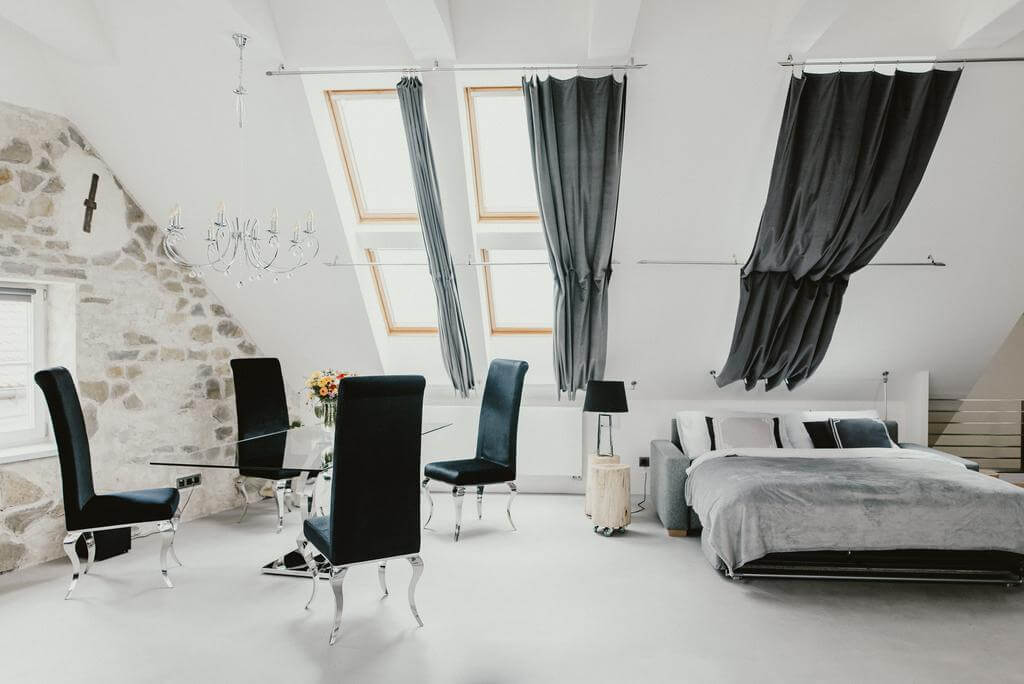 DID I MISS ANYTHING? LEAVE ANY TIPS YOU HAVE FOR VISITING BRNO IN THE COMMENTS BELOW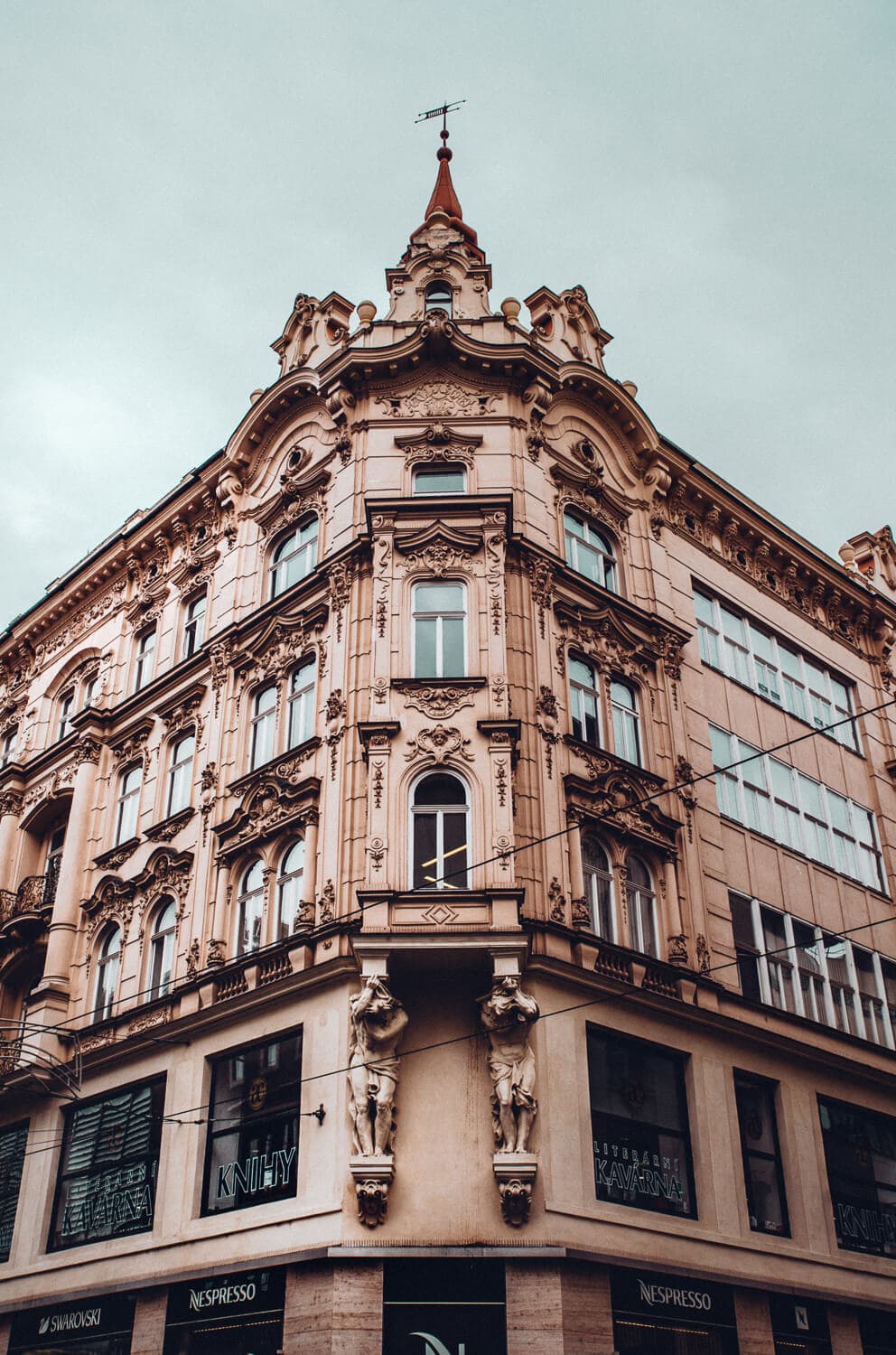 ---
PIN IT: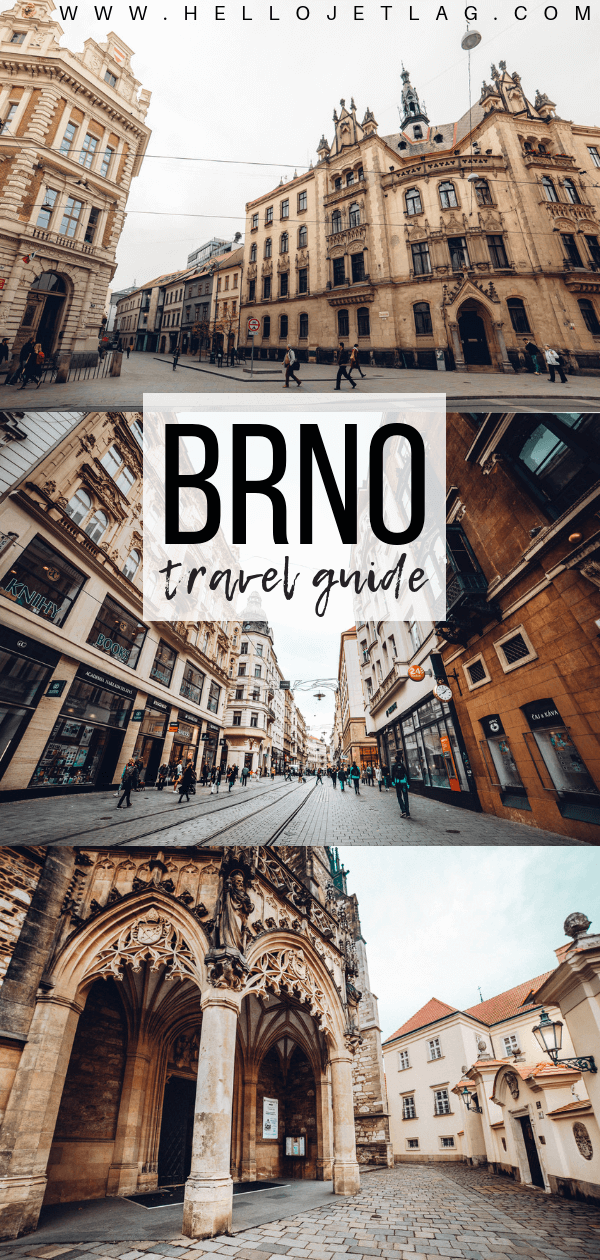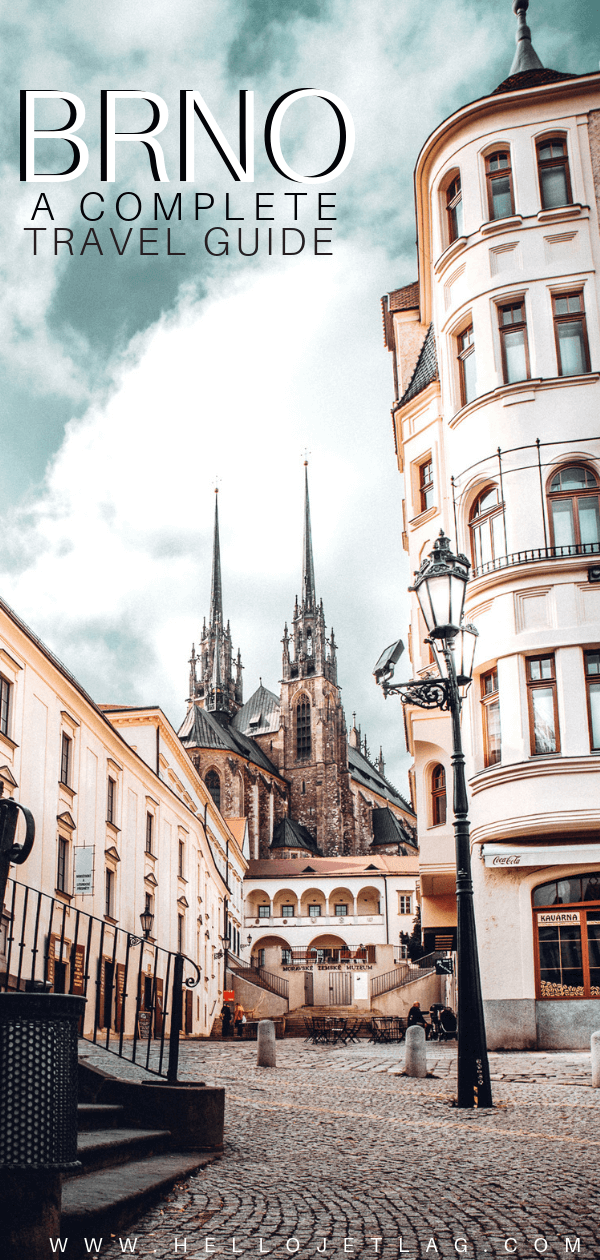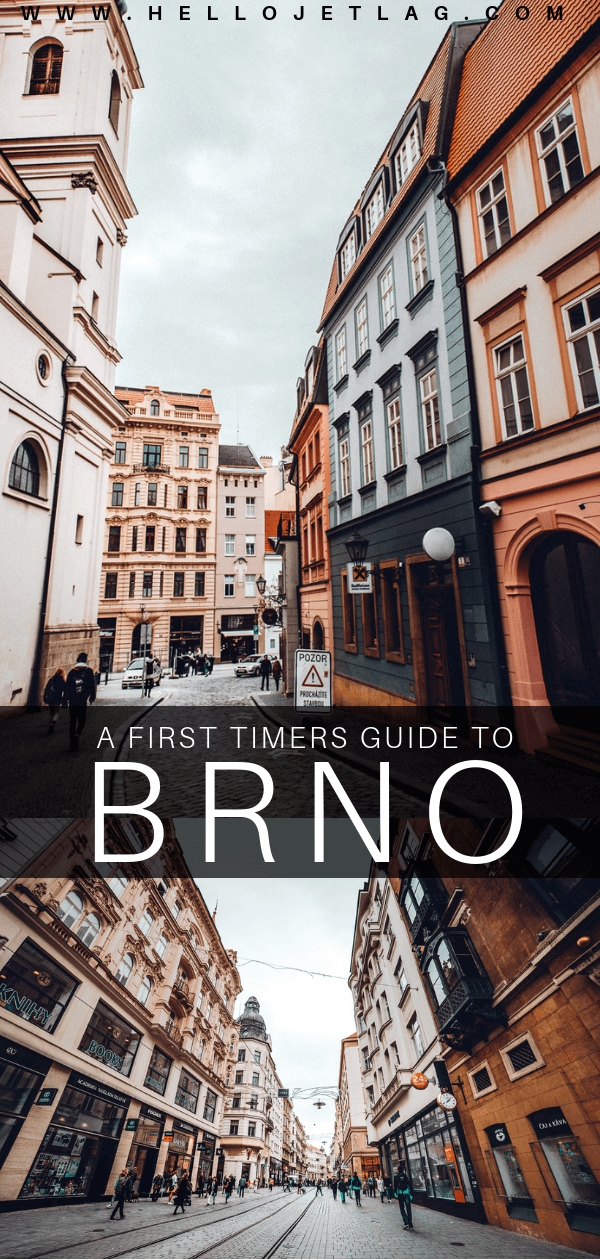 Disclaimer: Thank you to the Czech Republic for hosting me while in I was in Brno. All of the opinions and advice given in this post are honest, and my own. This post does contain affiliate links which means if you click them and buy something, I receive a small commission.