More often than I'd like to admit, I wind up in situations that leave me wondering what the hell I've gotten myself into. My first night in Brno was a classic example – rolling around, shivering on a rock hard prison-style bed inside of the icy, retired nuclear fallout shelter, 10-Z Bunker Hostel.
10-Z was the official code name for this elite bunker, which was built during World War II to protect important government representatives during an attack. 500 people could survive within its walls for up to three days. Today, visitors can tour the bunker, eat a Soviet-style meal in the attached Milk Bar and even spend the night. Keep reading to discover what to expect while staying at the 10-Z Bunker Hostel in Brno, Czech Republic.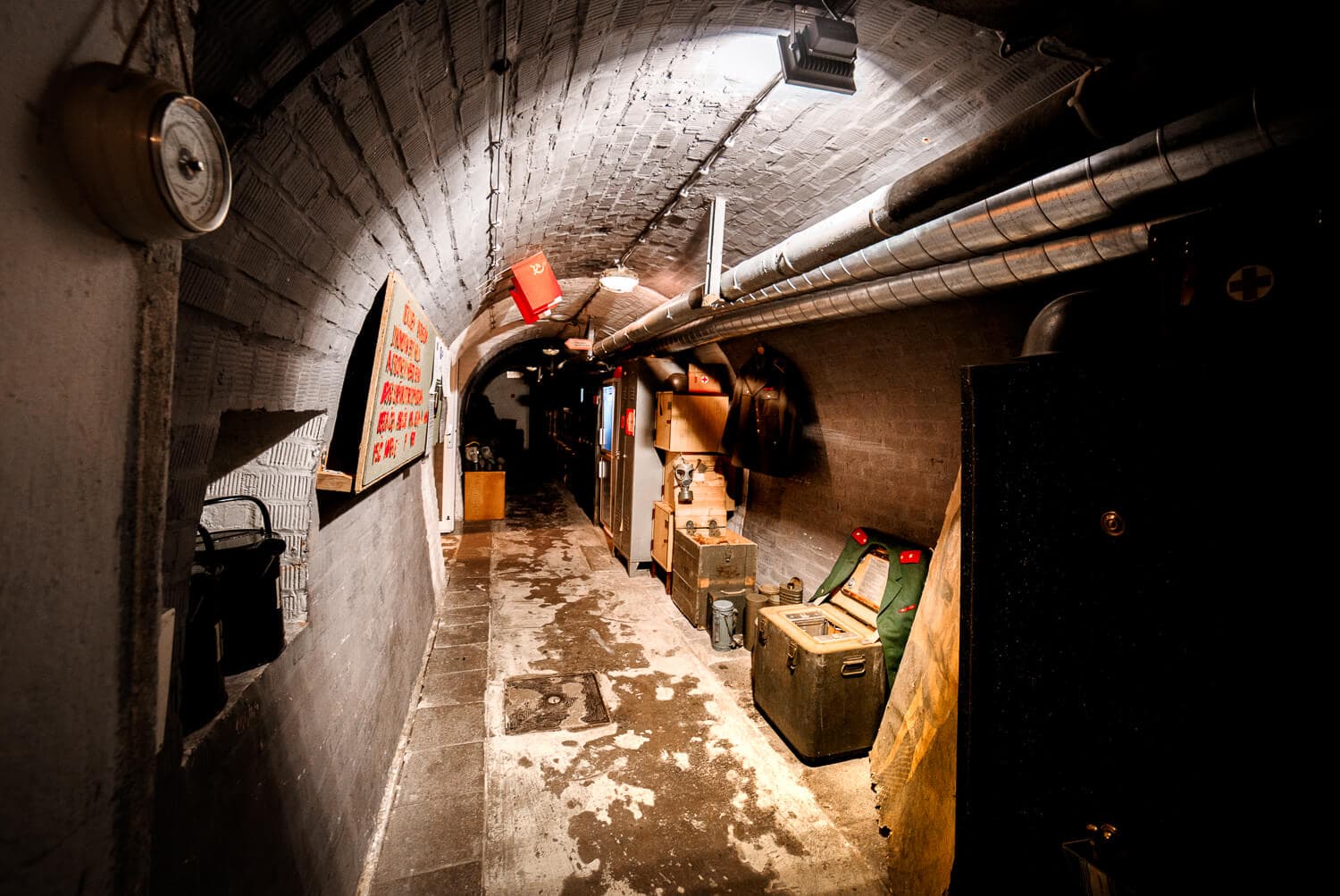 ---
RELATED POST: A FIRST TIMER'S TRAVEL GUIDE TO BRNO, CZECH REPUBLIC
---
NOT WHAT I WAS EXPECTING
Before I get into it, I think it's important to note that I've experienced a broad range of unique and uncomfortable lodging situations. I've bathed out of a dirty bucket for a month in Thailand, I've spent weeks on an island in the Amazon Rainforest with no electricity. I've brushed my teeth in rivers, slept on floors and have shared rooms with insects, amphibians and reptiles.
I'm not a high maintenance traveler, so why did the 10-Z Bunker hostel catch me so off guard?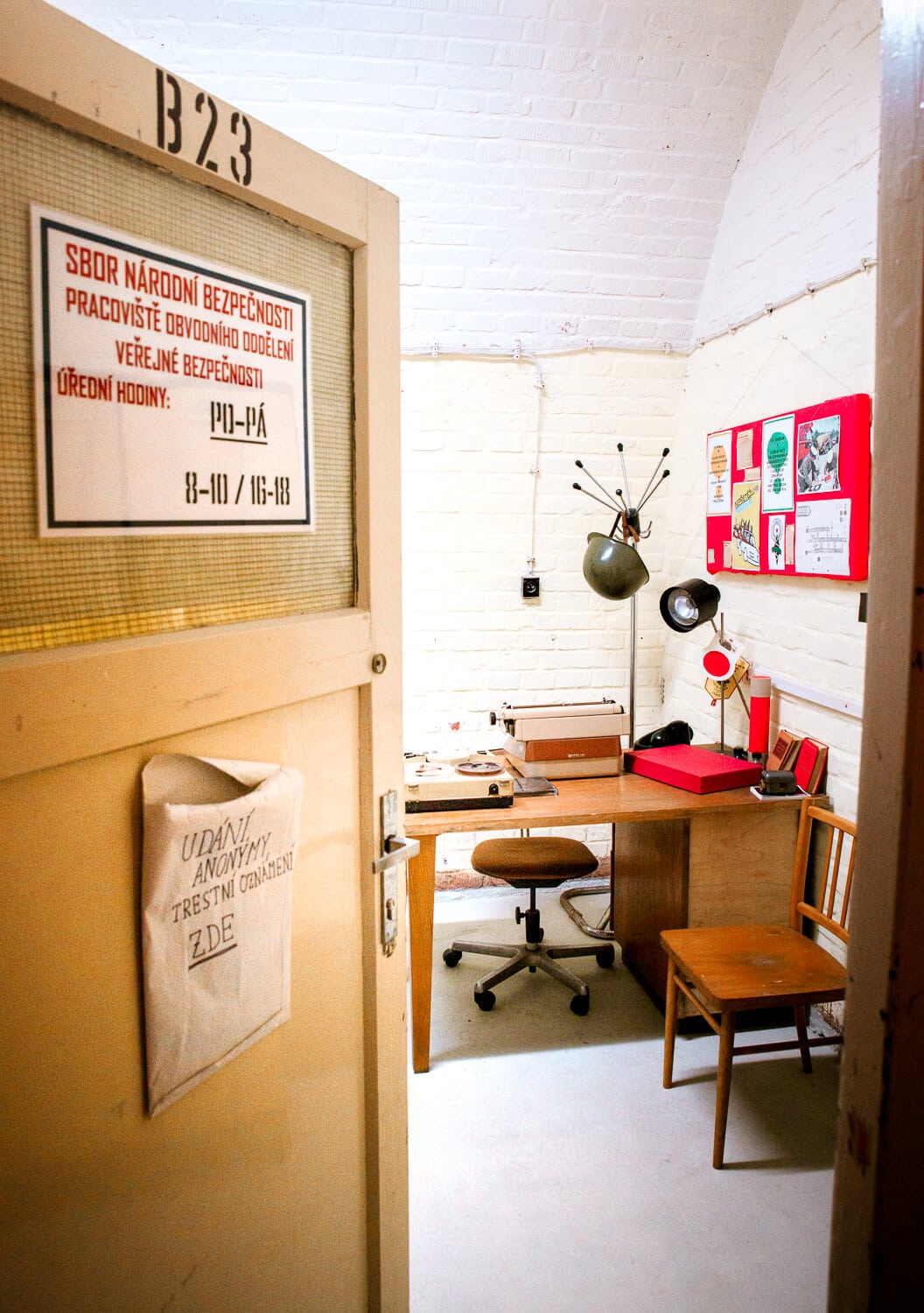 I think it's because when you look at the hostel listing online, it's obvious that the experience will be pretty bare bones, but there is no real disclaimer as far as the conditions inside of the bunker. Conditions which could not only make or break someone's decision to stay there, but that would also allow for guests to properly prepare for their night.
This is HostelWorld's description of the 10-Z Bunker:
Breakfast is included in the price and served daily at a retro bar, lead by chef Marcel Ihnacak. Guests can use a common room and a shared kitchen. Free Wi-Fi is available in the whole property. All rooms are arranged in a period style and come with shared bathroom facilities. Towels and linen are provided. Various concerts and presentations are held in the bunker.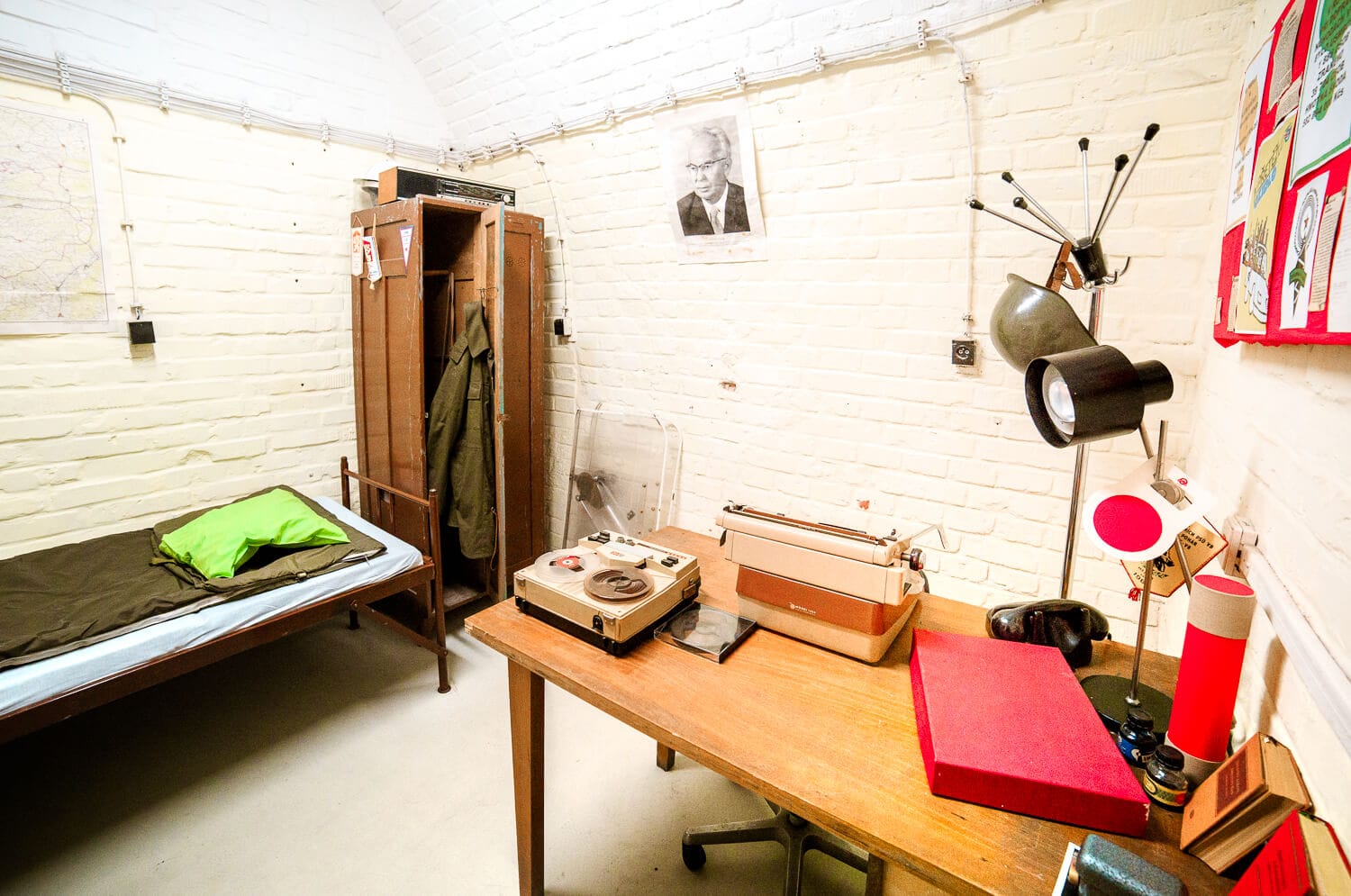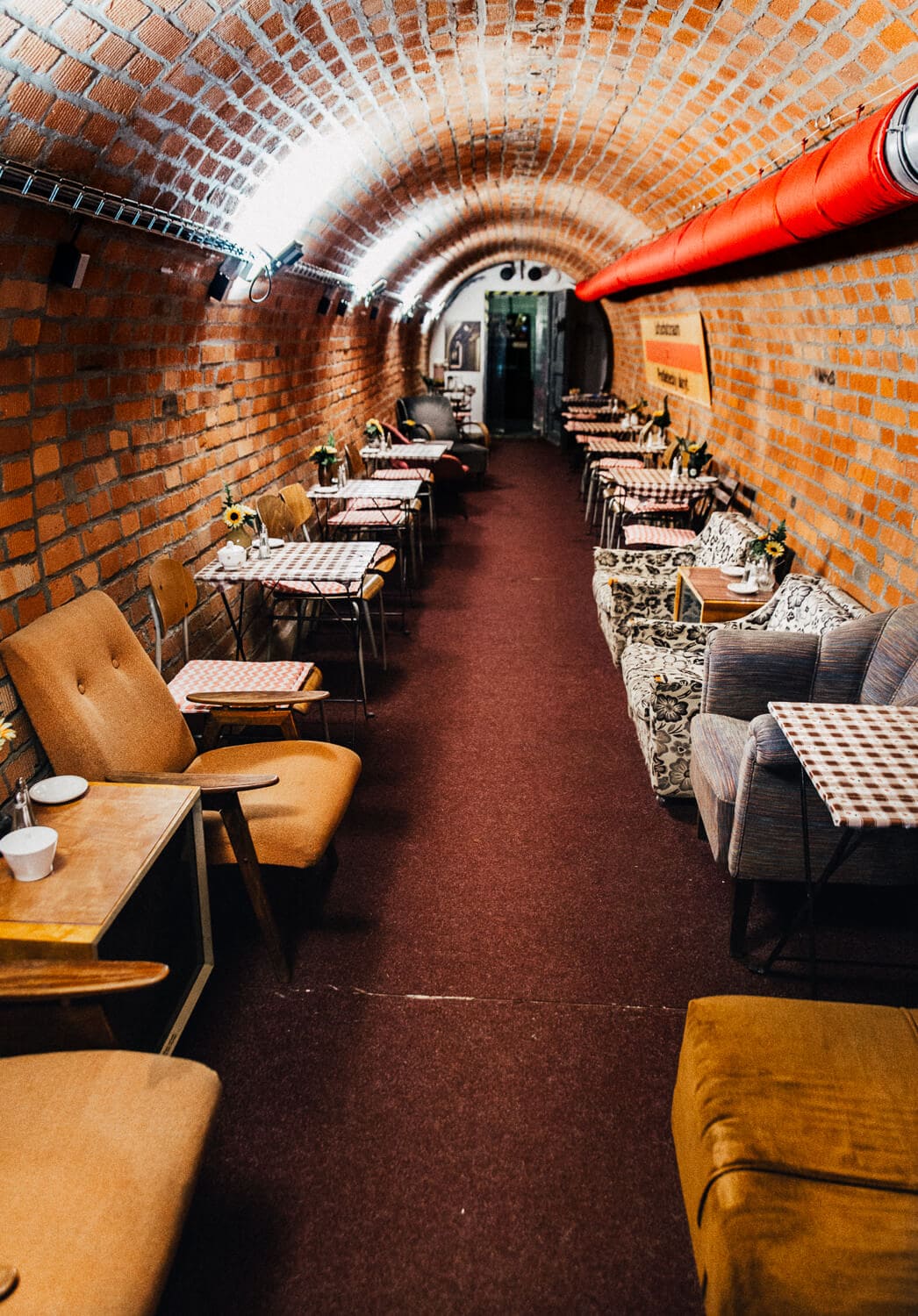 And this is what you should also note before choosing to book your to stay:
The temperature inside of the bunker is always 14 degrees Celsius (57 degrees Fahrenheit). This includes inside of the rooms, the bathrooms, the Milk Bar etc. There are no heaters in the rooms.
It is not recommended for those who are claustrophobic. There are no windows and you will be in a small, confined space.
It's damp, dusty and a tad mildewy. So note that the air that circulating through the bunker might not be ideal if you have any breathing difficulties.
The showers operate on a 30 second timer.
It's creepy AF. Creaky sound effects, long dark corridors, nooses hanging in windows. It's a fun creepy, but if you scare easily this might not be your cup of tea.
If I had known all of this prior to booking, I would 100% still have reserved a night, but I think I would've been more apt to properly enjoy my stay.
SLEEPING IN A NUCLEAR FALLOUT SHELTER
Located conveniently at the base of Spilberk Castle near the city center of Brno, 10-Z Bunker is super easy to reach from the bus and train stations.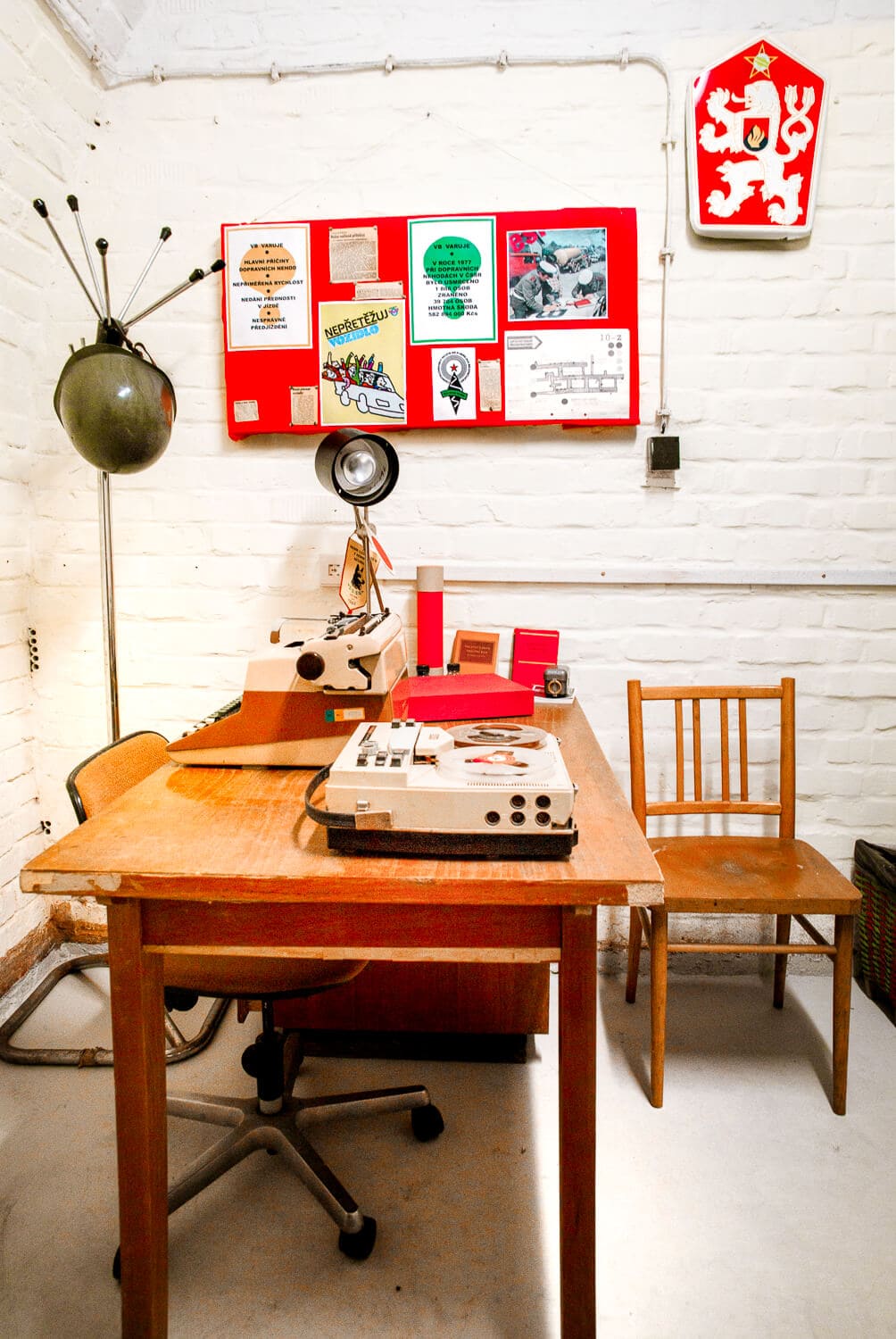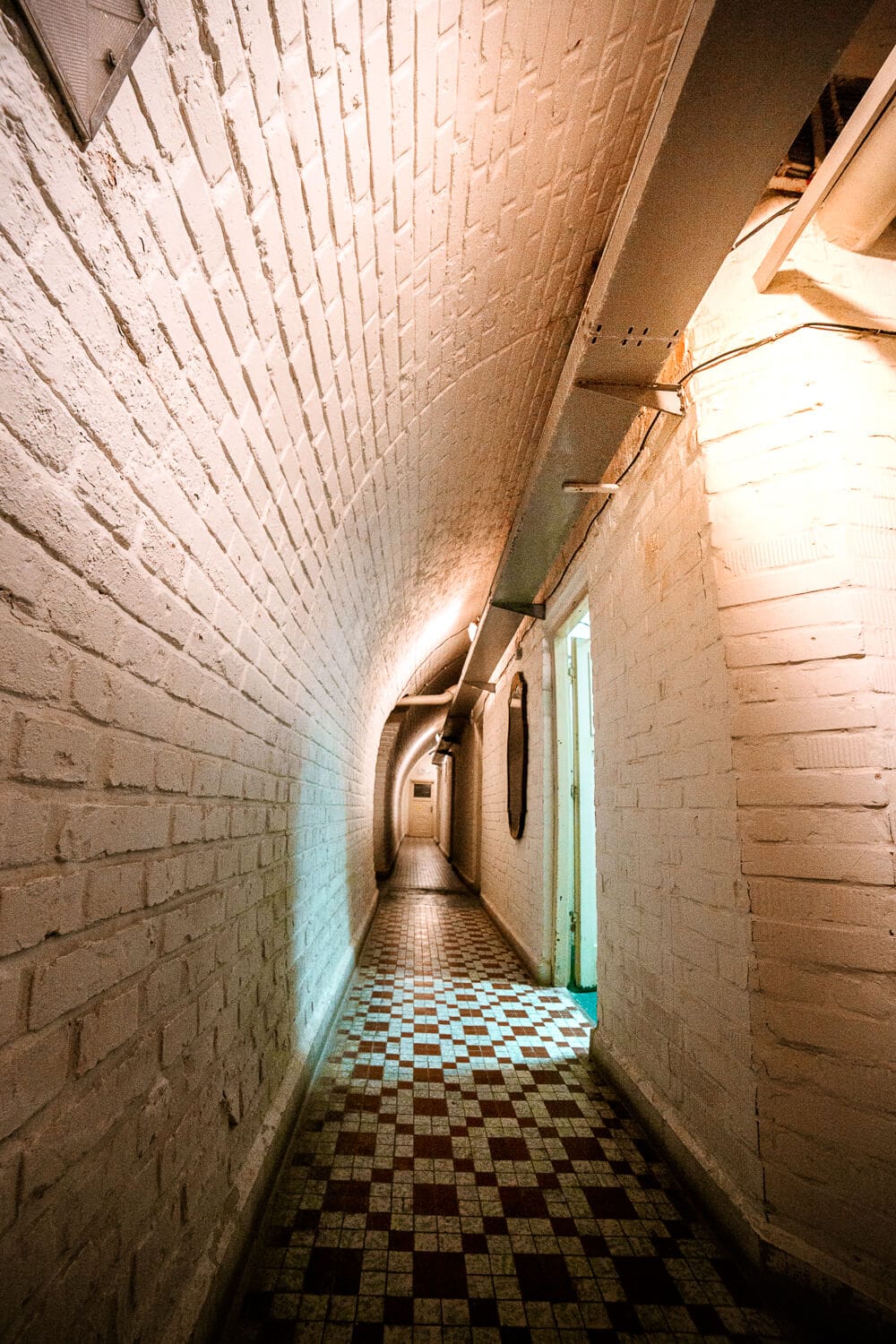 Check in was quick and easy. I reserved my room online through Booking.com, but paid the balance in full when I arrived. I was then given a map of the bunker and shown to my room. The bunker itself is super interesting, and they've done a great job re-creating the different rooms to transport guests back in time to the Cold War period. Sound effects play throughout the corridors which adds to the authentic and somewhat creepy ambience.
I booked a single private room (called "luxury single" on the website, lol) but they also have shared dorms and family rooms to choose from. Compared to regular hostel prices in Brno, and taking the very basic accommodations into account, I think 10-Z's prices are a little high but I guess you're paying for the experience… and experience, you shall receive.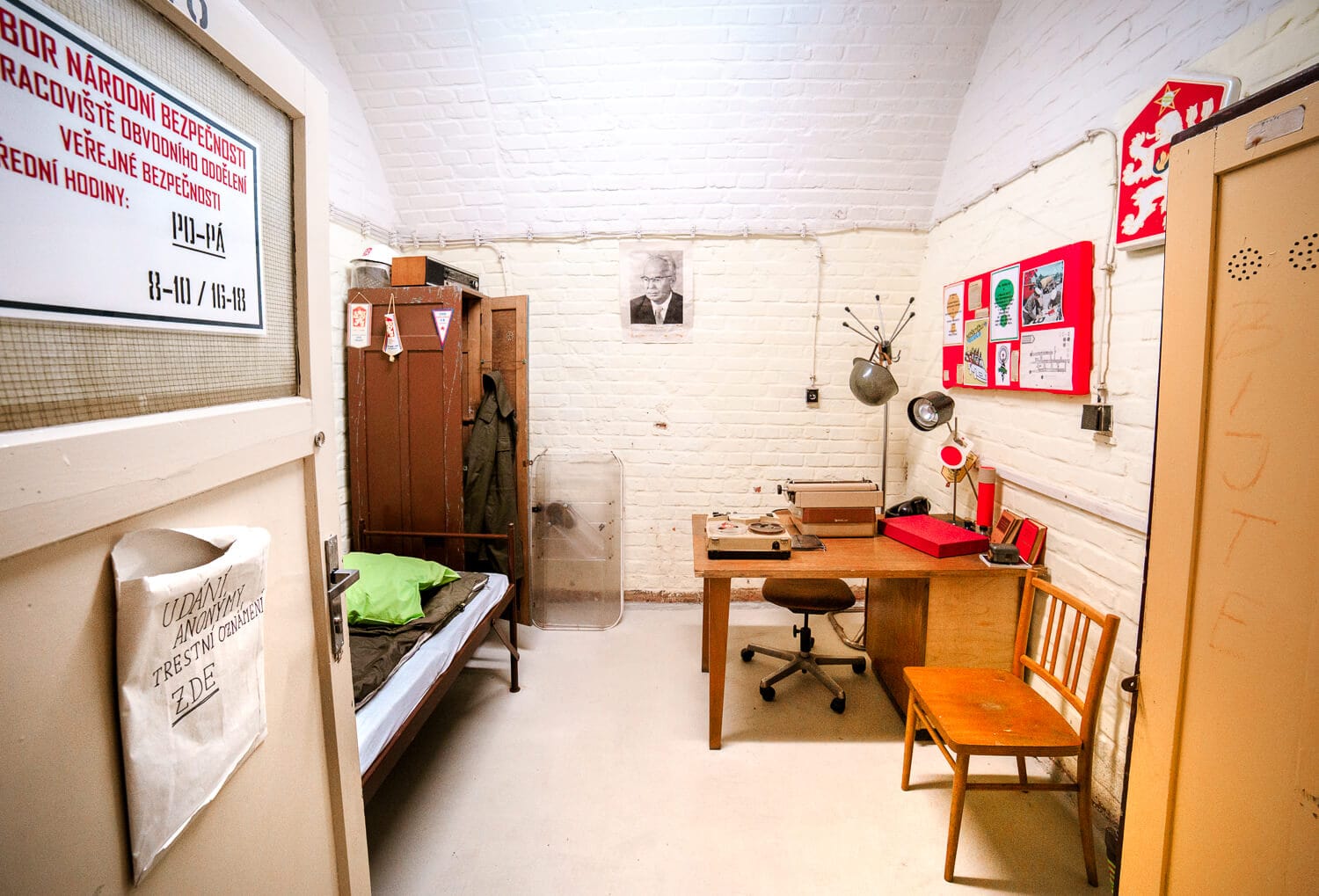 THE SINGLE SLEEPING BAG
I visited Brno in November so the weather was cold, and it's not much warmer inside of the bunker. In fact, it remains a constant and damp 14 degrees Celsius (57 degrees Fahrenheit) year round. The sleeping bag they provided was warm but not warm enough to keep me from shivering all night. The beds are also rock hard, but I saw photos beforehand so I didn't expect to be sleeping on clouds.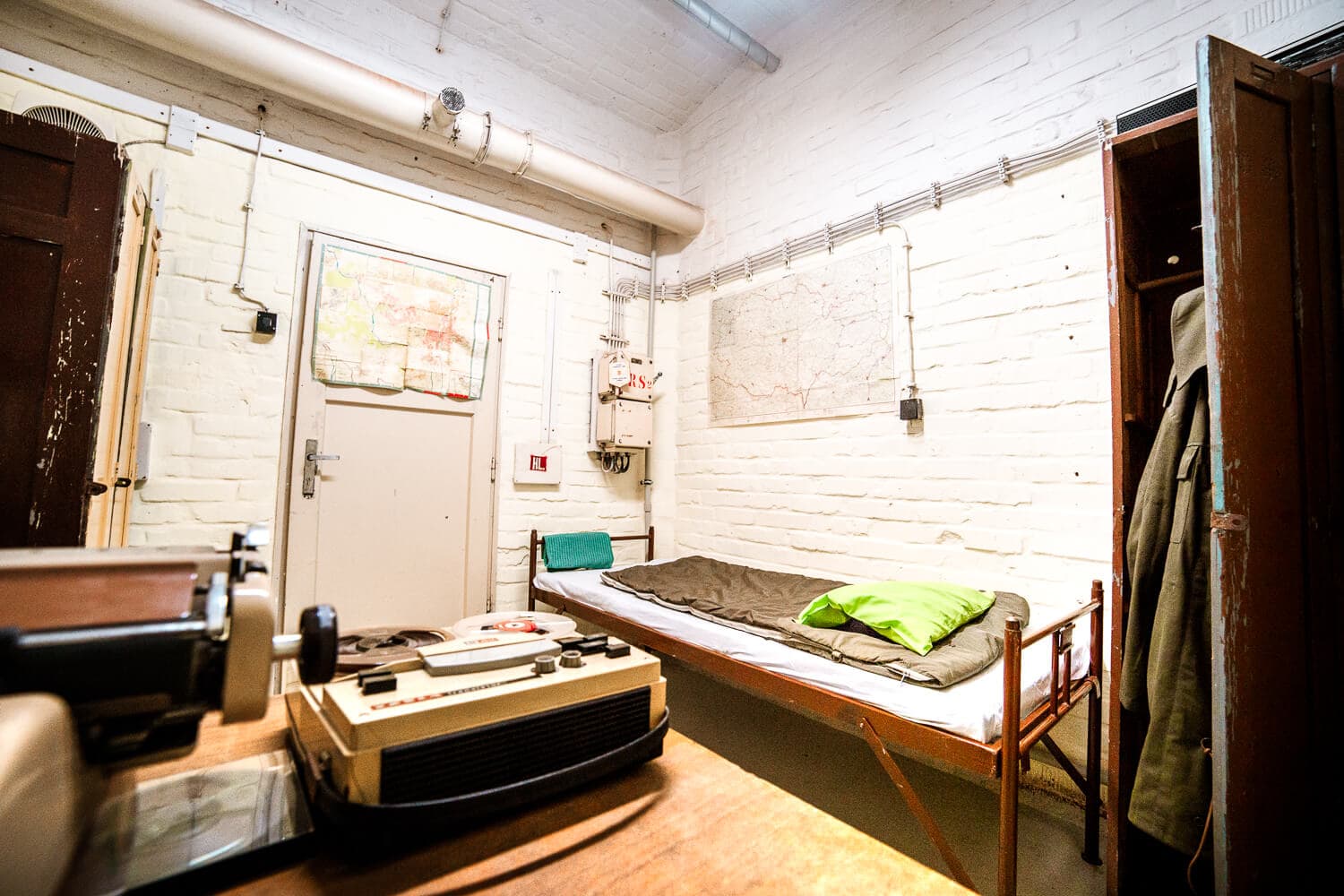 It was so cold at night that I had to leave and seek out cocktails to coat my insides with a booze blanket. Survival mode, am I right?
2 whiskeys later (Super Panda Circus is across the street BTW!) and I was ready to head back to the bunker. On the way to my room, I asked the woman at reception for another sleeping bag because I read on Trip Advisor that someone recommended doing this if you get too cold. The receptionist said she didn't have one but guided me on the creepiest walk through the back end of the dark bunker to search each of the housekeeping closets, just in case. Closets which I noticed all had space heaters that were not being used..
---
RELATED POST: 7 MUST VISIT BARS IN BRNO FOR THE BEST LOCAL BEER & COCKTAILS
---
Our search was futile, but the strangest thing about all of this was.. I was 99% certain I was the only guest at the bunker that night. A suspicion that was confirmed when I walked into breakfast the next morning and saw one cup, one bowl and one set of silverware laid out haha. I wanted to pull up the TripAdvisor photos of the dorm rooms and ask where all of those sleeping bags were. I wish I were more confrontational.. but alas, I would rather freeze to death than argue with a stranger.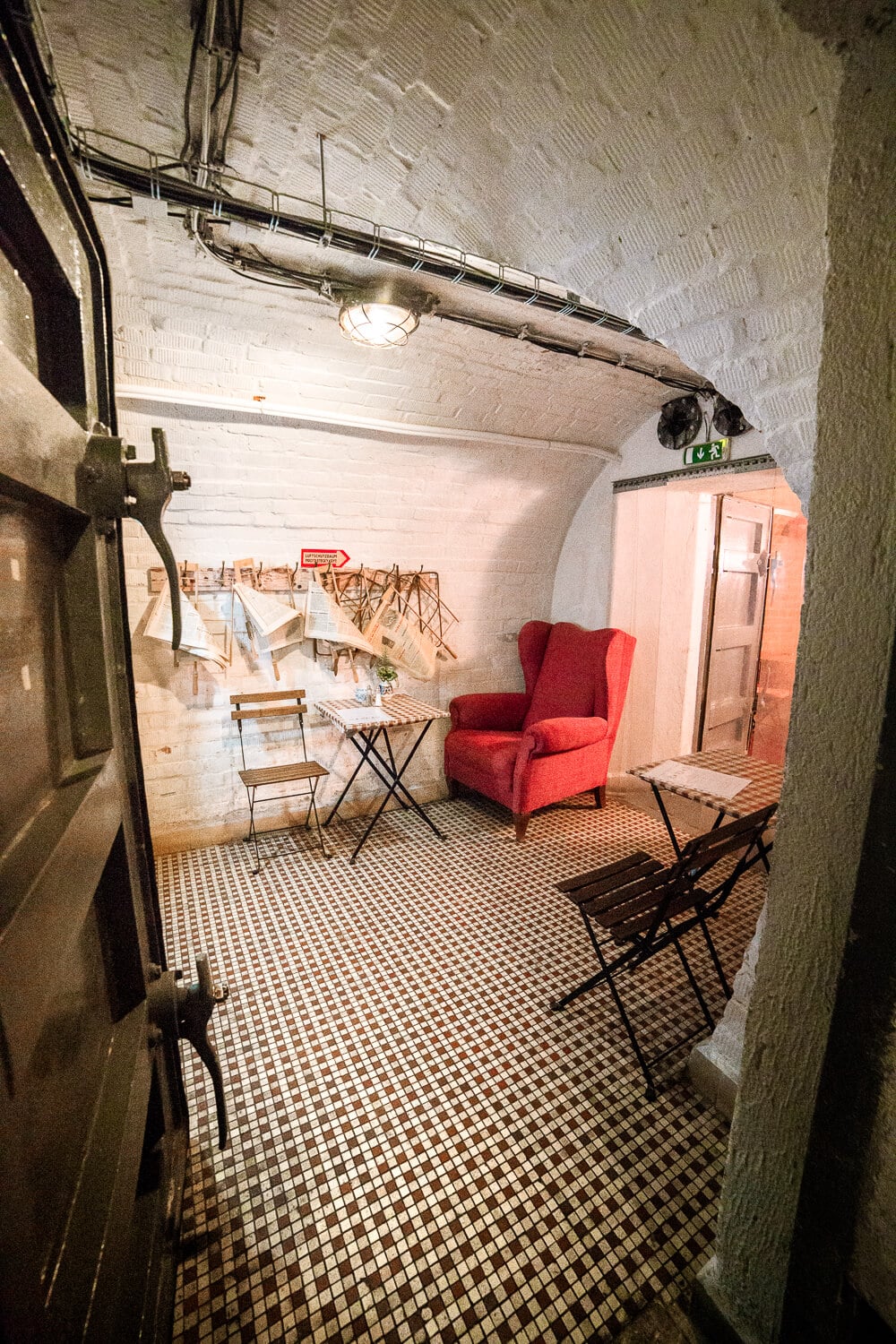 LOCKED IN THE DARK
The receptionist said that if she ended up finding a sleeping bag she would come find me, but I knew I would never see her again. She also told me to take the "back way" as a shortcut to my room, but must have forgotten that all the doors were locked because the next thing I knew, I was in the pitch black, locked in a corridor of the bunker with no map and no light. I could vaguely make out the silhouette of a noose in a nearby window, and I surrendered to the fact that I was now a part of a horror movie. After some banging and yelling I was let out, and promptly hauled ass to my room.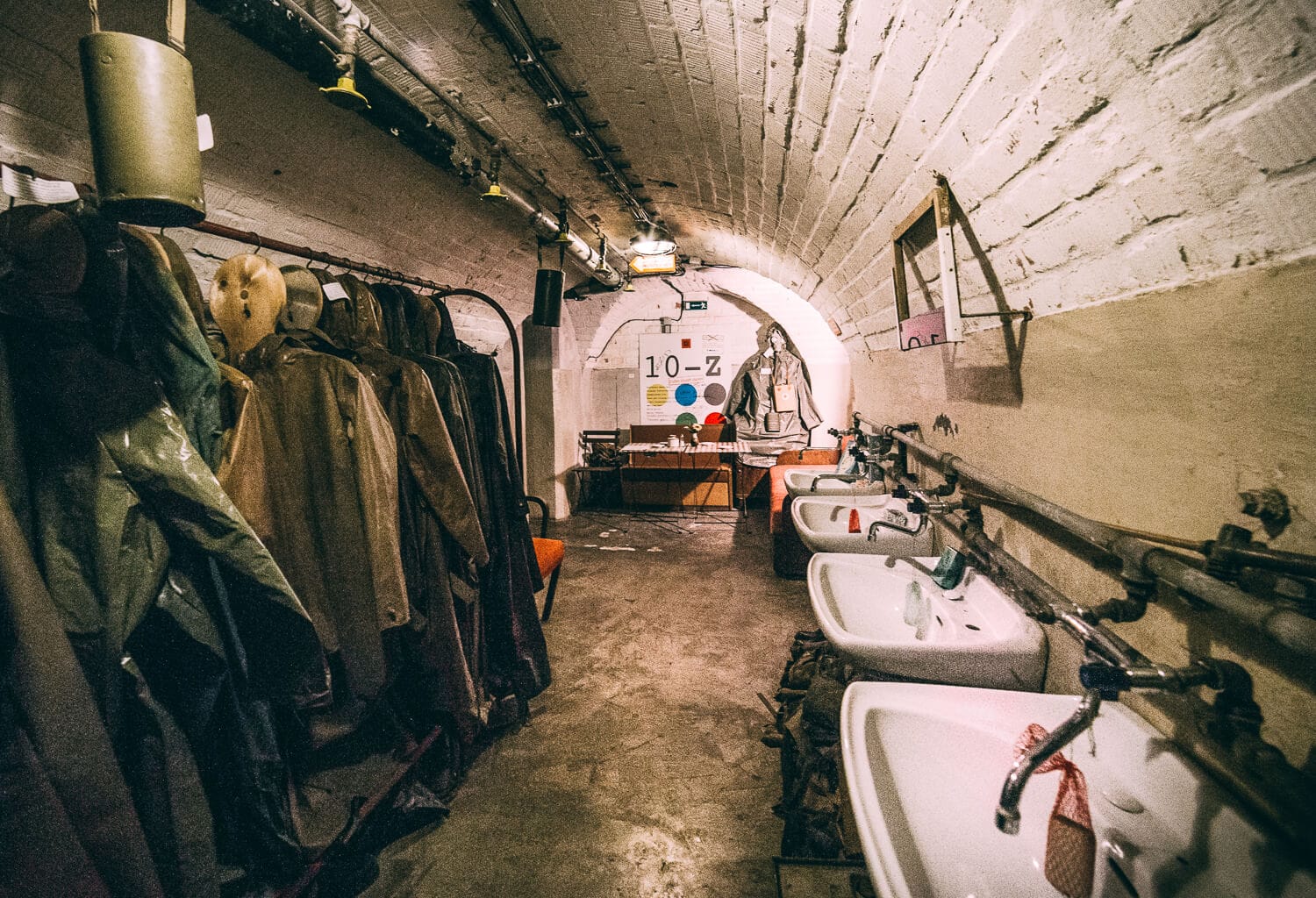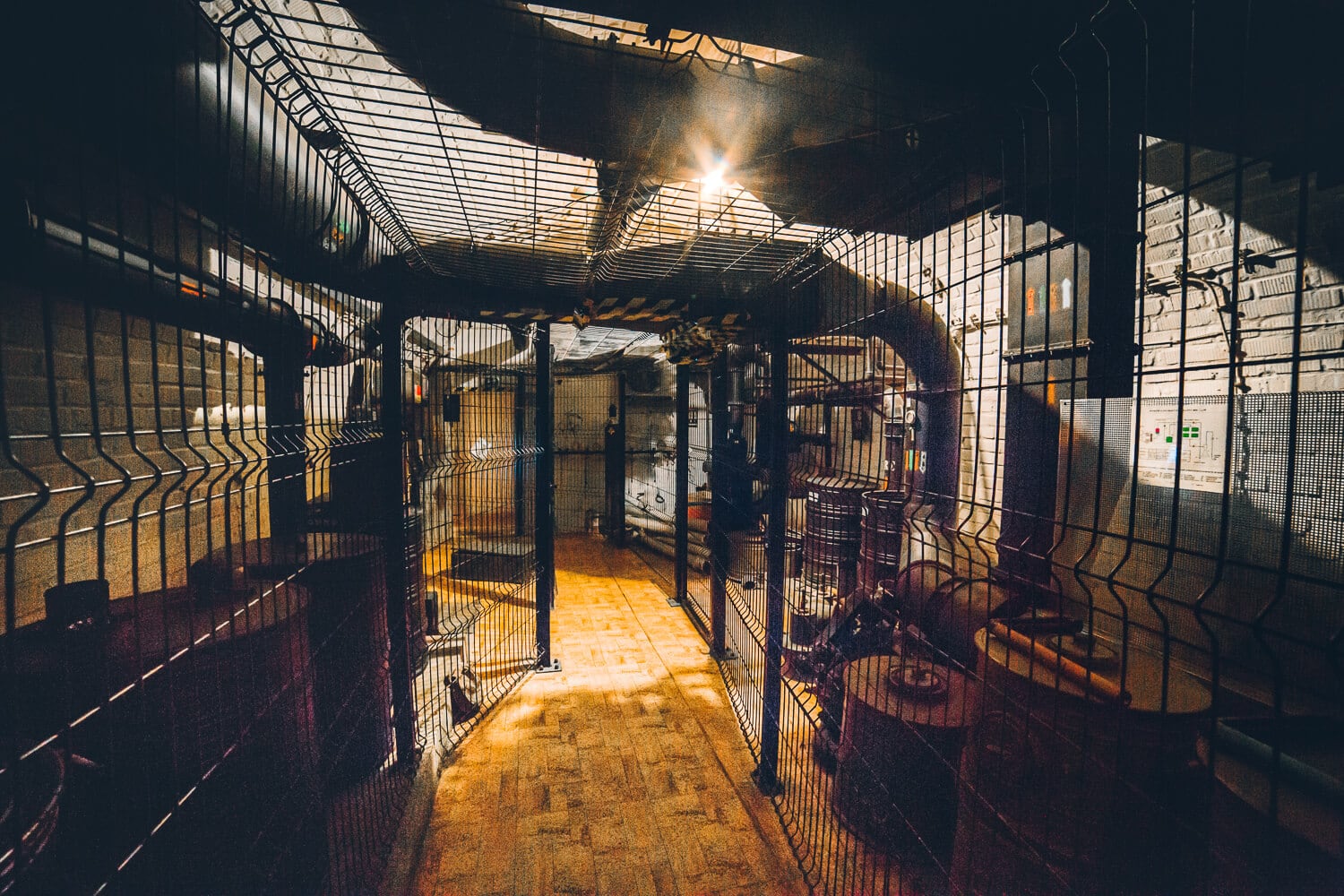 THE BATHROOMS
When I finally got back to safety I settled in for the night and accepted that I was in fact doing this. I didn't even change clothes before bed because losing a layer of warmth for any amount of time was not an option. This also meant I was not going to shower.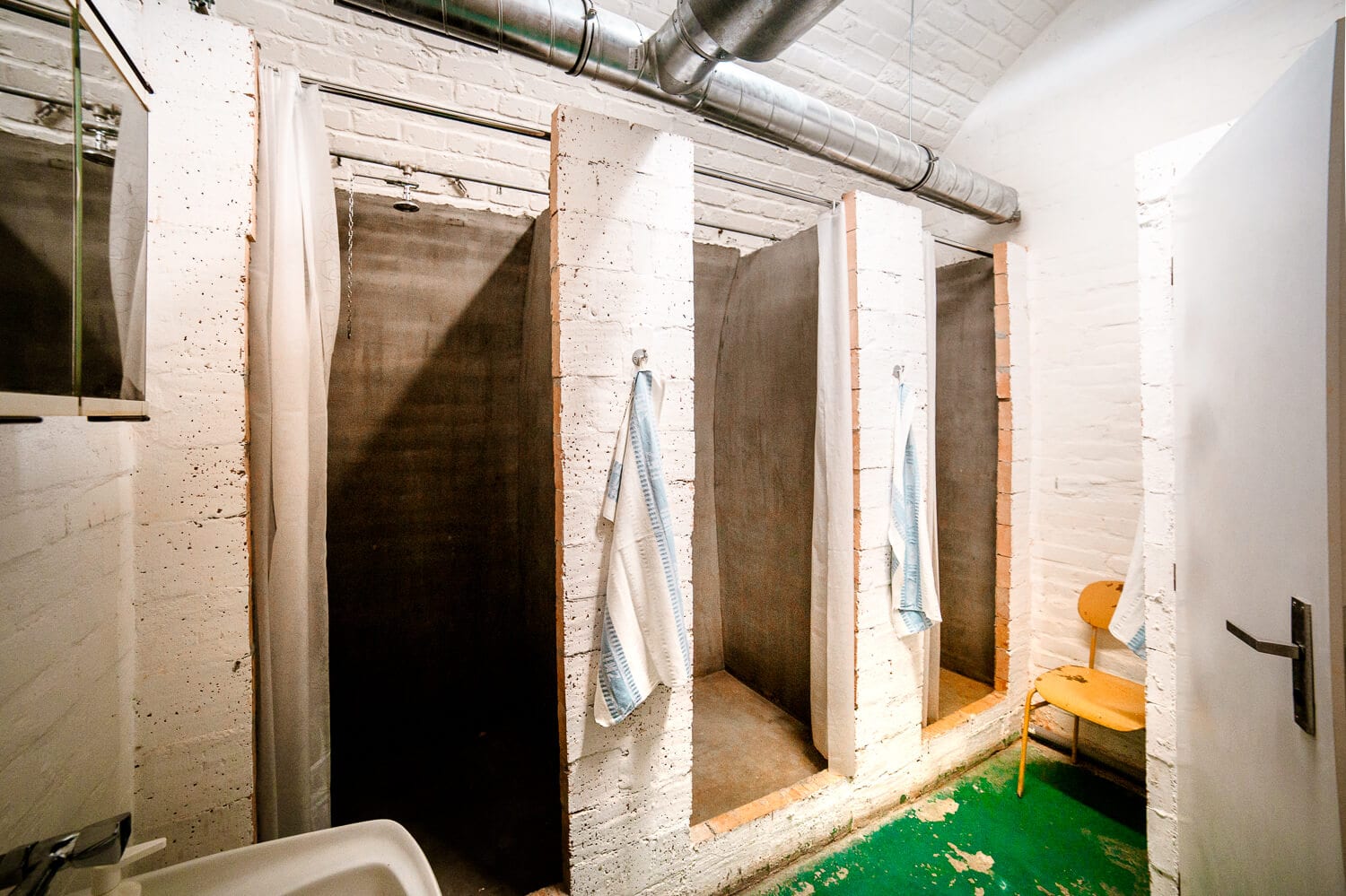 Speaking of showers, they do have hot water! Which you would not guess by looking at the bathrooms. However, they operate on a 30 second timer, so be prepared to have the water shut off a few times.
I couldn't imagine being wet, cold and naked inside of that small concrete room so I decided to skip that part of the experience this time around.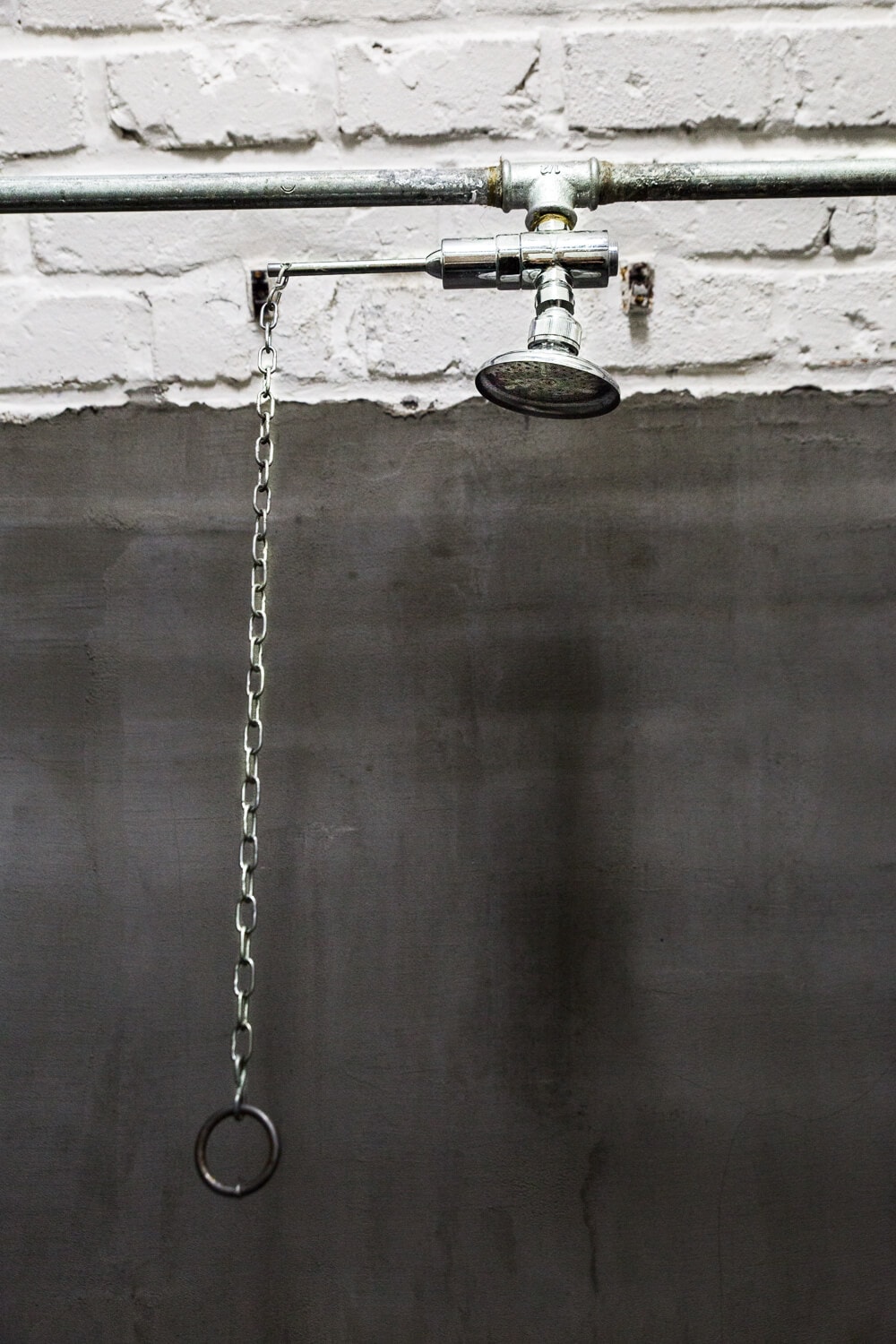 THE HAIR
Hard beds, chilly nights and timed showers are not ideal, but they're also totally doable. Unfortunately, what really got me was that my room looked like it had not been cleaned. While the sleeping bag lining was spotless (thank god), there was black hair all over the floor and on my mattress. Gross.
I think that 10-Z Bunker's hostel is new, so I hope they will make the few minor changes needed to improve the basic comfortability and cleanliness of their hostel. I know it has the potential to be a really unique and popular lodging experience.
Even though I felt like I was in my own personal hell most of the time, looking back on the experience makes me laugh, and how many people can say they've spent the night in a nuclear fallout shelter?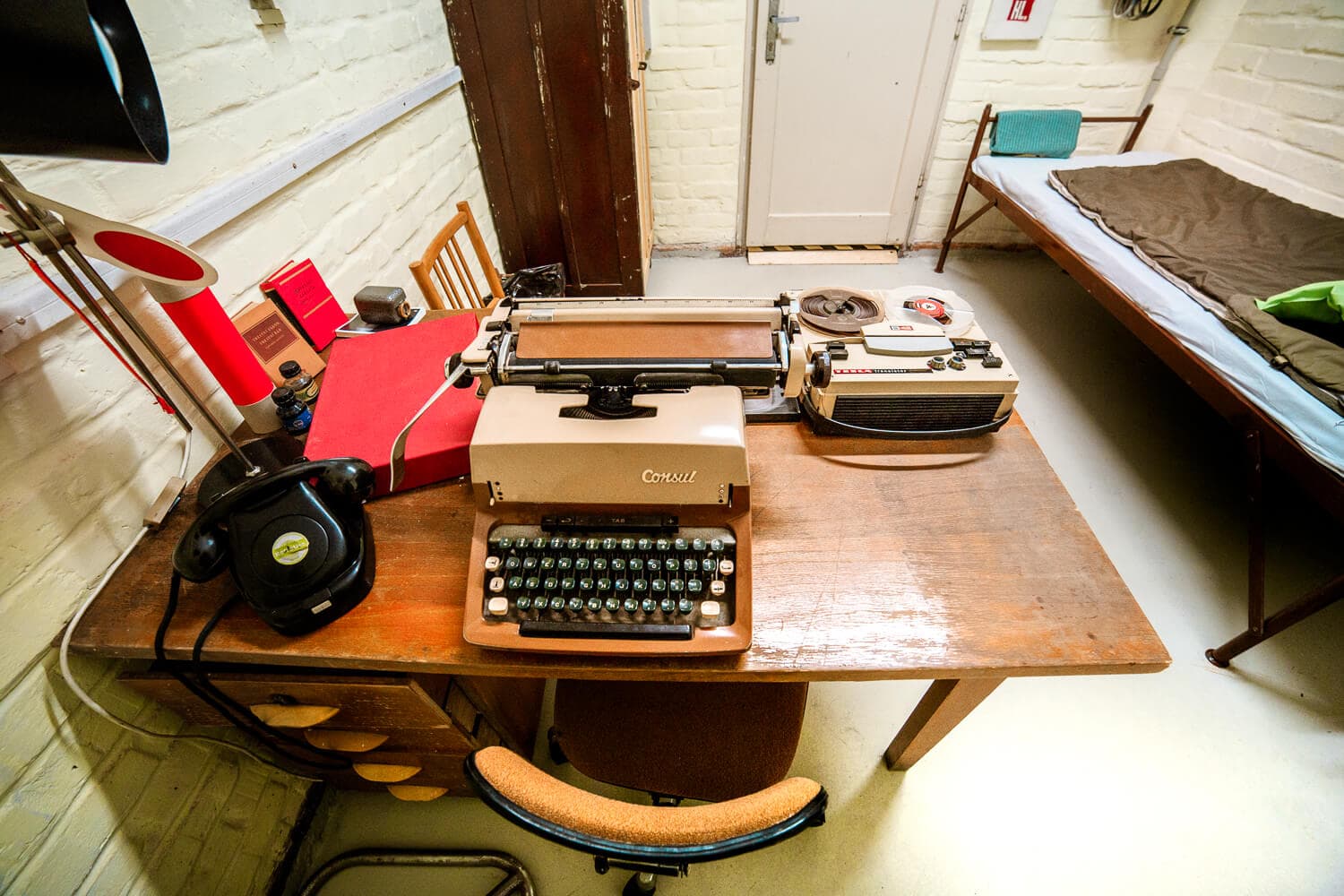 TIPS FOR STAYING AT 10-Z BUNKER HOSTEL
BRING A FRIEND I stayed at 10-Z Bunker hostel alone but in retrospect it would have been much more fun to share the experience with someone else. When I got locked in the corridor, I was legitimately afraid and I would have liked the option of having someone else around so that I could sacrifice them in case there was actually a crazed killer hiding out.
CASH KEY DEPOSIT You will need cash for the 200 CZK ($8.75 USD) key deposit when you check in.
SUPER PANDA CIRCUS is up the street. This was my favorite bar in Brno and you have to visit.
---
RELATED POST: SUPER PANDA CIRCUS / THE WHIMSICAL BAR YOU HAVE TO VISIT IN BRNO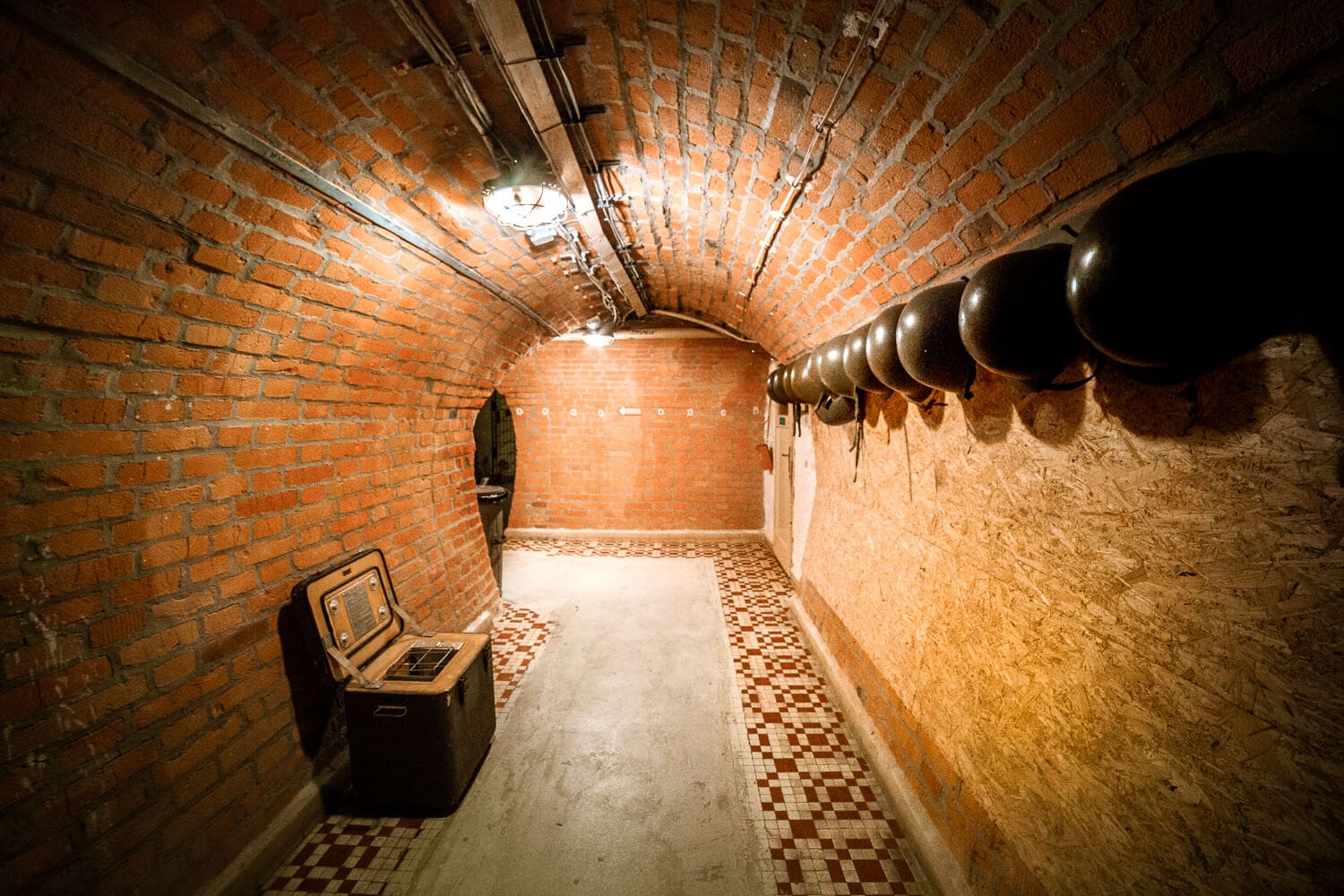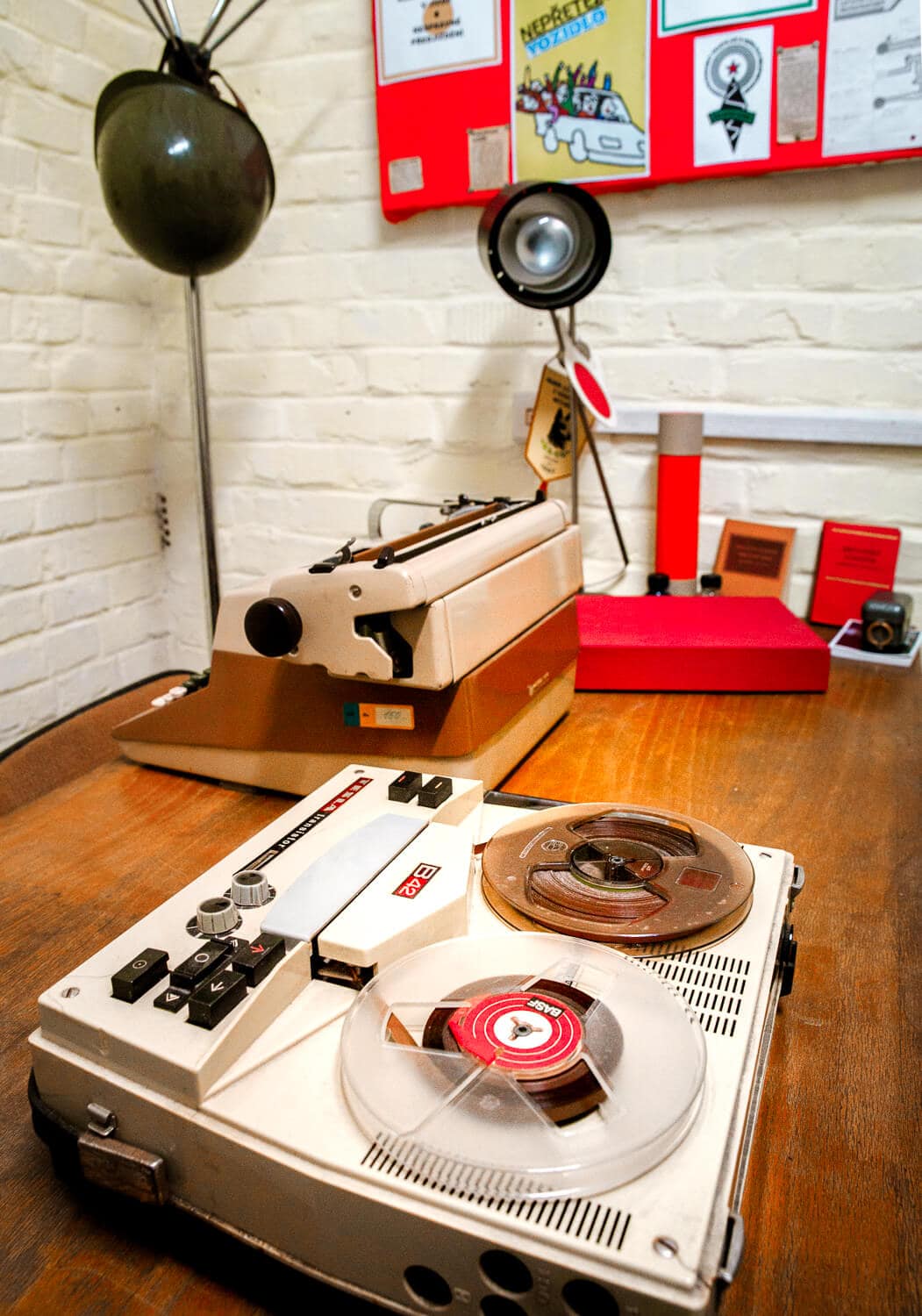 BRING FLIP FLOPS For the rooms and the showers. Trust me.
SKIP IT IF YOU'RE LOOKING TO MAKE FRIENDS I know a lot of people like to meet fellow travelers at their hostels. 10-Z does not seem super conducive for that. I was the only guest during my stay. Maybe weekends are busier?
BRING WARM PAJAMAS Especially if you get cold easily.
1 NIGHT IS ENOUGH You'll most likely be done after one night. Stay for the experience and then move on.
WIFI is a little spotty in the rooms but stronger near the Milk Bar and reception area.
CHECK IN / CHECK OUT Check in is at 3PM. Check out is at 11AM.
TAKE THE TOUR Hostel guests are allowed to take the self-guided tour for free.
VISITING 10-Z BUNKER
If you decide that the overnight 10-Z Bunker hostel experience is not for you, I still highly recommend stopping in for a visit.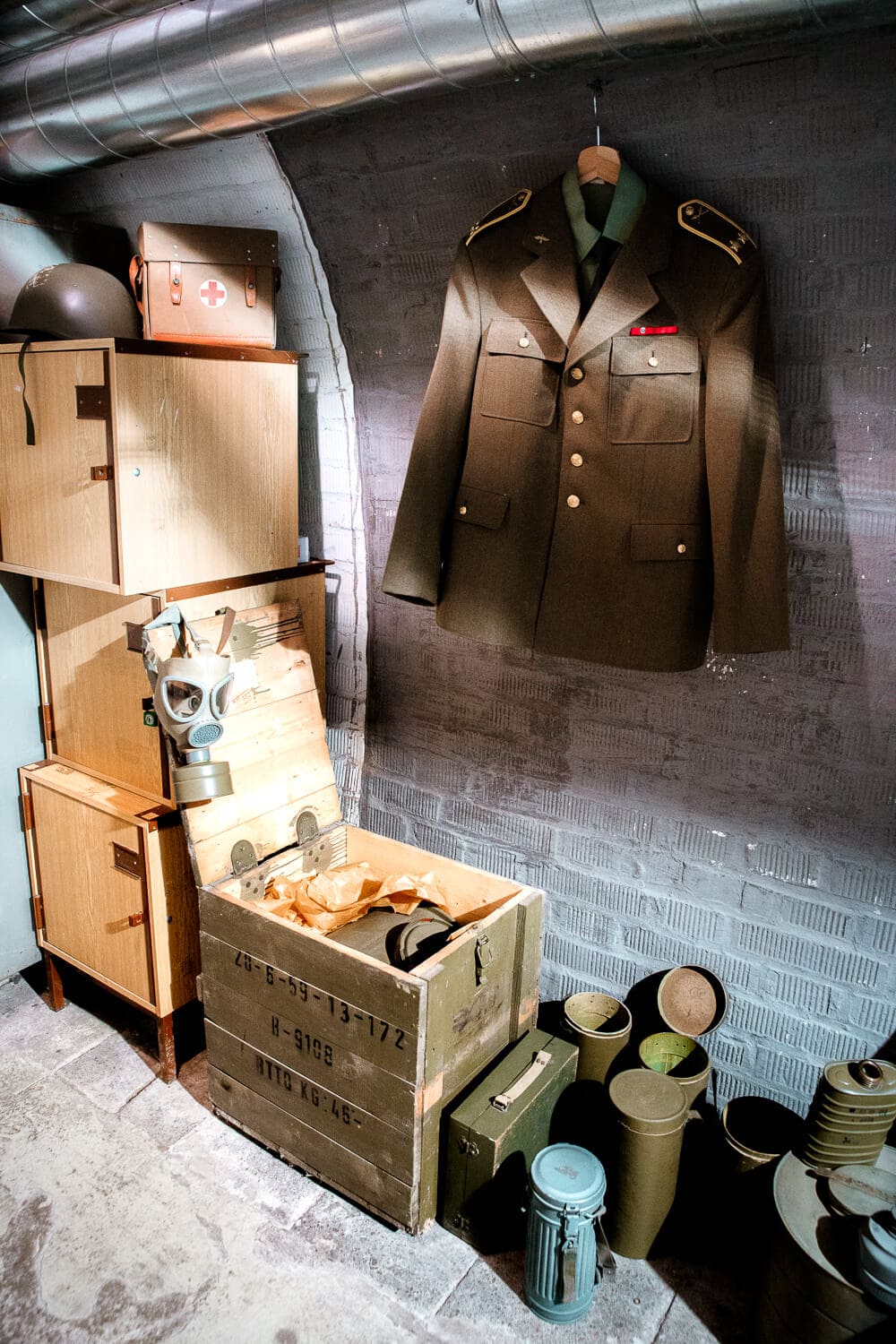 Tours are self guided. You're given a map, and you simply follow the arrows through the labyrinth of tunnels. I do wish there was more detailed information on the signs because I wanted more context as to what I was looking at. The videos have English subtitles though and overall, it's a fascinating, eerie walkthrough.
At the end of your tour, you can grab a drink or a cheap bite to eat in the Communist style Milk Bar which serves a few "wartime specialties" and "foods beloved by representatives of totalitarian regimes." You can also try a sampler of local beer.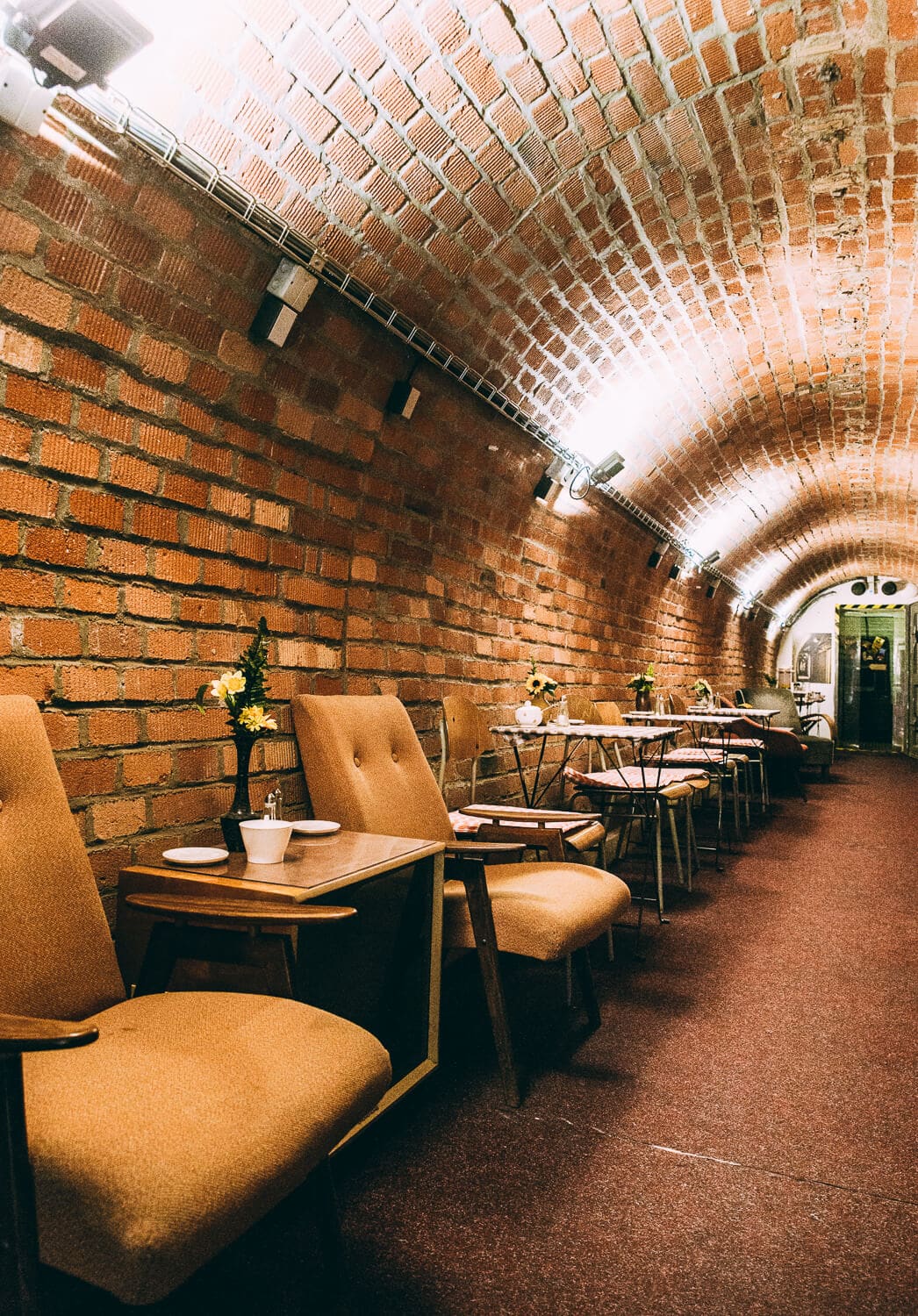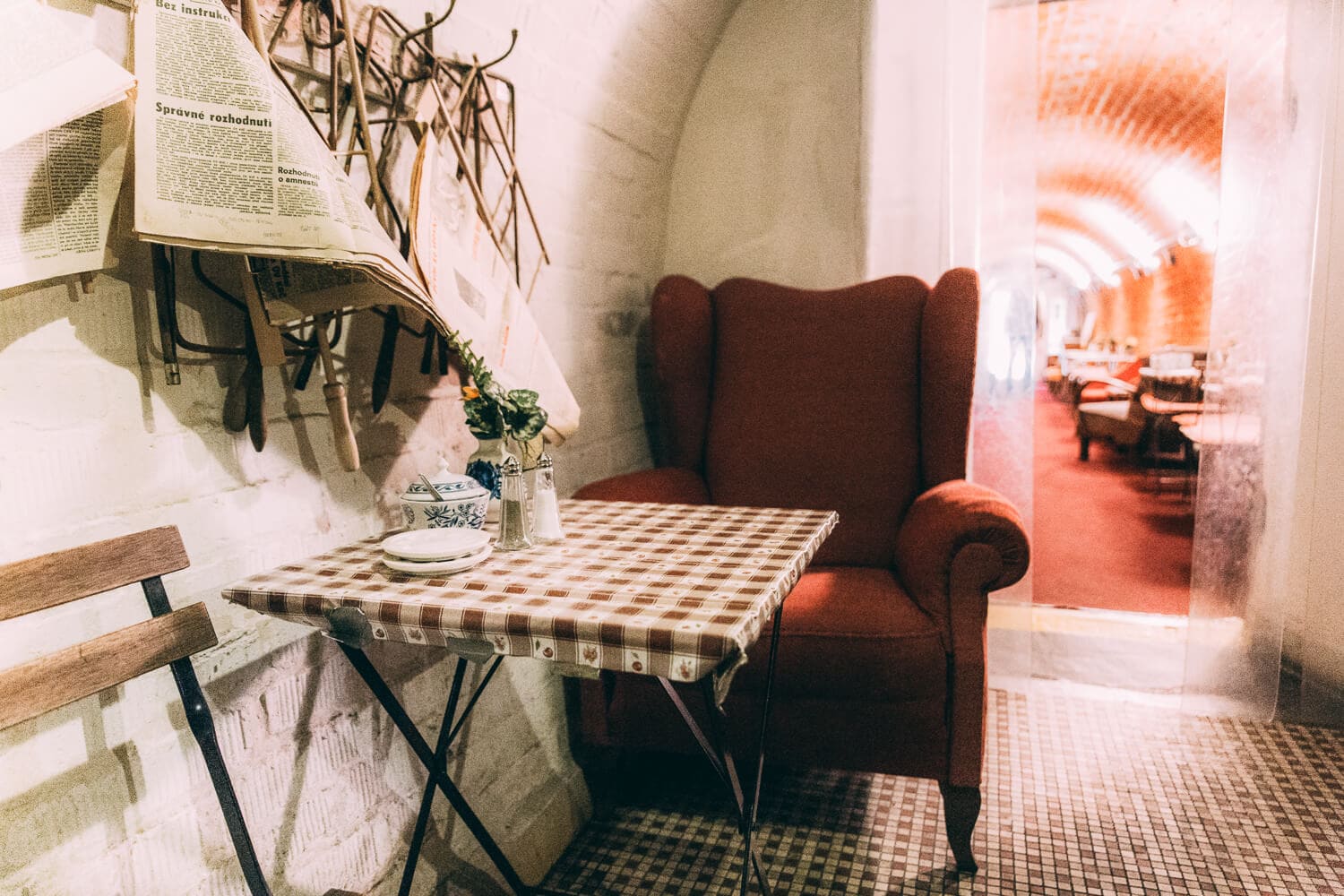 ---
RELATED POST: THE TOP 10 THINGS TO DO IN BRNO: BONES, LABYRINTHS & BEER
---
10-Z BUNKER VISITOR INFORMATION
ADMISSION
General admission without guide: CZK 150 ($6.68 USD)
Students, seniors and disables: CZK 100 ($4.45 USD)
Children up to 15 years – CZK 60 ($2.67 USD)
Advanced tour with guide: 240 CZK per person ($10.68 USD)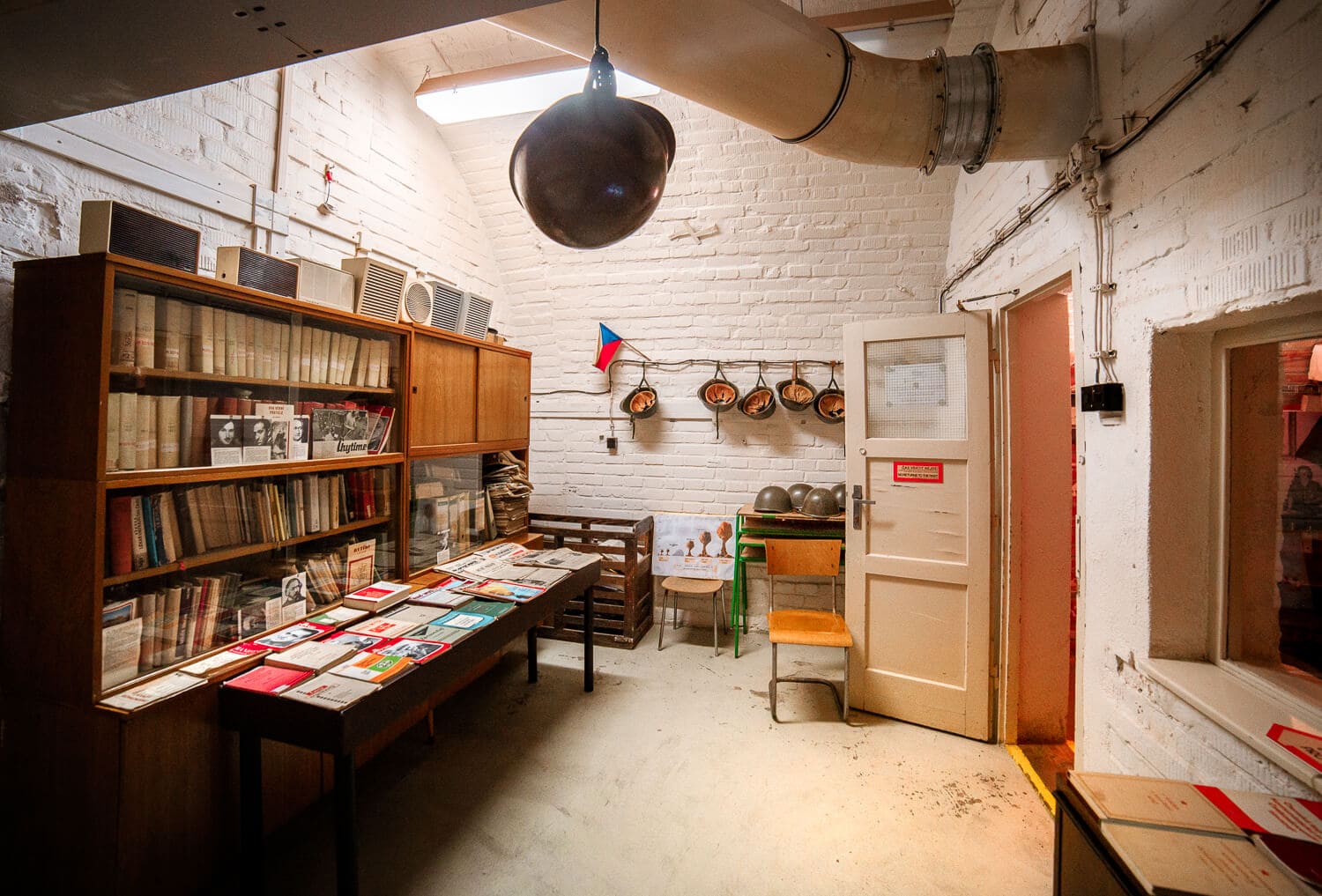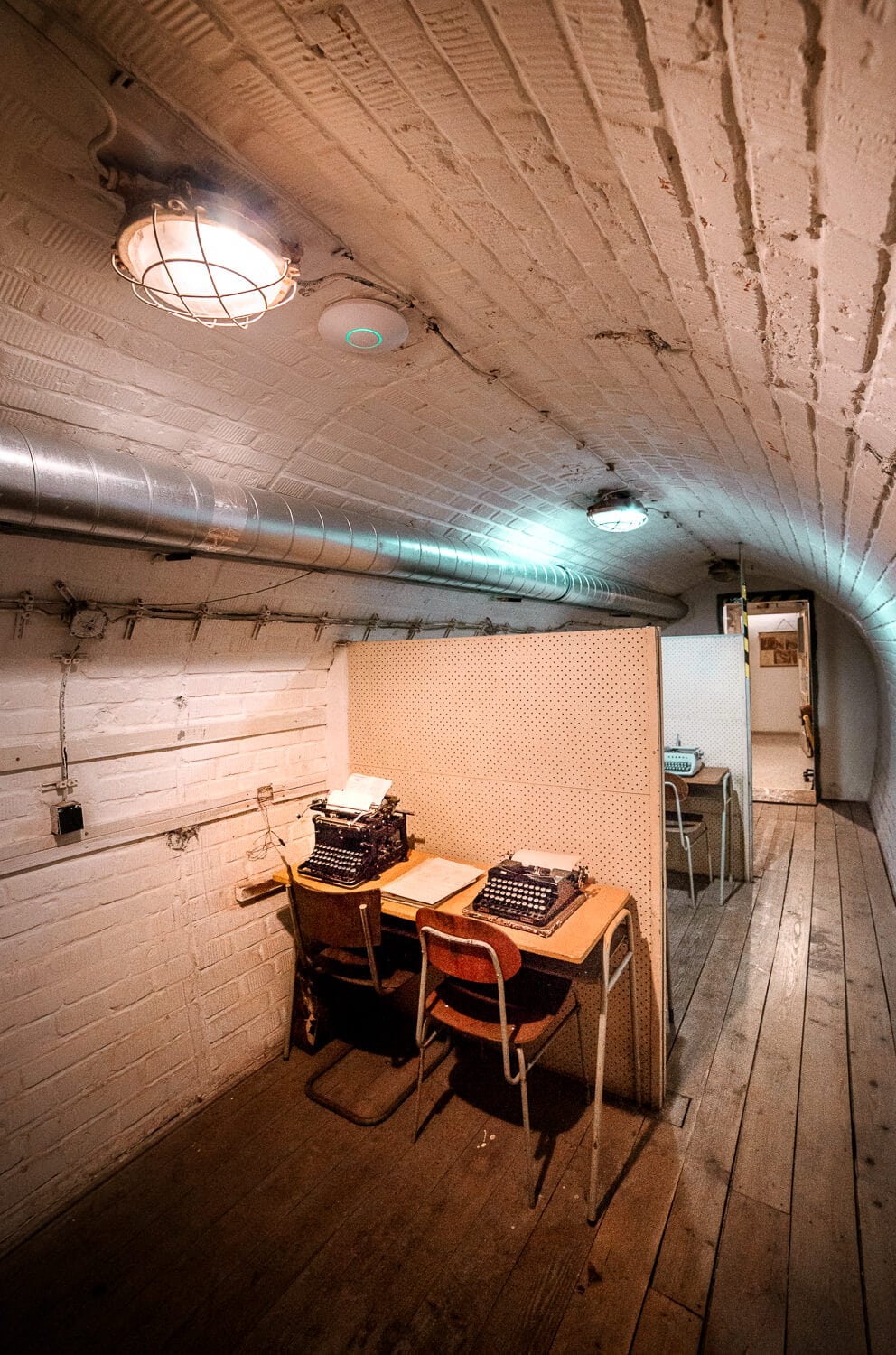 10-Z BUNKER HOSTEL
ADDRESS Husova Ulice (street) – Across from house no. 12
HOURS
Tuesday- Sunday 11:30 am – 6:45 pm (last entrance at 6:15pm)
Monday: Closed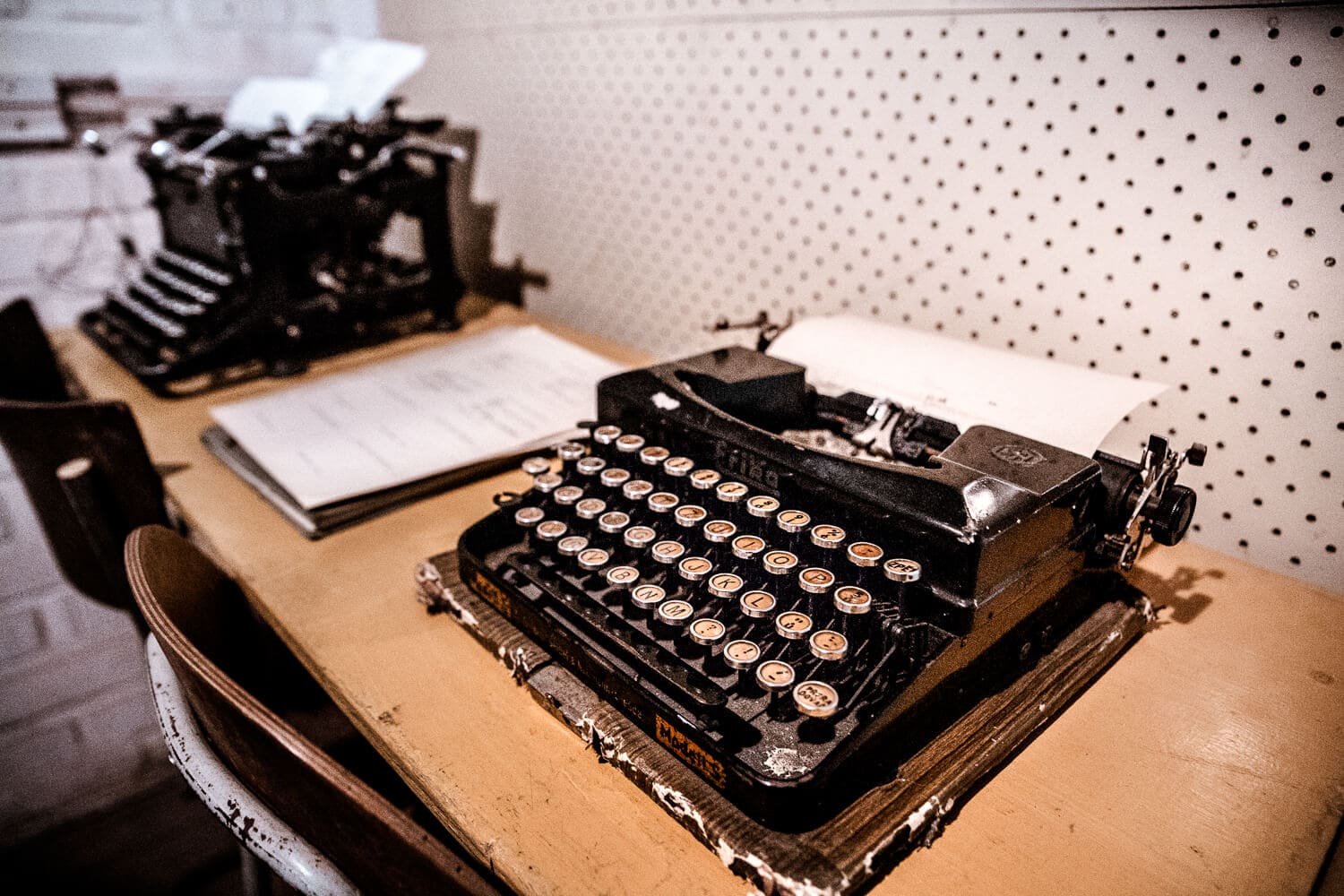 WOULD YOU STAY AT 10-Z BUNKER HOSTEL? LEAVE A COMMENT BELOW
---
PIN IT